Shop New Balance 327 Sneakers
Shop all New Balance 327 sneaker releases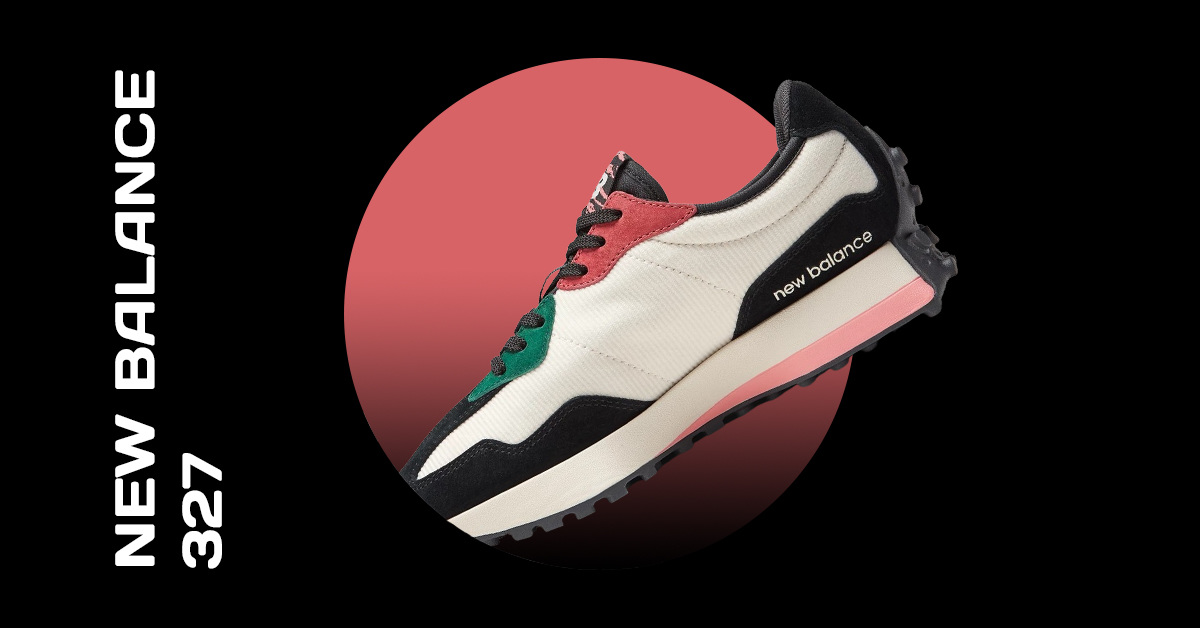 New Balance 327 
Introducing the trend-setting New Balance 327! This impressive sneaker is an eye-catching combination of classic athletic elegance and modern street style. New Balance and Casablanca teamed up in April 2020 to release a show-stopping statement shoe that had fashionistas everywhere buzzing. The collaboration between the North American sportswear giants and the French Moroccan brand created an eye-catching design like no other!
Featuring premium materials and intricate detailing for superior comfort, the New Balance 327 looks as good as it feels — your feet deserve nothing less when you're headed out for another day in the concrete jungle. Slip into these sleek shoes and set yourself apart with signature effortless cool. 
Significant Features of New Balance 327
The pride of New Balance's 327 shoe collection is the Tochigi leather, sourced from Japan and crafted with utmost attention to quality. Smooth and durable, this coveted leather adorns each pair in a timelessly luxurious aesthetic. 
The meticulous stitching and structural integrity make the New Balance 327 a fashionable footwear piece that can handle whatever activity your day might bring. Whether out at sea or on land, you have exclusive access to true comfort and style with every stride you take. 
New Balance 327 Line of Shoes: A Sight to Behold 
Take a look below at some of the amazing models of New Balance 327: 
New Balance 327 'Black' 
Put on a pair of New Balance 327 'Black' shoes and be ready to become the envy of every person that you come across. This one-of-a-kind shoe keeps comfort at its core with a layered leather upper and signature N logo. 
You'll feel as if your foot is being cradled in purest luxury while a classic silhouette commands attention in any setting. With midsole cushioning, these timeless shoes will take you wherever your wildest dreams desire – no matter where your journey may lead.
New Balance 327 Blue/Yellow 
With their sharp blue base and electric yellow detailing New Balance 327 Blue/Yellow shoes will be the center of attention wherever you go. Whether taking a stroll around town or heading to an evening event, these unique shoes will showcase your style and introduce you to a world of envy. 
Their lightweight build allows for unparalleled comfort and breathability, so you can always keep up with life's adventures with ease. Spice up any look by adding these creative kicks as the perfect final touch - they carefully bridge the gap between fashion-forward style and classic trends, leaving you feeling confident and energized all day long! 
In a Nutshell 
The innovative sneakers in the New Balance 327 line have redefined what comfort and style look like when combined together! Featuring some of the most trendy silhouettes, these shoes will make your feet feel as though they are walking on a cloud. 
With remarkable colorways and arch support, these shoes make it easy to stand out with virtually any outfit. Fashionistas everywhere can attest to the fact that New Balance 327 shoes are a must-have footwear staple for their collection, and you should too!


Read more