Shop Nike Air More Uptempo Sneakers
Shop all Nike Air More Uptempo sneaker releases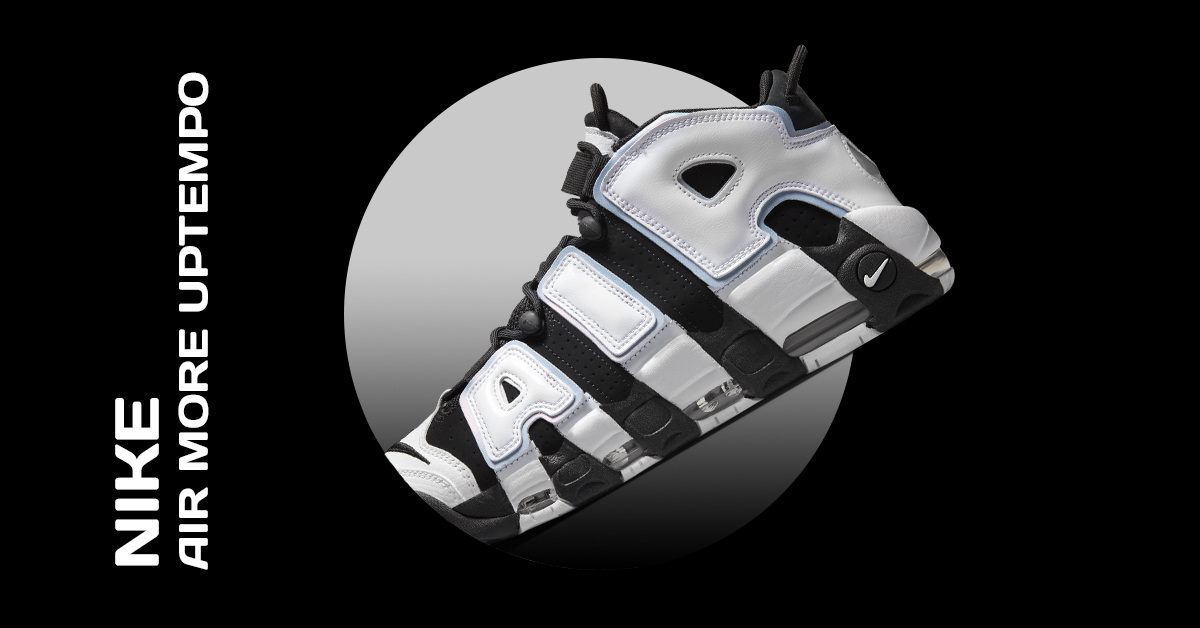 The Nike Air More Uptempo was originally developed for the basketball court and worn by some of the biggest basketball stars of the 90s. Its impressive design and high performance made it a popular sports shoe. A big fan of the silhouette was NBA player Scottie Pippen. He was often seen wearing black and white Nike Air More Uptempo. But not only on the basketball court, but also in the streetwear scene, the Air More Uptempo has found a large fan base, because its eye-catching appearance makes it a real statement piece. 
When was the first Nike Air More Uptempo released?
The Nike Air More Uptempo is an iconic basketball sneaker that was first released in 1996. It was designed by the famous Nike designer Wilson Smith and is characterised by its eye-catching and striking design. The shoe was an absolute hit when it was released in the 90s and has since become a timeless classic that is indispensable in sneaker culture. 
AIR logo with Uptempo
The standout feature of the Nike Air More Uptempo is the eye-catching "AIR" branding on the sides of the shoe. The huge, bold letters that form the word "AIR" are impossible to miss and give the shoe its signature look. This unique design was a tribute to Nike's innovative Air-Sole cushioning system, which provides excellent cushioning and comfort in the sole of the shoe. And how did Nike come up with this rough look that always immediately catches the eye? The characteristic letters are inspired by the graffiti art that was widespread in New York and Chicago at the time.
Nike Air More Uptempo collaboration
Over the years, Nike has released the Air More Uptempo in various colourways and special editions that have increased its popularity. The classic silhouette and eye-catching branding have helped the shoe remain a coveted model for sneakerheads looking for a unique and stylish shoe. In addition, sought-after designers like
AMBUSH have evolved the silhouette
. Designer Yoon Ahn focuses on a low cut and a contrasting colour scheme with yellow AIR logos and black soles. Additionally, the label immortalises itself with AMBUSH branding on the tongue.
Another partner used the iconic Uptempo logo for a different silhouette. Cactus Plant Flea Market slapped the "AIR" overlays on the Nike Air Force 1 in 2020 and dropped two simple colourways, a
black
and a
white AF1
. To this day, these unique versions are among the best sneakers in history.
Read more