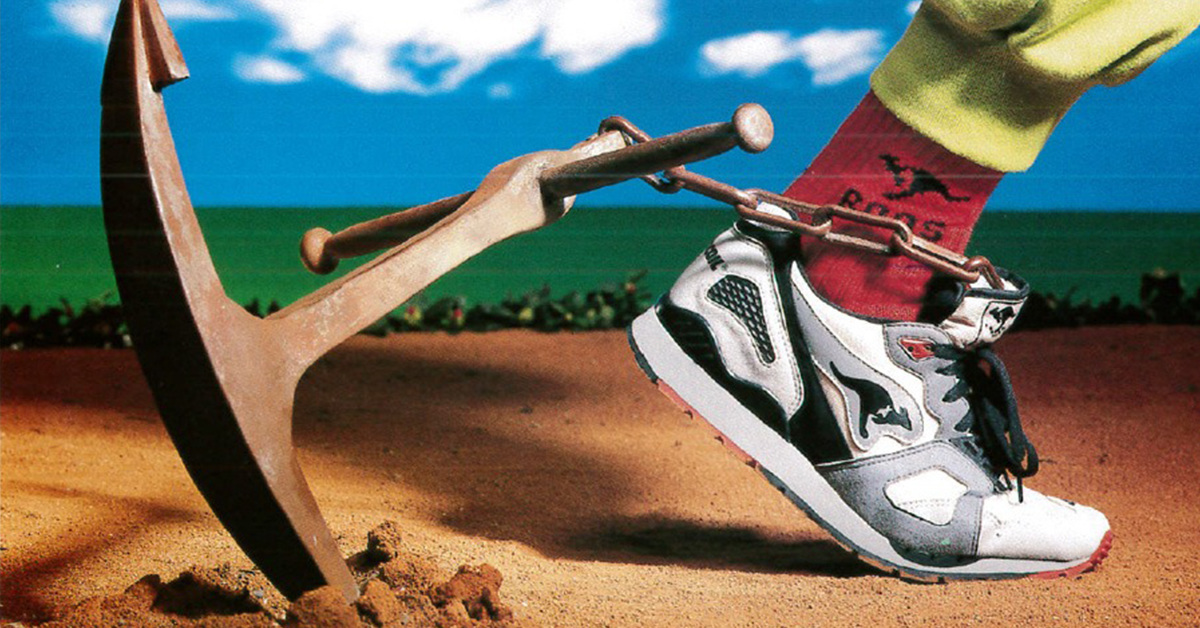 History Check – 40 Years of KangaROOS
Few brands have the power to spark up nostalgia and bring back vivid memories of bygone eras. But to anyone who experienced the 1980s explosion of trends like BMX, frisbee, jogging, breakdancing and skateboarding, seeing a pair of KangaROOS is a trip back in time. To a moment when every week brought the next pop culture phenom and the Shoes with Pockets walked through it all while safely hiding that lunch money so bullies at school wouldn't steal it. But the brand isn't all about nostalgia, as the long list of successful collaborations, a fine Made in Germany program and loads of other sneaker projects prove. But let's look back to where it all started.

BIRTH OF AN ICON
Like many timeless brands, KangaROOS was born to solve a specific need. In 1979, an American architect by the name of Robert Gamm – also a passionate follower of the jogging craze – found himself facing a common dilemma: Where on earth do you put your keys while you're out on a run? Mulling the question on his daily seven-mile workouts, he finally had a Eureka moment. A stash pocket on the side of the shoes would keep the keys safe! Looking for a name for his invention, Gamm called his shoes KangaROOS, because kangaroos are fast runners that never move backward. And they have a pouch, just like the shoes.
KangaROOS proved the perfect trifecta of brand name, concept and product. They also arrived at a time when jogging captured a massive market and runners were hungry for new technologies. Nike had just premiered Air-cushioning in 1978's Tailwind model, starting an allout arms race among athletic brands for next-level tech. KangaROOS jumped into the fray out of left field but with a winning product: Released in 1980, the ultra-light Combat model introduced the Velcroenclosed kangaroo pocket to mass audiences. The hype machine went into overdrive when runner Bill Rodgers won that year's Boston Marathon in a pair of KangaROOS Combats beating his own record – and the sport's world elite.
Runners were hooked and by the end of 1980, the revolutionary design sold 700,000 pairs per month in the United States. Bob Gamm began selling his hot new shoe franchise across the globe, also to an overwhelming response. Speaking of international sales, a business agreement made in 1981 would prove vital for the brand's future: As the first licensee in Europe, a young shoe salesman by the name of Bernd Hummel from Germany secured a deal with KangaROOS while global expansion kicked into high gear.
RIDING THE 1980S SPORTS STYLE WAVE
As the second successful release, 'ROOS dropped the Full Court mid-top model in 1982 at a time when athletes demanded more ankle protection from their kicks. Upping the ante, 1983's Skywalker basketball shoe checked all the boxes for serious NBA pros and found a key endorser in Clyde "The Glide" Drexler of Portland Trail Blazers fame. The All-Star Athlete not only made the shoes shine on the court but also introduced KangaROOS as coveted streetwear staples.
All across America, the sturdy high-tops with the ankle straps, colored outsole and signature pocket emerged as hot lifestyle shoes. In 1983, KangaROOS was officially ranked among the Top 5 U.S. sports footwear brands, as the kangaroo pocket became a widely known pop culture phenomenon via magazine ads and TV commercials. Meanwhile, Bob Gamm remained committed to progressive footwear designs in releases like the popular Invader running shoe.
ADVANCING FOOTWEAR DESIGN
Taking things to the next level, Gamm installed the KangaROOS Laboratory & Gymnasium at the University of Illinois in 1985. The 10,000-square-meter testing facility was dedicated to exploring new footwear technologies. The investment soon yielded results: After consulting with NASA engineers, the brand obtained a material with shock absorption properties used in the Apollo space program. In the next step, a team led by former Nike designer Ray Tonkel and consultant Al Gross developed Dynacoil, the patented KangaROOS rival to Nike's Air and ASICS' GEL technology. Praised by running magazines and die-hard joggers, Dynacoil was a smash hit. And KangaROOS used the momentum and positive press to branch out into a variety of sports such as hockey, baseball and American football with endorsements by the day's leading athletes, including football All-Star Walter Payton.
The brand's winning run seemed unstoppable, but the late 1980s brought some harsh realities. First of all, brand founder and visionary Bob Gamm no longer wanted to be involved in the business and sold KangaROOS to a California-based investor group. And second, the brand's mainstream popularity had waned, although core sports enthusiasts still trusted in Dynacoil-powered footwear.
THE NAUGHTY NINETIES
The departure of Bob Gamm set KangaROOS adrift in search for direction. Instead of concentrating on the core strengths, Kangaroos widened its focus even further into motor sports, tennis and wrestling, including wrestling boots for WWF athlete Rick "The Dog Faced Gremlin" Steiner – up to the point where Bernd Hummel stopped his distributor contract until they let him make his own decisions including on design. And while he continued to add more countries to the European business in the years to follow, US sales were hurting.
At the 1992 Barcelona Olympics, The U.S. running team still competed in Kangaroos, but the writing was on the wall. What followed is a blurry period in the brand's history similar to other athletic brands steered by brand conglomerates instead of singular visionaries.
JUMPING OFF AGAIN
The end of KangaROOS? Not so soon. Throughout the years, German licensee Bernd Hummel kept the faith and saw an opportunity to test the waters for a relaunch in 2009. For the 30th anniversary, he ushered in a comeback of classic styles like the Omnicoil, Skywalker and Blaze models in small production runs. Pushing into the core sneaker scene, KangaROOS worked with Sneakerness on a limited 80-pair release of co-branded Slam Dunk and Game high-top sneakers, reigniting the old flame for many sneaker heads.
Over in Amsterdam, sneaker mavens
Patta
also felt KangaROOS nostalgia and adopted the reborn brand into their international doors. A 2011 collab between Patta x KangaROOS on the Wood Hollow boot ignited a chain reaction – Kanye West famously copped a pair in Paris – as collabs with Overkill and of course Sneakers Magazine followed. In 2012, Bernd Hummel decided to double down on revitalizing KangaROOS by starting premium manufacturing "Made in Germany" at an old shoe factory he had saved from bankruptcy. Located near traditional shoemaking town of Pirmasens, where luminaries like Adi Dassler once learned the trade,
the "Hummel & Hummel" factory
produces handmade sneakers for special projects in small quantities. Everything revolves around premium leathers and hand-crafted precision.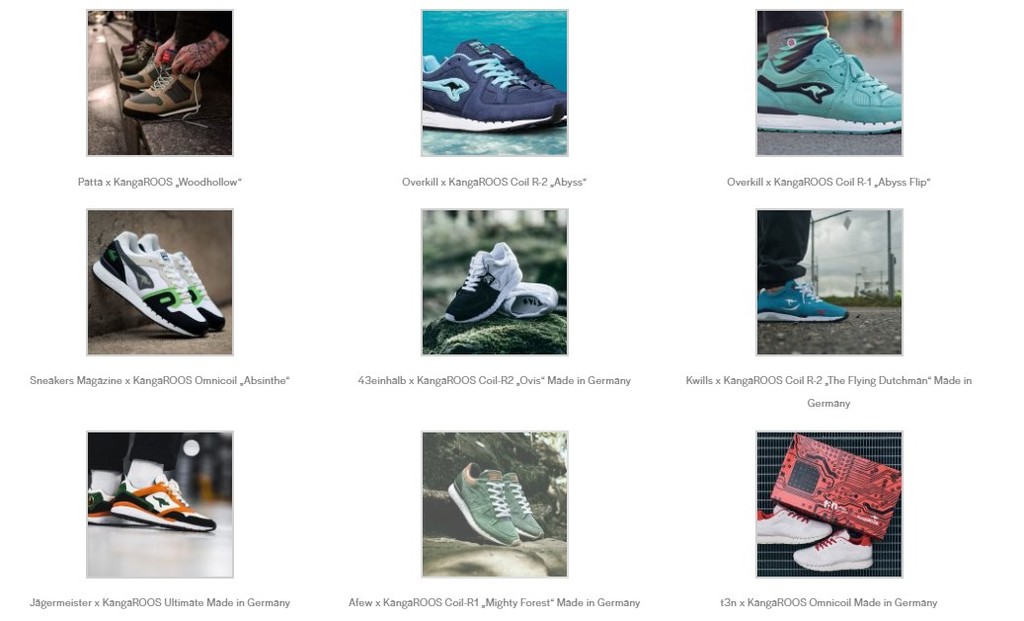 Besides the ever-progressing inline collections – all with a pocket – the Made in Germany program is where it's at for lots of sneakerheads. The powerful mix of quality and rarity paired with local production is hard to beat and something that sets Kangaroos apart from many other brands. Meanwhile, The history of successful collabs is long and includes partners like Afew, 43einhalb, Asphaltgold, Viovio, Suppa, Urbanpeople and even liquor mainstay Jägermeister. As Bernd Hummel attests, the kangaroo is well alive and kicking. And you can bet there are tons more special projects inside that secret pocket.


MR. KANGAROOS – AN INTERVIEW WITH BERND HUMMEL
Although officially a licensee of the KangaROOS brand, Bernd Hummel can be safely called the keeper of the KangaROOS spirit. With a clear vision of the brand, the self-made entrepreneur has been continuing the legacy set by founder Bob Gamm. Ever since he bought his first license in 1981, Bernd has been involved in the fate of the brand and has been collecting everything that is part of its history. And he's been part of it since the early days. In 1986 at a distributor meeting in St. Louis, he was announced "Distributor of the Year" and he kept that position until being nominated as "Best Licensee Ever". We stopped the kangaroo himself long enough for this short interview.


When did you first discover KangaROOS?
It was early 1981 at FFANY, a footwear show in New York City, when I discovered the small KangaROOS booth. A big poster announced "The First Athletic Shoe in the World with a Pocket". I was immediately interested and had a smile on my face.


You bought the KangaROOS license in 1981, when the brand was still in its infancy. Can you describe what it was like to work with the founder, Bob Gamm?
It was a great cooperation. Bob and his team worked close and directly with me and my team. At that time, Bob did a lot of design work himself. And as I myself also was into designing fashion shoes in Italy, we were soon brothers in mind and became very close friends.


Can you pick two memories from the good old days?
When Bob Gamm and his VP, Al Wasserman, came over to meet us at our place in Pirmasens, Germany, by end of 1981, we agreed to sign the contract and invited them to celebrate with a dinner. Our American friends decided on Frankfurt sausage and French fries – what a great celebration! Or when Bob sold the brand in 1989, the new owners started a new advertising campaign and signed World Wrestling Federation, that was such a mess. I decided to stop the distribution contract right there. Since then we became Master Licensee and had the full responsibility for our KangaROOS business from design, marketing to distribution.
What have been some of the best collaboration experiences with KangaROOS so far?
Our first collab was with PATTA. It was great cooperation with a lot of fun. We really enjoy to work with Edson, Gee and Tim – great guys and good friends. But the same goes for our friends at Overkill, when we did the tremendous "Abyss", or with 43einhalb with the "Ovis", and so many more top sneaker stores around Europe.


Many of these partners are fans of the Made in Germany program you initiated. Can you explain why you revived that factory?
I'm a shoe dog. I was in shoe business all my life and experienced "the shoe" from design over production, to marketing and distribution. It was a great pleasure for me to re-activate that little shoe factory here, near my hometown. It is great to develop shoes in 3D and all kinds of ultra-modern technologies, but it is unique to start a shoe production with handcrafted manufacturing from the past.