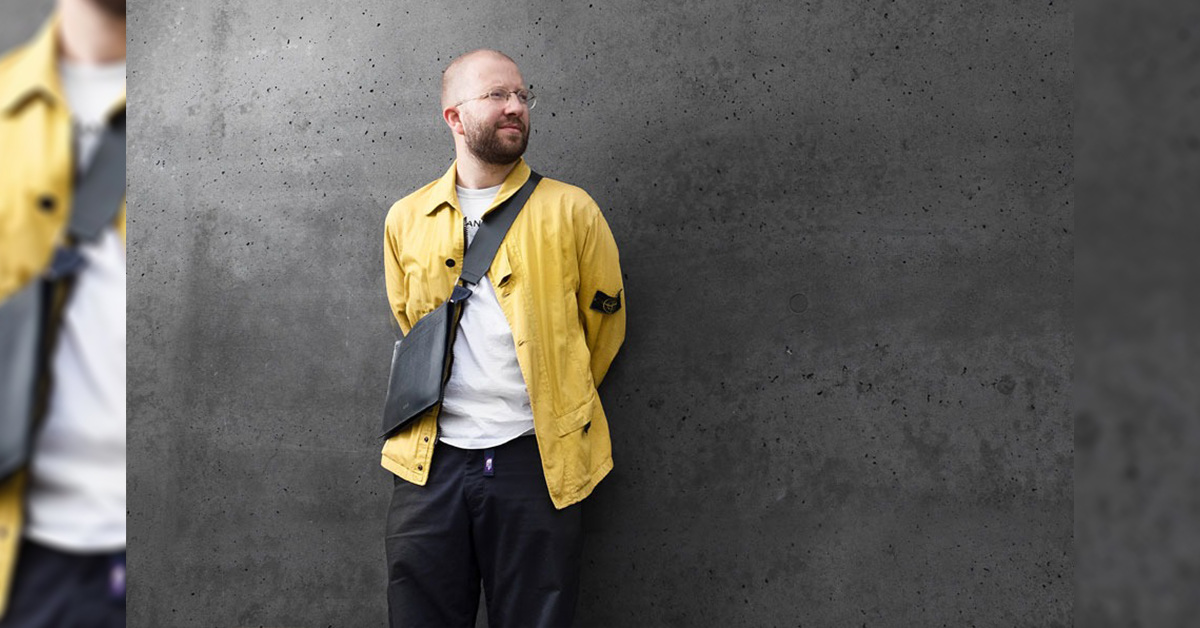 Adrian Bianco Talks About Hype, Stone Island and Biancissimo
"Bianco" doesn't fit into any particular category. Although years of pinrolling are behind him, he is not your average sneakerhead. He is a true subculture nerd with a range of interests from Stone Island and football culture to anime and Japanese food. Some of his interests are loosely connected, others only by the fact that he is a person who shares them. Adrian Bianco dives deep into his subjects, but without drowning in them. For the sake of his own sanity and our reading pleasure, the Berliner has set up his own blog, Biancissimo. It's a real creative outlet and entirely guided by his own interests, which is a rarity these days. We visited Adrian Bianco in his home district and asked him to bring along some of his favourites.

Bianco, why aren't you a sneakerhead? And what are you?
I still love sneakers, I have far too many of them and I keep buying them. I just don't really feel at home in the German sneakerhead scene anymore. I have way too many interests to only talk about sneakers and make them my top priority in life. I'm a Biancohead now, which makes me a much bigger nerd and I'm happy with that.

Where does your versatility come from?
I've actually always been interested in a wide range of subjects. From anime to food, from streetwear to photography and anything else I consider "culture". I'm a big nerd and Biancissimo is my go-to place for that. So Biancissimo is not so much my way of spreading my knowledge, but a way for me to find things out for myself and then share them with my audience. And the reason I get so deep into it is because I'm a bit bored of so many blogs that actually just spread information about the release or the latest Yeezy colours.
On the other hand, there are also a lot of very well-done magazines that really delve deep into the matter. But unlike the hype blogs, these magazines sometimes feel more like textbooks instead of entertaining posts about the things I like. So I try to go in depth but still remain unobtrusively cool and a bit dirty. That's basically me and Biancissimo.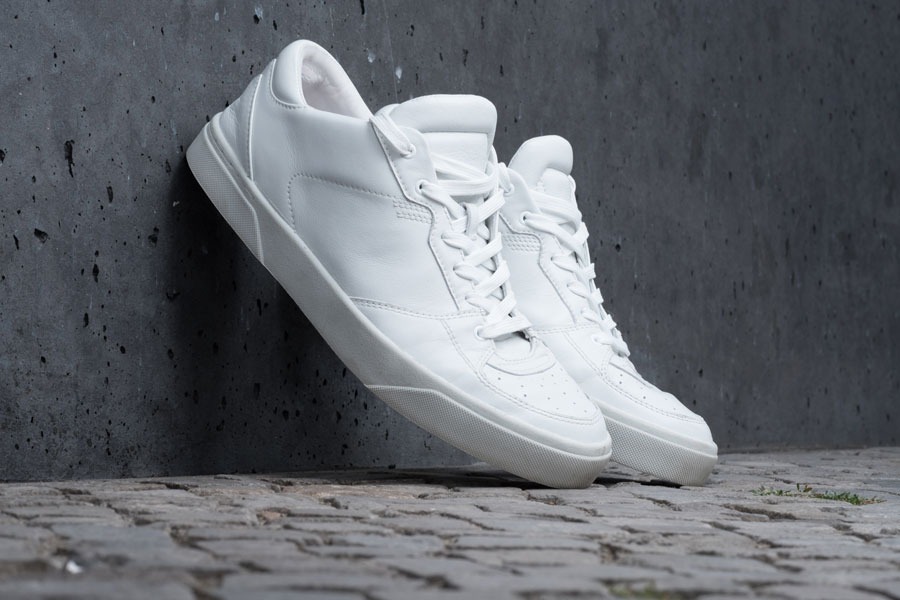 VOR 2A Misty White: "The definition of a clean, white sneaker," says Adrian
Besides the omnipresent Stone Island, you also like to discover smaller brands. What does a brand need to have to pique your interest - and what in general to pique your interest?
A brand needs a good story, a vision, interesting characters and - of course - damn good design. At a time when a lot of young people are discovering streetwear for themselves, they still only stick to the two or three big brands. And that's just sad. On the other hand, they use Soundcloud to search for the hottest new cloud rappers or producers. So why don't they show the same interest in smaller fashion labels? Biancissimo will always report on interesting small projects, and I would love to see some of them get more recognition, because brands like UMTC are just awesome. Please check them out!

We've already mentioned Stone Island, and there's no way around mentioning it in this interview. Please describe how you came to this brand.
It's quite simple. The biggest influence was my good friend Constantin Tran, a real genius and the smartest person I know. He was 15 when he kept telling me about the gorgeous garments and technology that Stone Island, and Shadow Projects in particular, were developing. You have to understand that I was 25 at the time and became increasingly impressed by it all. Besides all the technical details, it was the characters and subcultures around the brand that really excited me. From the terrace and leisure culture to the British vintage scene and some crazy Russian weirdos I met - the brand managed to evolve from a mere manufacturer of chic clothing to a culture, and once you start to get into the history of the brand, you probably feel the urge to get a badge yourself pretty quickly.
SI Vintage Ice Jacket: "When people were still playing Super Nintendo, Massimo Osti was already designing jackets that could change colour depending on the temperature."
You've recently published a huge amount of content about Stone Island. How have all your insights changed your perspective on the brand?
I think this series was the perfect example of why some people are so fixated on brands. Sure there's hype around some brands, but there's still a group of people who are much more invested in a company than just having pure hype around a piece of fashion. If someone asks you why you care so much about sneakers, Supreme or especially Stone Island, just show them some of these characters and then hopefully they will understand that we don't just care about shoes and fashion, we care about culture, communities, like-minded people and stories.

Three favourite pieces of SI that you own?
Number one (at the moment) is my TANK SHIELD MULTILAYER jacket. It's such a low-key Boss piece, and it took me some time and the help of a good friend to finally get it at a reasonable price. There's a story to this jacket too, and that's why it's even more special. And the rest? I really can't decide, because I love them all and behind almost every piece there is a good story, a friend or a beautiful hunt.
"From a pair of work pants from 1983 to a Marina Jacket with a vertical badge to a Tank Shield Jacket from 2016, SI is still the only brand that delivers good stuff every year."
You also have a talent for exposing some of the lesser known people. Like Russian plug Nick Prishchep or the Techhunter crew. You're into the not so obvious - why?
I'm interested in nerds, subcultures and all the things and people you don't find in the mainstream of life. Being different is the new cool, so thank you Kid Cudi.
Even though you work at the epicentre of the hype industry, you're kind of against hype in the traditional sense....
Hype can be a good thing if it's done right. For example, I couldn't care less that Pharrell Williams is now designing for G-Star, but at the same time, Aitor Throup is now the creative director of the brand, and this guy has done amazing things for both Stone Island and C.P. Company (Consti told me this again). So rather look forward to him and his Raw Denim Research than your favourite pop icon putting some designs on some clothes. The essence of my "Narrative of Hype" article is that with this ACG line, Nike is focusing on the product and on a man - Errolson Hugh - who puts the perfect product first, not on marketing efforts and strategies.
Do you consider yourself an influencer and how does that feel?
Although so many people and articles have given this term a bad name, I don't see anything bad about it. I'm actually very happy when I get people to buy some nice Air Force 1s or spend some money on a small brand from L.A. instead of a big one from New York. On the other hand, I don't make any money with all the time and love I put into Biancissimo - which is really a lot. So when some brands approach me to send me some free stuff, I'm more than happy to do so - as long as I like it. I see it as a reward for my hard work and a recognition from these brands for my work and influence on youth culture.
How important is status to you and how do you define it?
I'm not going to lie. I like all the likes and shares or whatever, but at the end of the day I'm a real person and I want people to know that. So yes, status is very important to me, but even though I'm no stranger to the art of Instagram weaving, I'm generally a nice and decent guy. Believe me.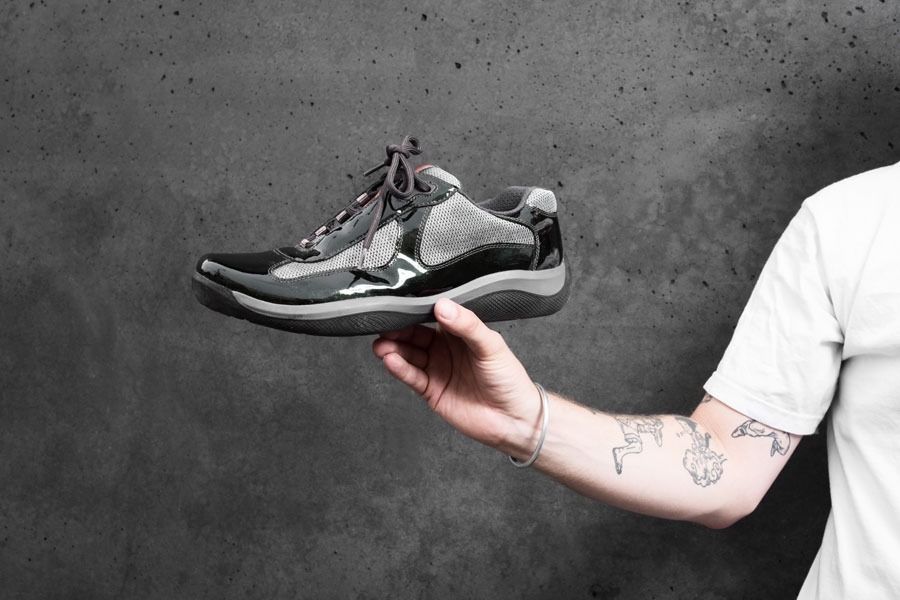 Prada Americas Cup
How did you get to where you are in your life? Can you tell us a few chapters and the decisive moments that have shaped you?
When I look back at the last ten years, when I made mistakes and said "no", it has always pushed me forward and shaped me. The most important was probably dropping out of law school after about 80 per cent of the time, even though I passed all the exams easily. Moving to Berlin, starting all over again and getting out of my comfort zone was definitely my best move. I left my old life, many friends and my girlfriend behind and threw myself into the unknown. From that day on, I am no longer a friend of the comfort zone, because my creativity needs movement and constant challenges.
When did you realise that you had potential?
When I started working for Virtue (VICE's creative agency), my very first big client was adidas Originals. I became head of an adidas magazine there and handled all the creative output, ideas, copy, shoots and so on. I quit because that was exactly what I envisioned, but when I actually got the job, I really wet my pants because, after all, I still have insecurities every day and every night. After putting out two or three magazines, I realised that I wasn't wrong to leave the legal profession for creative crime. Realising that I was capable of creating beautiful things and the day I passed my probation at VICE were probably my happiest moments in a long time.
What's striking about you is that you fall in love with cultures that you don't actually fit into one hundred percent - whether it's football culture or even when you talk to Stone Island collectors. What is it about being "lost in translation" that makes you fall in love?
I'm a romantic guy and an outsider at the same time. Sometimes I just want to watch instead of getting directly involved. It just feels good to dive into different genres, but always have the freedom to move on to another subject. At the end of the day, I like real things and real stories. That's why I'm so into things that are not necessarily 100% me, but absolutely 100% real.
"Massimo Ostis Midas Touch at Superga"
Where do you feel at home? Describe a few places that are really 100% Adrian Bianco.
The streets of Tokyo at night, Kreuzberg at any time, the Viktualienmarkt in Munich with a "Leberkässemmel" in your hand and especially the internet.

How would you describe Berlin today compared to the top cities in the world?
It's on the rise! Last year I said in an interview that Berlin was a bit behind in terms of trends and all that, but I was completely wrong, as I often am. I met some seriously talented, crazy young people who you'll read more about on Biancissimo soon. Berlin is still so raw, dirty, sexy and real compared to the inner fashion circles of London, the clean streets of Tokyo or the beauty of Paris. Plus, 032c and Highsnobiety are Berlin-based babes who are probably the hottest in the game right now. We don't need to hide at all.

We've already talked about your work. Can you briefly explain what you do on a daily basis?
I've done so many things at VICE. I've been a fashion editor, a copywriter, done content marketing and written articles. Right now, I'm the head of the Snapchat Discover team with a wonderful team of five talented girls working under me. I brief the motion design team every day, and then they brief me on things that sucked in my briefings. Then I work with the editorial team to 'translate' VICE articles into little animations for Generation Z's phones, minds and hands. I'm working at the forefront of new media right now and it's a very exciting place to be!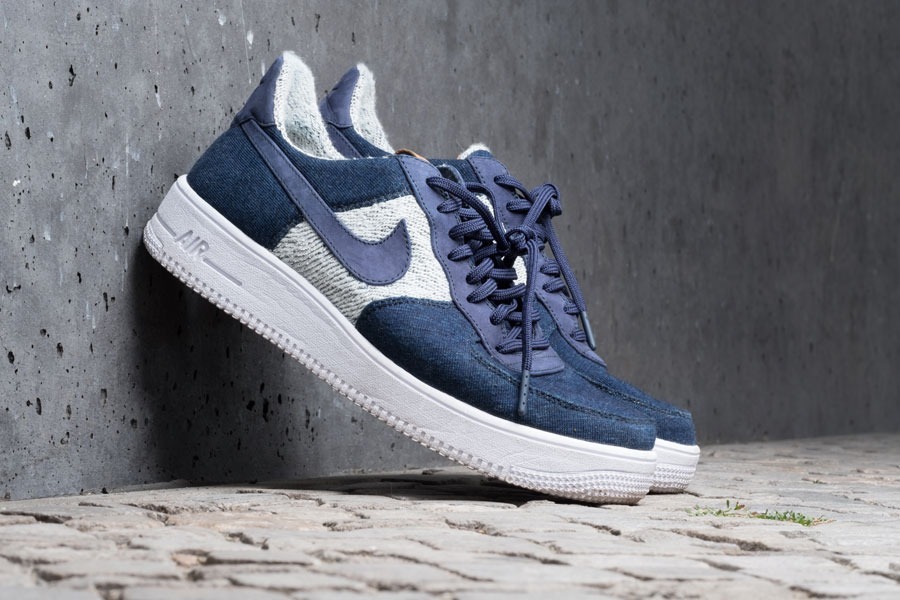 NikeLab x Loopwheeler
Vice is somehow close to Biancissimo, but also far from it. You mentioned that you write for very different audiences, between a few thousand and hundreds of thousands of readers. What does that teach you?
Don't try to conform to your audience's preferences and demands, don't try to talk like them, and don't try to be like them. Just do your own thing and make it look good. Real content is good content, no matter how big or small your audience is.

It's pretty easy to see that you're more of a Nike head than an adidas head. What made you do that?
I own adidas from some of their best times, and I really love their rise in recent years. I would love to own a pair of Yeezys because I'm pretty sure I could wear them in a totally cool, non-fuckboy way.
The only reason I'm wearing Nike a lot right now is because I'm mixing all my tech and new streetwear gear with some nice things and memories from the past. I just grew up with Nike, you know. So almost every shoe has a special meaning or story for me.
And from a creative point of view, I have to add that Nike has supported Biancissimo almost from day one. When I started 10 months ago, I sent a few emails to different brands and Nike was the only one that really engaged with my vision (lol). I'm not talking about free stuff or sneaker parties where I could upload drunk videos of myself (although I still love that) - Nike actually enabled me to write cool stories and meet interesting people. Like I said, I'm a romantic guy and I love good content and stories. Nike understood that pretty quickly, and that's why it feels really good to wear the Swoosh right now.
Tom Sachs Mars Yard 2.0
The worst trend of the moment?
There are way too many, but honestly, if you feel good about it, you can do whatever you want. But don't act like an ass just because you think you dress better than everyone else. That's probably a trend that's really bugging me at the moment. In almost every Facebook group, there are people who judge other people based on the clothes they wear and feel comfortable in. It's so wrong. To be honest, I hardly see any outfits I like in these groups, and yet I like a lot of people there. It's about community, not fucking competition. Spread some love.

We want to hear some famous fives from you. Five favourite sneakers of all time.
BEFORE 2A Mist White, almost any AF1, almost any Nike Air Rift, adidas 350 SPZL, Bapesta.

Five restaurants in Berlin.
Lon Men Noodle House, Takumi Nine Sapporo, Sonkitchen, Aroma. St. Bart Pub

Five shops worldwide.
All Bape stores in Tokyo, TNF Standard Tokyo, Nanamica Mountain Tokyo, Tint Munich, Voo Store Berlin.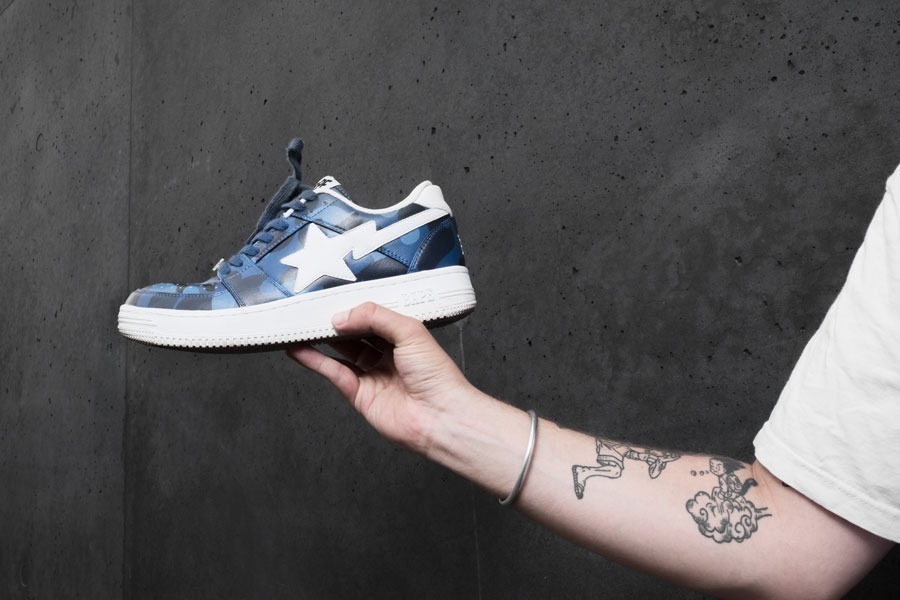 Bapesta
Five places in Tokyo.
Secret Rooftop in Harajuku (more info in my DMs), Lemon Izakaya in Yutenji with my good friend Soshi, Grand Hyatt Bar 50th floor (The bar from Lost in Translation), Kaikaya By the sea, Shibuya Crossing.

Any shout outs?
Arigatou Gozaimasu to everyone who is part of Biancissimo, from my English editors to all the people who read the articles and chat with me over a million IG direct messages every day. I love you all. xo Adrian