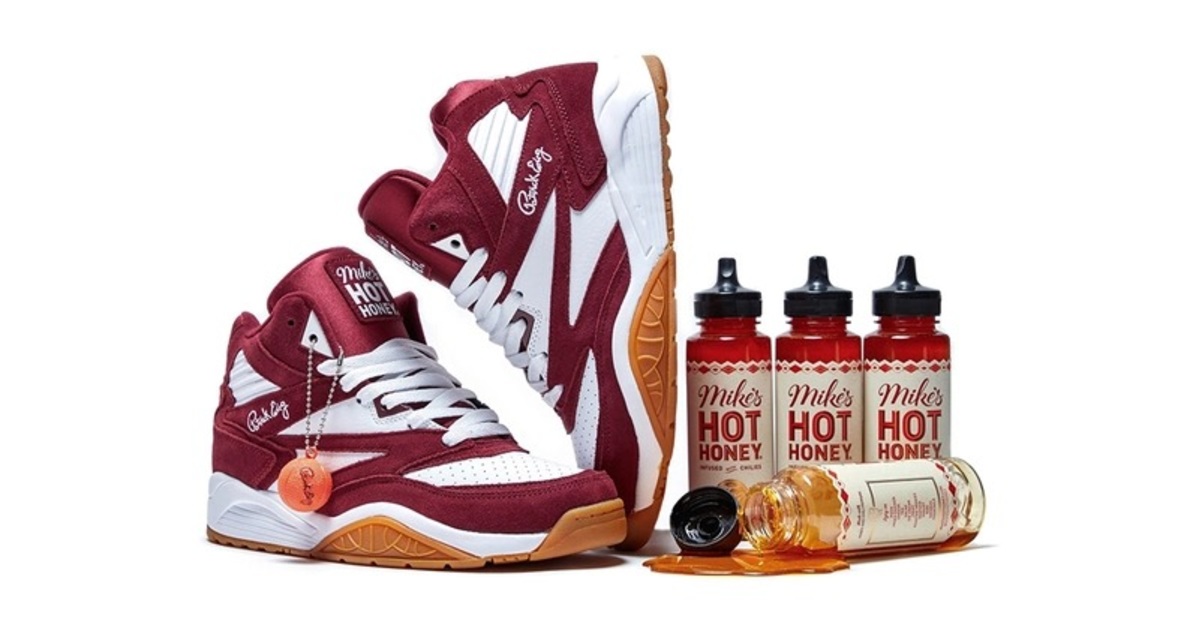 A Jar of Mike's Hot Honey is Included with this Ewing Athletics Sport Lite
In a fitting New York collaboration, iconic sneaker label Ewing Athletics has teamed up with Brooklyn-based honey brand Mike's Hot Honey for a limited edition sneaker release. Ewing Athletics' Sport Lite, the brand's first cross-training shoe originally launched in 1993, has received a themed makeover and is now called the "Hot Honey Sport Lite".
Mike's Hot Honey is America's leading hot honey brand and was founded in 2010 by Mike Kurtz, who was driven by creating and sharing the highest quality standard of chilli pepper-infused honey. This began with him putting the signature spicy honey on pizzas at the Brooklyn pizzeria where he worked. Customers eventually asked if they could buy bottles to take home. The meteoric rise, driven by word of mouth, is now a reality. 
The Mike's Hot Honey x Ewing Athletics Sport Lite shoes are a real highlight for sneaker lovers. Featuring premium white leather and burgundy suede reminiscent of founder Mike Kurtz's school colours, they are not only stylish but also a tribute to his past. The detail that makes the shoe truly unique is the Mike's Hot Honey embroidered bee on the heel and the co-branded printed insoles. There is also a signature of New York Knicks Hall of Famer Patrick Ewing on the midsole. These shoes come with special packaging and burgundy laces as well as a glass of Mike's Hot Honey - a real treat! The rubber on the sole is reminiscent of the honey used in Mike's Hot Honey. The Mike's Hot Honey x Ewing Athletics Sport Lite will be released on April 14th only through
Ewing Athletics
. So be quick if you want to buy these limited edition shoes.