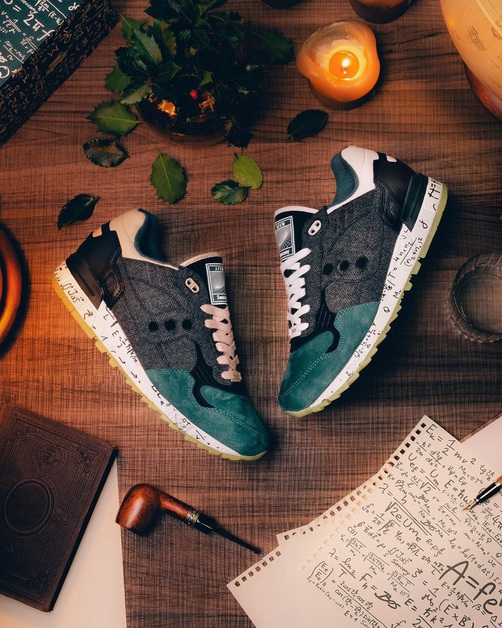 AFEW and Saucony Were Inspired by Albert Einstein's "Time & Space"
The collabs with AFEW are often among the greatest masterpieces in sneaker history, as they are very rare and above all, of high quality. In addition, the pairs usually tell a special story or are inspired by a special person. Next, the retailer drops a collaborative Shadow 5000 with Saucony, inspired by physicist Albert Einstein.
The detailed "Time & Space" pays attention to every visible detail of Albert Einstein. The upper reminds us of Albert Einstein's clothing and the boards that were often the basis for his formulas. Dark green suede is combined with grey inserts, while the heels have an asymmetrical look.
Further back, details such as "A=few" remind us of the equivalence of mass and energy (E=mc² for short), which Einstein discovered in 1905. But the soles are probably among the biggest highlights. The middle and outer sole have a glow-in-the-dark effect.
How to Get the AFEW x Saucony Shadow 5000 "Time & Space"
Do you really want the AFEW x Saucony Shadow 5000 "Time & Space"? Then you should register for the raffle by September 19th. There will also be an in-store release on September 19th at 09:00 am. Here, you can find the link to the raffle from AFEW.