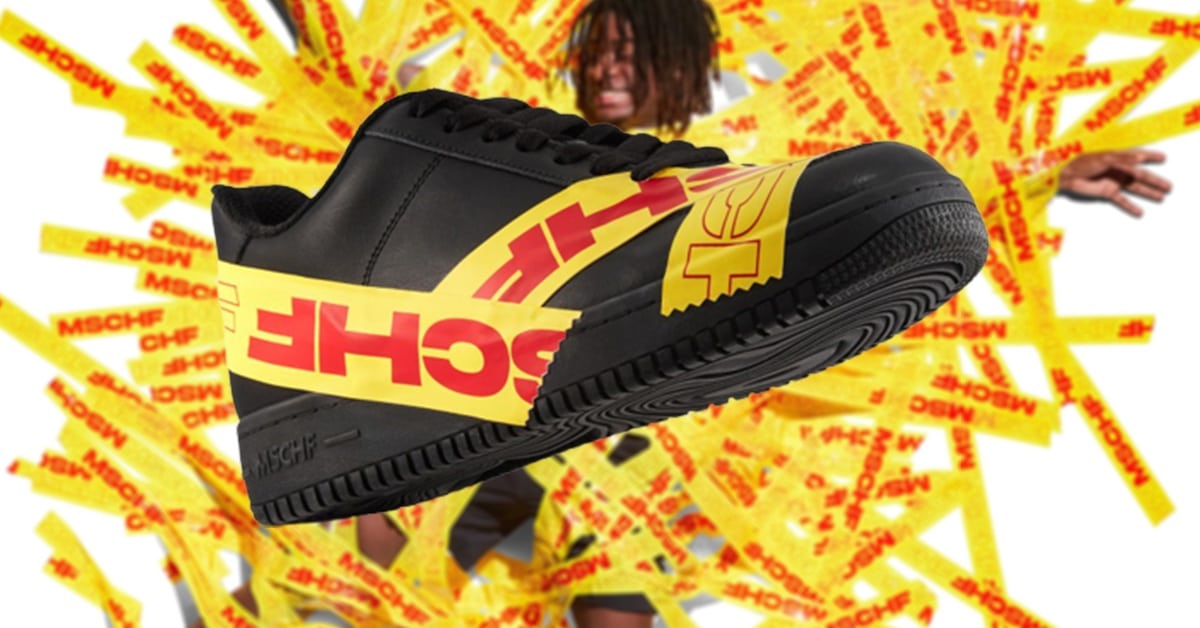 After the MSCHF Jesus Shoes and Satan Shoes Comes a TAP3 Sneaker
MSCHF is back with another brilliant idea. The company, which previously released a Jesus and Satan-inspired sneaker, unpacks the tape and subverts the all-black Nike Air Force 1. Of course, the TAP3 sneaker comes with some improvements and nifty details. We show you what fancy things the new pair brings with it here.
Normally, you would see big Swooshes on the sides and several perforations on the toebox. However, MSCHF overplays these details on the TAP3 sneaker with large package straps and the words "MSCHF", which may be a response to the sportswear company's lawsuit when it last released an unauthorised Satan shoe.
These copycat details continue on the sole of the MSCHF TAP3 sneaker. The typical "AIR" branding on the soles is replaced with "MSCHF" branding, and the outsole features a molten aesthetic.
Commenting on the release, MSCHF said, "The approximate shape of the AF1 has become the platonic ideal of a low-top sneaker. The first thing any brand trying to break into the sneaker space does is a pseudo-AF1 with a star, flag, etc., where the Swoosh normally sits. This cultural ubiquity makes it an attractive target for MSCHF to play with. And let's face it... it's a little cathartic for us to launch this particular shoe almost exactly a year after the release of Satan Shoes."
Drop of the MSCHF TAP3 Sneaker to Follow in the Next Few Days
On March 21st, the MSCHF TAP3 sneaker will be released via online raffle and through MSCHF's dedicated sneaker app. Check out the first images of the shoe in advance here.