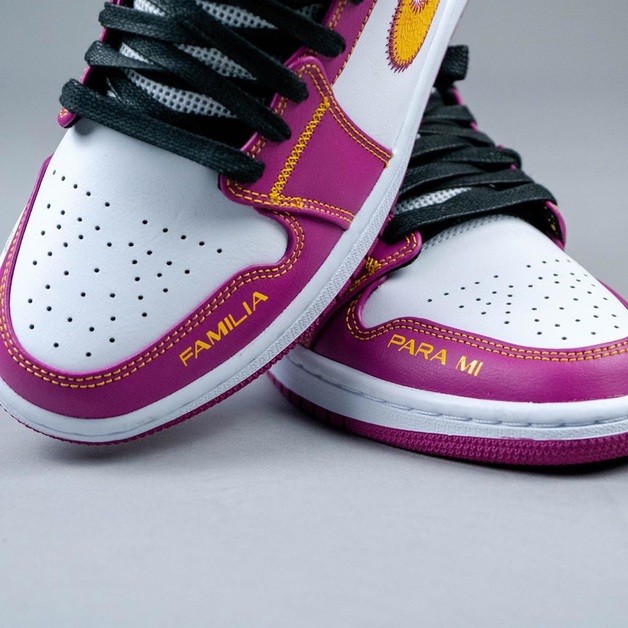 Air Jordan 1 Mid "Familia" - Soon Also for Adults
Update 29.10.2002
Tomorrow, the Air Jordan 1 Mid "Familia" will drop for £115 at Nike. The sneakers are part of a larger collection, with the AJ1 Mid being one of the best models, in our opinion.
pic by @desempacados
Original article 22.09.2020
Nike recently introduced the Air Jordan 1 Mid "Familia" for kids, but apparently, the label has decided to go for a much bigger production as the pictures have now been uploaded for an adult version. Now that we've had a look at the Air Jordan 1 Mid "Wheat", let's take a look at the Air Jordan 1 Mid that honours family.
Do you love your family and would like to show it with a nice pair of sneakers? Then you should definitely check out this AJ1 Mid. On the right forefoot, it says "Para Mi" and on the left shoe, it says "Familia". These words are Spanish for "For my family".
The colours and materials include a white leather base as well as red and yellow overlays. The yellow details look especially brutal. The cracked look is reminiscent of a dry desert floor, and the red overlays could very well correspond to twilight. Further up, Jordan Brand uses gold tongue tags with floral print and white mesh tongues.
When Does the Air Jordan 1 Mid "Familia" Drop?
The sneakers are said to drop before the end of National Hispanic Heritage Month (October 15th), but Nike has not confirmed this yet.