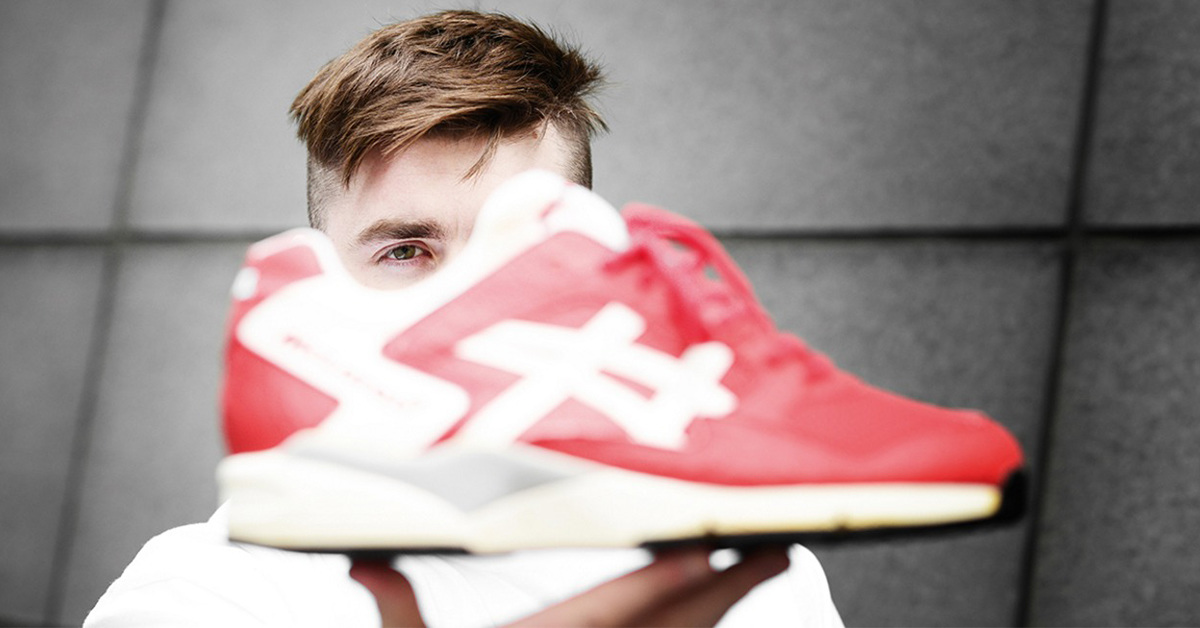 Morgan Weekes from Crepe City
Just before the start of London Crepe City, we present you an interview with one of the brightest minds and key players behind this huge event. He looks after many different things, including the social media channels, has his ear to the street and shares his great passion for sneakers on a daily basis. We visited Morgan in London to eat a bagel, photograph some of his gems and talk sneakers.

Hi Morgan, please introduce yourself to our readers - who, where, what and why!?
Hi, I'm Morgan and I live near London. I collect trainers and play a part in one of the world's most famous sneaker events - Crepe City.

Morgan, can you remember the moment you first got hooked on sneakers?
I wasn't really into shoes as a kid. Athletic shoes were considered a practical purchase in my childhood - you bought them once or twice a year, and my parents taught me to pay attention and appreciate what I had. I attended a school for children with ADHD - through this I learned about a broader culture and different types of creativity. During my teenage years I had a lot of friends who lived in central London and often hung out in my neighbourhood. The style at the time was G-Unit tracksuits, DW6900s, New Era Fitteds with the sticker on the edge, Nike TNs and Dunks - everyone more or less looked like an extra from a Terror Squad video. This trend influenced my first purchase - I remember getting money to go to town to buy new school shoes and I returned home from Footlocker with a pair of all-black Nike AF1s - since that day my love for sneakers has evolved.
That's certainly true! Can you remember how you made your first contacts with the scene?
I was fascinated by the hip-hop scene and paid more and more attention to what was being worn and how certain artists were styled. A friend and I downloaded music on USB sticks and watched a lot of music videos. Through his older brother, who did graffiti, he introduced me to the world of graffiti - one of which was in a sneaker shop about an hour's drive away. That was the defining moment for me, because I often visited the shop and browsed in the sales department. I remember there was a beautiful pair of top 10s in white leather with cream suede and silver detailing - they cost £30 - I thought they were really great, but because they were white I also knew they would get dirty, so I bought two pairs straight away. I was into high-top Forums, Dunks, AF1s and various Reeboks. At the time, work wasn't paying well, so I browsed the sale sections of KarmaLoop and Crooked Tongues. I always bought what I liked, and looking back I made some strange choices!
Crepe City has grown and grown over the last few years to the present day where it has become something so big and influential. How did you come to participate in the event?
In 2010/2011, I found out about an event on Twitter called Sneaker Scoundrels, run by a guy called James Gambo who lived in the same area as me and wrote reviews of SBs. There was no one interested in sneakers in my area at the time, so I went alone without knowing anyone and just chilled at the event all day. I remember grabbing a pair of Teal Air Flows from one of the vendors at the event, who I would now call a friend and who funnily enough sells at CC. I liked it so much that I chilled until the end of the event. Towards the end I met a guy who invited me to his own event called Crepe City. This was Ron, who I now count as one of my closest friends. I chatted with him more and more, and at the next event I helped clear the tables and clean up the event. At each subsequent event, I came early and set up the tables and sat at the door to stamp the tickets. Looking back now, I miss those times - I soon became a member of the Crepe City team. After the event, I took over all the social channels for the event and went from 4k to crazy numbers in a matter of weeks. I've always had an eye for content and strong imagery. I posted what I liked and I think that went down well. At the time I still had a full time job and I remember sneaking off, taking breaks and risking the wrath of management to make sure social channels were constantly updated and emails answered. Today I'm one of the directors at Crepe City, looking after brand communications, design and creative input. It's pretty great, if I'm honest. I work with my friends every day and talk to trainers 24/7.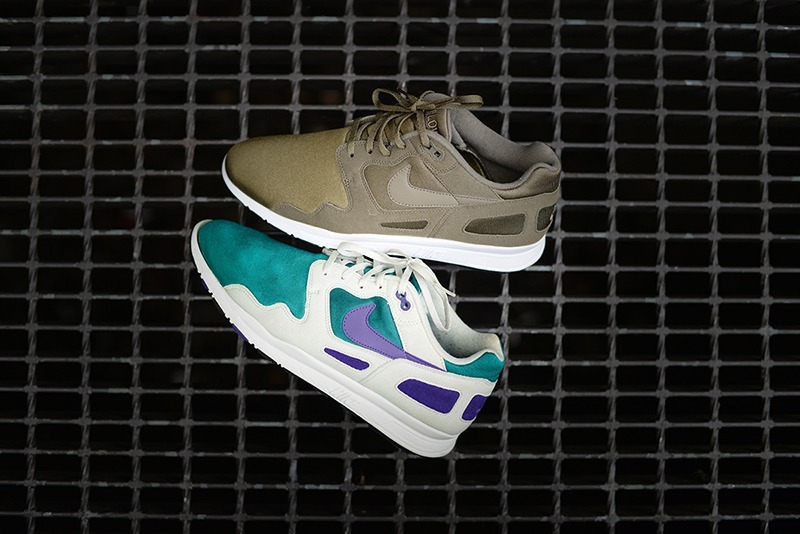 That sounds like a dream come true! Where do you see the event going in the future?
The growth is really insane - especially I see it getting bigger and bigger. I think the biggest challenge to overcome is money, and when it comes to the event, these things are not cash cows - venues are expensive and a lot of the work is done in our spare time. Ron and I often joke that we never stop working, but that's the reality - we never stop working. The other obstacle is perception, and that's really smooth sailing for us. People know that we're not corporate jerks who only care about being cool or making a lot of money, but that we work with real passion and real knowledge and have the credentials to back it up. Even though it can be a bit stressful at times, our people know that they can always send me, Ron or any other member of the Crepe City team a message and we will do our best to respond as quickly as possible. Charity is very important to us and we have supported many organisations over the years, most recently the Great Ormand Street Children's Hospital, which we have been involved with. At our last event we launched a small clothing collection which sold out immediately and we will try to improve on that in the future. My dream has always been to collaborate with brands and hopefully one day design shoes for our community and audience - that's a big life achievement for me and I can't wait until it happens.
Now let's get back to the topic of sneakers! You are a big fan of the EQT series. Why EQT?
I love EQTs, I think it's the best thing adidas has ever done, apart from their Boost technology. I feel similarities between both series, especially with the Support and Ultra Boost. You can look at a lot of EQT models and pick out parts that are all useful. The strips are there for support and to secure the laces, the extra panels are there for stability and strength, nothing about these shoes is there for shenanigans. I prefer the vintage models if I'm honest, and not just the running shoes, but I find it difficult to find anything in my size. I recently tried the new MiEQT options and spent a few hours messing around. I haven't found anything that feels like an instant buy yet, but I hope they add more colours and hopefully the OG Ferro Green.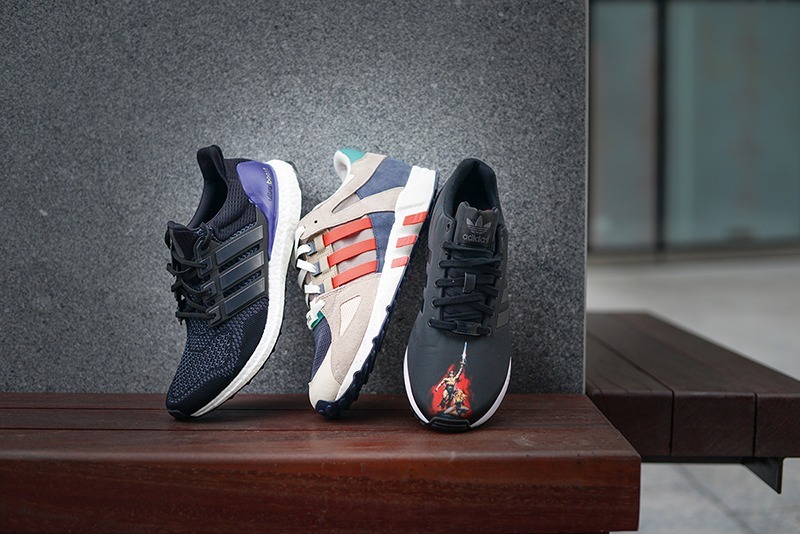 Let's stay with your favourites for a moment. Can you tell some special stories about the shoes you have in your collection?
I have a personal relationship with many of my pairs. But three in particular are the Footpatrol Gel Saga's, Nike Teal Air Flow's and Mclaren Asics. I camped for the Saga's and it was one of the best camps I have ever experienced. It was cold but not as crazy as it is now and I met a lot of good people that day. The Flows were one of the first hyped pairs I bought. Unfortunately I had to sell them a few years later, but my friends tracked down the pair I sold, bought them back and gave them to me for my birthday. Eventually I own 2 of the supposed 3 types of Mclaren's made. The third I have never seen, apart from a blurry magazine photo, but the pair I own came from a friend who worked at Mclaren and were found in another employee's attic, both DS and both stunning.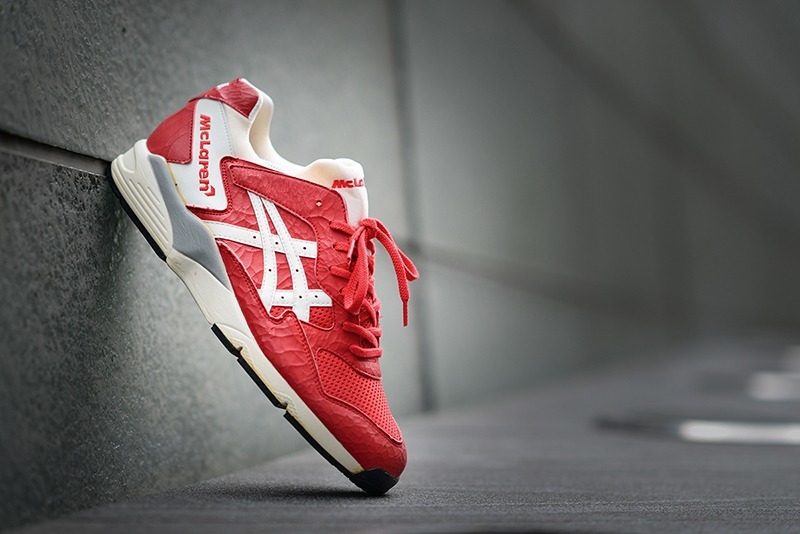 The most important brand and why?
Well, I have a lot of respect for all brands, but I'd be lying if I didn't say I lean towards the three stripes. You give what you get and adidas has worked with me a lot in the past. A lot of their team have become good friends now, they've presented shoes at the event, continued to support us and given us some pretty crazy access. I feel like they care a lot more about the sneaker community, and when you have that positive attitude, it's a lot easier to part with your money when you buy their sneakers. Also, they have Boost!
What else do you have on your menu for this year?
I will try to leave out the clichés. But for me personally, I just want to see the event get bigger and better, work more closely with more brands and cross a few sneakers off my list.
All the best to you, Morgan, and thank you for this interview!