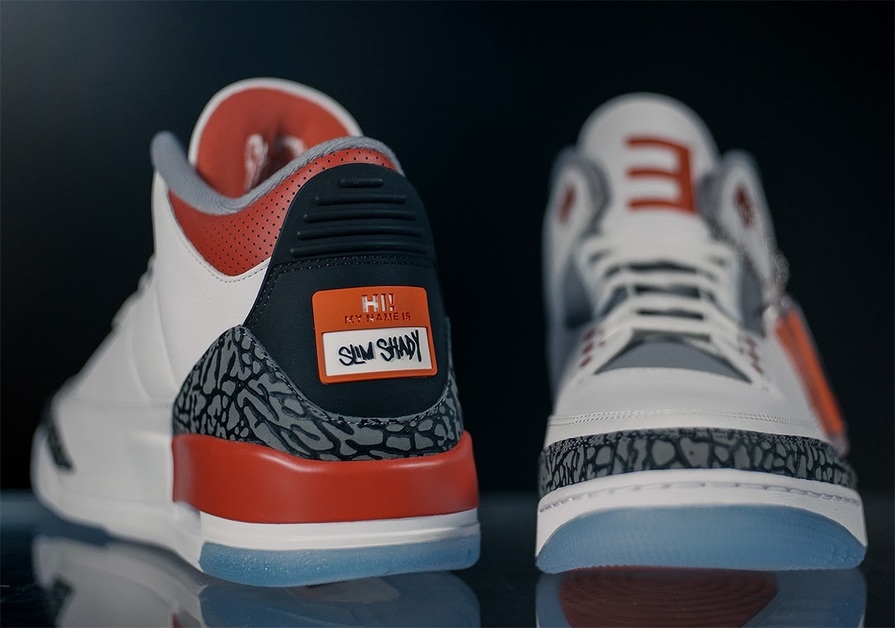 Eminem Wears an Exclusive Air Jordan 3 "Slim Shady" PE at the Super Bowl LVI Halftime Show
Super Bowl LVI is over, and the Los Angeles Rams won 23-20 against the Cincinnati Bengals. A very big highlight was again the Pepsi Halftime Show, which this time featured guest stars like Eminem, Dr. Dre, Snoop Dogg, Mary J. Blige, Kendrick Lamar, and 50 Cent on stage.
This massive load of '90s and 2000s hip-hop hits entertained over 100,000 viewers at SoFi Stadium and 111 million viewers in front of TV worldwide. But there were also a few surprises for fans when it came to the outfits. Sneakerheads were probably quick to notice the outlandish sneakers of Eminem, who presented an exclusive pair of Air Jordan 3 "Slim Shady" PE.
The Detroit native's shoes featured a classic colourway in white, black, and red. The underfoot has a translucent sole, while the heels feature a "Hi! My Name Is Slim Shady" sign. Other key details include an inverted E on the left tongue and embellishments inside the Air Jordan 3 "Slim Shady" PE.
Possible Auction of the Air Jordan 3 "Slim Shady" PE
Even more significant was Eminem's genuflection to show solidarity with Colin Kaepernick's sign of protest during the 2016 season. Kaepernick's protest was meant to shed light on the ongoing police brutality against the black community, which the NFL finally acknowledged in 2020 during the Black Lives Matter movement following the murder of George Floyd. Supposedly, the Air Jordan 3 "Slim Shady" PE will never be released, but this particular version may be auctioned off for charity.