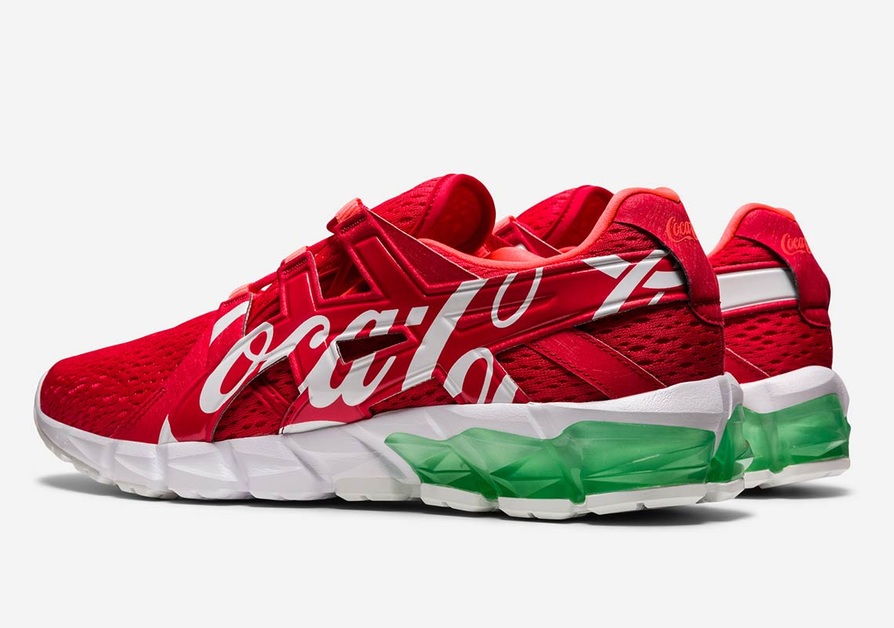 Find Coca-Cola's Big Script Logo on the ASICS GEL Quantum 90
In the past, really big brands used to put their advertising on huge screens. Later on, they shifted the ads to small screens like TVs or smartphones, and now, they are starting to use everyday clothes for a whole new approach.
Here, we show you one of the best examples of this advertising, because this new Coca-Cola x ASICS GEL-Quantum 90 looks just like a sponsored advertising poster by Coca-Cola. At first glance, the shoes do look like an unusual pairing, but the subtle branding and harmonious colour combination don't seem to just flaunt it like other ads do.
Rather, the sneakers are a tribute to the soft drink itself. The base is a light mesh with a red background. Coca-Cola uses the harder overlays for mismatched branding, with the rear heel patches showing the logo in full and a tiny silhouetted Coke bottle adorning the throat with ASICS branding. Further down, white midsoles with green GEL cushioning then finish off the design — an obvious nod to the old green bottles.
Where to Buy the Coca-Cola x ASICS GEL Quantum 90
First retailers like NAKED have already picked up the Coca-Cola x ASICS GEL-Quantum 90. On April 9th, you can shop the sneakers there for 150€.