Interview With Tinker Hatfield
Tinker Hatfield is something like the Thomas Edison of sneaker history. And even though sneakers existed long before the Swoosh was born, there is some truth to this phrase. Not only did he give us some immortal classics like the Air Trainer, numerous Jordans or the Air Safari, but he taught an entire industry how to tell stories with shoes. One of them began in Paris, where the former architect took the Centre Gourges Pompidou as inspiration for the Air Max. And because the shoe is more legendary than ever, we interviewed Tinker right in the French capital. Here we go.
Tinker, when was the last time you were here in Paris?
The last time I was here was about three years ago for the French Open. My little daughter had just graduated from the Cordon Bleu School in Paris and we came for her graduation.
What is it like to come here? What does Paris mean to you?
Paris is one of my favourite cities in the whole world. I enjoy the energy, but of course also the beautiful architecture, and nowadays I also like the people ... (laughs) that's a joke!
Talking about the Air Max 1, how long did the initial design process take?
The first version was quite a long process. And I should mention that Mark Parker, our famous CEO, was the designer of the shoe. So I did the first sketches and came up with the idea of the window, if you want to call it that, on the side of the shoe, based on a trip to Paris many years ago when I visited the Centre Georges Pompidou. It was interesting to me because it was a radically different architecture - hated by many, loved by some. It was provocative ... it was different. And it had changed the way people looked at architecture, and I thought that since we were developing new air technologies at the time, it would be a great opportunity, as with the Pompidou, to turn that shoe around so you could see the technology. This process took a while because not only did I have to design it, which meant making sketch after sketch, but I also sometimes argued with Mark Parker about it. But since I was the designer, I usually won those arguments. Nevertheless, it took me about three months of making sketches and some rough prototypes to develop a kind of vision for the shoe.
What was special about the Pompidou that inspired you?
The Pompidou was built a few years before I arrived in Paris. It was still relatively new, but not brand new. I knew it and had seen it in photos and came to Paris especially to see this building in person. Sometimes I get inspired by things I see in magazines or other media, but most often the inspiration comes from just walking down the street.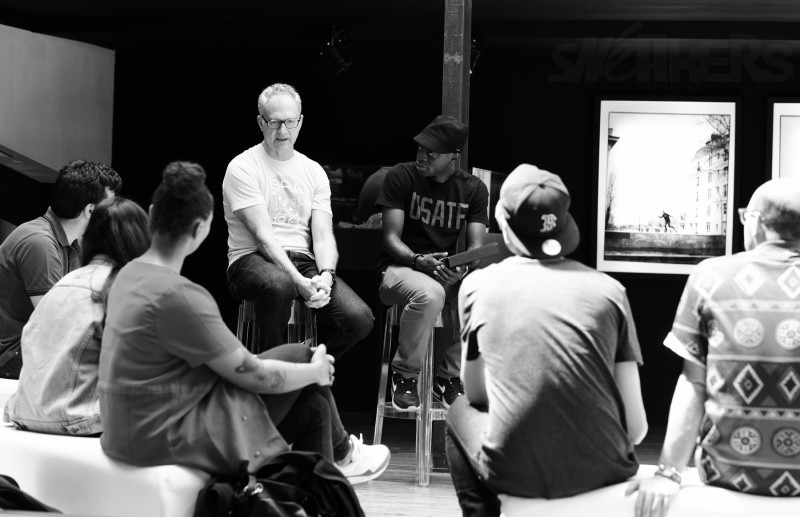 A handful of media representatives were invited to the interview. A great intro was spoken by Charlie Dark from the Run Dem Crew in London.
How do you keep track of your ideas? Do you keep something like a scrapbook?
I have several notebooks full of sketches and drawings, and Nike archives all these sketches that pop up here and there at shop openings and presentations. Yes, I have a lot of sketches and I draw a lot, mostly in colour, which is great because I recently switched to the iPad. I don't want to sound like an advertiser for Apple, but the iPad has allowed me to do away with all the sketchbooks and all the paraphernalia for drawing, so I've been drawing on it all the time.

Did you work with a specific athlete when you were designing the shoe?
No, not really on this shoe. I work with athletes all the time, whether it's runners, basketball players or other athletes. But with this shoe, I really felt that it was good to focus on a broad cross-section of runners. I had the prototype runner in mind, but this runner was quite versatile. I didn't have a specific person in mind, an Olympic gold medallist or anything like that. It was really just about people running and wanting to be protected by a big cushion of air.

How was this kind of innovation received at Nike at the time?
There were a lot of people at Nike who didn't want this shoe to survive. Imagine that. The business people didn't think they could sell a shoe with a hole in it. There were marketing people who didn't think they could market it because it was red and white. At that time, most shoes were blue, black, white or grey. There were no bright colours, especially if they were not racing shoes. So yes, all sorts of people were against this shoe, including our own marketing group. But Mark Parker and I were given a little leeway to pursue the project, essentially by Phil Knight at the top, who said, "Leave the boys alone" - which basically meant, "Don't fire the boys."

What were you trying to achieve with the design of the shoe?
This shoe was not meant to be a new kind of performance running shoe. To this day, my job at Nike is to provoke, to push for change and to piss people off. And if you don't piss people off, it means you really haven't done much. You haven't set new standards in design or communication. So in that respect, the shoe has definitely served its purpose. There were a lot of angry people and a lot of doubting media. I remember a couple of shoe critics from England who thought this idea for a running shoe was absurd. They were mostly concerned about the aesthetics. There were a lot of negative comments about the shoe.

I'm always very interested in the moment when people have the brilliant idea. Can you tell a bit more about how the actual idea came about?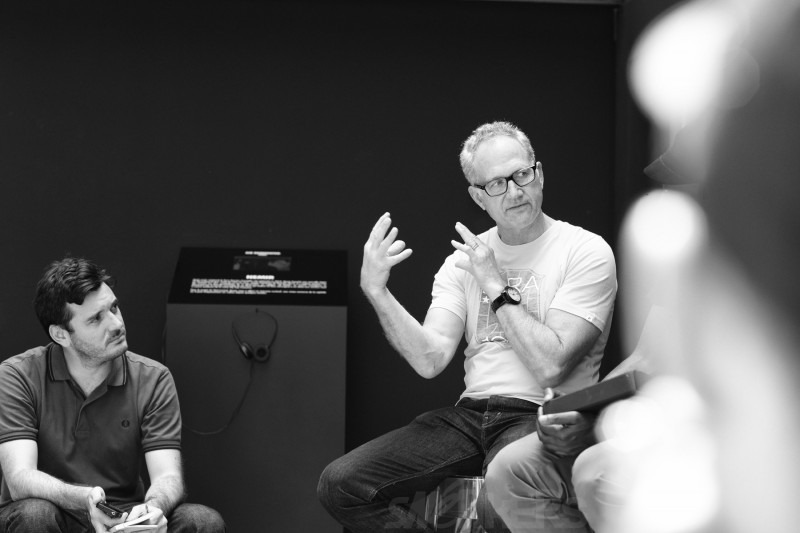 After the half-hour introductory interview, it was a candid conversation with Tinker Hatfield
That's a good question, because often it takes several reasons to do something, not just one. One reason was that I saw the Pompidou. The other reason was that we were making bigger and bigger airbags and nobody knew what an airbag was - a damping system. We were making them bigger and bigger, and I thought if we made them just a little bit bigger, they would have almost the same width as the whole midsole, and we could shorten the midsole without having a big cut-out and an unsupported part of the shoe. So these two things together made sense. And not only did I have the drawings of the Pompidou and some photos to explain the inspiration at the time, but I also had the science to back me up. Because we were building bigger and better Air Max bags, and the cross-sections through the midsole showed that the bag wasn't wide enough and we could actually leave out part of the midsole. So there was some scientific evidence for the provocative part of the story.
 
So the innovation aspect was very important for you, wasn't it?
For me it is, yes. I mean, there are a lot of people who are great stylists and who create designs based on all kinds of inspirations that are driven by aesthetics. I like to do that too, but the difference with my work is that I try to solve real problems for real athletes.

Did you think back then that this shoe would become so popular?
No, not at all, absolutely not. I remember a trip with Mark Parker when we had the very first finished prototype, carefully hidden in our bags as we sat on the plane not wanting anyone to see it. It was funny because we both looked at each other and said, "Do you think we'll get fired for this?" or "Will it do what we think?". To put that shoe in context, you might have to consider that almost all athletic shoes up to that point - and I would add that the Air Max, the Air Trainer, the Air Revolution and the Air Jordan III were all done around the same time period as well - basically all athletic shoes at that time had a simple, utilitarian design. There was no storytelling. Sometimes athletes would advertise their products, American athletes like Julius Erving or Larry Bird in basketball, but they would just write their names on the shoes. Until this shoe, there was just no story or development of what I like to call "romantic storytelling" behind the design of sports shoes. This was the first, the visible Air story with the Pompidou. Then Nike put another story on top of that by saying "You want a revolution?" and using the Beatles song. And that story would just say that it's a revolution and a lot of great things happen because people decide to swim against the tide. So all these things contributed to it being an important product and it was fun to be involved in it.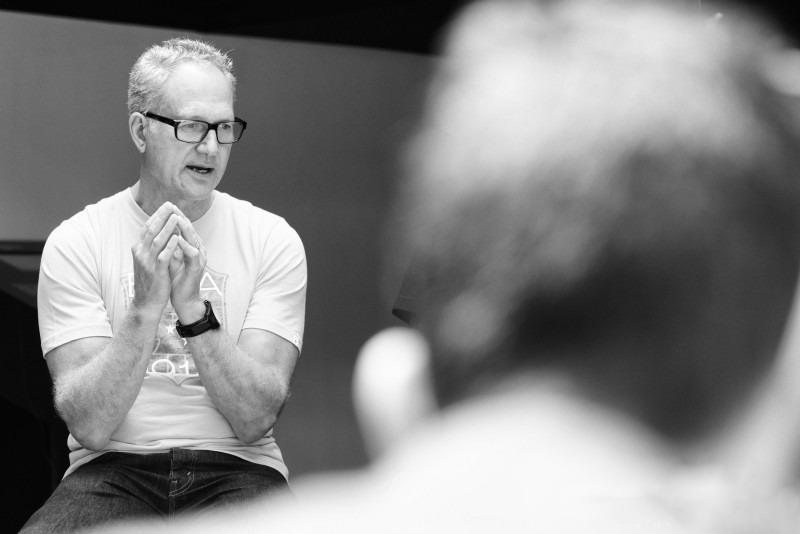 Wasn't it very unusual at the time to bring "storytelling" into the shoe industry?
I had worked for Nike for almost five years before this shoe. I was the corporate architect, so I knew about the Pompidou. And when you design a building, for example a church, there is often a story behind it, which in this case is: "God is bigger than you". You come in and you're supposed to feel smaller. The building is big, and that's a way of telling a story about a power that is bigger than you. So when you walk past a church, that story is reinforced by the design of the church itself. You could say that this applies to other things as well, like locomotives or cars, basically all large constructions. With shoes, the idea just wasn't there yet. It was just about making shoes and giving them to athletes. The aesthetics were not thought about at all. You know, sometimes success in this world is about being a genius, but it can also be about being in the right place at the right time. So there you have it.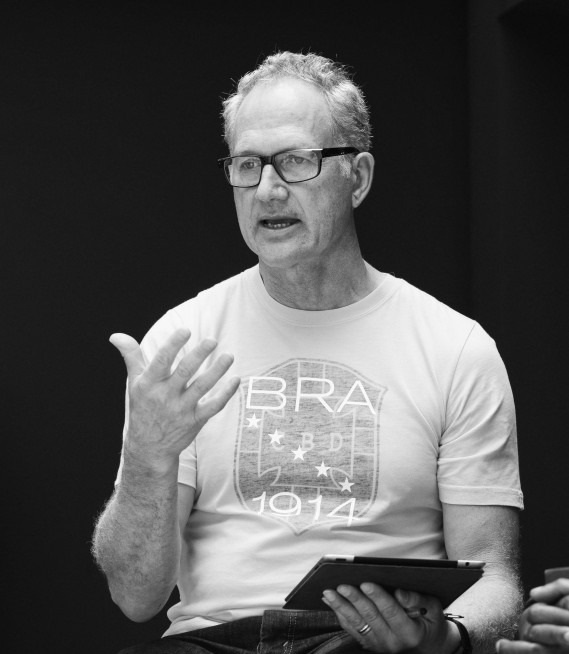 When you travel around the world and see people wearing the shoe. What is that feeling?
At the beginning, I wasn't even aware of it. I designed one shoe after the other, and we tend to work one and a half to two years in advance. So when this shoe came out, I had already designed the next Air Max. So I never spent much time thinking about how these products would be worn or received in the market. I knew they were selling well because the sellers told me so. But still, I didn't dwell on it that much. About four or five years later, I was working on so many shoes for Nike, and I was creative director for apparel at the time. There came a point when I got sick. I had been working too much and not getting enough sleep. One day Mark Parker just said, "You're a wreck, why don't you take some time off". So I took my wife and we travelled around the world. We got to Paris, the Caribbean islands, South America, New York City - tiny out-of-the-way places and big cities. And what struck me was that I couldn't go anywhere without seeing something I had designed - not in a single place in the whole world. It's probably still like that today.
Isn't that a great feeling?
It was kind of great, yeah, I felt pretty cool about it and had the thought that I had done something important. But then my wife reminded me again that it wasn't so great.
What was special about the design of the shoe?
I think good design can be timeless if it has a purpose in the first place. Not only a purpose, but also an idea and a science behind it. And it has to be designed with a certain amount of restraint. Even if the shoe was crazy for its time, it looks good today because it's not over-designed. If you look at the history of Air Maxes, there was a point a few years ago when they looked like 17 people designed each one. There were so many moulded plastic pieces, so many colours ... I think it's hard for these kinds of products or ideas. They don't stand the test of time very well. Maybe they try too hard or they are over-designed. I think the Air Max was designed with good lines.