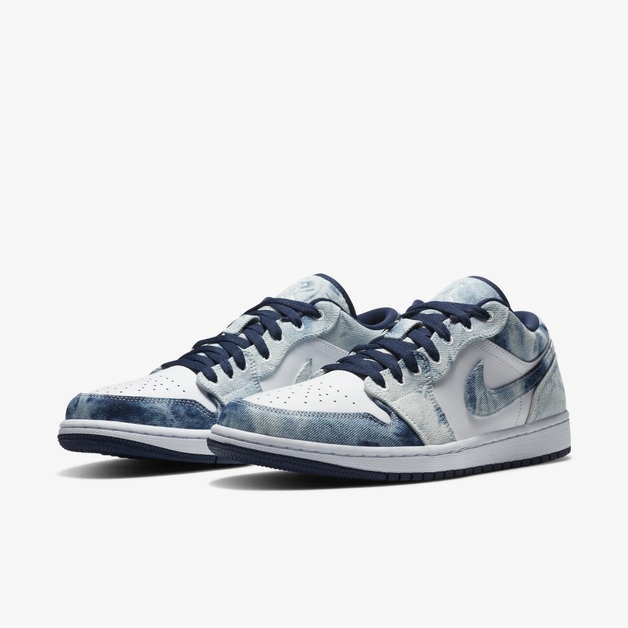 Jordan Brand Releases an Air Jordan 1 Low "Washed Denim"
Update 01.07.2020
Can you also hardly wait for this release in the next few weeks? This is because it's going to be a very wild time indeed. Nike has just uploaded the official pictures of the Air Jordan 1 Low "Washed Denim" and gives us the best view. Unfortunately, a release date has not been announced yet. We will stay on it and keep you up to date.
Original article 04.05.2020
We have already seen some special colour schemes from Jordan Brand. Either unique sneakers with a reference to MJ's past are dropped or the signature sneakers with a vibrant colour scheme are released.
And if we take a look at these pictures now, we might think that the Air Jordan 1 Low is the perfect candidate for new CWs. The latest leaks show the low with a denim upper.
The style of the Air Jordan 1 Low "Washed Denim" reminds us of the Air Jordan 1 High "Tie Dye" that was recently seen in the Jordan Brand Summer 2020 collection. The DIY design mixes white leather with denim and is the core of the overall colour scheme. In some places, the tough material is heavily faded, creating that certain washed denim look. The tongue as well as the insignia of Nike are stylishly adapted and create a harmonious balance.
Details About the Air Jordan 1 Low "Washed Denim"
So far, we have only the picture. Further release info or more pictures are still missing. But, the sneakers will probably be released this summer.
pic by @solebyjc