Latest Pickup: Home Alone x adidas Forum Low '84
Update 10.12.2021
Are you gifting yourself a present this year or are you making someone else happy? No matter what you choose, this sneaker is sure to put a smile on your face. Tomorrow, December 11th, the Home Alone x adidas Forum Low '84 drops at adidas and select retailers. Get our Grailify app and activate push notifications so you don't miss the release.
  Original article 30.11.2021
HO HO HO! Time has flown by again and another year is almost over. Christmas is once again upon us and people are flocking to the big department stores to gather gifts for their loved ones. Other families, however, may forego the presents and instead get together for dinner and a nice movie night.
The latter will almost certainly have already picked out a favourite film for Christmas Eve, because "Home Alone" is a MUST every year. In the children's film, eight-year-old Kevin McAllister defends his home from the crooks Harry Lime and Marvin "Marv" Merchants aka The Wet Bandits, who want to break into the house.
Now adidas has taken inspiration from this classic and is striking nostalgic notes with a new Forum Low '84. And it's probably a very smart move by Three Stripes, because anyone born in Generation X will notice this new collabo with the Disney franchise. After all, the Christmas classic from 1990 with Macaulay Culkin has a strong appeal.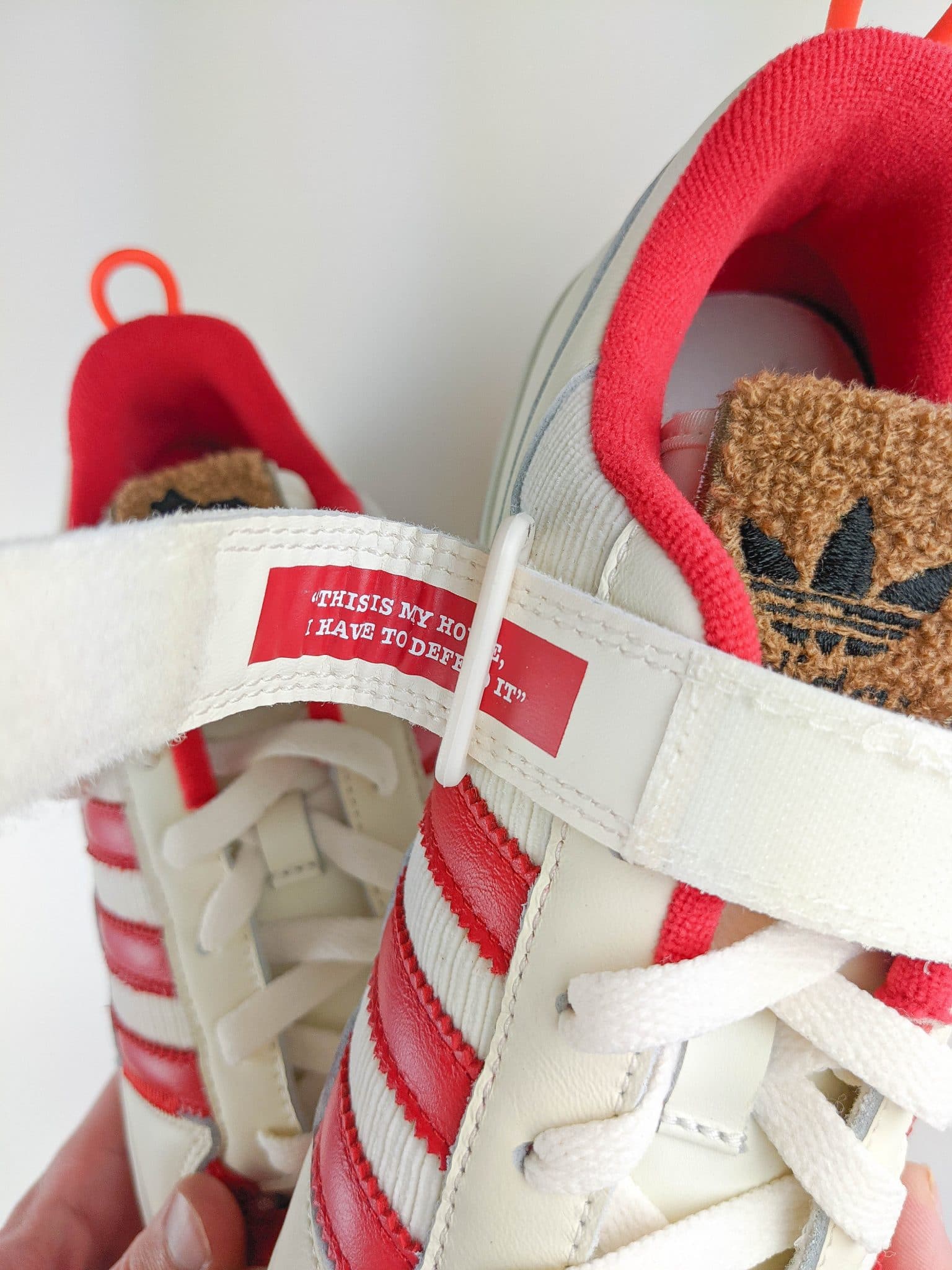 Style - "This is my house and I will defend it!"
The plans for the collaborative Home Alone x adidas Forum Low '84 are ingenious. The different details on and in the new sneaker allude to the many scenes featured in the film directed by John Hughes. Kevin McAllister's worn sneakers serve as inspiration. They are made of leather and feature a two-tone scheme in cream and red.
Battle scars then characterise the many spots of the Home Alone x adidas Forum Low '84 and a Trefoil logo on the side is swapped for the silhouette of the Chicago house. At the back, a red medallion adorns the sneakers, which is a nod to the hot doorknob, and soft tongue labels hint at the McAllister family doormat.
But that's not all the details that adorn the Home Alone x adidas Forum Low '84. Underneath the left strap is Kevin's legendary battle cry "This is my house, I have to defend it!" and next to the straps small scribbles point to the battle plan.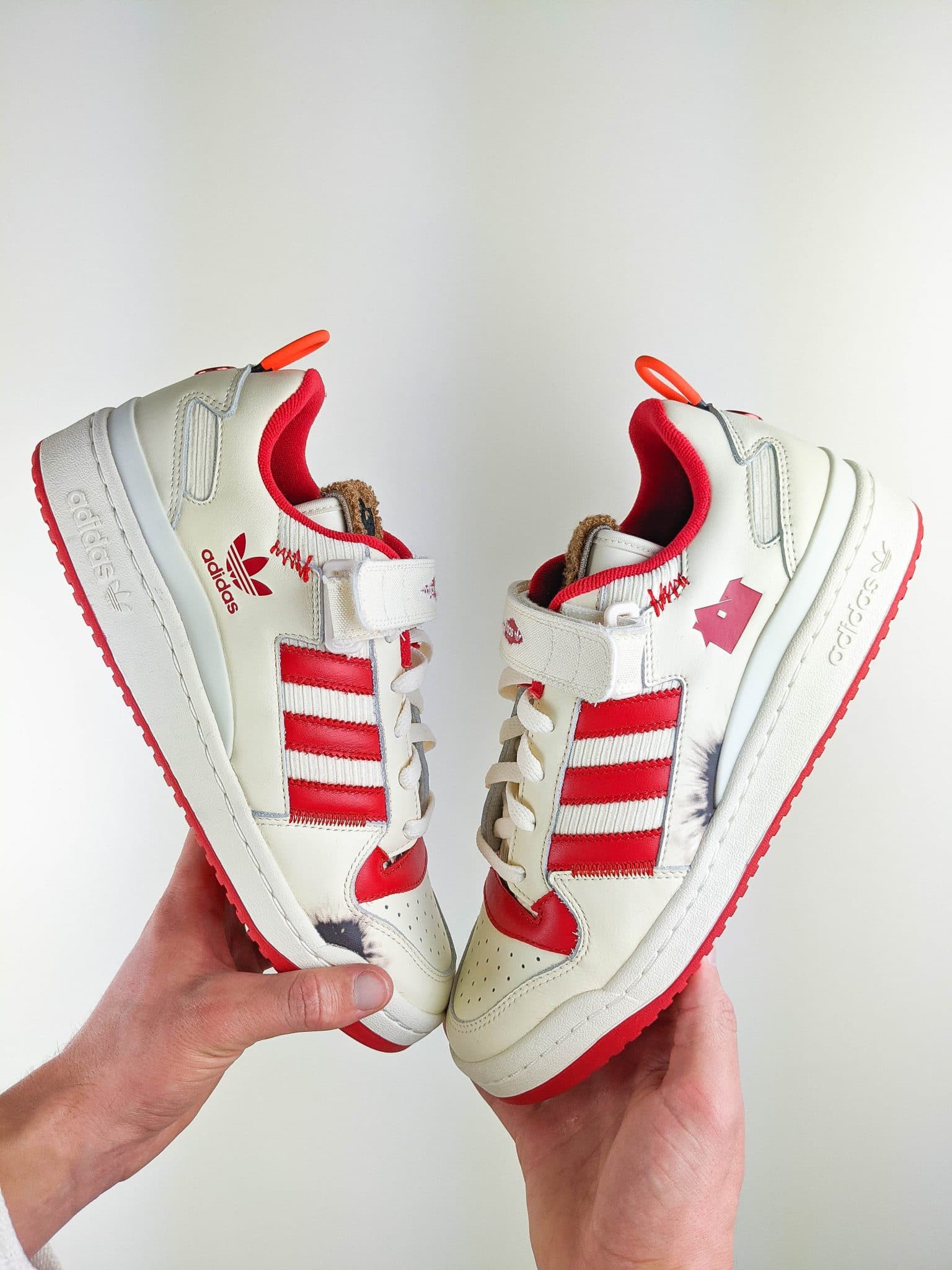 More Accessories for the Home Alone x adidas Forum Low '84
For those who still want to personalise their Home Alone x adidas Forum Low '84, adidas offers a wide range of accessories. Small lace pins in the shape of traps used by little Kevin can be attached to the laces. In addition, you also get two pairs of insoles that capture the most legendary moments from "Home Alone".
Technical Details on the Home Alone x adidas Forum Low '84
Not only the festive look of the Home Alone x adidas Forum Low '84 is absolutely amazing, but also the technical aspects upgrade the classic shoe. The buttery soft leather feels very good and a padded collar increases comfort. Underneath, there is also a comfortable midsole and a traction outsole that matches the rest of the colourway.
Conclusion on the Home Alone x adidas Forum Low '84
It may sound exaggerated, but in our opinion, adidas has put together a tremendous collab with Home Alone. Visually and technically, the Forum Low '84 convinces us on all points. If you're watching "Home Alone" again this Christmas, do it with these sneakers. The Home Alone x adidas Forum Low '84 is dropping at adidas CONFIRMED in just a few hours. So sign up quickly and take your chance. You can find the link here.