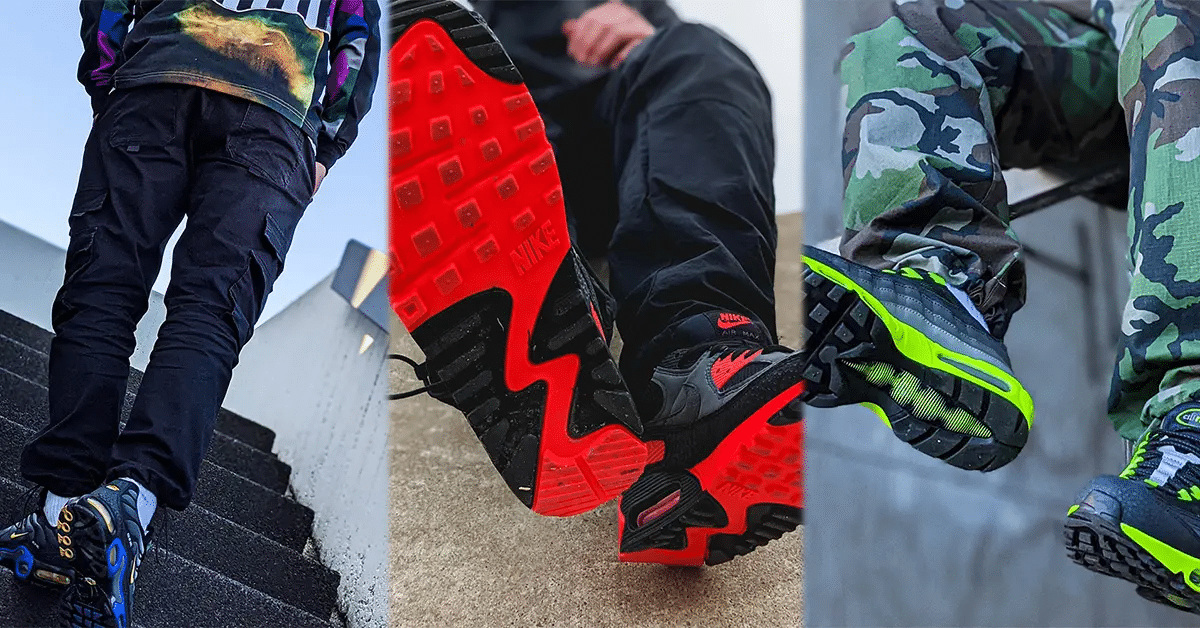 Latest Pickup: Nike Air Max "Kiss My Airs" Collection
Nike has finally unveiled the entire "Kiss My Airs" collection and fans can expect a massive collection of sneakers from the revolutionary Air Max family. This Nike Air Max "Kiss My Airs" collection includes a Nike Air Max 90, Air Max 95 and Air Max Plus, which share signature details and a vibrant pattern.
March 26th (Air Max Day) culminates Nike's Air Max Week and on this day, great sneakers are usually released as well as some surprises. Throughout the week, however, other models from the great Air Max line are released and have been for several years. In 2021, Nike revives the legendary slogan "Kiss My Airs" with classics in a modern mix. Let's take a look at the individual models and details together.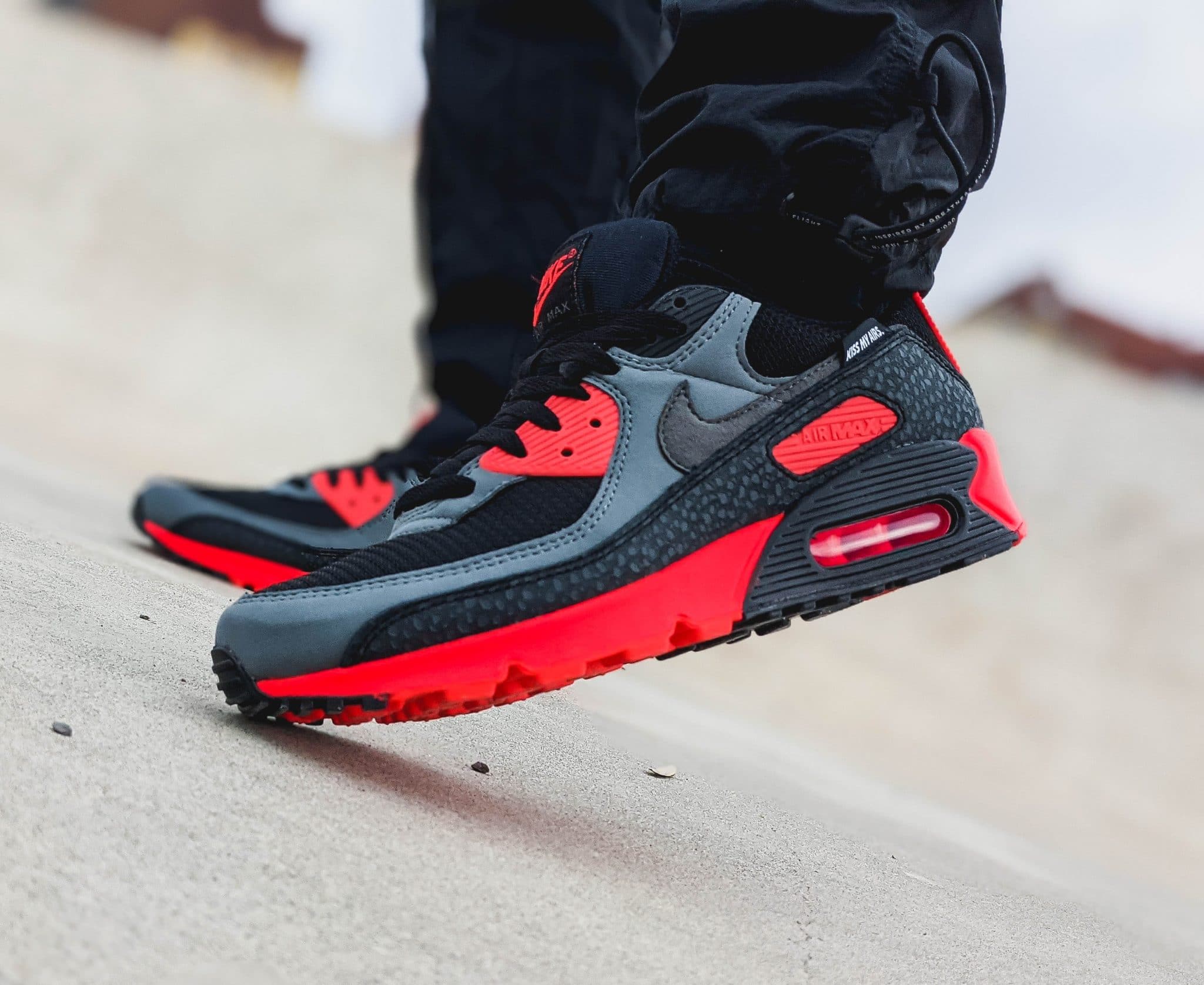 Style - Sneaker with Provocative Slogan
Nike Air Max 90 "Kiss My Airs"
When we talk about classics, we automatically think of the famous Nike Air Max 90 by Tinker Hatfield. This silhouette celebrated its 30th anniversary just a few months ago and with its entry into the "Kiss My Airs" collection, the model is honoured once again. The Nike Air Max 90 "Kiss My Airs" features a subtle safari print in the midsection as well as bold red hits for a reminder of the sneaker's origins.
You could say the sneakers are two-tone, but they're not. Different shades of grey stack up on the upper and the mudguard gets the aforementioned pattern that Tinker Hatfield designed in 1987. Other elements like the sole, heel patches, eyelets and Air Max branding get a bright red hue, while the name-giving patches sit just above the protective overlays.
Nike Air Max 95 "Kiss My Airs"
Well thought-out and playful slogans have not only been a part of Nike's advertising, but also a part of many collections. The slogan "Kiss My Airs" is one of the most famous slogans and probably because of the hidden provocation. But we don't care as long as the participating sneakers look as awesome as this Nike Air Max 95 "Kiss My Airs".
Compared to the AM90, this iteration uses much more subtle detailing. Different leather inserts - some smooth, others safari-like - are given various shades of grey and together form a soft gradient of colour across the multiple side layers. Underneath is a black mesh and neon yellow Volt hits on eyelets, brandings and midsoles, as well as "Kiss My Airs" patches round out the design.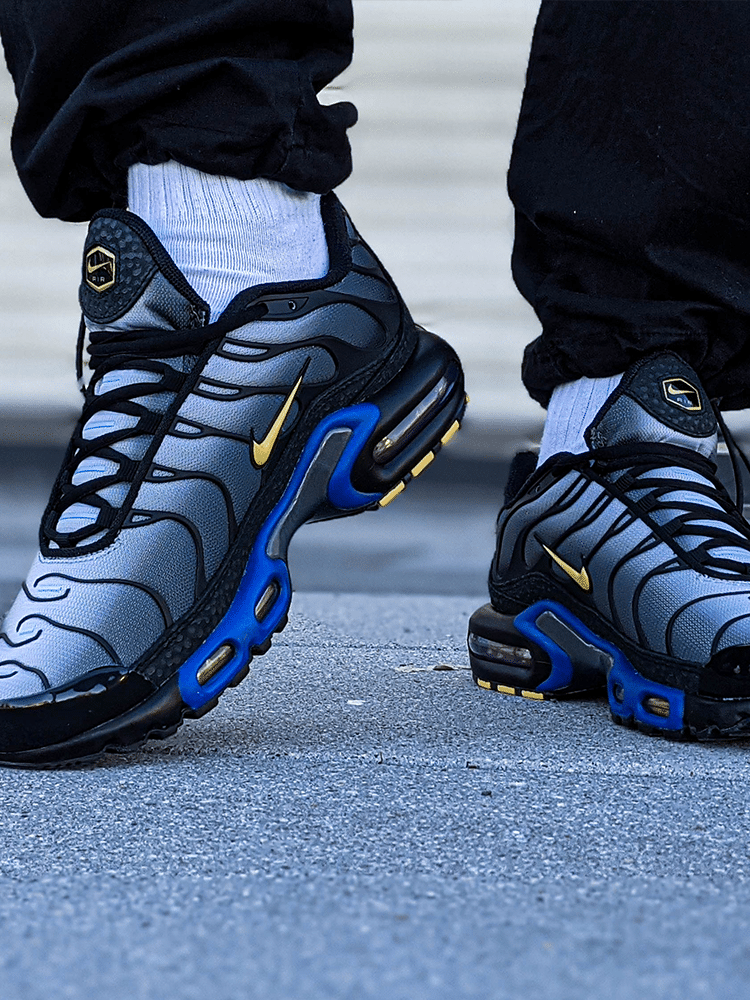 Nike Air Max Plus "Kiss My Airs"
Next to "Just Do It" and "Have A Nike Day", the slogan "Kiss My Airs" remains Nike's most memorable slogan. And while the commercials featuring big-name rappers or designers don't hit the streets as often now, the campaign will live on through its own releases like this Air Max Plus.
Without looking at the individual details, the Nike Air Max Plus "Kiss My Airs" looks very simple in its design. The sneaker is made of lightweight mesh, which features a soft gradient and accentuates with different shades of grey. A deep black then dresses the wavy TPU overlays and the front mudguard. Lastly, we also find the namesake patches above the safari print overlay.
Technical Details
The technical progress is in the name of every model. Nike's Air Max cushioning is one of the most popular. They are very light and cushion every step with energetic and voluminous Air Units. Originally Nike developed this cushioning for performance runs, but why shouldn't we wear such sneakers on the streets? Add to that a lightweight synthetic upper for enhanced breathability and reinforced overlays for more support and stability.
Conclusion on The Nike Air Max "Kiss My Airs" Collection
Finally, Nike has created another fierce collection. "Kiss My Airs" has been one of the best slogans for many sneakerheads since day 1 and now fans can soon gear up with three new sneakers. On March 22th, the sneakers from the Nike Air Max "Kiss My Airs" collection will drop directly at Nike.