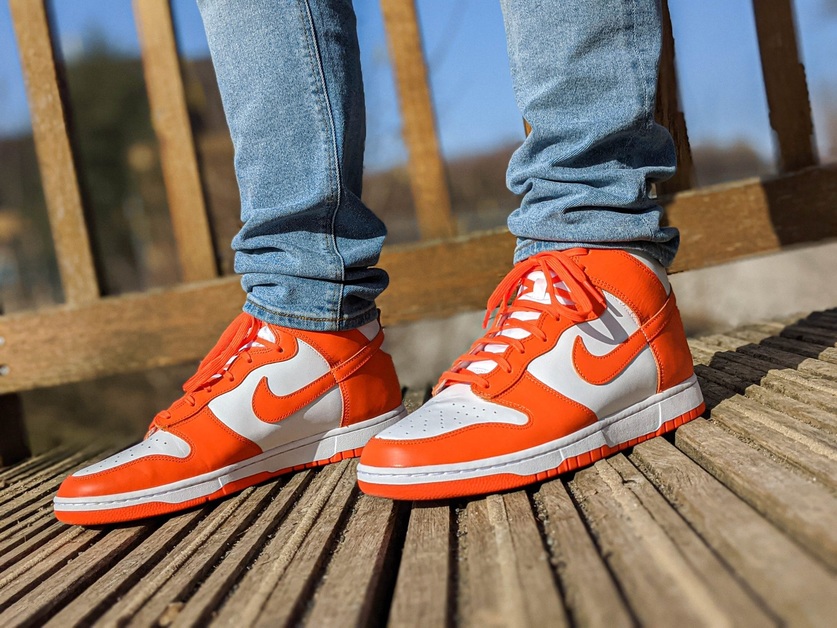 Latest Pickup: Nike Dunk High "Syracuse"
It was 1985 when Nike created a very important sneaker for basketball. At that time, however, only a few people probably knew how interesting that specific year would be later on. The Nike Dunk was born and has been making history since 1985. The silhouette was designed by the young Nike design team and was one of Nike's best performance sneakers.
Sure, we know that there may be better and more innovative sneakers out there, but the Dunk is an icon and marks a year in Nike history that we remember fondly. With the Dunk, Nike was striving to create better basketball shoes and put more focus on basketball. Shortly after, fans saw the sneakers not only on the court, but also on the streets.
Designed by Peter Moore, the sneaker was a performance sneaker as well as a lifestyle model that was heavily influenced by the Air Jordan 1, which debuted just a few months earlier. It has a similar traction pattern and the upper is very close to the construction of the Jordan. Shortly after, the legendary "Be True To Your School" pack followed, which was revived in 2020 and 2021.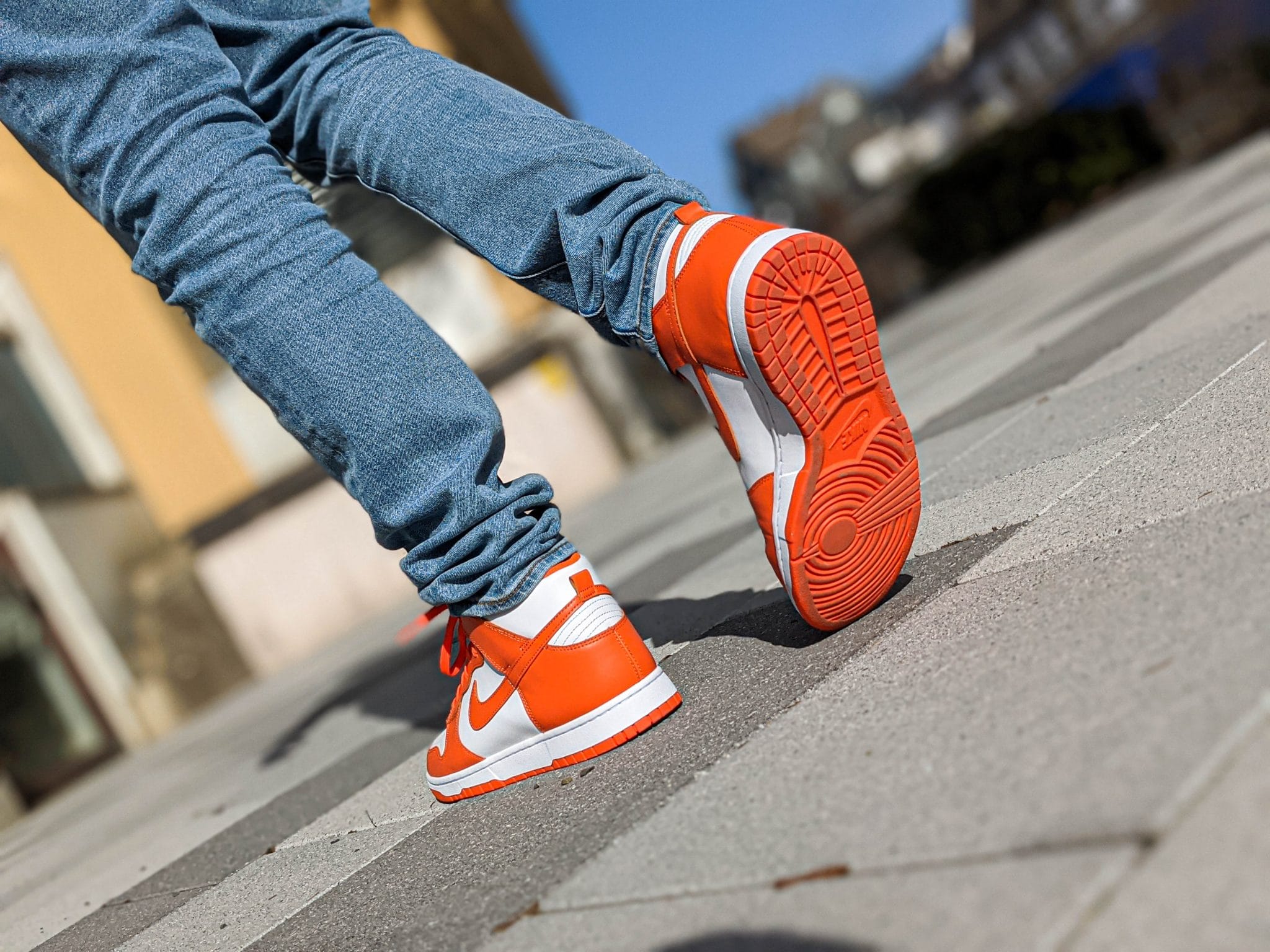 Style - College Colours Teams included UNLV, Arizona, Iowa, Georgia, Syracuse, Georgetown and Kentucky
Nike's "Be True To Your School" pack includes several icons similar in prestige to the Air Jordan 1 OGs. And having already received several Retros, we take a look at a new "Syracuse". Just a year ago the low variant was released and now the high variant, the Nike Dunk High "Syracuse", is revived true to the original.
You get the characteristic and bright orange overlays made of robust leather. These include the mudguard, eyestays, ankle tabs, heels and Nike branding. Other elements like the laces, lining and outsoles follow suit, while the underlying midsoles, base and tongues are kept in a neutral shade of white.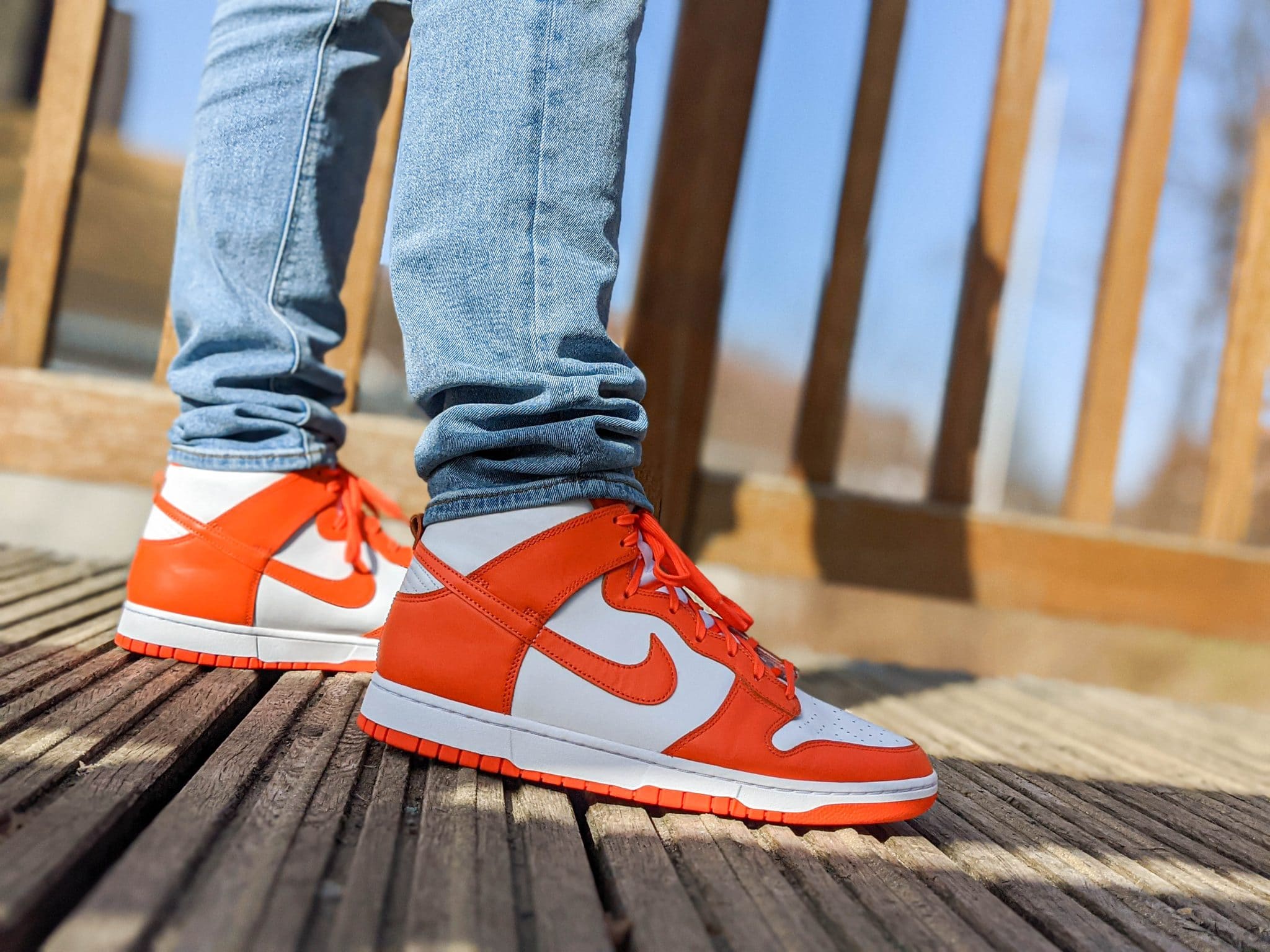 Technical Highlights
Nike Dunks are mostly uncomplicated and simple in colour design. But that doesn't mean that the other features are simple as well. It was originally a basketball sneaker and therefore still has performance characteristics today. The upper is made of robust leather, which makes the sneakers suitable for everyday wear.
The good comfort is due to the modern outsoles and midsoles made of foam. They are very light, reduce the weight of the sneaker and optimally cushion the step. In addition, the padded collar provides extra support for lateral movements and a rubber sole with a classic basketball pivot point rounds off the specs.
Conclusion on the Nike Dunk High "Syracuse"
Nike has created a traditional sneaker again, and it feels like every sneakerhead wants to hold the new shoes in their hands. They feel good, have the classic retro vibes and are also affordable. You can buy the sneakers for 110€ on March 11th at Nike and selected retailers.