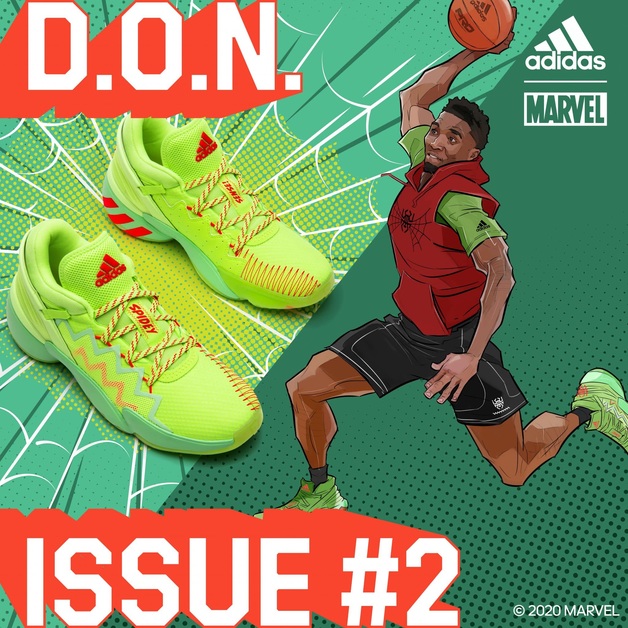 Marvel and adidas Release D.O.N. Issue 2 "Spidey-Sense" with Donovan Mitchell
"The friendly spider from the neighborhood" is probably known by a lot of people. Just days before the start of the NBA off-season, adidas, Marvel and basketball player Donovan Mitchell have officially unveiled a new signature sneaker featuring details reminiscent of the legendary Spider-Man.
The D.O.N. Issue 2 is the latest silhouette from the global brand with the Three Stripes and complements the hardwood range. For the latest colour scheme, the people of Herzogenaurach refer to Donovan Mitchell's nickname "Spida".
Fans are now probably expecting a basketball sneaker with a theme-oriented colourway. However, there is very little resemblance to Marvel's Spider-Man, as the pair is mostly coloured green — a rather atypical colour scheme for the heroic arachnid.
The details are brilliant. On the right sneaker, a "Spidey" in "Solar Red" accentuates the shoe, while a "Sense" adorns the left one. Furthermore, the heels are accompanied by a similar Spider-Man logo.
When Will the Marvel x adidas D.O.N. Drop the Issue 2 "Spidey-Sense"?
Fans can probably hardly wait for this drop. On August 28th, the Marvel x adidas D.O.N. will drop. The Issue 2 "Spidey-Sense" will be available at adidas and cost about 90£.