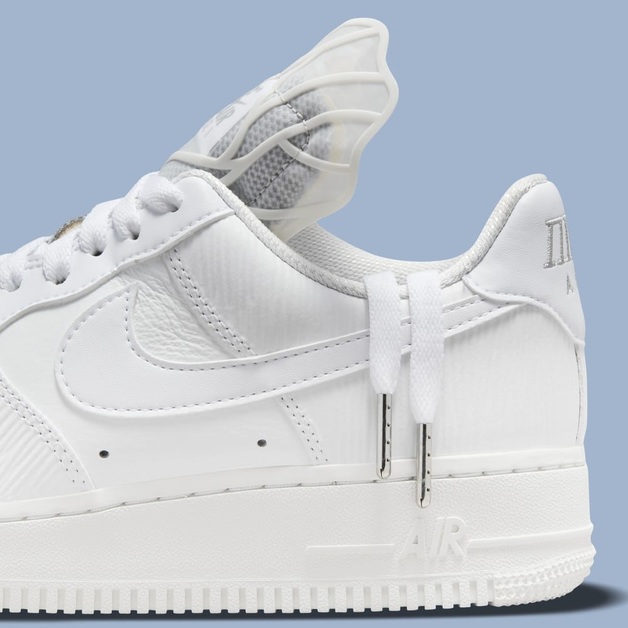 Official Nike Air Force 1 "Goddess Of Victory" Images
The Air Force 1 is pretty much one of the most iconic shoes in Nike's range and has being loved by the entire sneaker community for its timeless design for decades now. With such an expansive time span, it's only logical that the label with the Swoosh also experiments with the silhouette and comes up with new creations. In the past, we have already enjoyed cool new versions that have given the Air Force 1 some fresh modification. There is, for example, the Air Force 1 Pixel, the Shadow or the Experimental. Now, we can expect a completely new Air Force, which potentially introduces a whole new series of the cult sneaker.
The Air Force 1 "Goddess of Victory" is a tribute to the goddess of victory Nike and uses the same design elements as the Air Force 1 Shadow with the identitical name, but modifies the classic shoe in an unprecedented way. At first glance, you will immediately notice the very unusual tongue of the shoe, which makes the sneaker stand out from all previous models. The semi-transparent mesh tongue is reminiscent of an angel's wings and makes the tongue look much more voluminous.
In keeping with this original aesthetic, the heel of the left sneaker features silver Nike Air lettering in Greek style. On the other shoe, the characteristic victory symbol of the goddess is done in silver. To complete the design, the inner soles come with a print of the mystical figure and a definition of the name.
Don't Miss the Release of the Nike Air Force 1 "Goddess of Victory"
The official images of the latest Air Force 1 are already available, indicating a release in the coming weeks at Nike and selected retailers. The retail price for this particular model is expected to be around 130€. If new info emerges, we will, of course, inform you immediately.