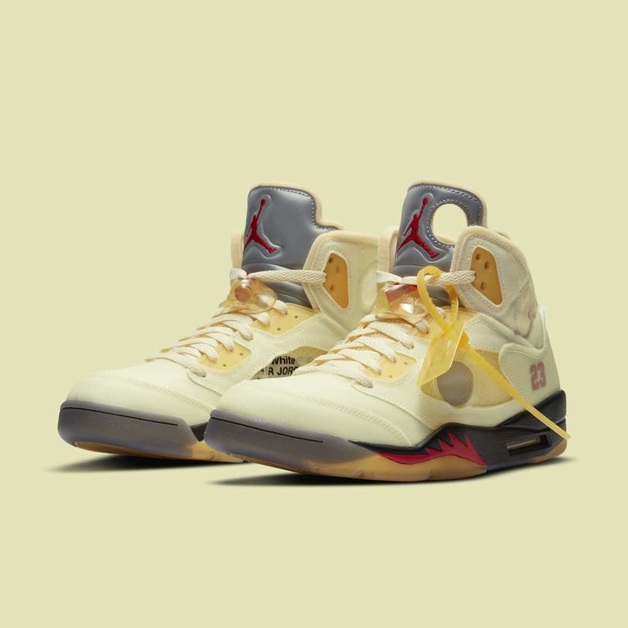 Official Pictures of the Off-White x Air Jordan 5 "Sail"
Update 15.10.2020
After looking at the first pictures of the new Off-White x Jordan brand collection, the official pictures of the Off-White x Air Jordan 5 "Sail" have suddenly appeared. You can expect a drop on October 24th for about £180.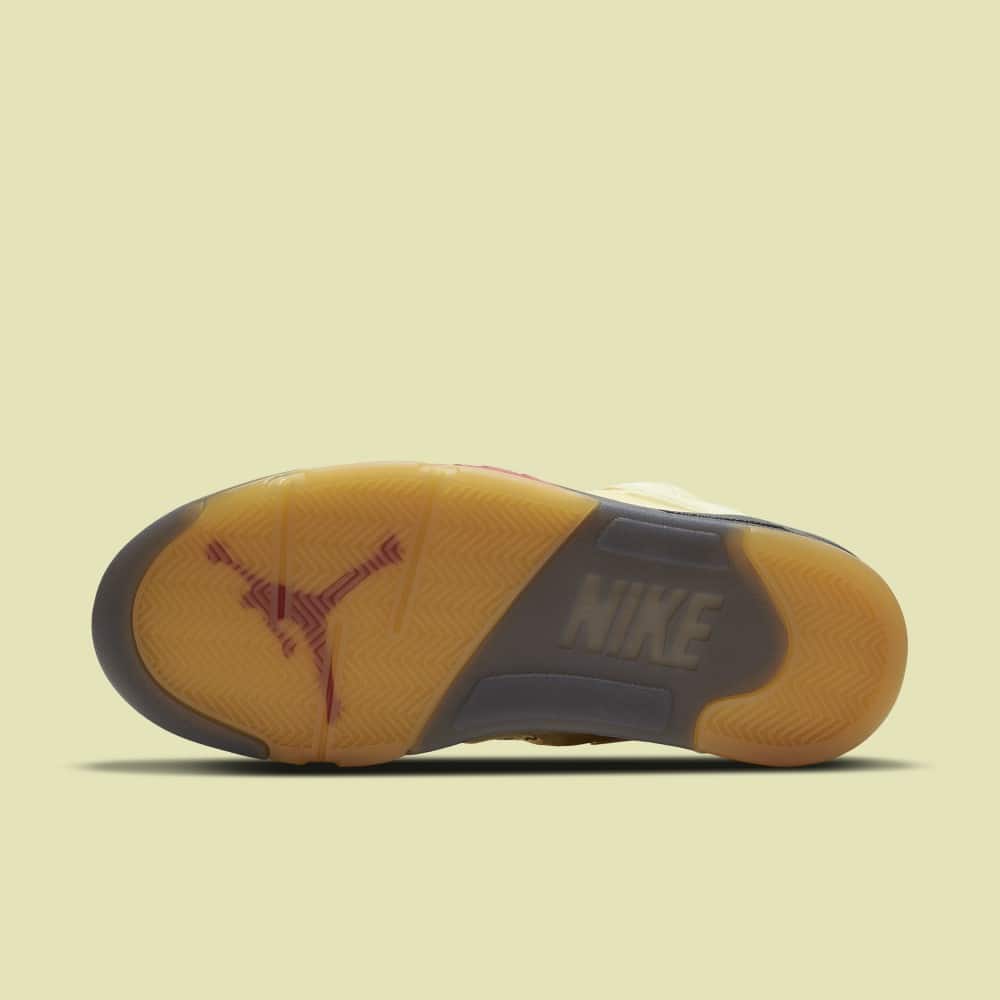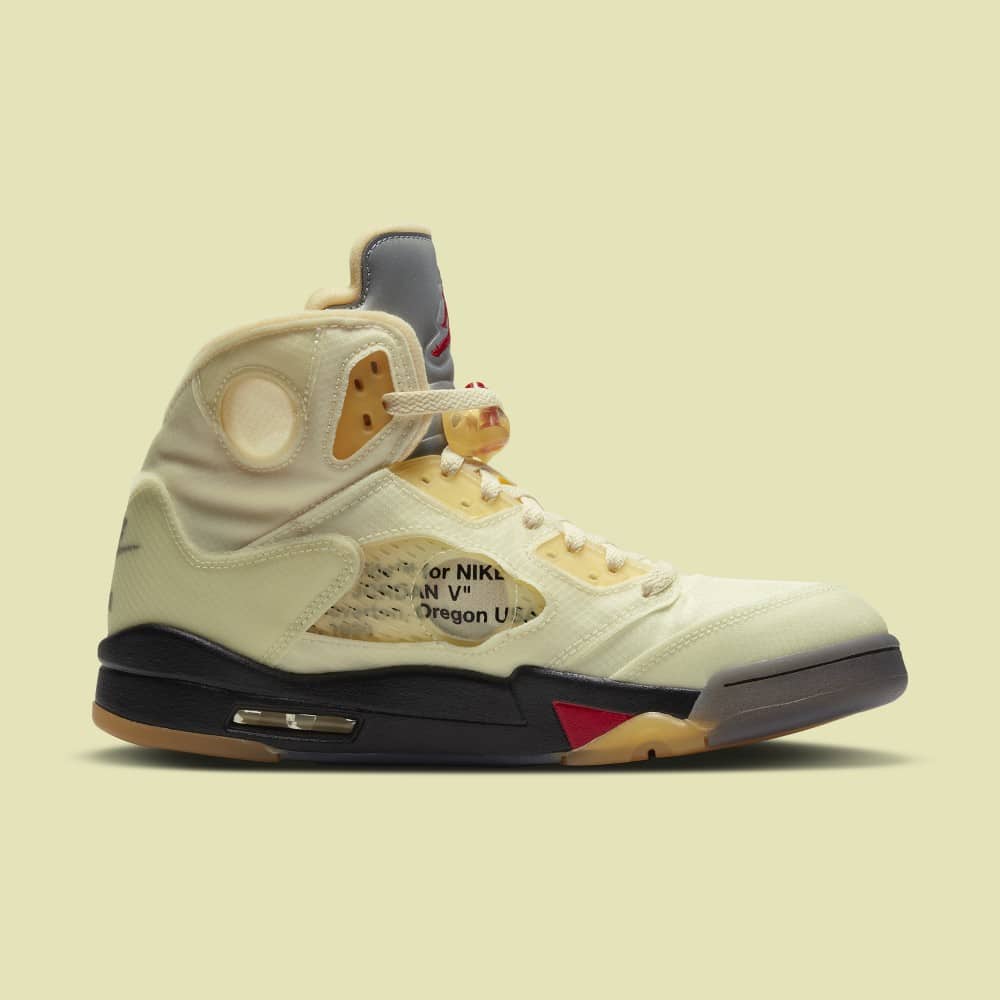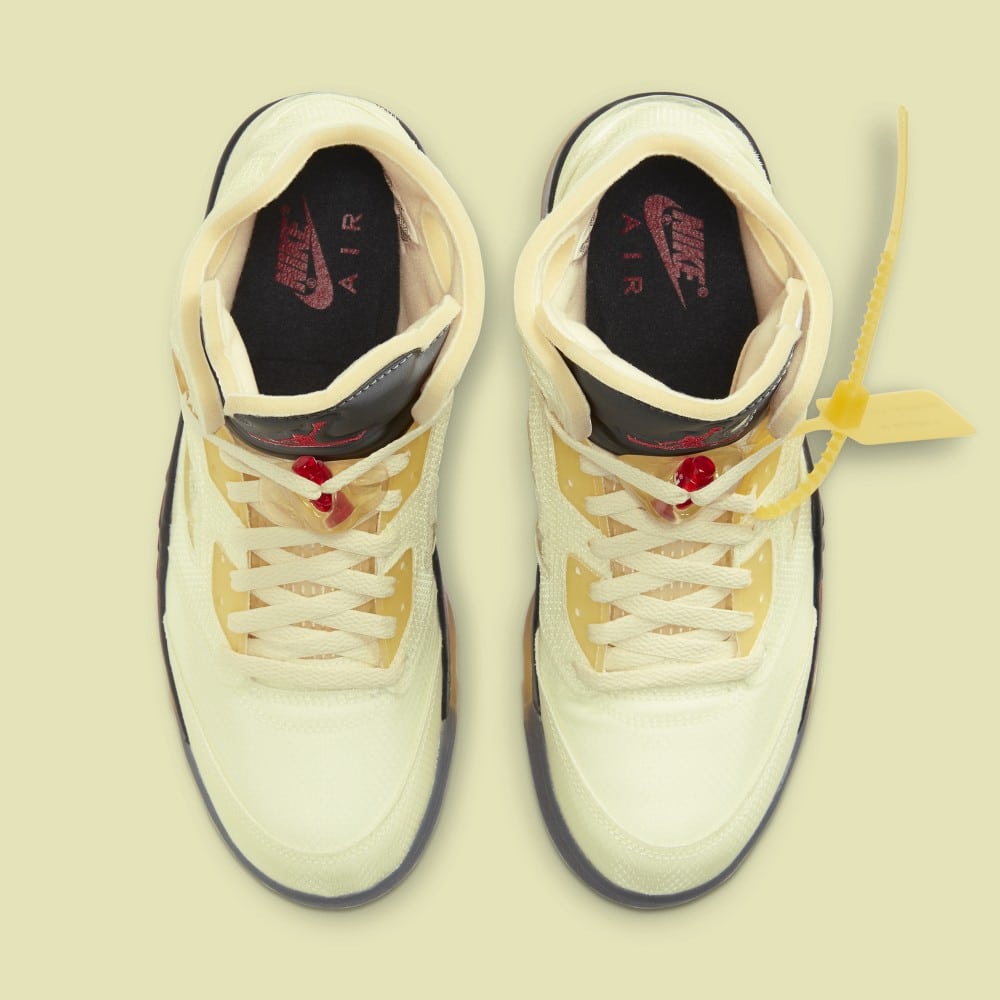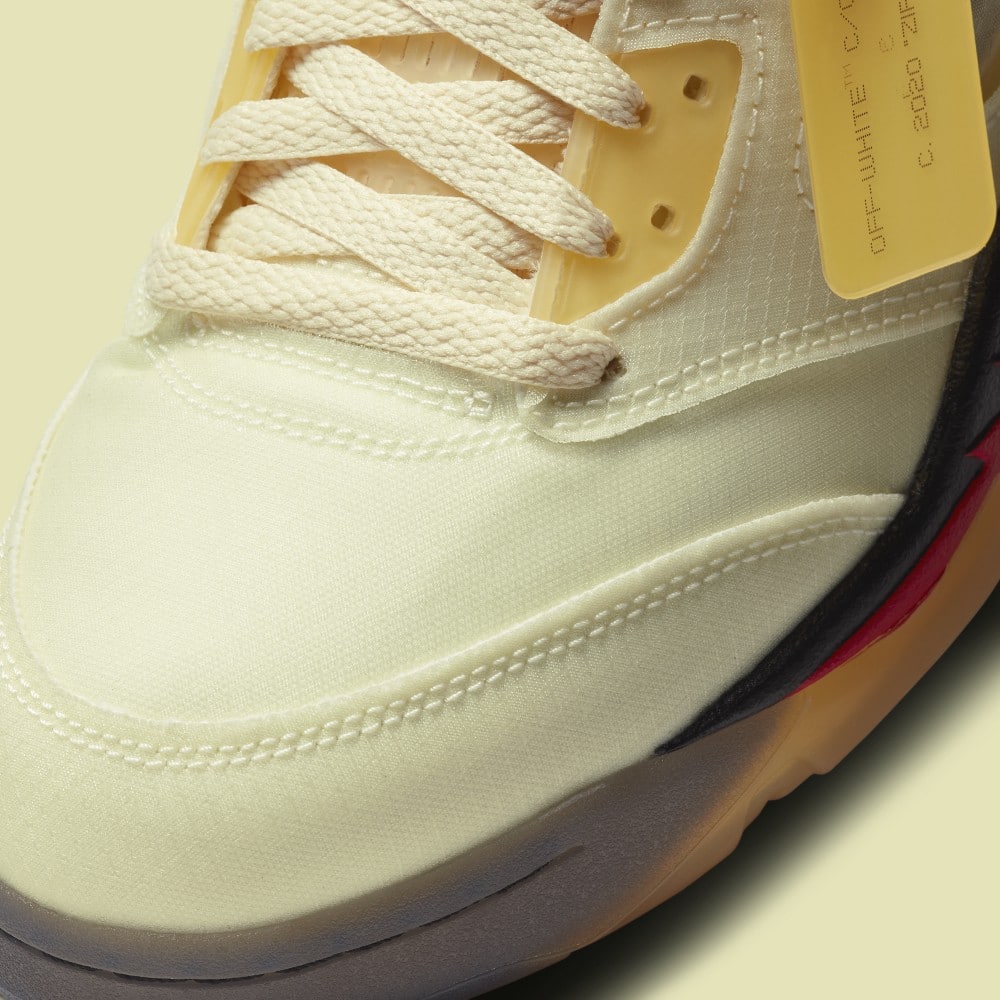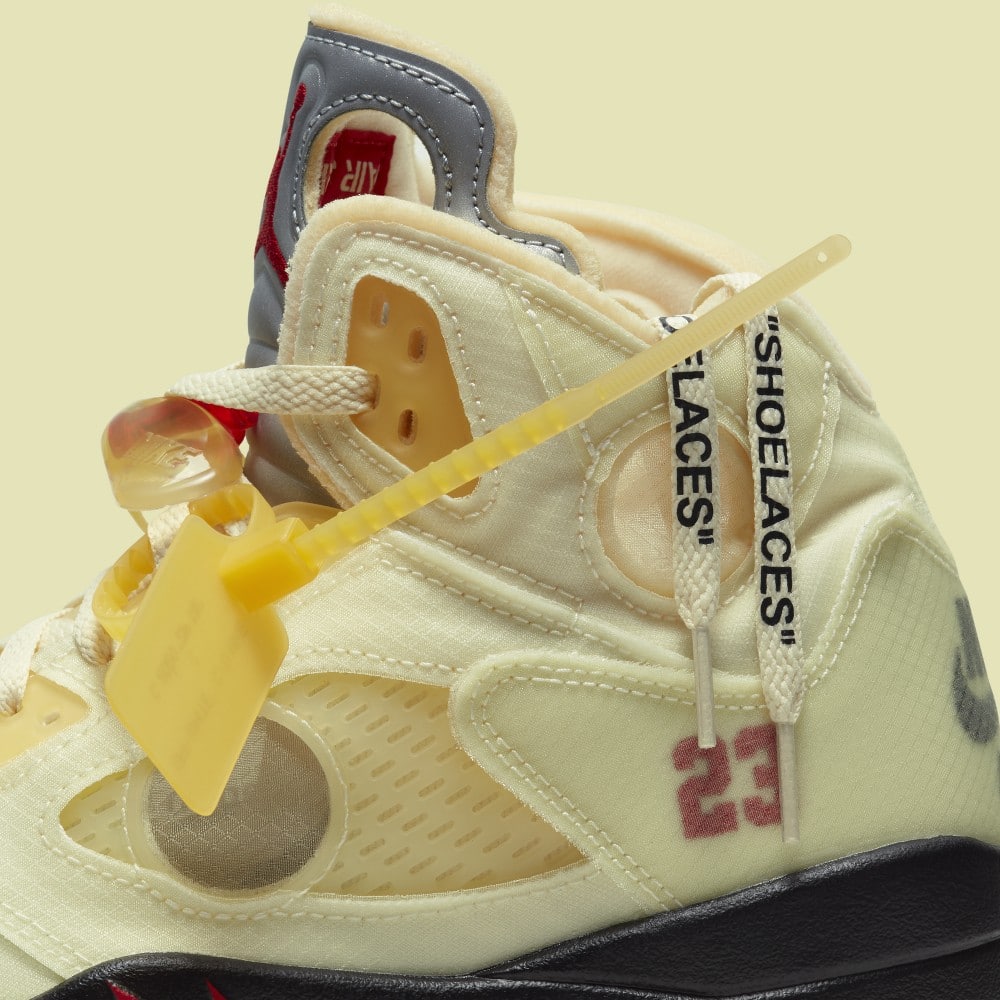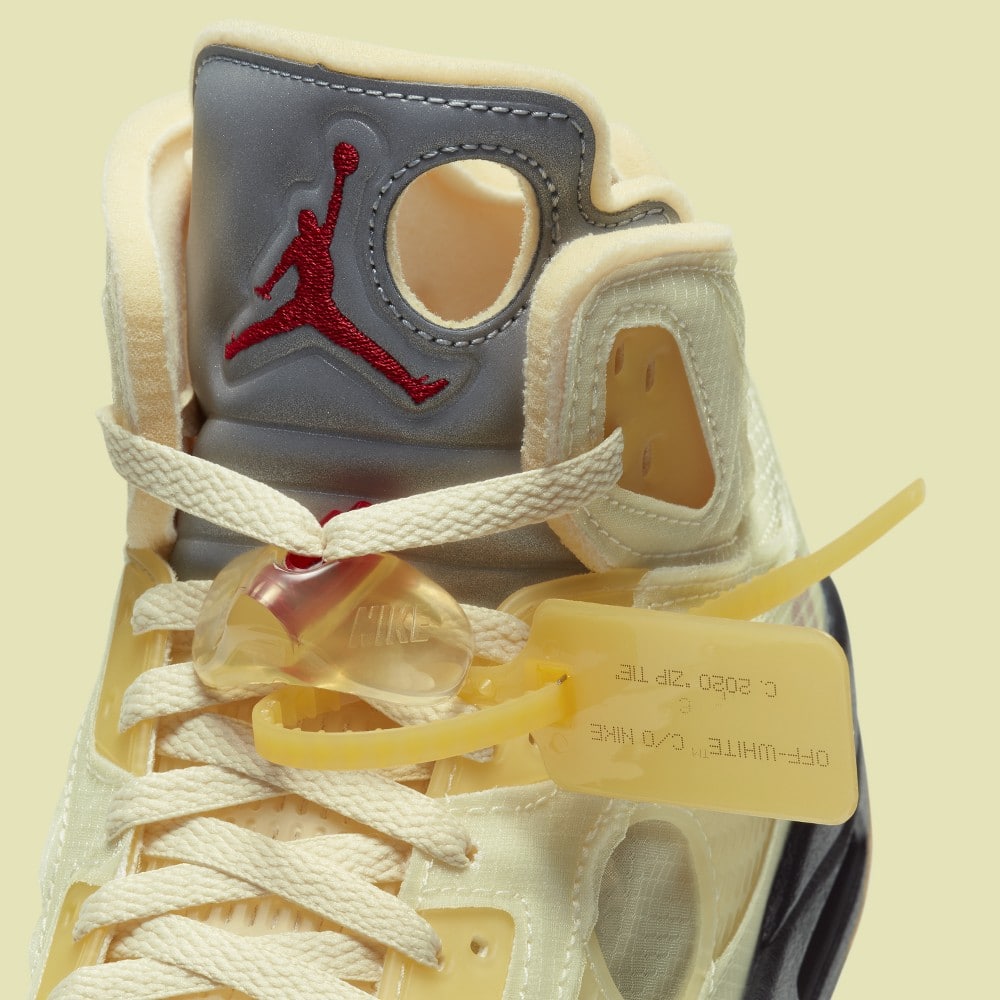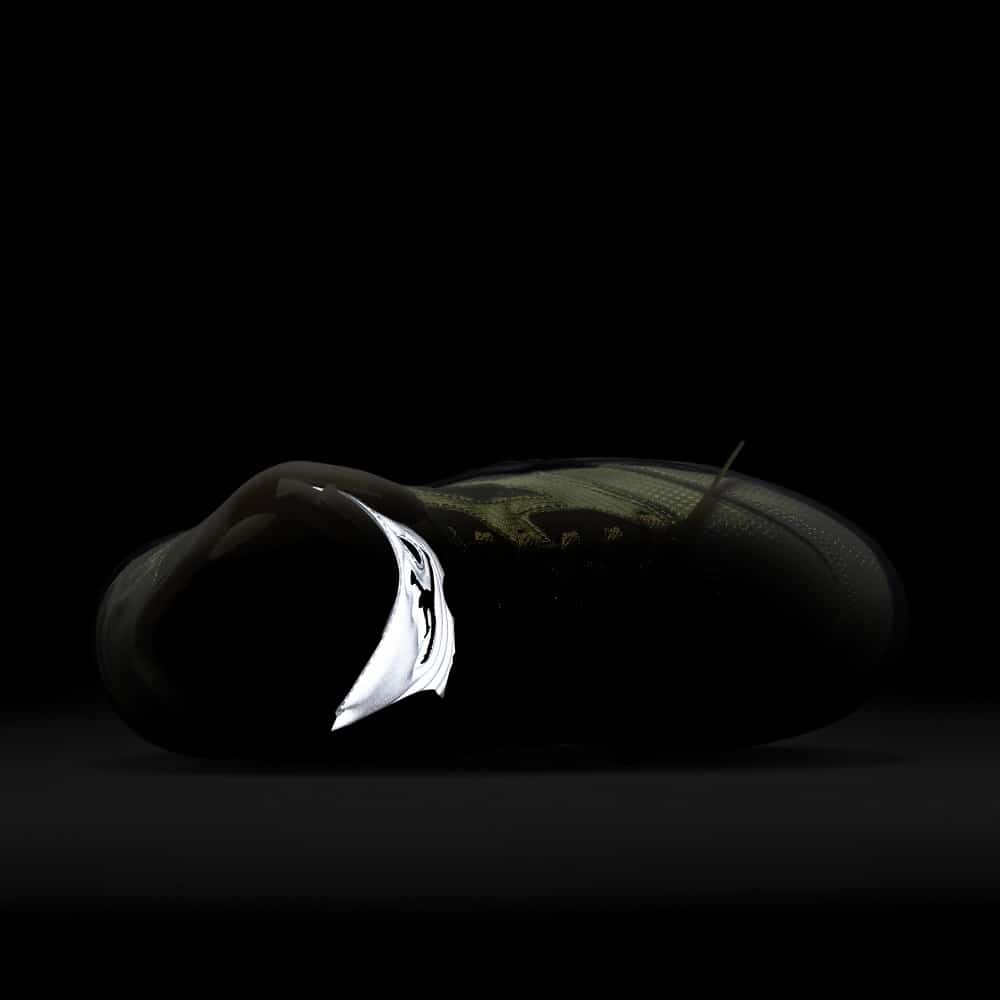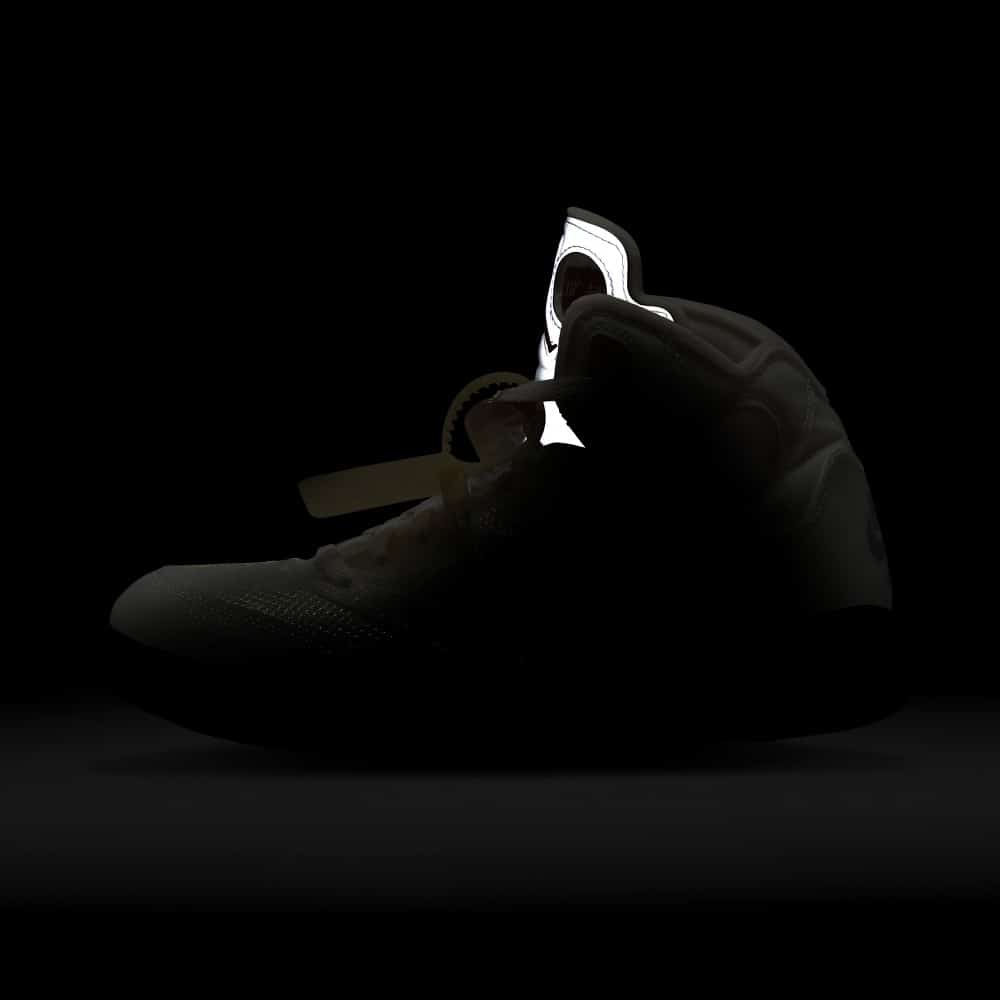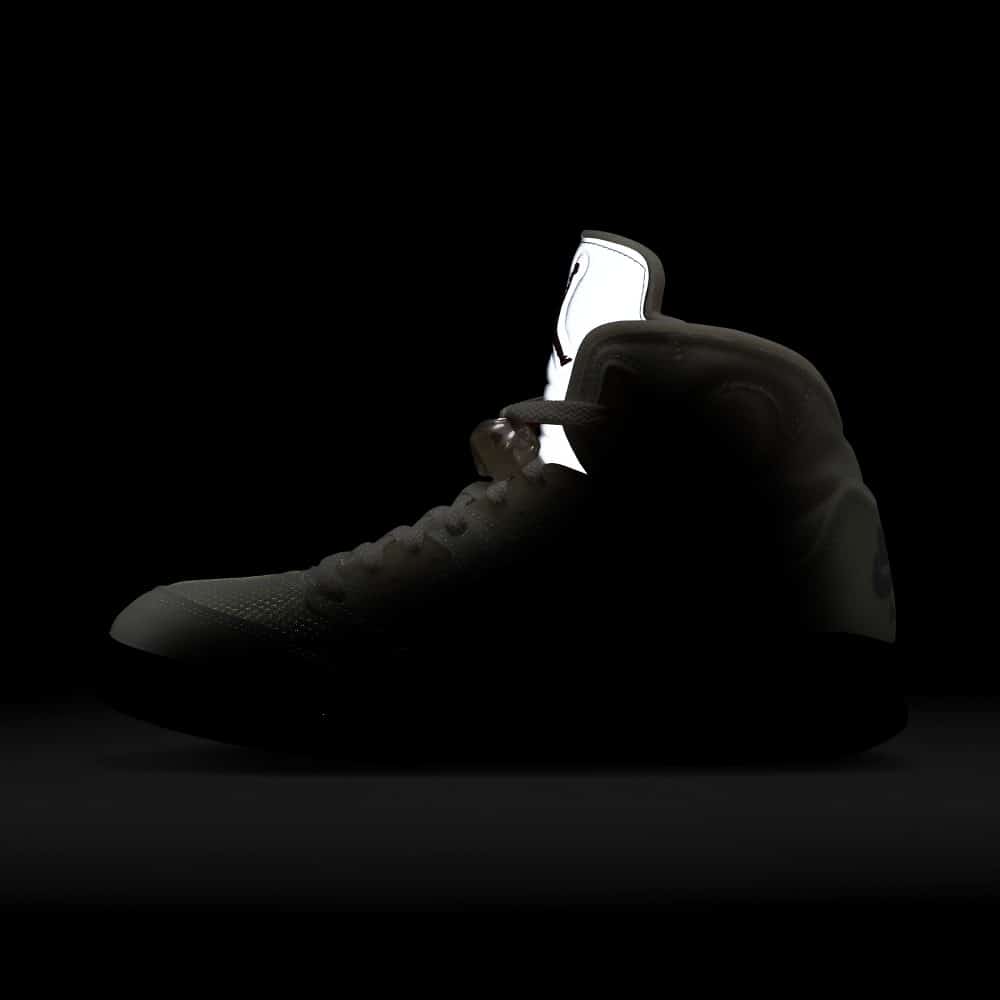 Update 29.09.2020
Let's take a look at the Off-White x Air Jordan 5, which is scheduled for release in just a few weeks. The new updates are getting more and more frequent, and you might think that the release is not that far away. This sneaker will supposedly be released on October 24th. We stay excited and make sure to keep you informed.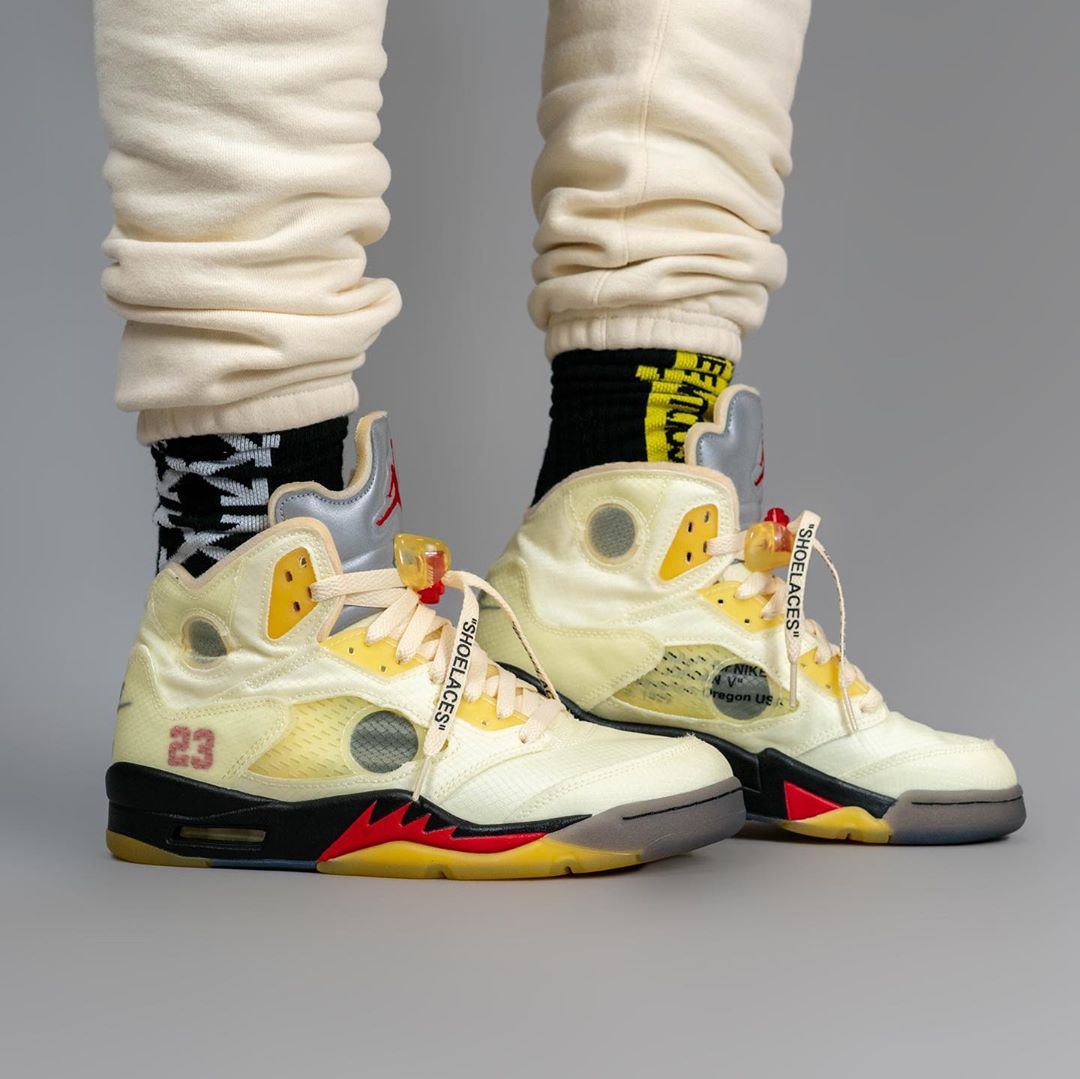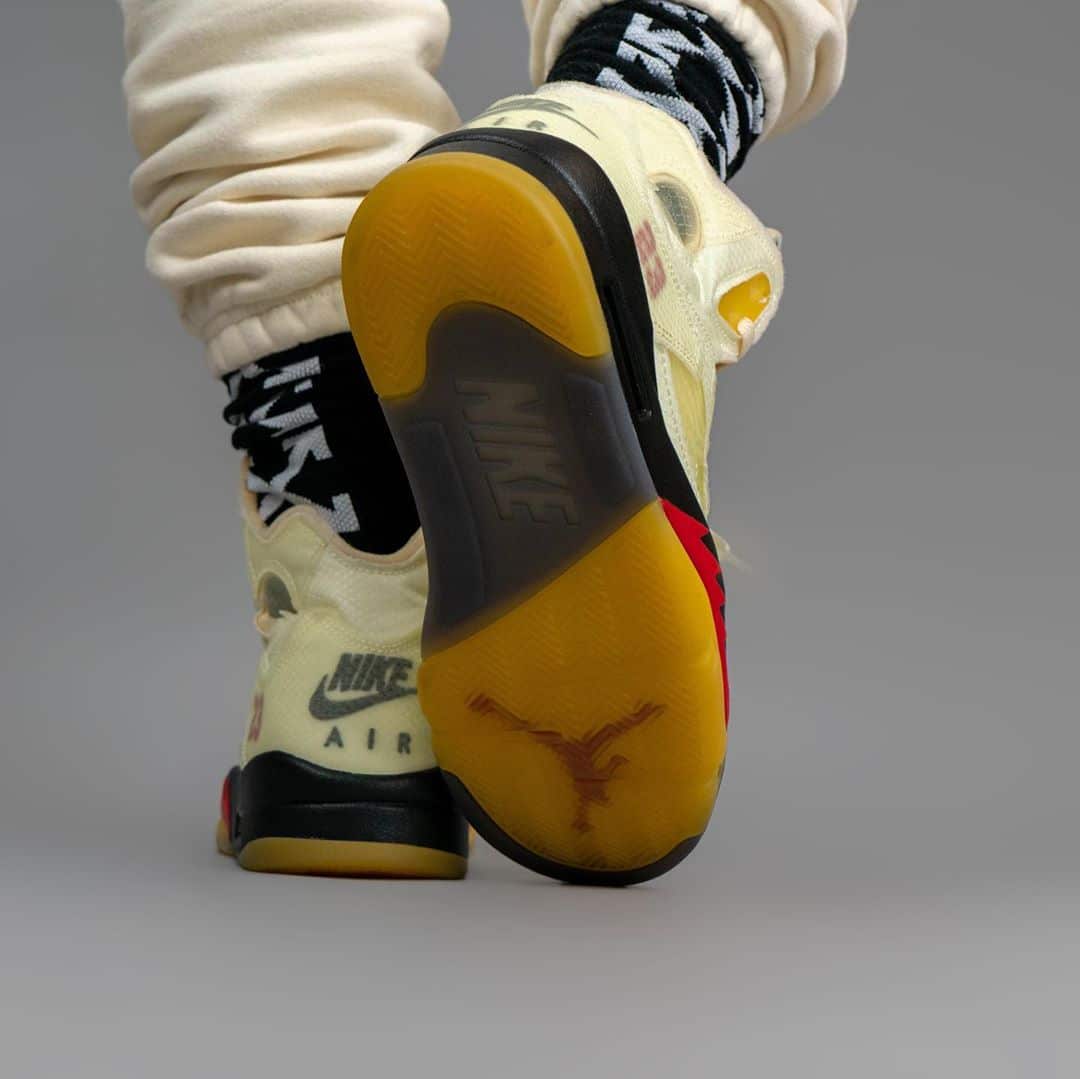 pics by @yankeekicks
Update 09.09.2020
It's incredible, but it's now almost a year since we first published this article. At that time, there were rumours that there would be a release together with Off-White on the 30th anniversary of the Air Jordan 5. Now, all the information is becoming clearer as more and more pictures come to light. The release of this collab does not seem to be that far away indeed!
The well-known leaker repgod888 has, for the first time, uploaded the on-feet pictures of this new Jordan 5 release, and the sneaker community can't wait!
Don't Miss the Release of the Off-White x Air Jordan 5
The release date has not yet been fixed, but we strongly expect the shoe to drop before the end of this year. Therefore, you should definitely download our free app, because this way, you will get all further news, releases and restocks directly on your mobile phone!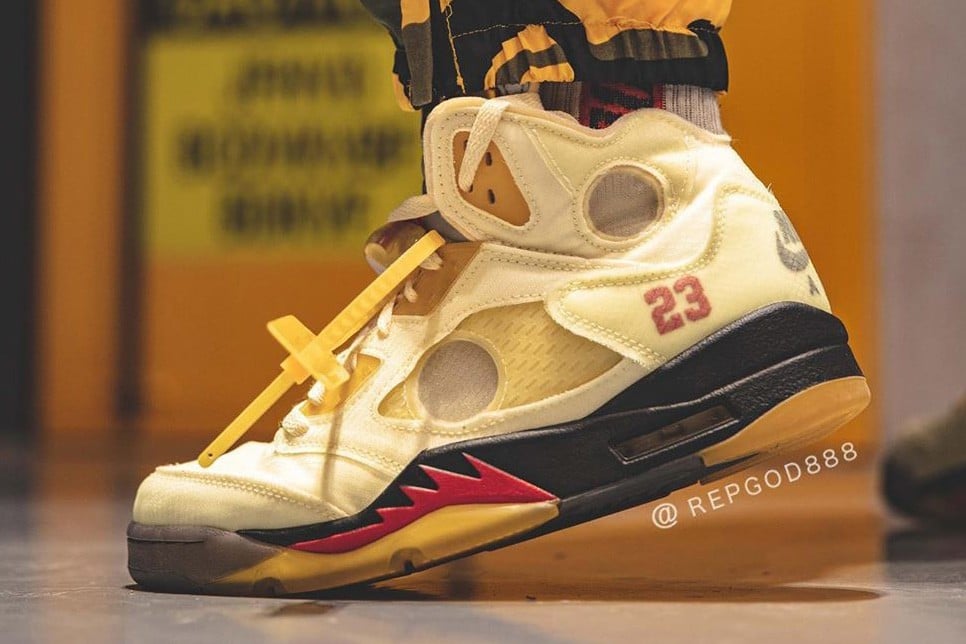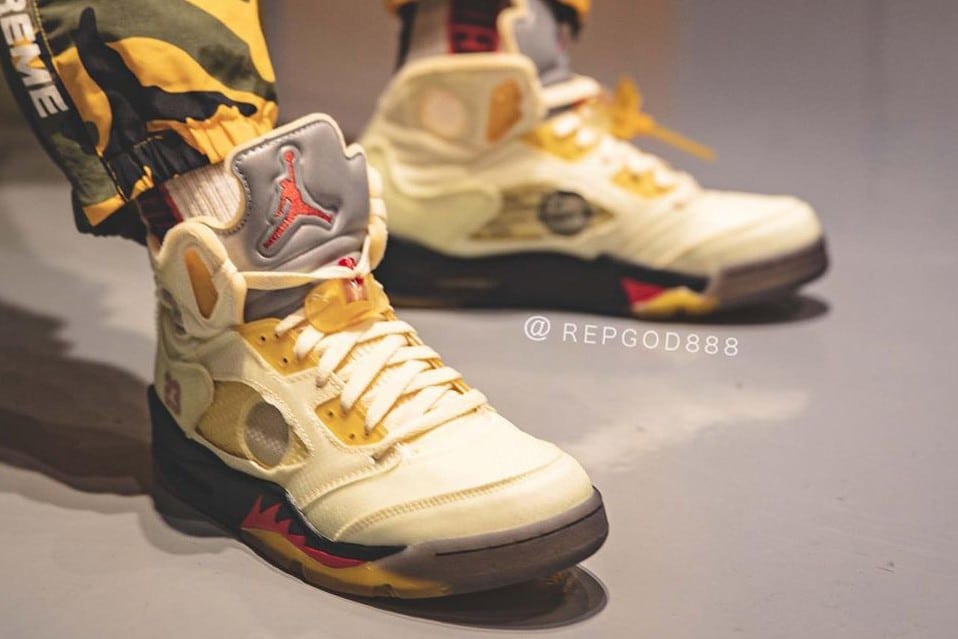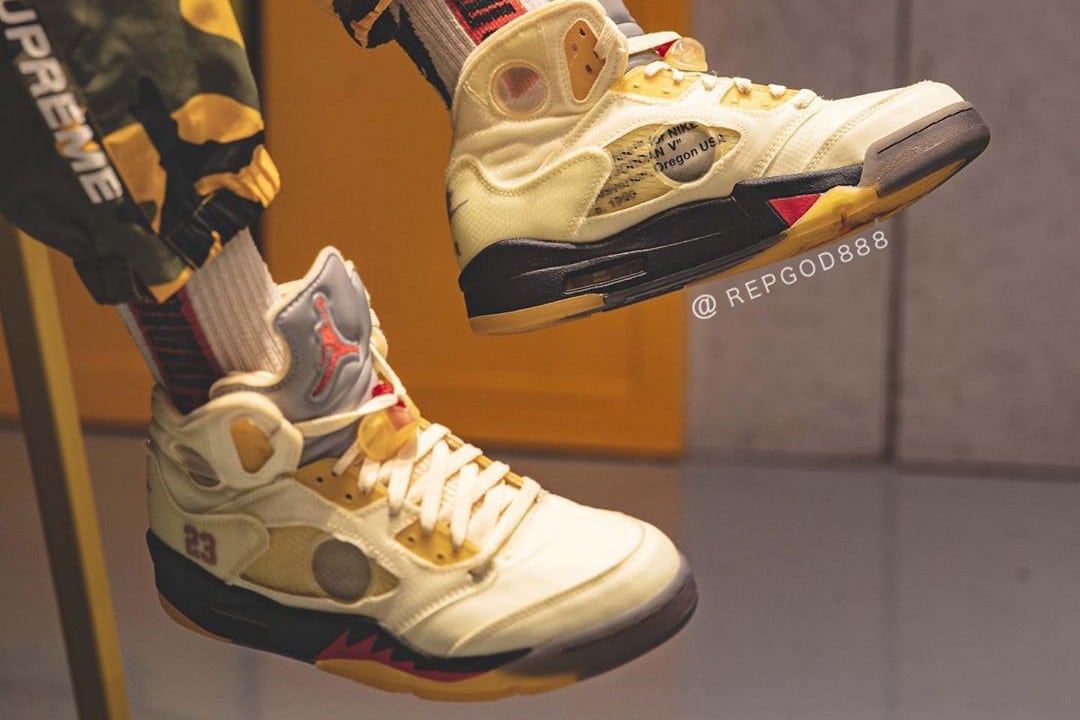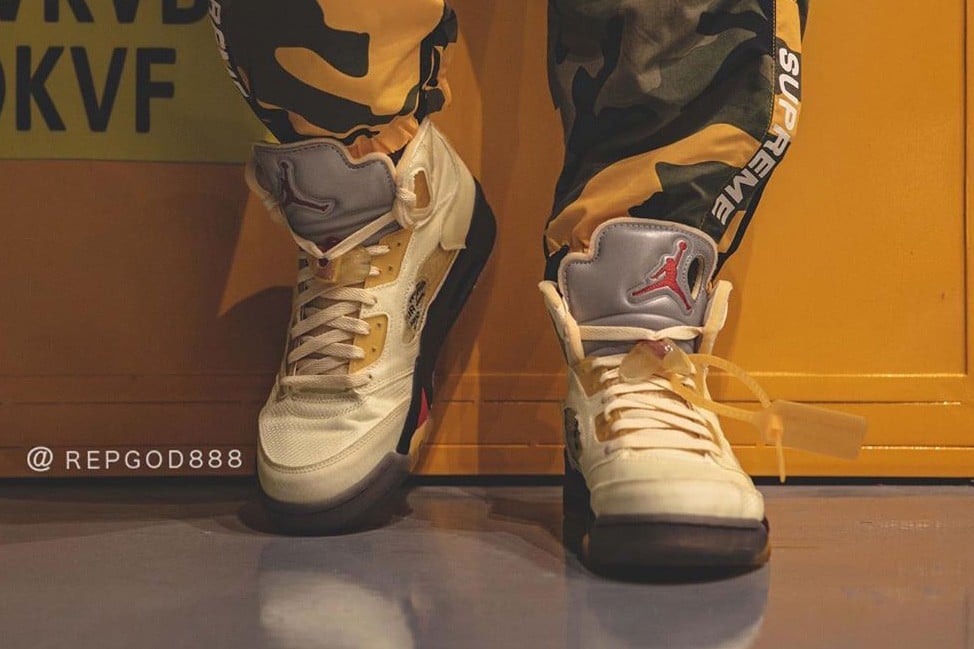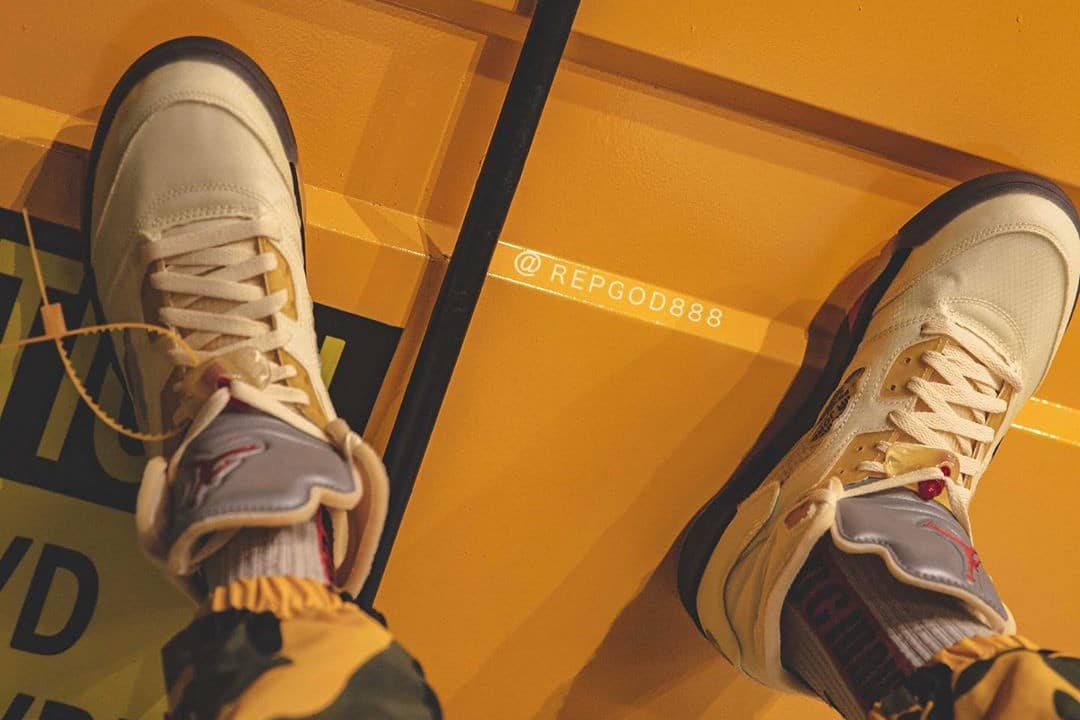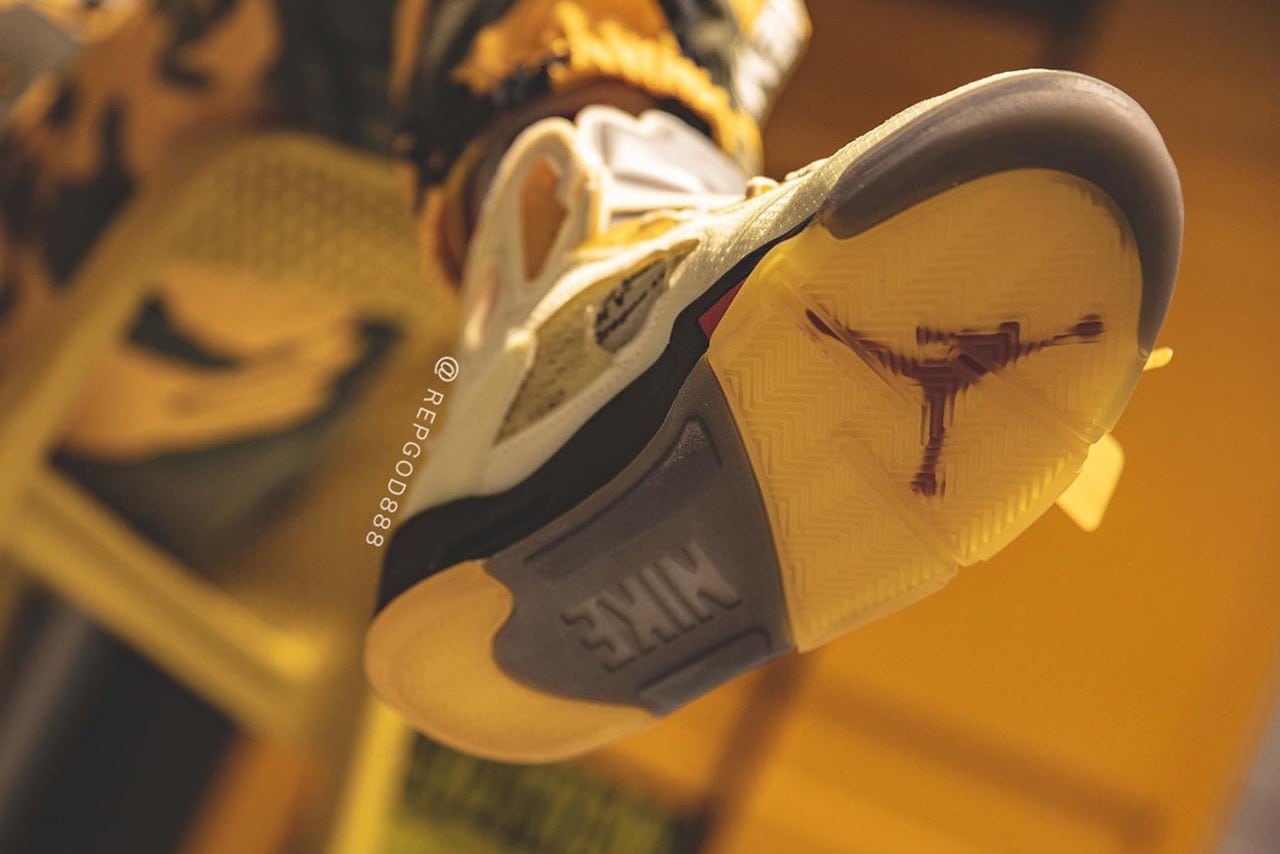 pics by @repgod888
Update 21.07.2020
It's been a few months since the last rumours about an Off-White x Air Jordan 5, but a few days before the release of the Off-White x Air Jordan 4 Sail, there is finally news! Insider hanzuying has once again delivered and now shows some more detailed shots of an Off-White x Air Jordan 5 Sail.
https://www.instagram.com/p/CC3OiyvJ3K0/?utm_source=ig_embed&utm_campaign=loading
The shoe looks quite similar to the AJ4 "Sail" but doesn't lose the typical features of the Air Jordan. The huge tongue and the Jumpman in the iconic "Fire Red" is especially striking and stands out from the rest, which is mainly designed in the cream "Sail" colour.
Unfortunately, there is no further information about a possible release date even until now. But the fact that there are now more pictures in circulation is a strong indication that we can expect the drop before the end of this year.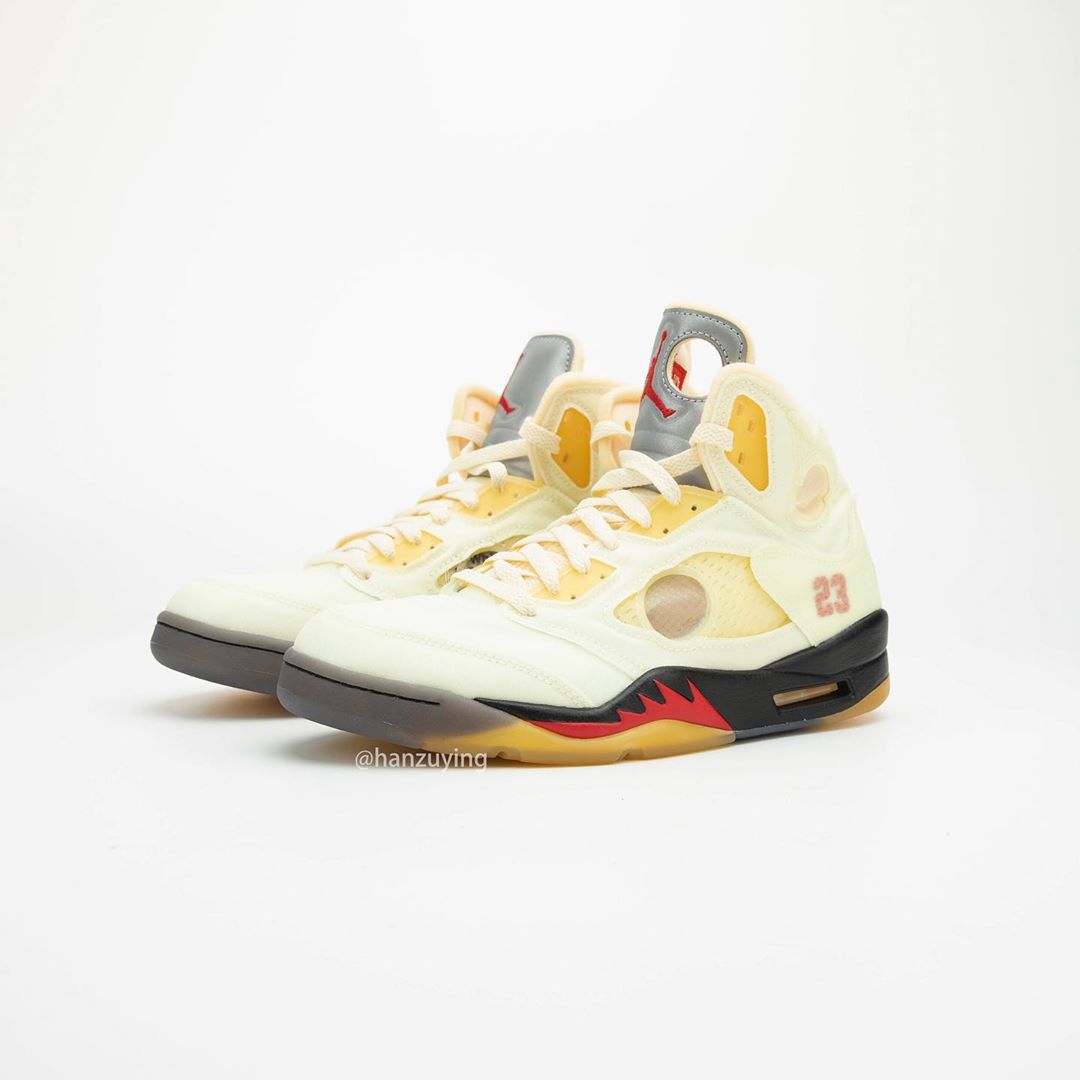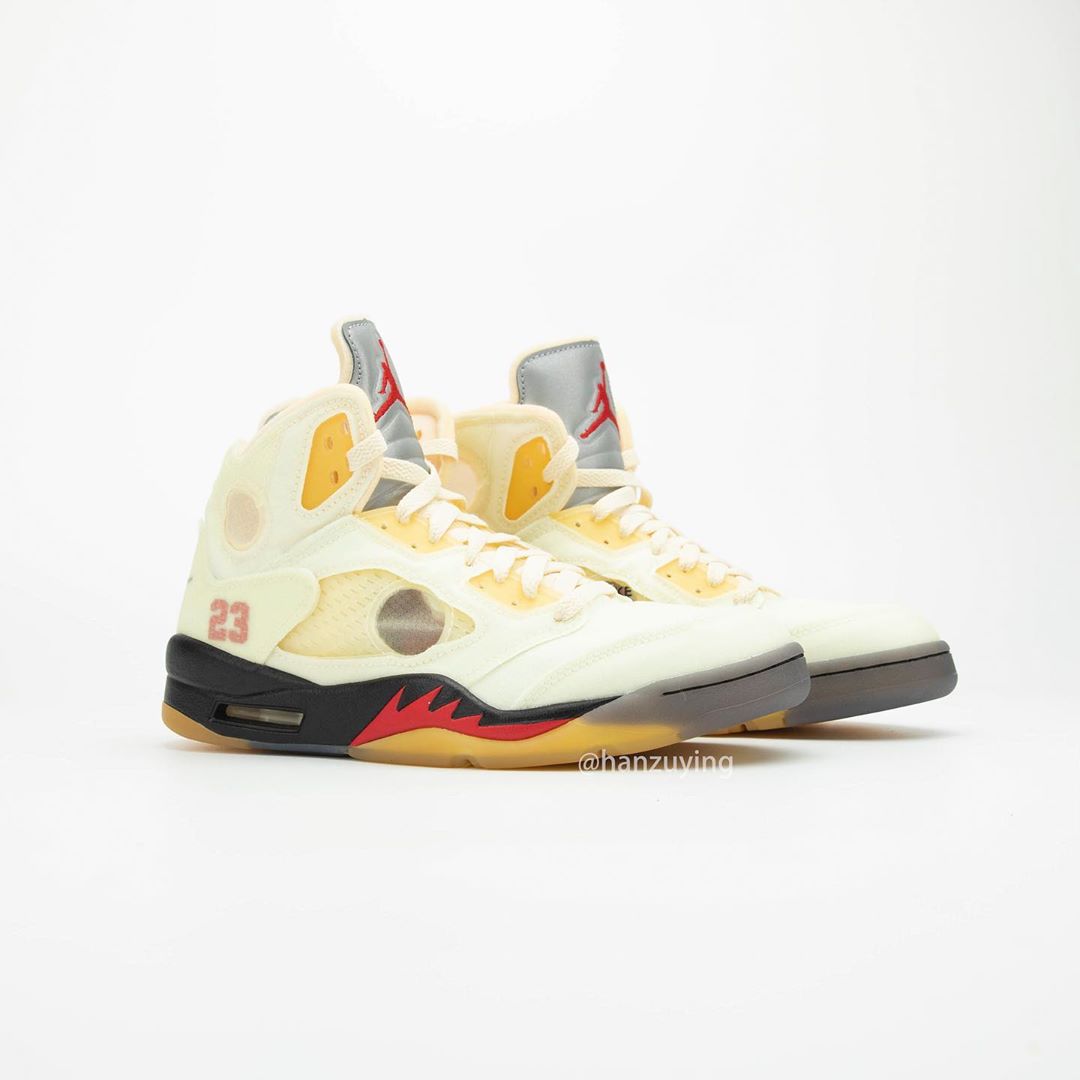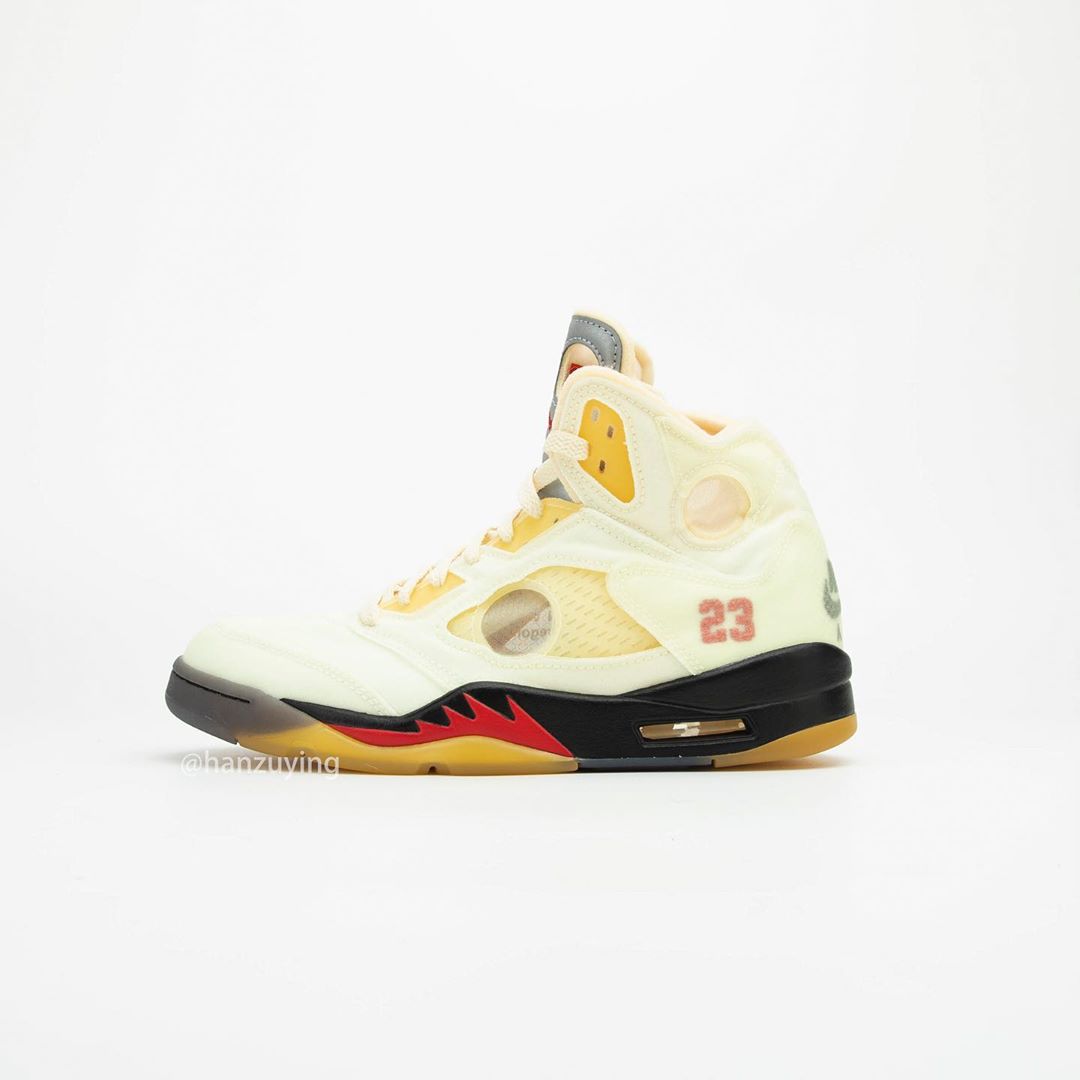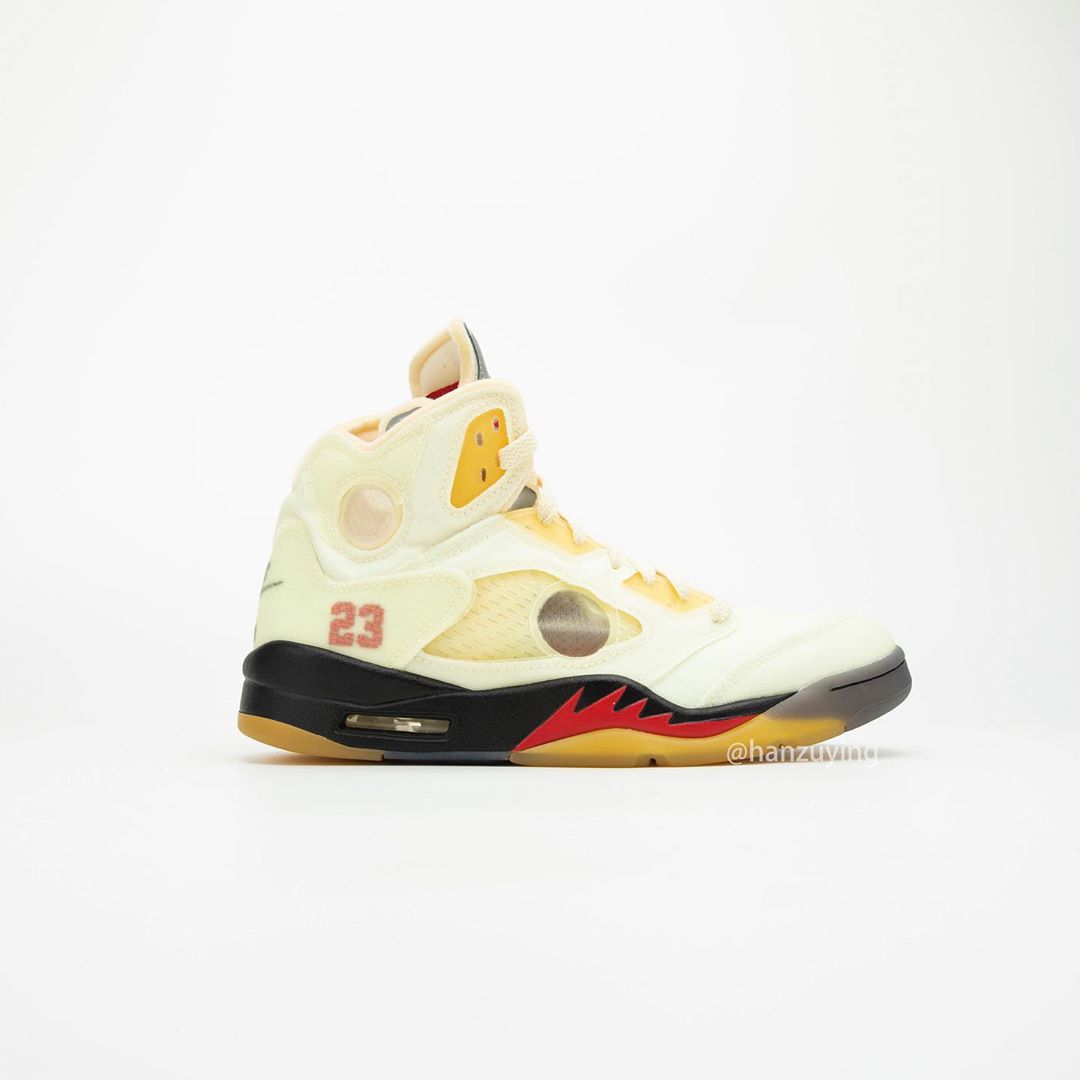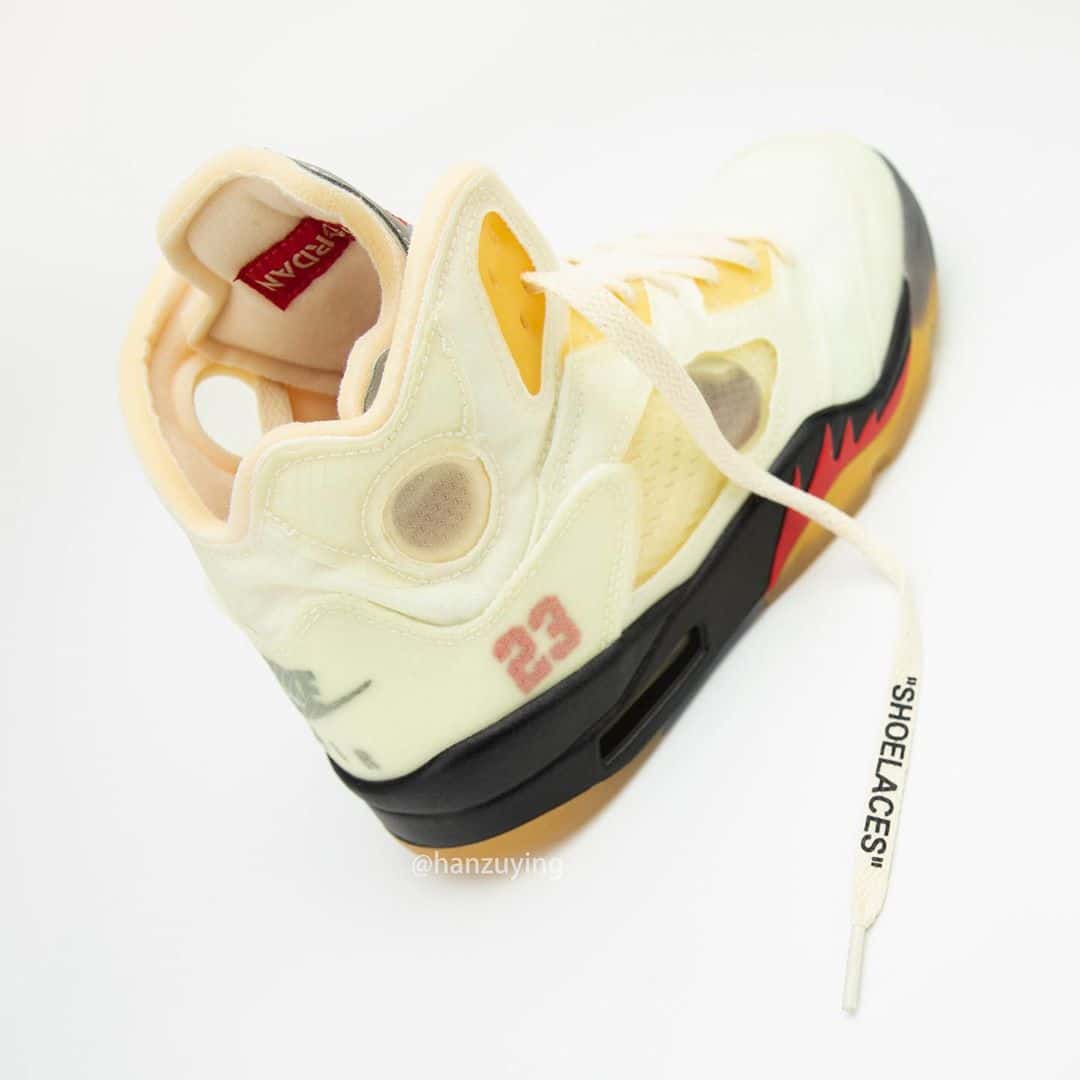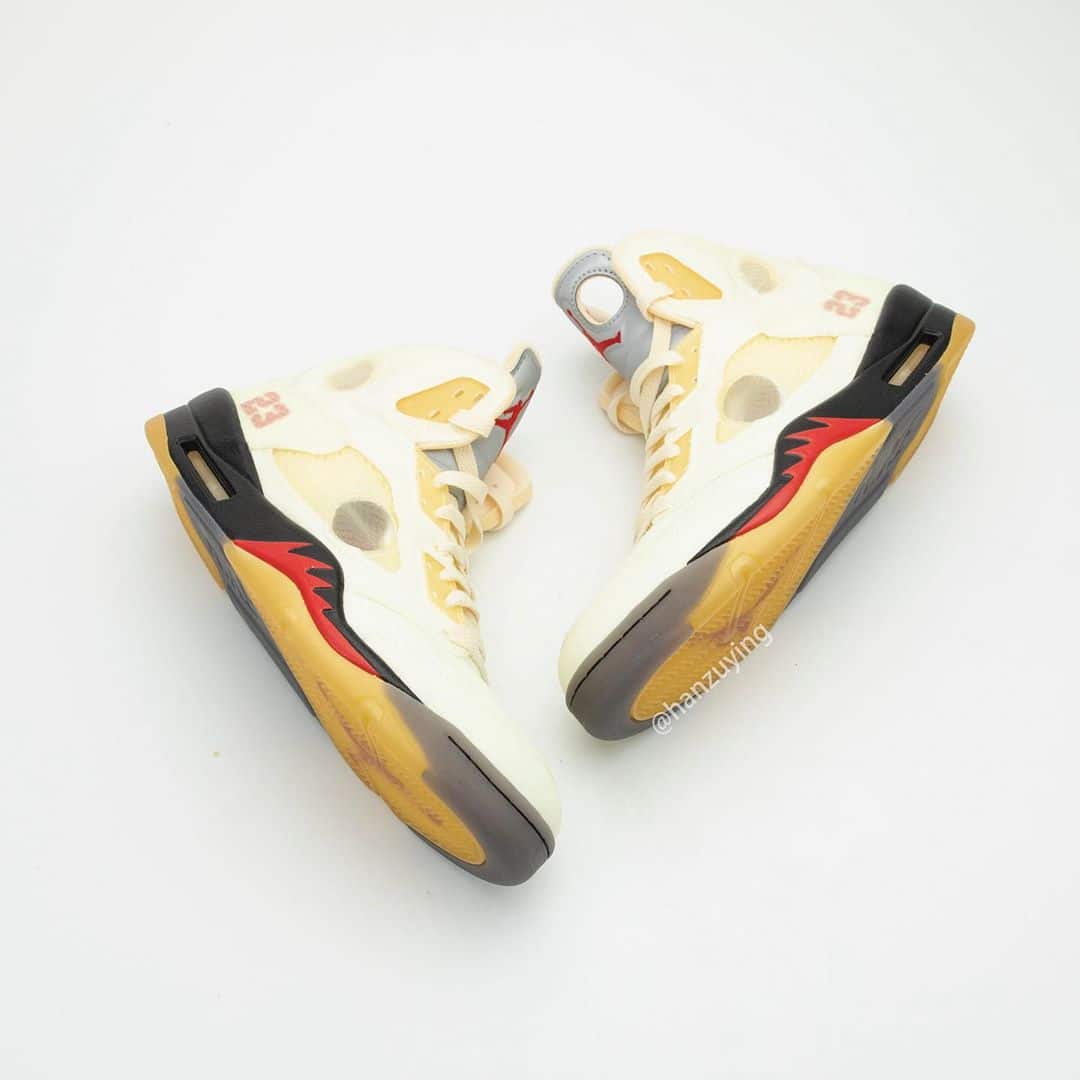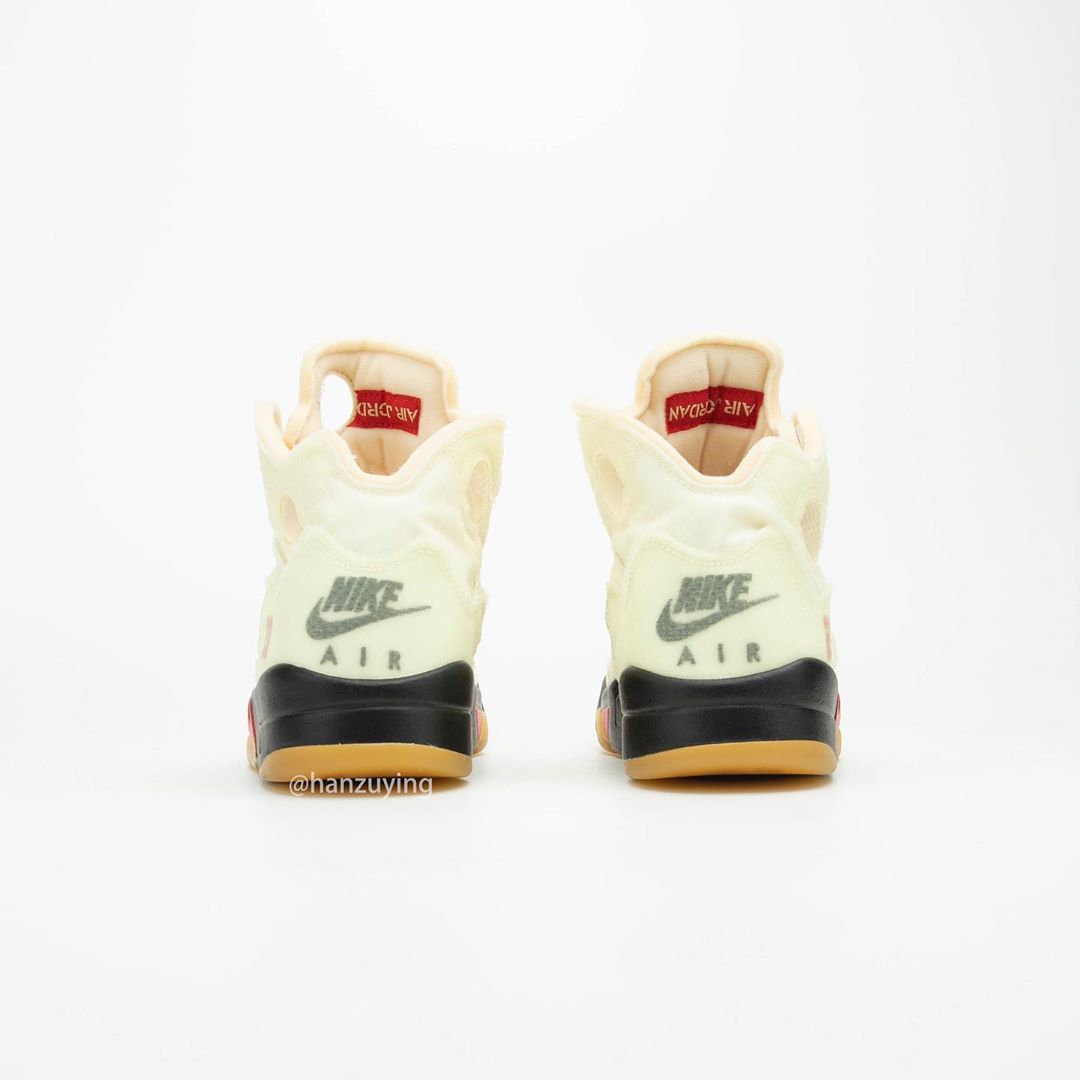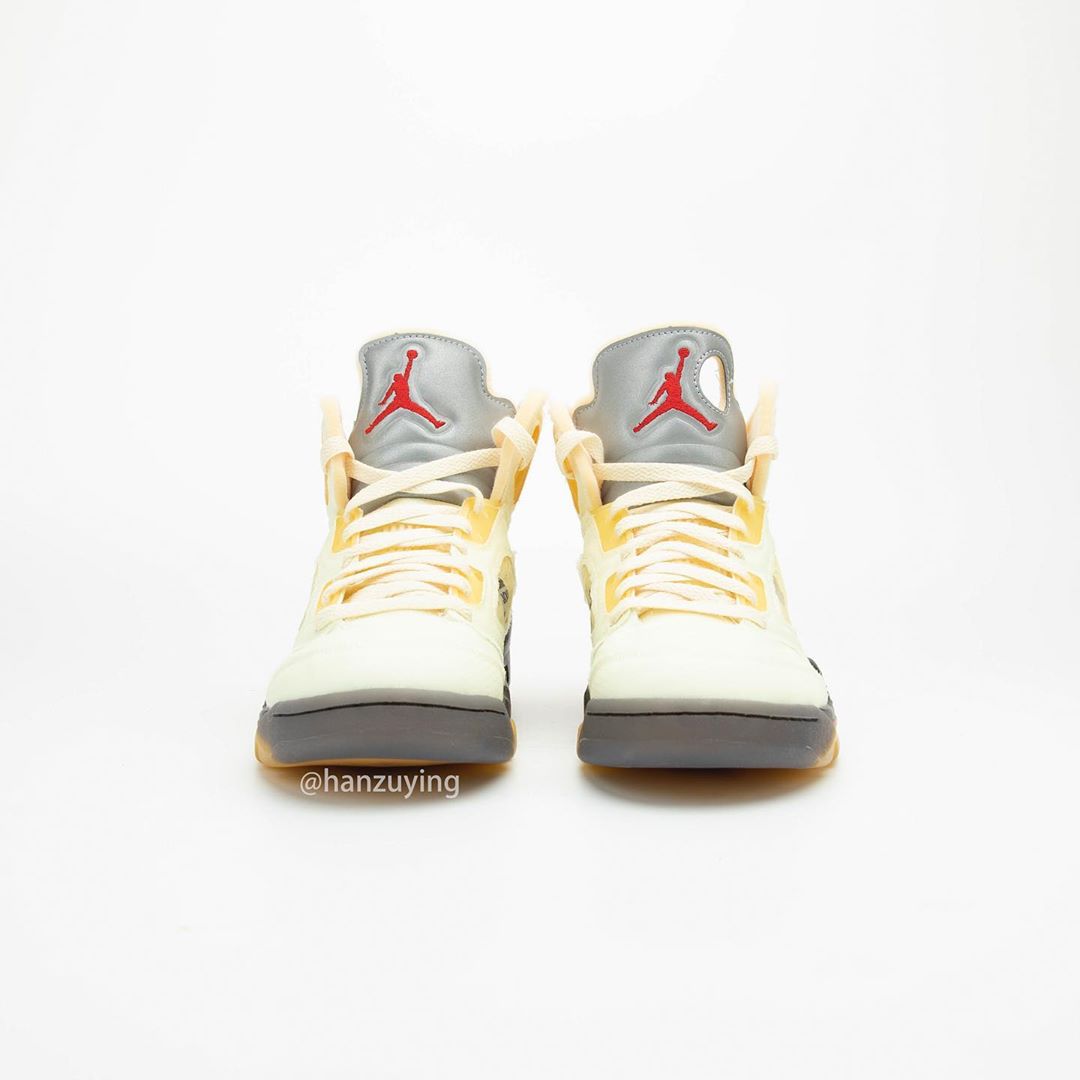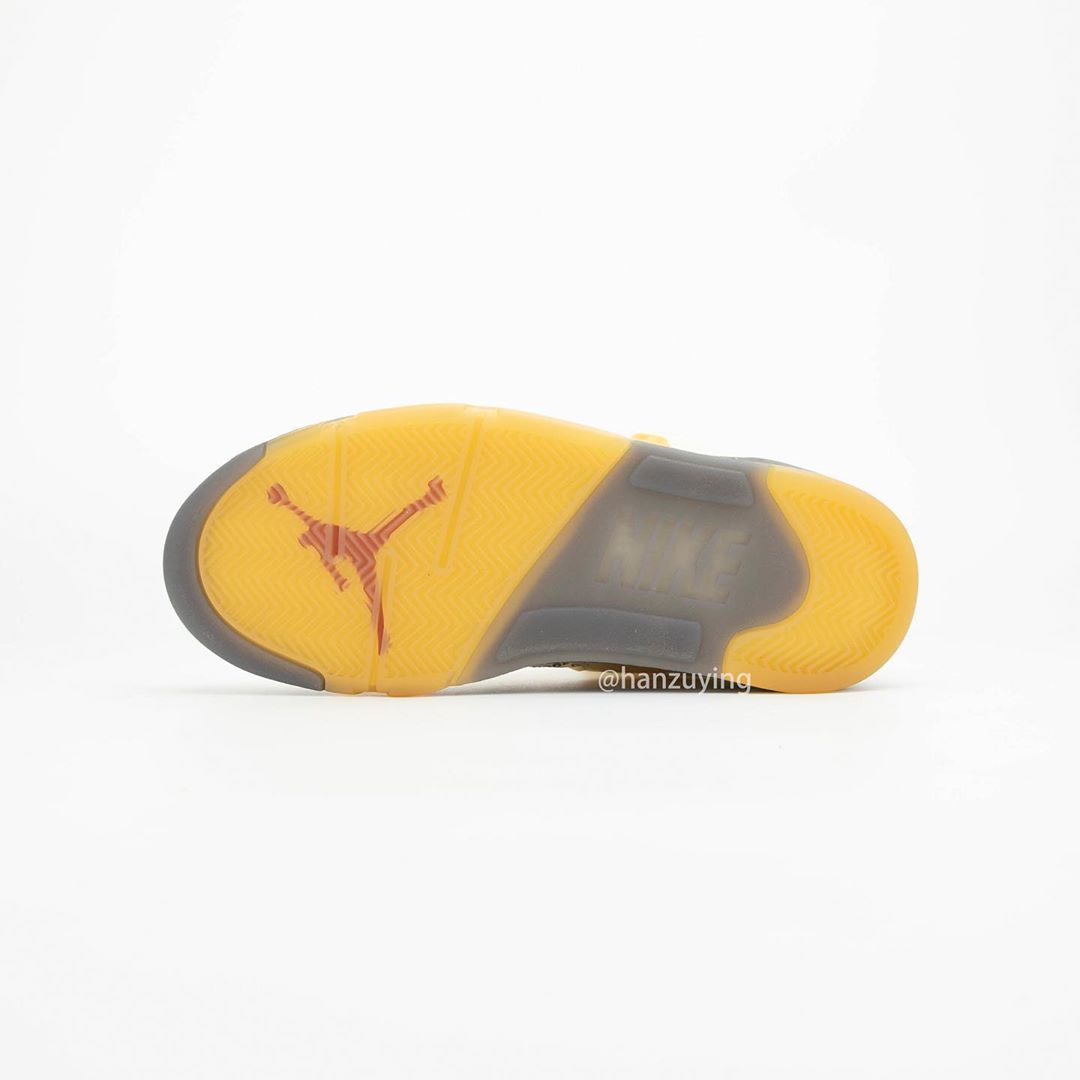 Update 17.02.2020
The NBA All-Star Weekend 2020 is over and it seems that some have had their good luck with the black Off-white x Air Jordan 5. Others had less luck and unfortunately had to take an L home once again.
But, there is hope yet for a new pair of Off-White and Jordan Brand. Almost half a year ago, there was a rumour that Virgil Abloh was working on more AJ5s to celebrate the 30th anniversary of the fifth signature sneaker. And, insiders were absolutely right. Two colourways are supposed to be released soon. But, at the moment, pictures of only one sneaker have been leaked.
The Off-White x Air Jordan 5 "Cream" has a very light upper material and similar details that we have seen before on the black edition. Red details adorn the tips on the midsole, tongue, and lining.
Unfortunately, the release date or even the pictures of the second possible Jordan are still missing. We will stay on it and keep you up to date.
https://www.instagram.com/p/B8mYpGCpAp0/?utm_source=ig_embed&utm_campaign=loading
Original article 30.09.2019
The Air Jordan 5 will be 30 years old next year and this clearly has to be celebrated! We will probably be hearing more from Virgil Abloh and Off-White again sometime next year. This is because the designer just might drop an Air Jordan 5 with off-white features as part of their anniversary celebration.
Thirty years ago, we saw the very first Air Jordan 5. These fierce-looking sneakers inspired by a British fighter once again came out in even more intense colourways in 2019. According to the latest rumours, the 5er Jordan will be getting two colourways from Off-White in the coming year to celebrate its 30th anniversary.
Off-White x Air Jordan 5
So far, what we've come across recently are basically just leaks. The picture above shows only a mock-up of the possible 30th anniversary design. But, you can assume that both models are getting the familiar off-white features. If you don't want to miss the next news about these sneakers, get the Grailify App. With it, you are always up to date.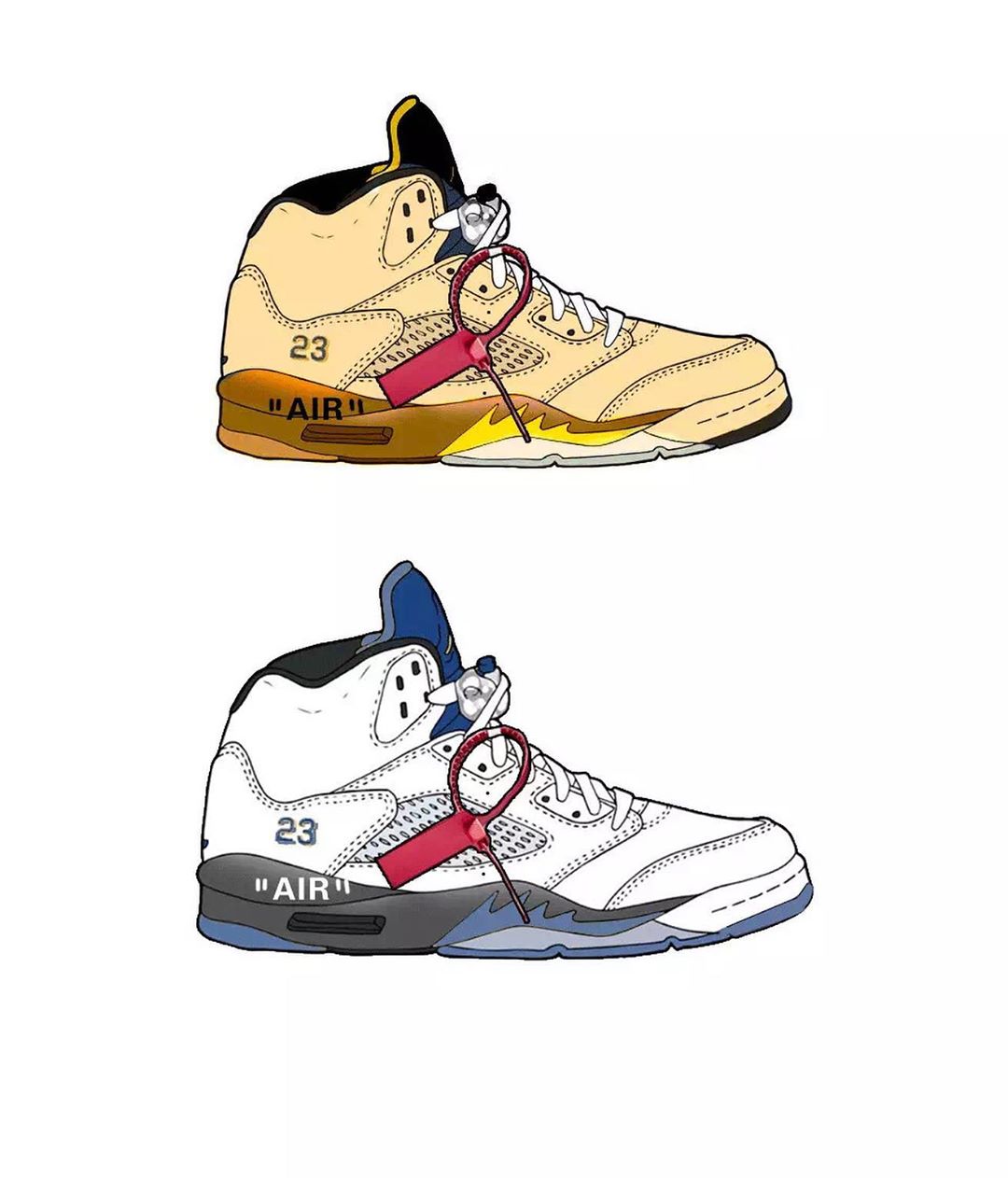 pic by @kickwhoshow