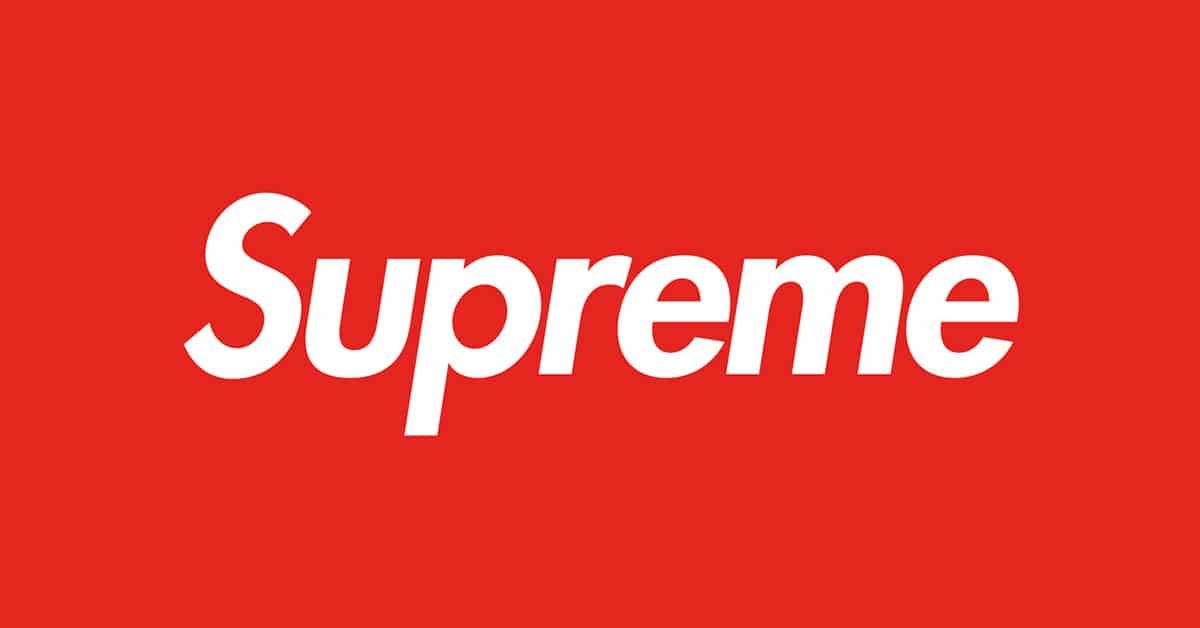 Supreme 2020 Collection
Update 23.12.2020
Week 18 sees the final drop of the Supreme Fall/Winter 2020 collection. A big highlight is the Swarovski Zippo in the typical Supreme style as well as a WINDSTOPPER collection. The release is on December 24th.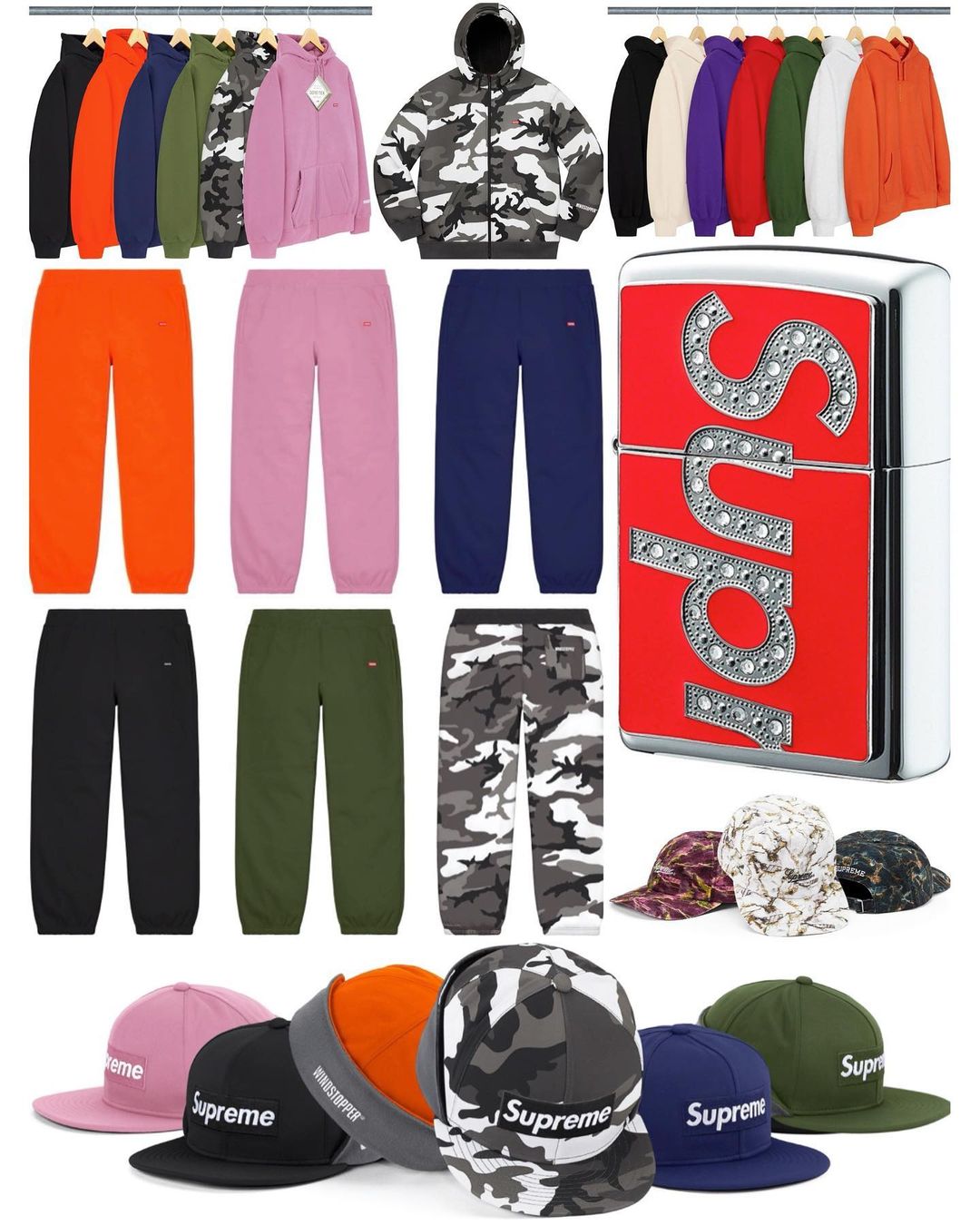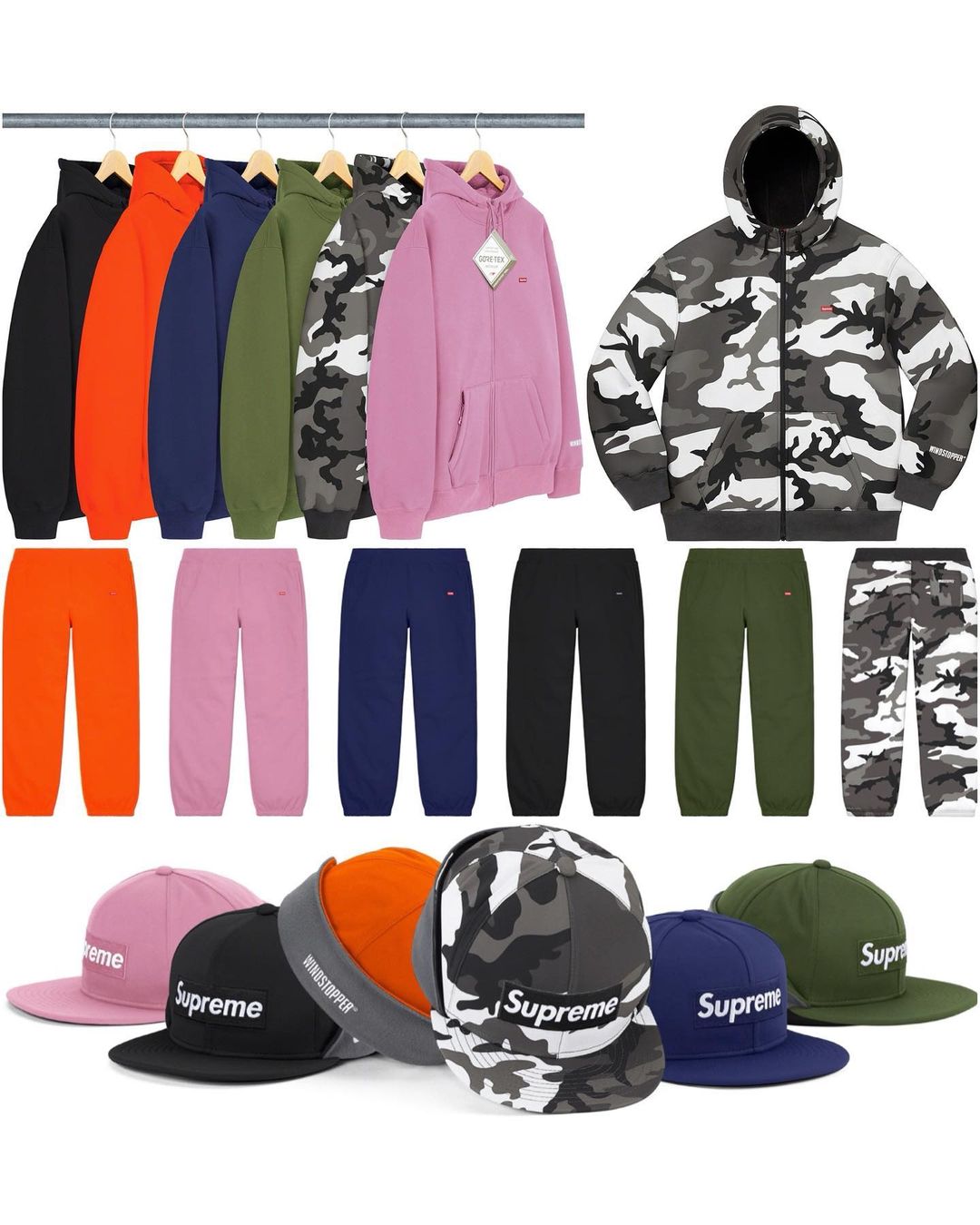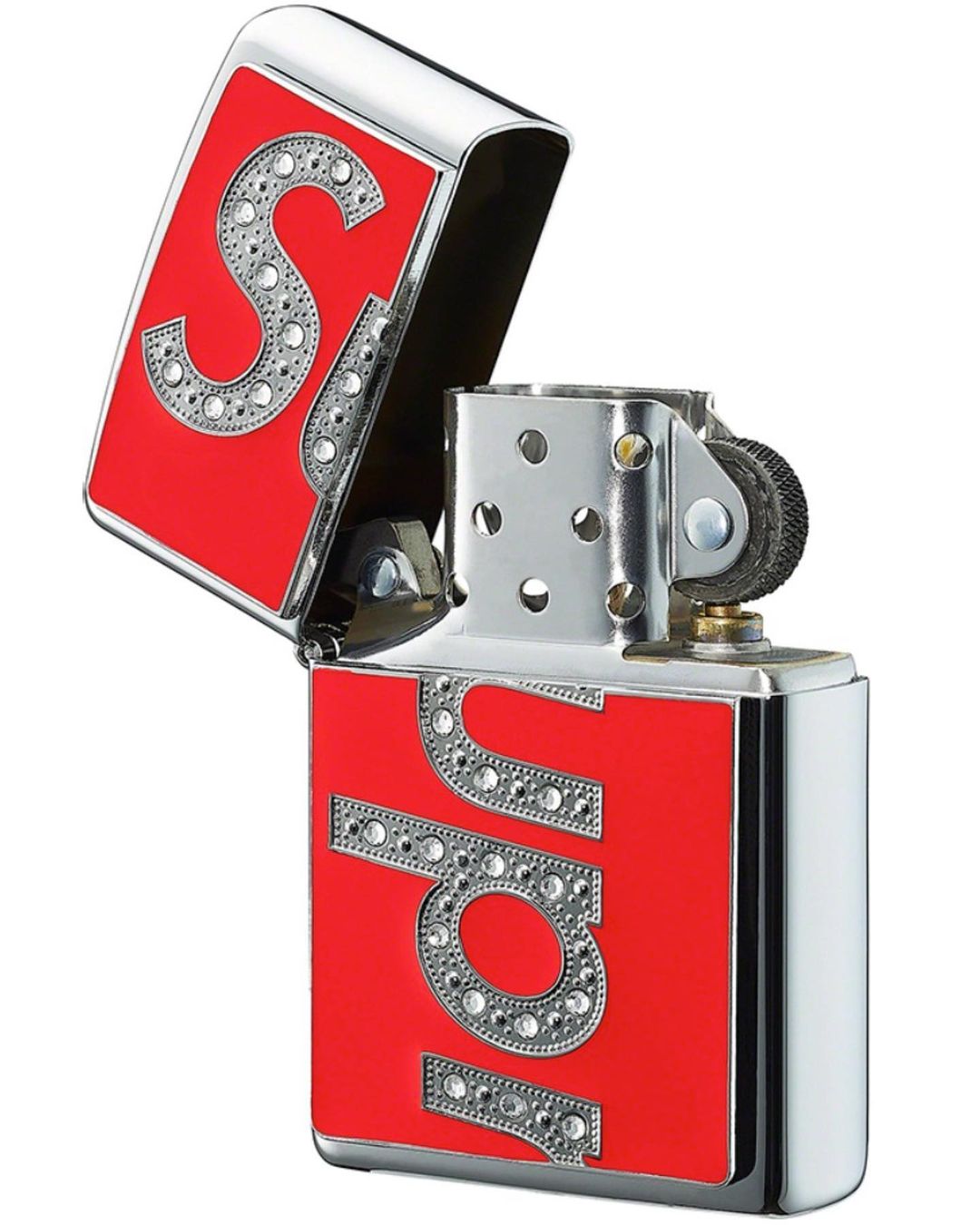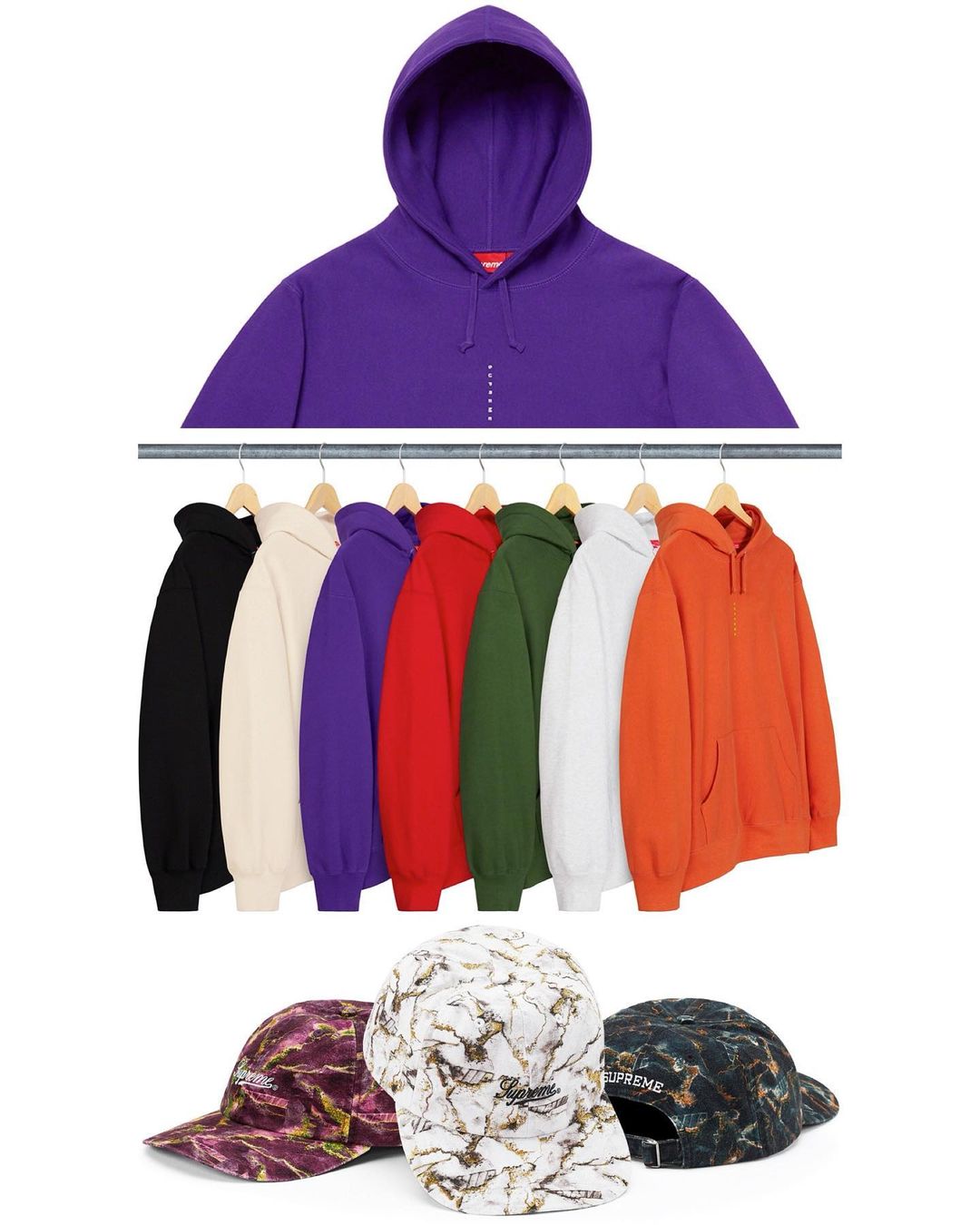 Update 16.12.2020
Supreme Fall/Winter 2020 Week 17 is set to reach new heights. This week not only sees the release of the long-awaited Chucky doll but also new winter tees with wacky prints and colours. The t-shirt with Mariah Carey should get a lot of attention. We are really looking forward to this release. Don't miss the drop at Supreme on December 17th.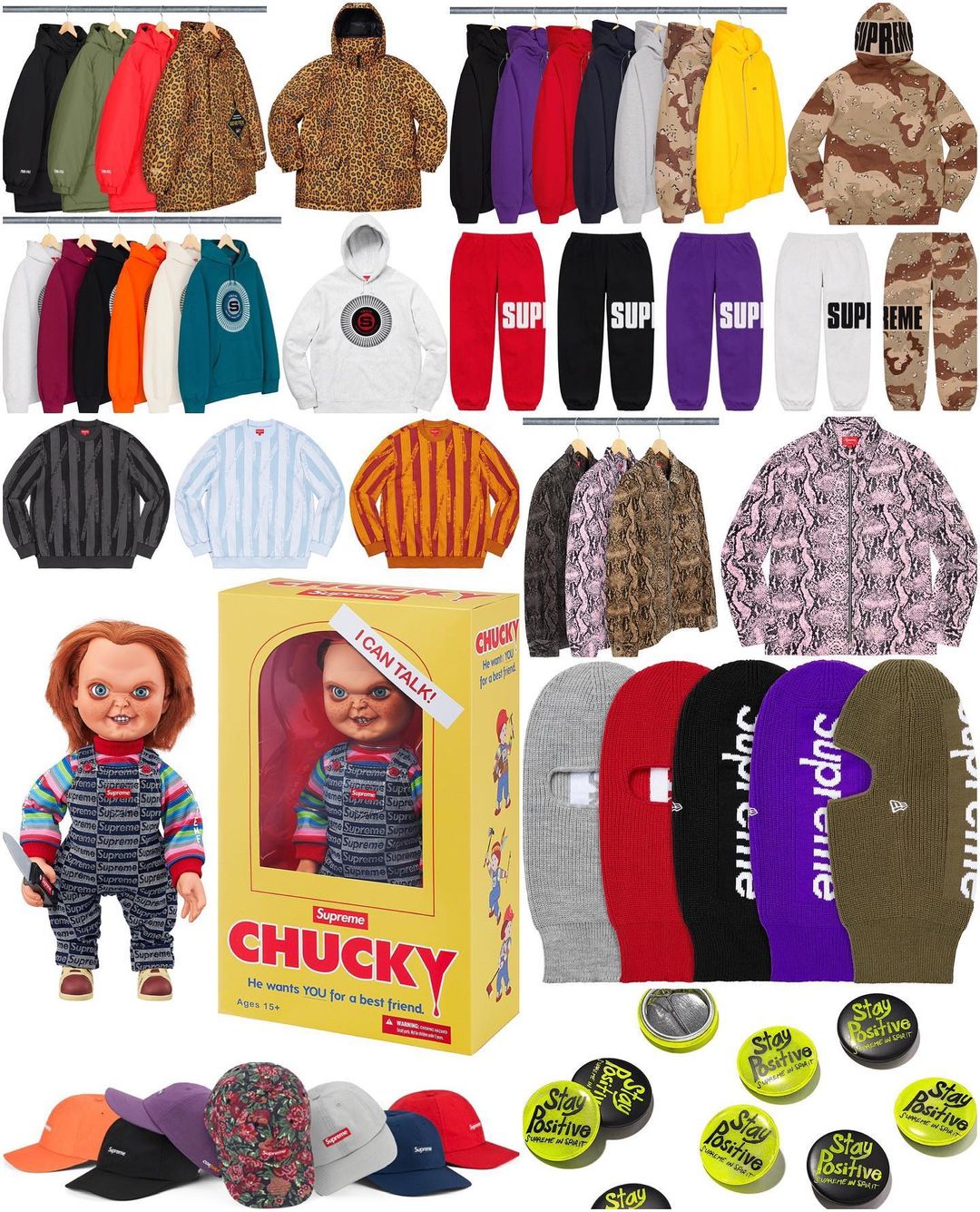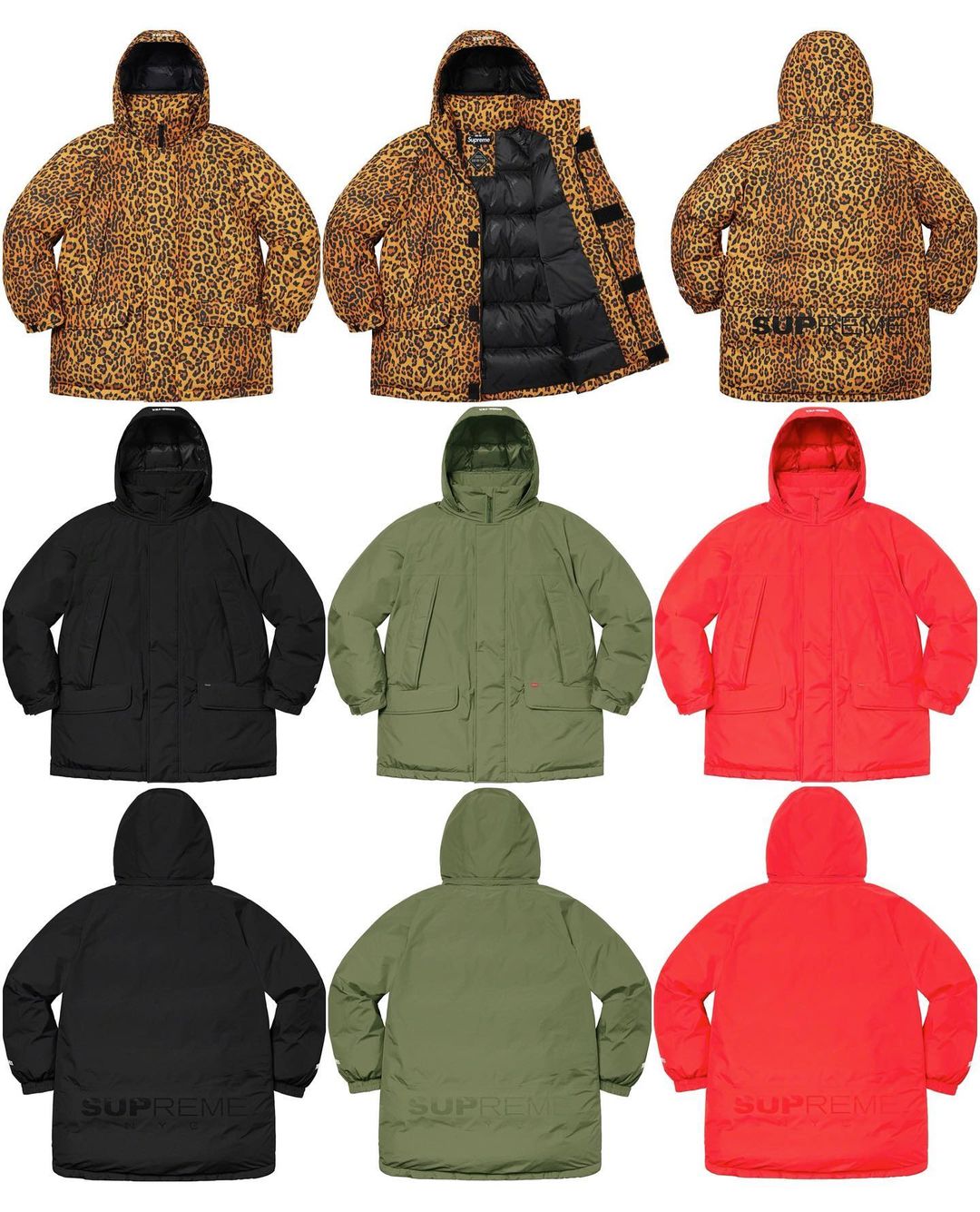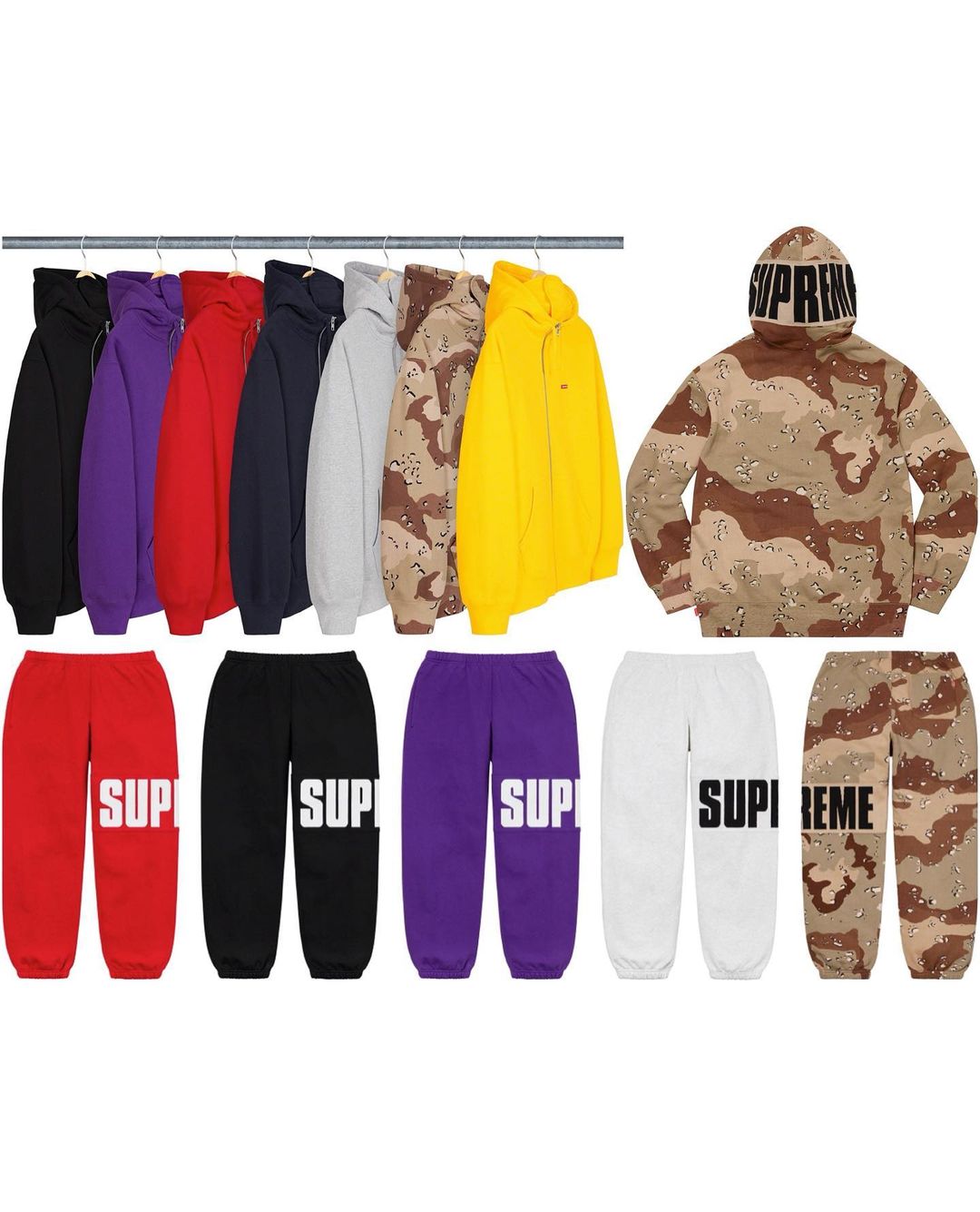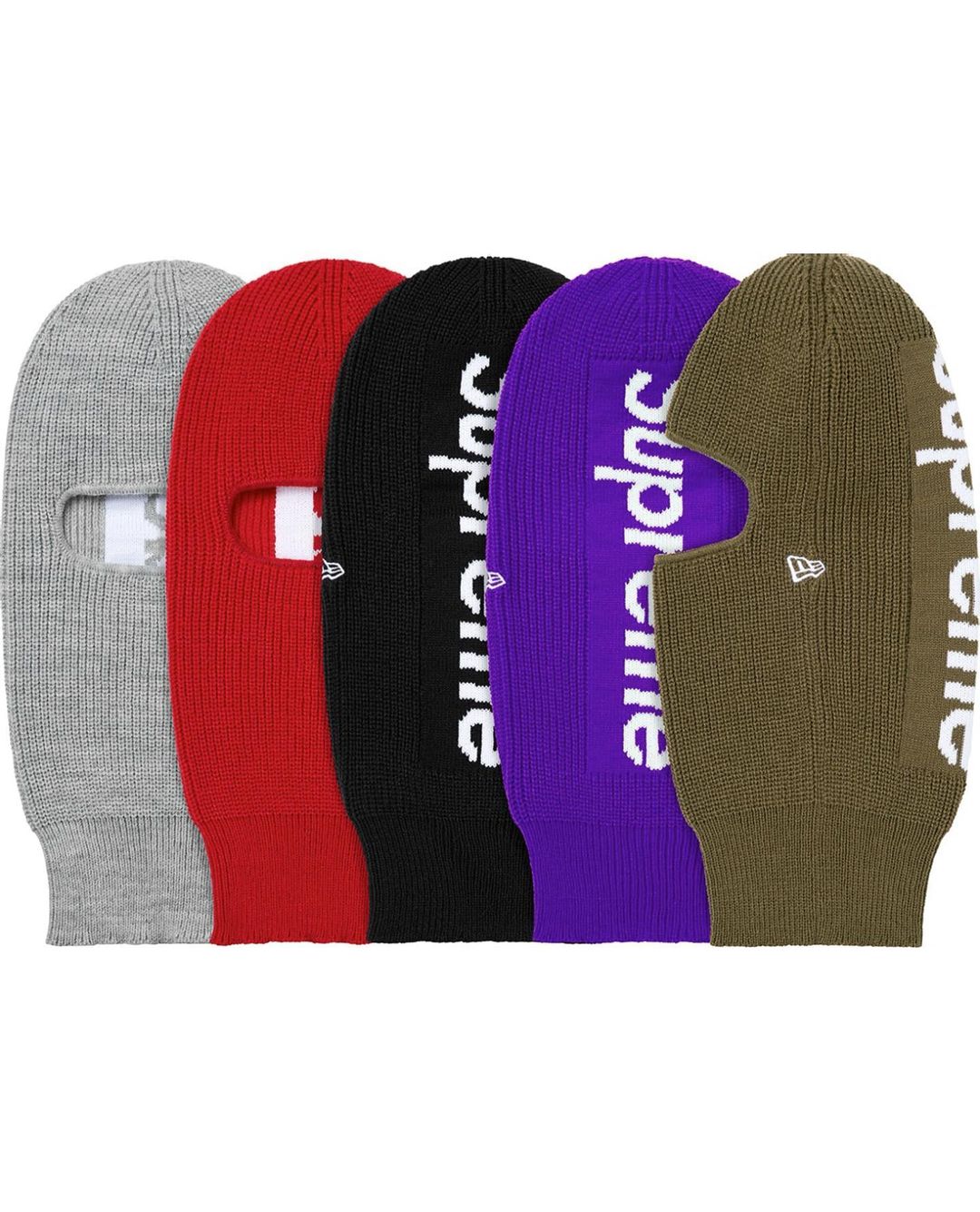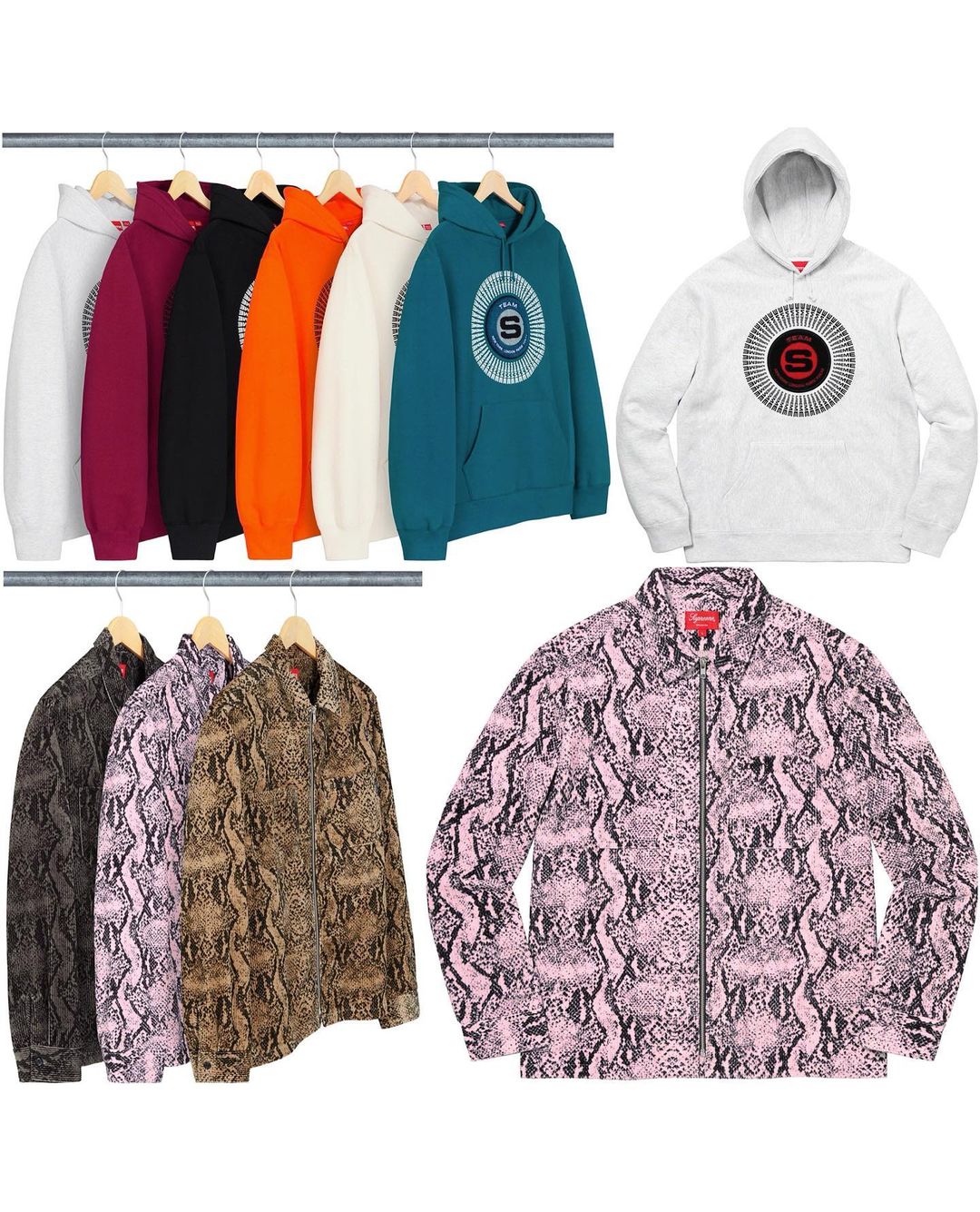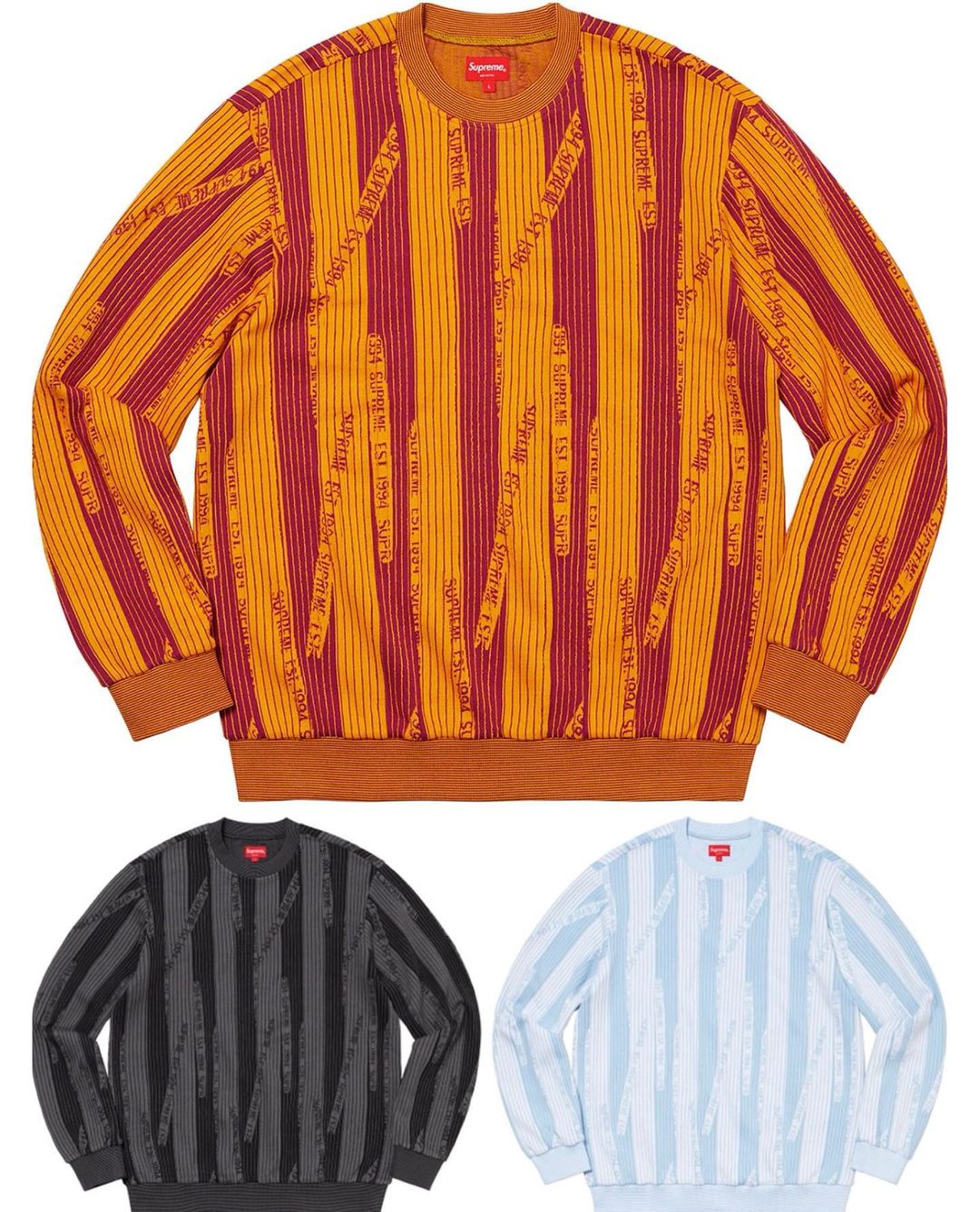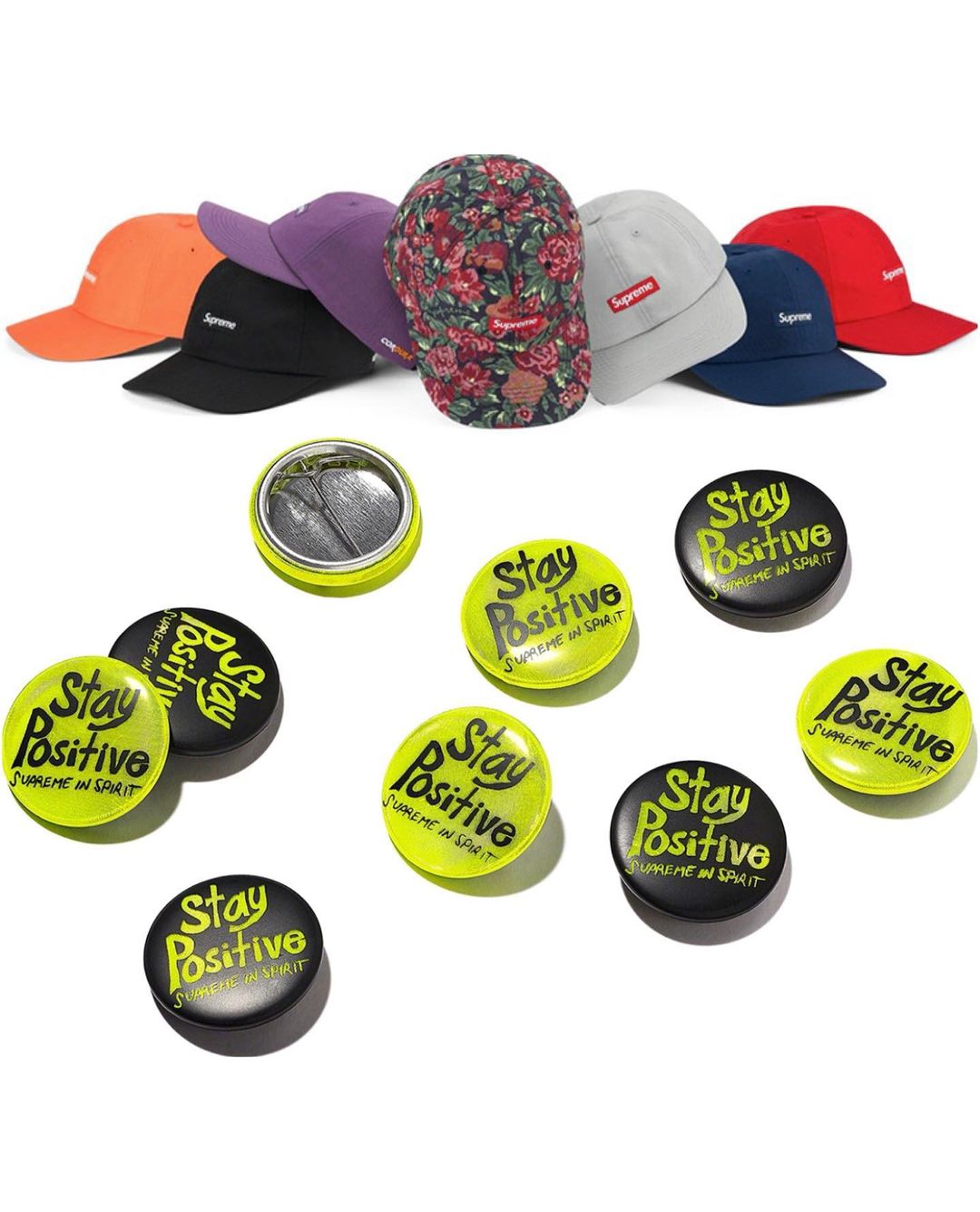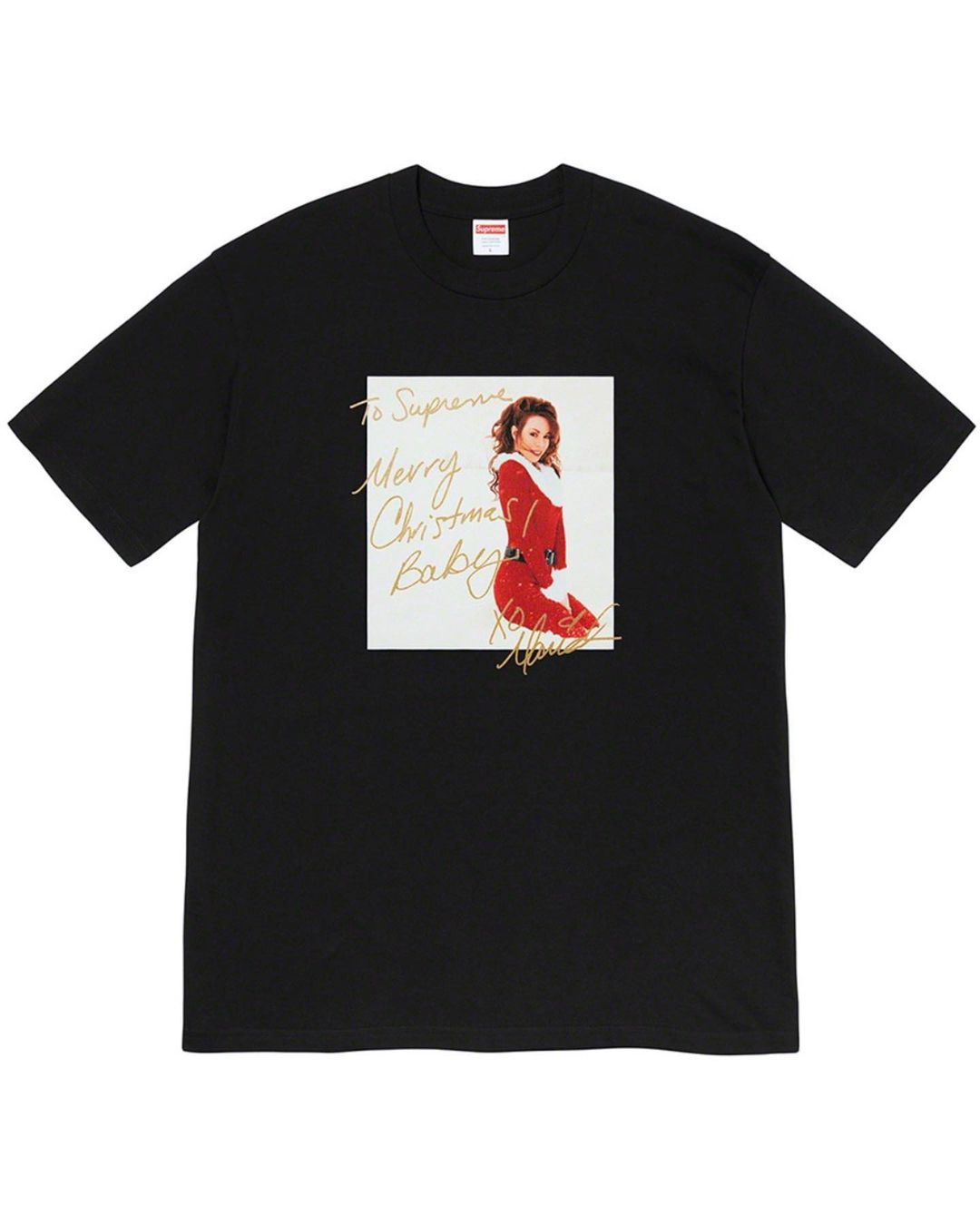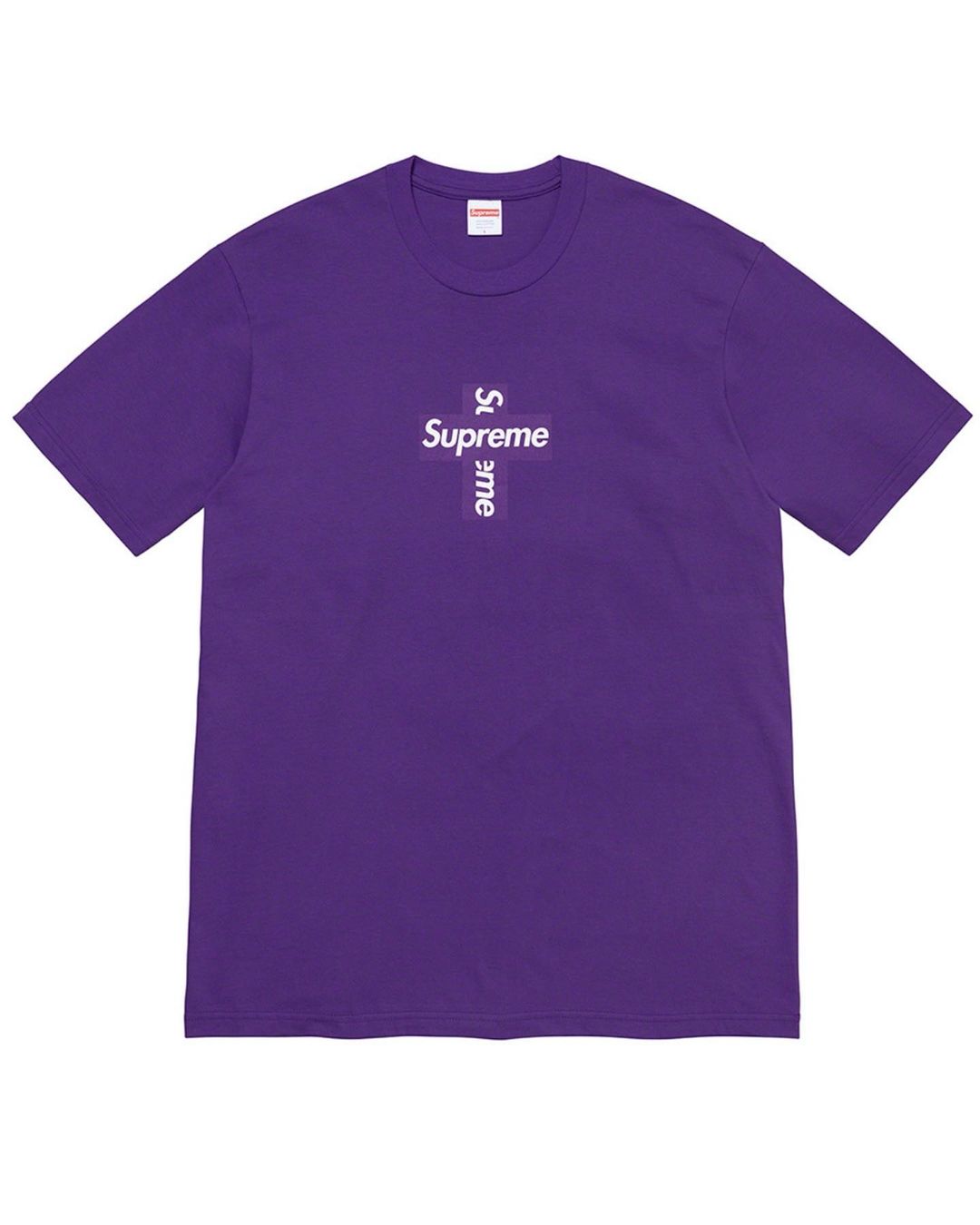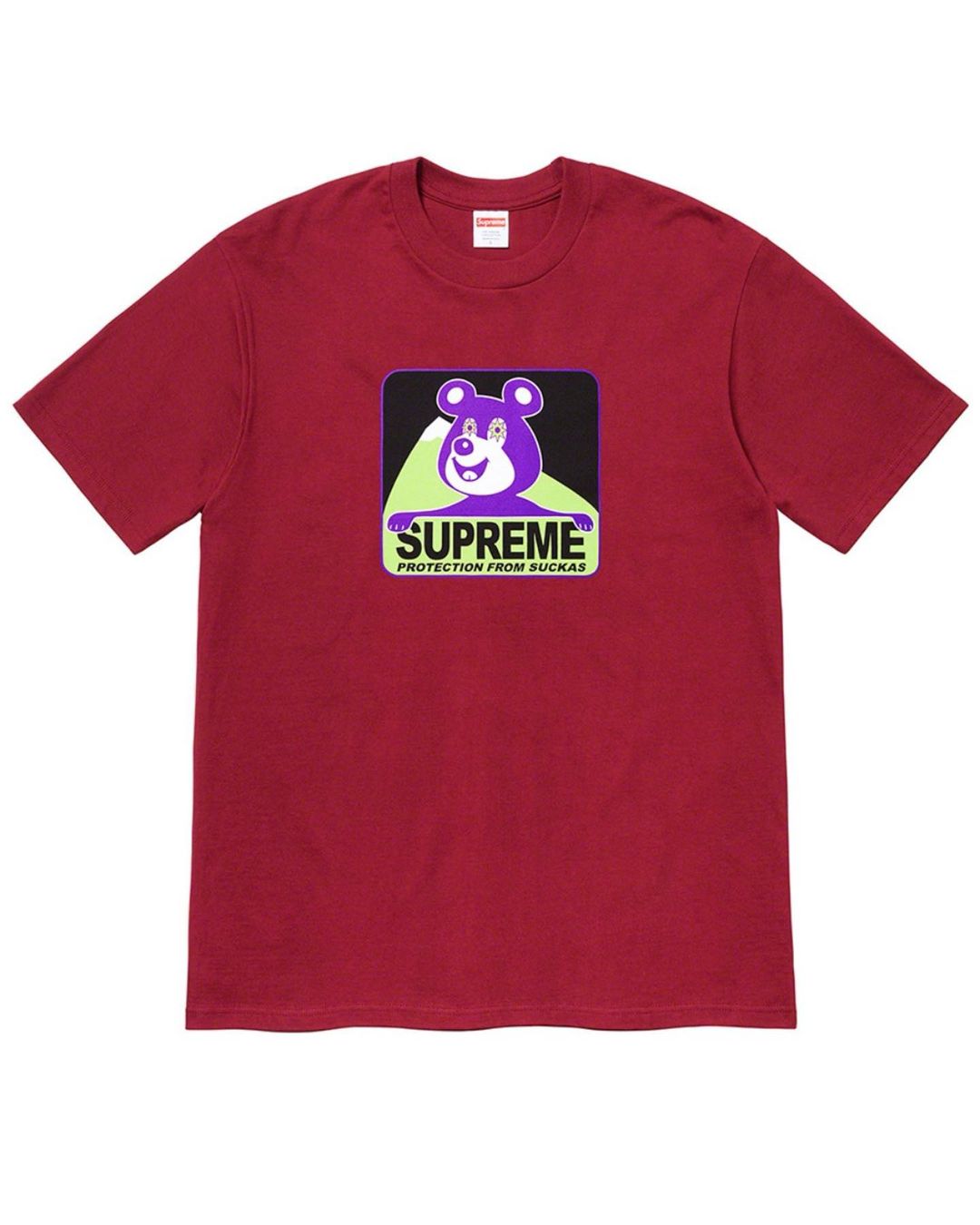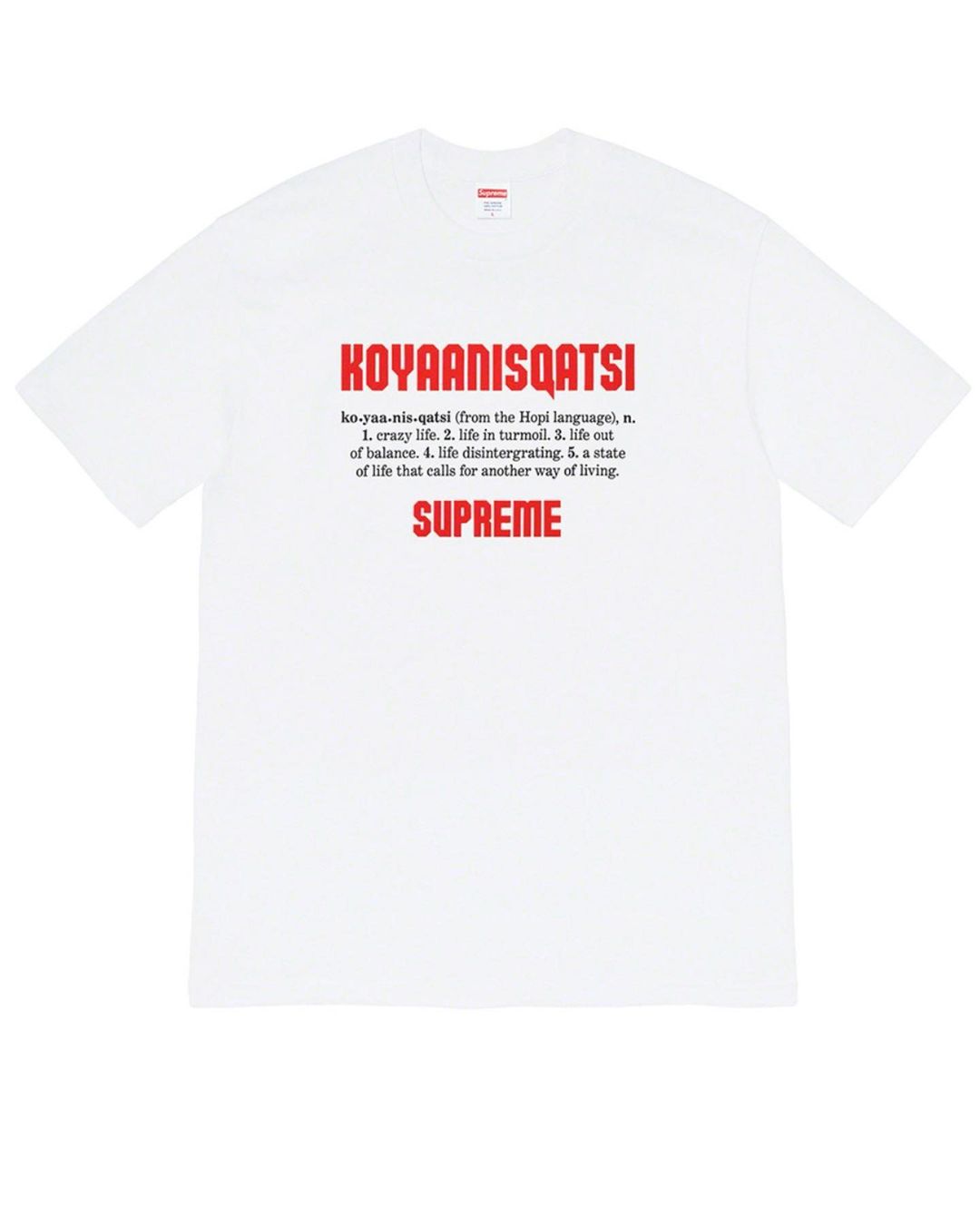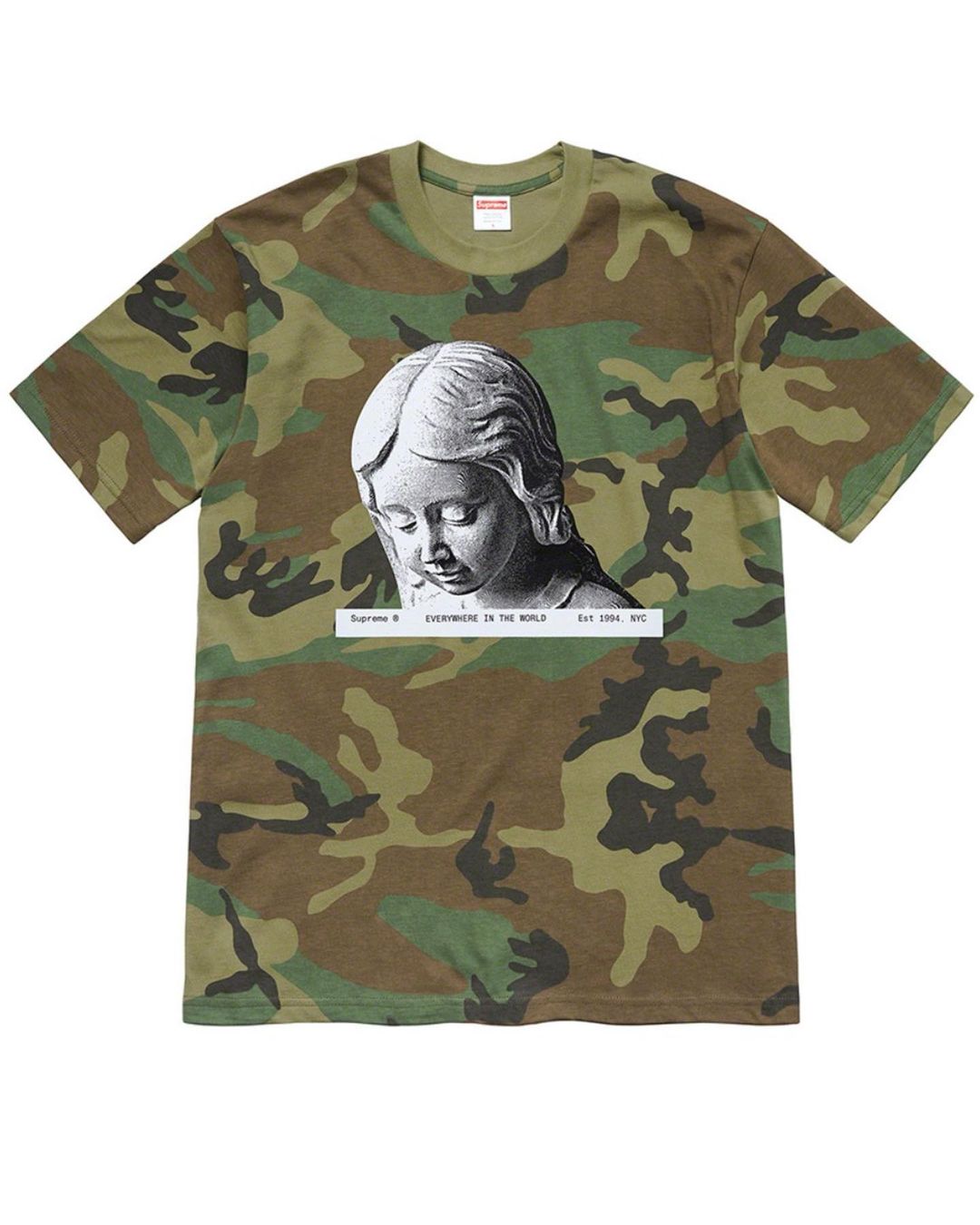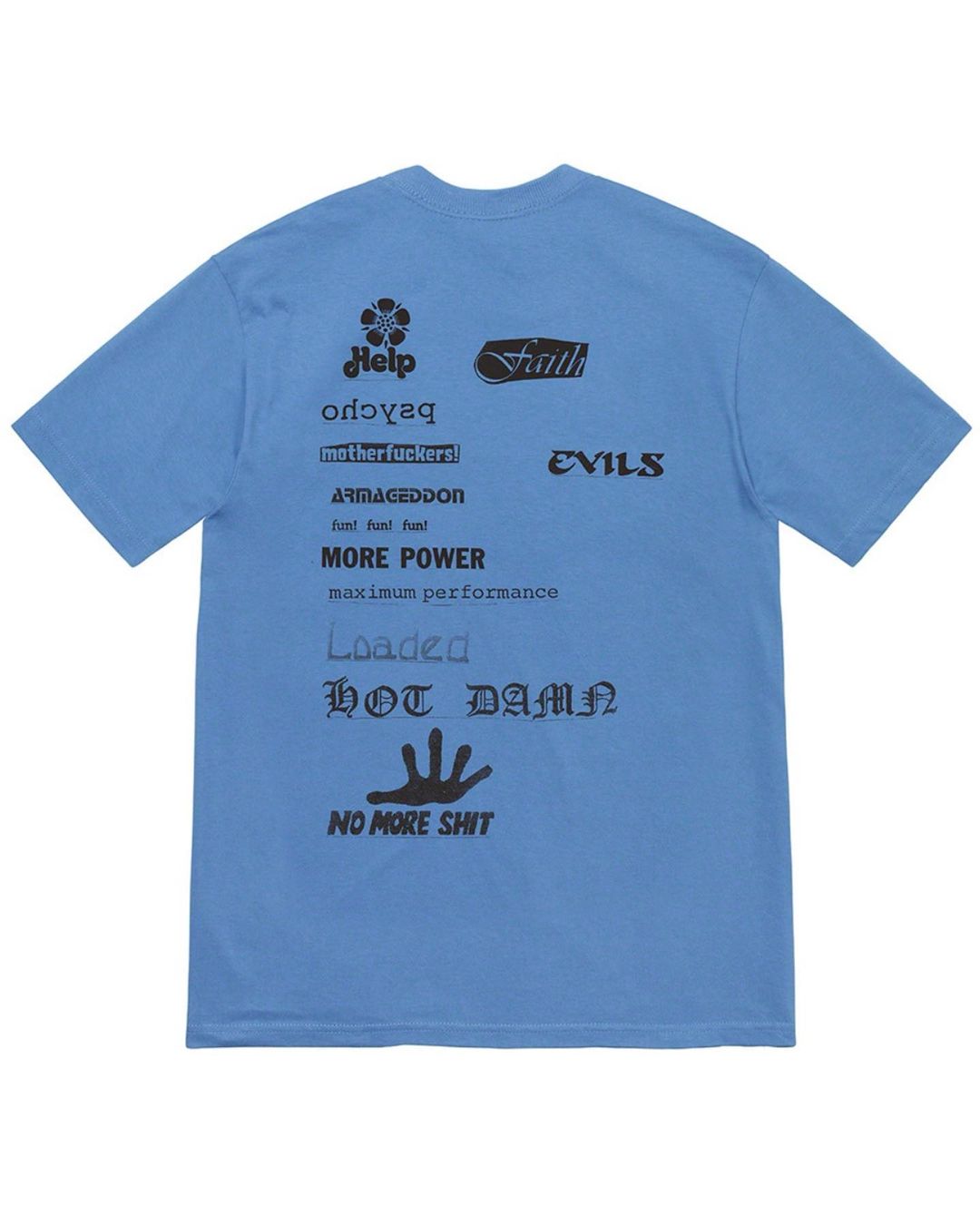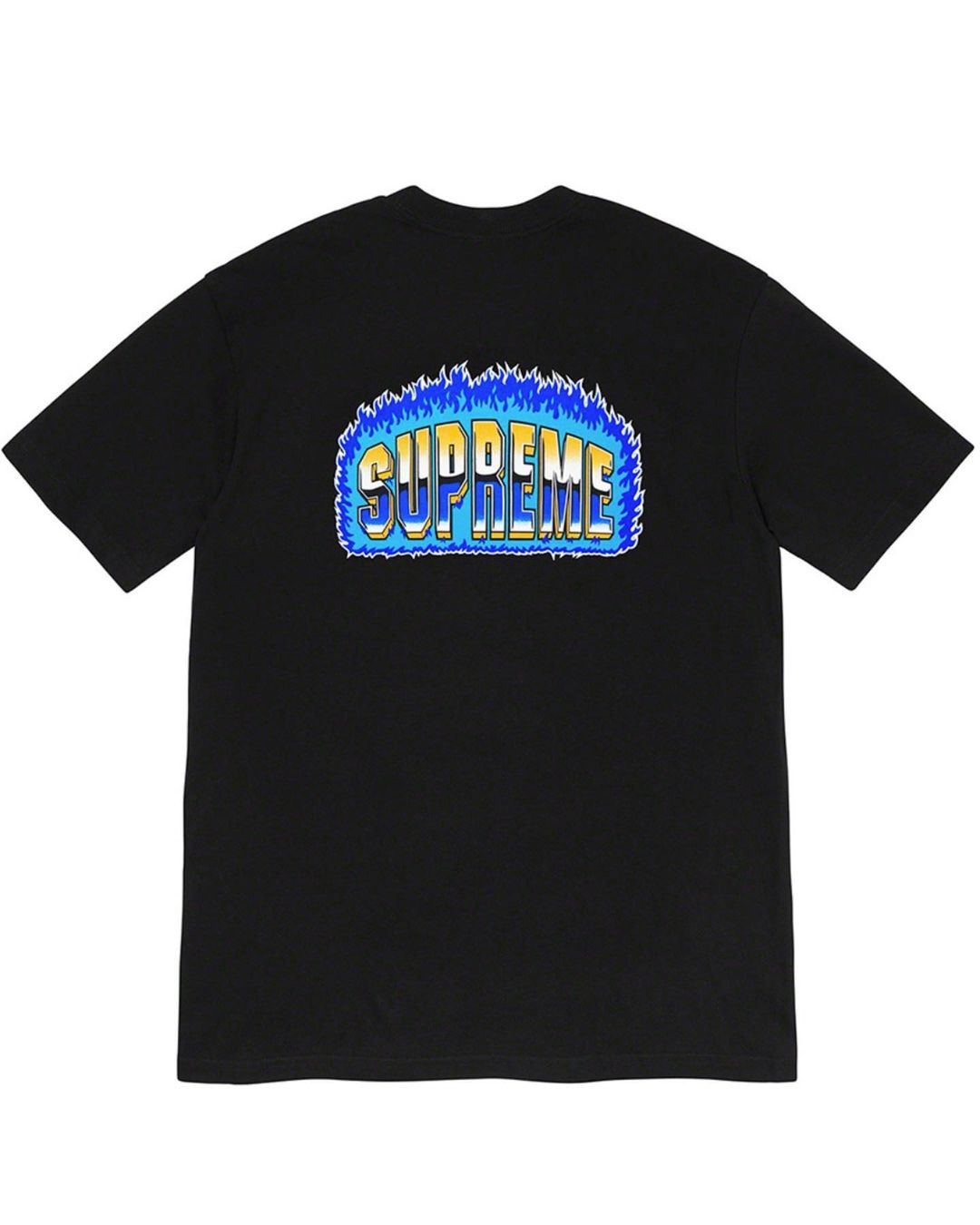 Update 09.12.2020
Unfortunately, Chucky the Killer Doll has not shown up yet, but the Supreme Fall/Winter 2020 Week 16 will be huge.
The official pictures of the "Faux Fur" collection of Supreme and The North Face are here. It was already suspected weeks ago that the two strong partners would jointly release a faux fur collection. The Supreme x The North Face "Faux Fur" collection is part of the new week and includes three Nuptse jackets, backpacks, and fanny packs.
It is also expected that the Supreme Mortal Kombat Arcade machine will be released. So, we are definitely looking forward to the drop on December 10th.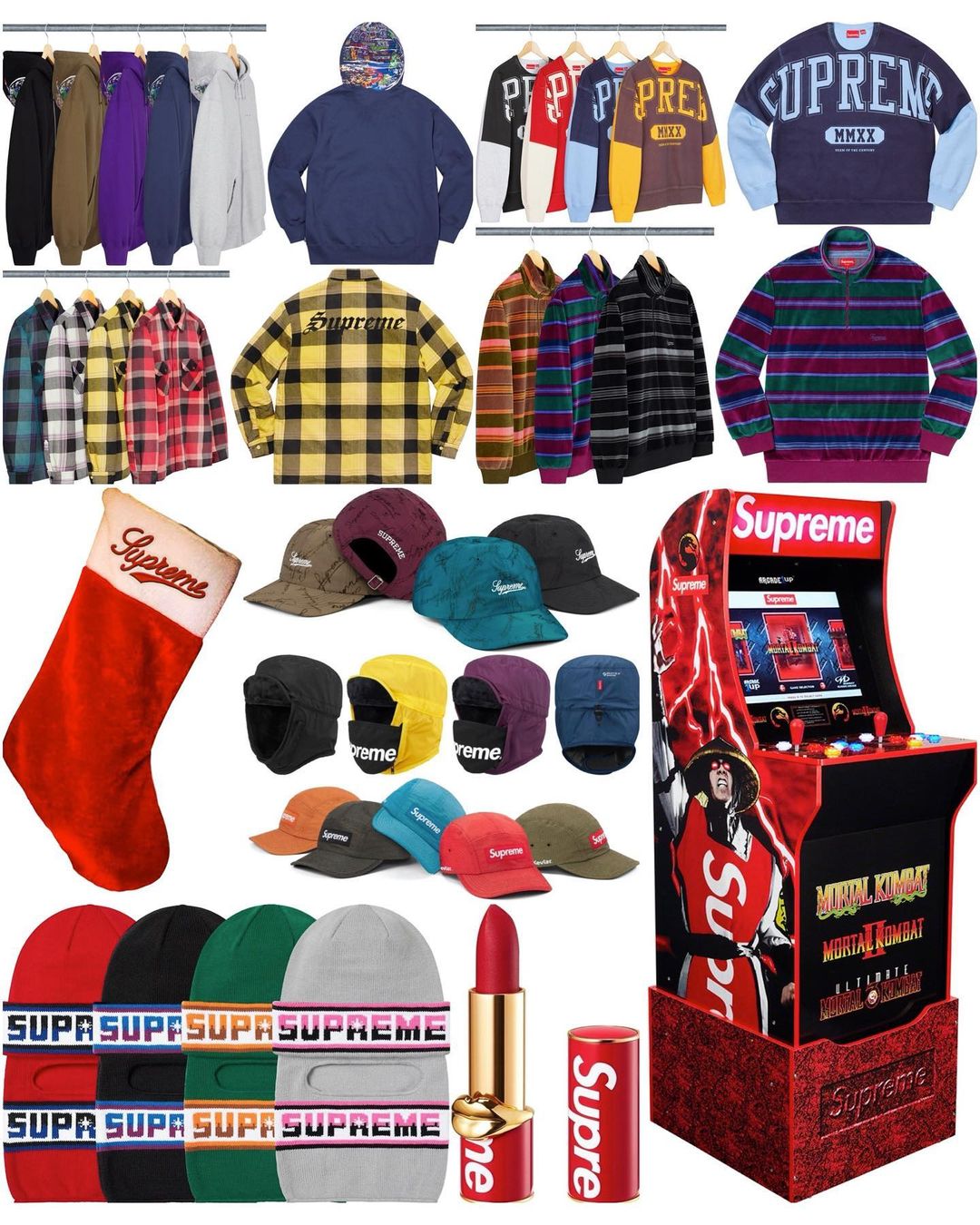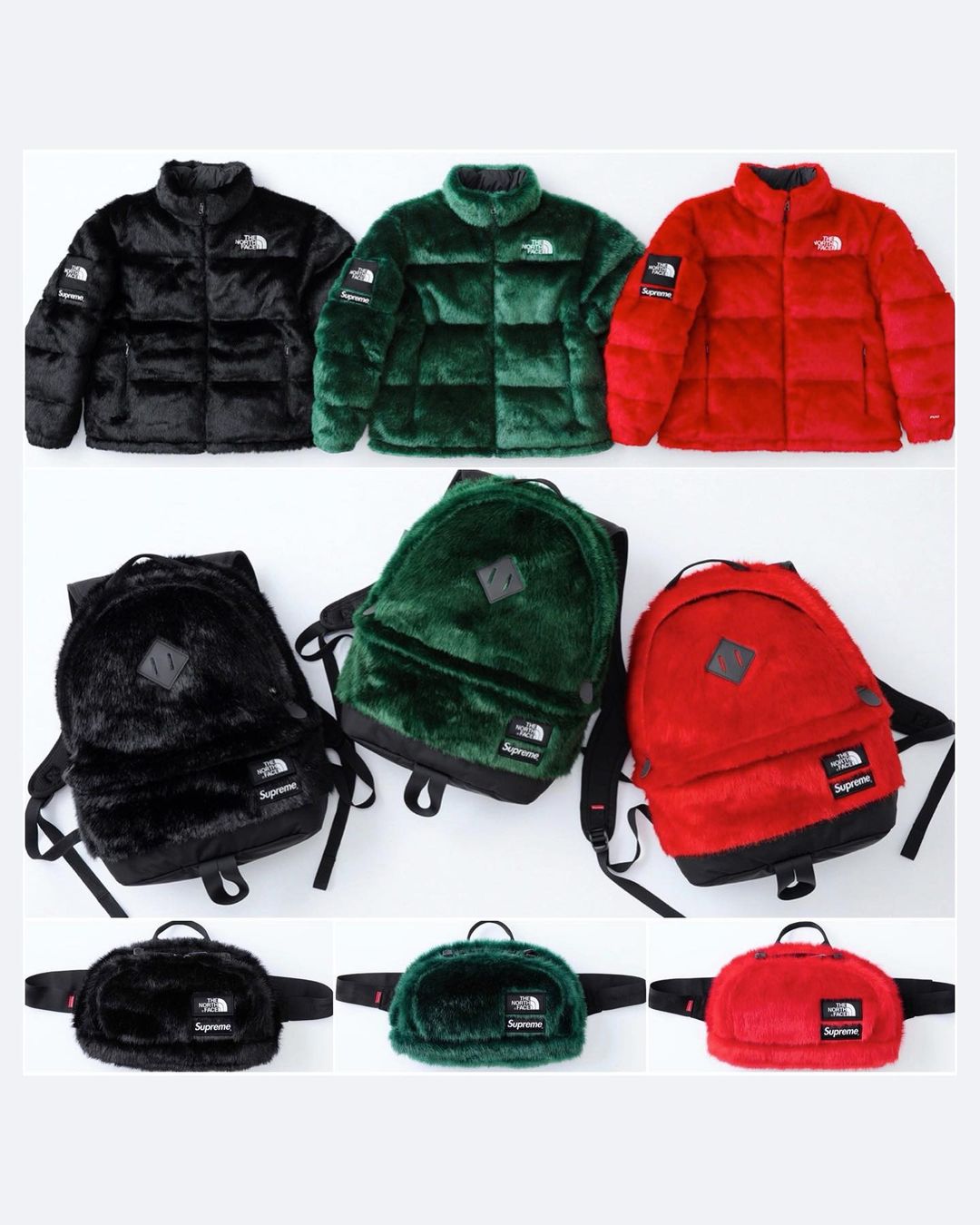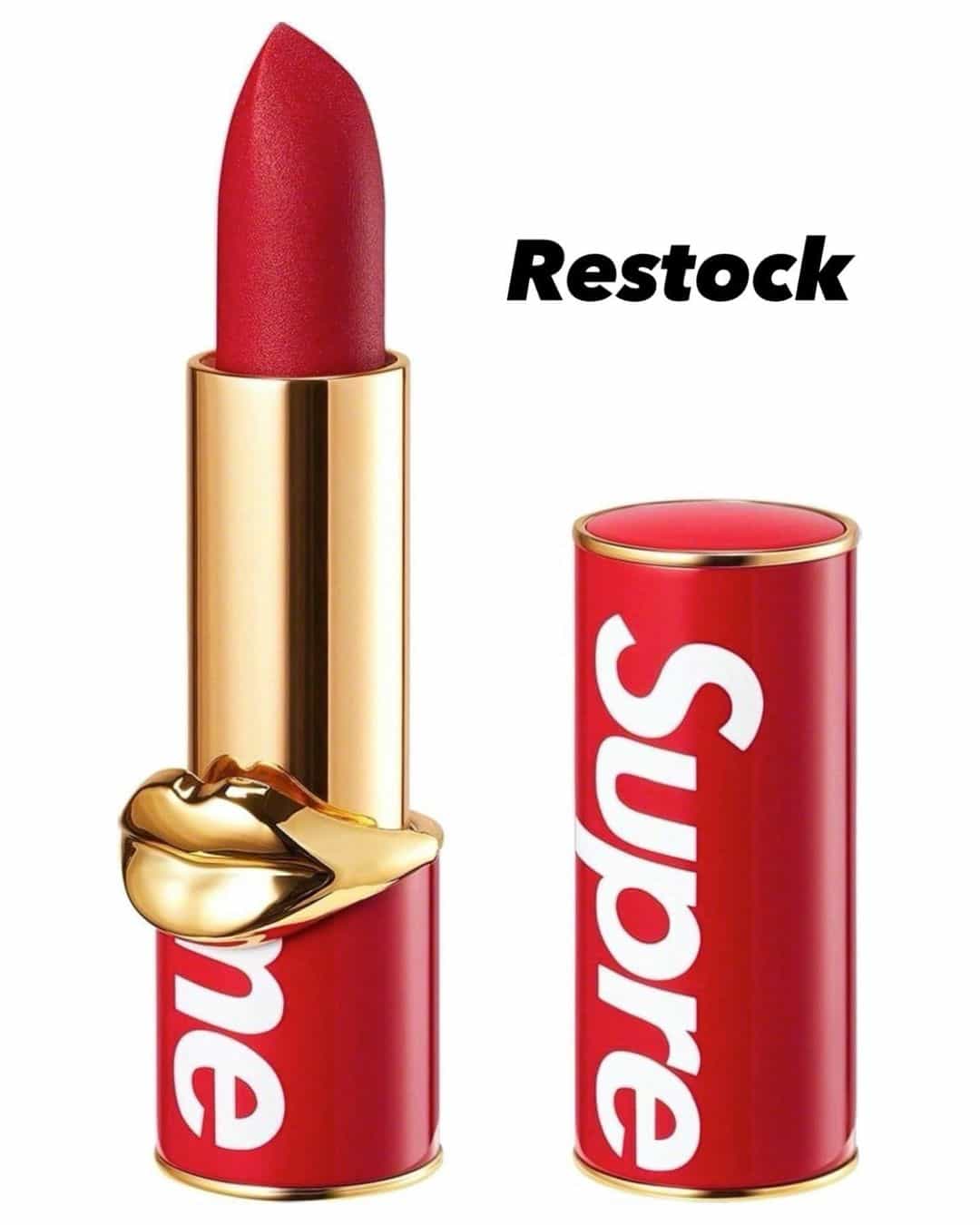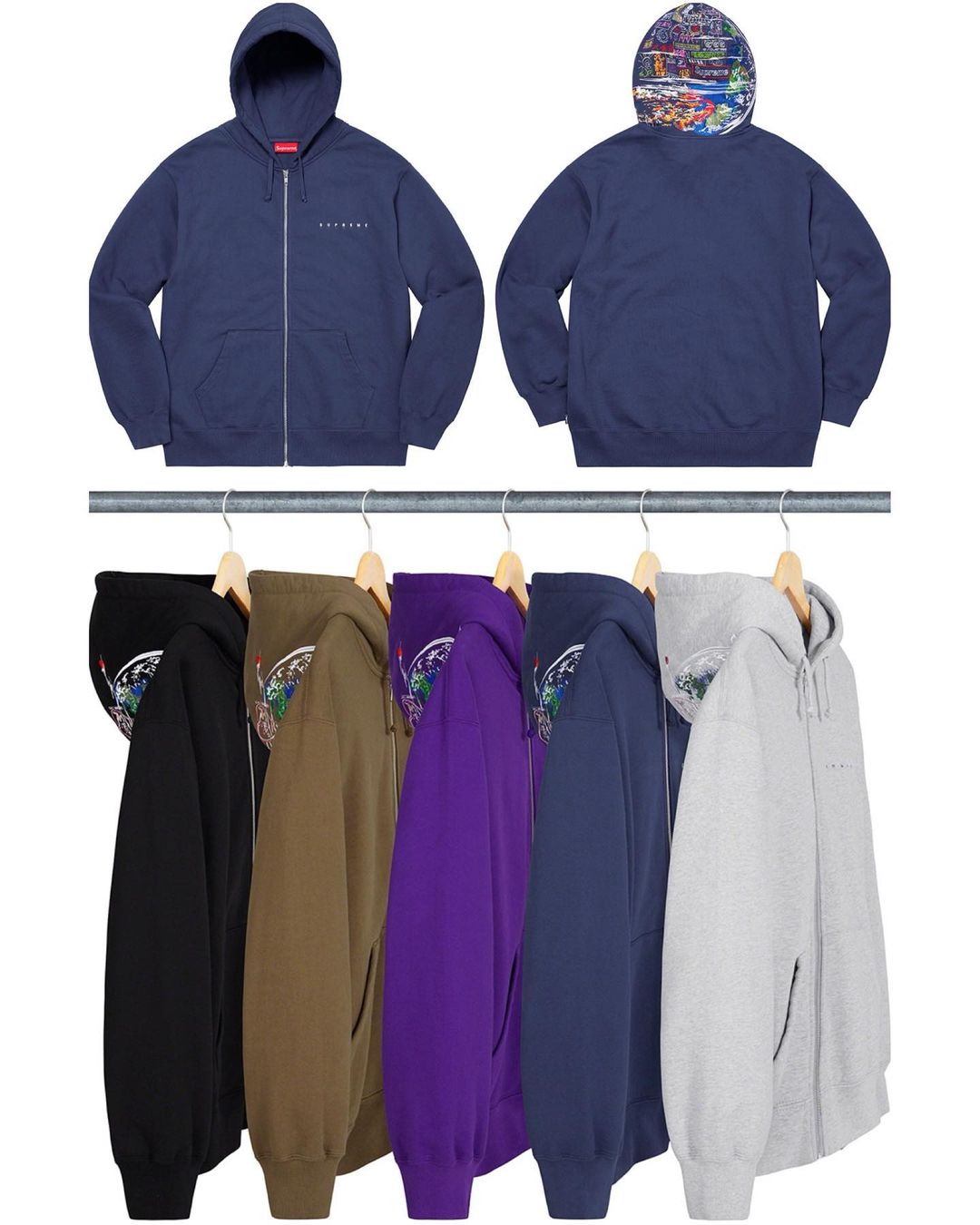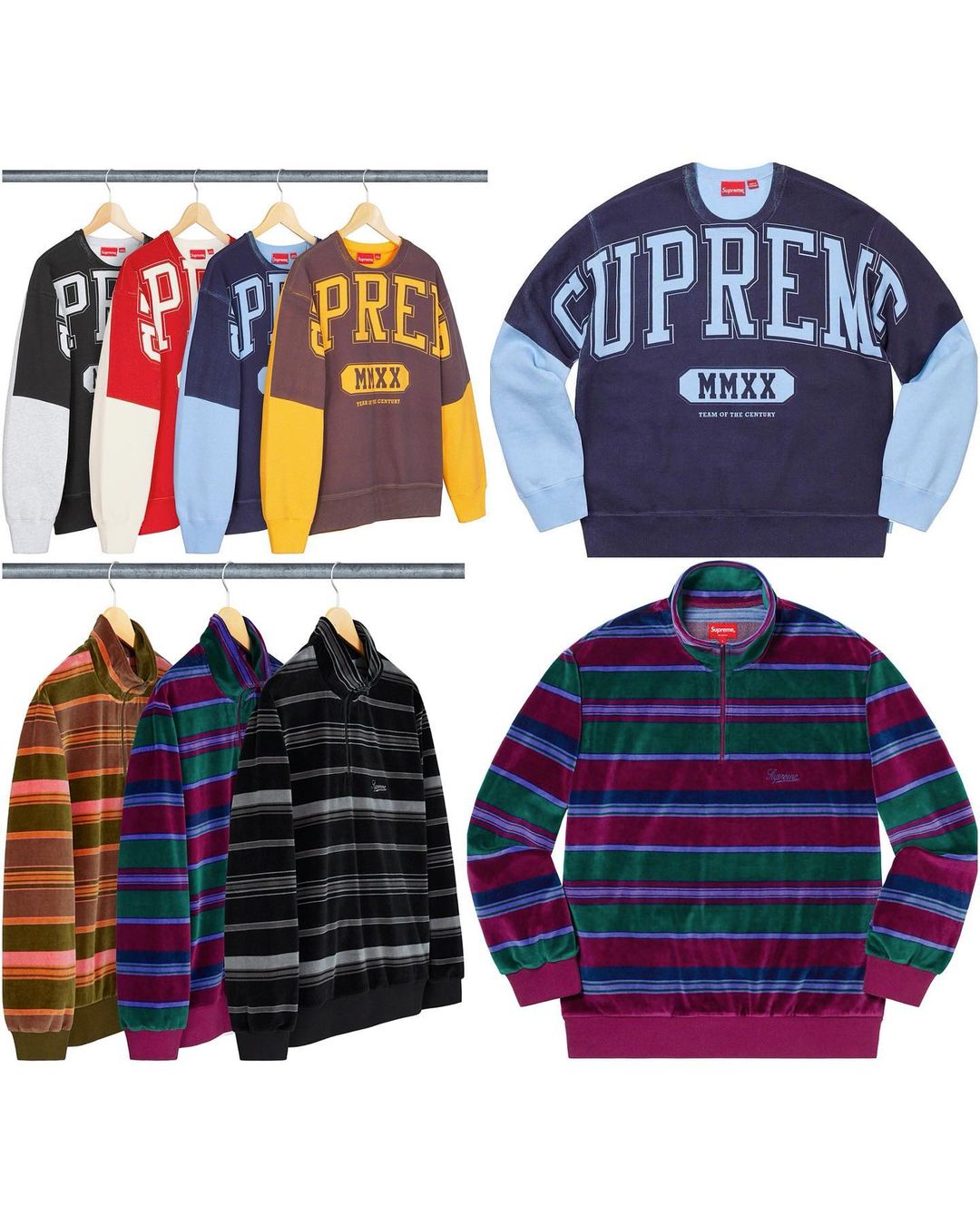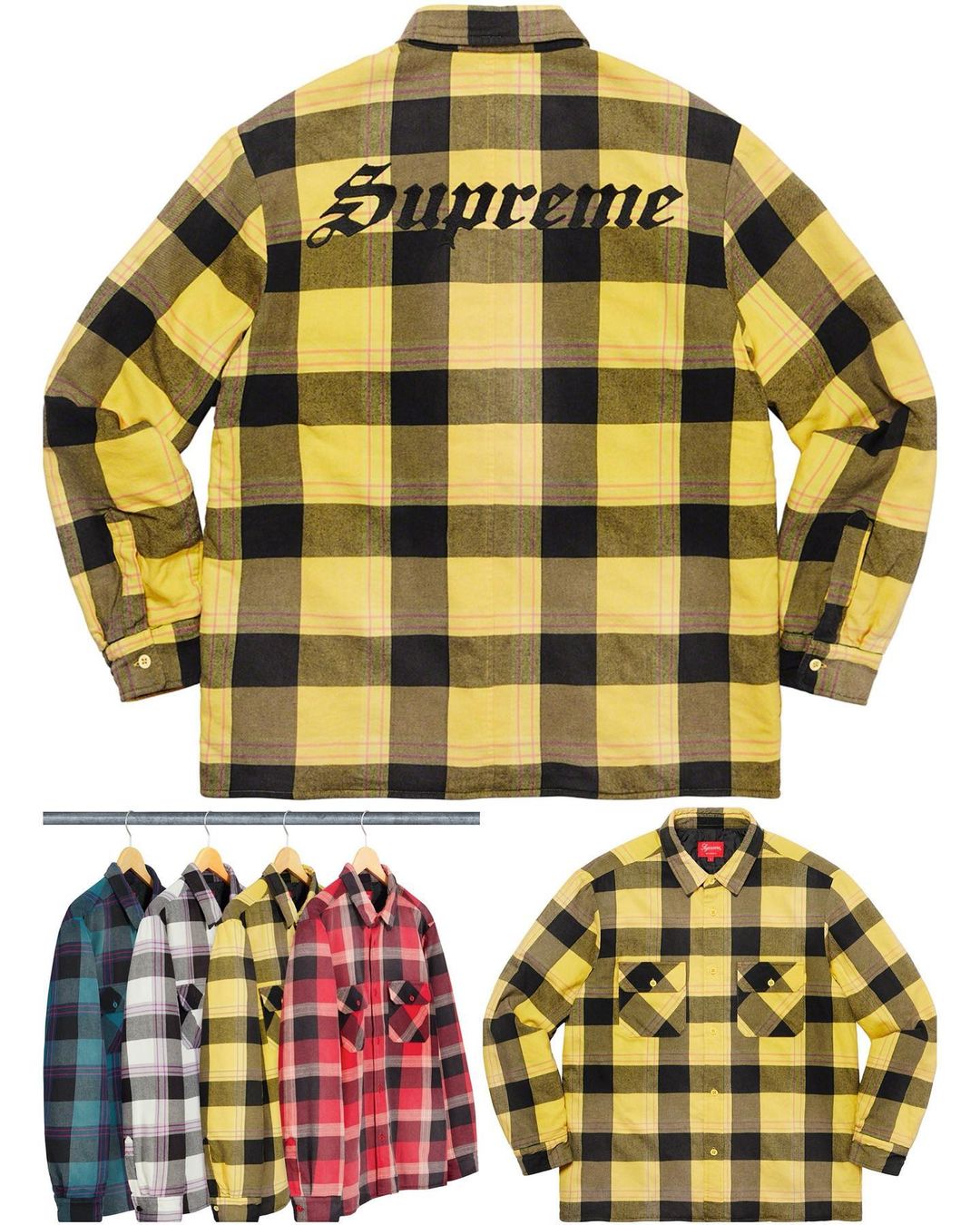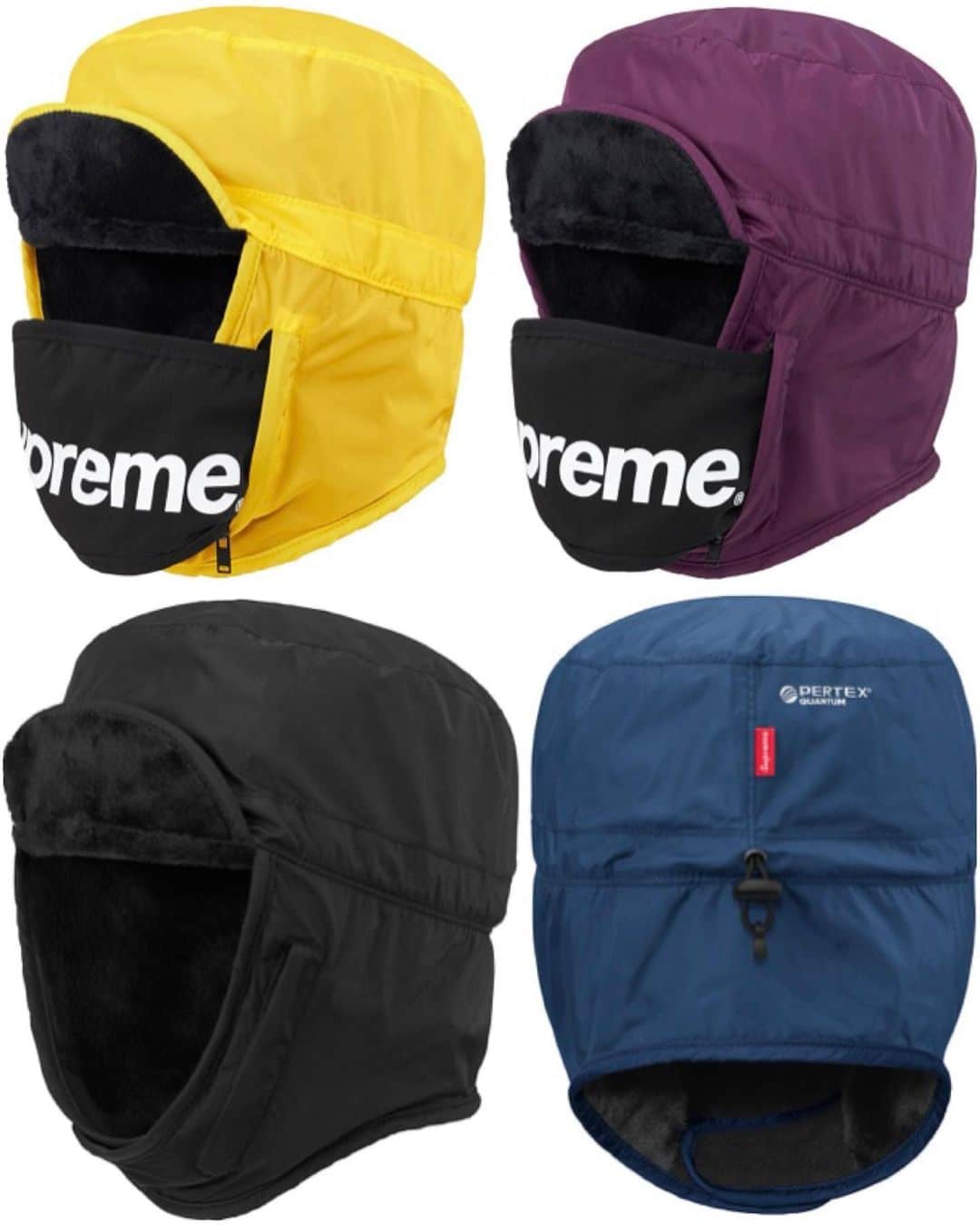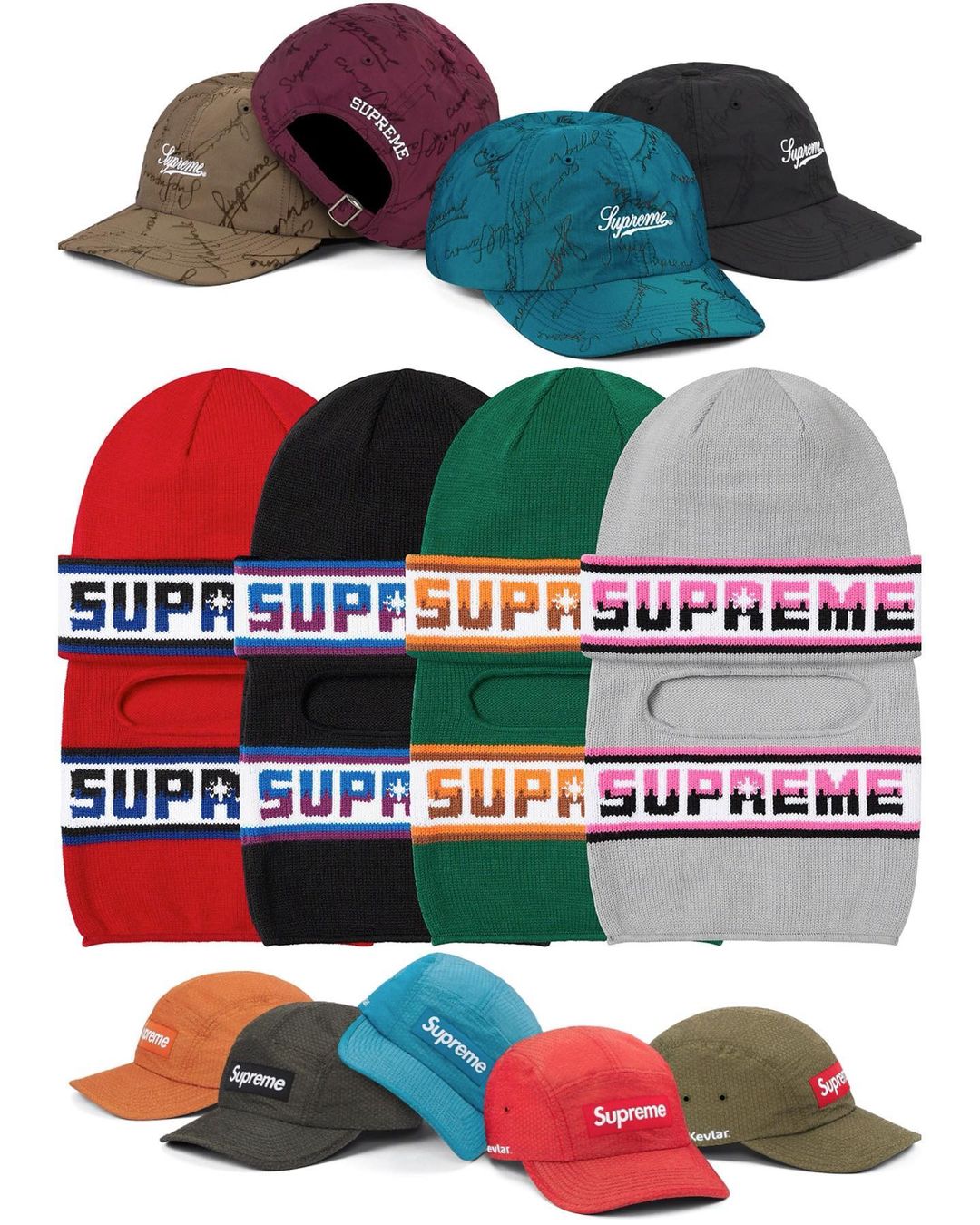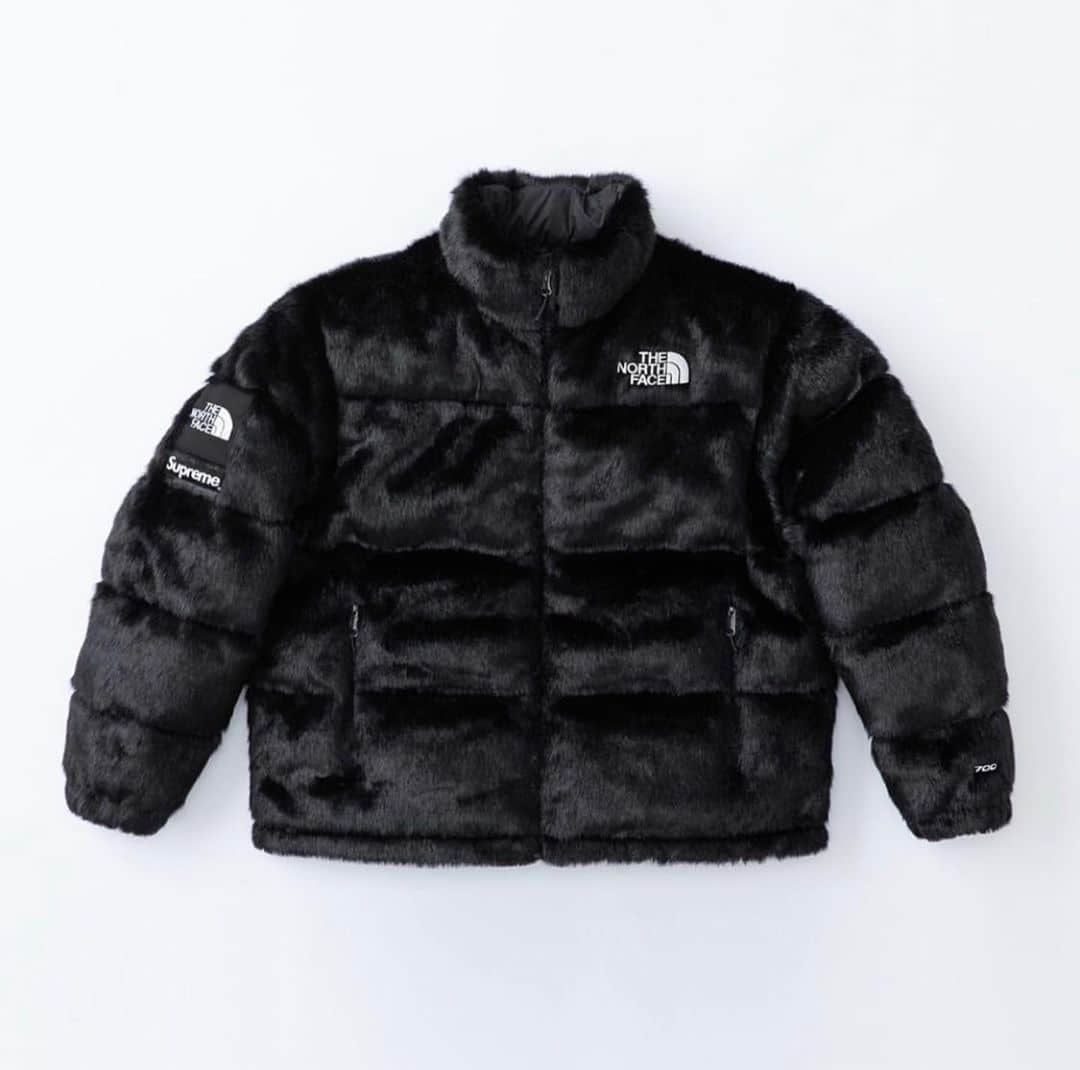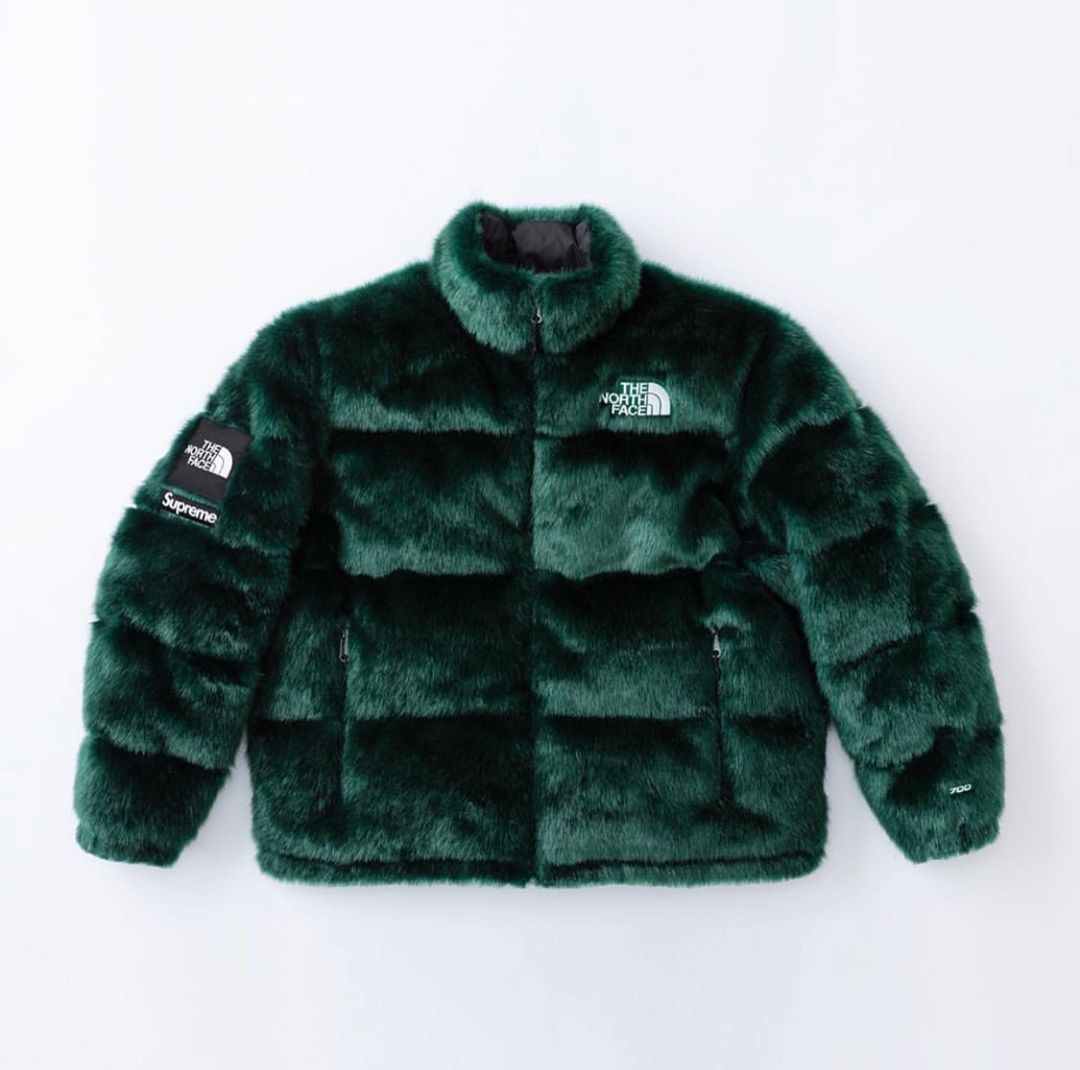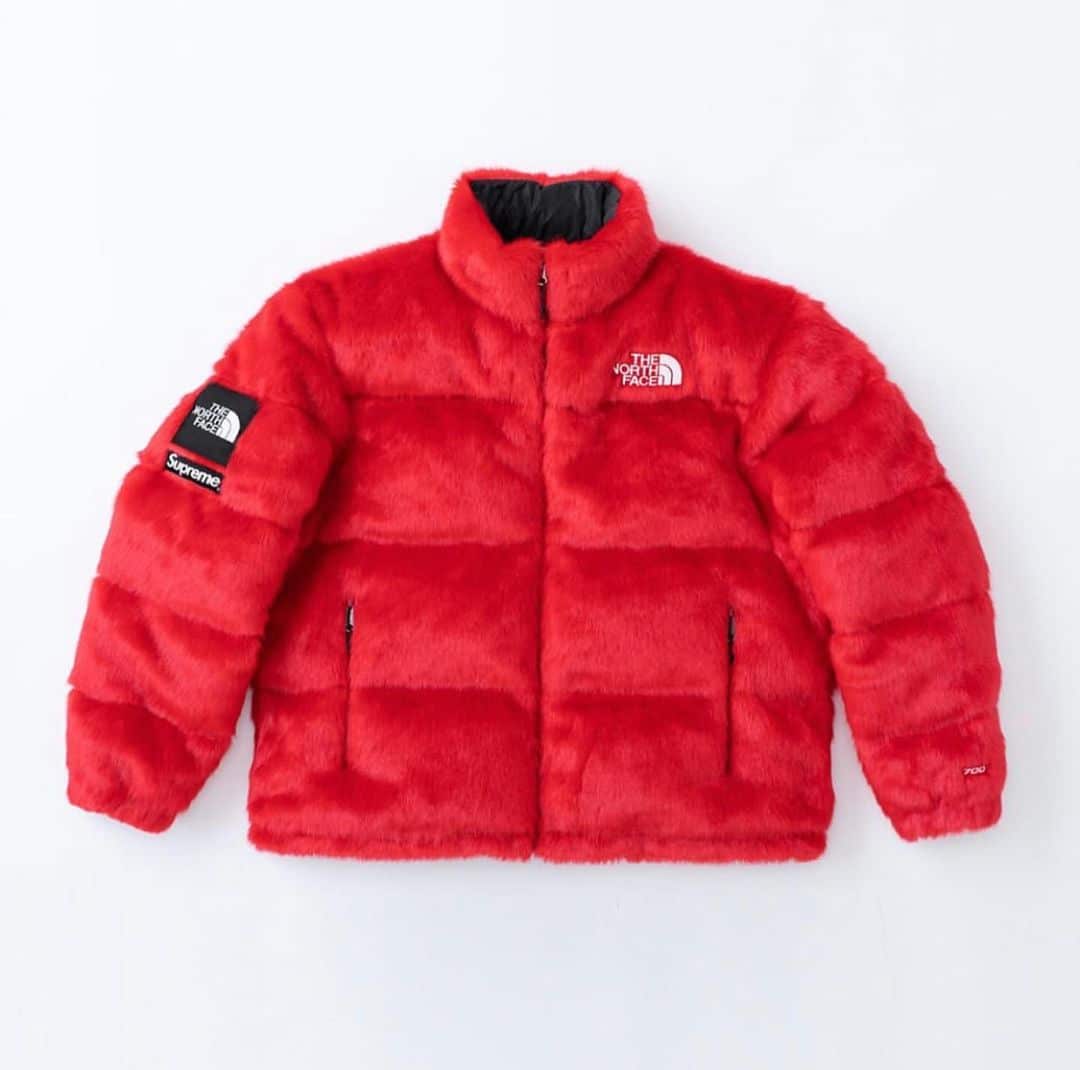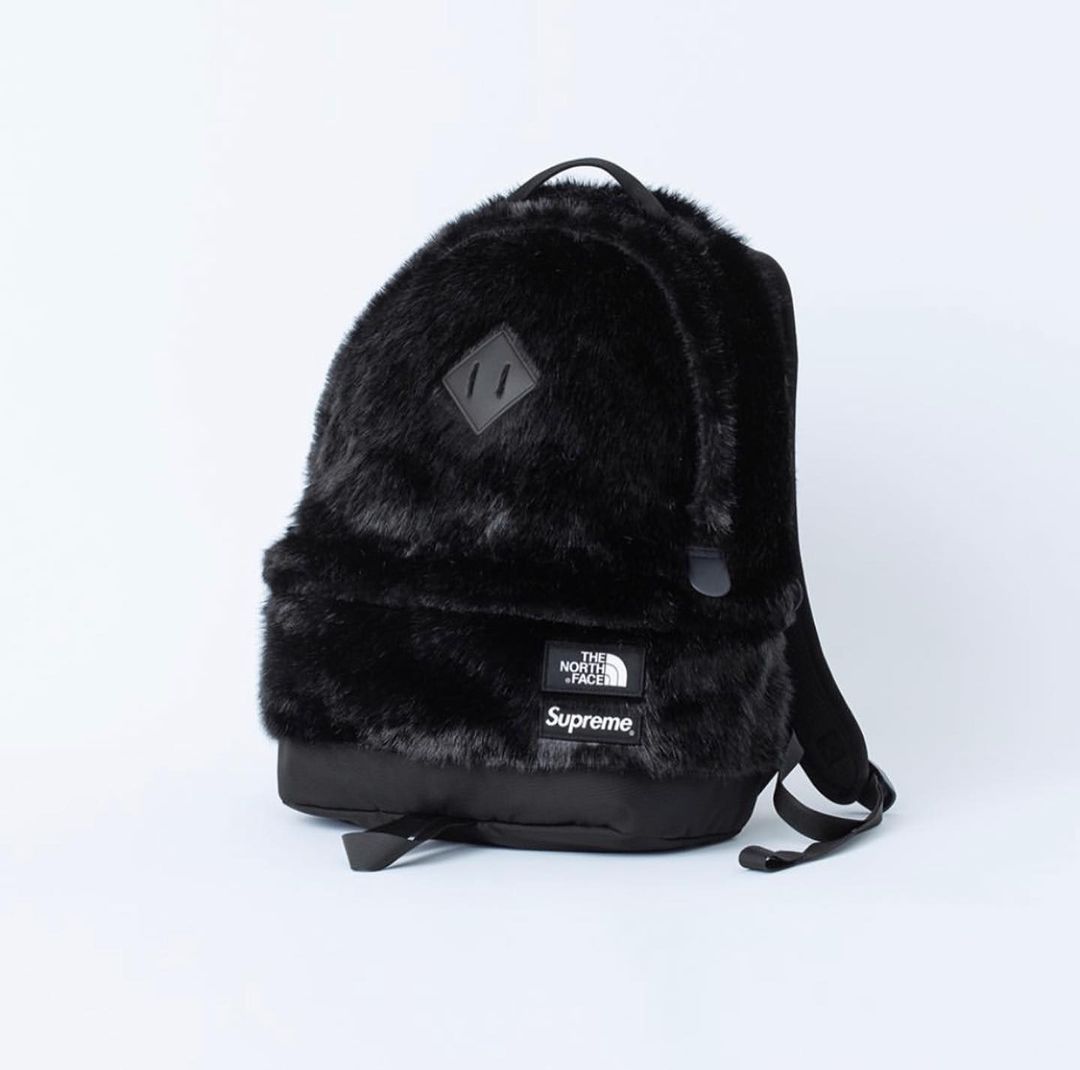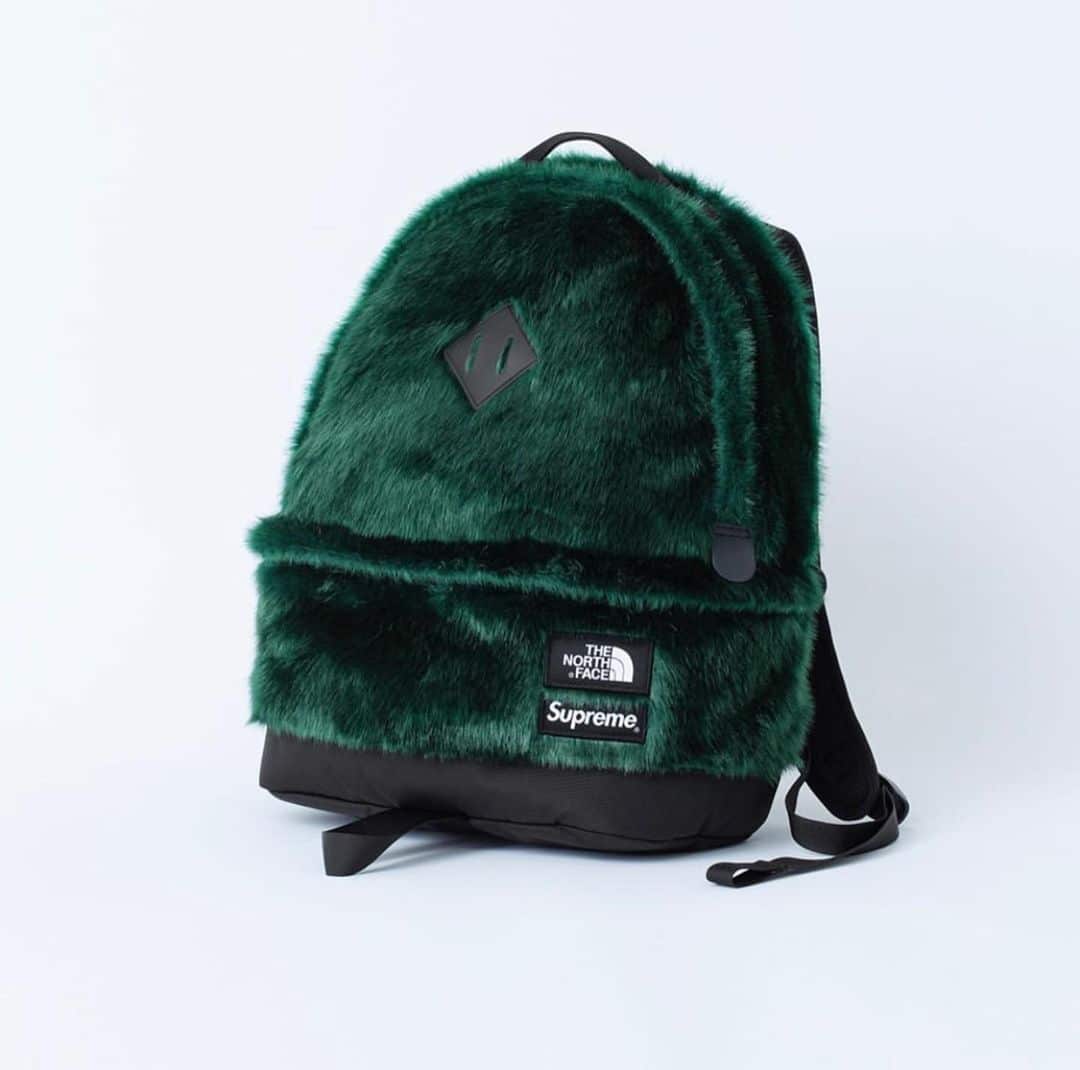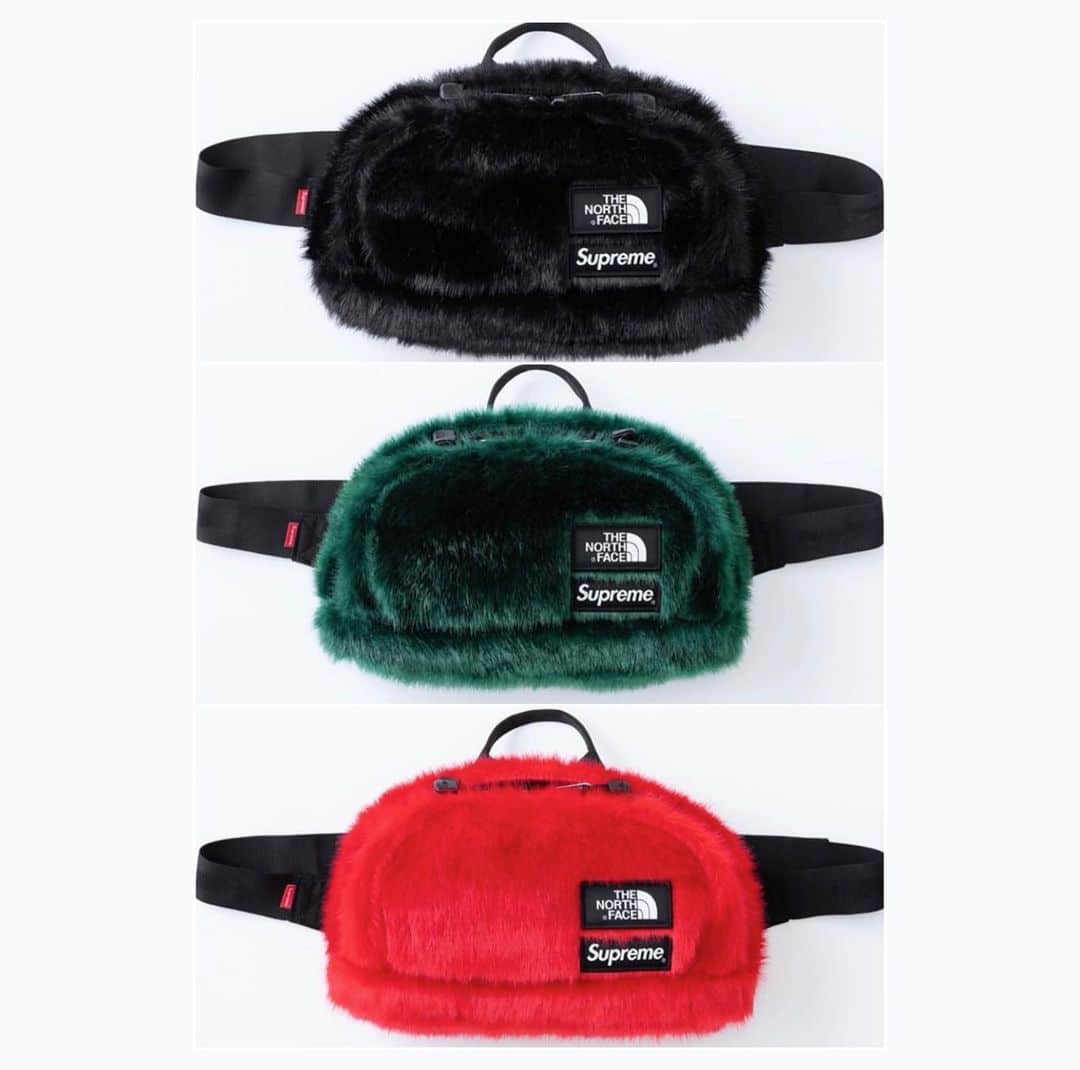 Update 02.12.2020
Many weeks ago, Supreme introduced the great Fall/Winter 2020 collection, and today, we are already taking a look at Week 15. Since day 1, the label has been dropping sick stuff, and this week, fans will continue to get the usual heat. This is because on December 3rd, hoodies with a cross box logo and a New Era Beanie collection with the same feature will be released.
Supreme and Refrigiwear will also be combined for three jackets and two gilets. Check out the pieces and expect a drop at Supreme on December 3rd.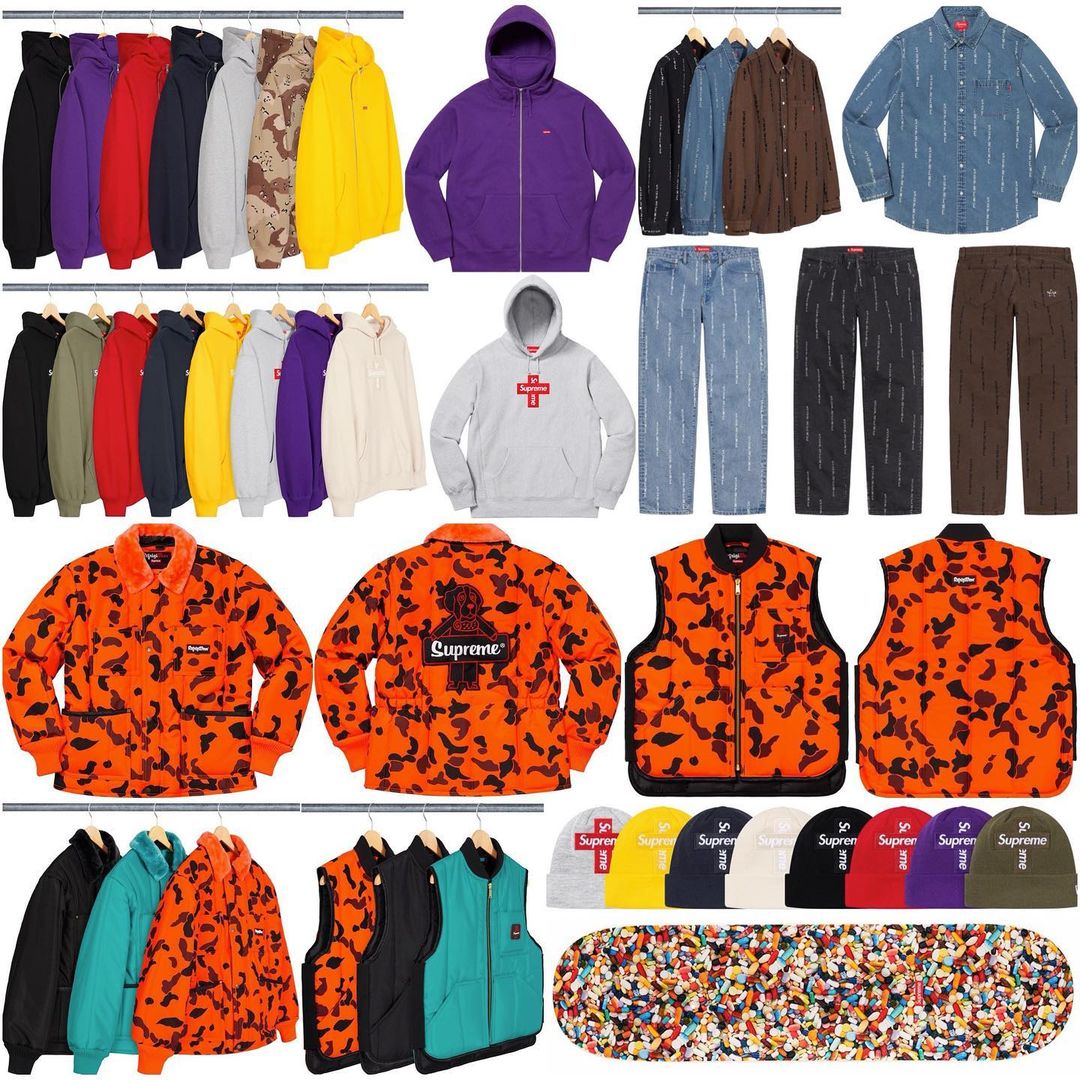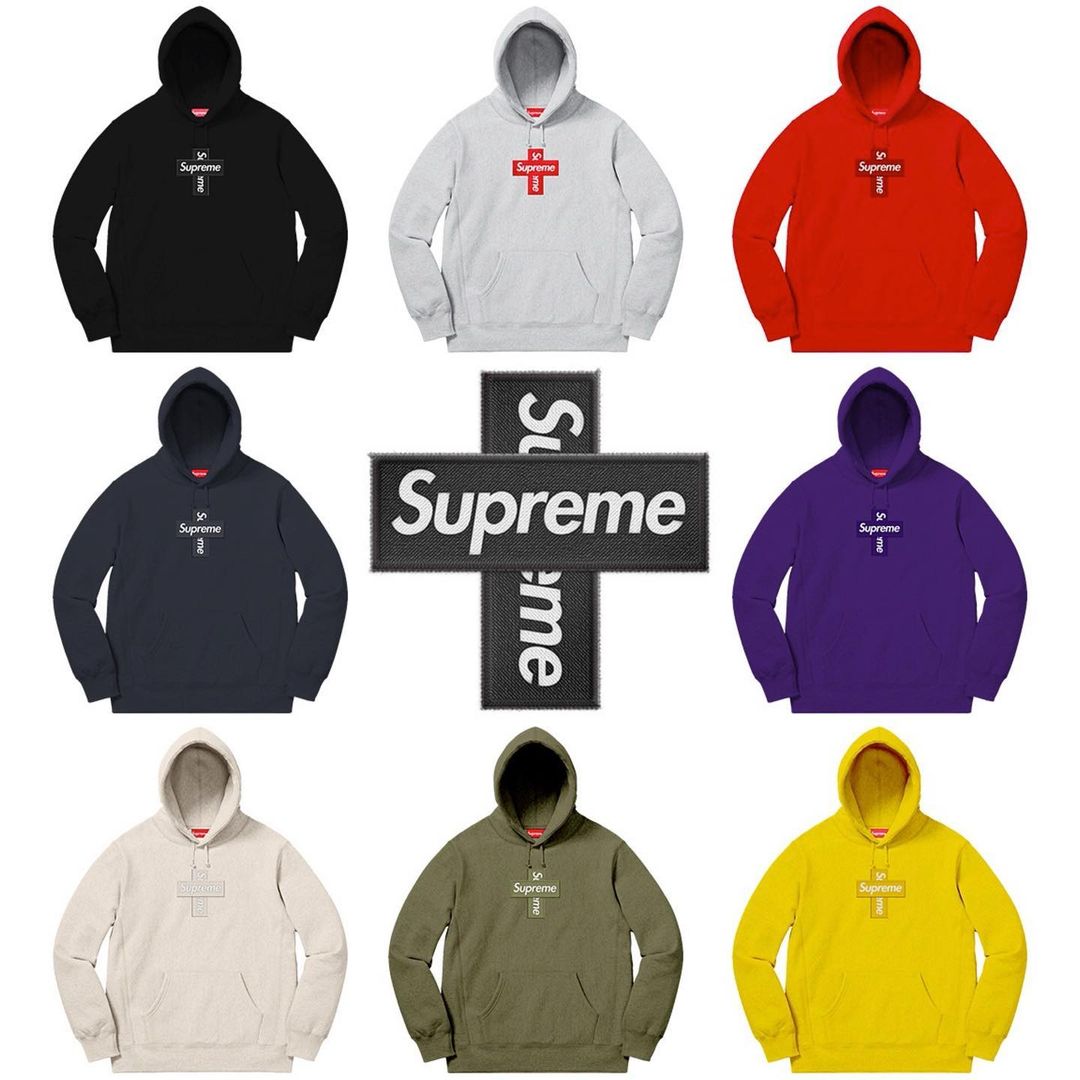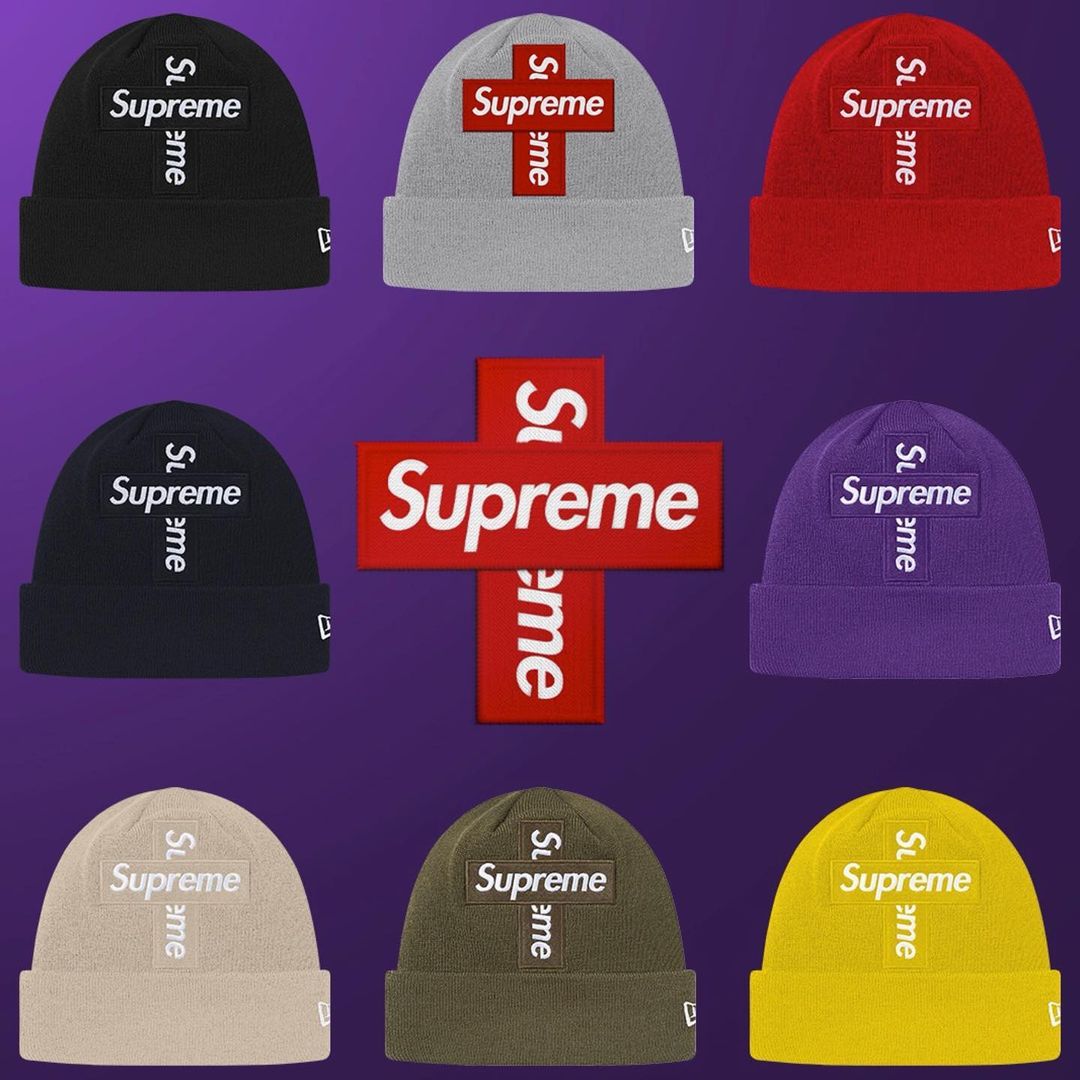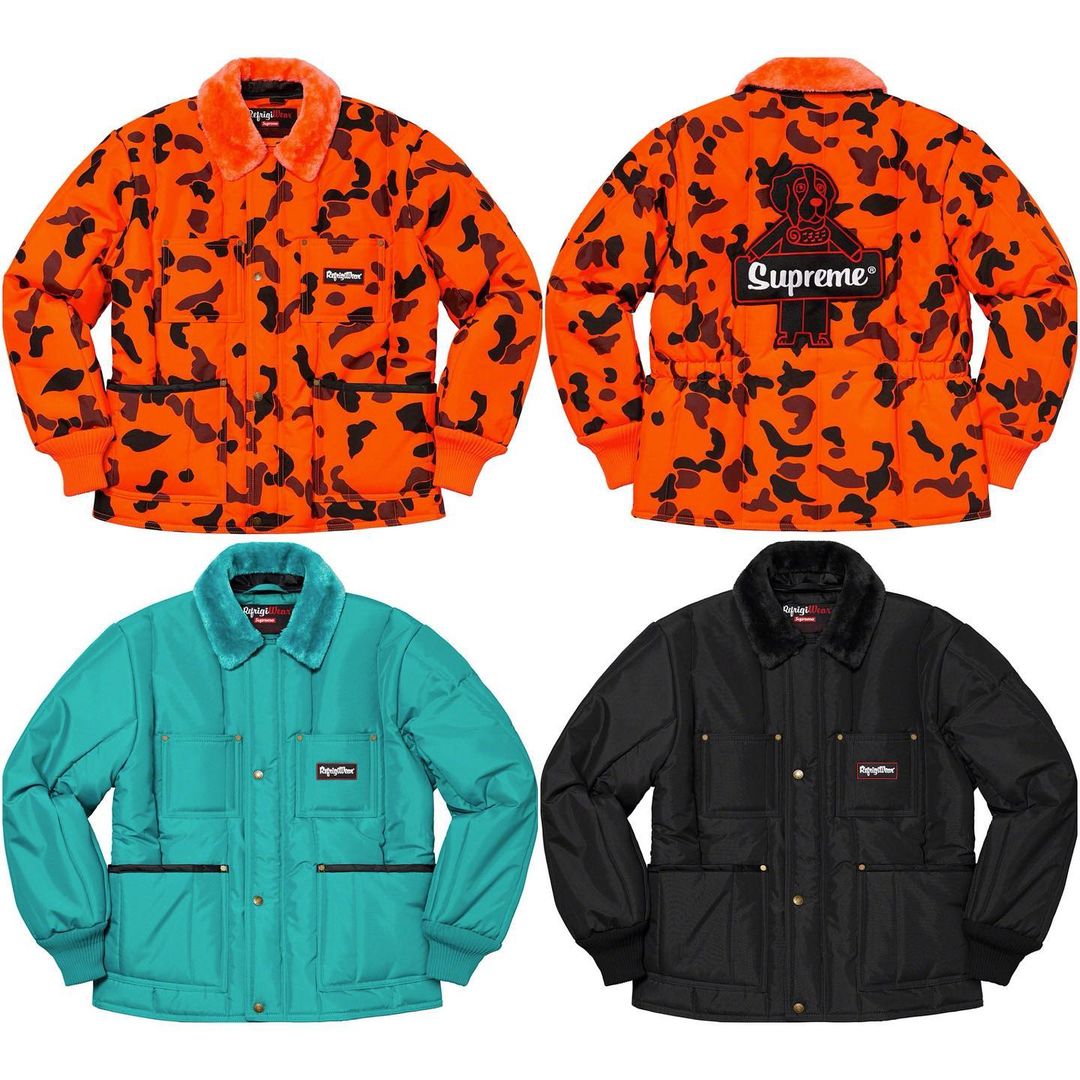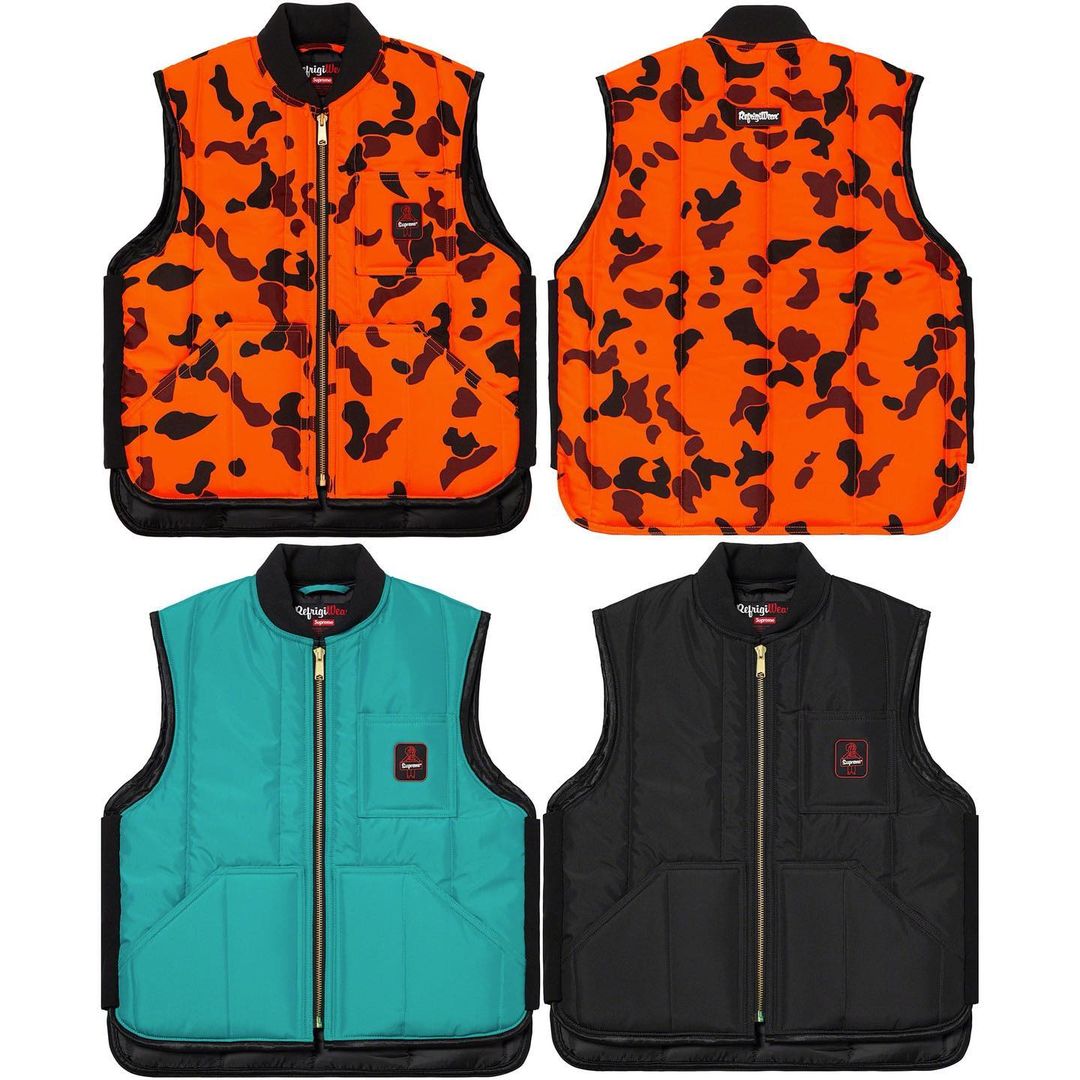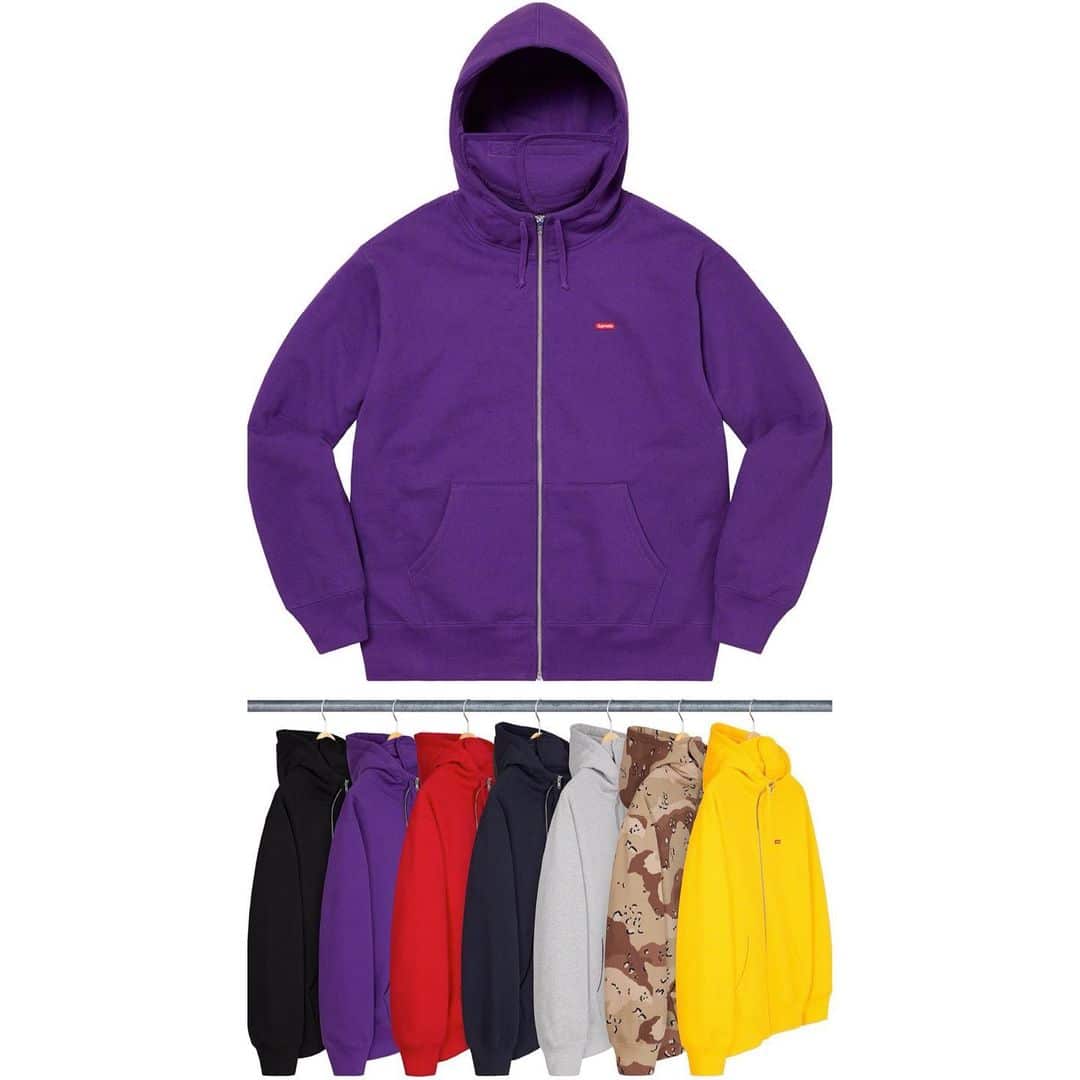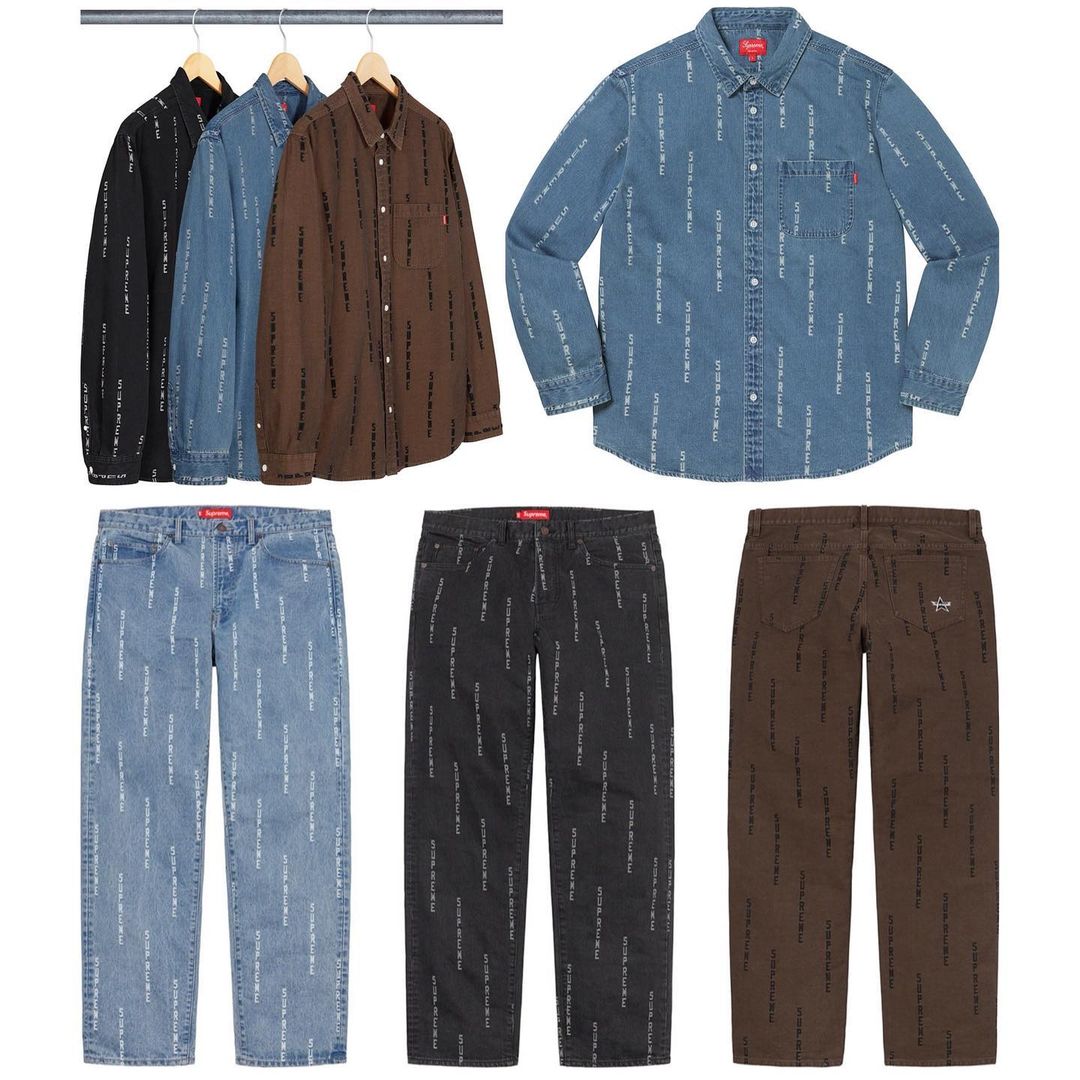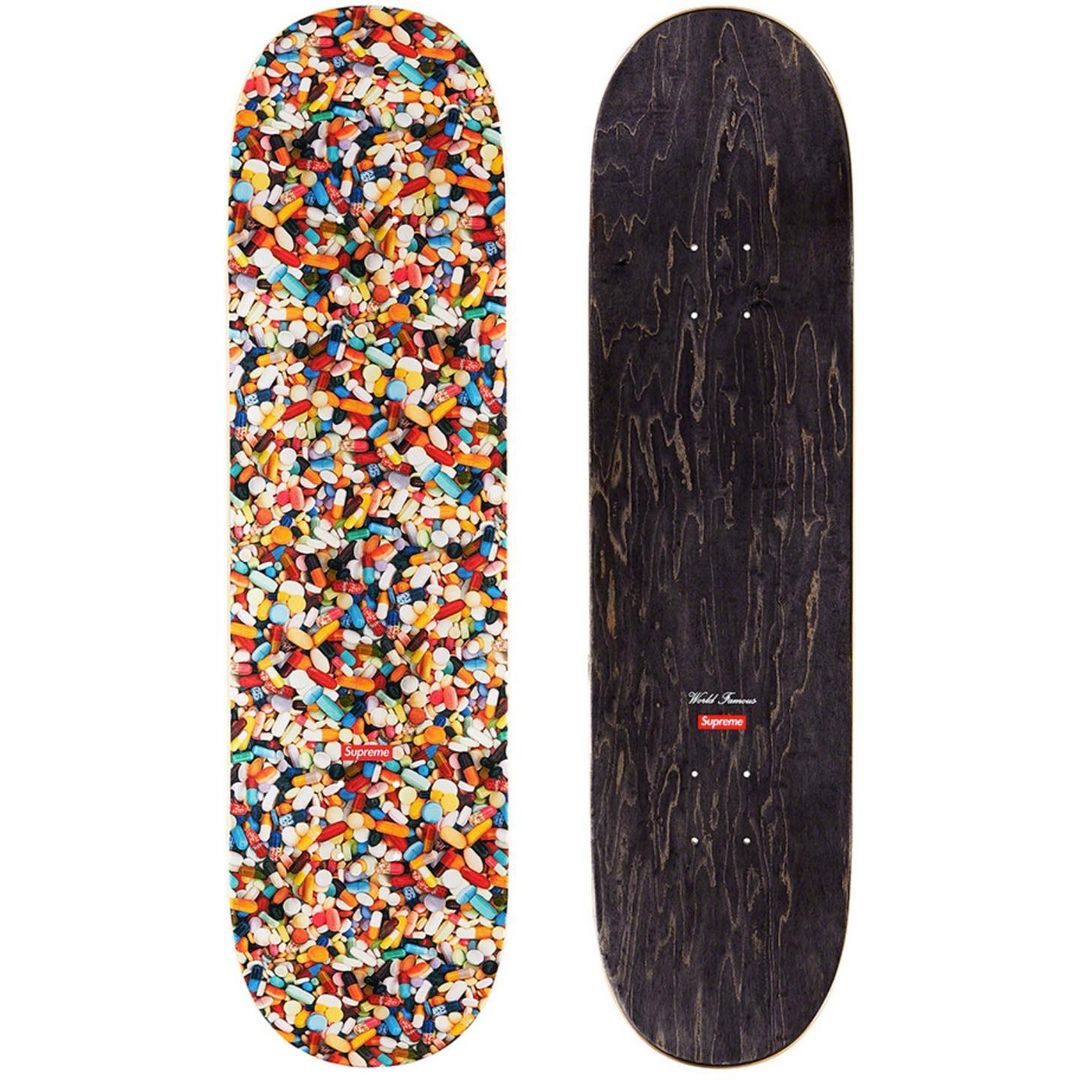 pics by @dropsbyjay
Update 25.11.2020
The Supreme Fall/Winter 2020 Week 14 will be much quieter than the previous weeks. You can expect hoodies, beanies, pants, and other clothes from Supreme again. Of course, this week will also see the drop of ingenious accessories. For example, there's Chucky from Child's Play with some Supreme outfits and other stuff.
In addition, Supreme and Anti Hero will drop a collection. This includes a coach jacket, hooded sweatshirt, tees with different prints, beanies, and skate decks. The release date for this week is unclear, but Week 14 is expected to drop on Friday, November 27th this time.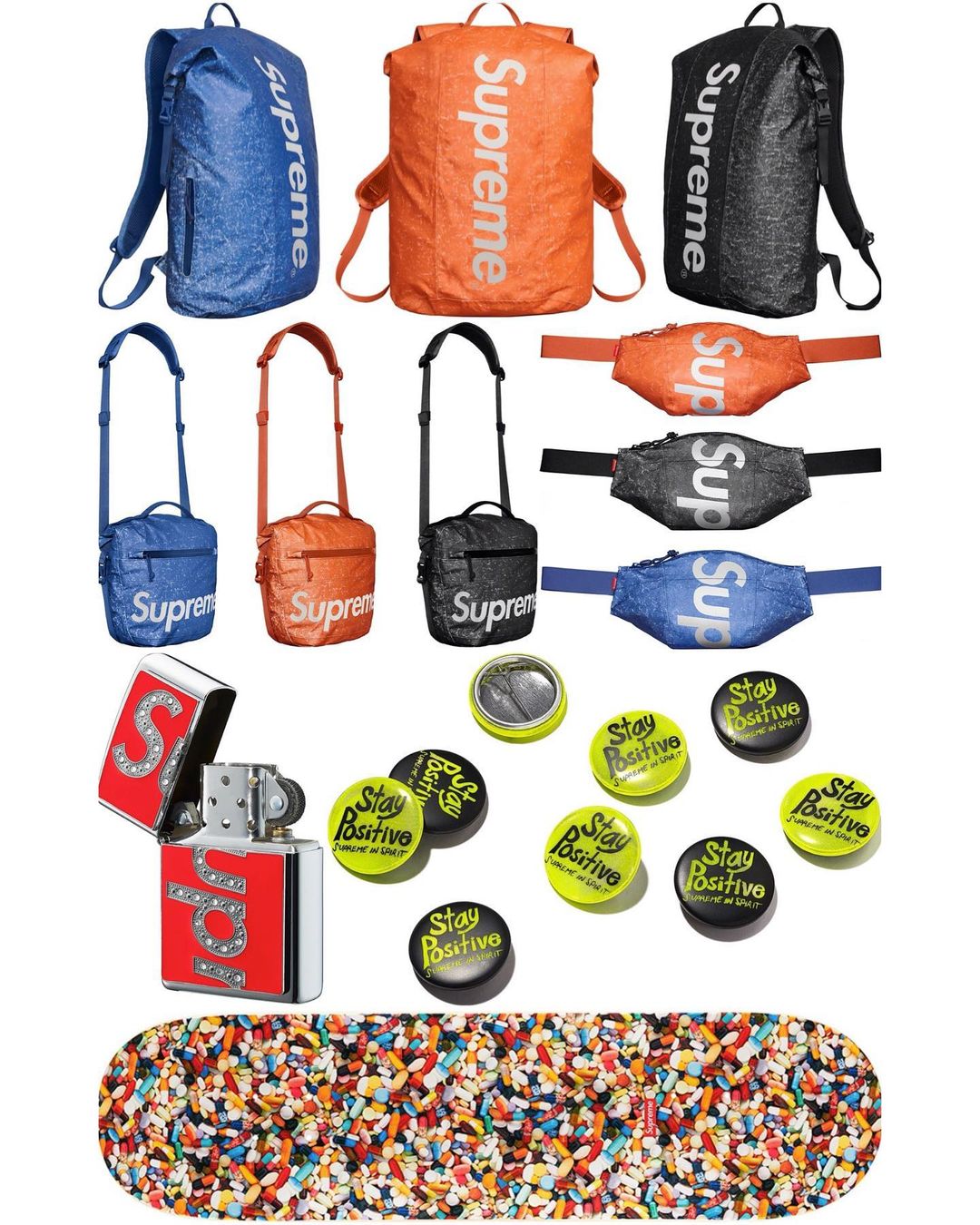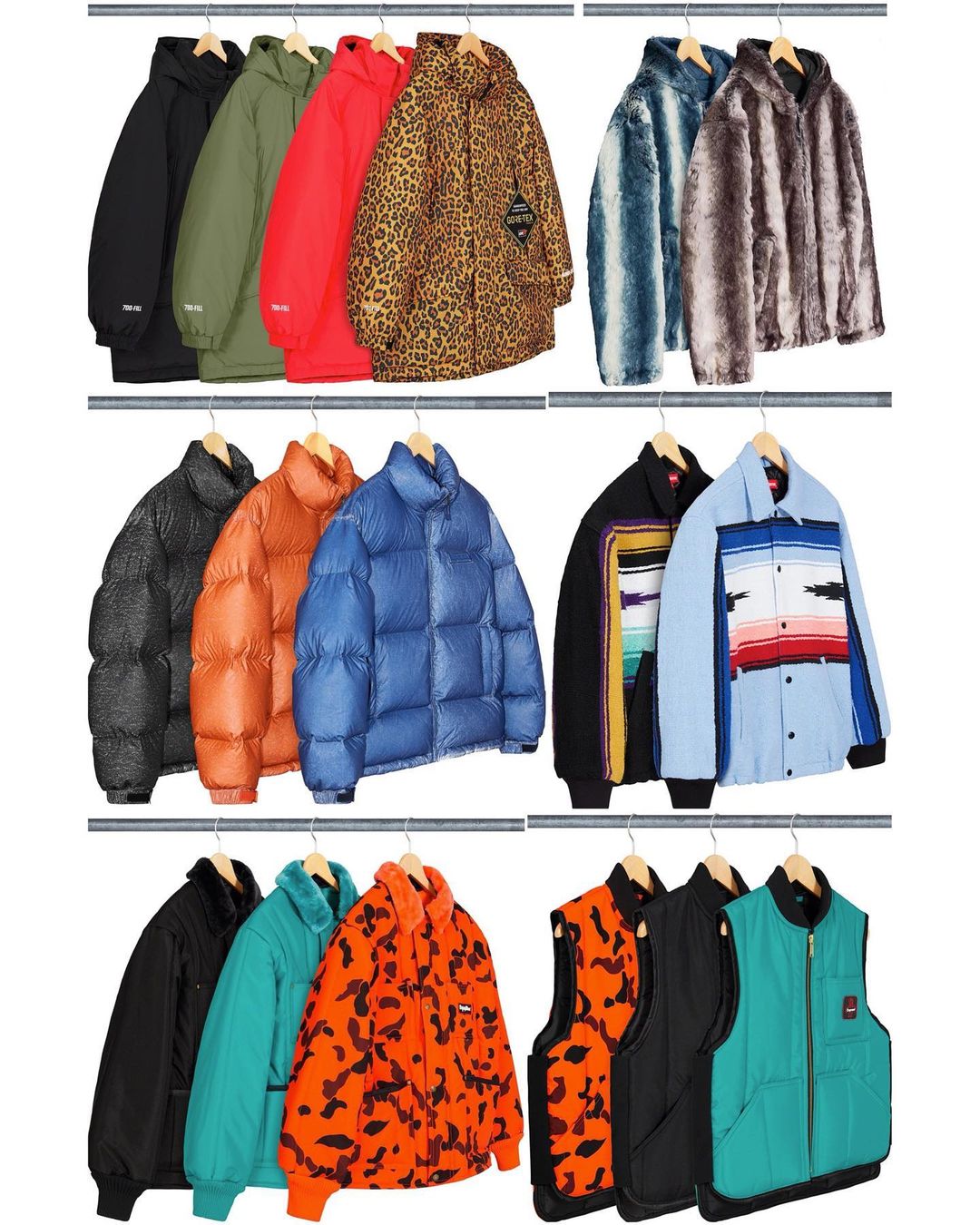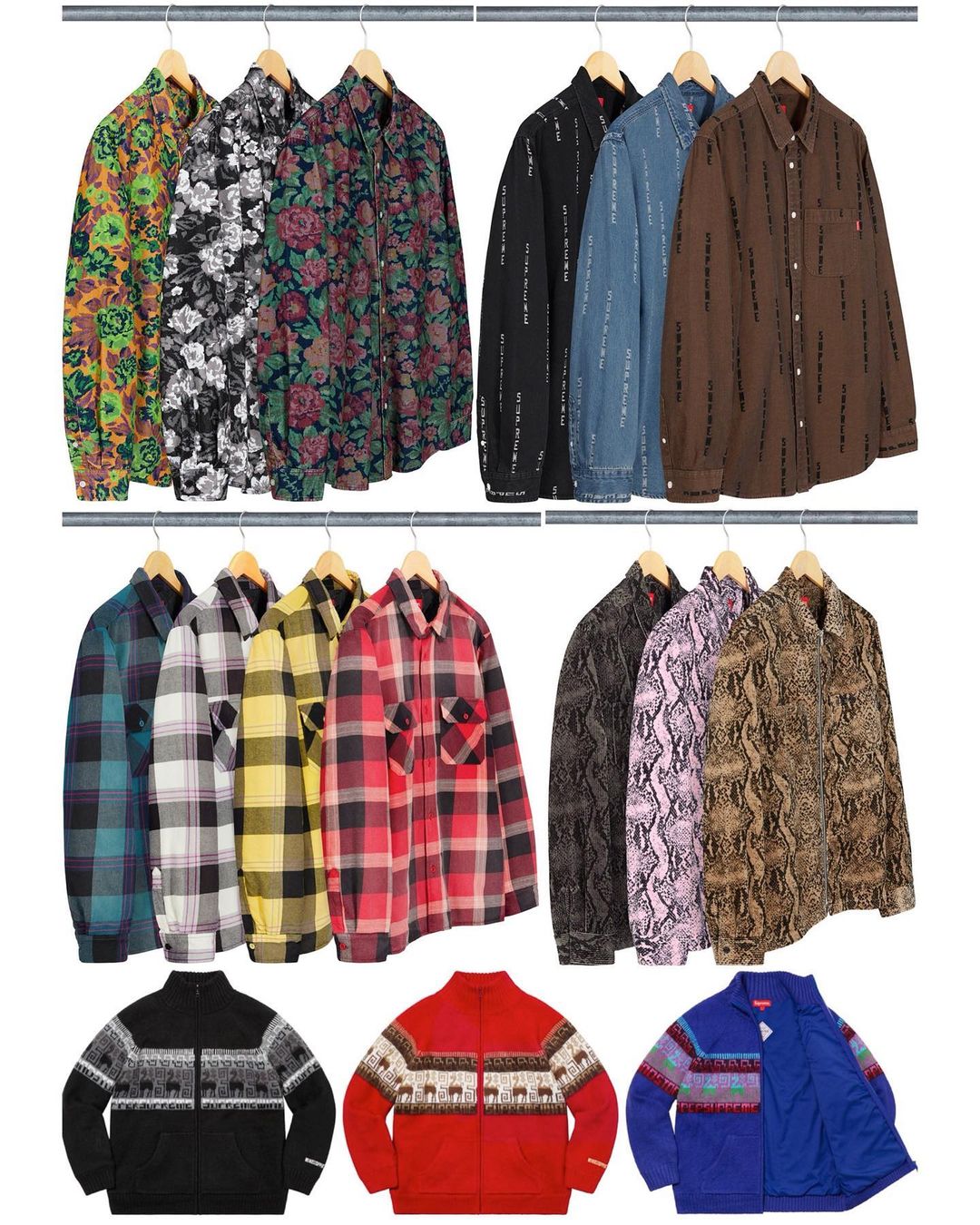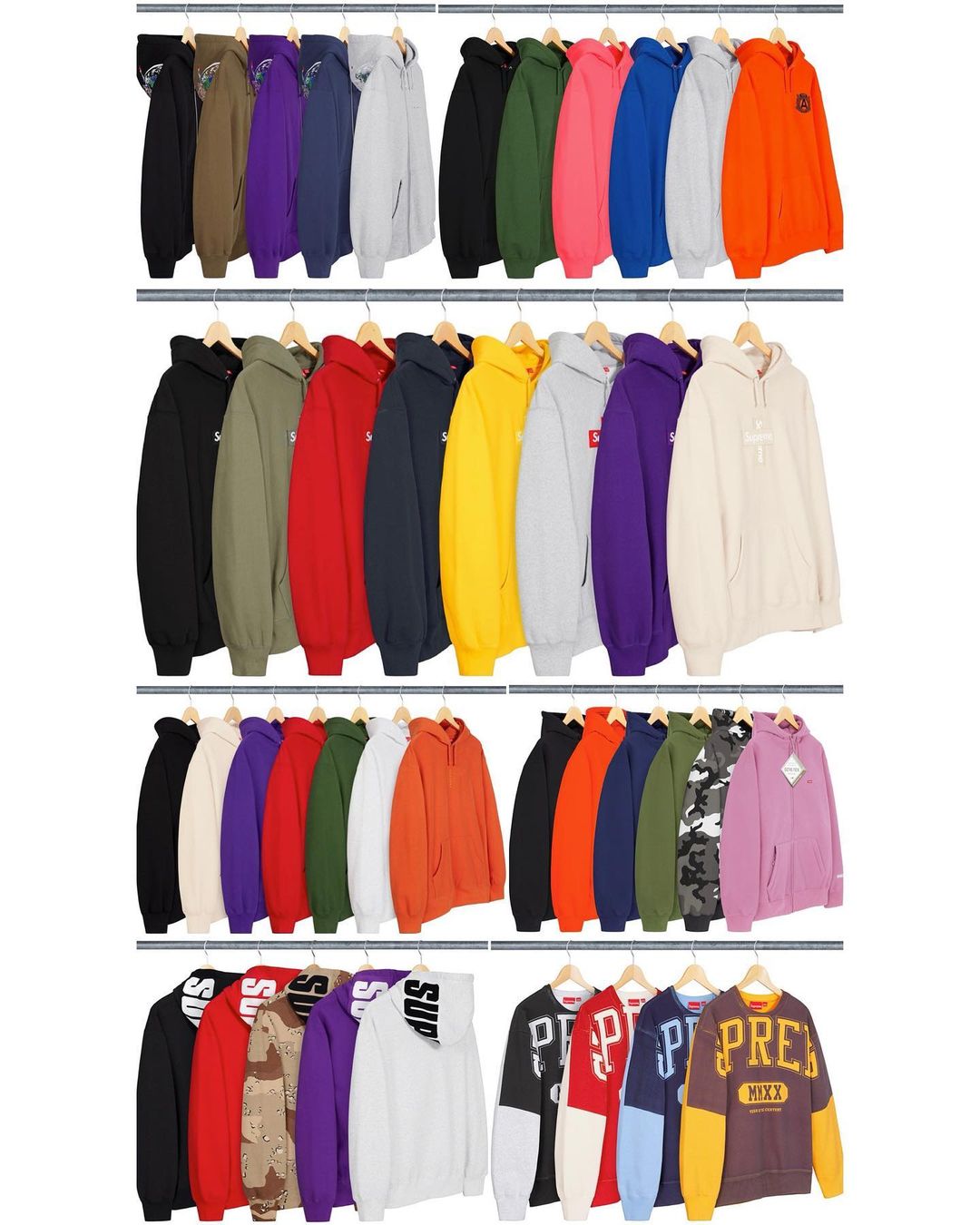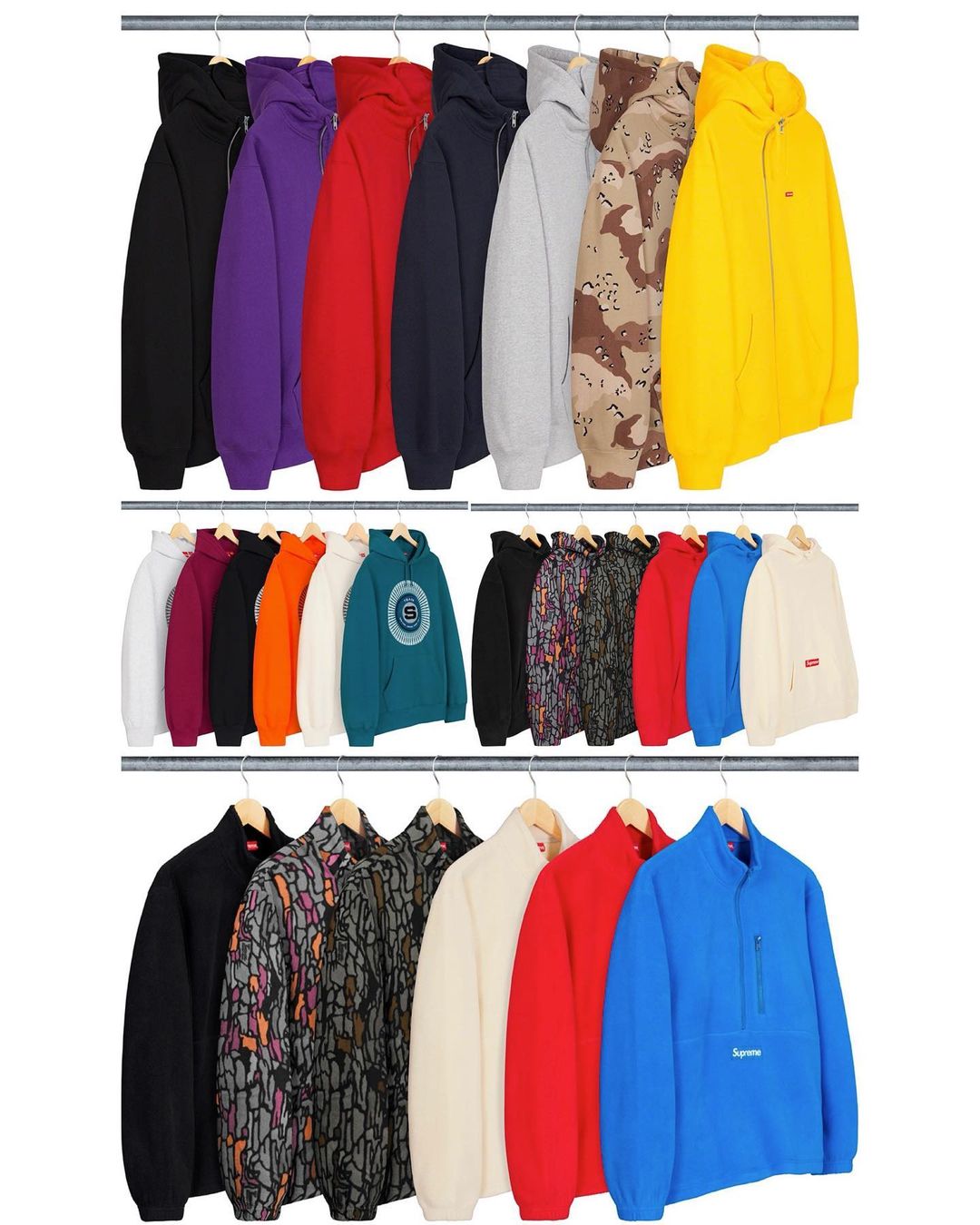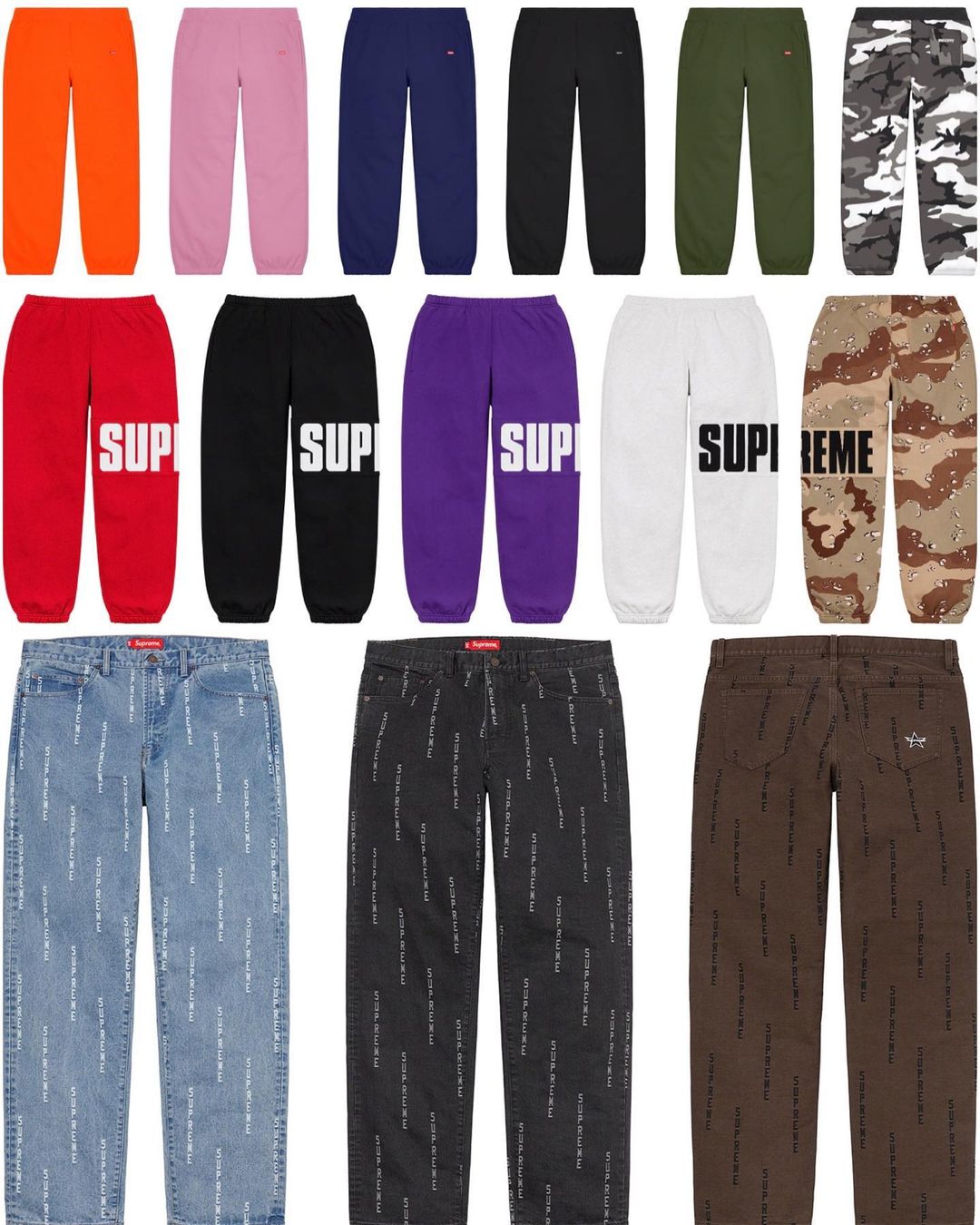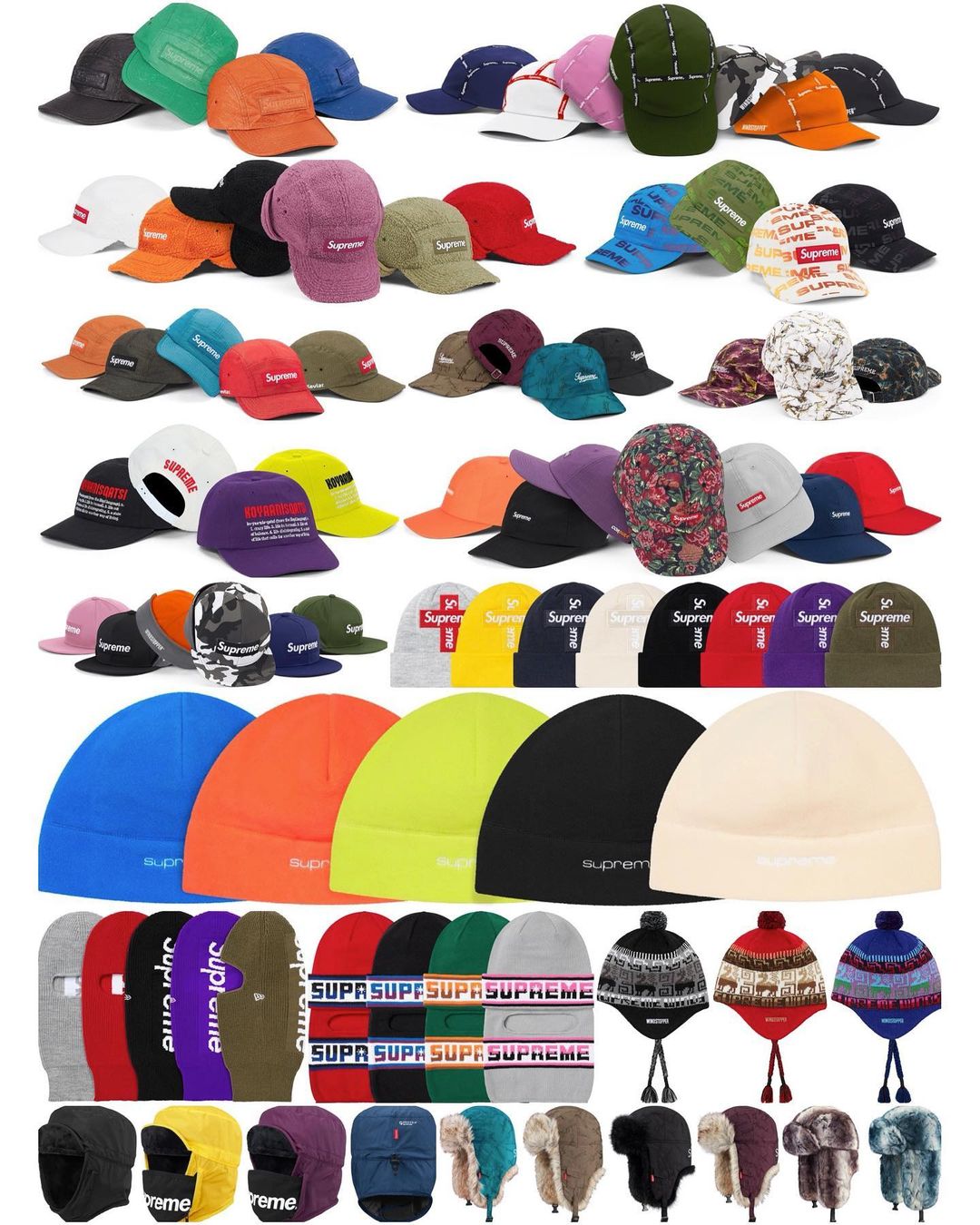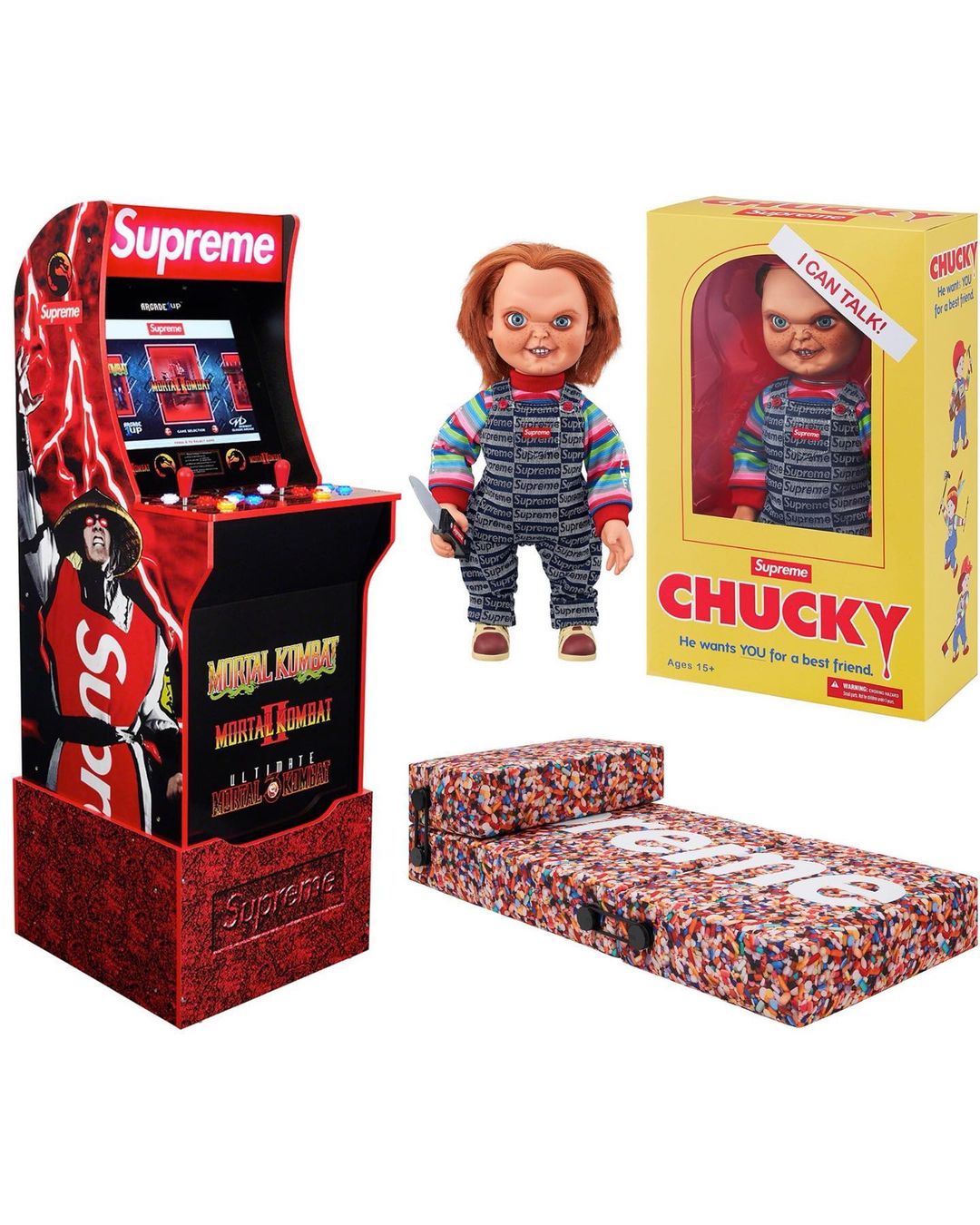 Update 19.11.2020
New York label Supreme has planned something very big for Fall/Winter 2020 Week 13. Today, a new collection with another hip fashion label will be released. Stone Island and Supreme are dropping some heavy clothes together. Take a look at the first pictures here.
The Supreme x Stone Island "Warp Stripe" collection contains several jackets, hoodies, pants, tees, and accessories. The pieces are decorated with stripes and other prints and have double brandings that immediately catch the eye. The drop from the Supreme x Stone Island "Warp Stripe" collection is on November 19th.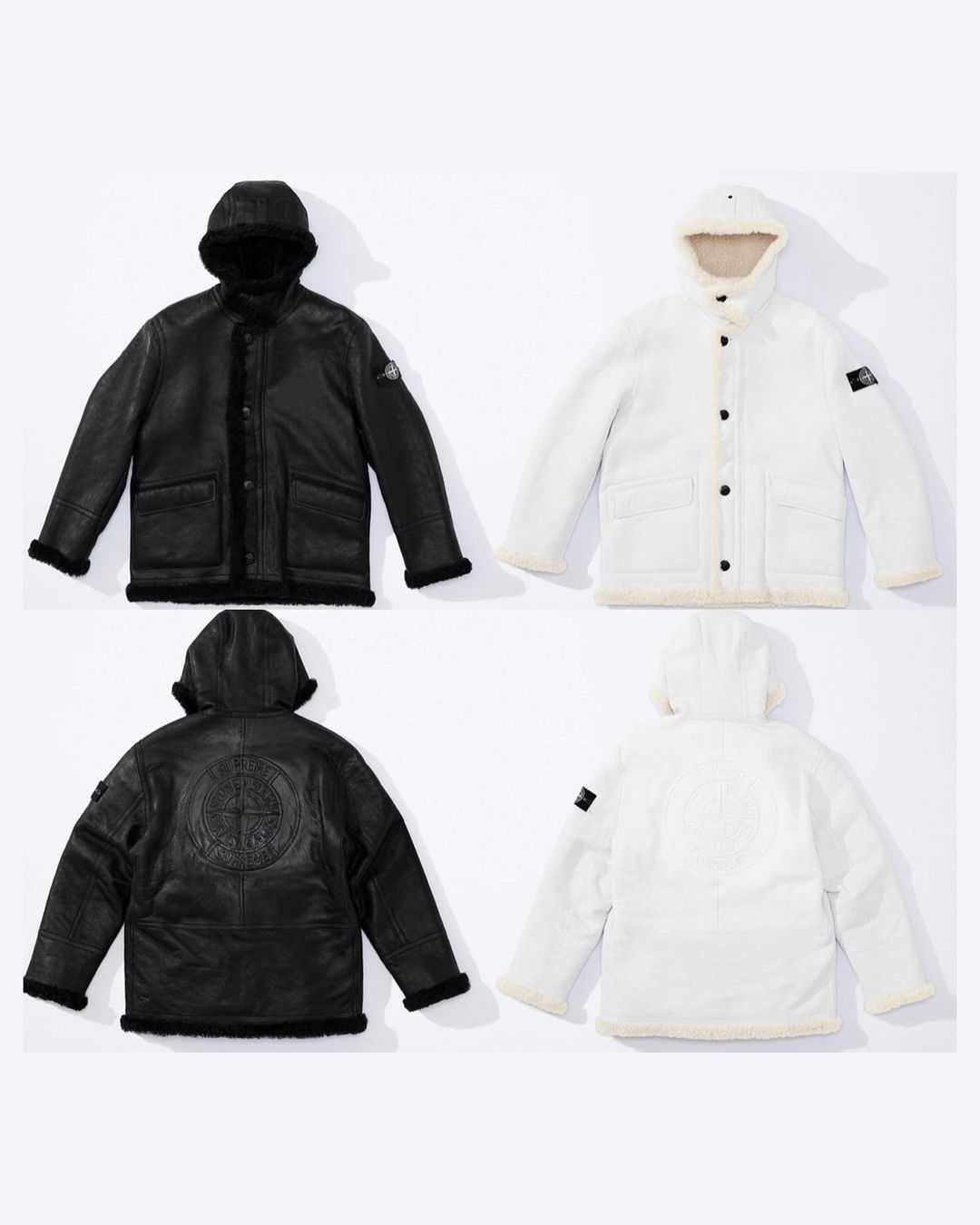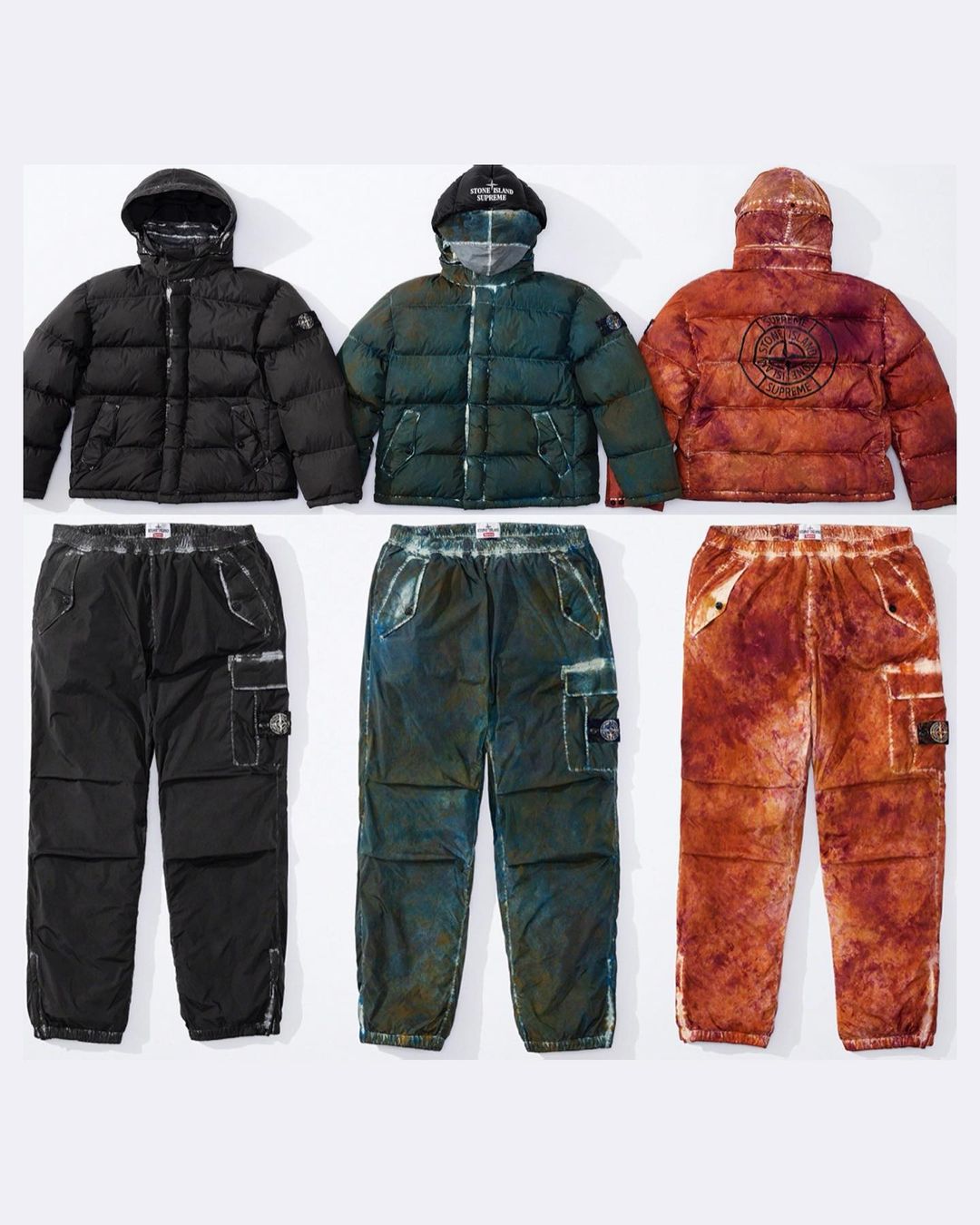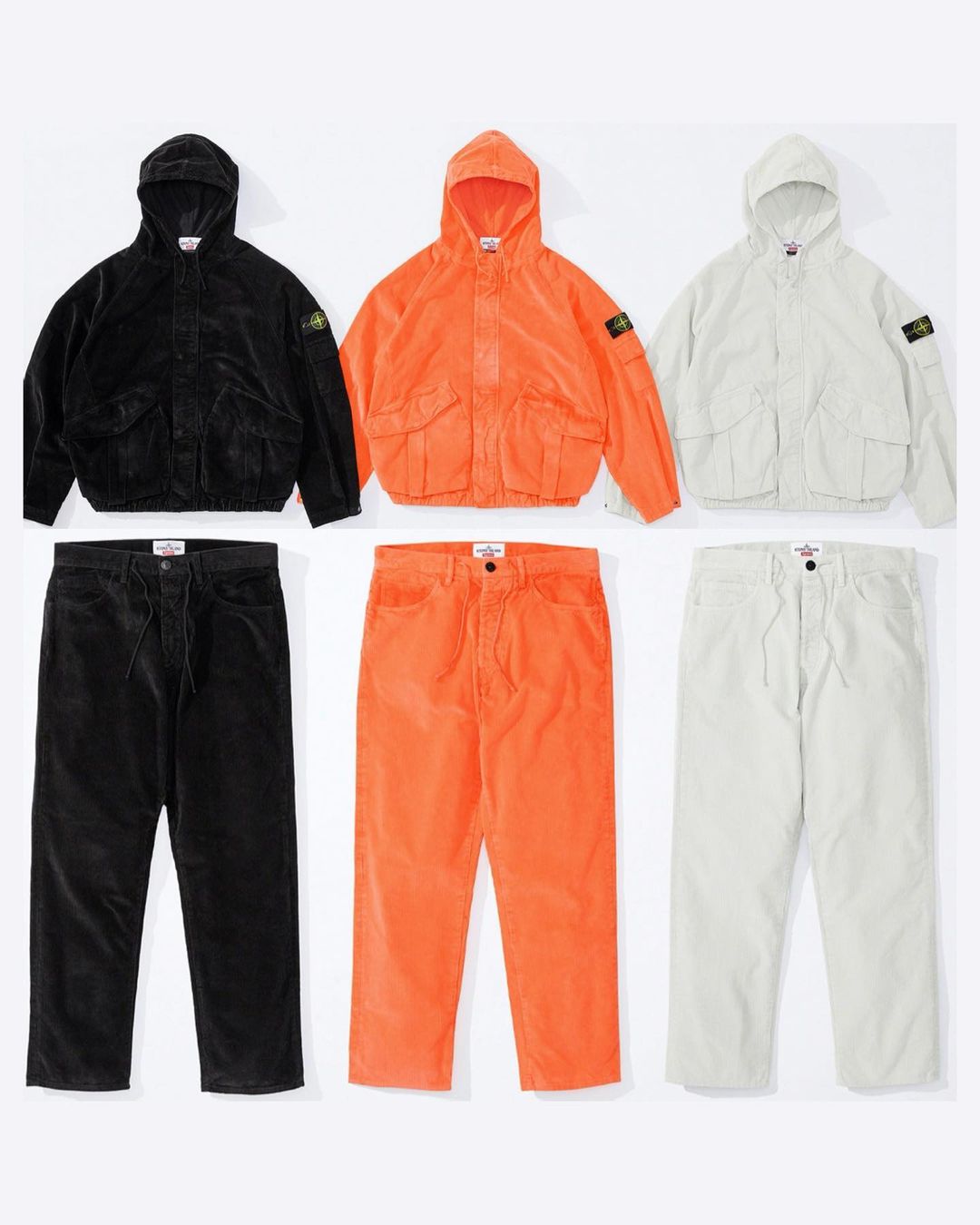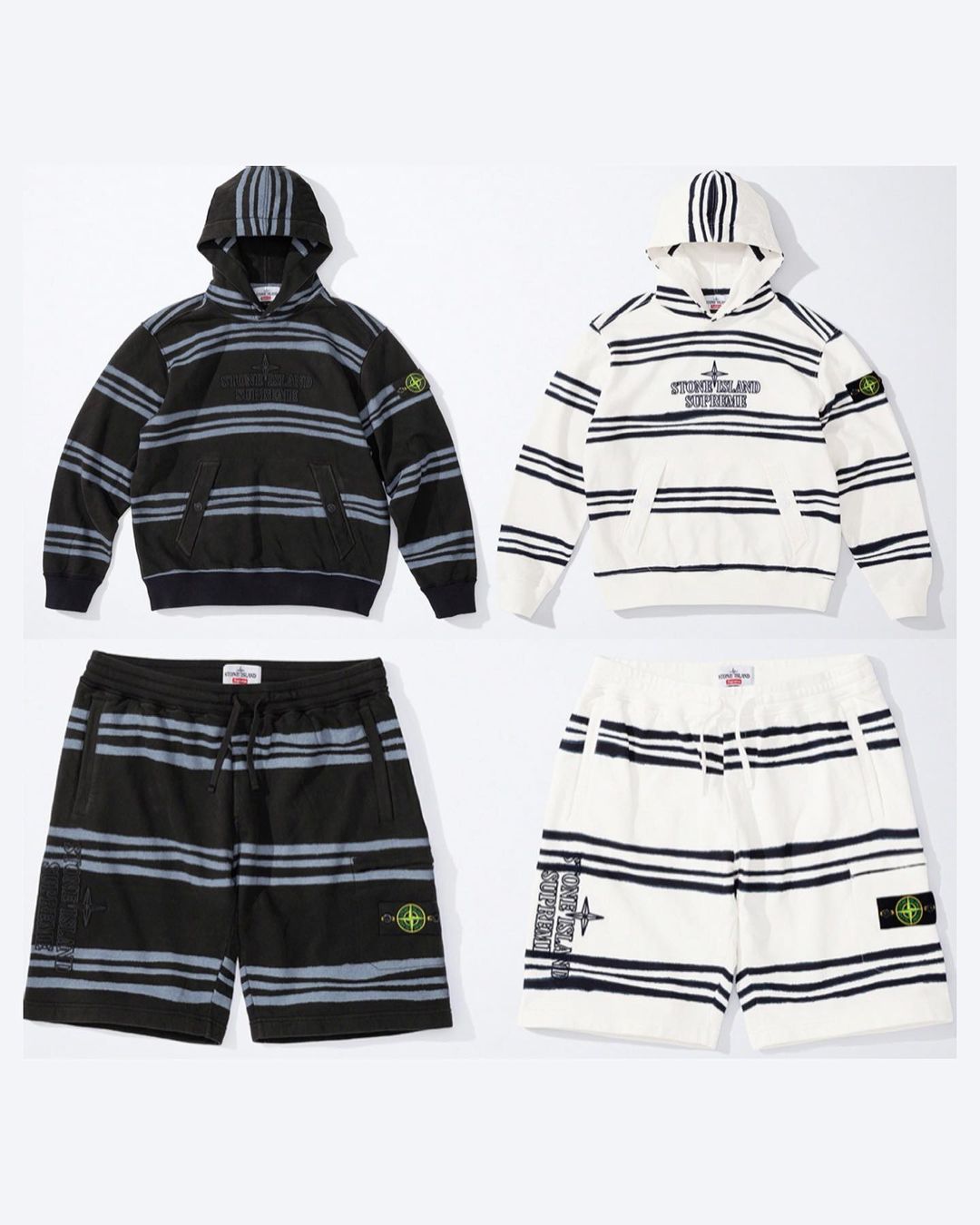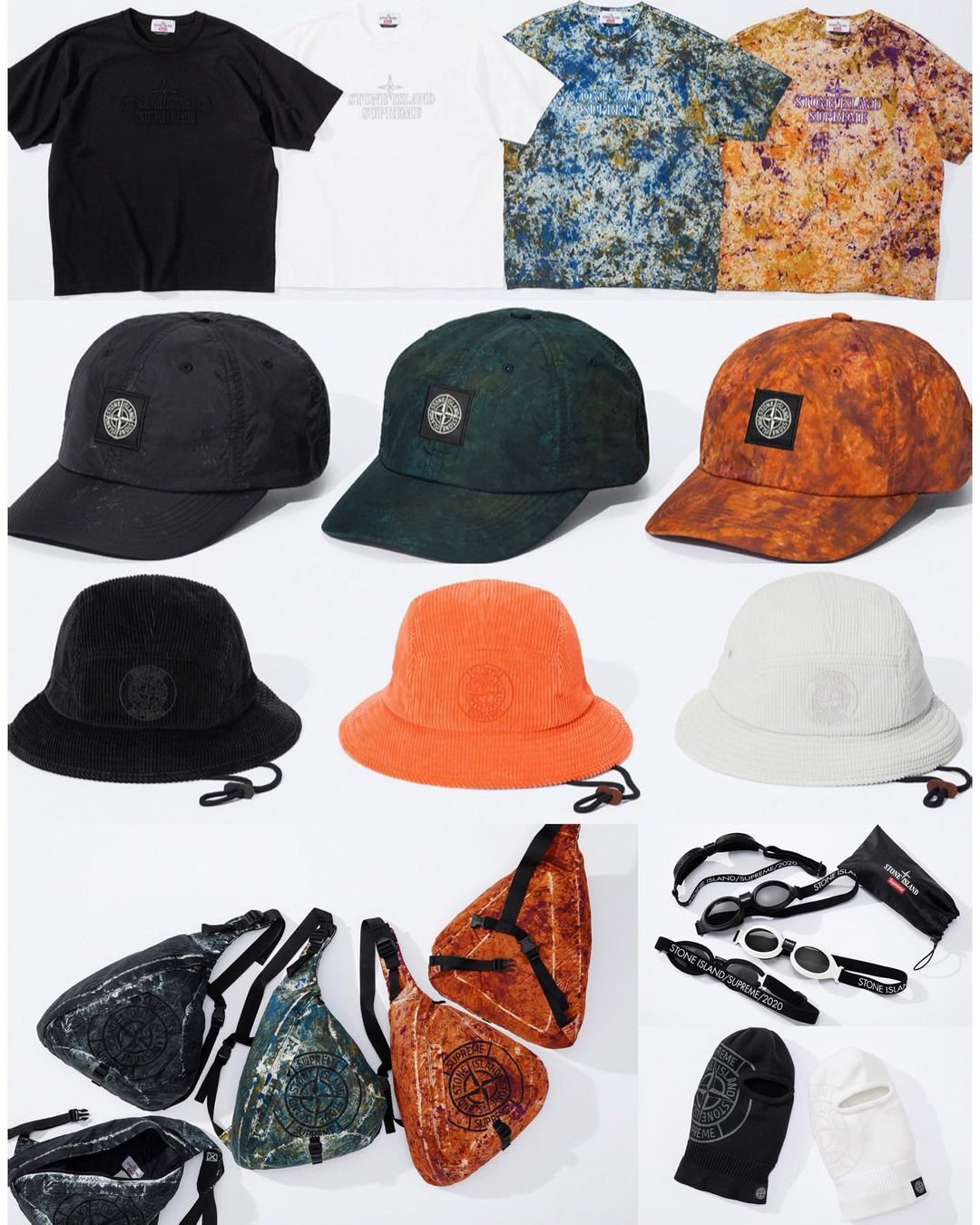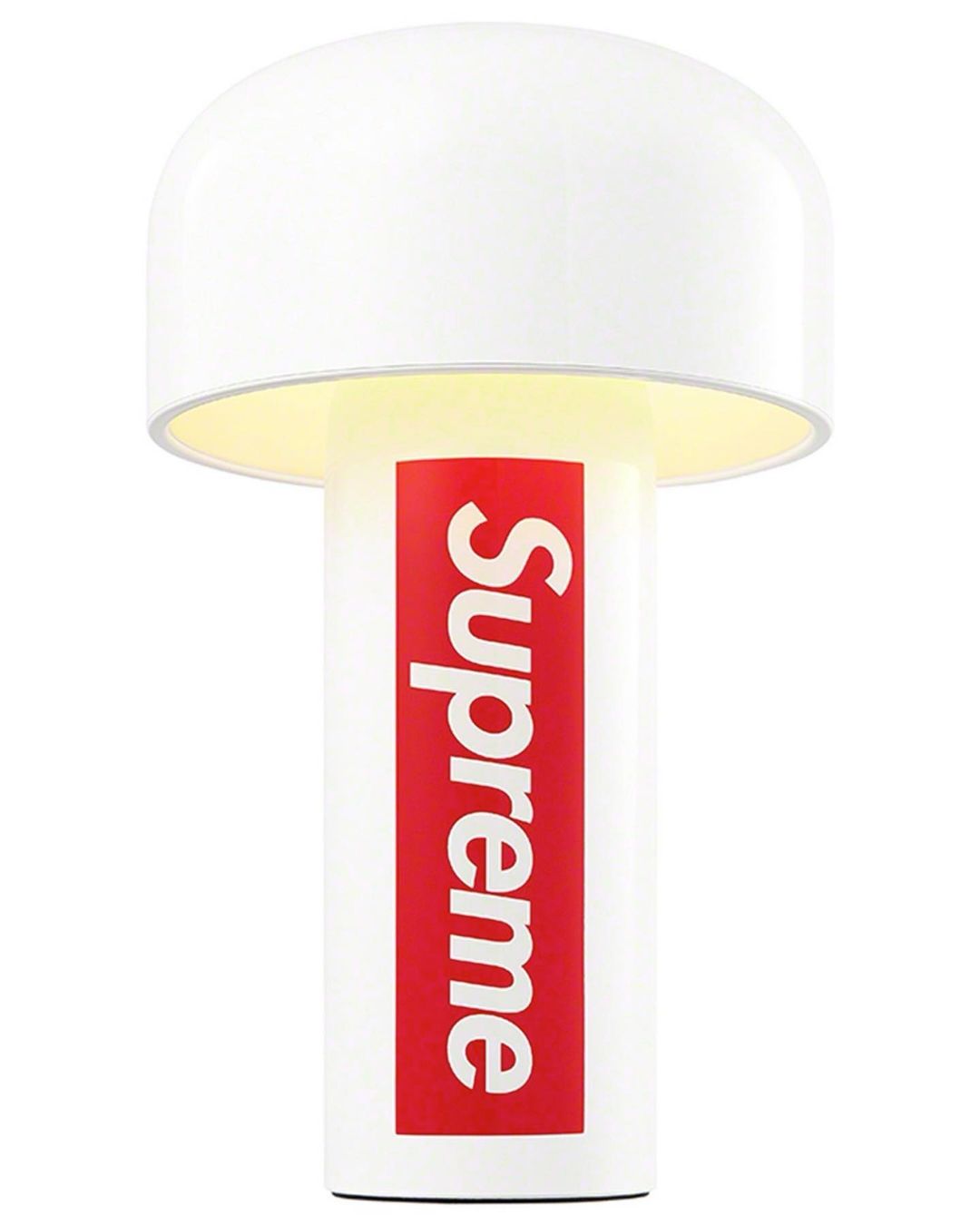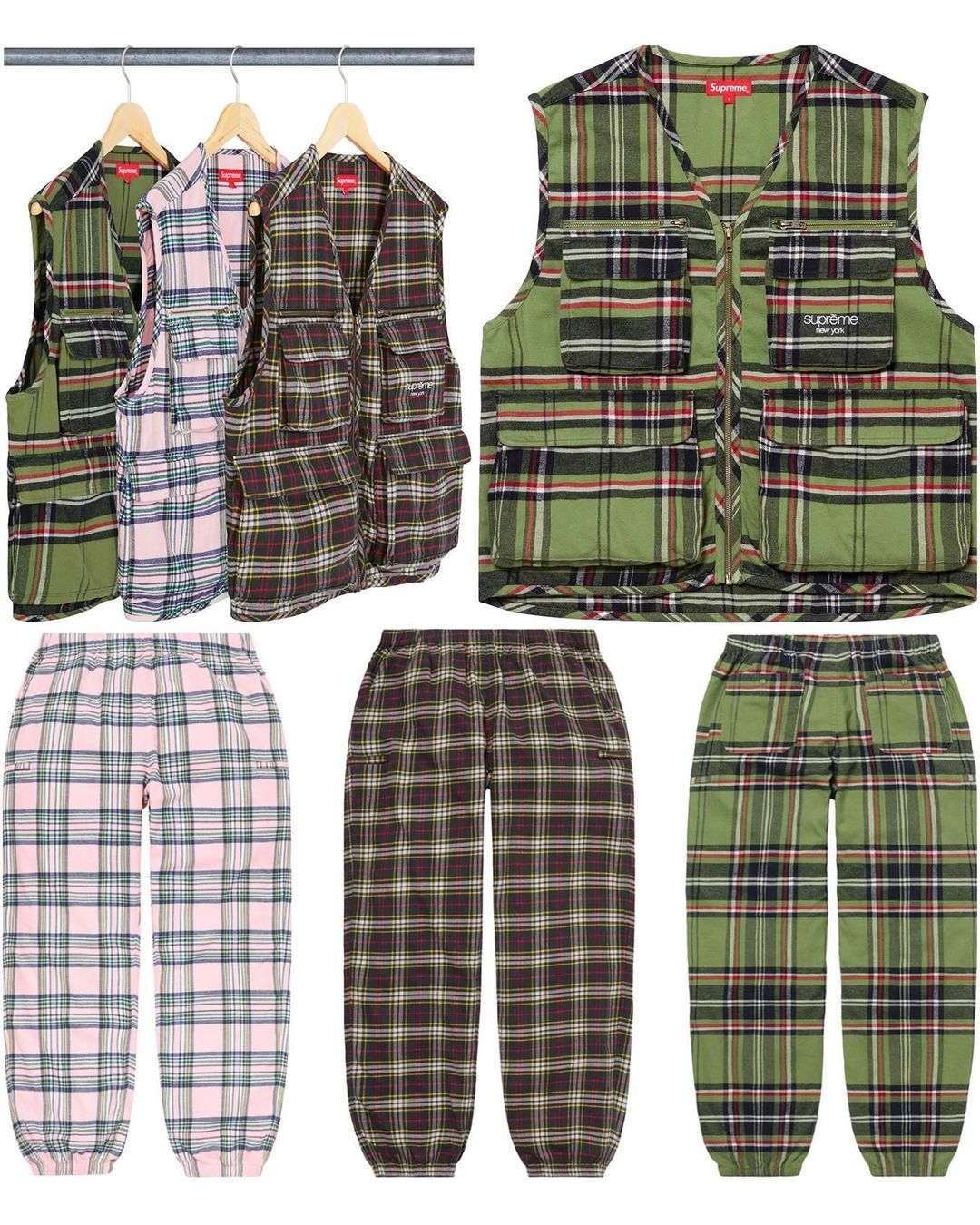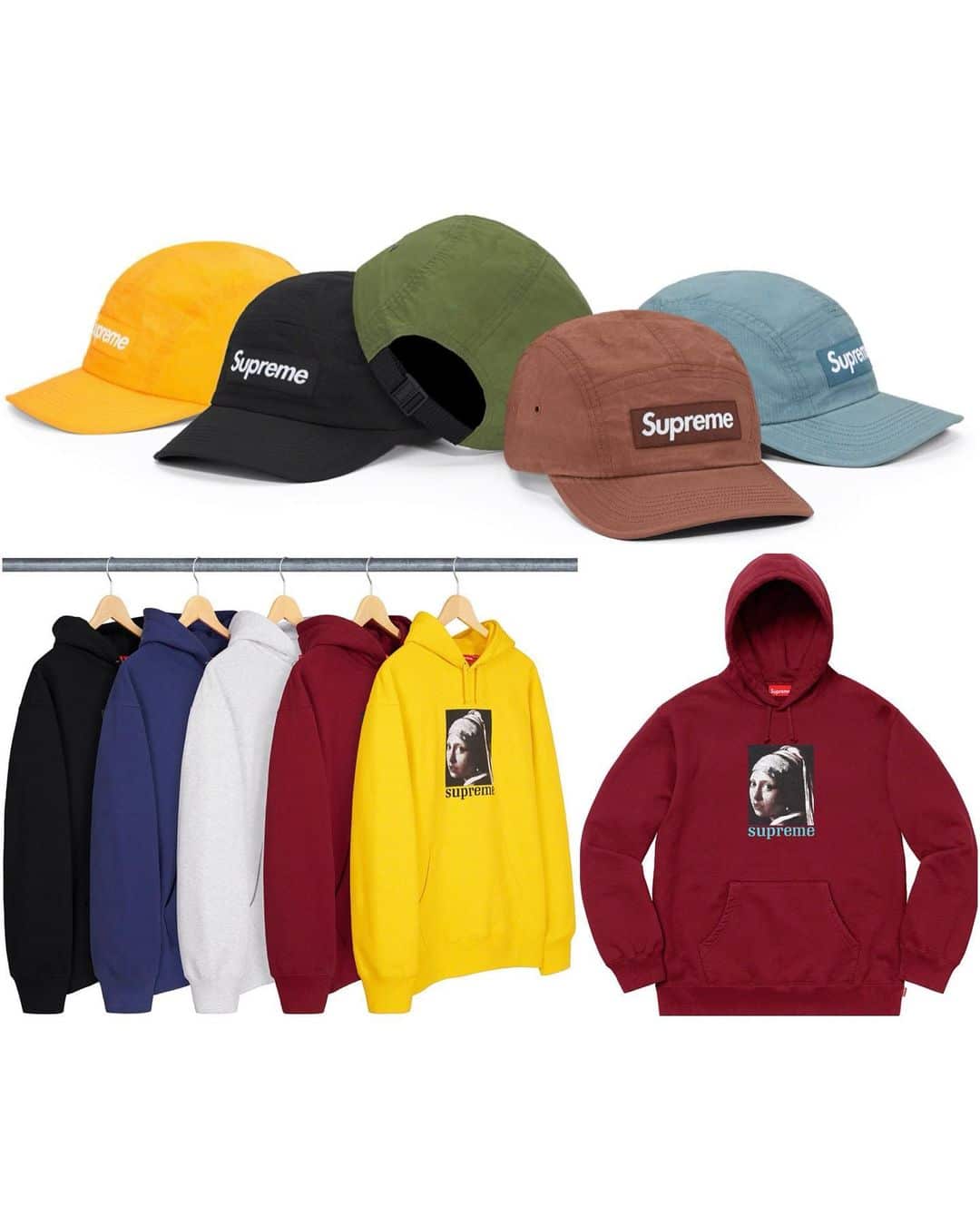 Update 04.11.2020
Friends, we have reached Supreme Fall/Winter 2020 Week 11, and again, the label is delivering a massive collab with a renowned artist. Sadly Toshio Saeki passed away last year, but his artistic masterpieces live on through his large fan base and his collaboration with Supreme.
The collab includes several hoodies, jackets, and trousers. Among the heavy prints are the artistic paintings that Toshio Saeki painted many years ago. In addition, other clothes and four mobile phone sleeves with camo print will drop. The release is on November 5th.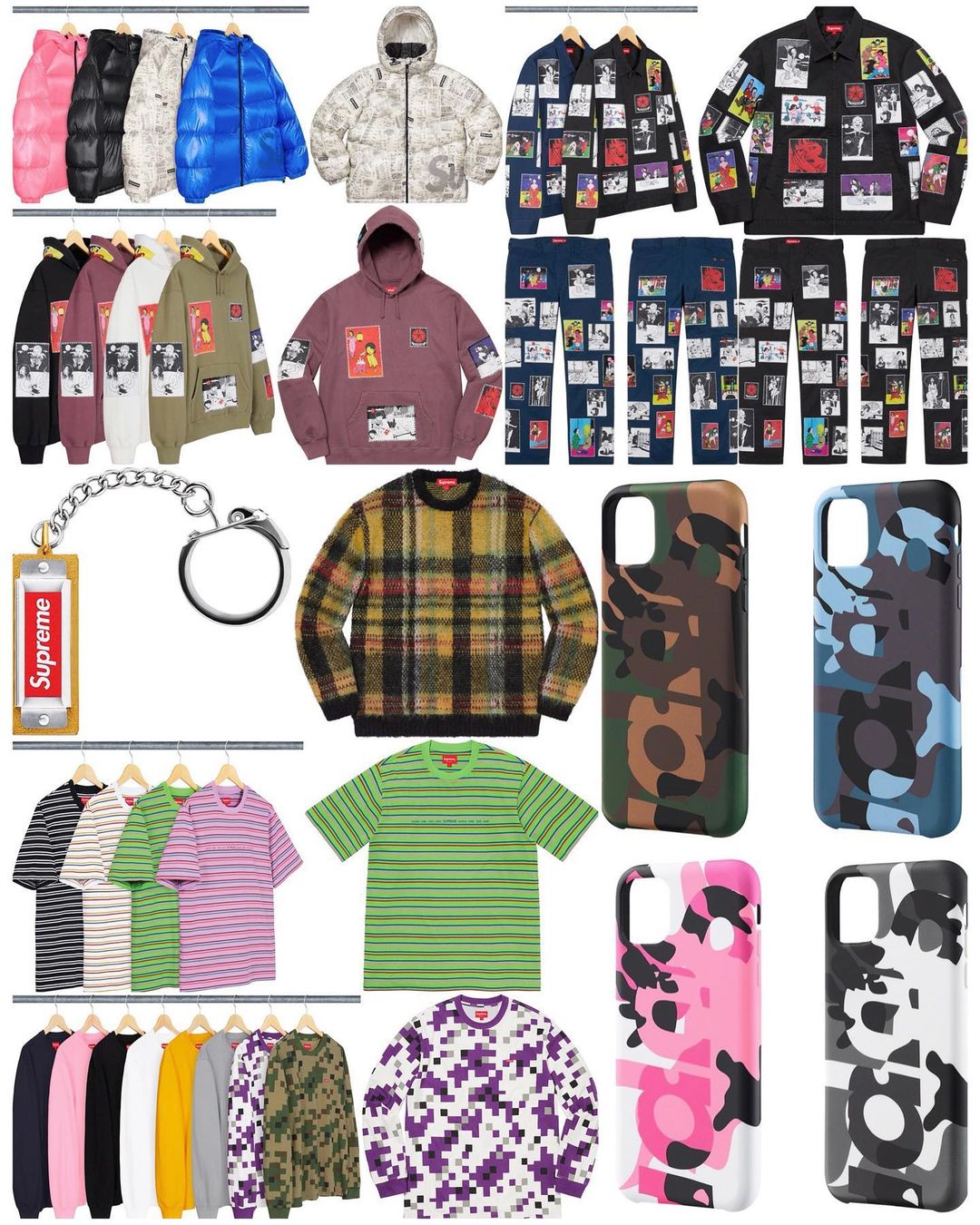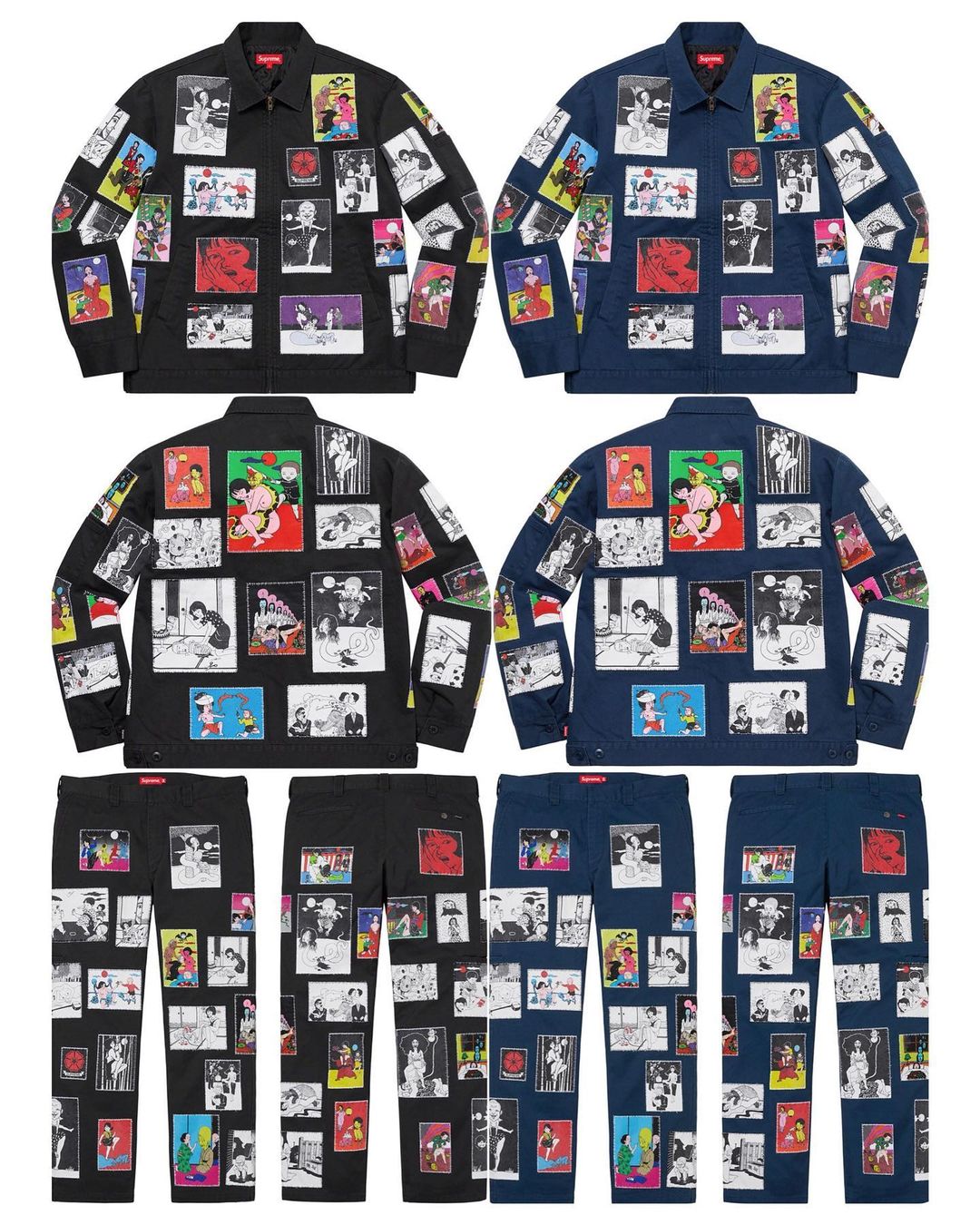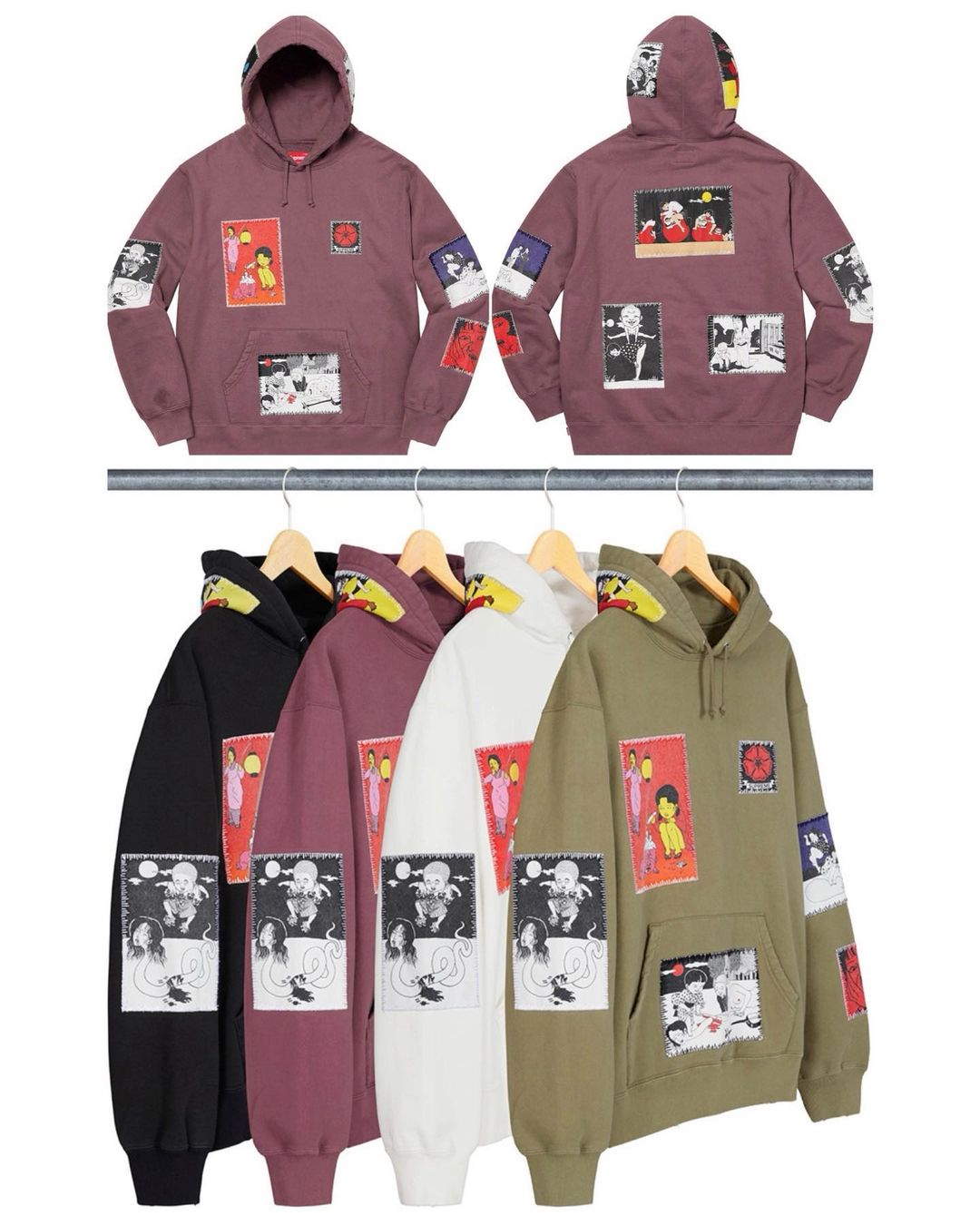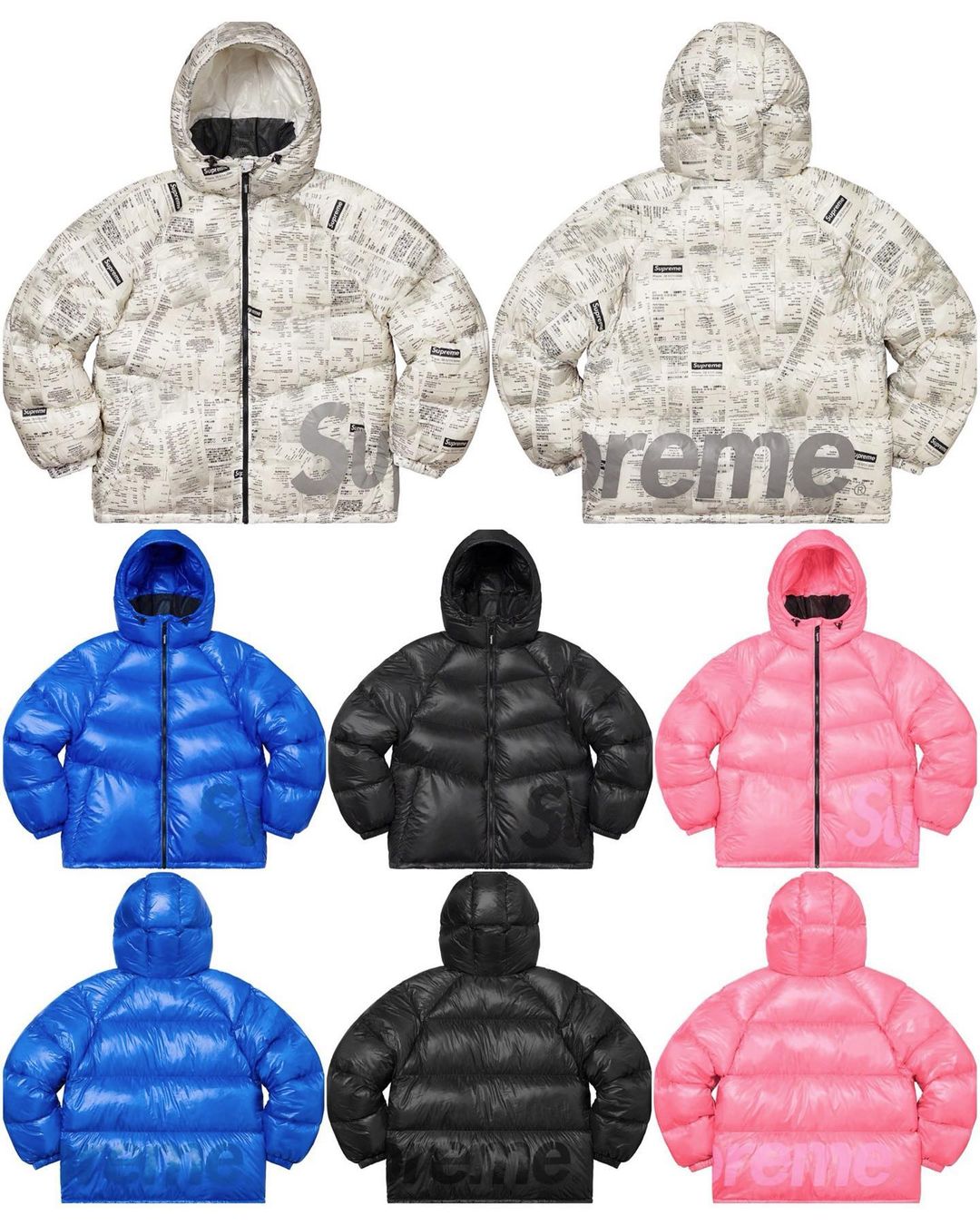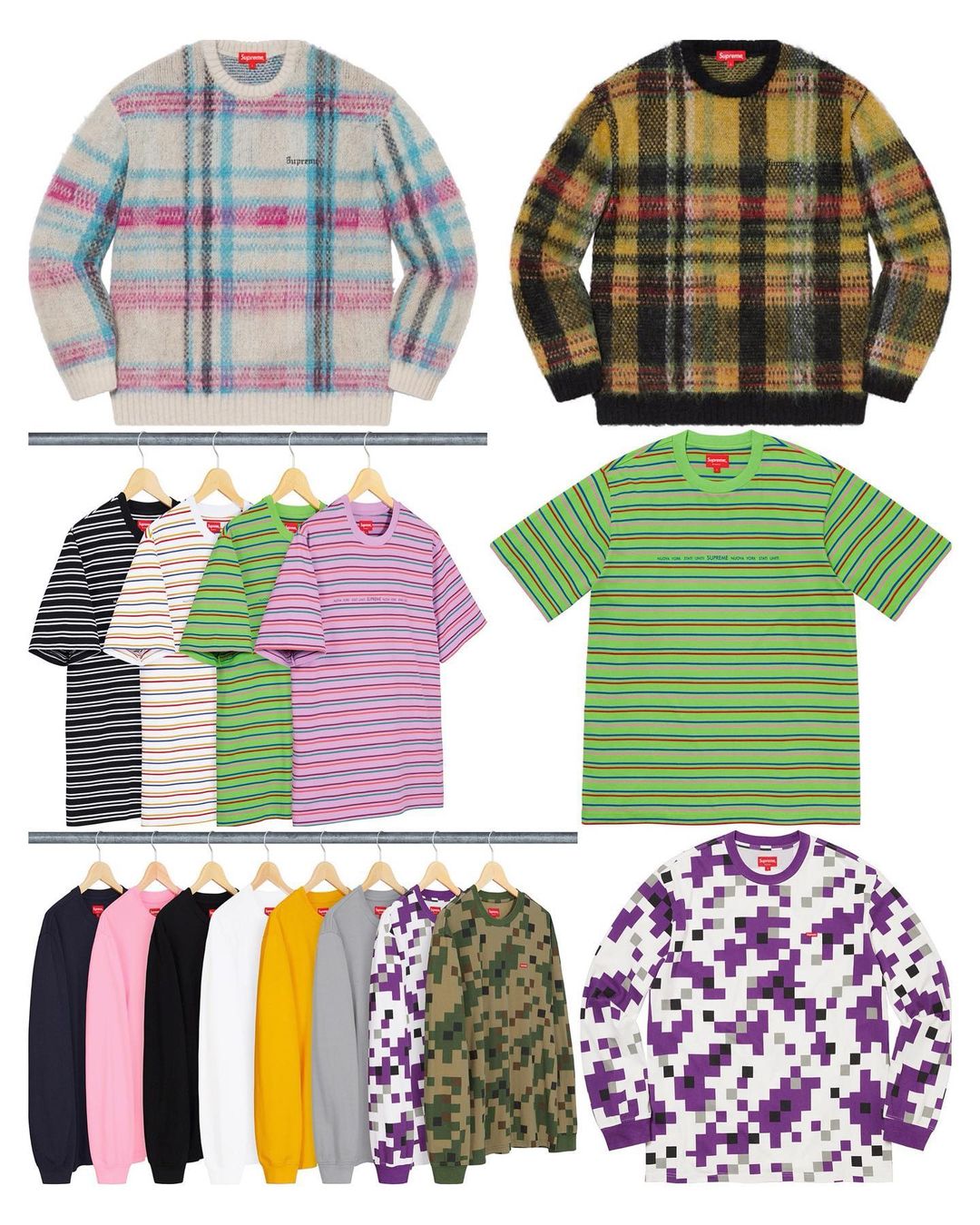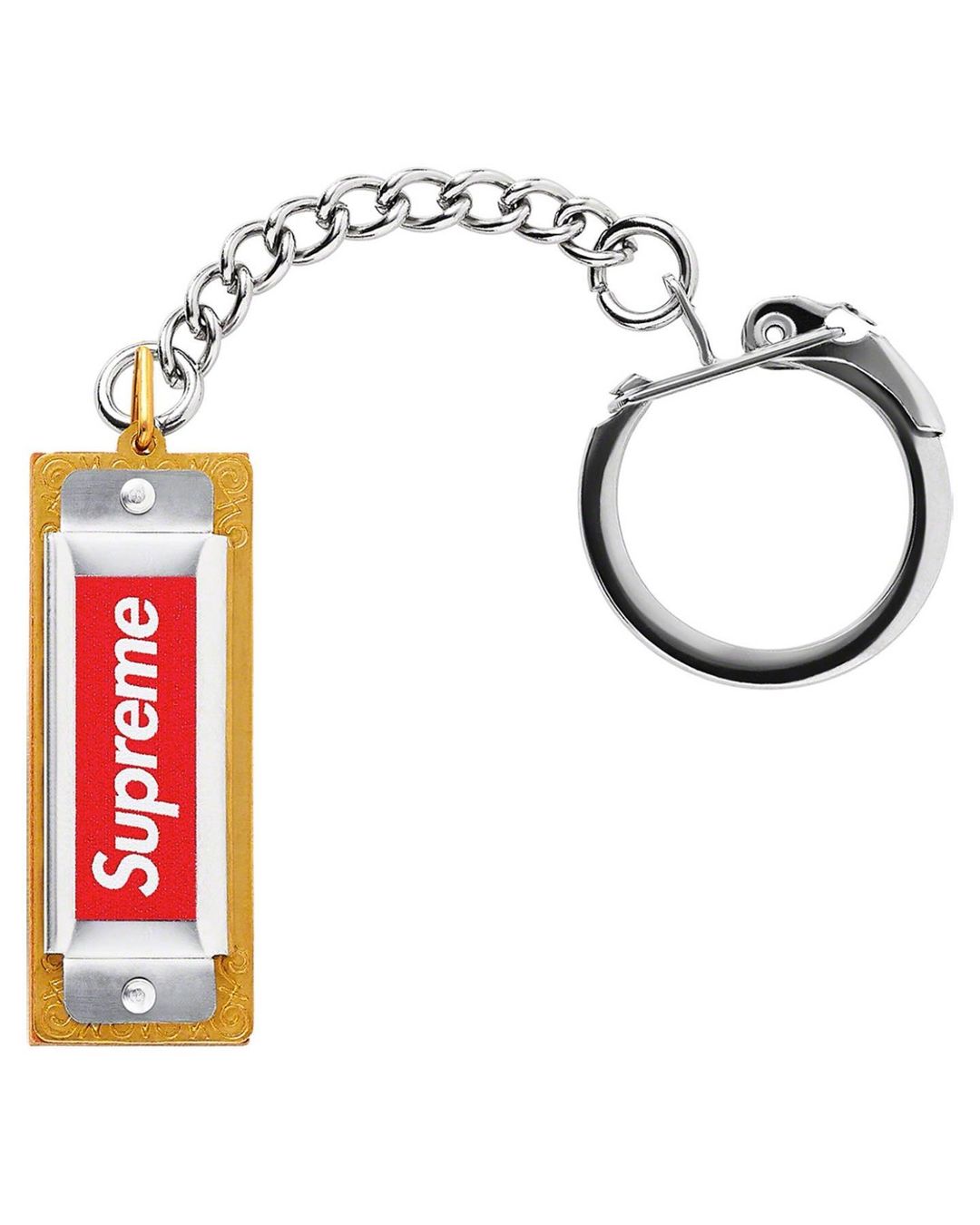 Update 28.10.2020
The North Face and Supreme are jointly releasing a major collection for Week 10. Rumour has it that this is the first part of the collaboration. In December, a second part of TNF with more clothes will follow.
In addition to The North Face x Supreme collection, there are more pieces from Supreme. Check out the pictures here and don't miss the drop on October 29th.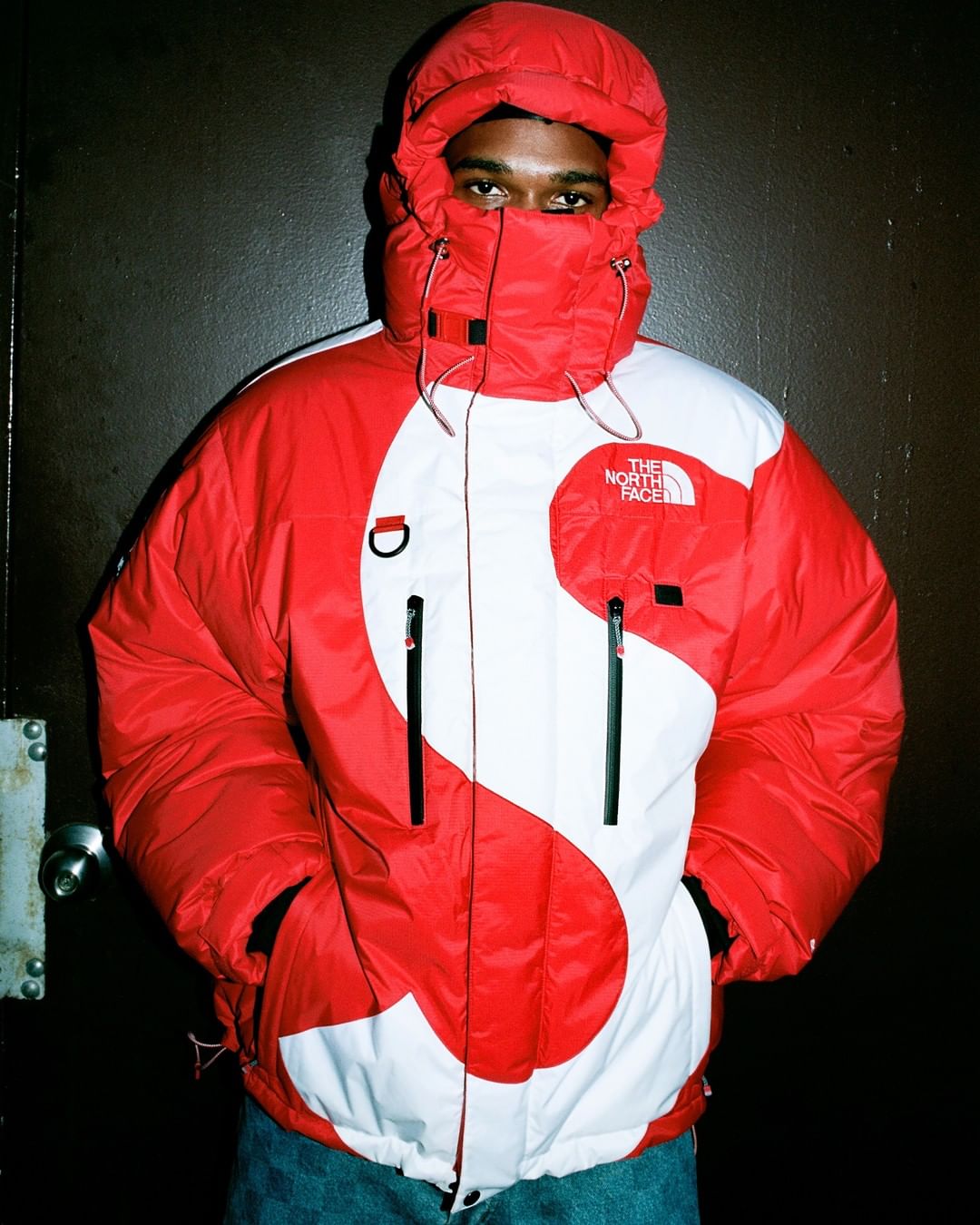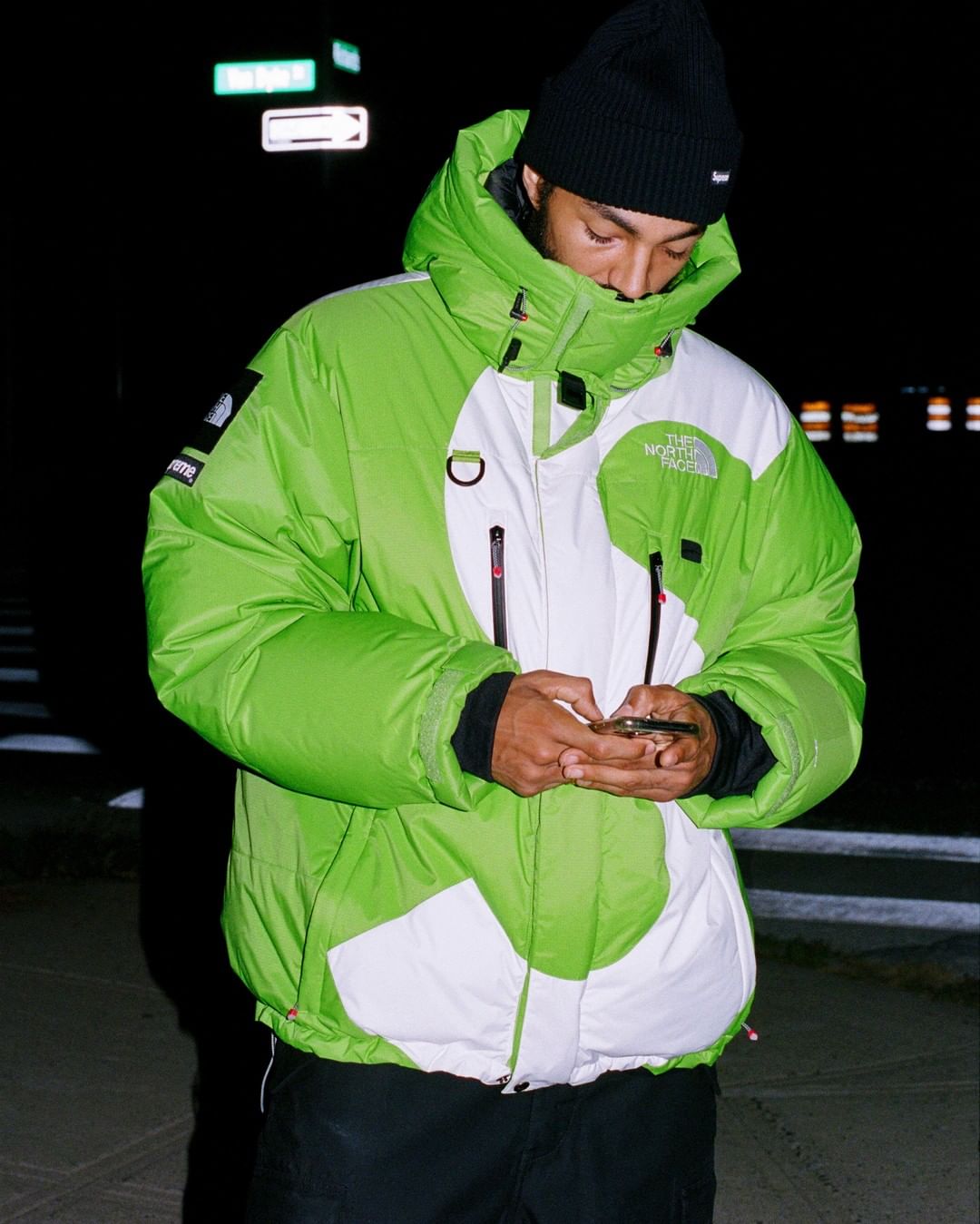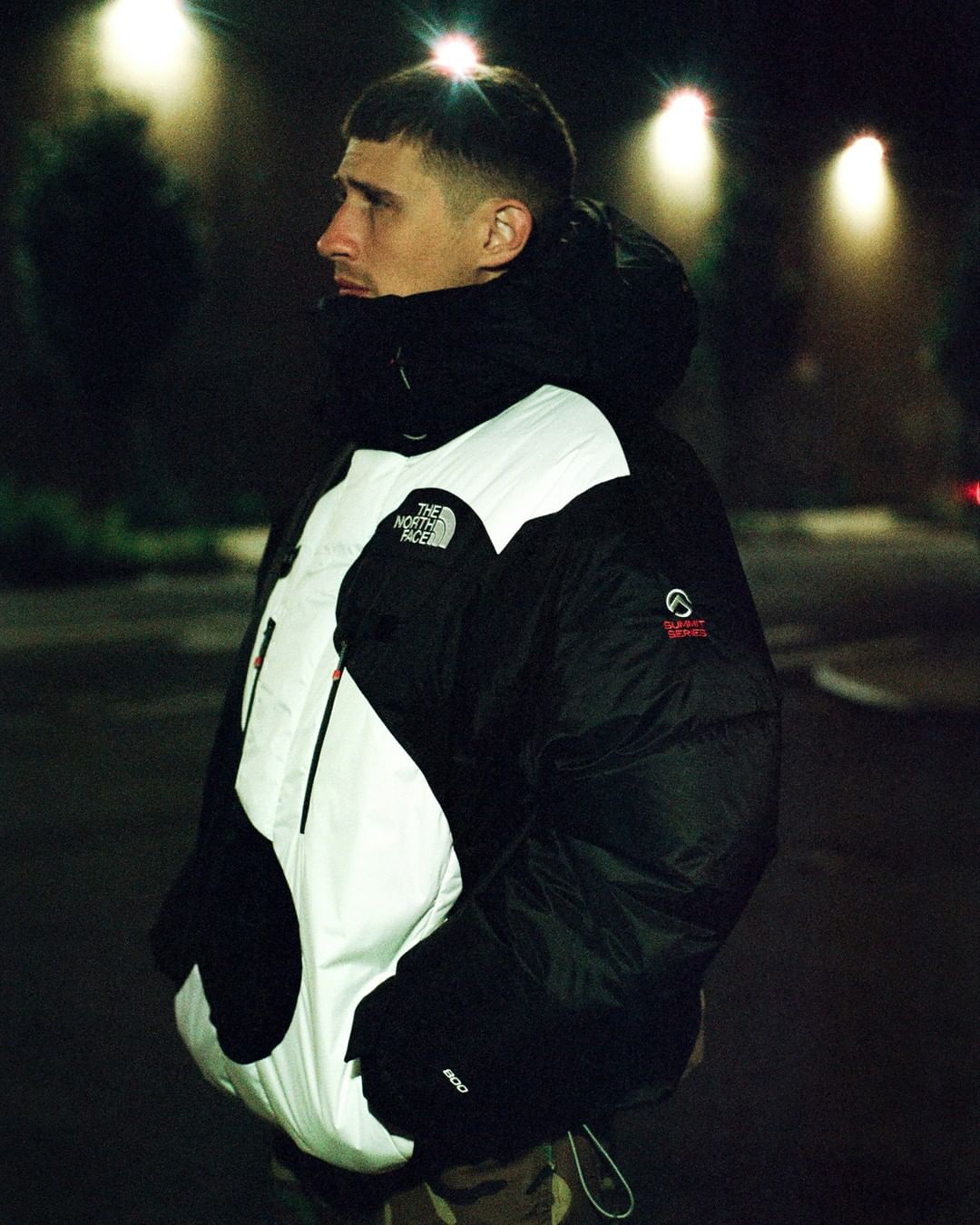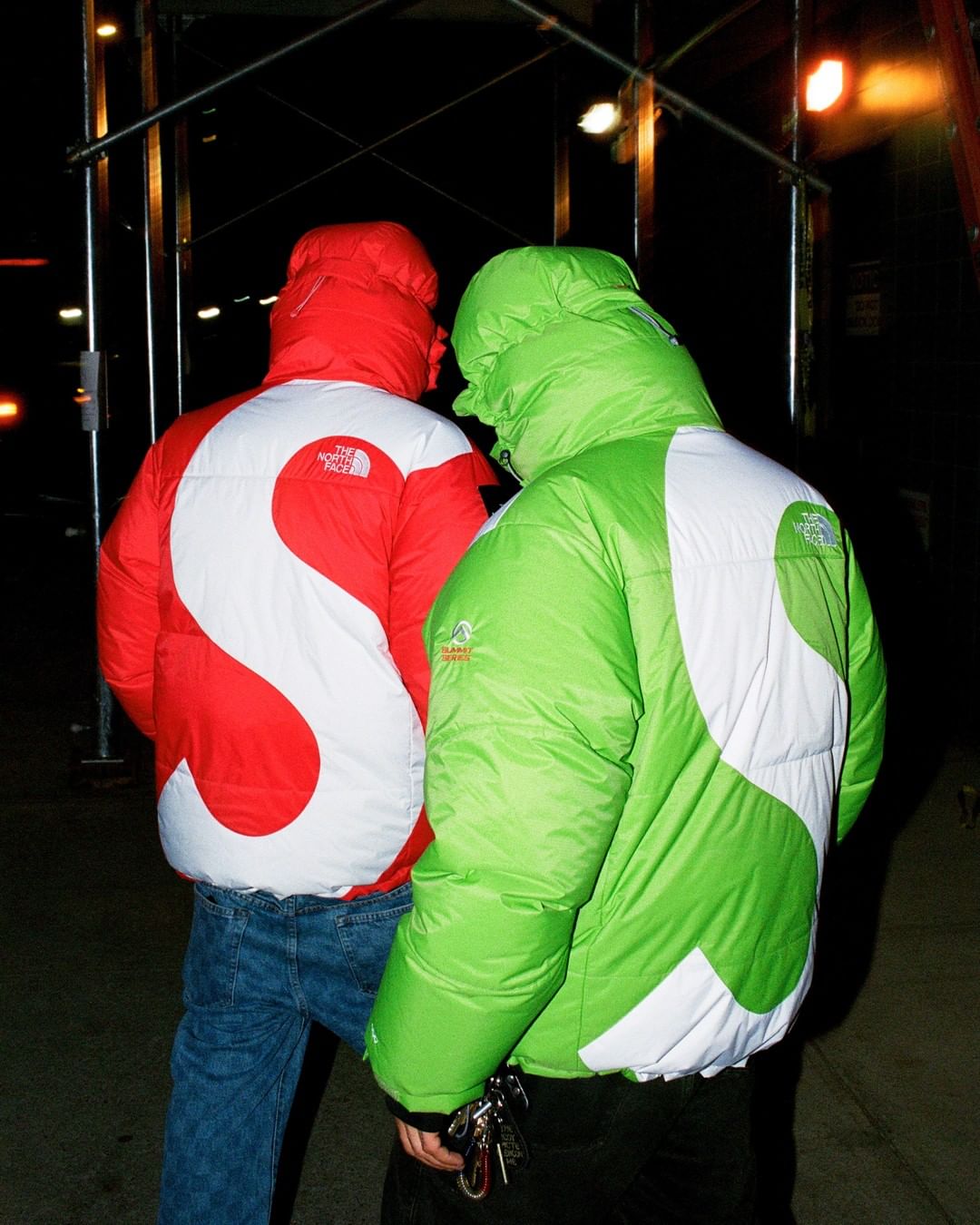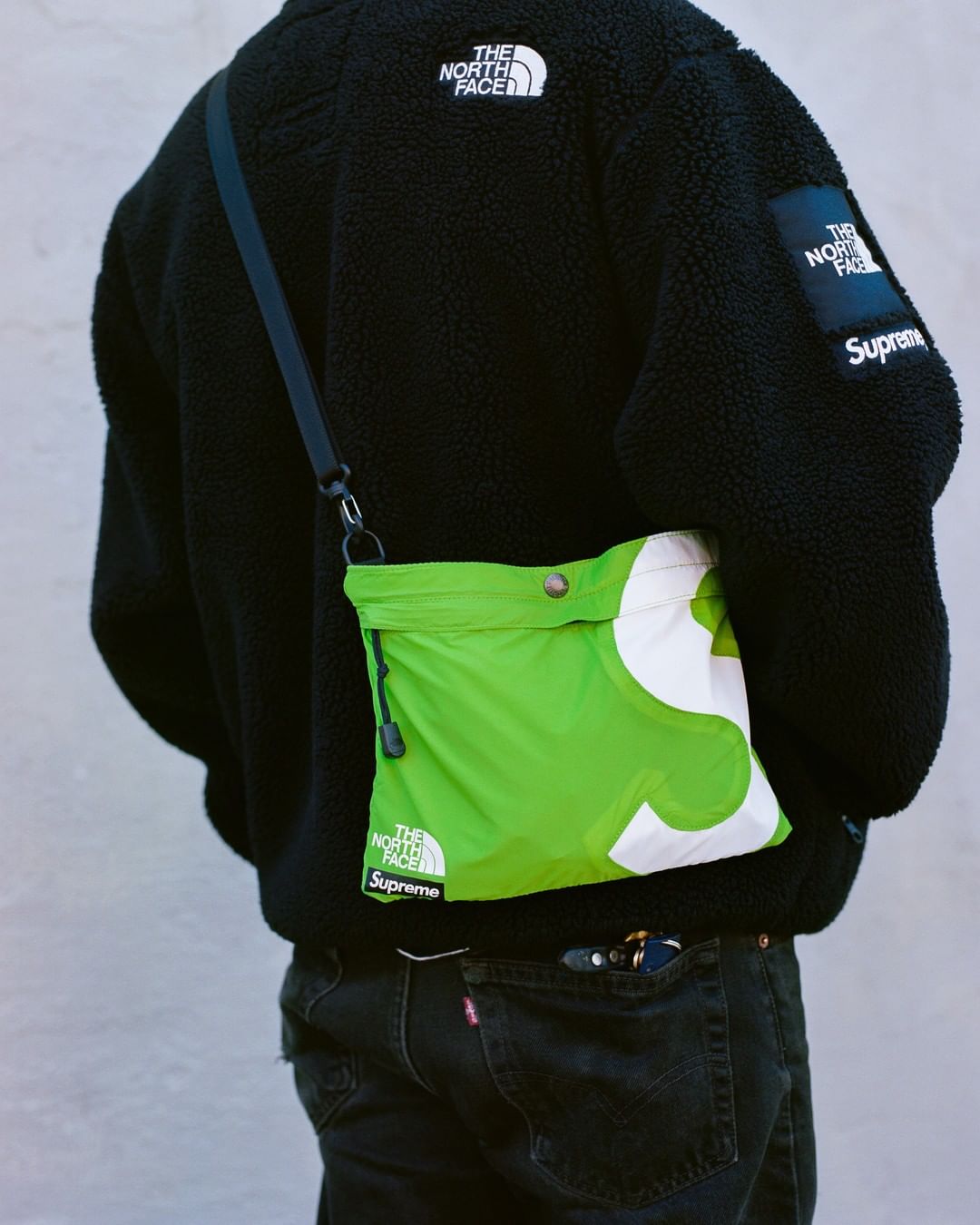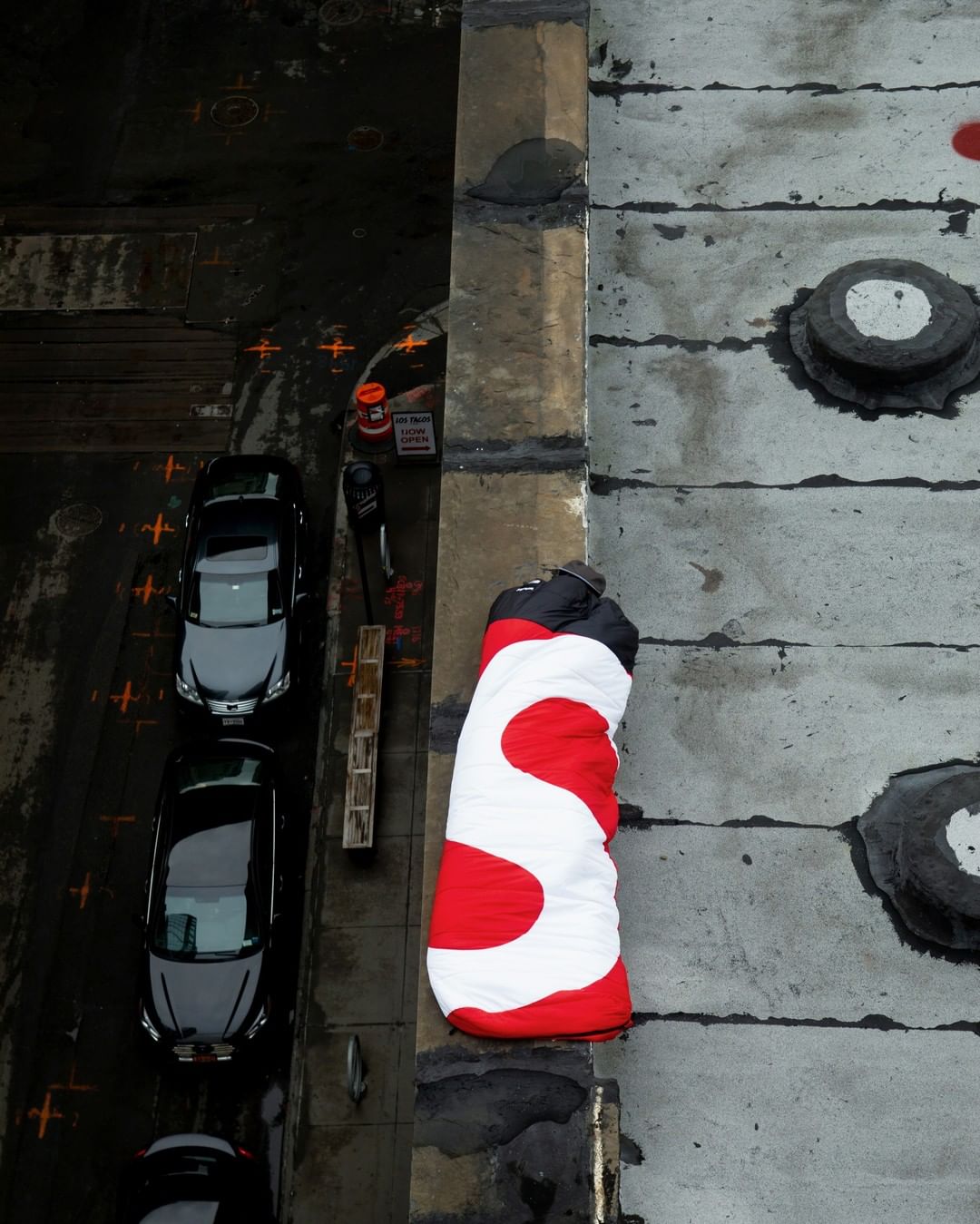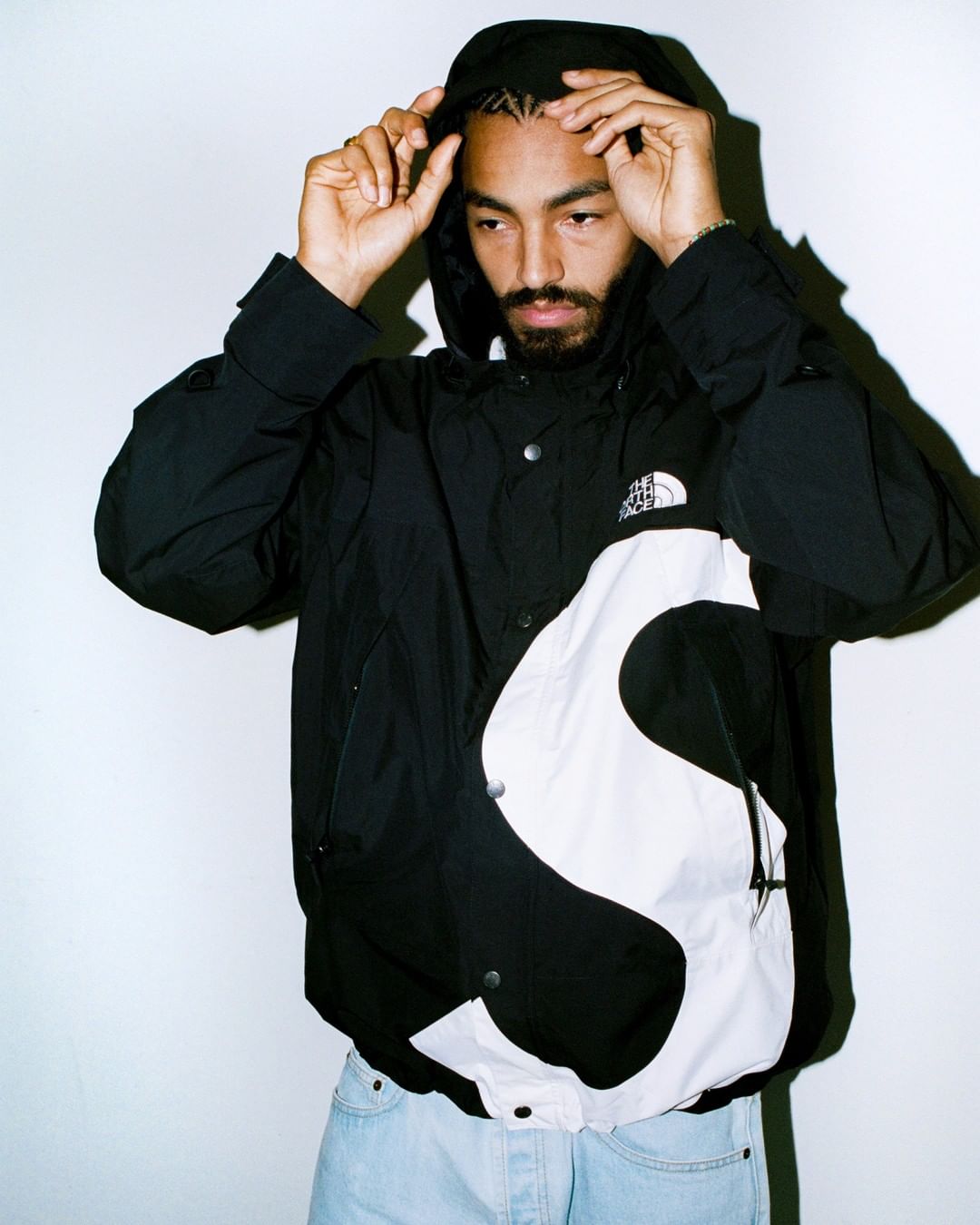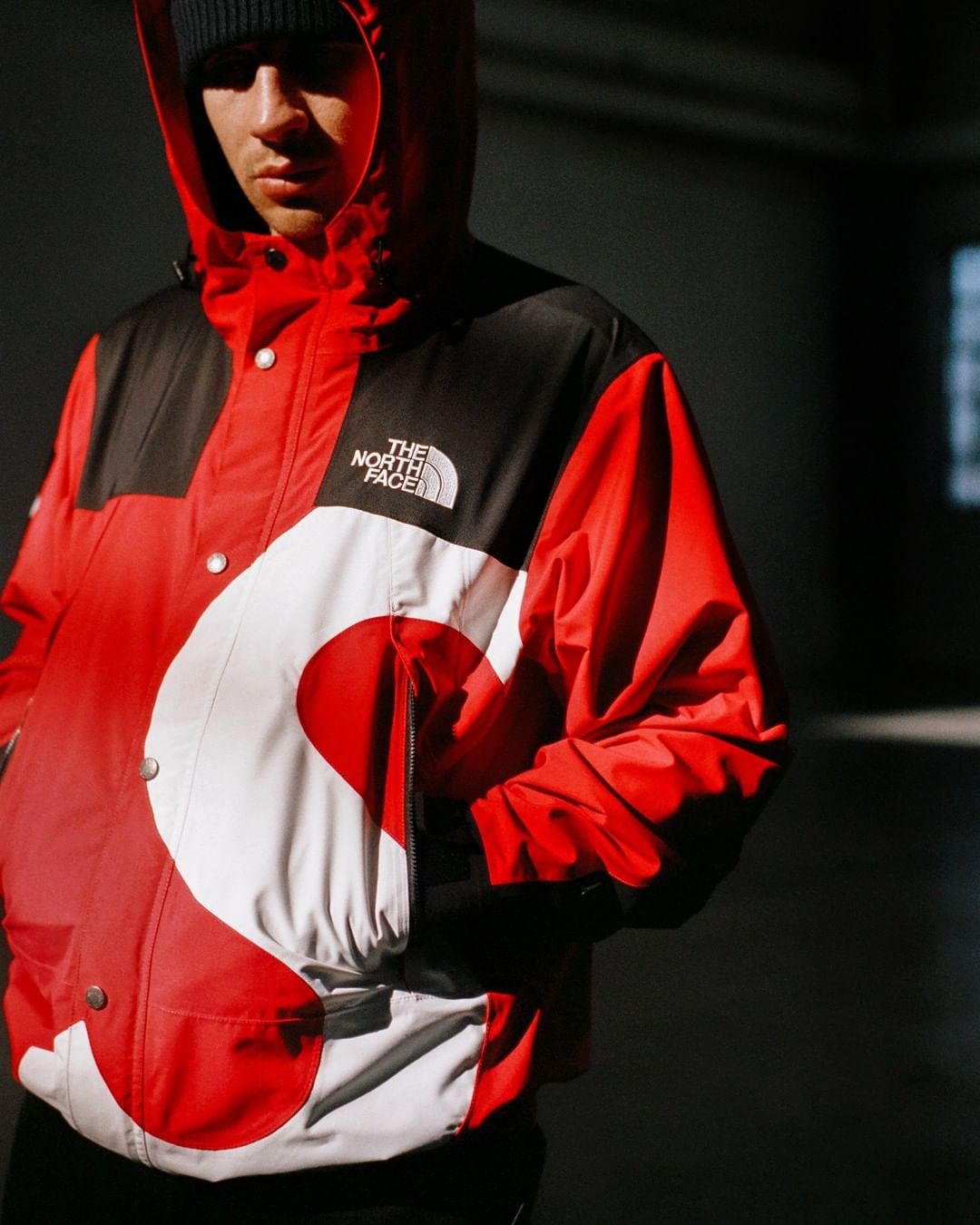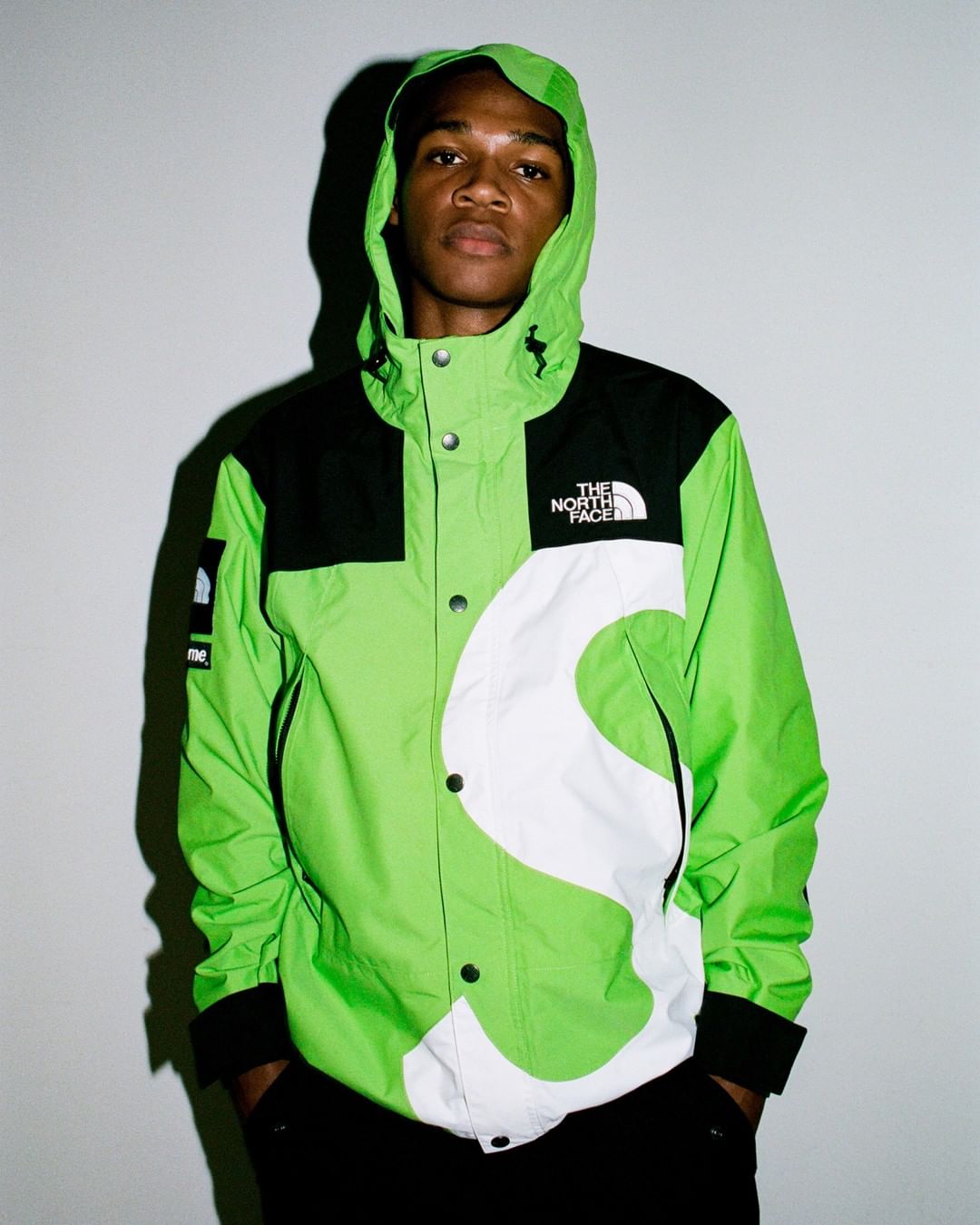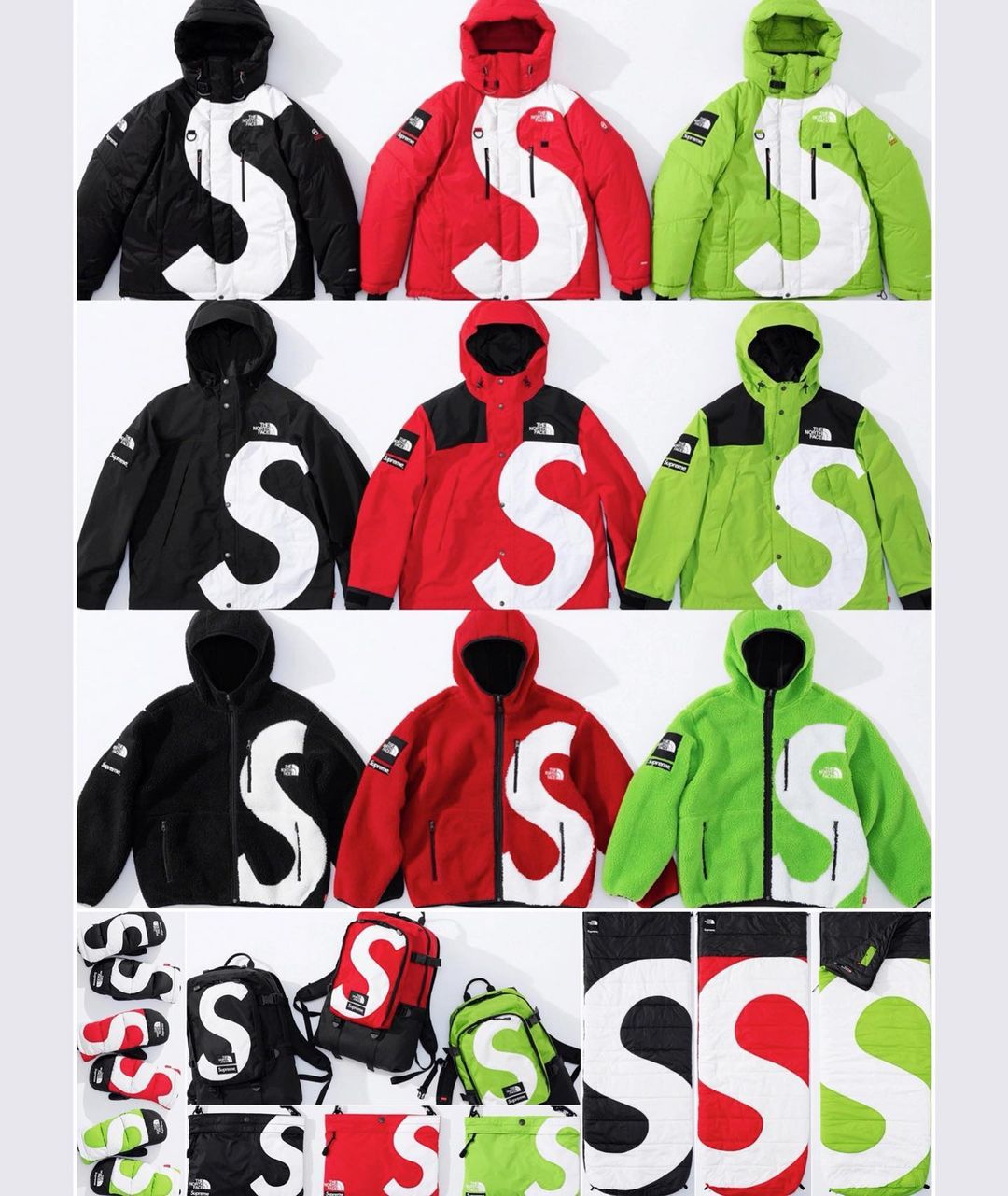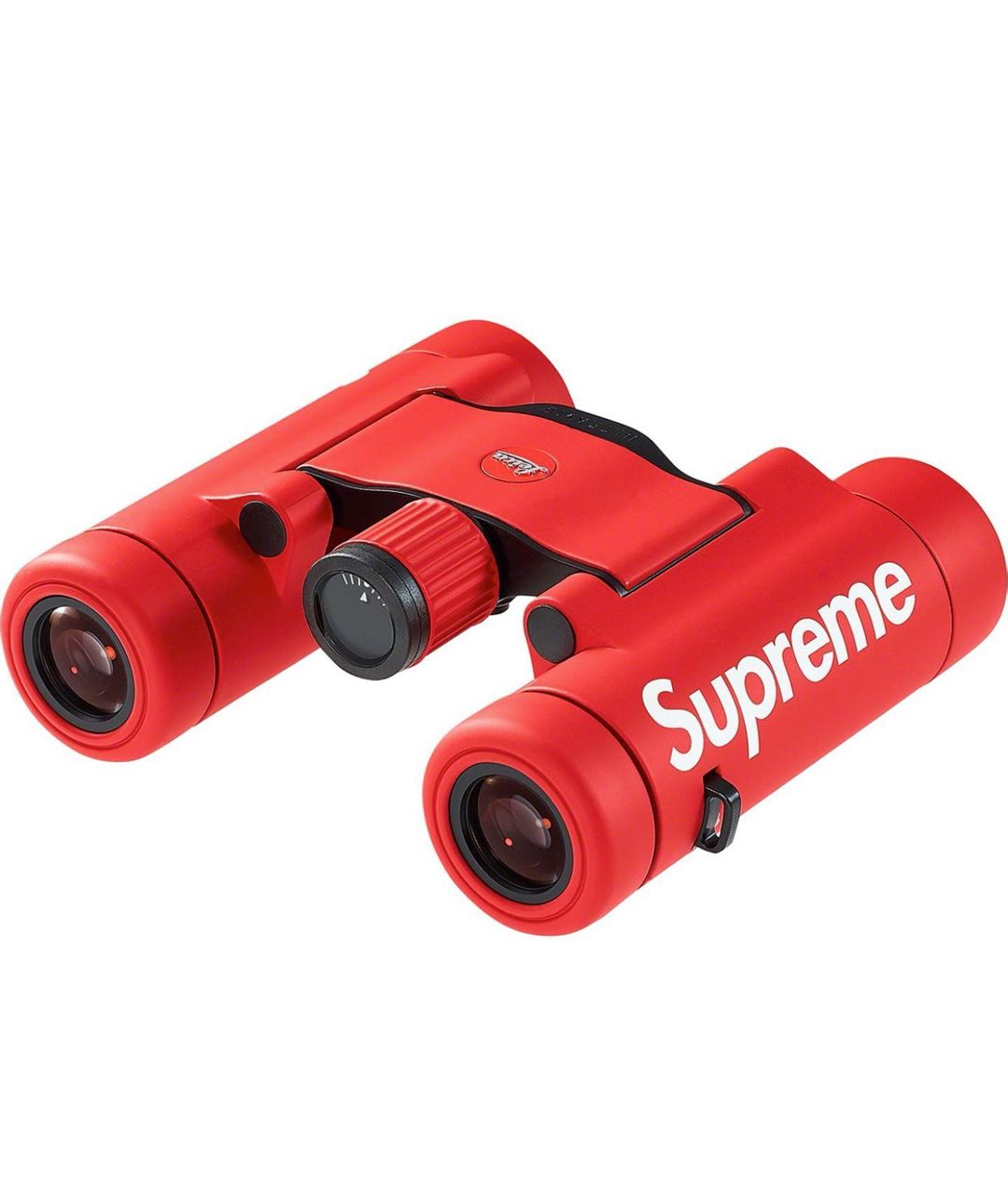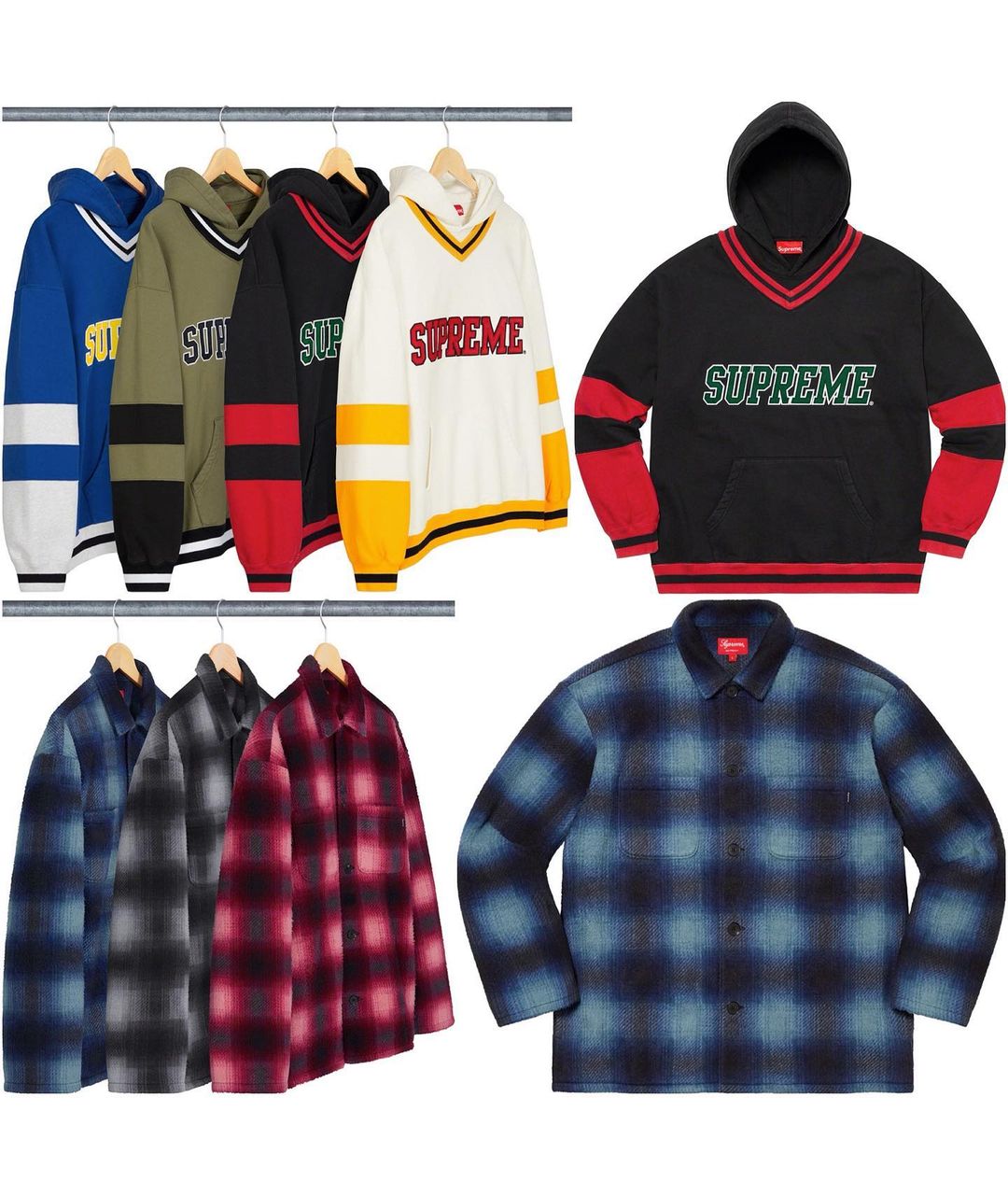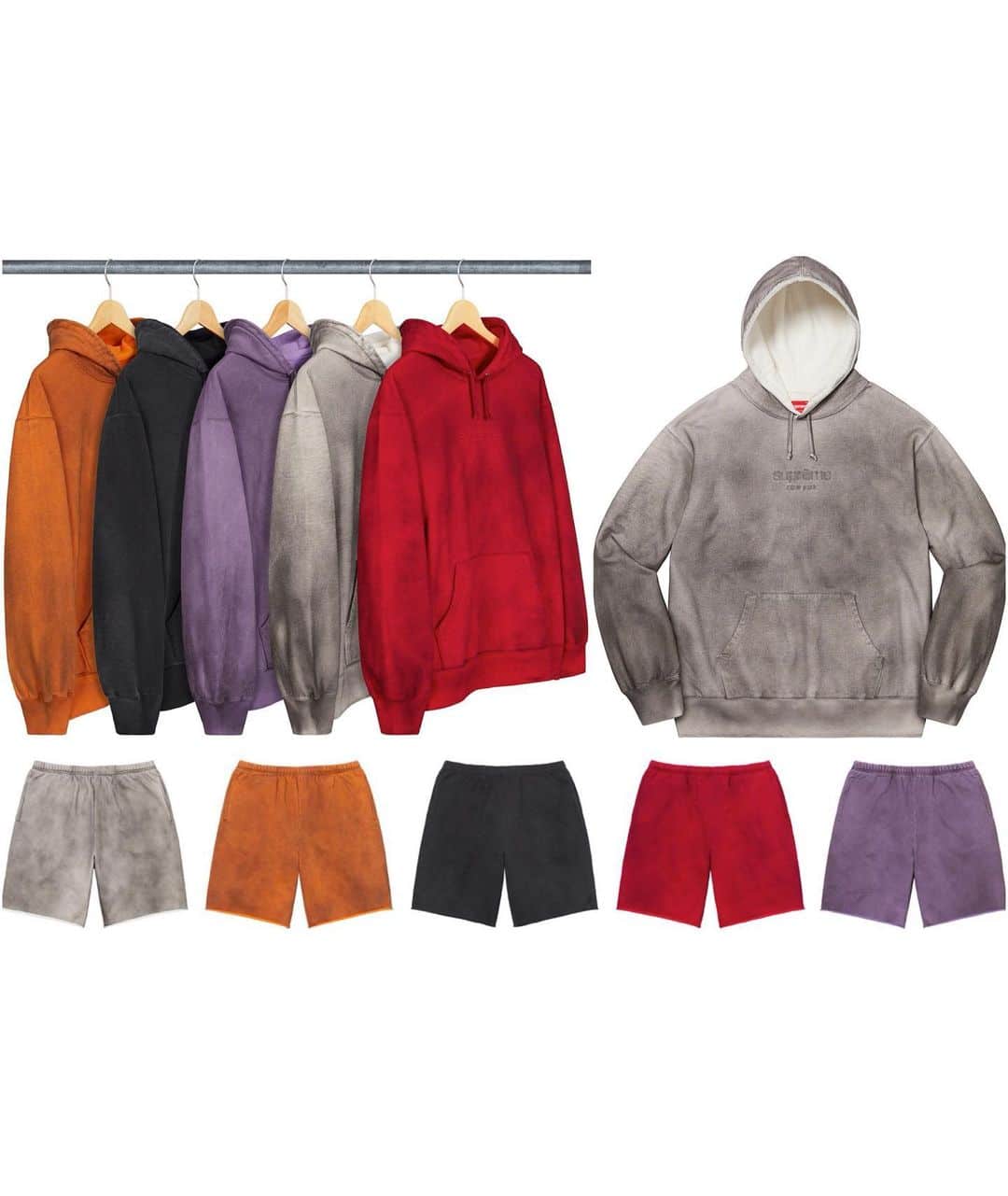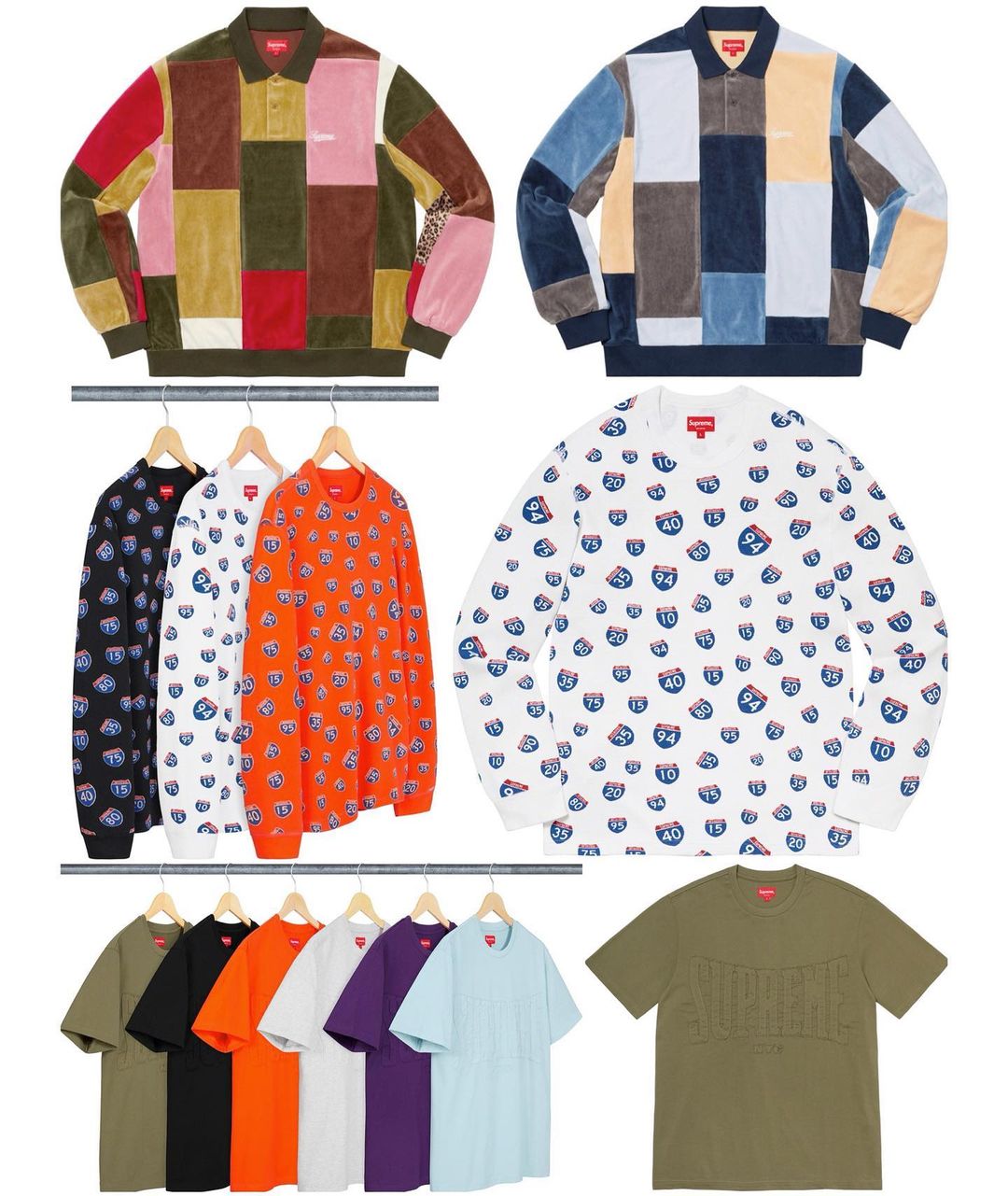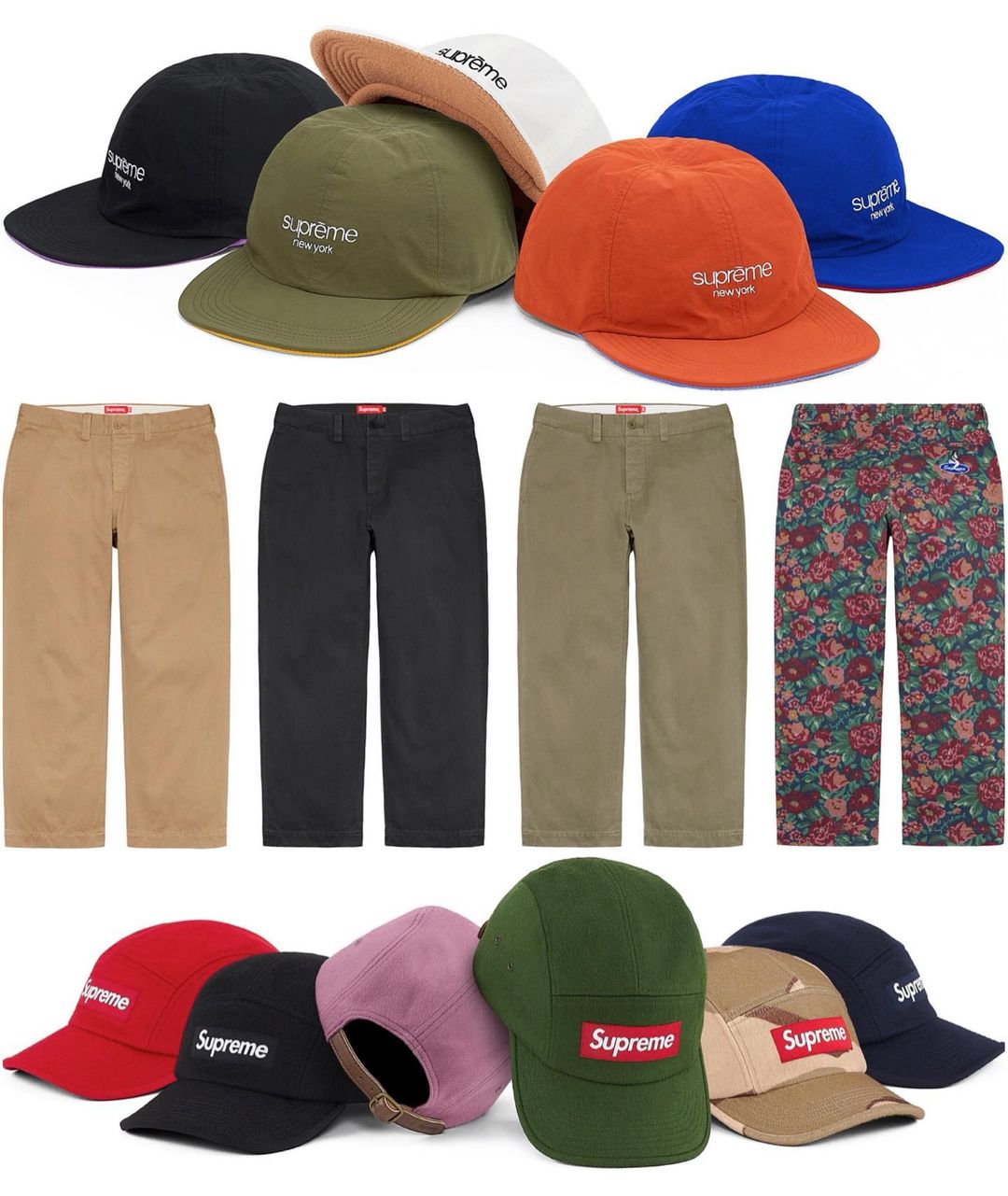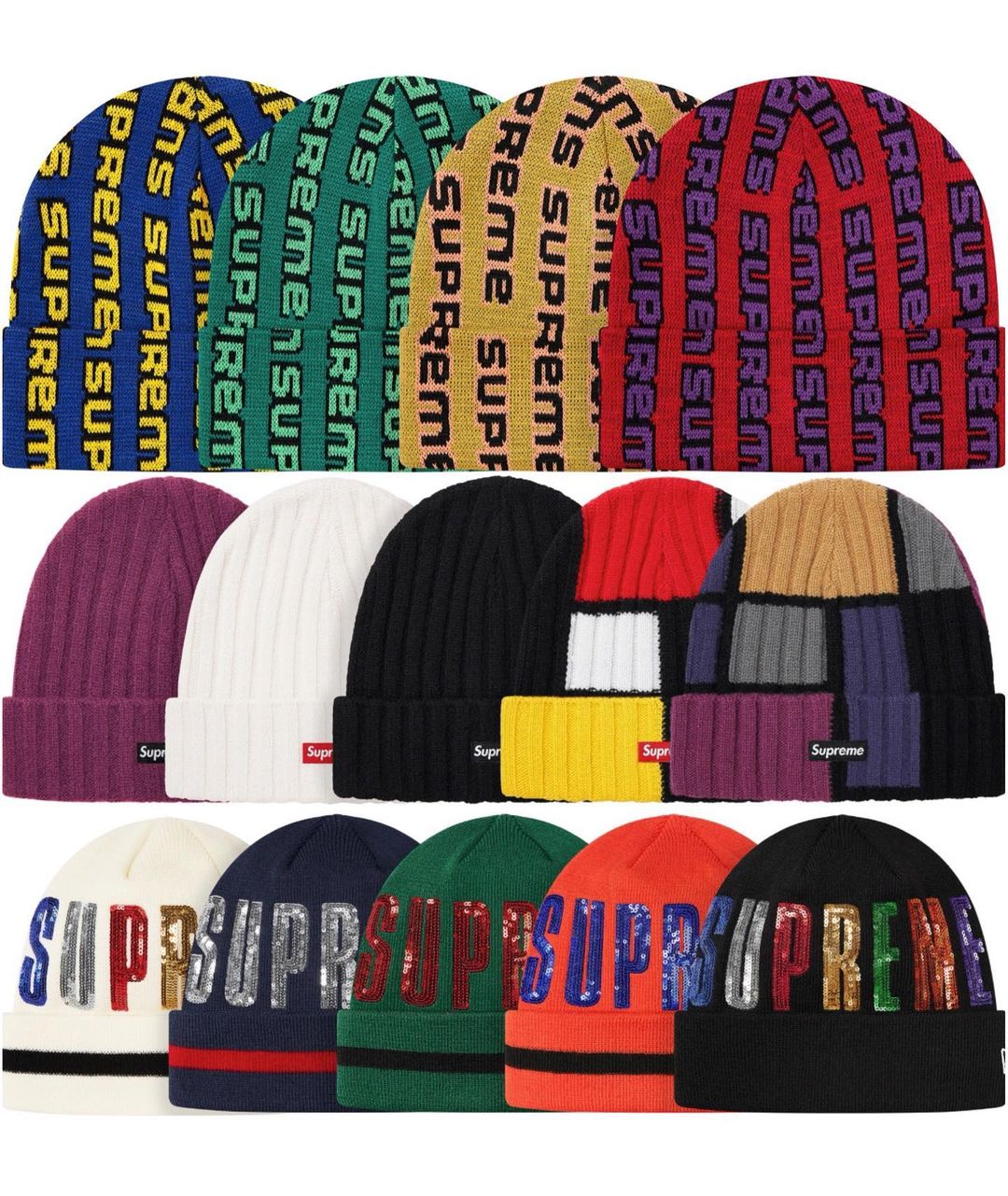 Update 22.10.2020
In the Supreme Fall/Winter 2020 Collection Week 9, fans can once again expect the coveted Supreme tees with the box logo. In addition to the tees, matching long sleeves and accessories will also be dropping, with most people probably looking forward to a coveted collab.
Rumour has it that Week 9 features a collab with Jacob & Co. with 40 mm/47 mm watches and 14-carat gold pendants. The prices are not known yet, but we suspect very high prices for these jewellery pieces. In addition to the collab, two Thermos flasks in the classic colours black and red with Supreme branding will also appear. The release on October 22nd will be at supremenewyork.com and Supreme stores.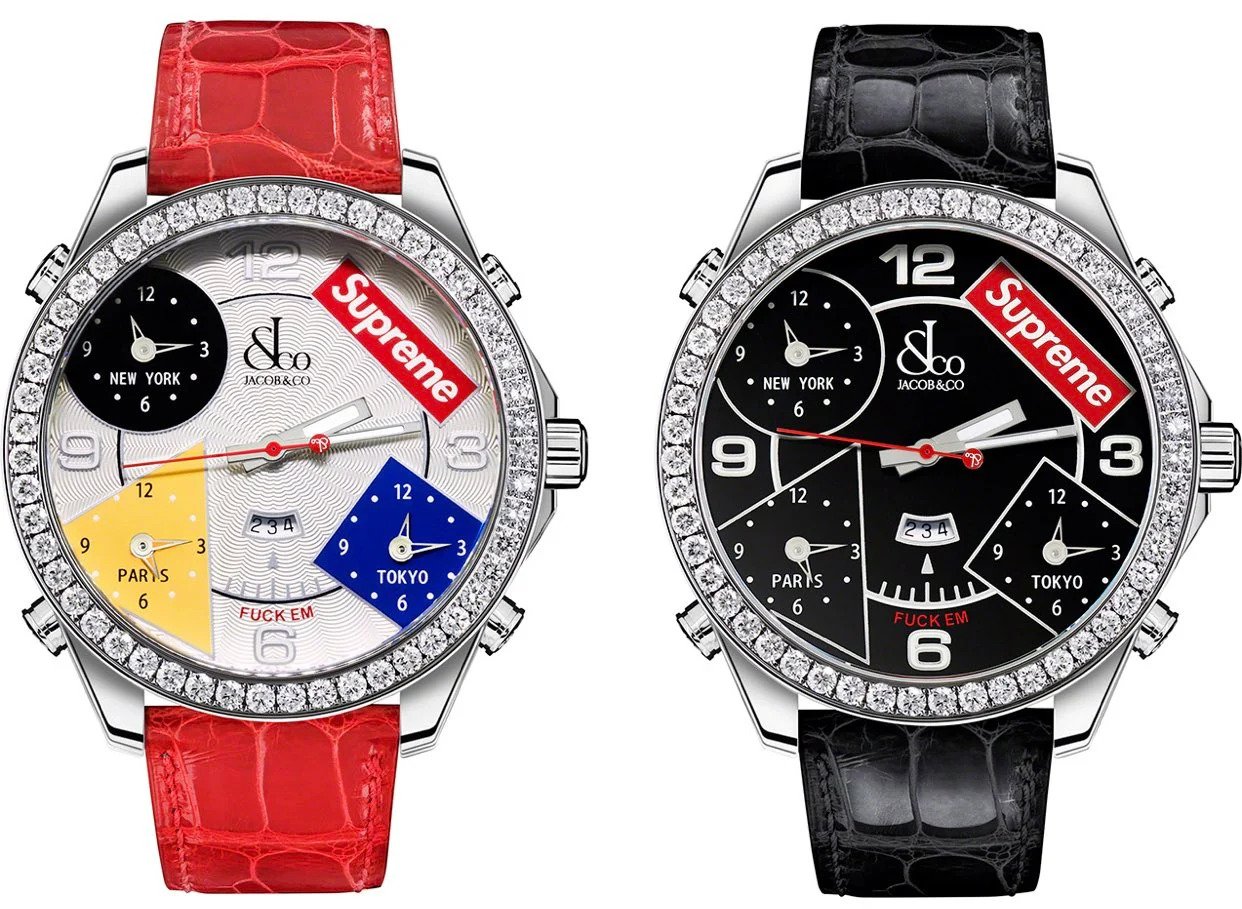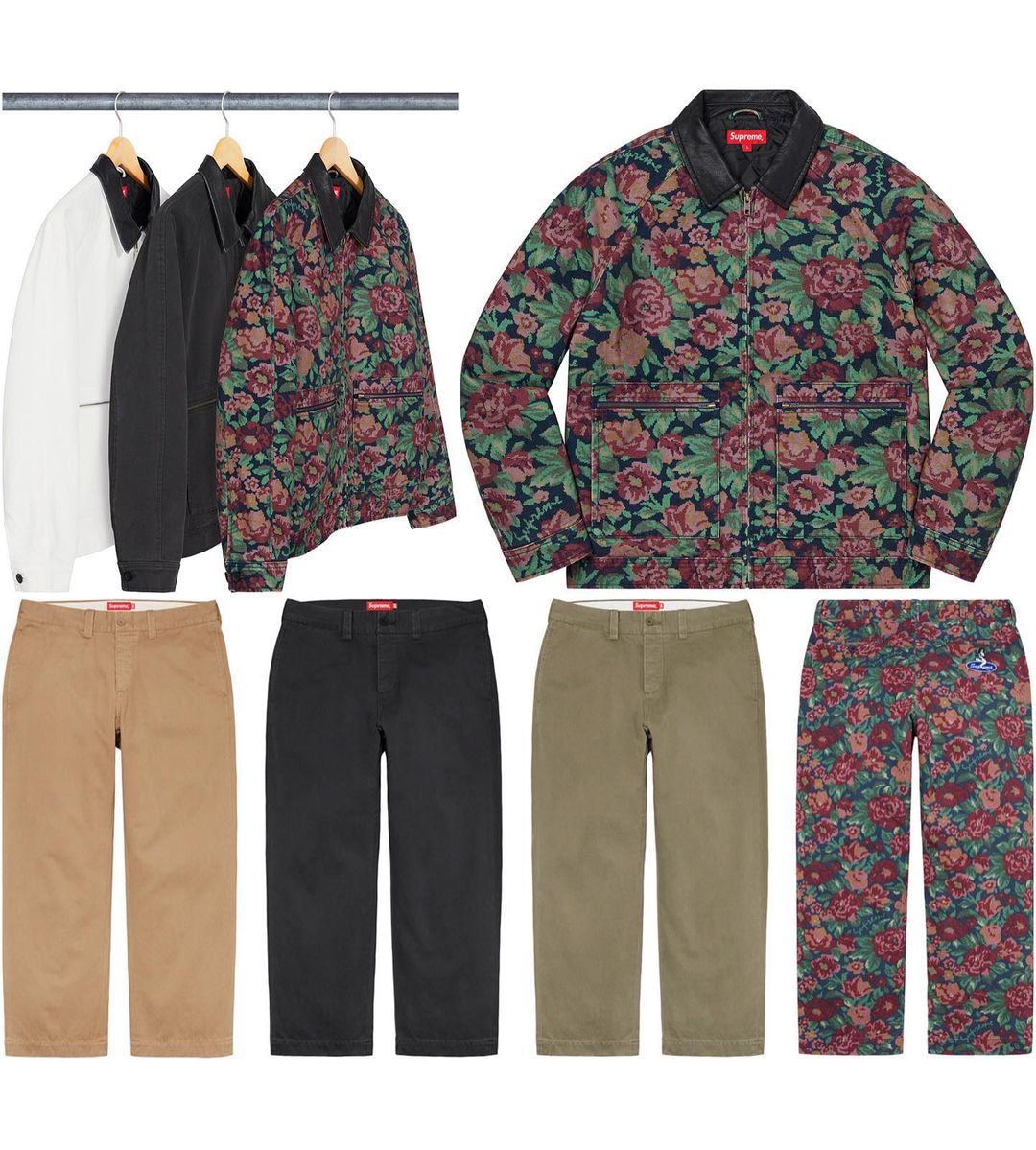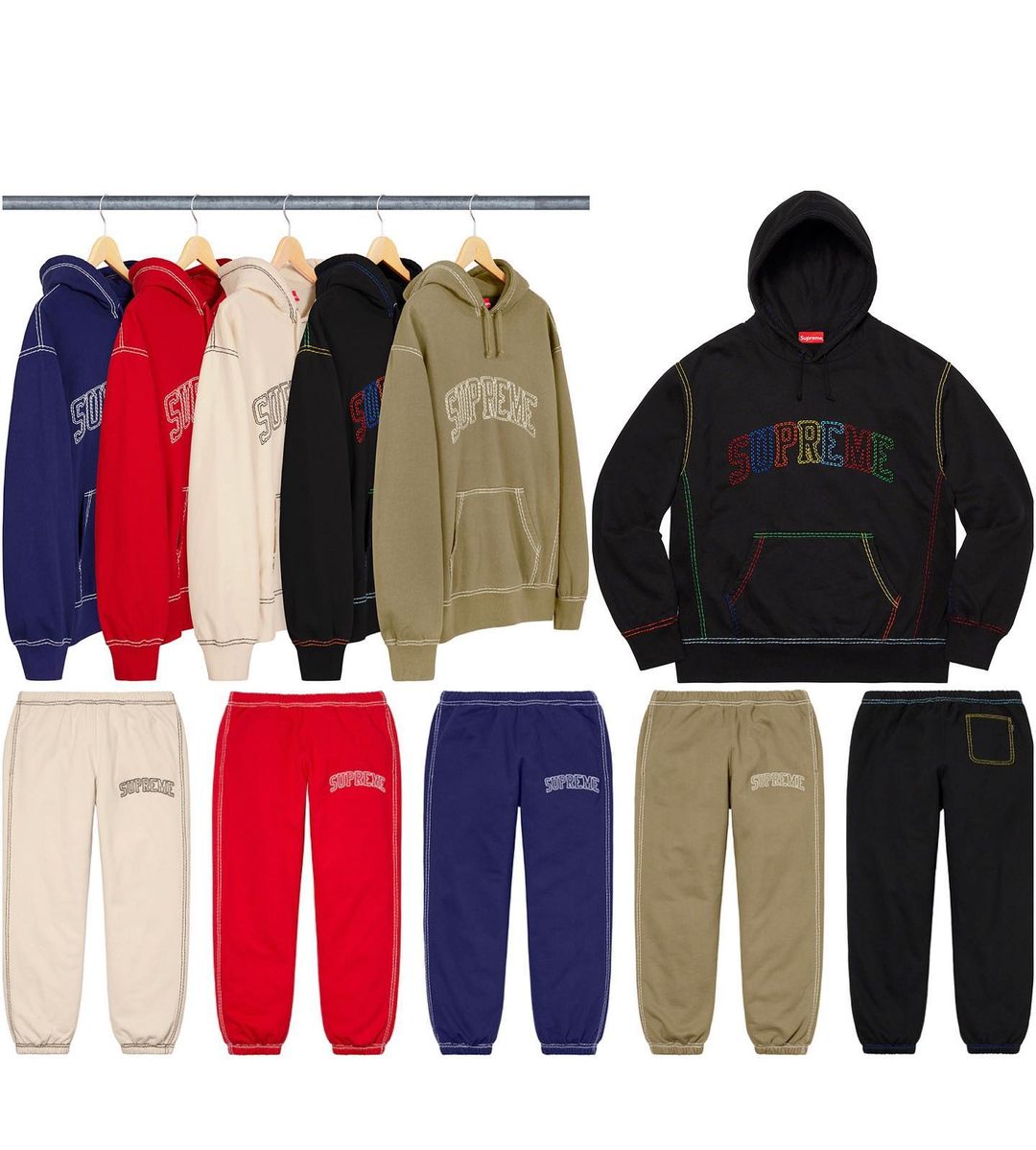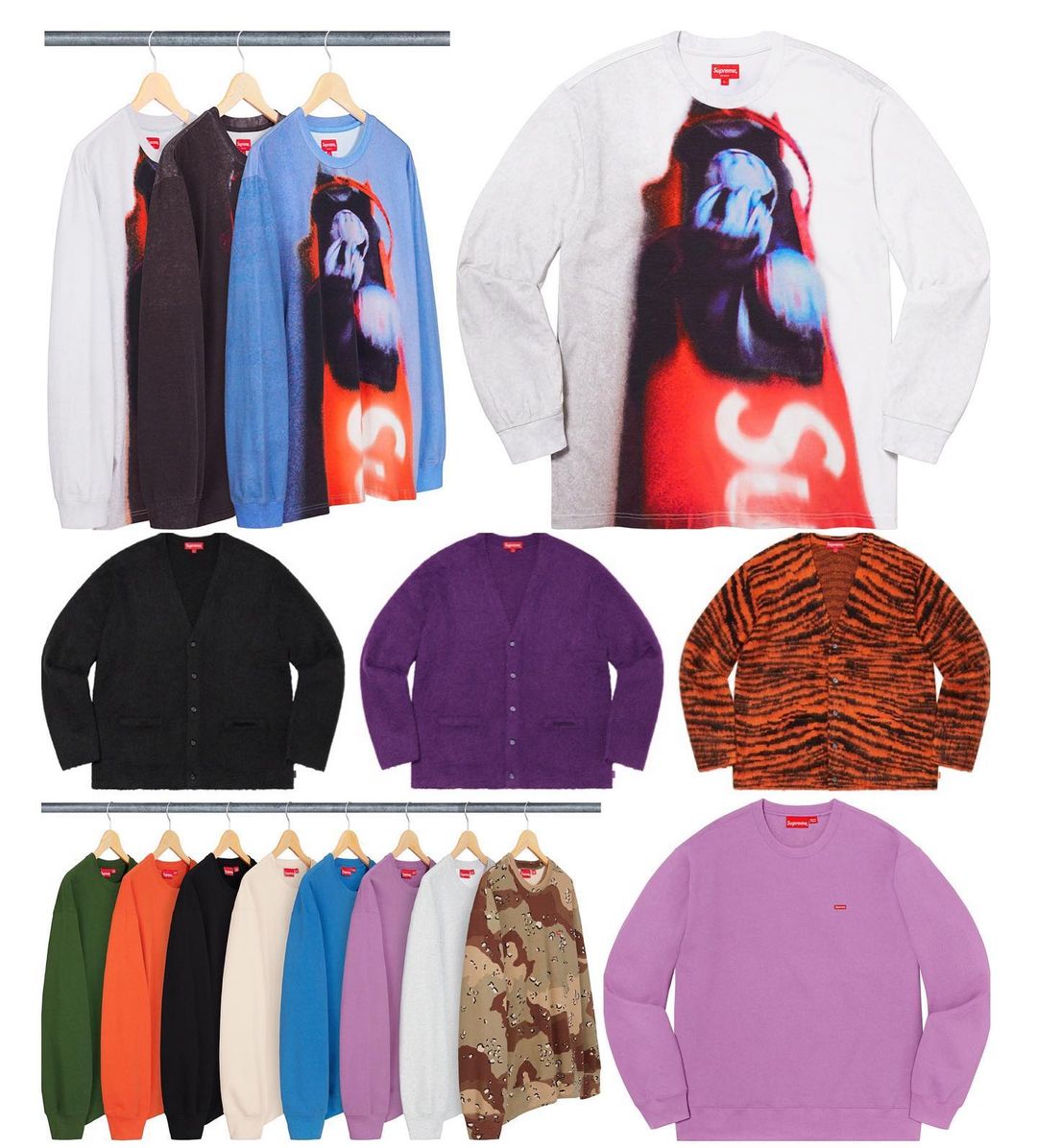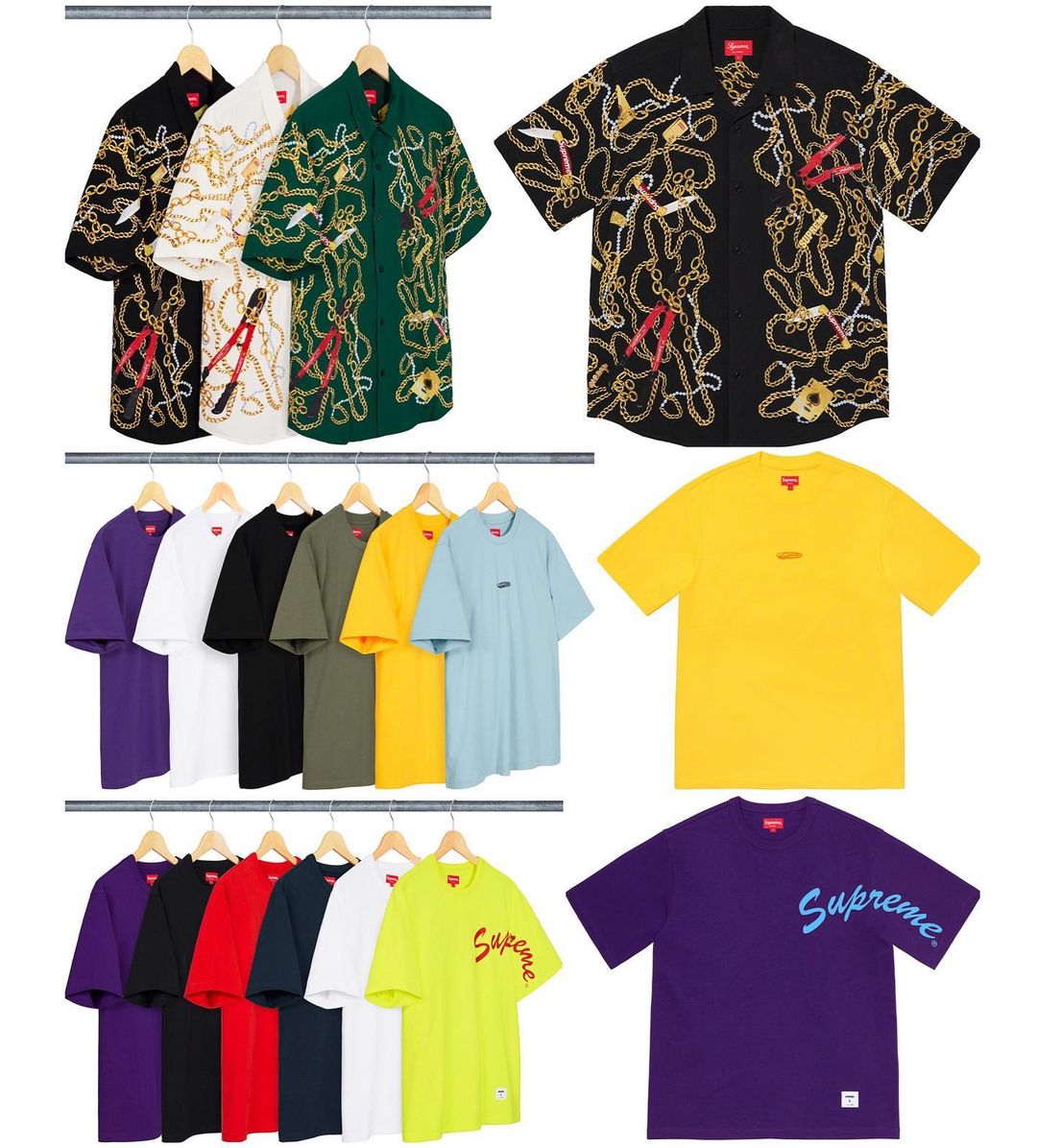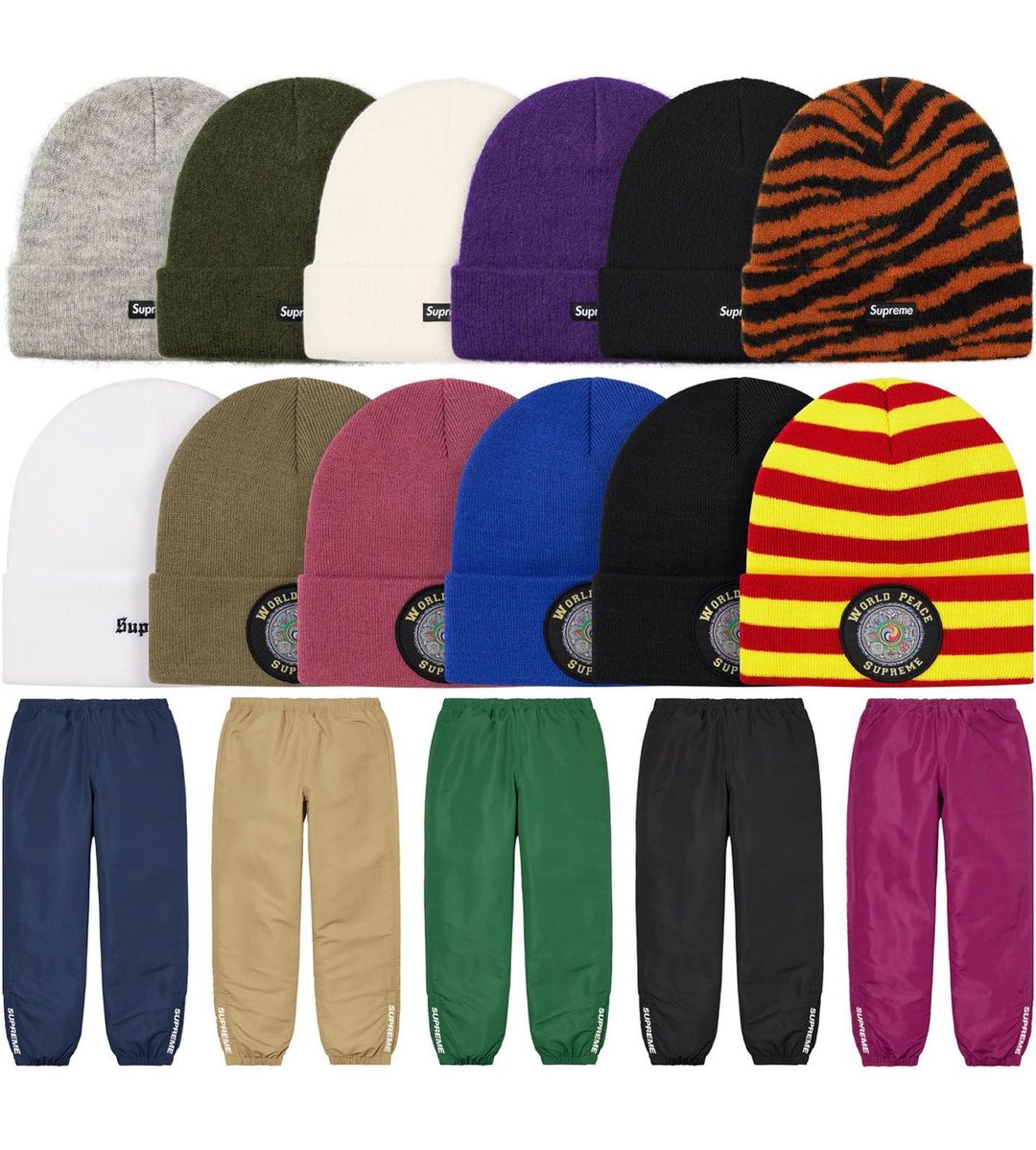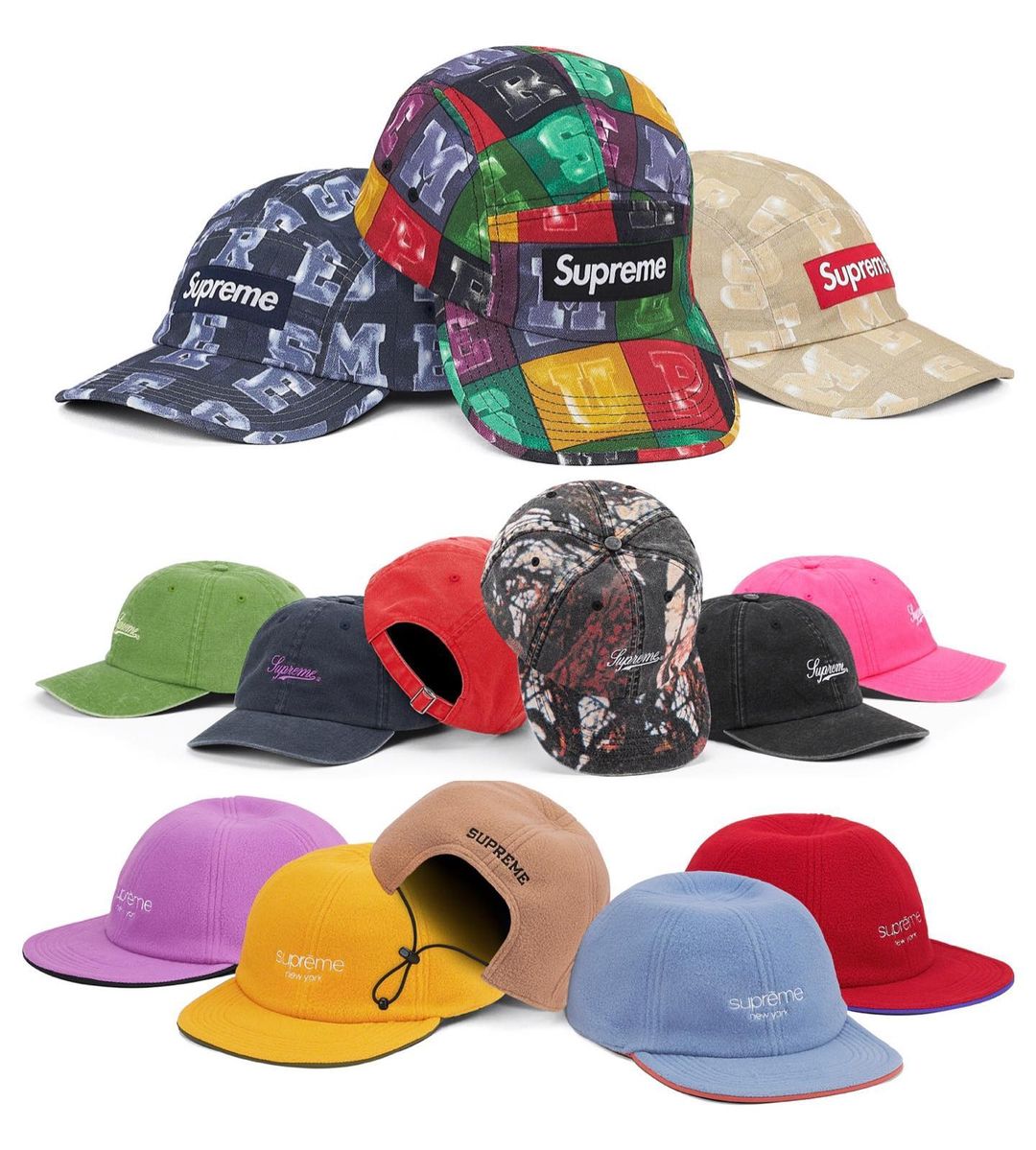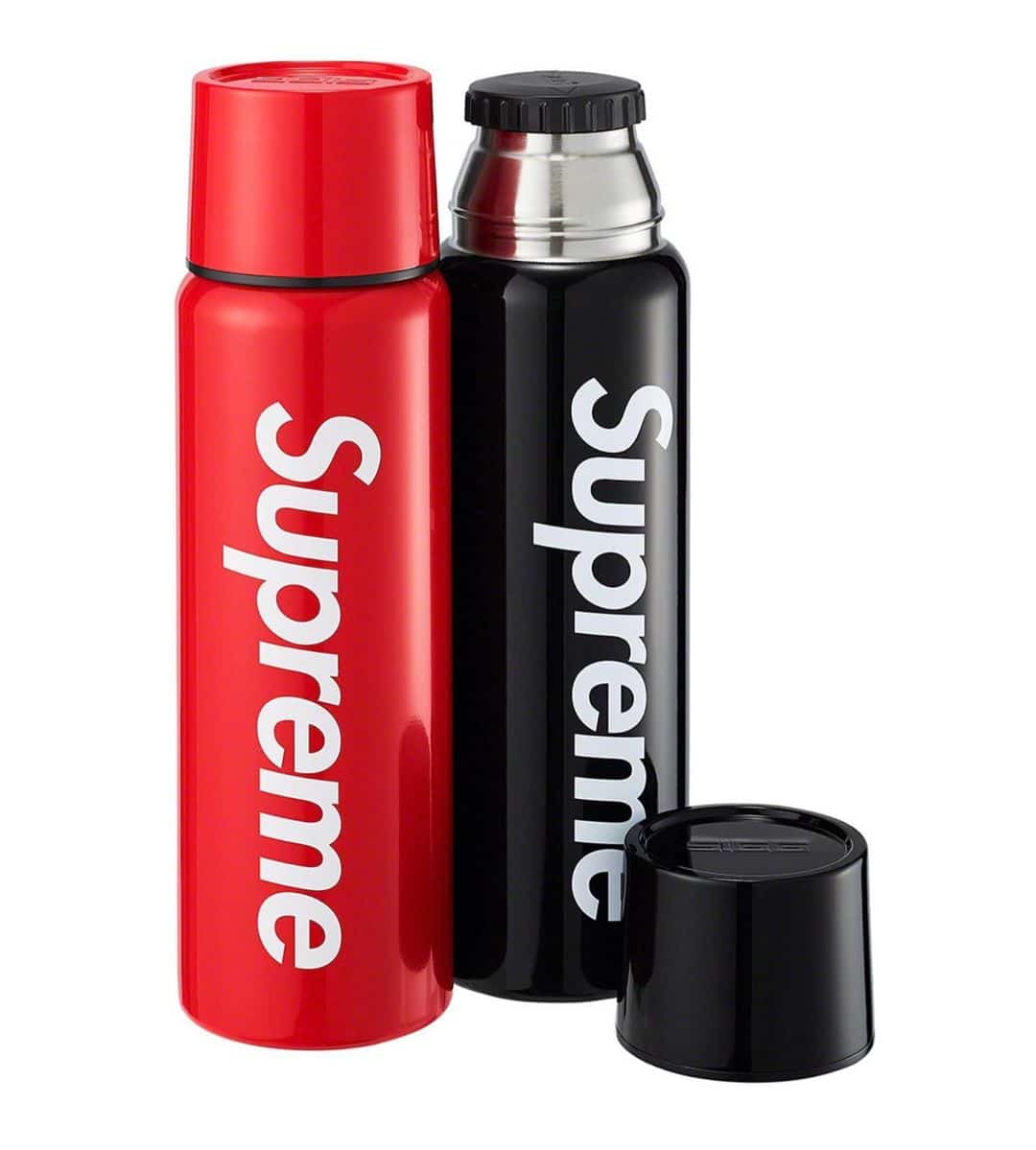 Update 14.10.2020
Time flies again. Meanwhile, we have reached Week 8 of the Supreme Fall/Winter 2020 collection, and once again, heavy pieces from Supreme and the announced collab with Nike are waiting for us.
Before that, we saw pictures of the red Supreme x Nike Air Max Plus, and a short time later, the rest of the pictures appeared. On October 15th, the red as well as the green colourway will drop, while the white colourway will appear on November 1st.
Additionally, fans will get a large number of apparel like a colored fleece jacket and other pieces. Check out the pictures here and visit the Supreme Online Shop on October 15th.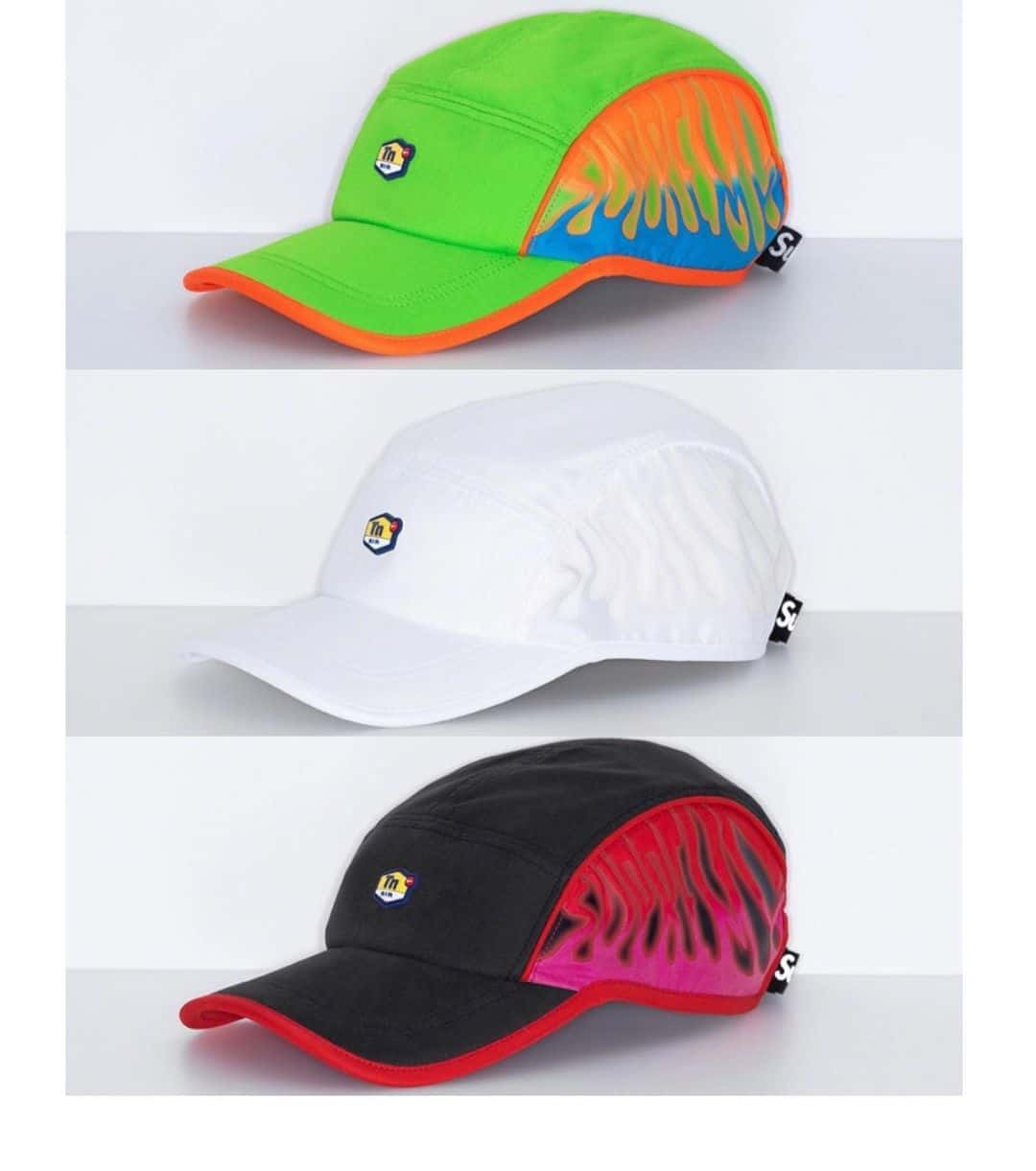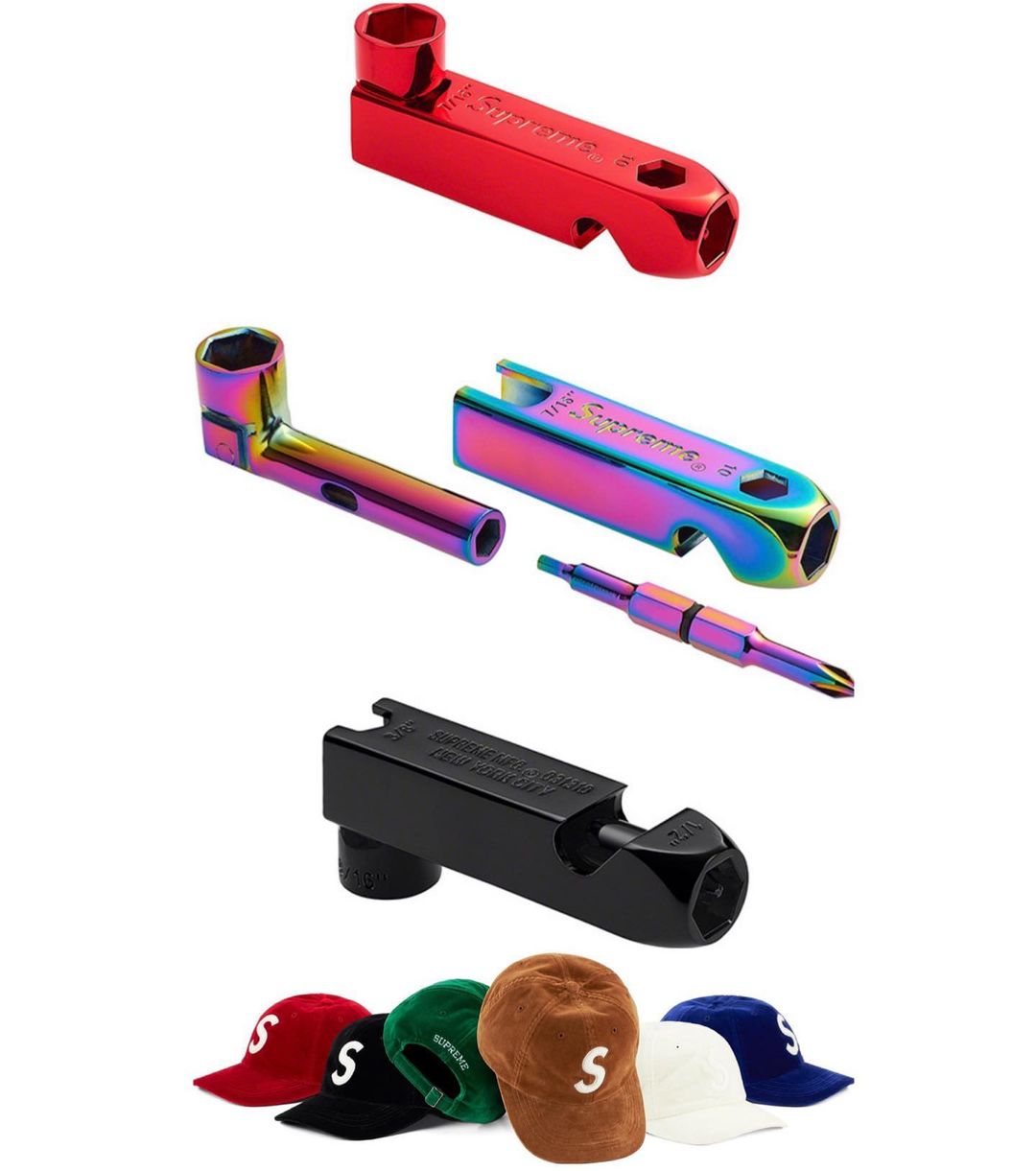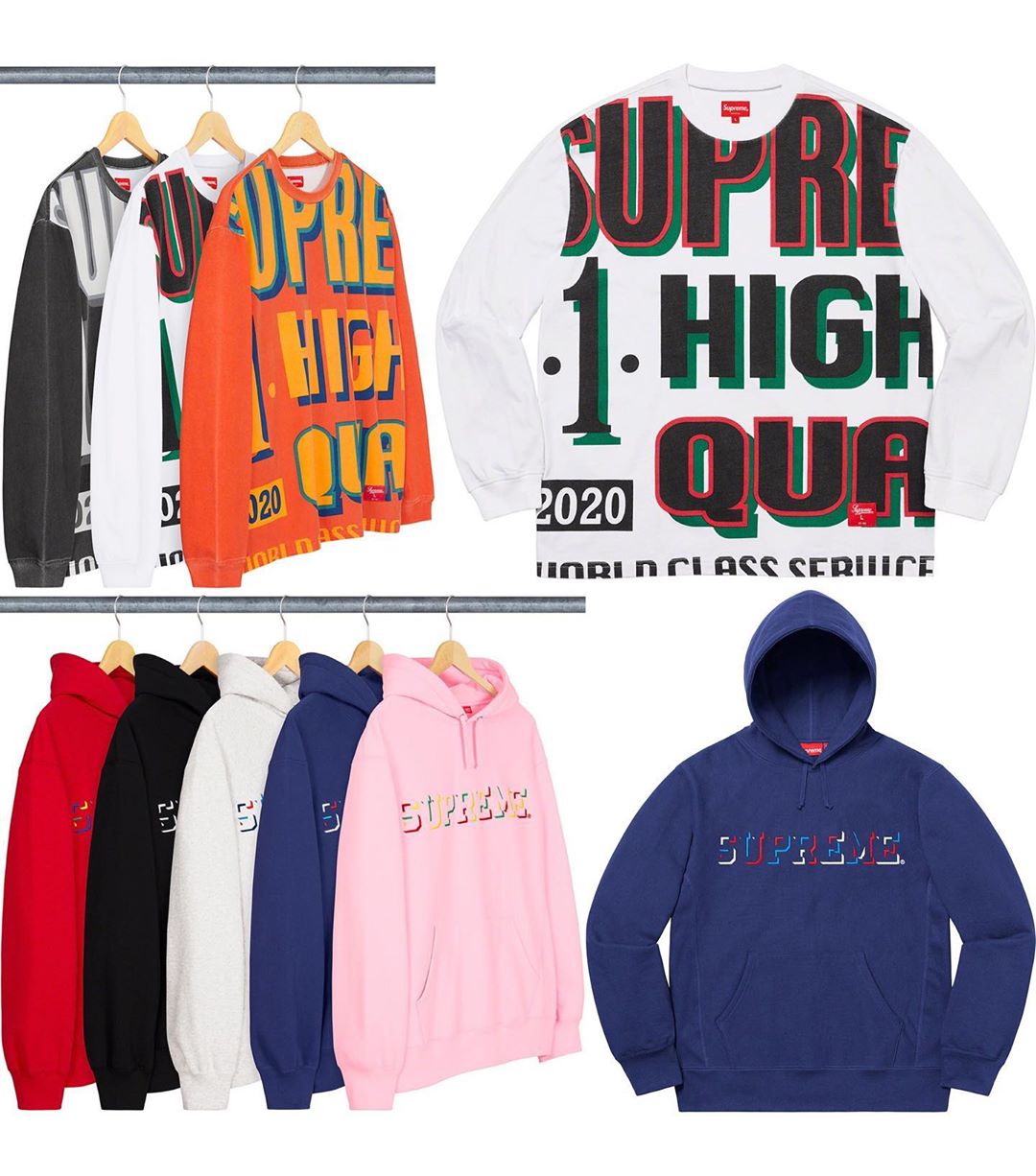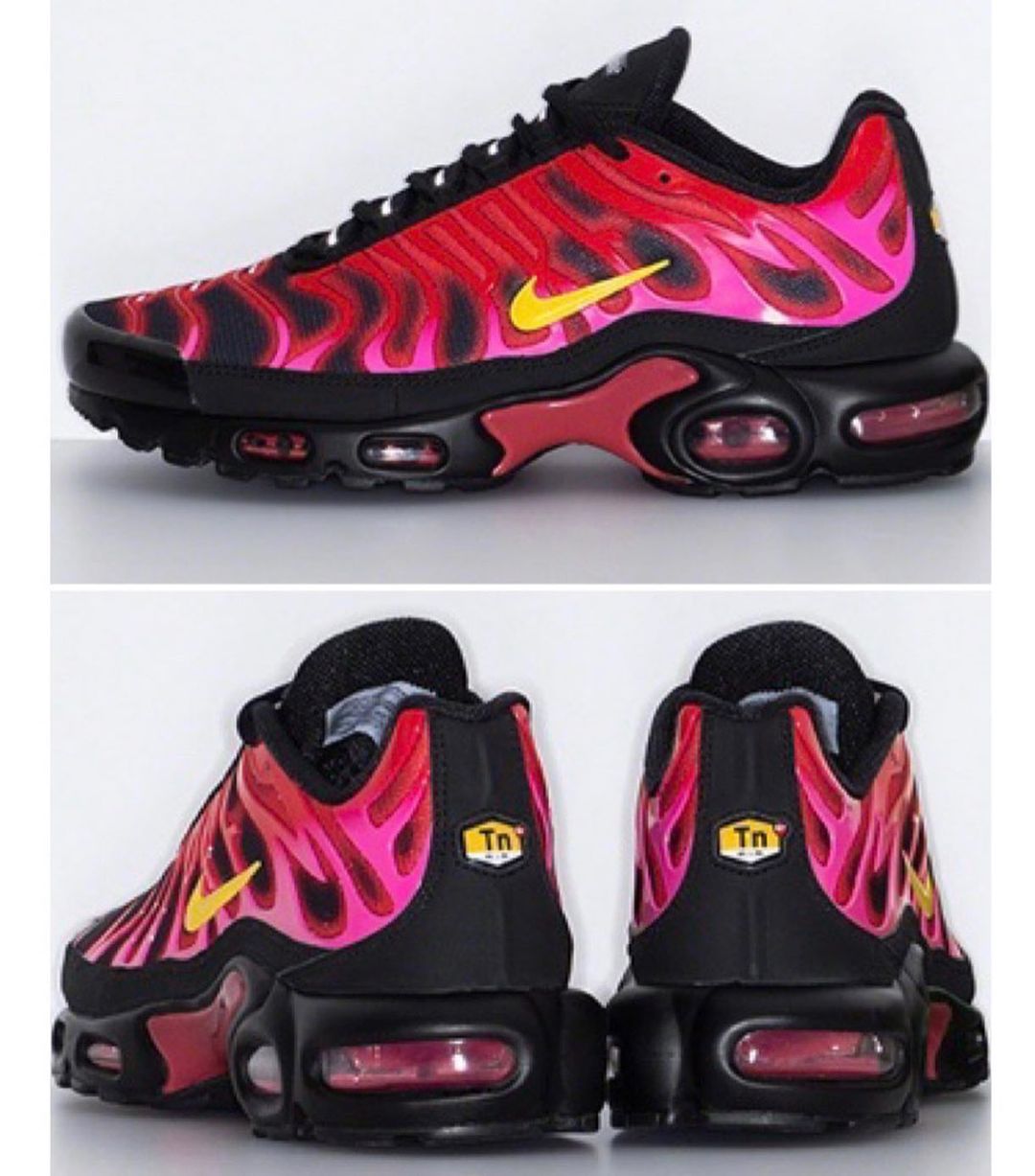 Update 07.10.2020
The collaboration with The Smurfs will continue in Week 7 of the FW20 collection. It also looks like Fox Racing will drop a fierce collab with Supreme. The pictures from the Supreme Lookbook tell us.
The expected collab with US brand Fox will include a total of three pieces in three different colourways: a jacket, a hoodie, and matching pants. The colours include a modern pink/yellow, grey/orange, and black/white.
Some tees should supposedly be released in due time. Unfortunately, the confirmation from Supreme or Fox is still missing.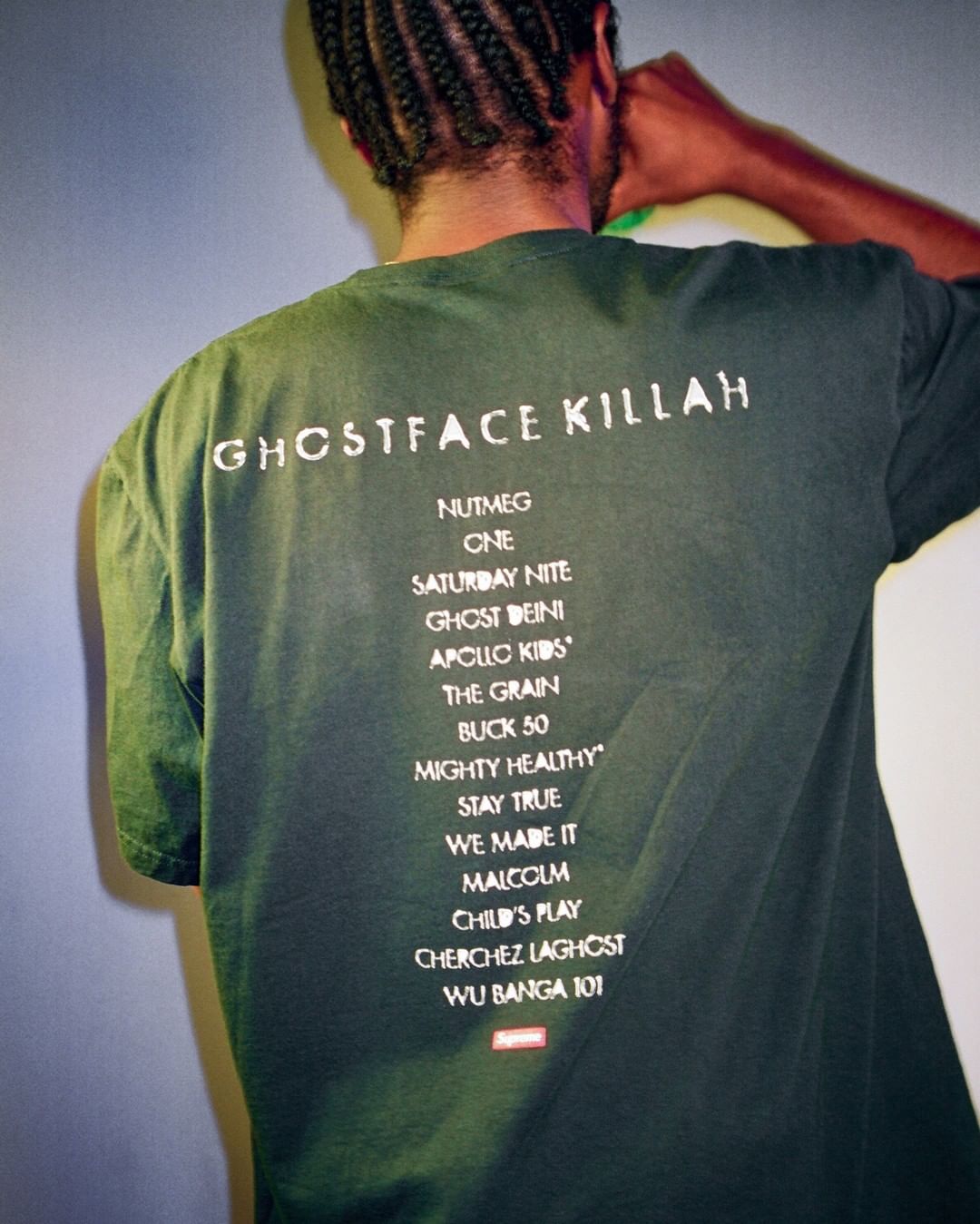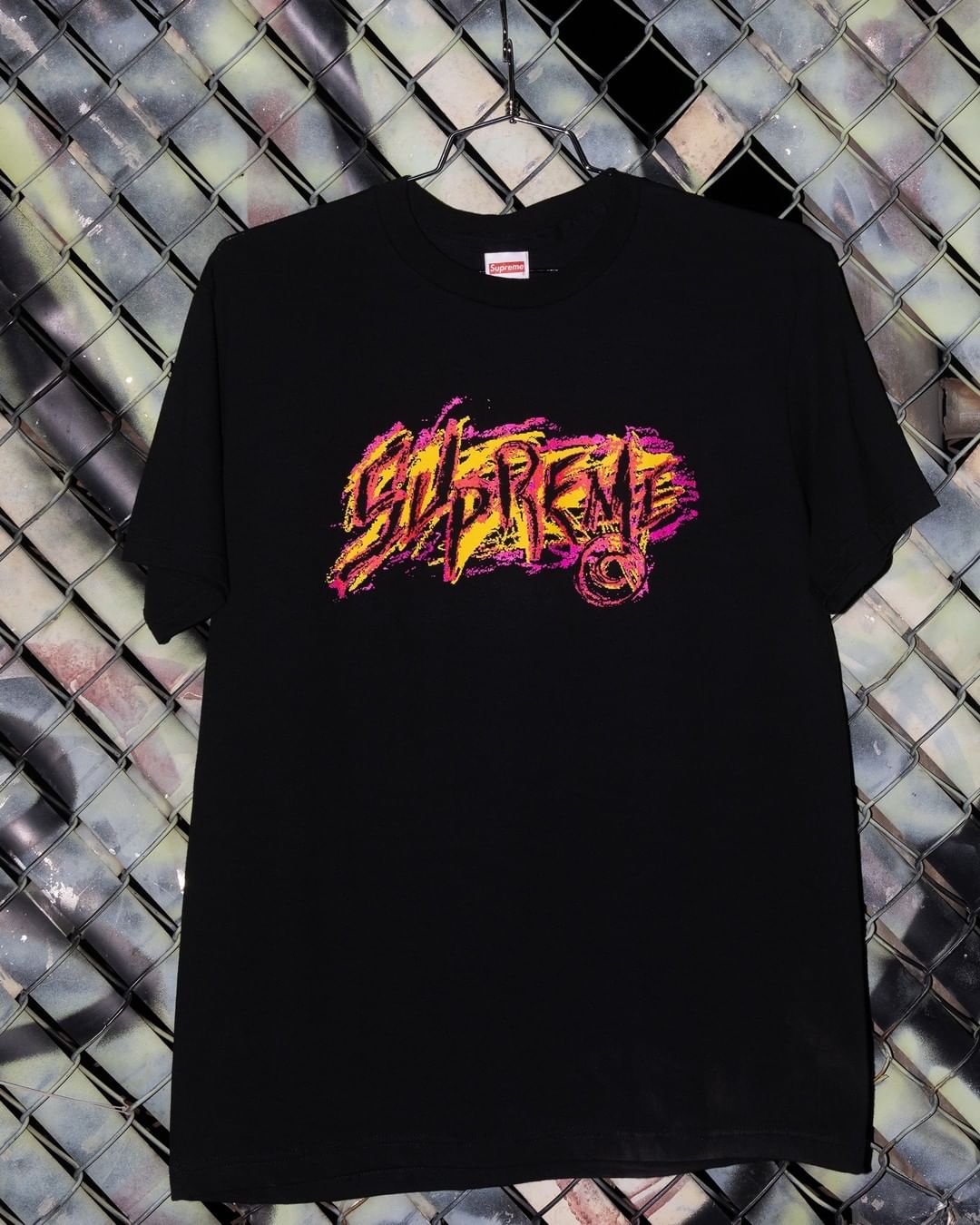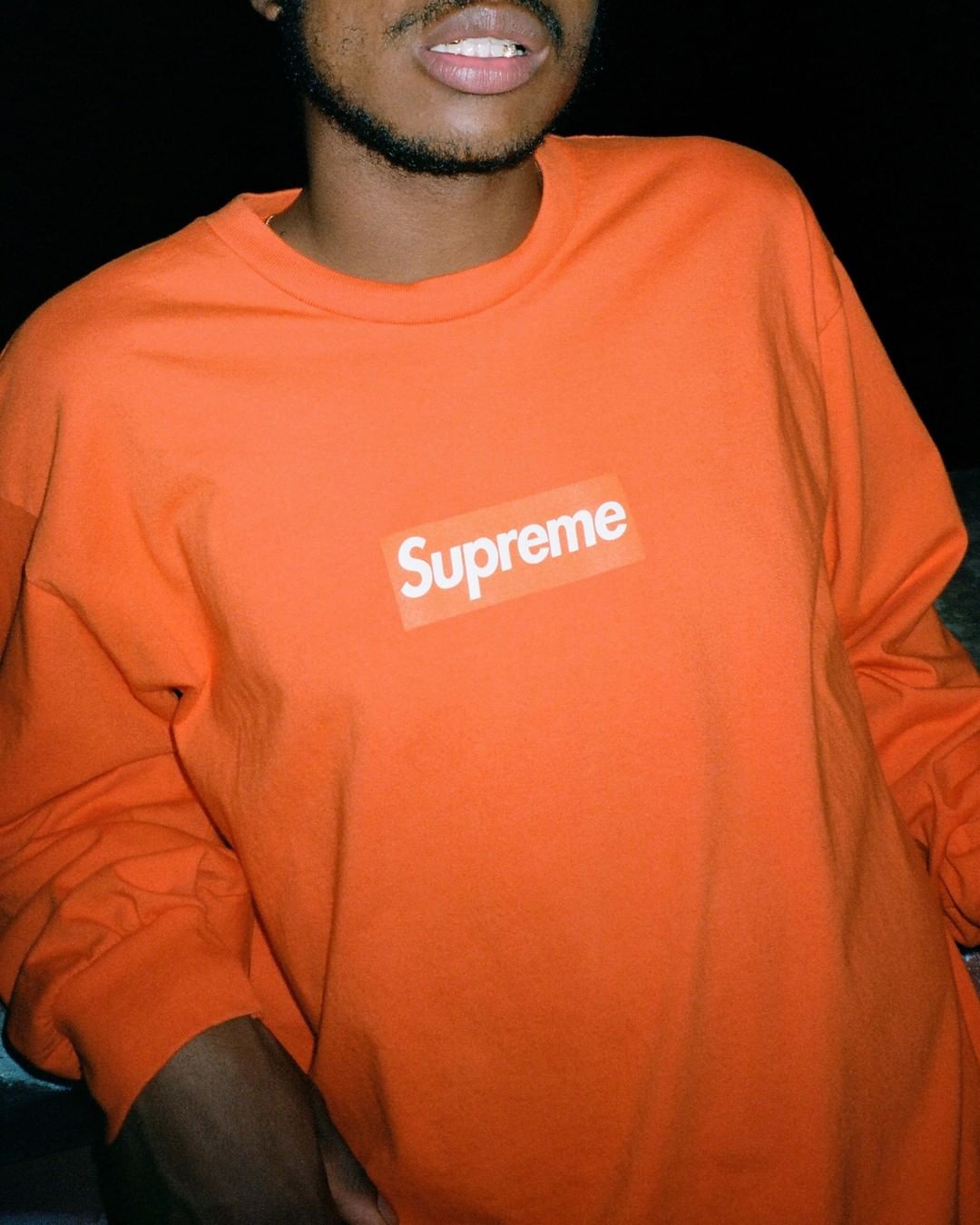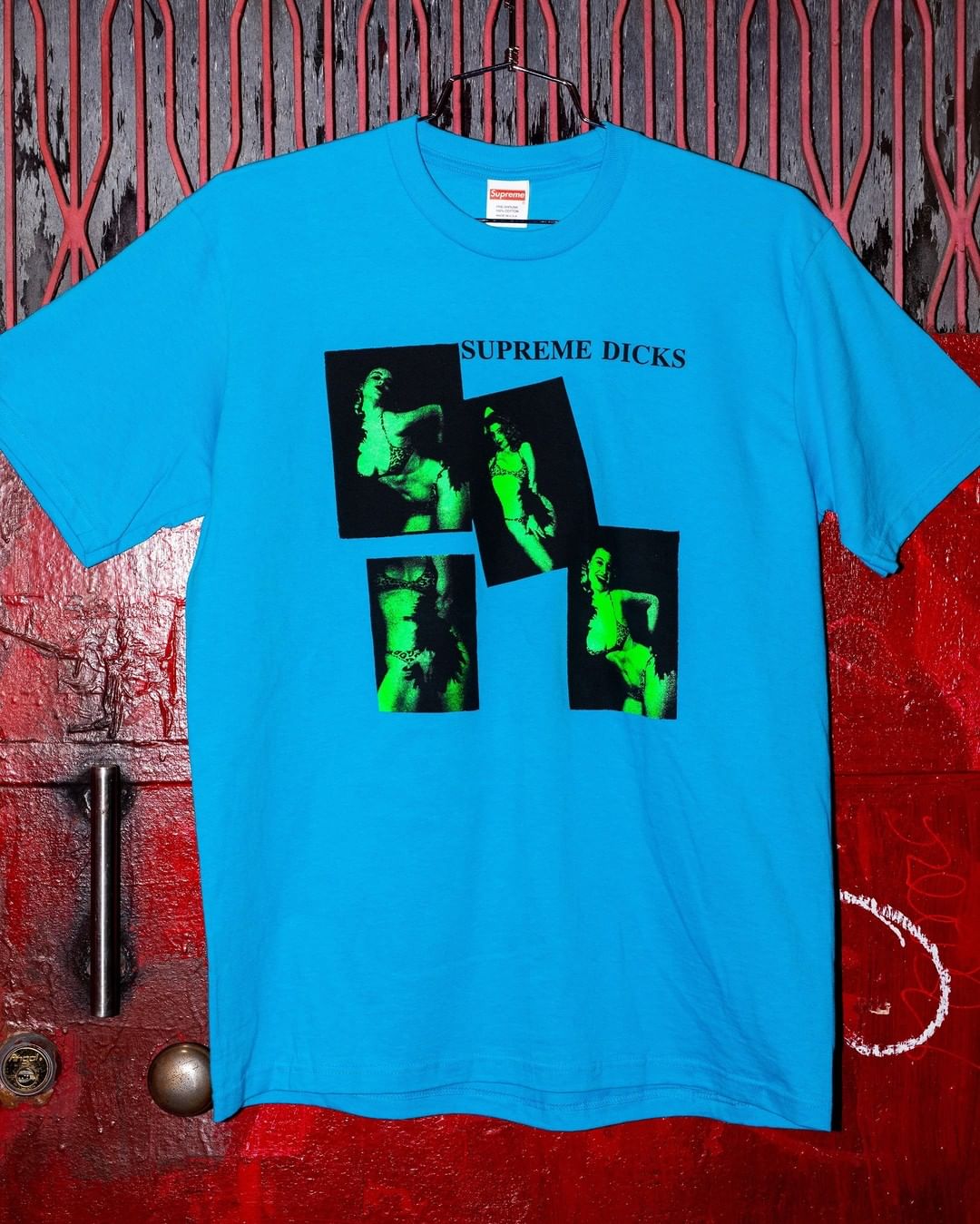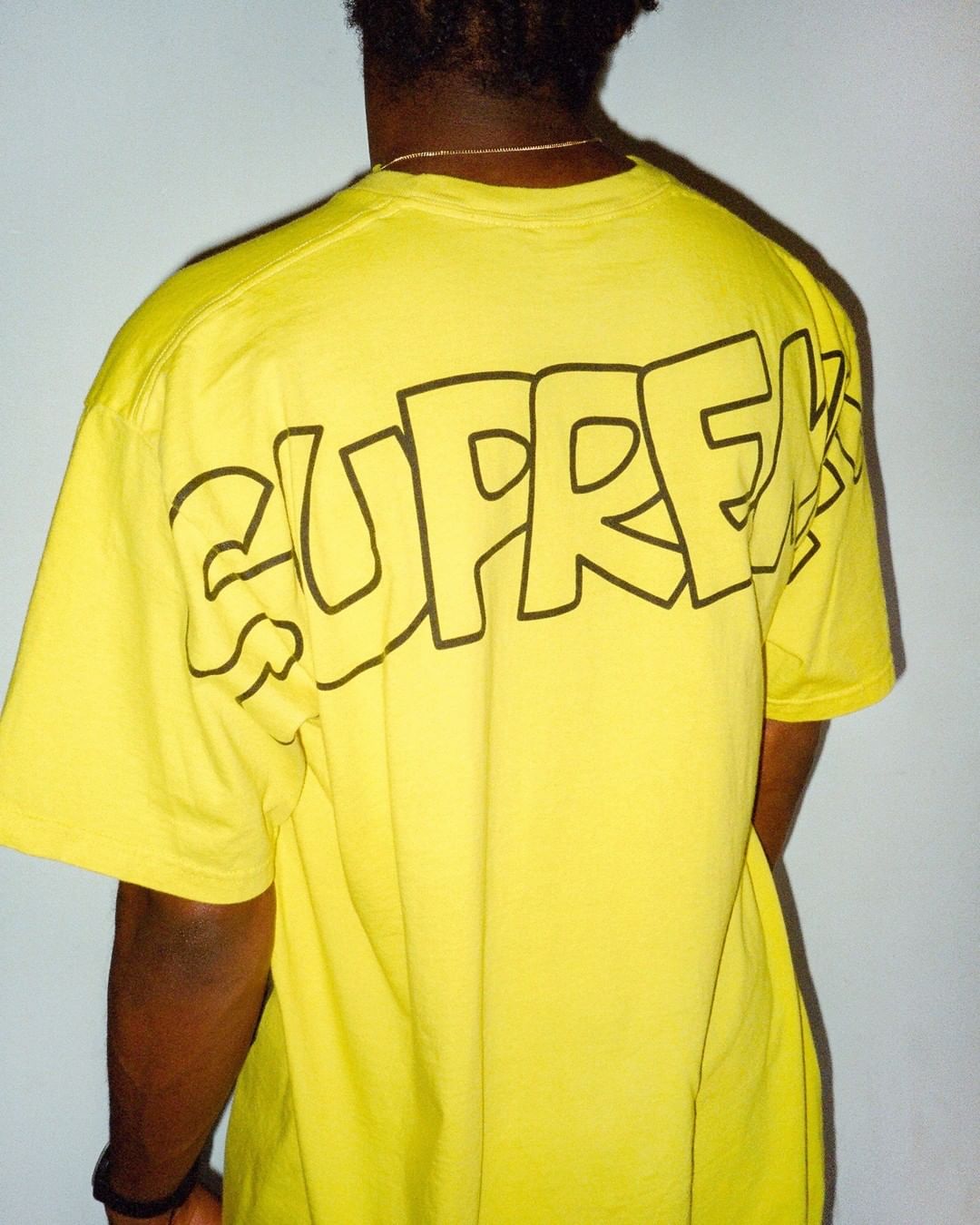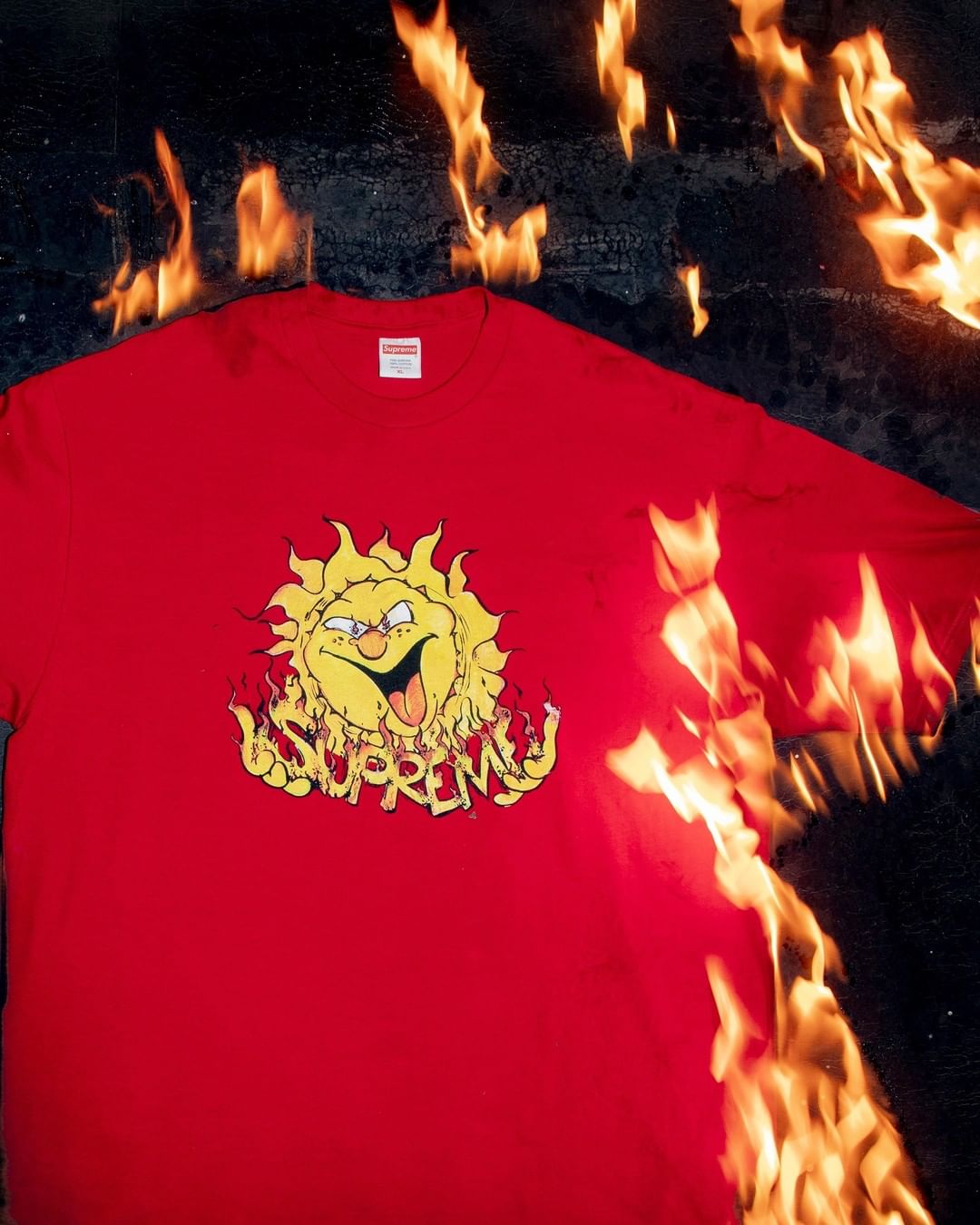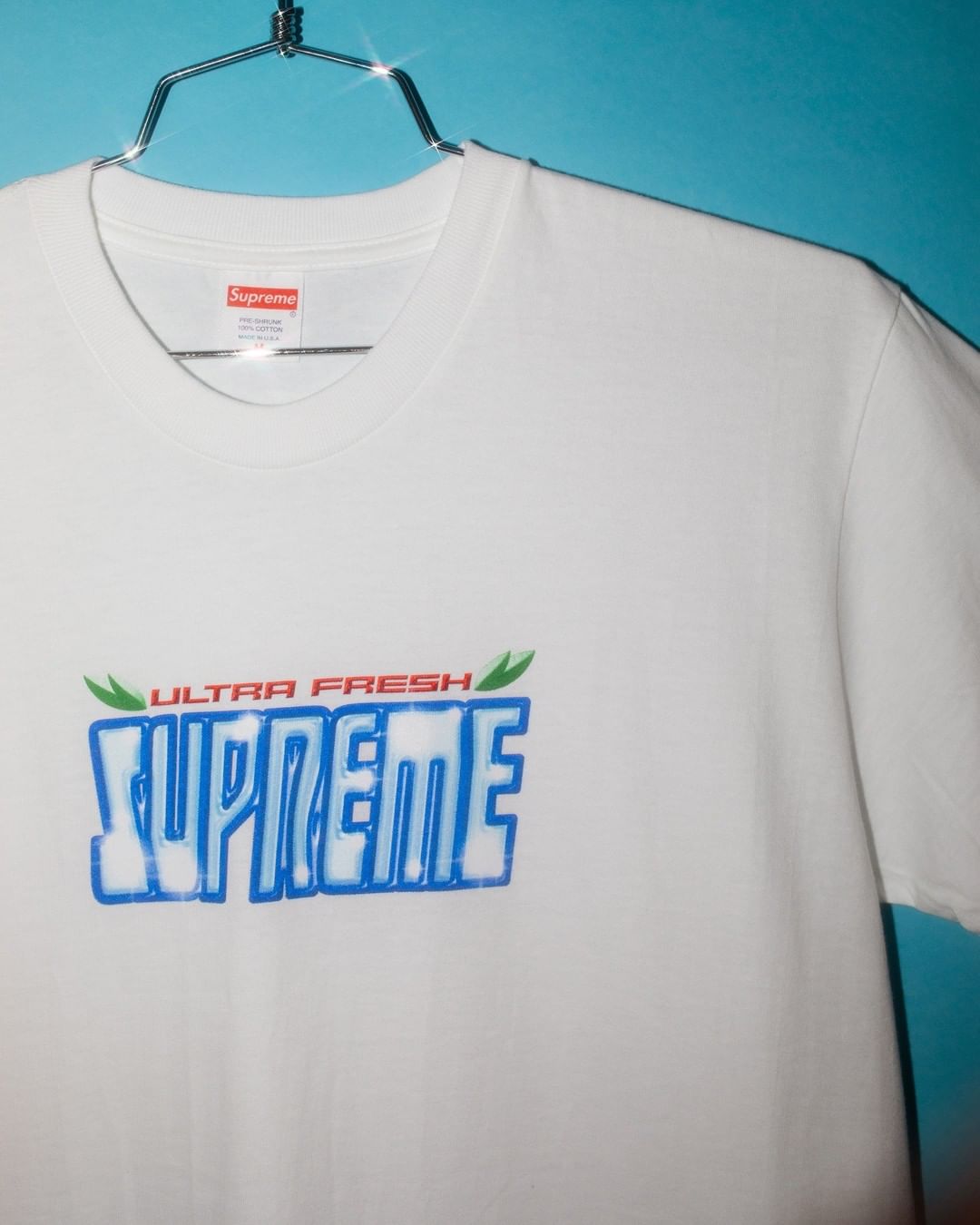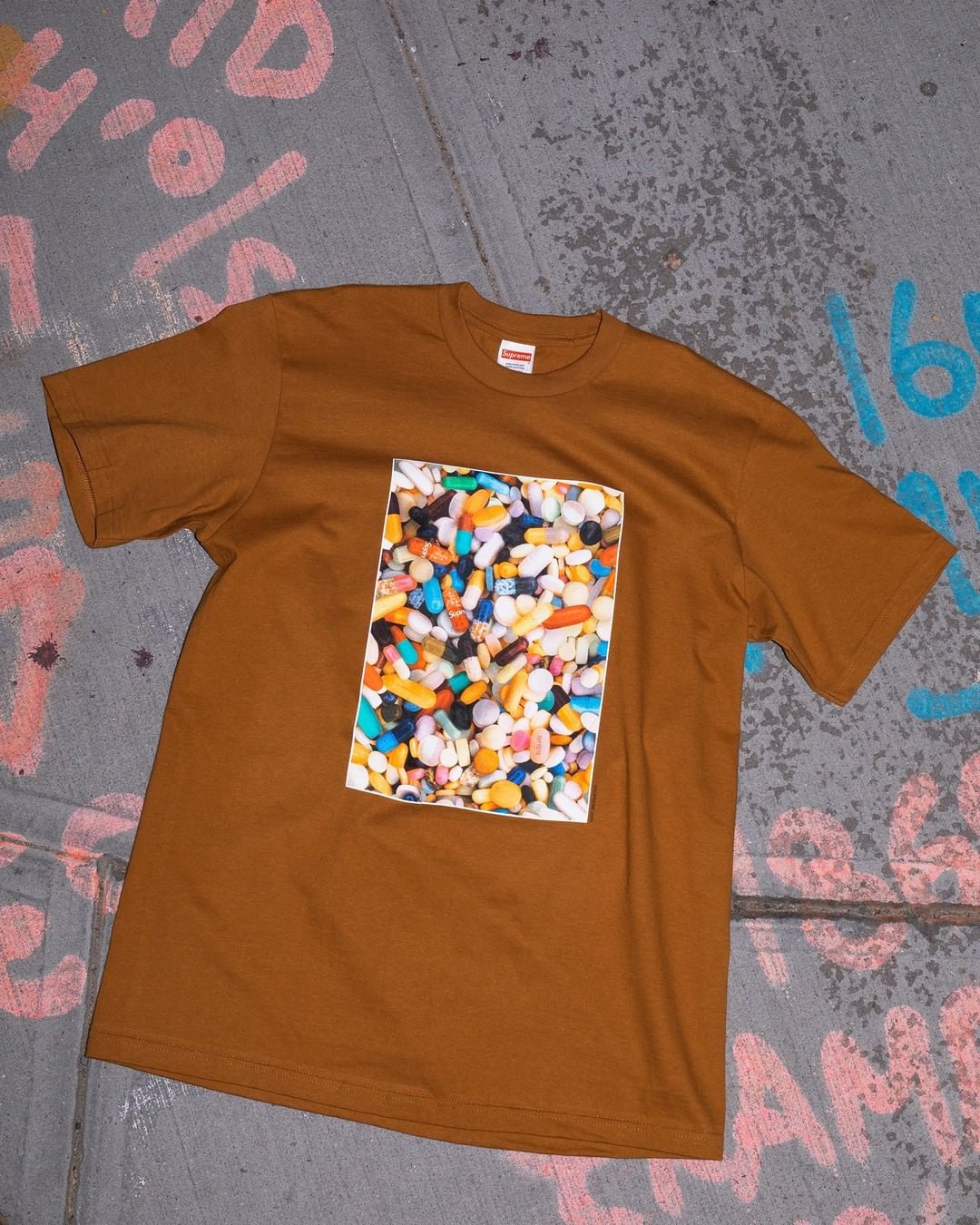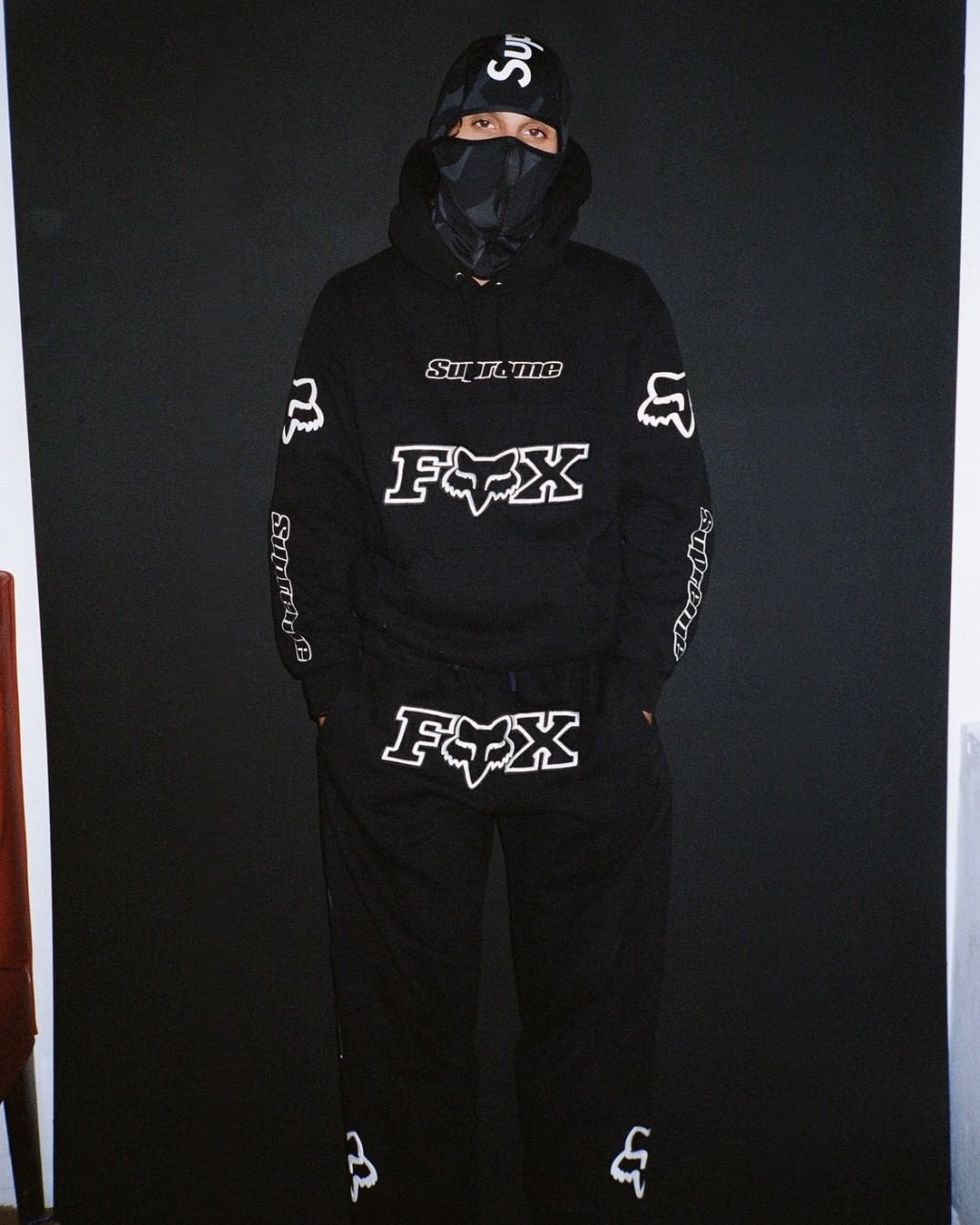 Update 01.10.2020
The weekly news came a little late, but better late than never. Supreme is back with a heavy Smurfs collection in the Supreme Fall/Winter 2020 collection Week 6. In our opinion, this is an absolute highlight of which the leather jacket is the best piece. Also, some skate decks and hoodies will be released.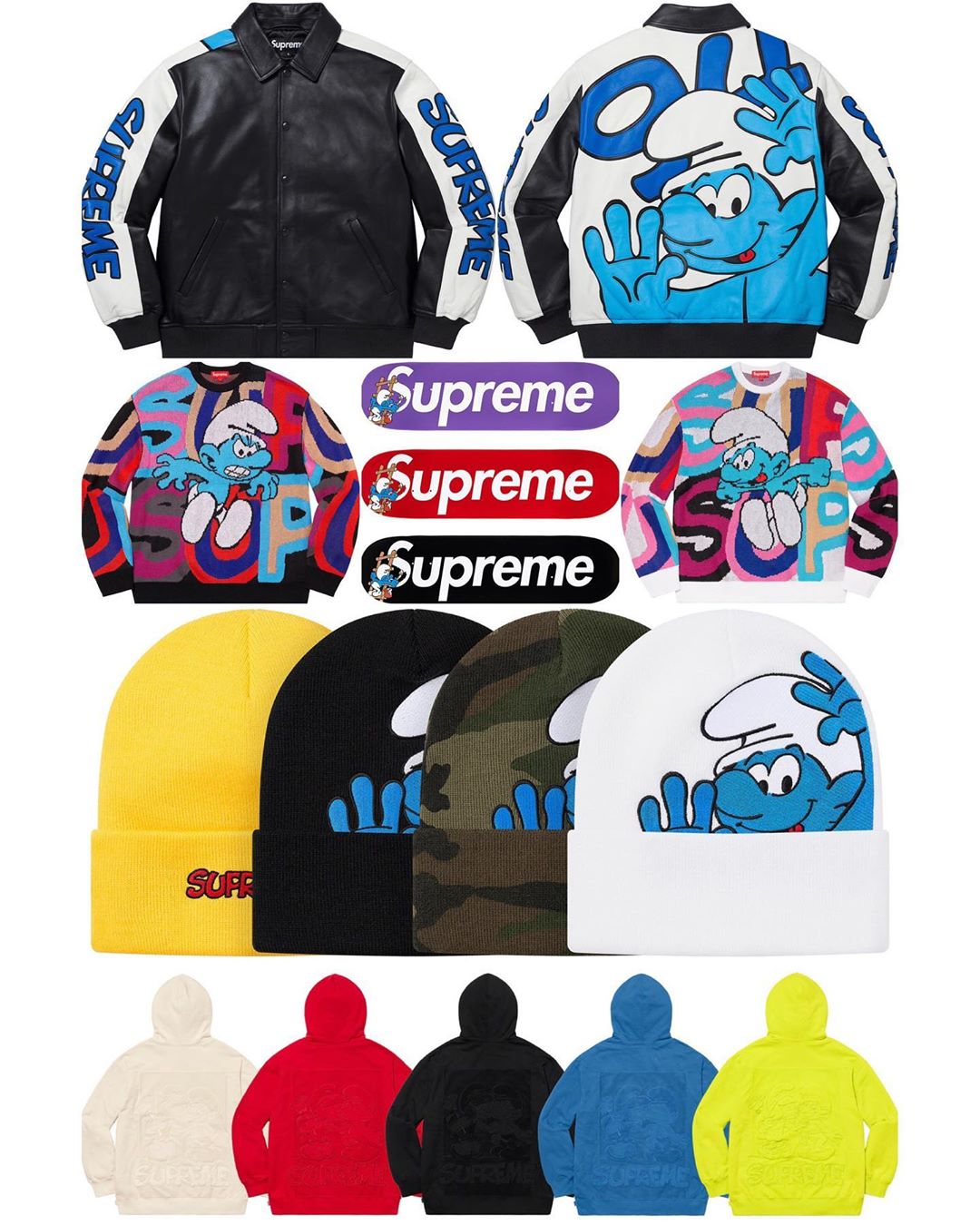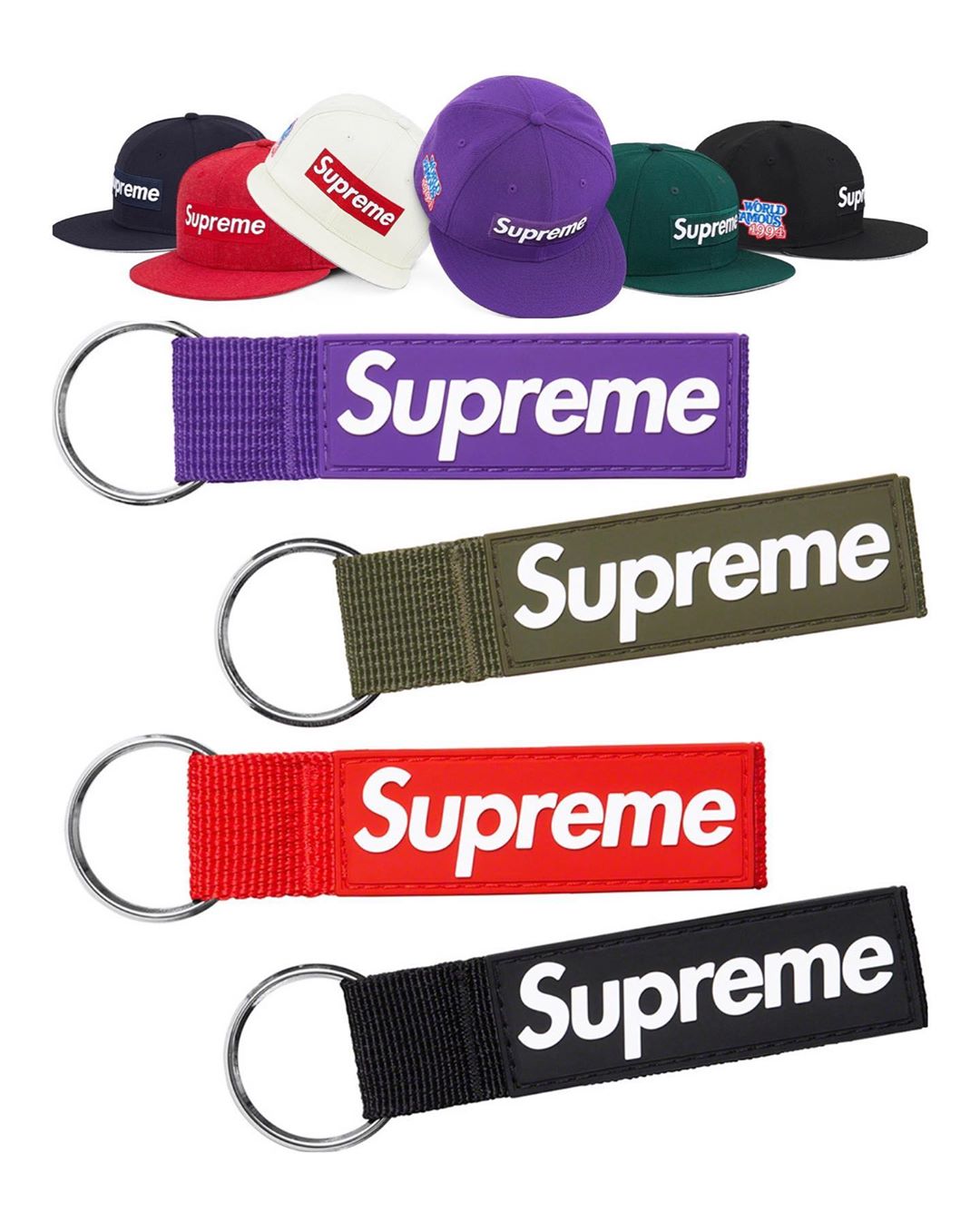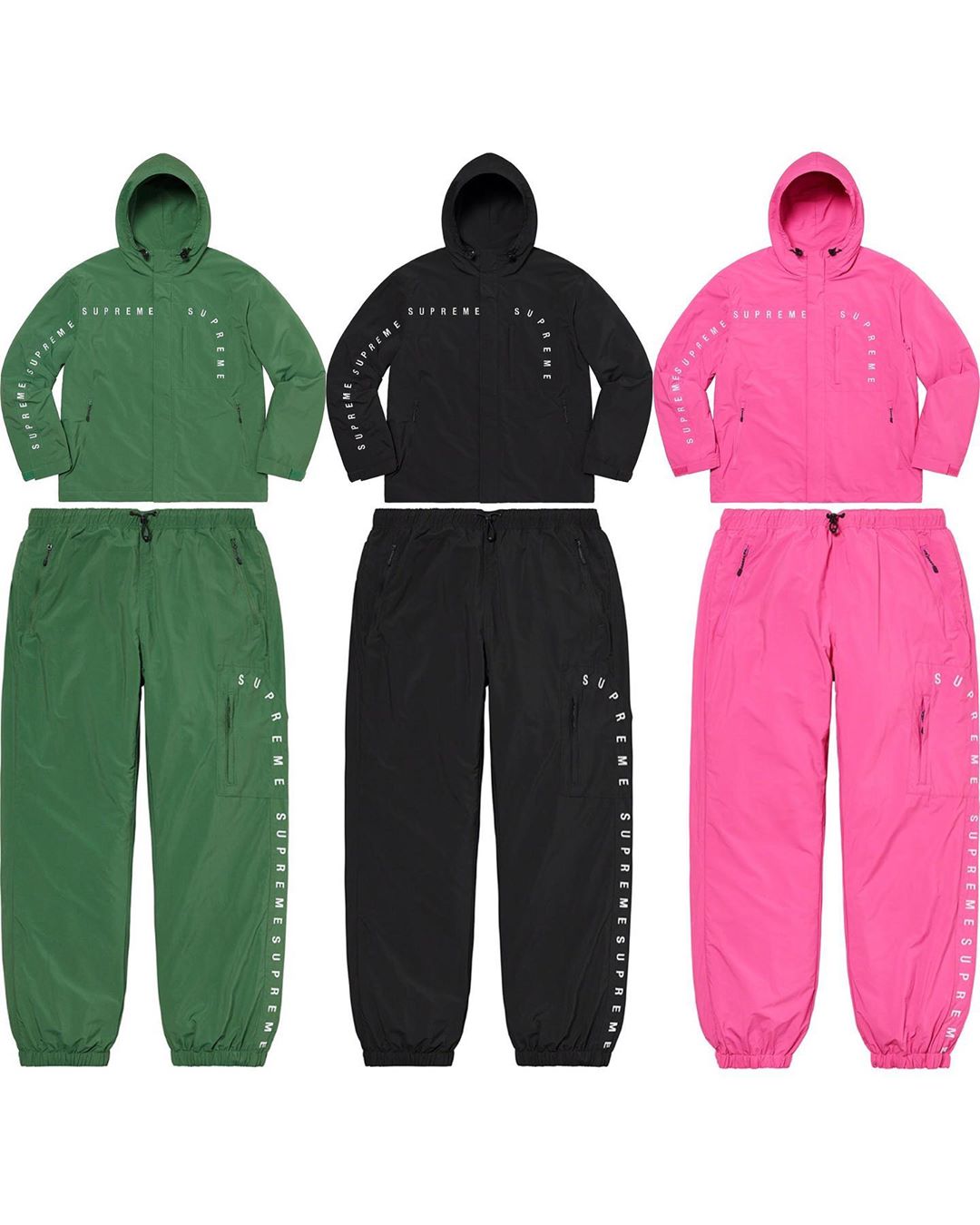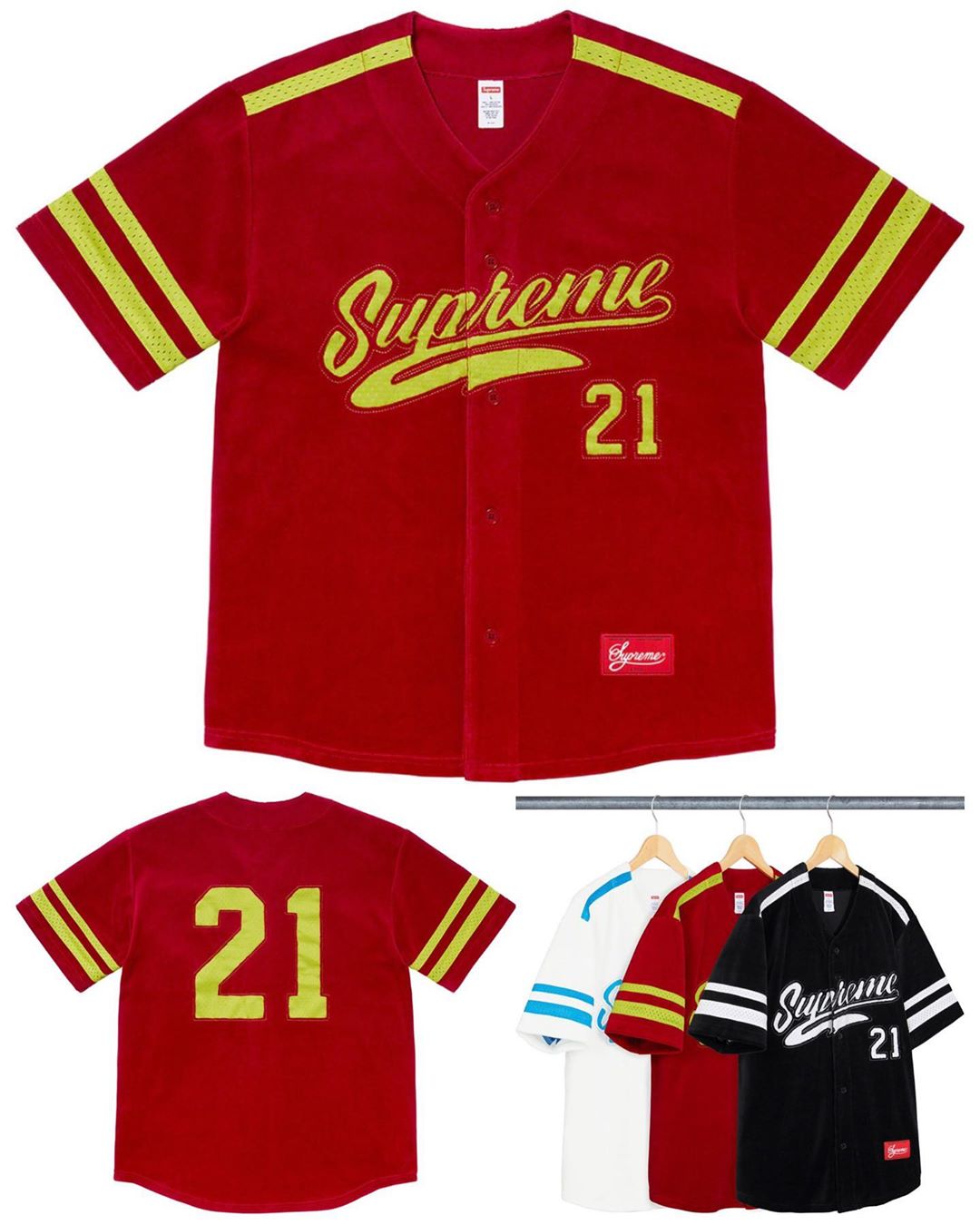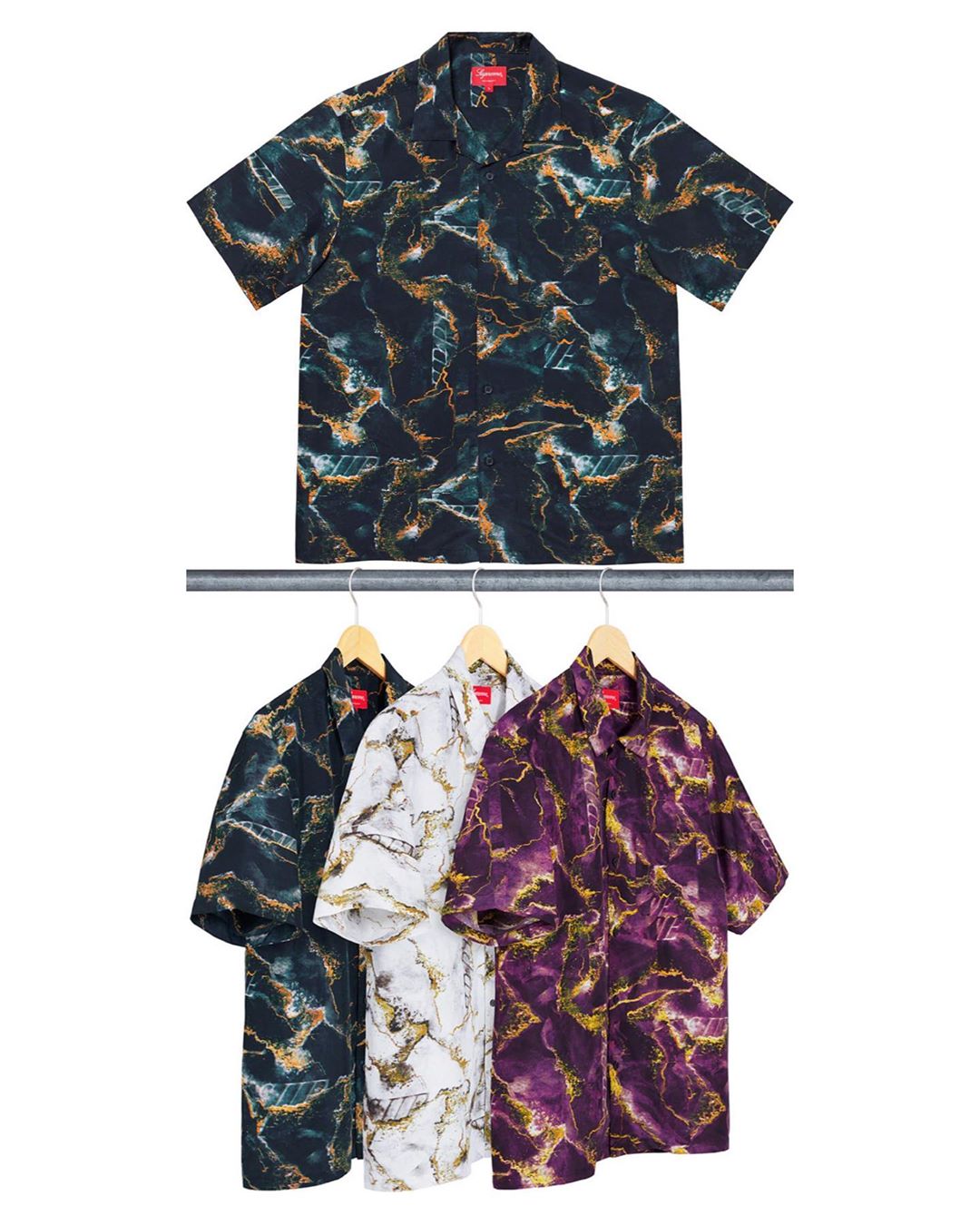 Update 23.09.2020
After the collab with Yohji Yamamoto, we are now proud to present the next pieces from the Supreme Fall/Winter 2020 collection. In Week 5, there are some coloured apparel once again. Furthermore, we can probably expect another strong partner in Week 5, as the previous collection also had a strong partner like Lacoste, Timberland, and The North Face.
And if the leaks for this week are true, then we can expect a collaboration with legendary photographer Joel-Peter Witkin. His expressive images will be featured on numerous hoodies, tees, and long sleeves.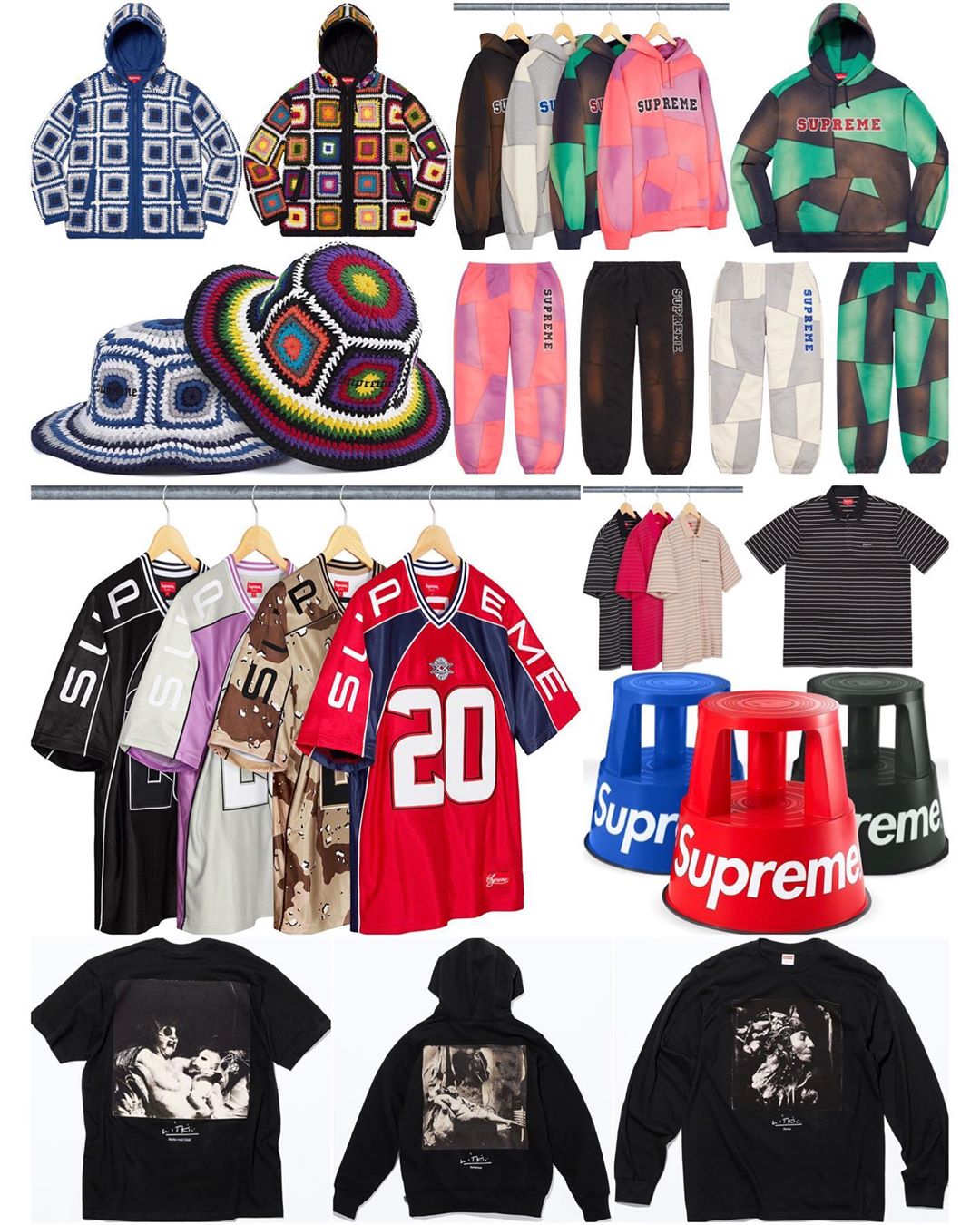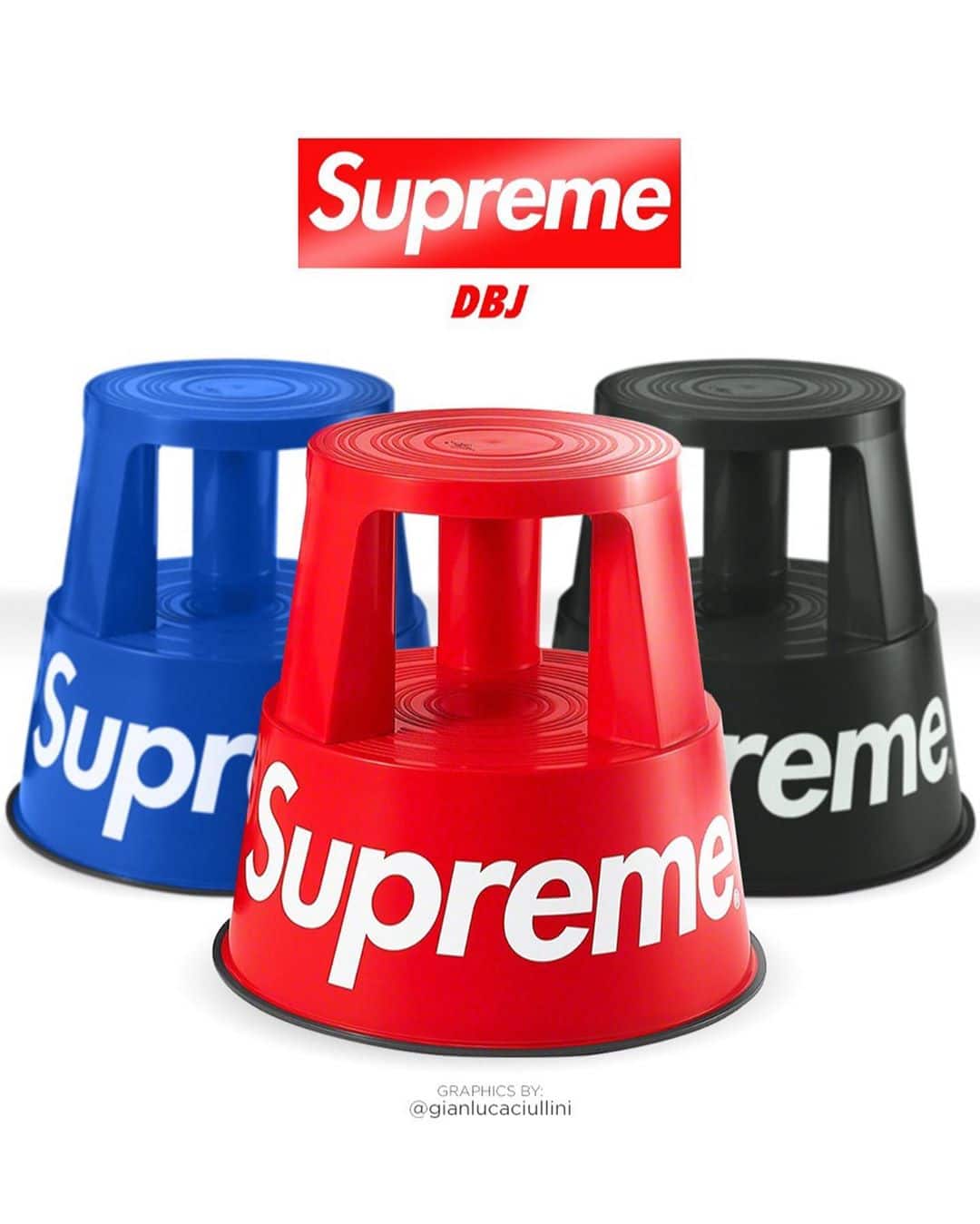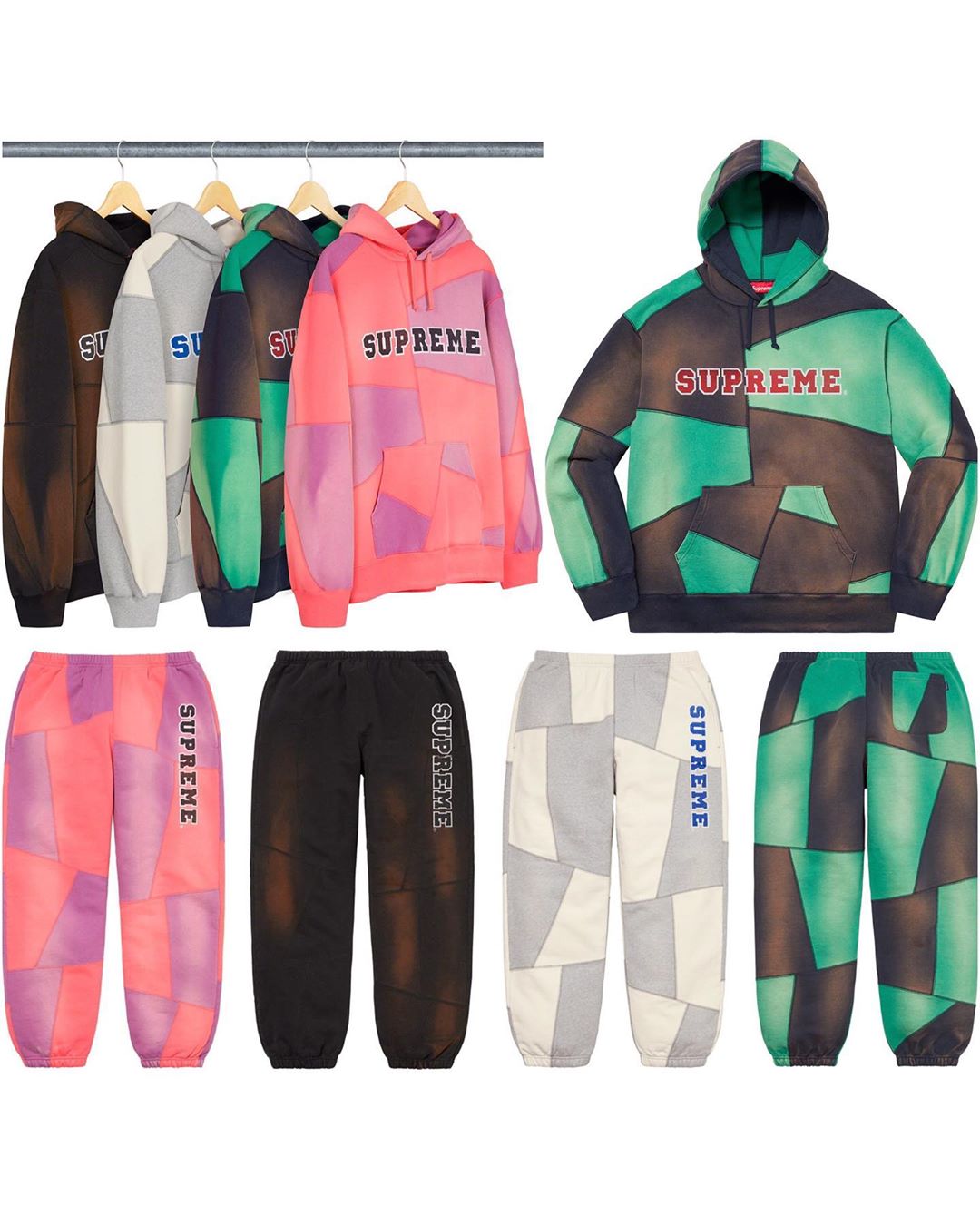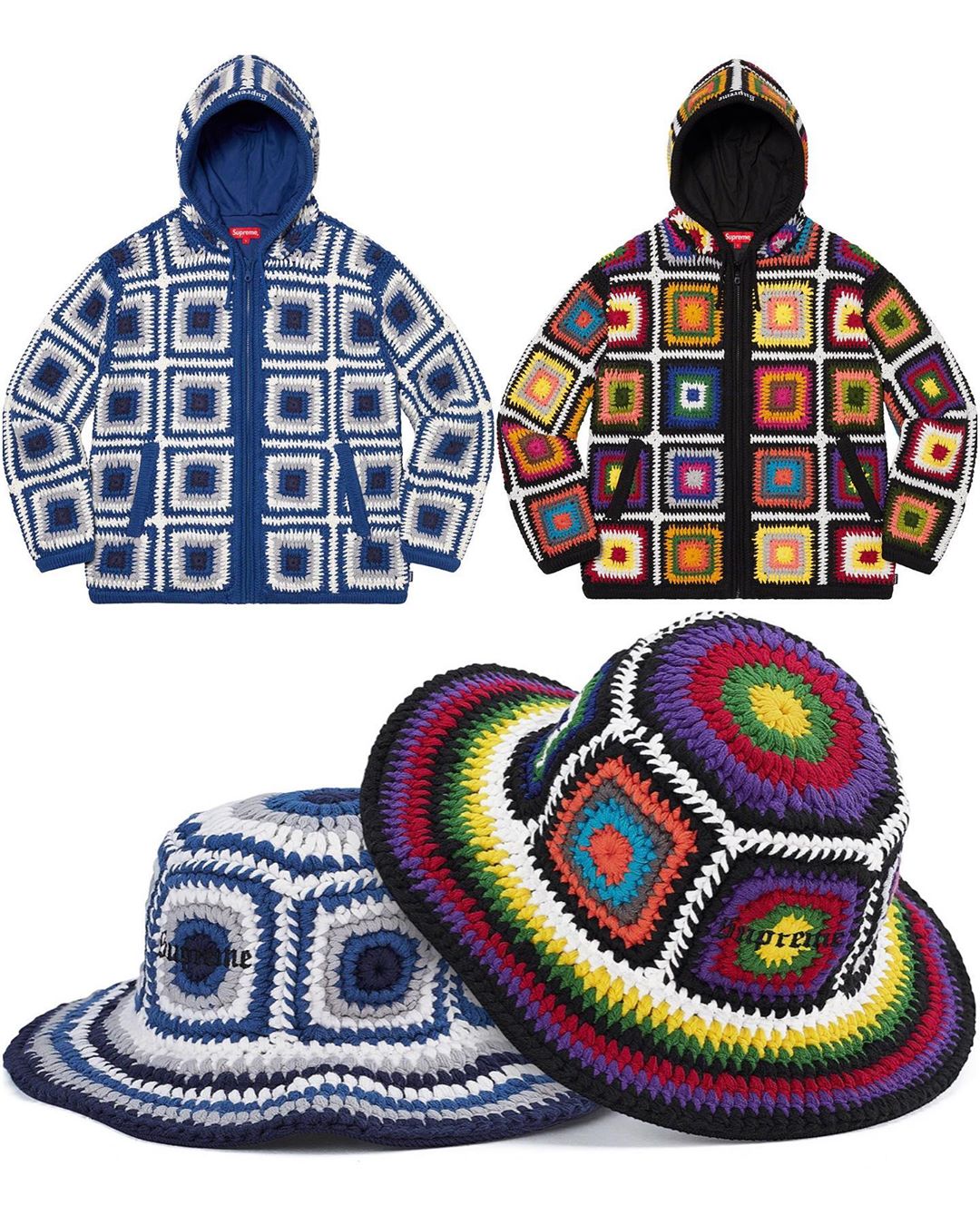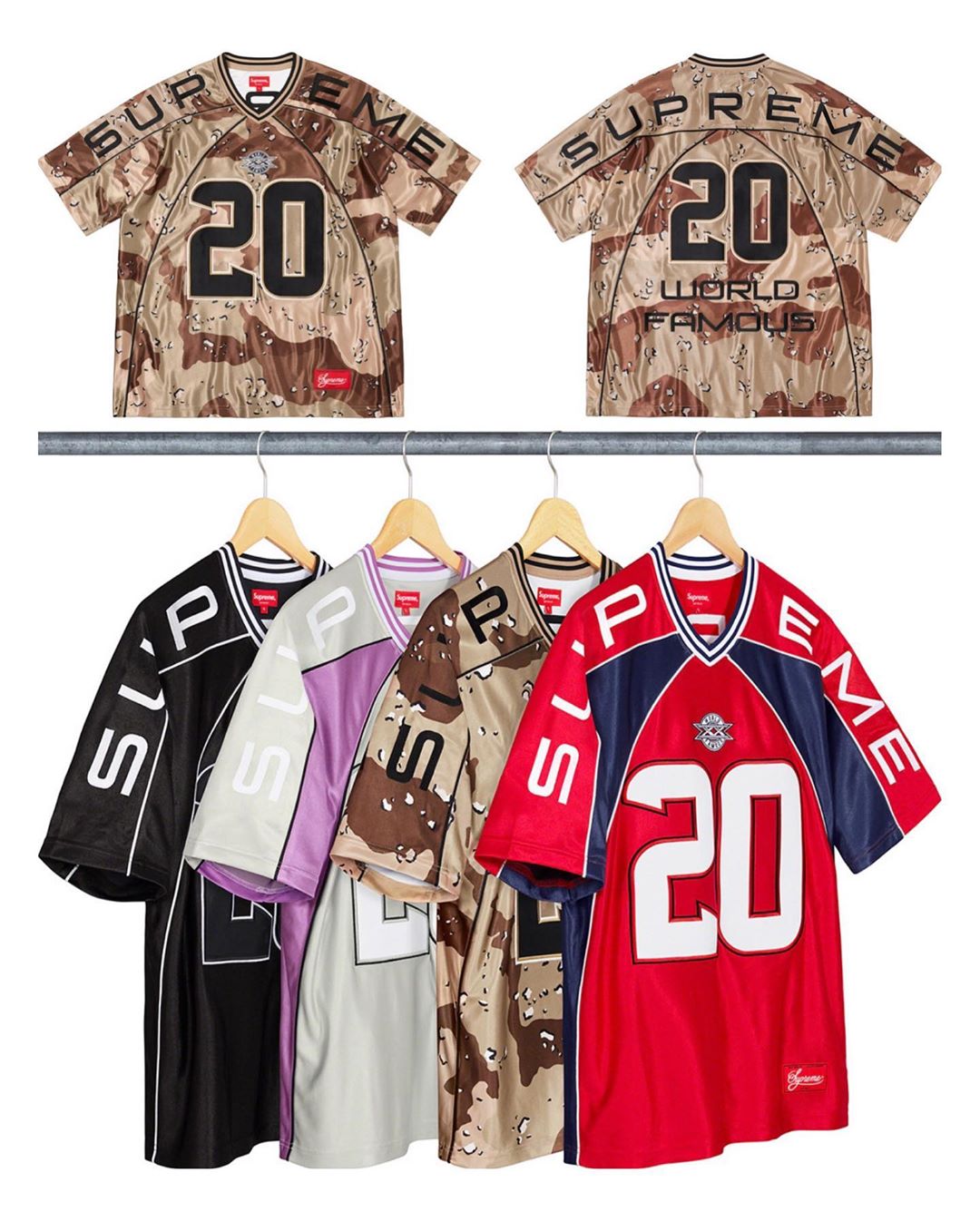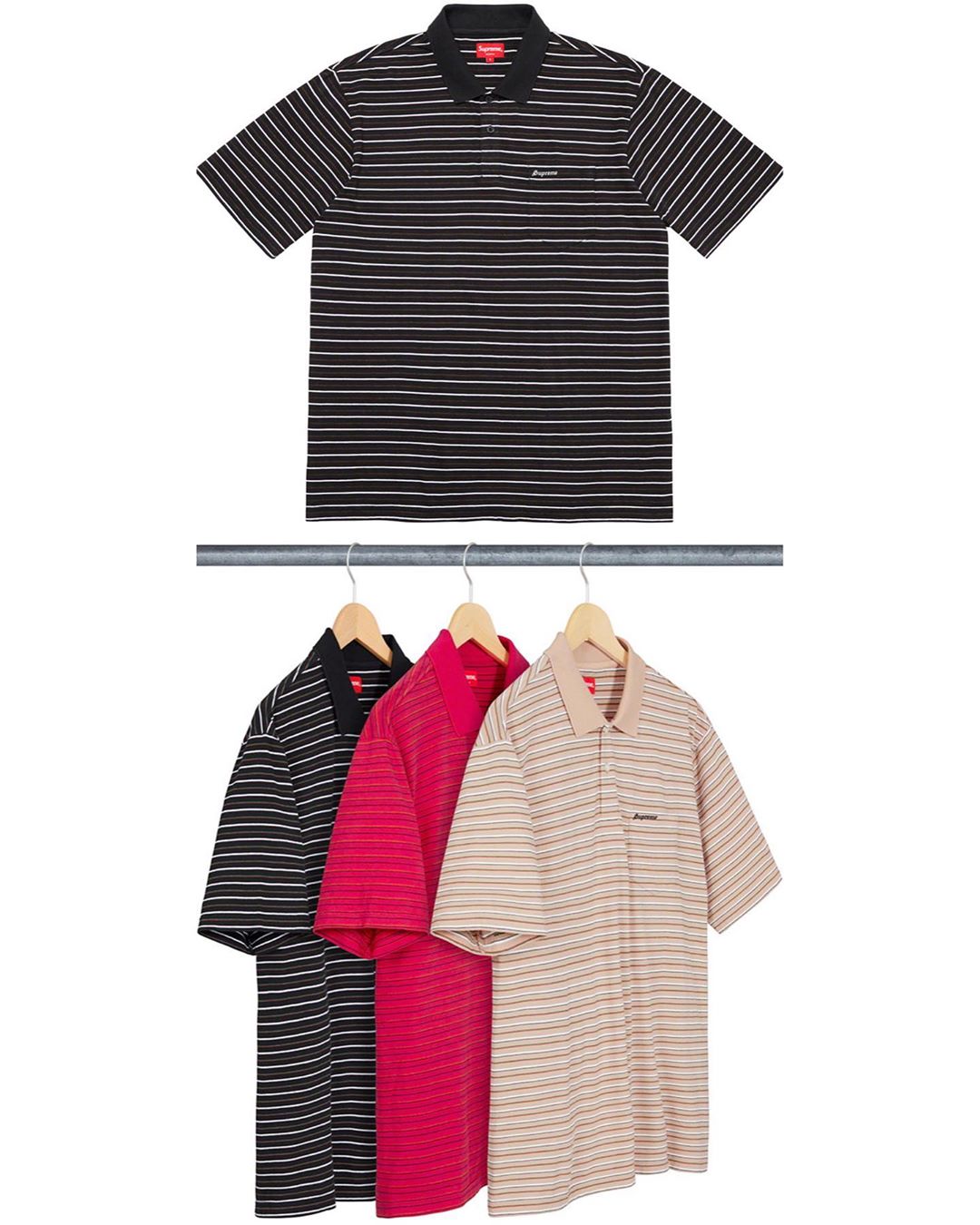 Update 16.09.2020
The Supreme and Yohji Yamamoto collection was expected weeks ago, but it has been postponed each time. Now, the time has finally come. Supreme will finally release the Yohji Yamamoto x Supreme collection in Week 4 of the Supreme Fall/Winter Collection 2020.
Previously, Supreme mentioned the fashion designer and his work on Instagram: "Yohji Yamamoto is one of the most influential fashion designers living and working today. As a master with a rebellious spirit, Yohji's transformative impact can be felt far beyond the runway. In almost 50 years, he has fundamentally changed the way people dress in their everyday lives."
A total of eight pieces with different prints and colours will drop at Supreme on September 17th. Take a look at the pictures here in advance. In addition, a RIDGID pipe wrench in Supreme style will be released.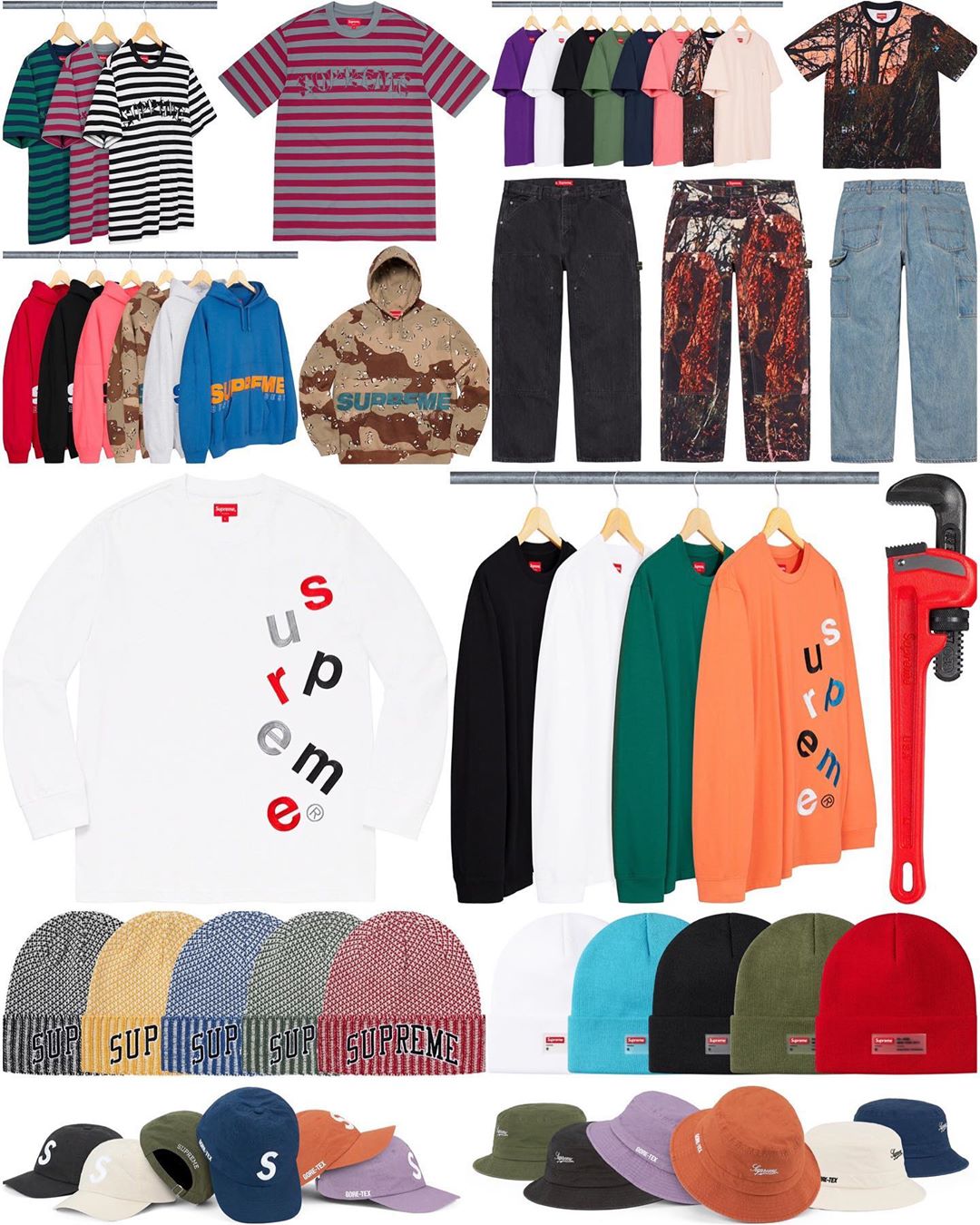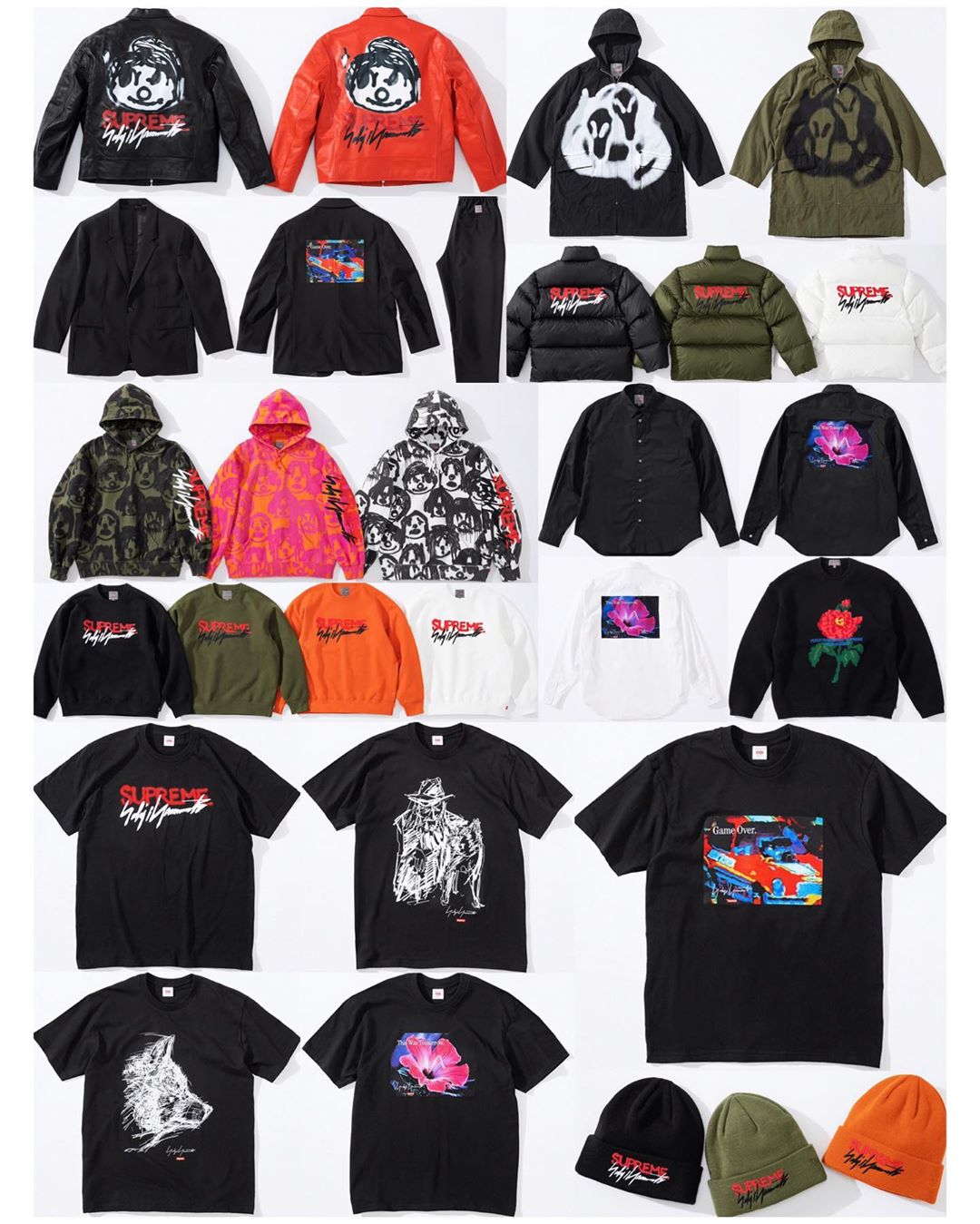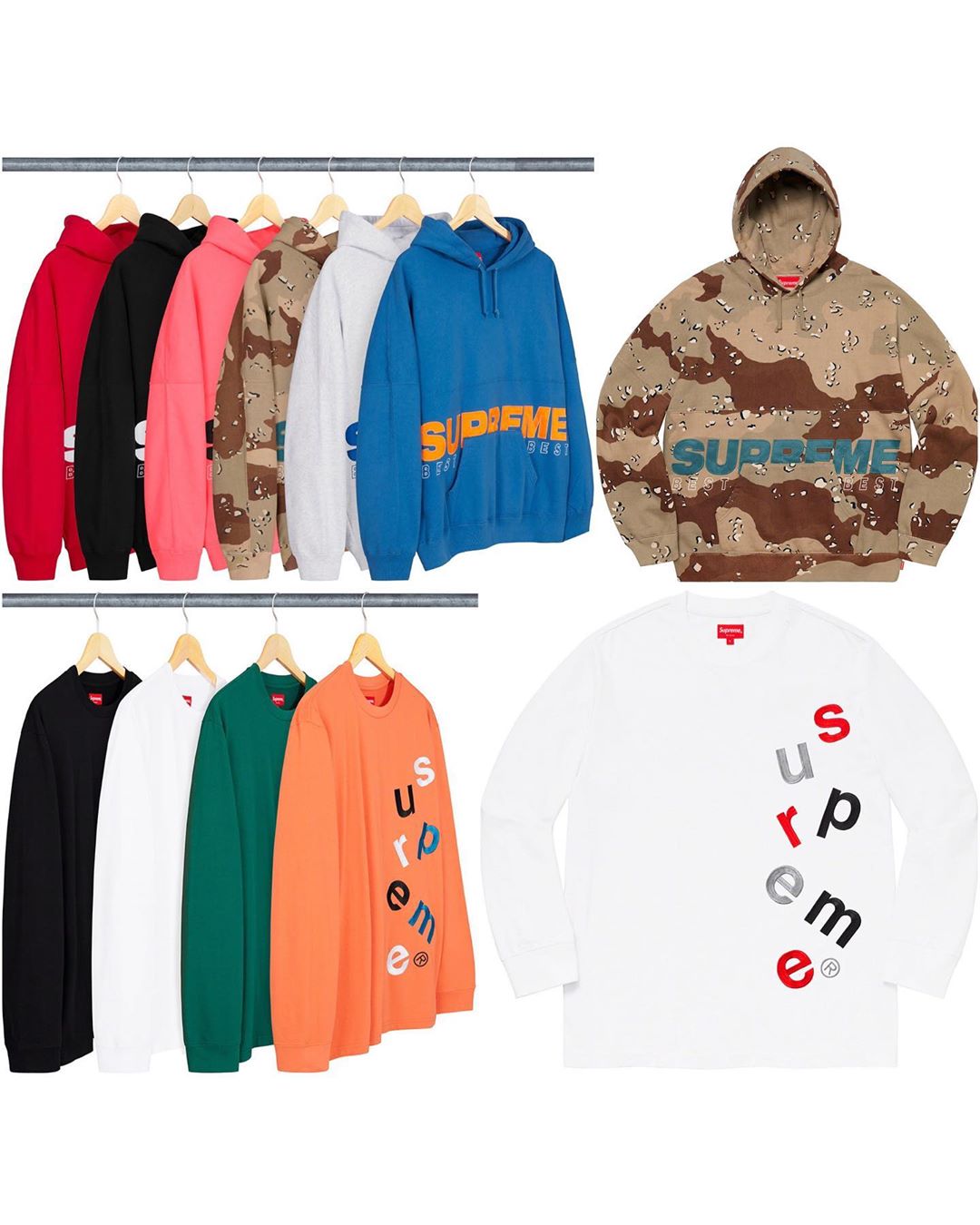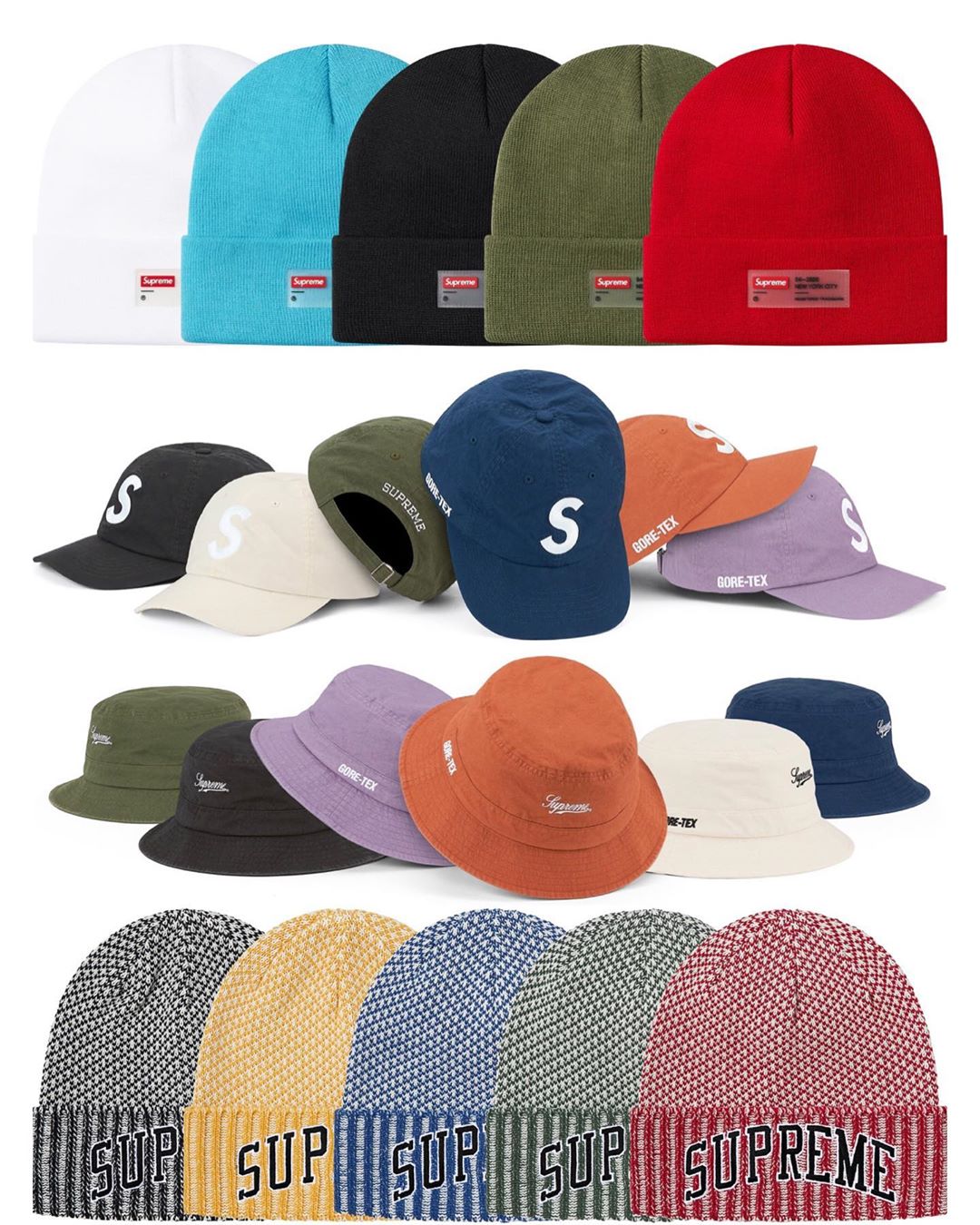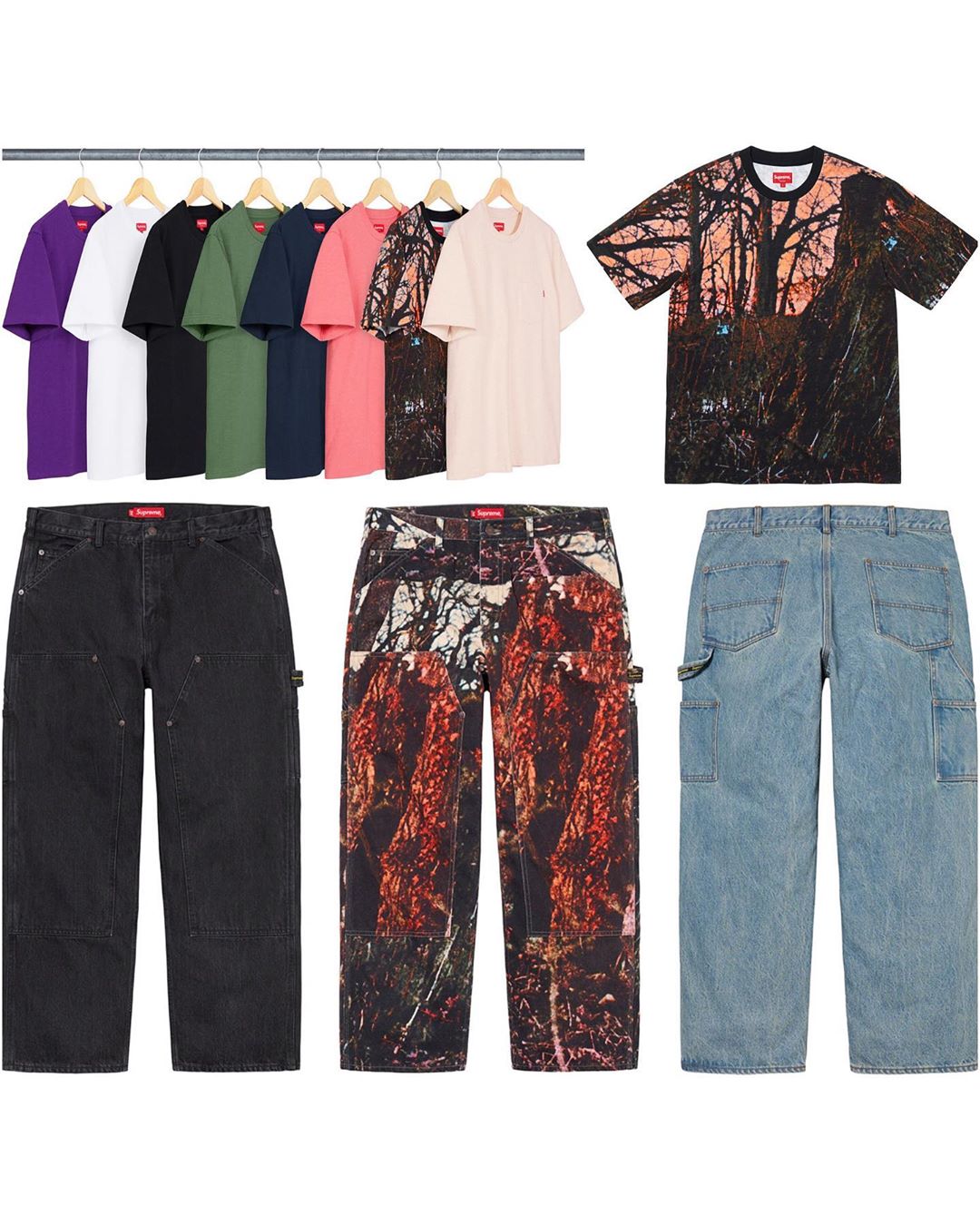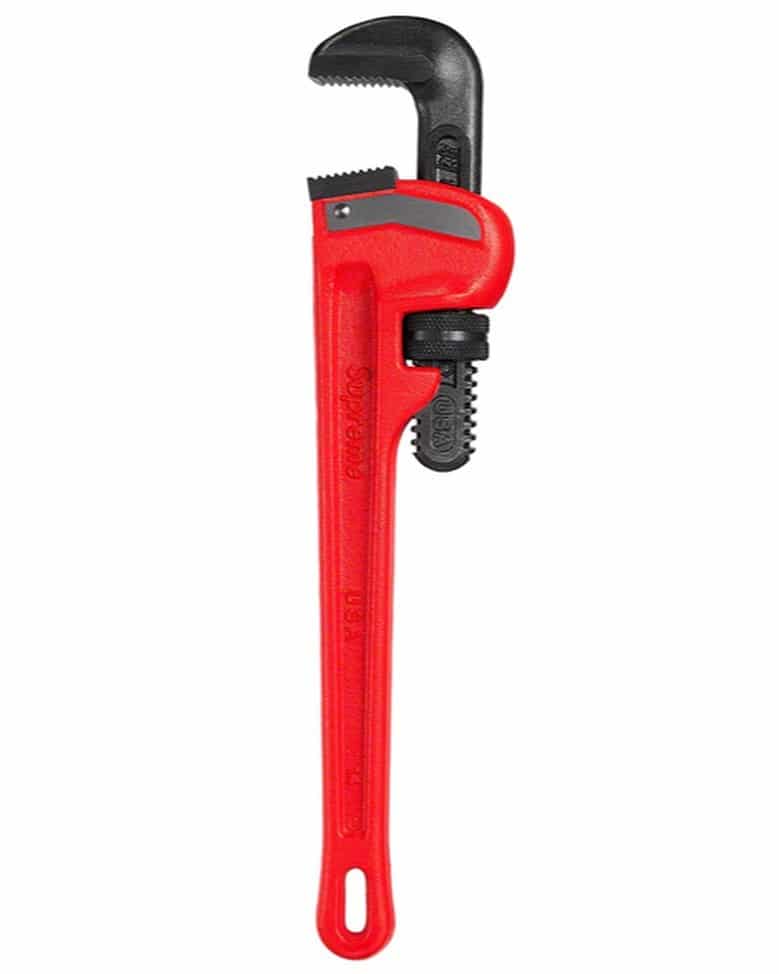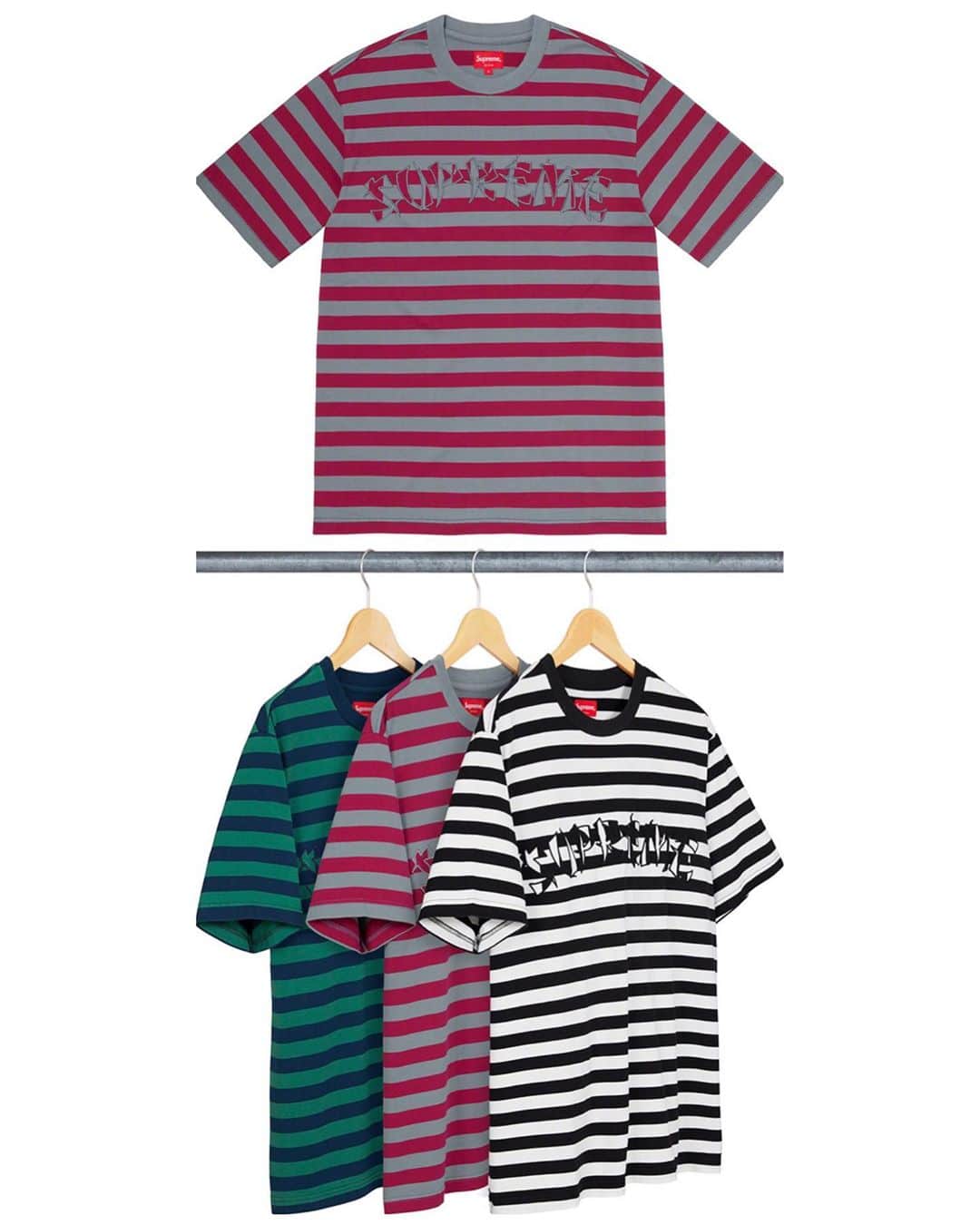 pics by @dropsbyjay
Update 09.09.2020
We are currently in Week 3 of the Supreme Fall/Winter collection 2020 and we can again look forward to some really interesting highlights. The long anticipated Vans x Supreme collaboration is definitely one of them with some heavy styles.
Another coveted item from the collection is dropping tomorrow on September 10th as well - the Supreme Pat McGrath lipstick!
Supreme is coming up with a very unusual collaboration this week, as the Supreme x Mophie jump starter releases. Yes, you heard that right! You can charge your cell phone and the battery of your car with that thing.
As usual, the release of the new items is on Thursday at 11:00 AM and happens exclusively via supremenewyork.com.
Good luck!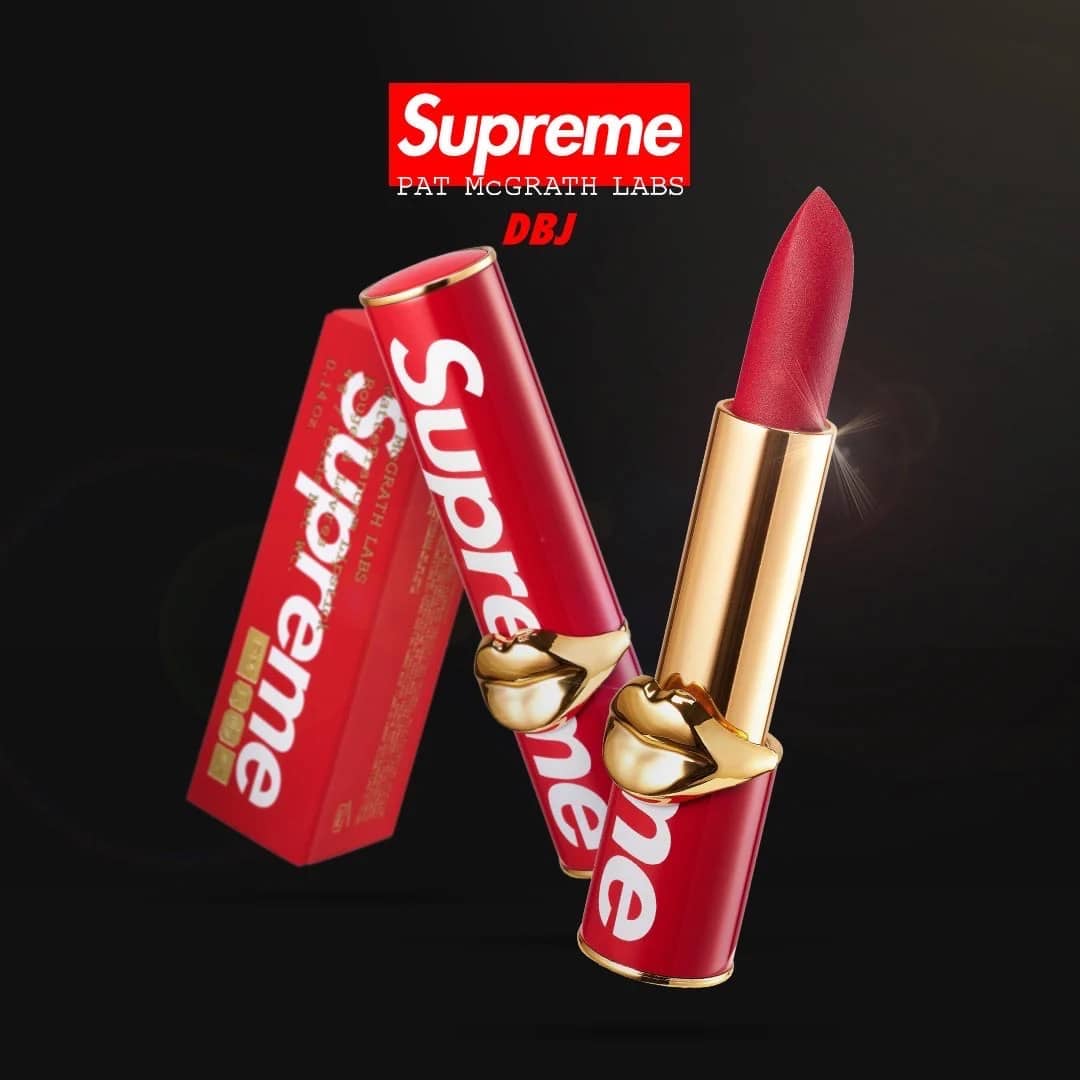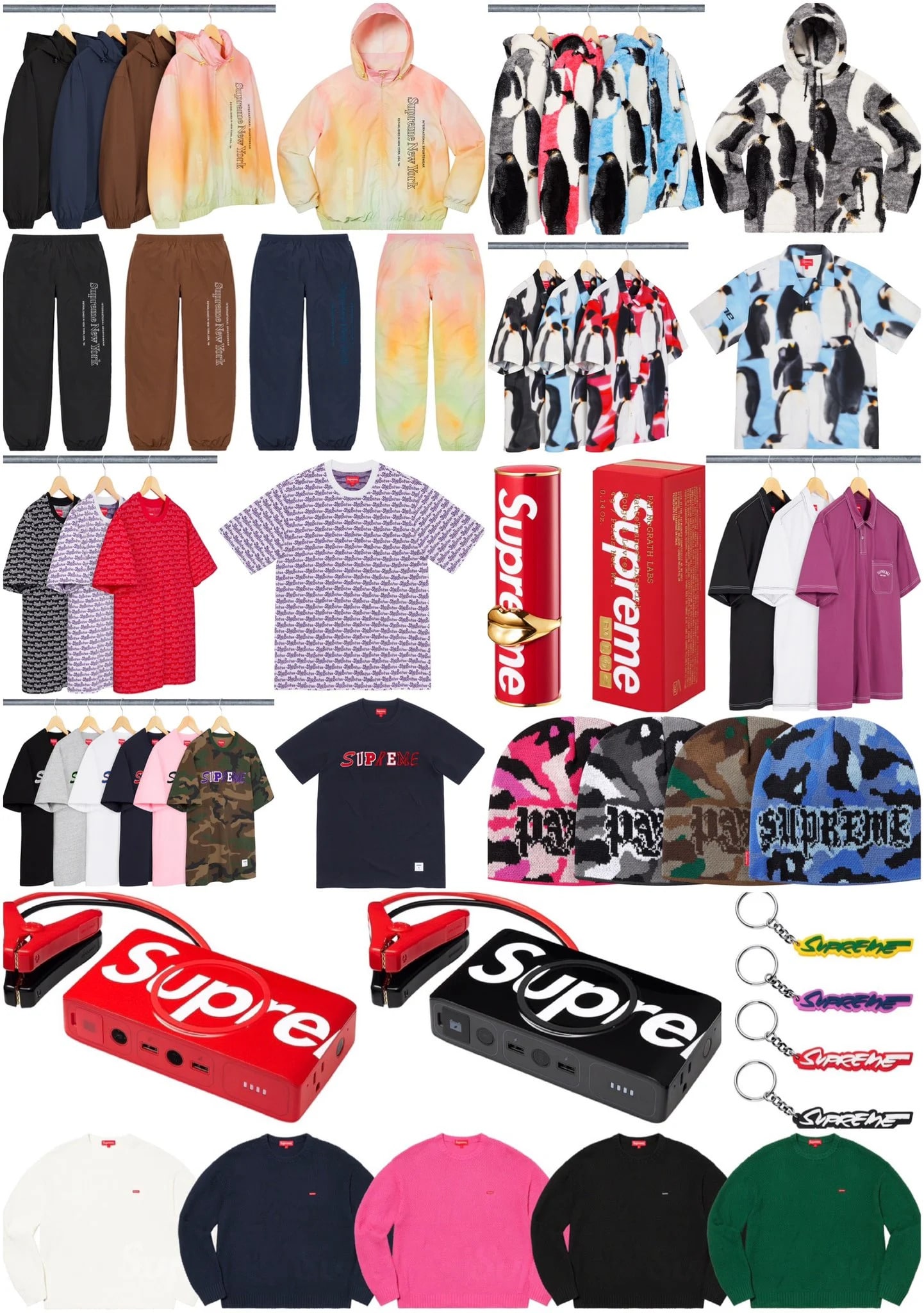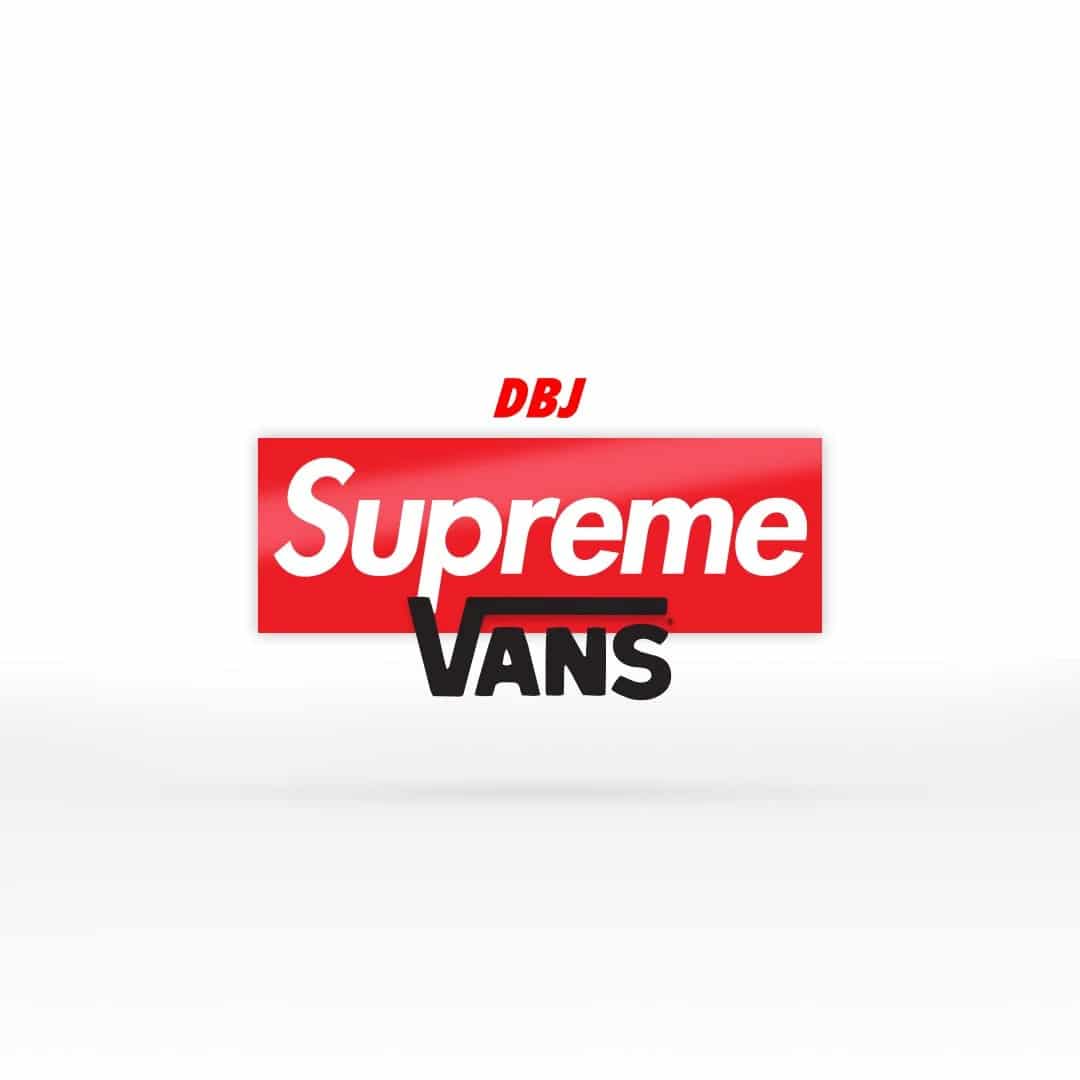 Update 02.09.2020
Some hypebeasts were probably expecting the collection with Supreme and Yohji Yamamoto, but for some inexplicable reason, the collaboration was postponed. In return fashion enthusiasts can now expect a Supreme x Nike collection in the Supreme Fall/Winter 2020 Collection Week 2.
Although the Air Max Plus and Air Trainer are not part of the drop, they are releasing some heavy apparel with co-branding. The pieces include jackets, crewnecks, jerseys, shorts and pants. Metal folding chairs in black and red as well as a mini flask will also drop. The release of the Week 2 collection will be on September 3rd at the Supreme Store.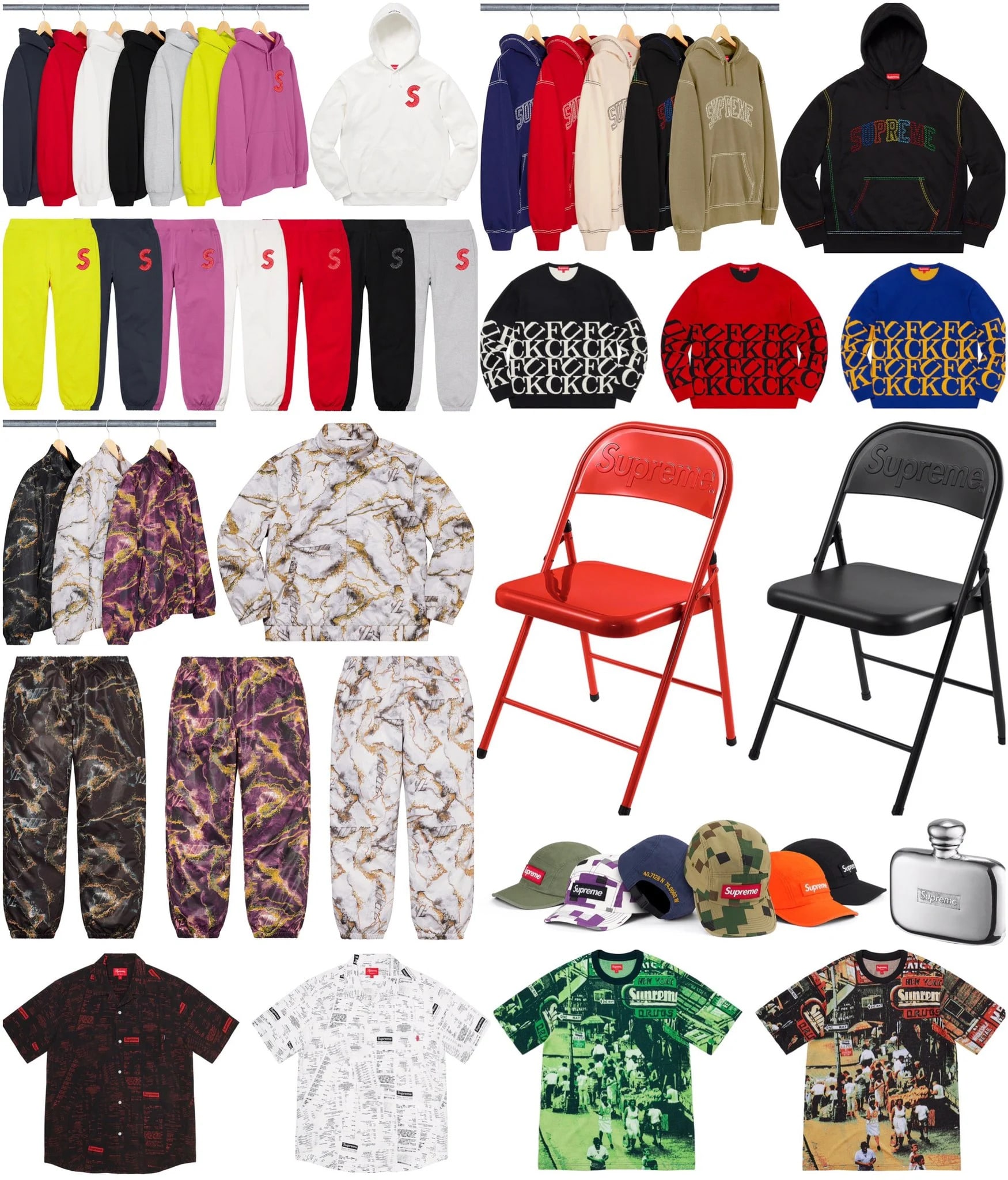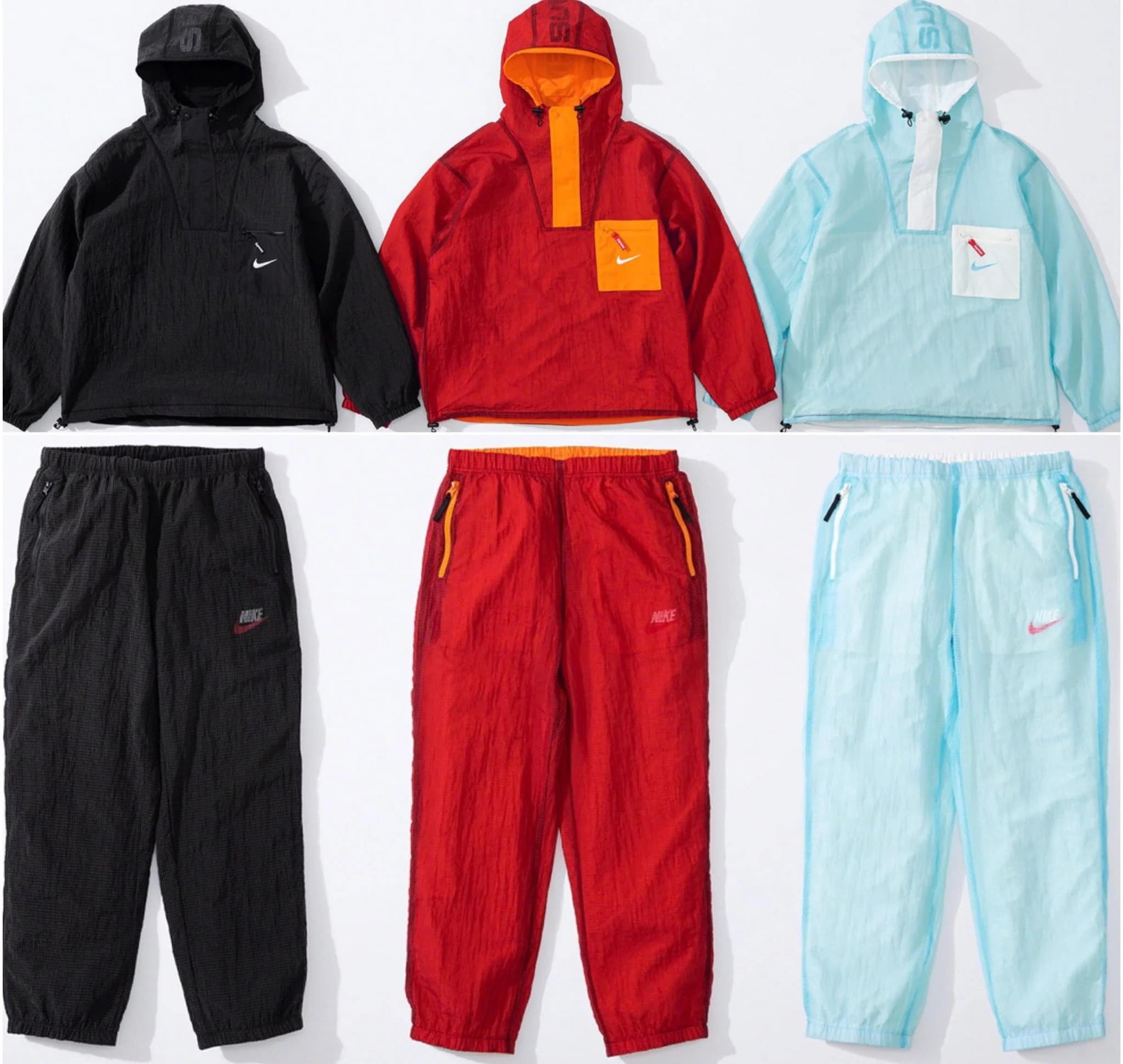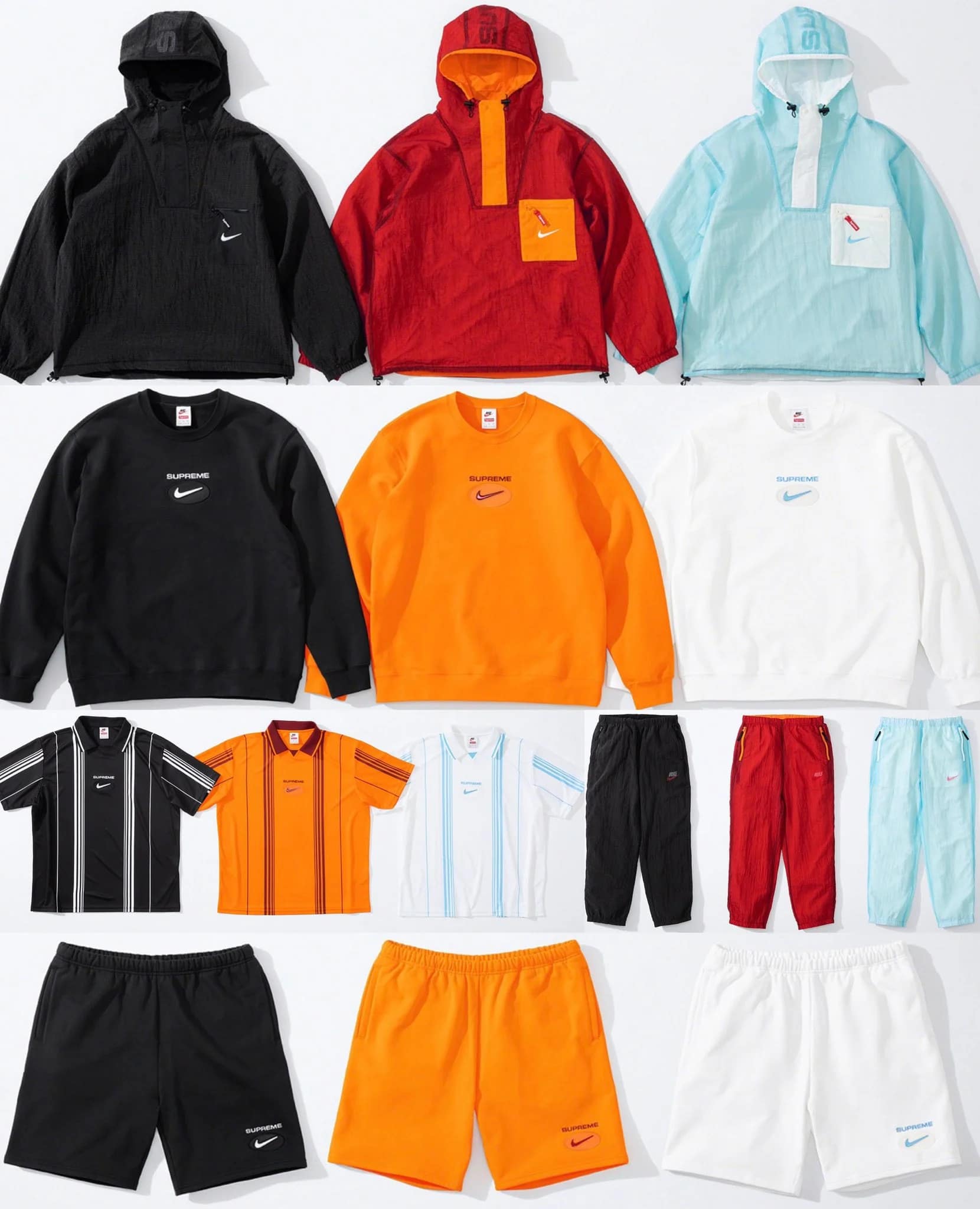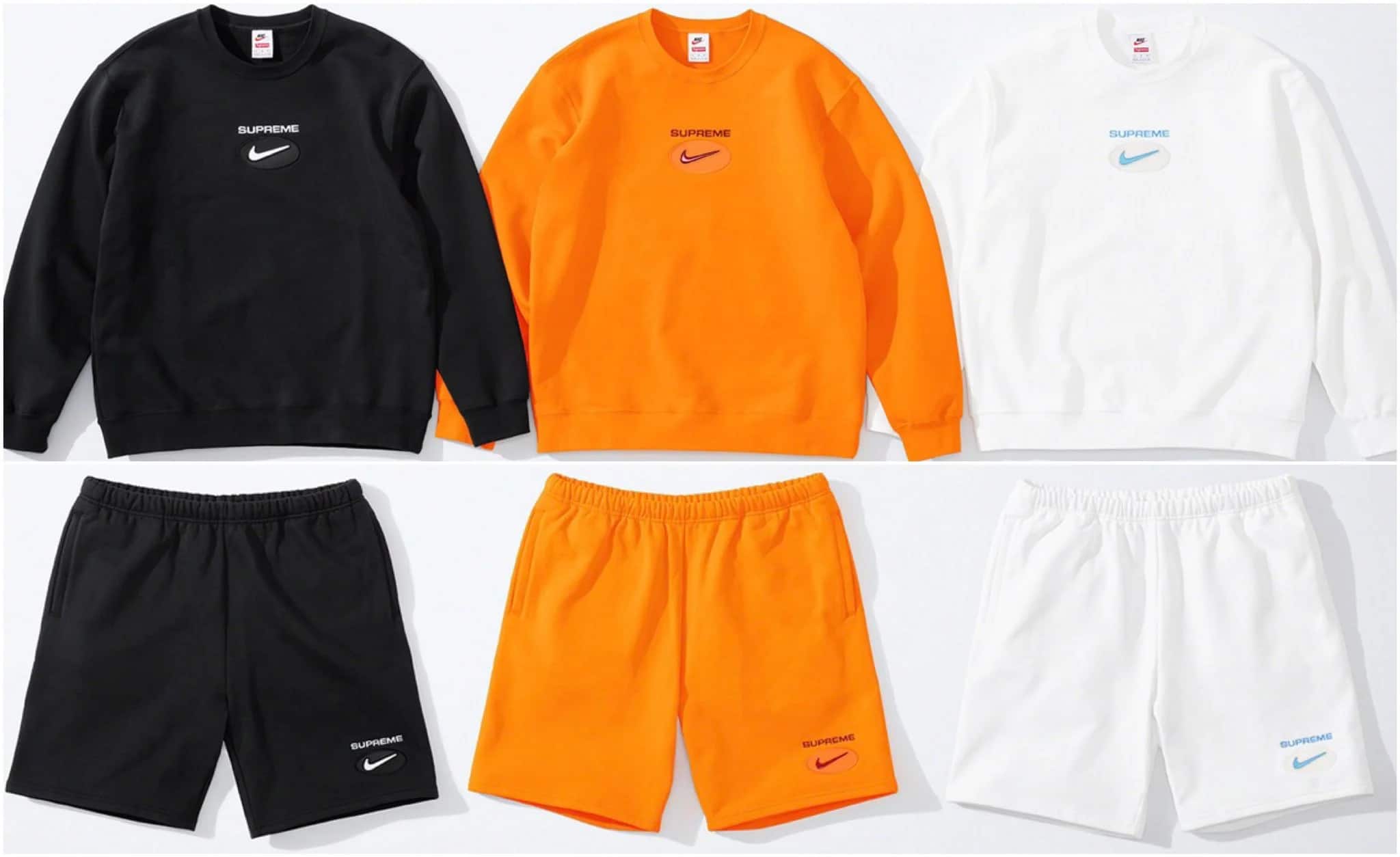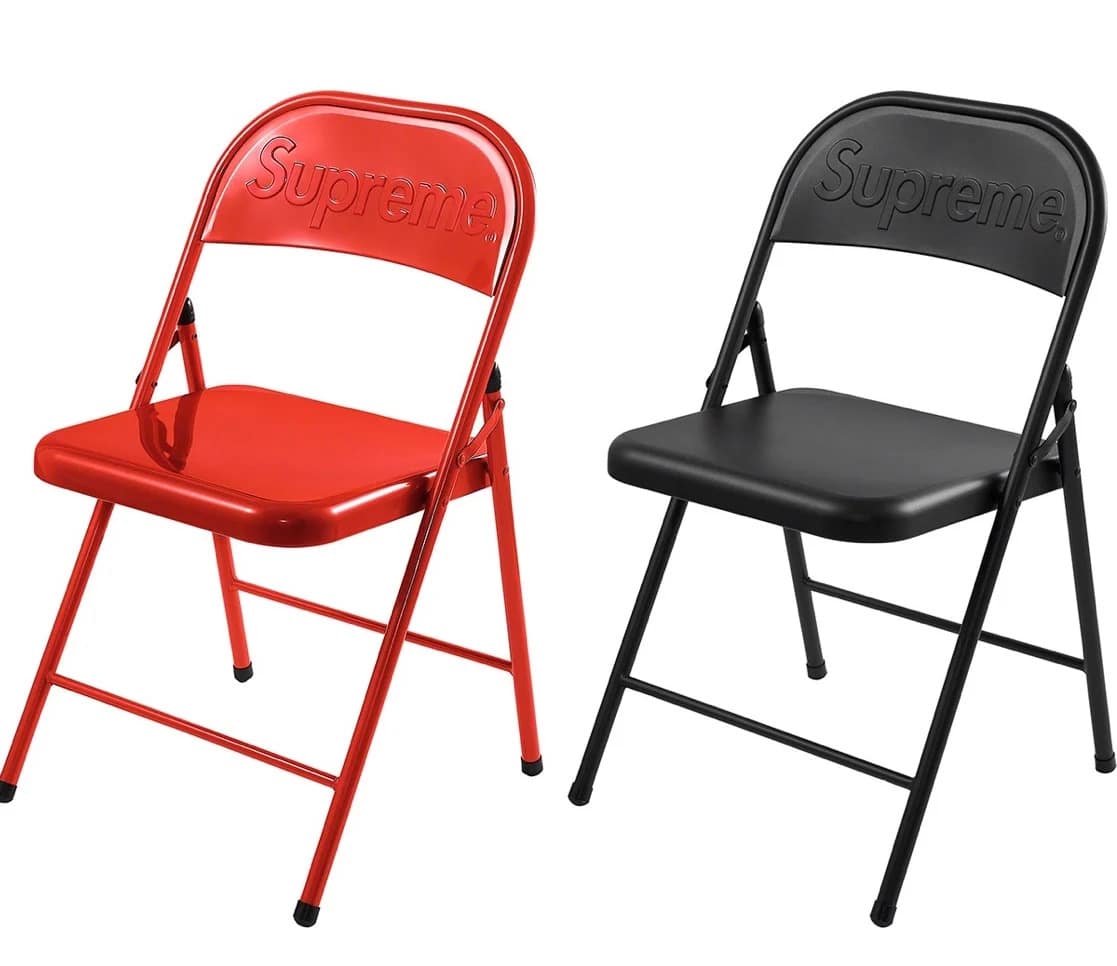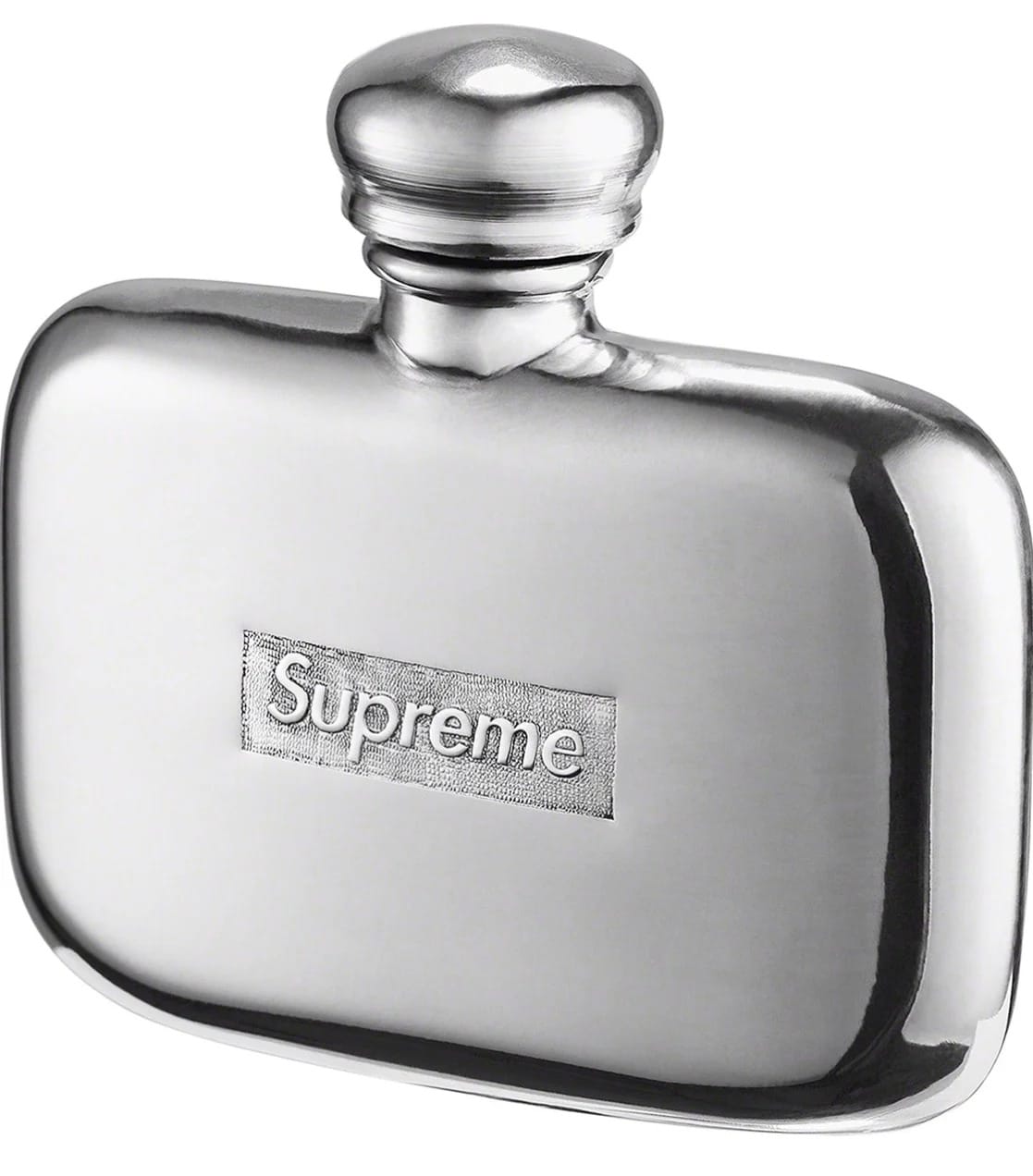 Update 19.08.2020
Tomorrow, Week 1 of the Supreme Fall/Winter 2020 collection will start. We can expect ingenious and artistic tees from Supreme as well as some accessories already announced last season. These include the Spalding basketballs with the money look.
Furthermore, the Smurfs x Supreme collab is already dropping soon. Here you can take a look at the first pieces and make your choice.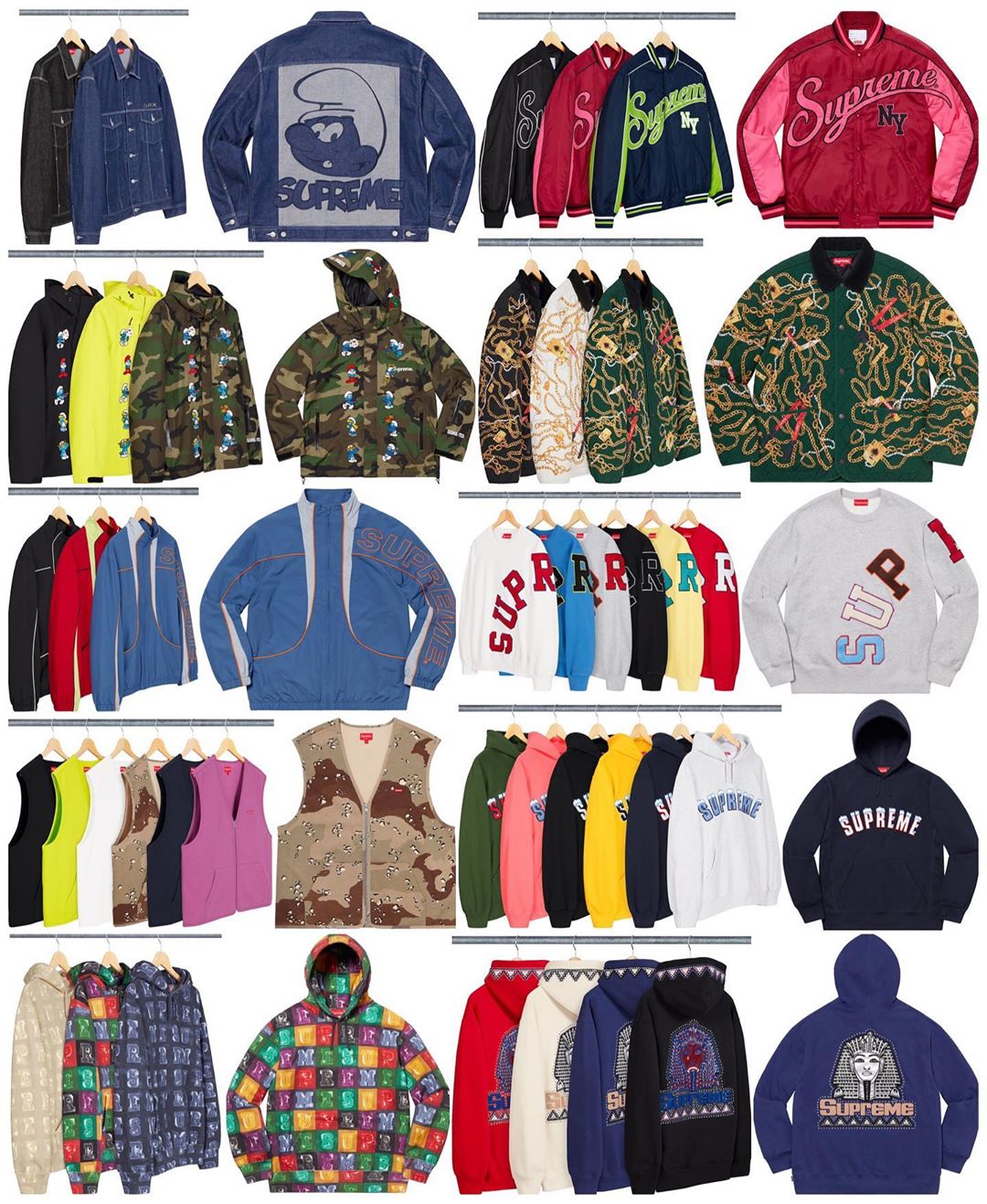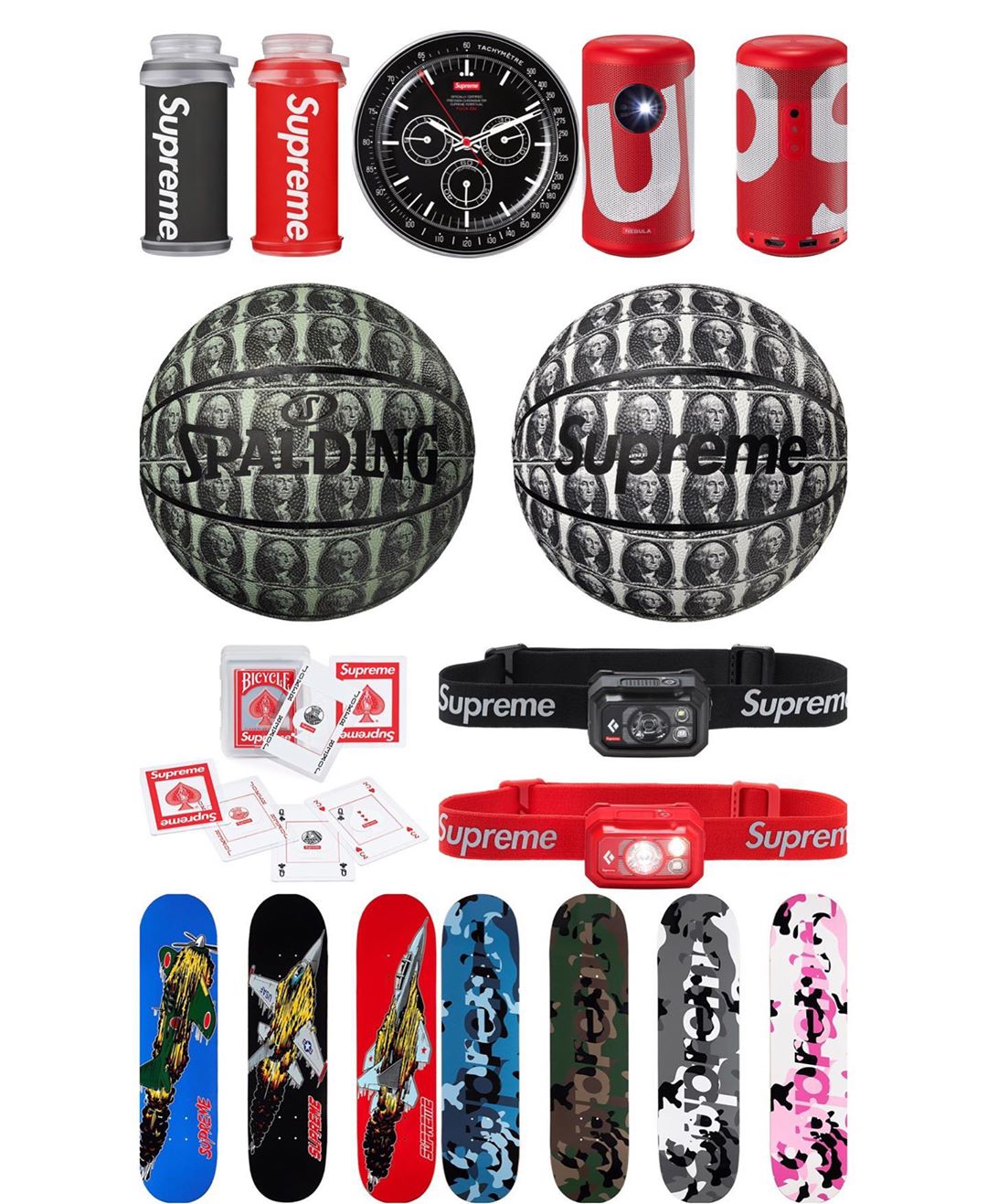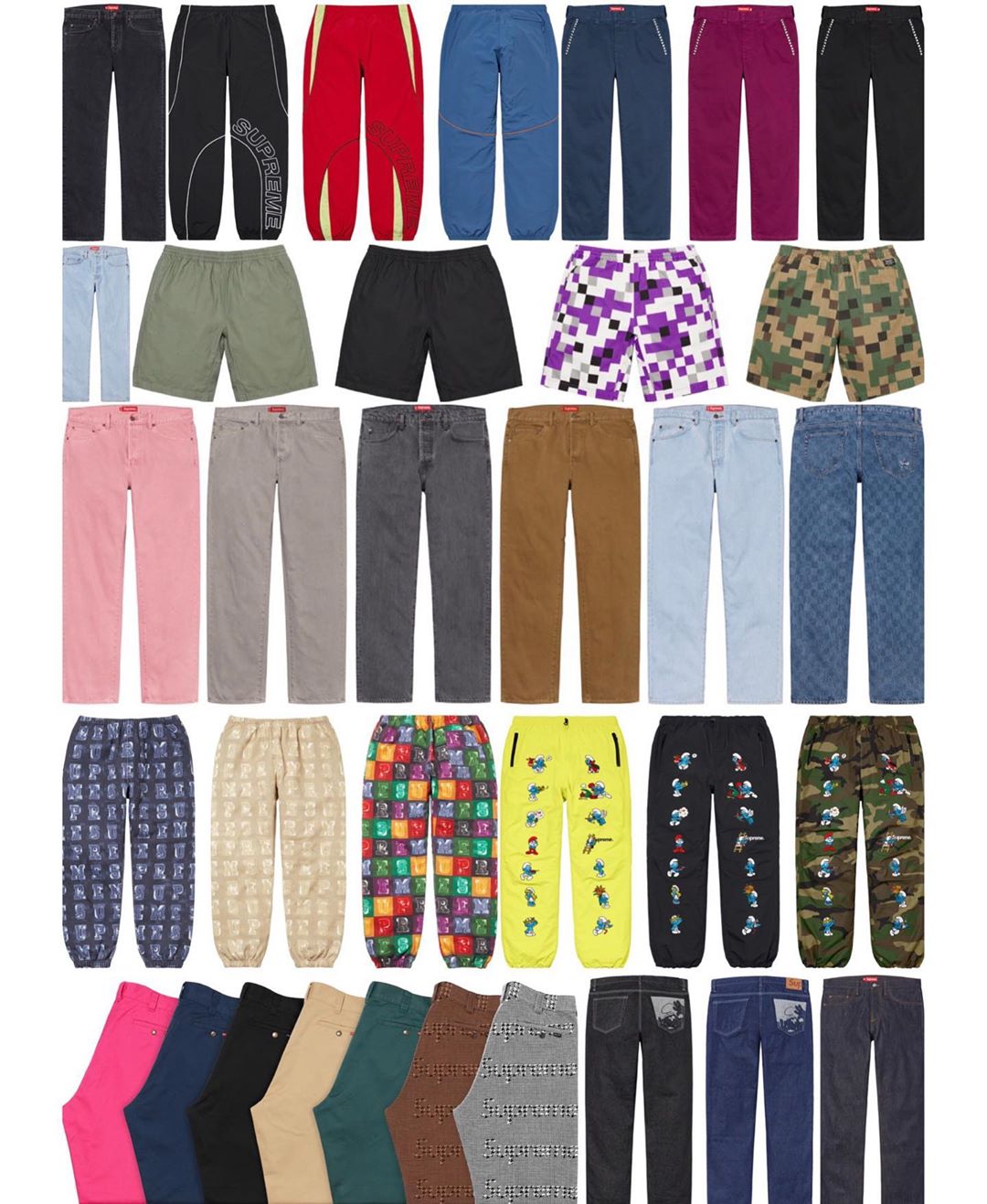 pics by @dropsbyjay
Update 18.08.2020
Supreme finally unveils its lookbook for the upcoming Fall/Winter 2020 collection, and some suspected collabs have already been confirmed.
The seasonal pieces will be delivered with a mix of patterns and prints and warm materials. We can also expect sporty and sturdy clothing made with well-known manufacturers from New York or Tlaxcala in Mexico.
Supreme's FW20 collection will be huge, as the first picture already reveals a hoodie with two Supreme box logos. Other fierce highlights are jackets with GORE-TEX technology, a MA-1 bomber jacket, collaborative Smurf jackets and the Toshio Saeki Work x Supreme jacket with colourful pictures.
Traditionally, Supreme always releases the pieces of the collection on a Thursday. The first drop of the Supreme Fall/Winter 2020 collection will be in-store worldwide on August 20th, in Japan on August 22nd and online on August 24th.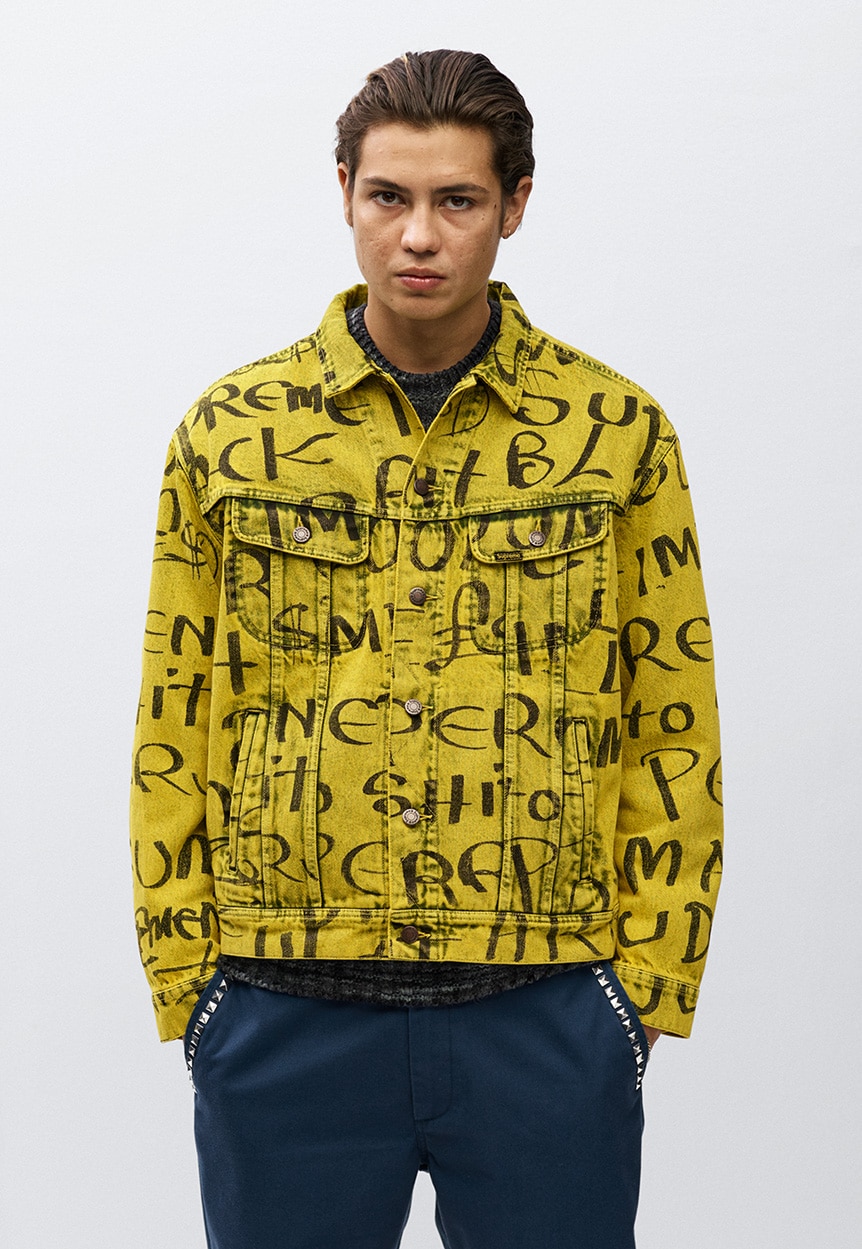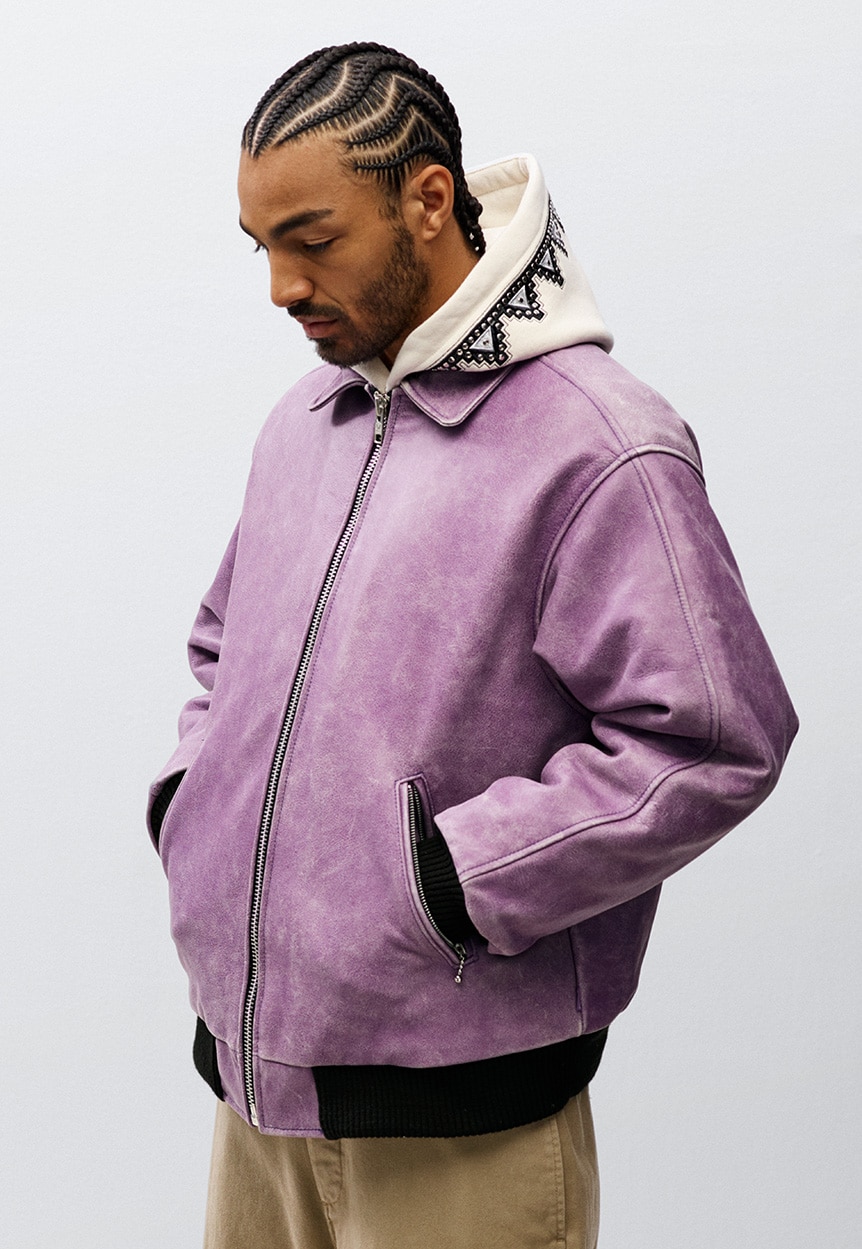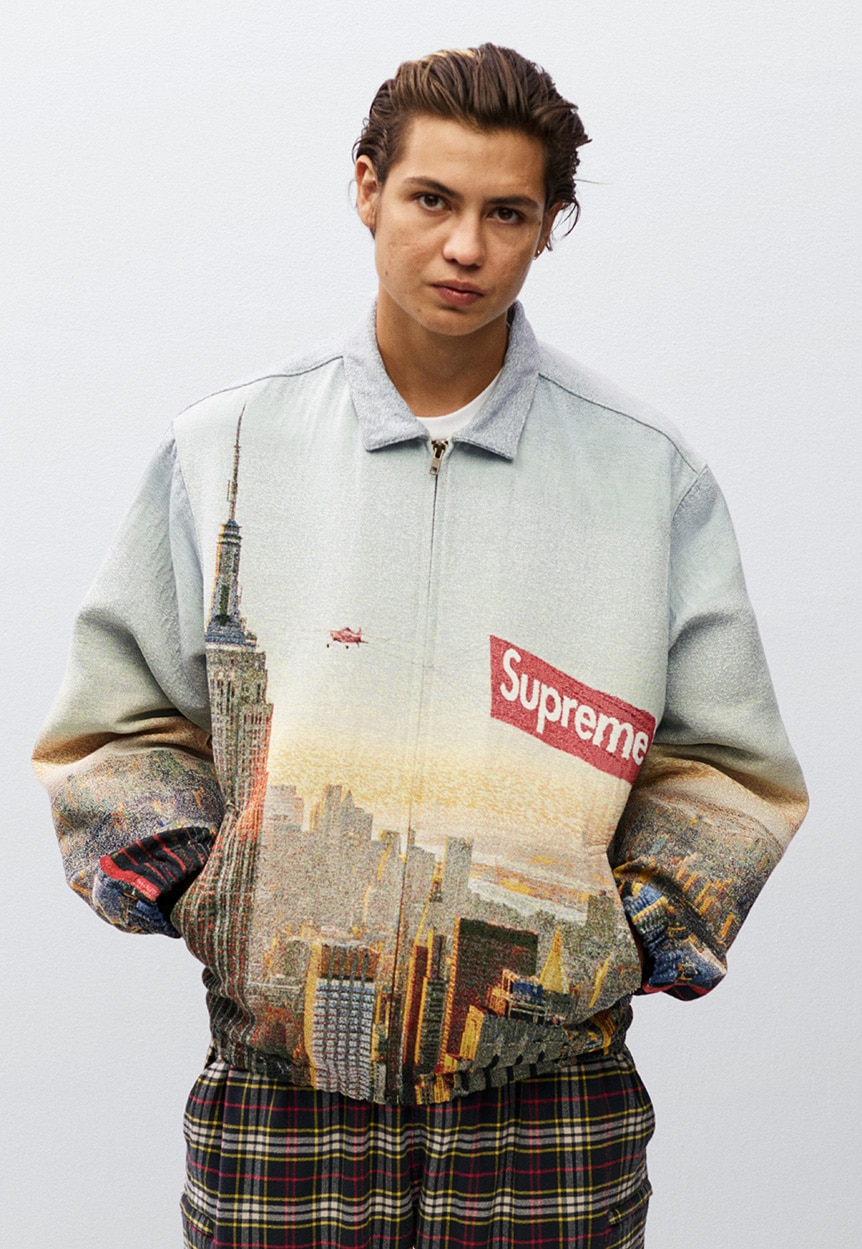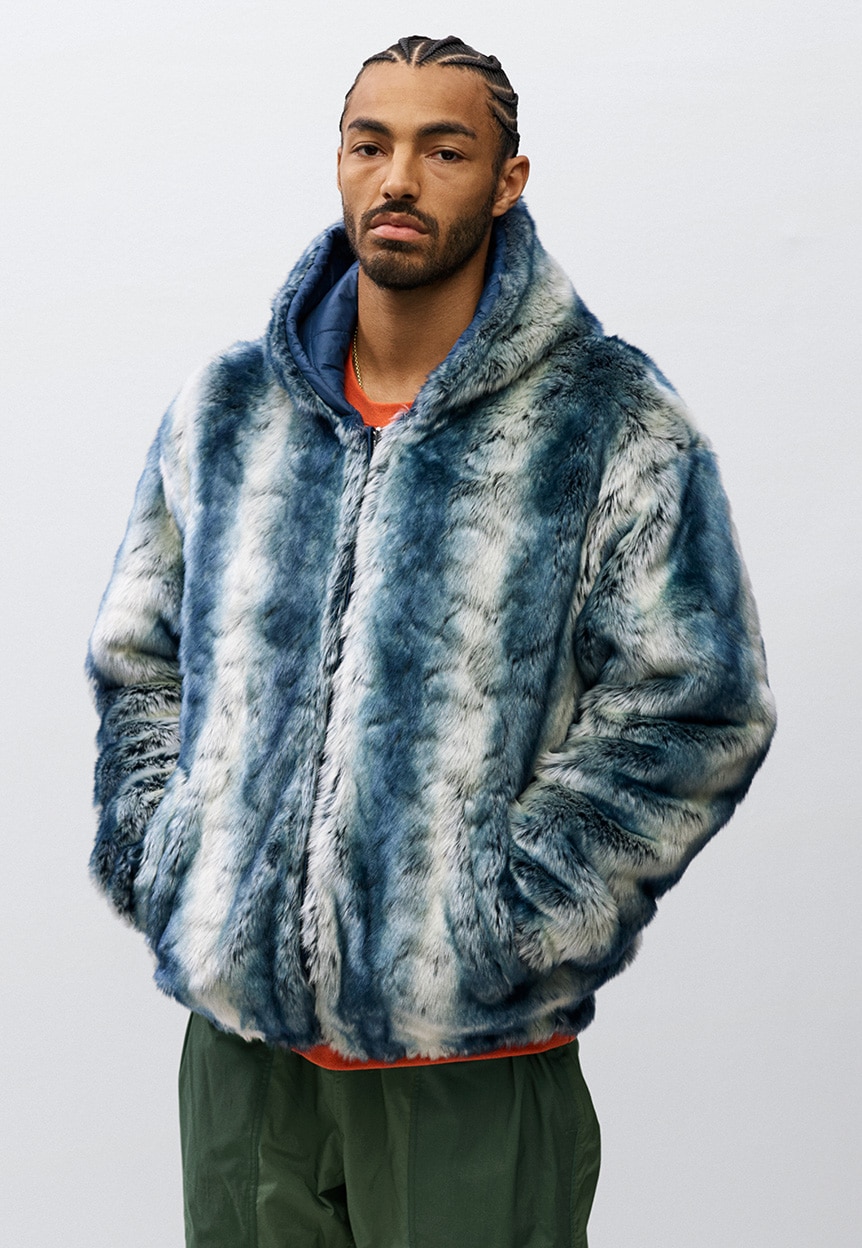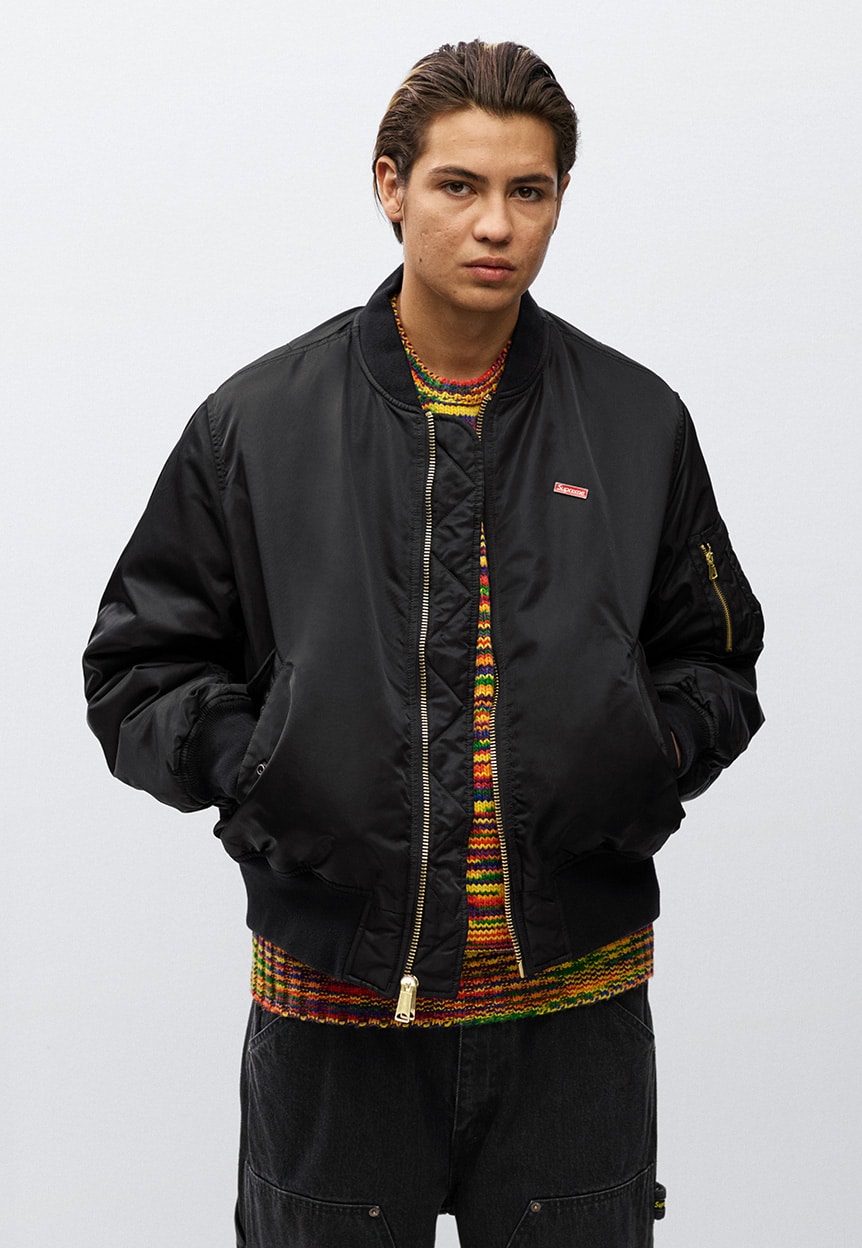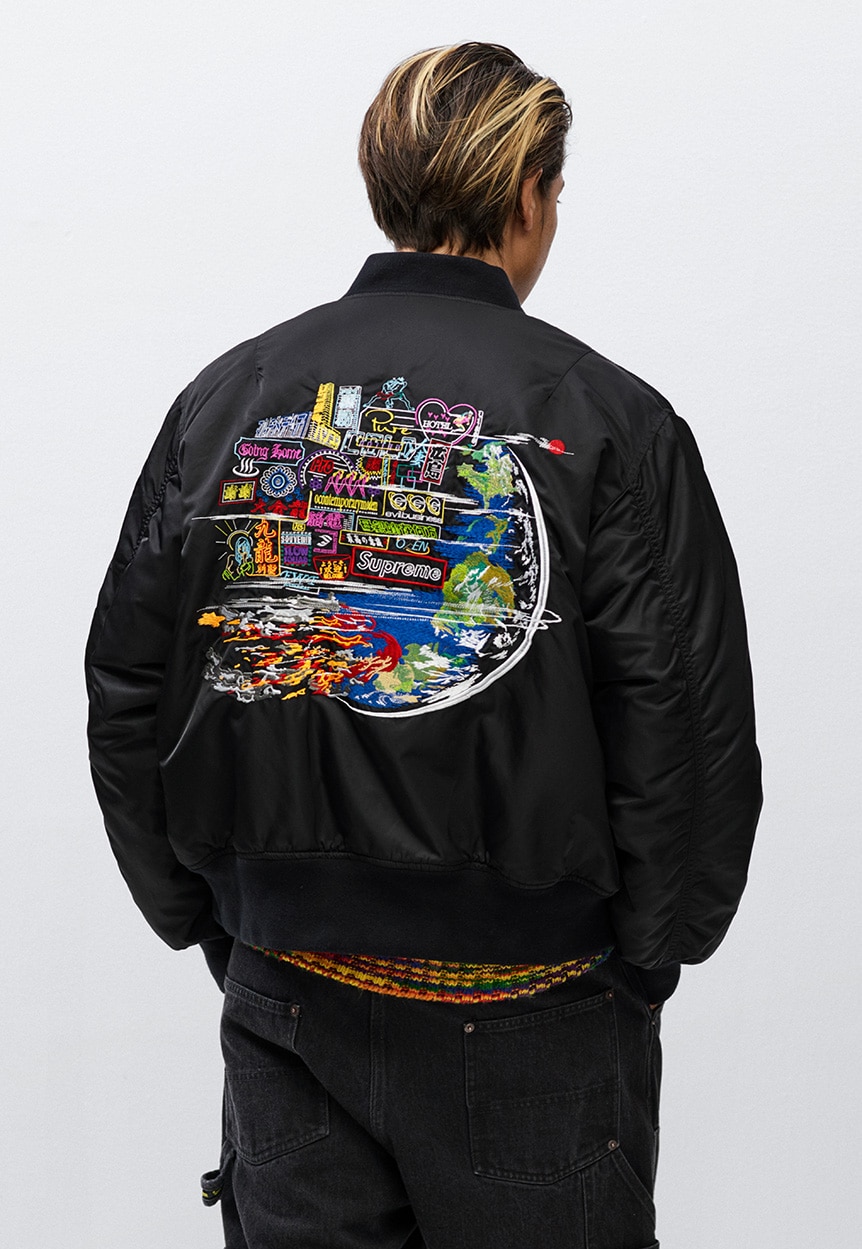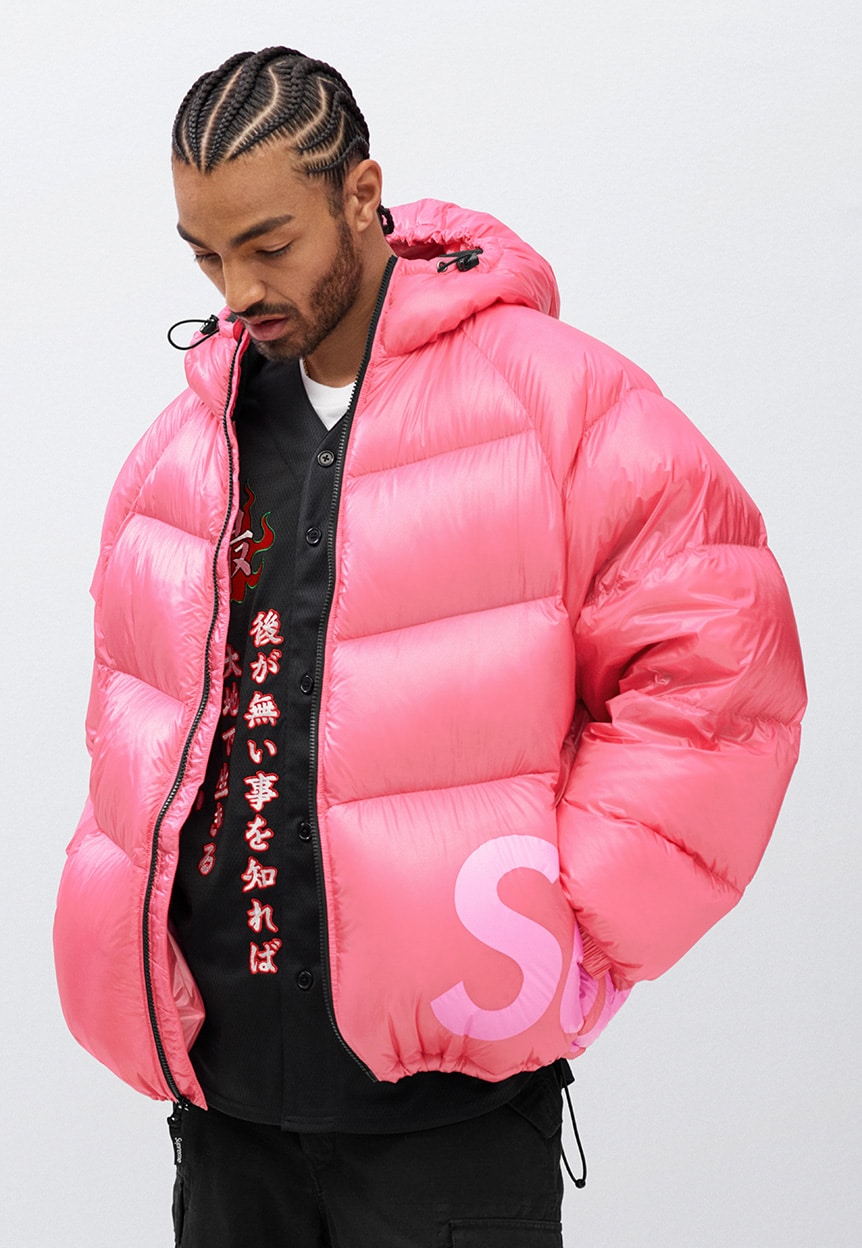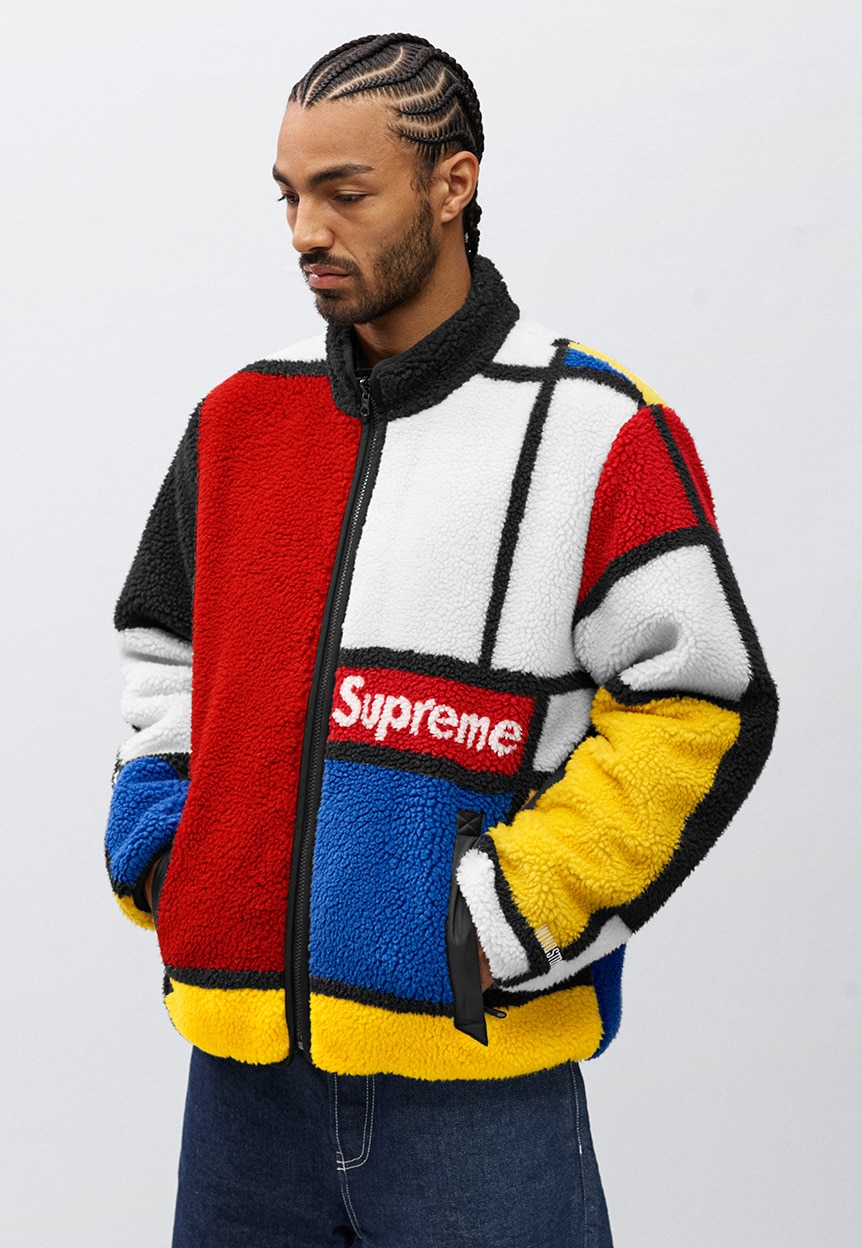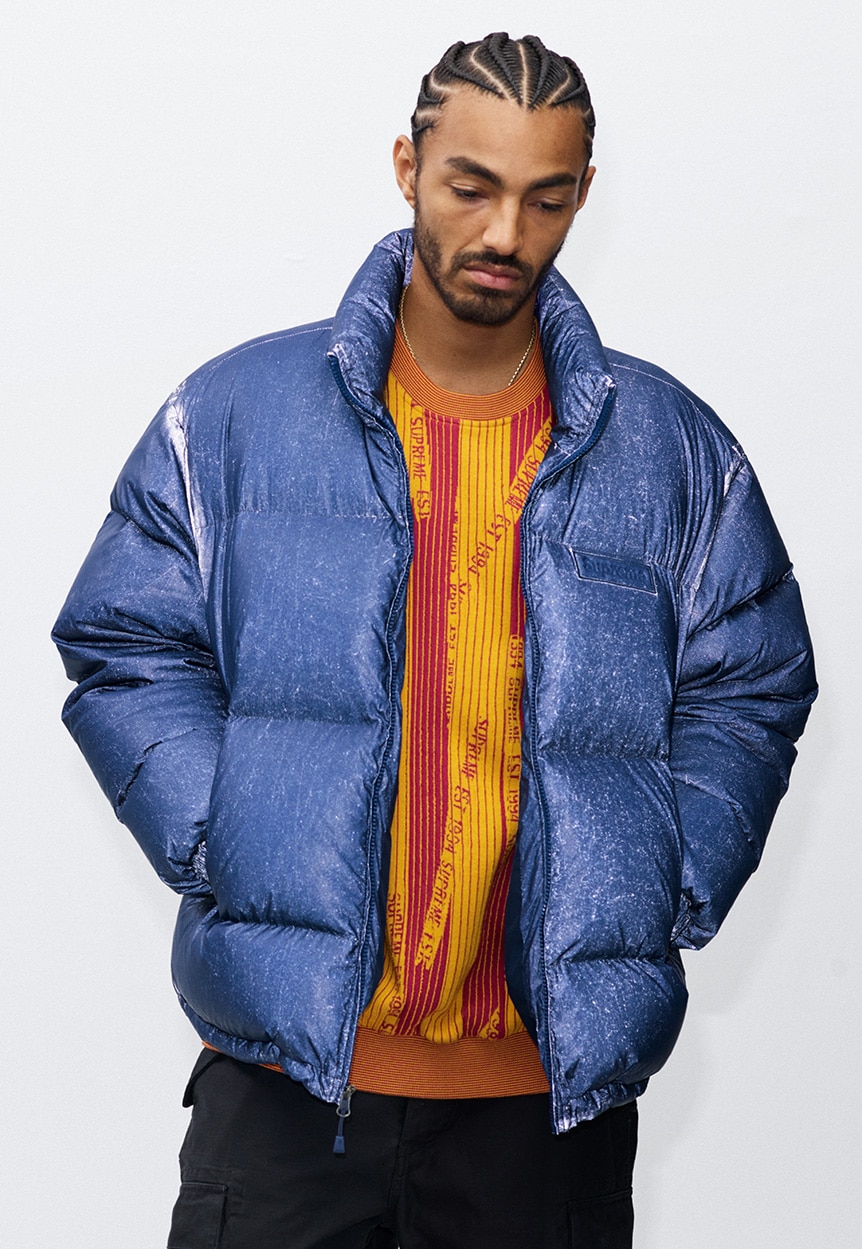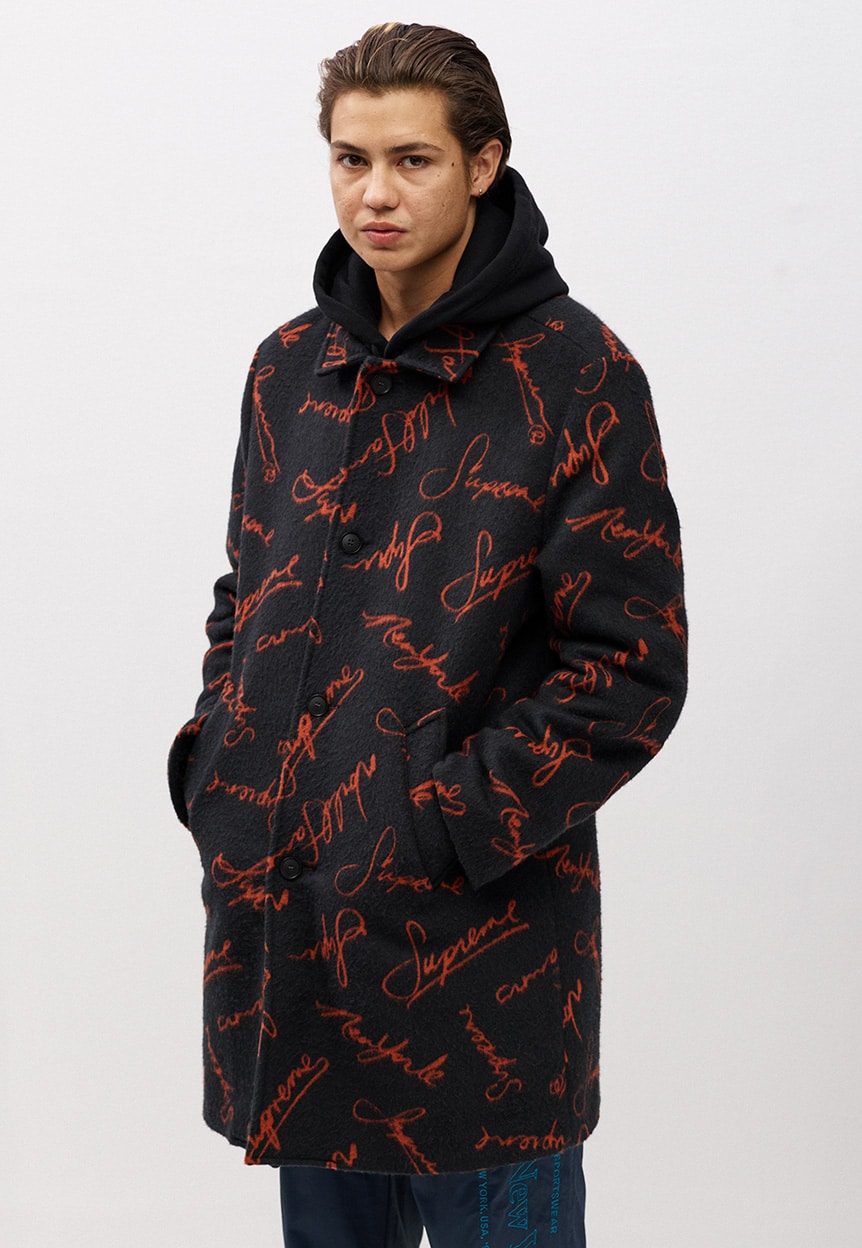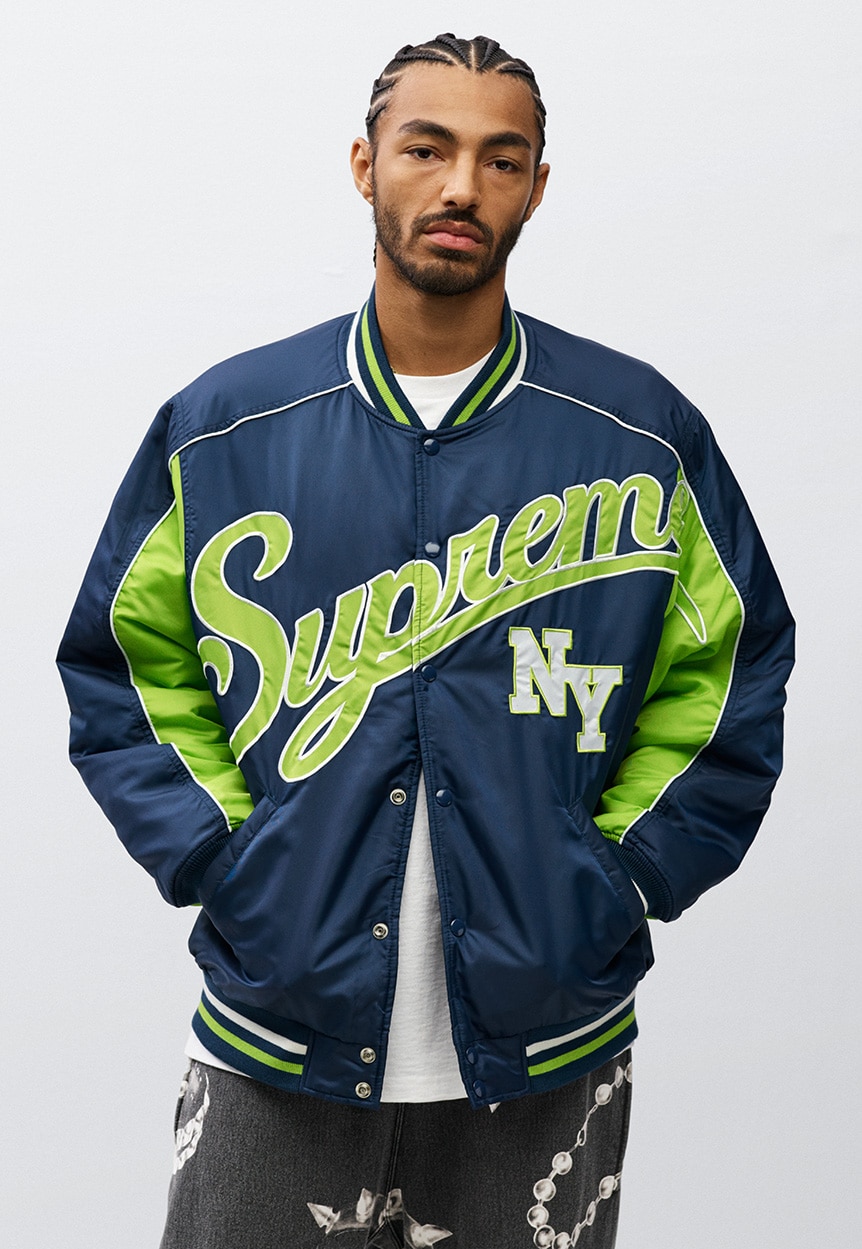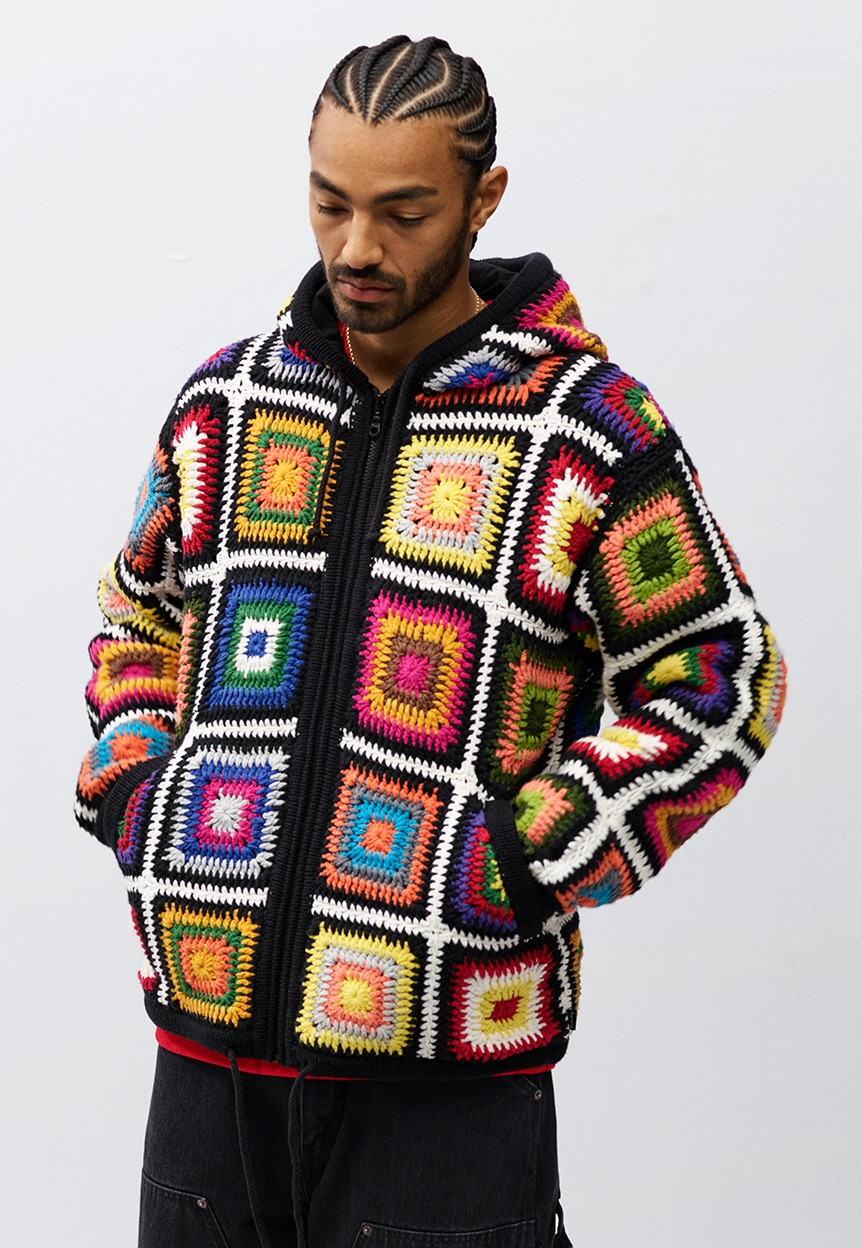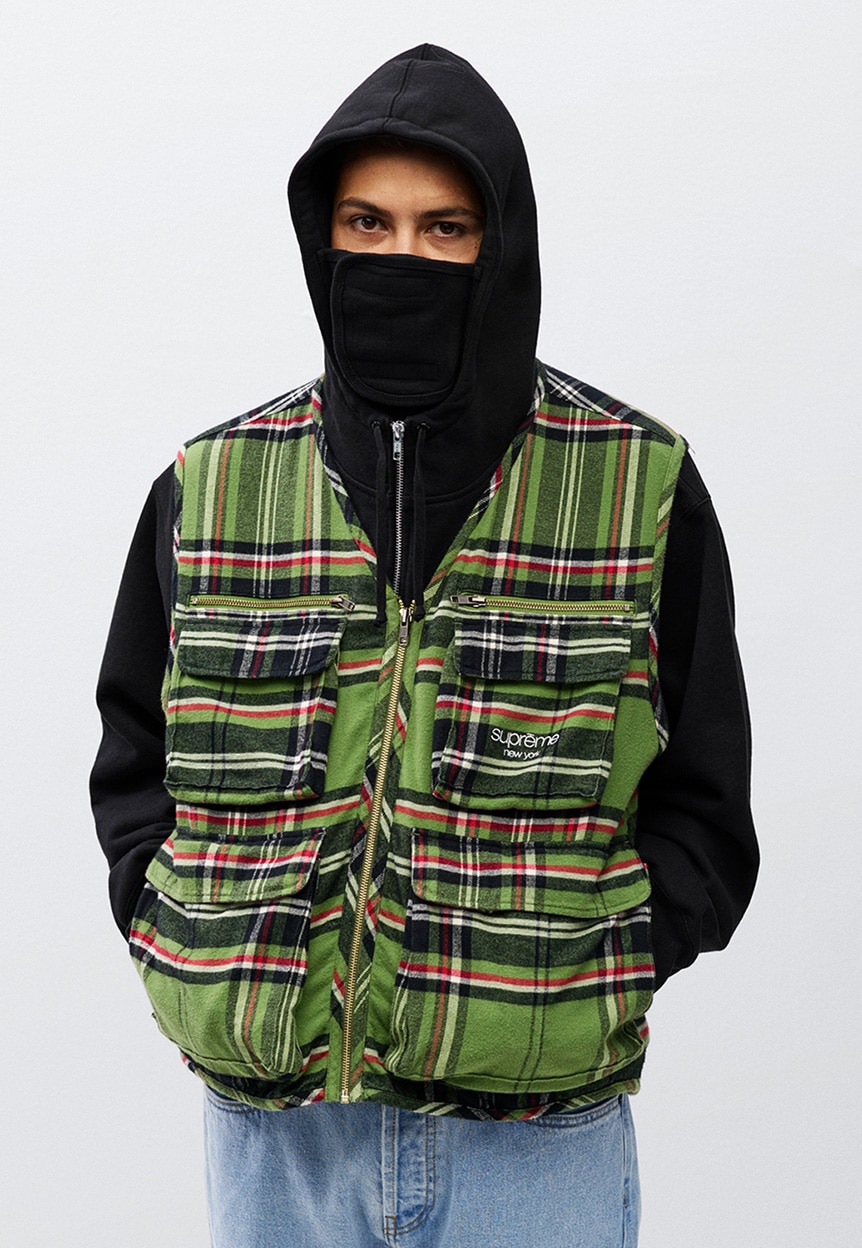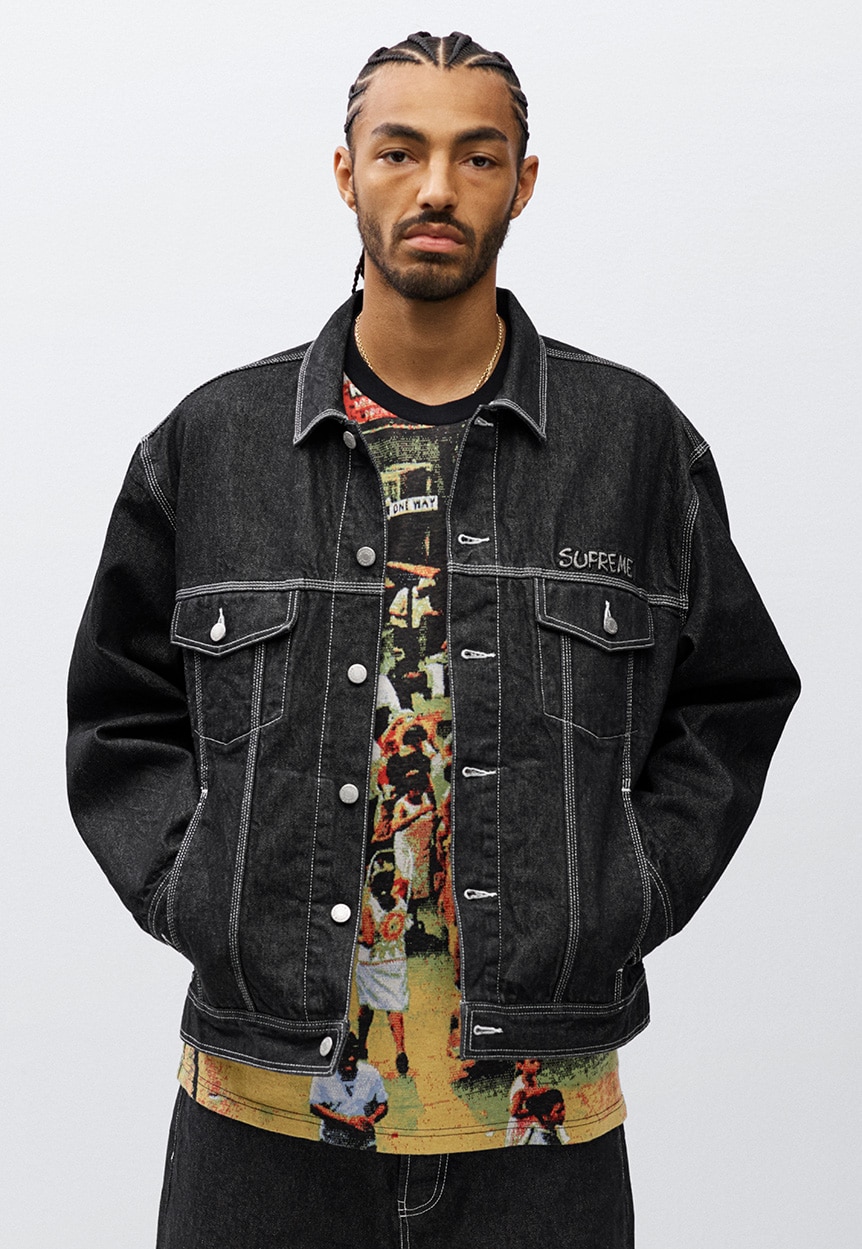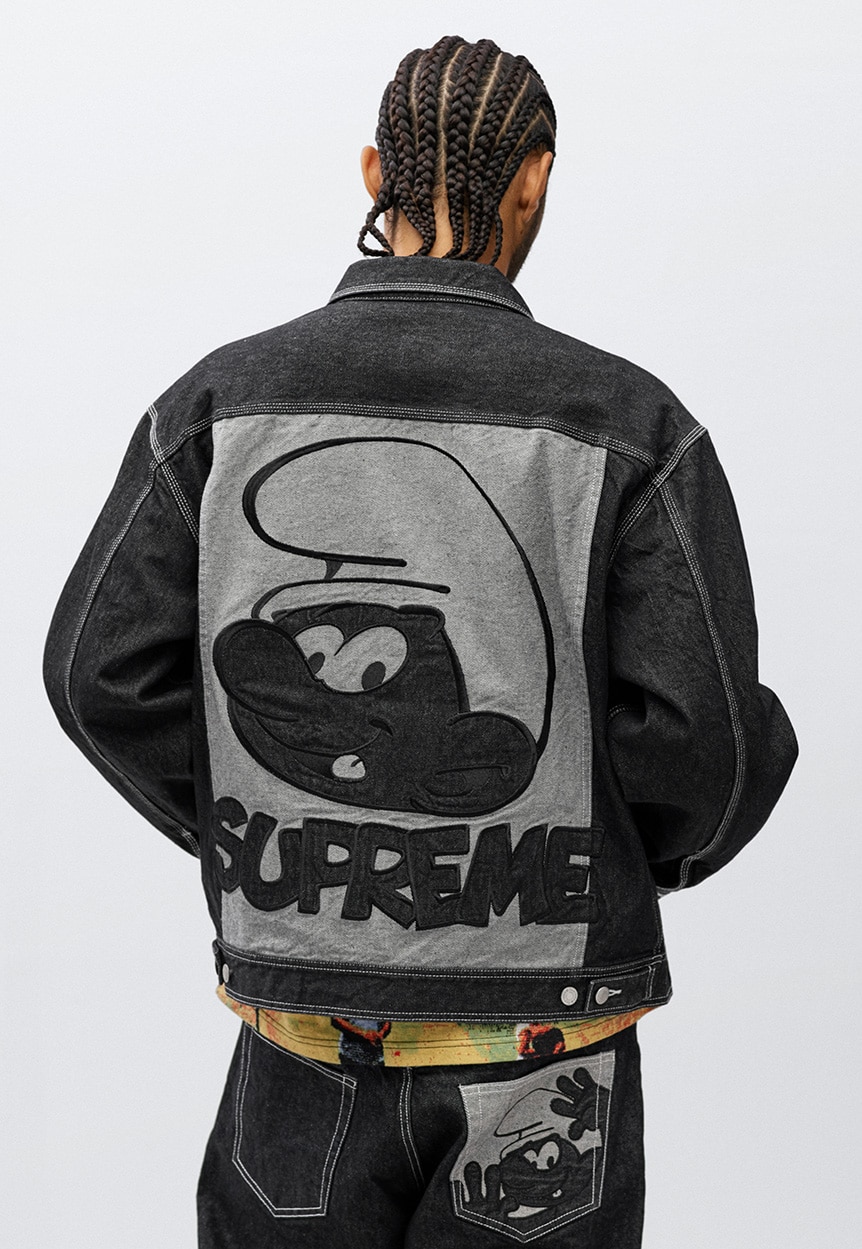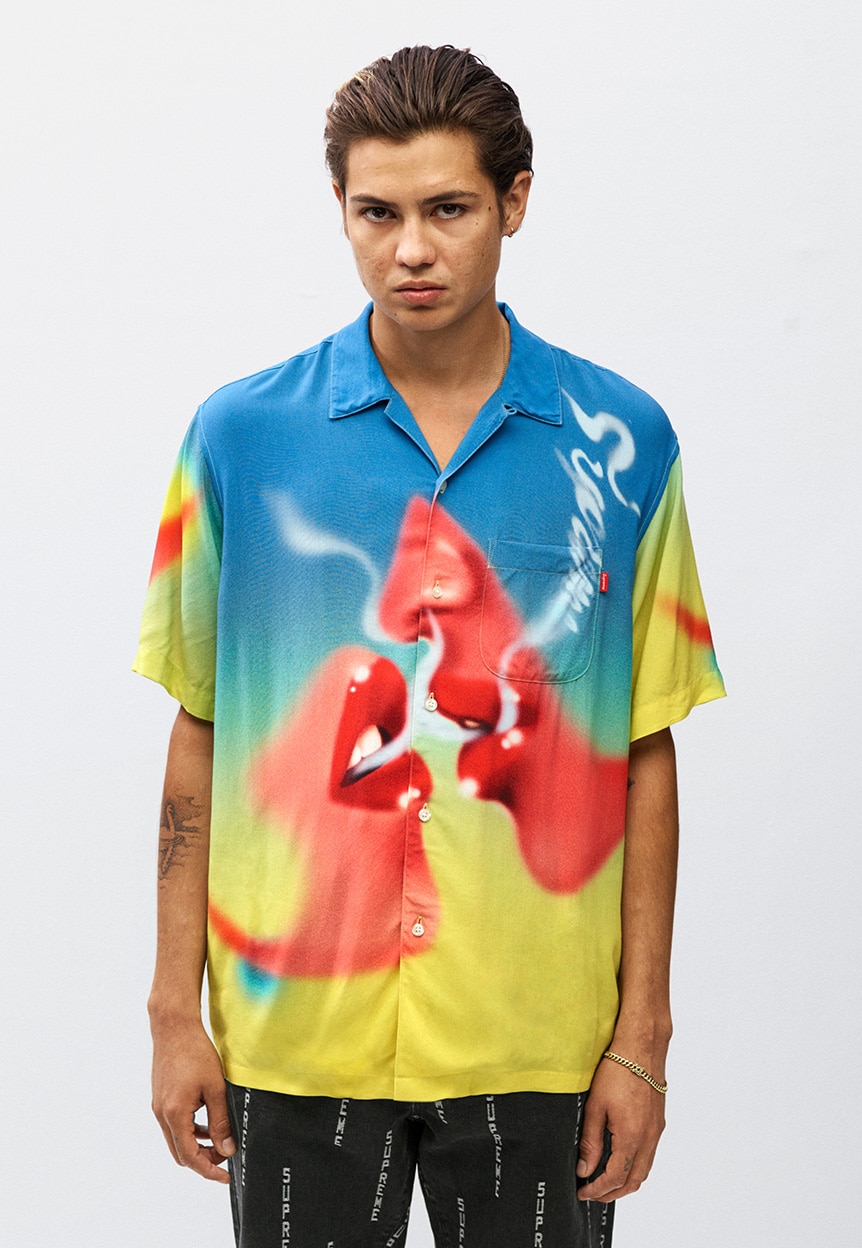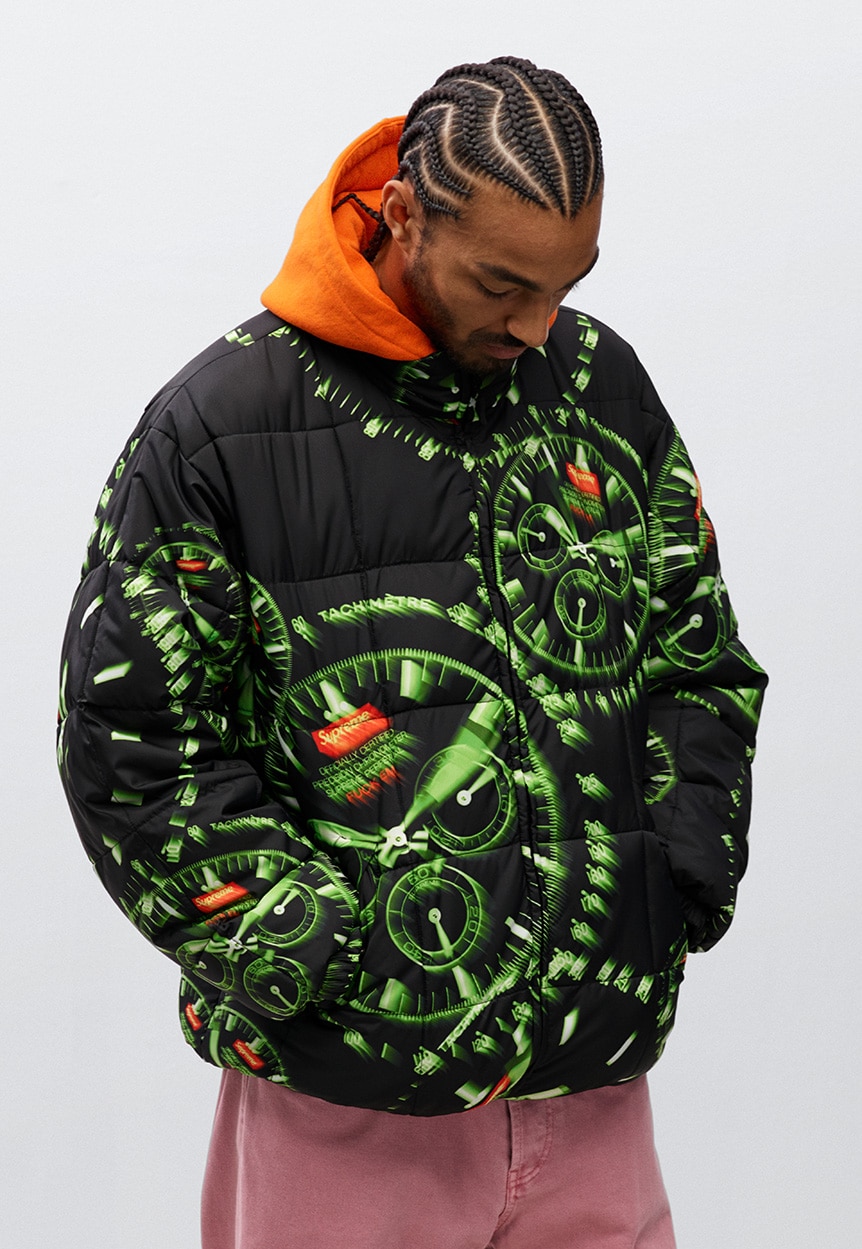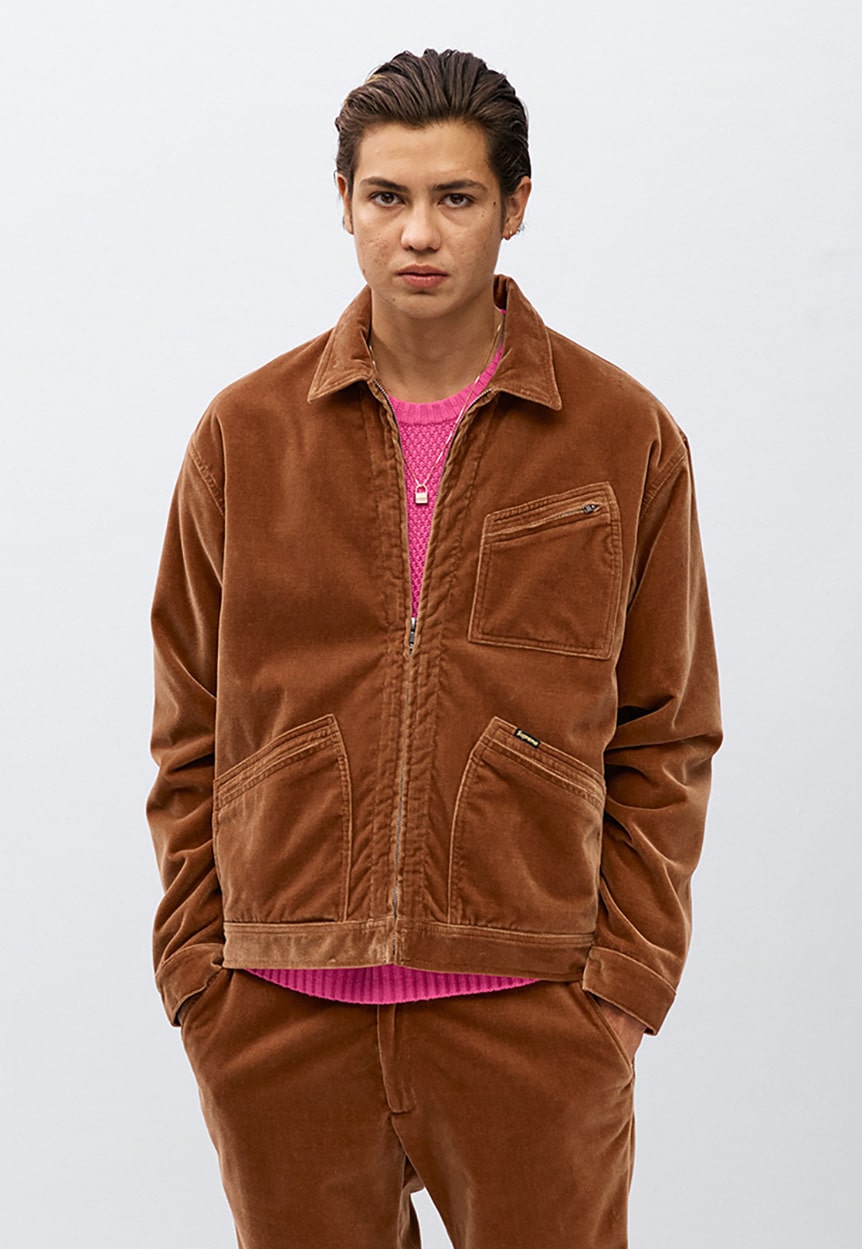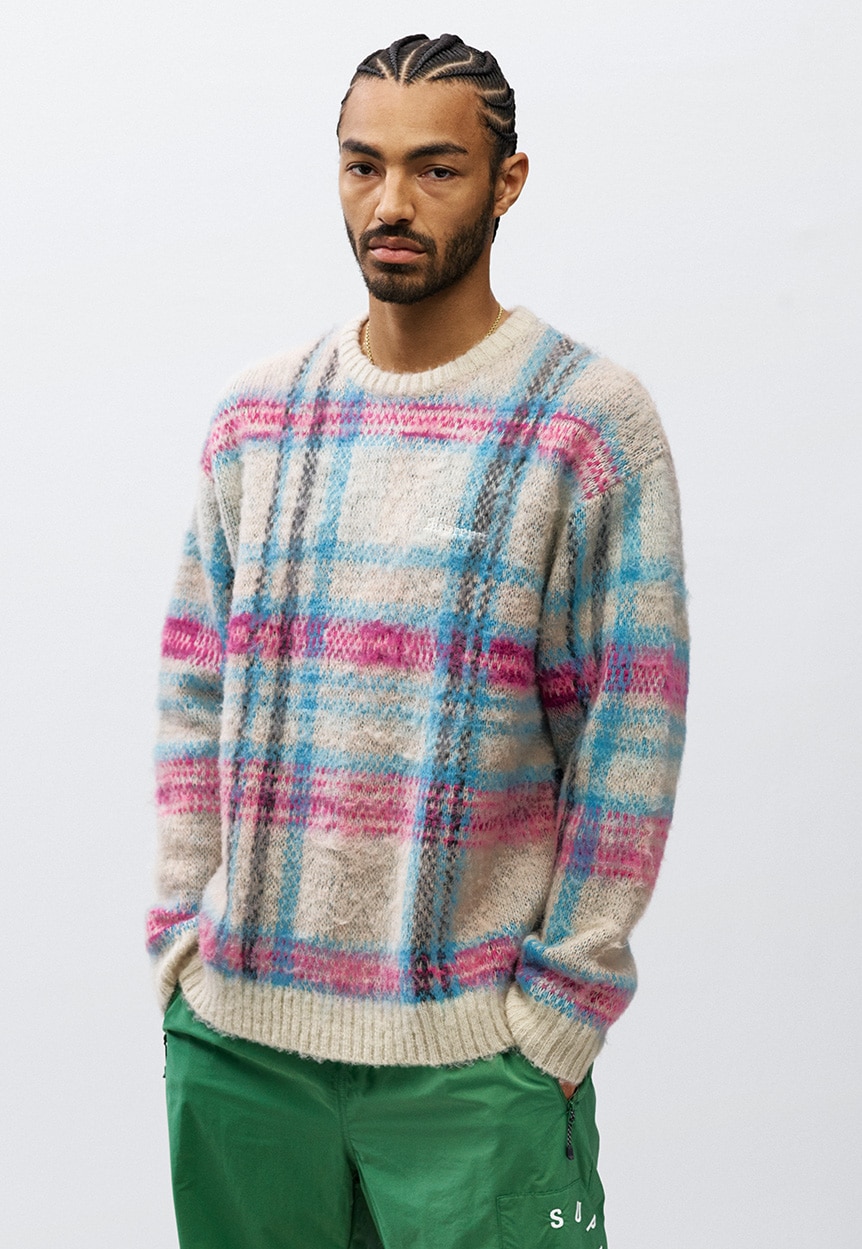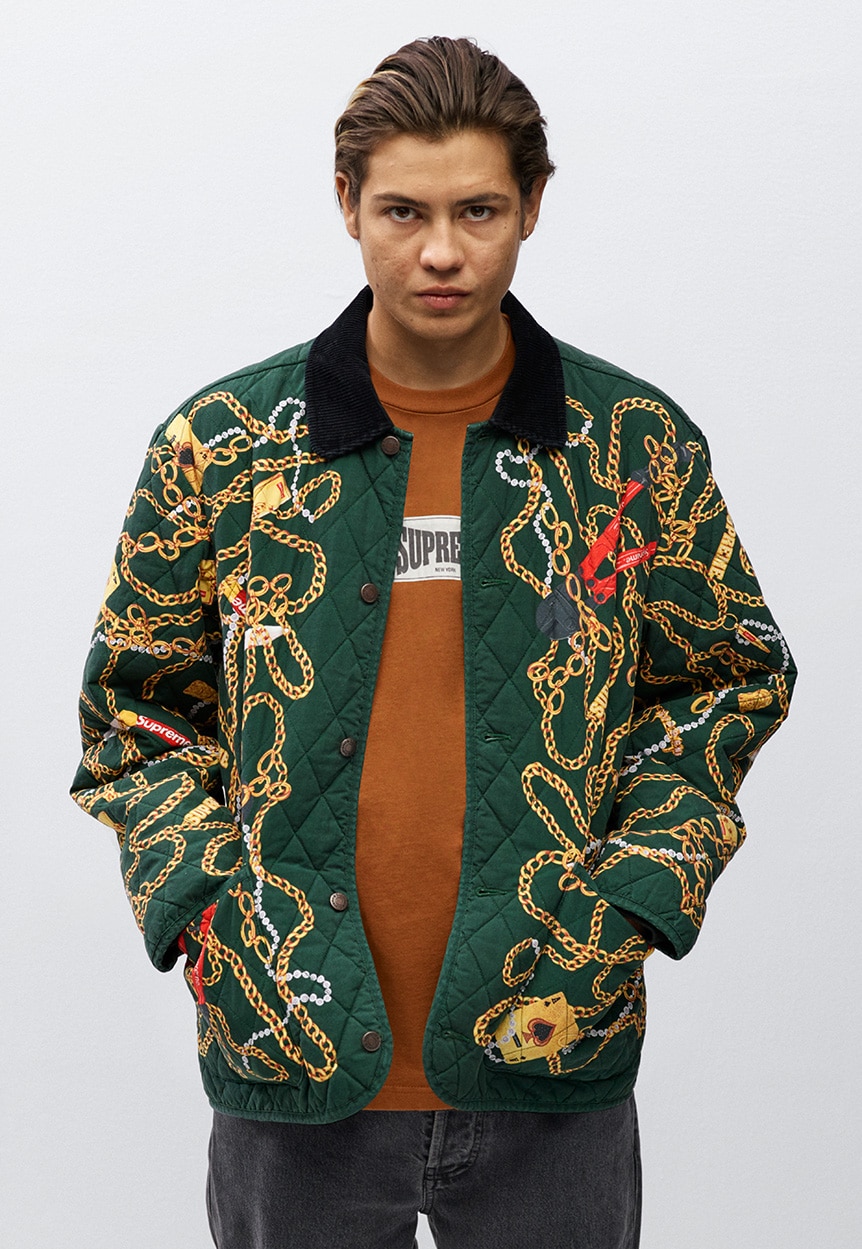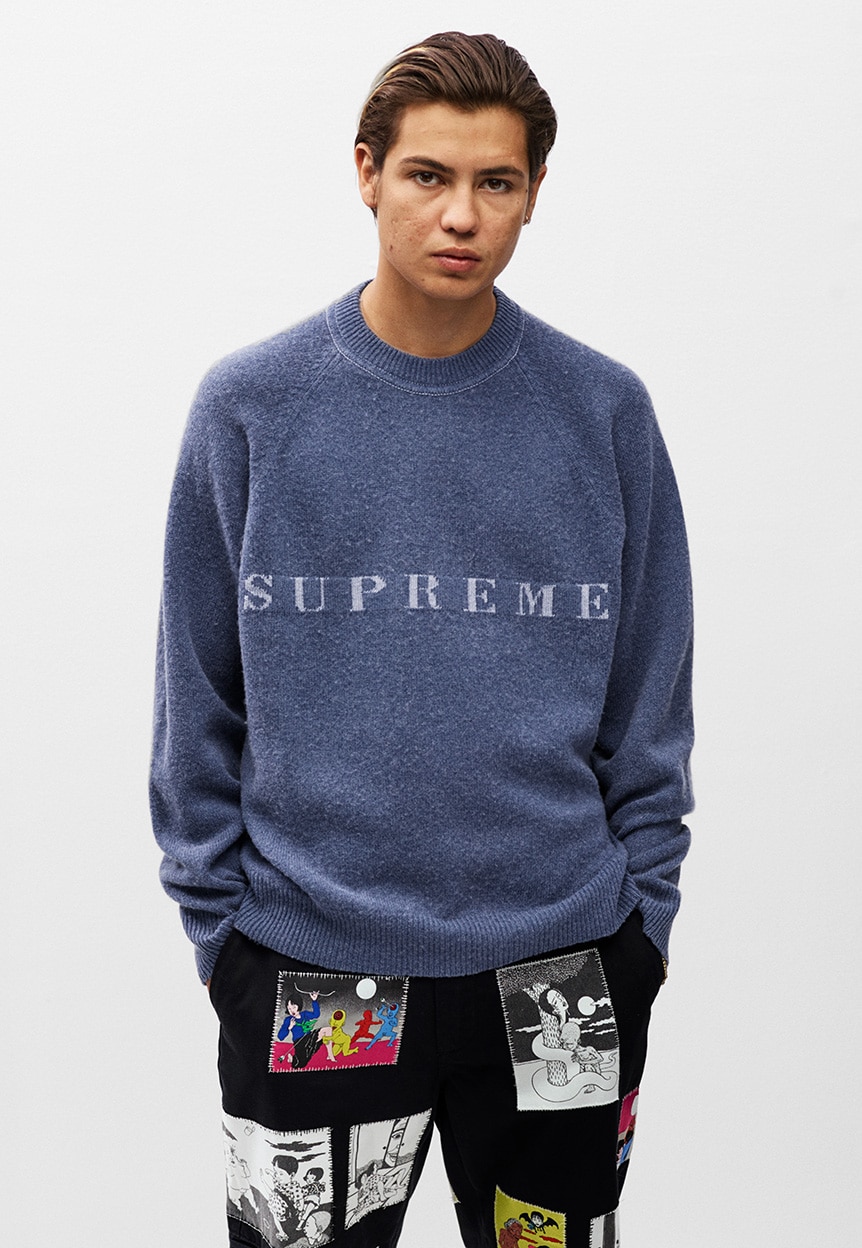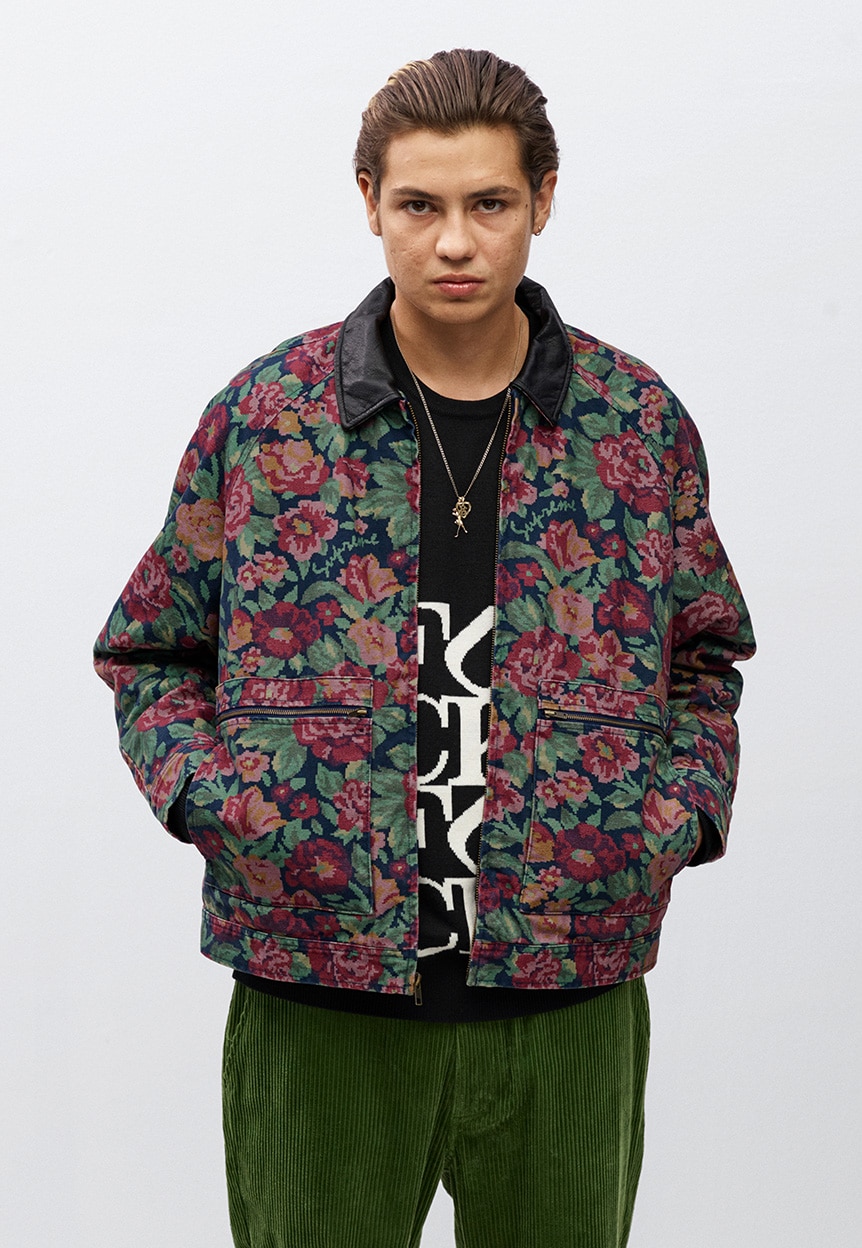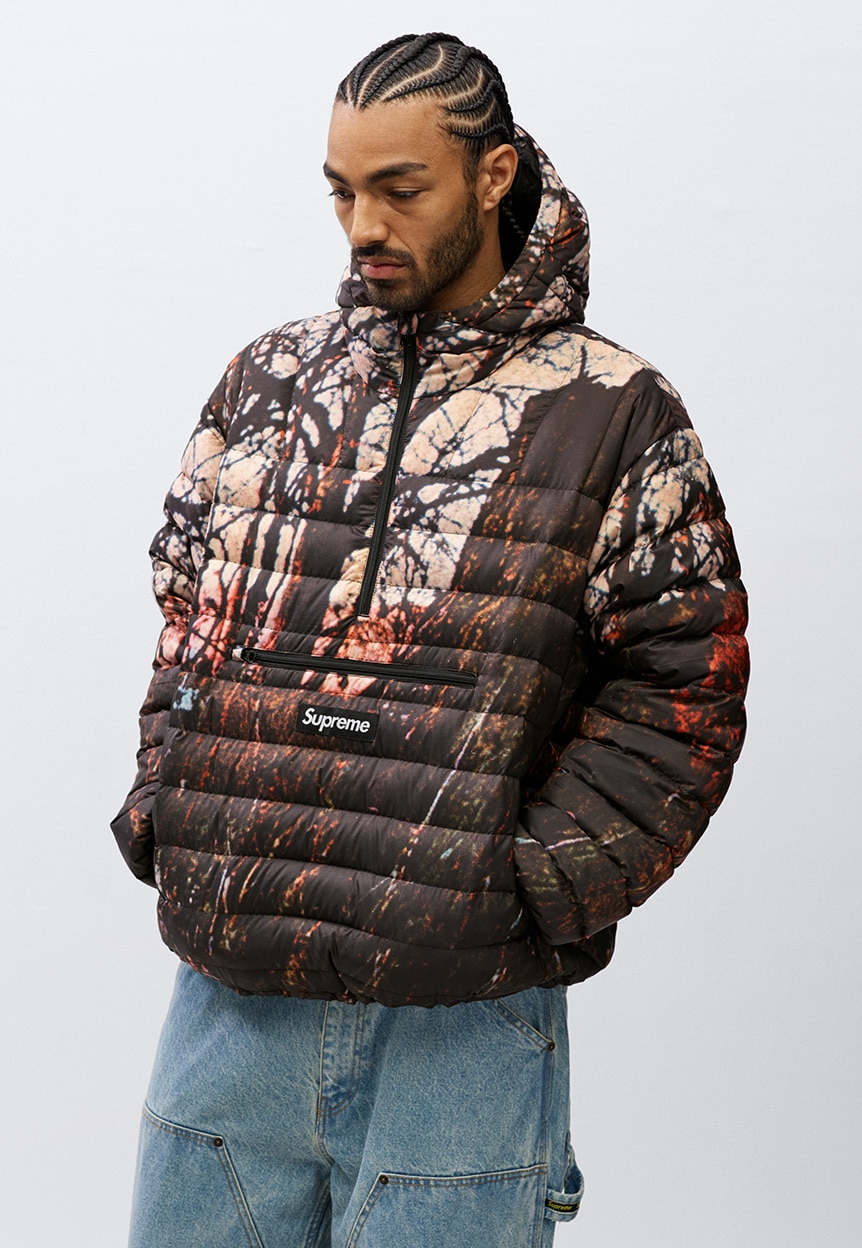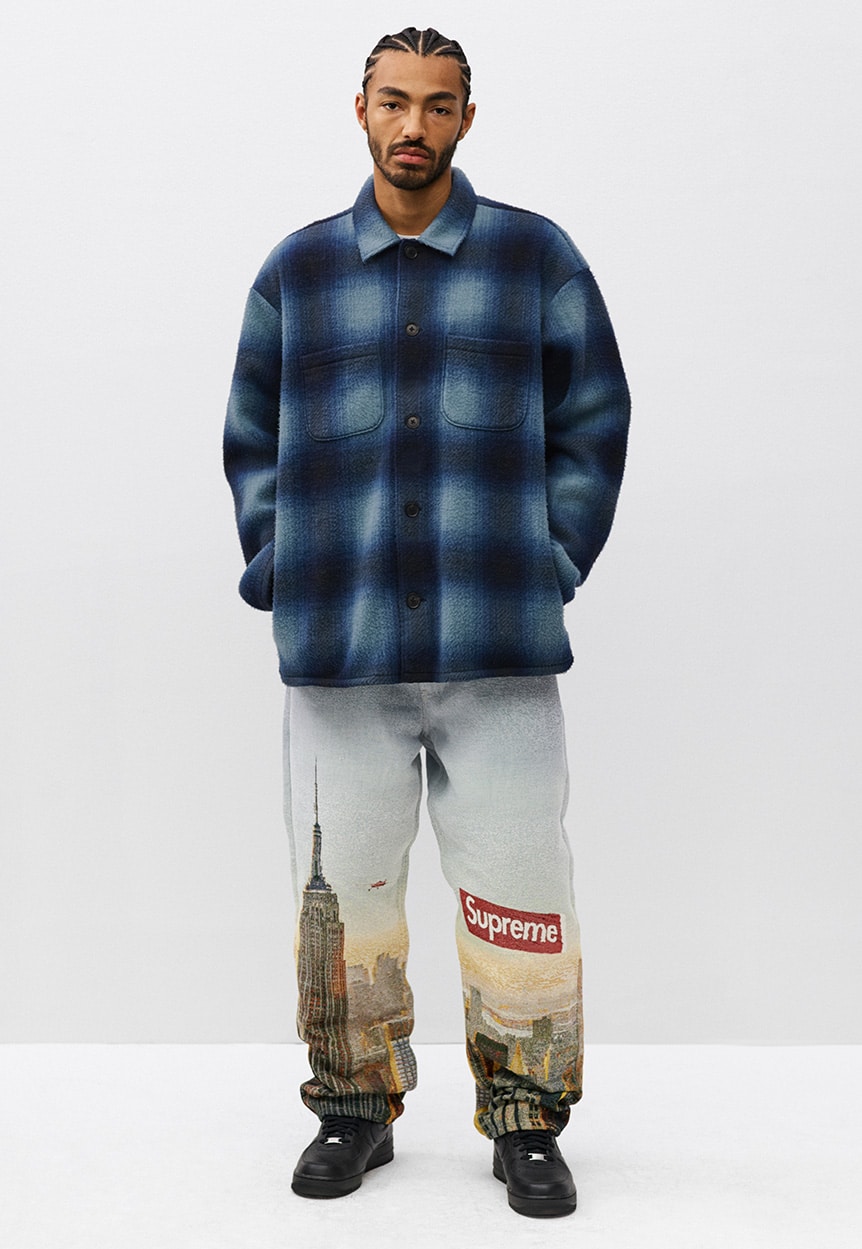 Update 10.08.2020
The Supreme Spring/Summer 2020 collection was already great, but the next collection should be at least as good. The first possible collaborators are already appearing on the net, and one thing should already be clear: the Supreme Fall/Winter 2020 collection will definitely not be boring.
Three possible collaborations have appeared on Instagram. According to sources, Supreme is again releasing a collection with their long-time partner The North Face as well as with lifestyle brand Stone Island and the smurfs.
We're really excited about the collection with The Smurfs. The 1981 cartoon series with the obscure characters and unique personalities could be a big hit as it has a lot to offer. A big apparel collection with hoodies, pants, t-shirts and other stuff could fit very well, where the most important characters like Gargamel, Smurfette, Papa Smurf or Brainy Surf could play an important role.
Don't Miss the Supreme Fall/Winter 2020 Collection
So far, no details of the upcoming partnerships are known. However, the first part of the Supreme Fall/Winter 2020 collection is said to drop this month. We will keep our eyes open for you and update this post in time.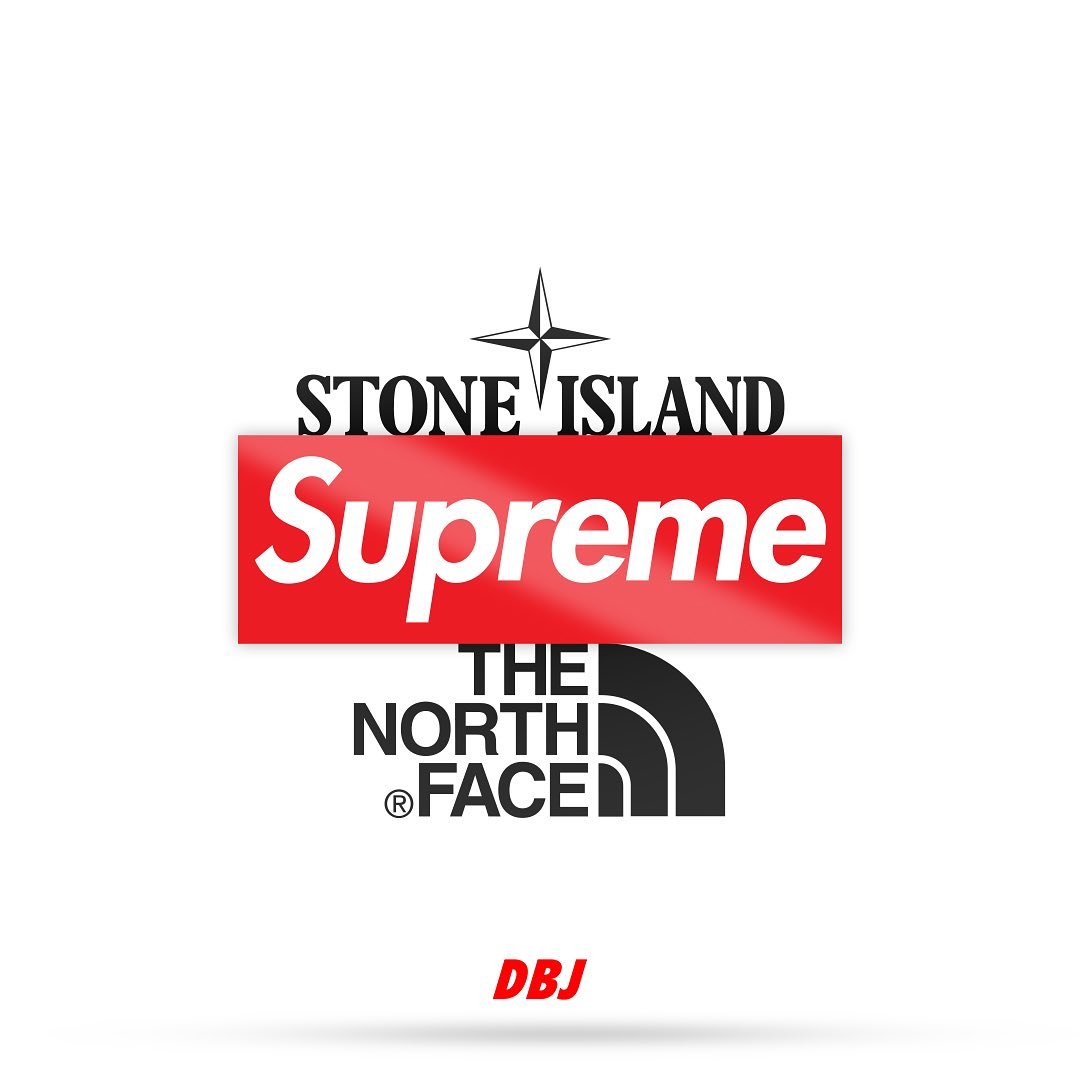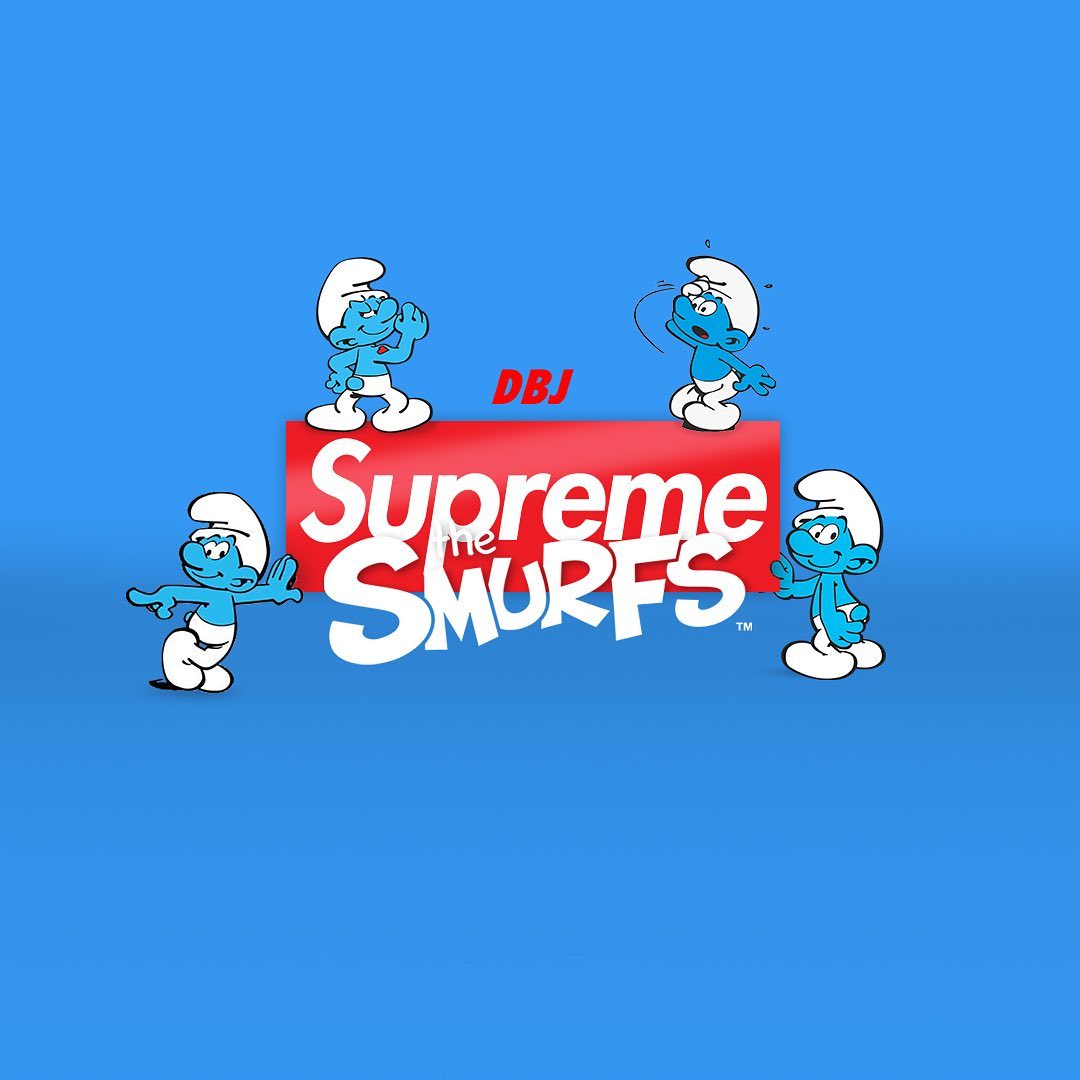 pics by @dropsbyjay
Update 09.07.2020
Supreme releases the accessories for the Supreme SS20 Week 19 and posts a short clip on Instagram about the new pieces. Supreme and popular swim outfitter Speedo are collaborating this summer to release two products together. On Instagram, the two labels have released a video in which Manuel Schenck shows the swim cap and goggles in the water.
The goggles have an adjustable strap and the famous Supreme box logo, while the lenses have a shimmering effect and add a touch of flair to the goggles.
The swim caps drop in black and red and feature a large Supreme logo.
The accessories will be released today on July 9th at Supreme.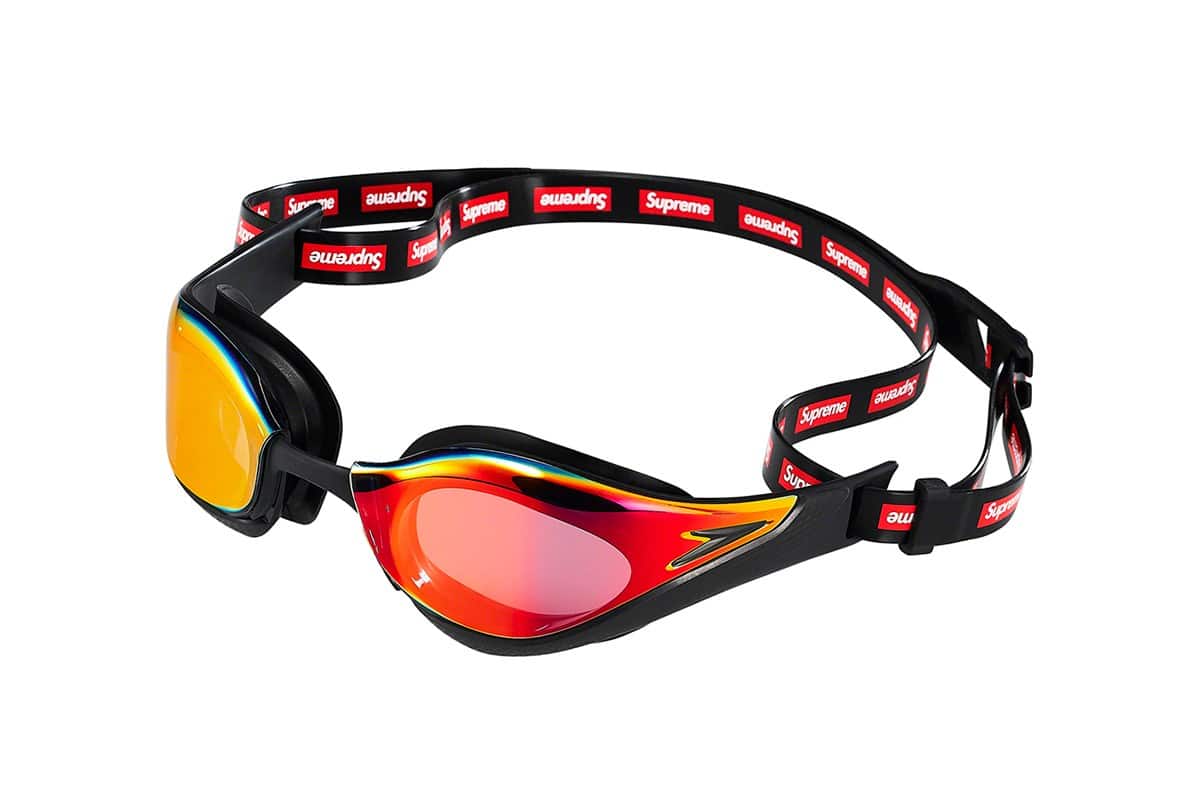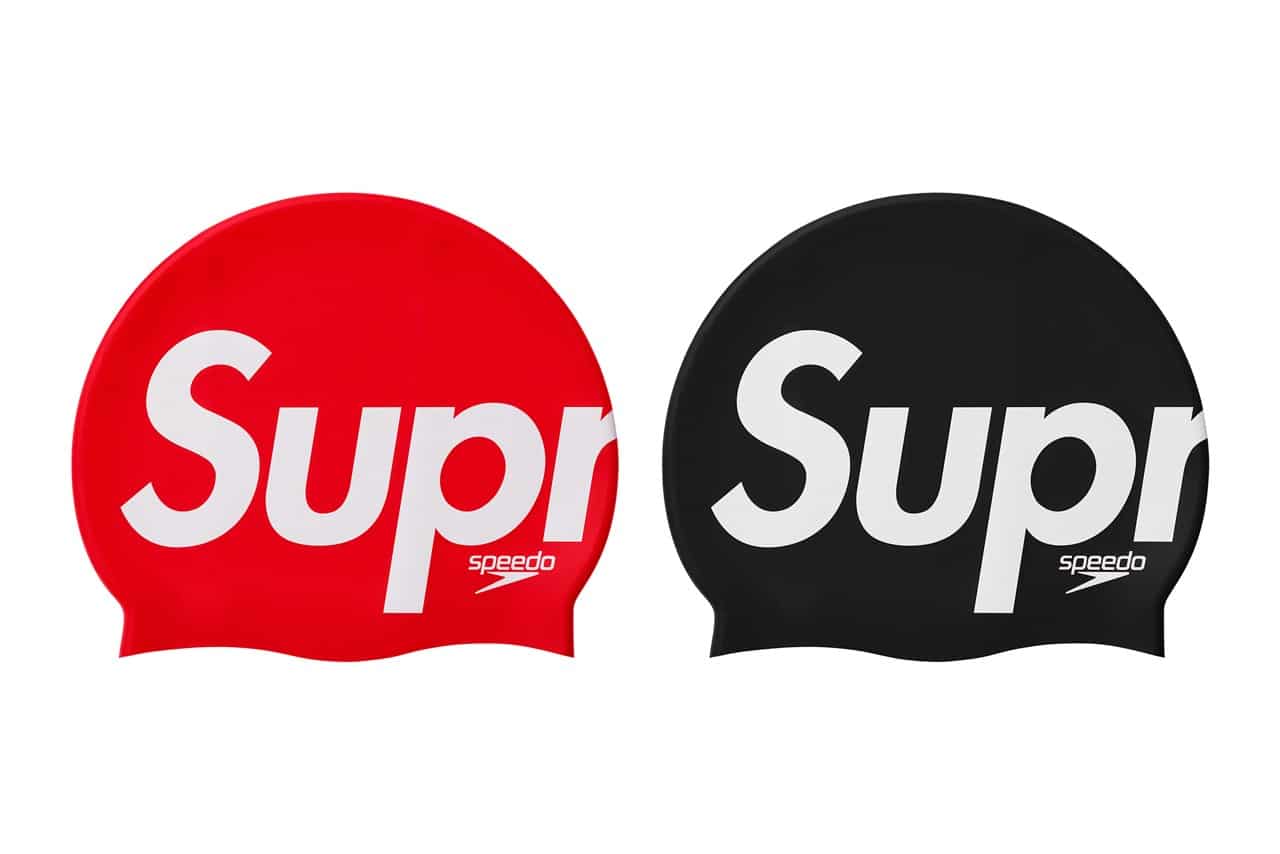 https://www.instagram.com/p/CCYjhXIjy2I/?utm_source=ig_embed&utm_campaign=loading
Update 08.07.2020
A Supreme x Vans collab probably was not even expected at the beginning. All the more reason we are looking forward to the official pictures of Supreme. The "Hole Punch Denim" collection contains two SK8-Hi models and two classic slip-ons in black or denim.
Furthermore, we assume that Week 19 of the Supreme SS20 collection will be the final week. Unpublished articles from the lookbook, such as the beach towel by Bling, the swim cap and the swim goggles, could quite possibly drop on July 9th.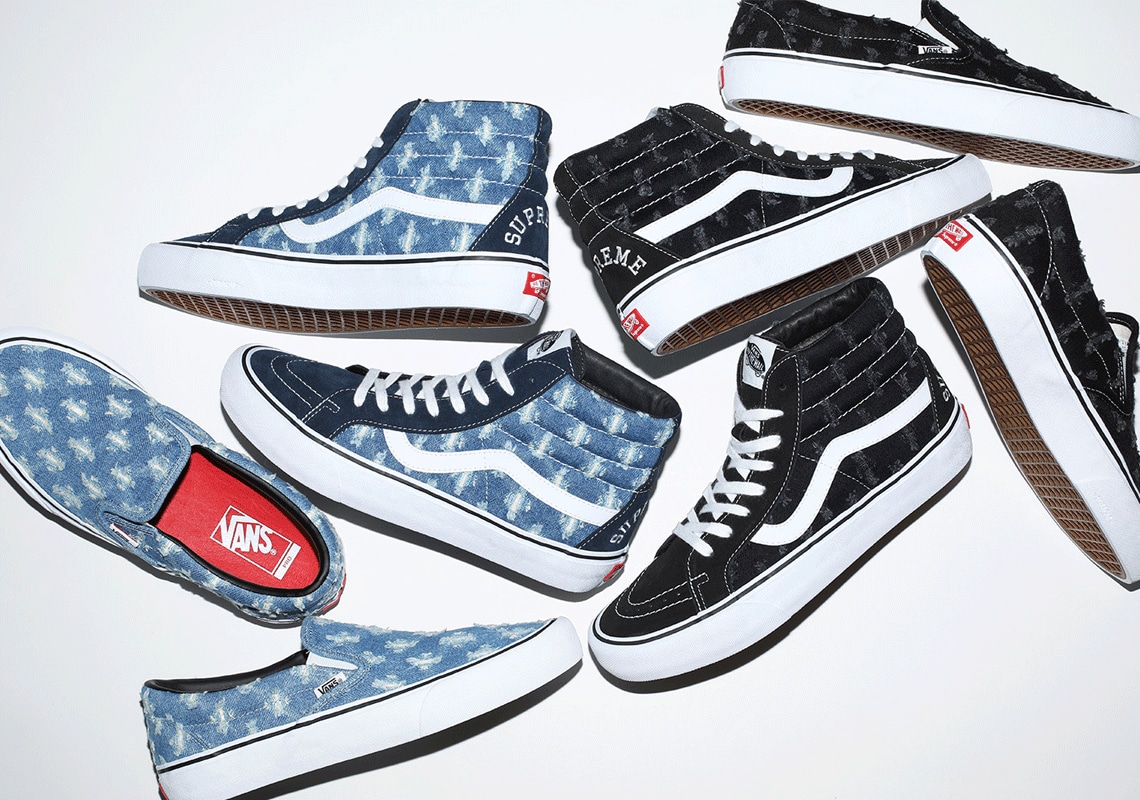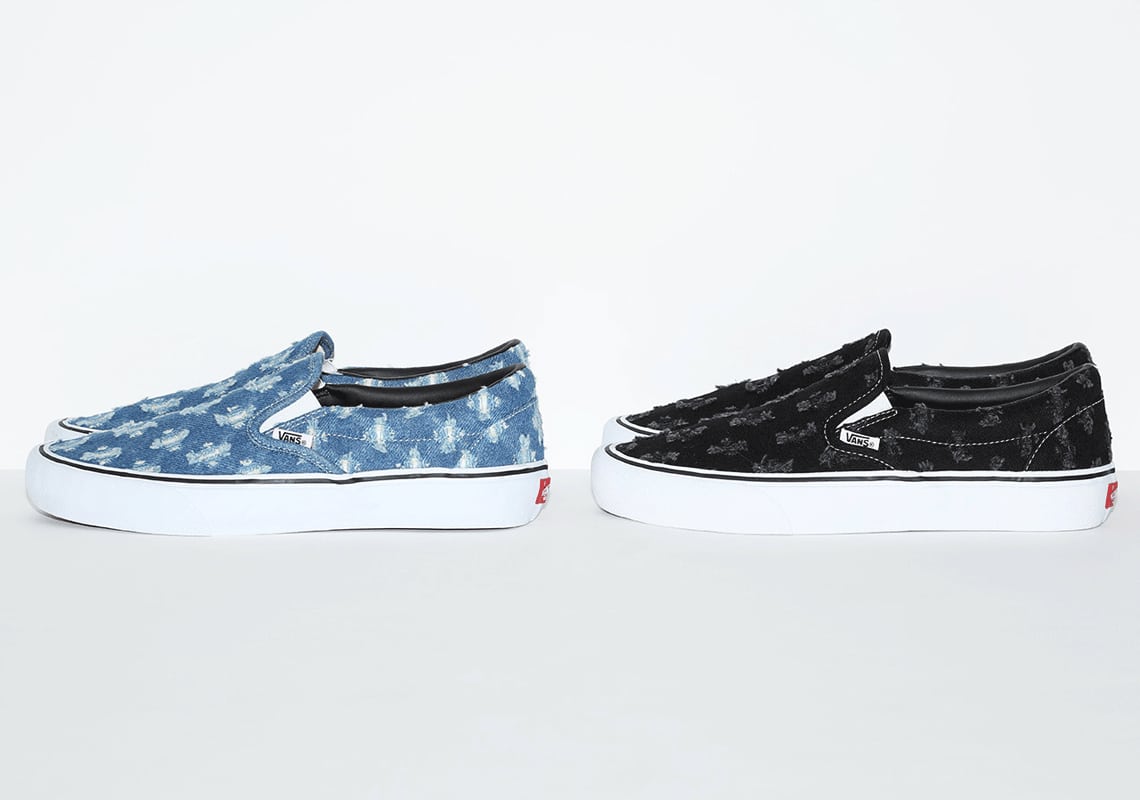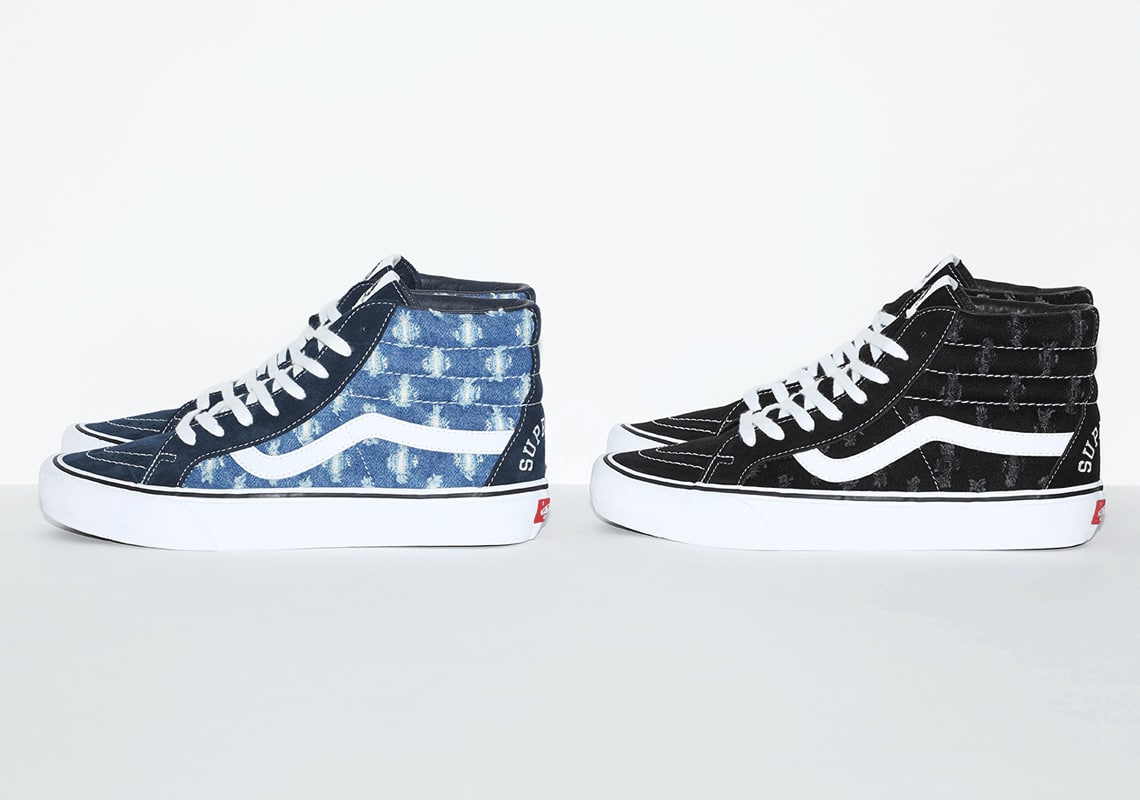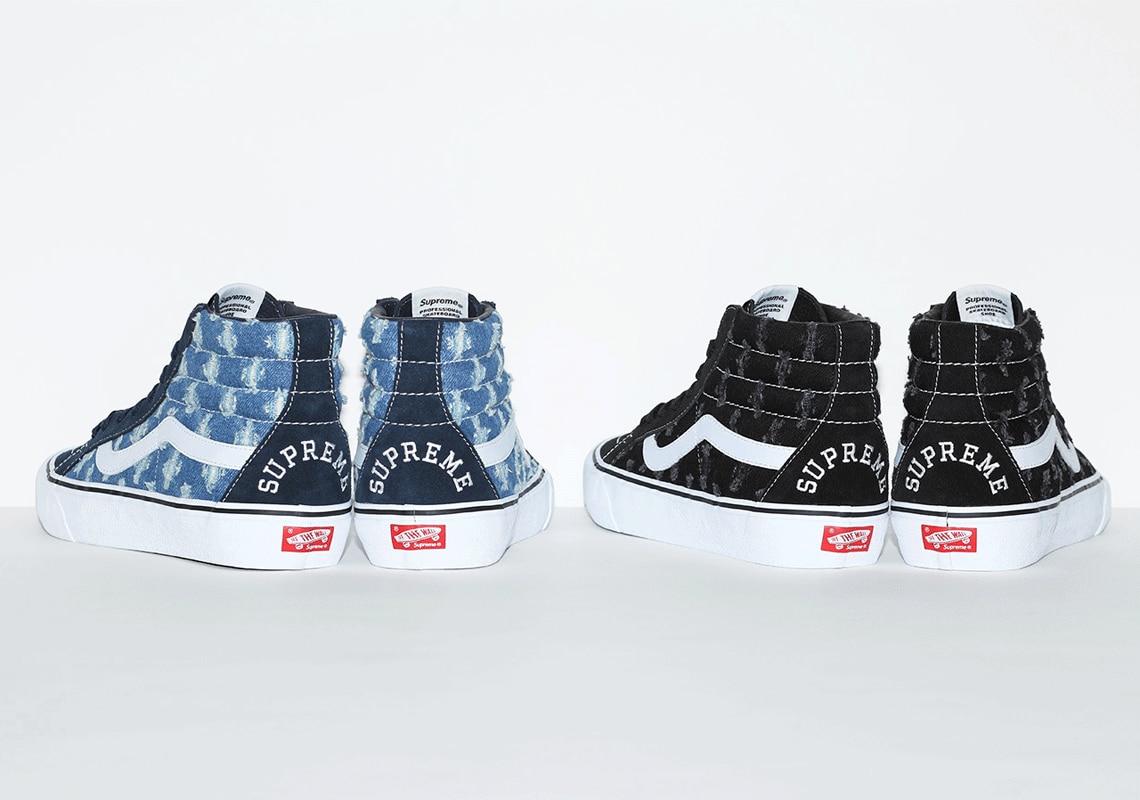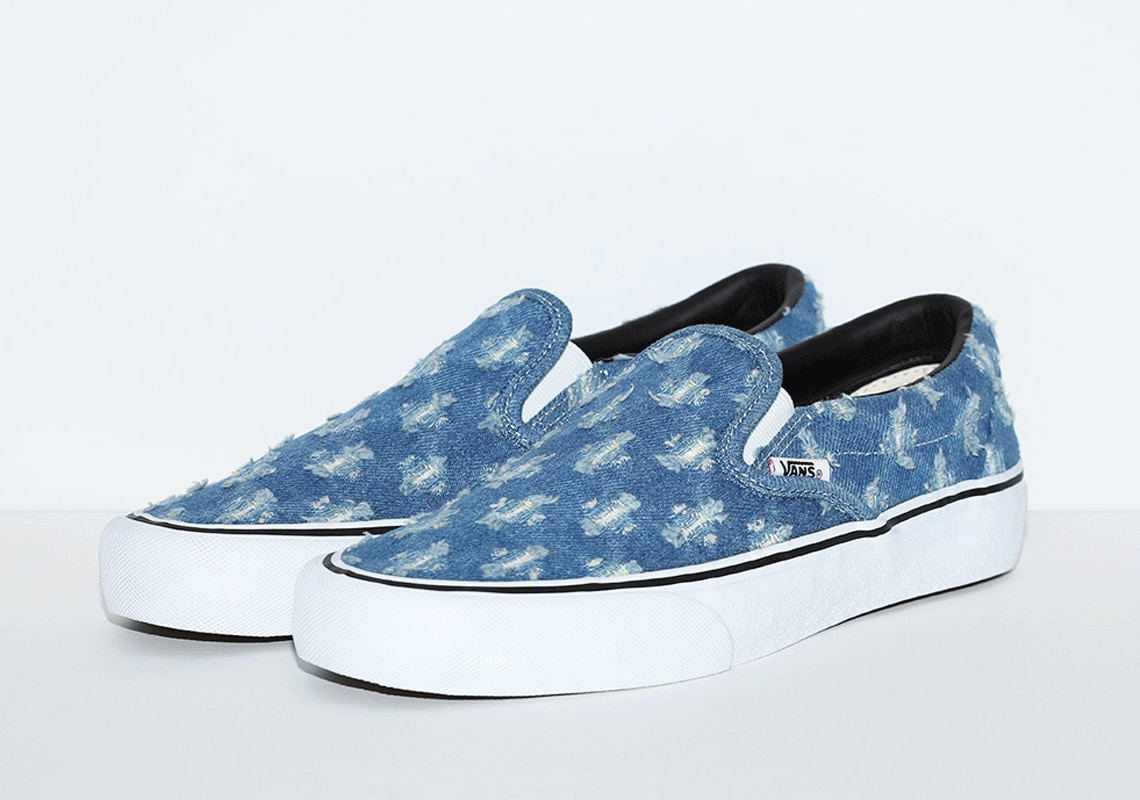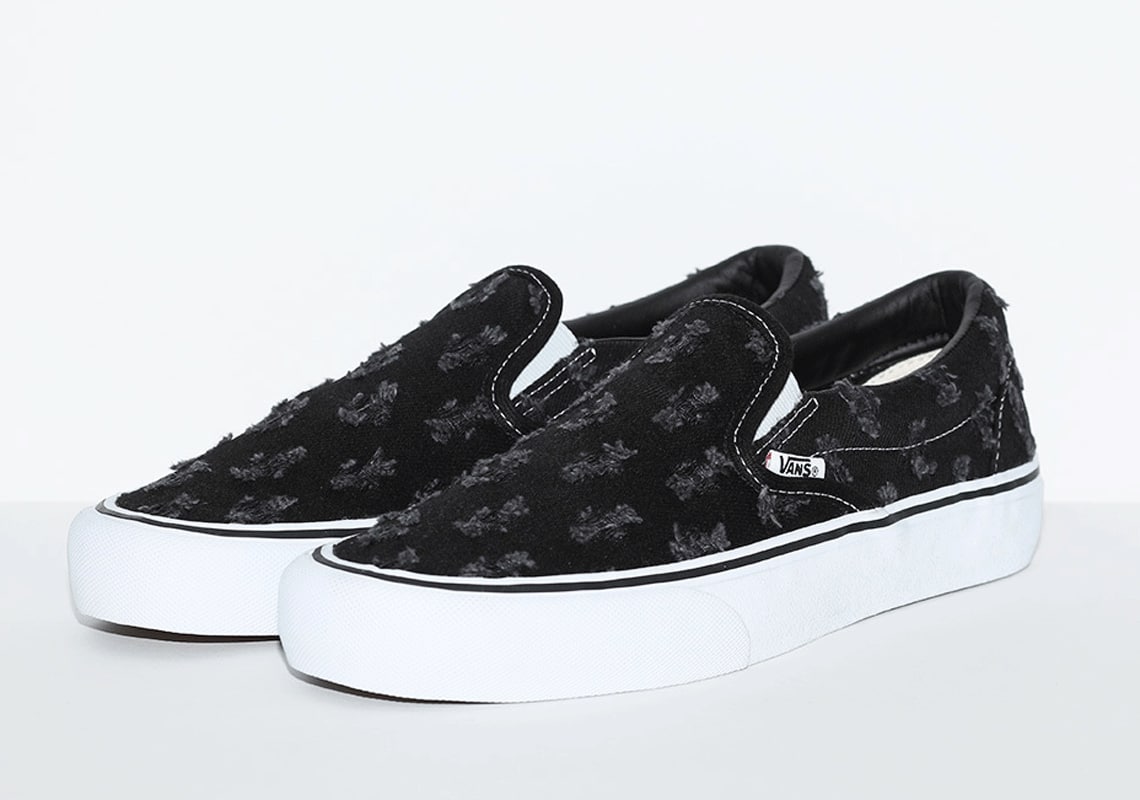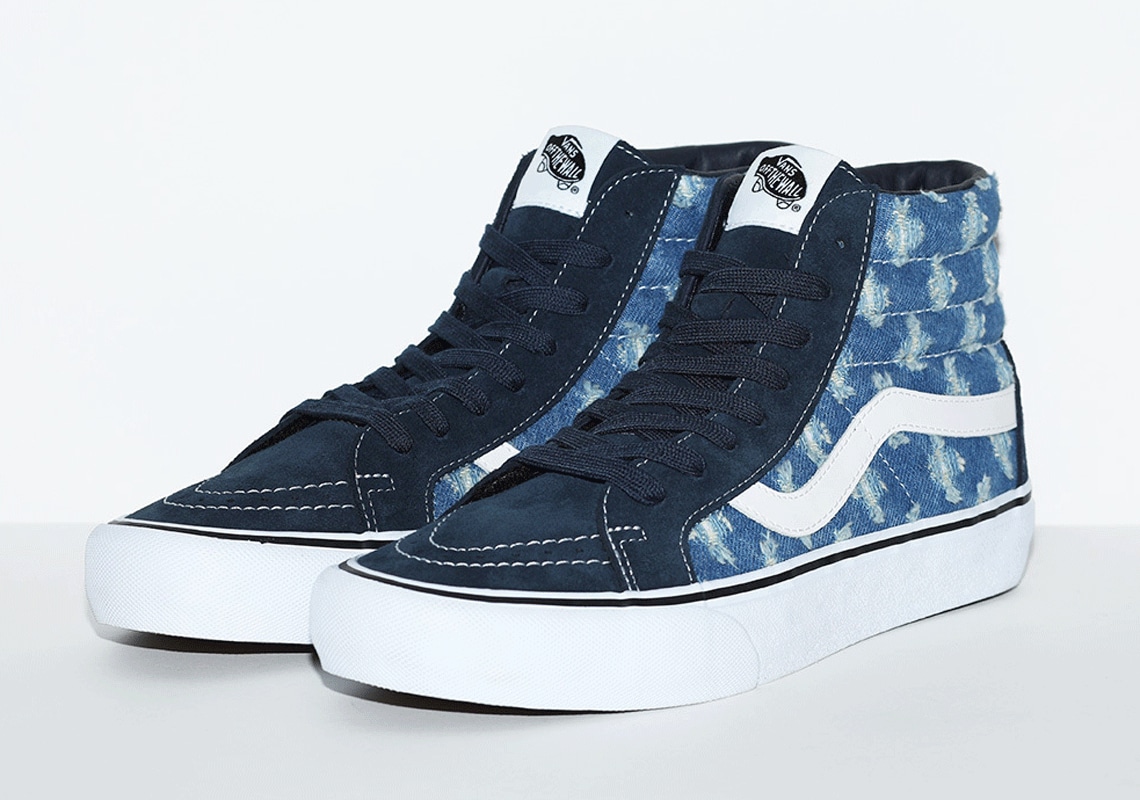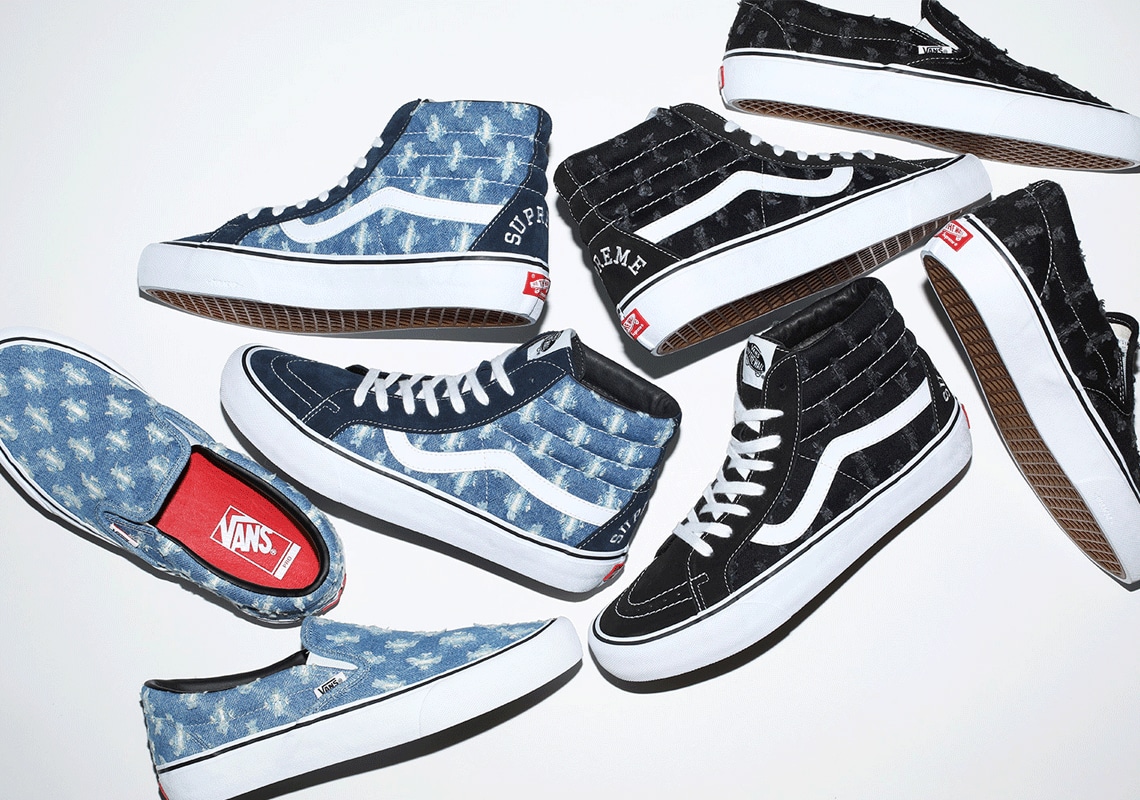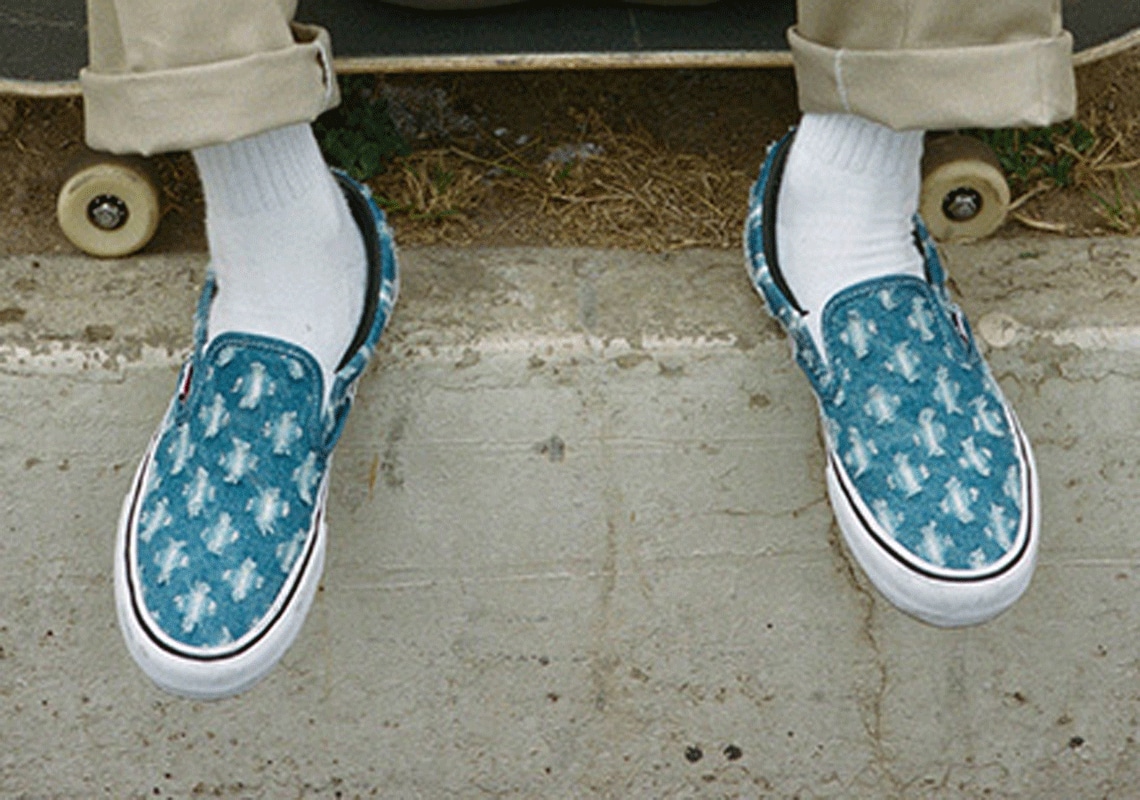 pics by @dropsbyjay
Update 01.07.2020
This week, Supreme is supplying even more summer tees with Motion logos and prints. Furthermore, we are allowed to shop for new accessories once again. Take a look at the Supreme SS20 Collection Week 18.
The Supreme summer tees are the main highlight of this collection. Crazy prints and different colours fill the drop this week. If it's still raining in your area, you should definitely get the Supreme umbrella. The label will supposedly release the black/white umbrella with a Supreme logo. Or, you can get the colourful blanket from Supreme that is perfect for the beach. The fabric is very soft and the style is truly unique.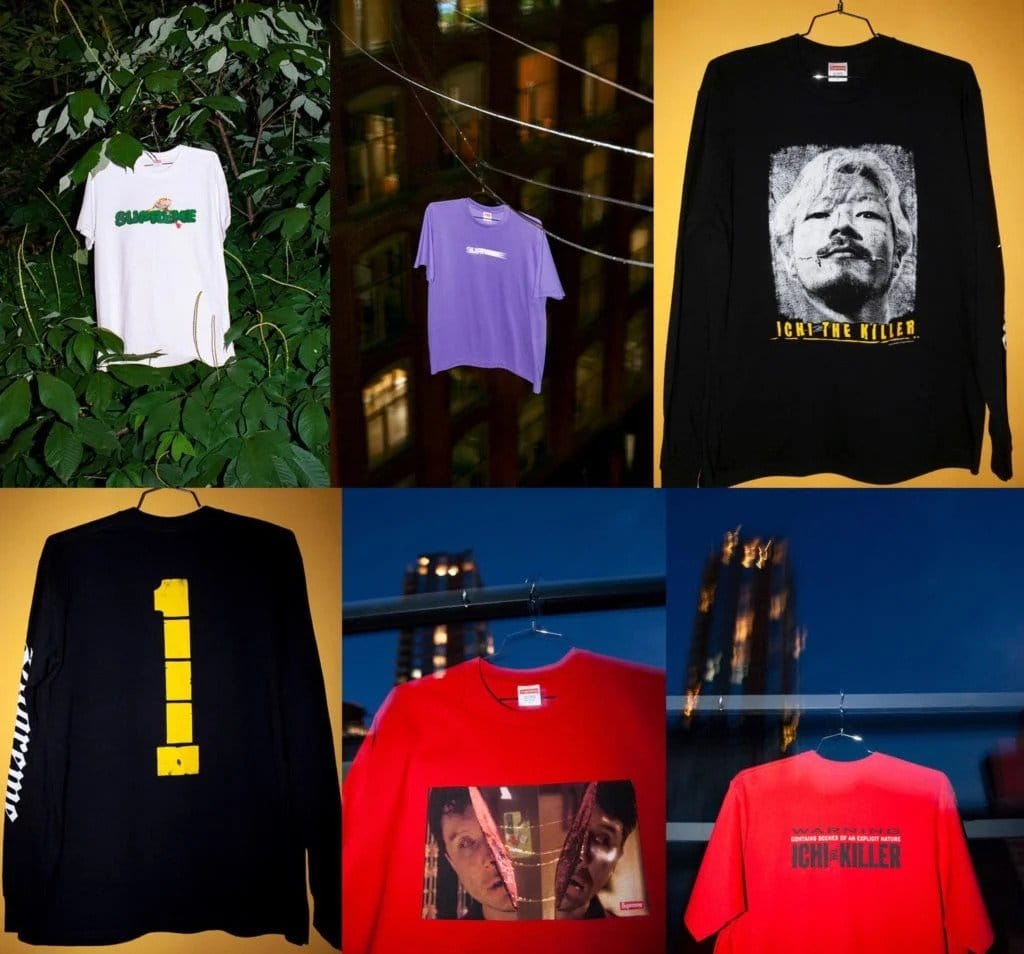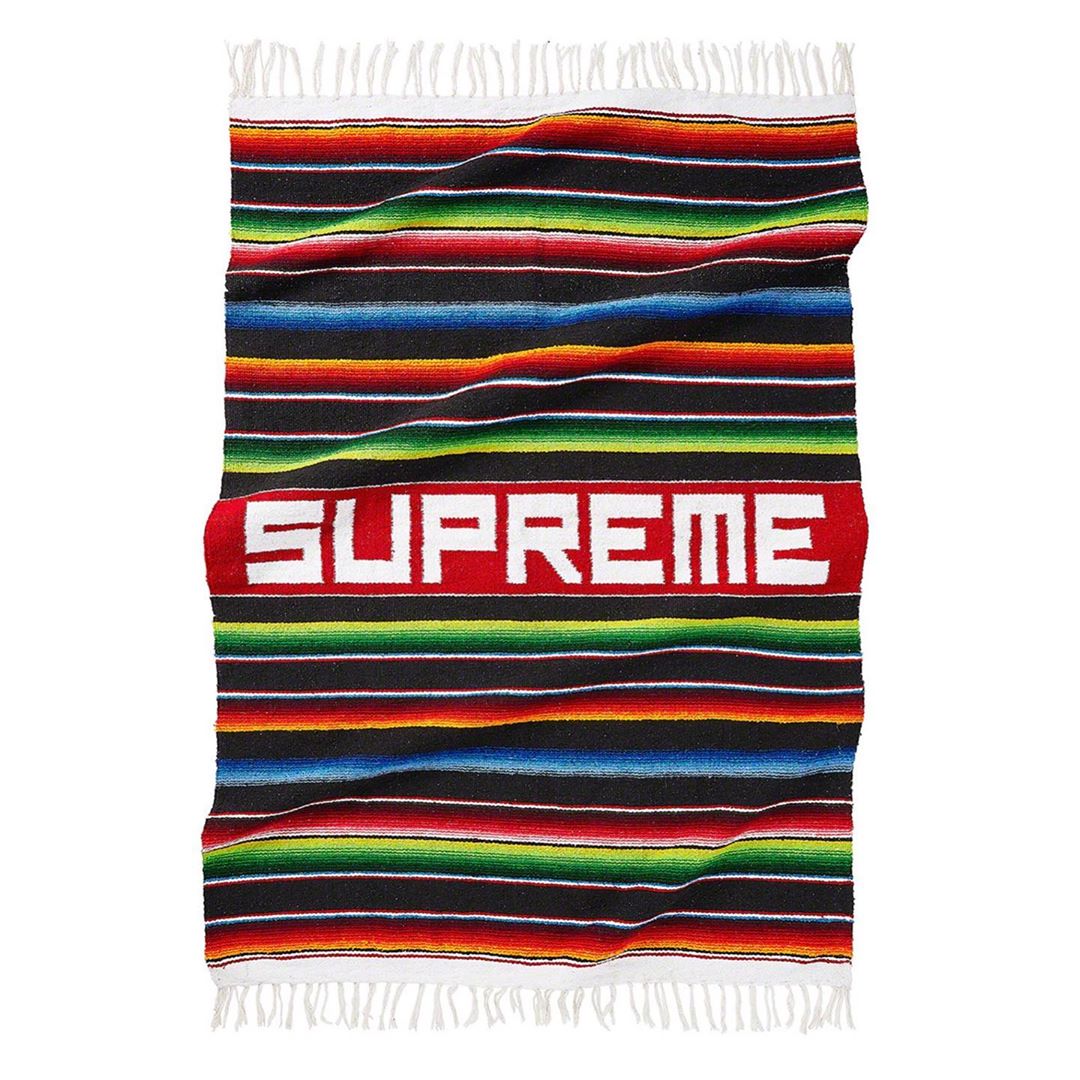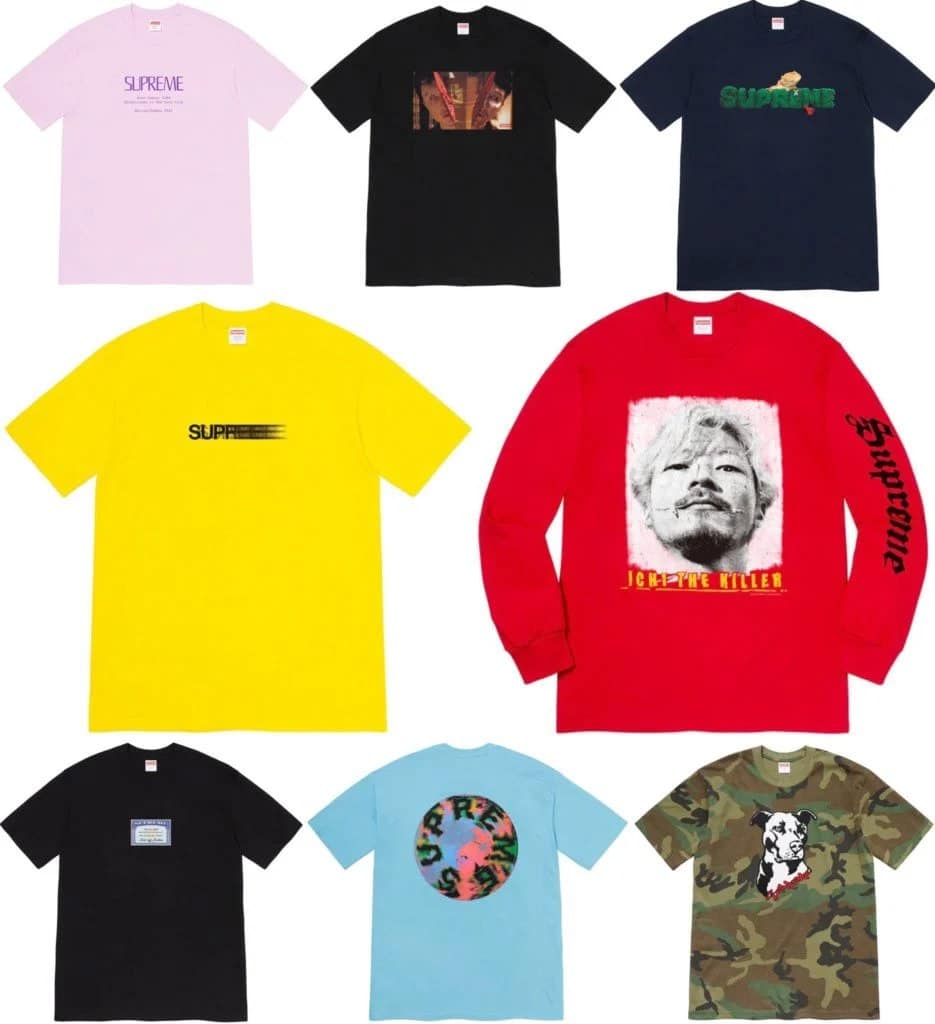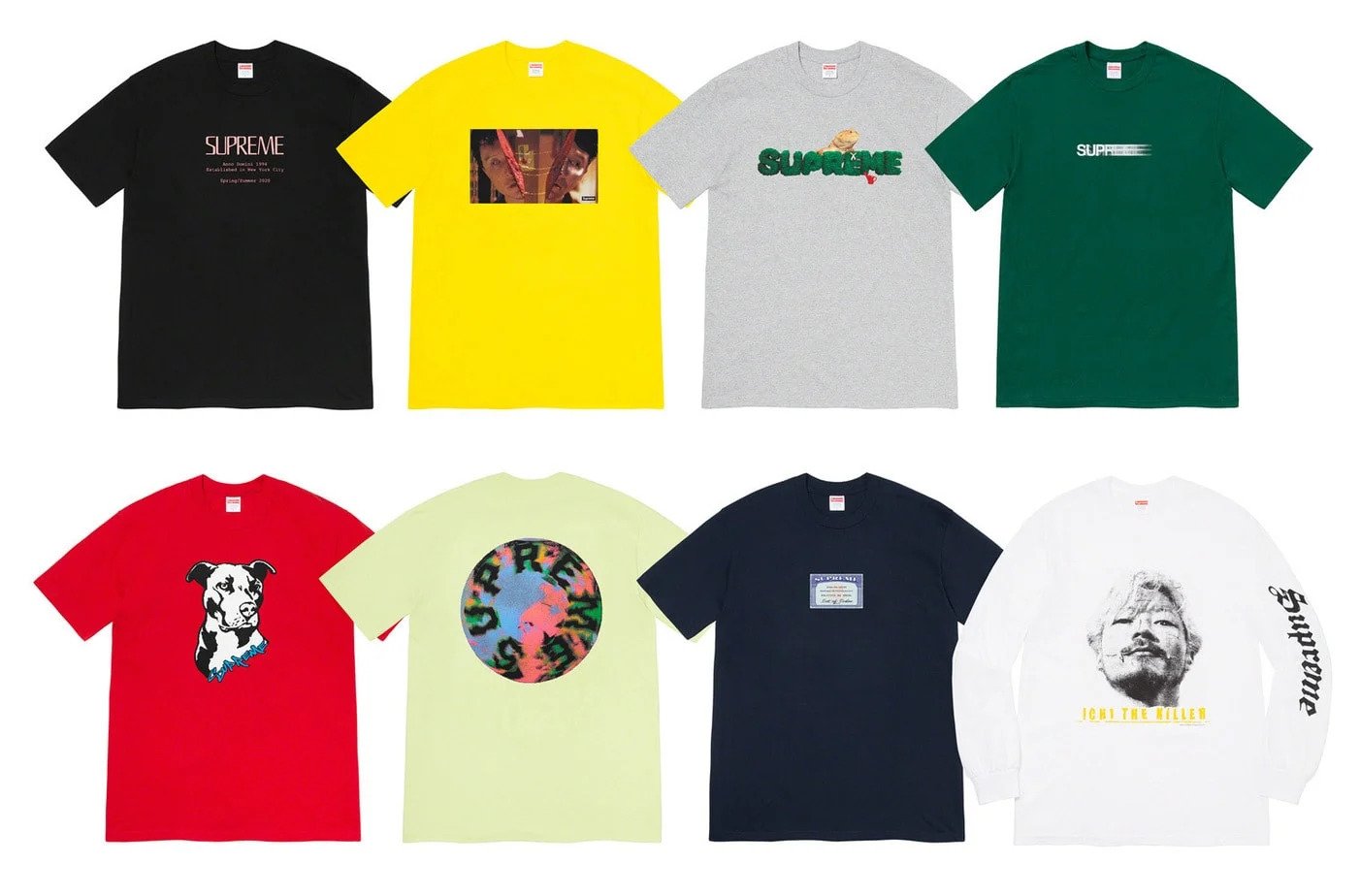 Update 25.06.2020
The Supreme SS20 collection week 17 is about to happen. As usual, the new items will drop at 11:00 AM. Part of today's drop are some more tees, shorts and accessories. Take a look at the pictures of the pieces and do not miss the drop at the Supreme shop.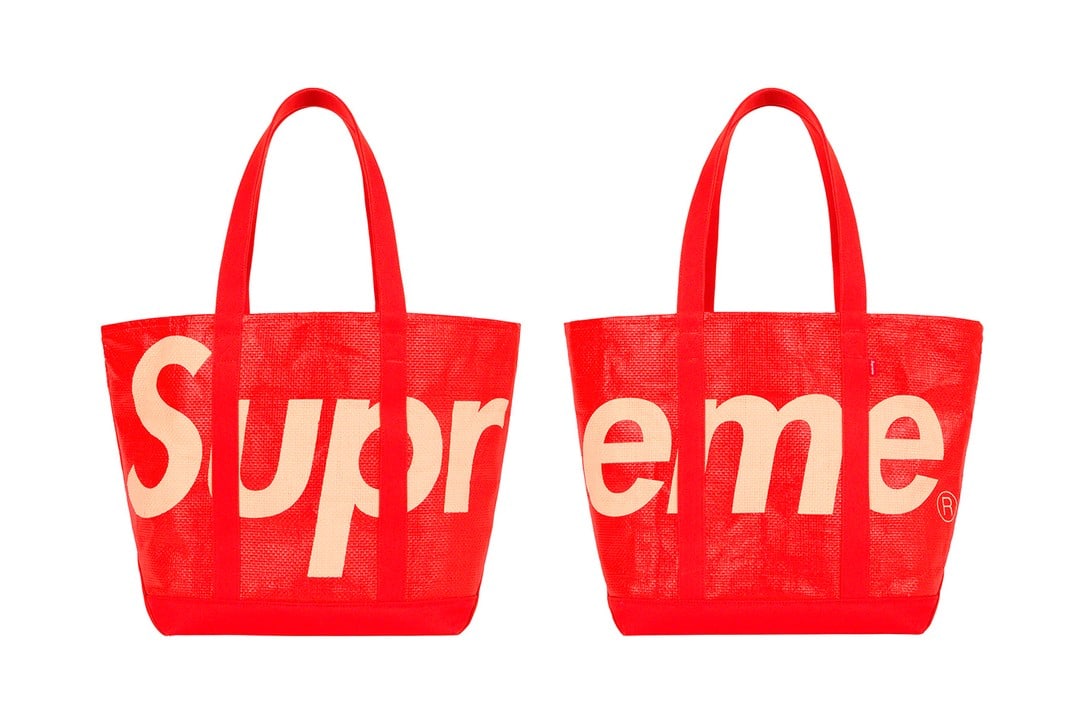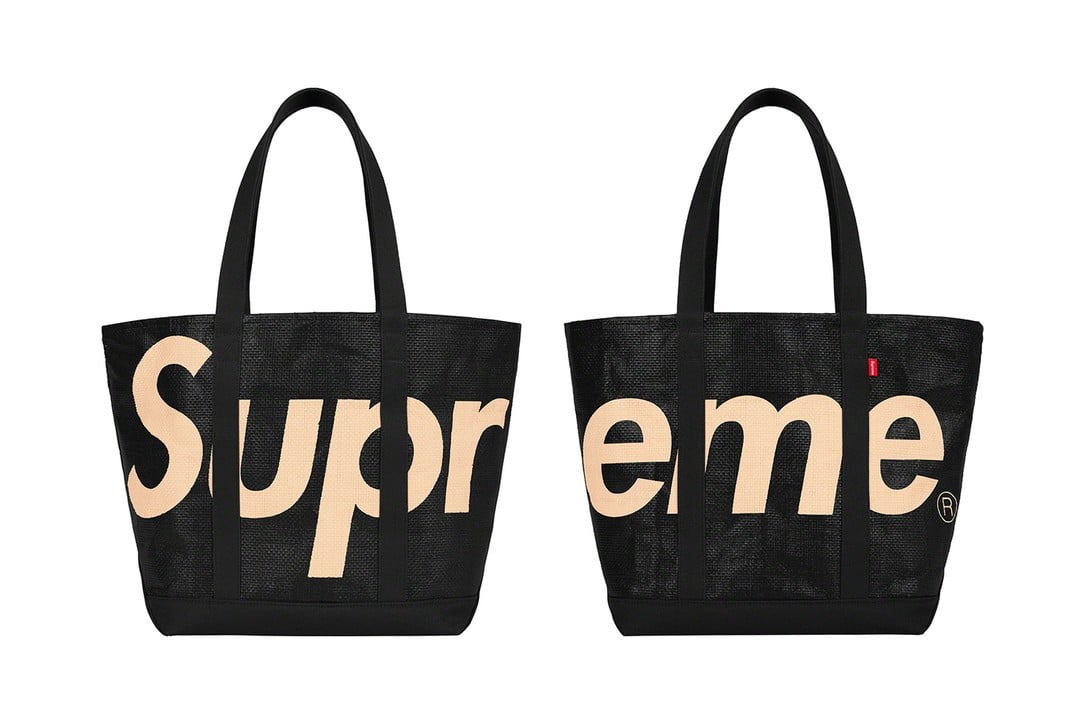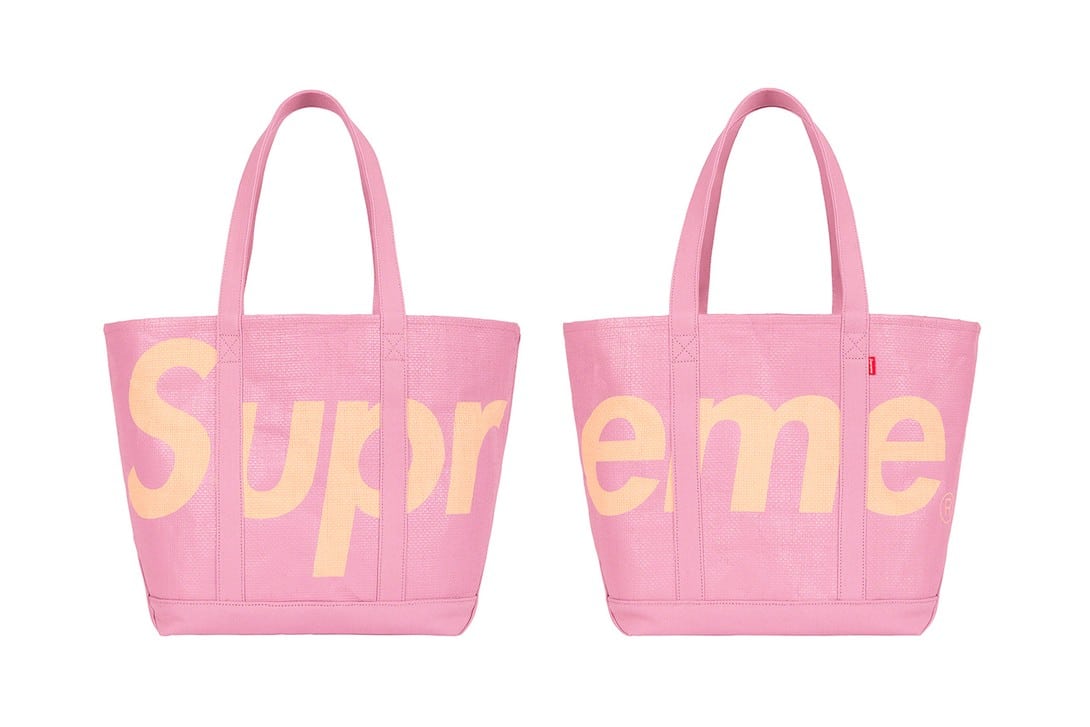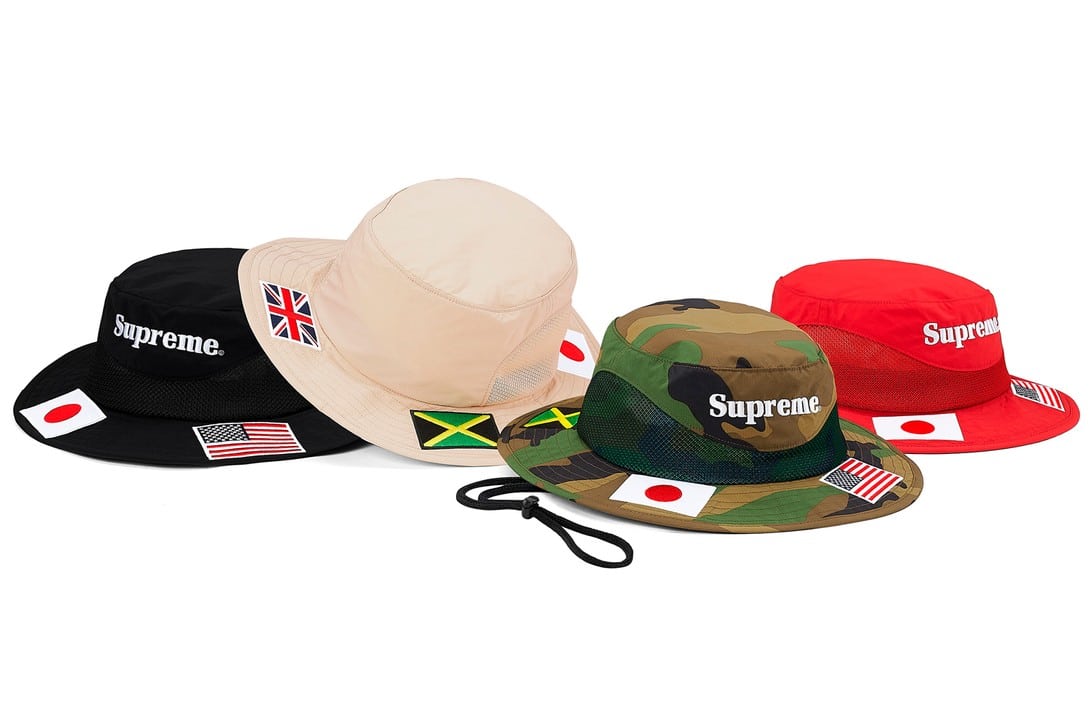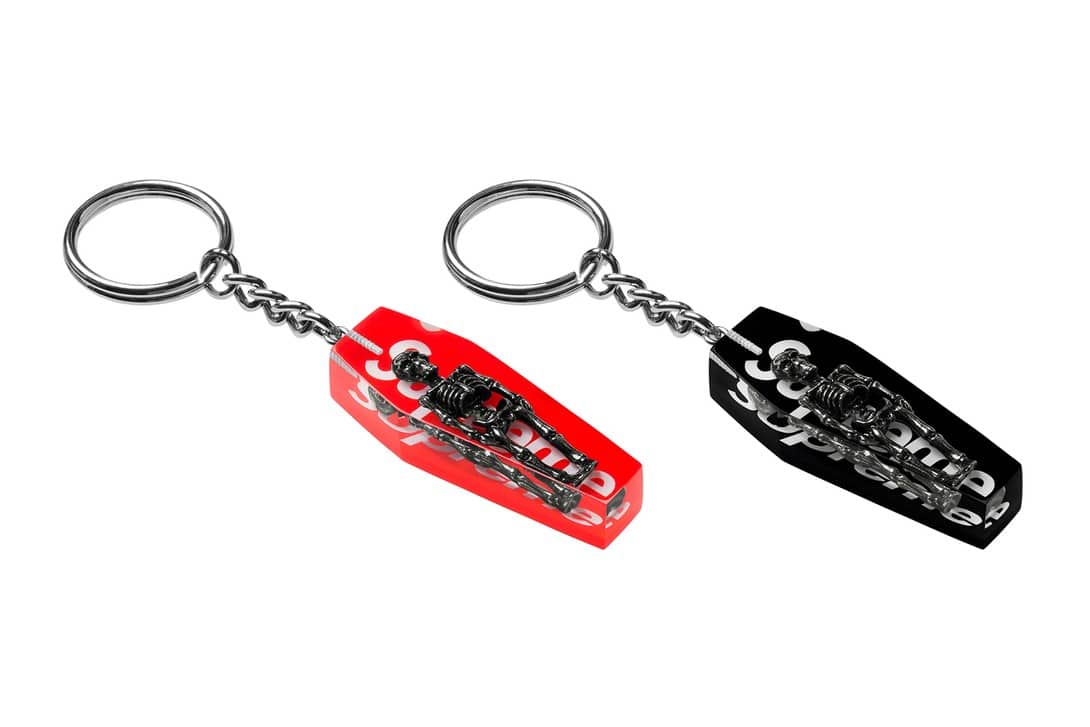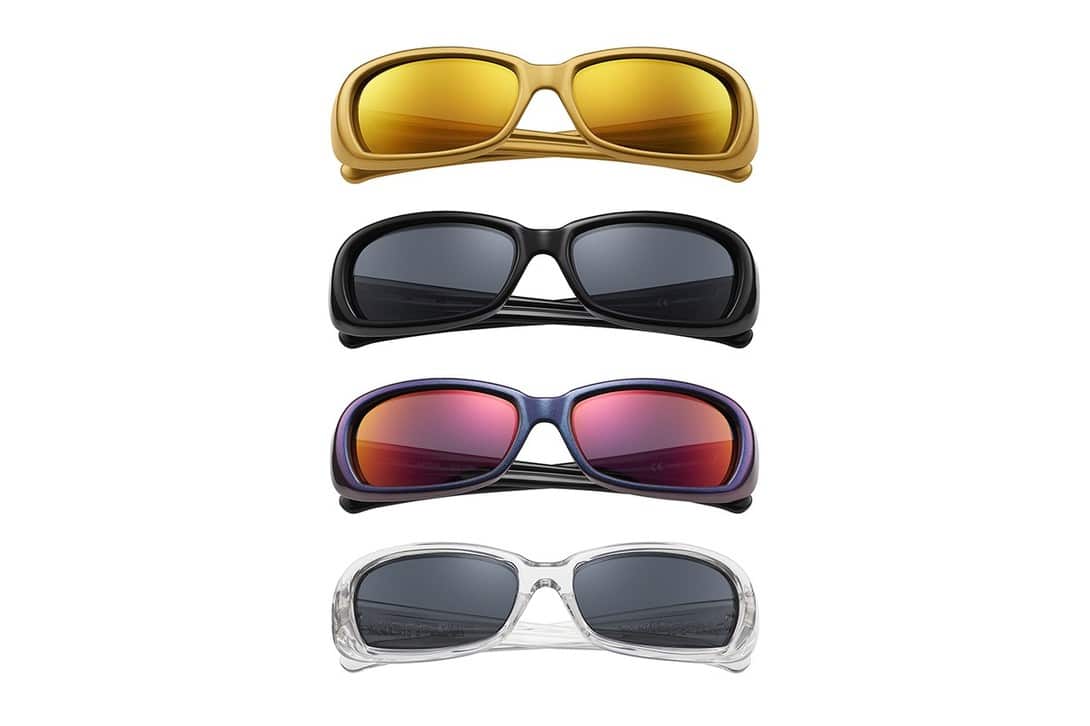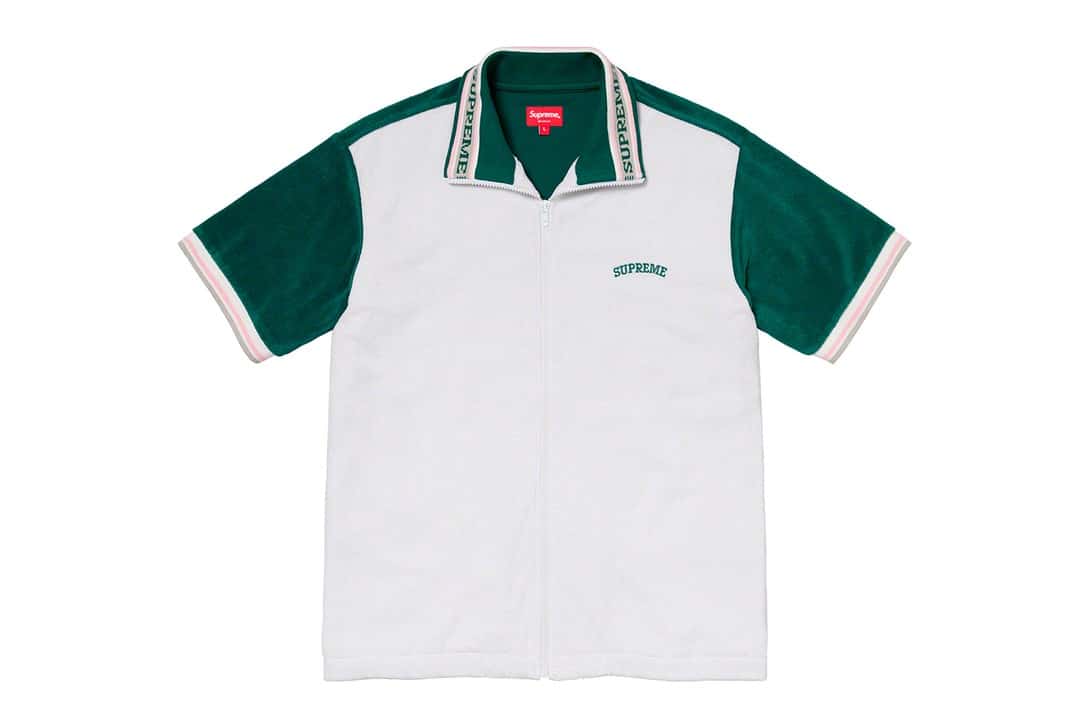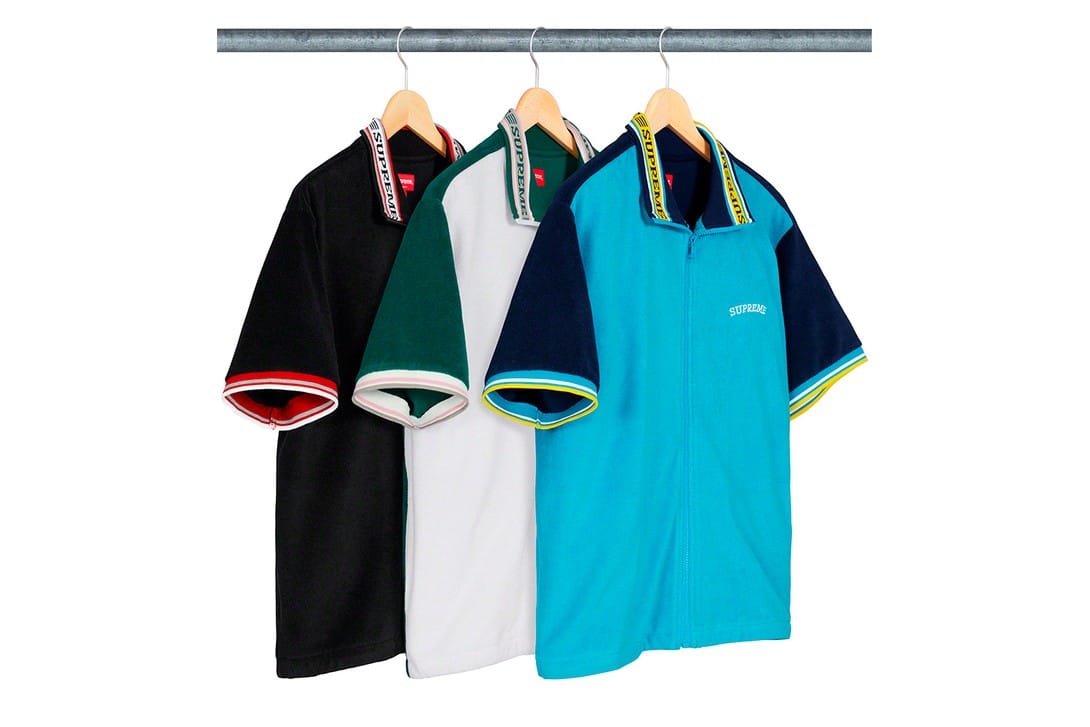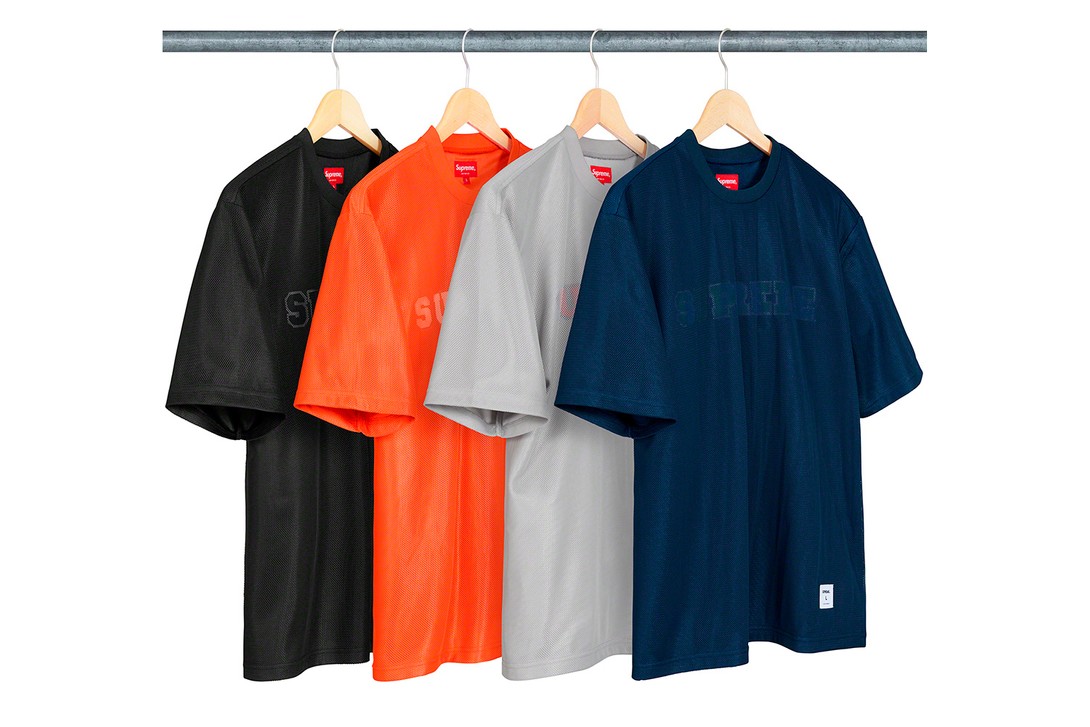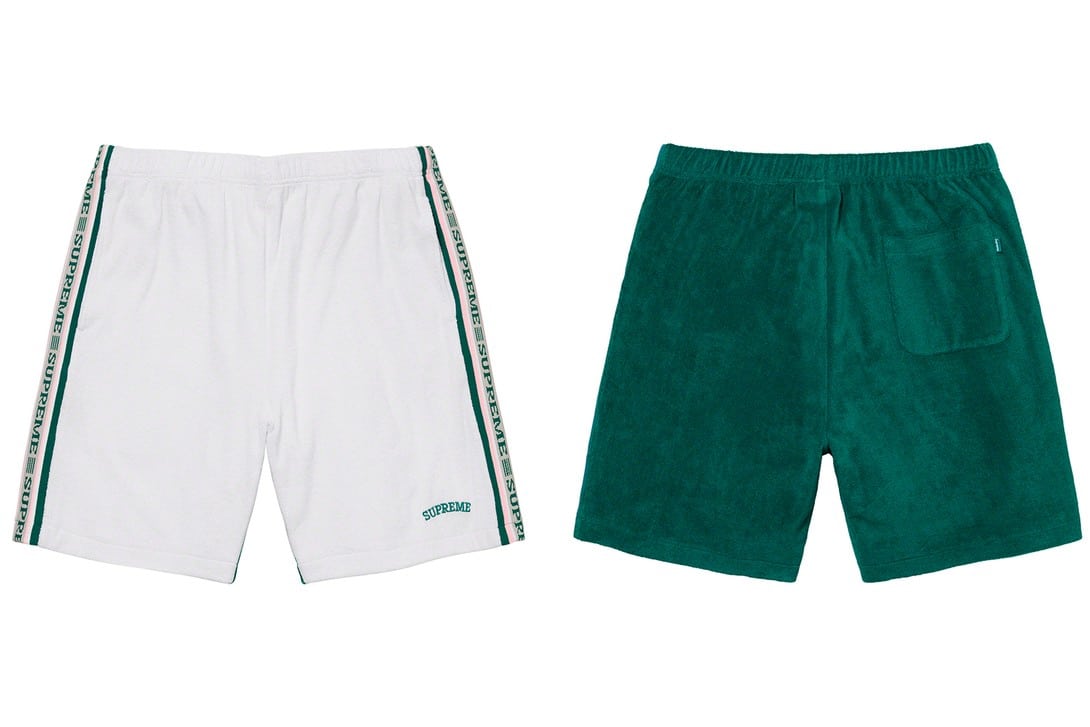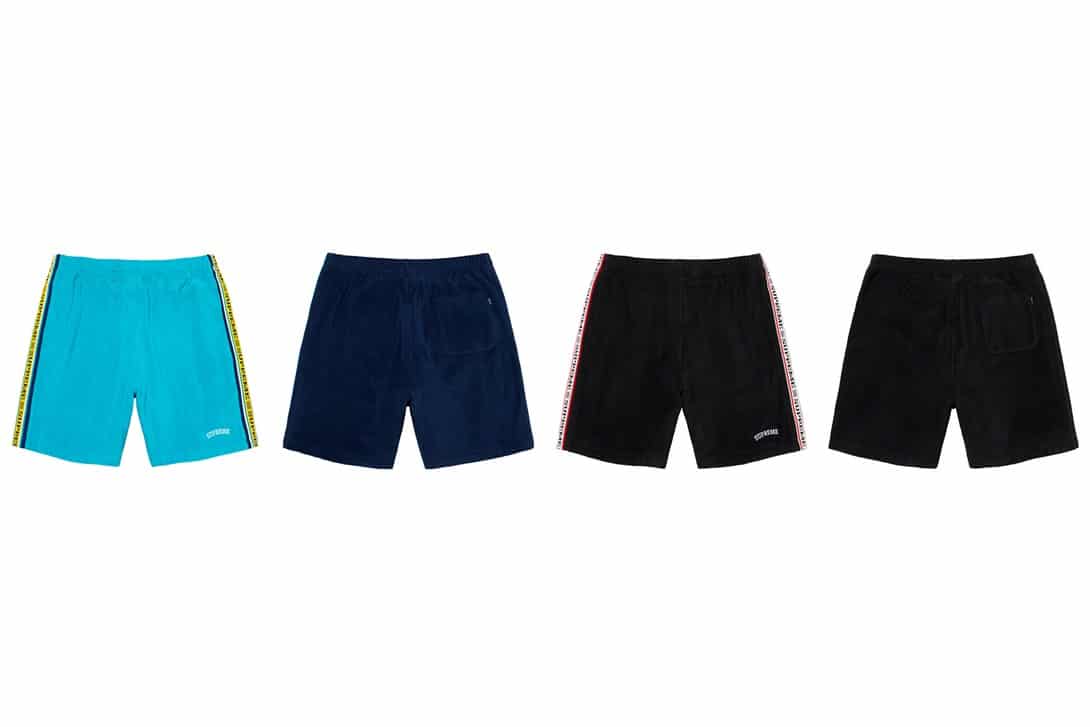 Update 24.06.2020
Supreme still has some heavy stuff up its sleeve. Take a look at this week's leaks and expect the drop from Supreme SS20 collection Week 17 on June 25th.
Even though the weekly releases seem to be a bit thinner, they are still great, thanks to the variety. Fans can expect another remarkable drop on June 25th. A handful of hoodies and various tees created with performance artist Leigh Bowery will fill the drop.
In addition, an "accessory" will also be released this week. Ziploc's collaborative bags with the Supreme logo are probably only a small highlight though. With them, you can finally store your vegetables in style.😐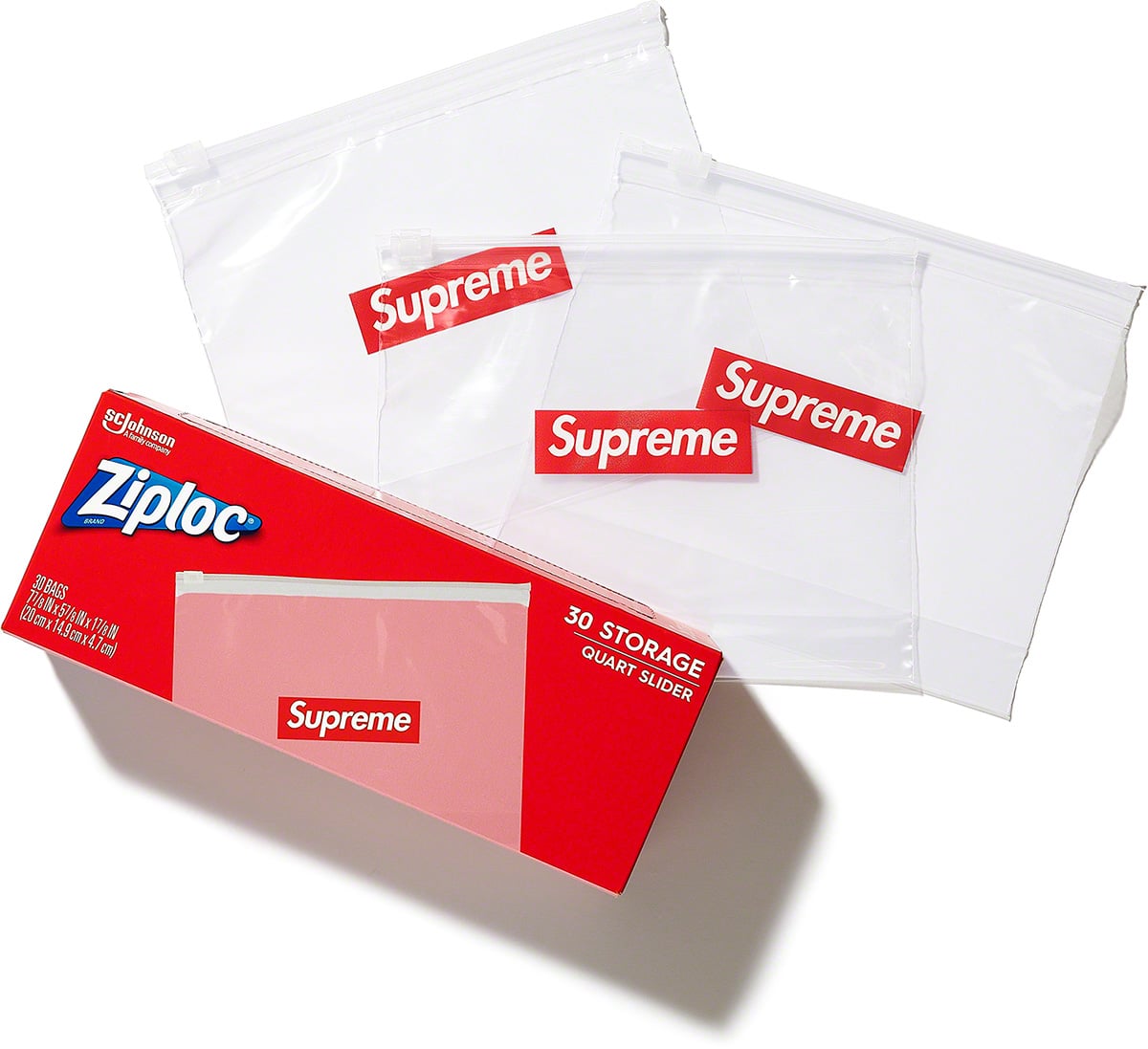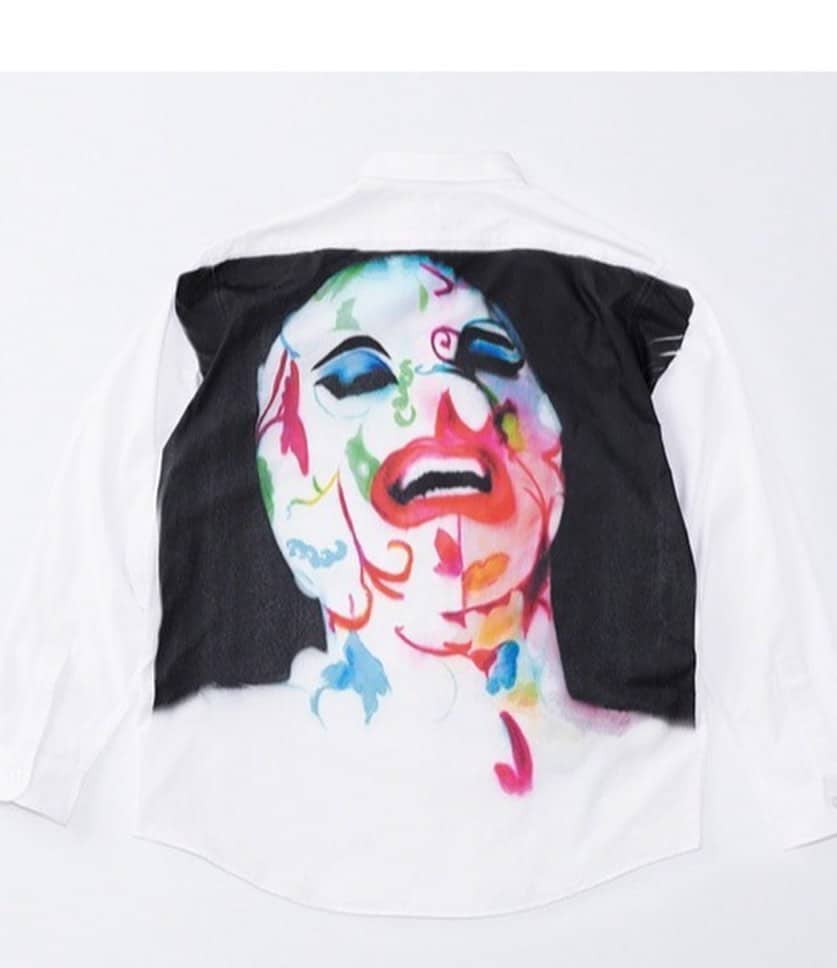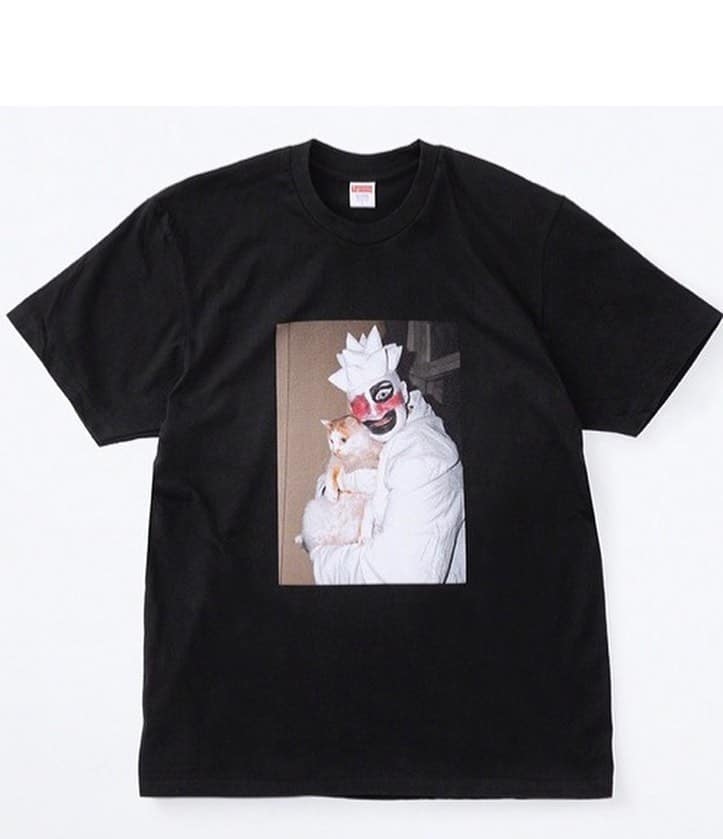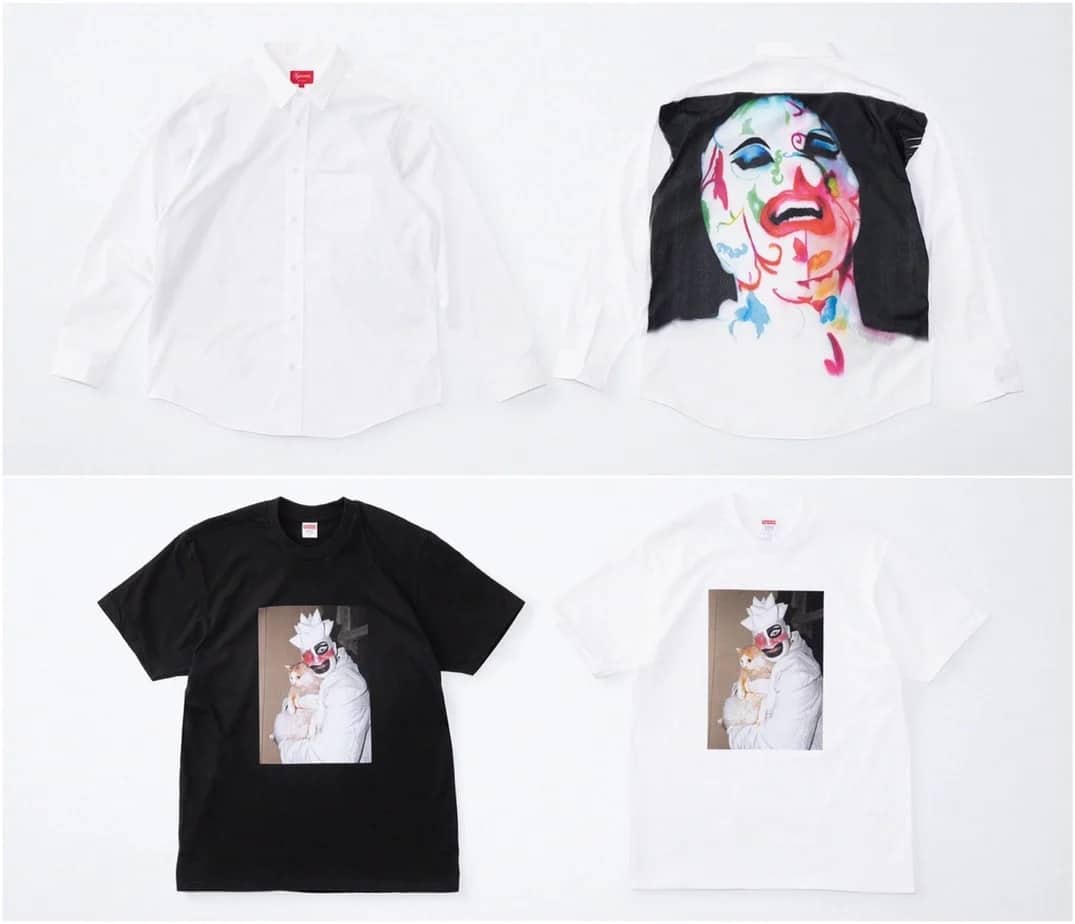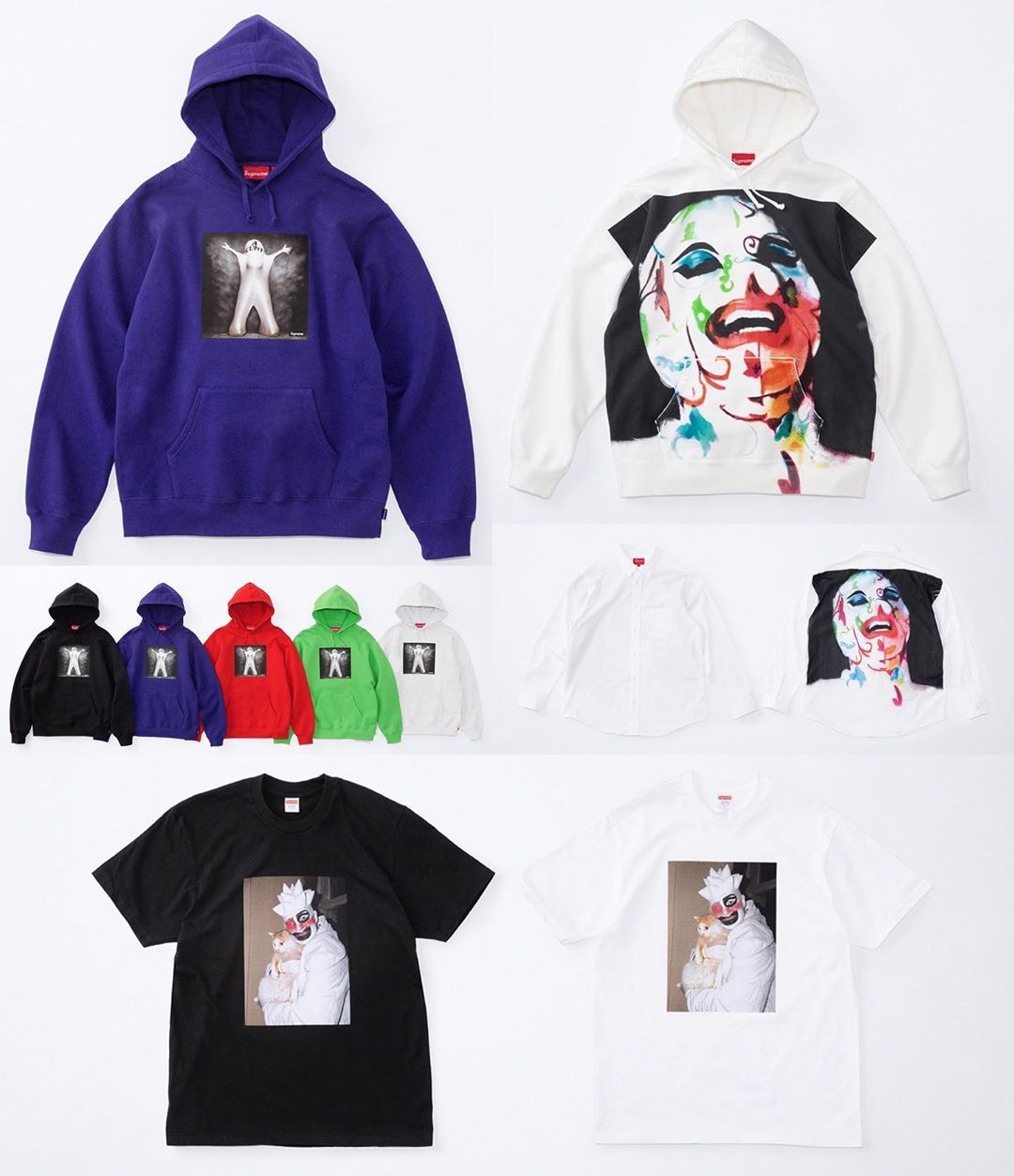 pics by @dropsbyjay
Update 18.06.2020
The last few days with Supreme have been really weird. After the cancellation of Week 15 and the rather unspectacular Week 14, hypebeasts have had the chance to save their money and concentrate fully on Week 16.
After the little break, we now take a look at the pieces from this week. Supreme releases three Naomi Crewnecks in green, blue and pink as well as other hip hoodies and also tees and caps in different colours. Three towels with the inscription "We Wanted To Be Known As Supreme" and some summery shorts will also be released.
If you want to staple your papers with more style in the future, you should definitely take a look at the Swingline stapler. The part with the Supreme branding has come as a surprise to us this week and it looks very strong.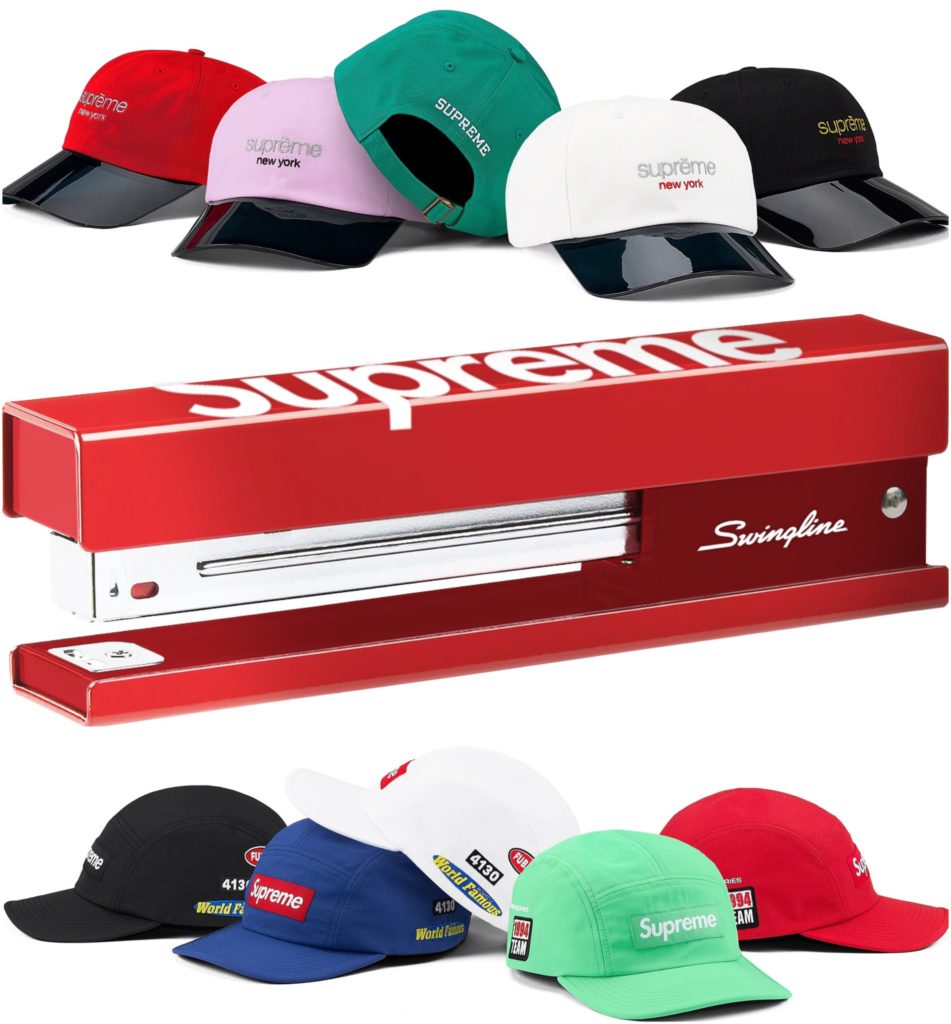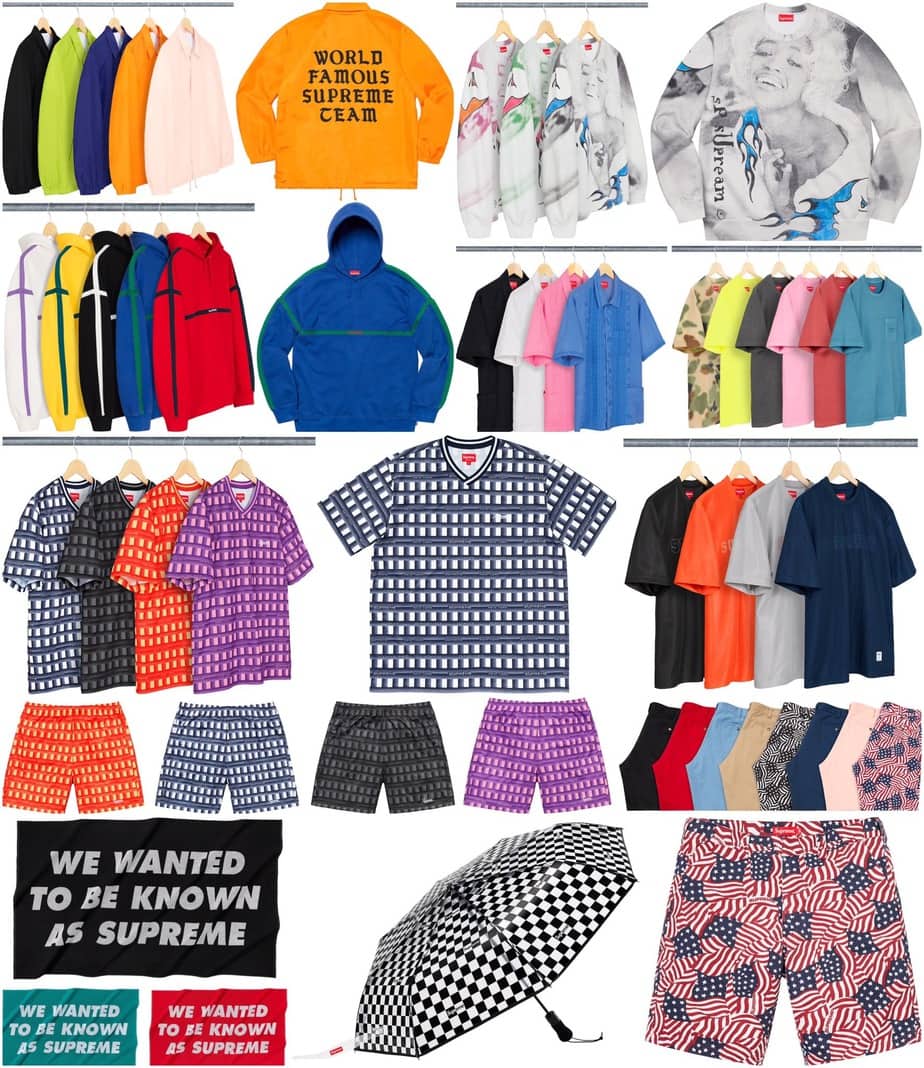 pics by @dropsbyjay
Update 28.05.2020
Could the Supreme SS20 collection Week 14 be the best week yet? This week, the Mac Tools T5025P workstation is finally scheduled to drop. It's a tool trolley from a well-known brand that was made in the USA. Every hypebeast-craftsman will probably be happy if they can hammer a nail into the wall.
Also appearing are the pieces from Supreme with the all-over koi print. The clothes are very flashy and look simply crazy. Additionally,  there is a ceramic bowl with koi print as well as other hoodies, tees, pants and caps.
The release date is today, May 28th at the Supreme online store.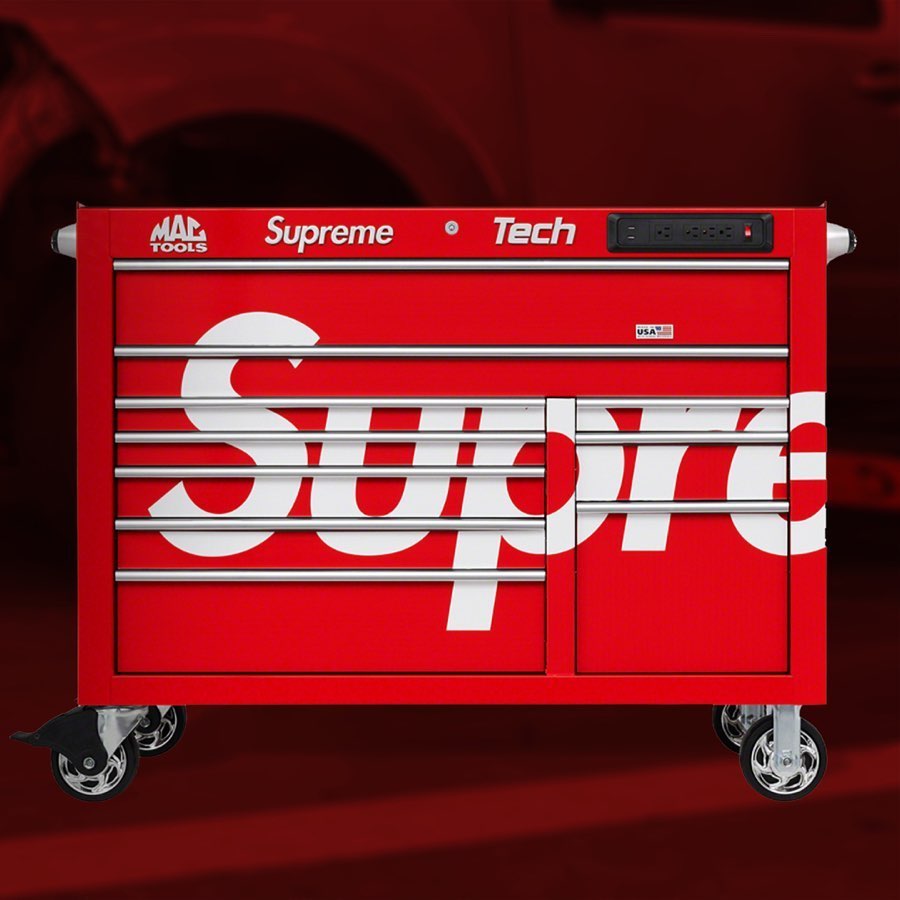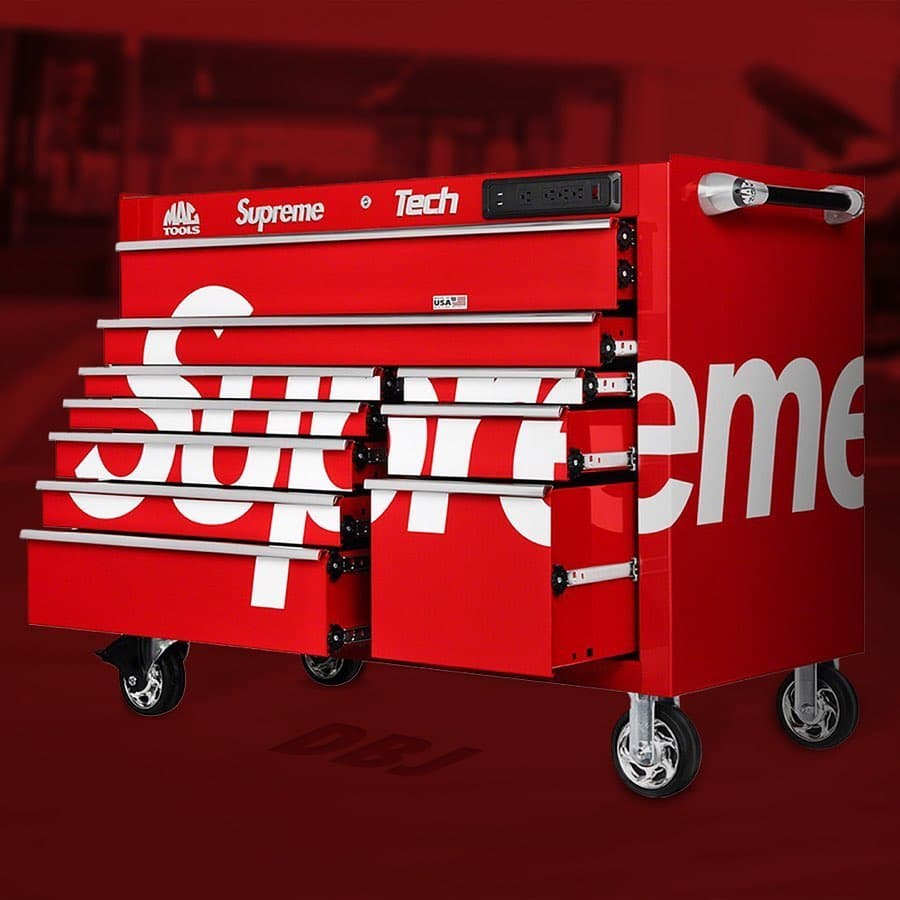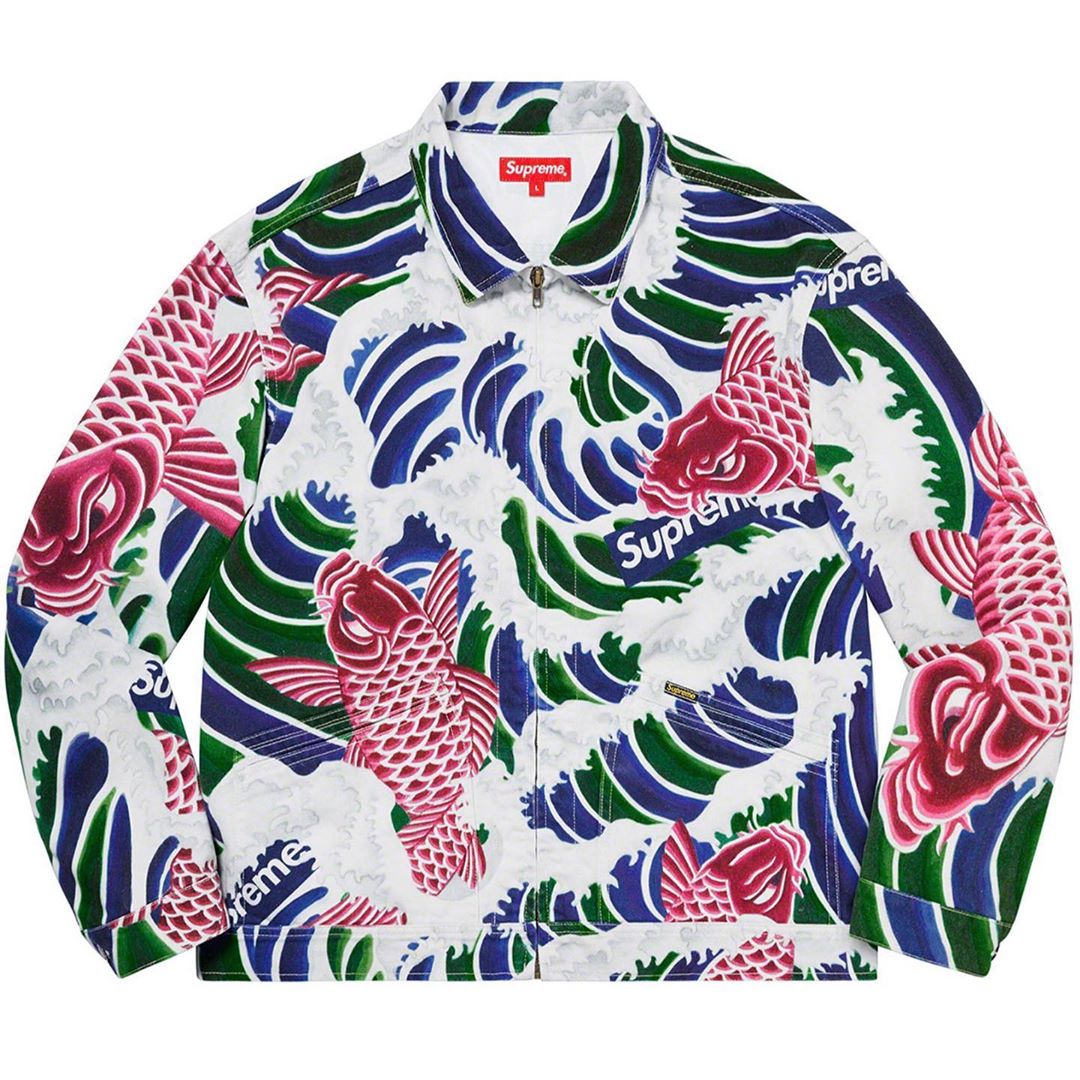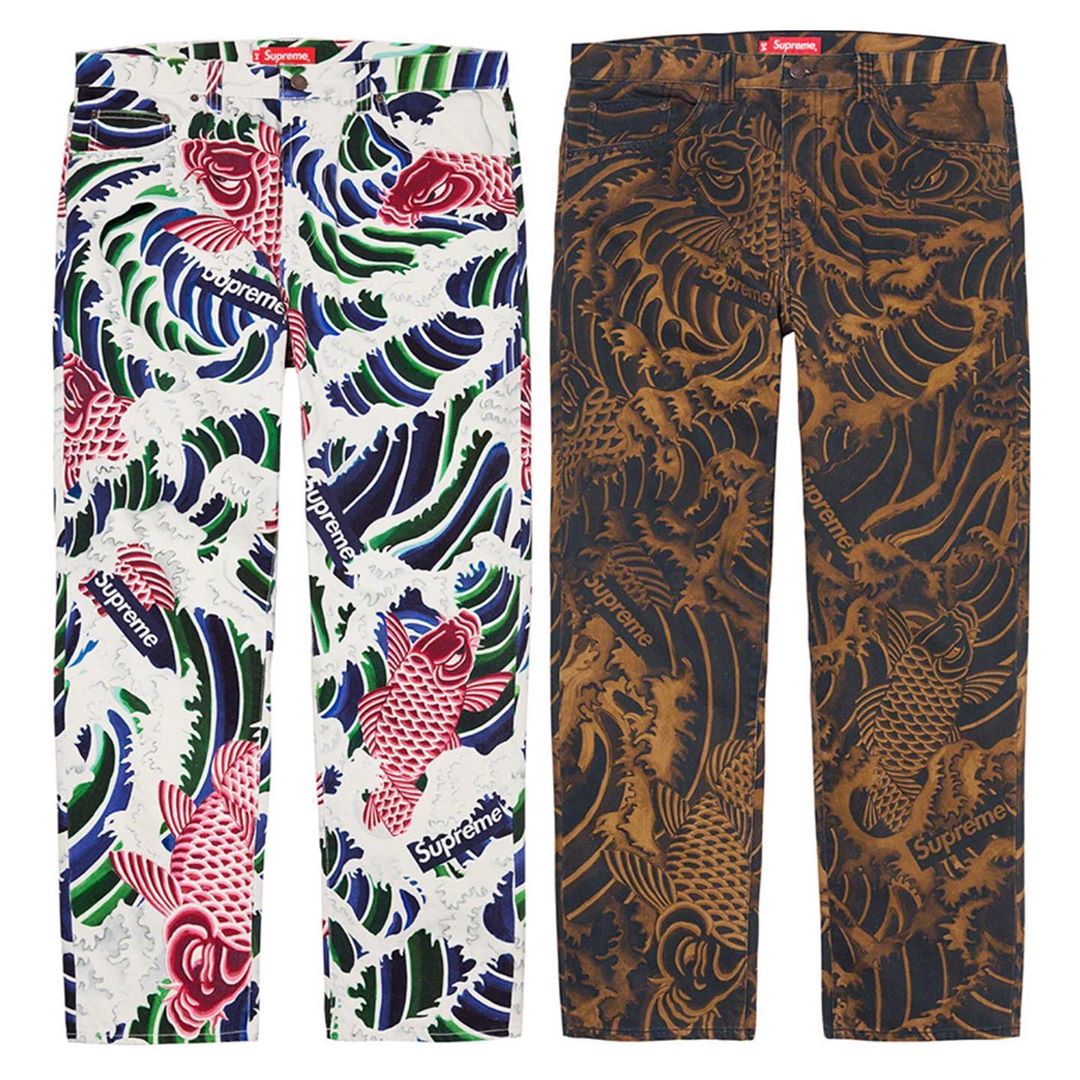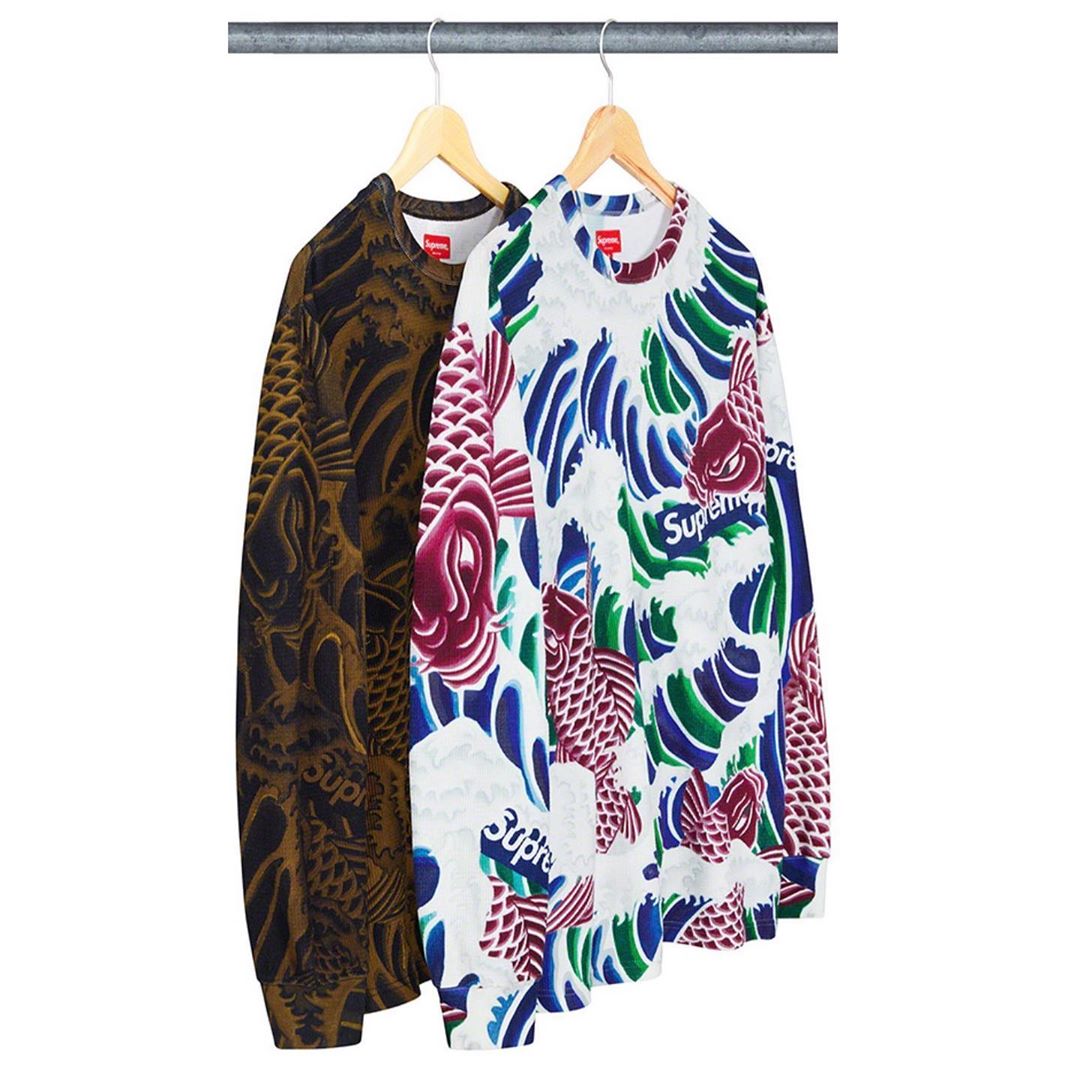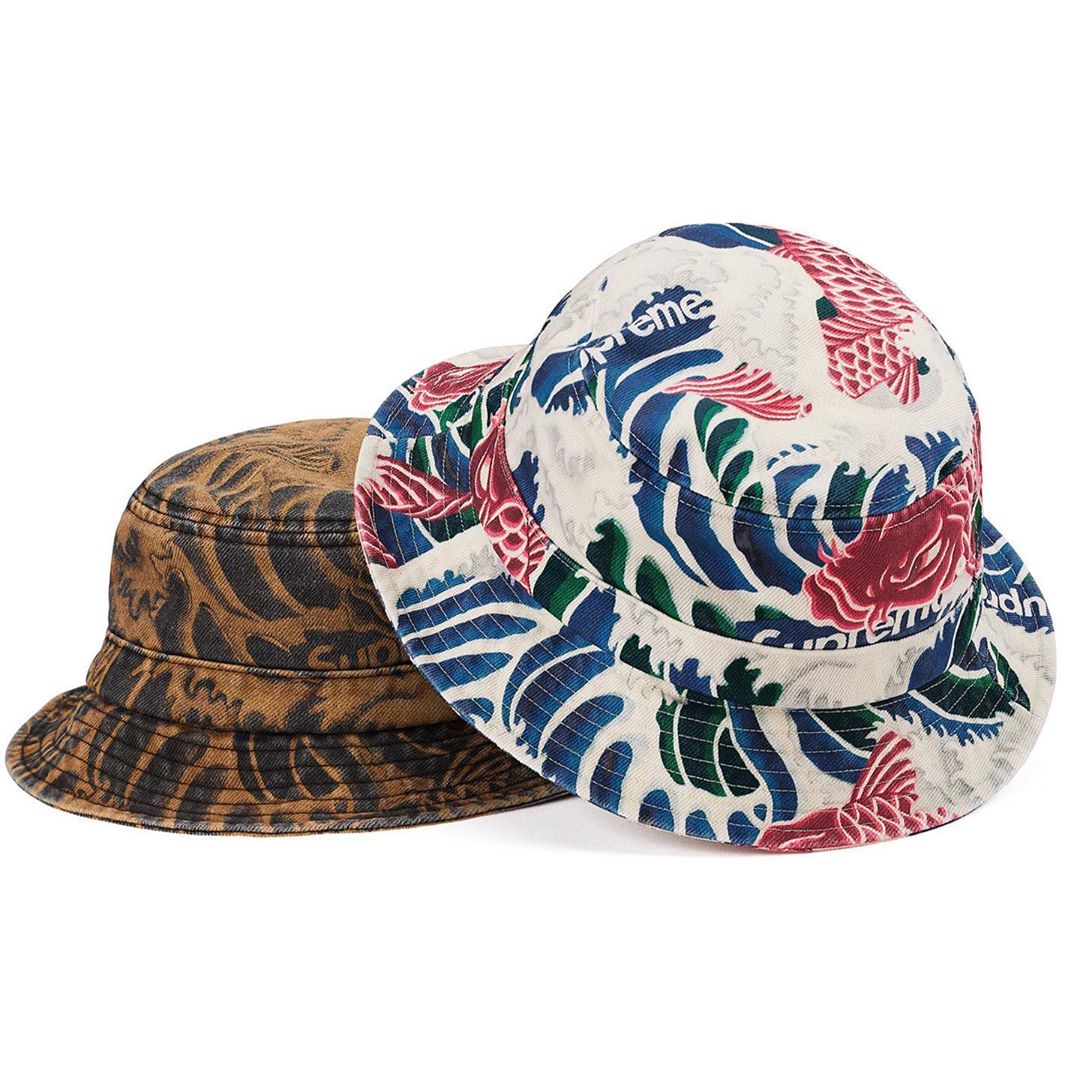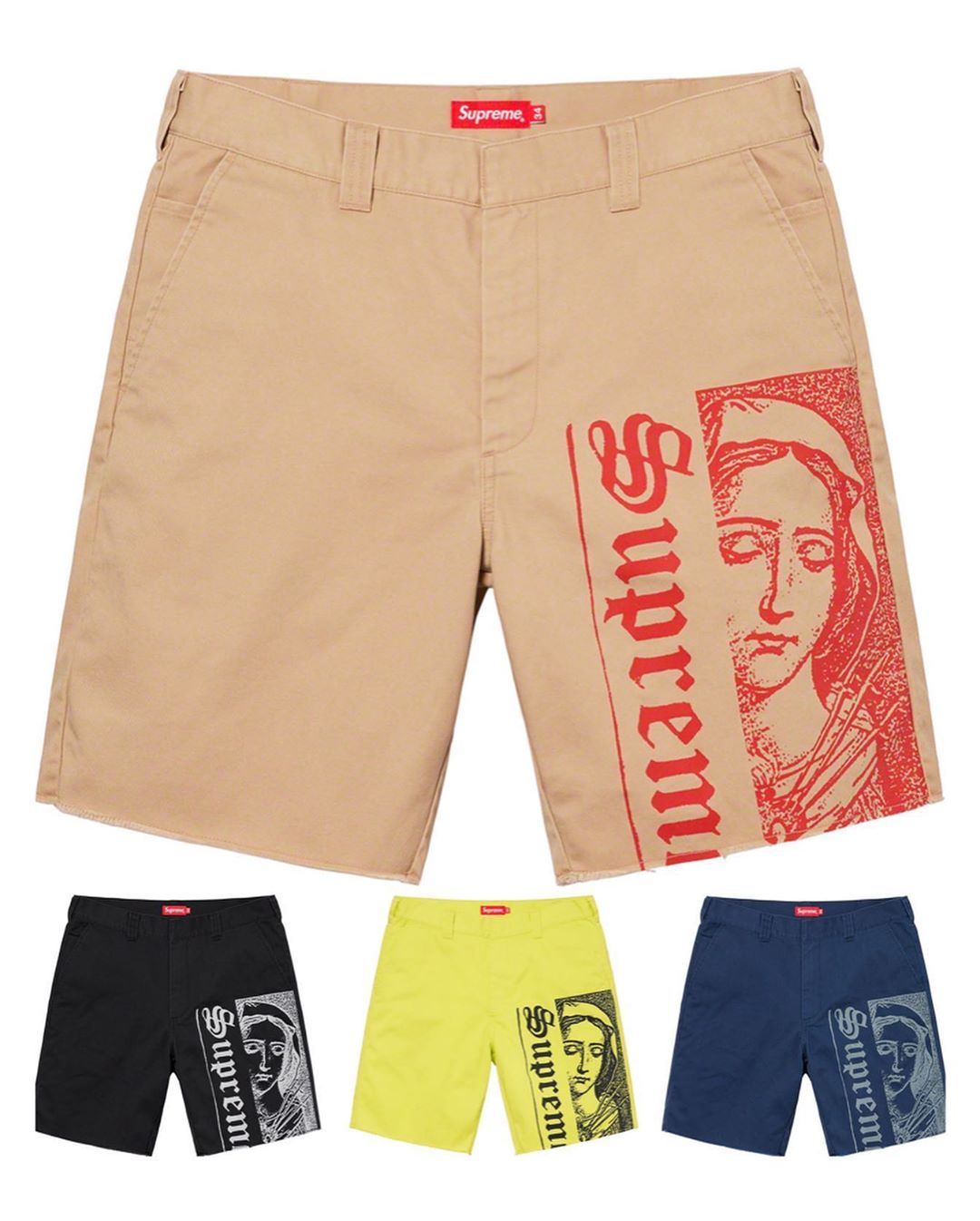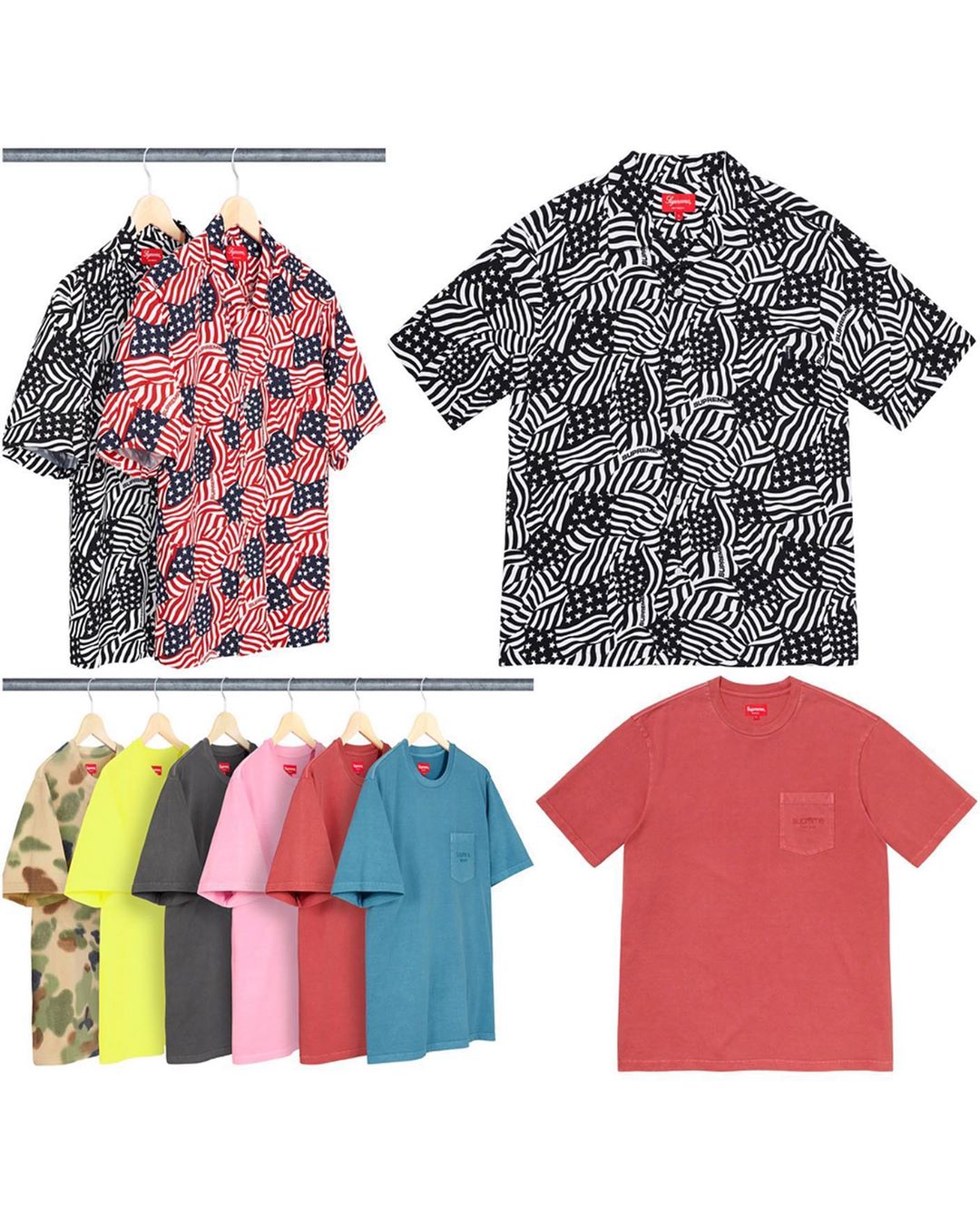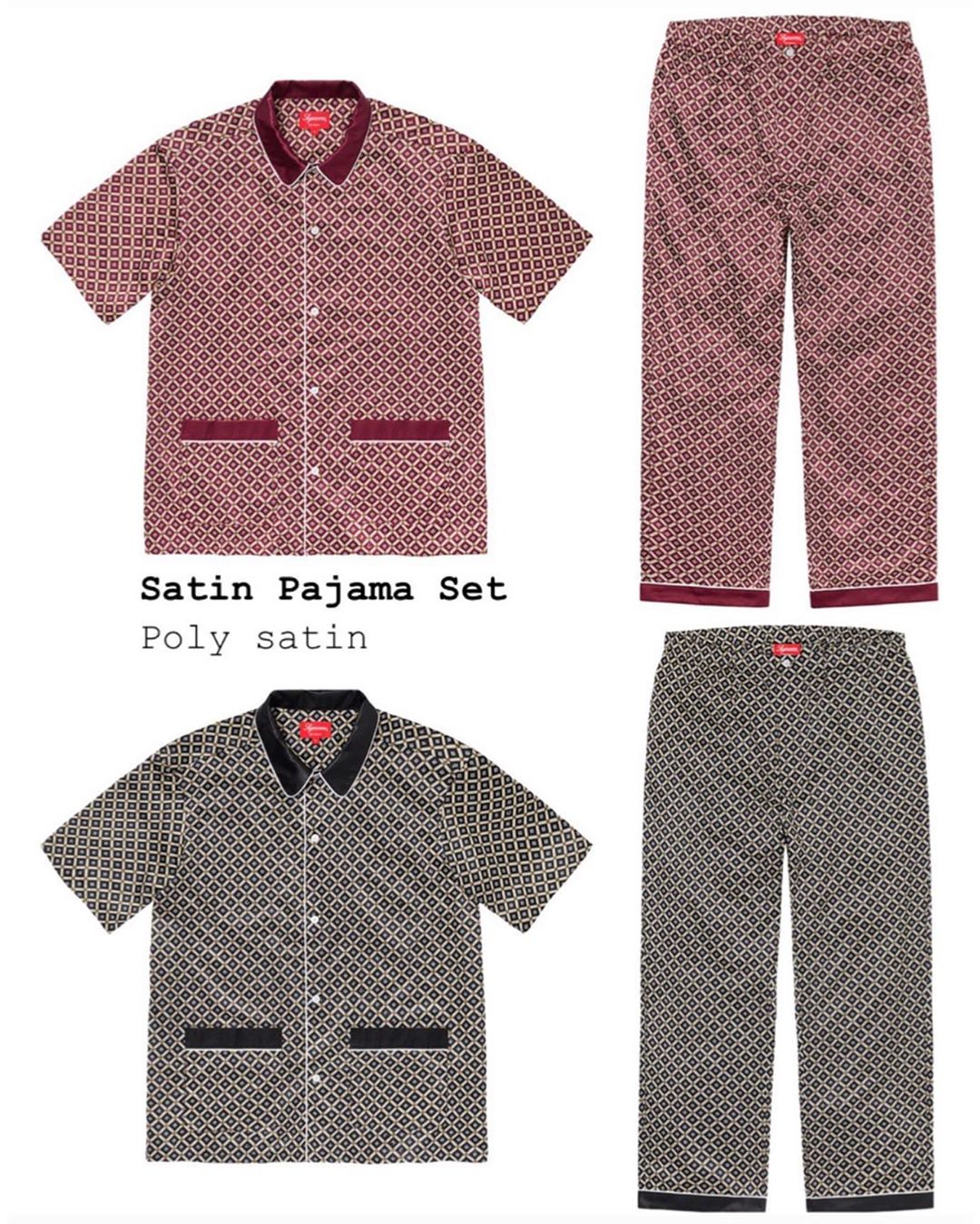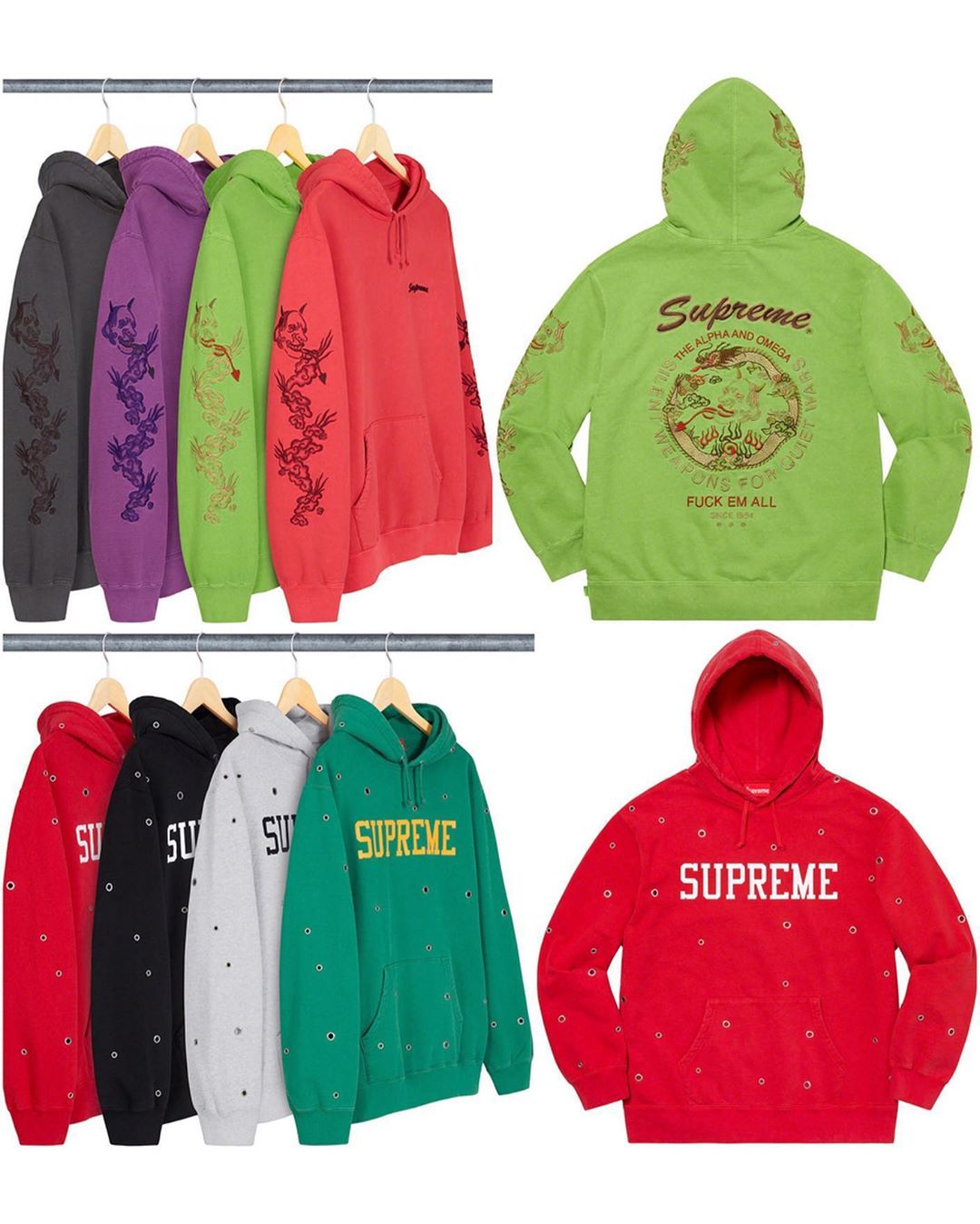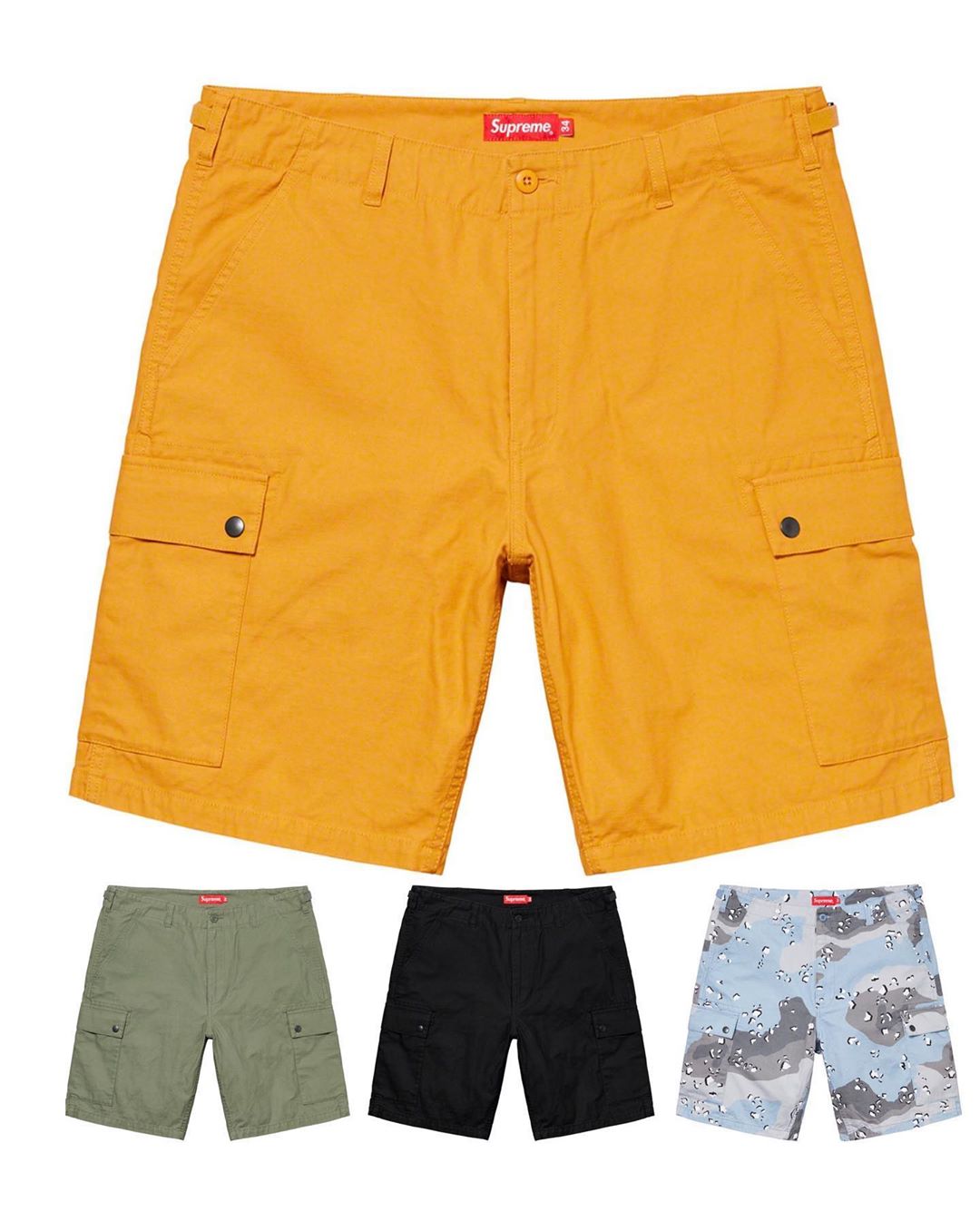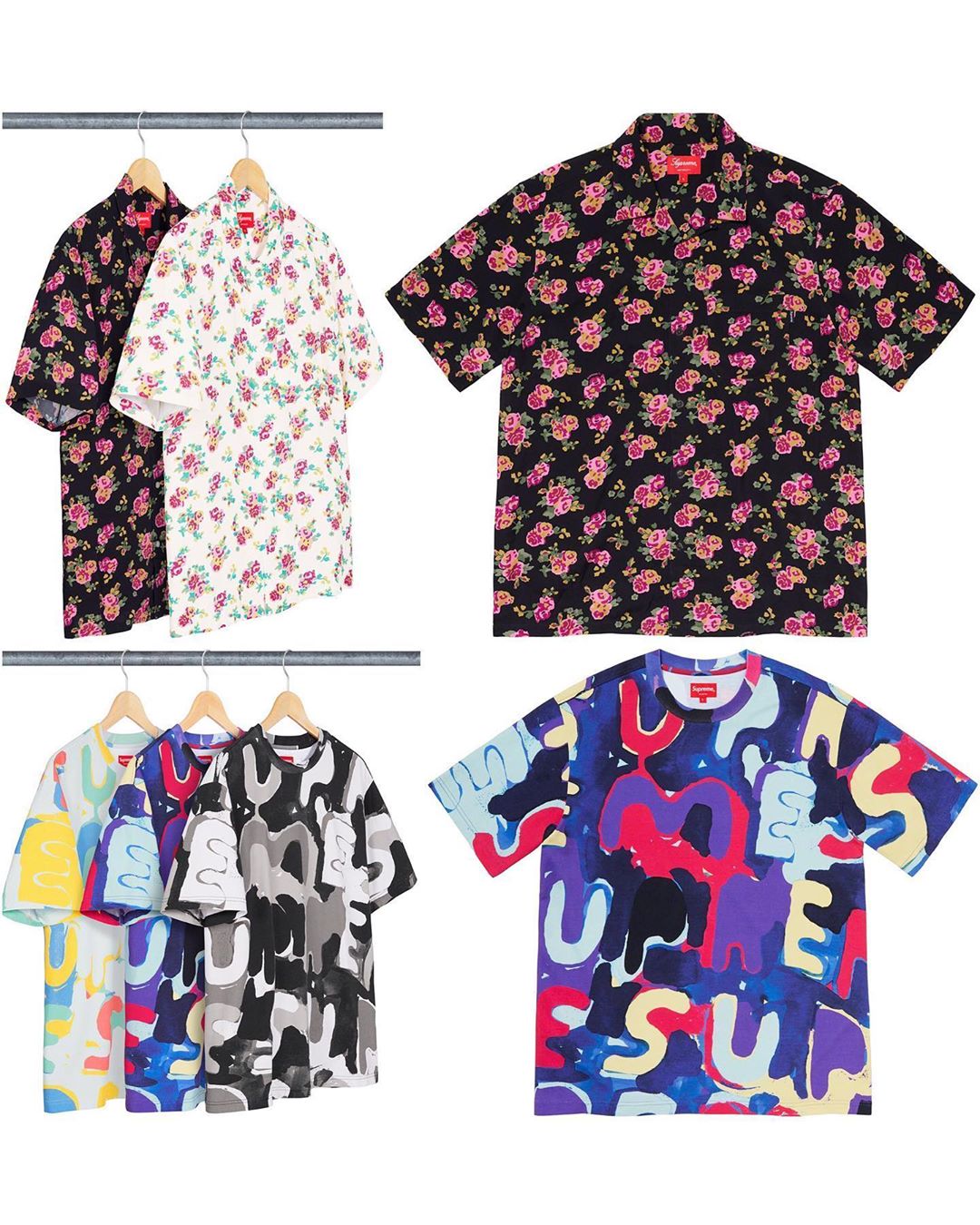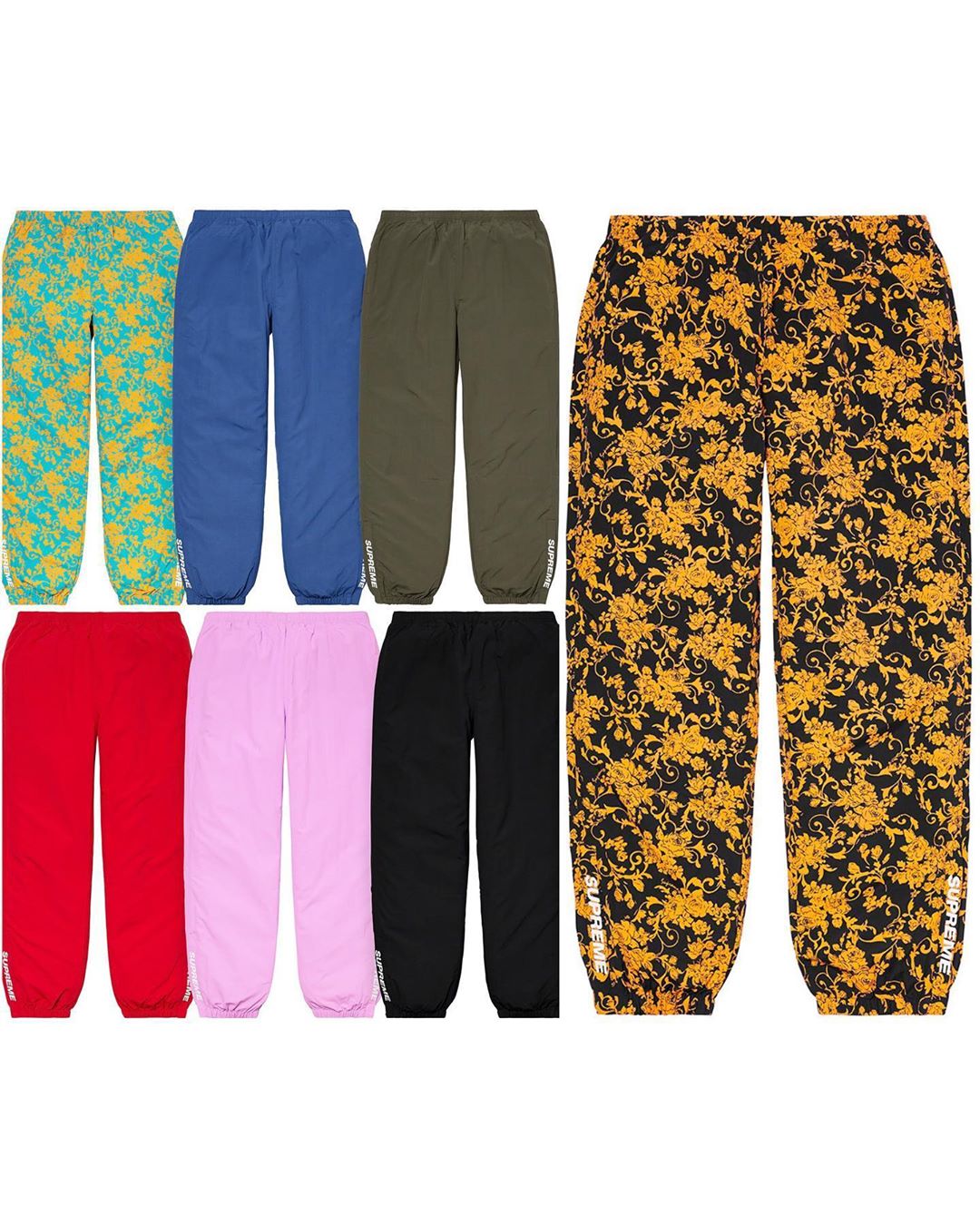 pics by @dropsbyjay
Update 21.05.2020
Two months after the release of The North Face and Supreme, it seems that more pieces are waiting for us from the two partners. Three jackets, three vests, three pants, and other accessories from TNF and Supreme all fill Week 13 of the Supreme Spring/Summer 2020 collection.
Furthermore, some tees, caps, hoodies, and a pack of Mini Instant Film from FujiFilm will be released. If we look at the previous weeks, this week seems rather quiet and unspectacular. Most people will probably have an eye on The North Face x Supreme "Cargo Series" capsule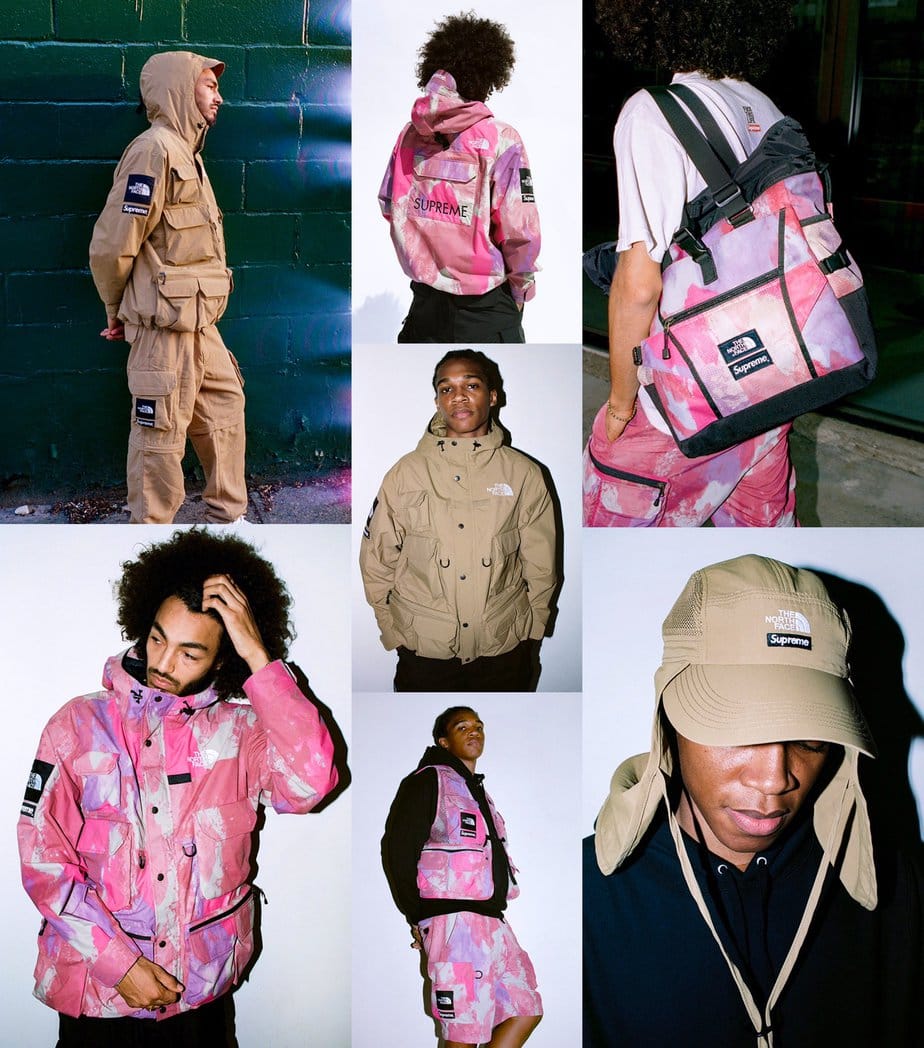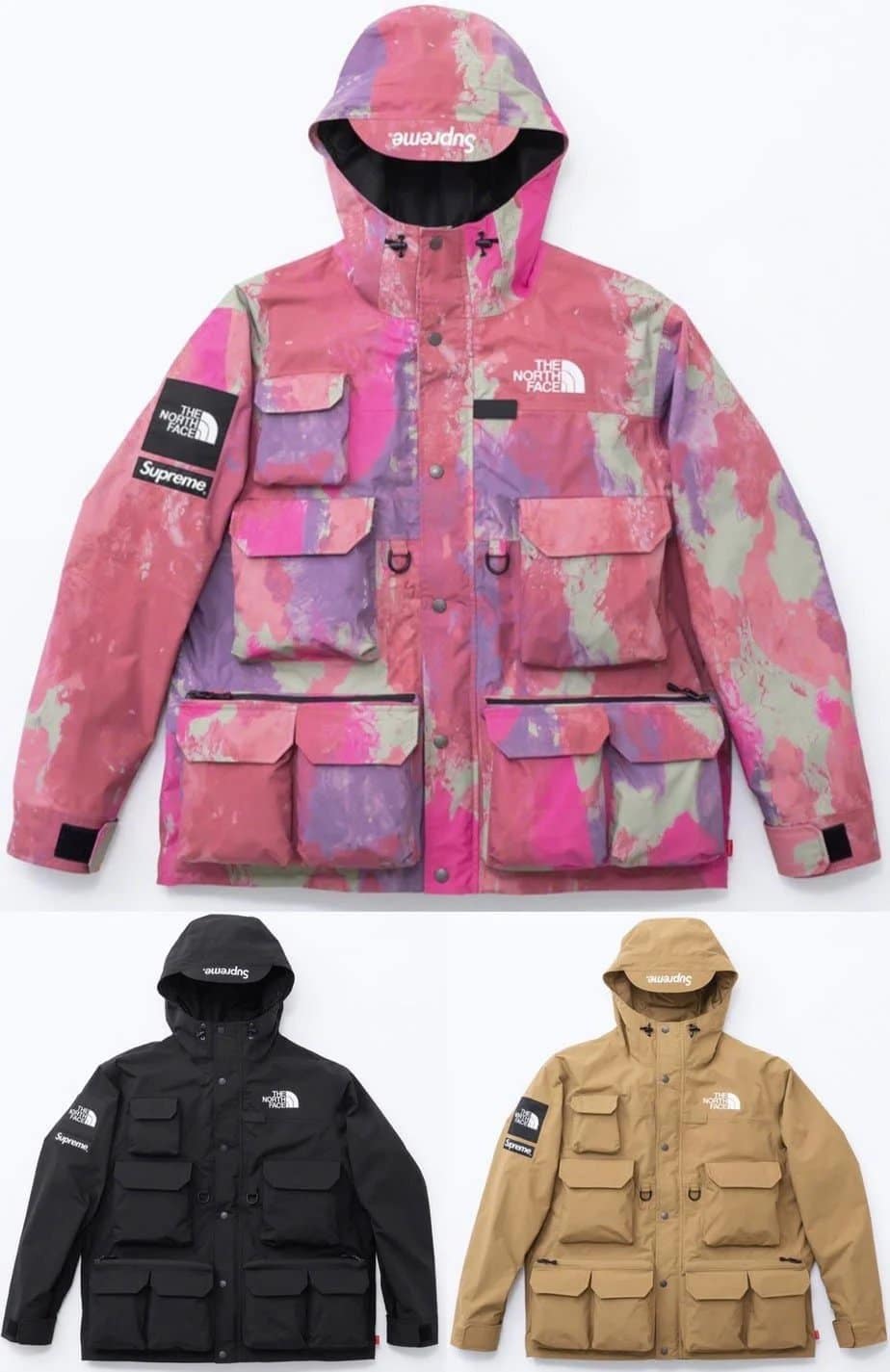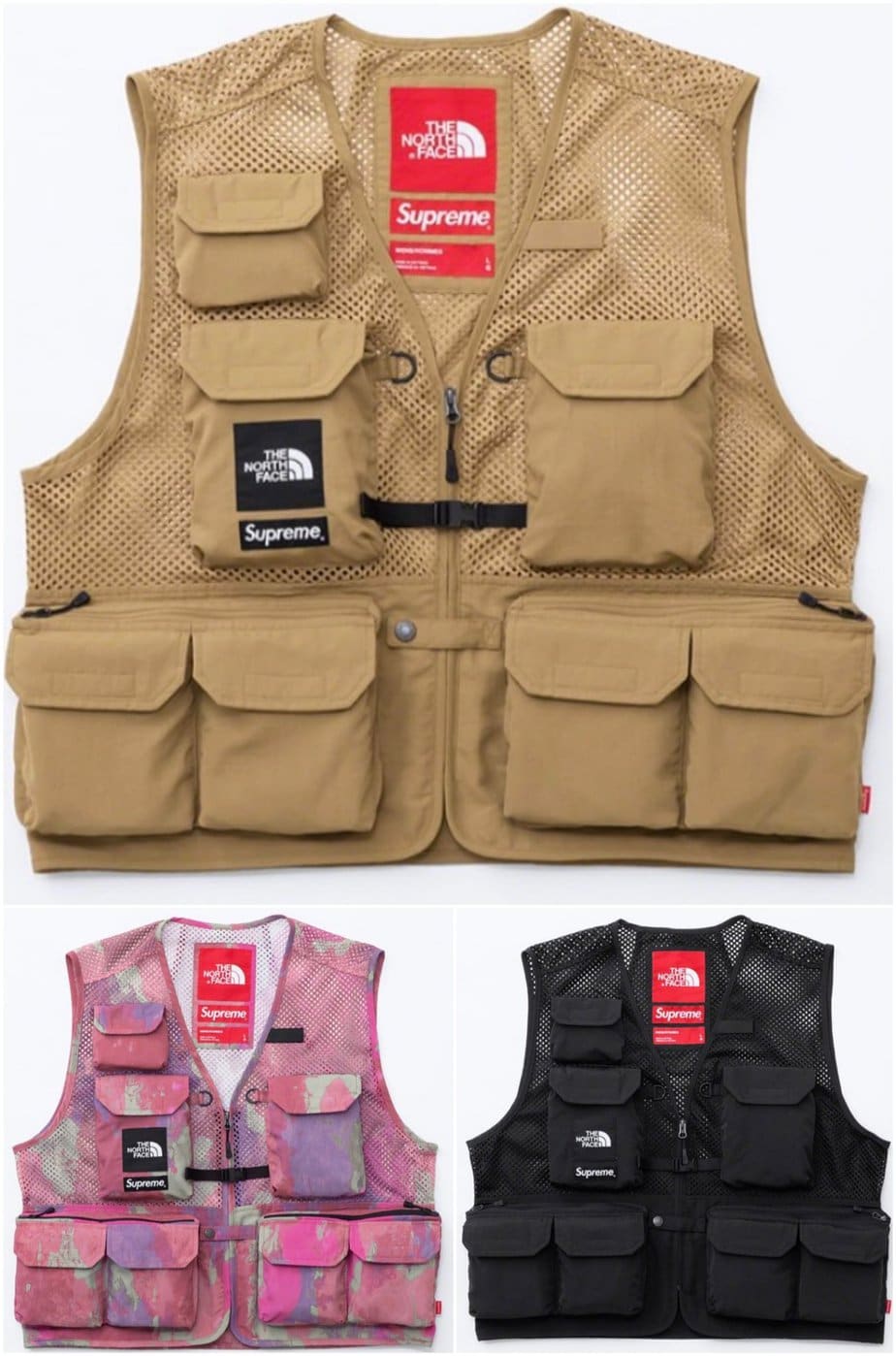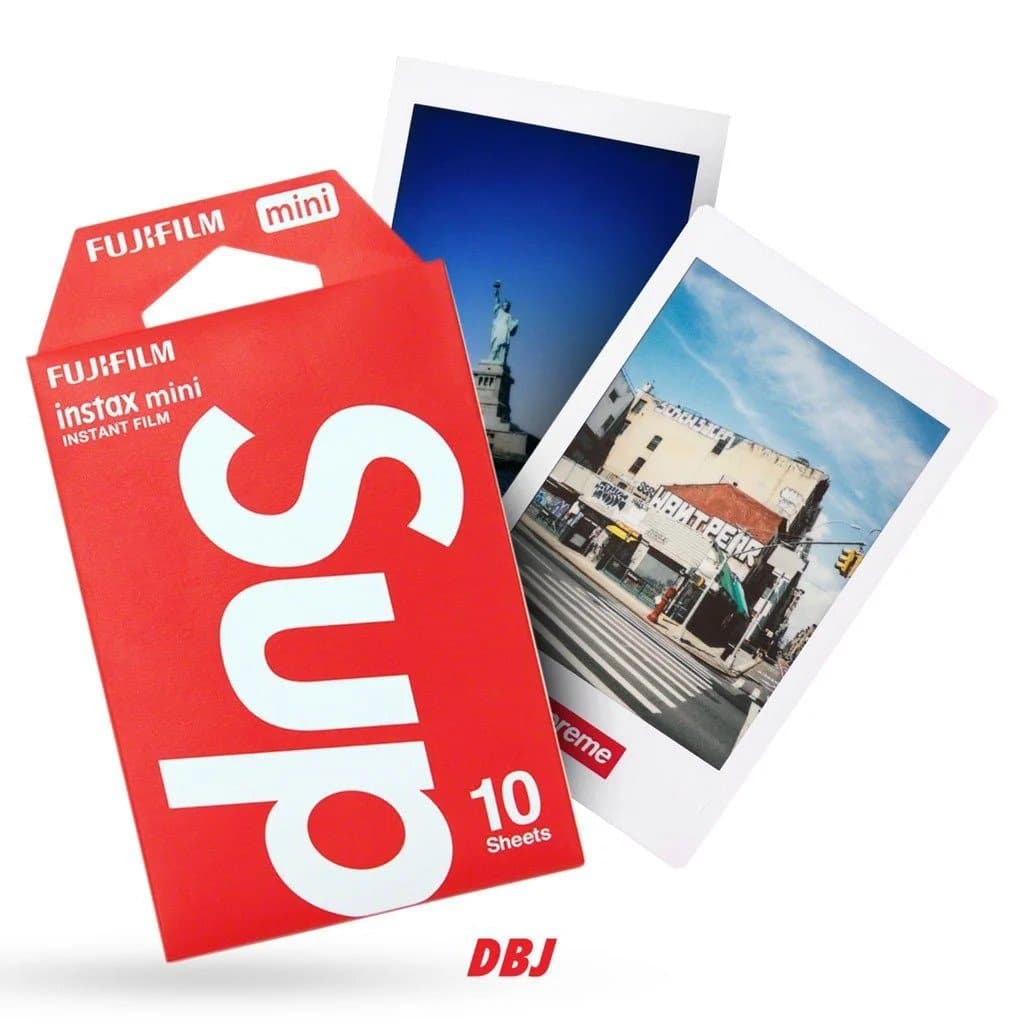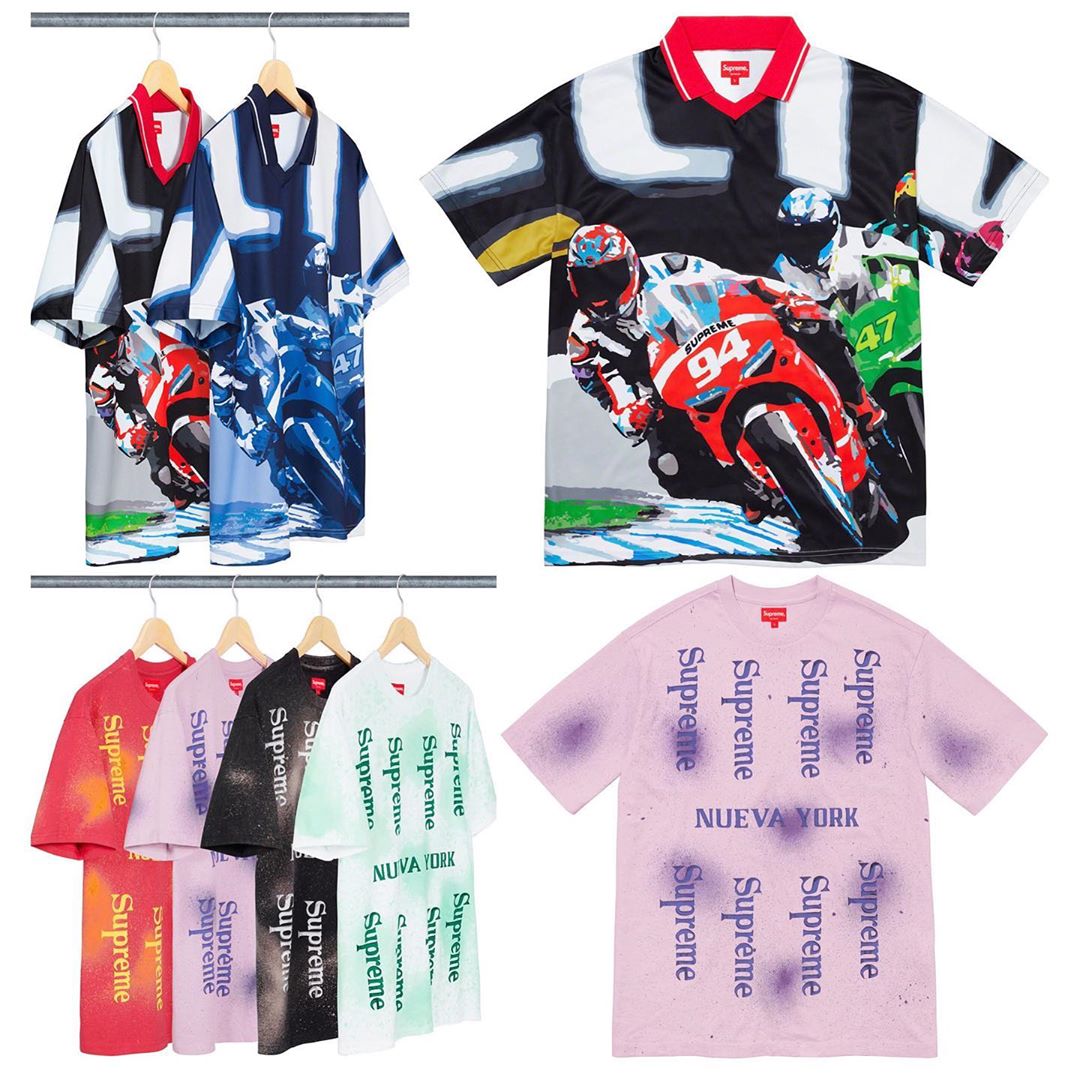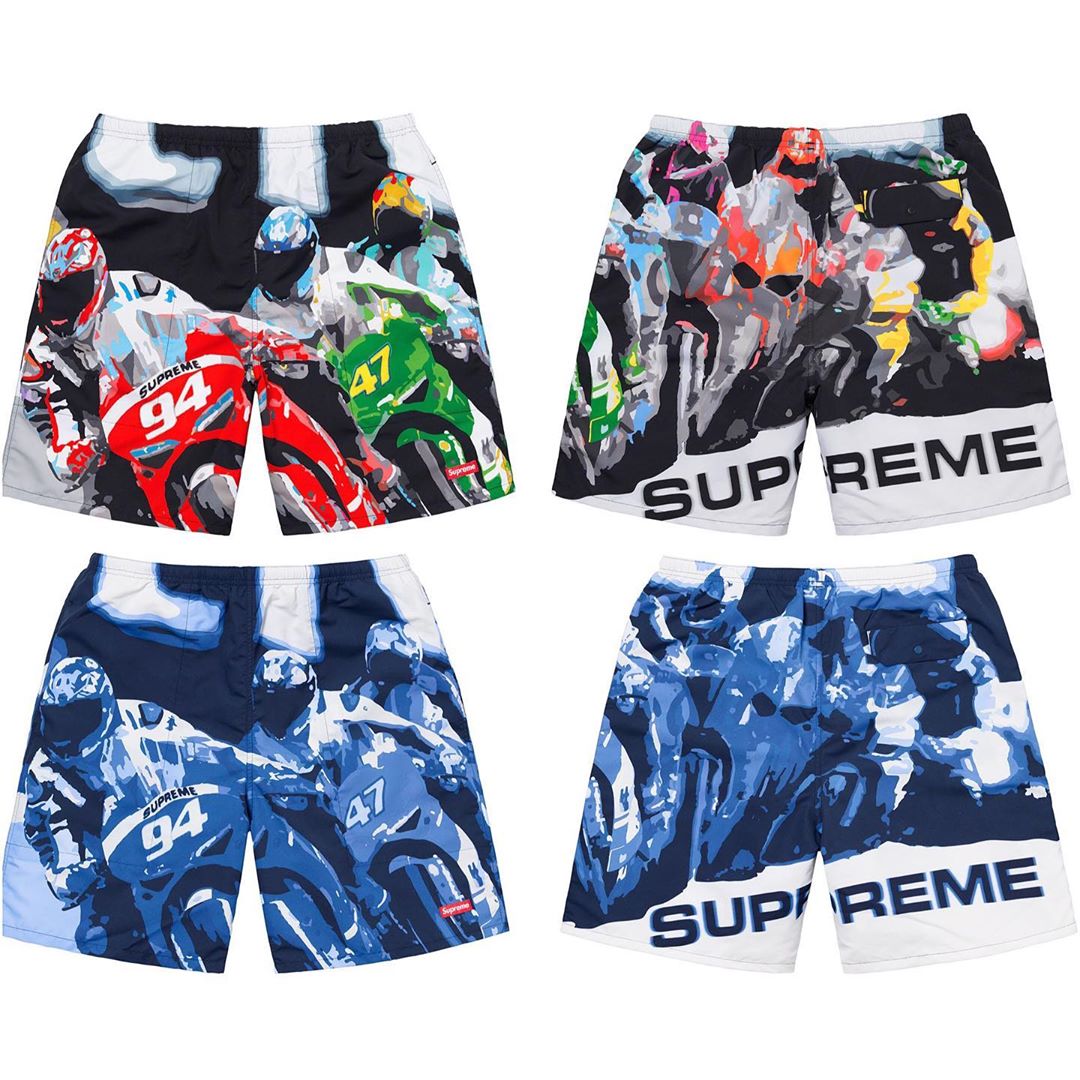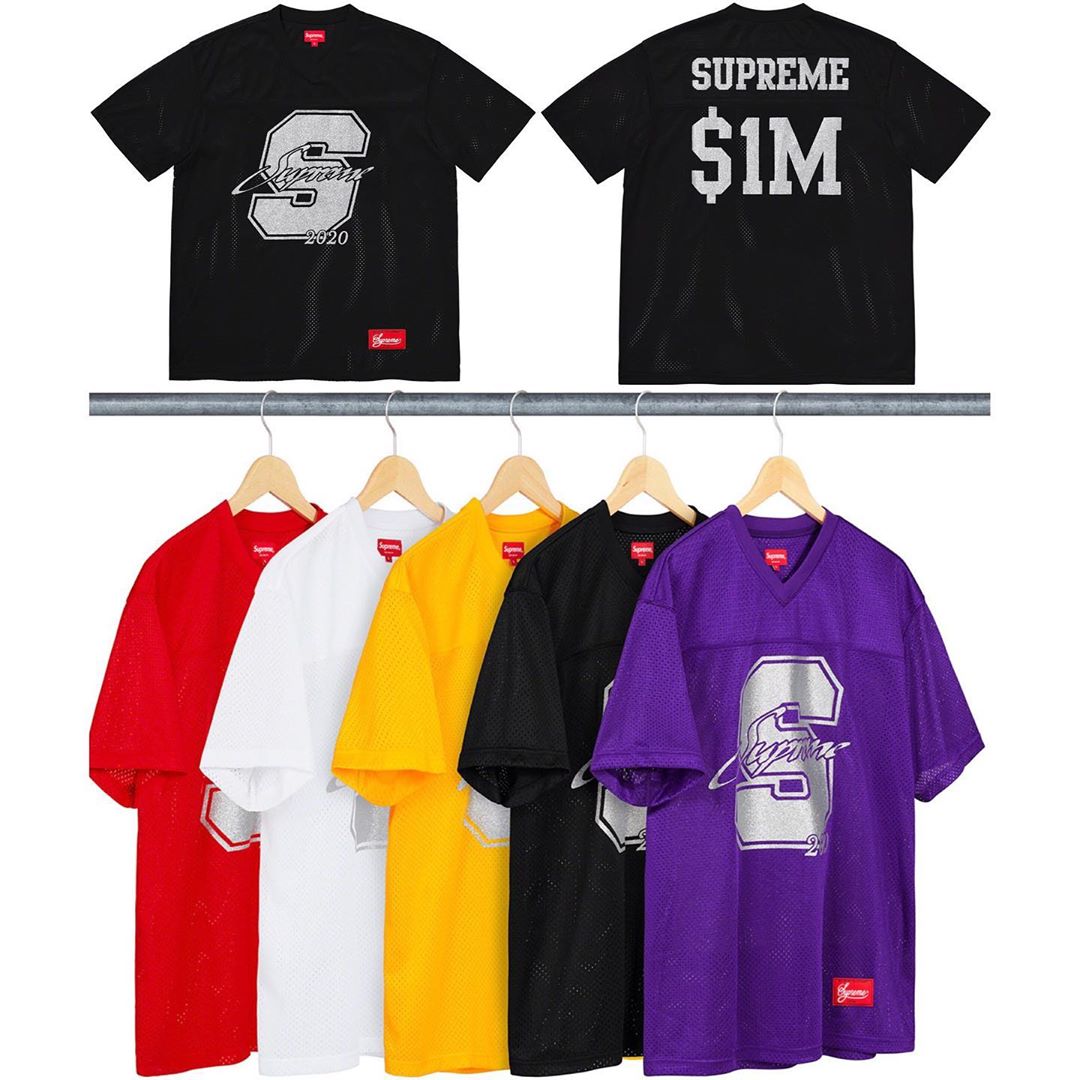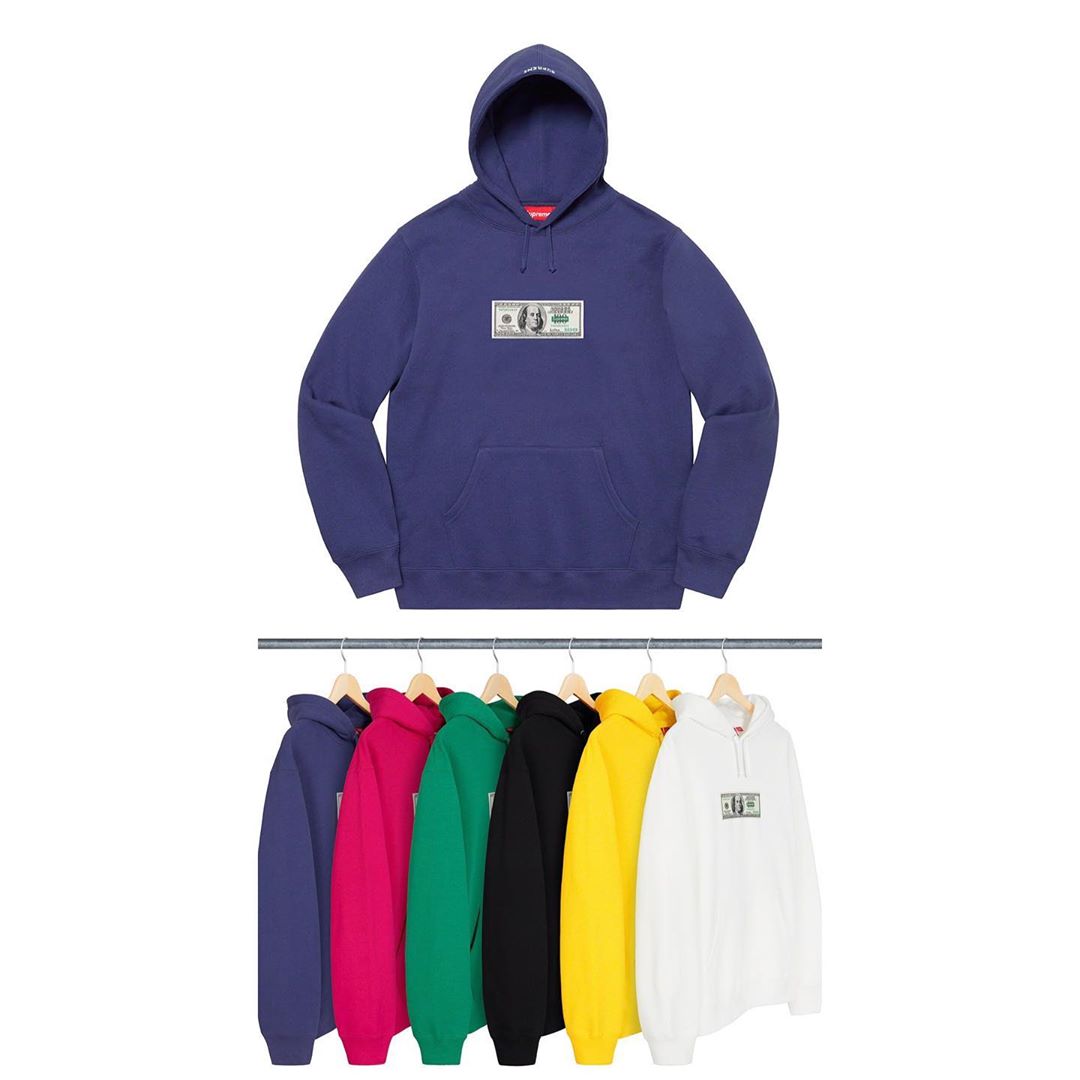 Update 13.05.2020
Legendary singer and artist Daniel Johnston passed away in September 2019, but his music and questionable artwork is still alive, and Supreme is now reviving that hard work with this collection. On May 14th, Supreme and Johnston fans will find the drawings on jackets, shirts, pants, hoodies, shirts, and caps. Each piece drops in different colours and with different motifs. Supreme also drops a lawn chair in Week 12 of the Supreme SS20 collection, so you can finally chill in your garden in unquestionable style.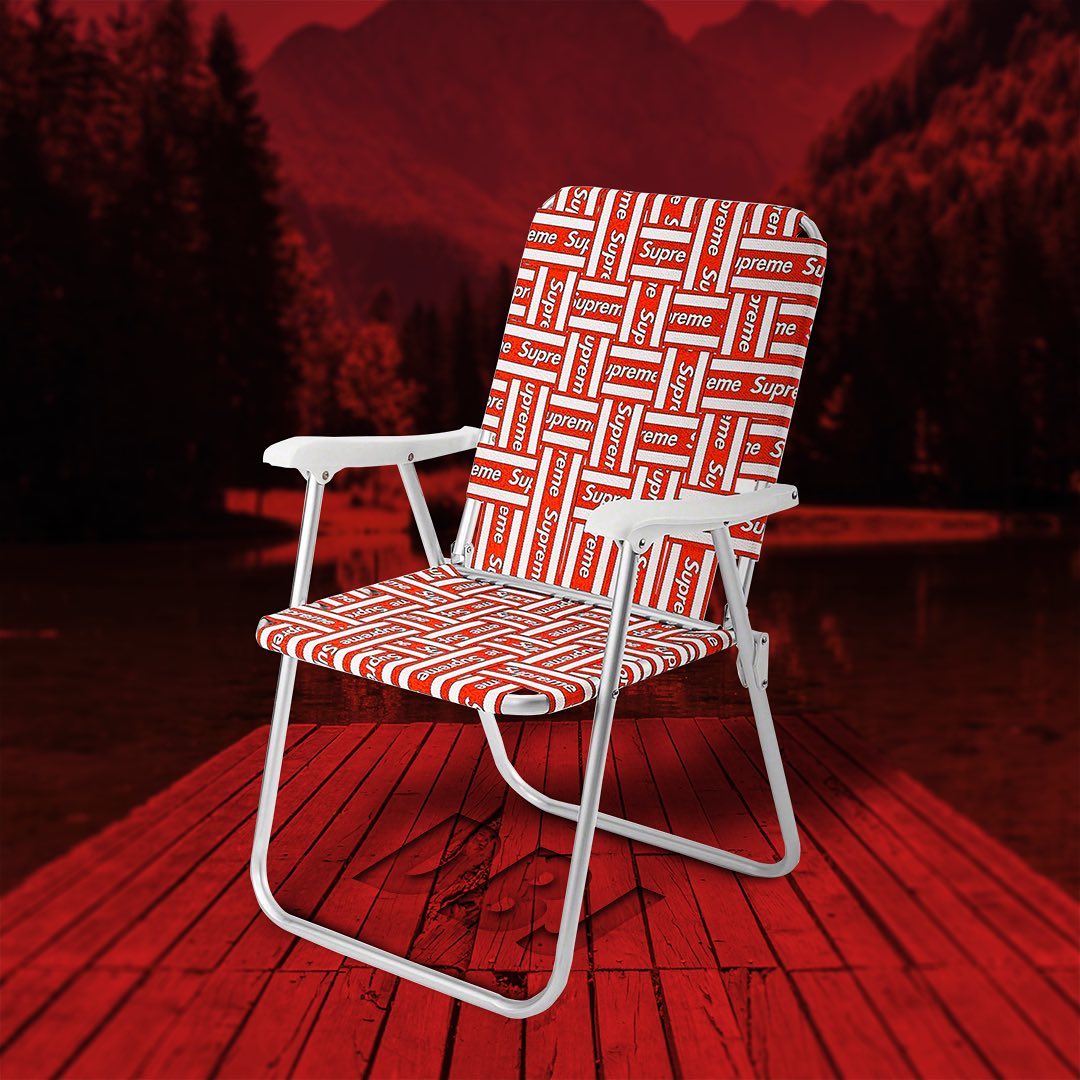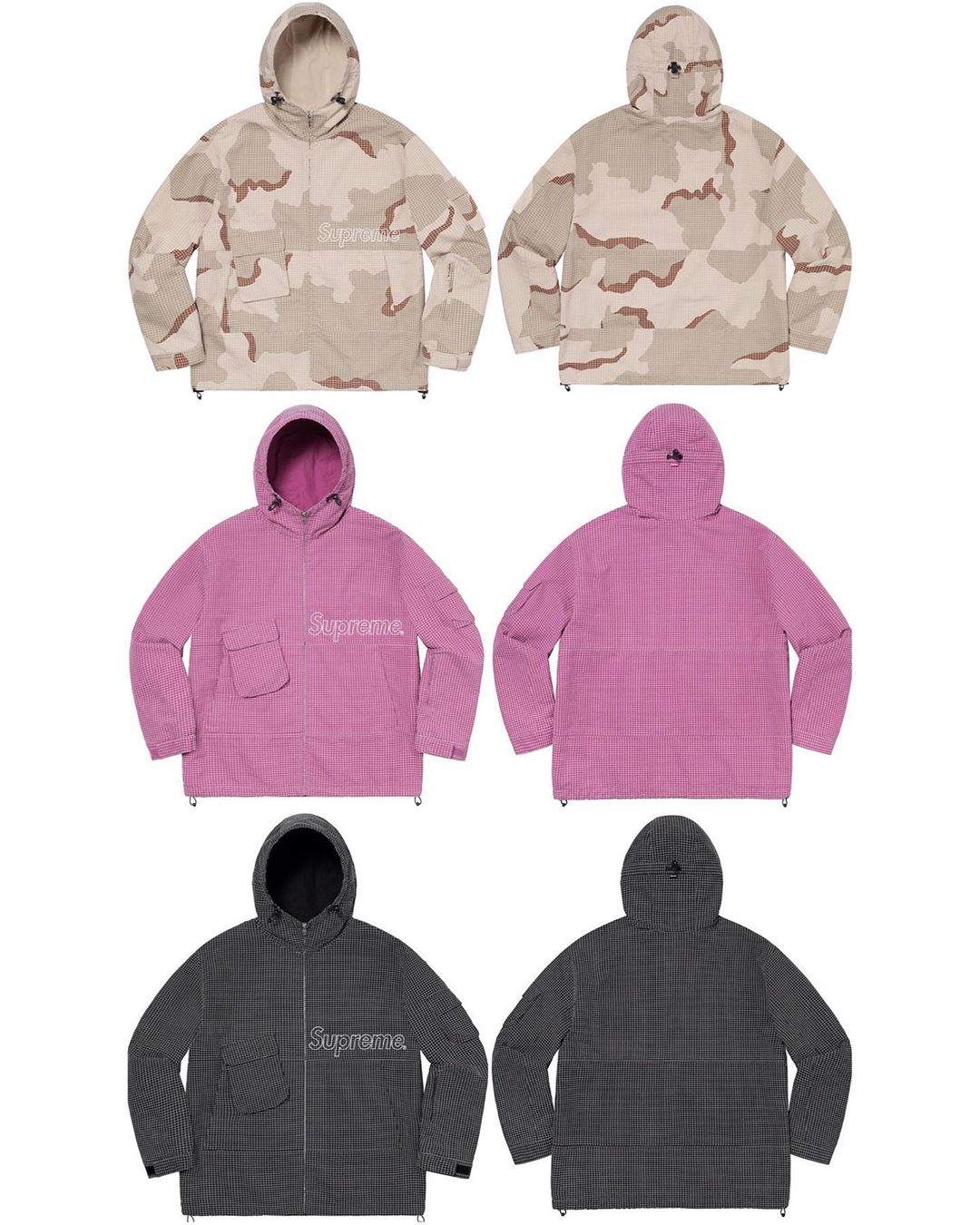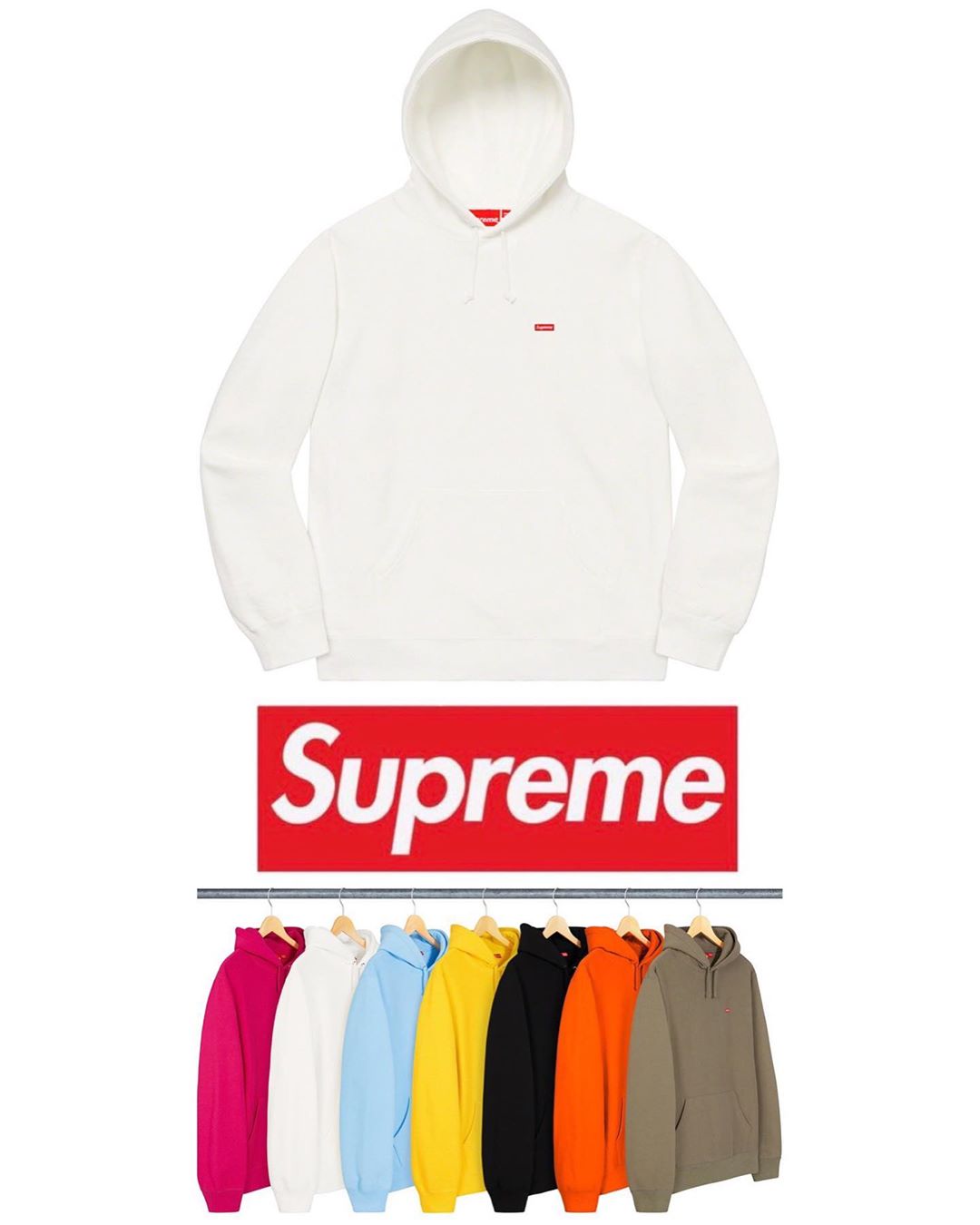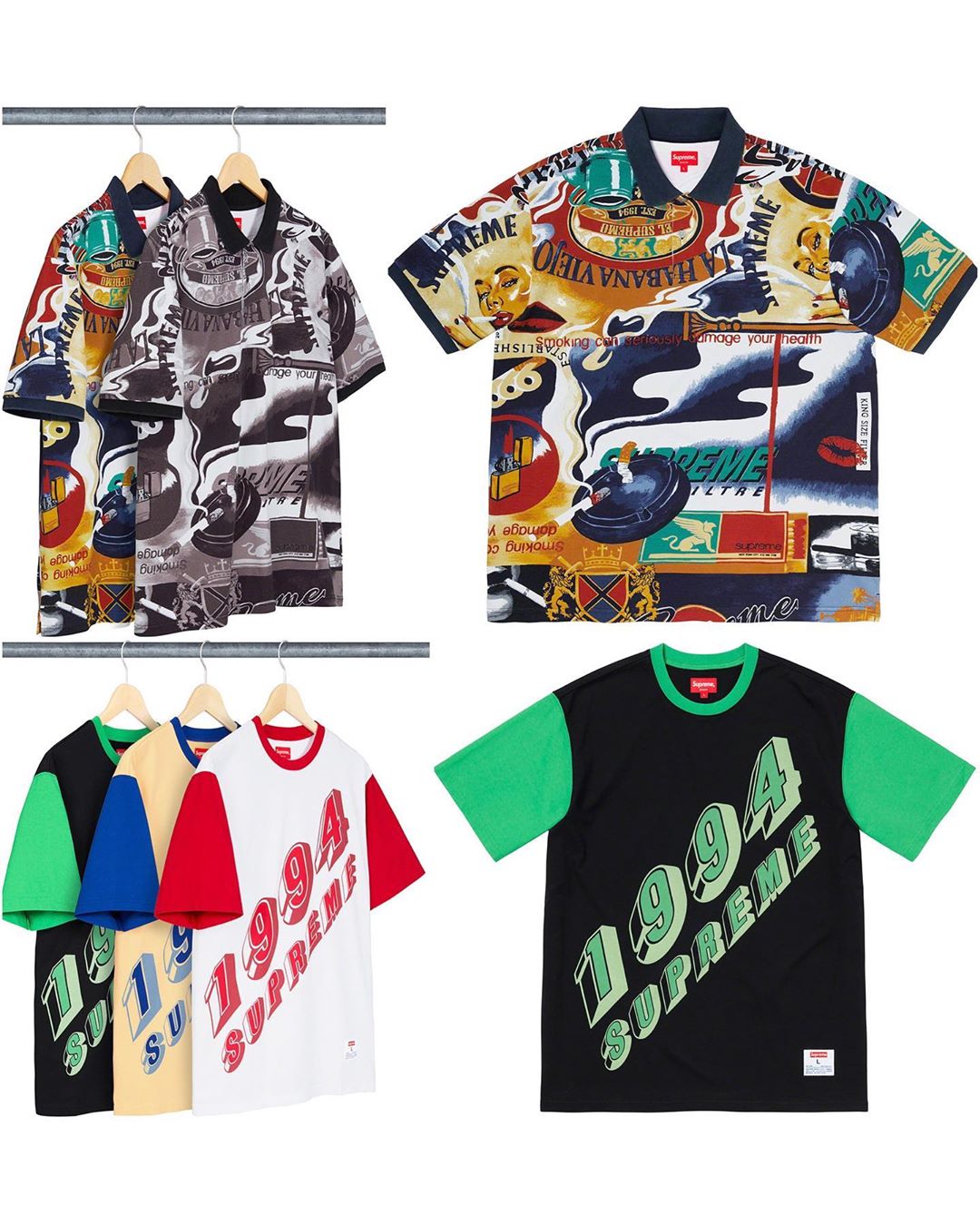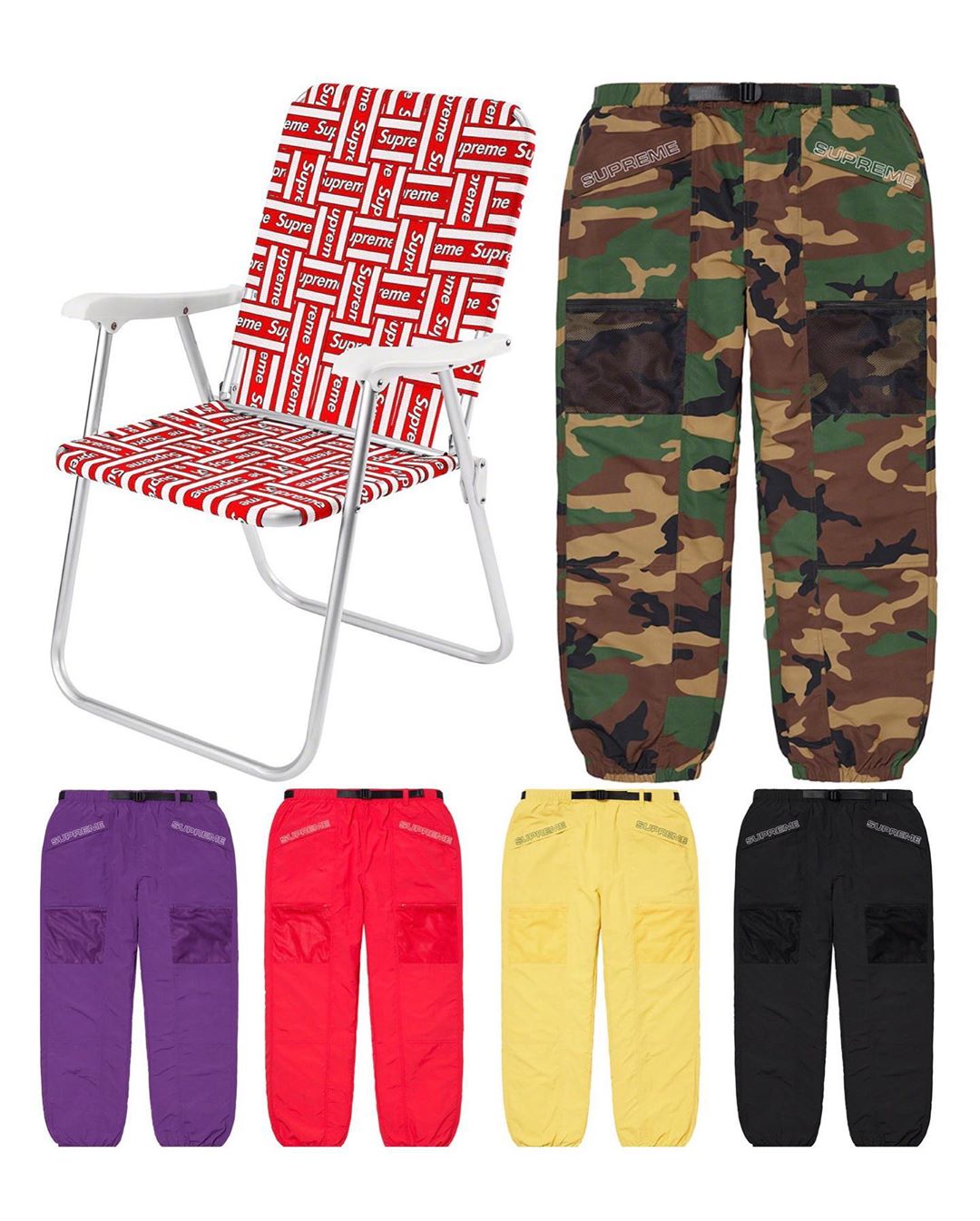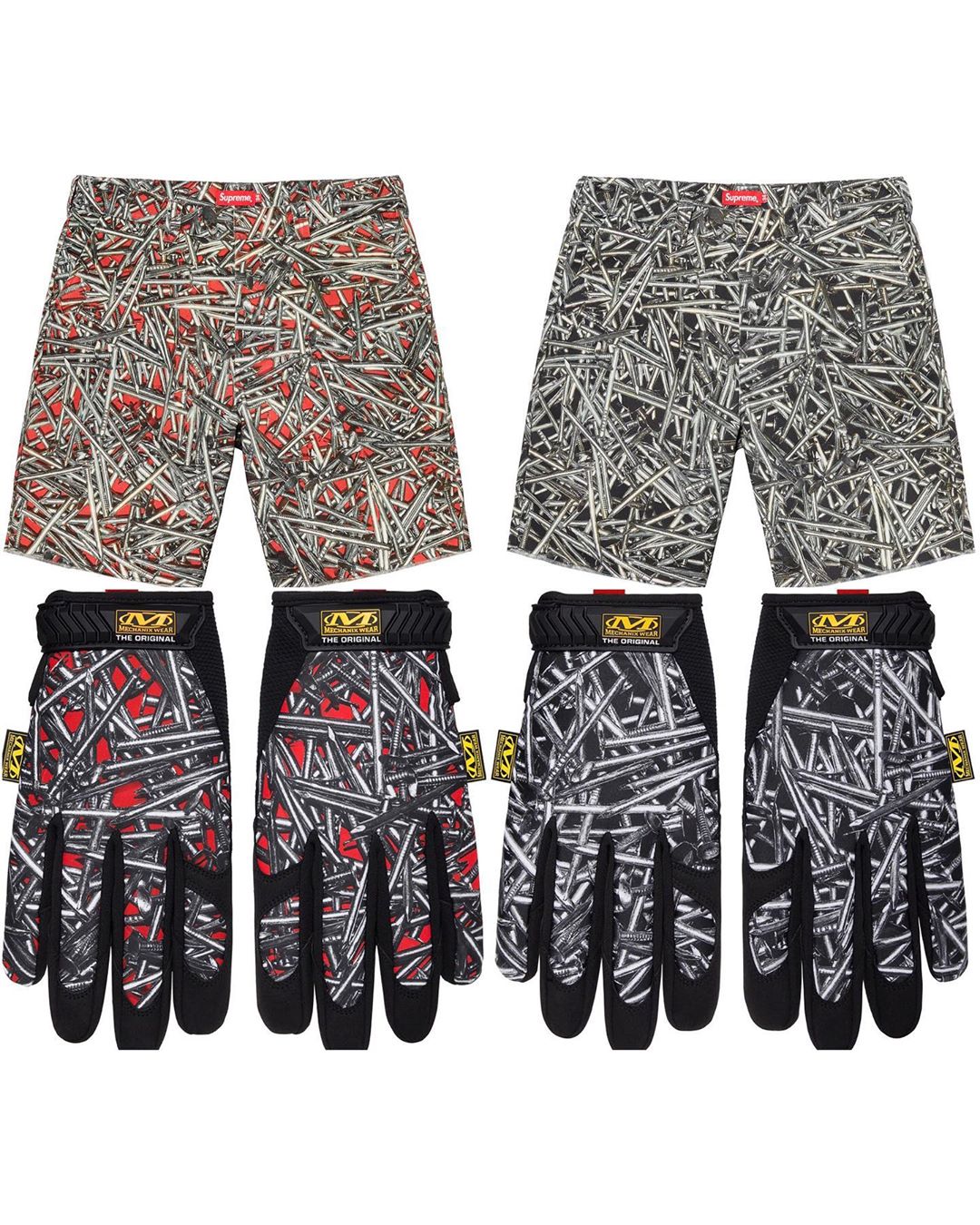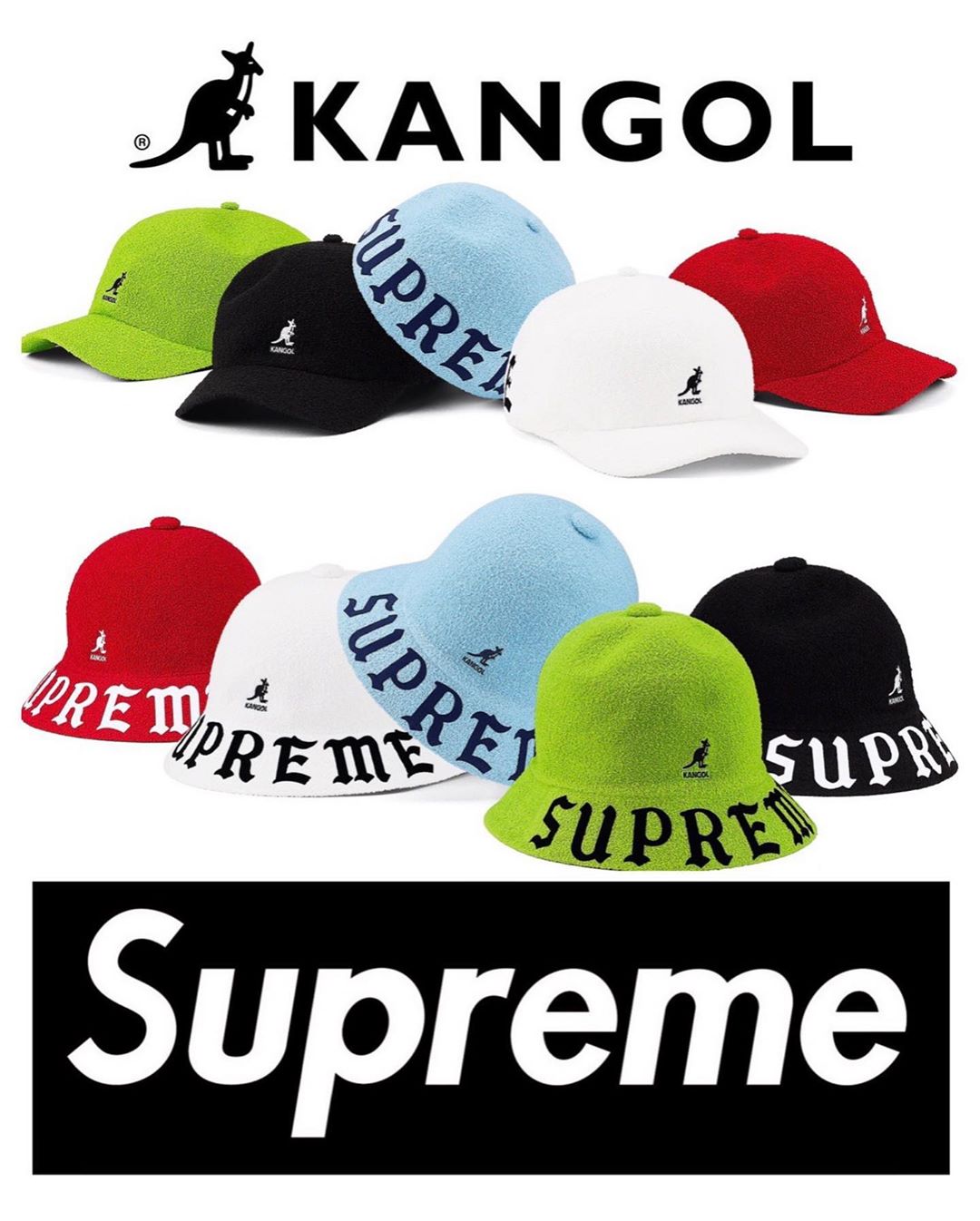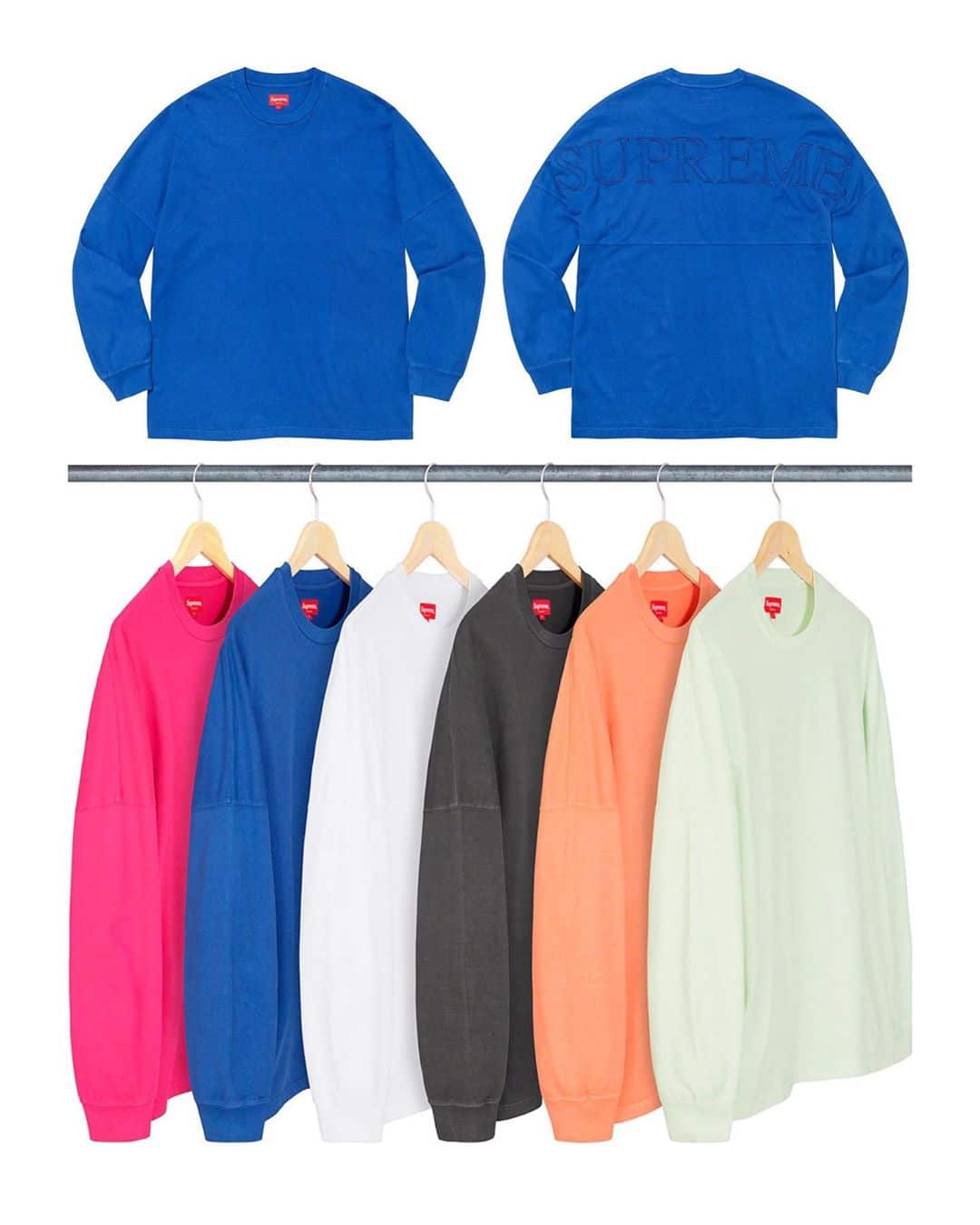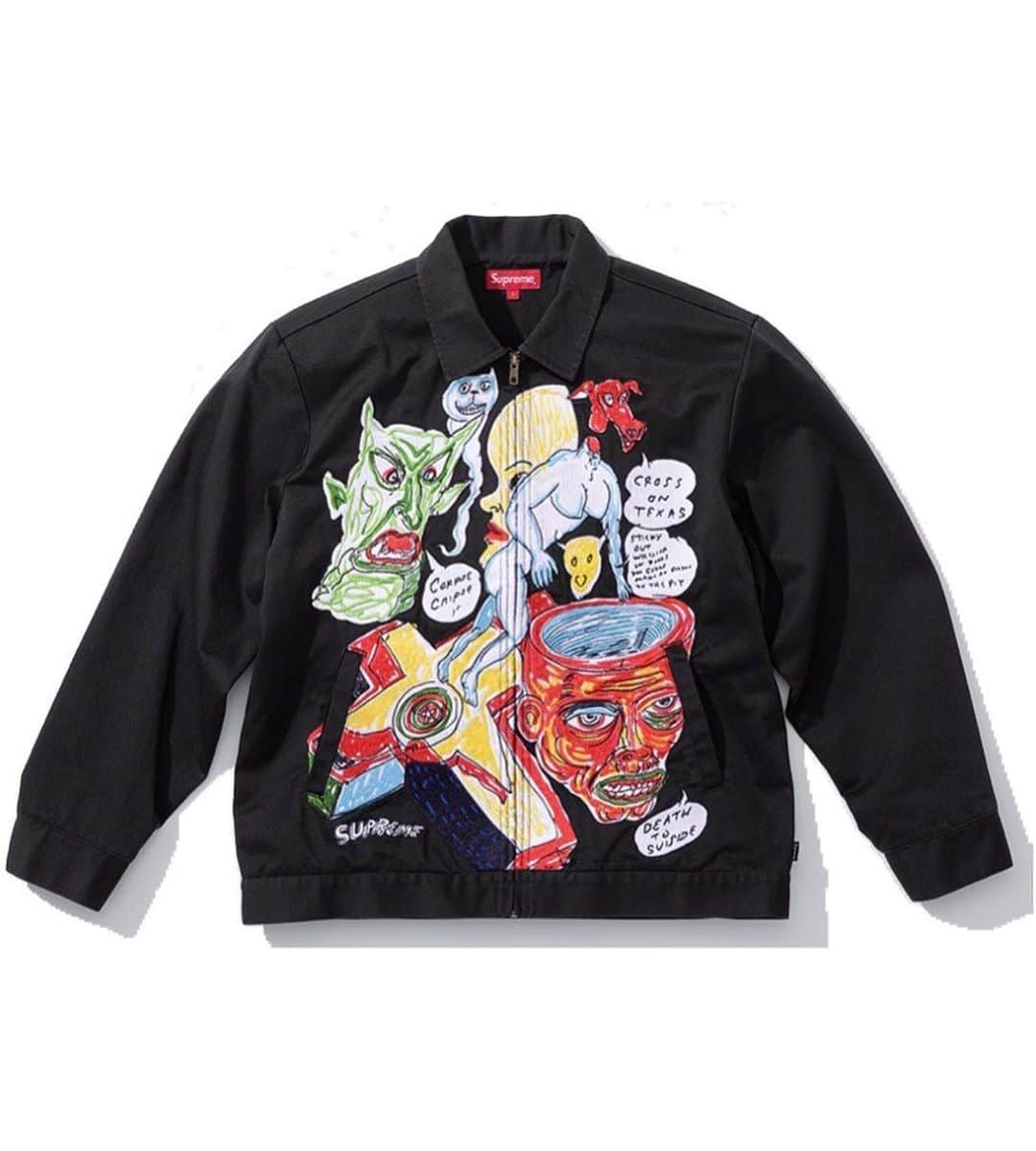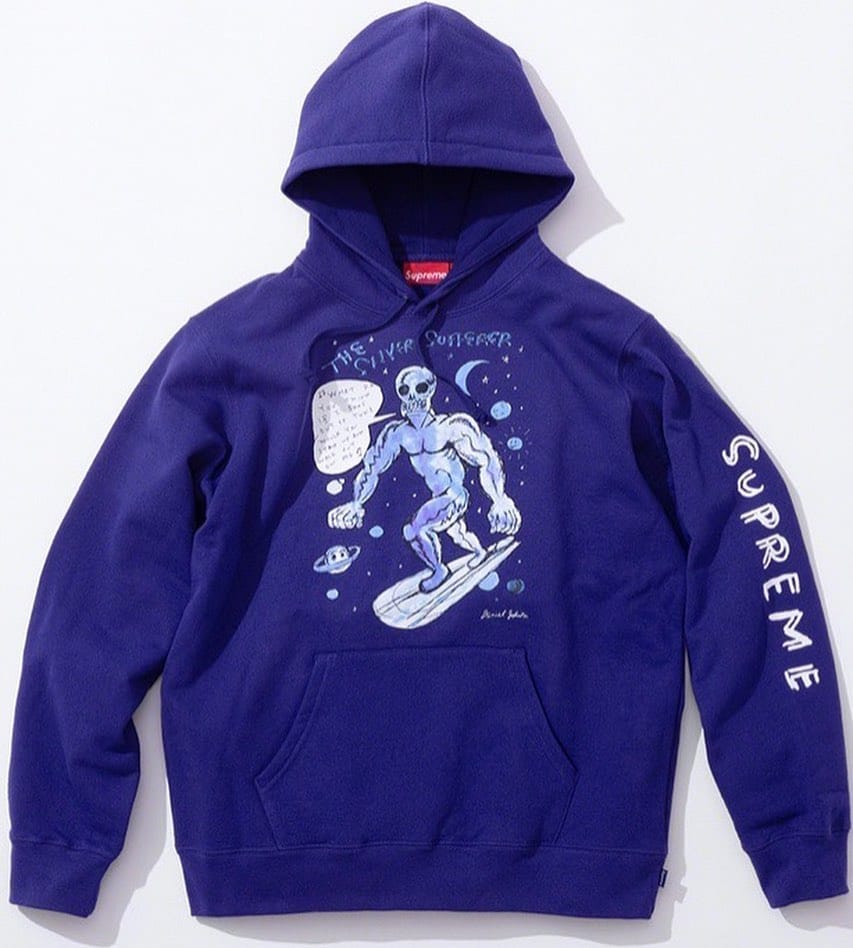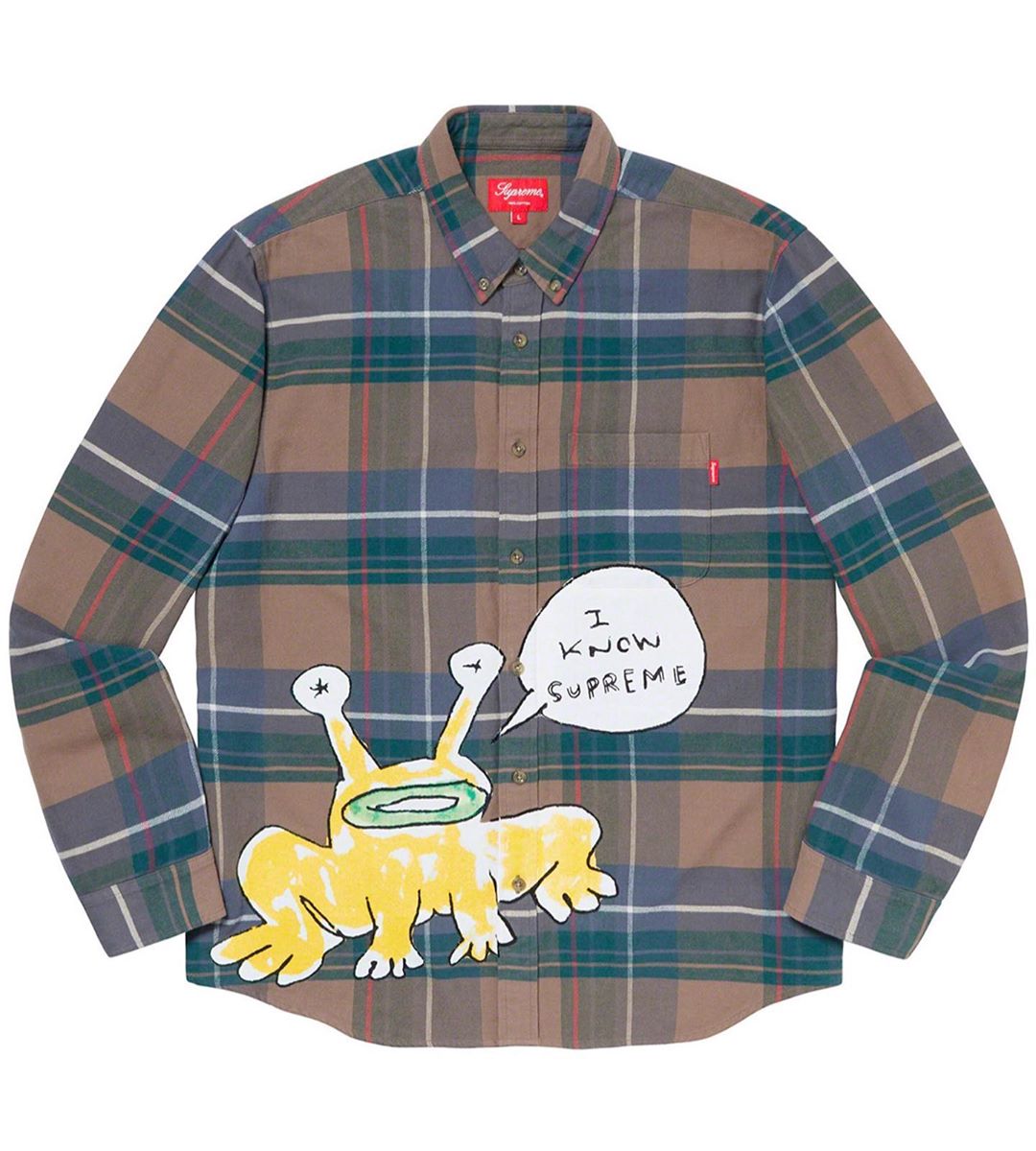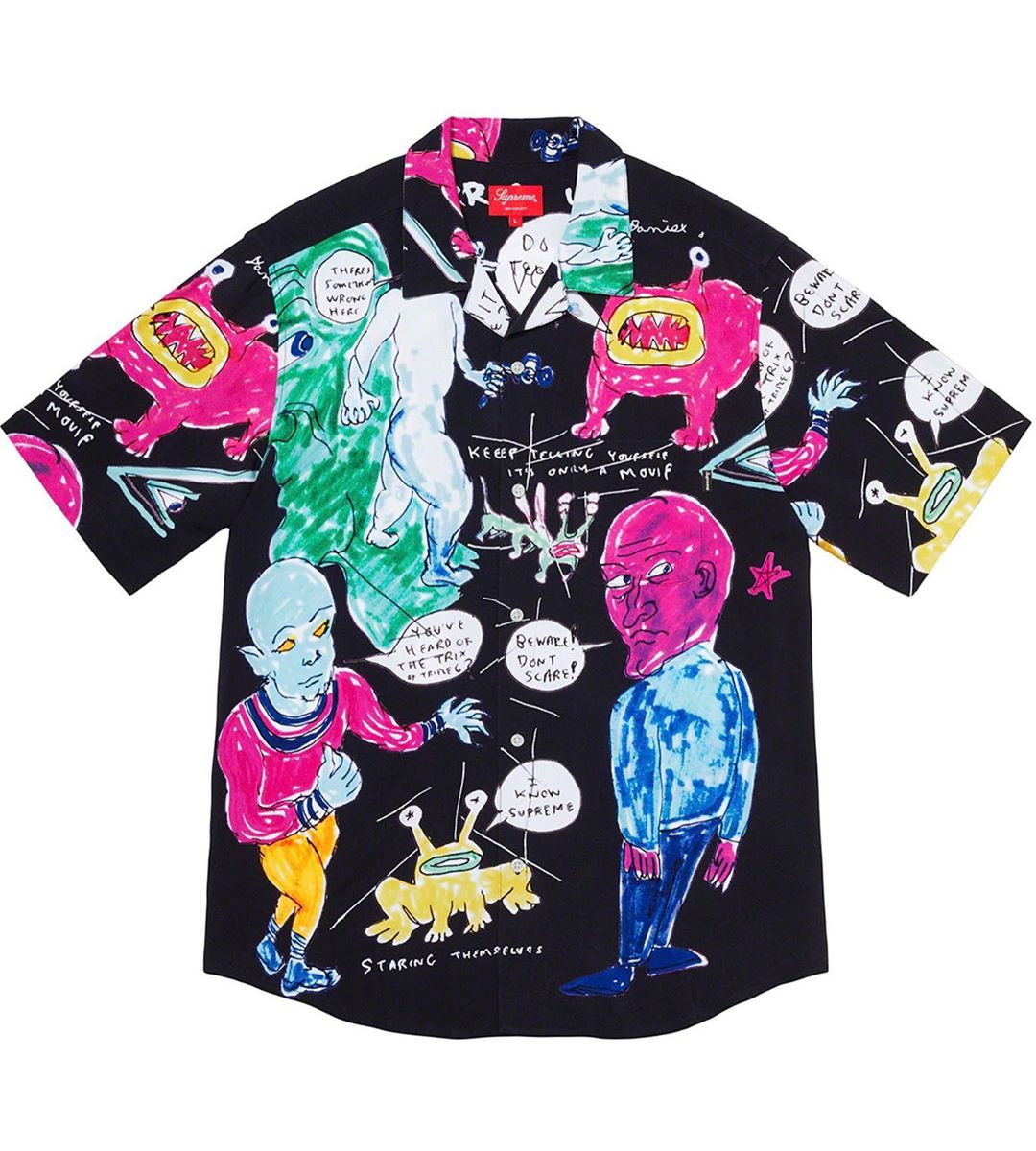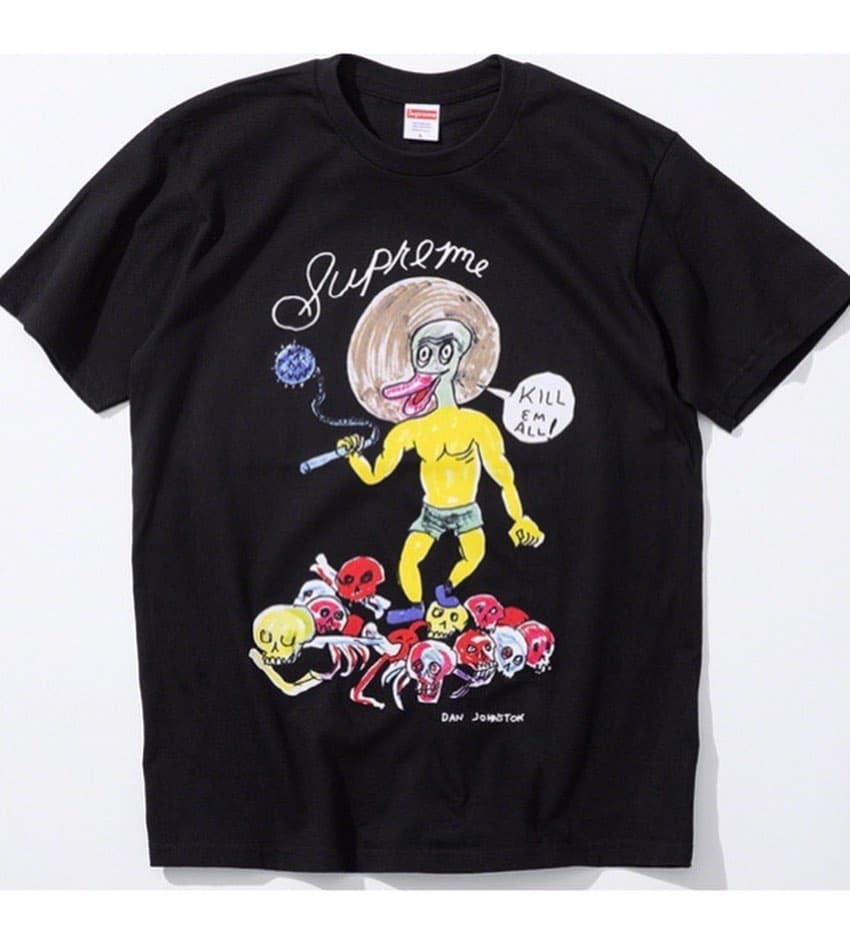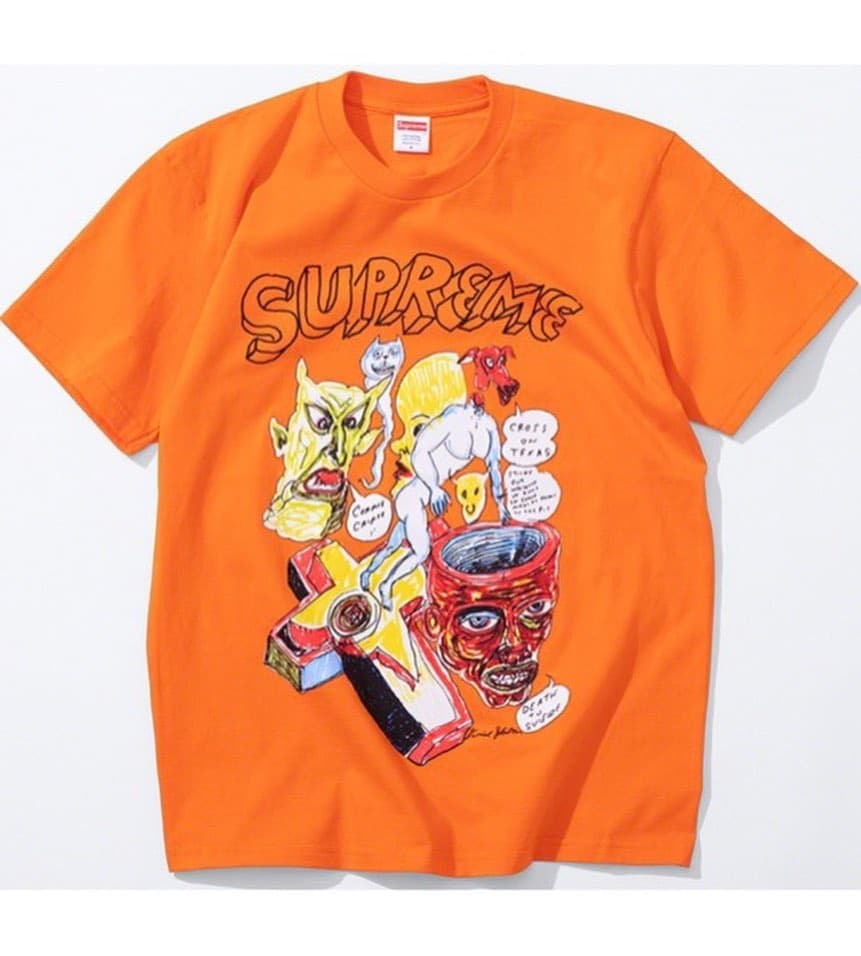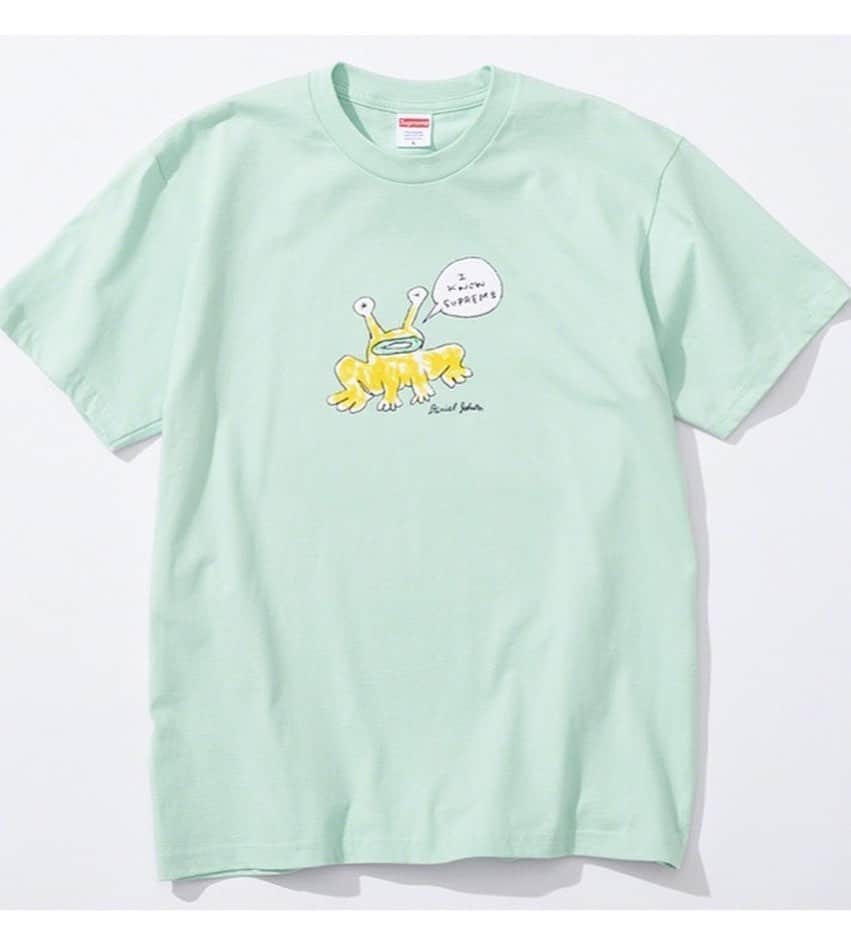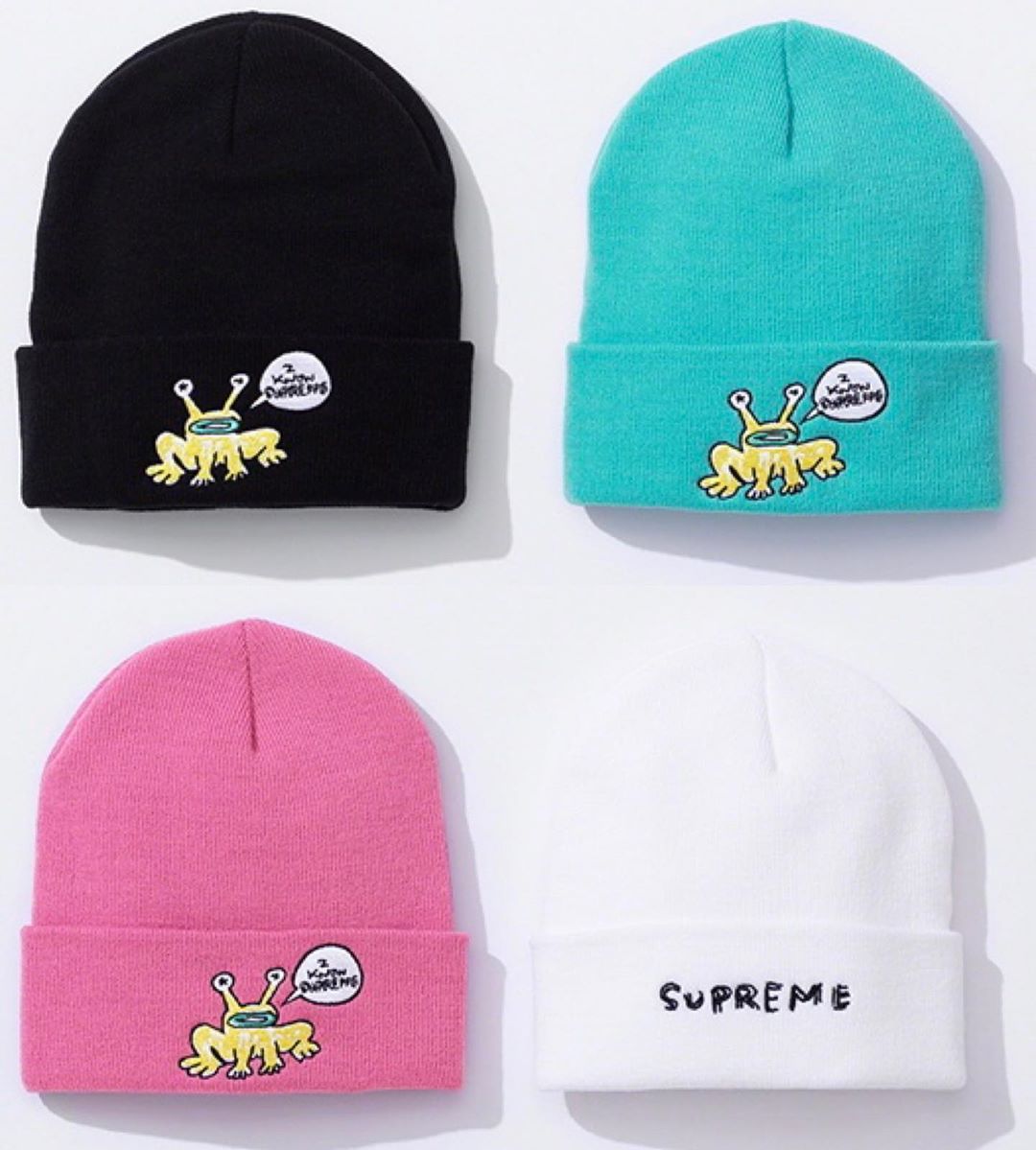 pics by @dropsbyjay
Update 06.05.2020
Week 11 of the Supreme SS20 collection starts this week and it feels like the season is just beginning. We're expecting some great pieces and a heavy collab with lifestyle brand Barbour.
Last week, the cut-out theme was right at the top of the agenda. Supreme dropped some jackets and crewnecks that had a frayed look. But the hypebeasts won't be left alone as we can now see Supreme and Barbour working together.
Weeks ago, we already suspected a collab with the said label. The two partners have three jackets, three fanny packs, three camp caps and three bucket hats in the colourways Orange, Black and Gepard.
In addition, we can expect heavy accessories from Supreme once again. On May 7th, the BIC lighters and a bike will be released.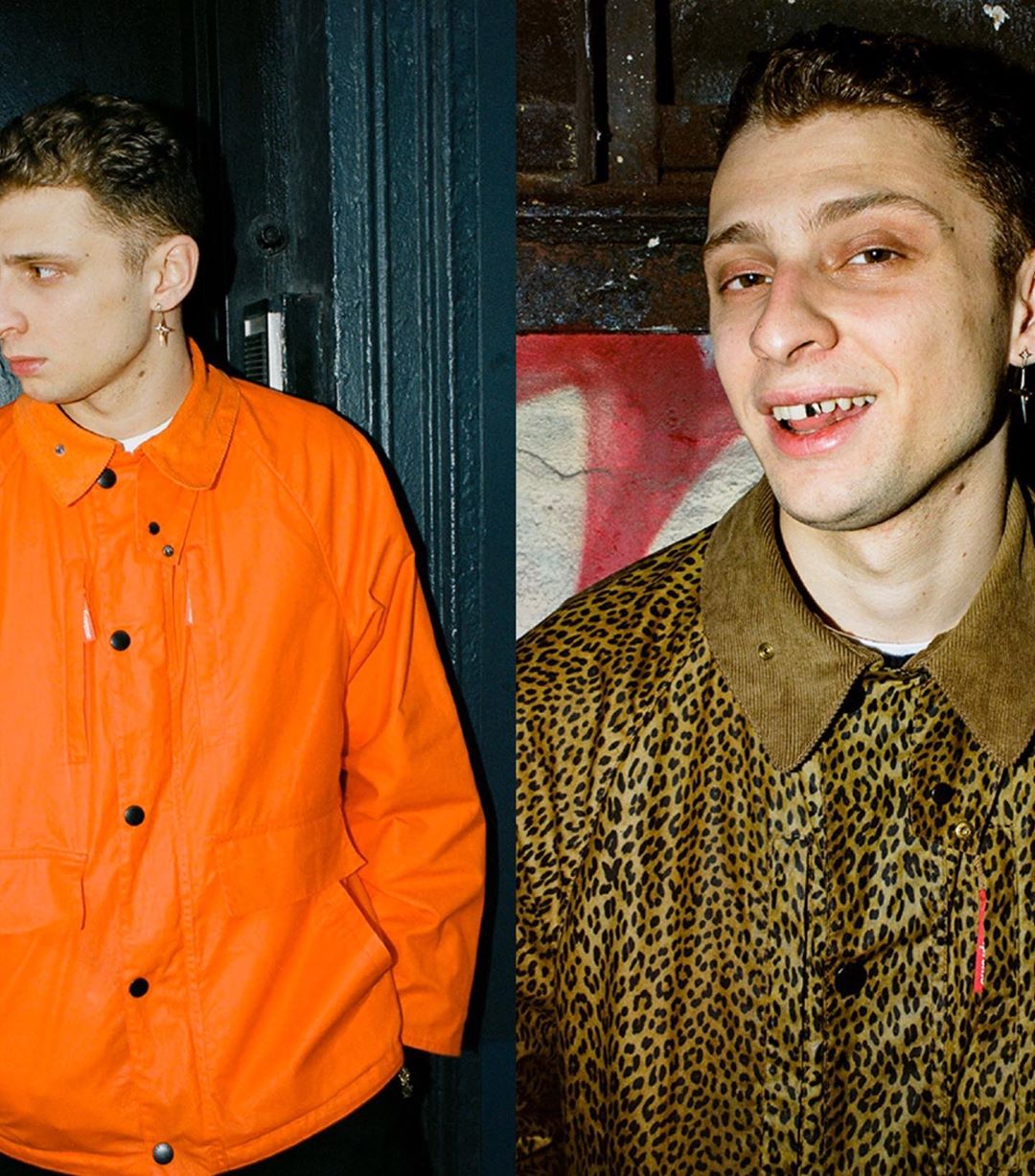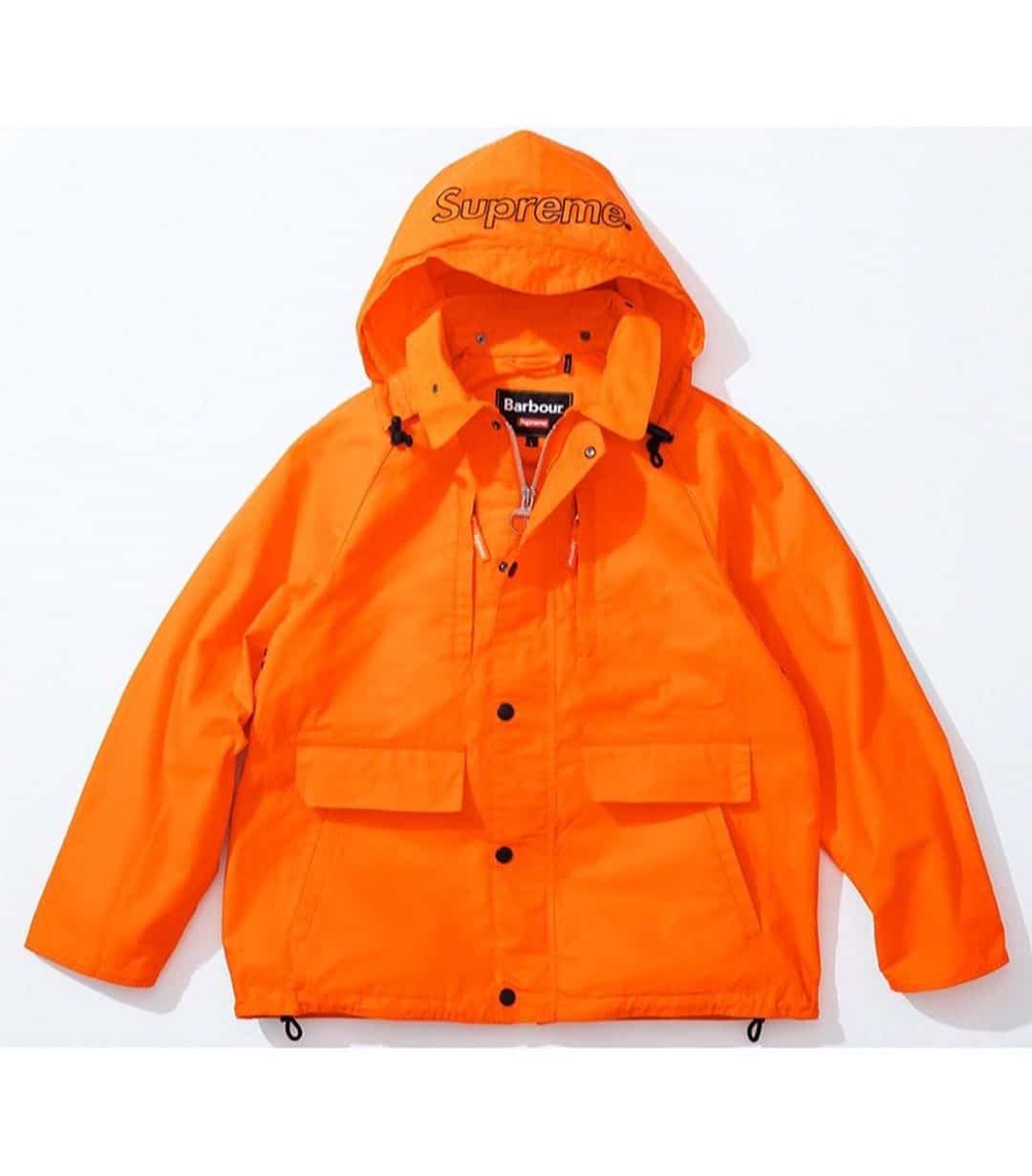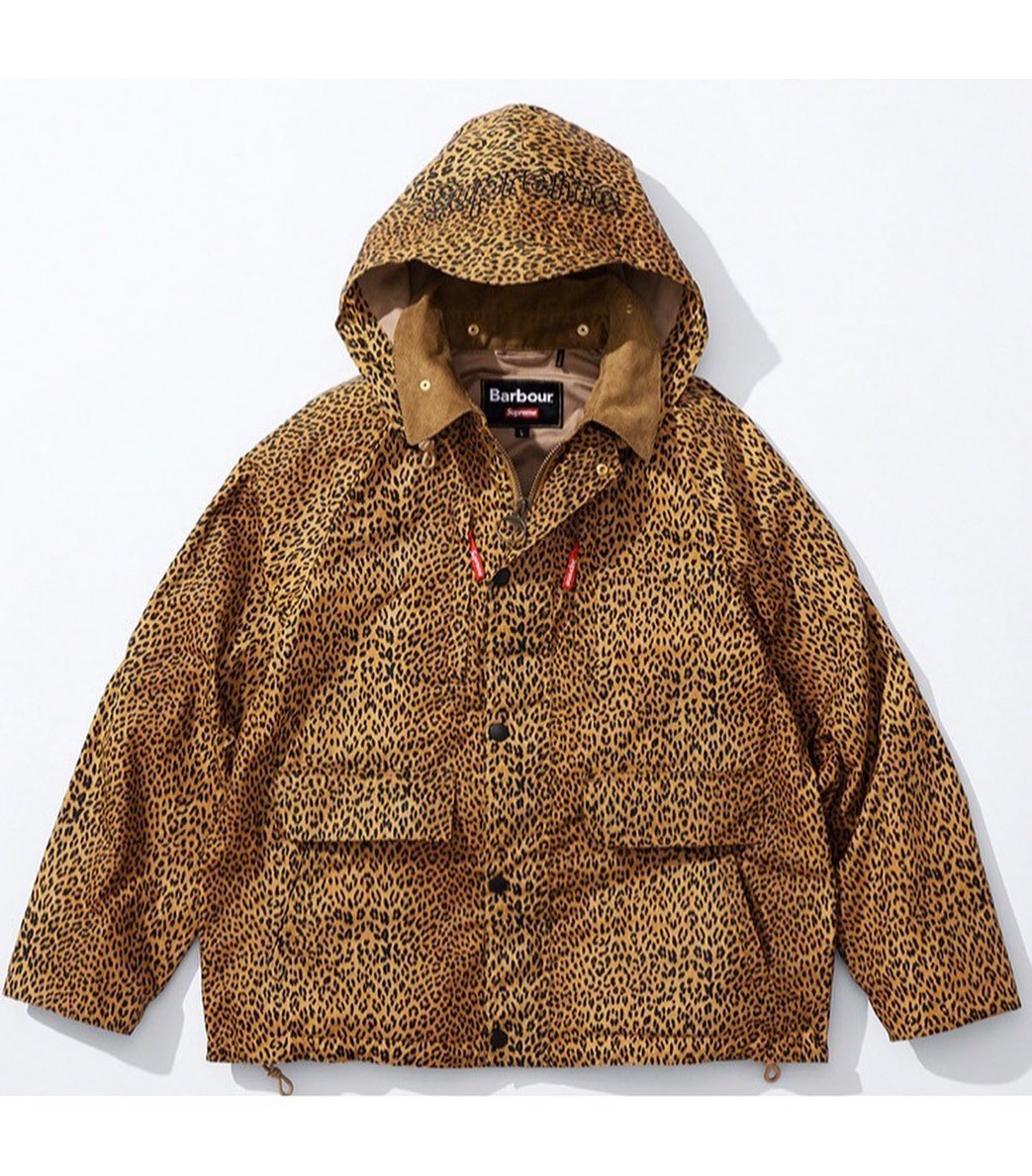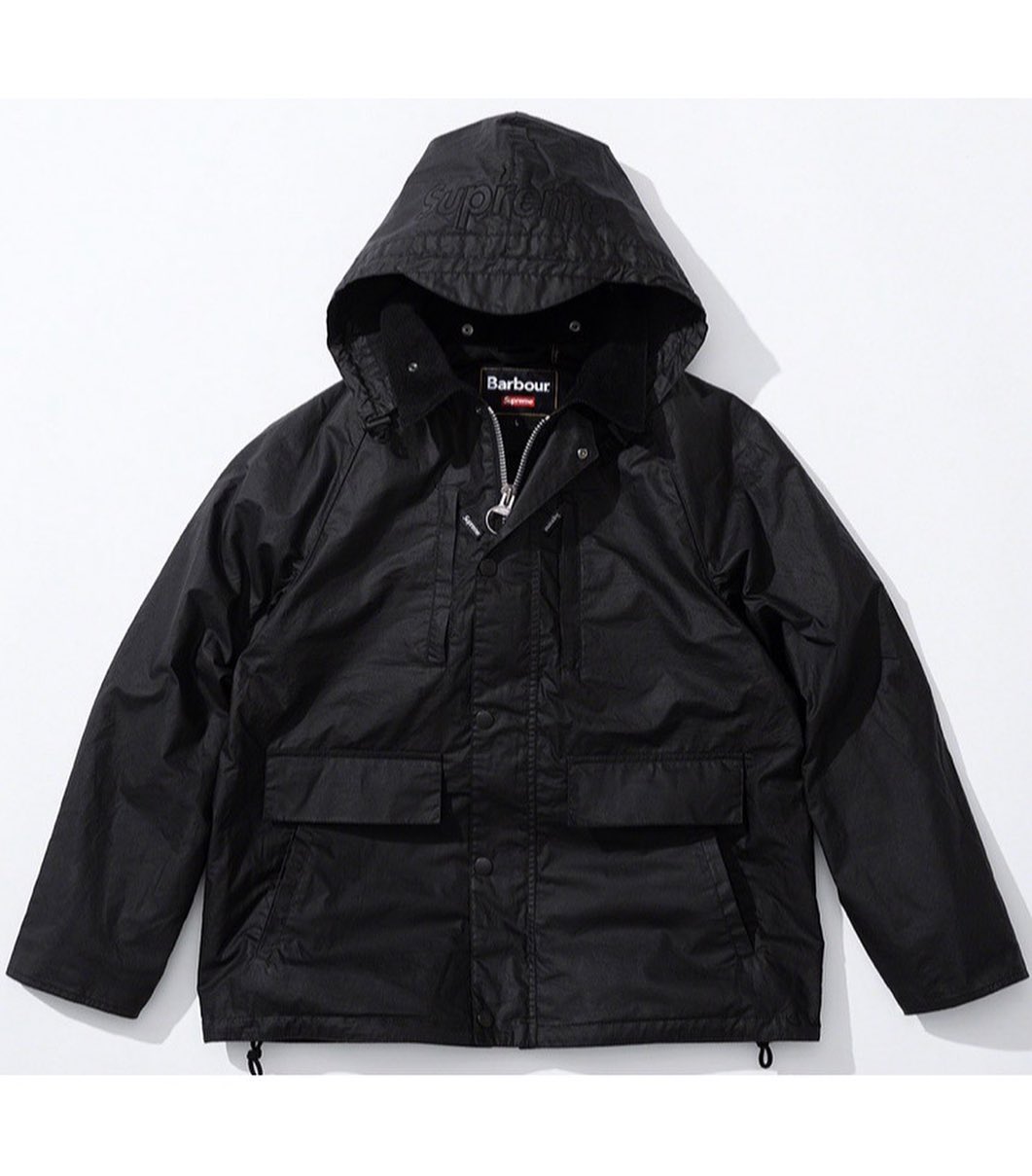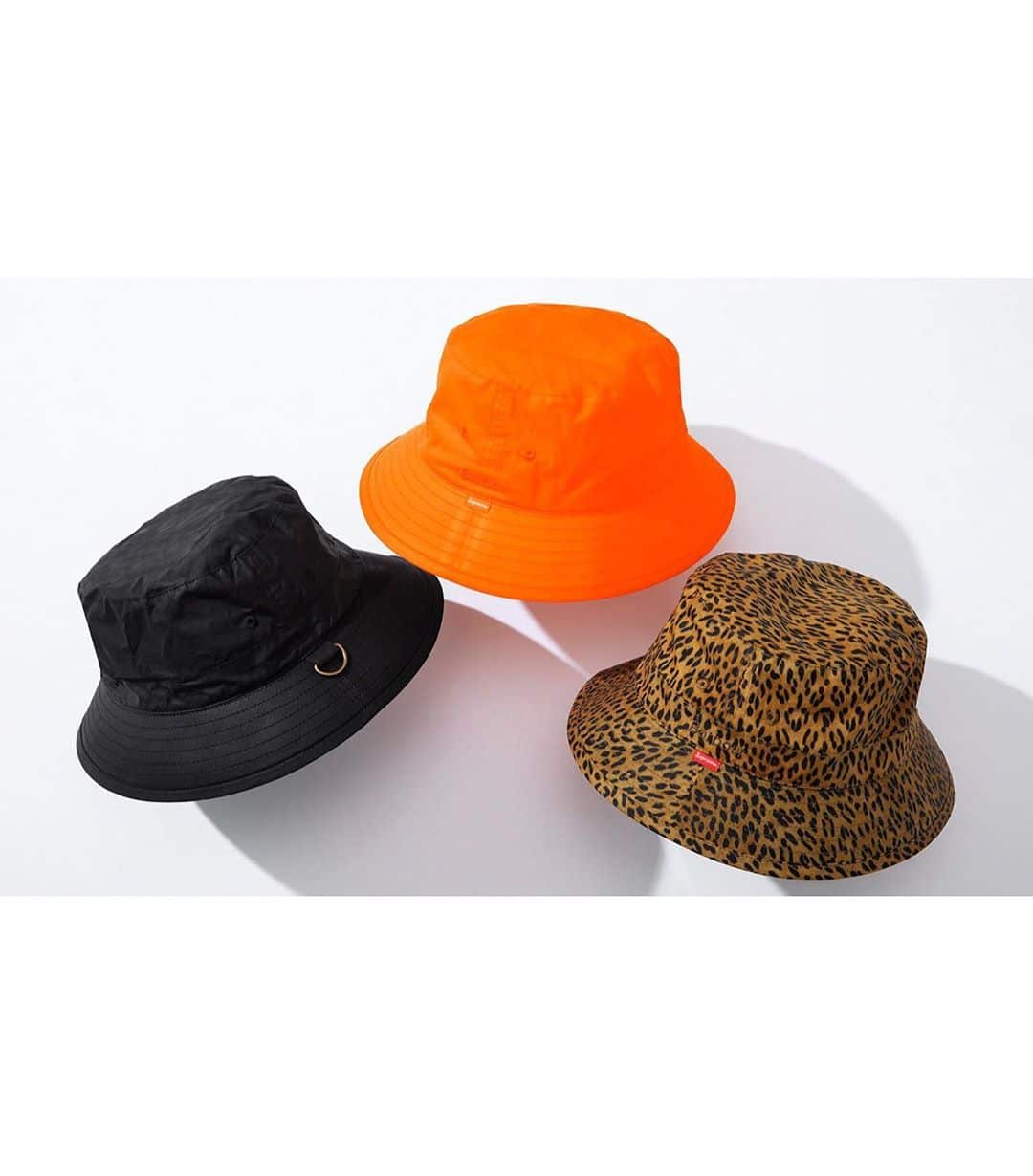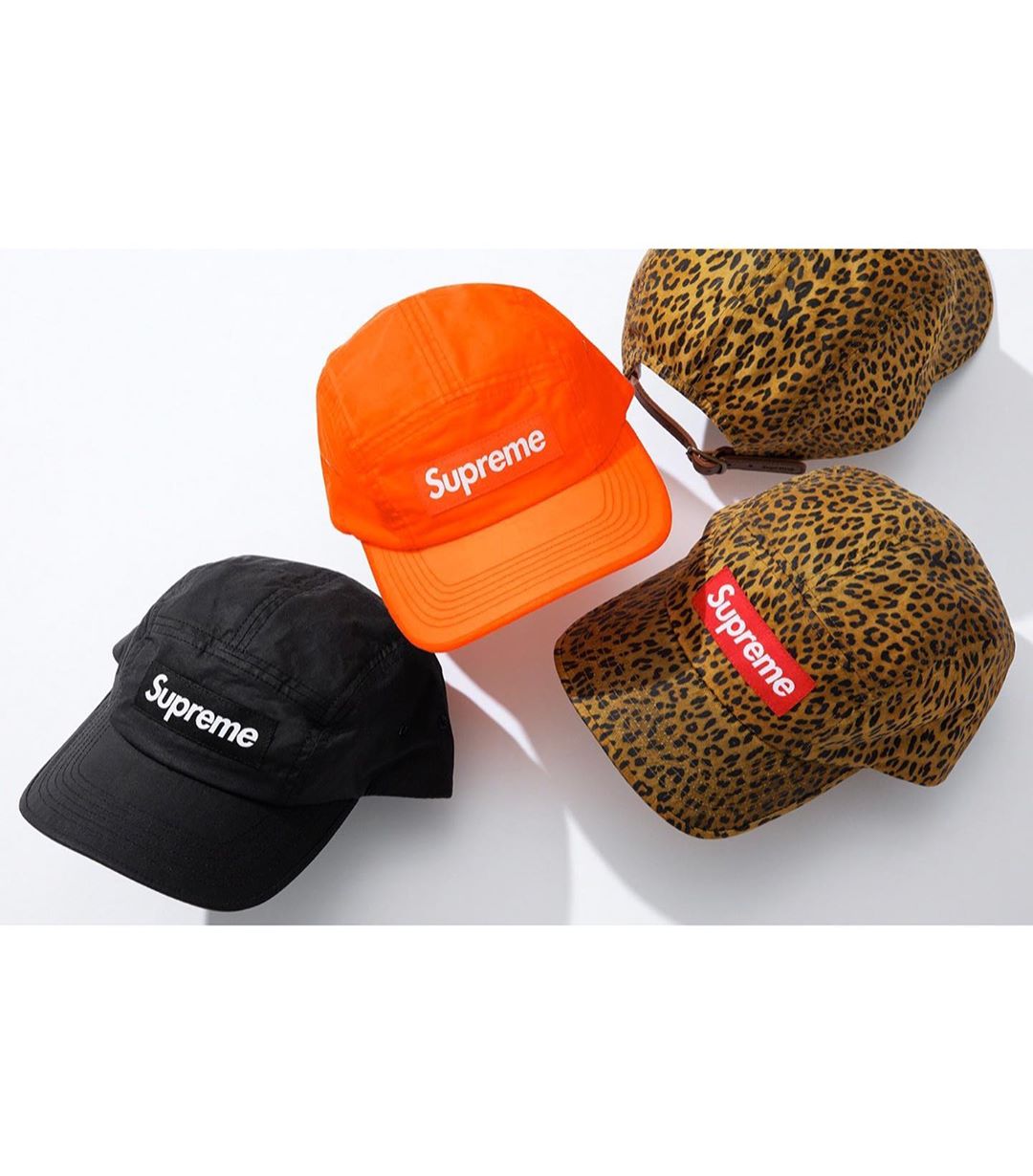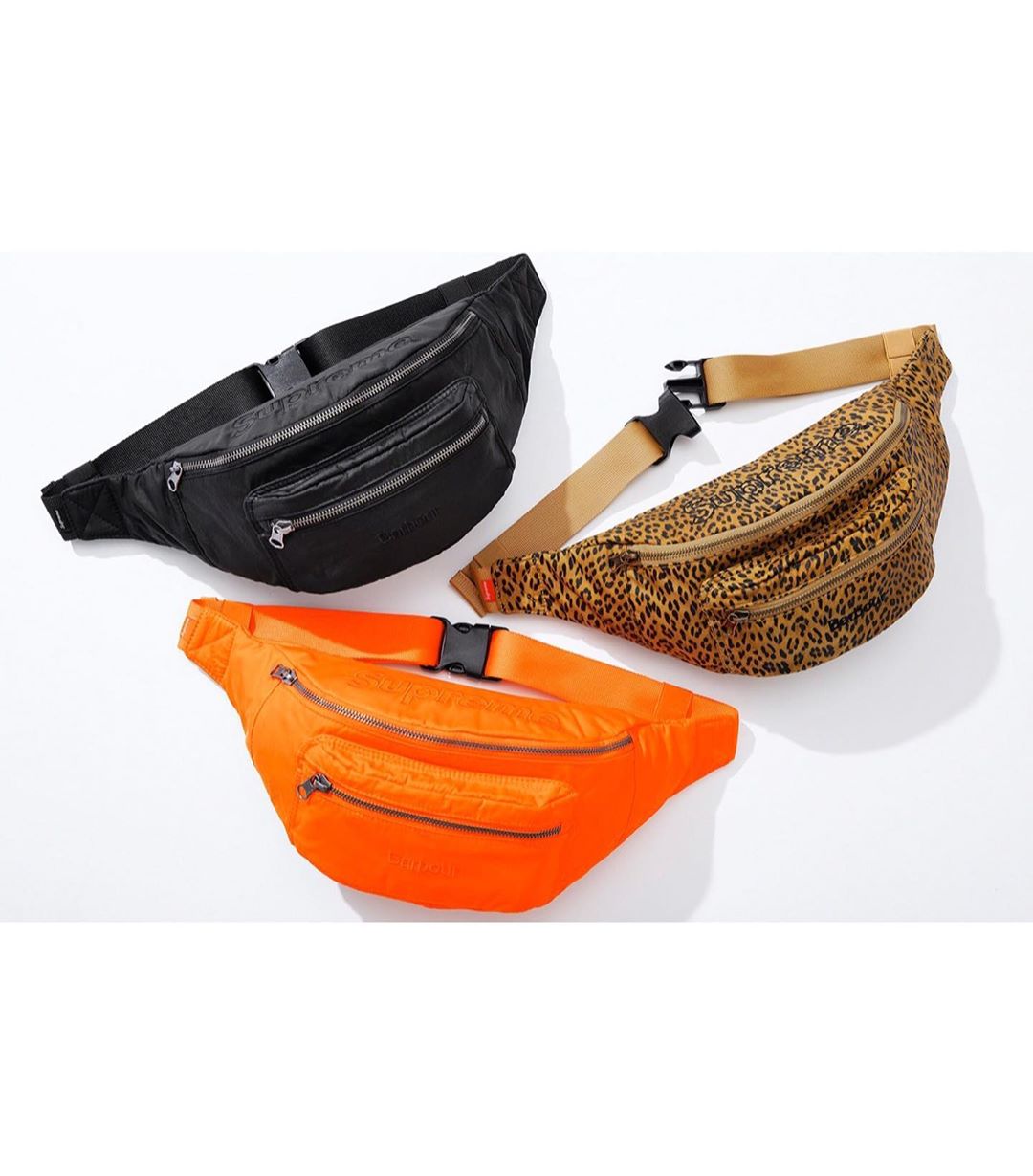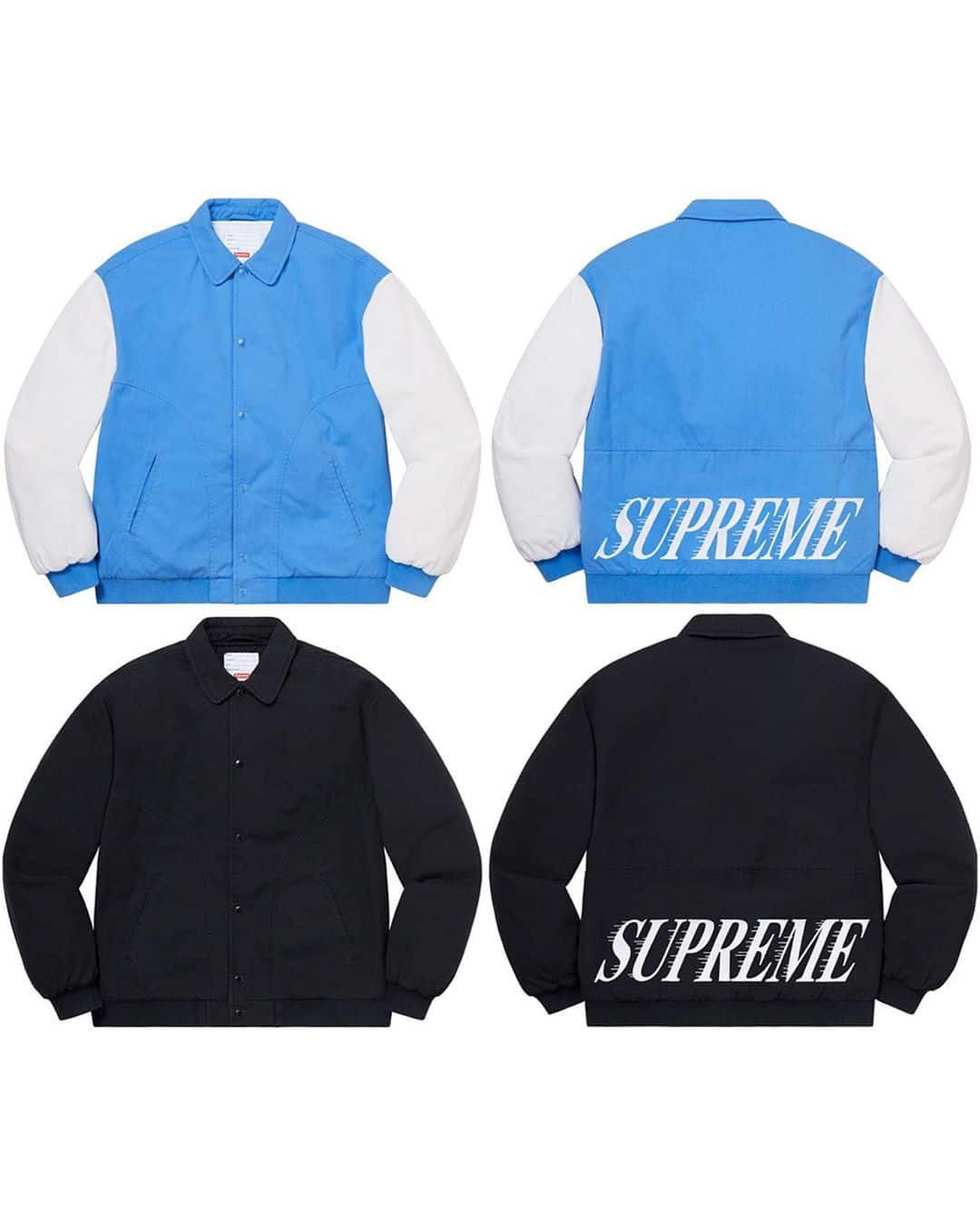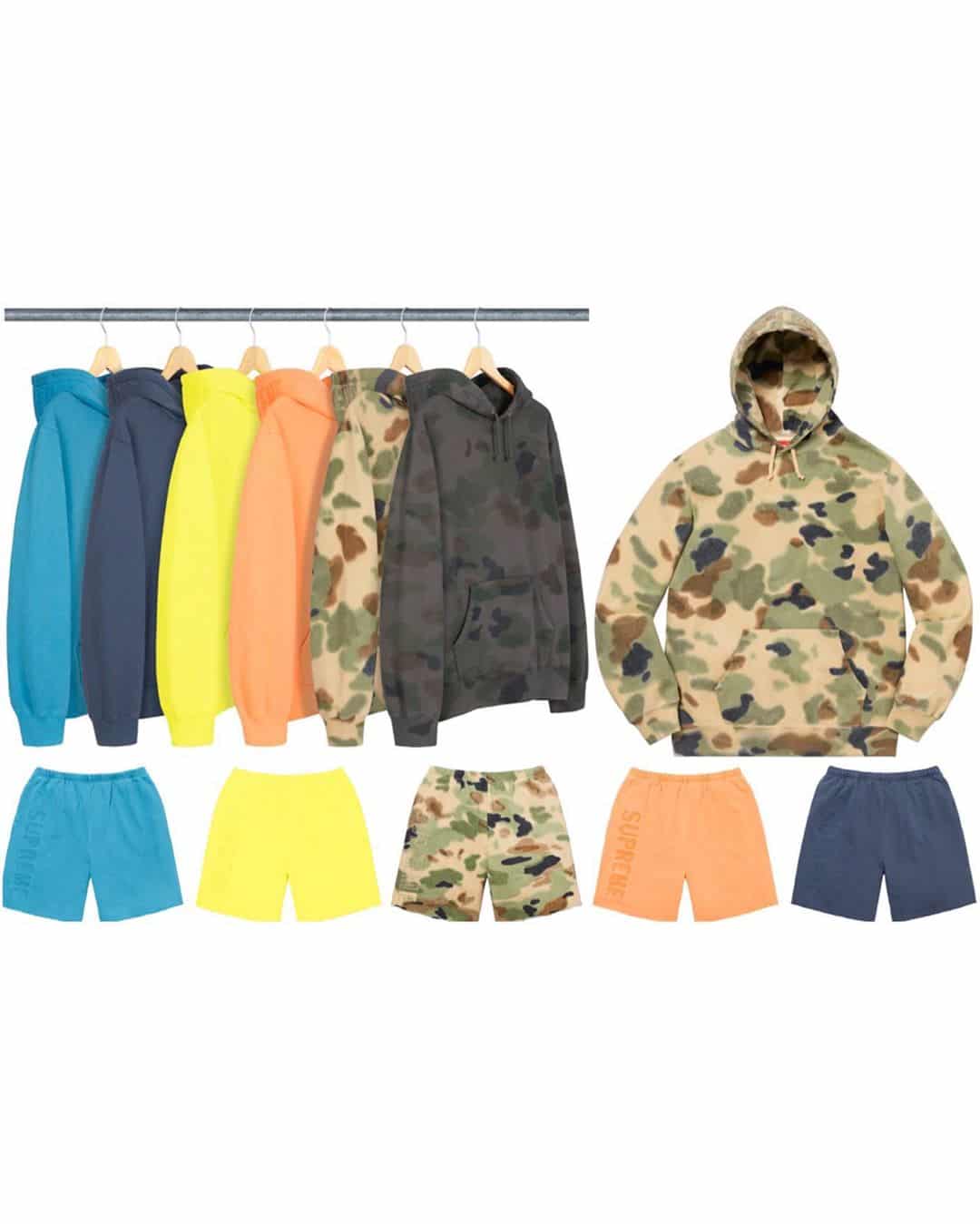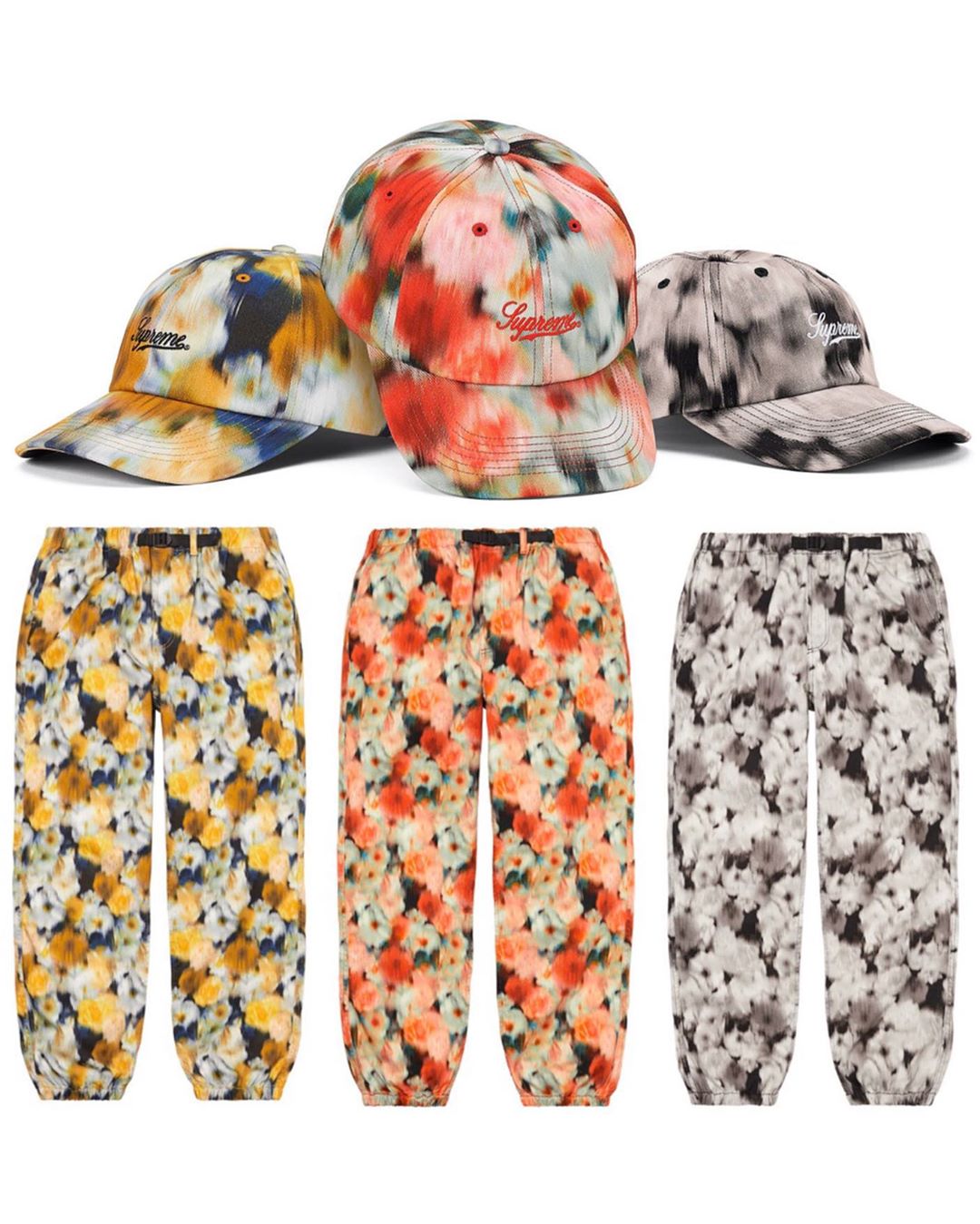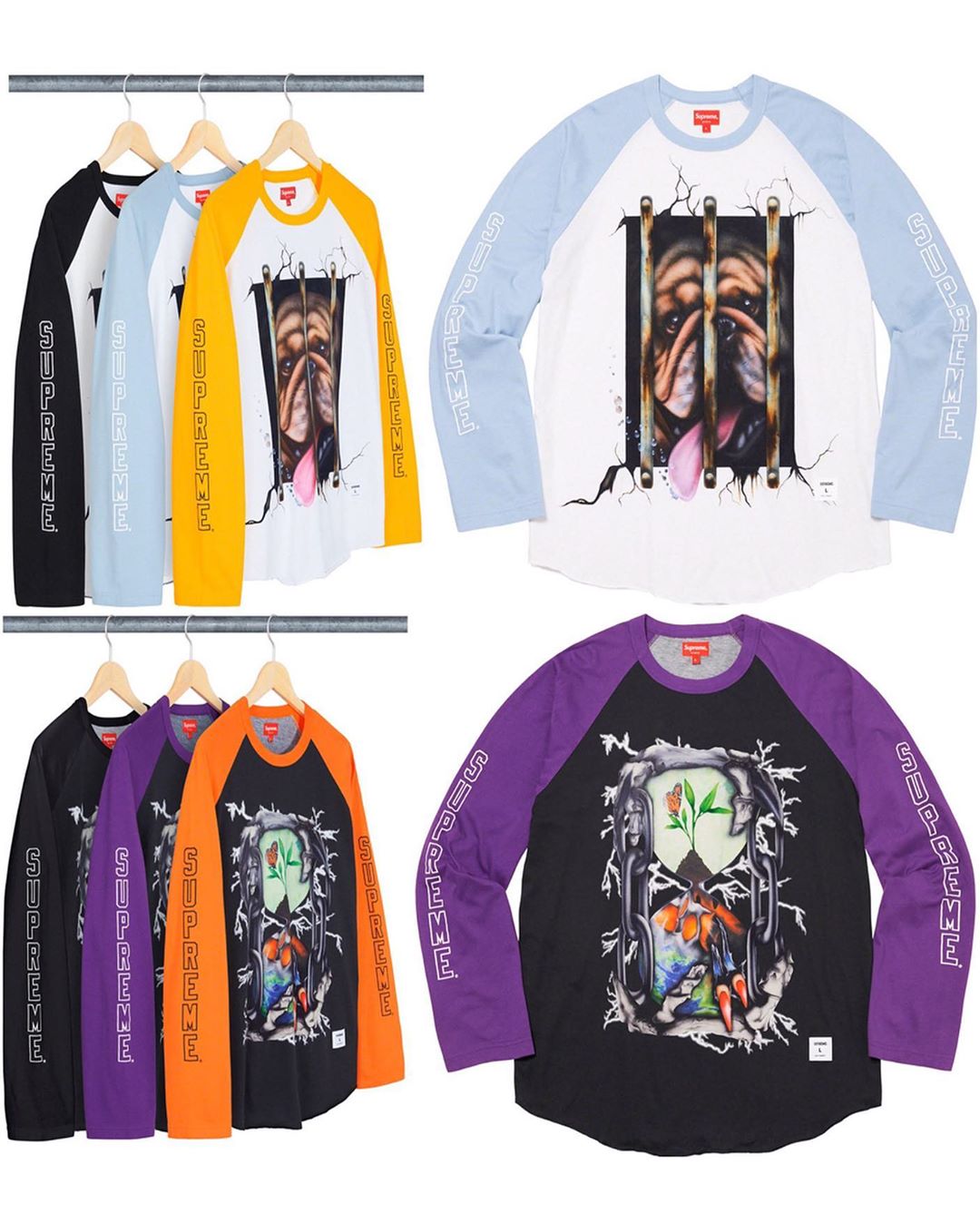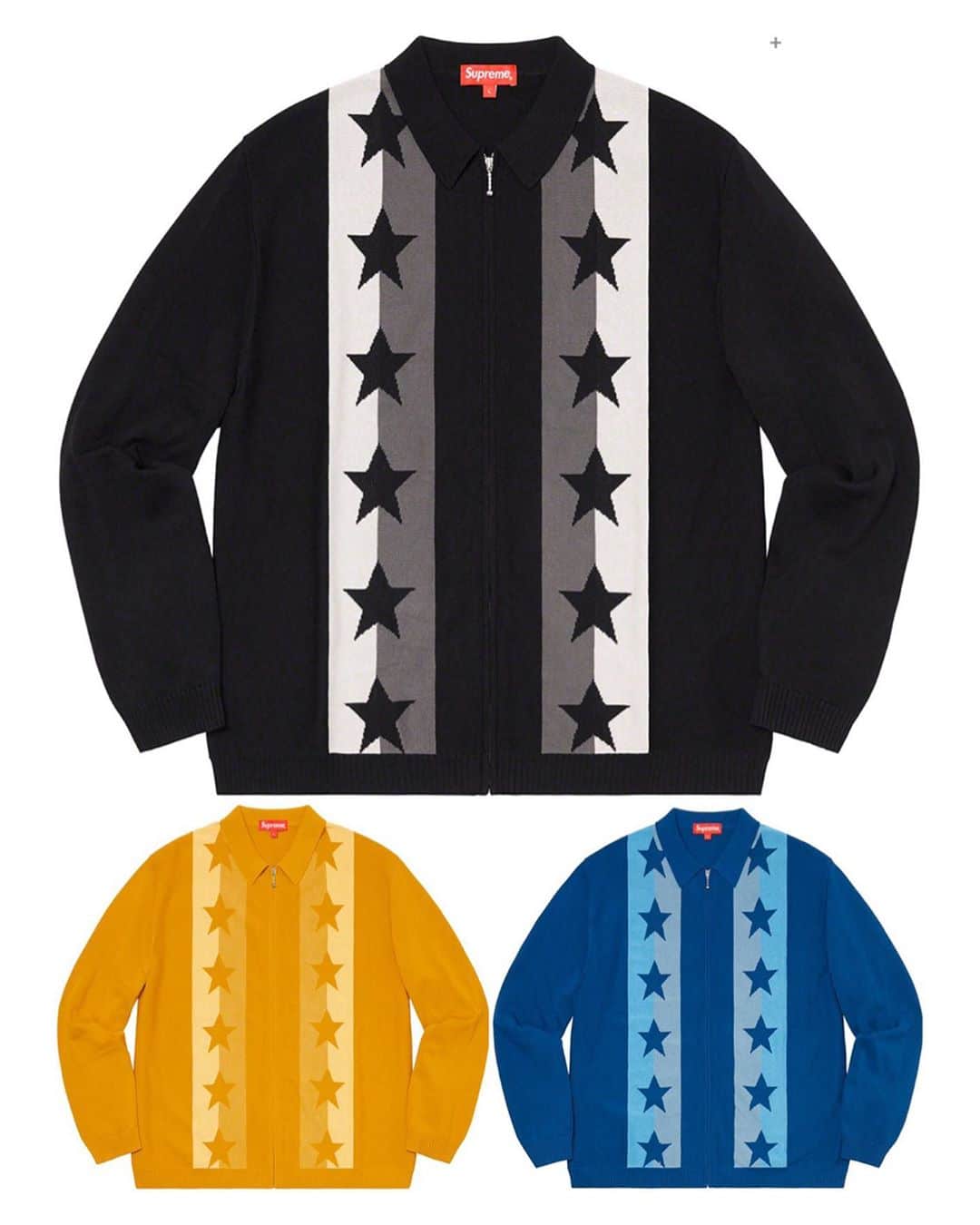 pics by @dropsbyjay
Update 29.04.2020
New week, new luck. We have now arrived at Week 10 of the Supreme Spring/Summer 2020 collection and so far, we have seen some good pieces. Next, we can look forward to Supreme's box logo once again.
Their branding will appear this week as a cut-out logo on several crew necks. The shaggy feature sits on the chest side and appears in green, red, violet blue, beige, grey and black. In addition, the Supreme Hole Punch Denim Trucker Jackets will finally be released in blue, brown and black. We think that the brown version is really great.
If you are just looking for an accessory, you should definitely consider the ashtray. Supreme releases two versions: one in transparent and the other one in red.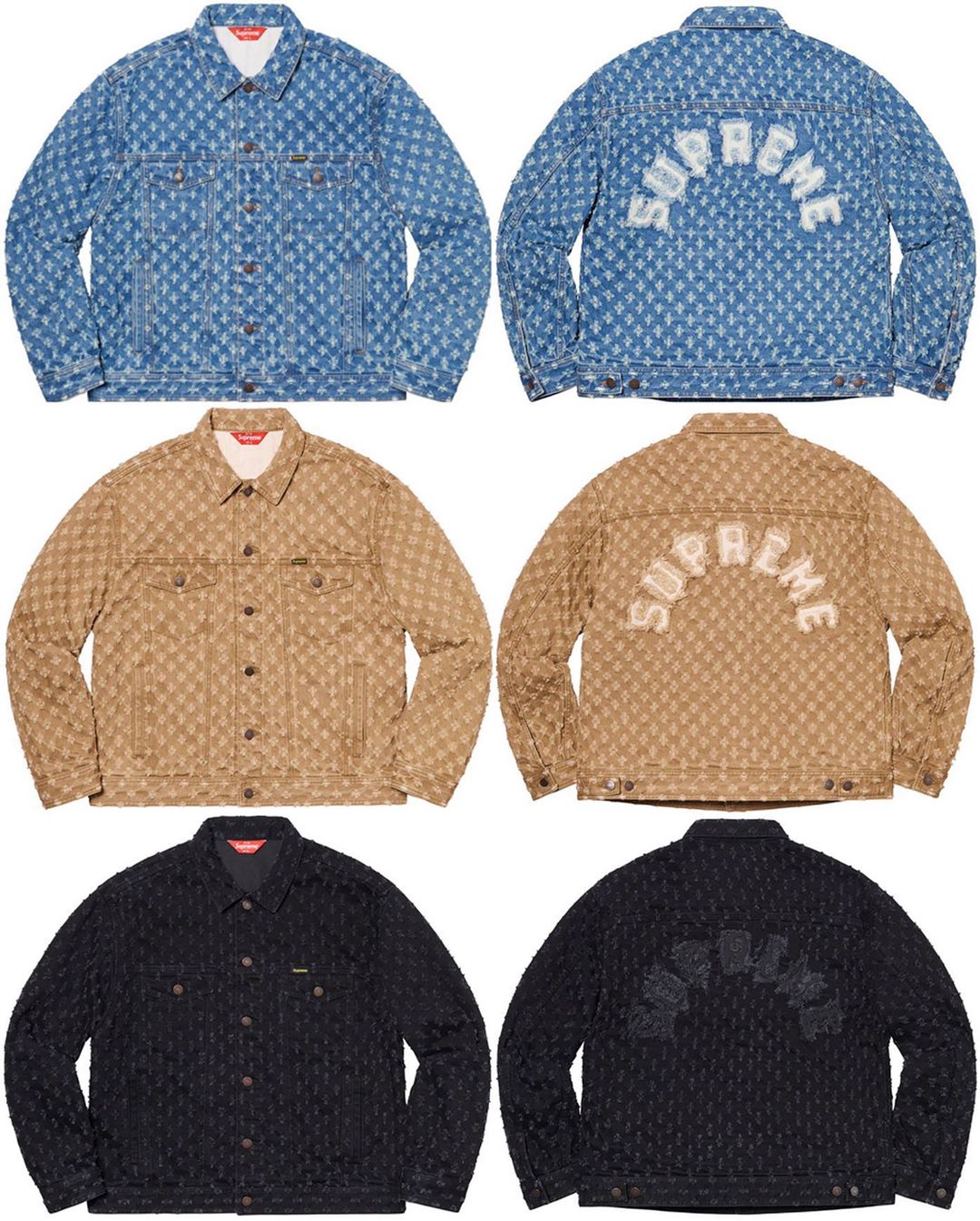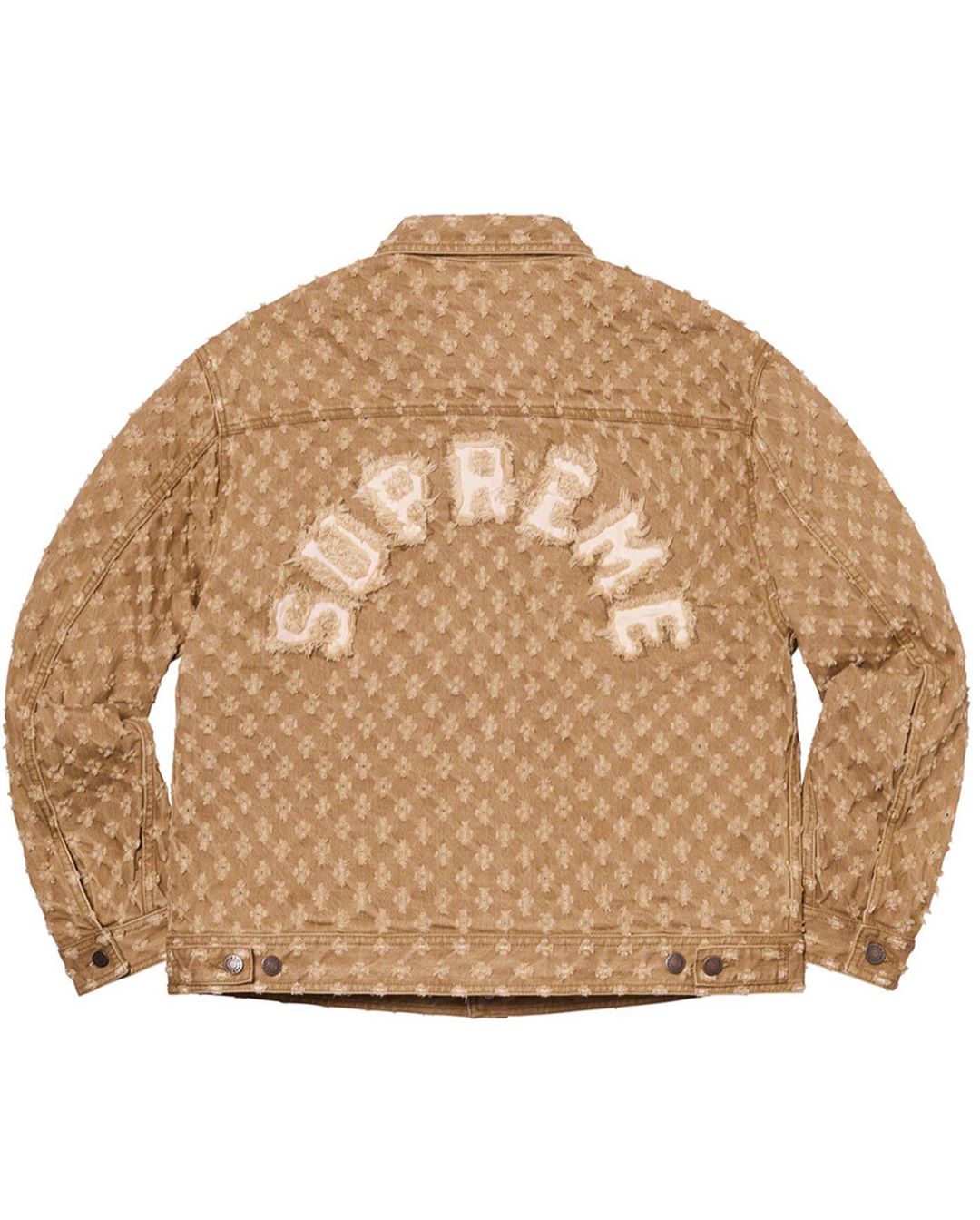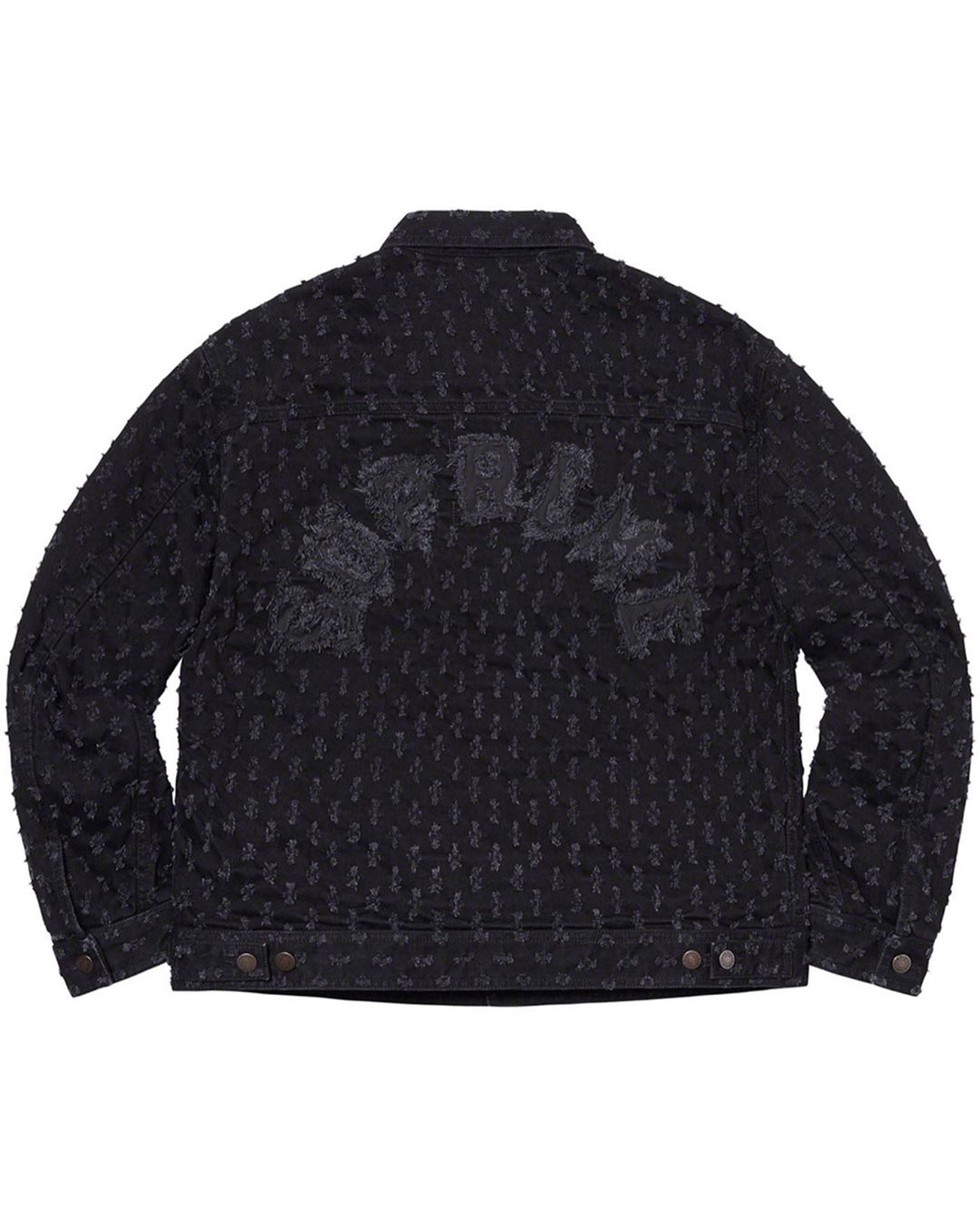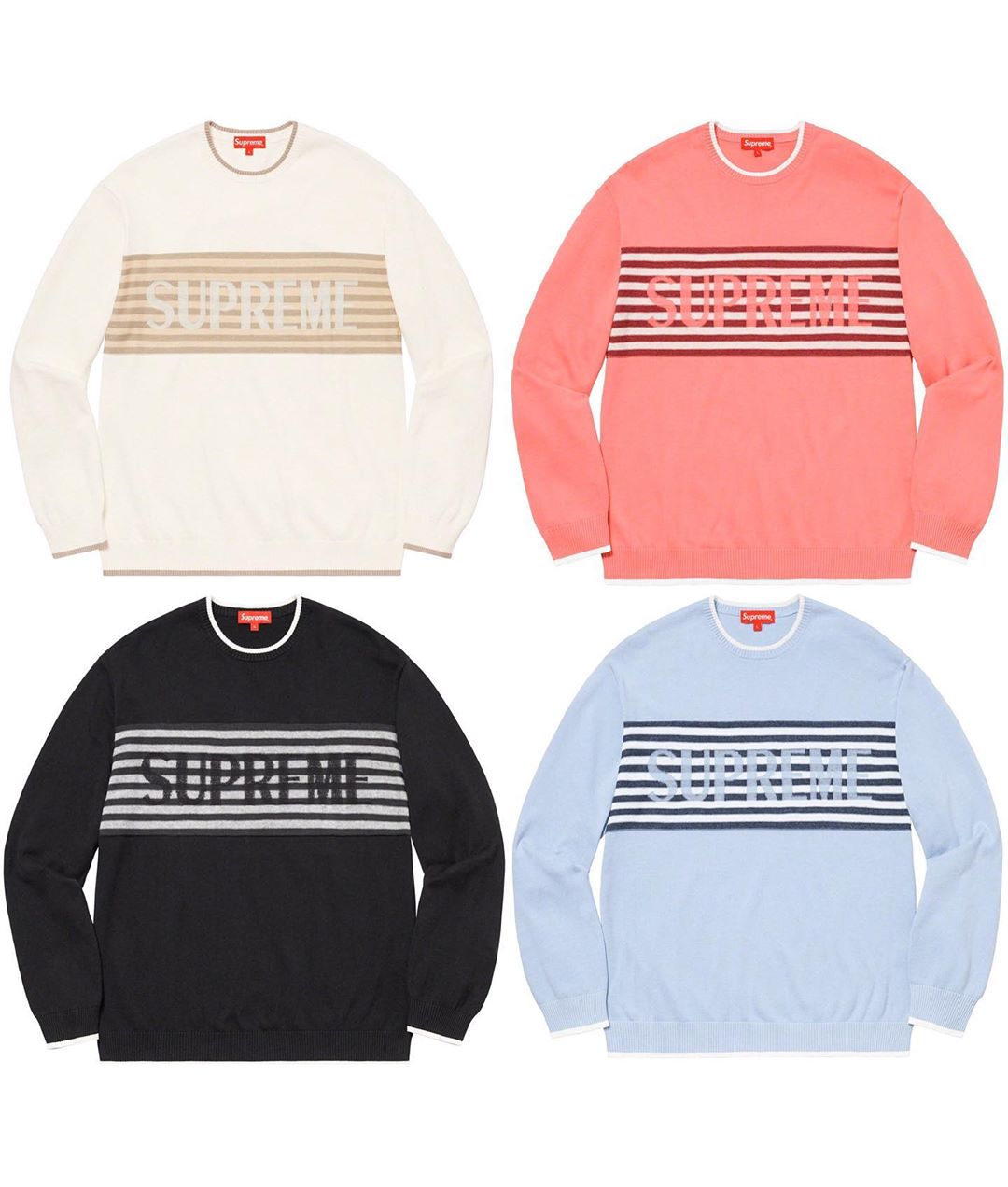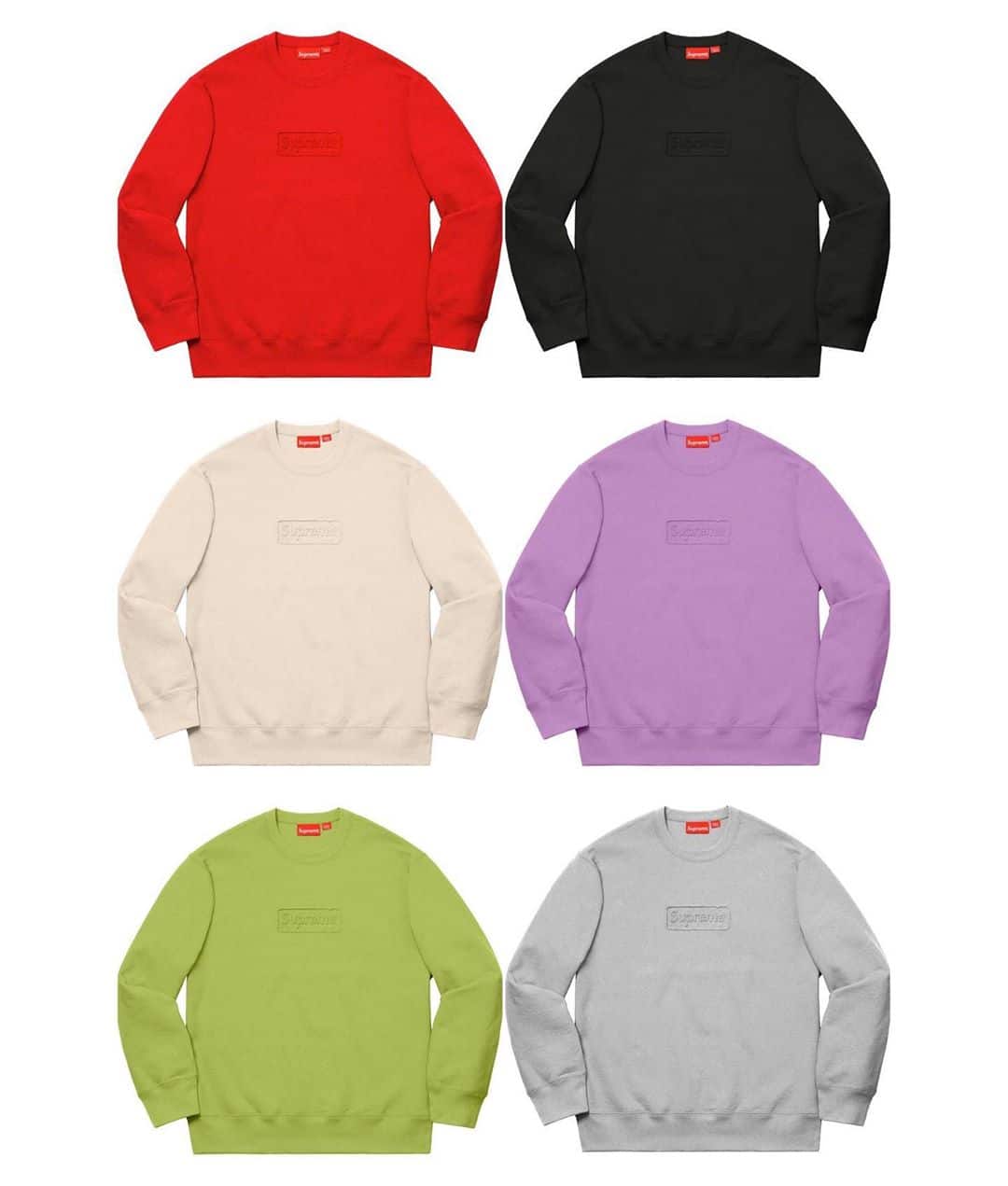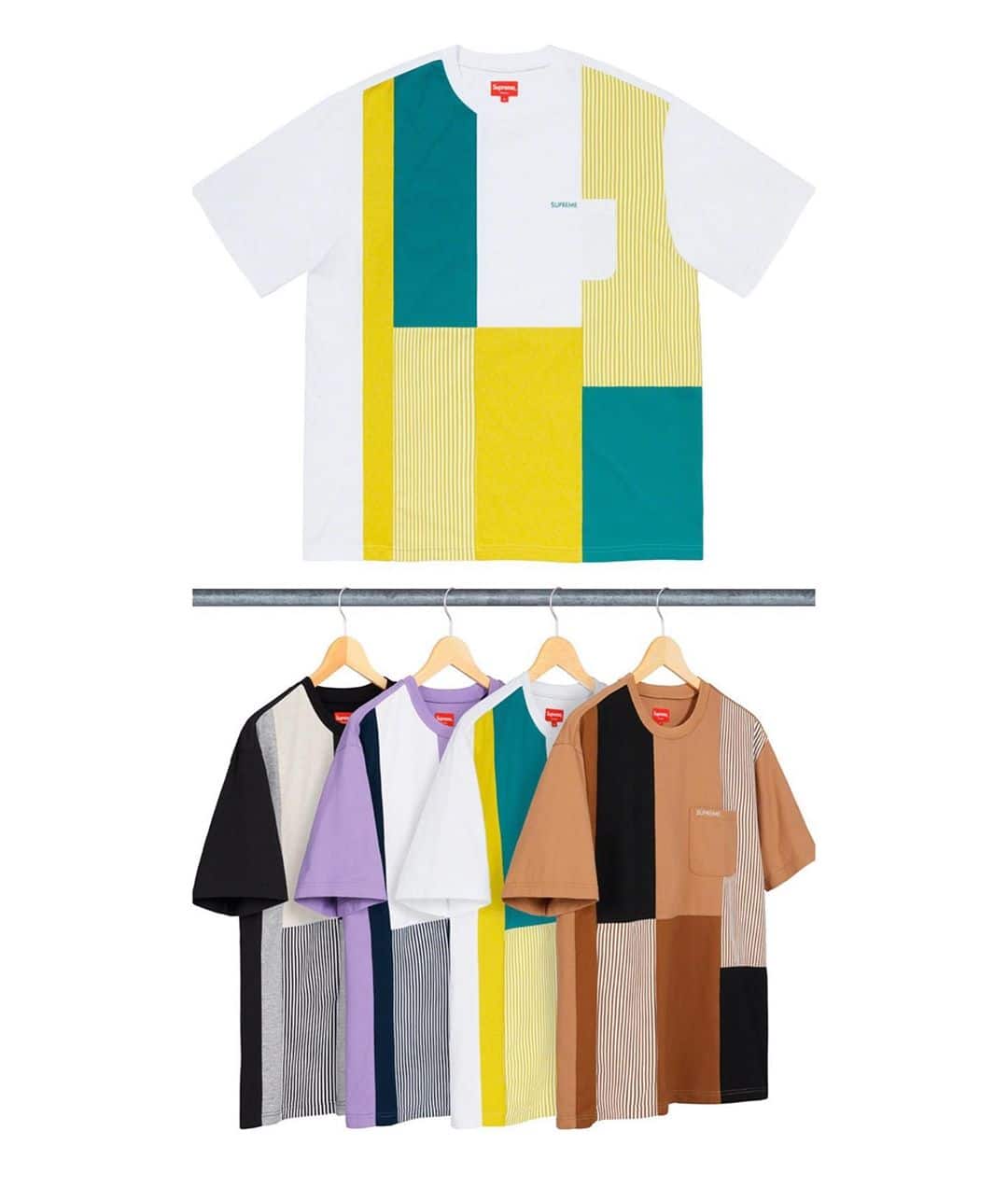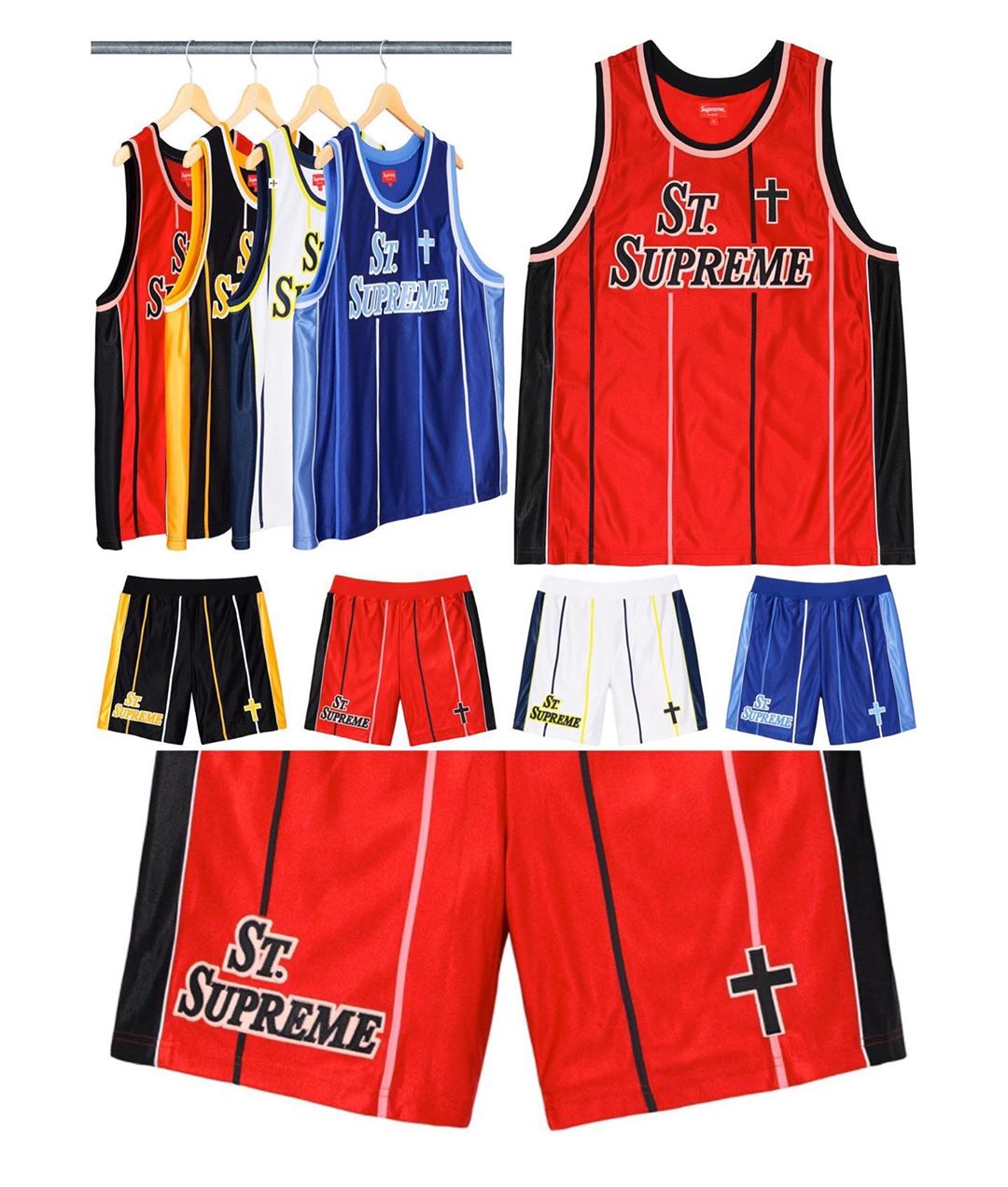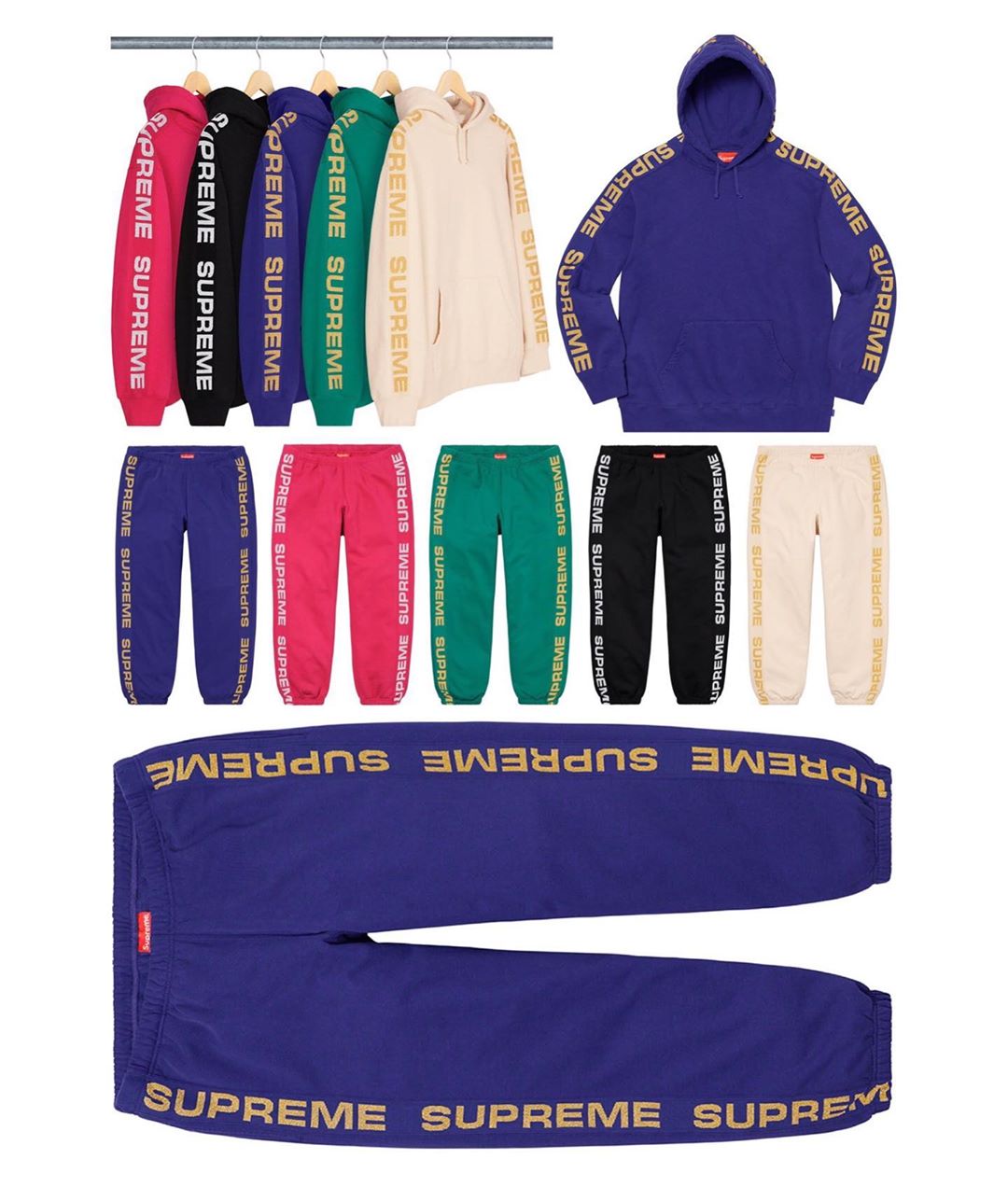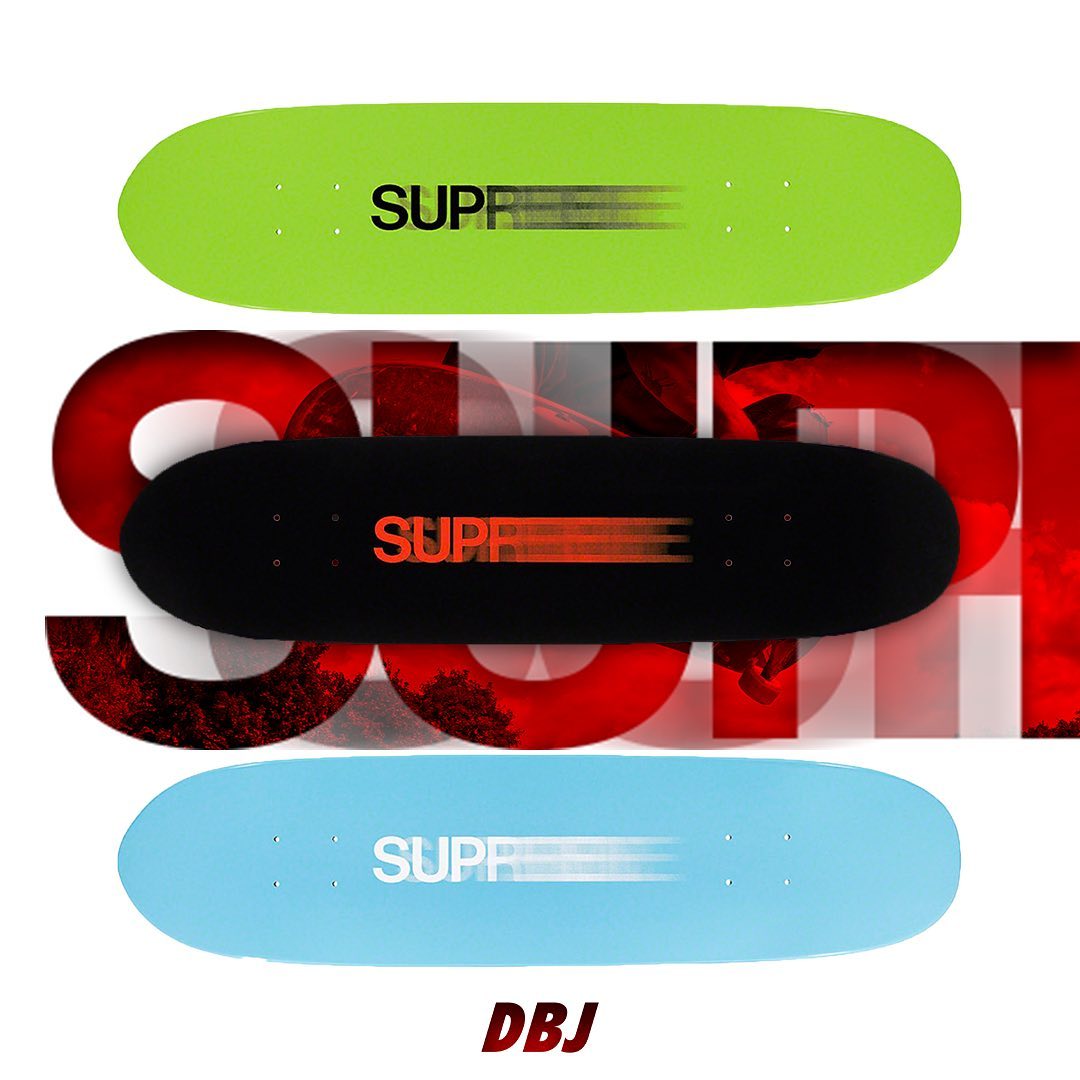 pics by @dropbyjay
Update 22.04.2020
The Irish-British rock band My Bloody Valentine was formed in Dublin in 1983 and moved to London two years later. Now after 35 years with the band, Supreme is starting a great collaboration. For Week 9, a trucker jacket, a rayon shirt, a hoodie and two tees will be released.
On top of that, there is also the vibrant collaboration with MLB. The partnership is shared with two pieces: a college jacket and a cap, which will be available in black, orange and navy.
Furthermore, Takashi Murakami surprises us with an ingenious collab. Supreme and his box logos are simply well-known. Now the iconic logo gets familiar with Murakami's insignia. The design features the Supreme Box logo on the chest with Takashi flowers. On the back is the branding of Takashi Murakami as well as the meaning behind the COVID-19 shirt. 100% of the proceeds will go to the charity HELP USA, which started as a shelter for homeless people in Brooklyn and has expanded ever since.
If you would like to get the tee from Takashi Murakami, you should now pay attention to this date. The release is scheduled for Friday, April 24th. The other pieces will be released on Thursday as usual.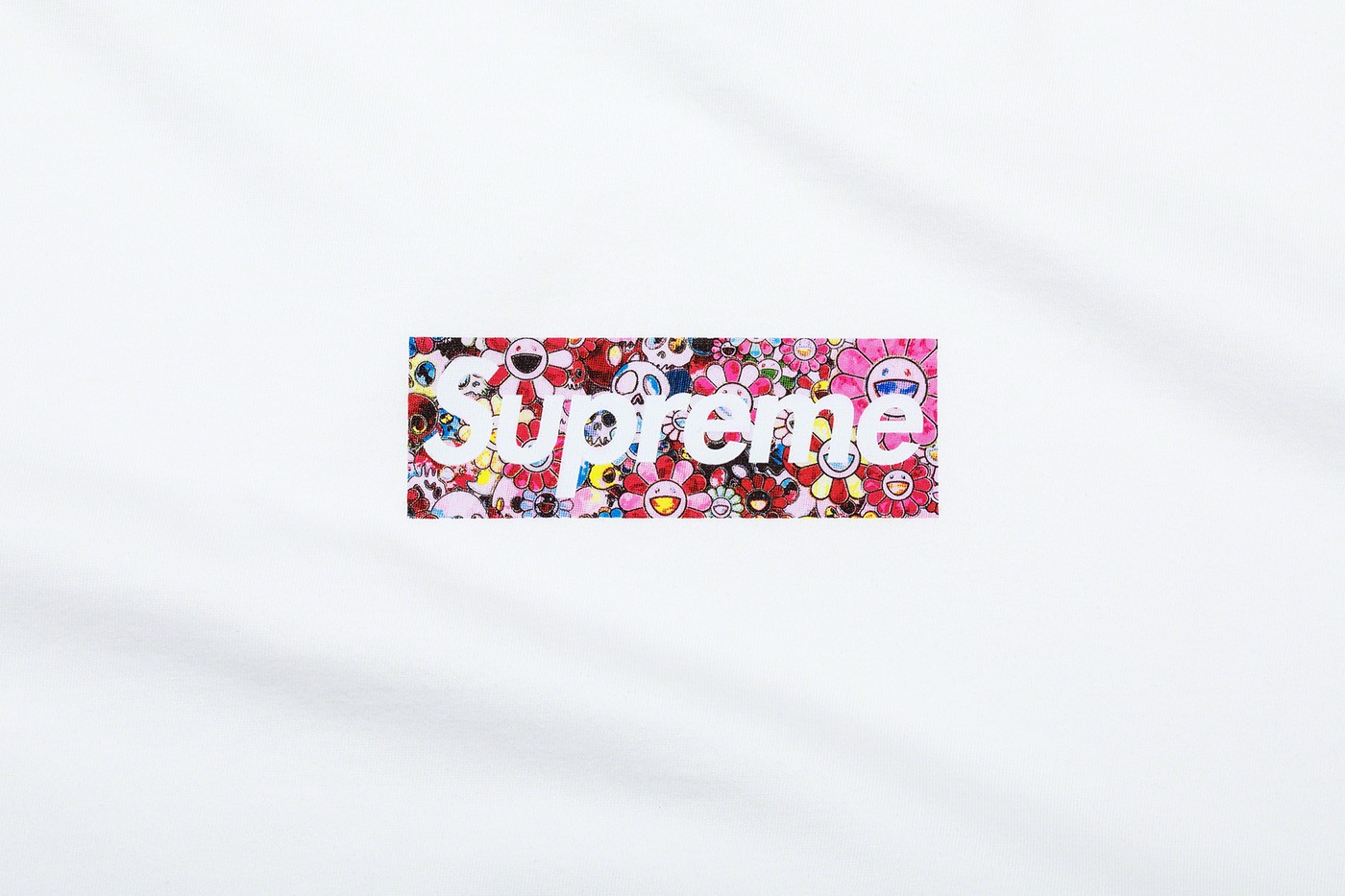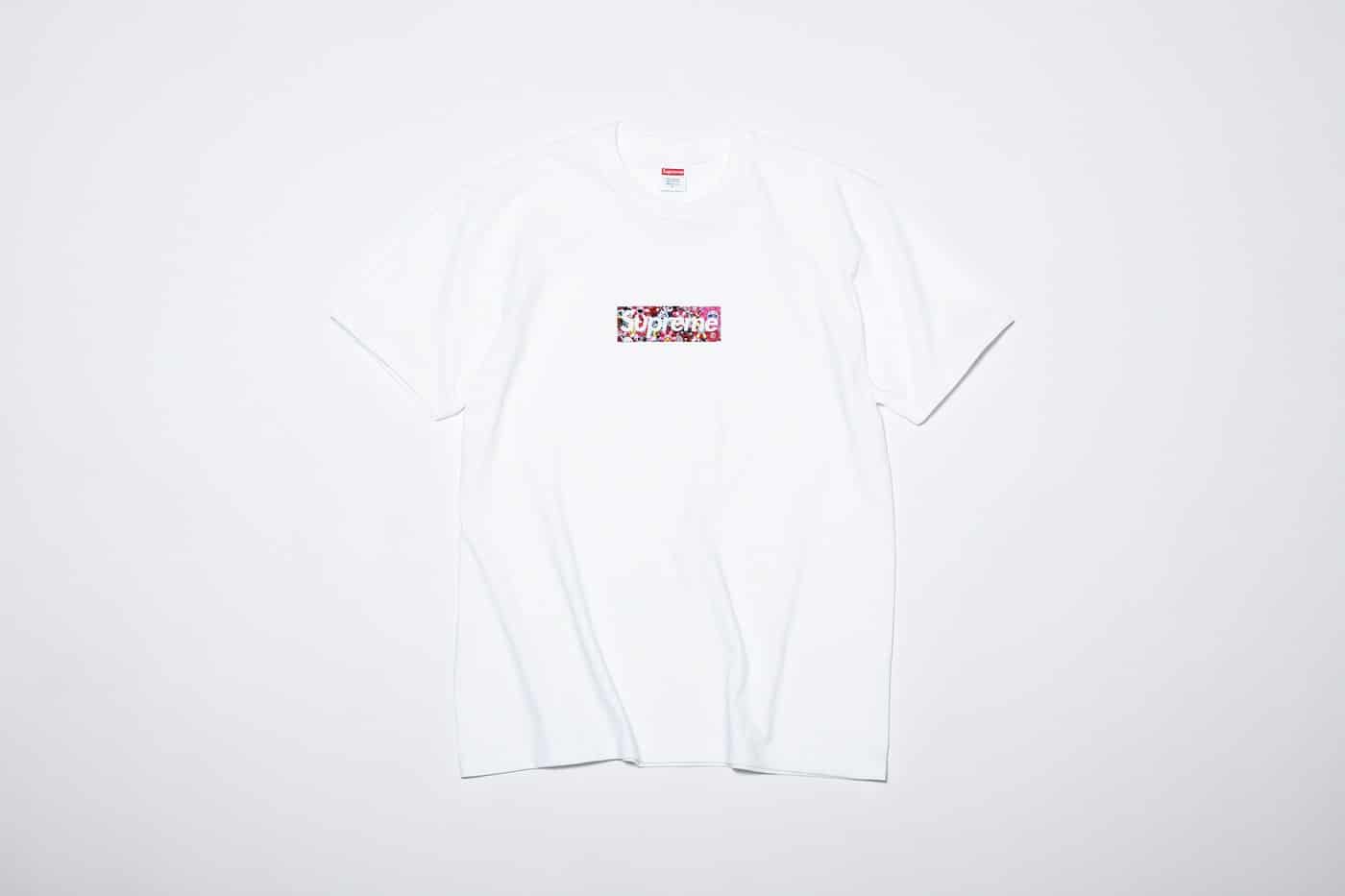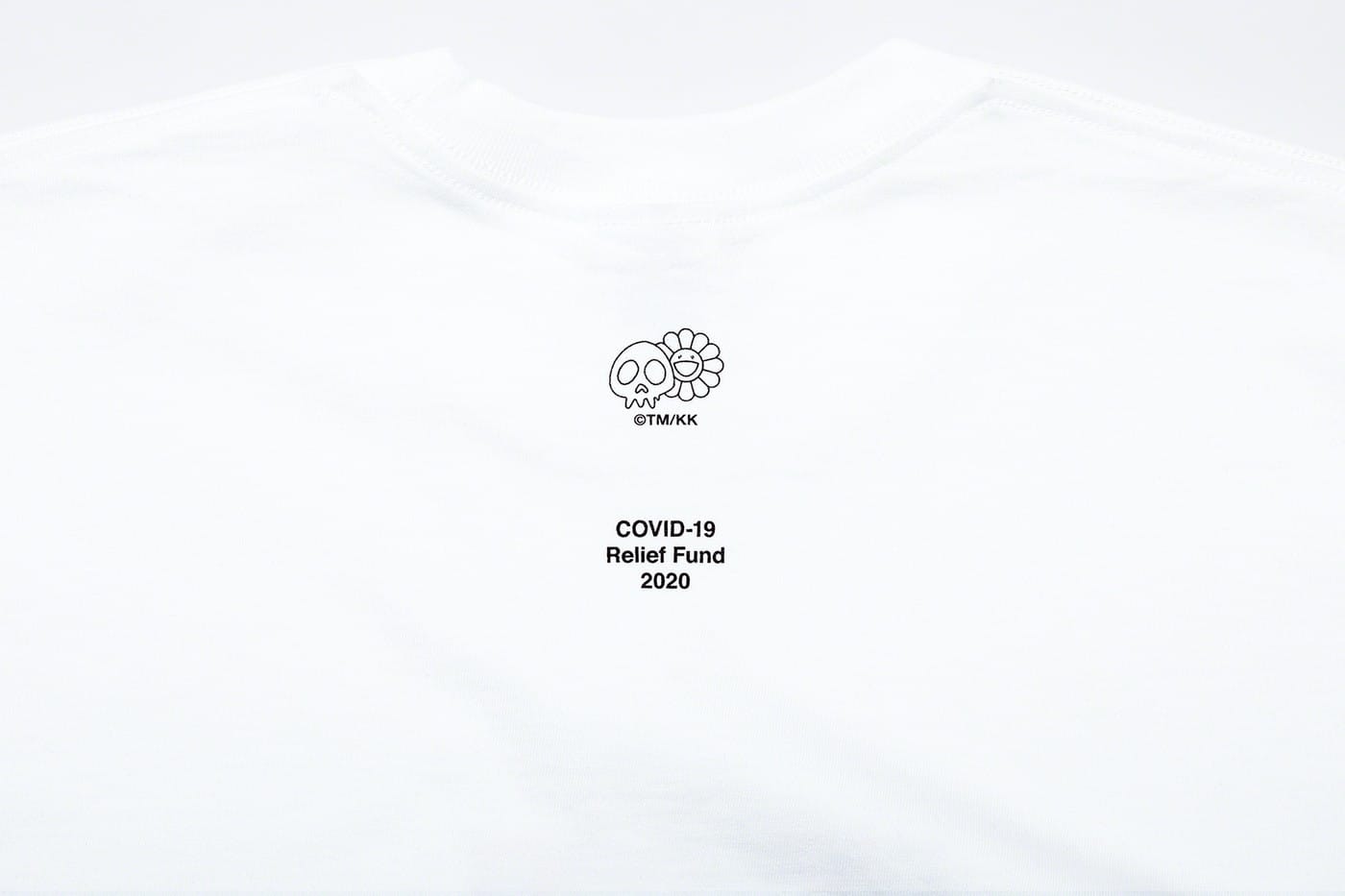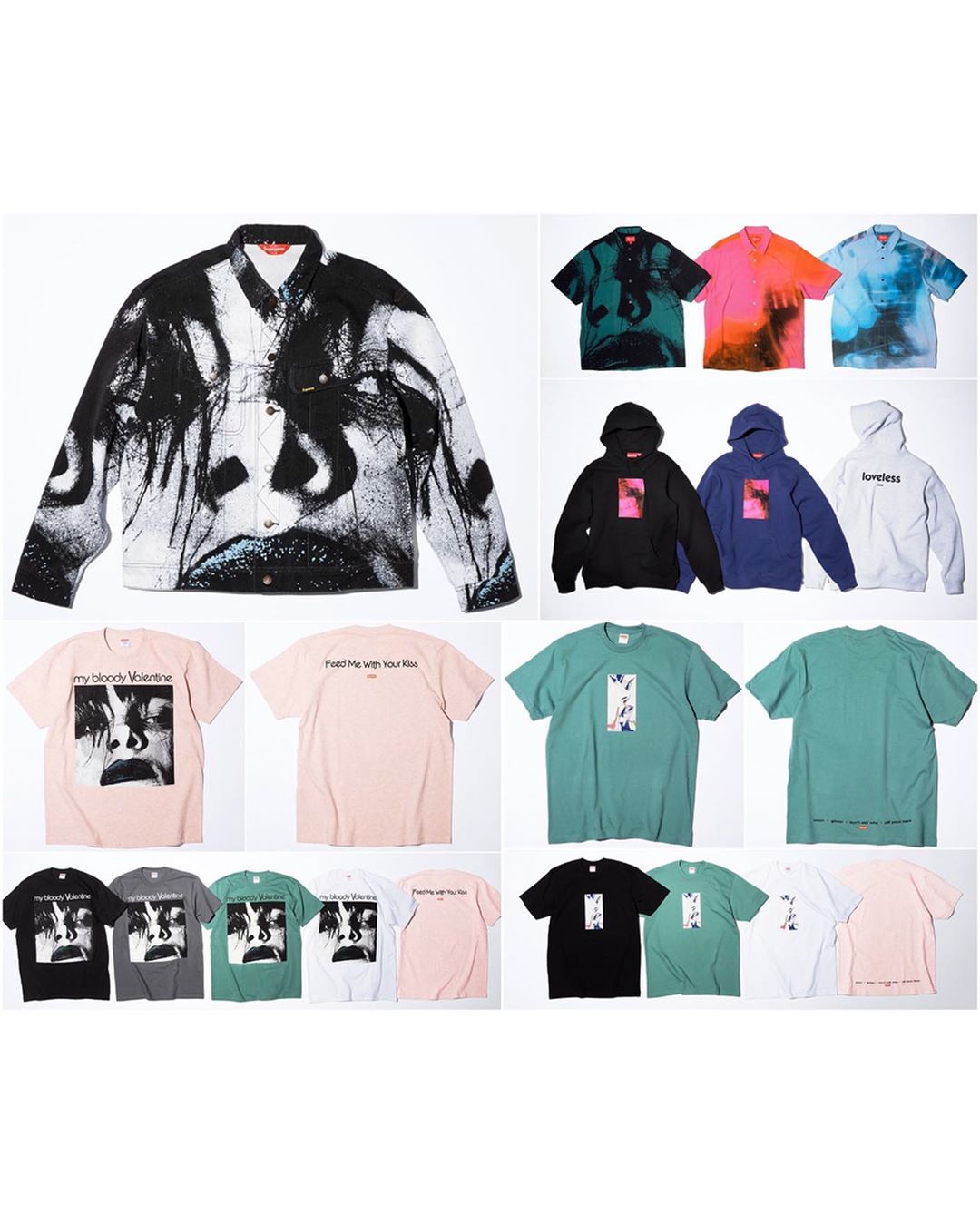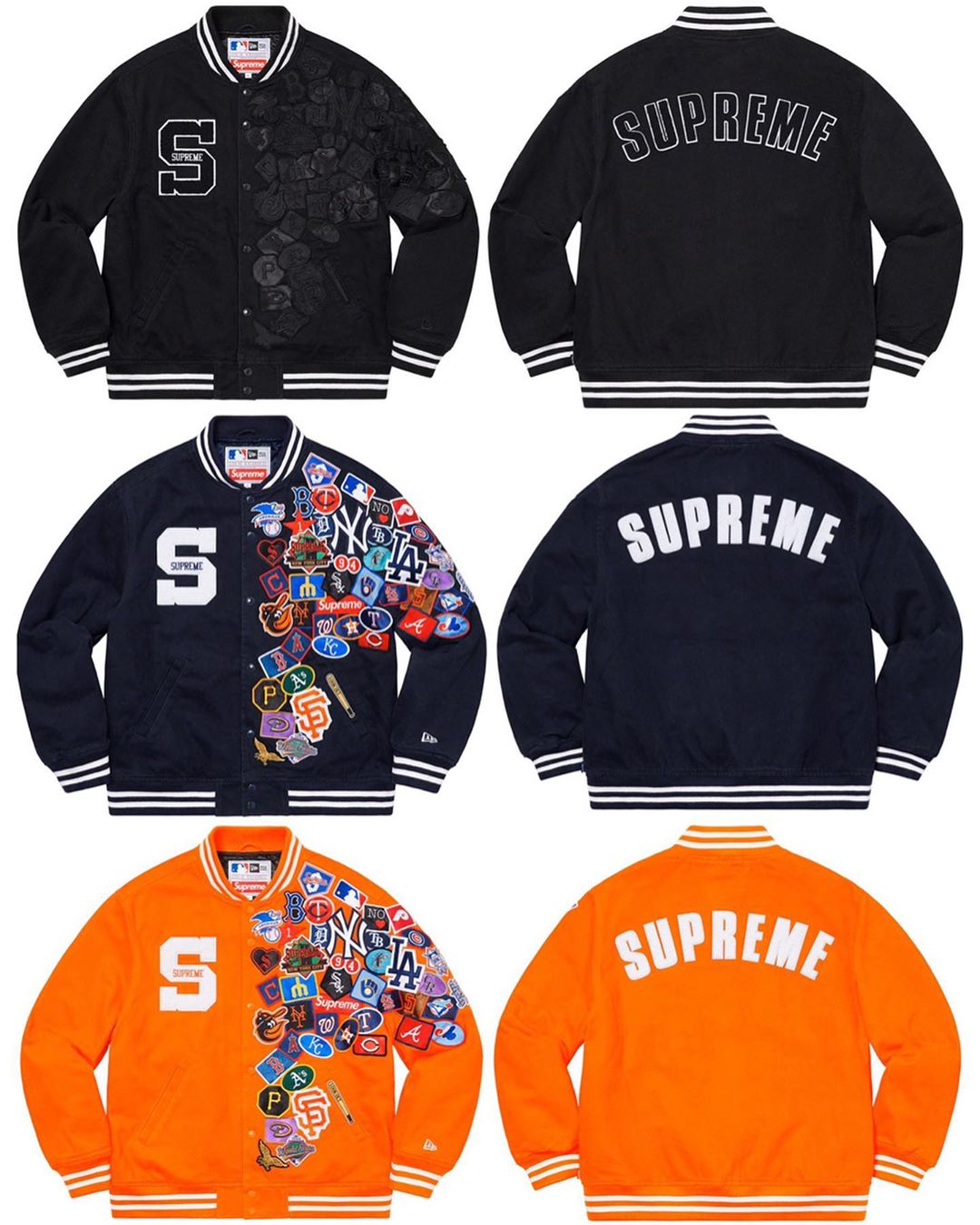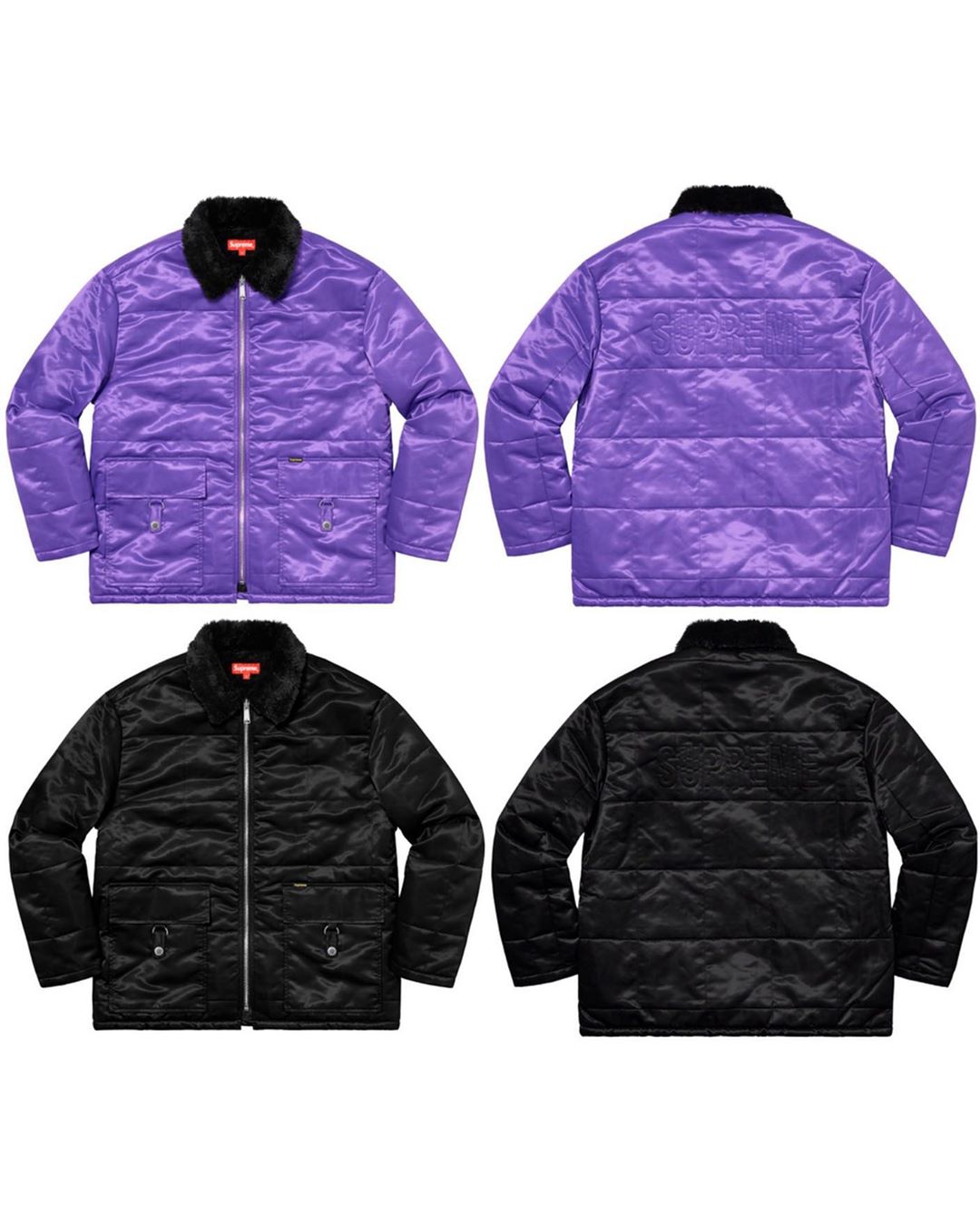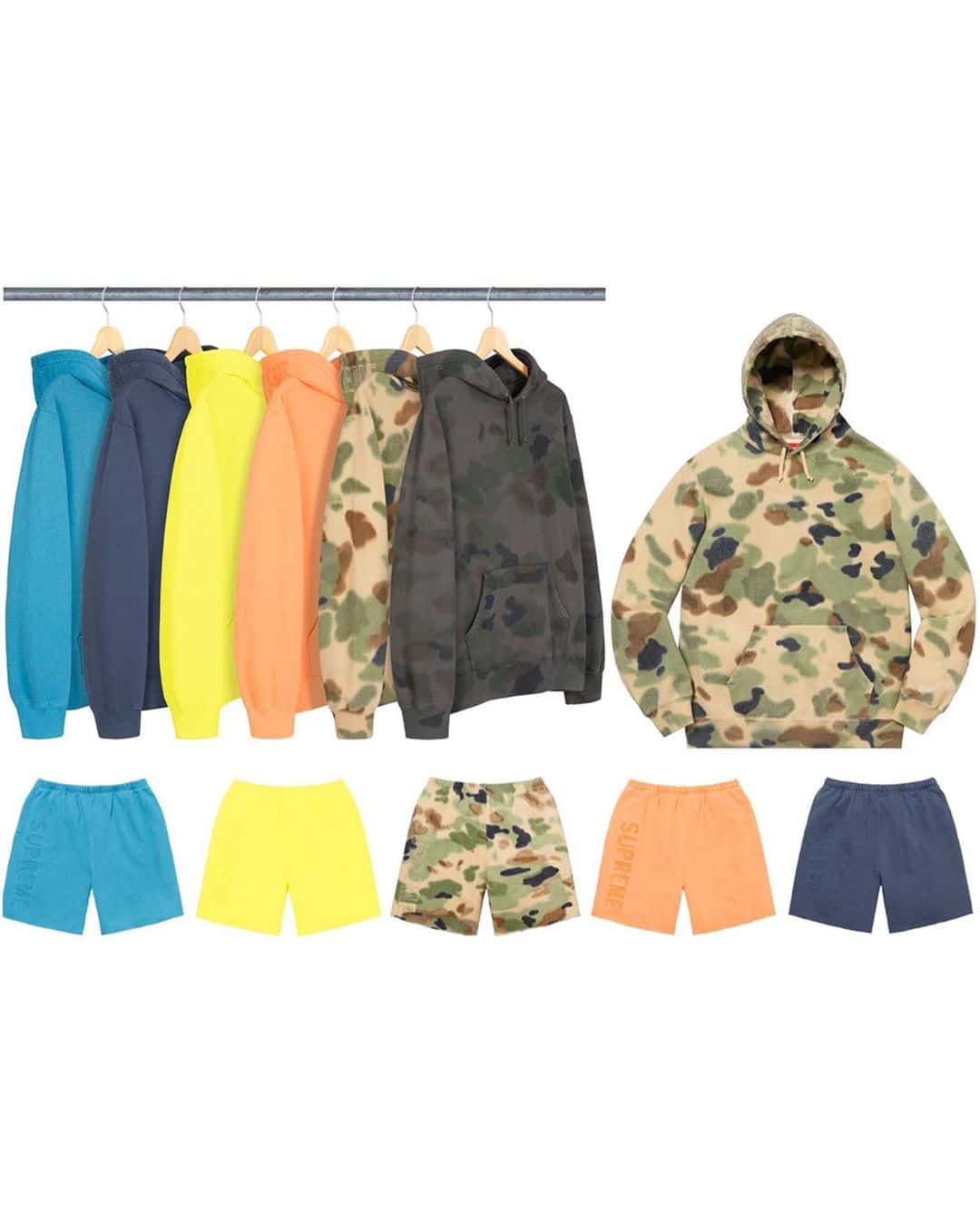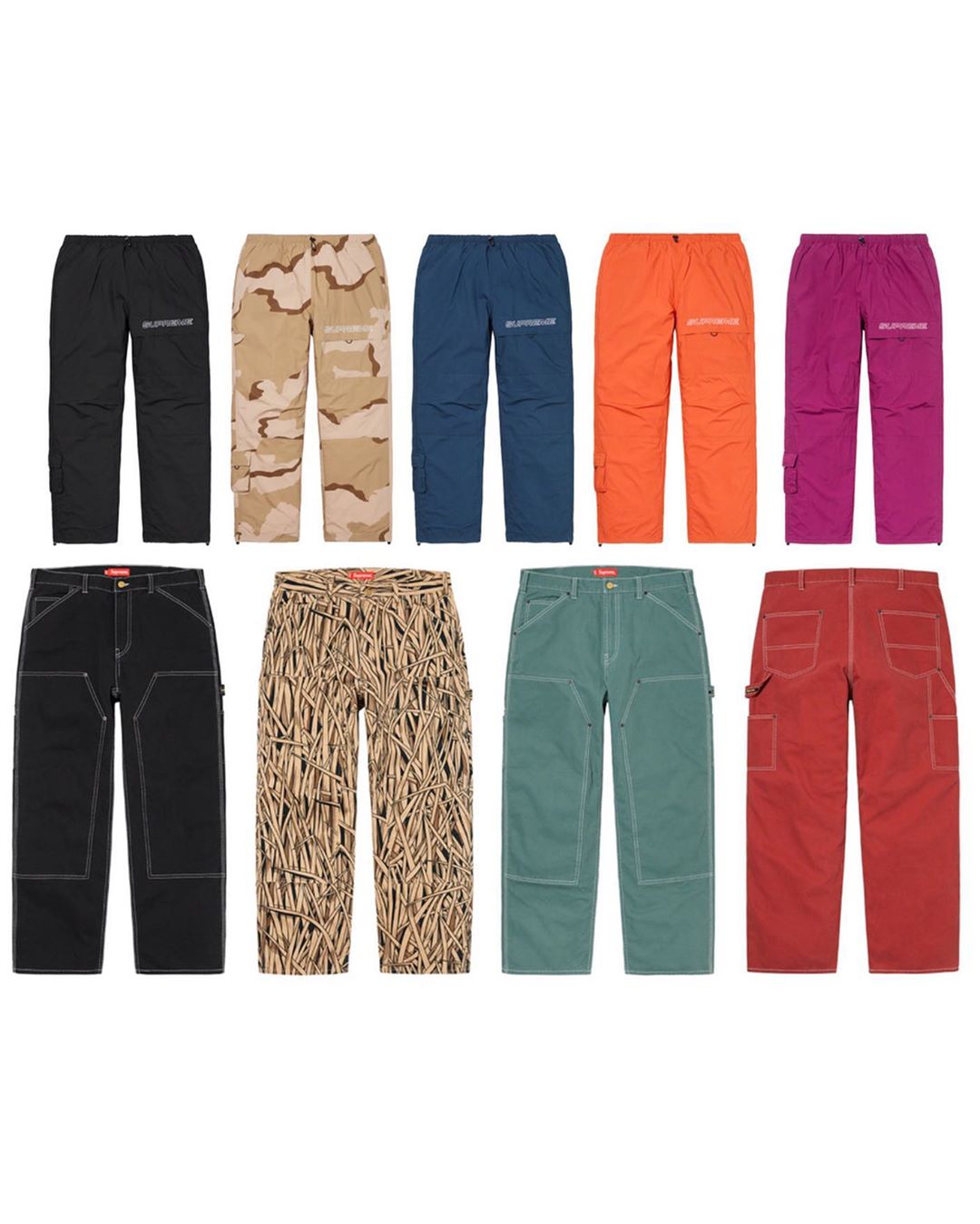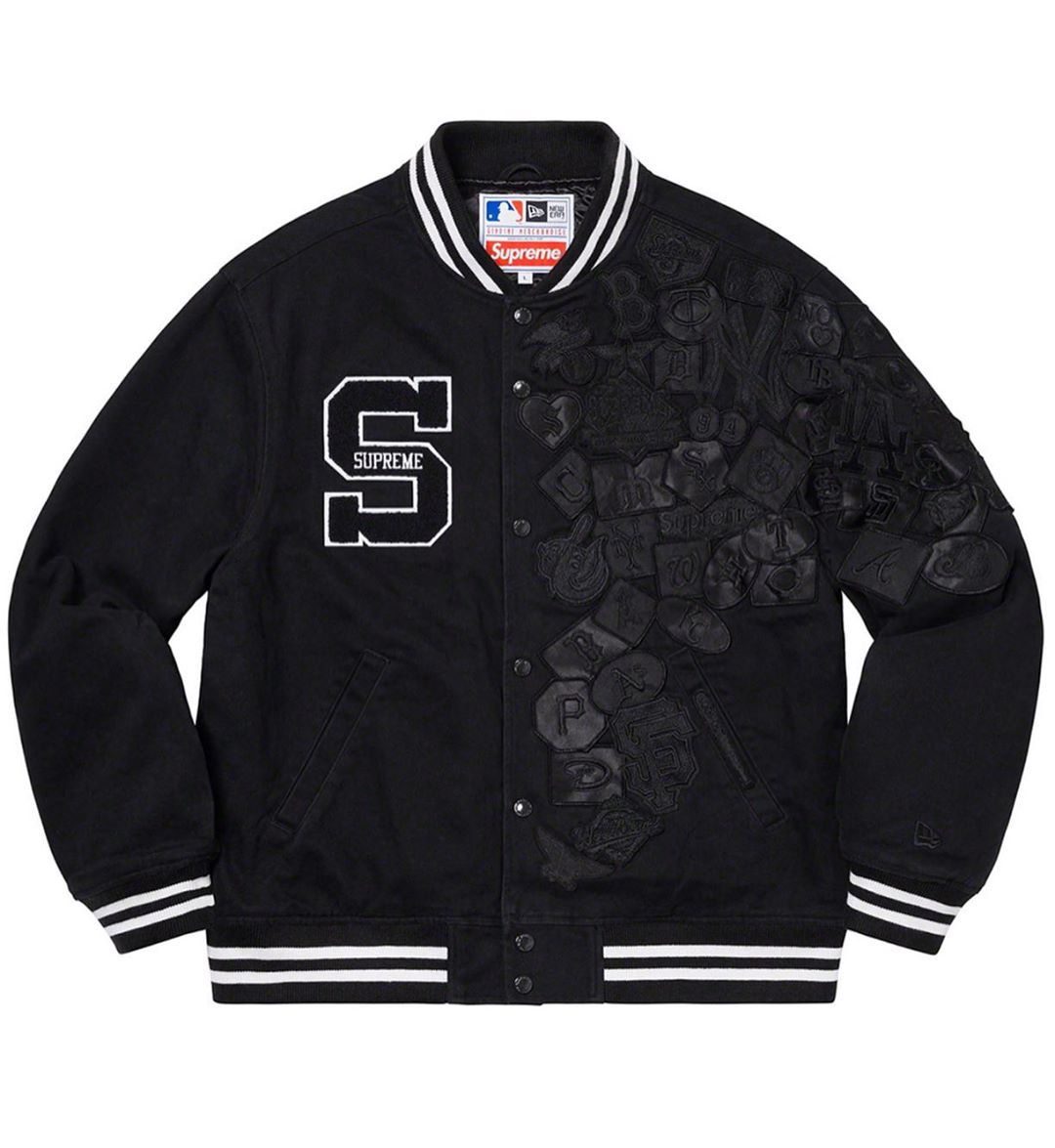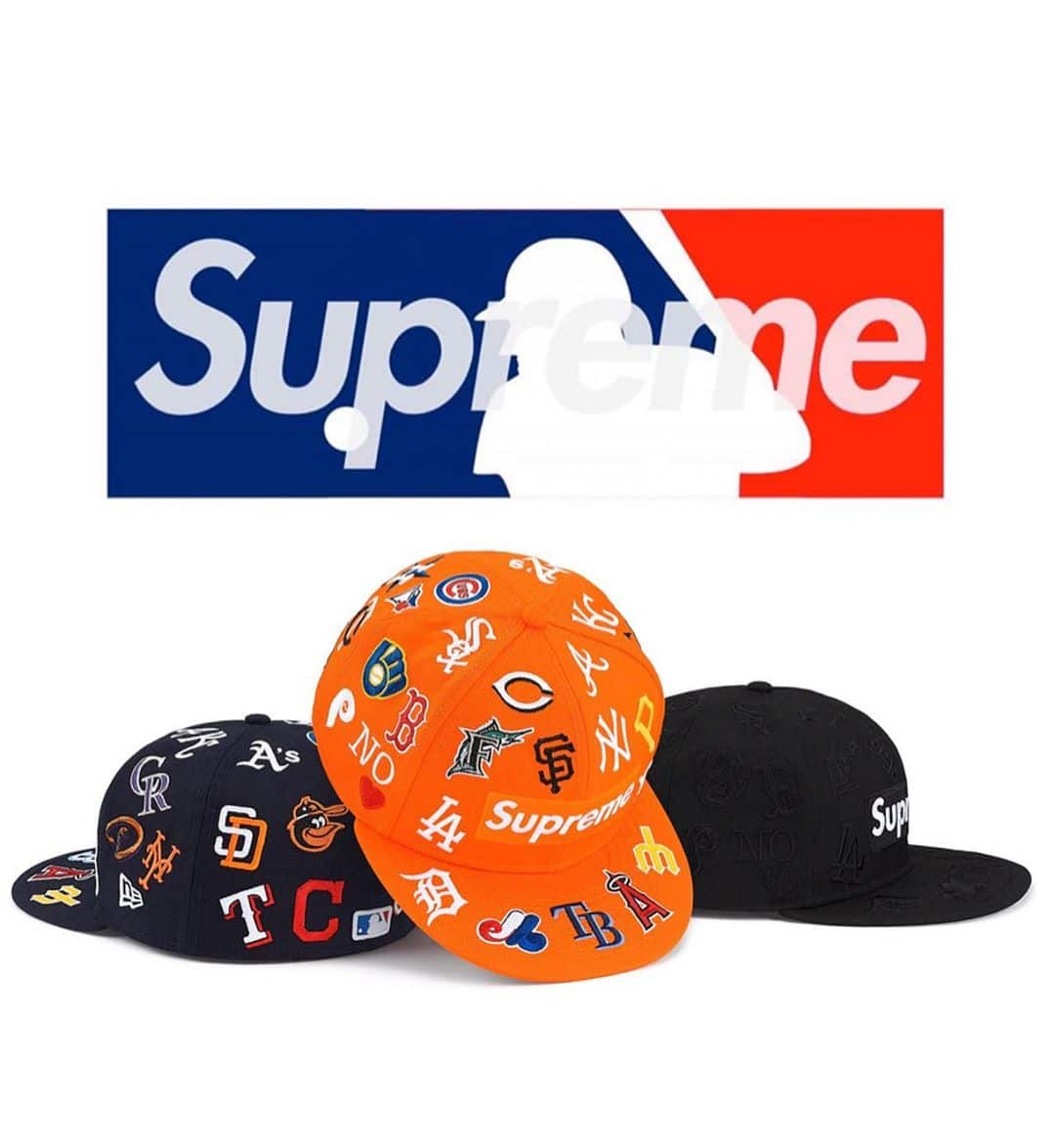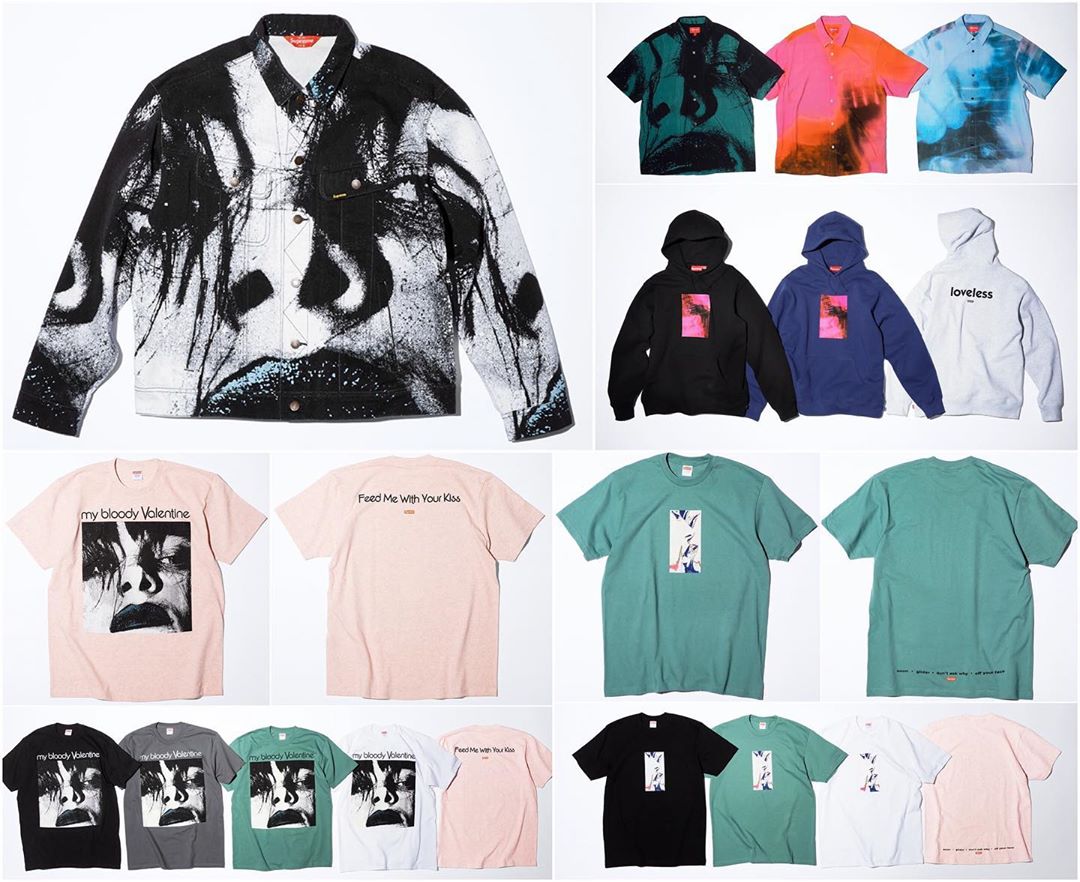 pics by @dropsbyjay
Update 15.04.2020
This week the New York Fashion Label is churning out a variety of tees. We see several fresh editions in different colours in the Supreme SS20 Collection Week 8. If you want to make your style complete, you should definitely take a look at the other pieces. The colourful beanies are simply part of the style.
In addition, Supreme will be releasing the Woven Straw Mat in black and red in Week 8 as well as other items to fill the week. Because of the coronavirus, the stores will remain closed. This gives way to another online-only release at Supreme on April 16th.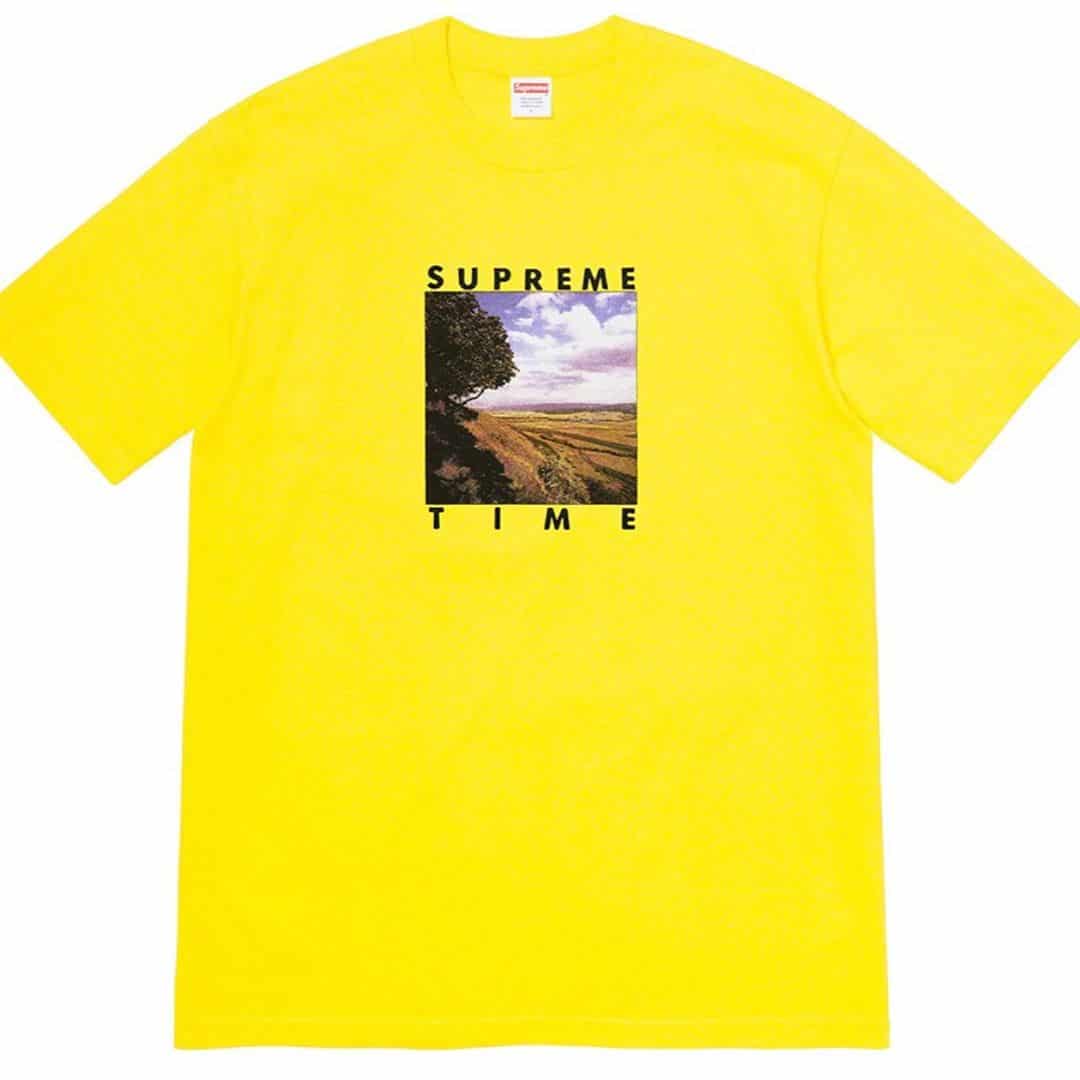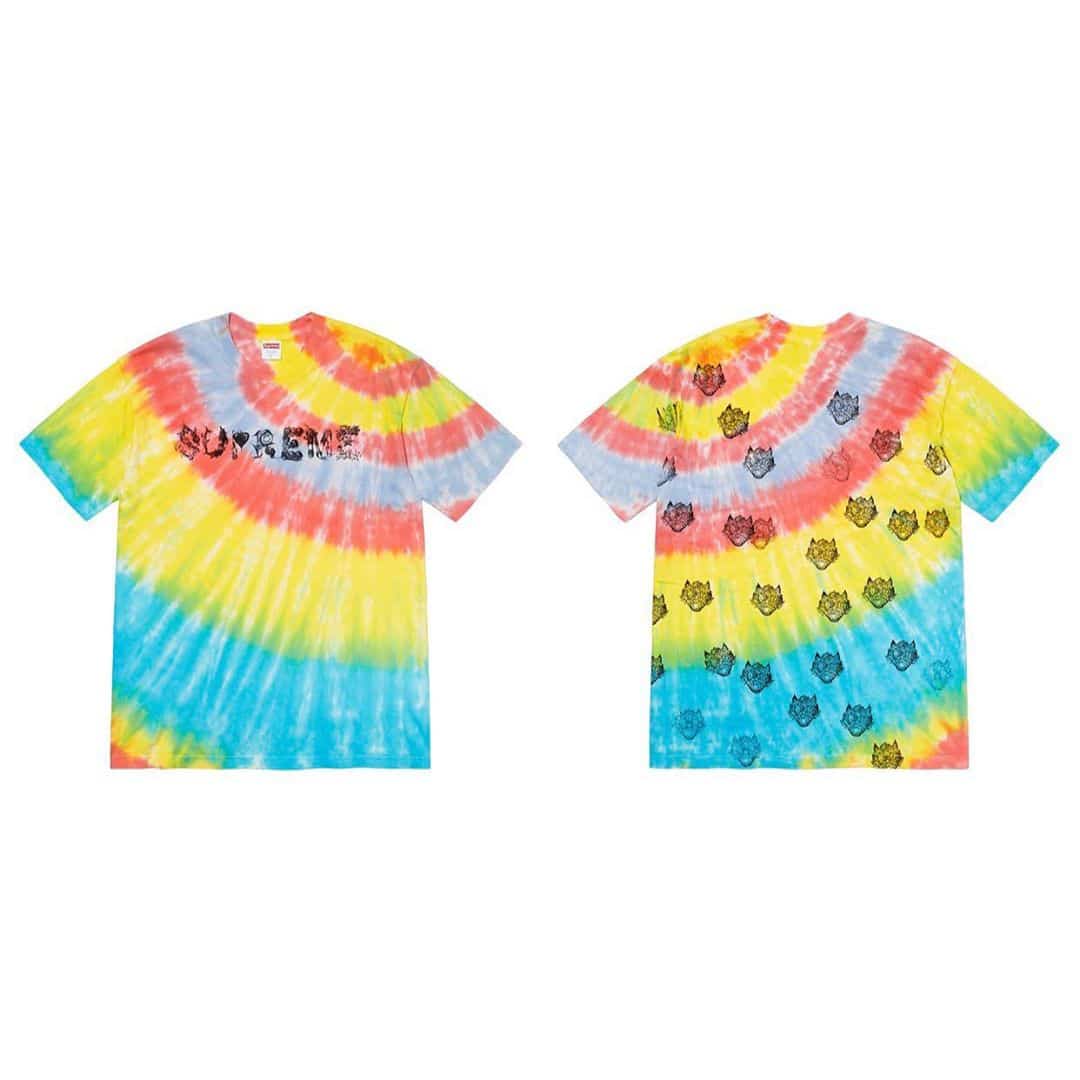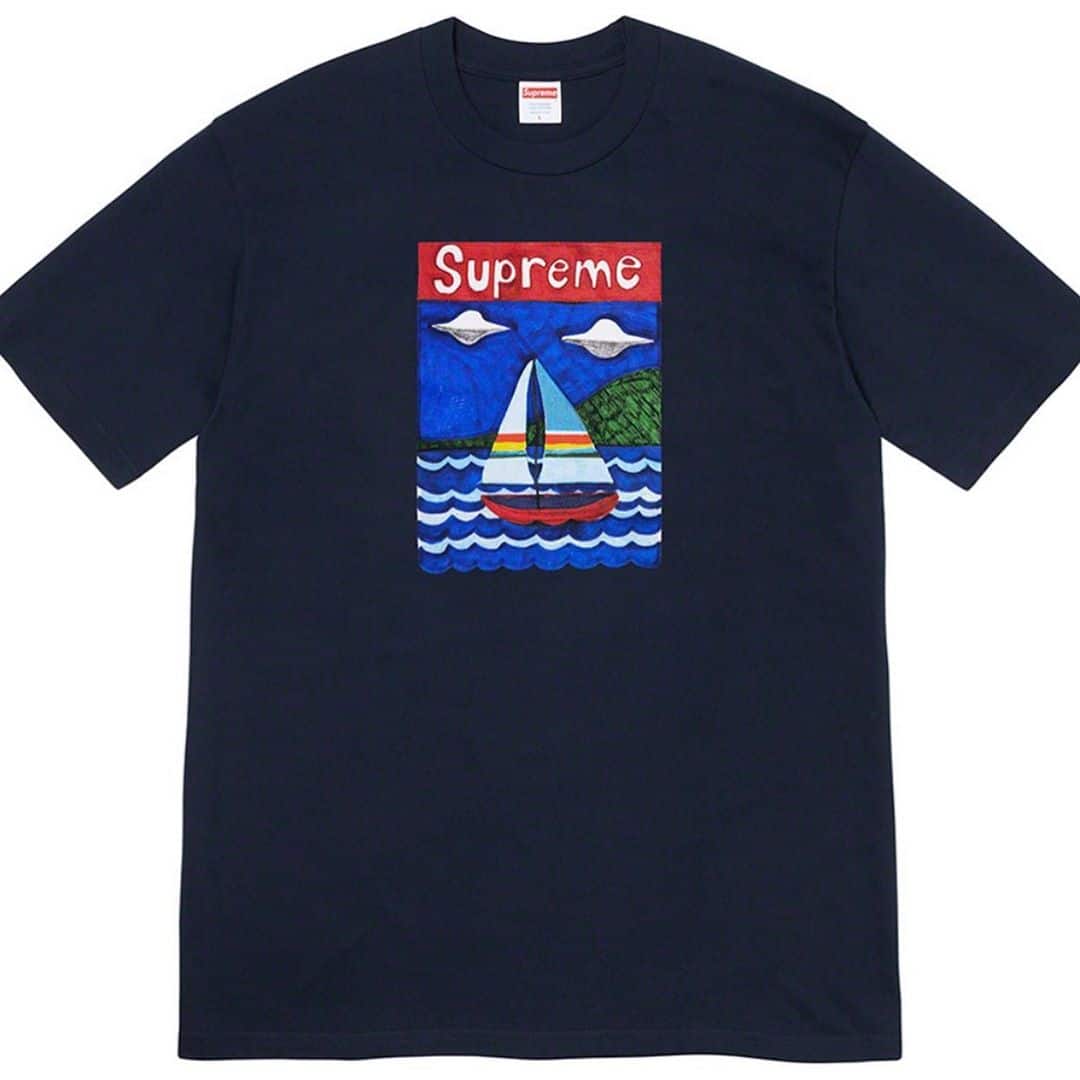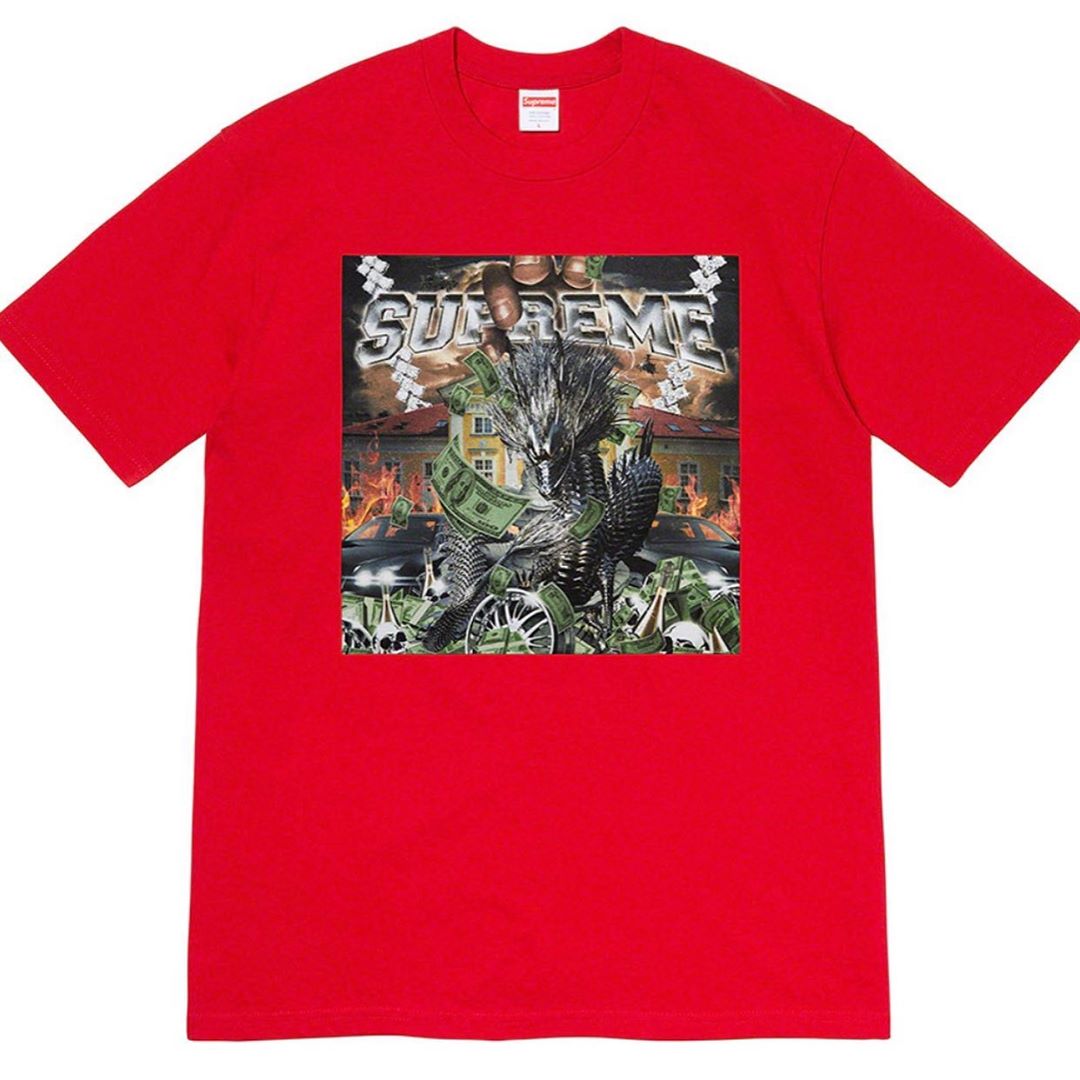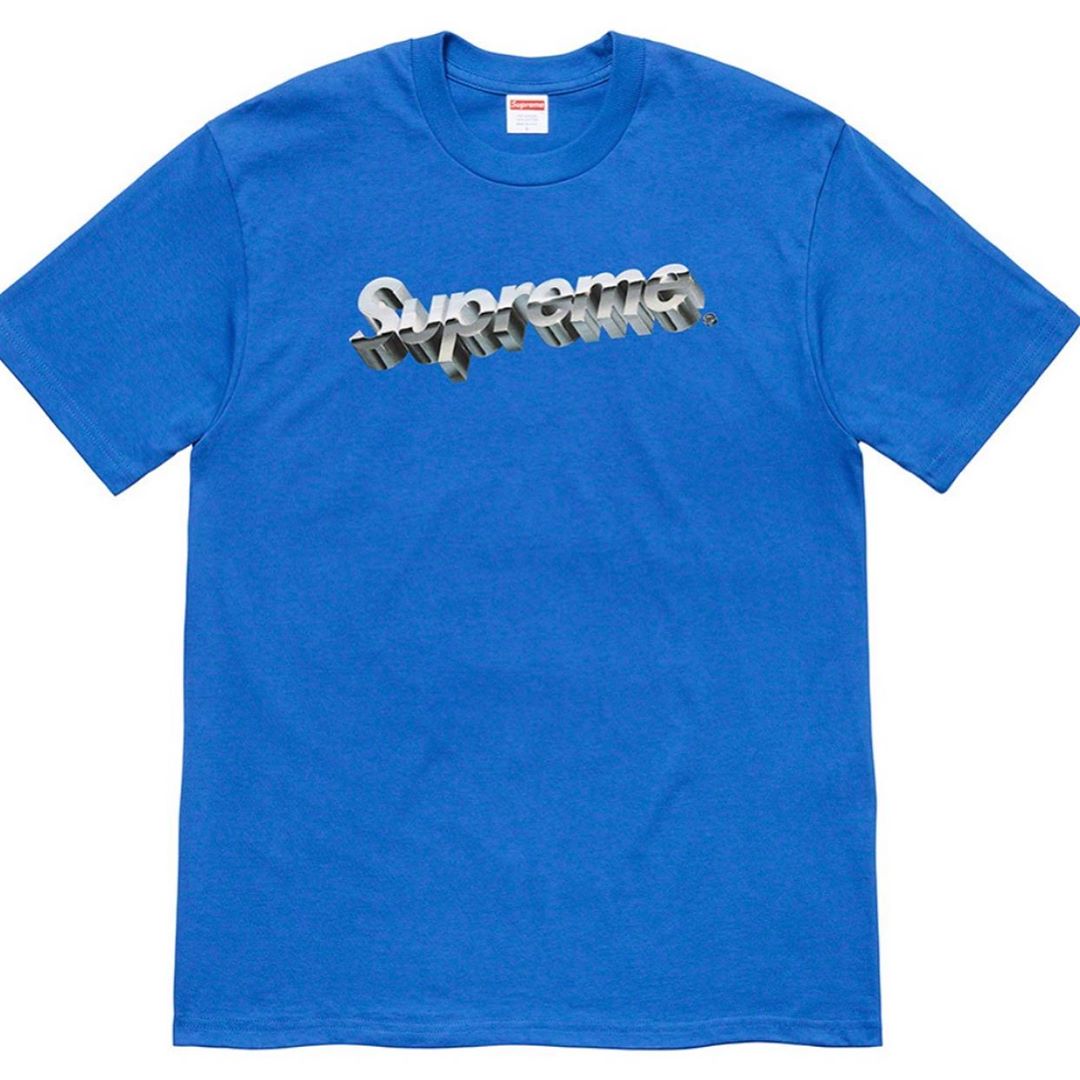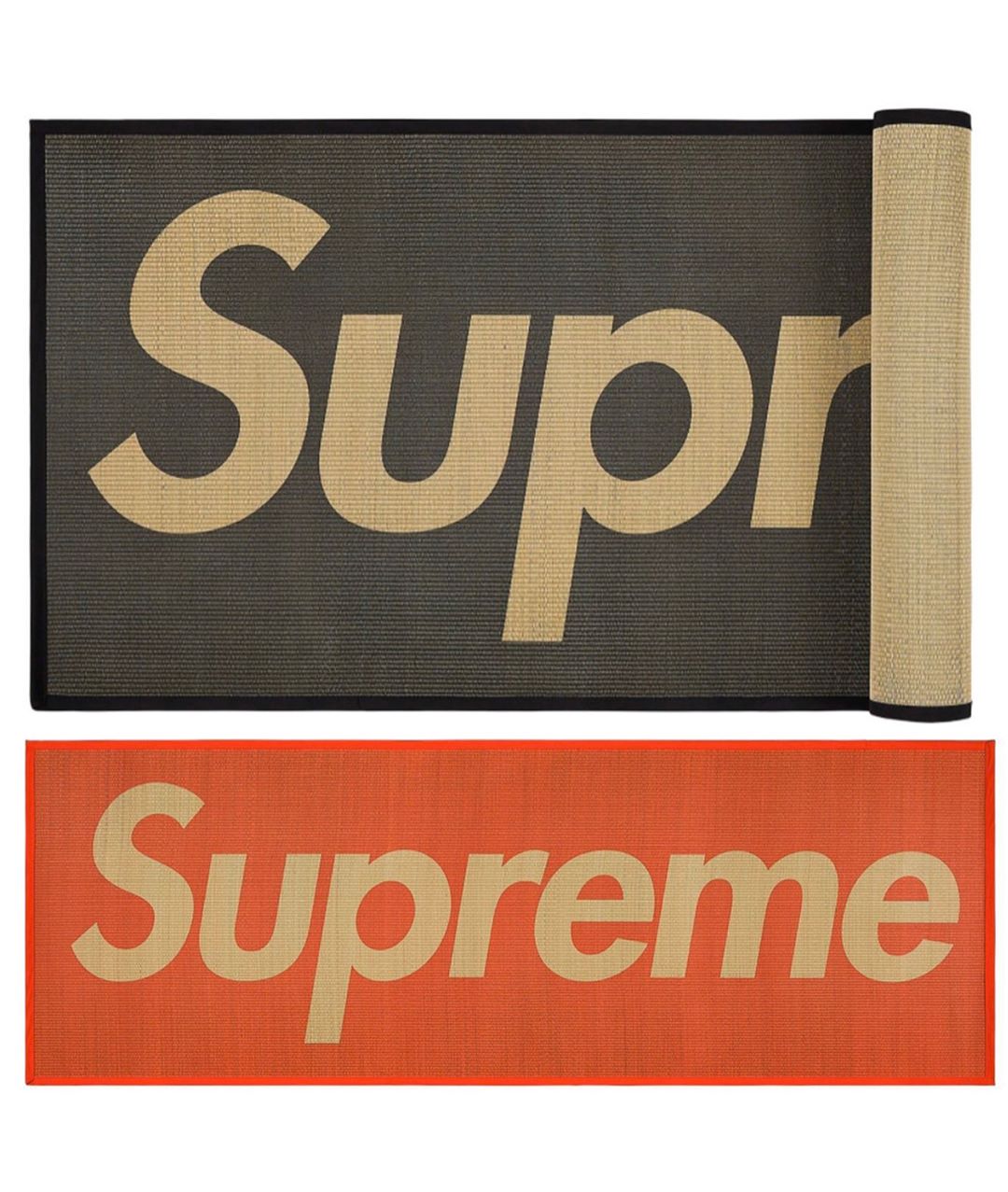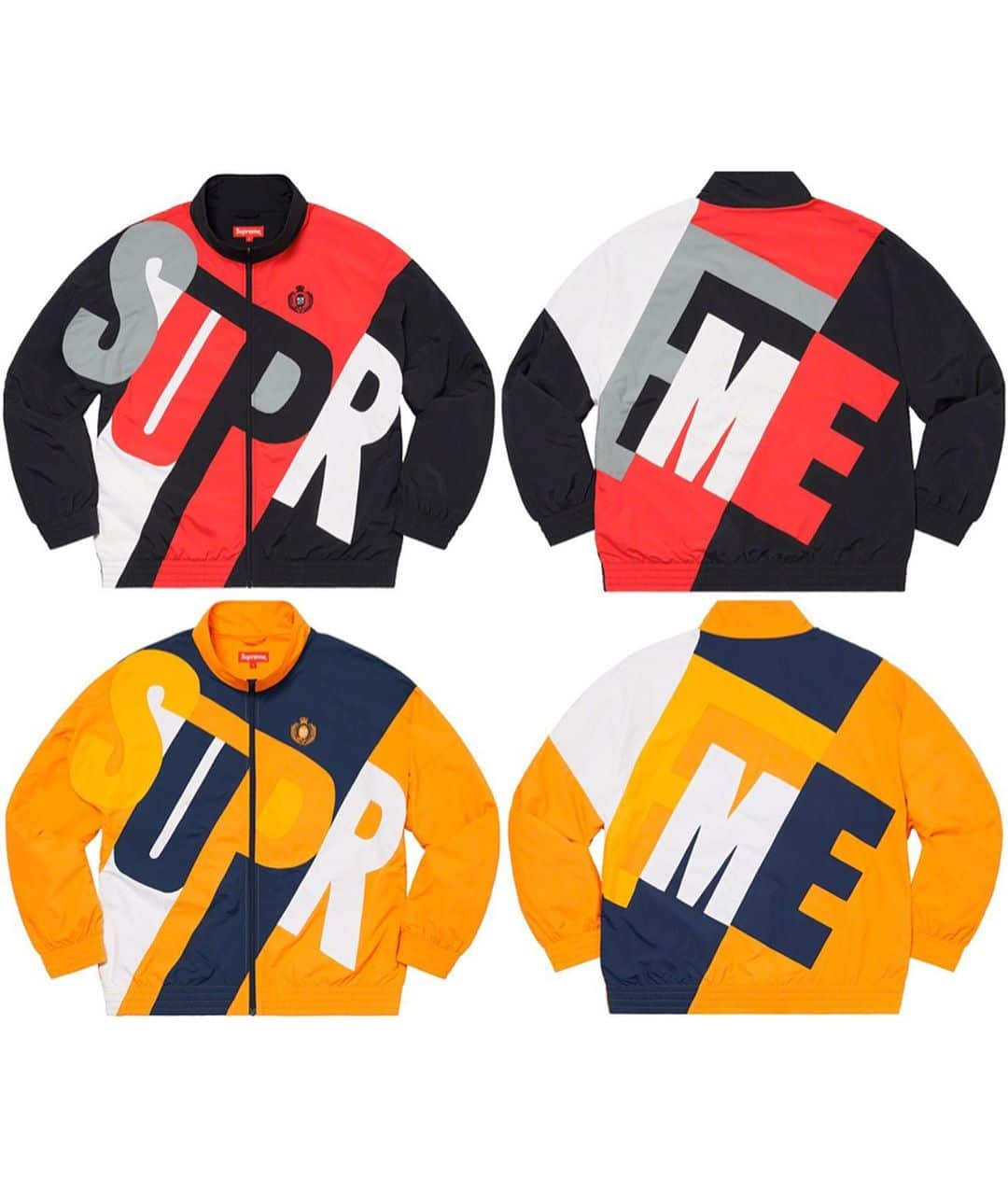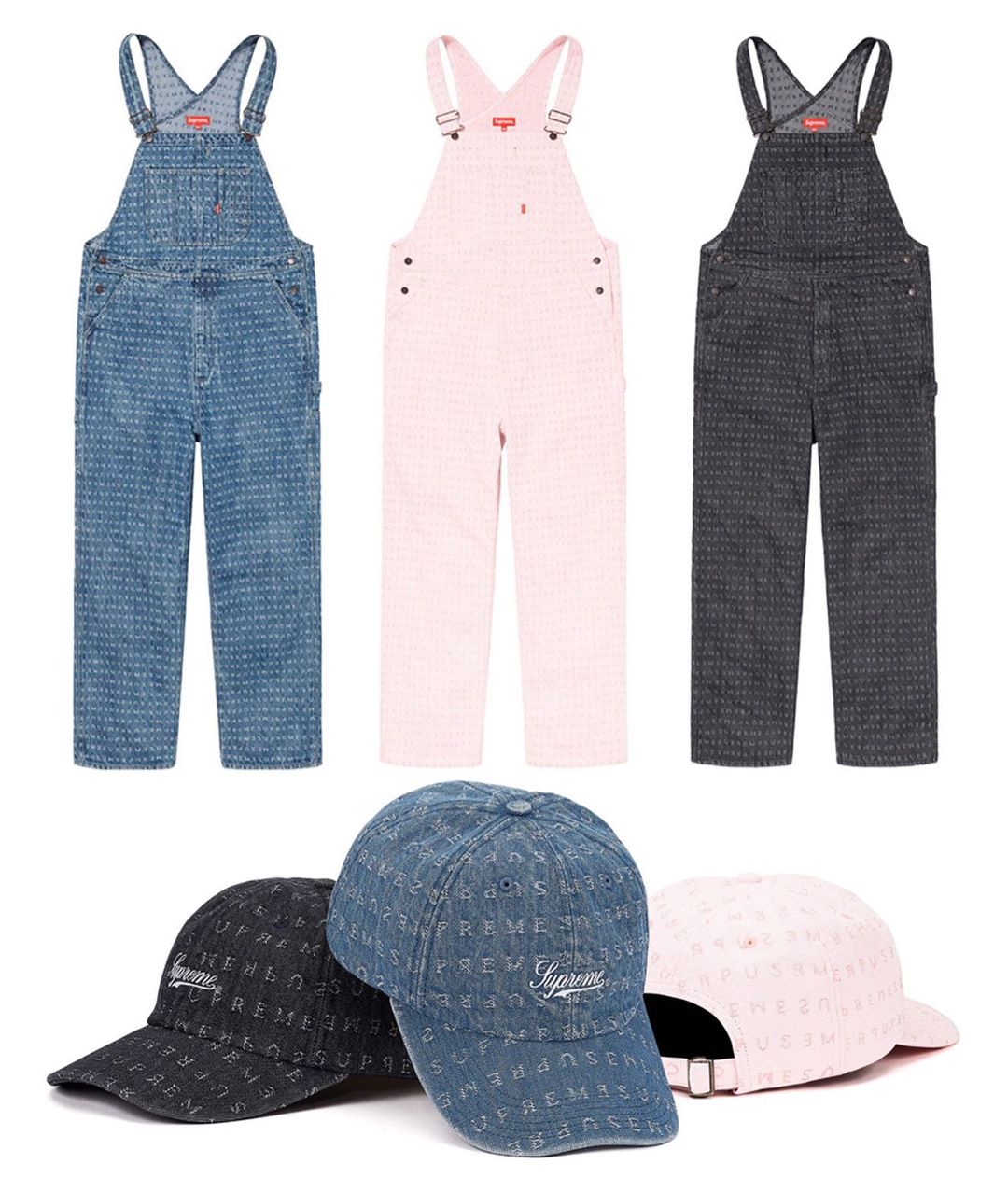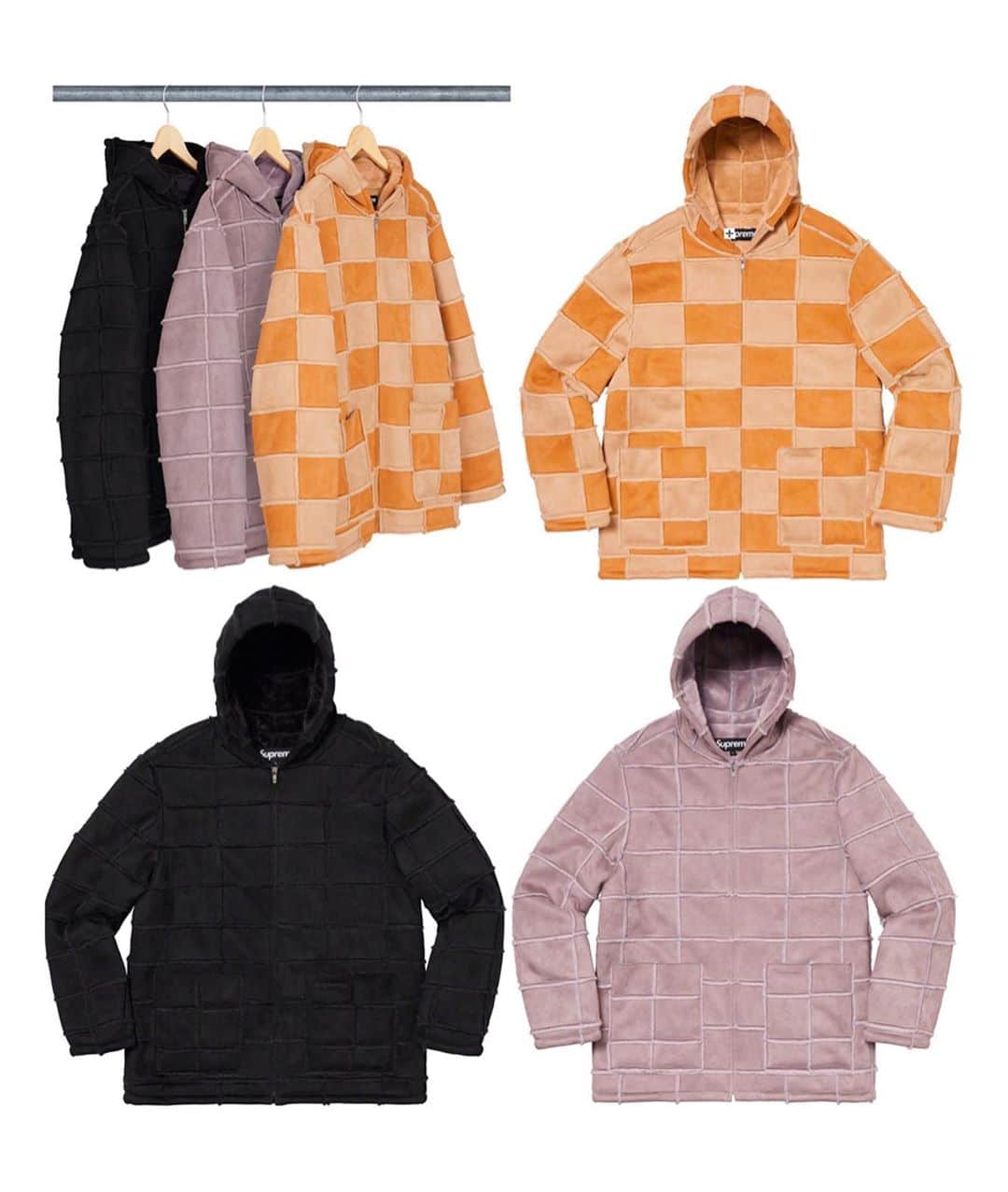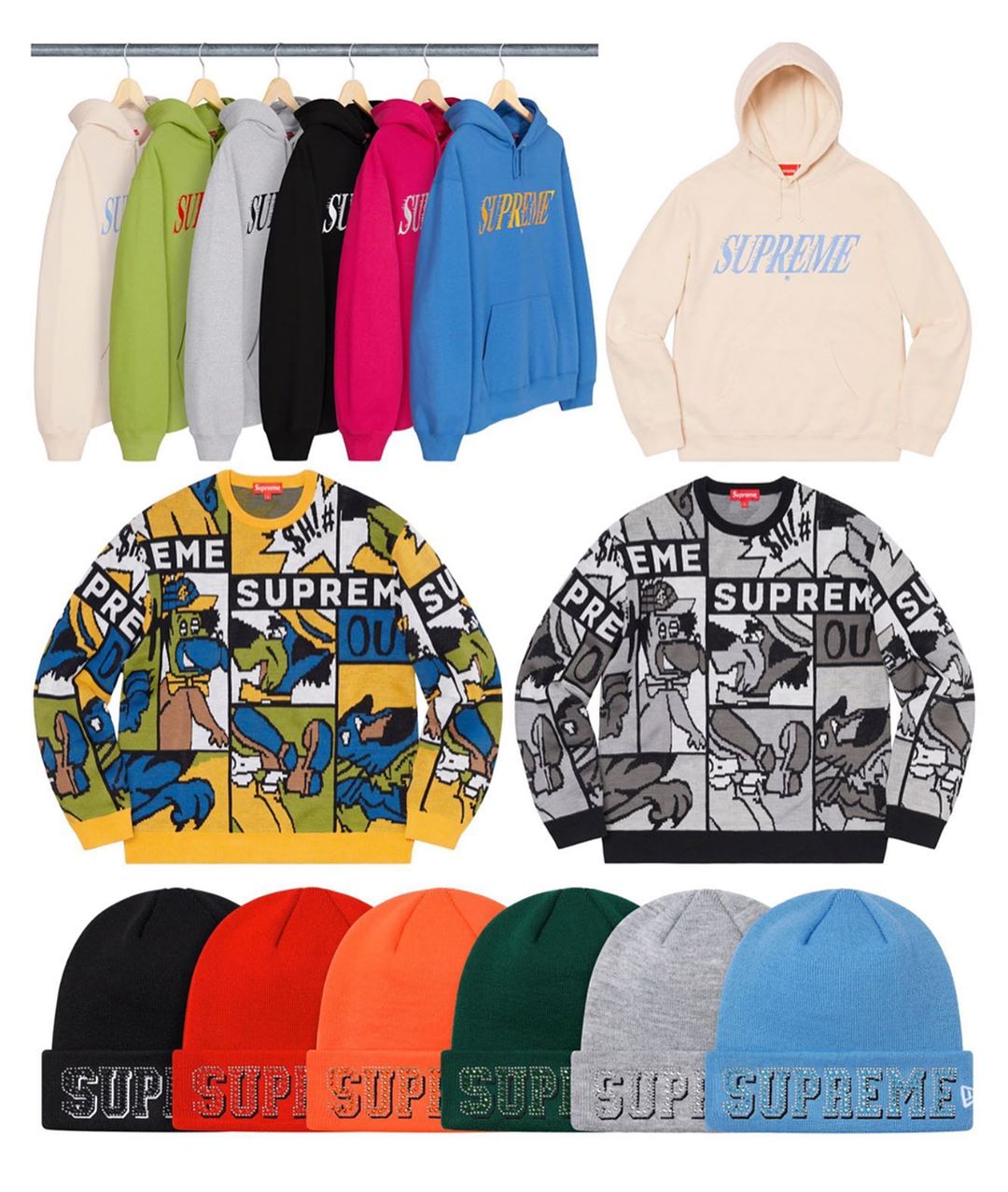 pics by @dropsbyjay Update 08.04.2020
Supreme reaches Week 7 in the big SS20 collection and it seems that we will not see any collab this week.
First, we take a closer look at the Motion logos of Supreme. Some may have been waiting for these coveted pieces. Supreme has saved the strong hoodies and beanies in yellow, red, green, white, black, grey, and purple for Week 7.
We also have something for the cyclists among us this week. Supreme is releasing two bike helmets in black and red with Supreme branding. But if you're looking for something out of the ordinary, you should definitely take a look at the Vanson leather jackets in black and red. The confusing letters especially decorate the entire jacket.
The release is scheduled to take place as usual on Thursday at 12:00 pm and will be sold exclusively online via supremenewyork.com.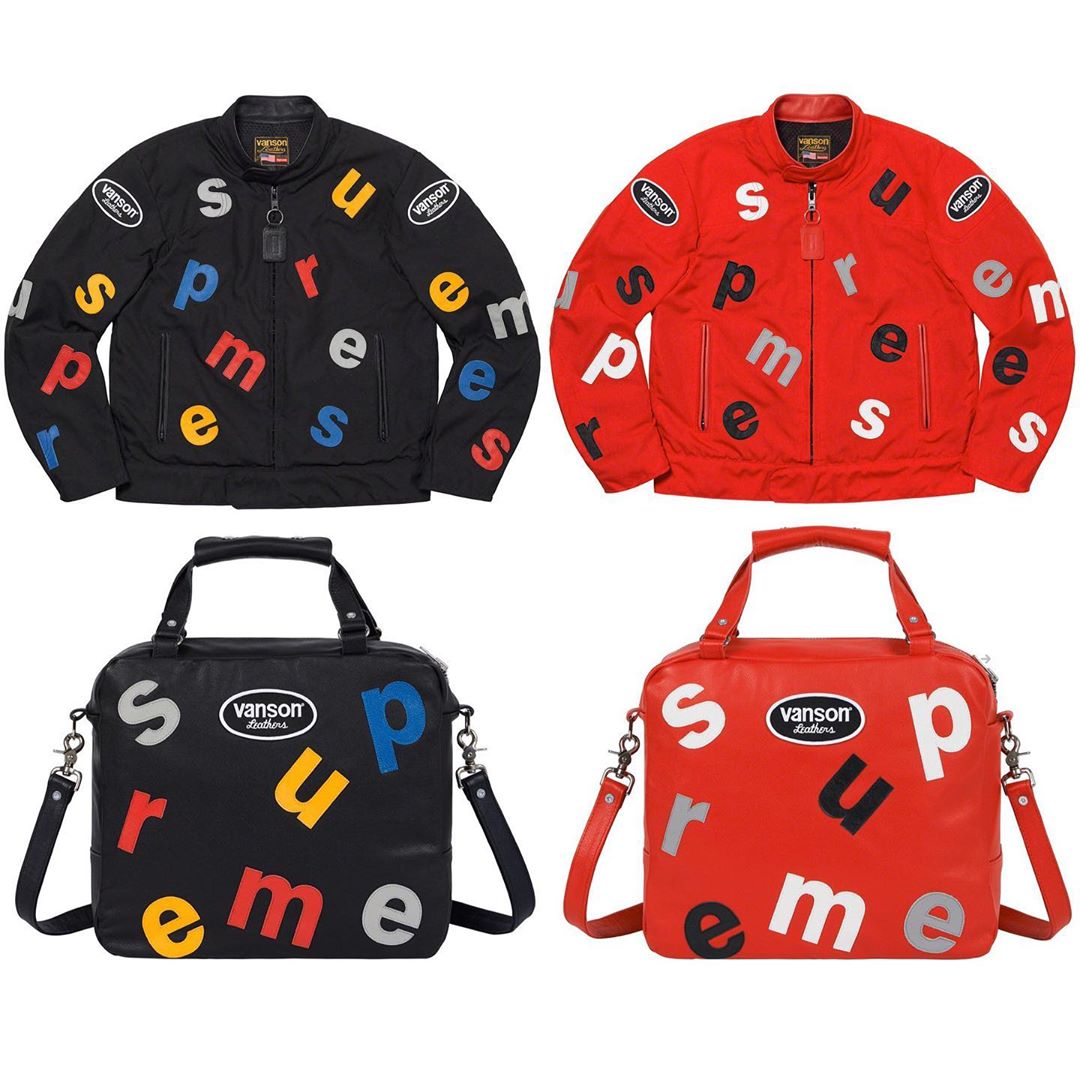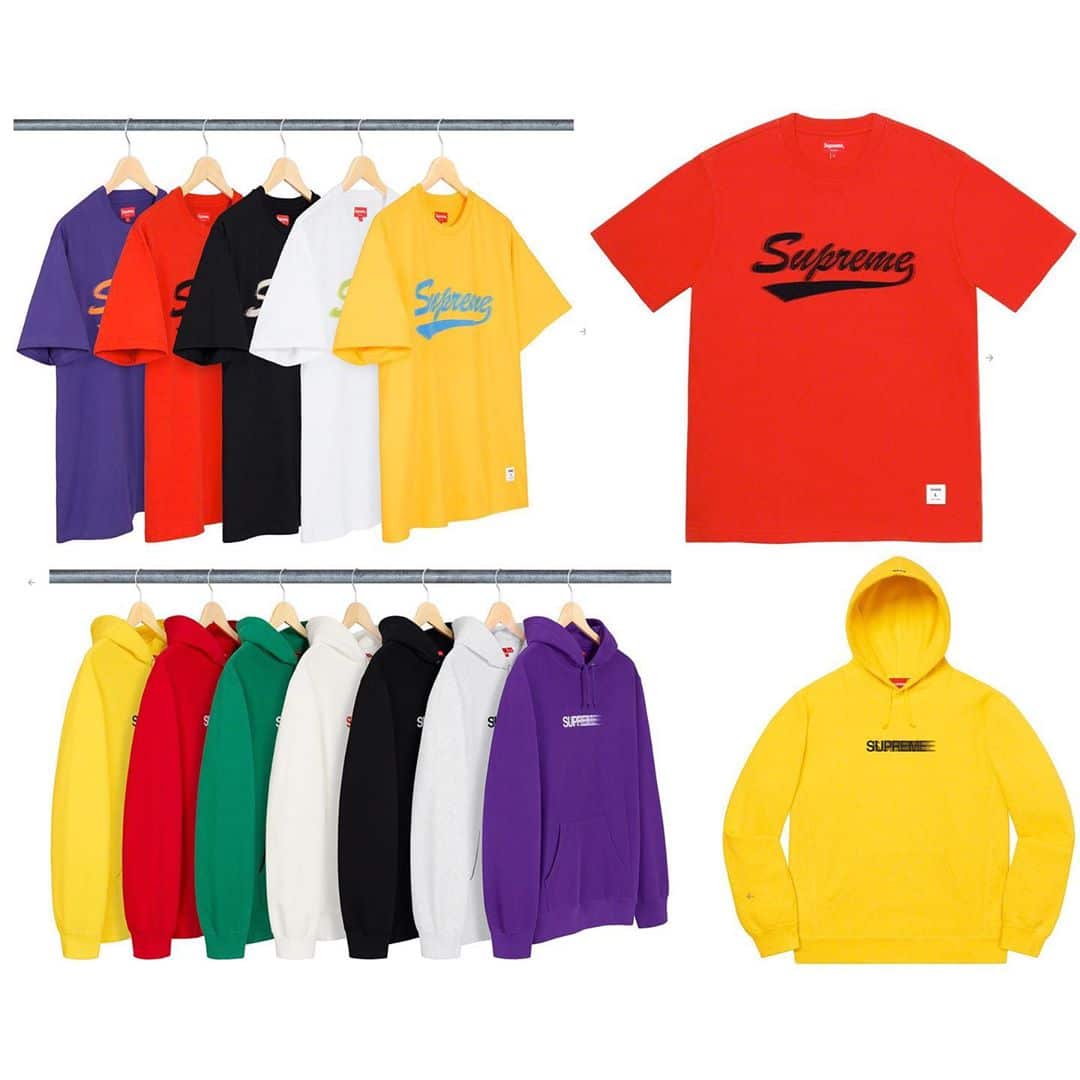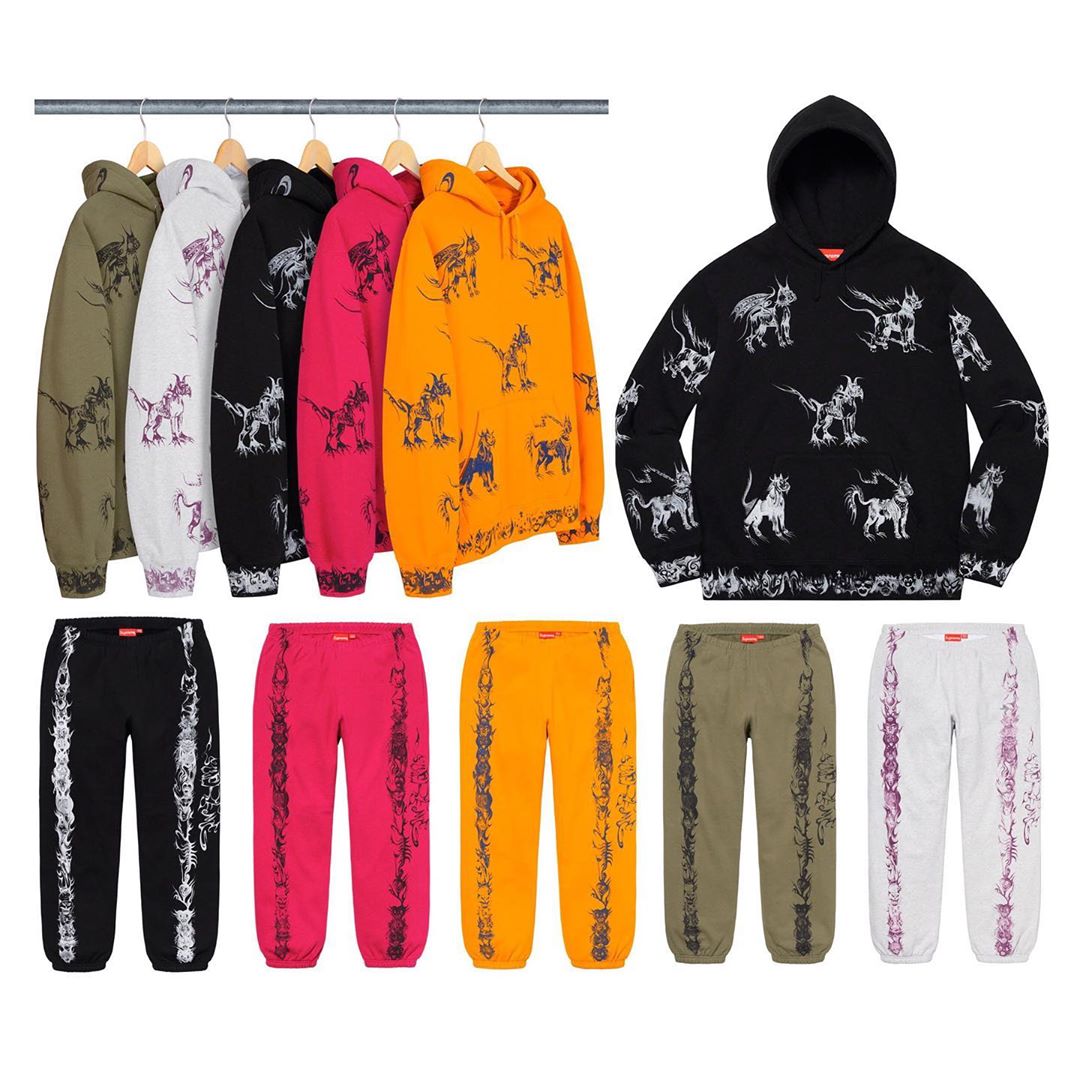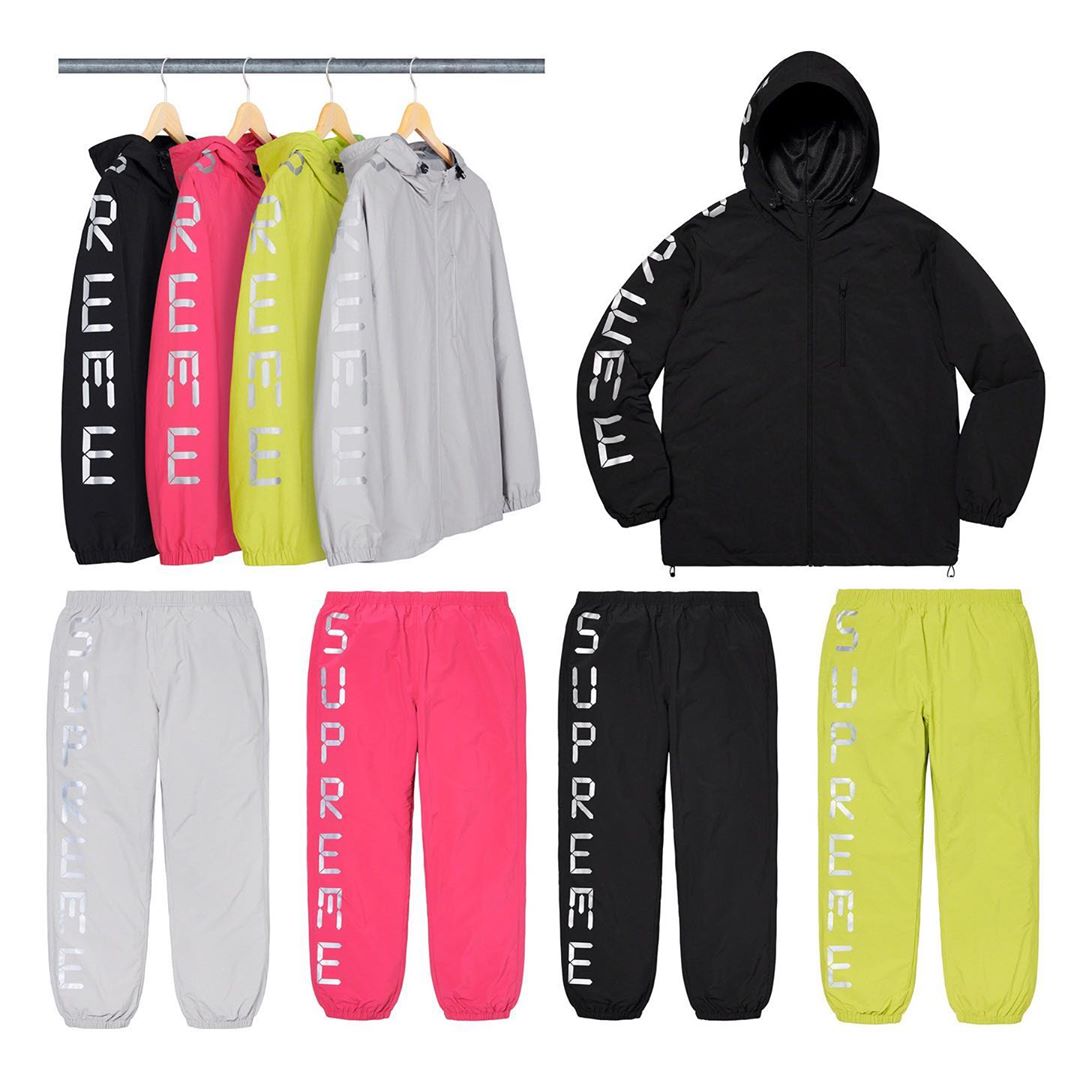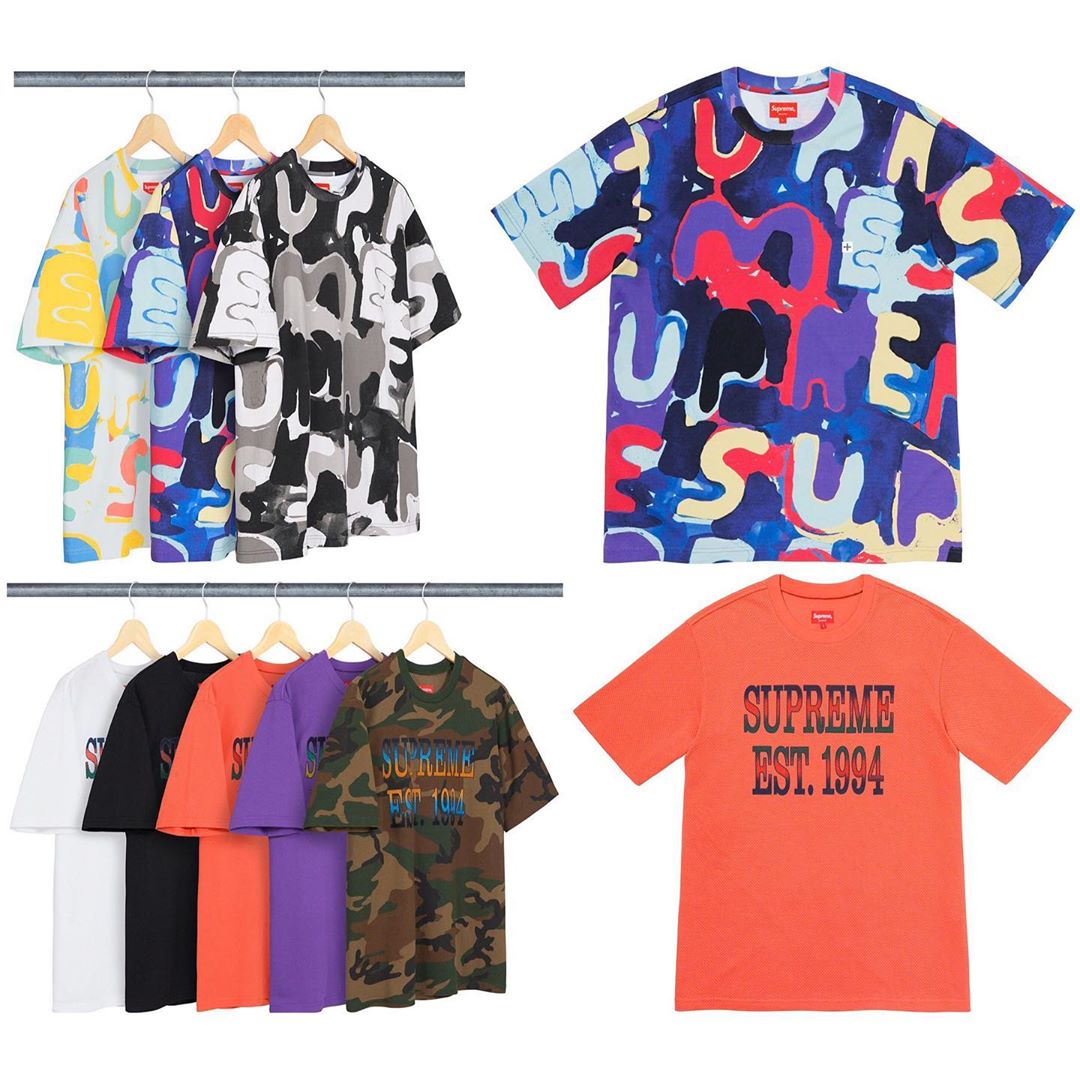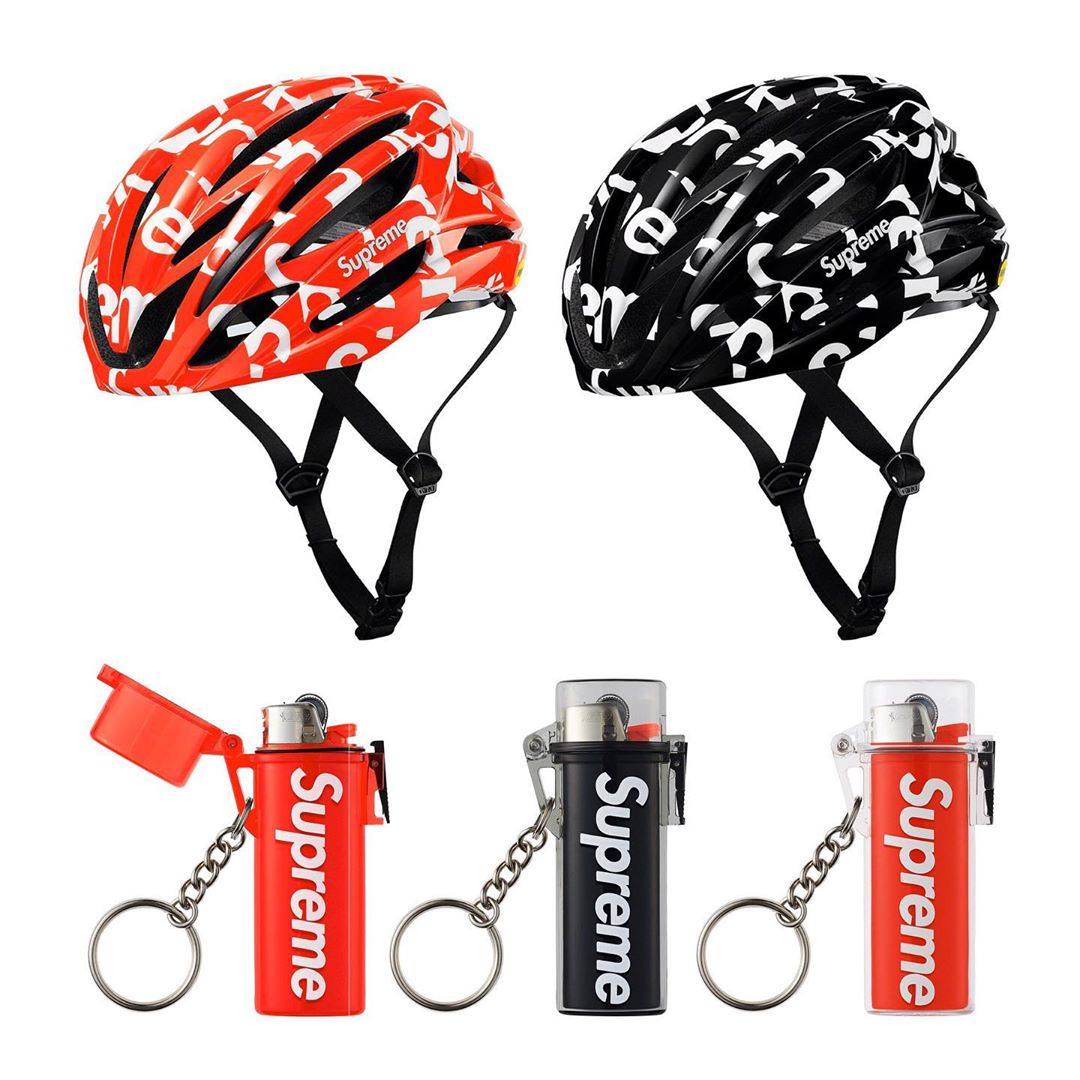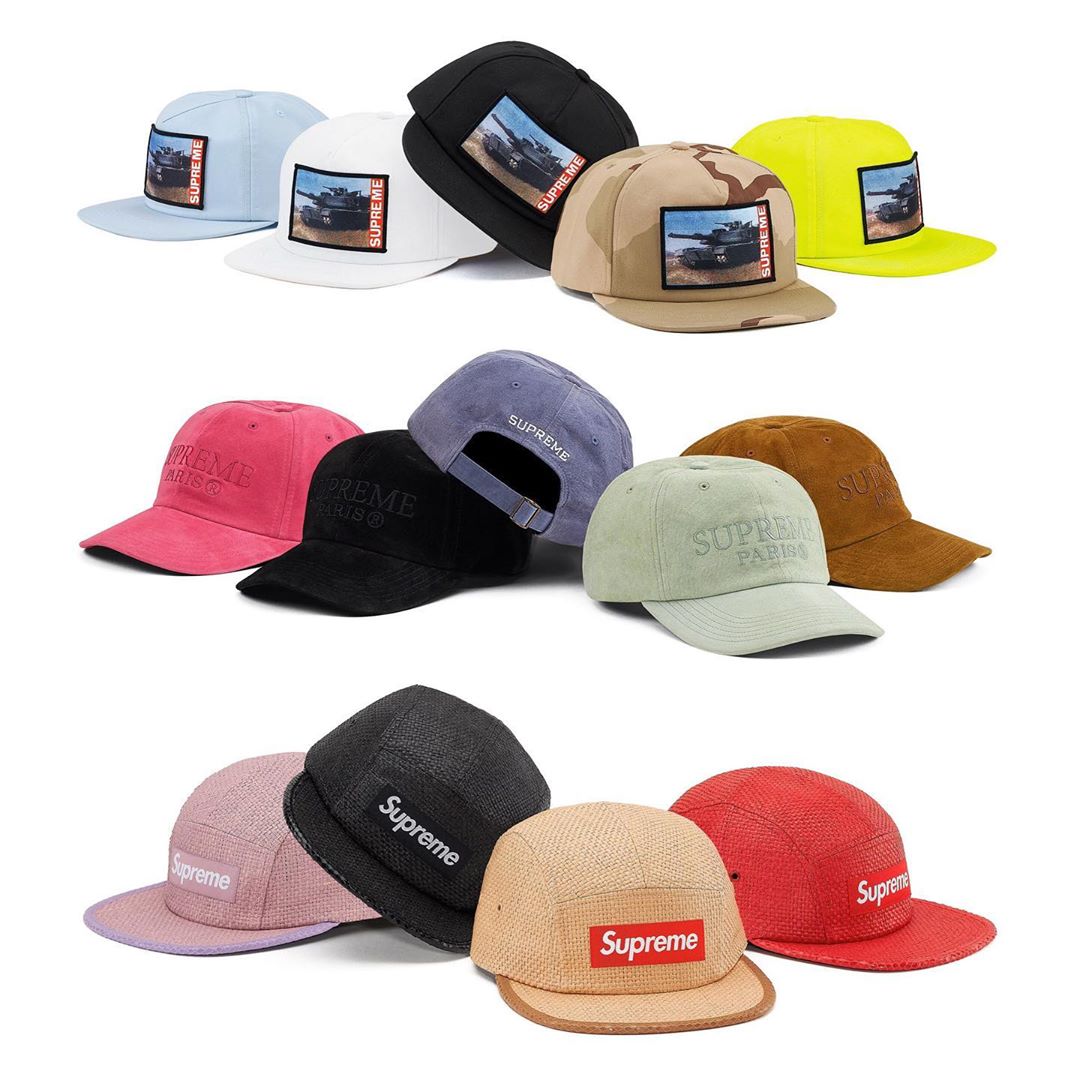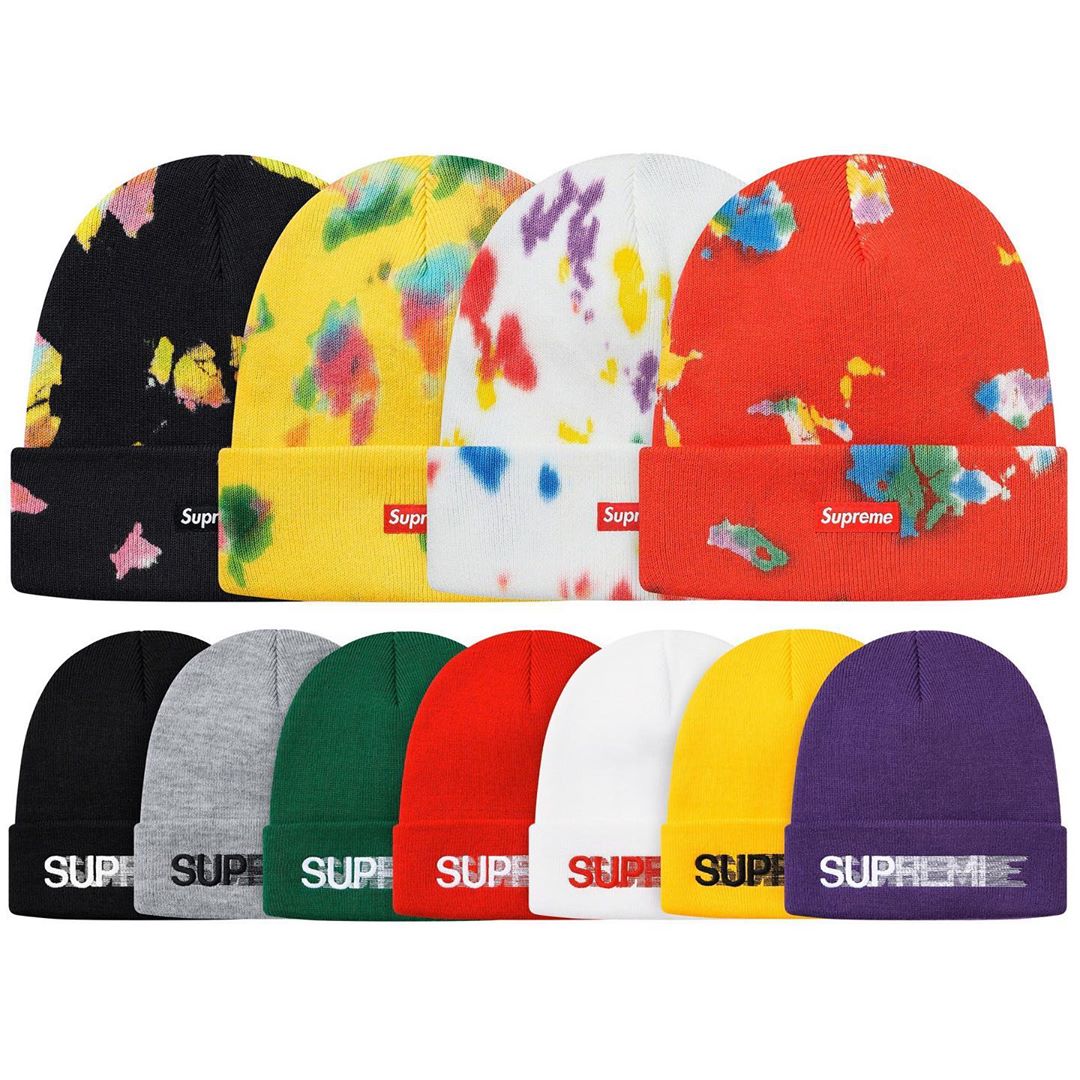 pics by @dropsbyjay
Update 01.04.2020
Week after week, we look at the newest and best pieces from Supreme. Since the first week, Supreme has been dropping some crazy apparel and accessories, and you shouldn't be surprised at all if this week turns a bit boring.
But thankfully, that is not the case! With the Supreme SS20 Collection for Week 6, there's another fierce collab coming up. This time, Supreme and Lamborghini have teamed up—a  perfect duo that most people most definitely will look forward to. The Lamborghini x Supreme collection consists of a work jacket, a shirt, a hockey jersey, an overall, a t-shirt, and a cap.
Other clothes will also be released alongside the Lambo collection. Here, you can take a good look at them.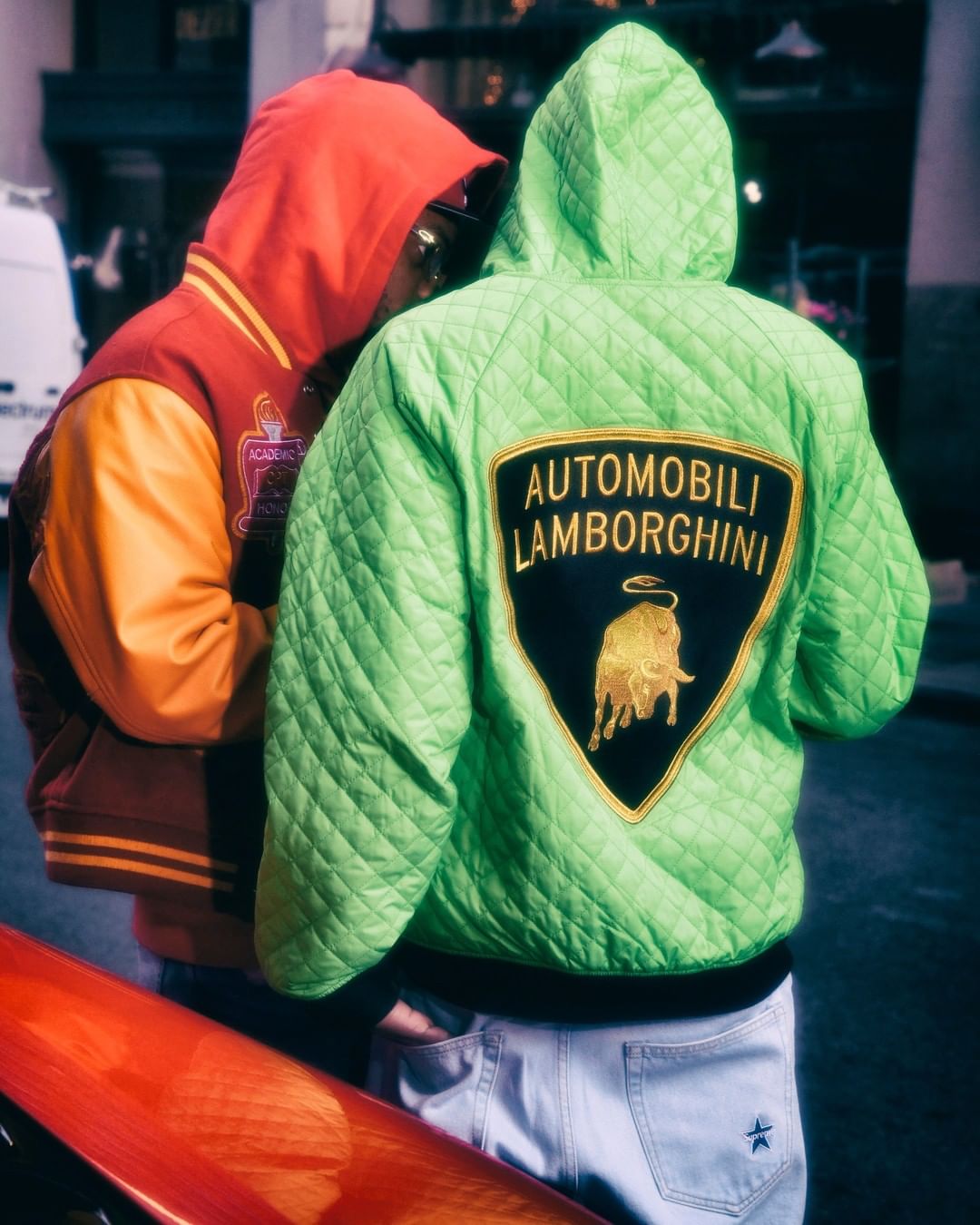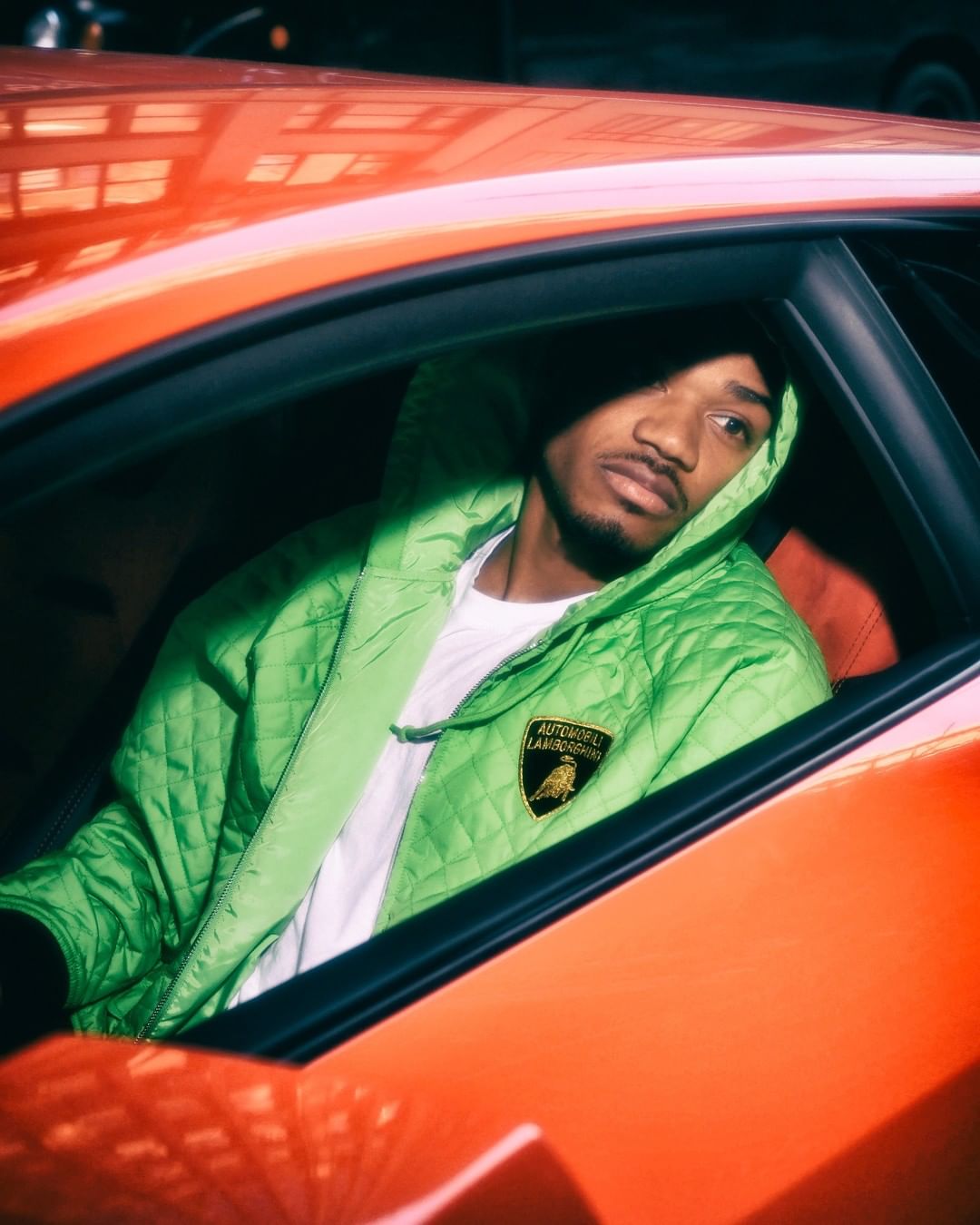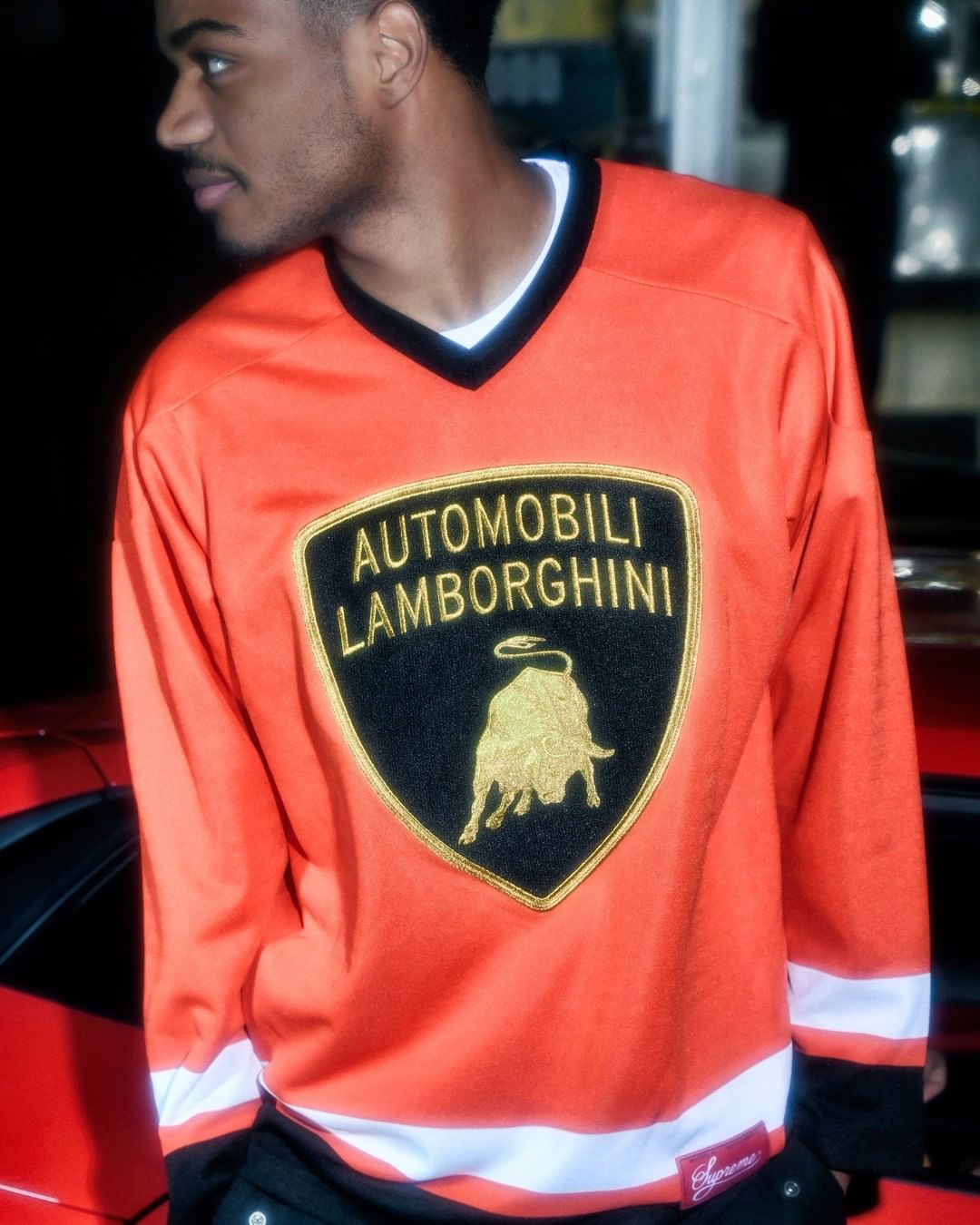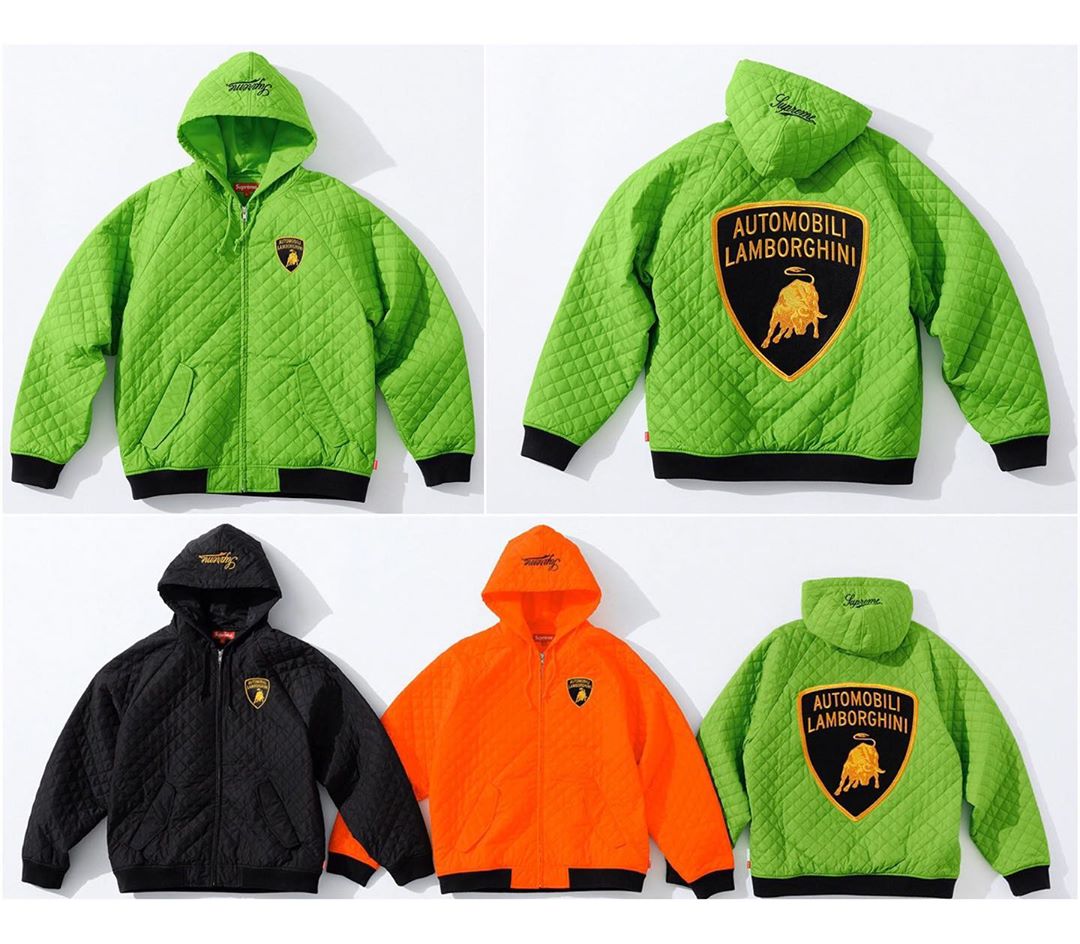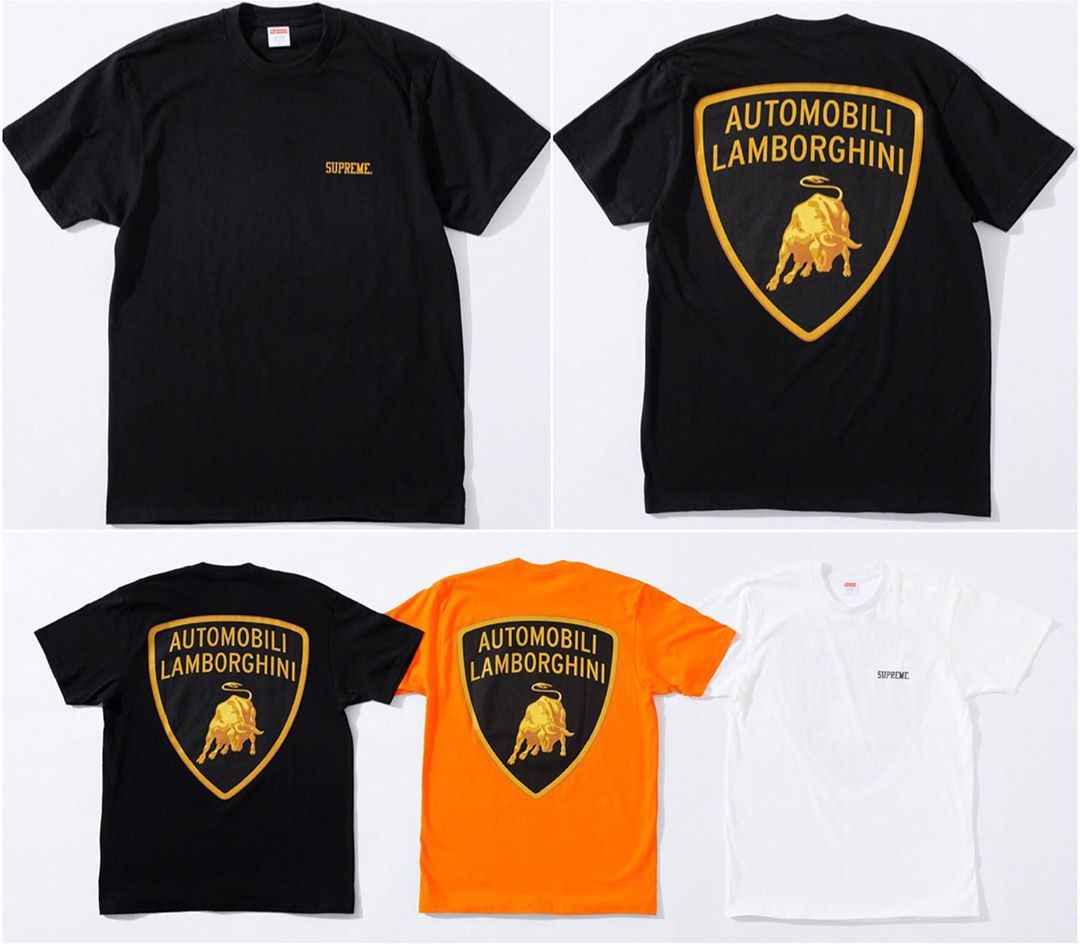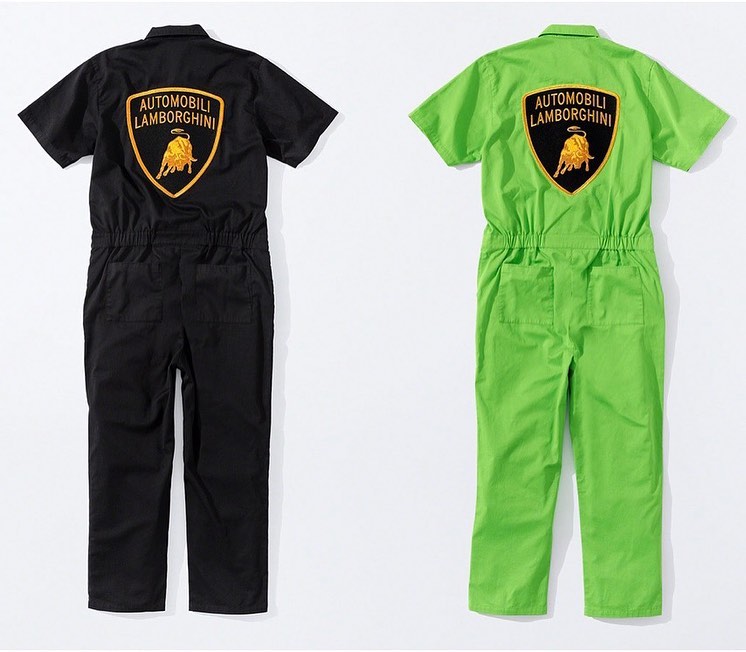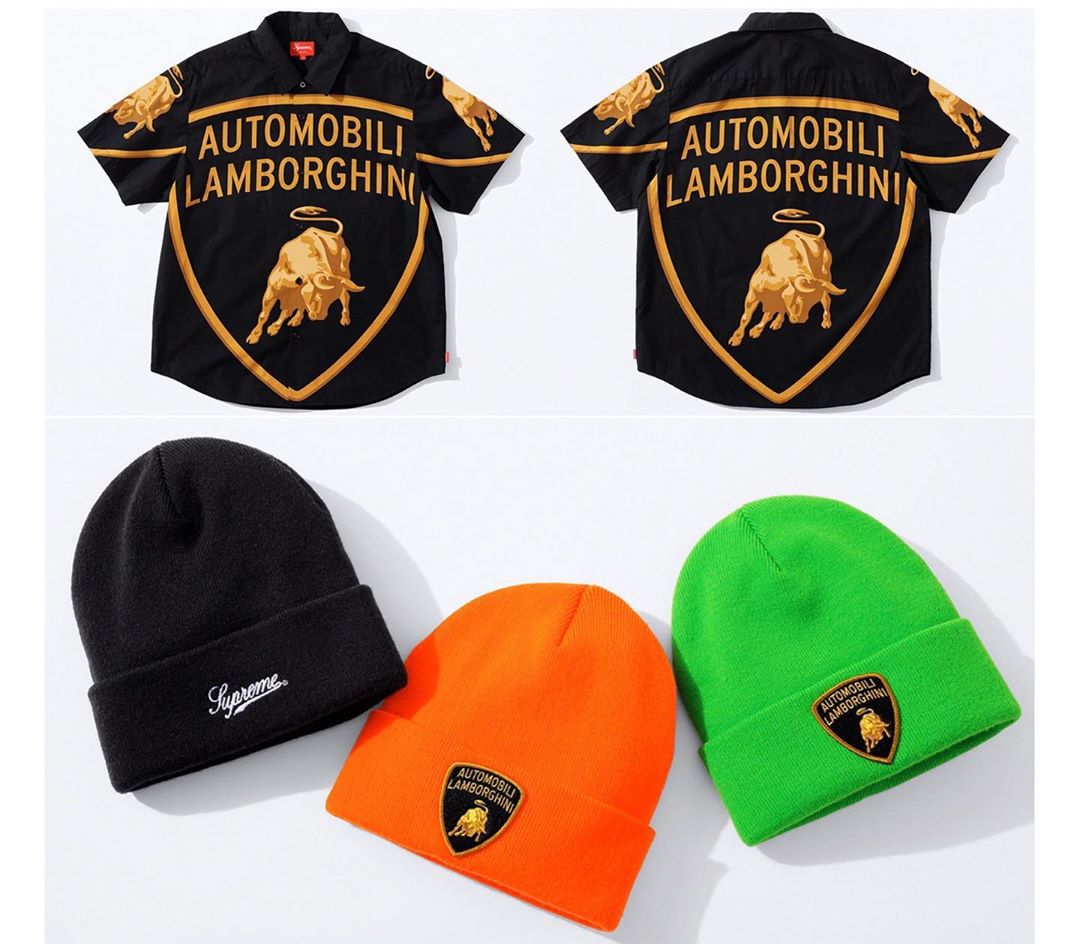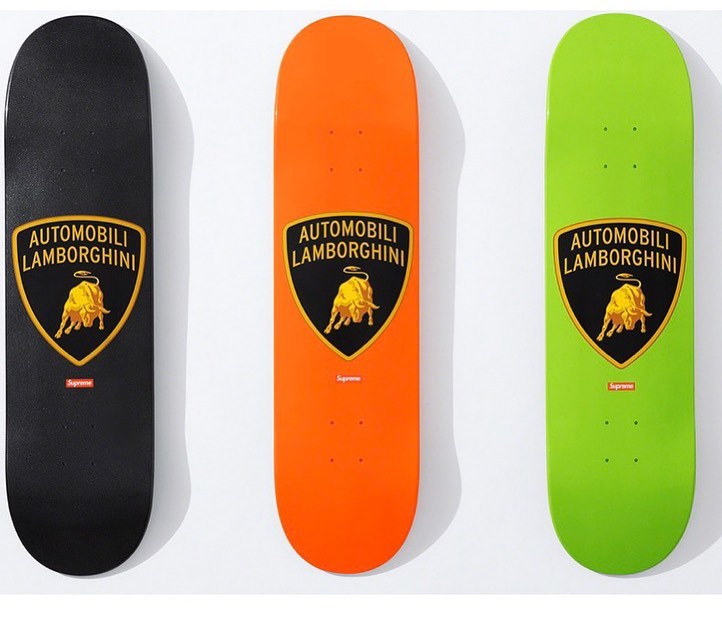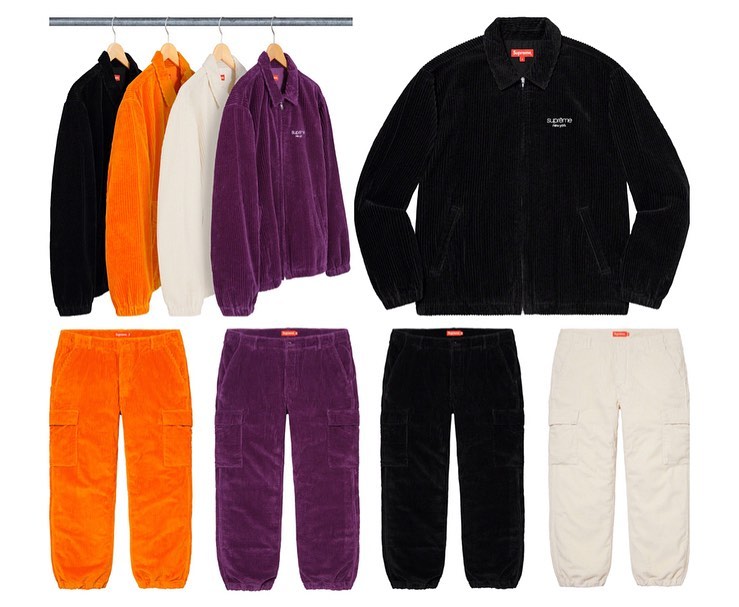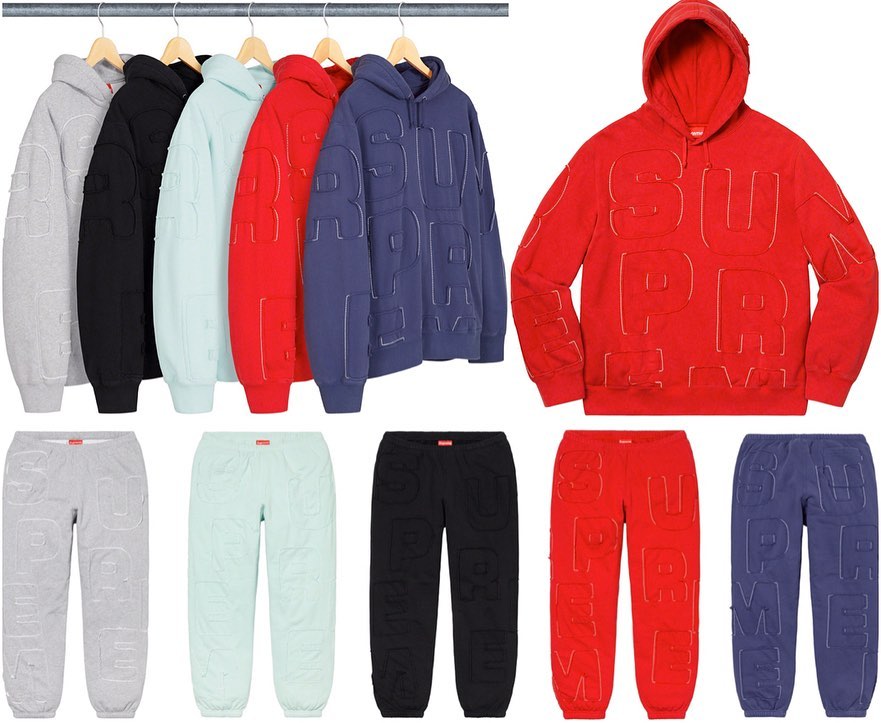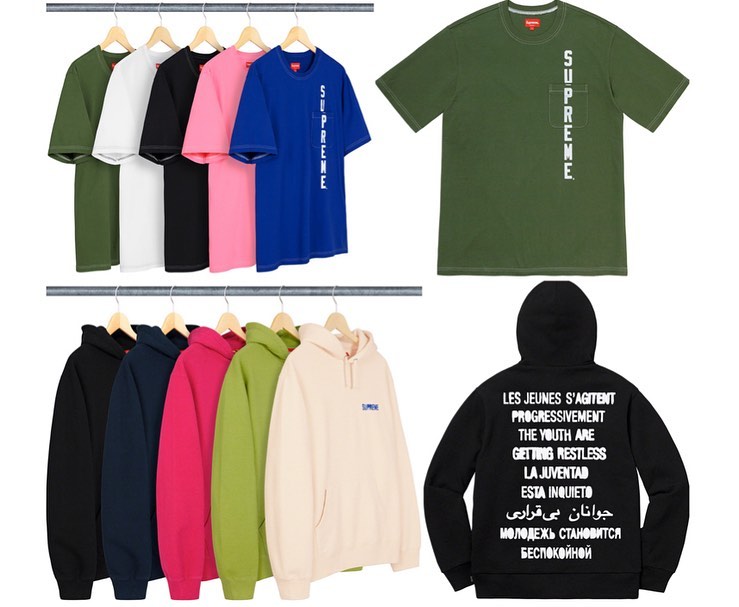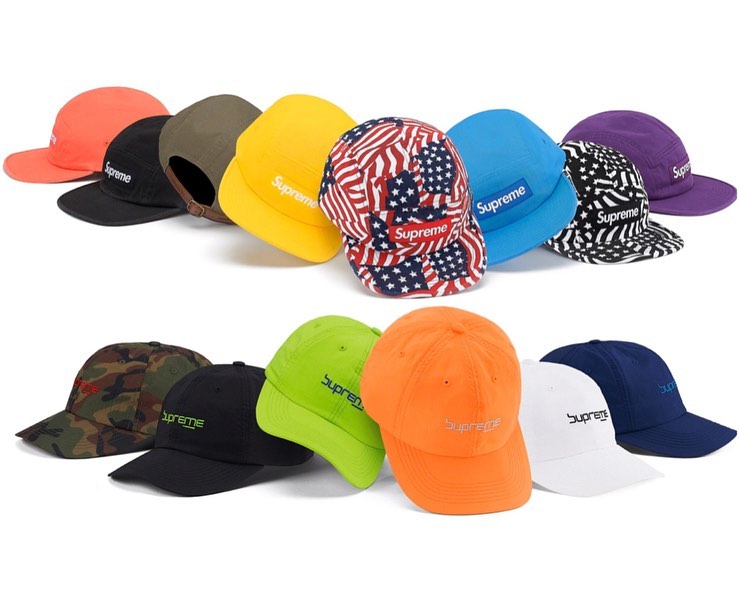 pics by @dropsbyjay
Update 25.03.2020
Are you ready for the Supreme SS20 Week 5? Most people are probably looking at a very special part of the collection this week. This is when the collaborative cookies of Supreme and OREO, which were sold for an impossible amount of money on the reseller platforms a few weeks ago, will be released. The cookies are sold in packs of 3 and you can supposedly buy several packs at once.
Furthermore, the next famous brand with Supreme is releasing a big pack of sneakers, sweatshirts, and caps. Timberland and Supreme have decided to include three different Euro Hiker Lows, four Crewneck sweatshirts, and six caps in the collection.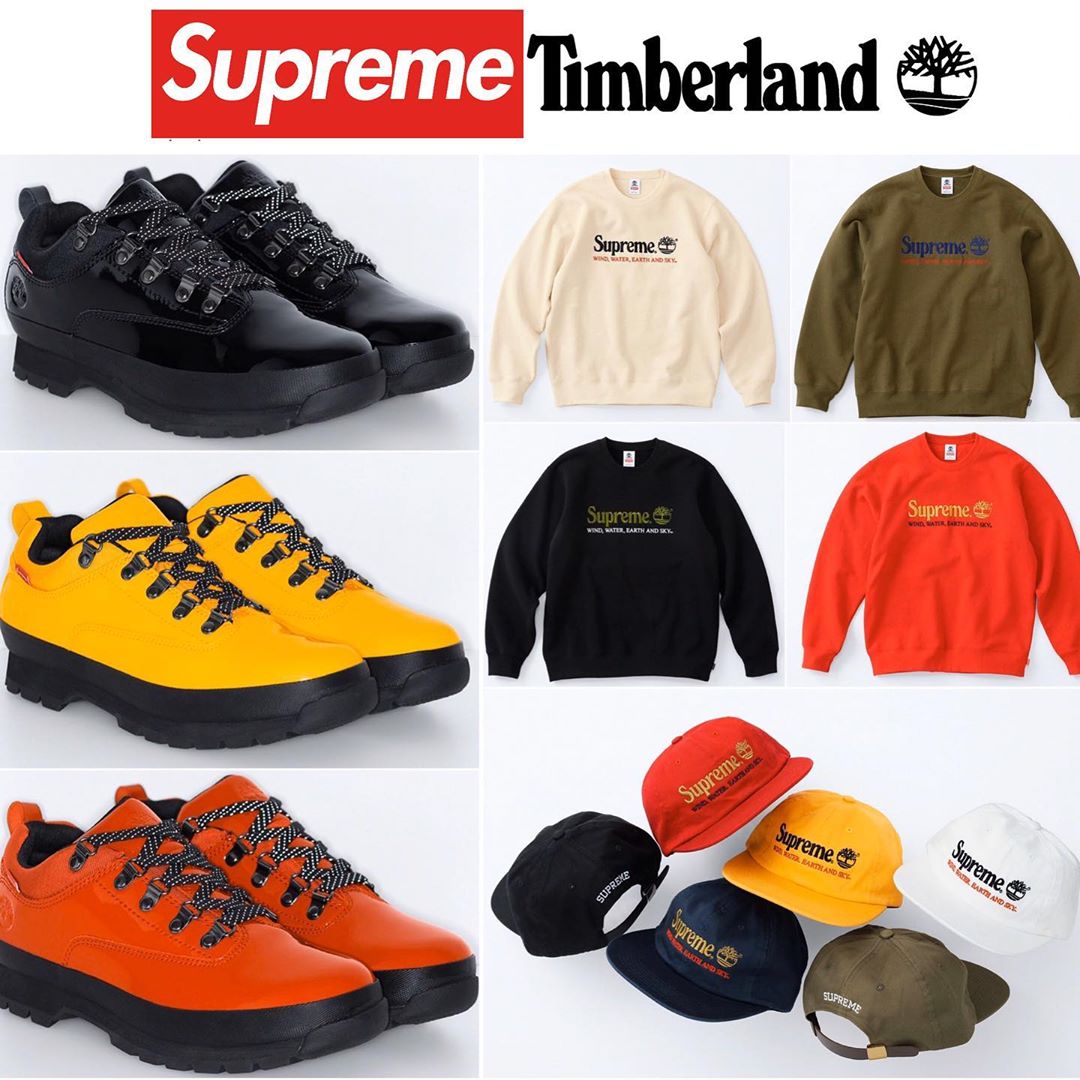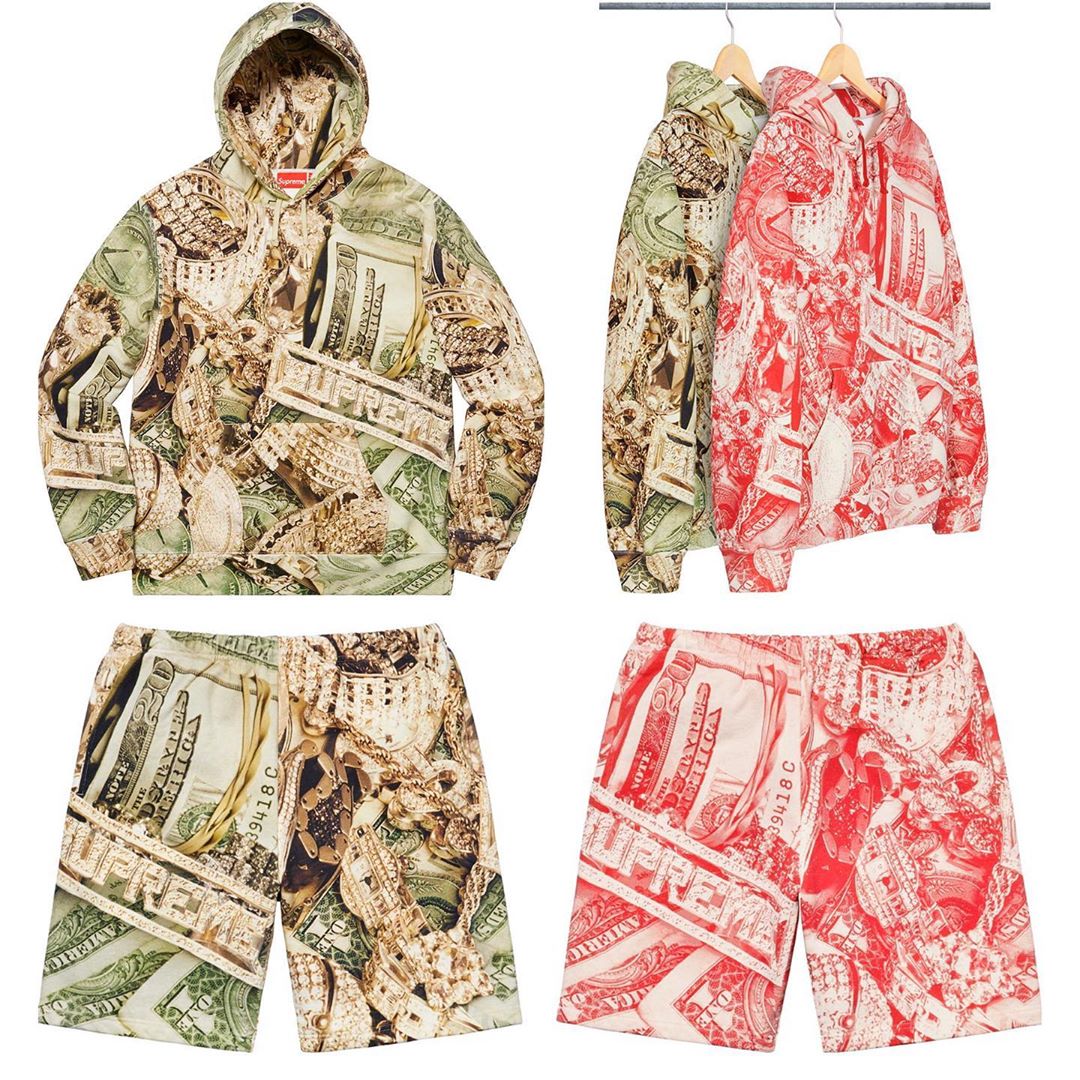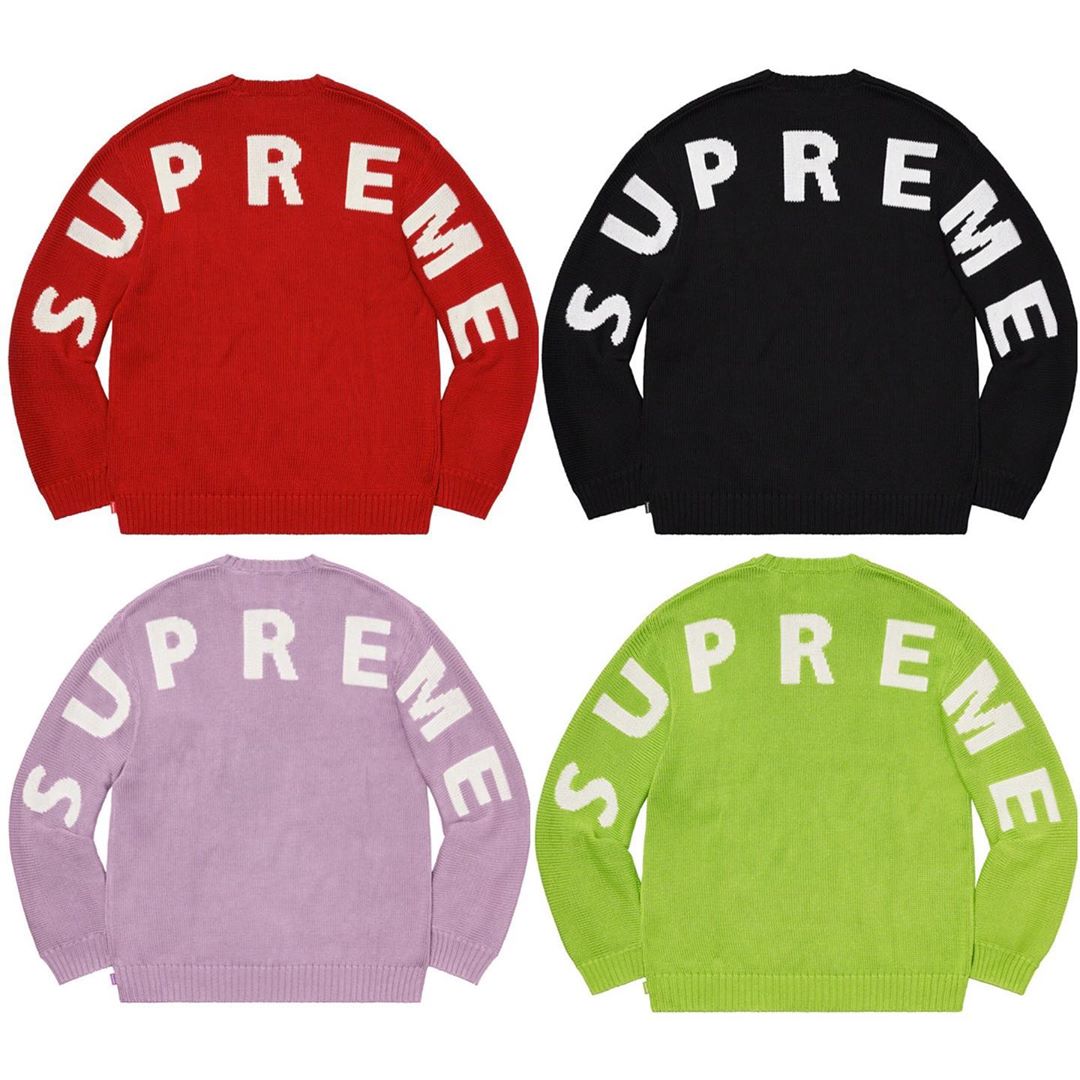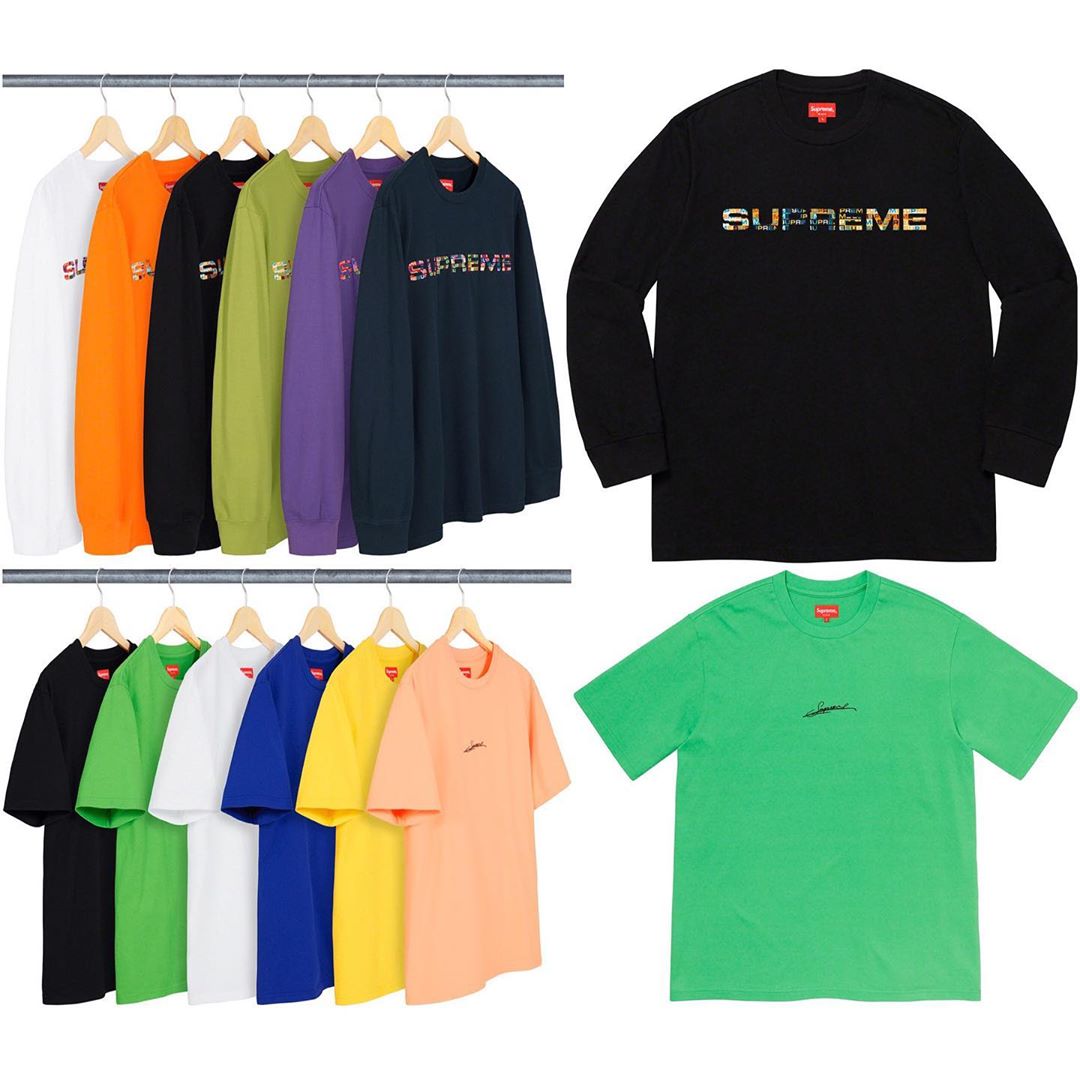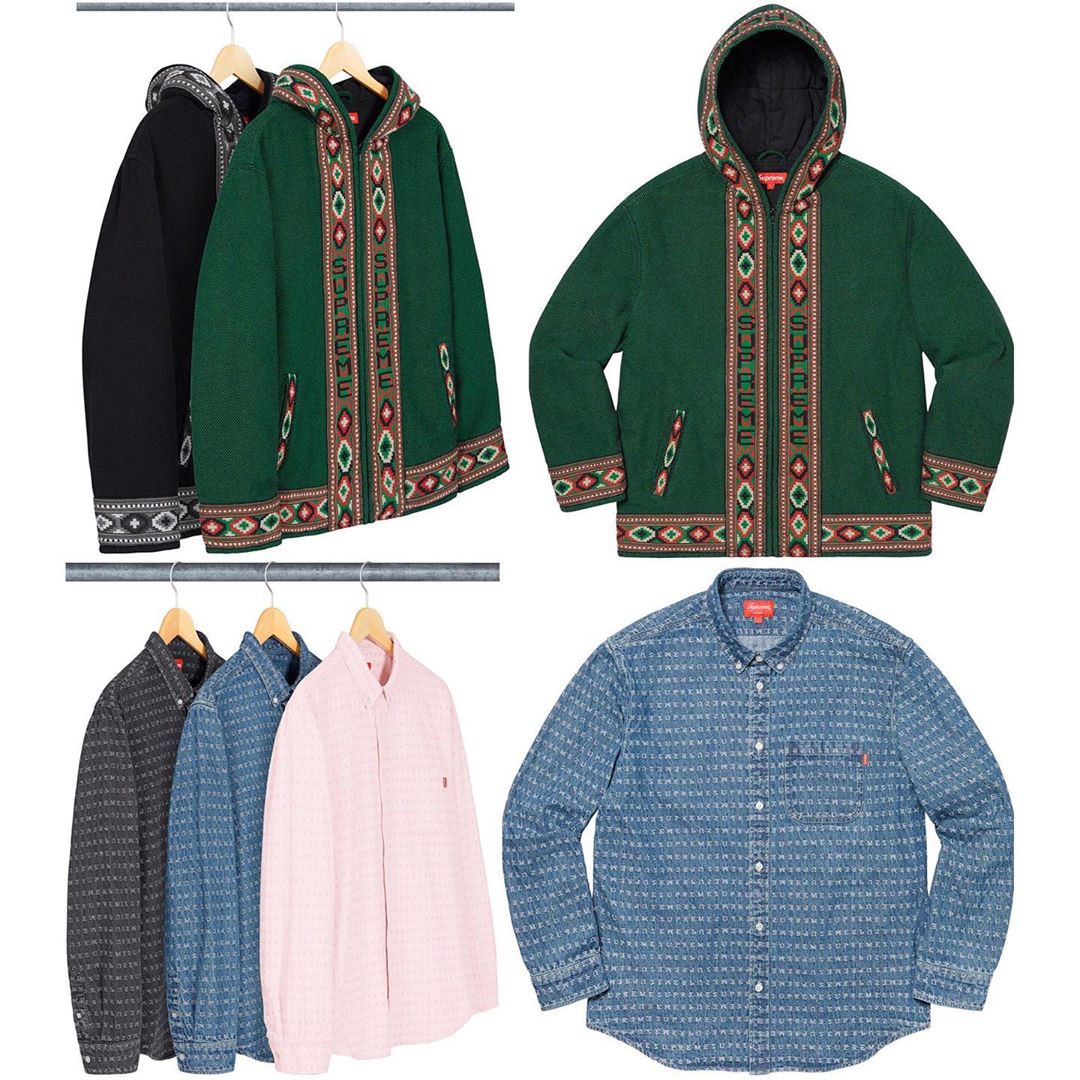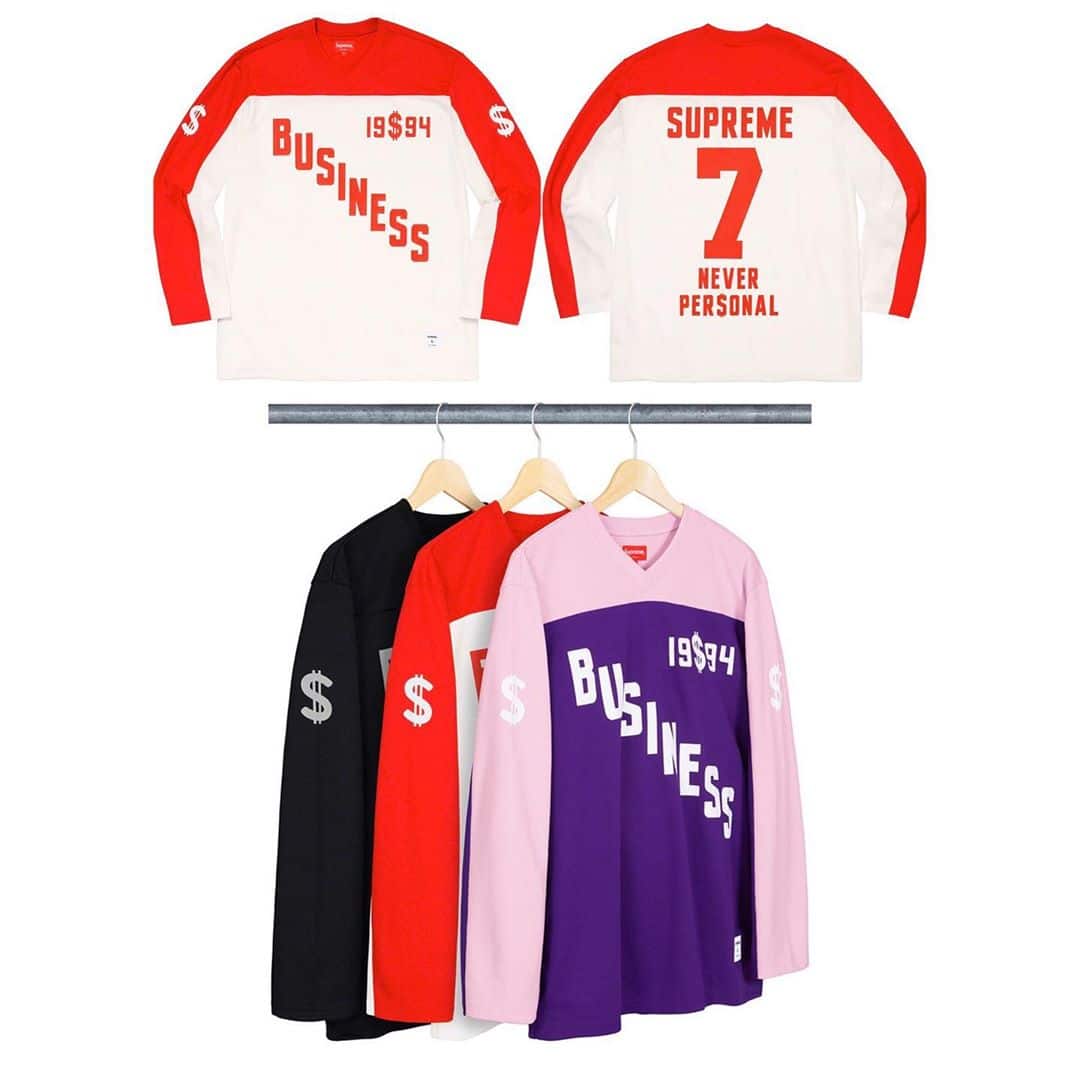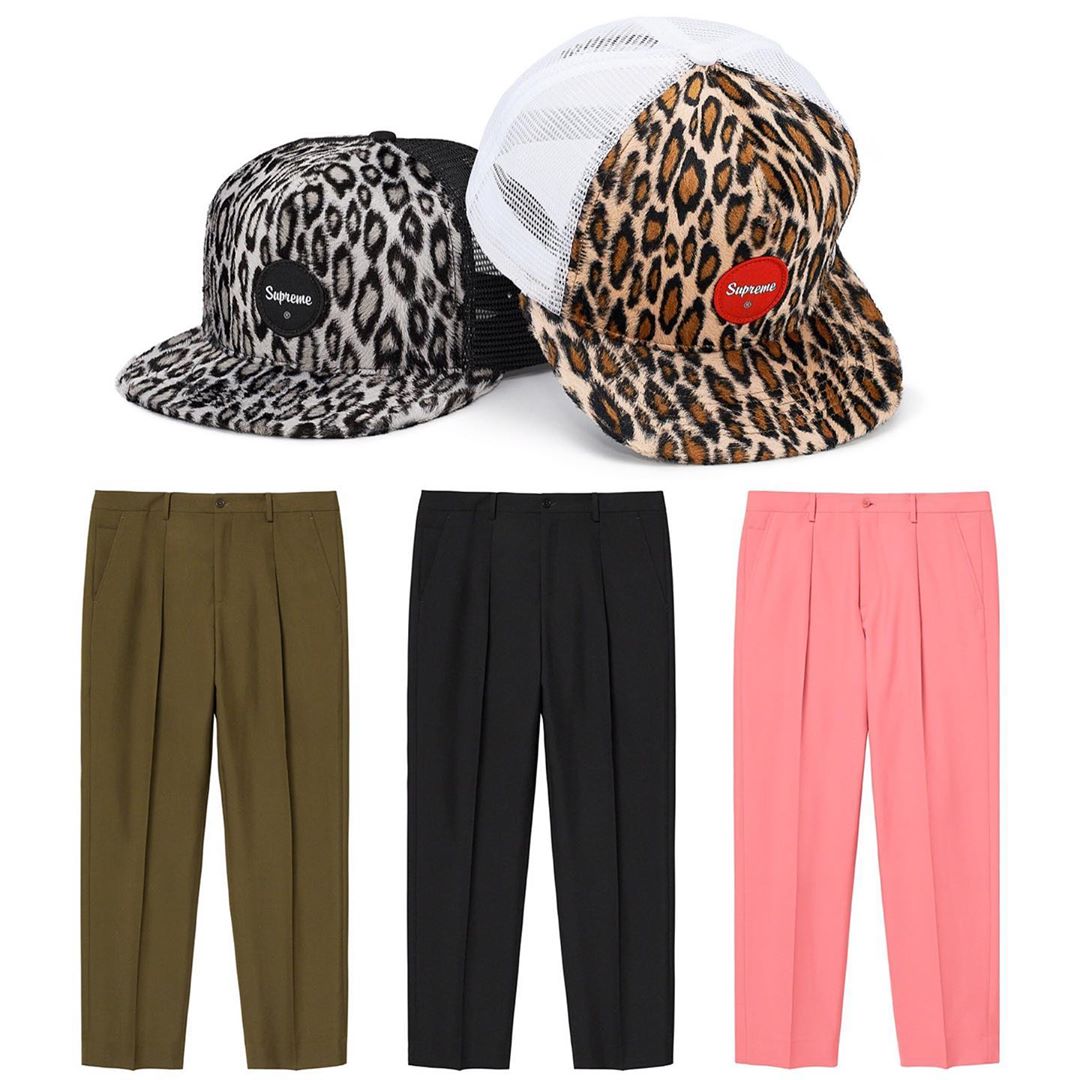 pics by @dropsbyjay
Update 18.03.2020
US-American graffiti artist and musician Rammellzee continues to write history even after his death. He was best known for his questionable art and graffiti signature. Now Supreme has borrowed his art and printed it on a few pieces to honour the then 50-year-old.
But it's not just about the fancy clothes. In the Supreme SS20 Collection Week 4, Supreme x Rawlings' two Catcher's Chest Protectors will also drop.
This week's rush on supremenewyork.com on March 19th should definitely be bigger than before, as Supreme has closed its stores due to the current situation.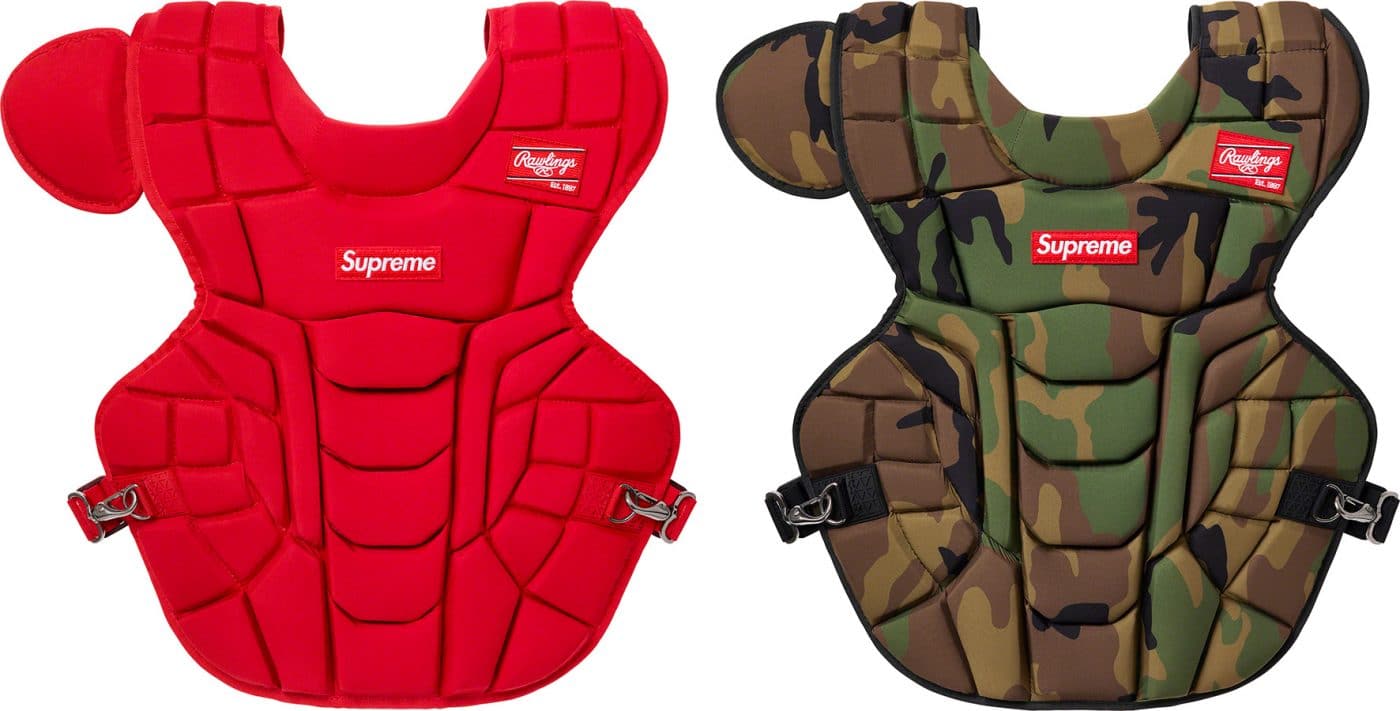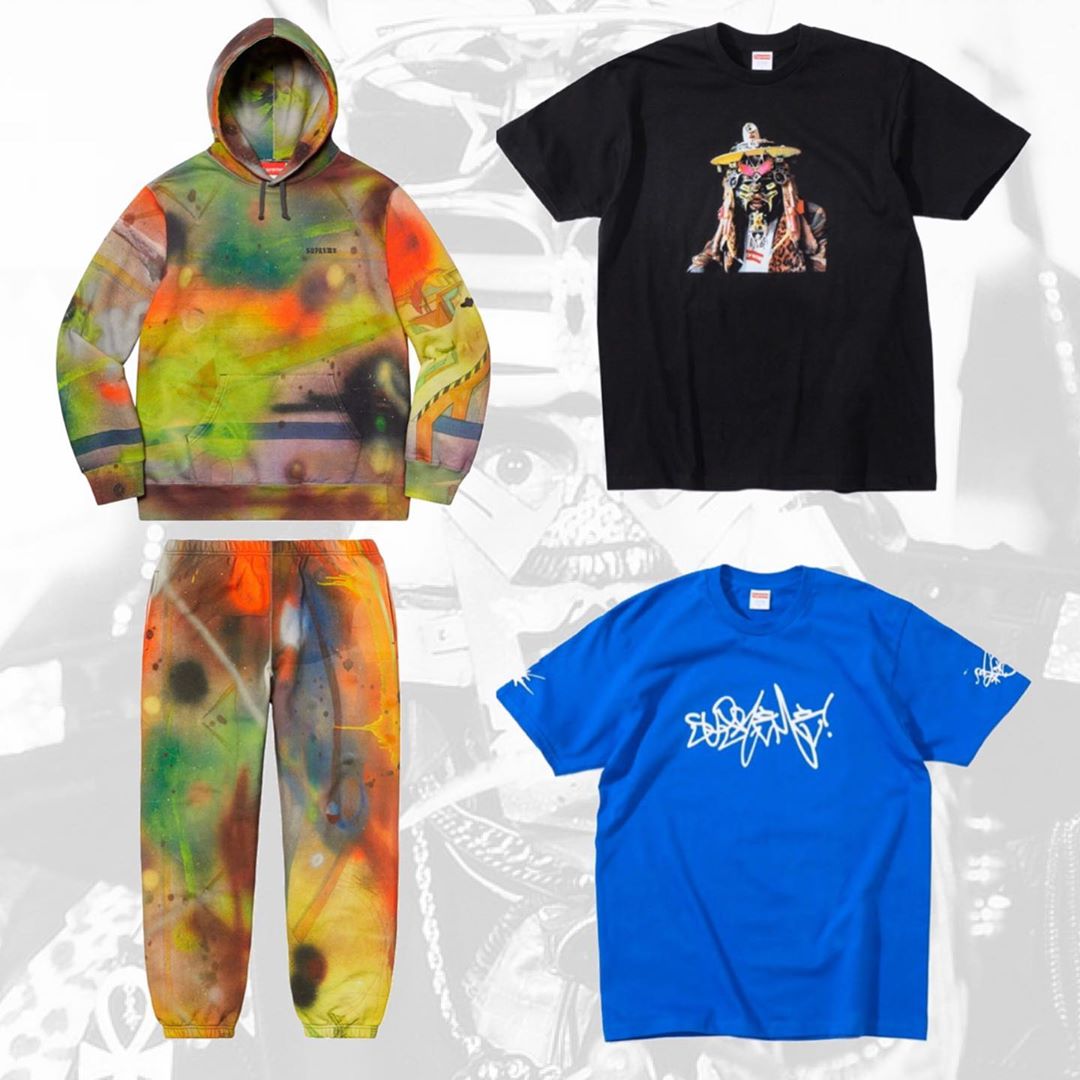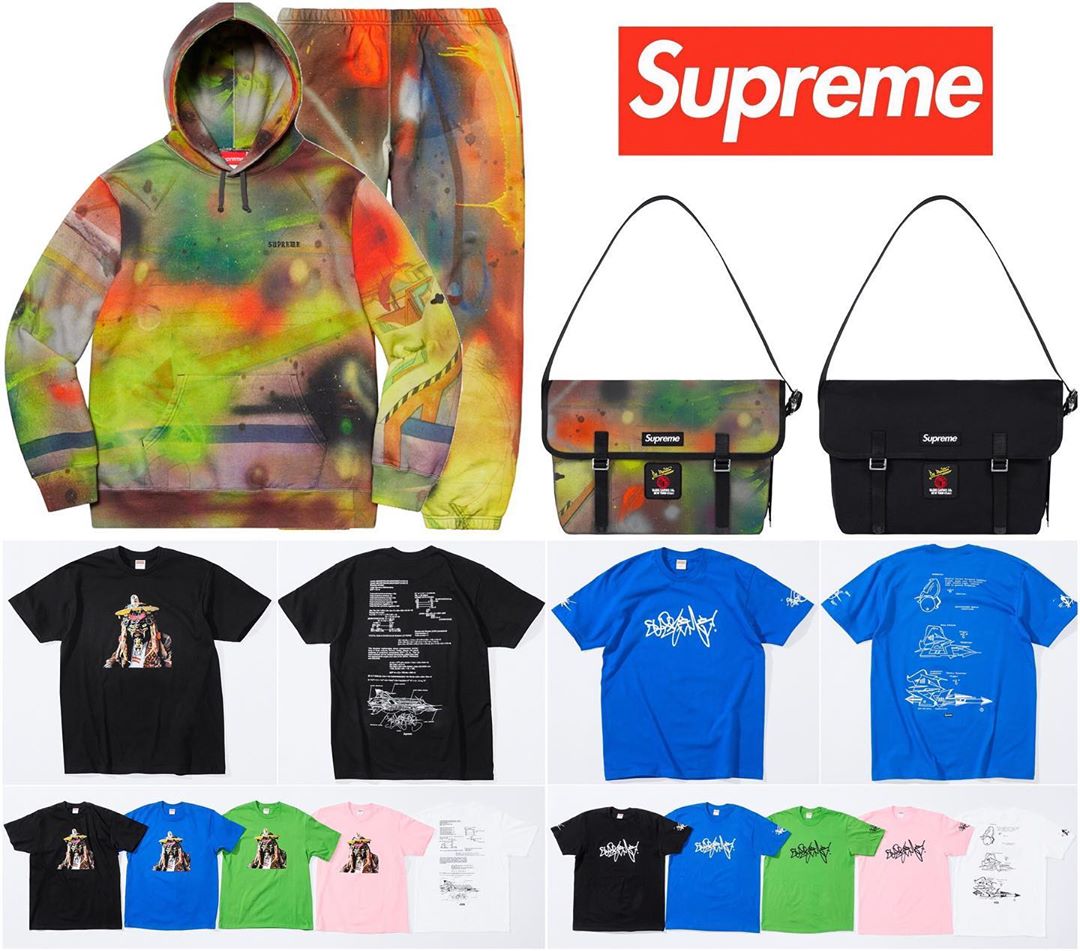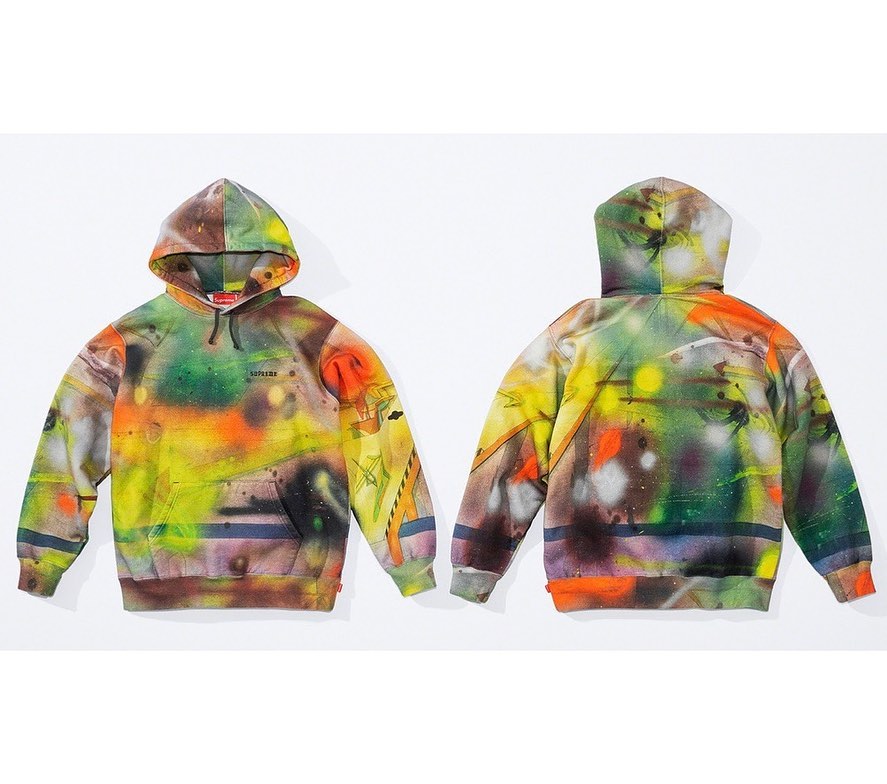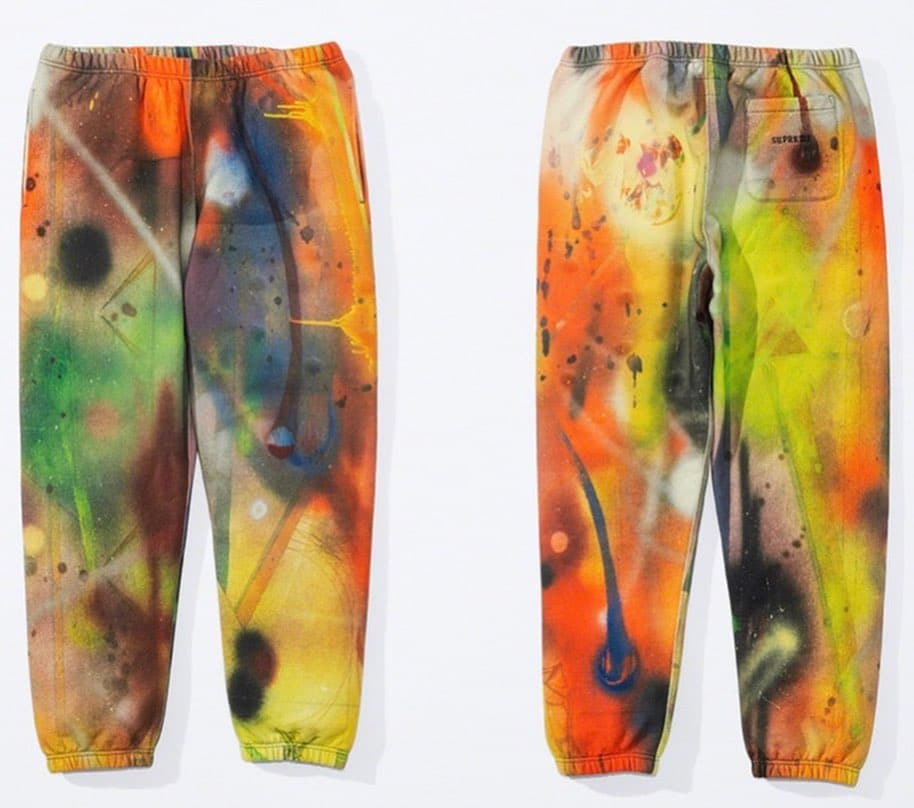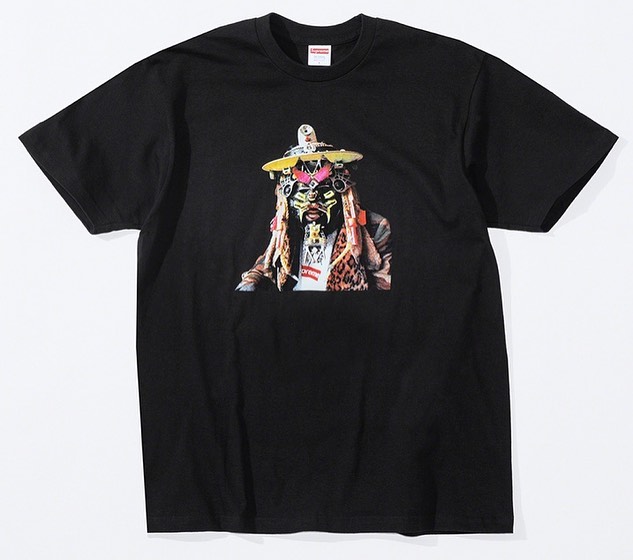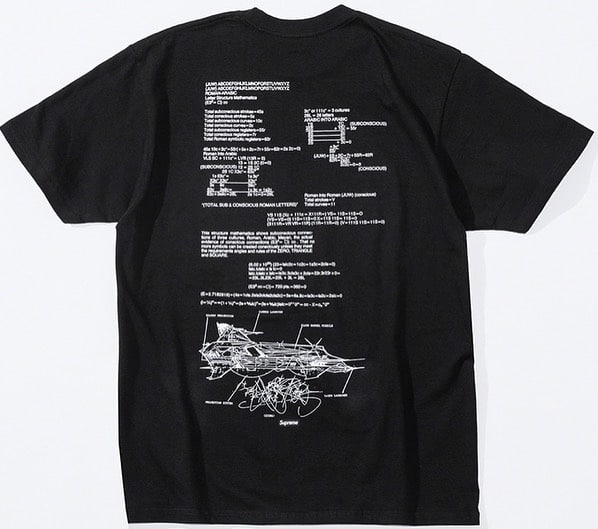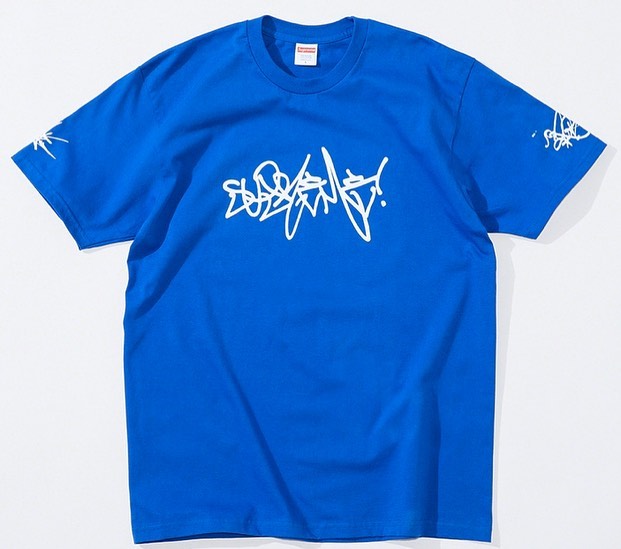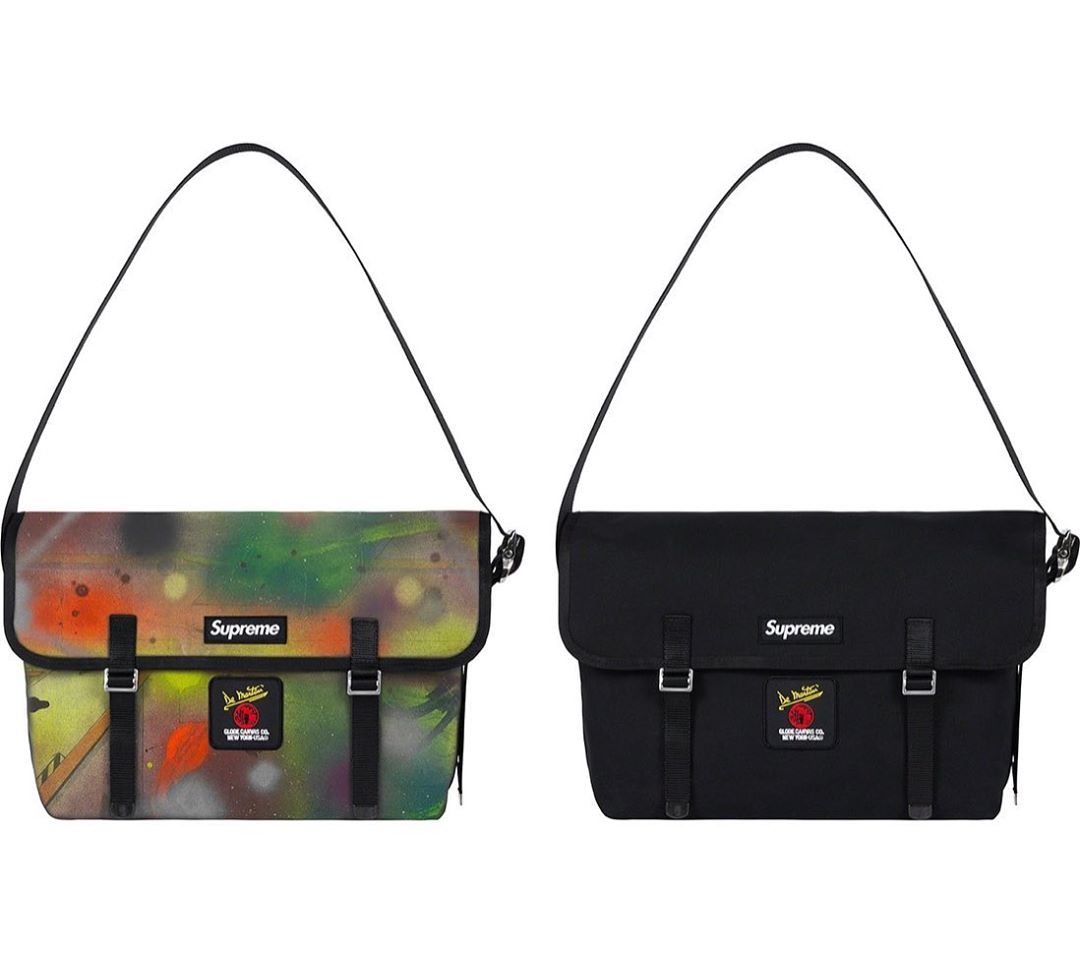 Update 12.03.2020
In Week 3, Supreme just doesn't stop with the best pieces. In Week 1, we already got some heavy t-shirts. Shortly after that, we got the collaborative Air Force 1s from Nike in "Black" and "White" in Week 2. And, now, the third week of Supreme is coming up and we can expect even more highlights.
The North Face drops another great apparel capsule in this collection with Supreme. They join together to release a jacket, fleece jacket, gloves, backpack, t-shirt, balaclava, turtleneck, and shoulder bag. The colours black, green, red, and gold/orange are used all throughout. The jackets from the RTG series are probably the fastest way to go.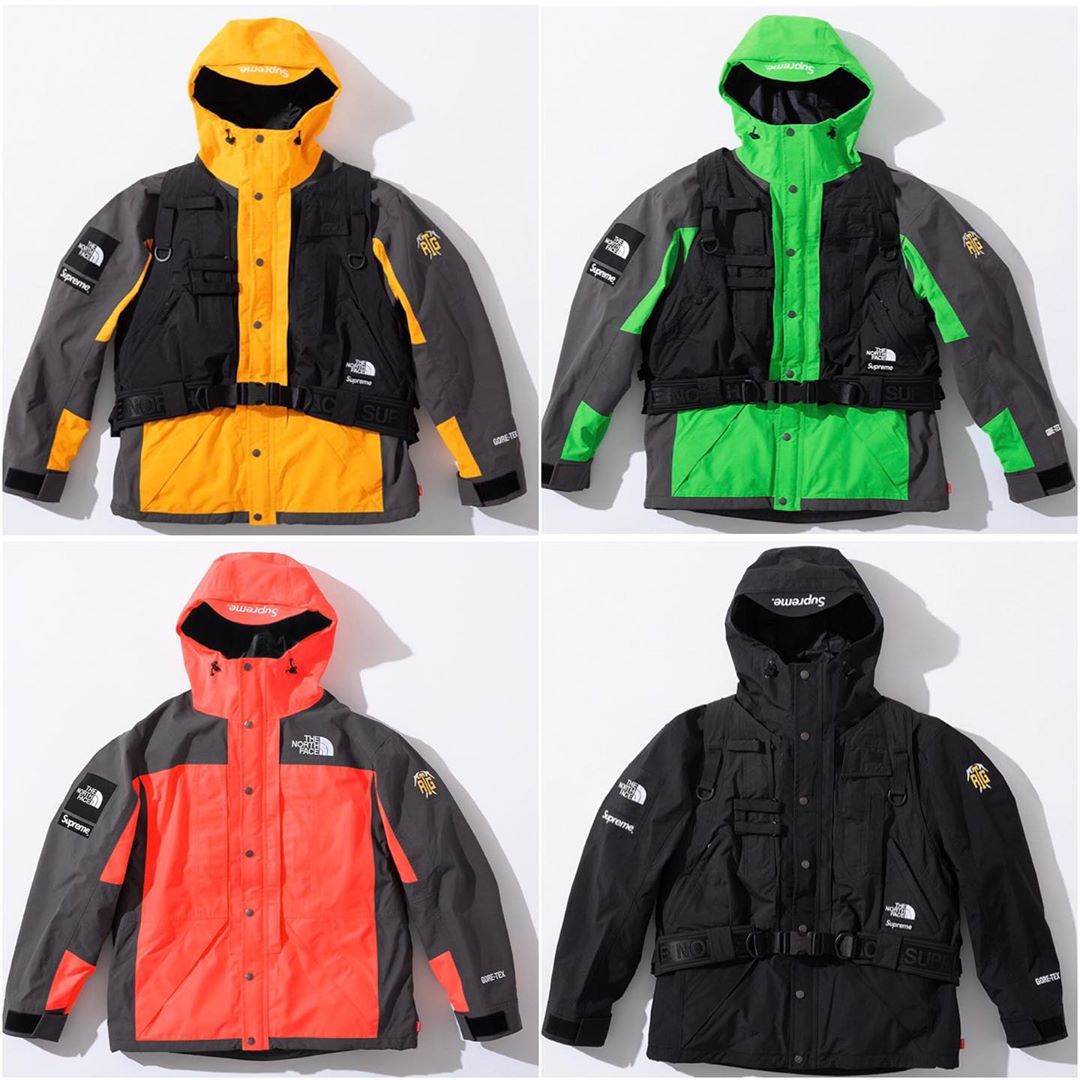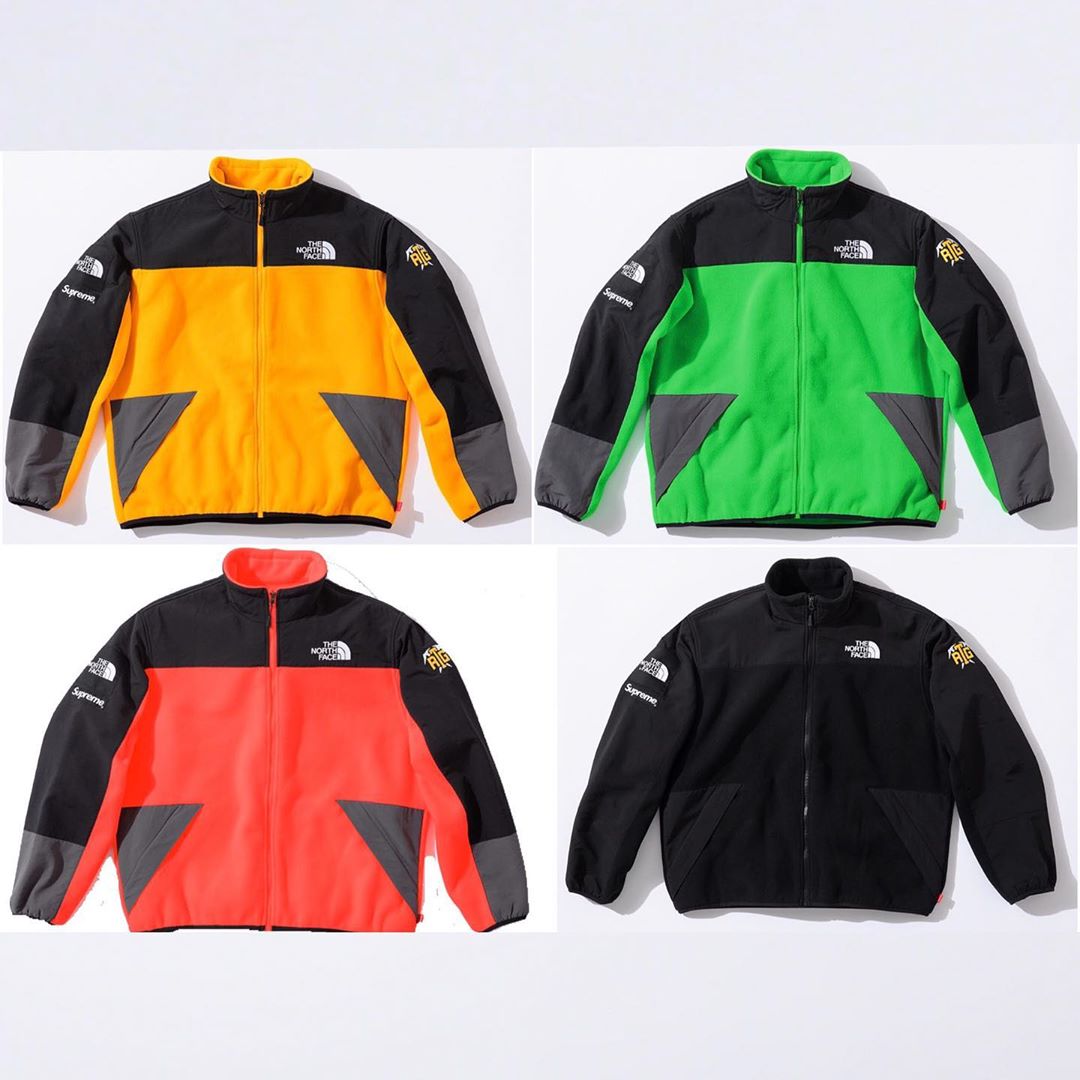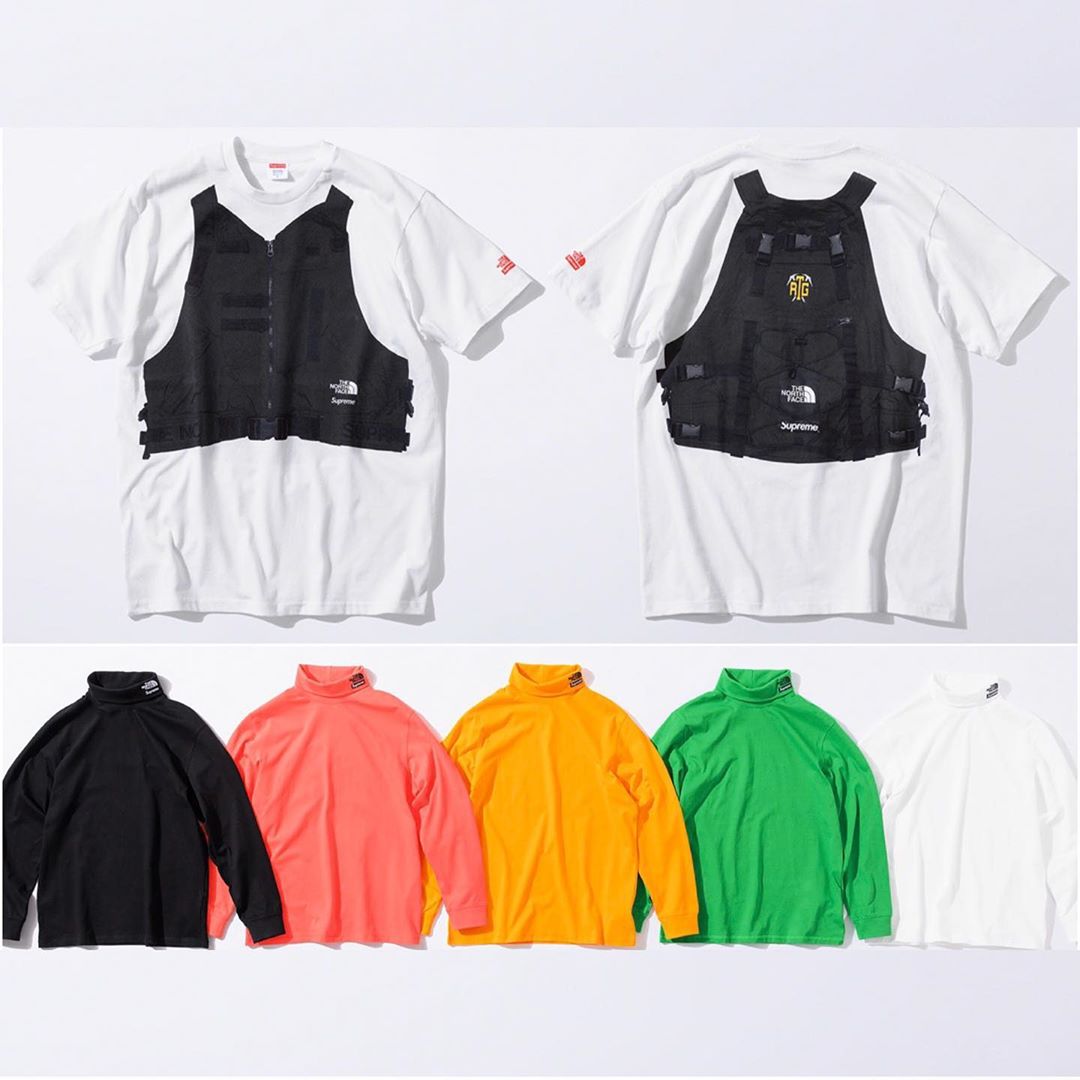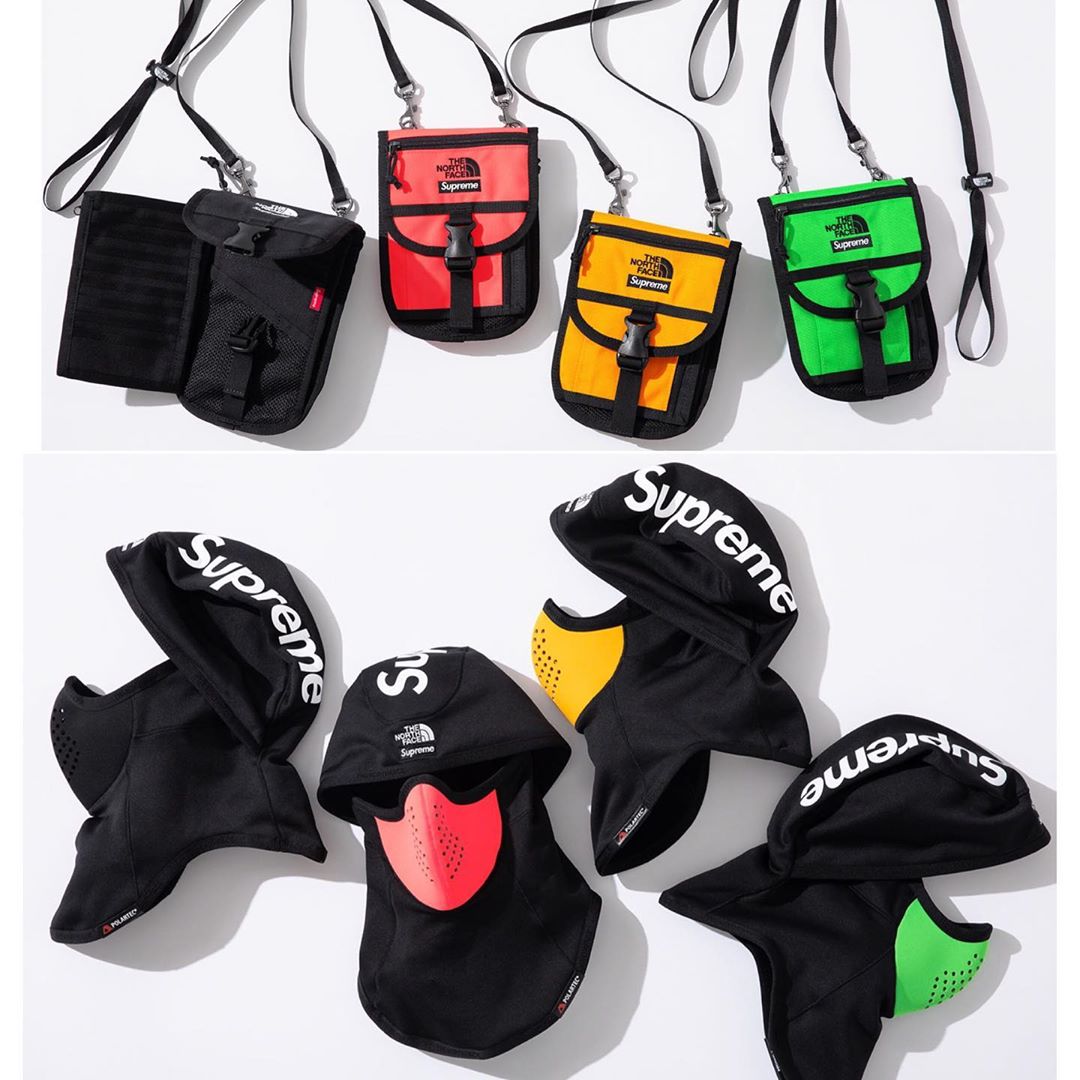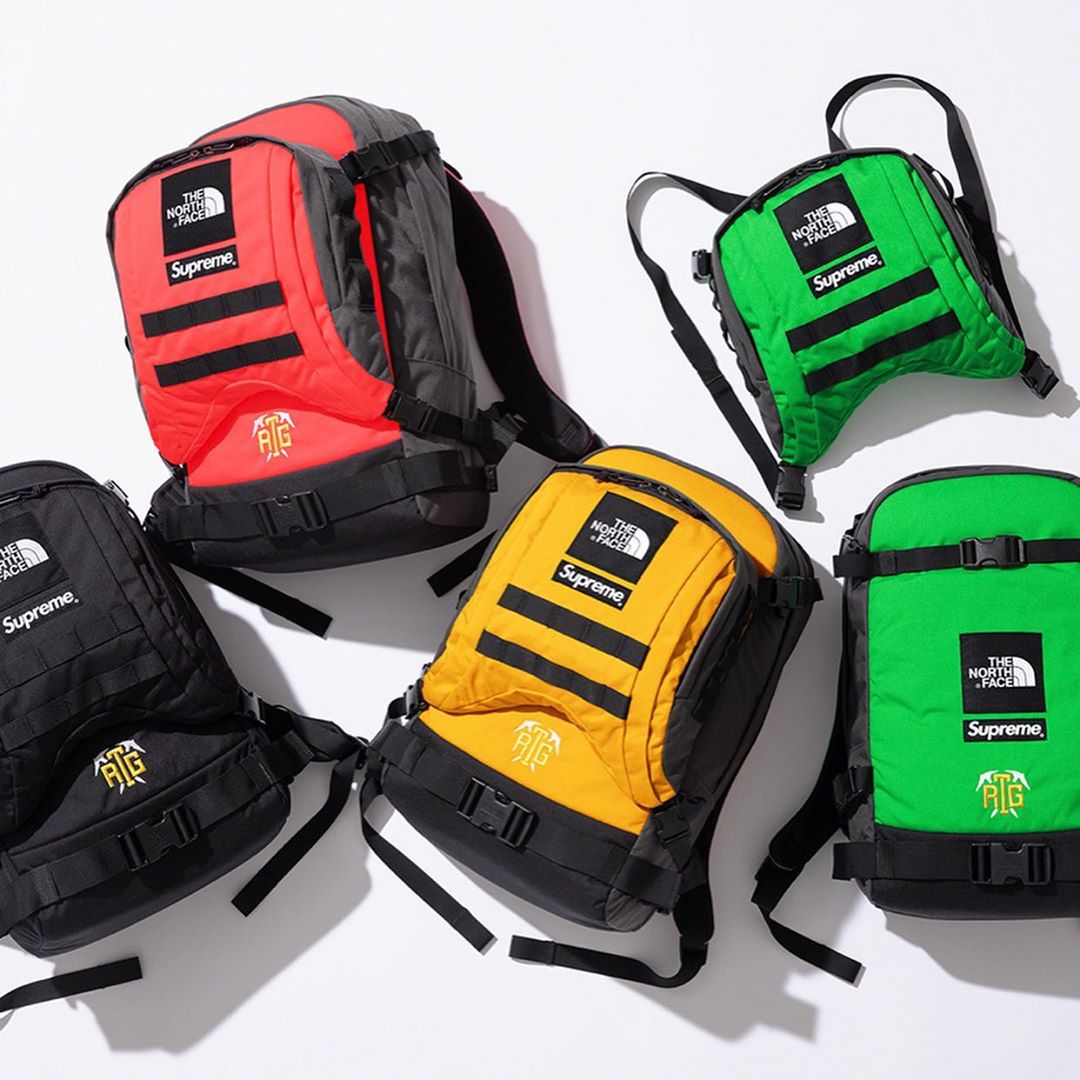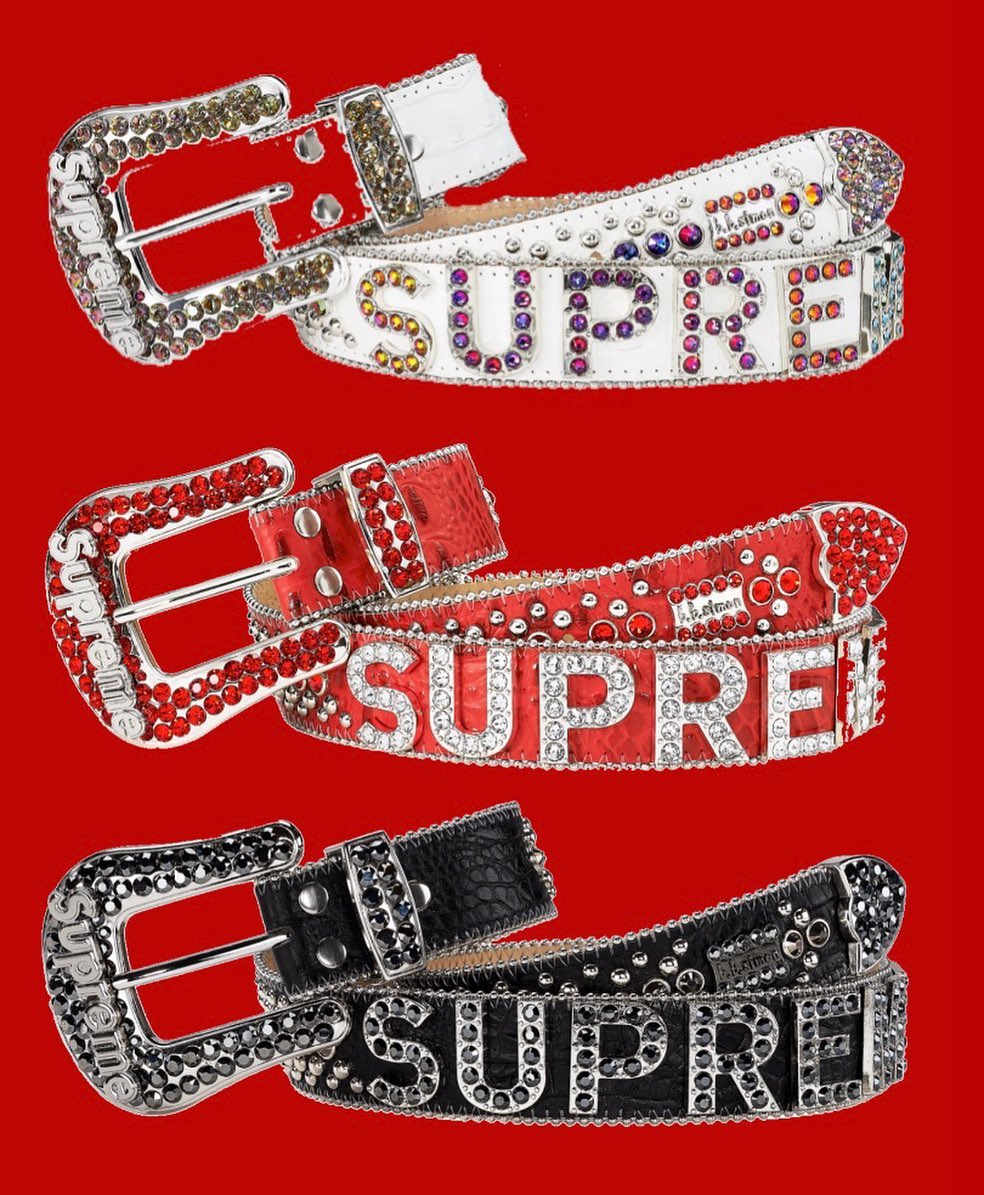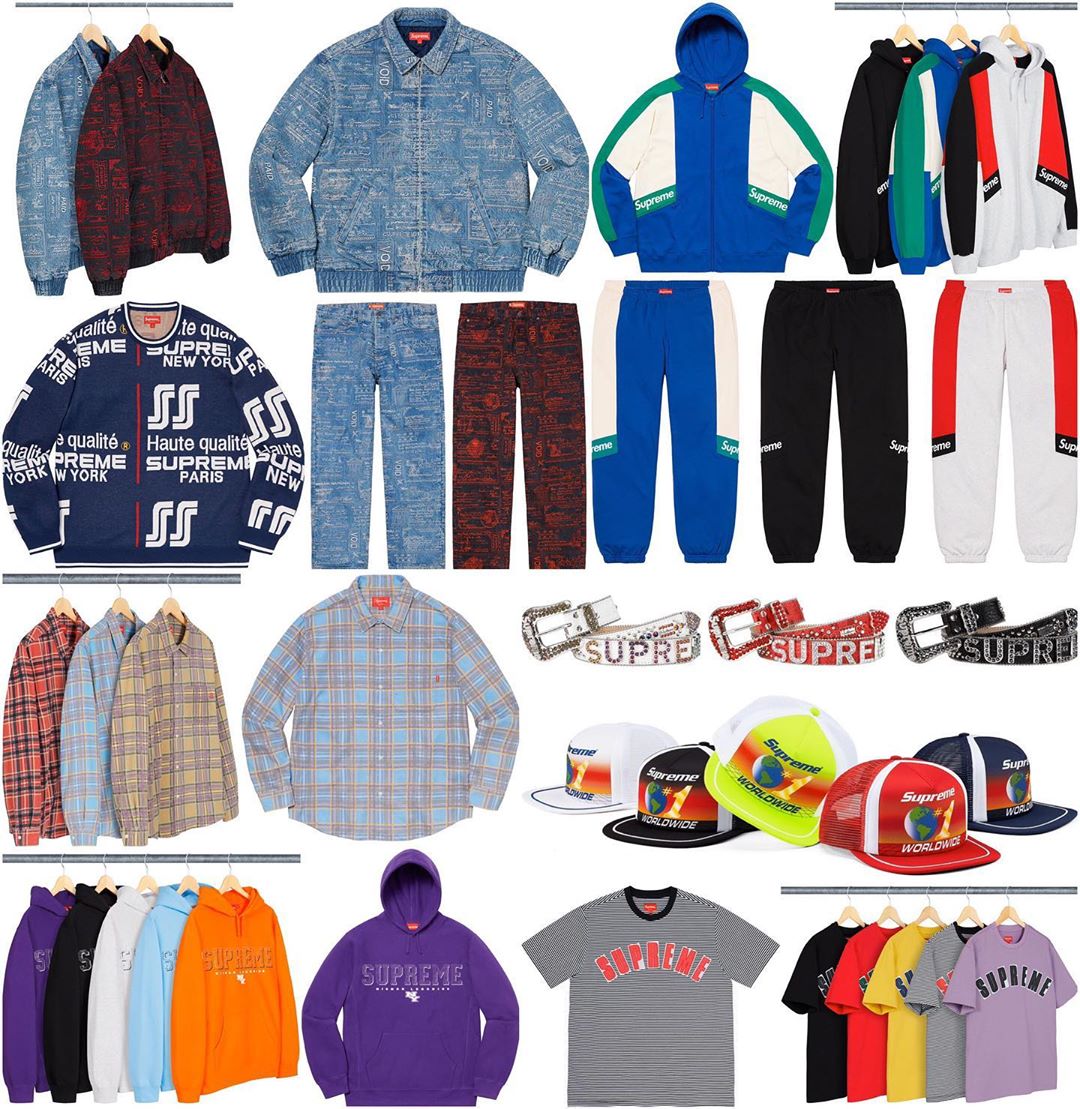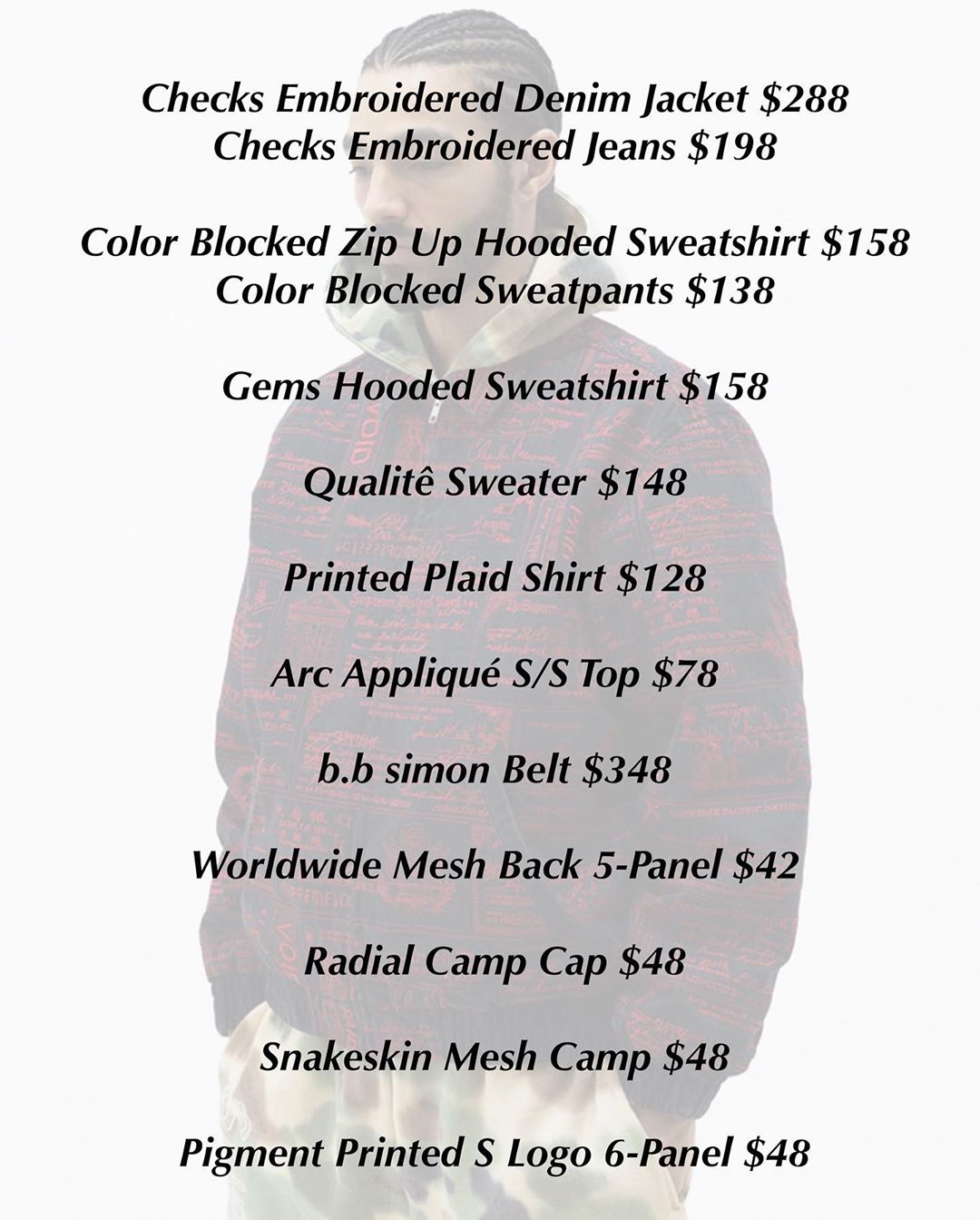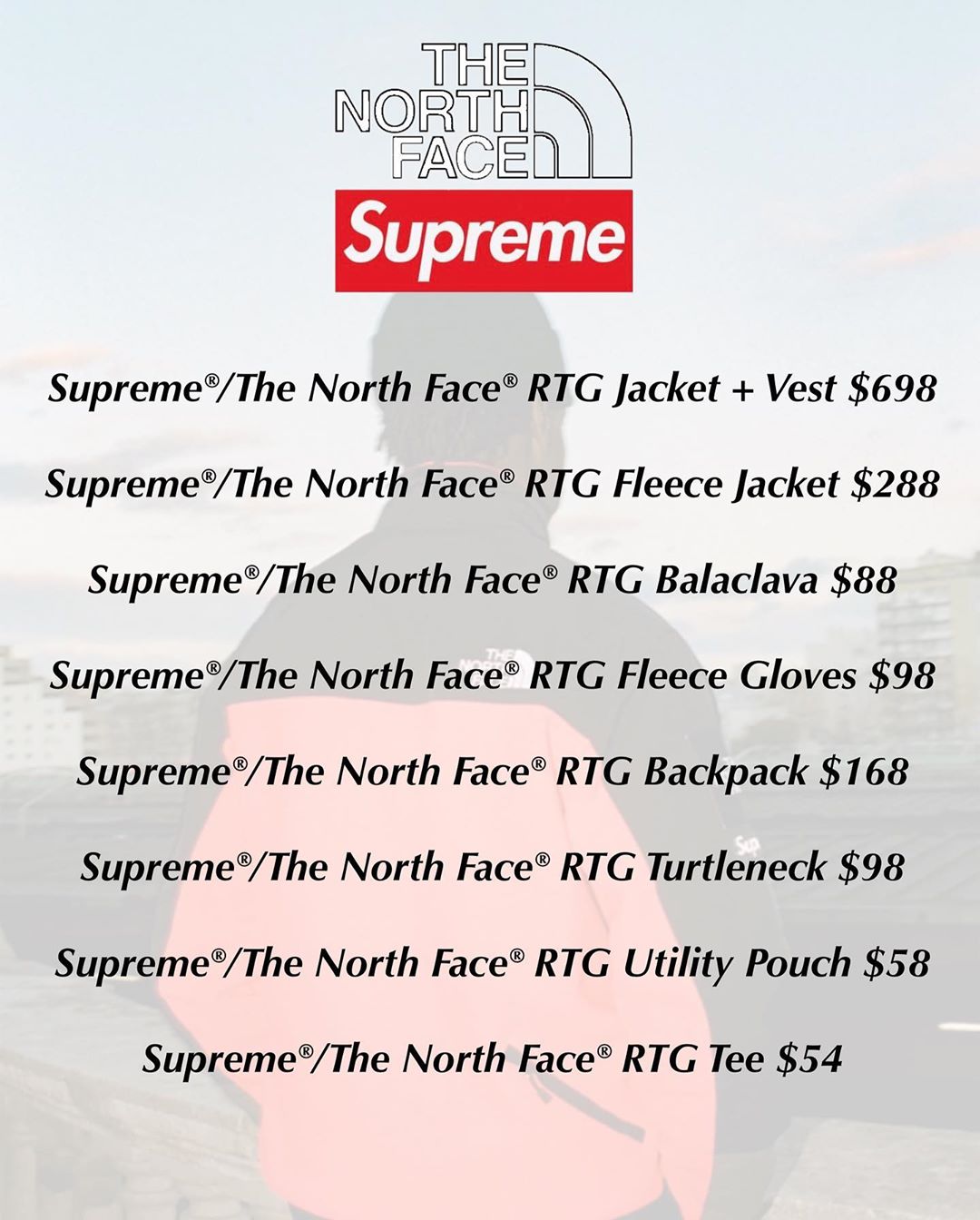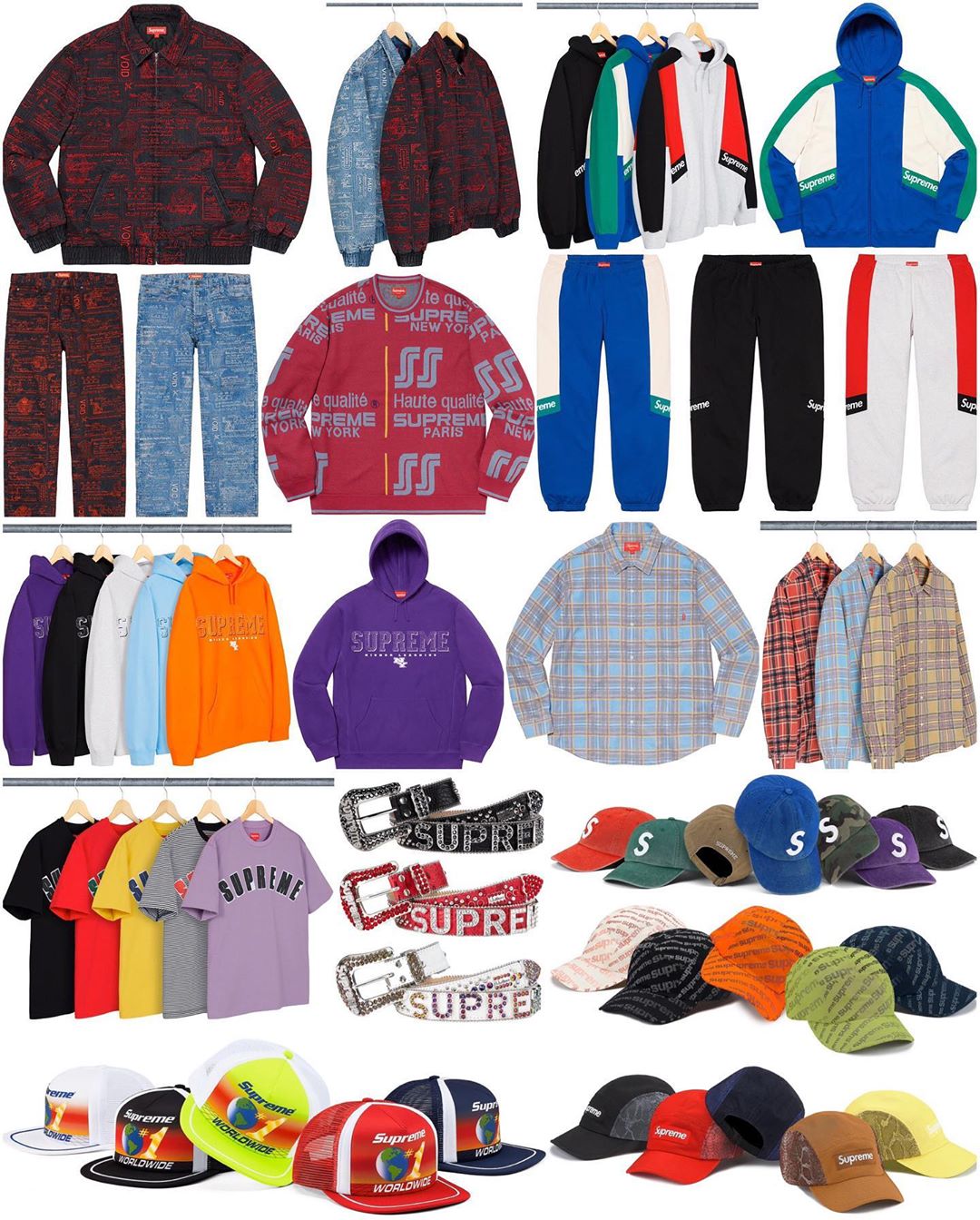 Update 03.03.2020
The start of the Supreme SS20 collection was actually quite good. But, we know that Supreme can do even better and is probably holding back a few things.
The best pieces from the collection are spread throughout each weekly drop. So, we will probably see some highlights almost every week. One highlight in particular will definitely be released this week. In Week 2, the Supreme x Nike Air Force 1s will be released in "Black" and "White". The shoes have already been massively discussed on the net.
Sneakheads, hypebeasts, and fans are already talking about the colourway. The sneakers are almost completely clean. A small Supreme Box logo on the back area is the most noticeable feature. Furthermore, the collaborative sneakers have co-brandings on the lace locks as well as on the tongue tags. But, we find that these features are hardly that distinctive.
Besides the Supreme x Nike Air Force 1s, there is of course the much-awaited apparel. Rumour has it that the theater mask fleece jacket as well as the incense sticks and the transparent lock with Supreme logo will be released. The rest of the pieces are still unknown.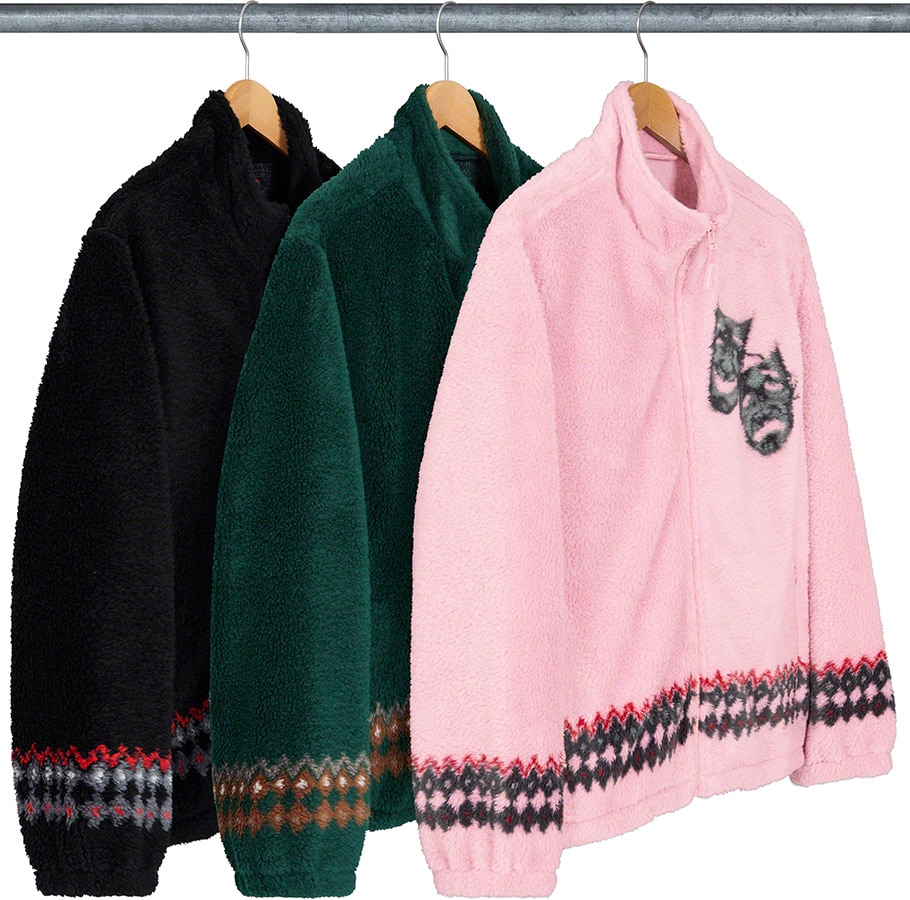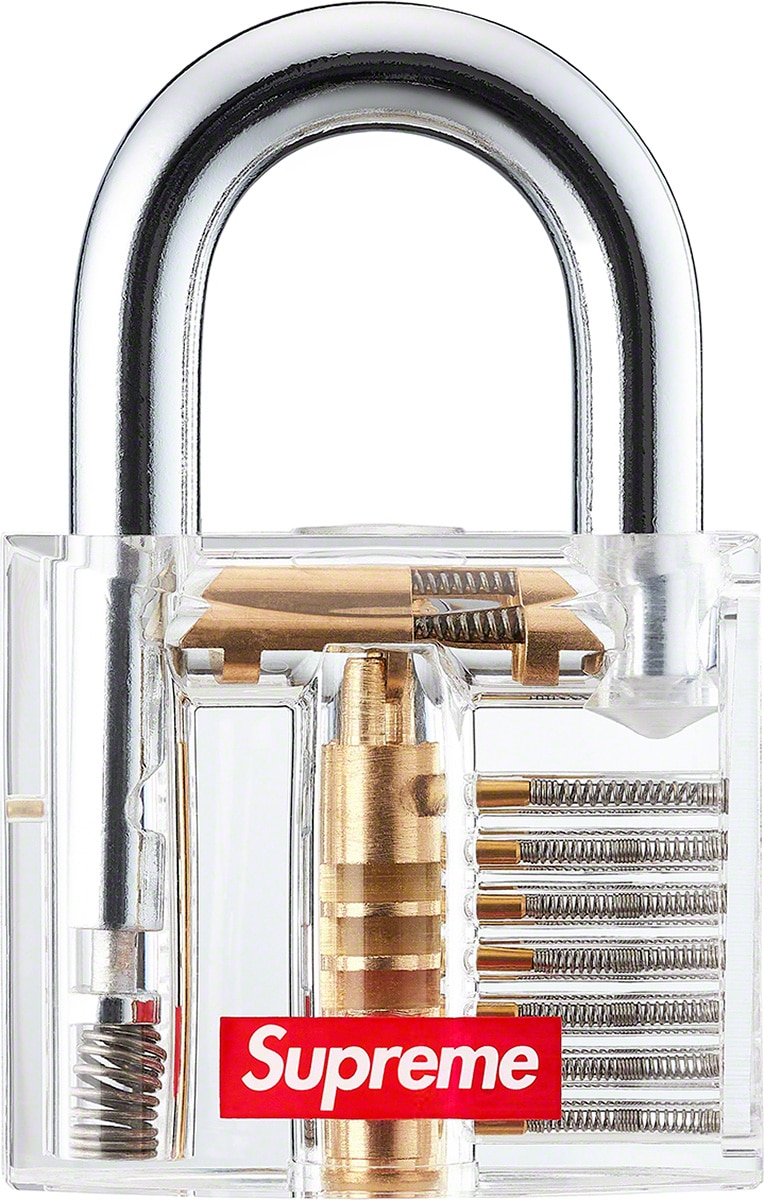 pics by Supreme
Update 26.02.2020
On February 20th, the first pieces of Supreme from the SS20 collection arrived in-stores, and tomorrow at 11:00 am, the stuff will go into the online shop. Below, you can find a list of prices from Week 1. Maybe there is something there for you.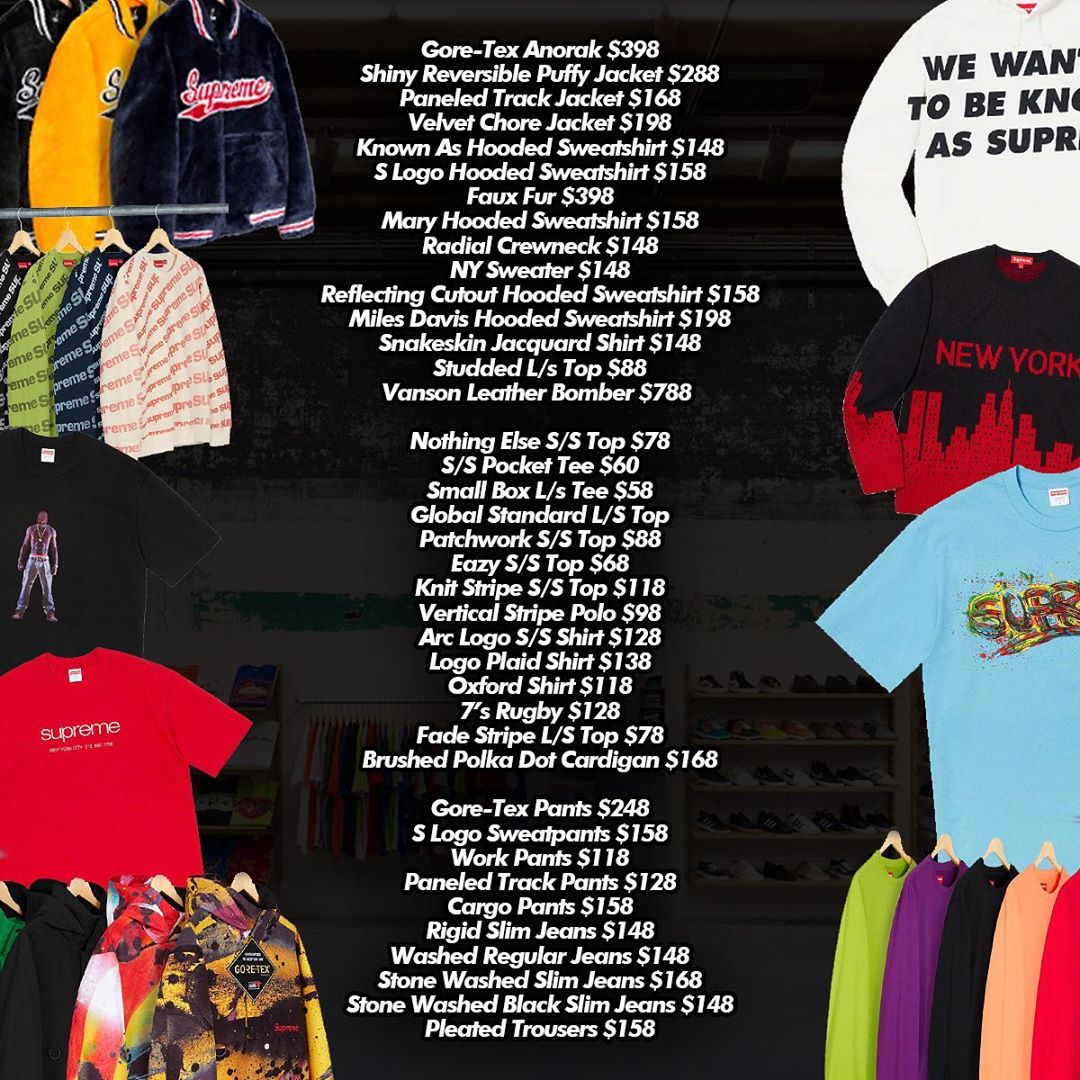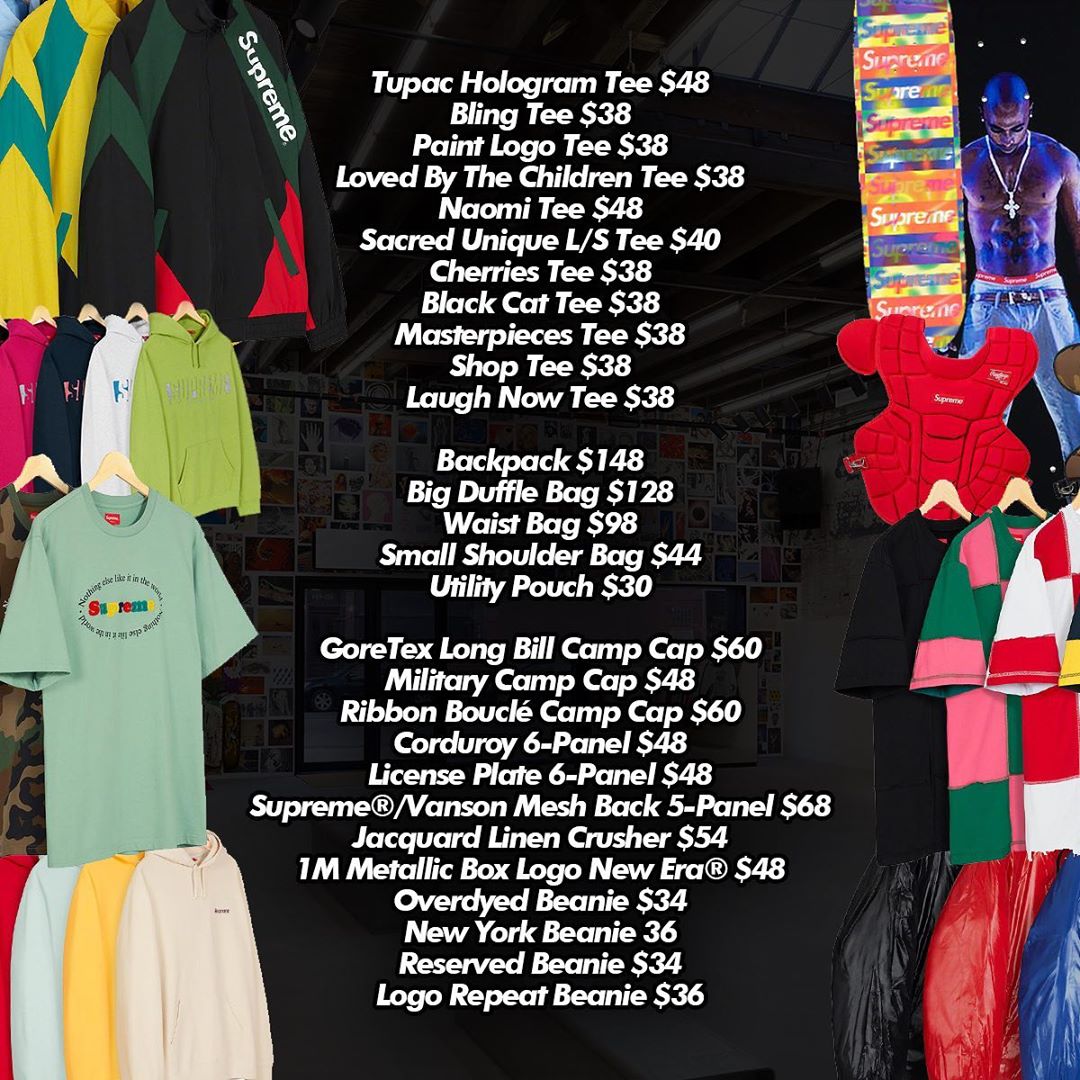 pics by @dropsbyjay
Update 19.02.2020
Welcome to the Supreme SS20 collection. Week 1 of Supreme is here and so are the first pieces from this great collection. In this collection, we have also seen some good things in the Supreme lookbook and in the preview. Insiders once again tell us this time what's in store for the coming weeks.
Supreme has noticed that the cold days are slowly coming to an end. That is why the first summer jackets are coming into the stores. The colours and the style are very striking. Whoever wants to go back to a rather inconspicuous design should definitely take a look at the hoodies. Most of them are done in monochromatic style and do not stand out as much. We also find other hoodies with the words, "We wanted to be known as Supreme" a total standout.
With the pants and tees, it might even be a little wilder. The patterns and prints are very striking. If you want to make your style complete, you should go for the high-contrast caps and bags. But, most people have probably fallen for the accessories as well. In the Supreme SS20 Collection Week 1, there are already some very good pieces. The record player with a Supreme design as well as the Supreme Zippo lighter are just brilliant. Furthermore, the skate deck with the 2Pac hologram will also probably drop very soon.
The first items will be released in-store on February 20th. The online release will follow on February 27th.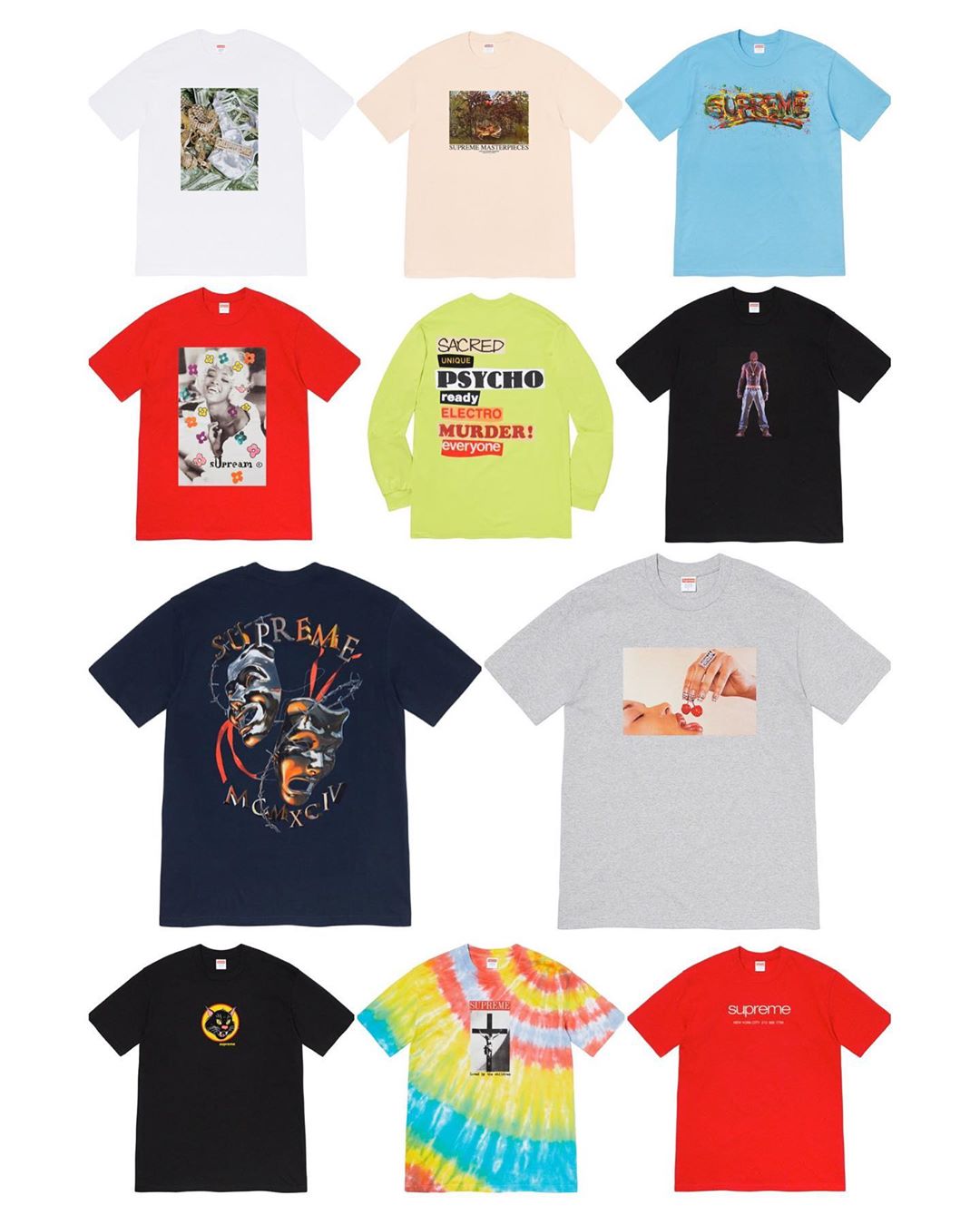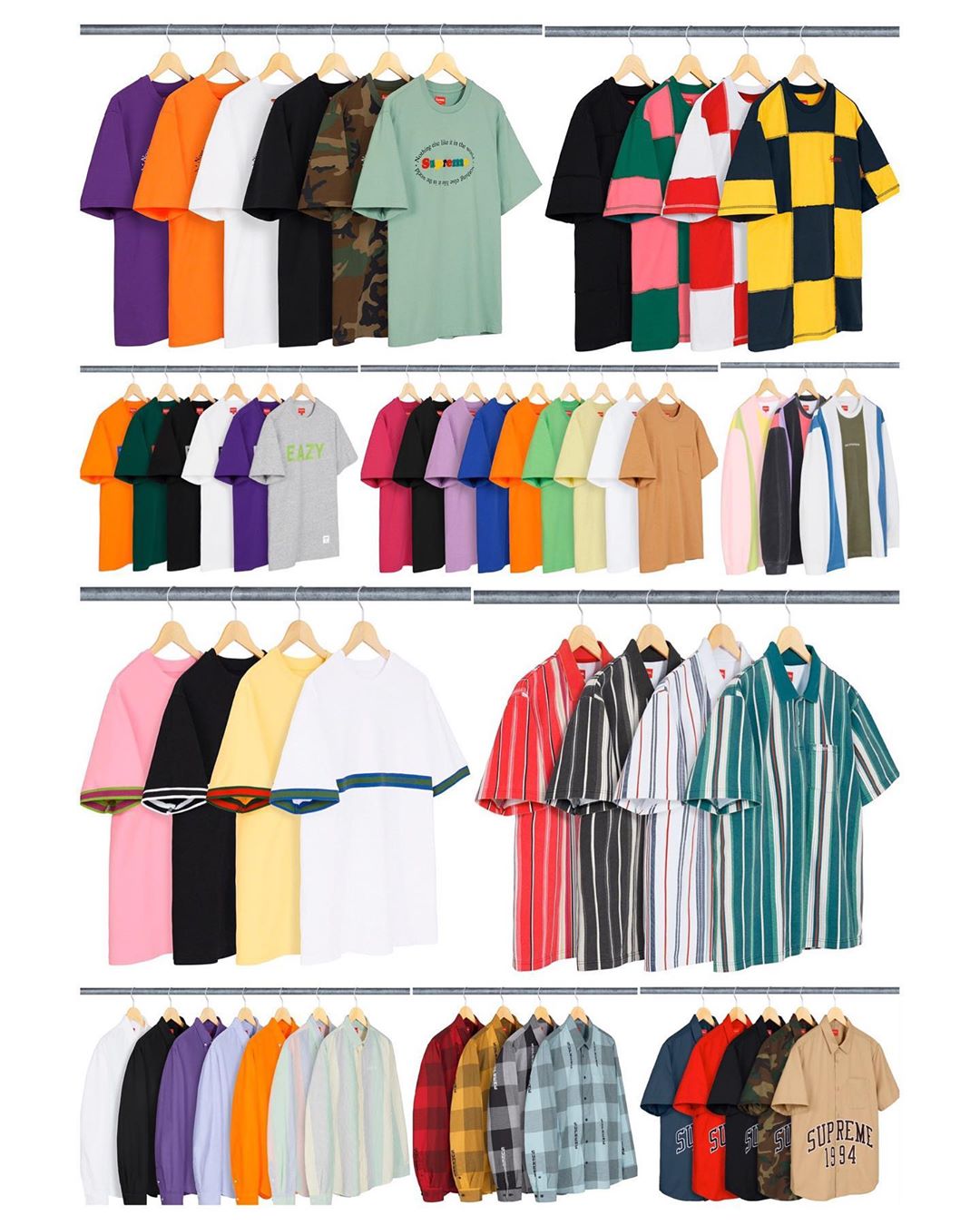 Update 18.02.2020
In addition to the official lookbook, Supreme has also unveiled some garments from this year's SS20 collection. The jackets are of course, once again very eye-catching this year. Simply every jacket looks completely crazy and shows different patterns.
The orange New Era x Supreme varsity jacket stands out the most. On the right side of the chest, Supreme immortalizes itself with its lettering, while the left side features emblems of all MLB teams.
Absolutely every hypebeast should be able to find his dream jacket in this collection. But, we already have our eyes set on two other jackets. For us, the Supreme Waves Work Jackets in white/blue/red/green and the Wide Wale Corduroy Harrington Jackets are the best pieces. The first jacket is a must-have for the coming spring. The vivid colours and the Koi print look simply brilliant. In addition, corduroy seems to be the material on trend for 2020. Designers seem to be using the ribbed soft fabric more and more in their creations. The retro look certainly appears distinctively offbeat.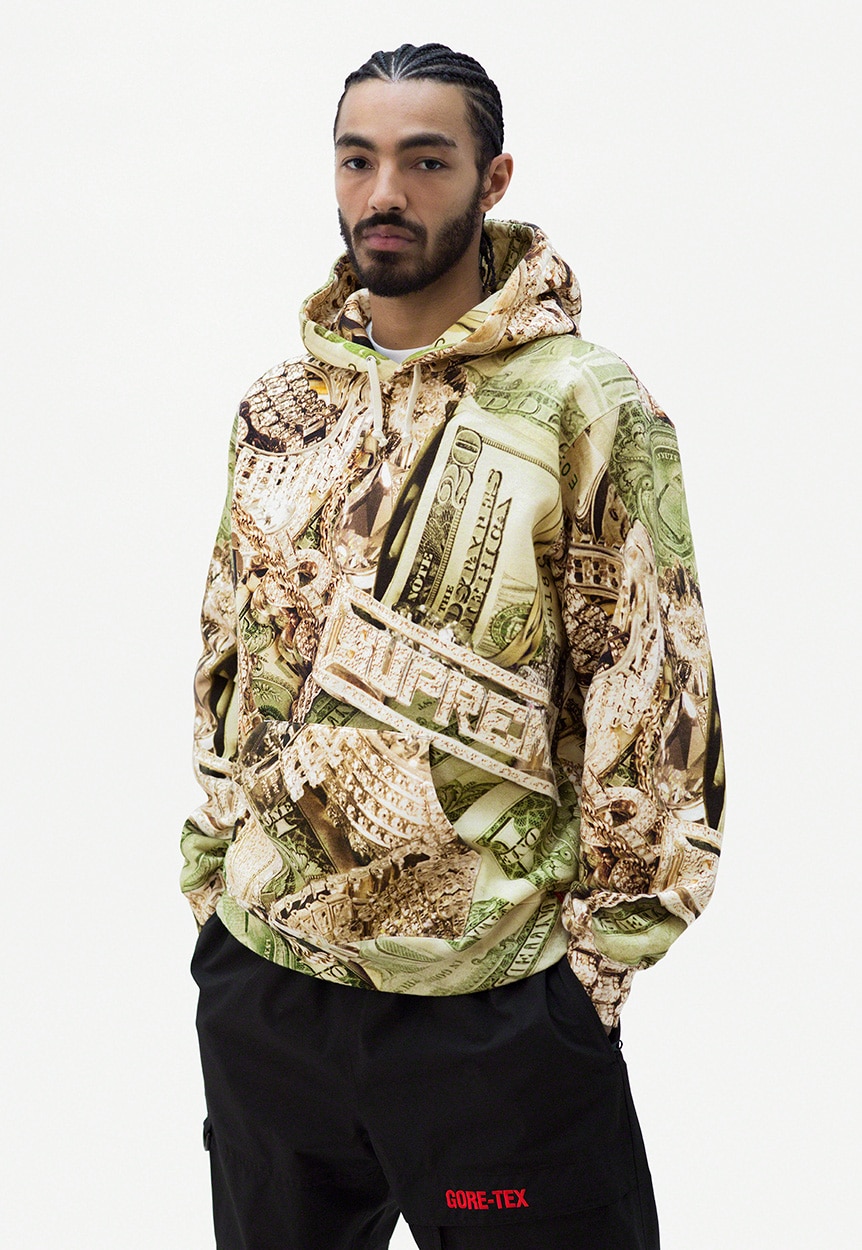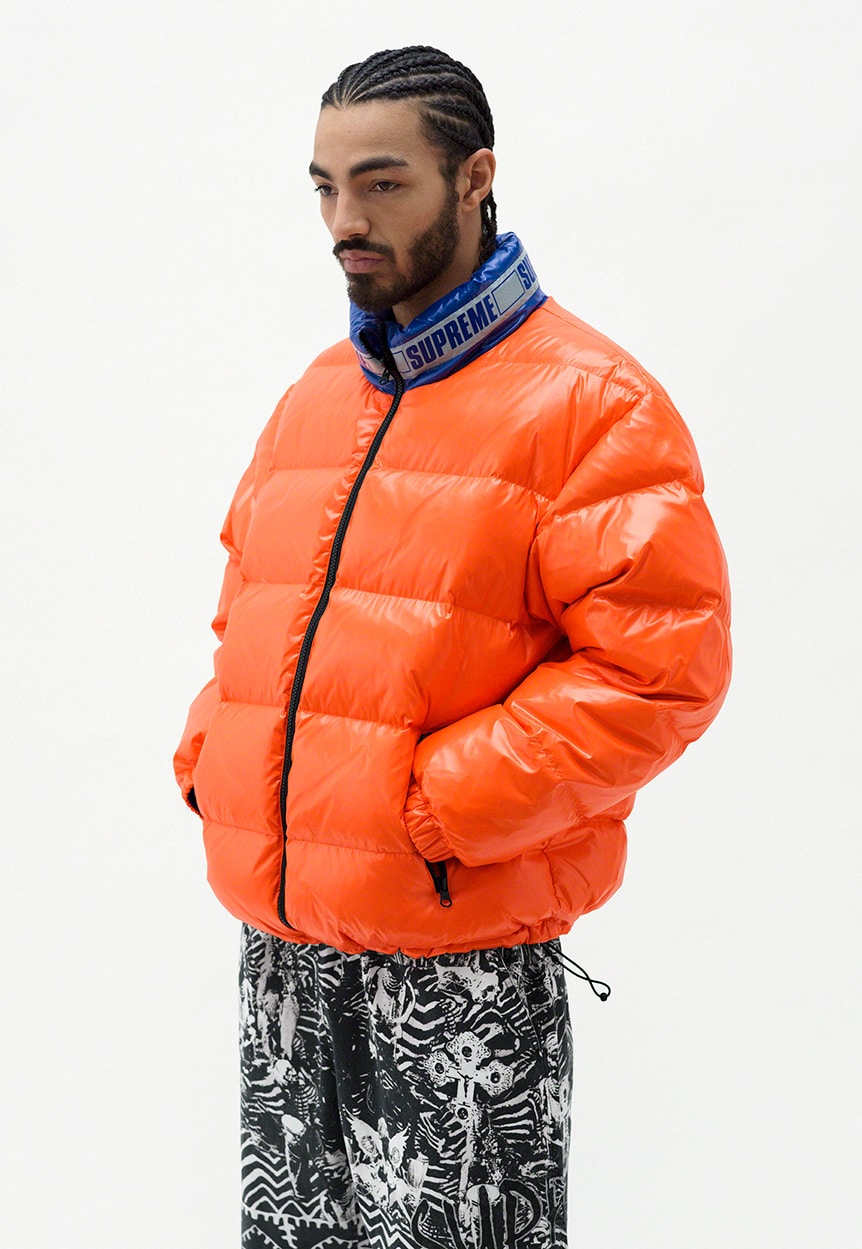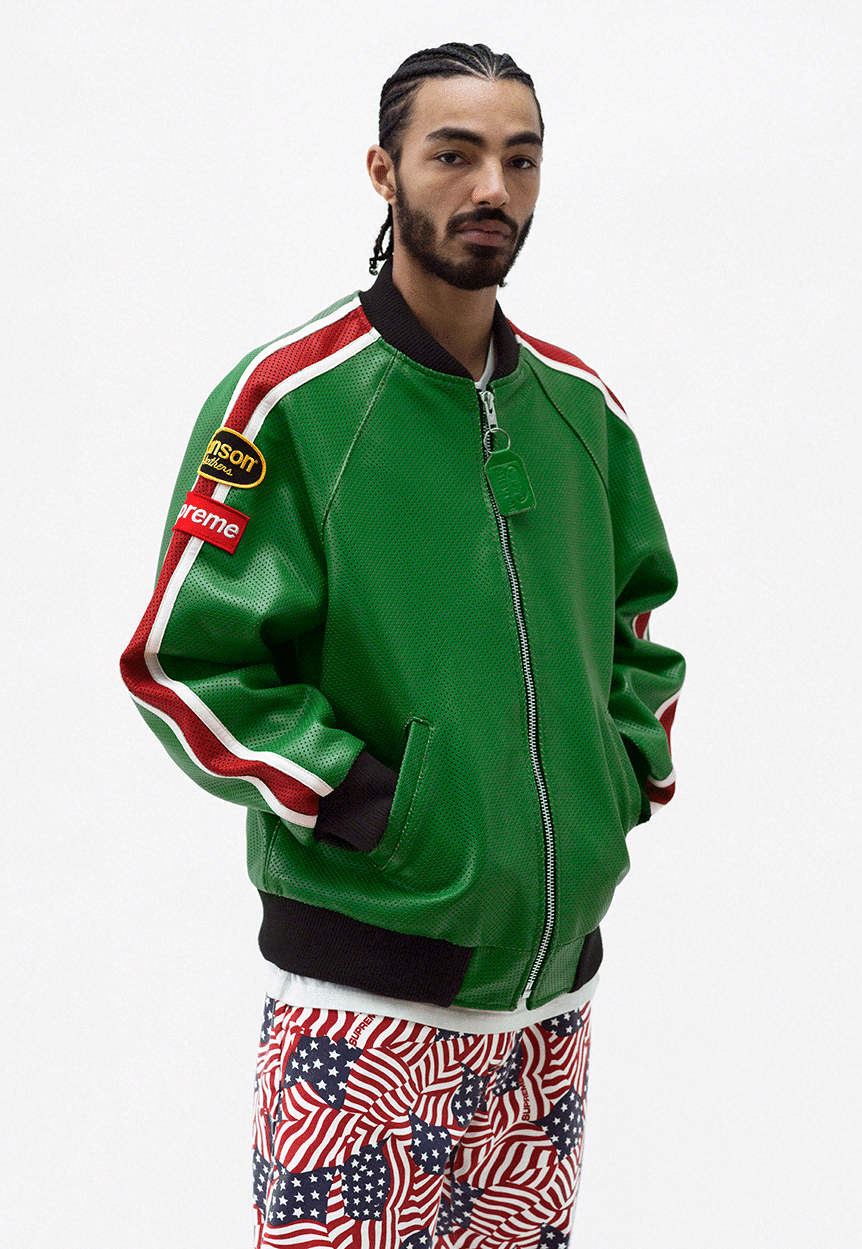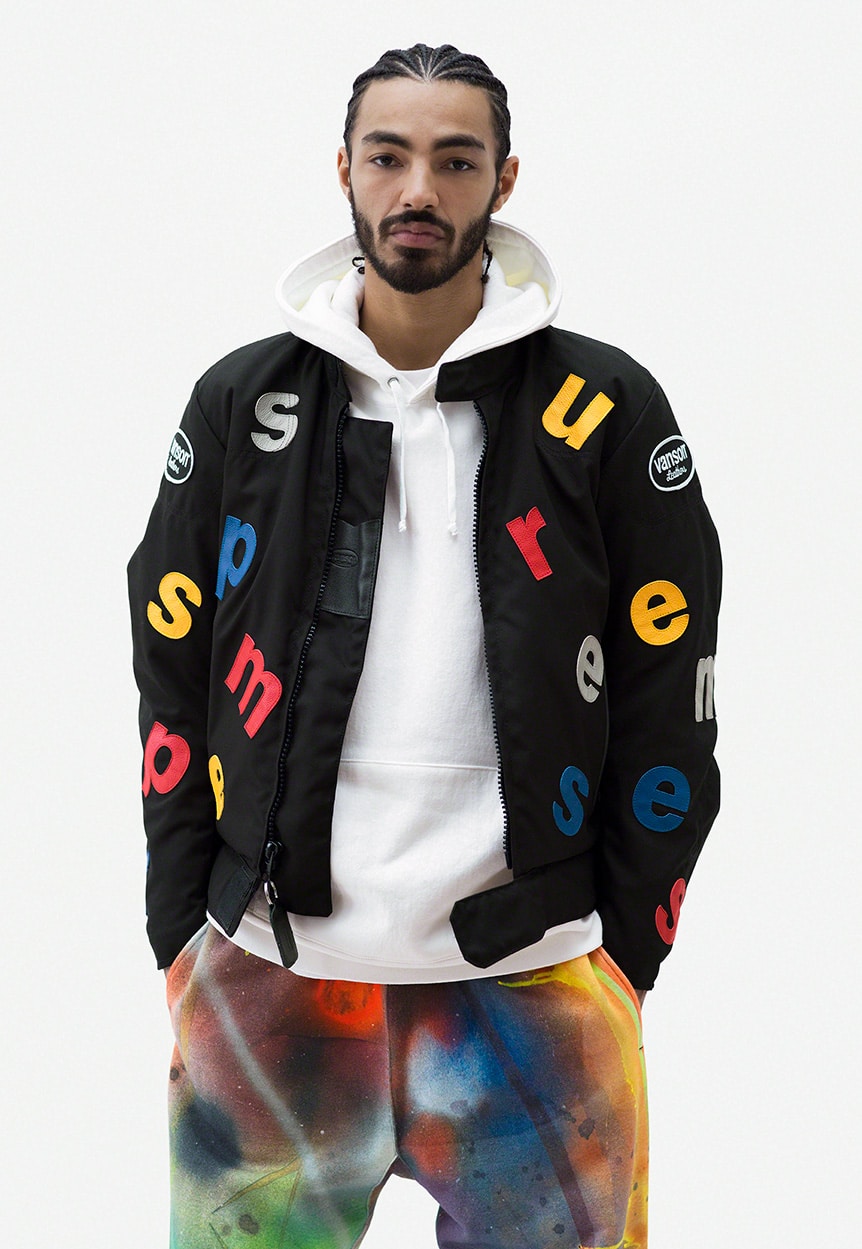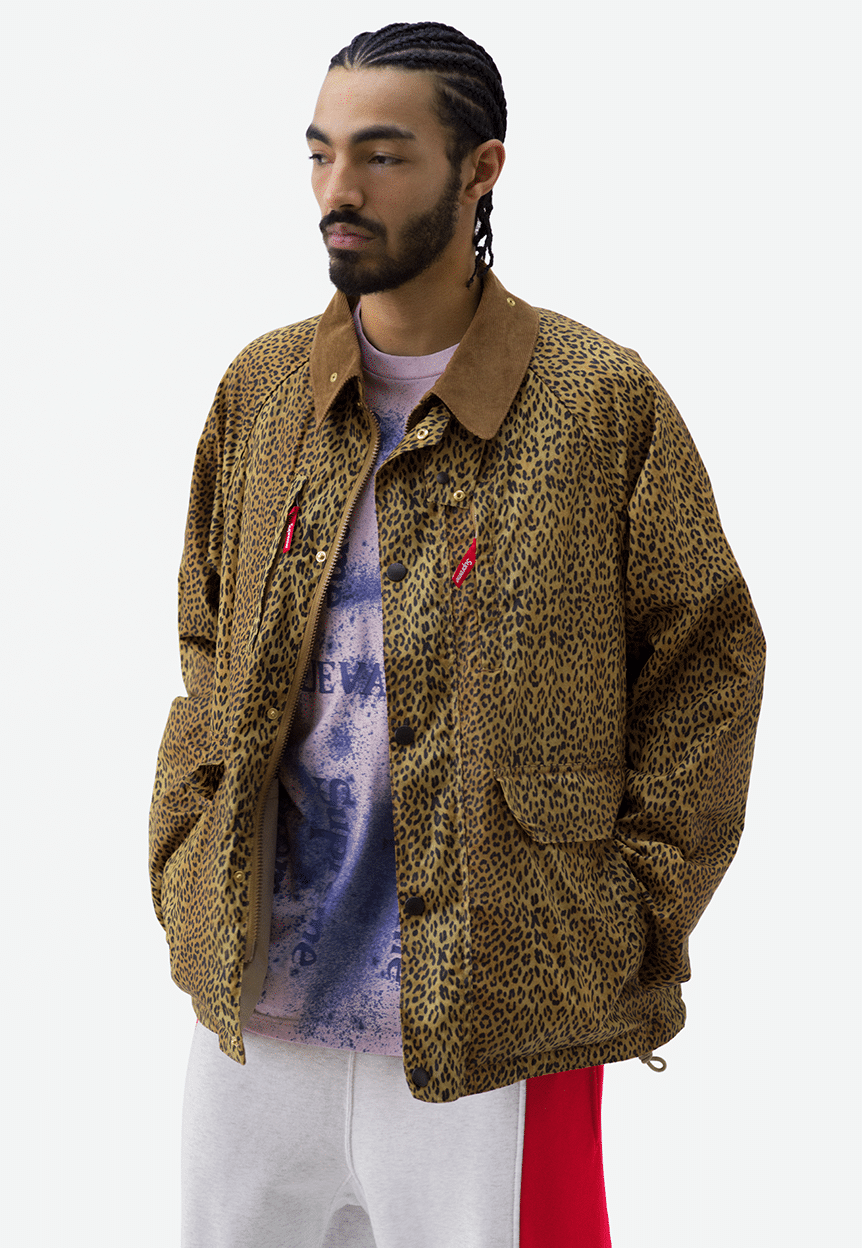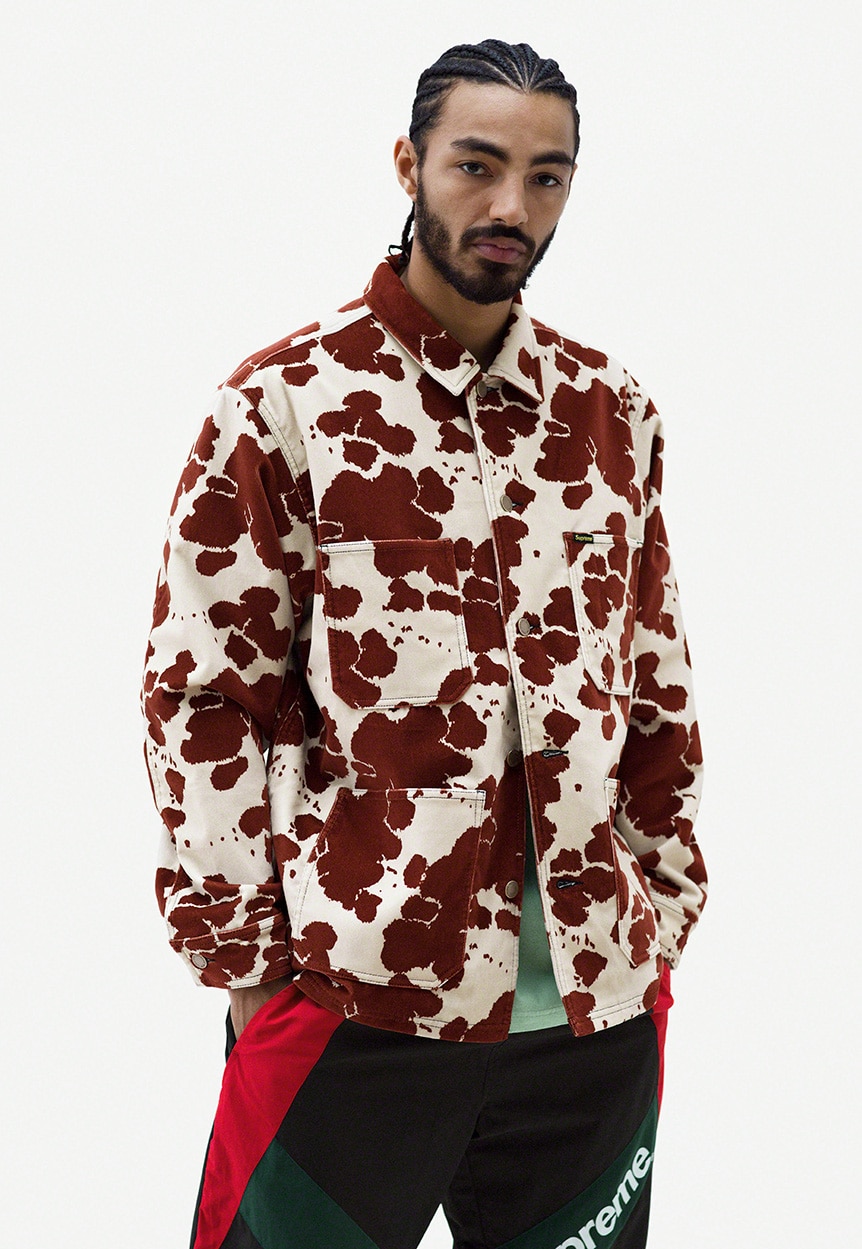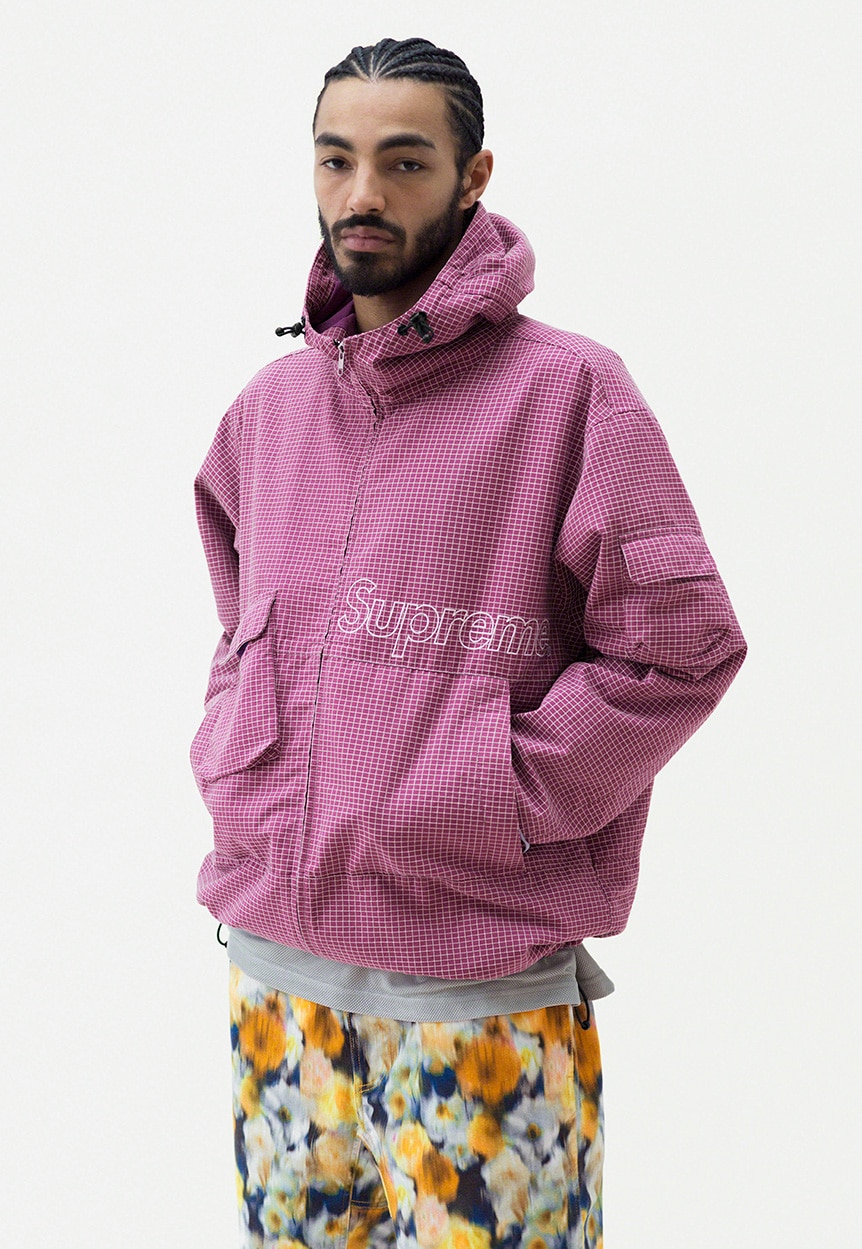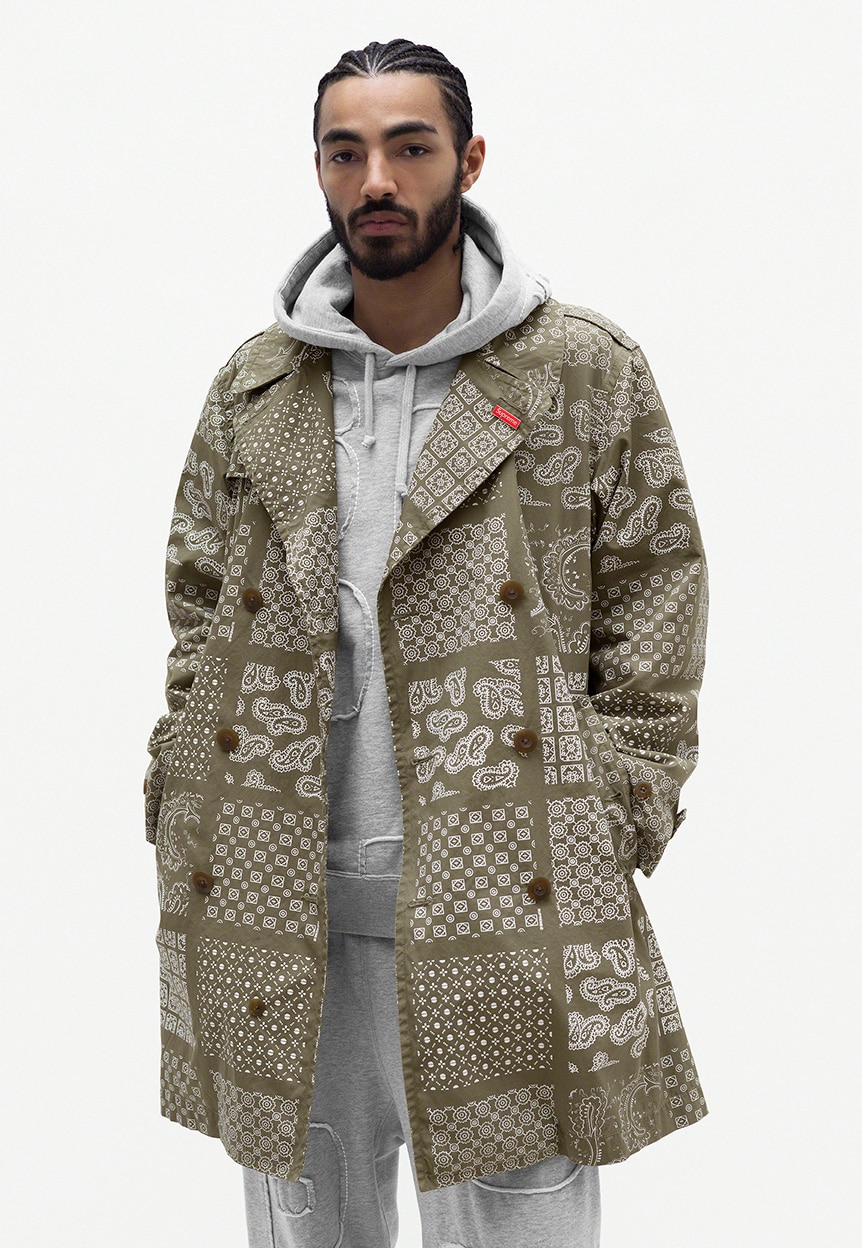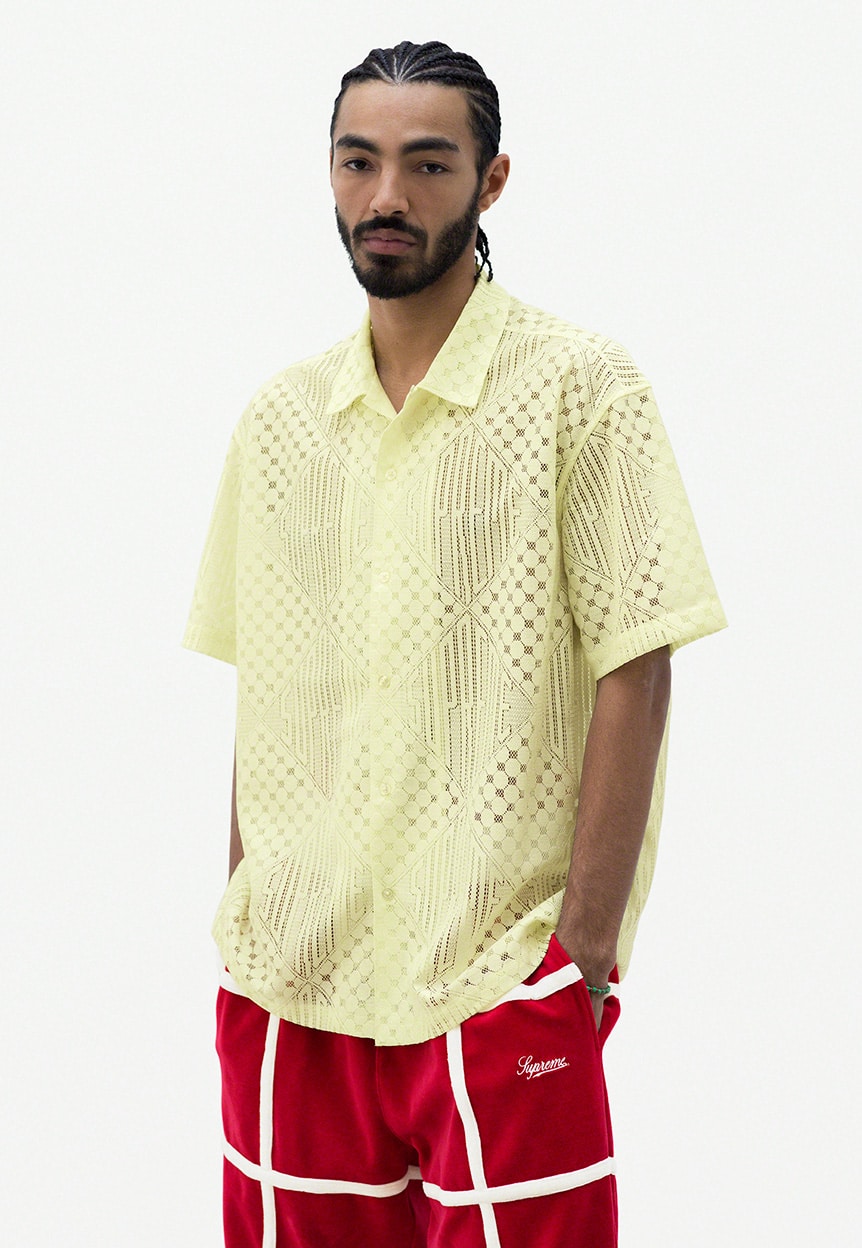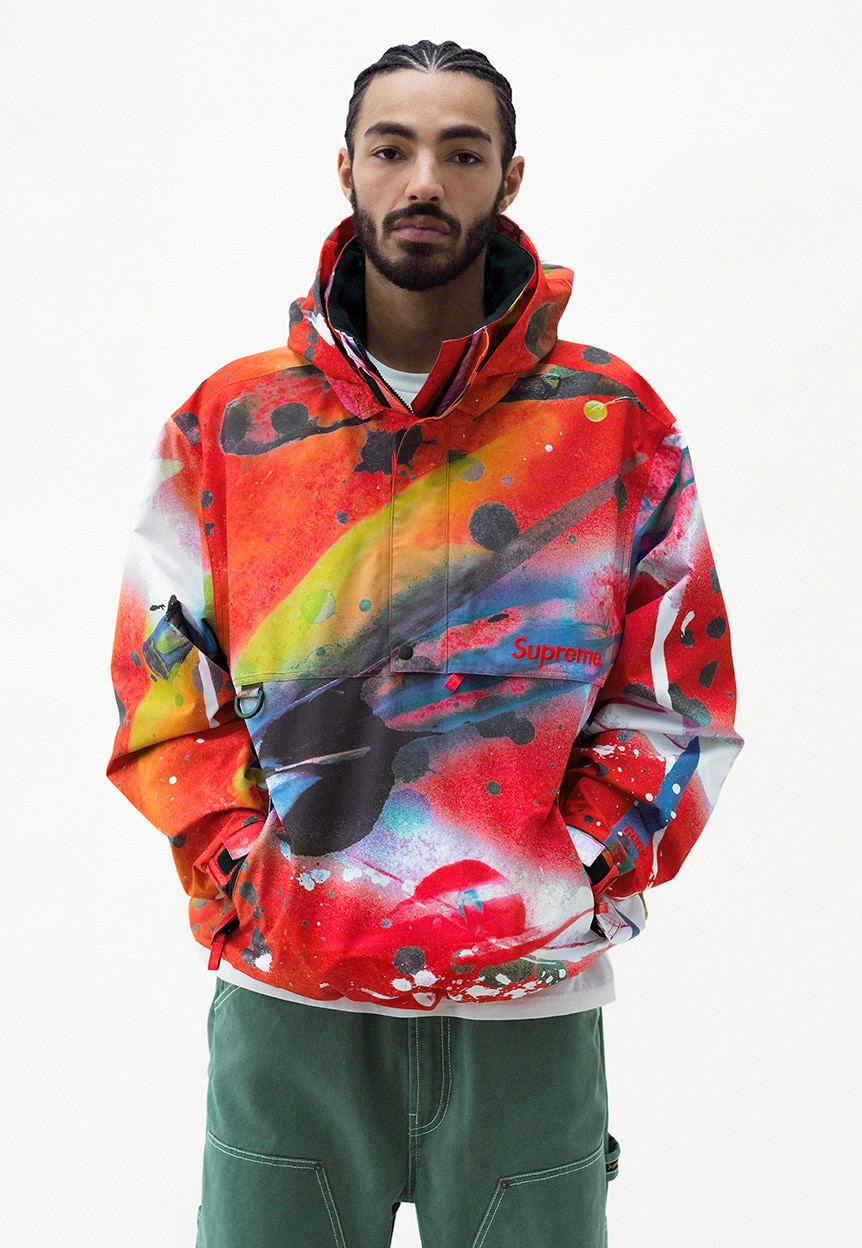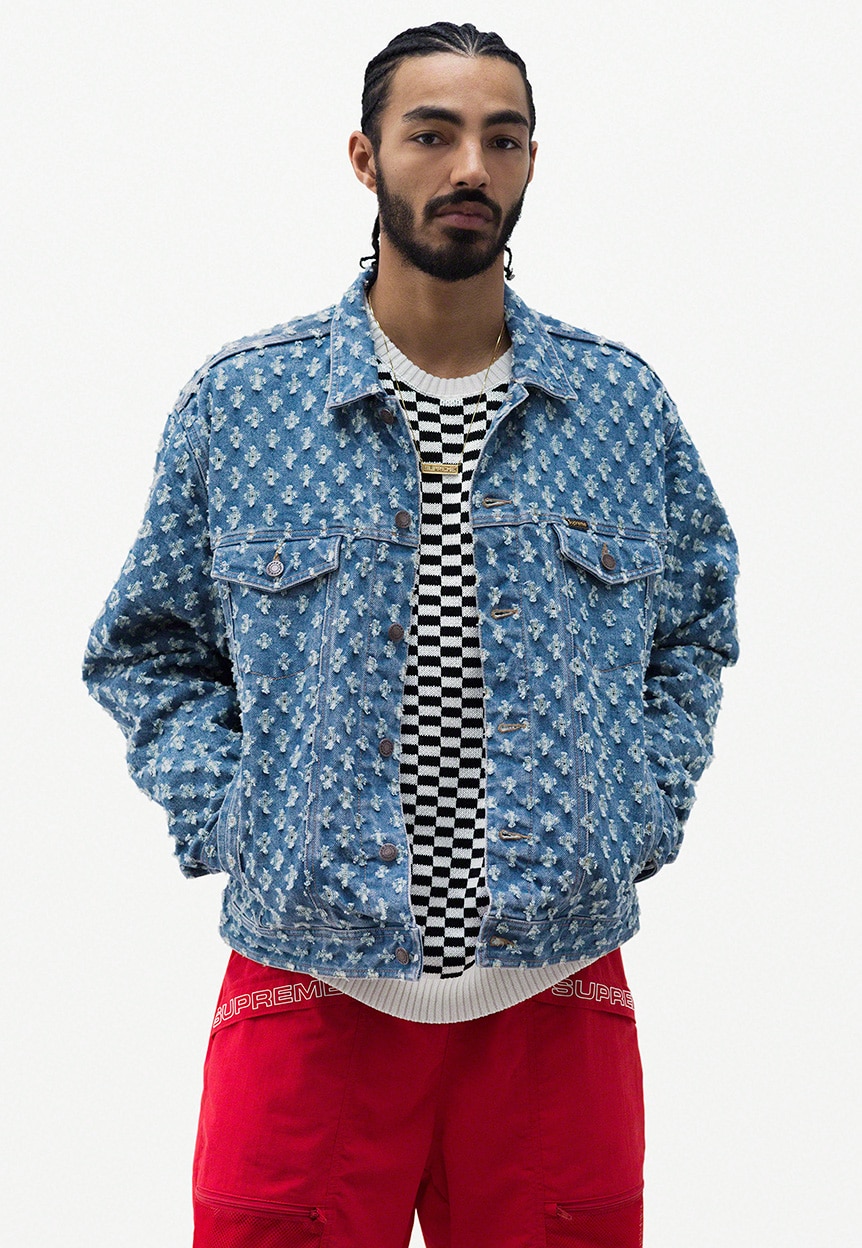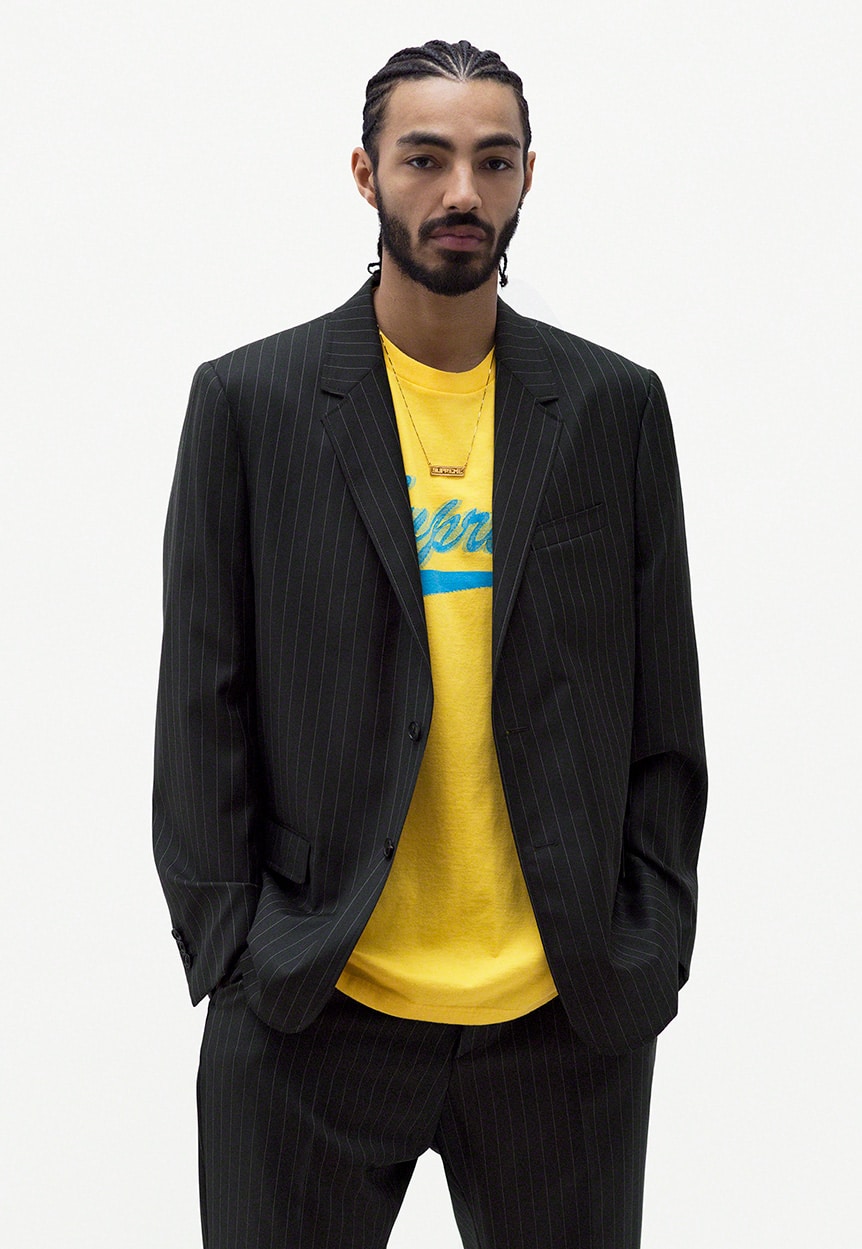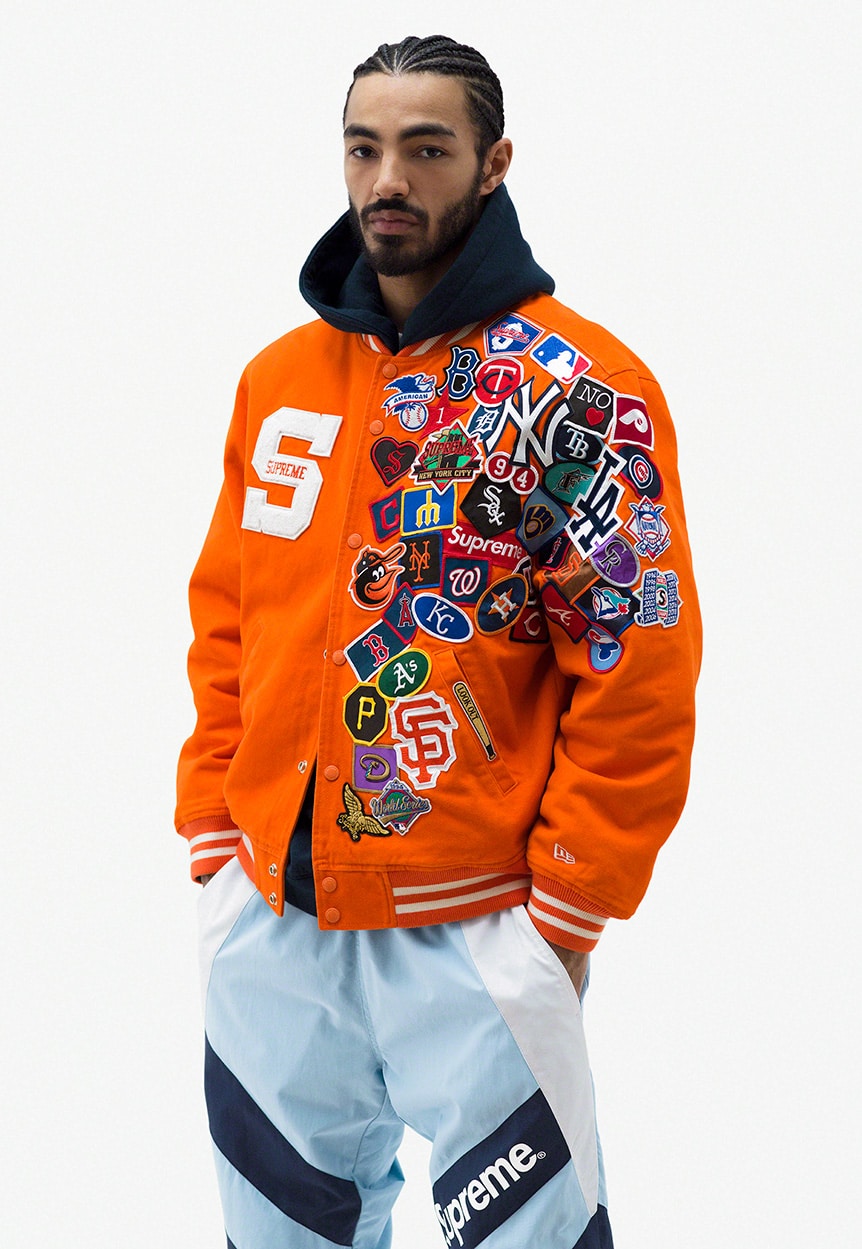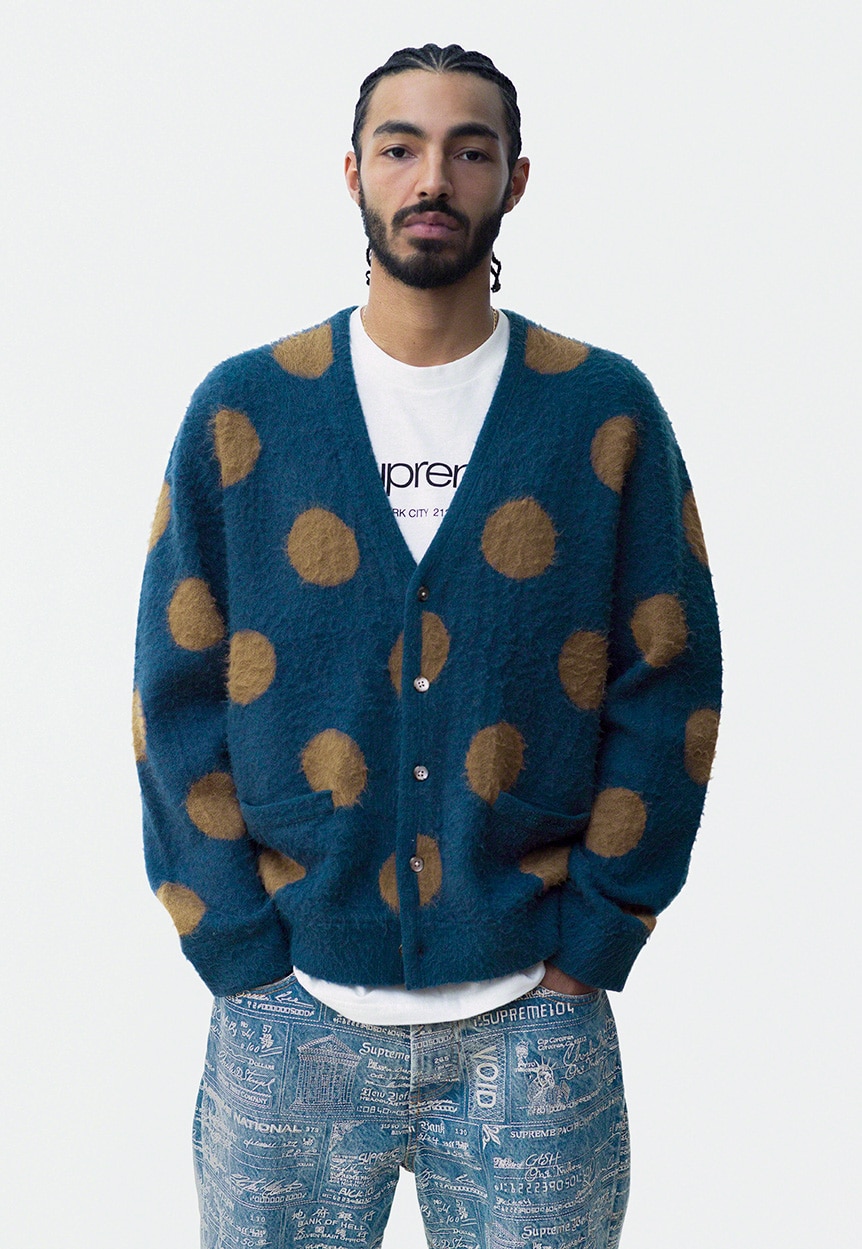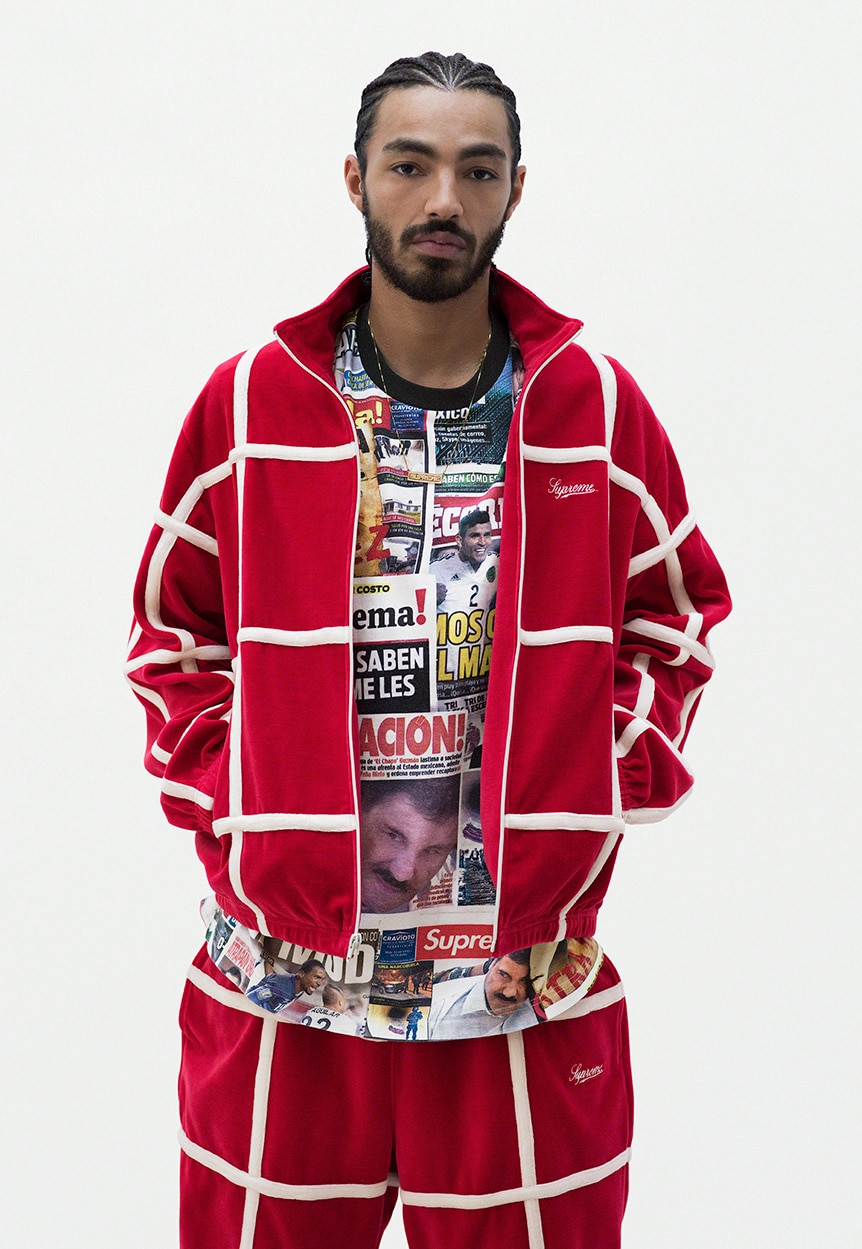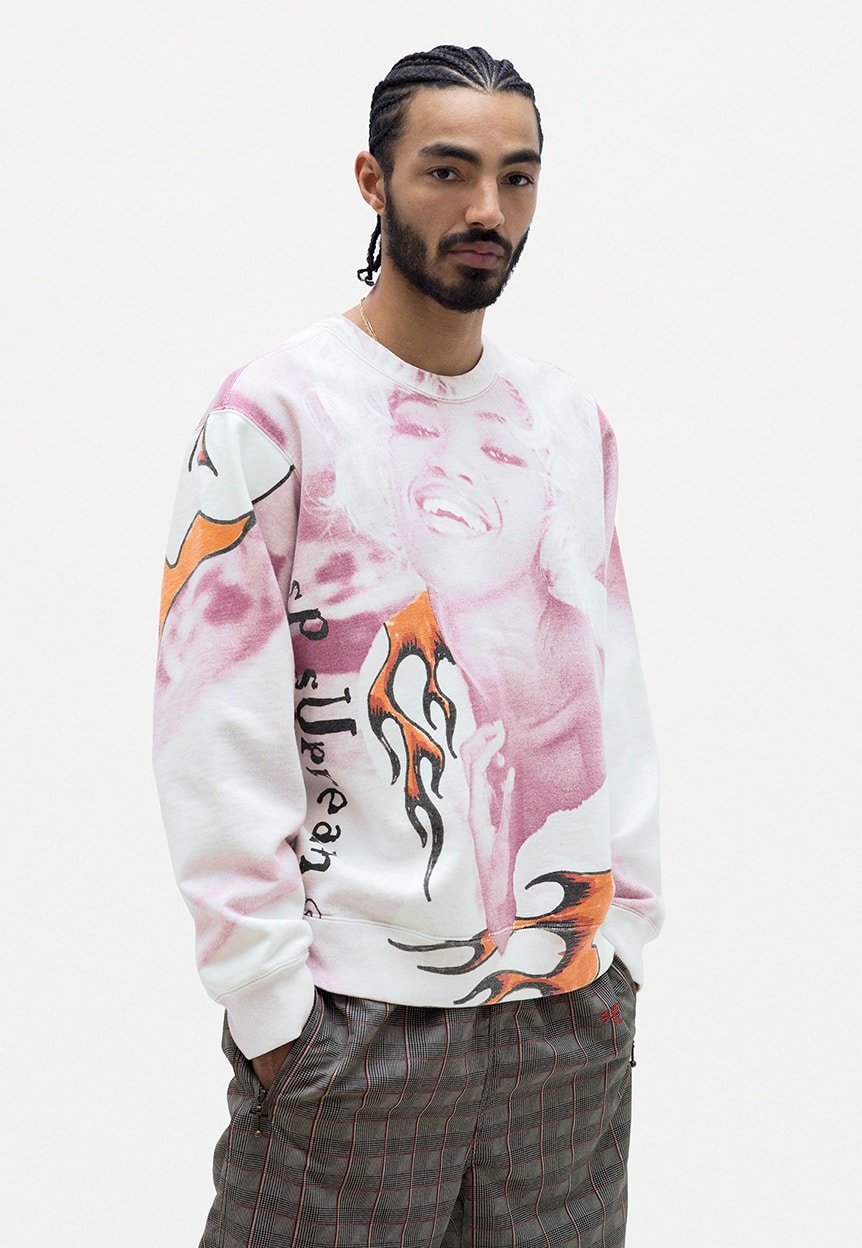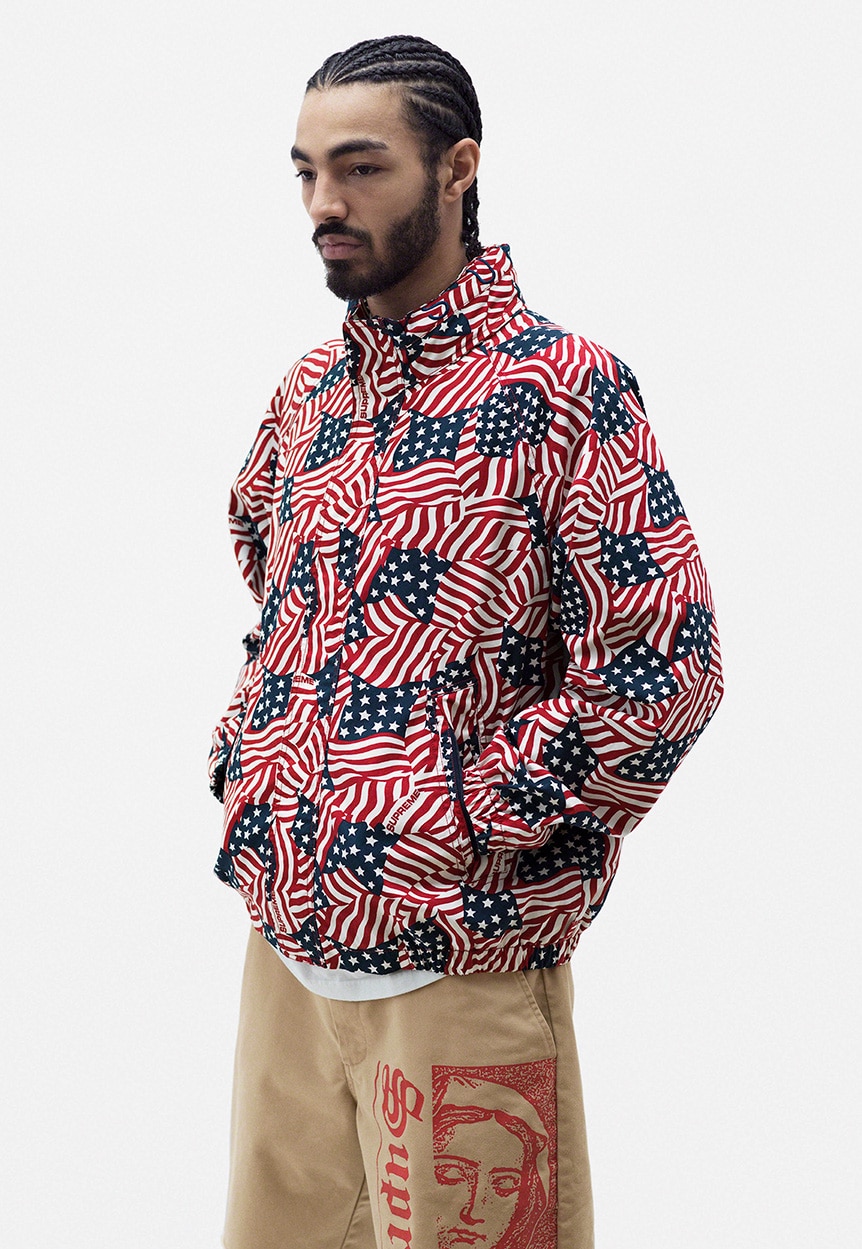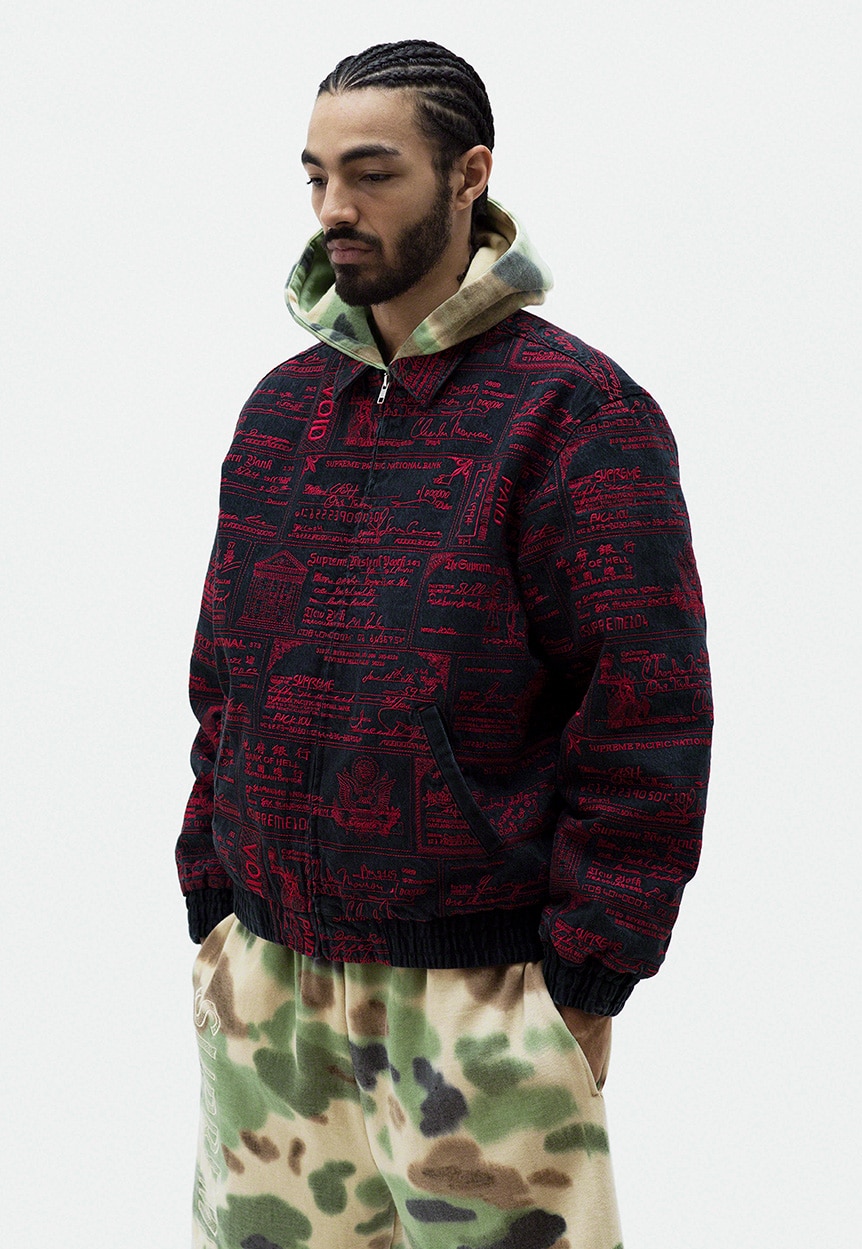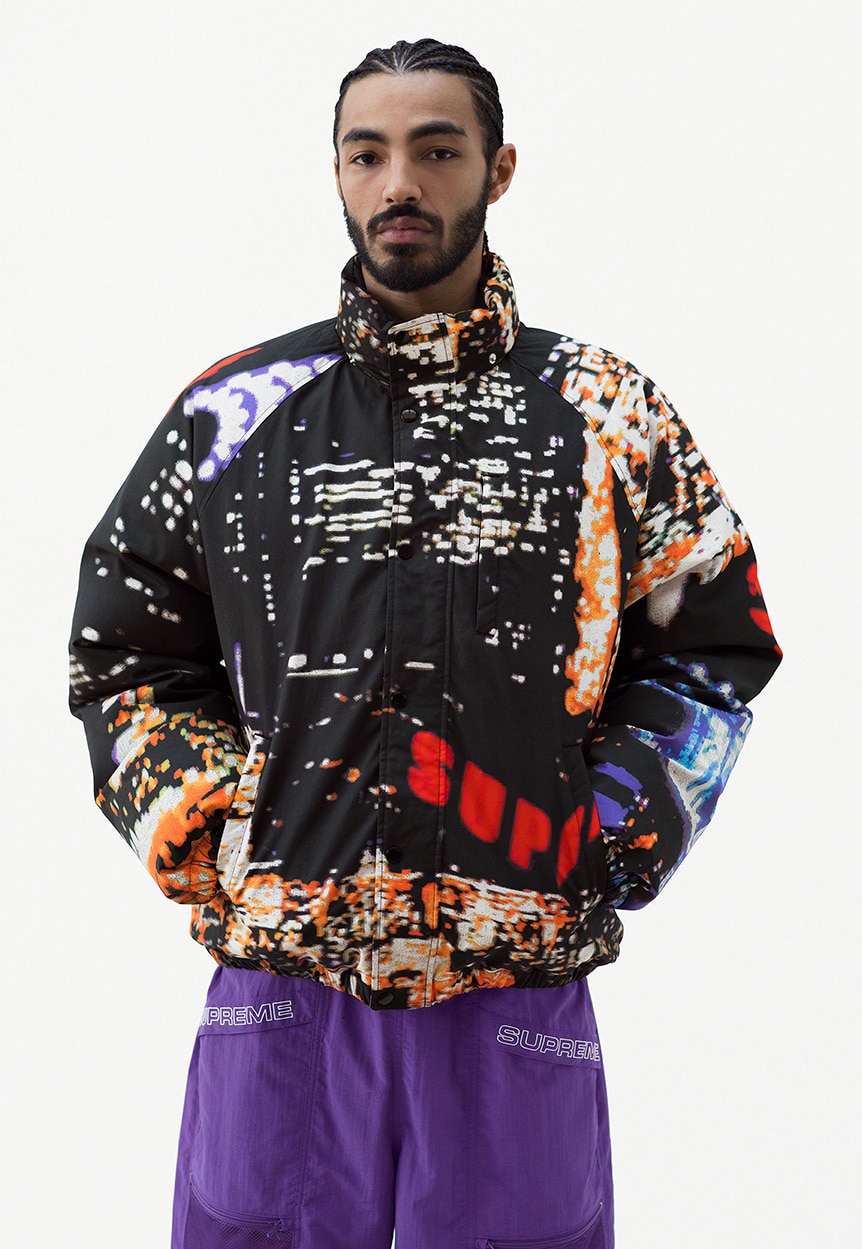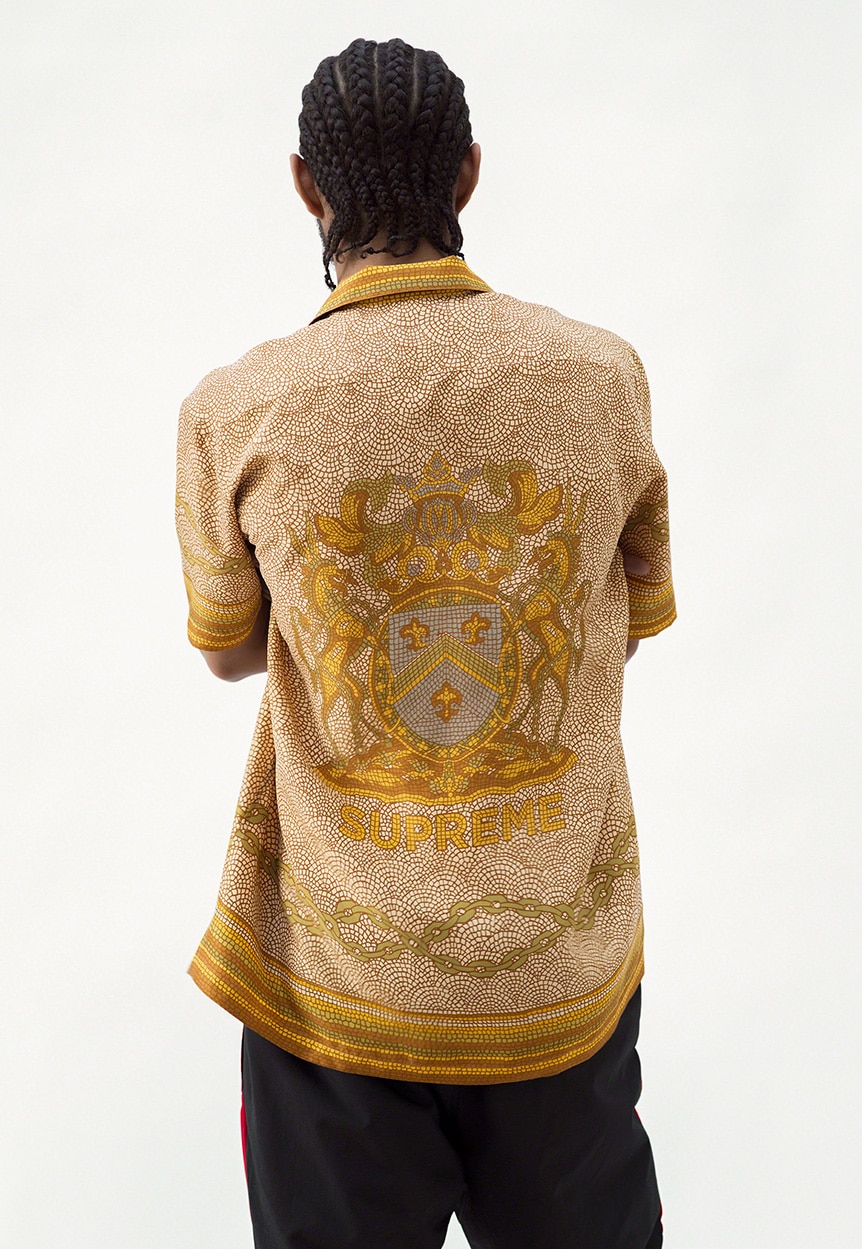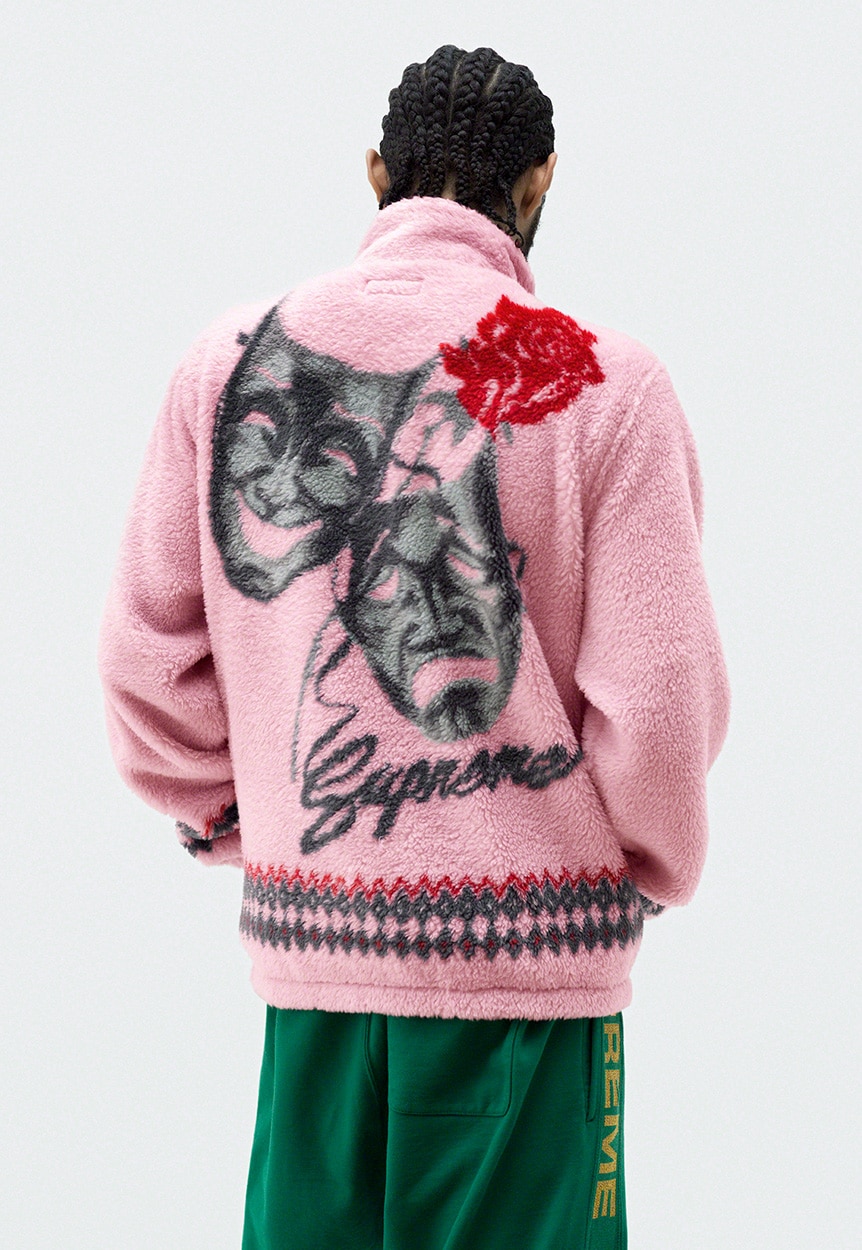 Update 17.02.2020
Finally, it's almost time. Supreme will soon be releasing the first pieces from the SS20 collection. The first pieces are scheduled for release this Thursday. Besides the heavy jackets, tees, hoodies, and pants, there will also be a lot of accessories once again. We took a peek into the lookbook of Supreme and picked out some photos just for you.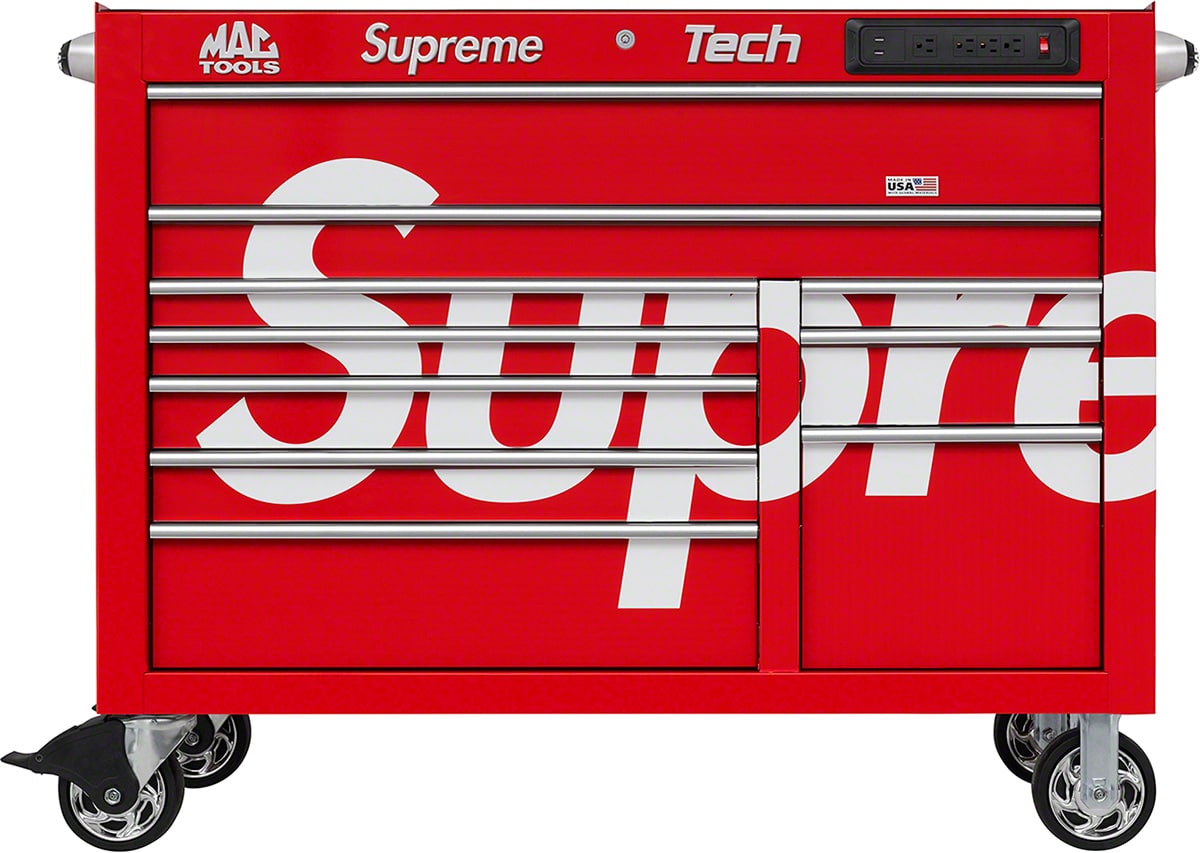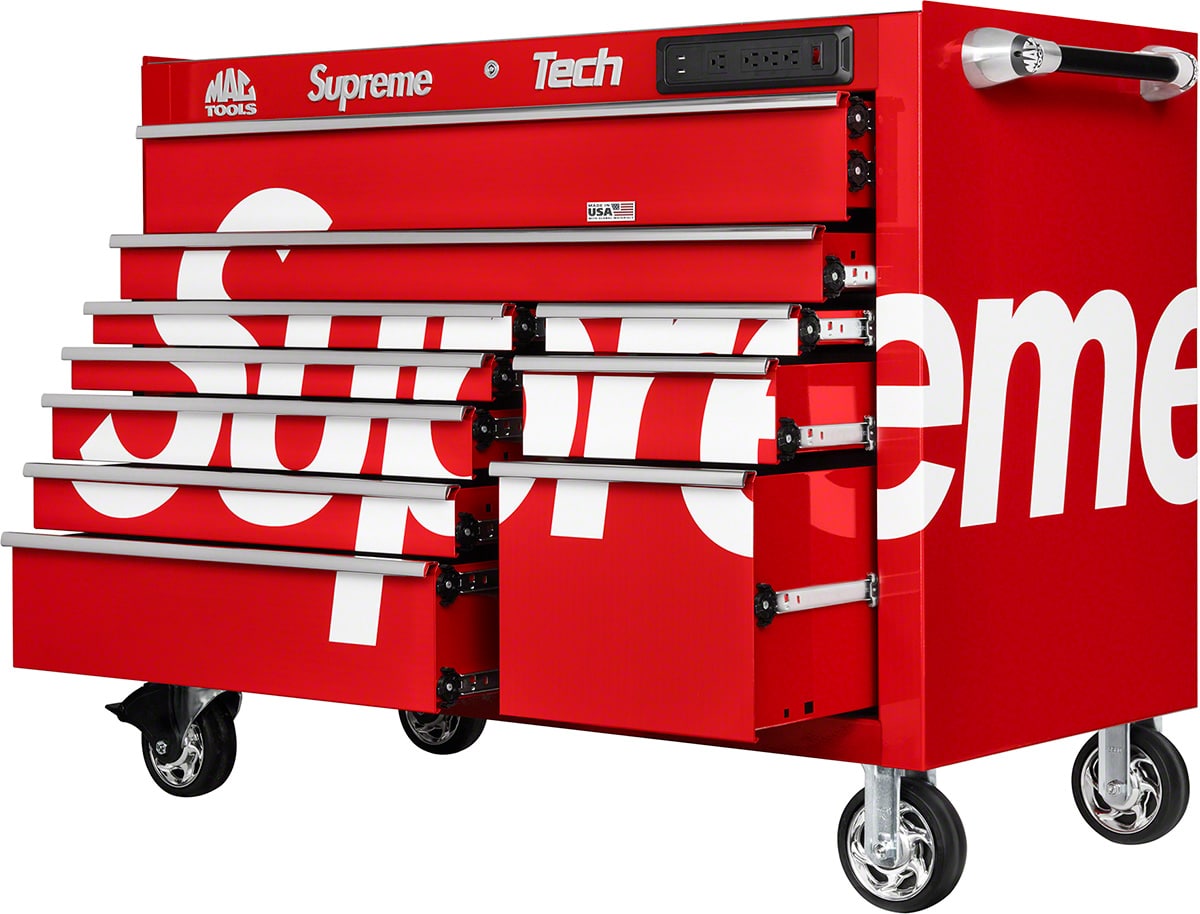 In the Supreme FW19 collection, Honda's bike was the most coveted item. In the SS20 collection, it's probably the Mac Tools tool cabinet that will attract the most attention. The Mac Tools workstation is made in the USA and is a well-known brand. The numerous compartments and the Supreme branding as well as the plug-in strip on the top will surely turn every craftsman into a hypebeast.
In addition, we can expect Supreme to be a means of transportation this season as well. But, this time it is a BMX dirt bike from S&M. A red frame with a Supreme logo and a pin-up girl make the bike a very cool collector's item. Other fun stuff includes Oreo cookies from Supreme, a Supreme x Numark turntable, a Supreme garden chair, and again, a Zippo lighter with a glow-in-the-dark effect.
Be sure to check out the rest of the accessories from the Supreme SS20 collection. We add to this article weekly to ensure you are always up to date.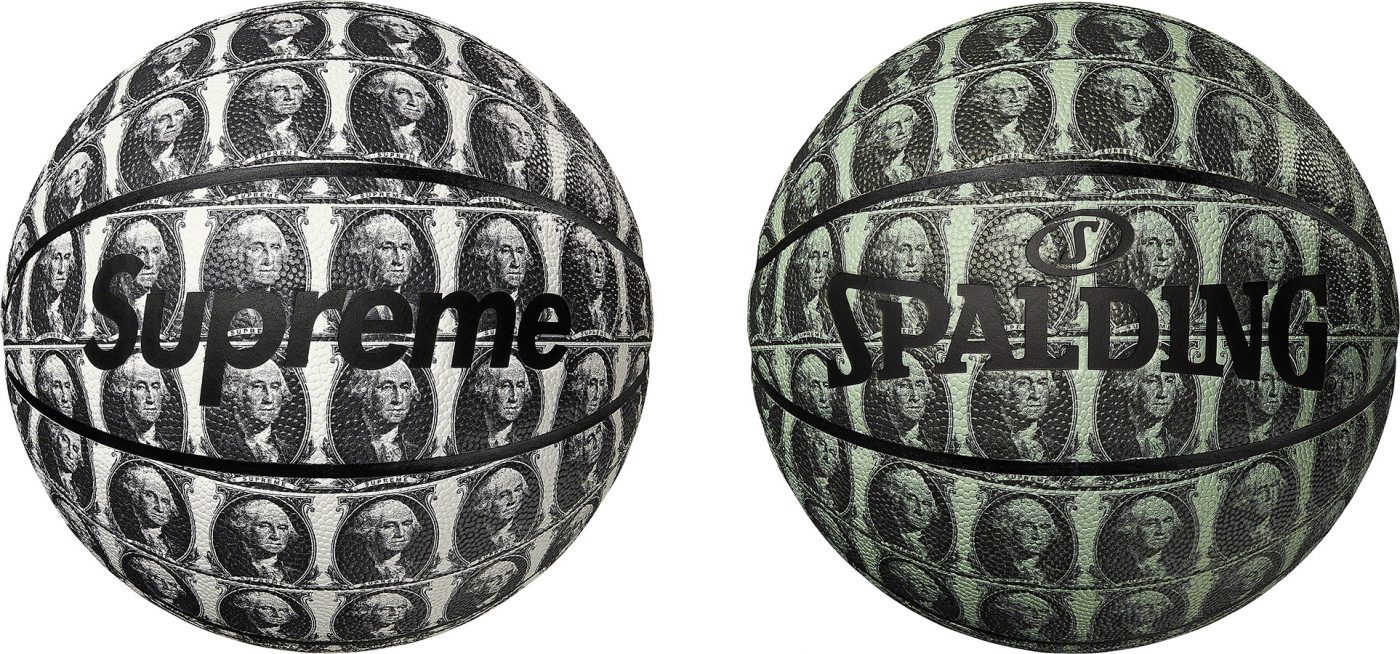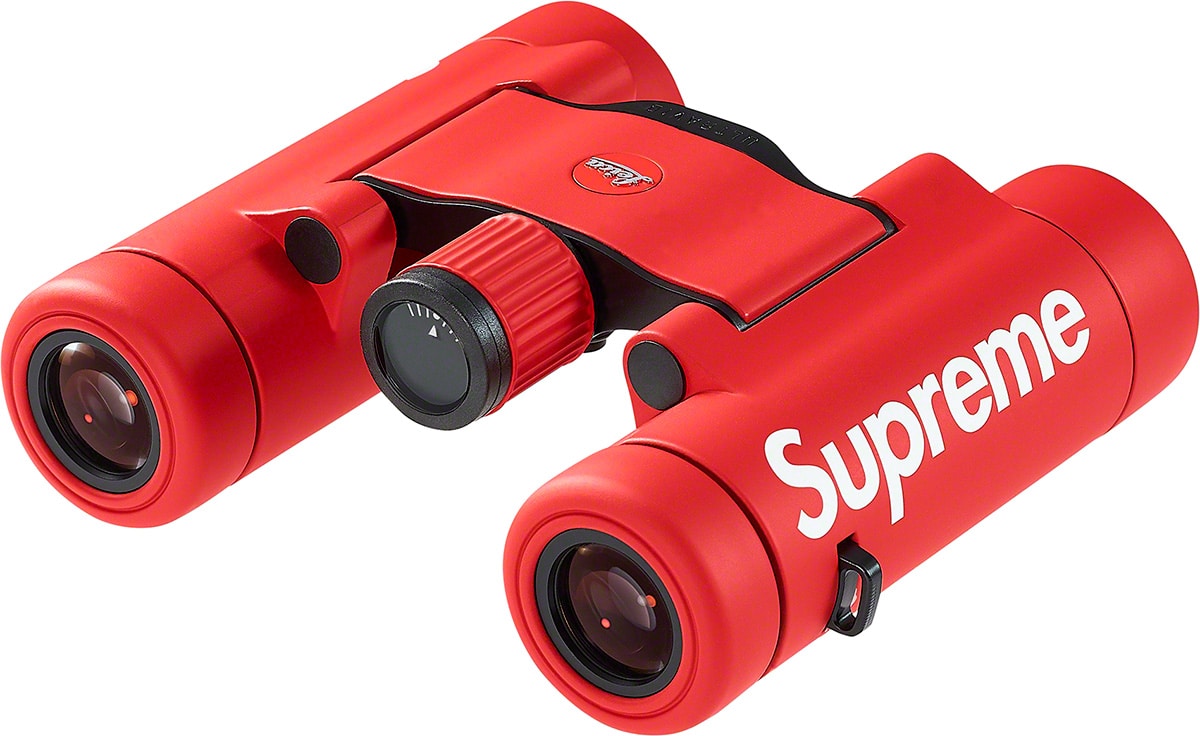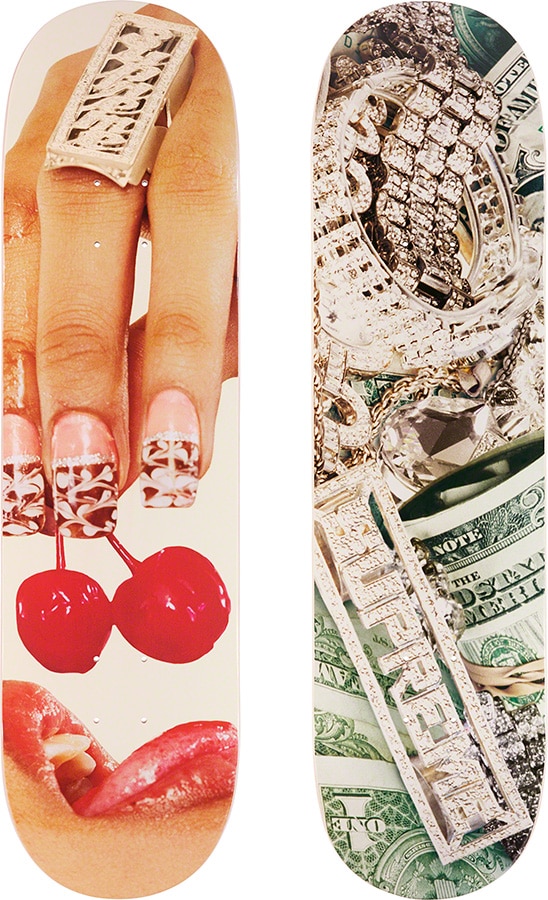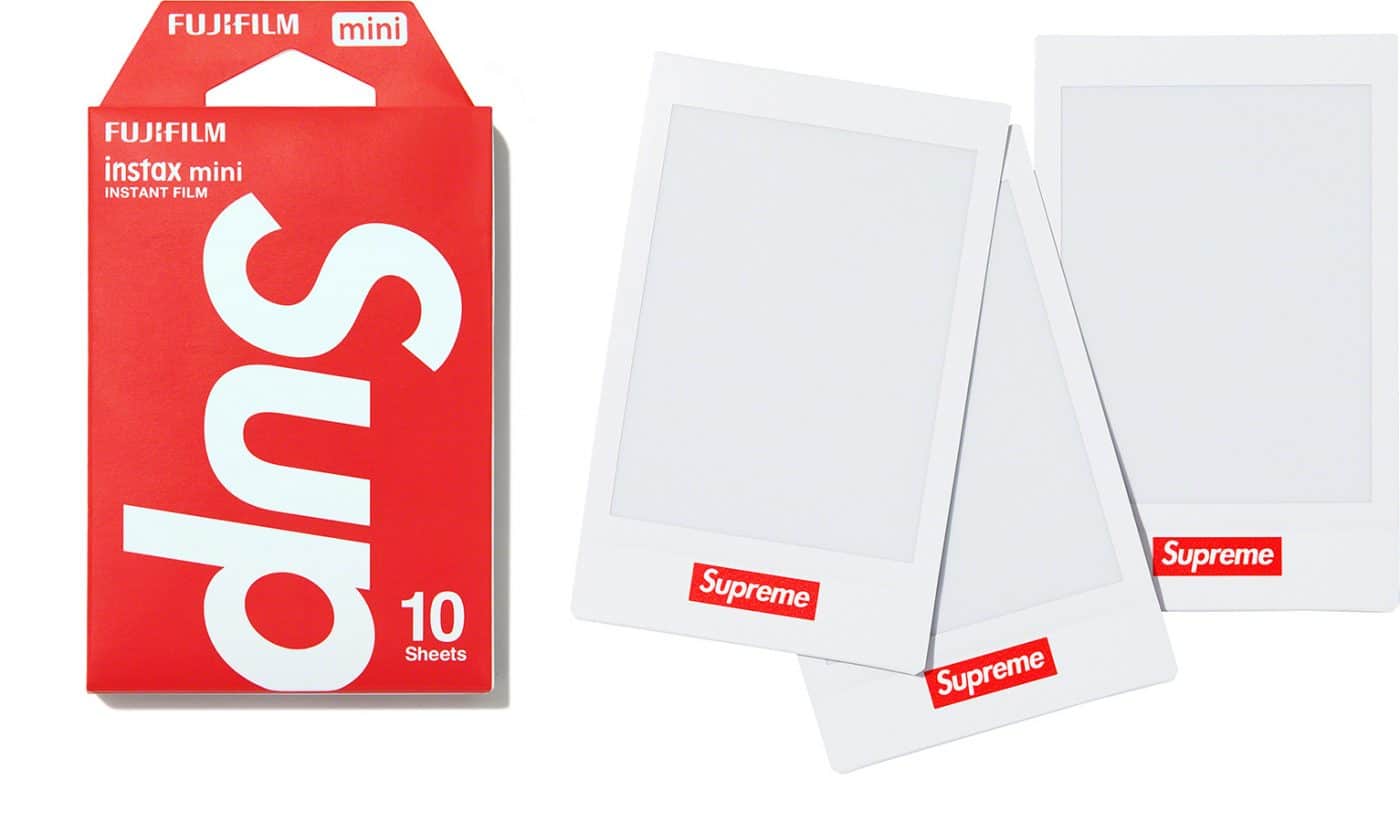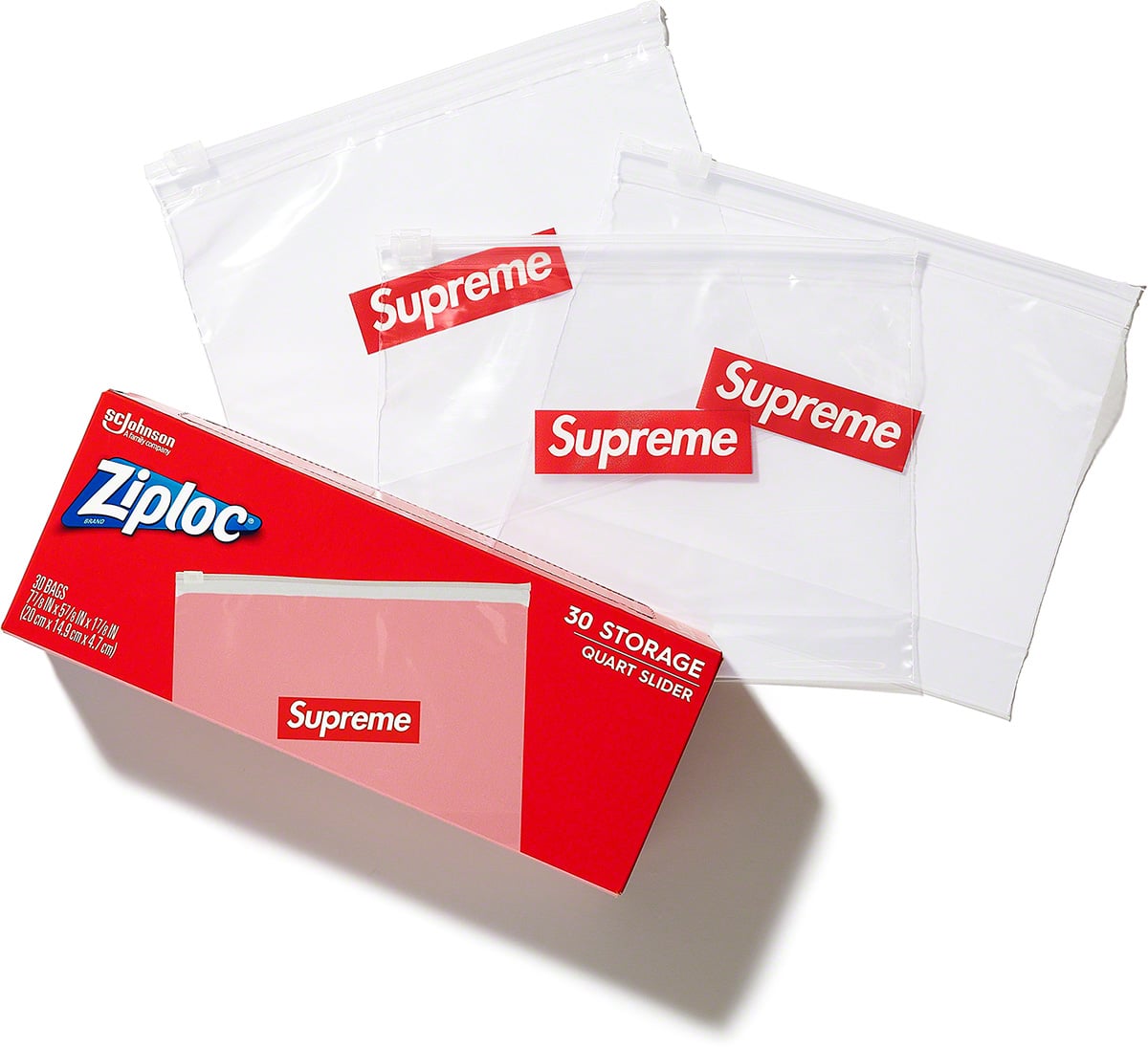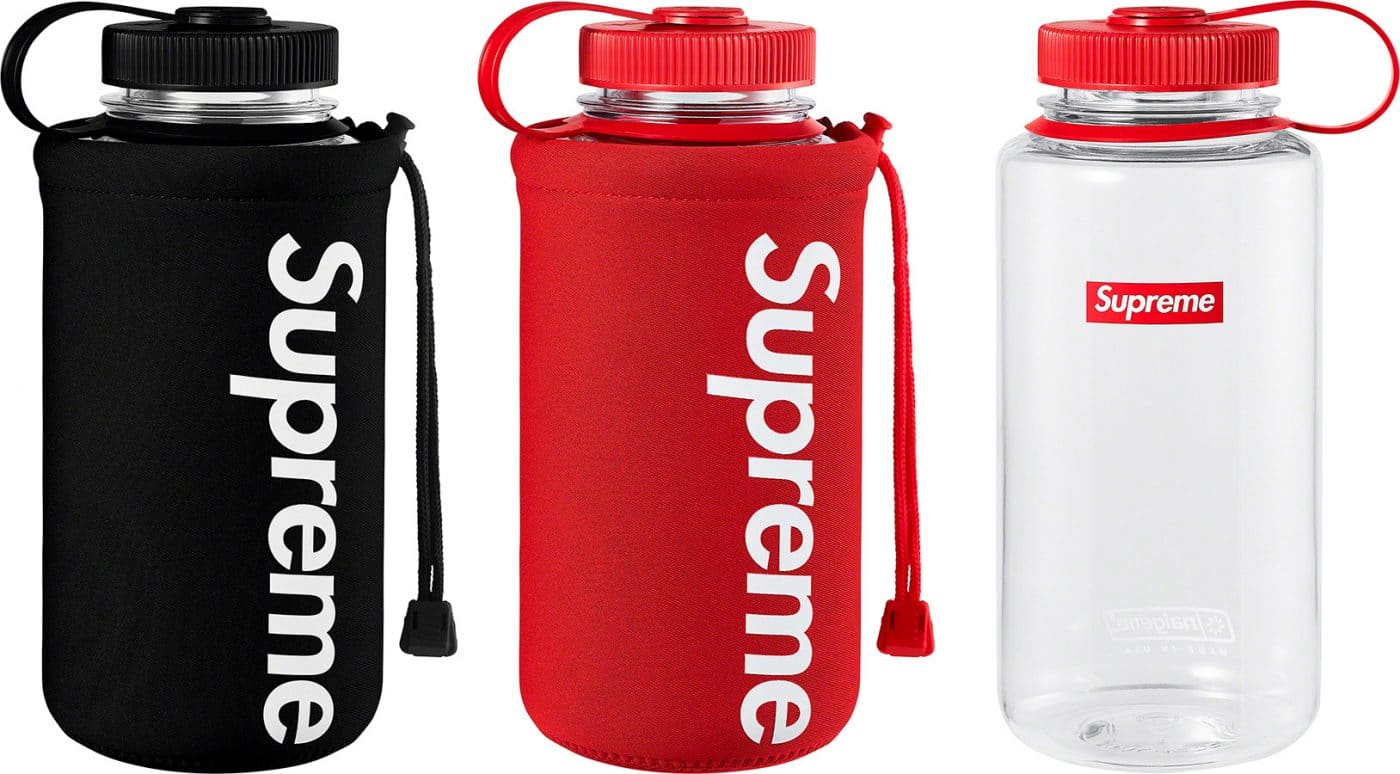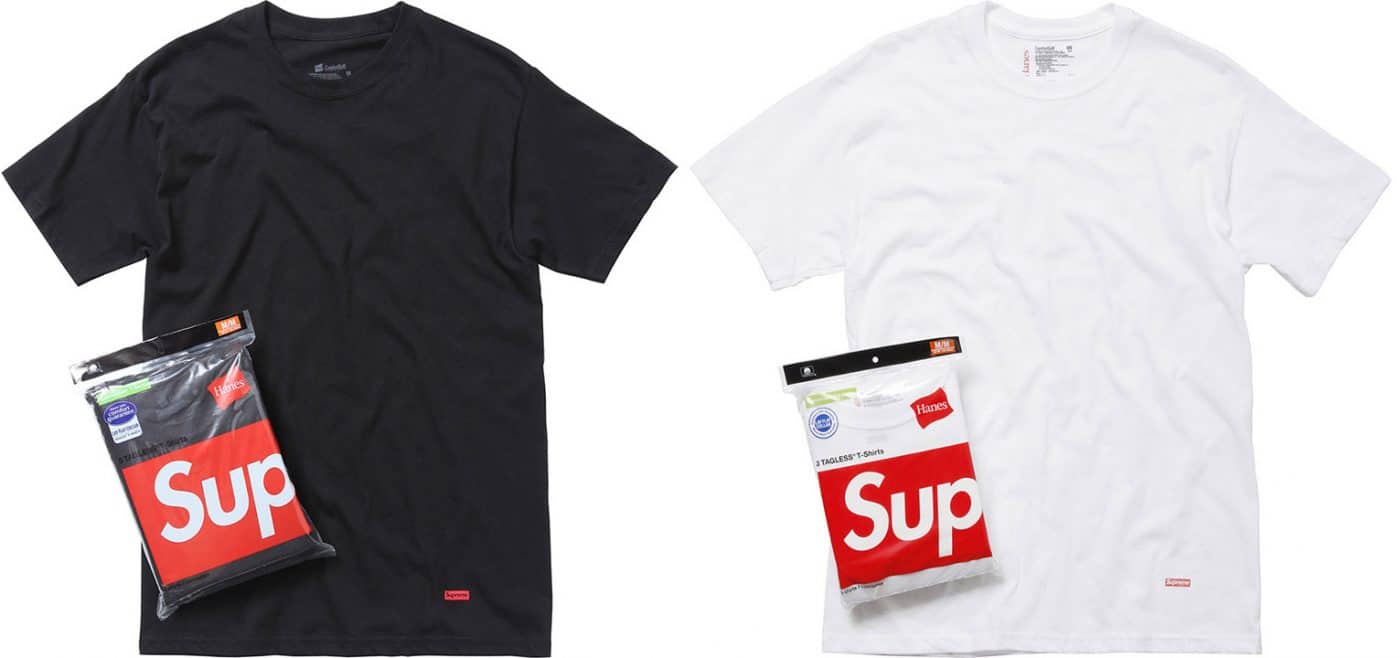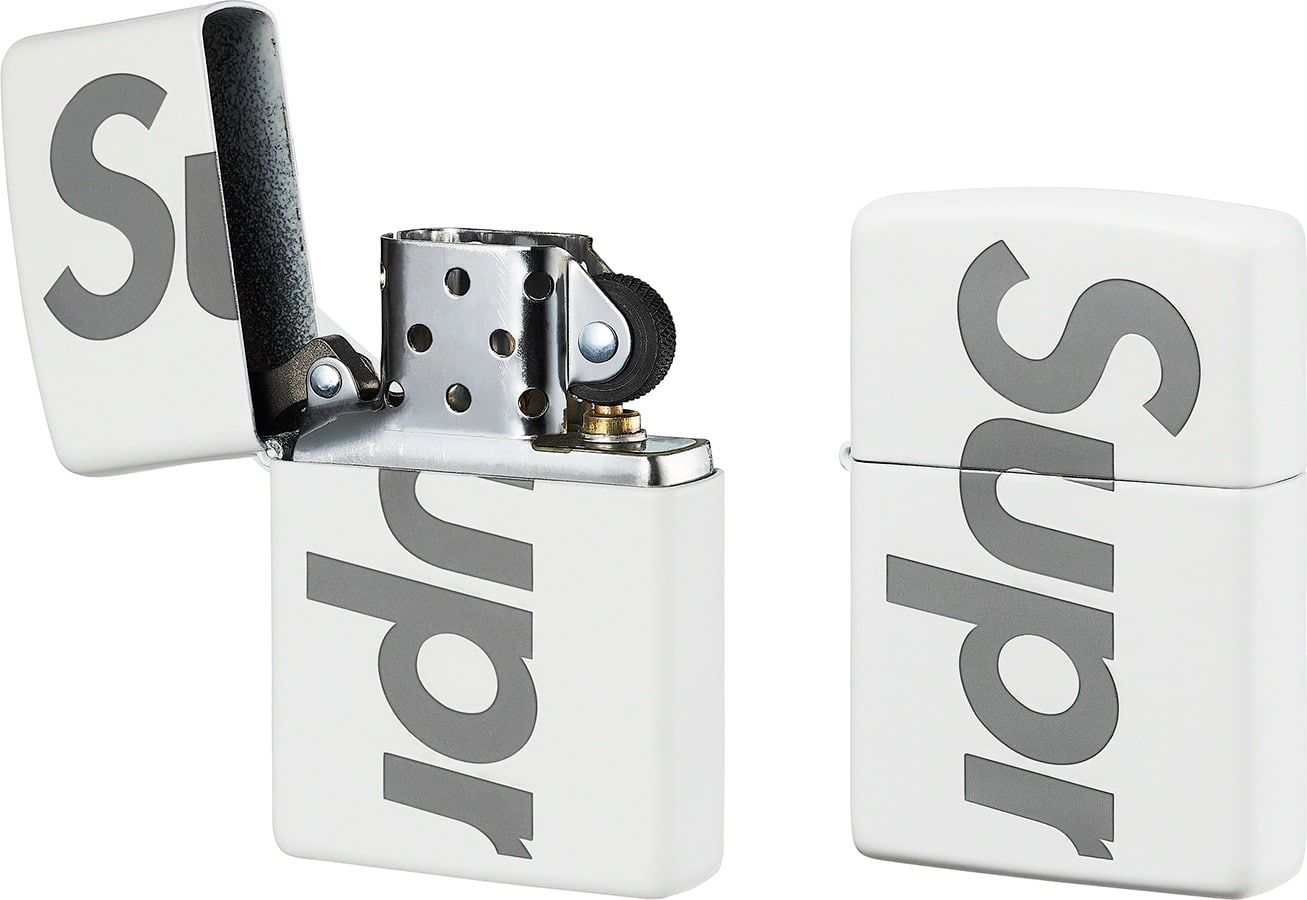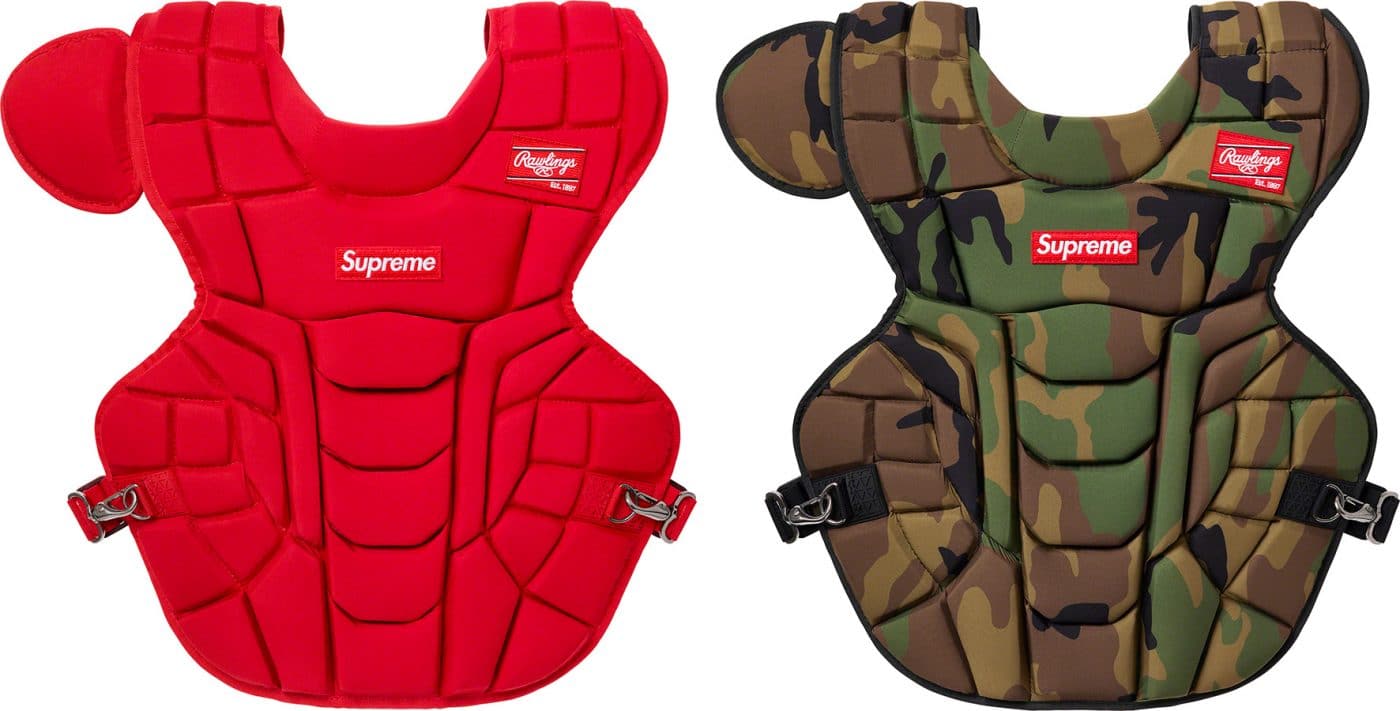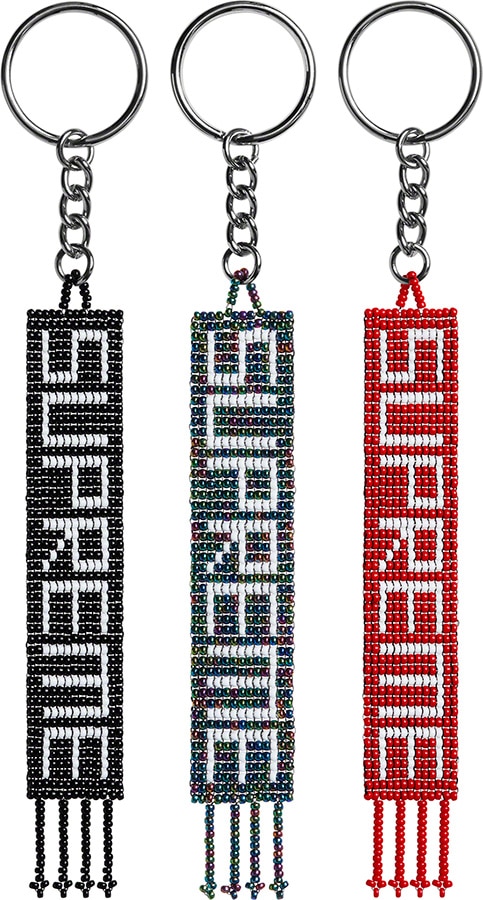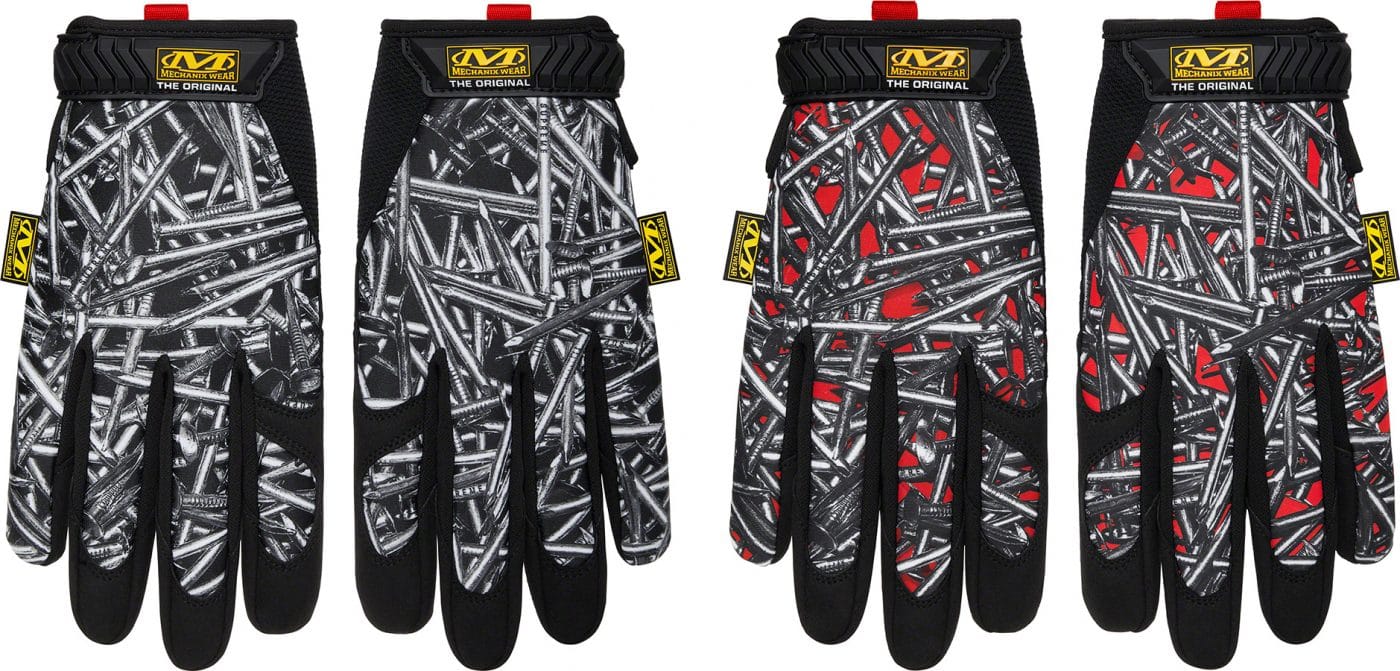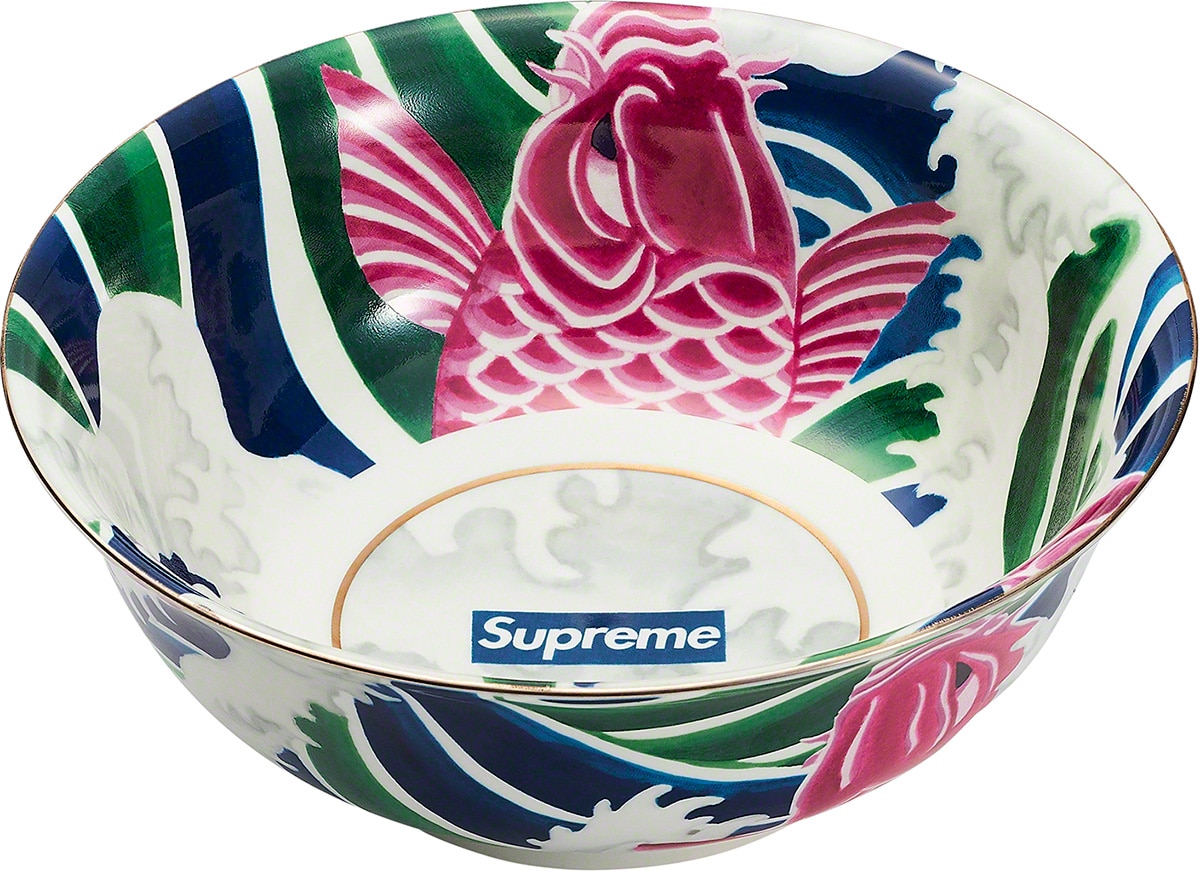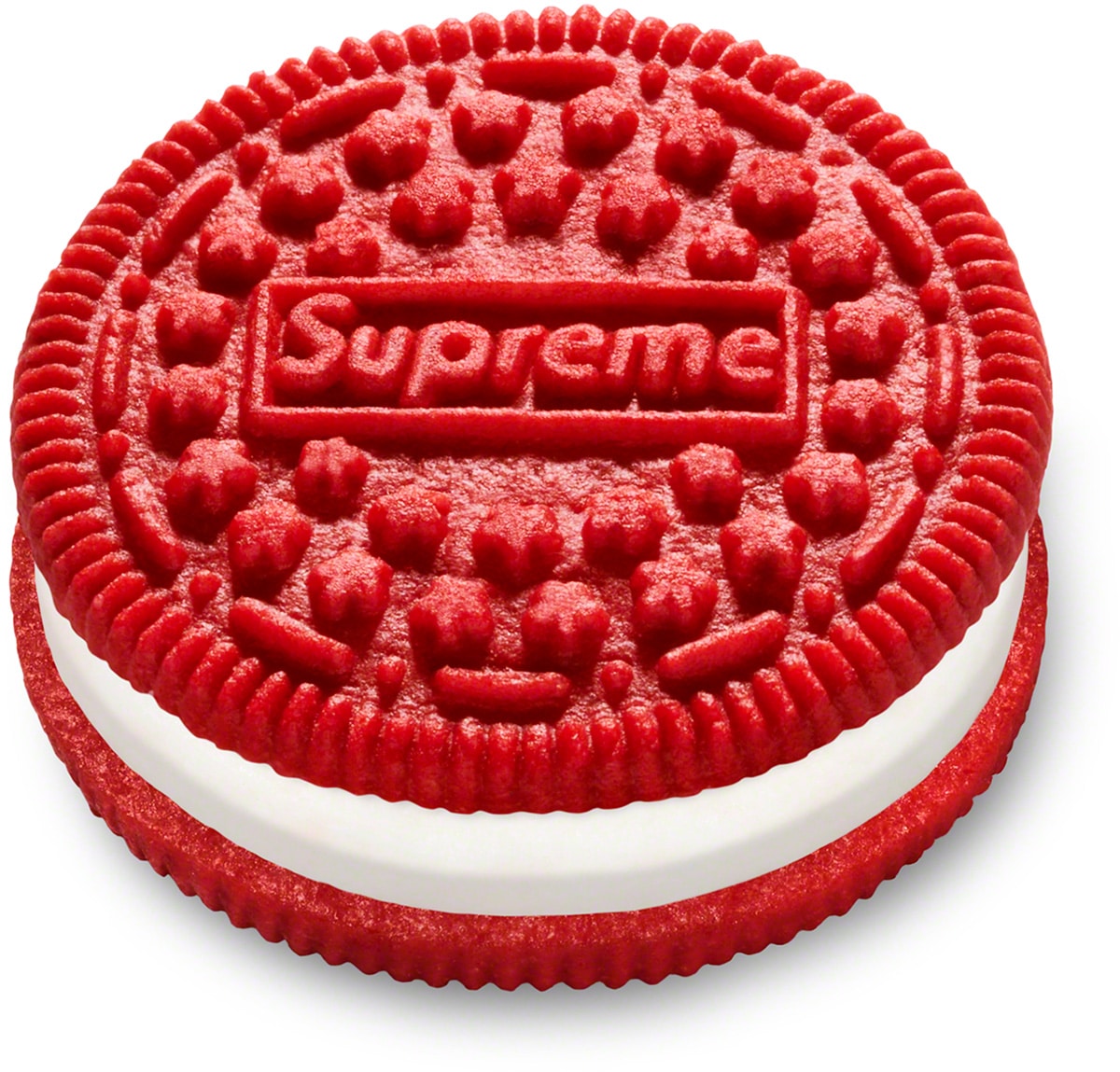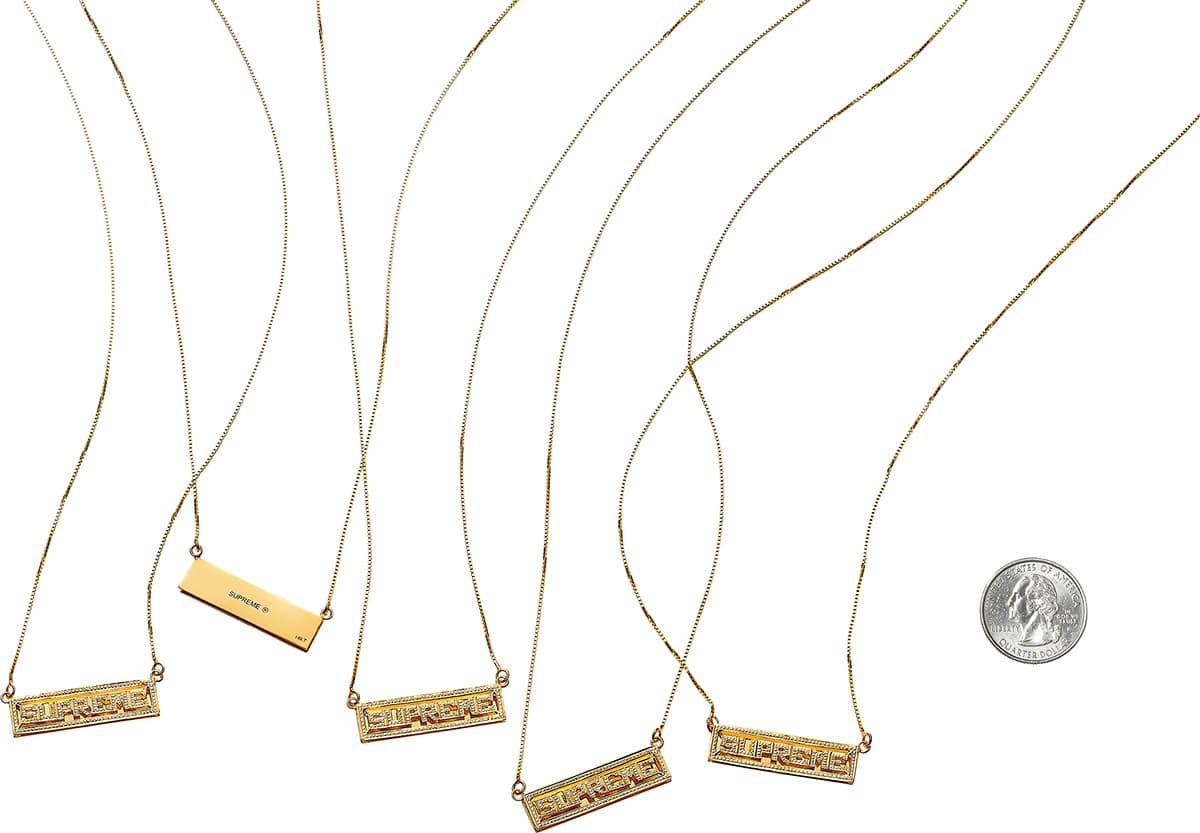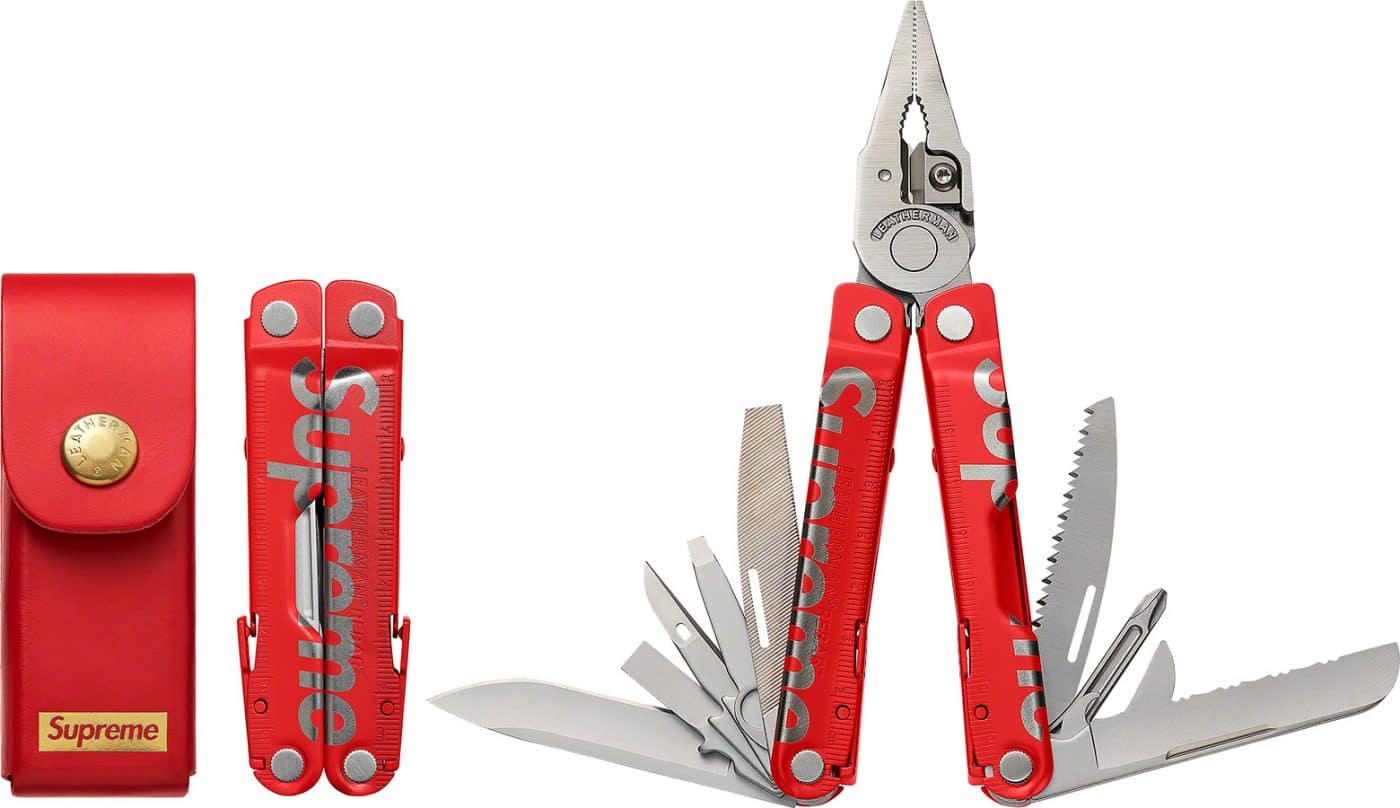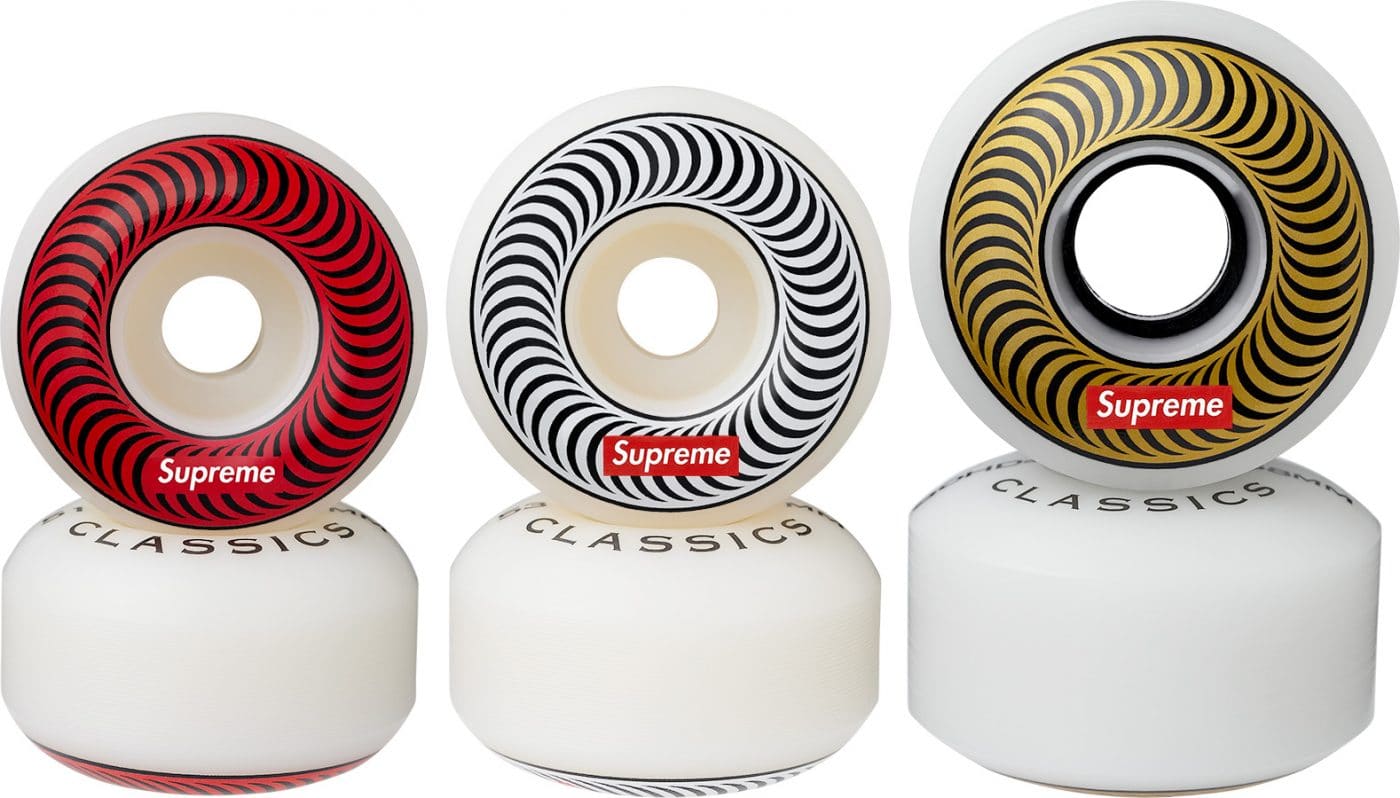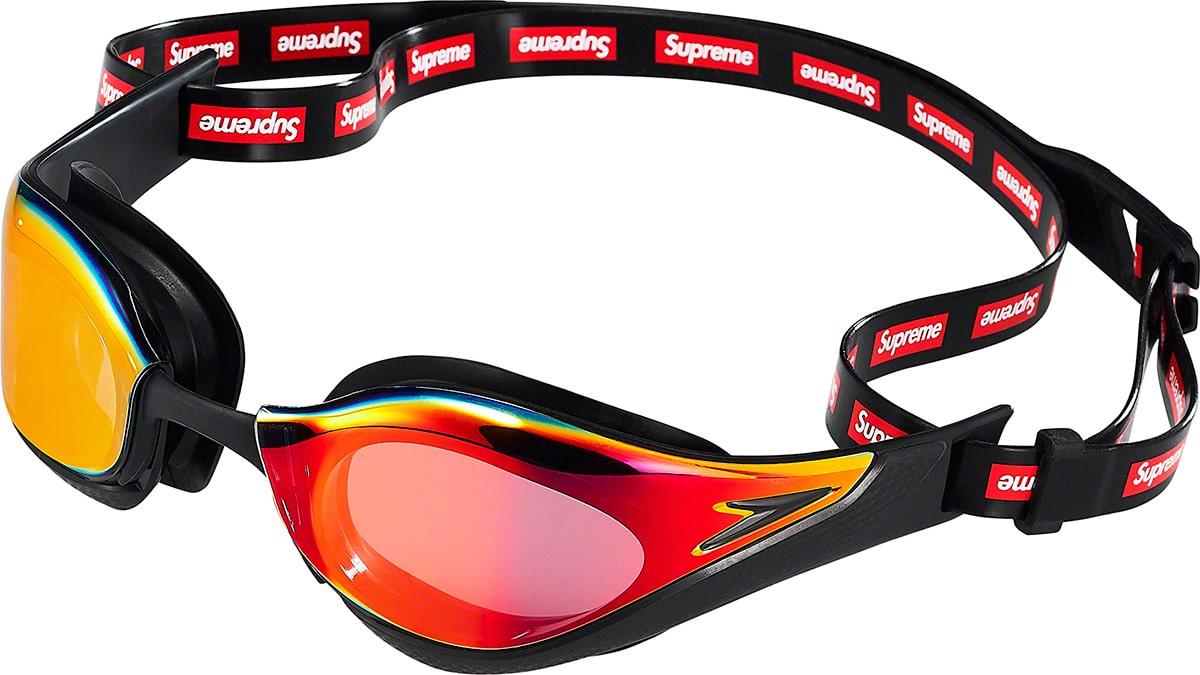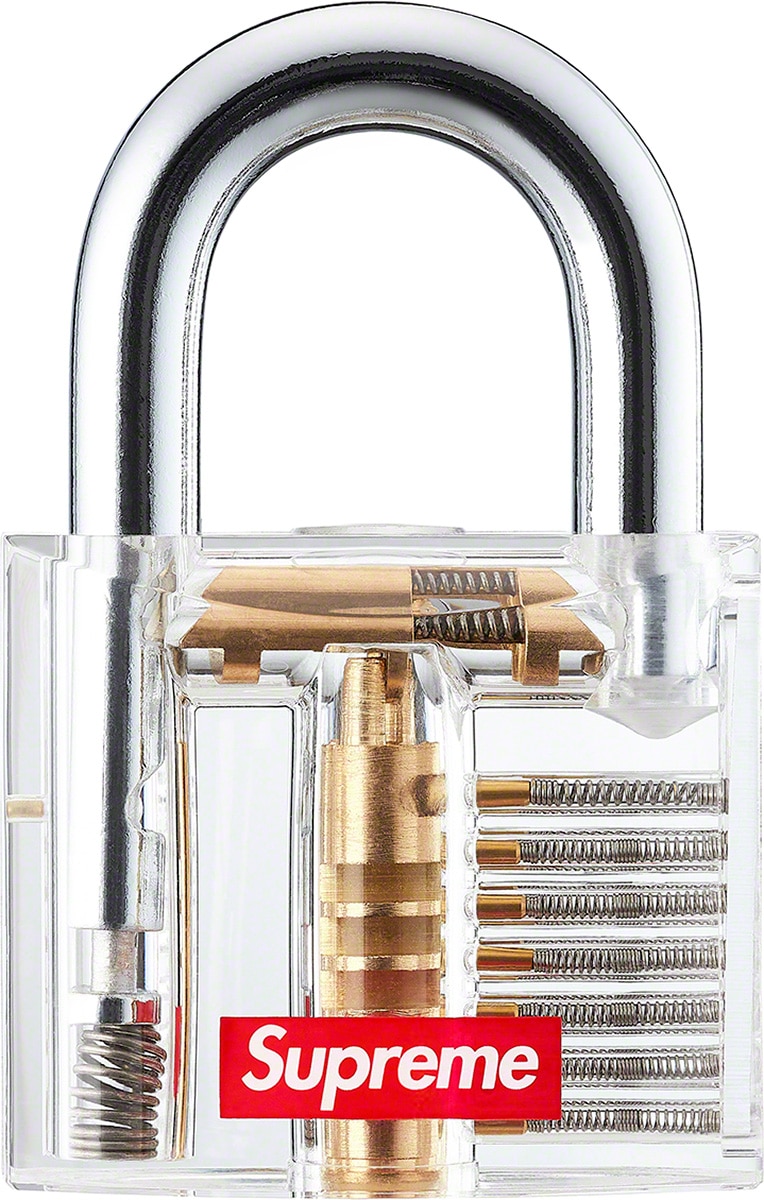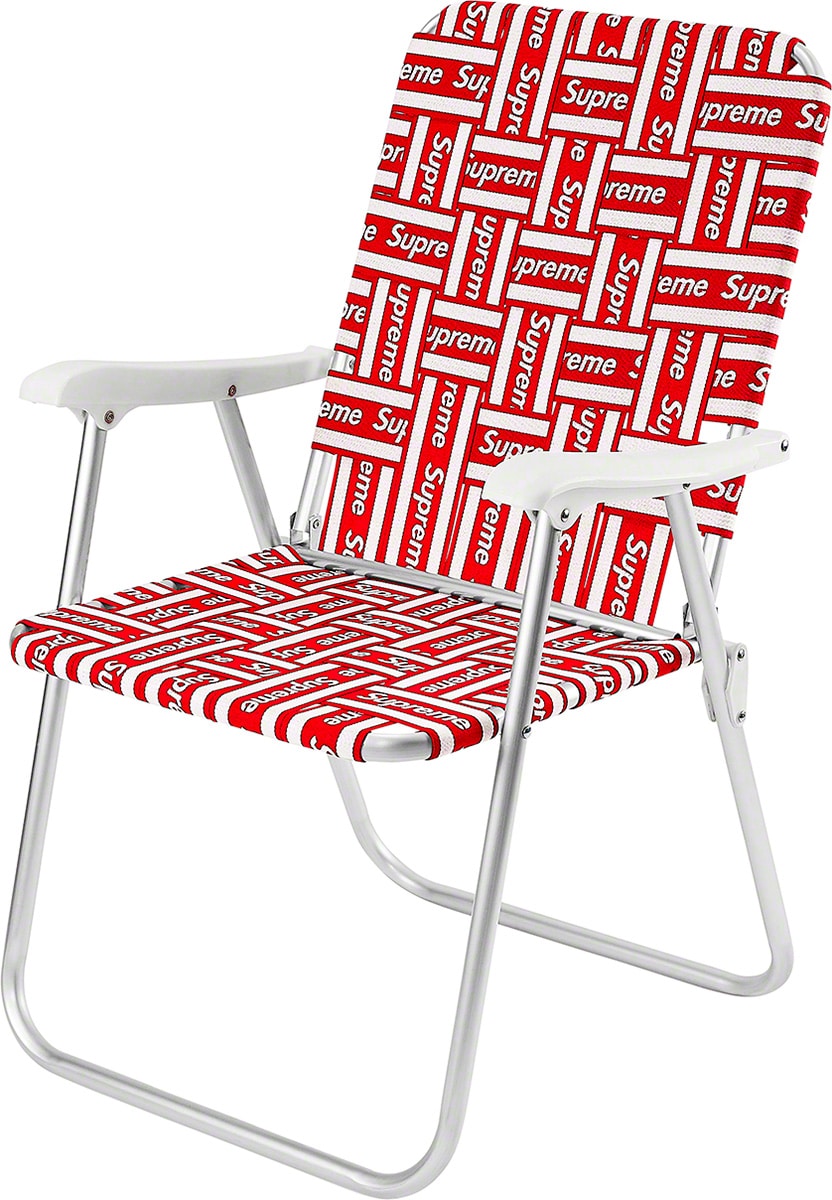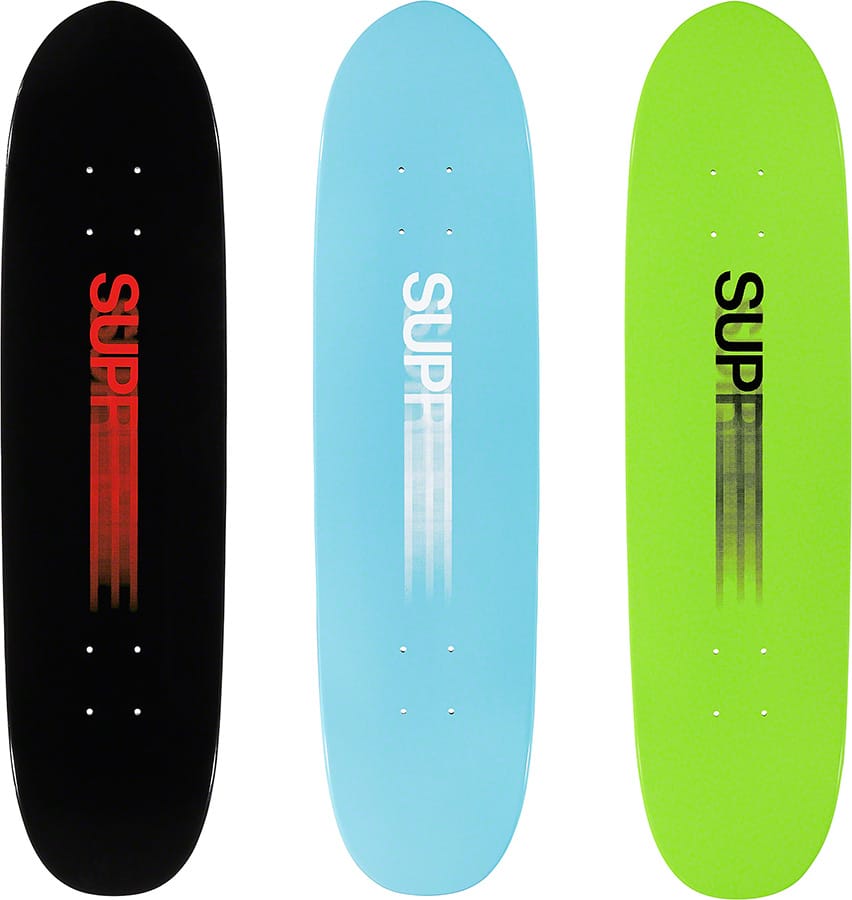 Original article 10.02.2020
Just like in previous years, Supreme produced a small teaser for the SS20 collection early on. The first picture of Supreme can be found on Instagram with a total of three garments that are part of the Supreme Spring/Summer 2020 collection.
But, Supreme doesn't want to give away too much just yet. In the post, we see a golden jacket in trucker style. On it we see a frayed white Supreme lettering framed further by the repeated frayed pieces.
The model wears a printed hoodie and red trousers with white stripes. The hoodie has a similar golden hue. The print is clearly a 20 USD bill, which seems to stretch across the whole piece. The red pants have a casual look. The casual style is emphasized more by the white stripes.
Supreme Spring/Summer 2020 Collection
The first installments of the collection should actually appear very soon. We suspect that the official SS20 lookbook from Supreme will be released in the coming days.
https://www.instagram.com/p/B8Y06NCBFwj/?utm_source=ig_embed&utm_campaign=loading
In other news, many people already suspect a MLB x Supreme Drop. Do you think it will happen?