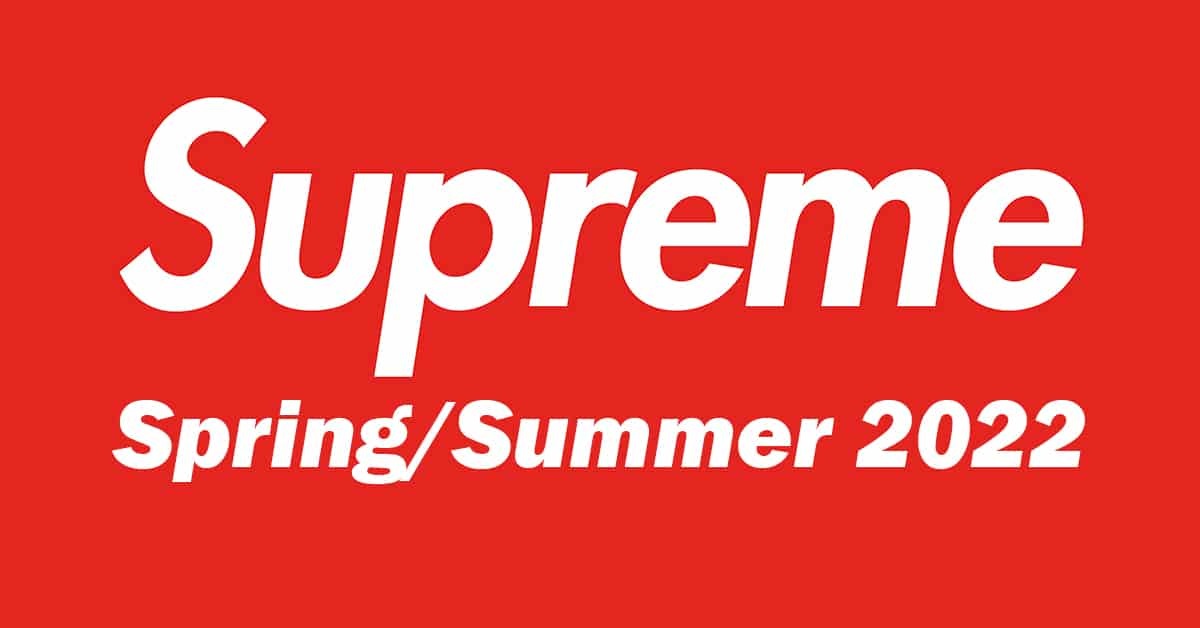 Supreme Spring/Summer 2022 Collection
Update 26.07.2022
Due to the COVID-19 pandemic, the last seasonal Supreme sale took place on the website. But at the end of this season, hypebeasts can now also buy the trendy clothes in stores.
Online, fans can find the remaining 123 items at a very reasonable price. These include outerwear, tops, shirts, trousers, shorts, and various accessories of the season. Fashion enthusiasts can save up to 30% on the Supreme Spring/Summer 2022 Sale. Check out the link above.
Update 29.06.2022
The Supreme Spring/Summer 2022 season is slowly coming to an end, but before that the hype label is releasing the trendy summer tees. Supreme will be providing us with these shirts in the warmer months. Also coming out are other Supreme-style apparel and a Supreme x Wilderness Systems Aspire 105 kayak + paddle. Be prepared for a drop on June 30th at the online shop.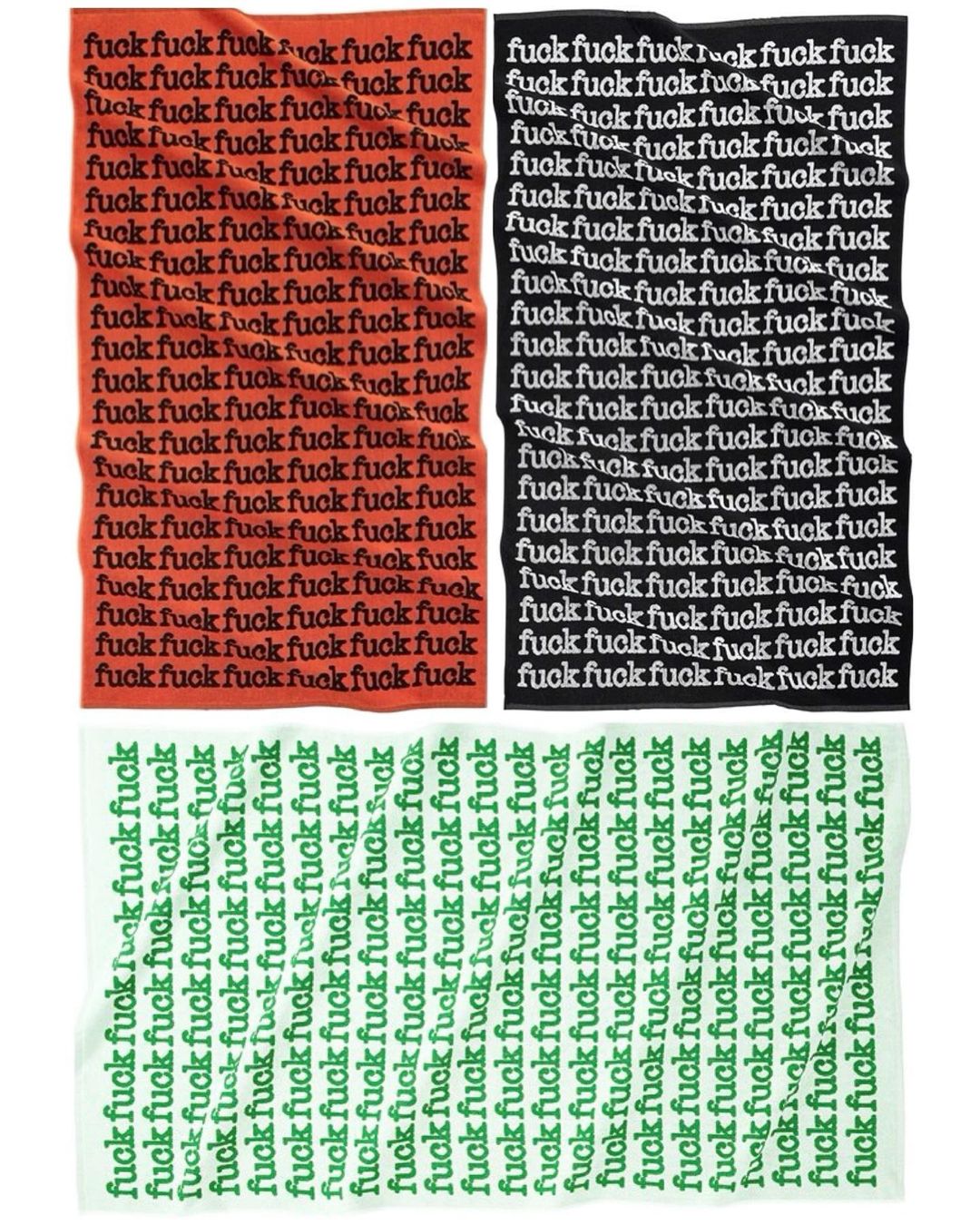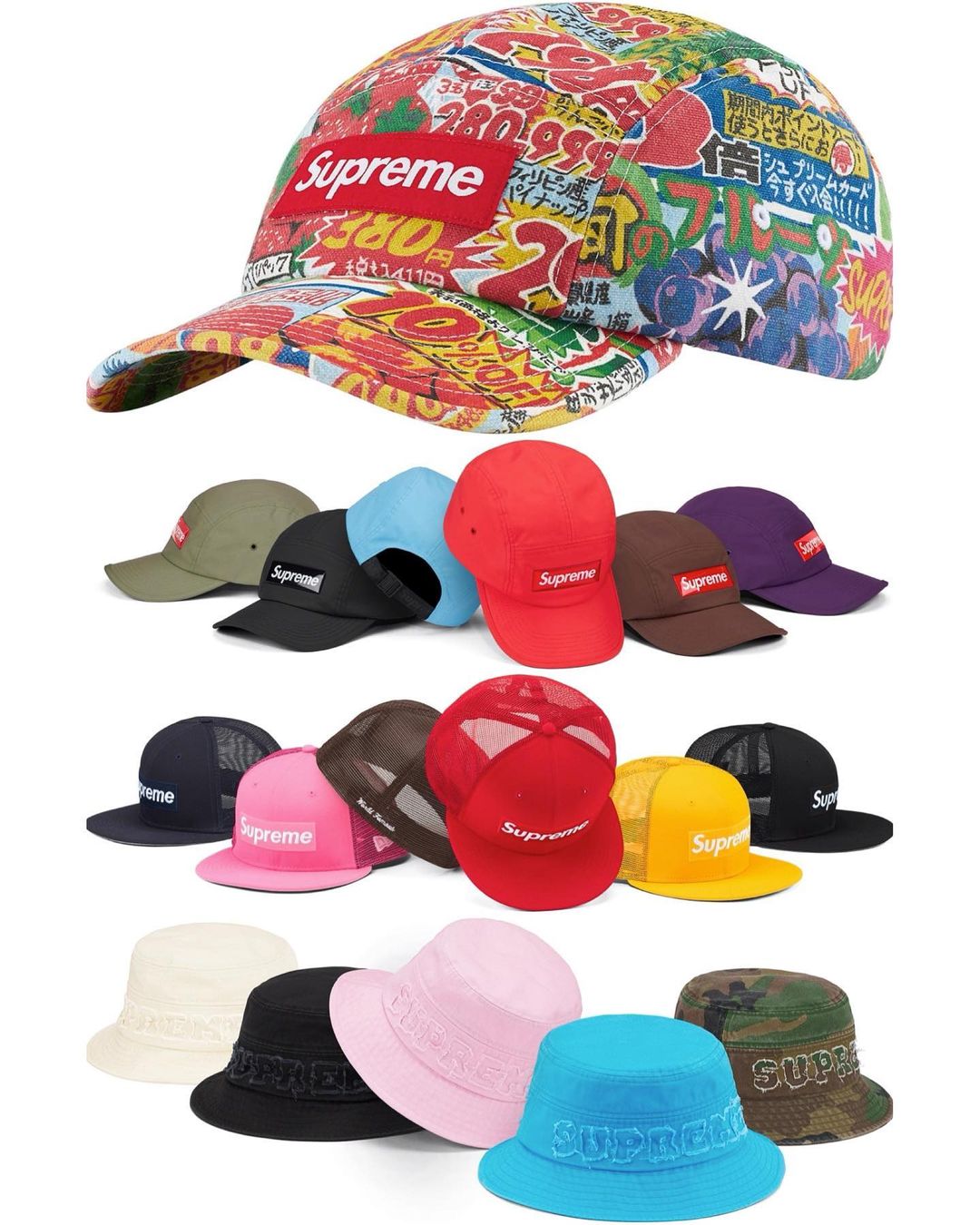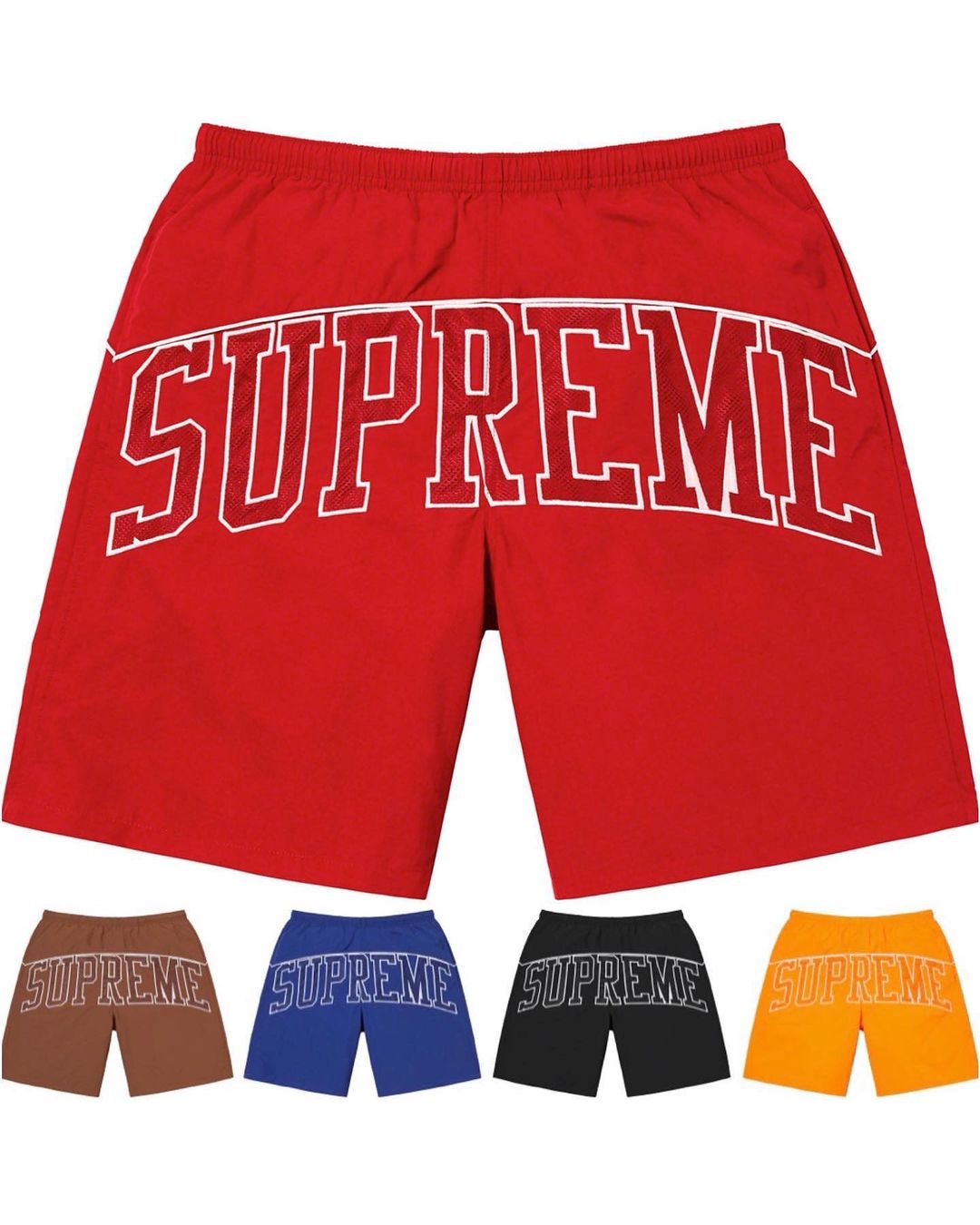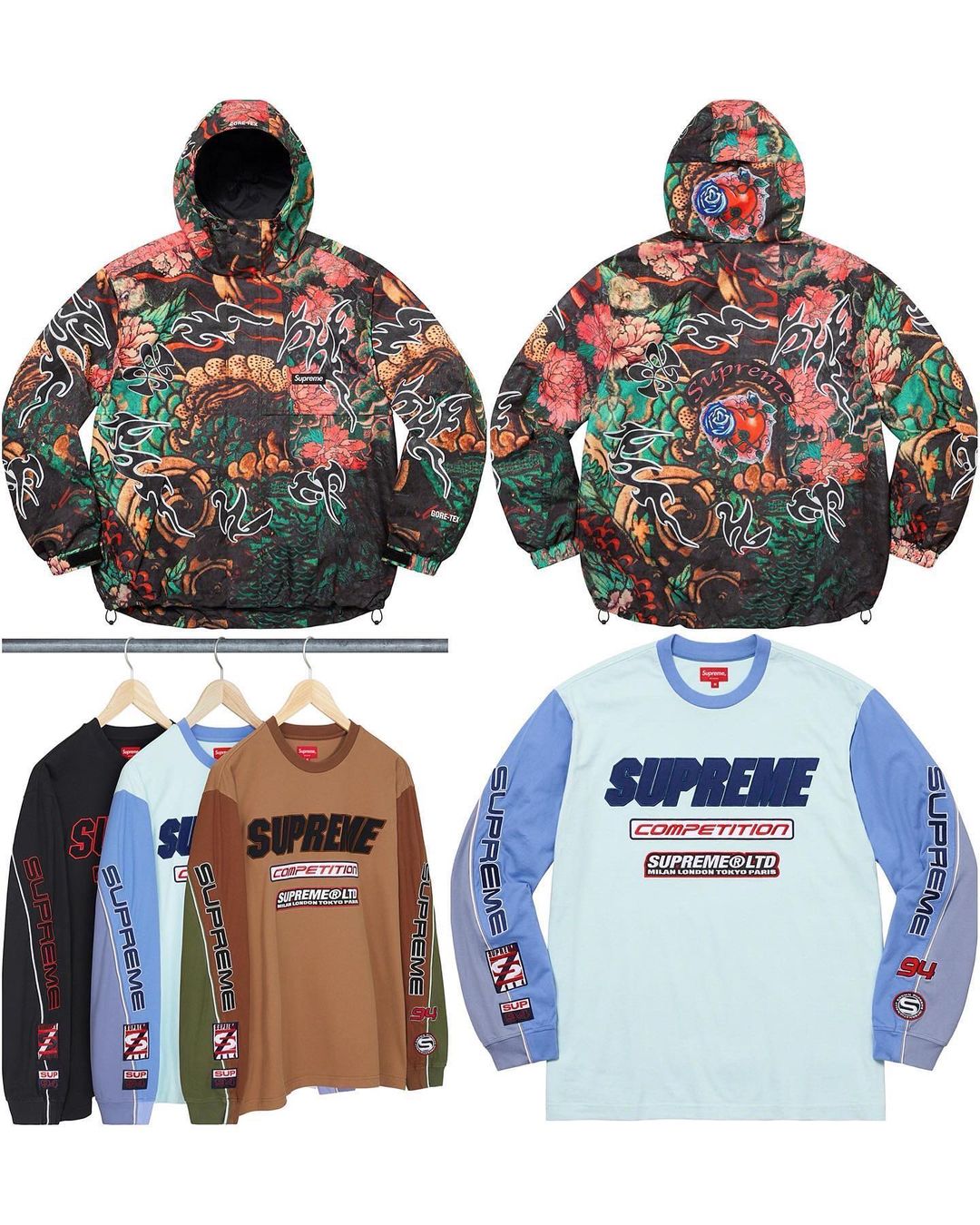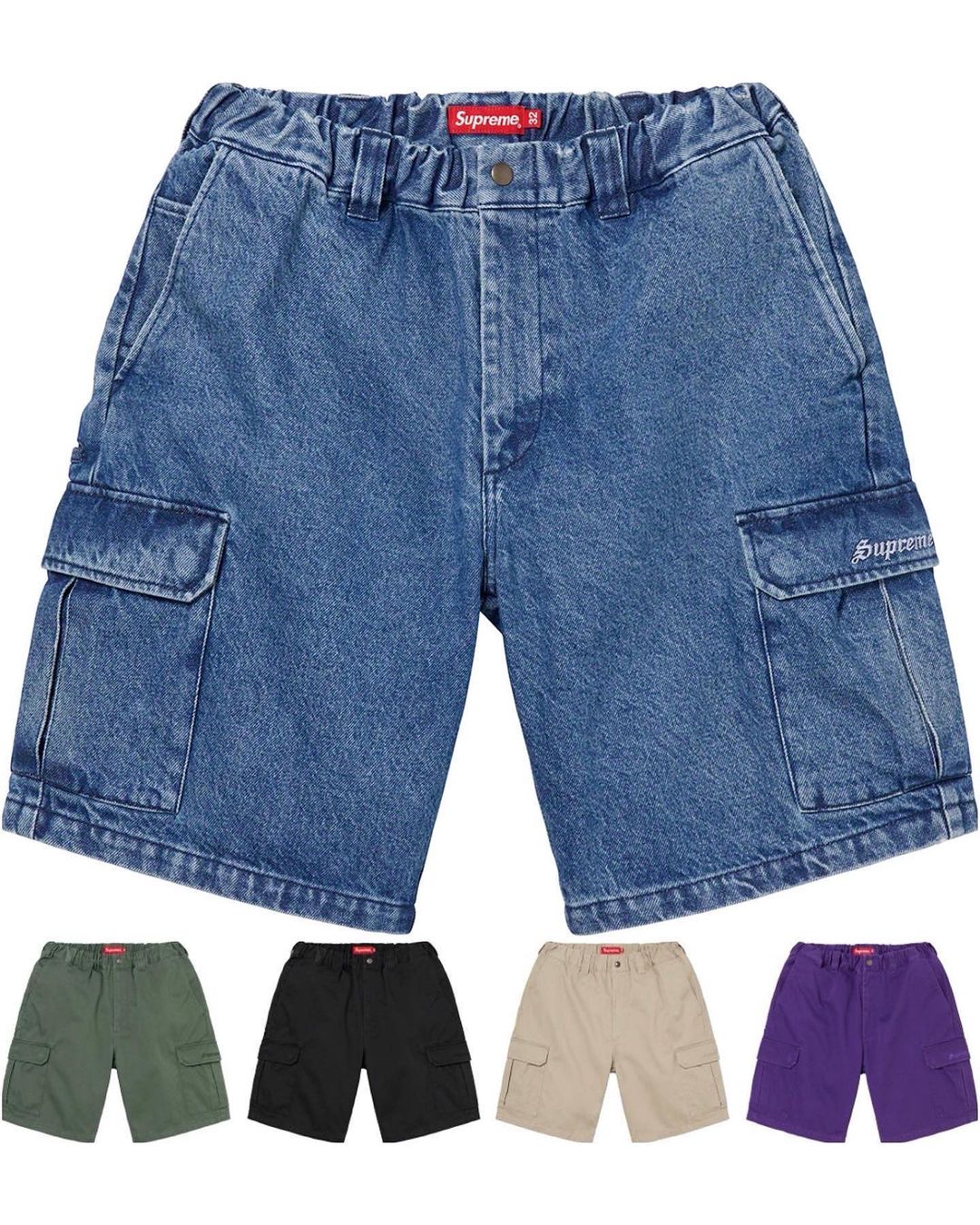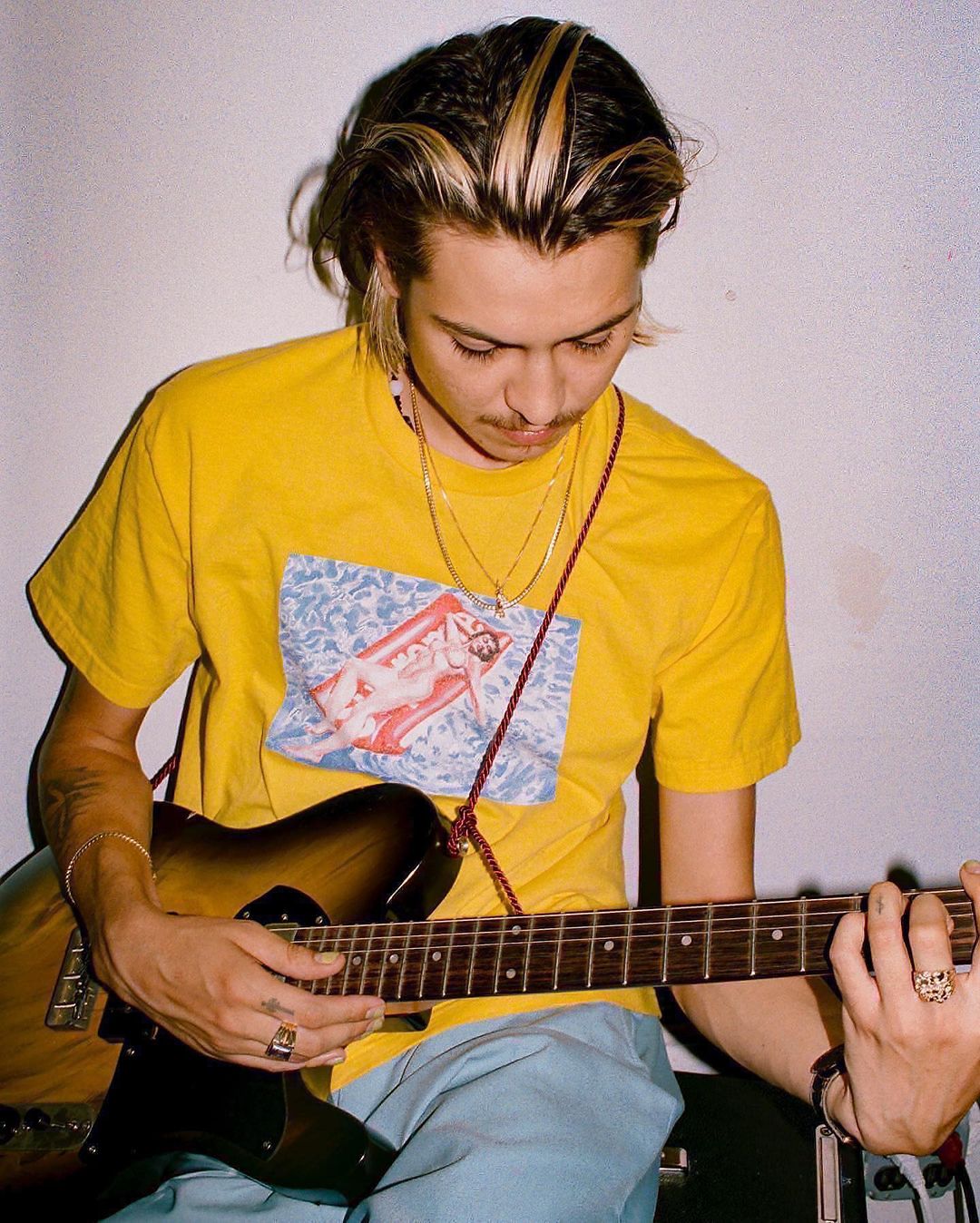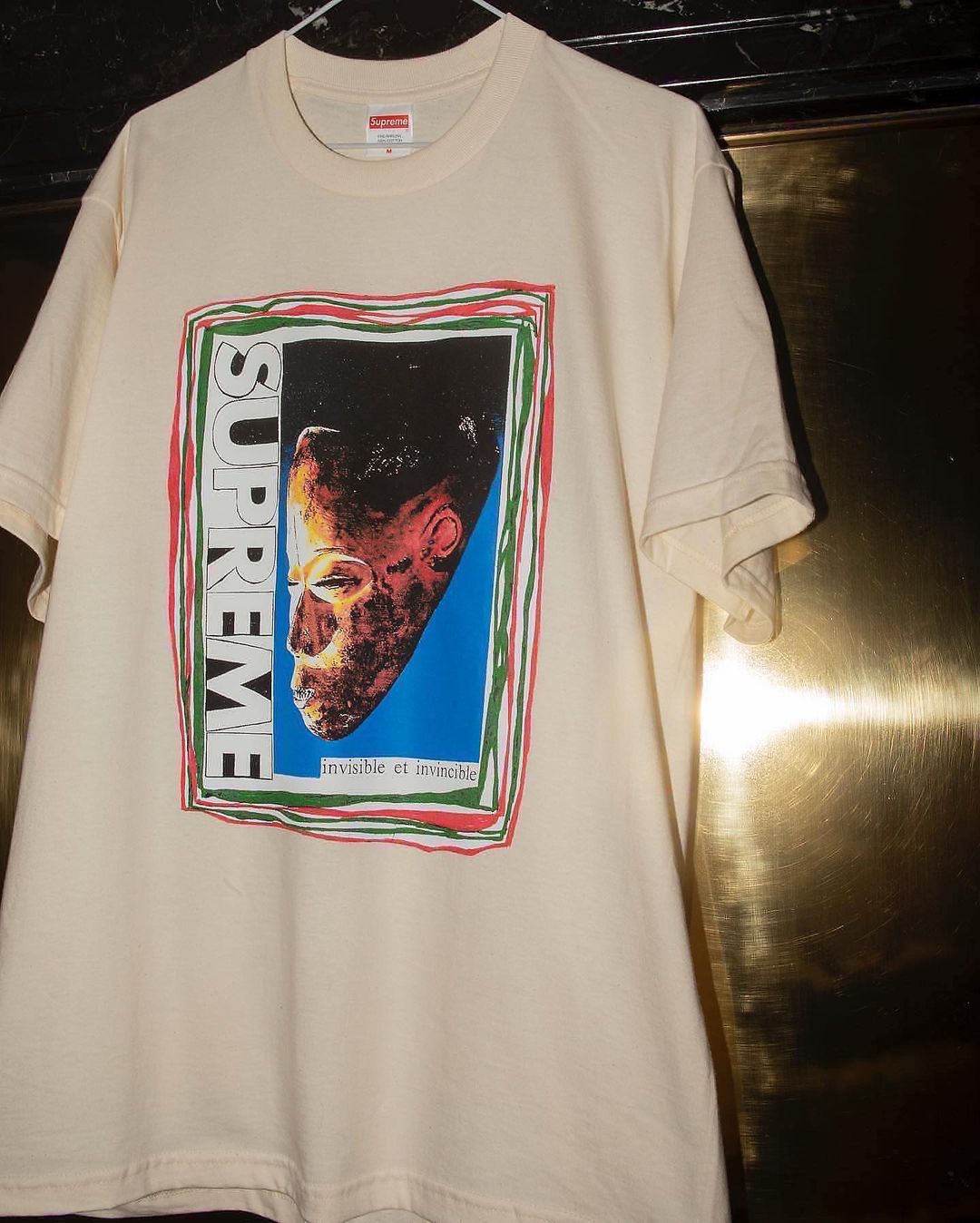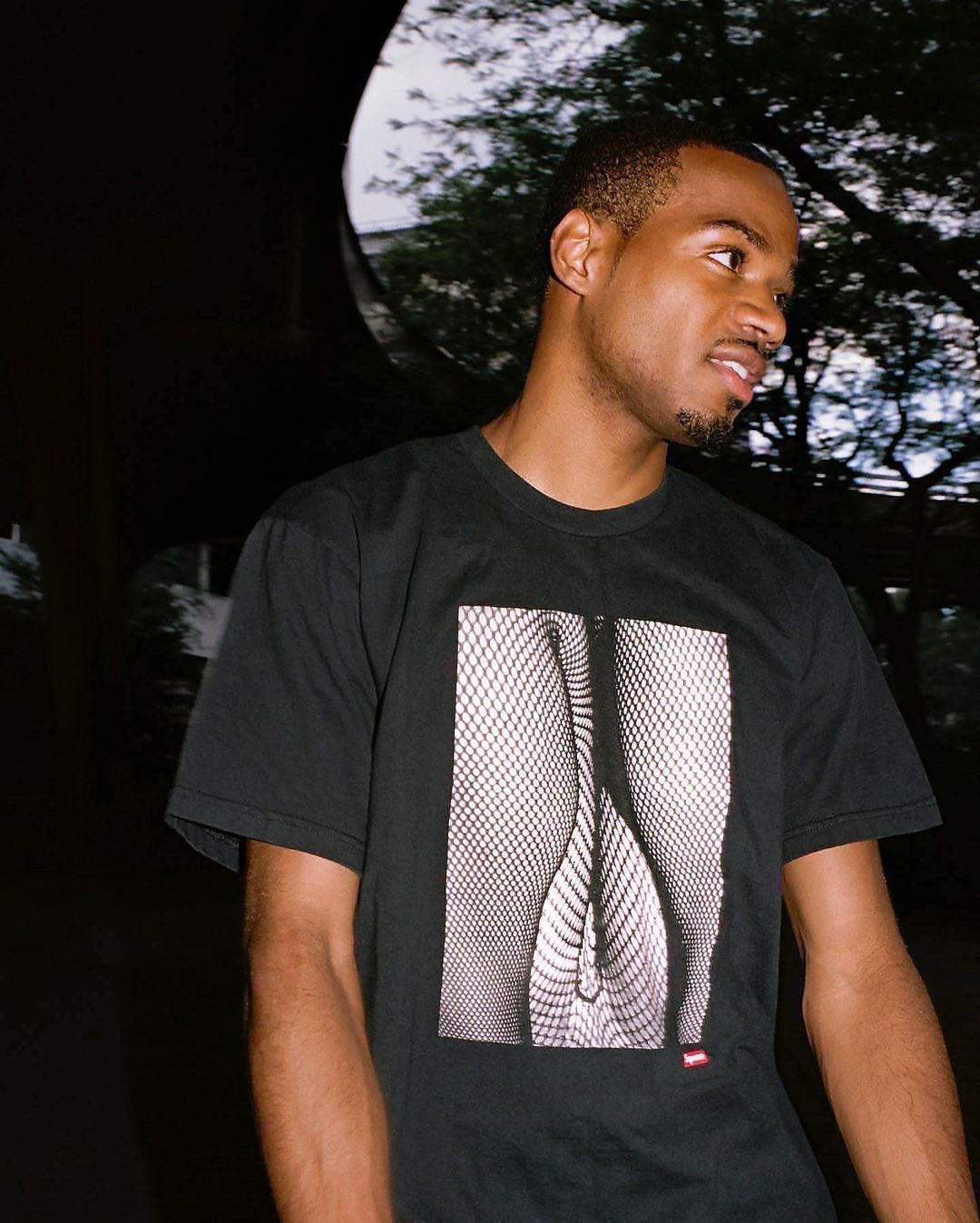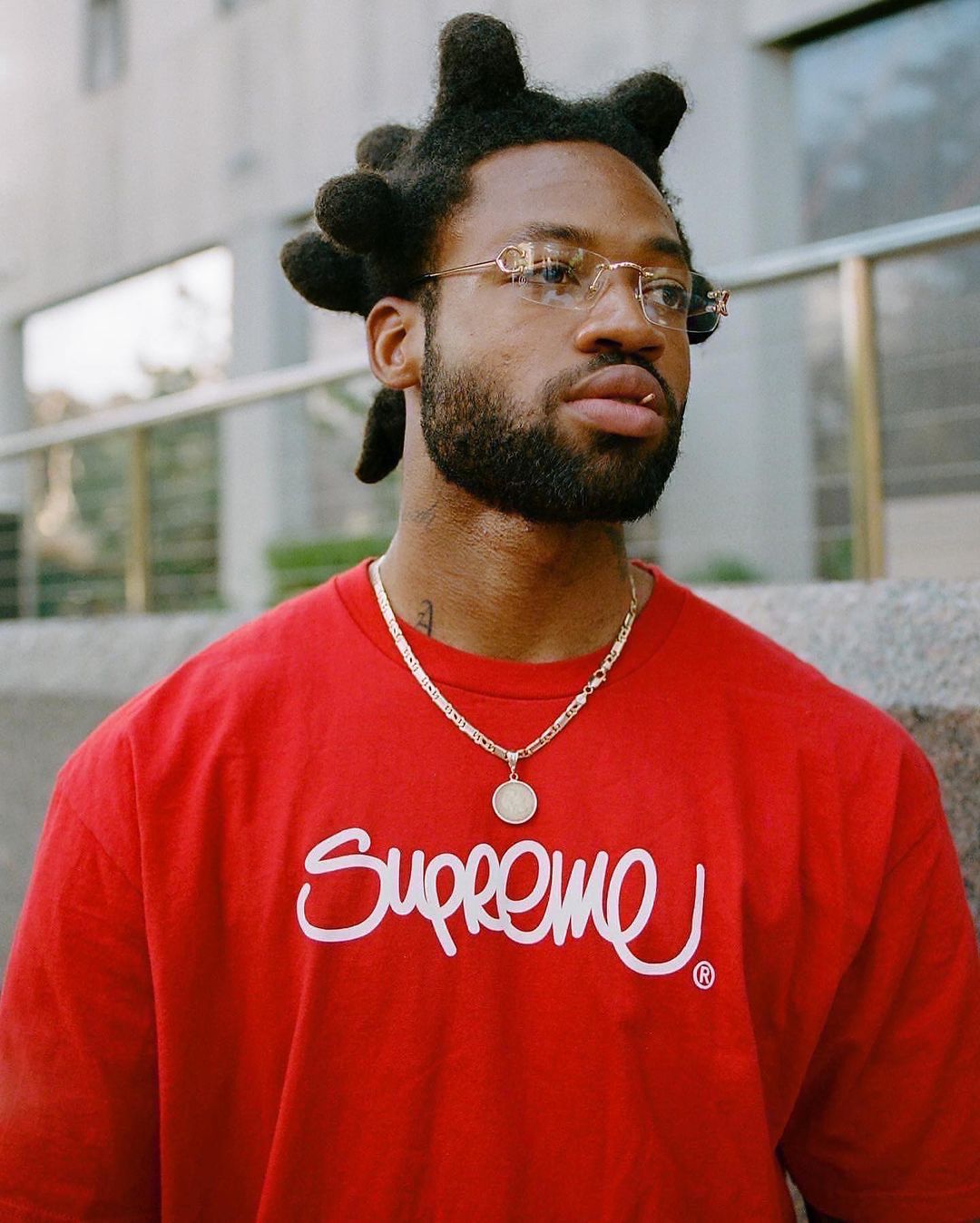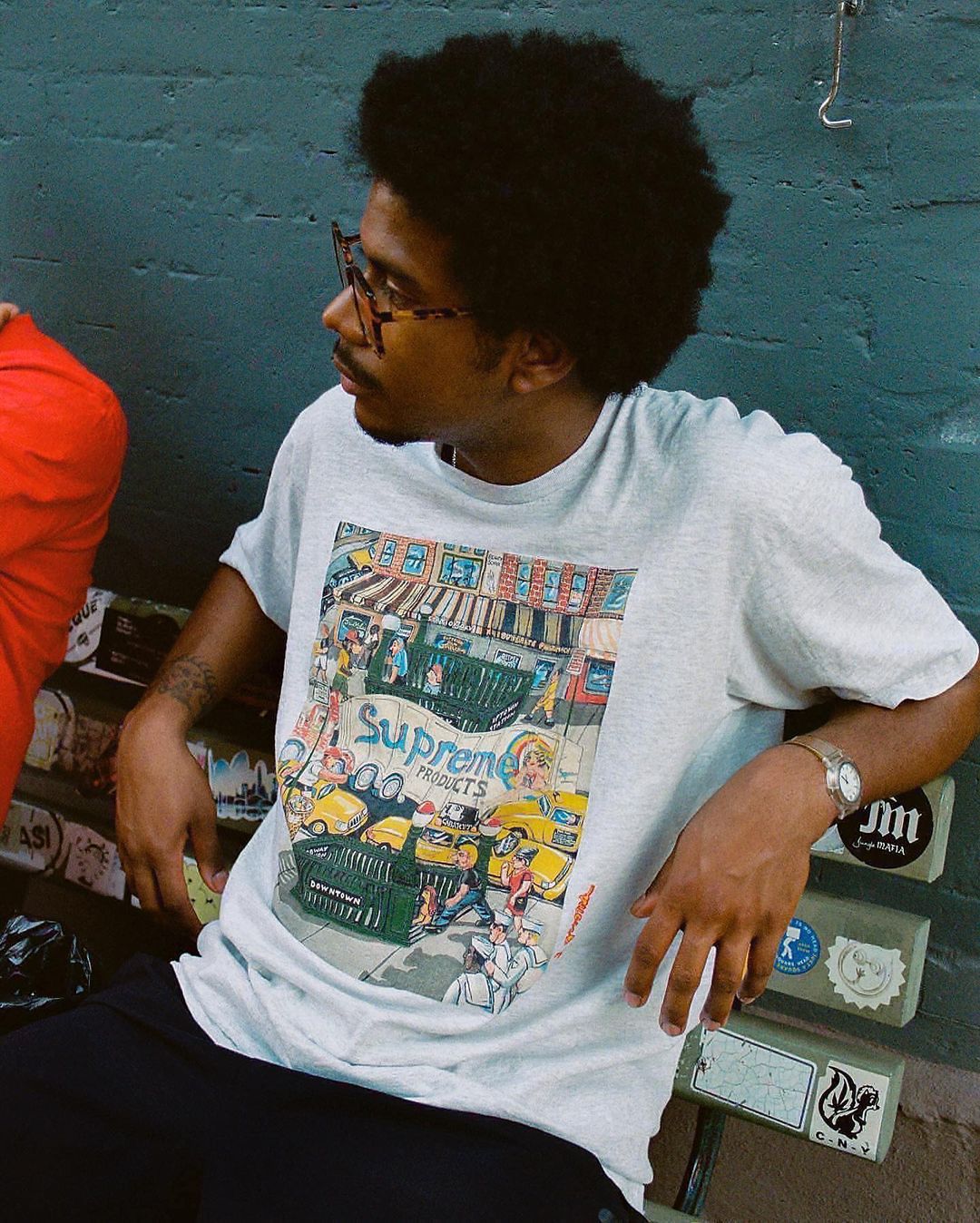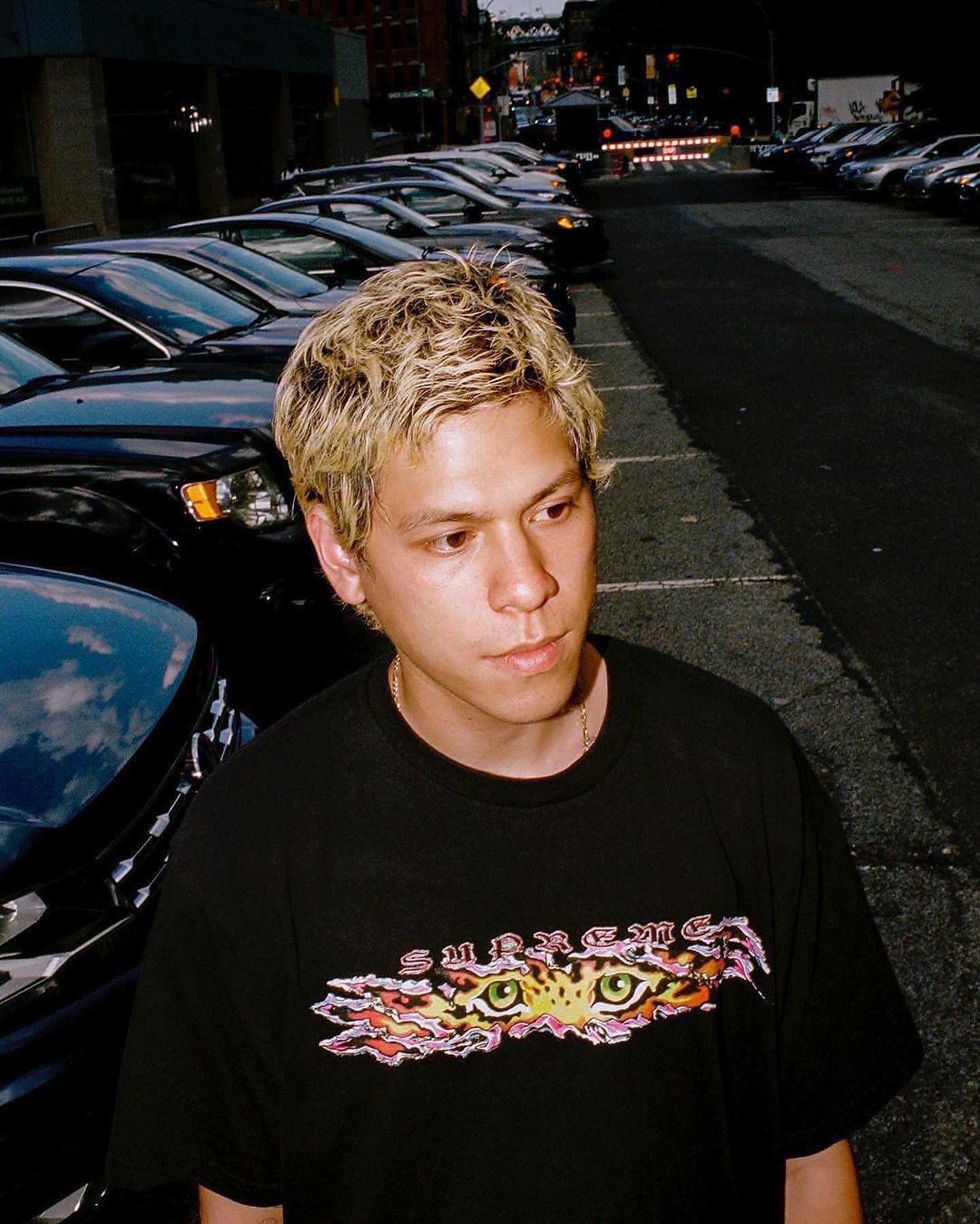 Update 22.06.2022
Supreme continues its Spring/Summer collection on Thursday with Week 18. This time, fans can expect the next part of the Nike collab. The Supreme x Nike Shox Ride 2 will be released in four colourways. There are also four pairs of handmade sunglasses from Italy that have lenses with anti-reflective coating. Other sources also report two SpyraTwo Water Blasters, but Supreme hasn't confirmed it yet. The release date is June 23rd at the Supreme online shop.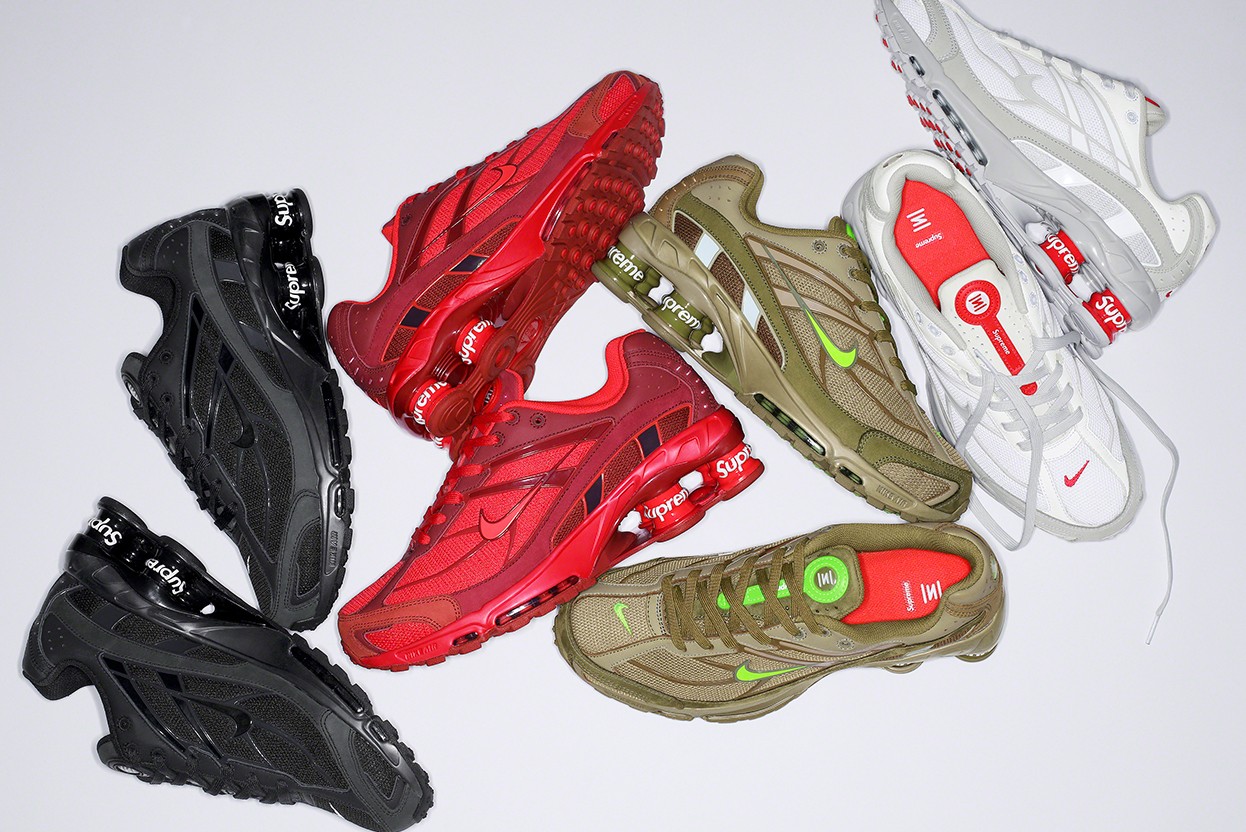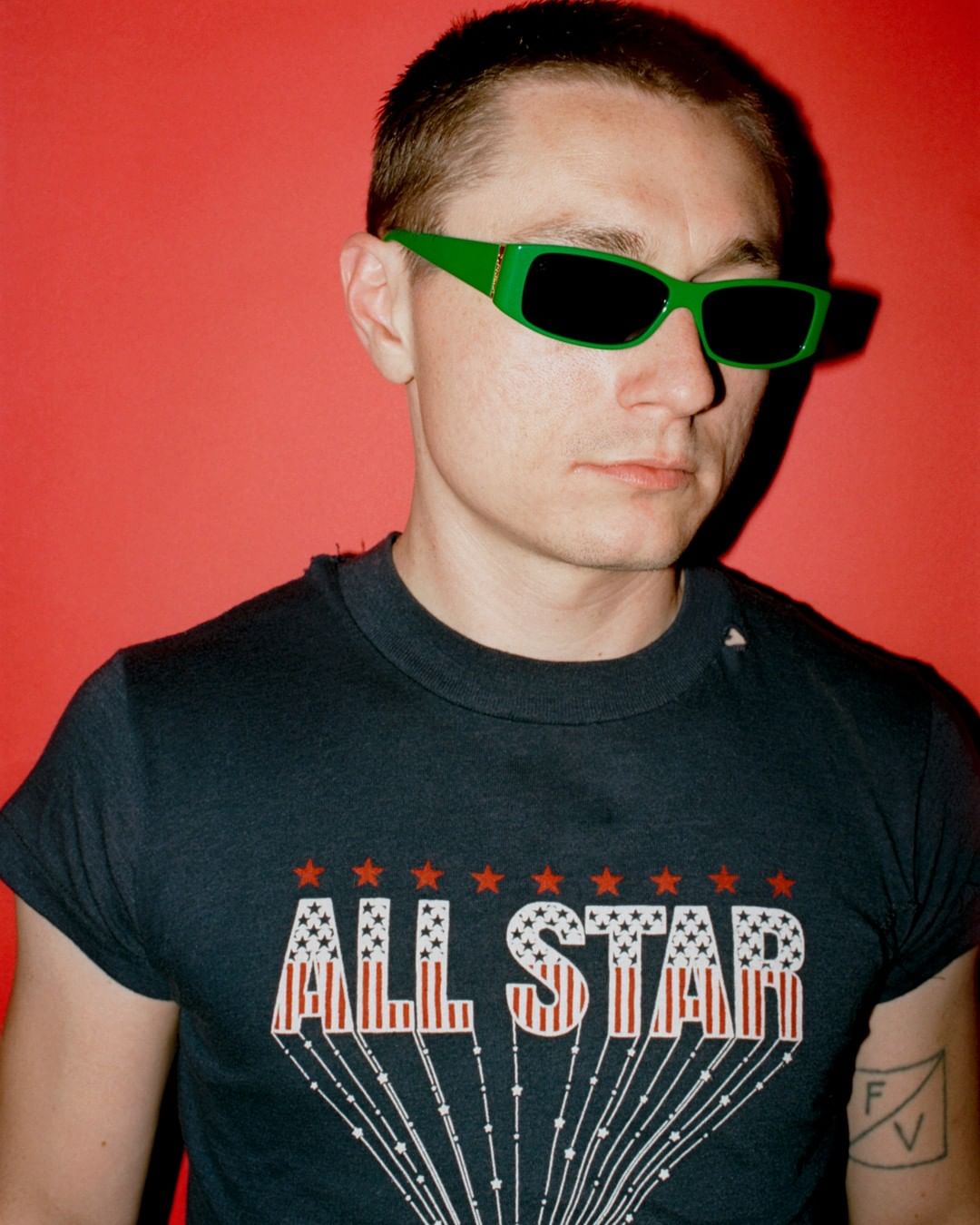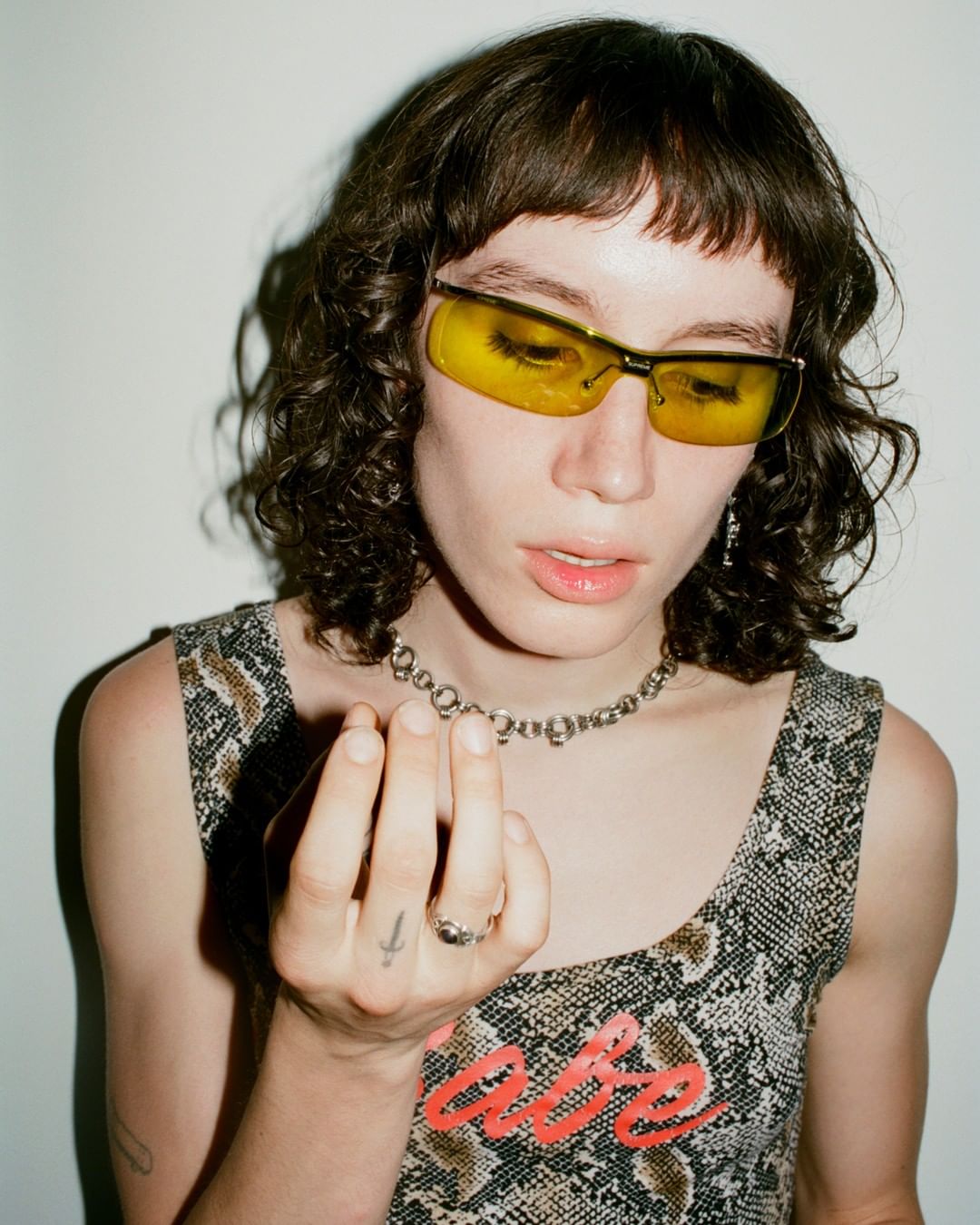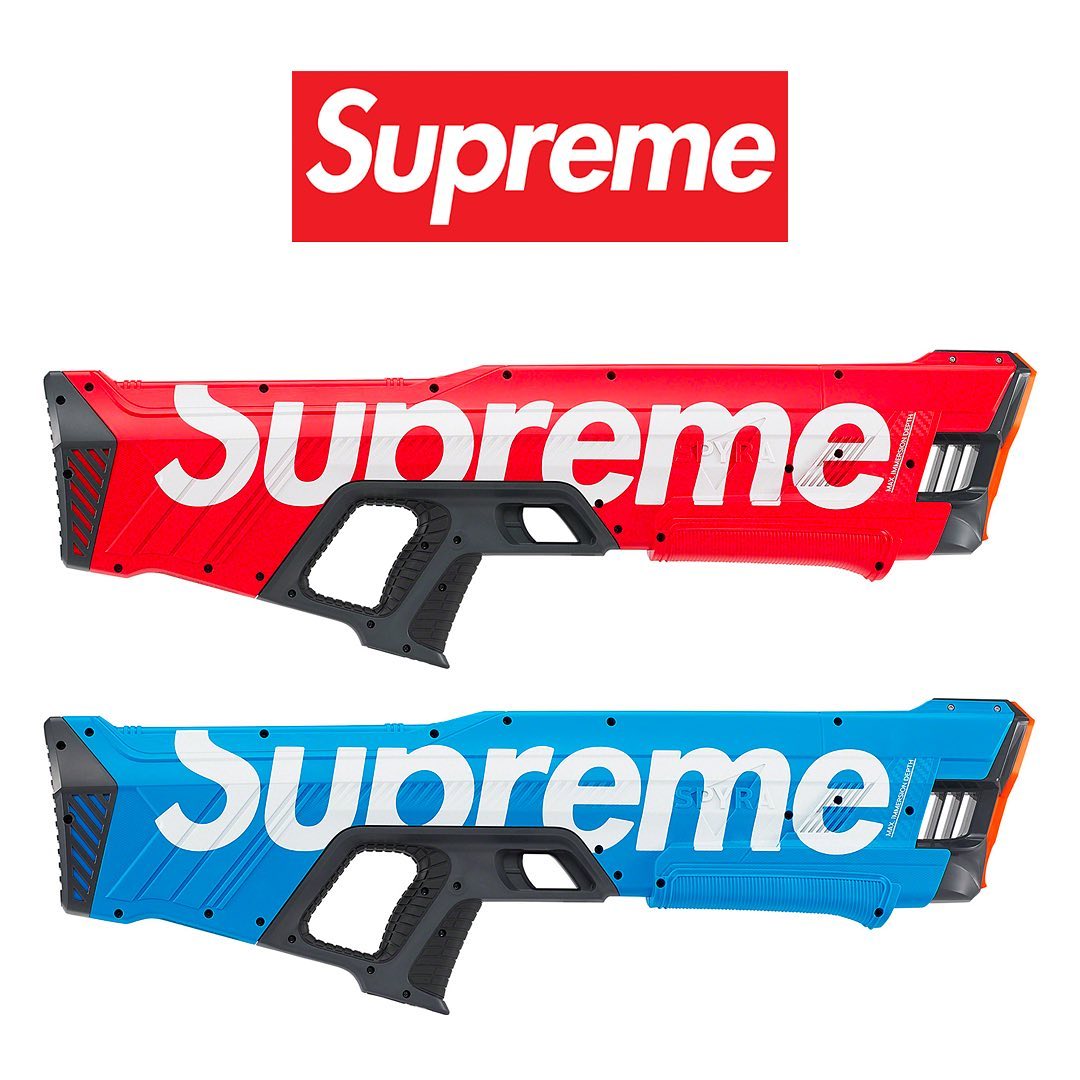 Update 01.06.2022
Planning on taking a caravan on holiday this year? Then take your next trip with this Supreme x Airstream Travel Trailer. No retail price has been announced yet, but it's reportedly very high, and less than 20 pieces were made. For a smaller wallet, Supreme offers a multi-piece collection with Futura 2000. In addition, Supreme inline releases, as well as crazy accessories in the typical Supreme style, are coming. The release date is June 2nd at the Supreme online shop.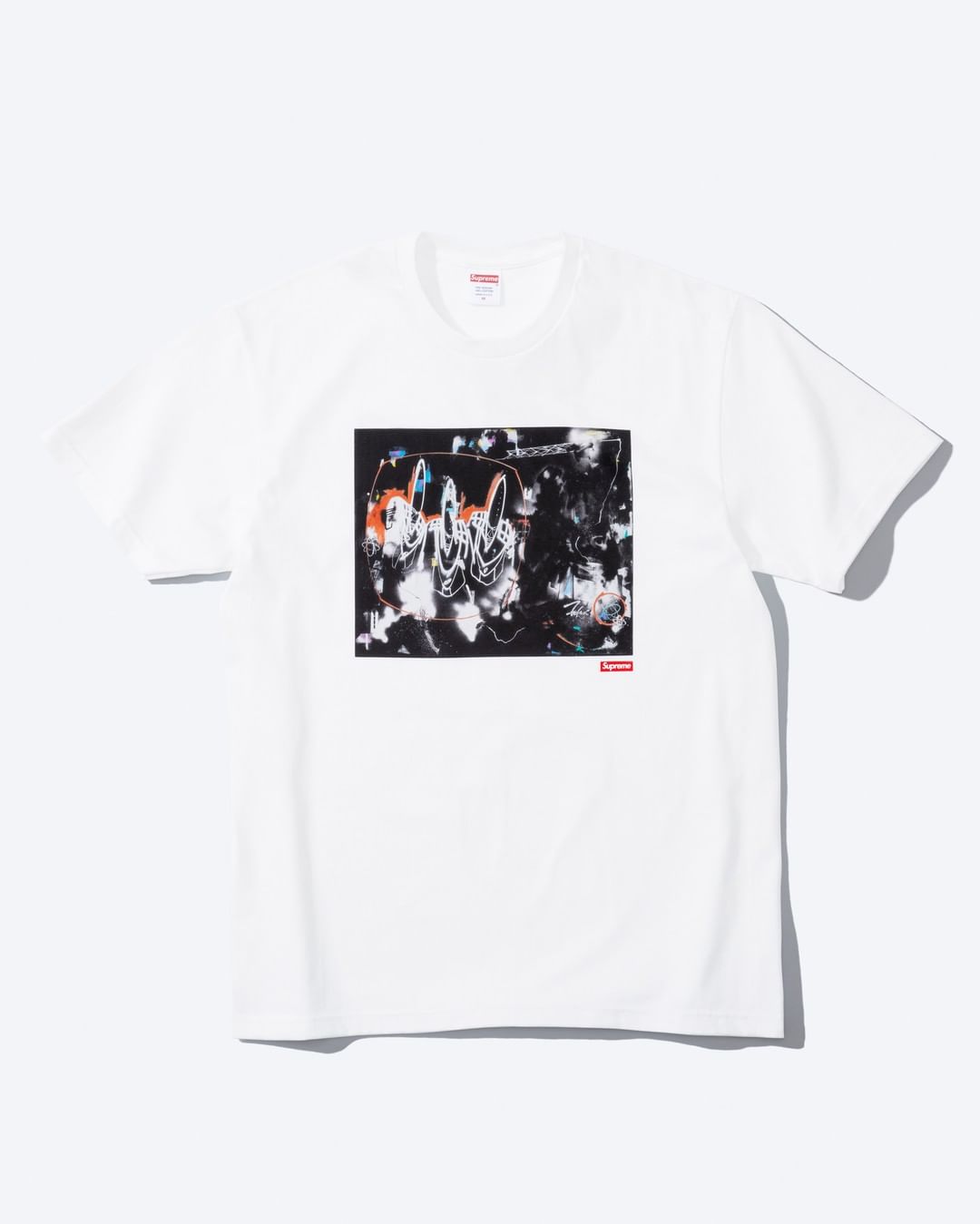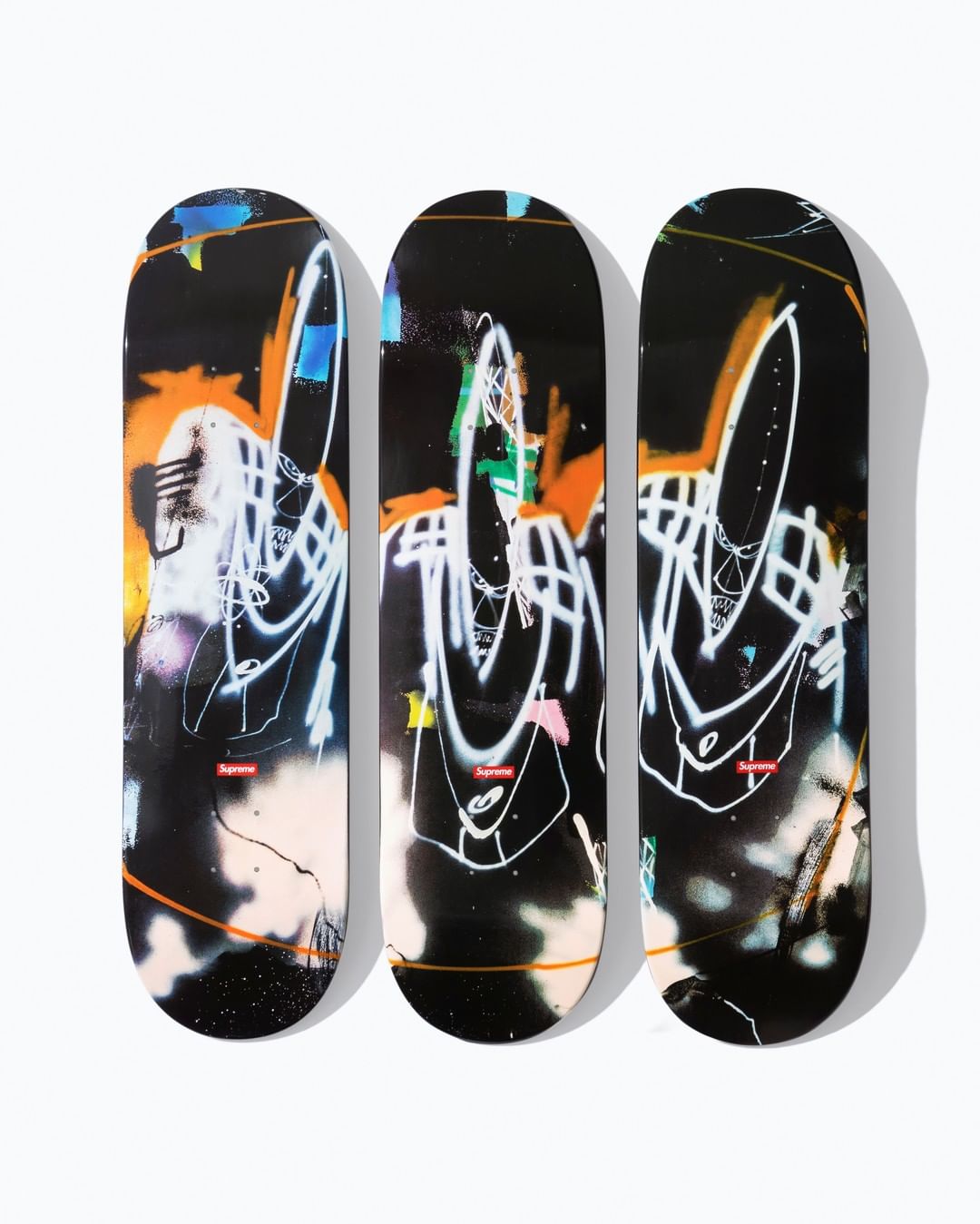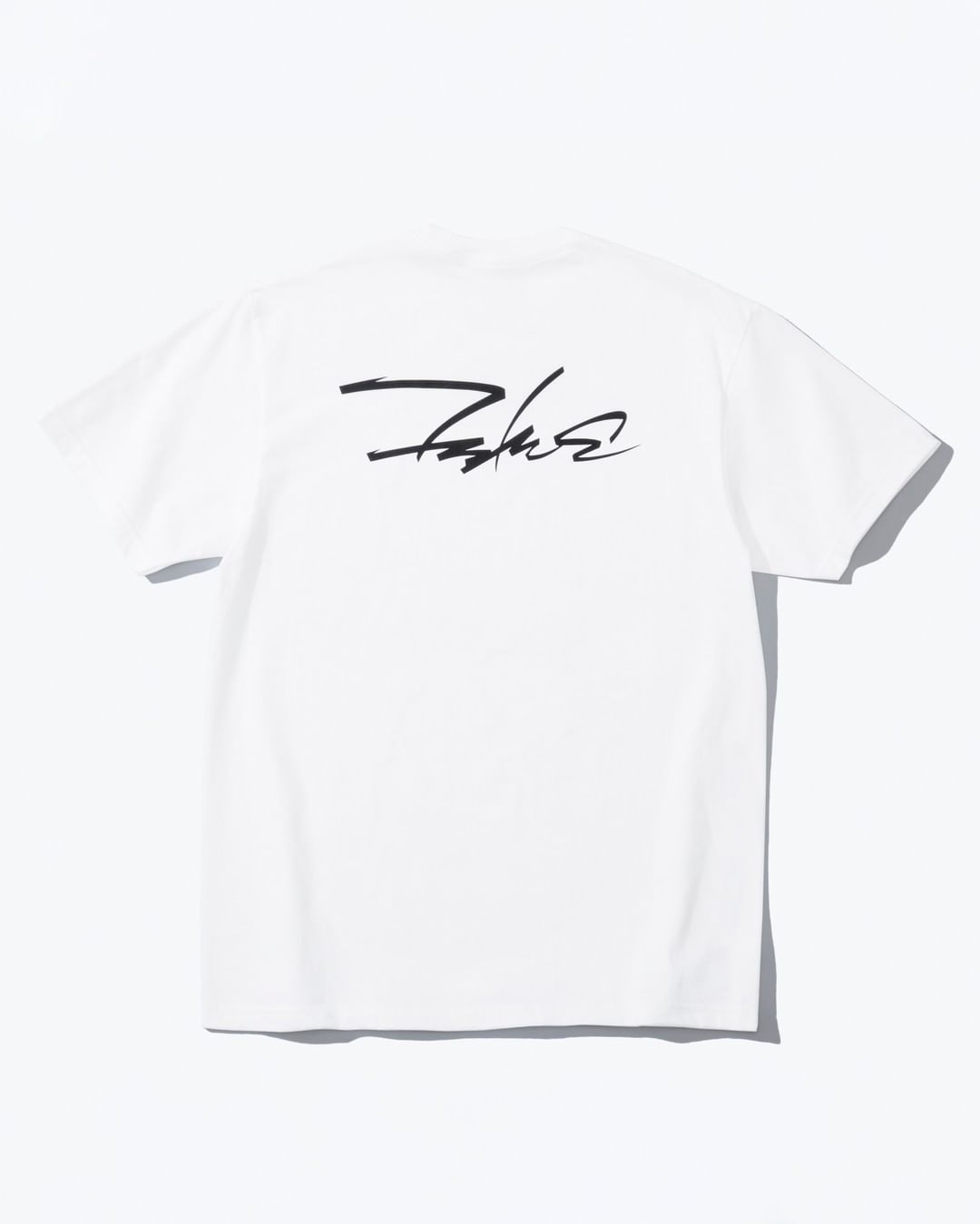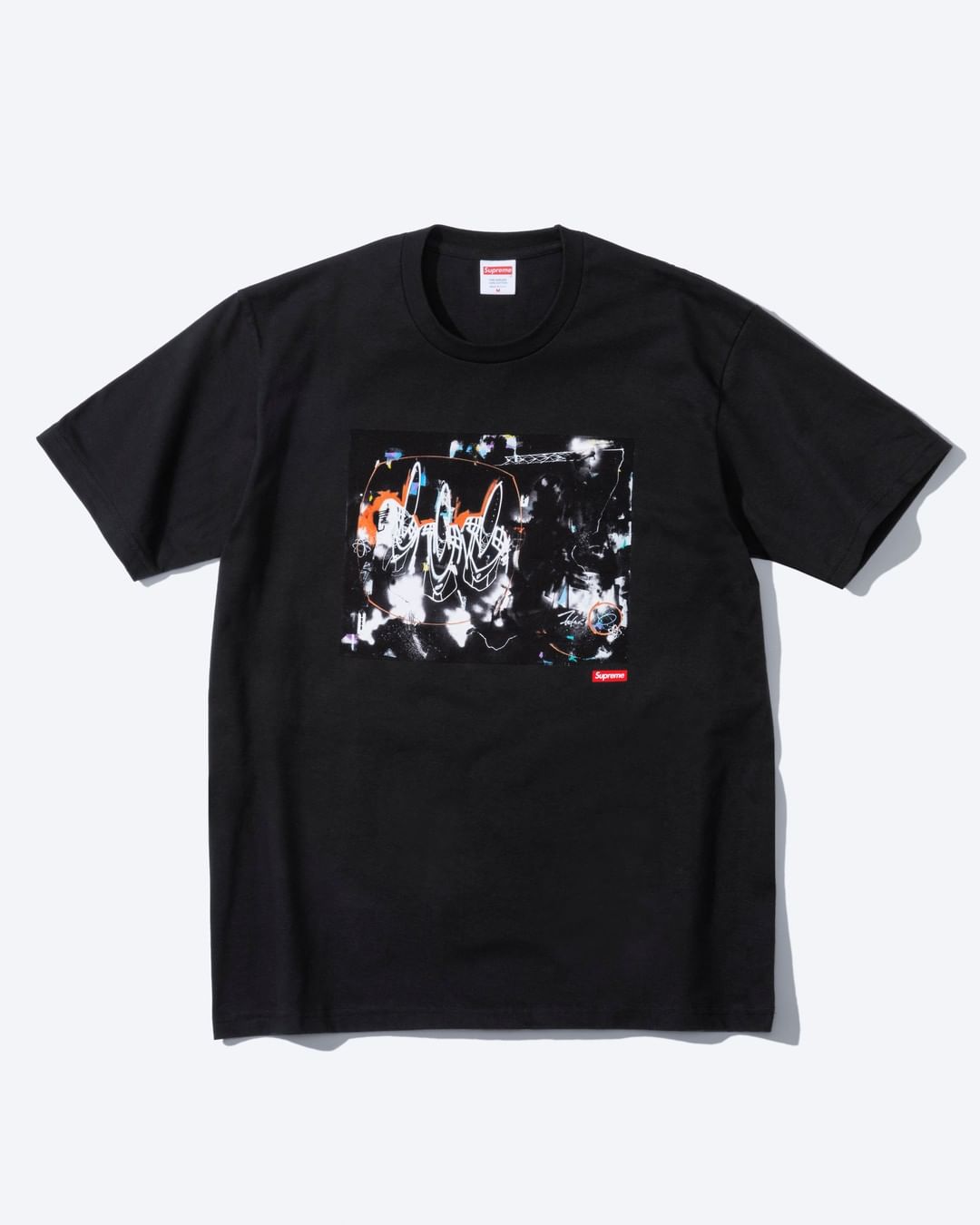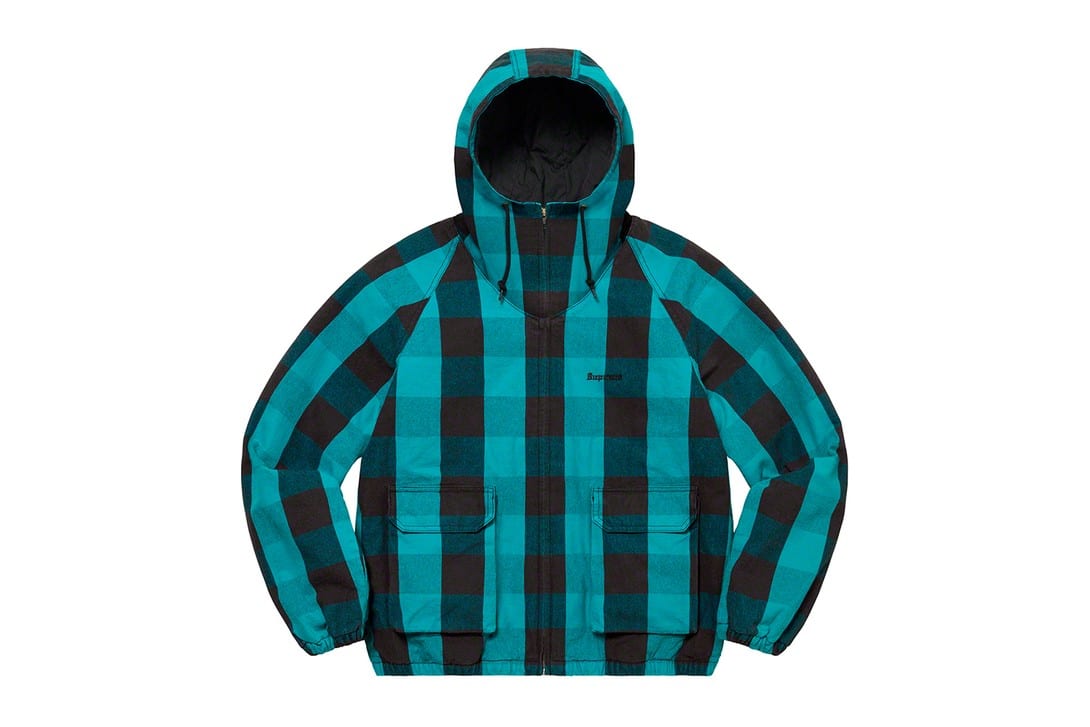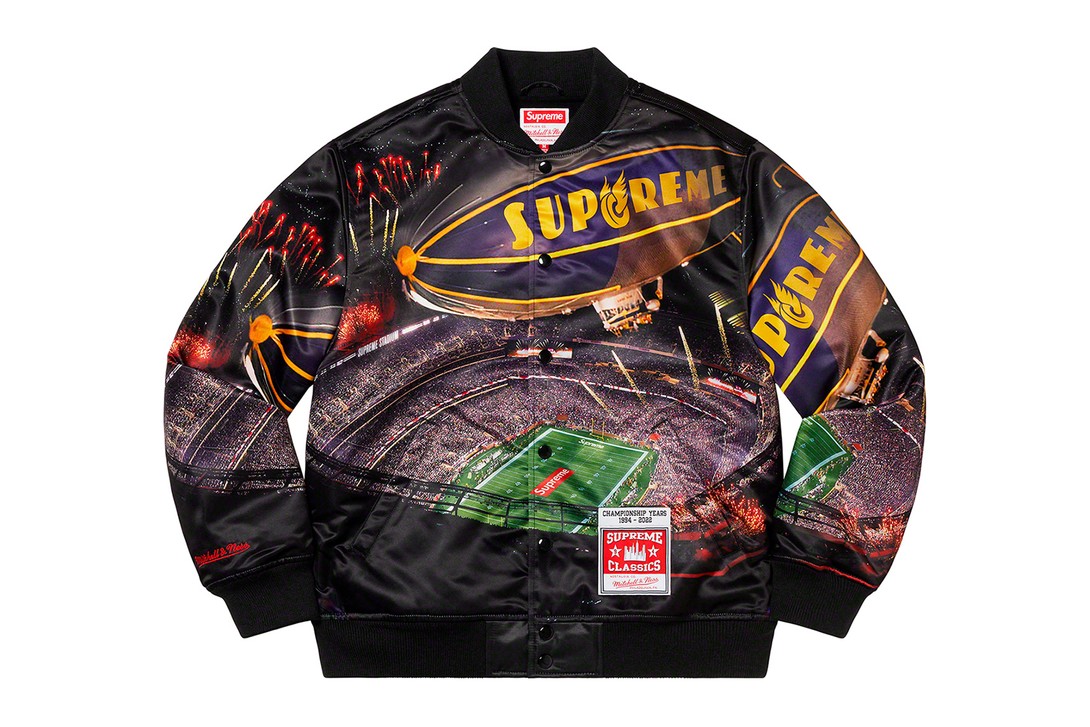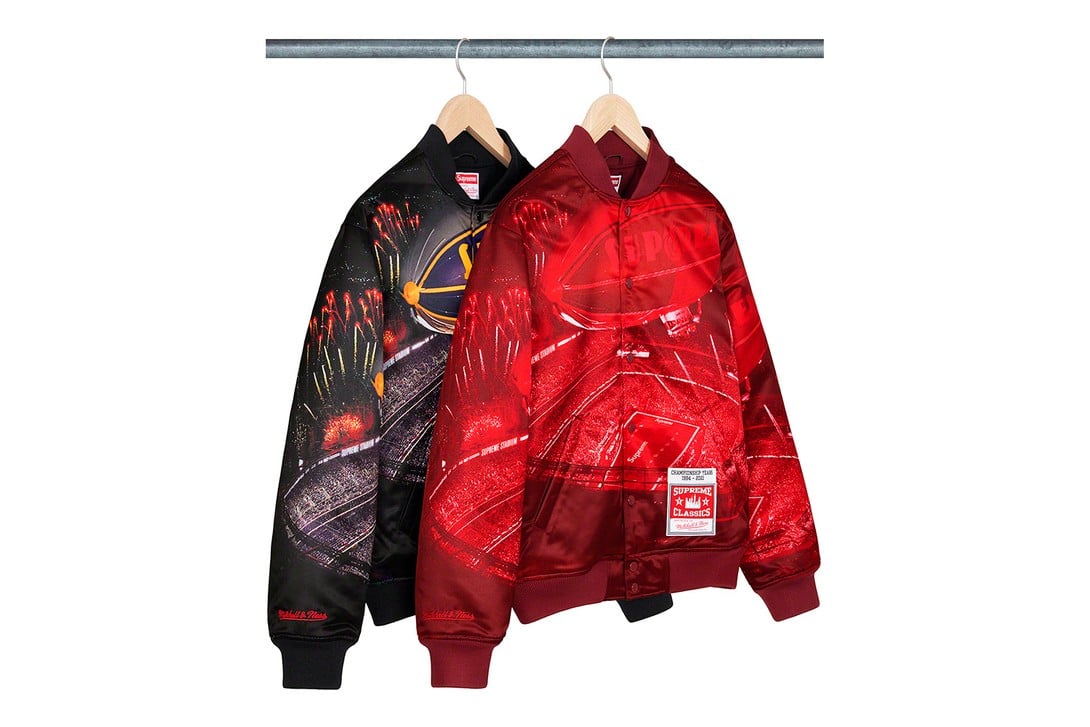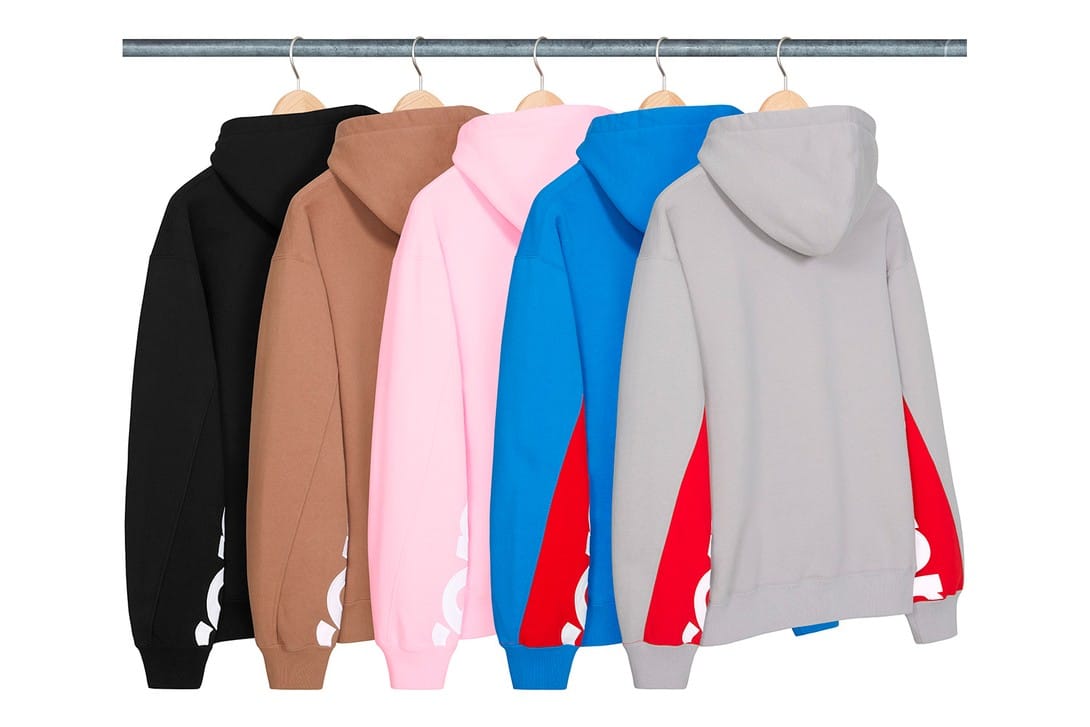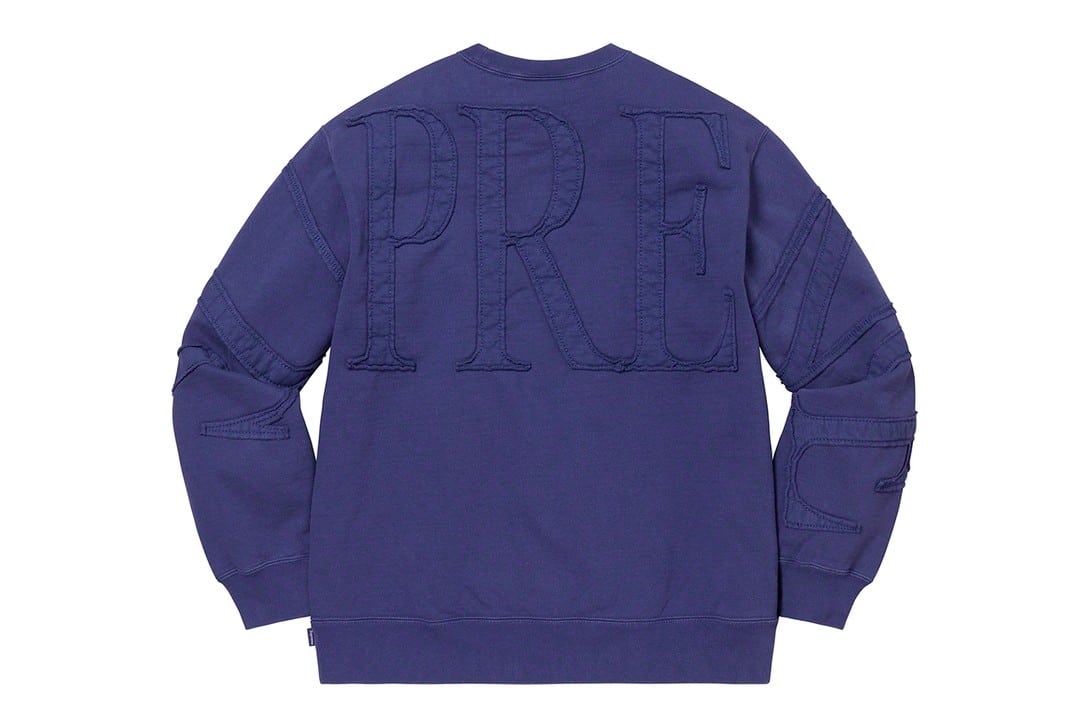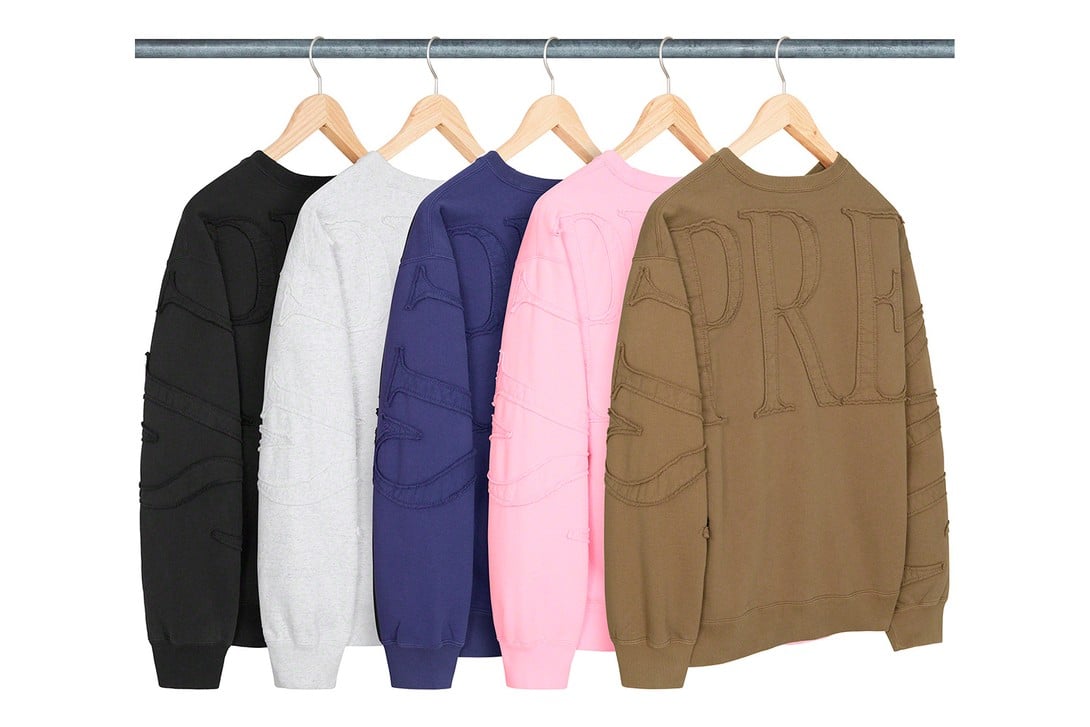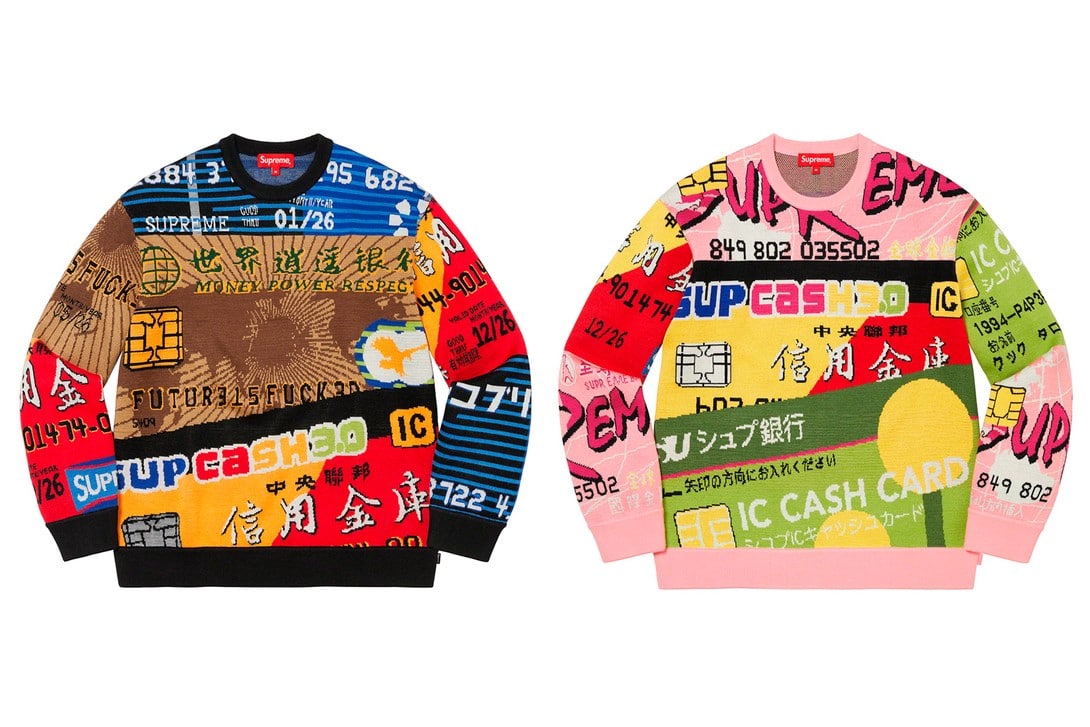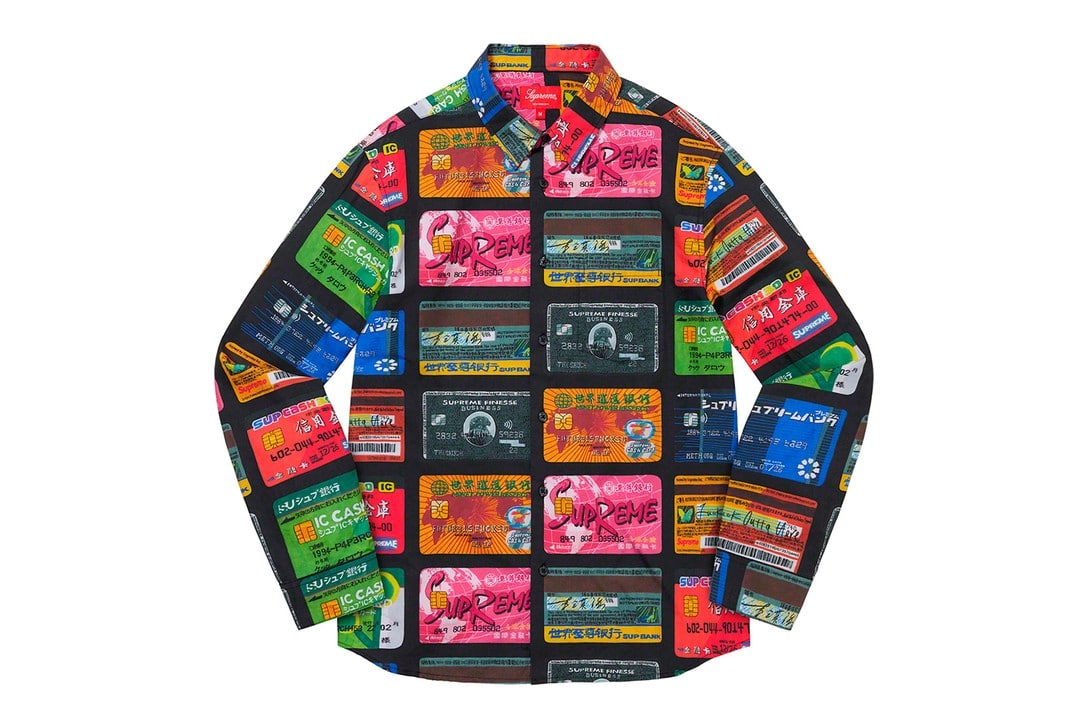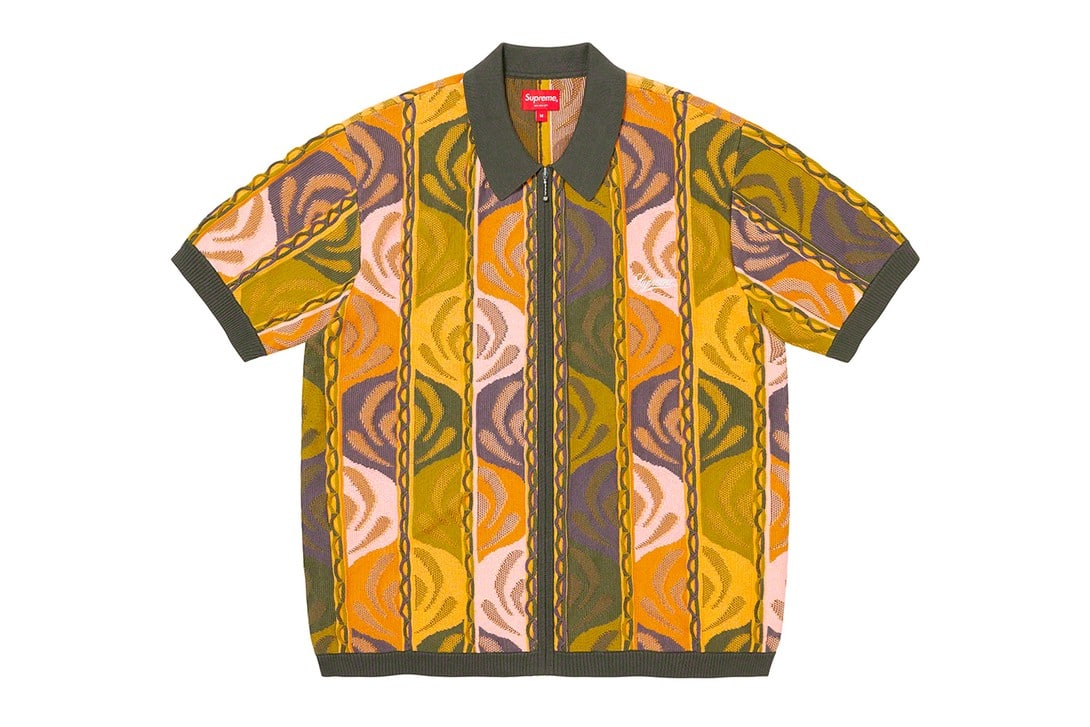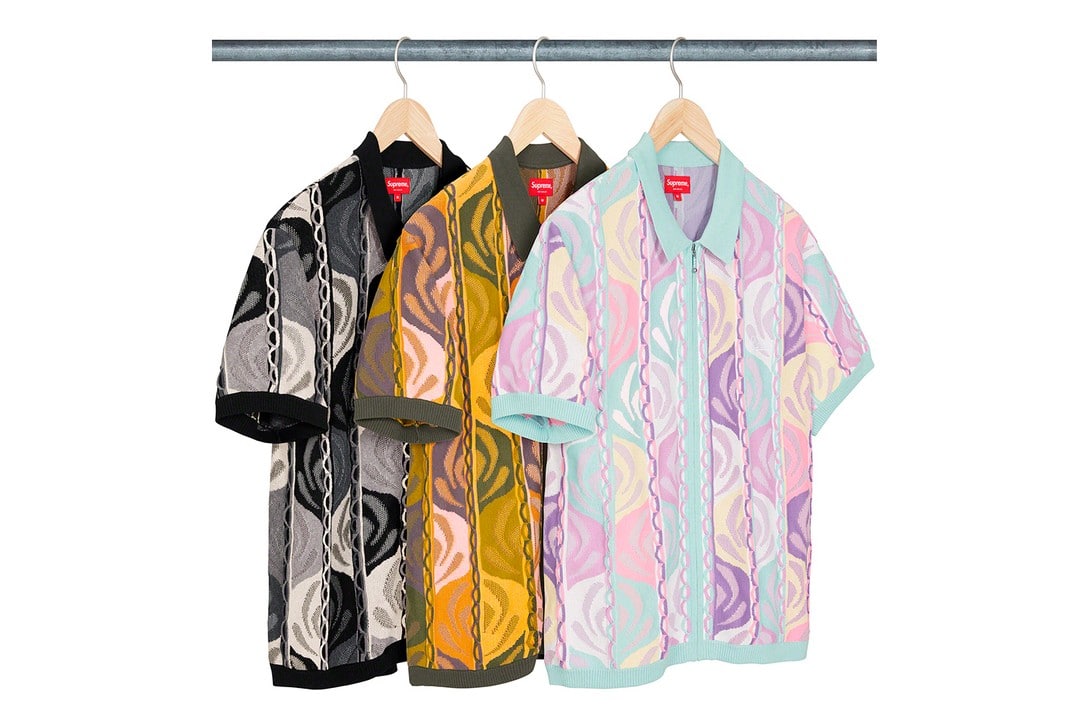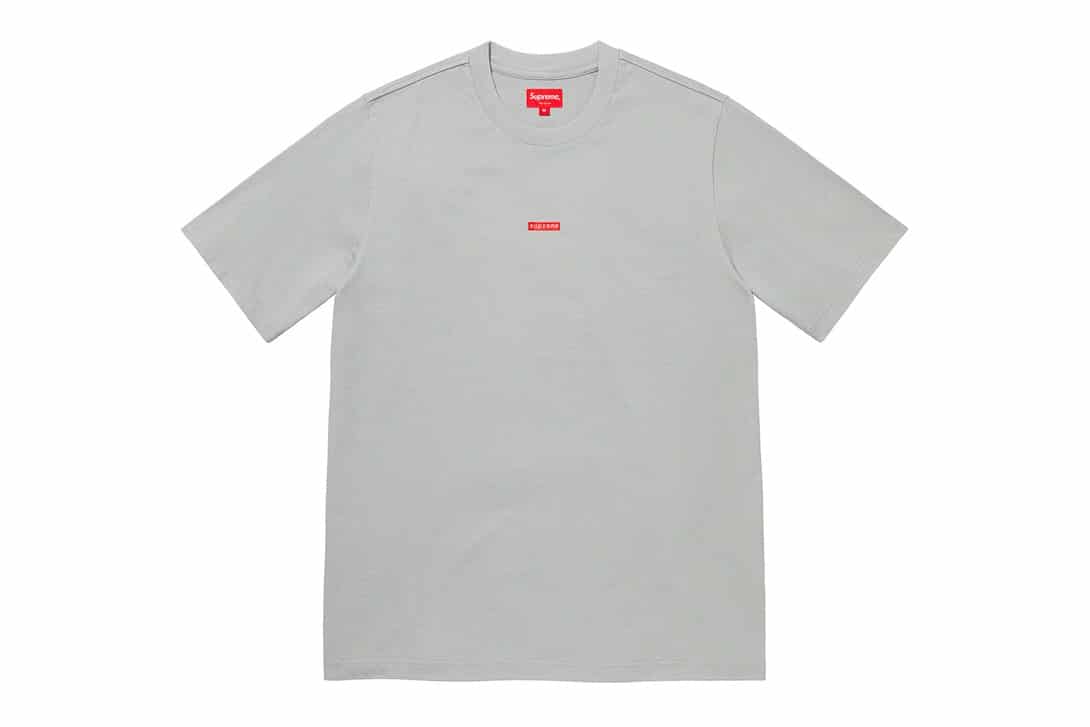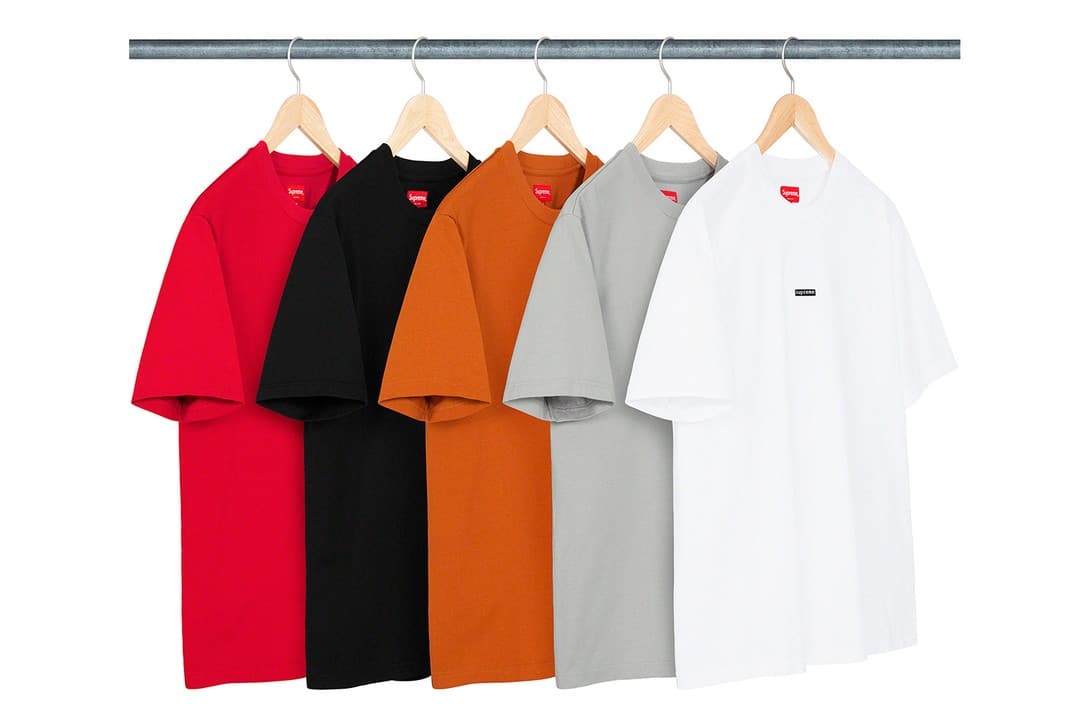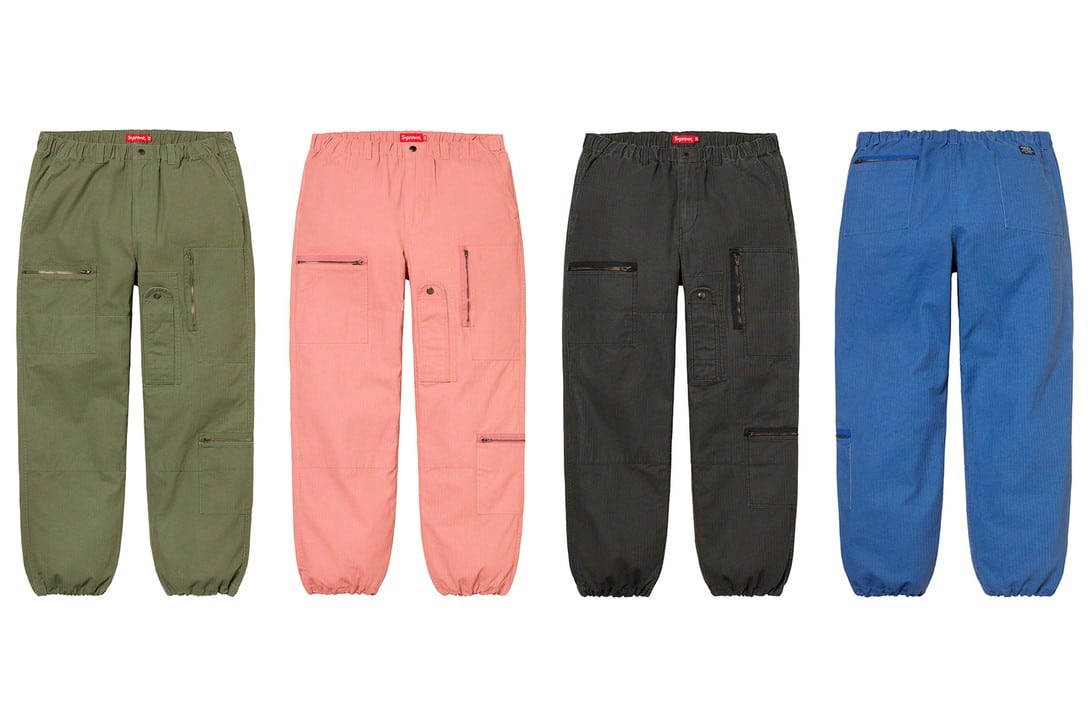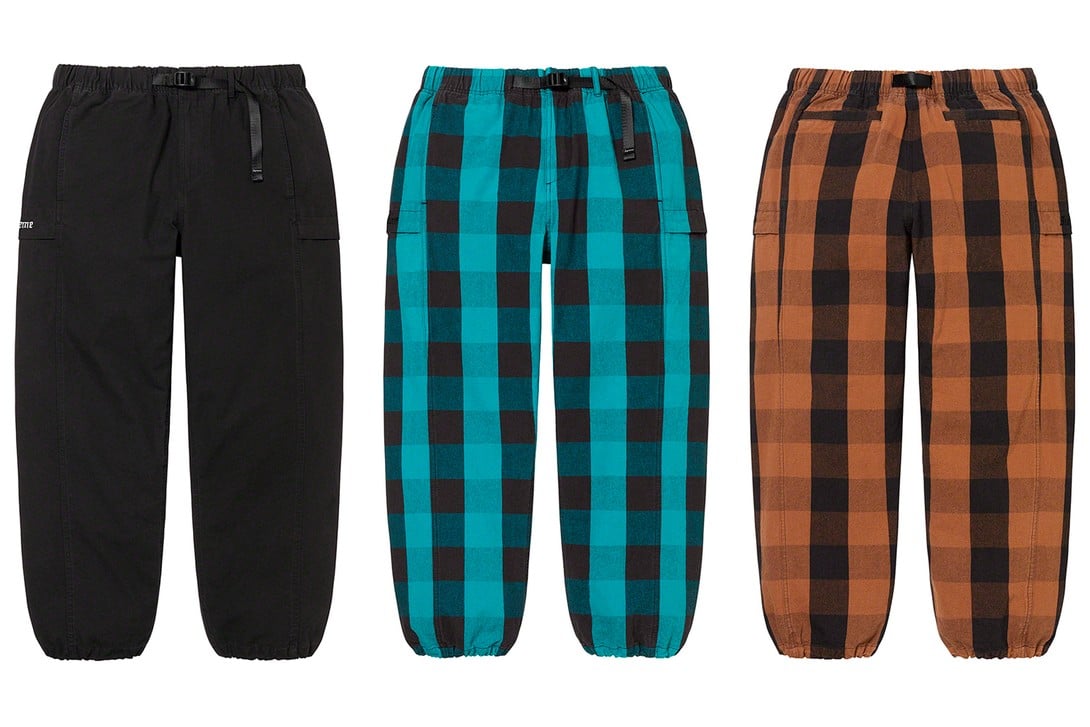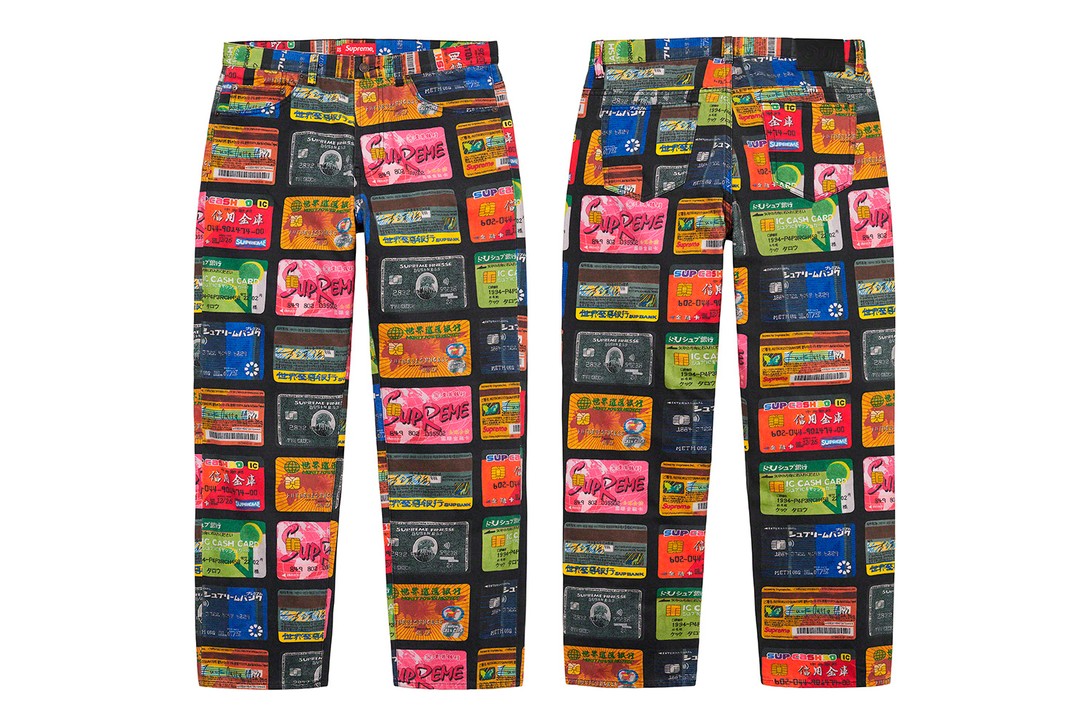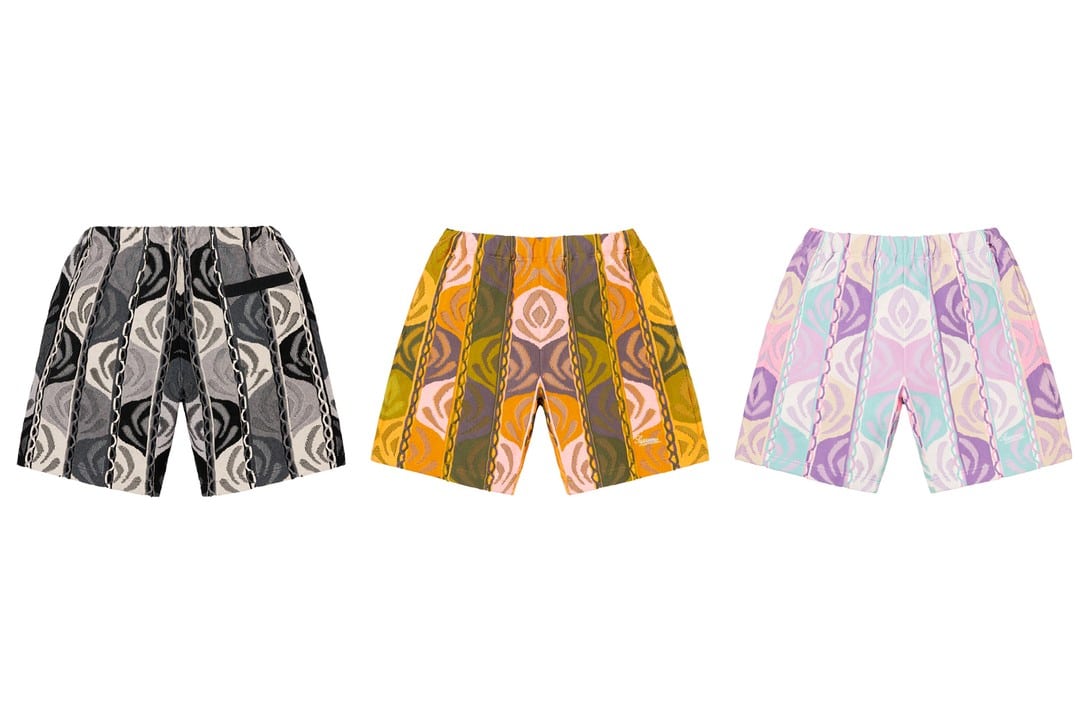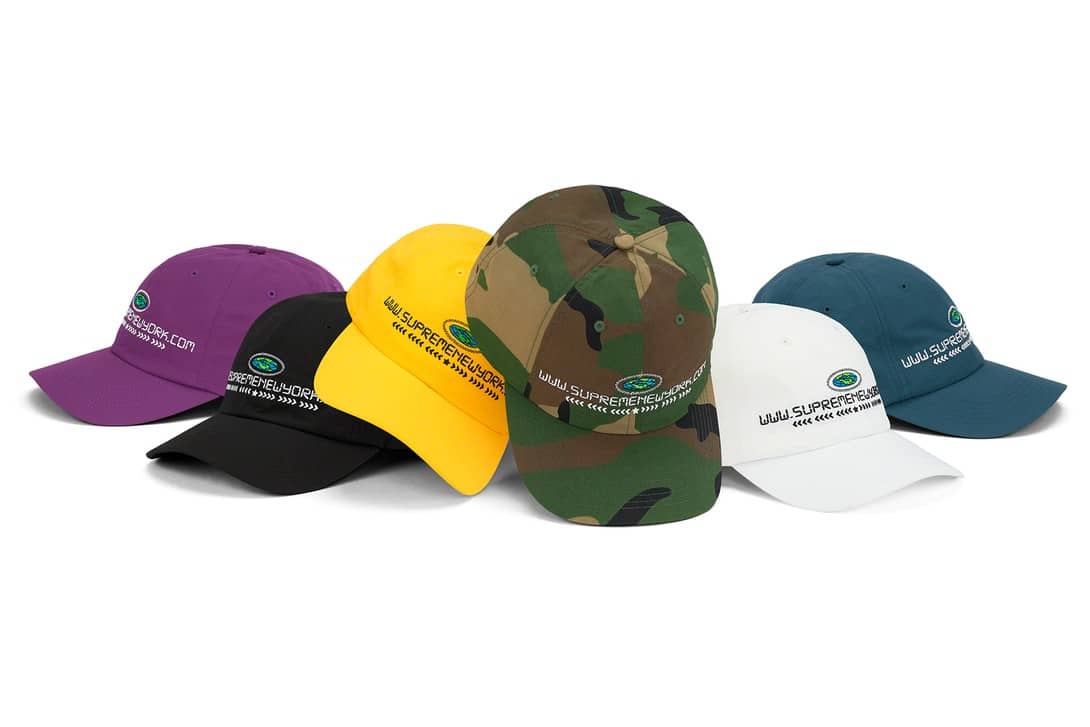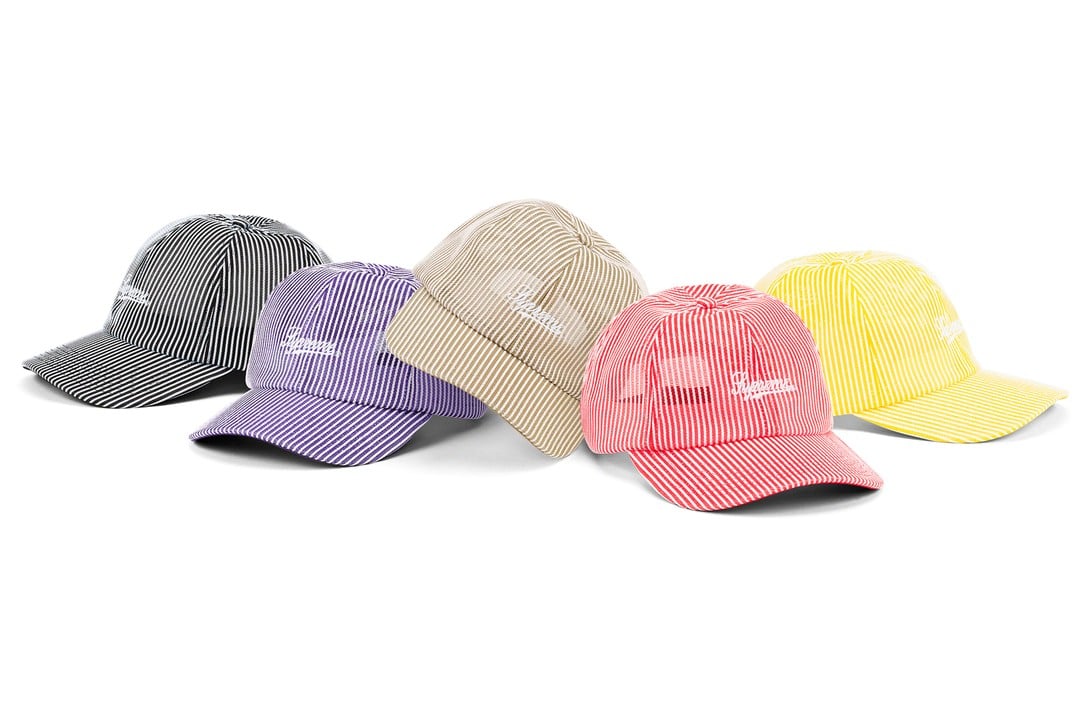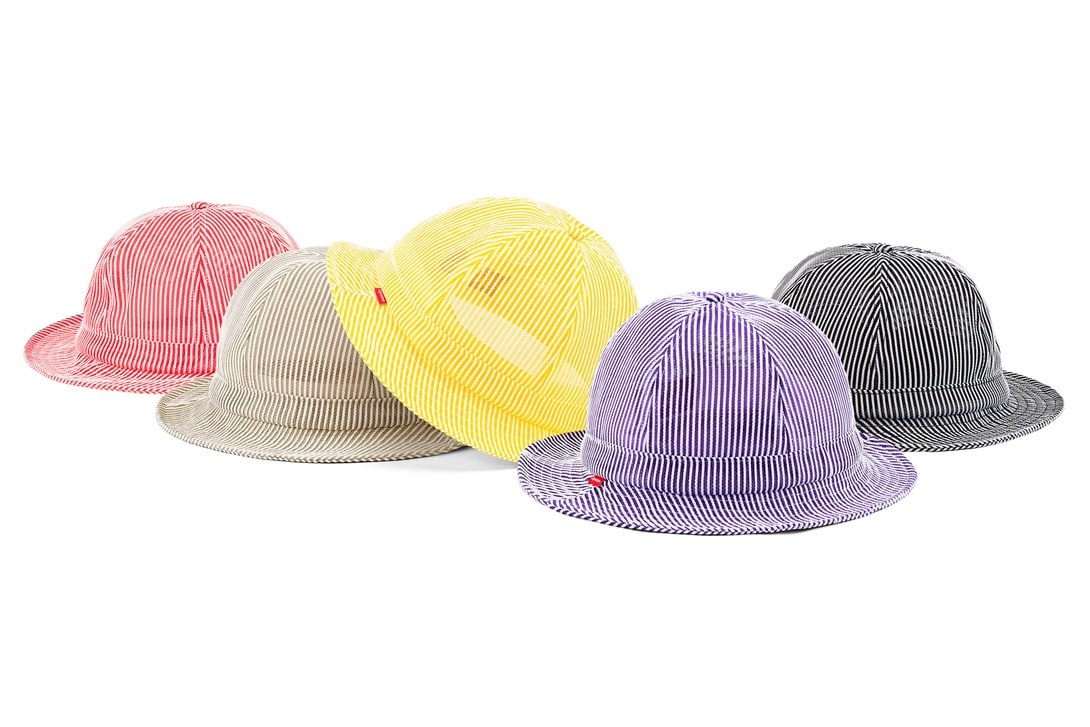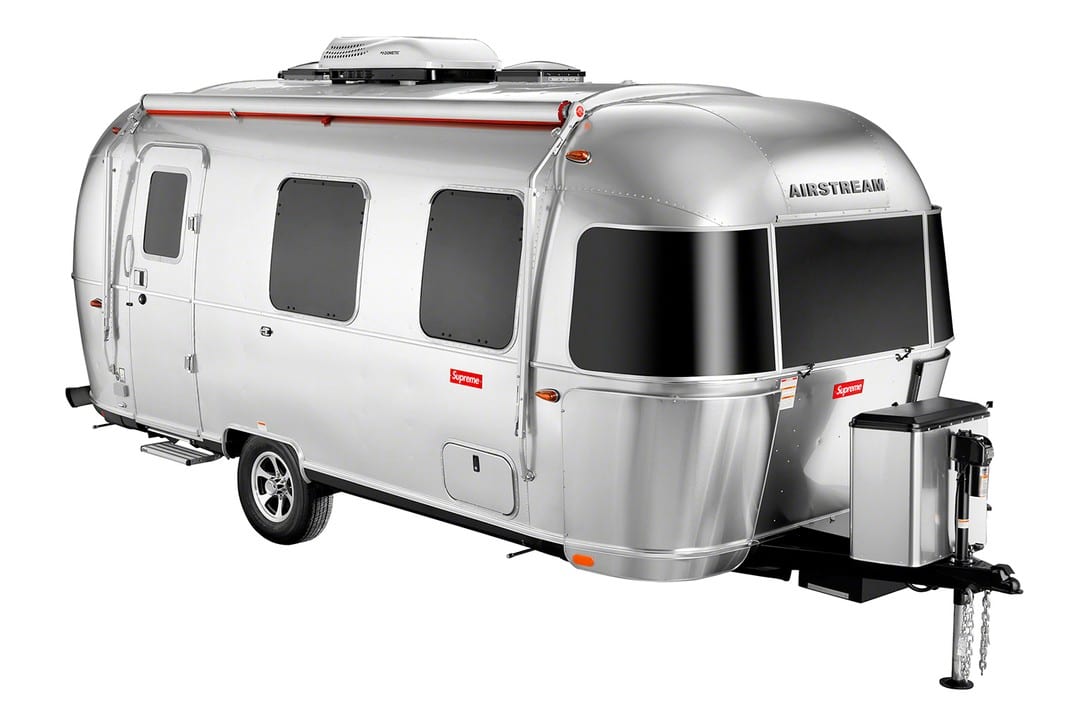 Update 25.05.2022
In the Supreme Spring/Summer 2022 Collection Week 14, the hype label has a lot planned. You see, Supreme and Nike are expanding their partnership with another collection. Together, they are dropping a multi-piece apparel collection consisting of jackets, sweatshirts, trousers, and caps. They will be released in camouflage or corduroy design, with typical brandings adorning the apparel. In addition, garments with Silver Surfer prints and other Supreme clothing will be released. Check out the new images here and expect a drop on May 26th.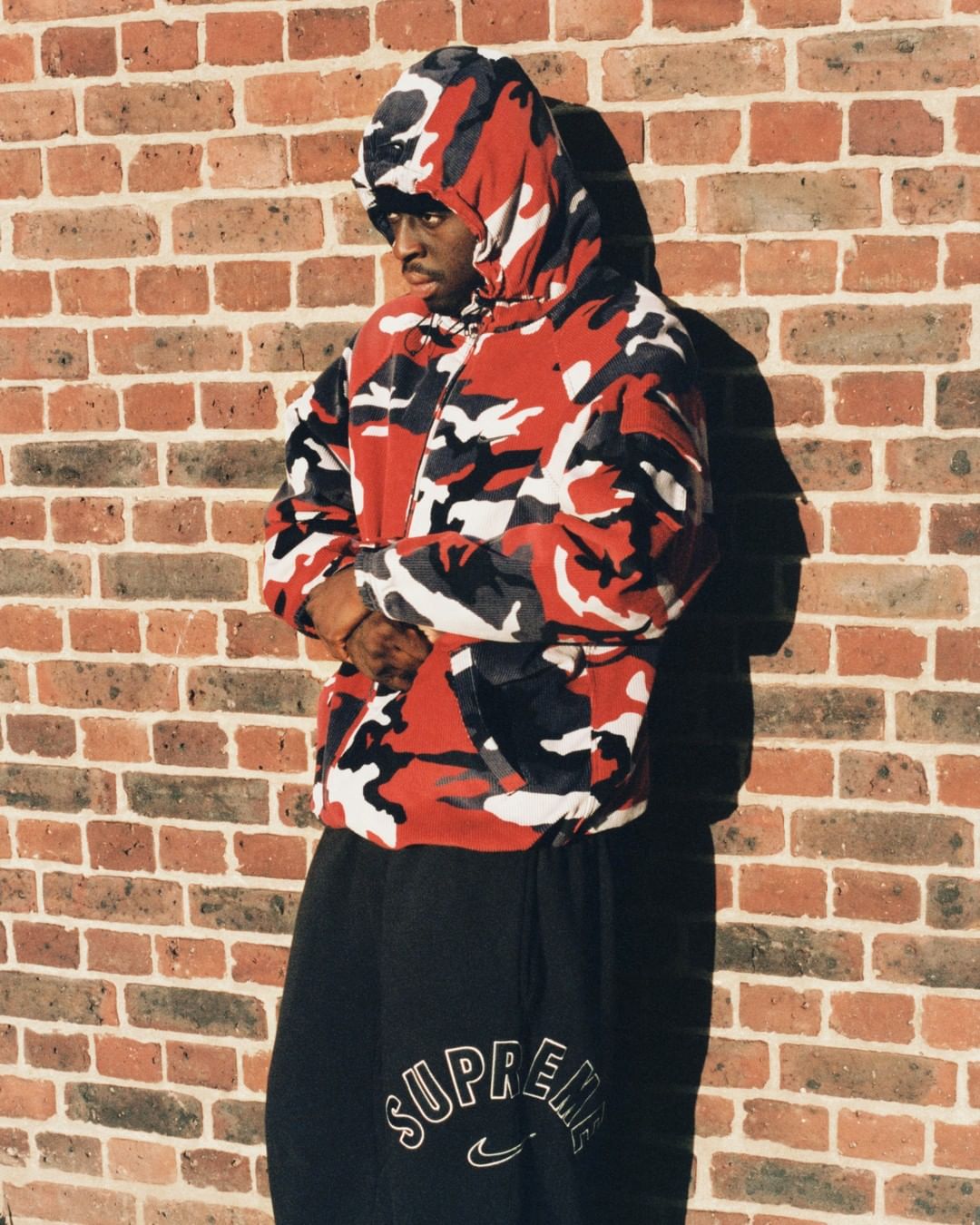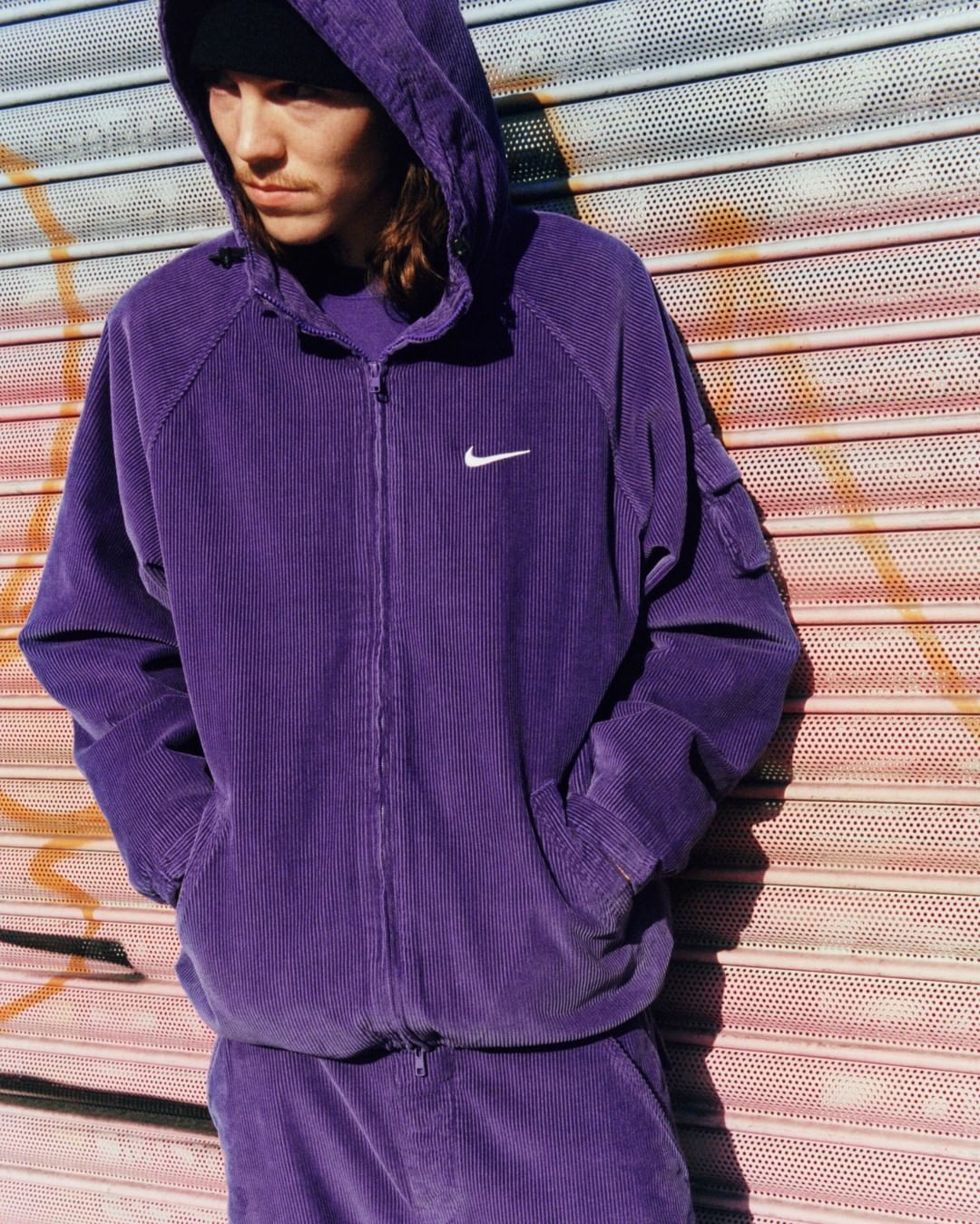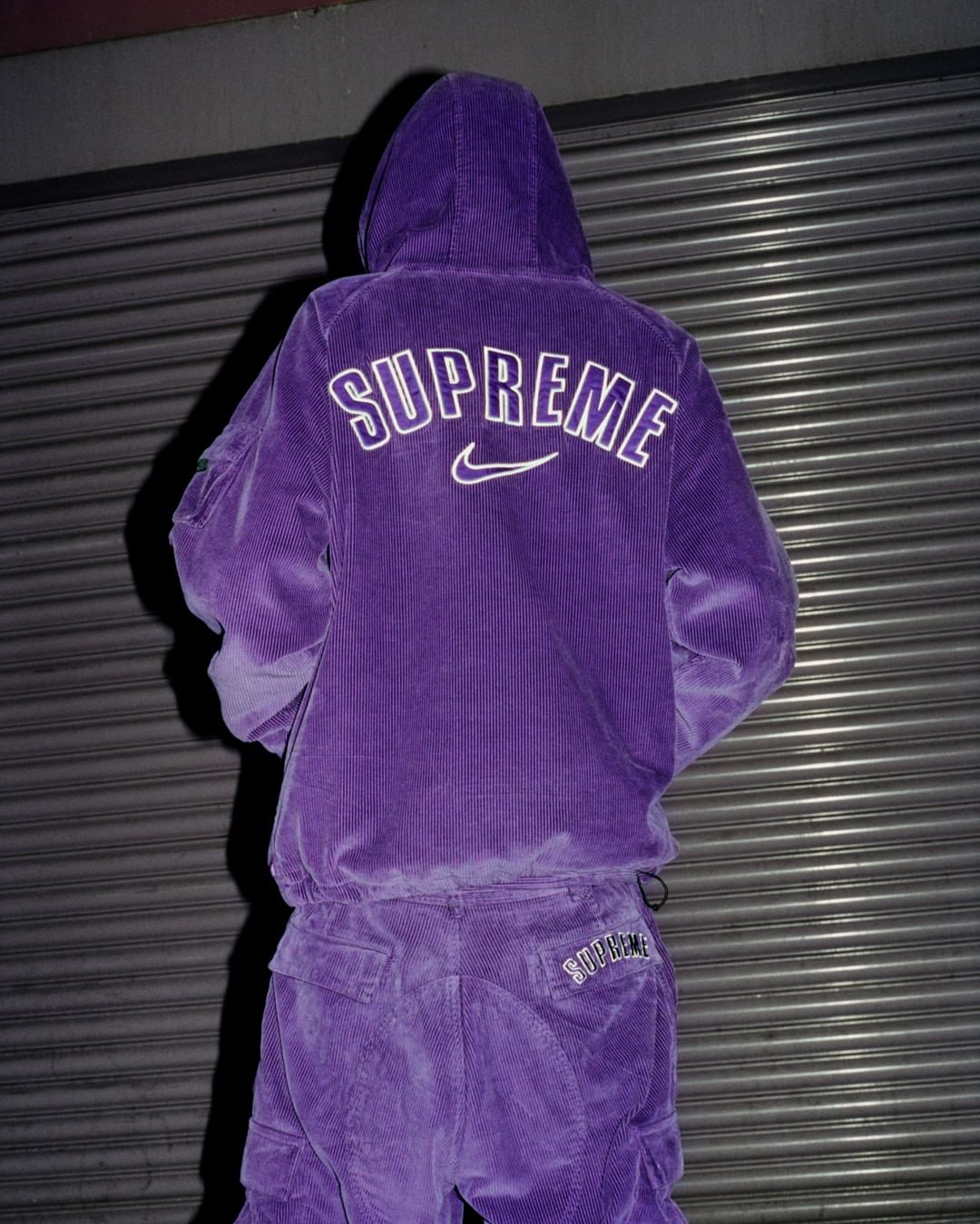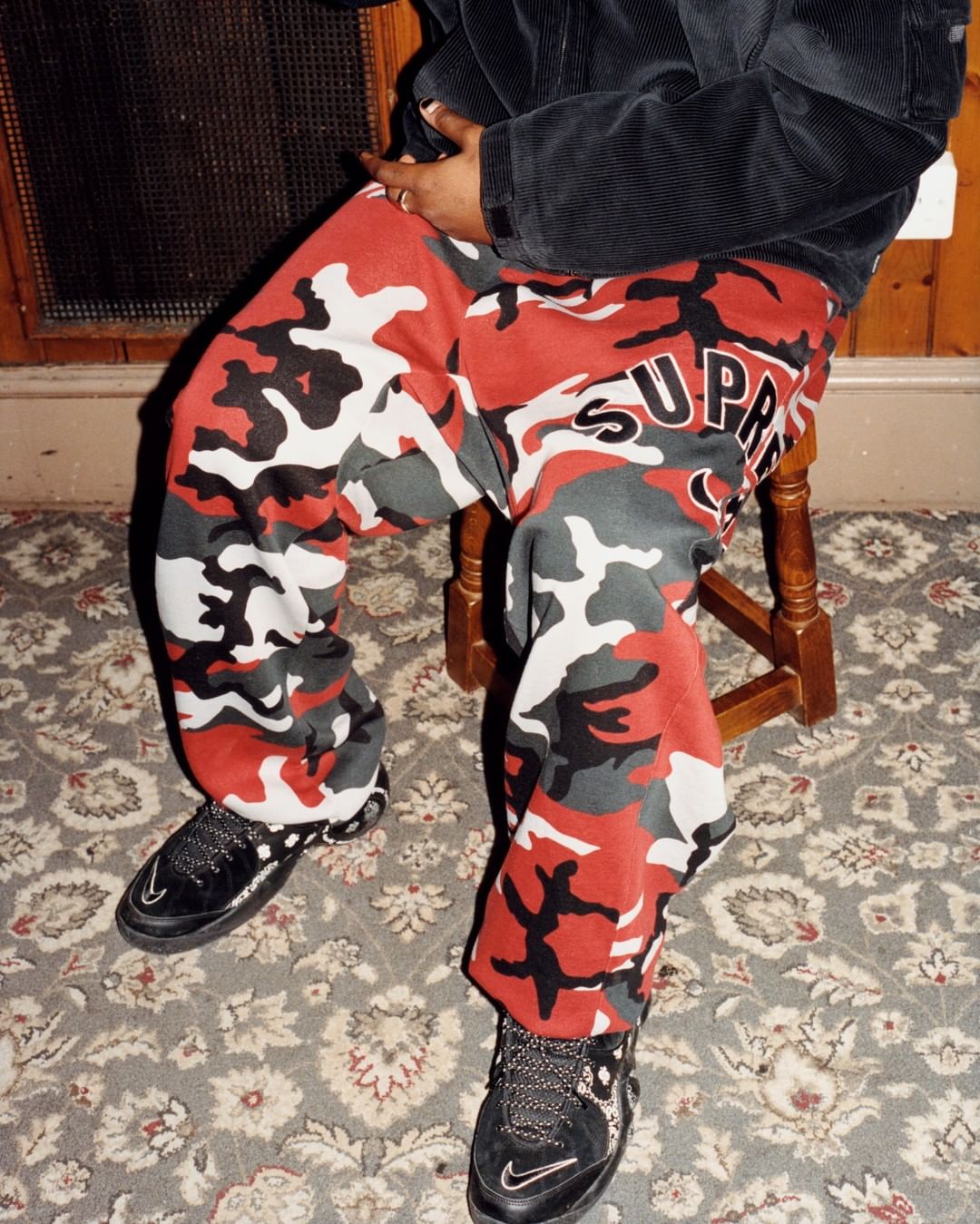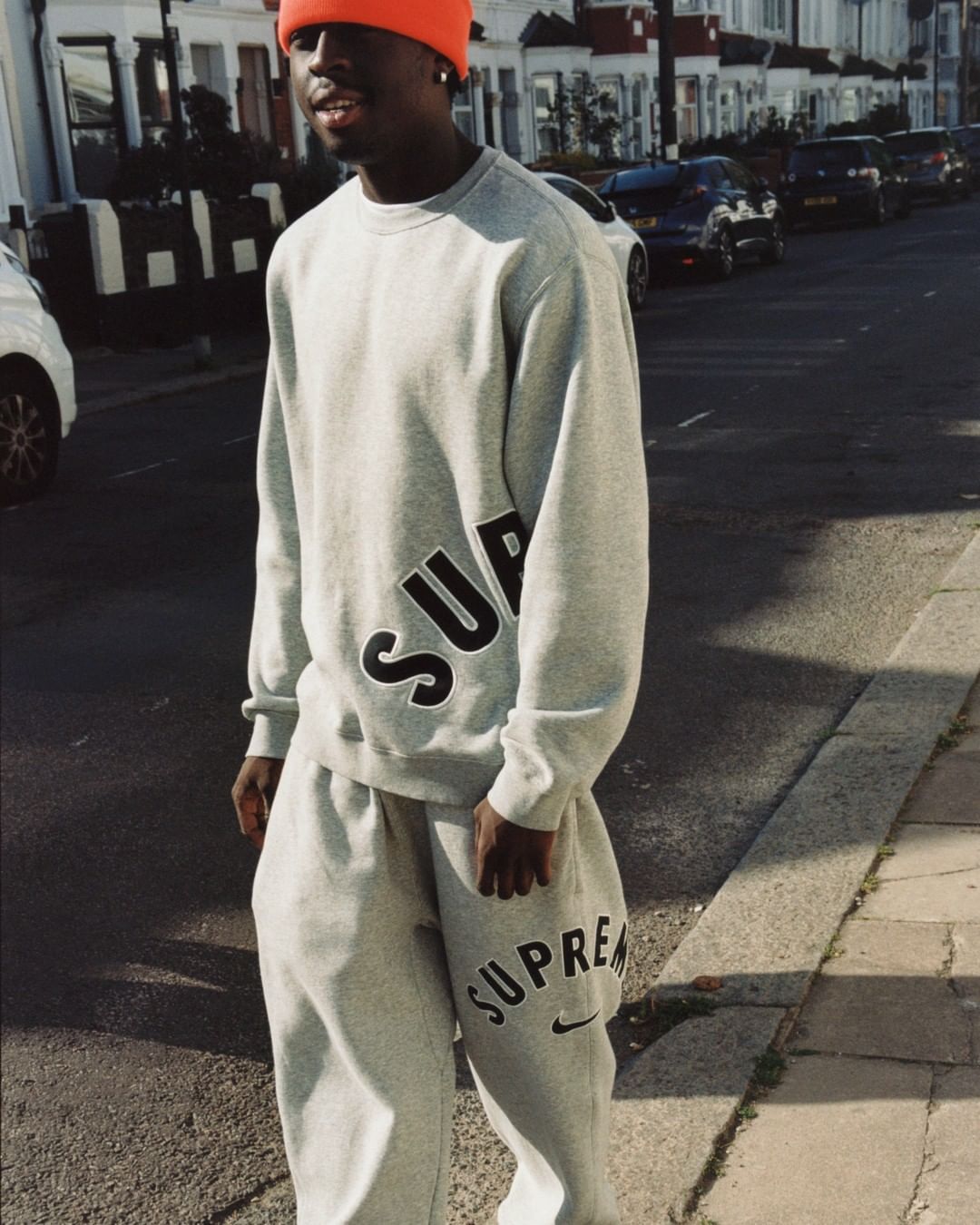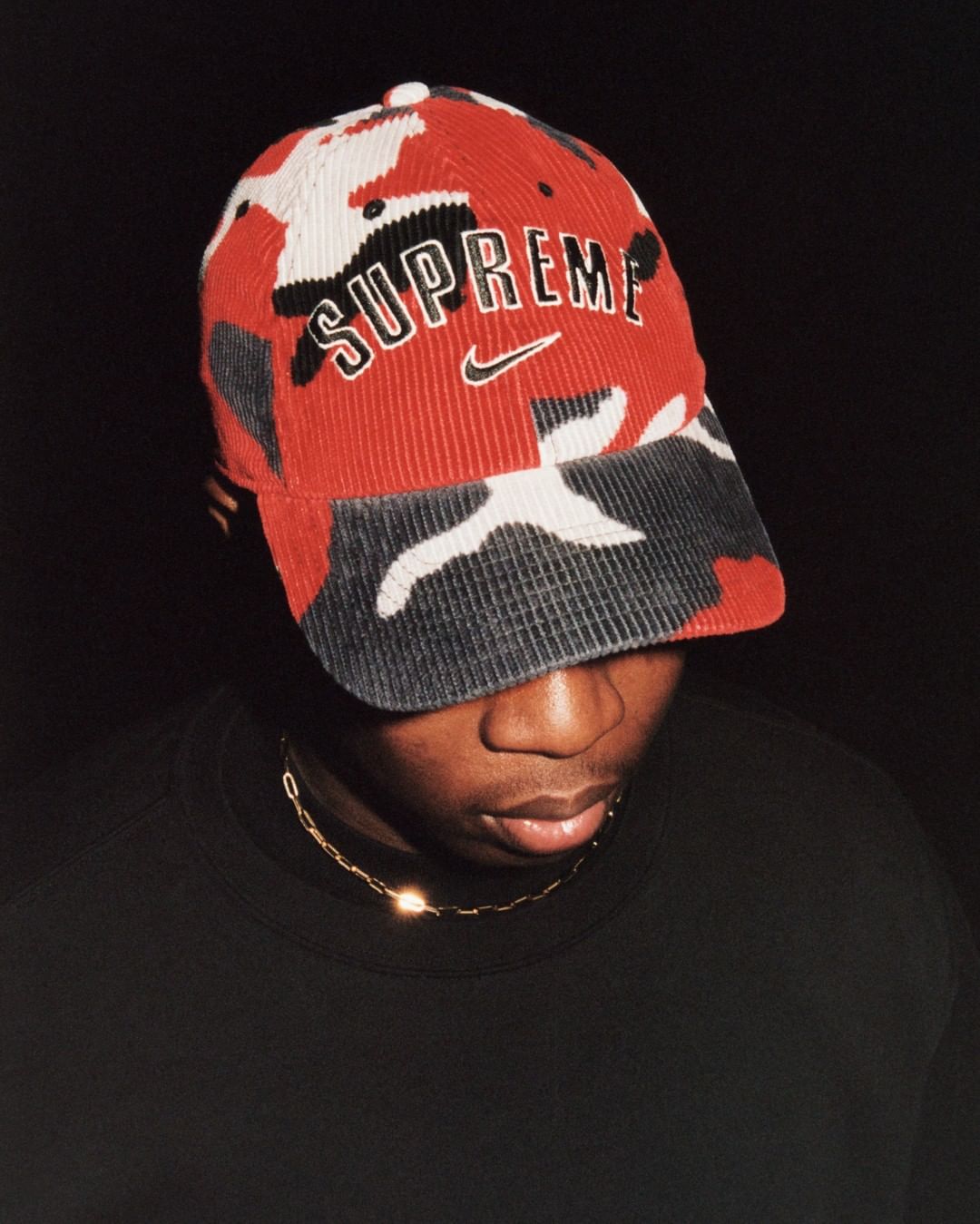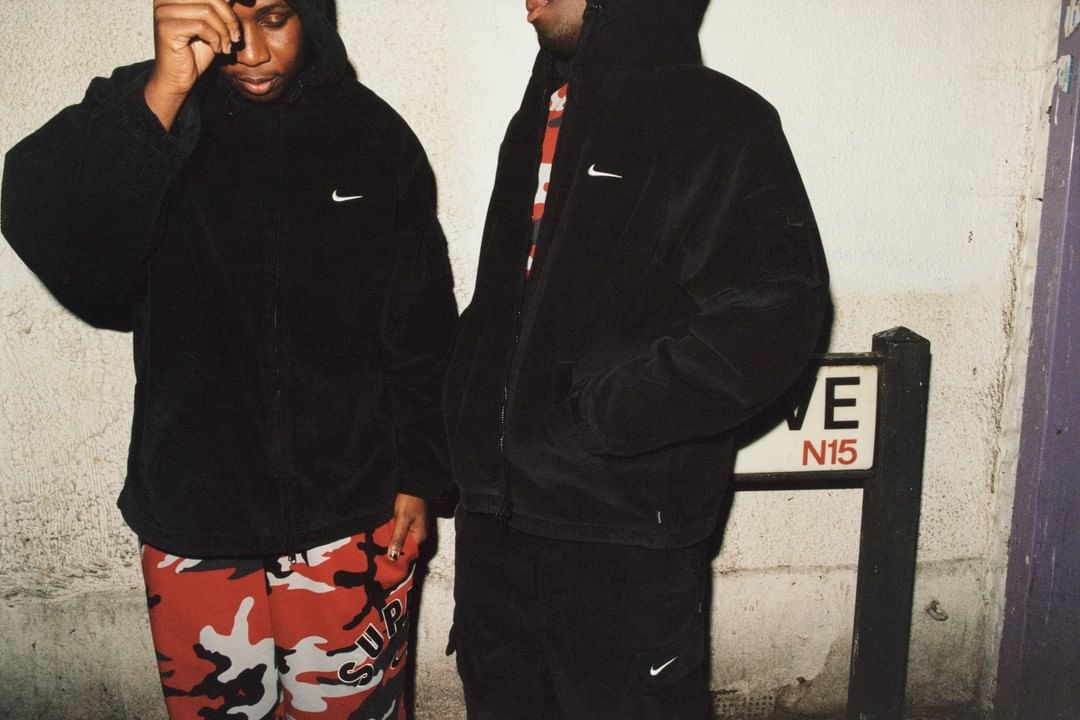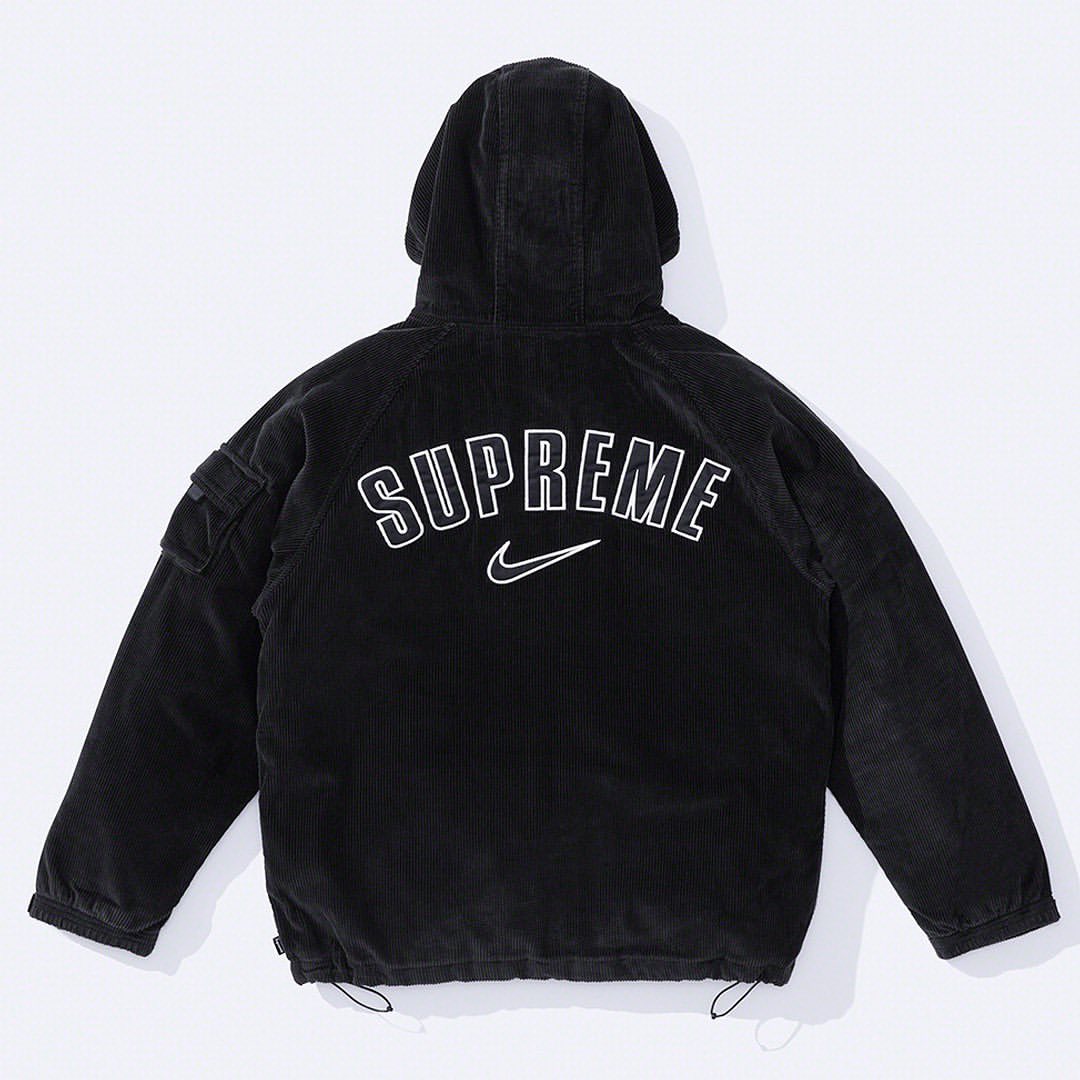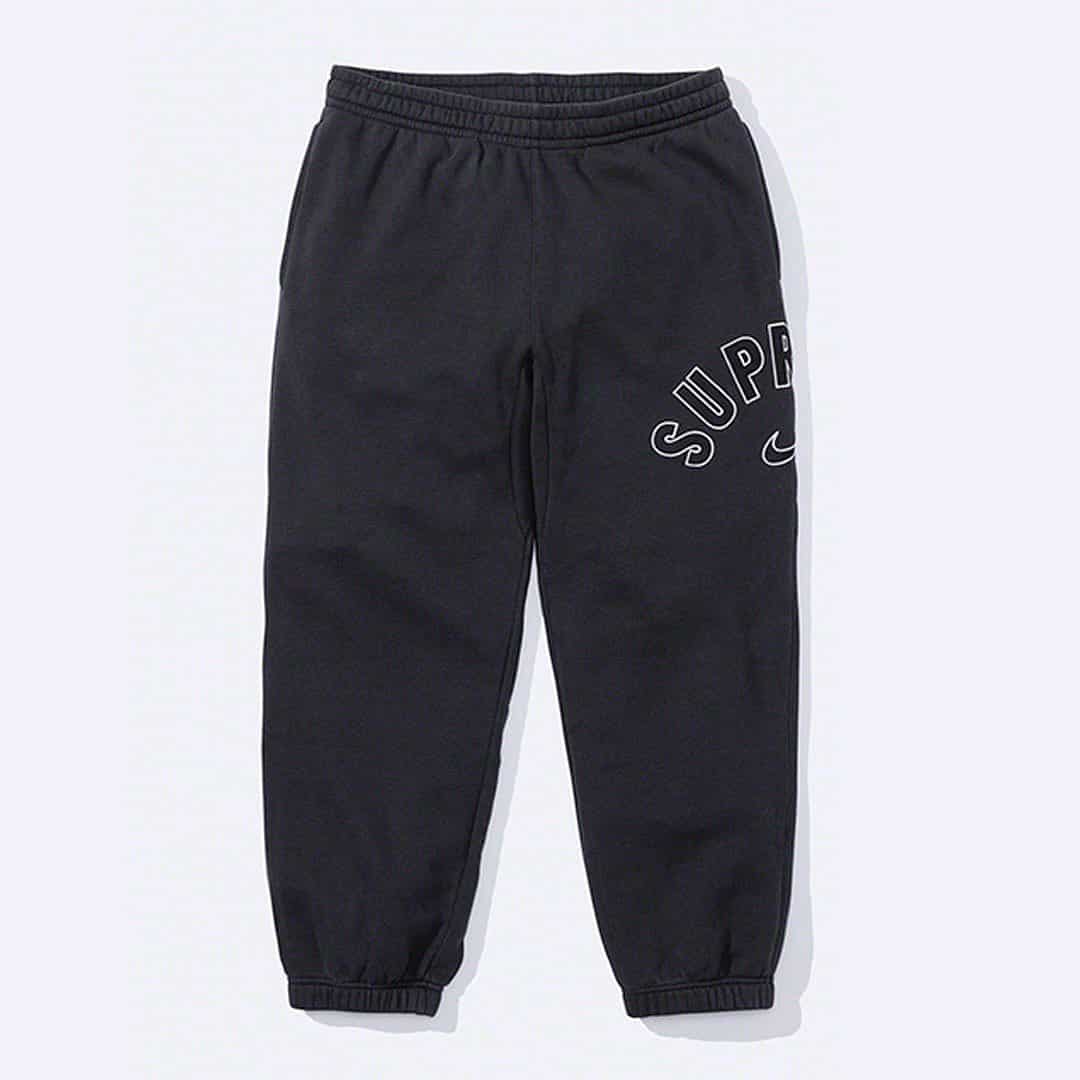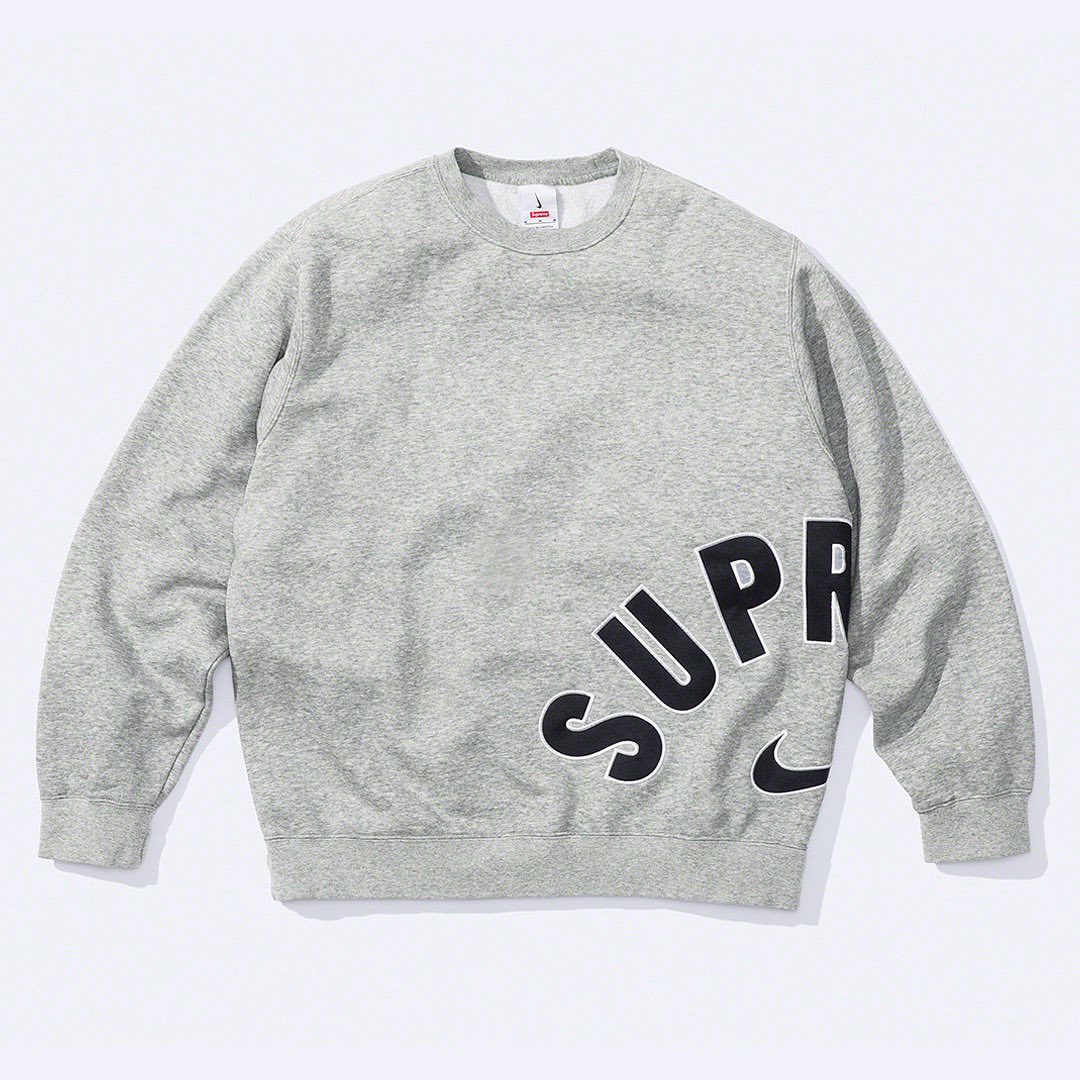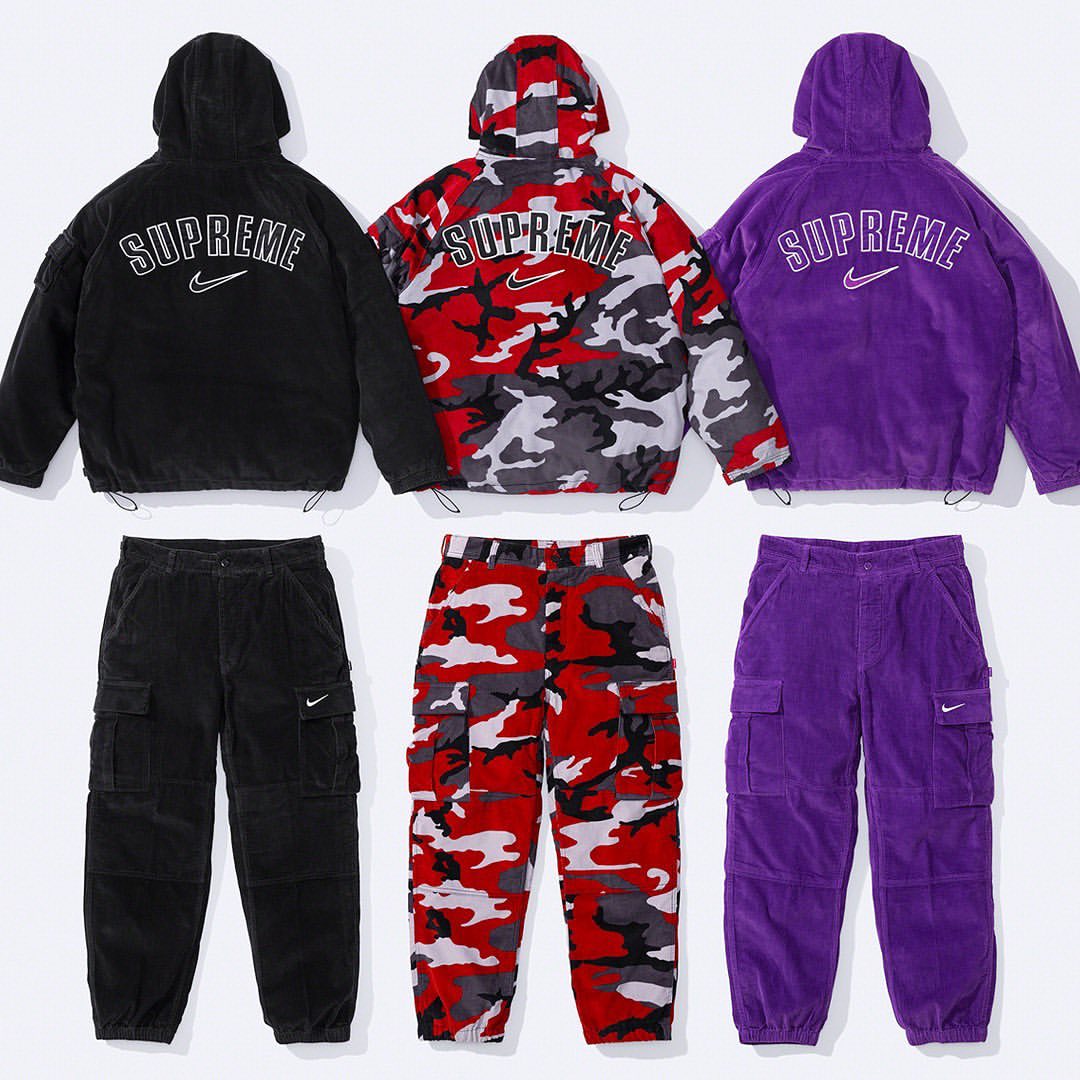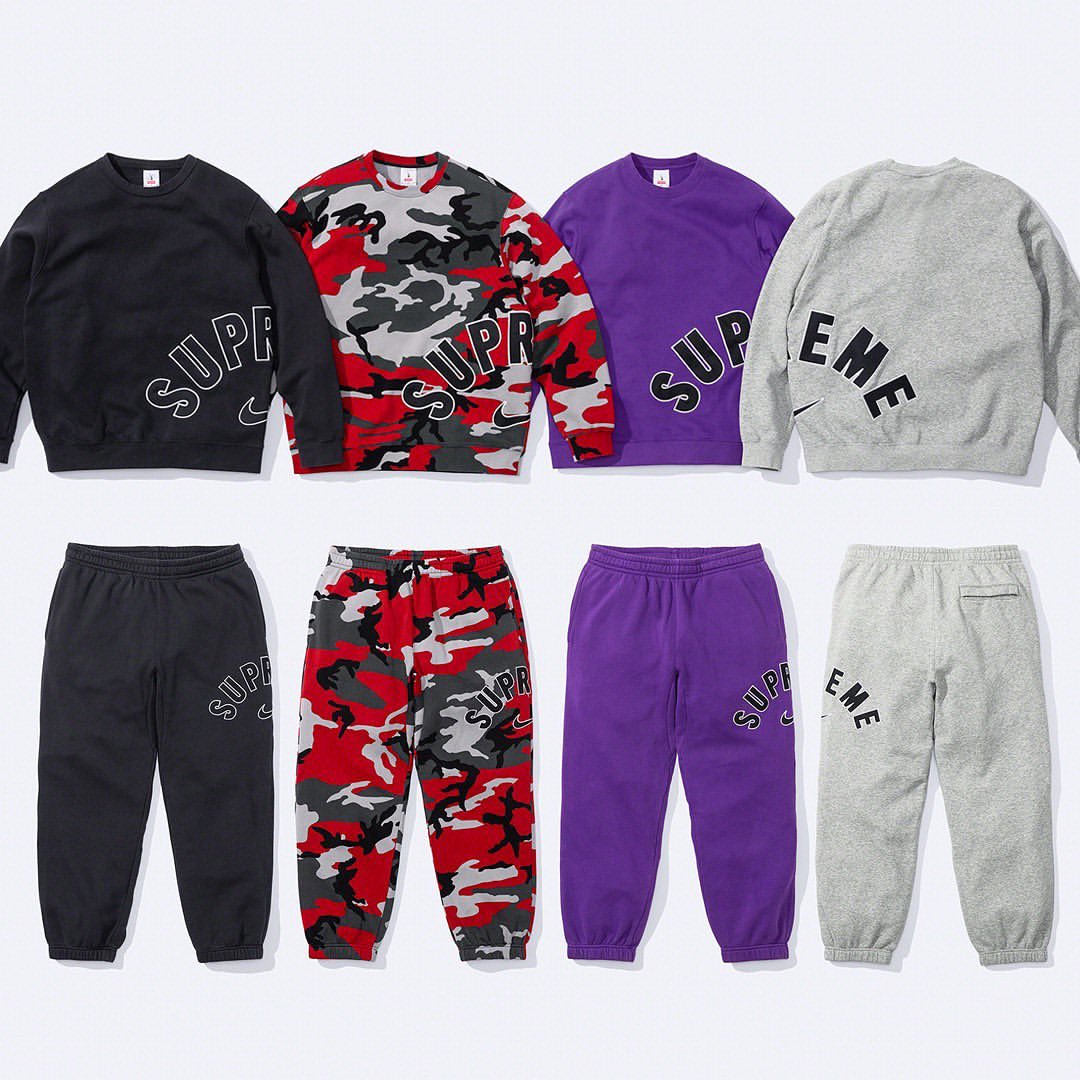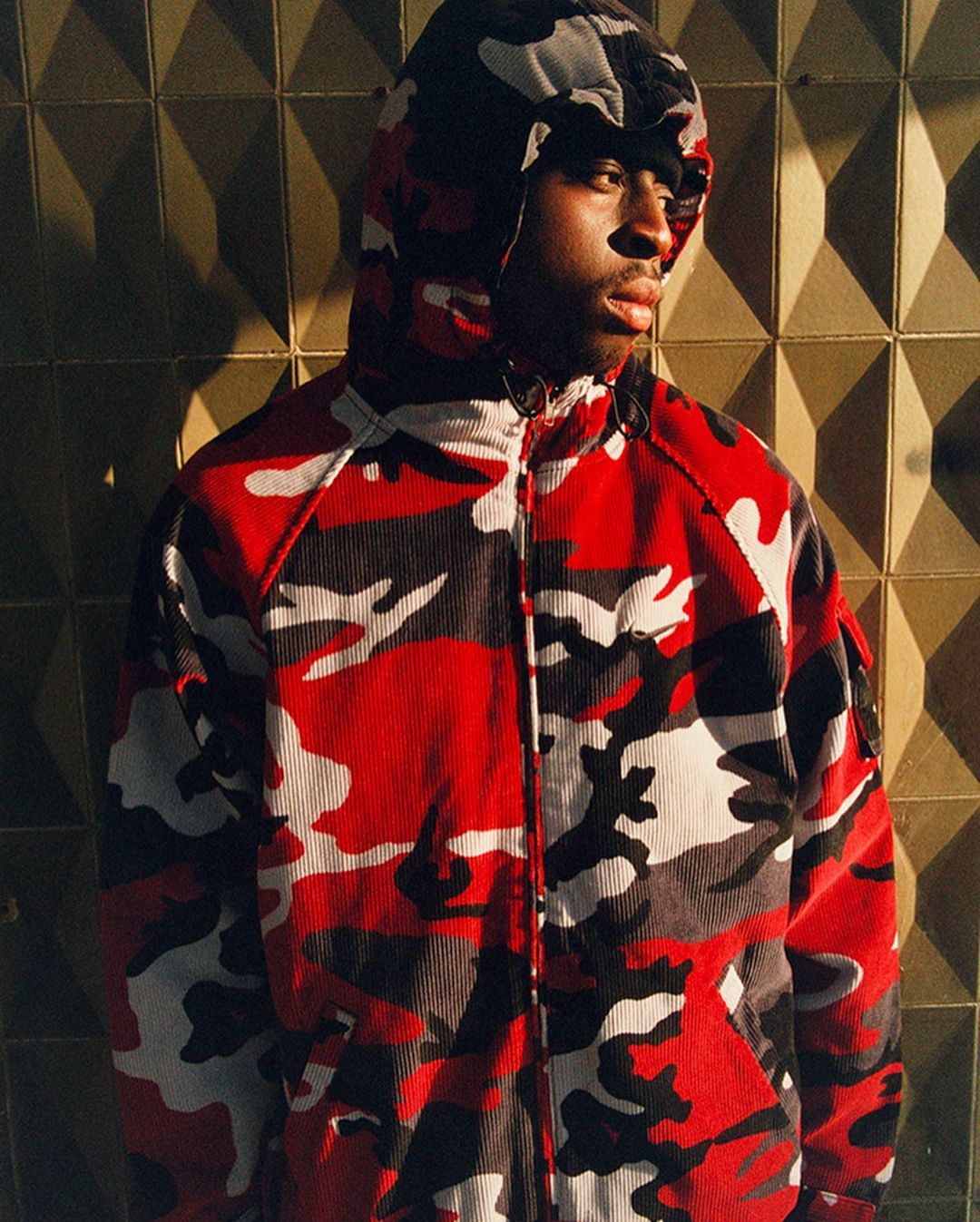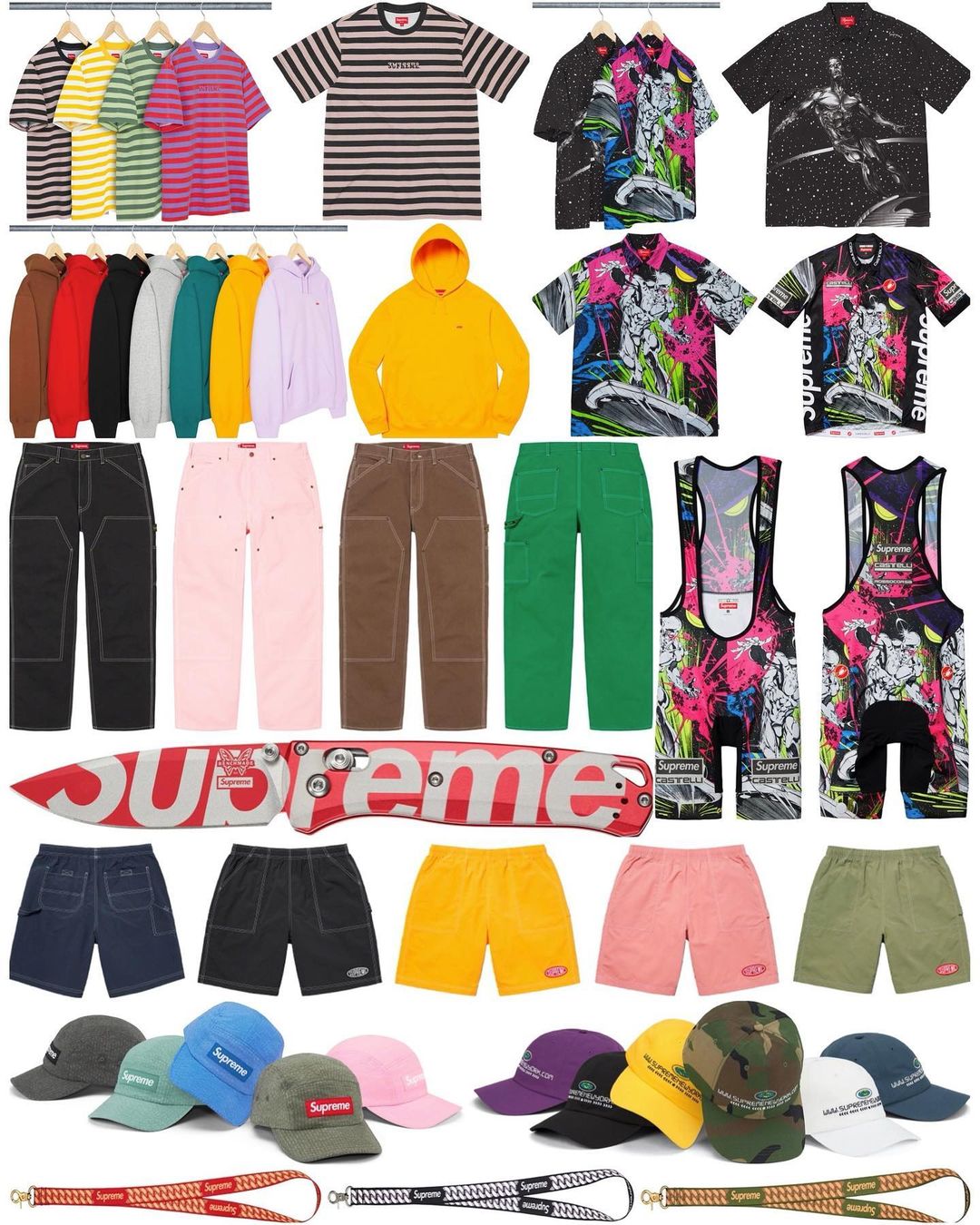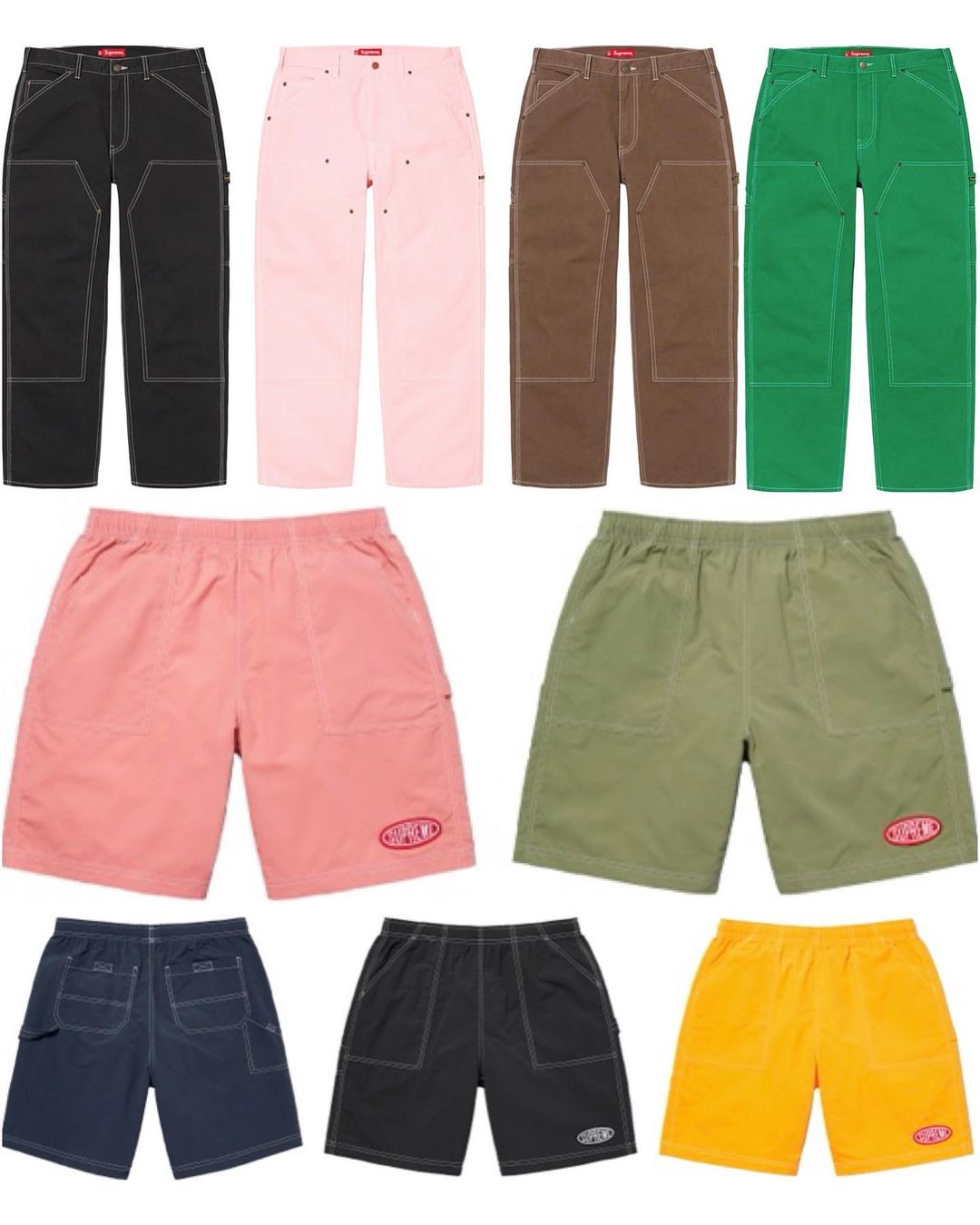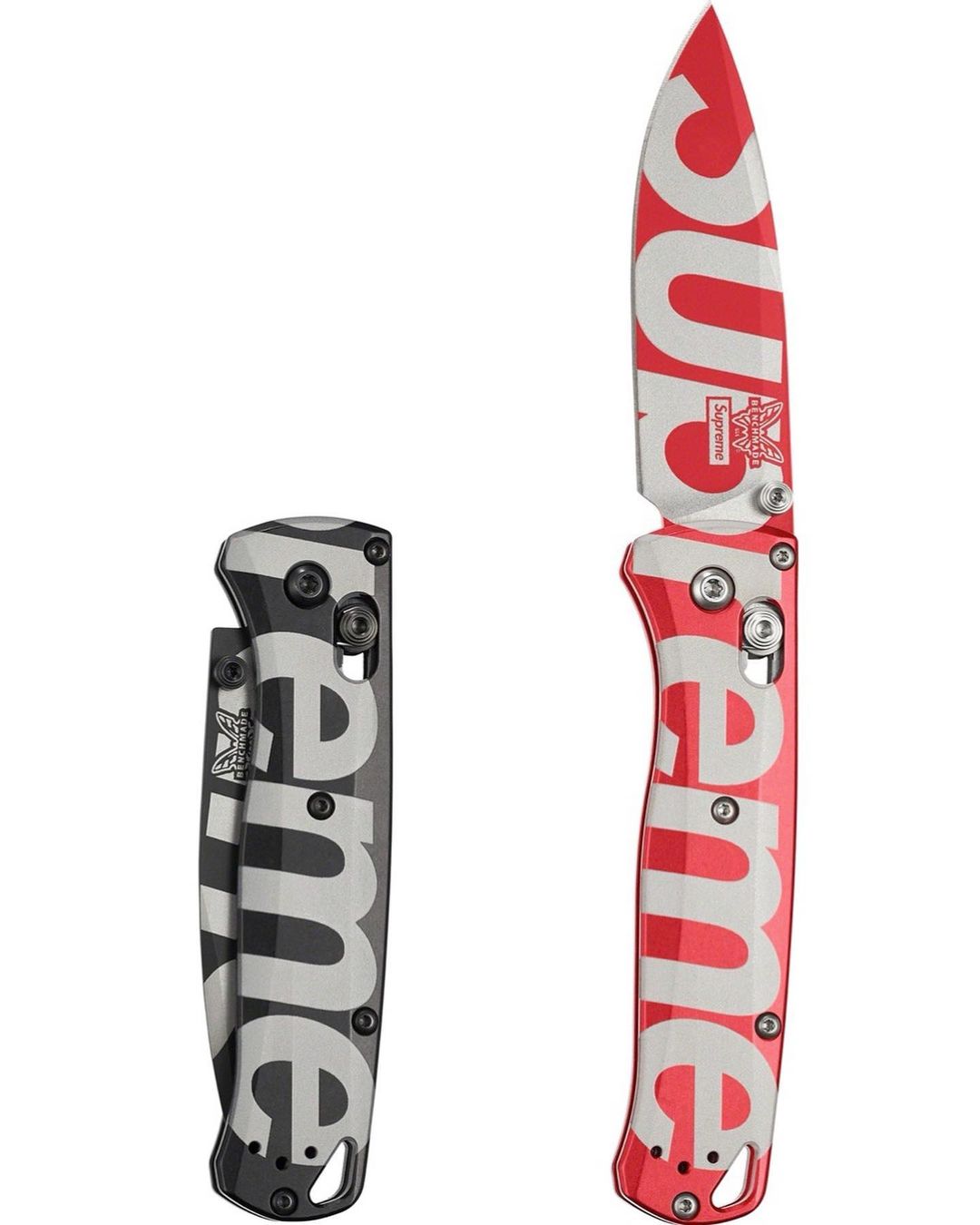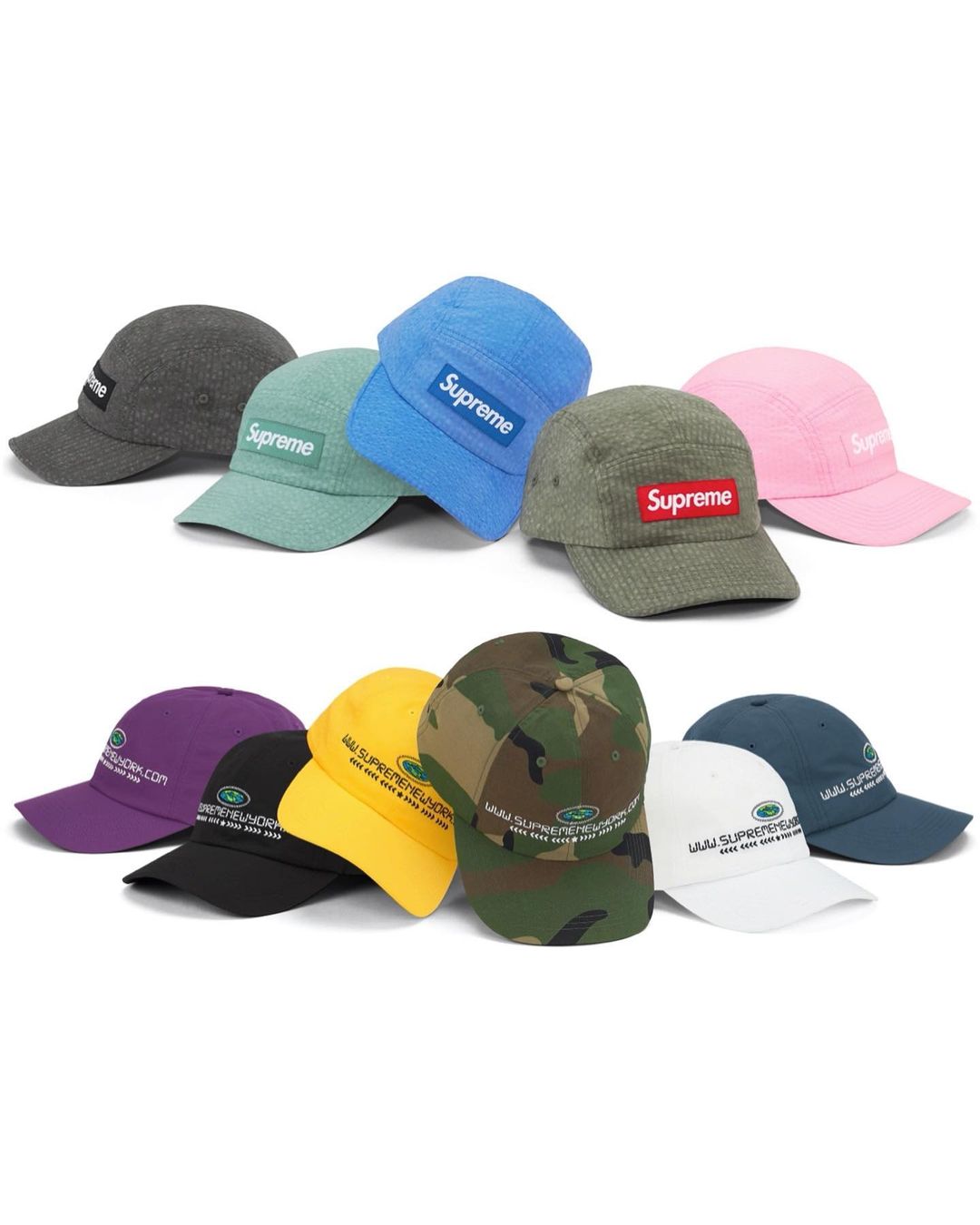 Update 18.05.2022
The Supreme Spring/Summer 2022 Week 13 collection is here, and it includes a handful of different collaborations. One highlight this week is the collaboration with Dr. Martens. Together, the partners are releasing a total of three sneakers. There's also a collection with Roy DeCarva, which we've been waiting for for a few weeks now, and a hat collection with Burberry. Check out the details here, as well as the other pieces that will appear in the Supreme Spring/Summer 2022 Week 13 collection.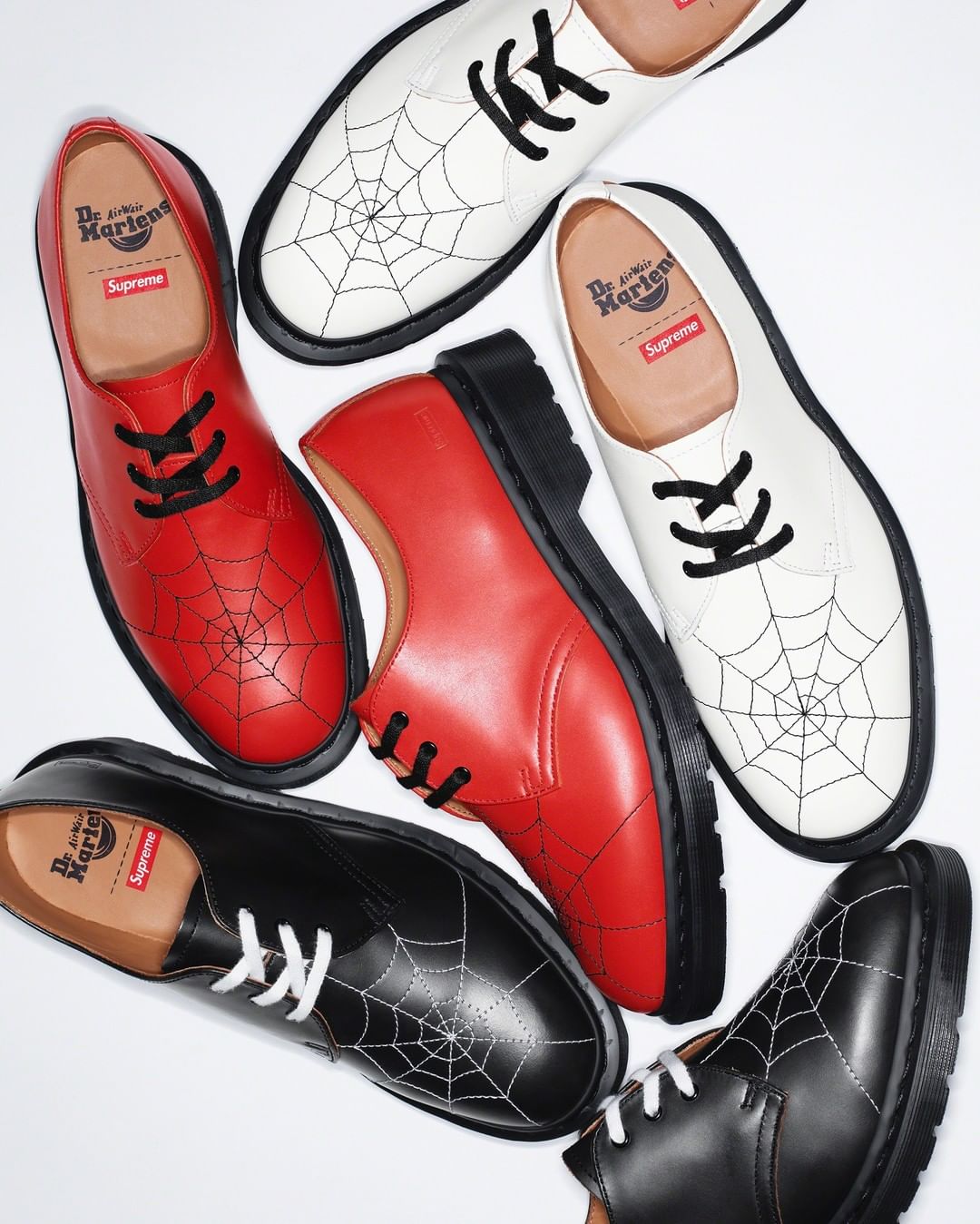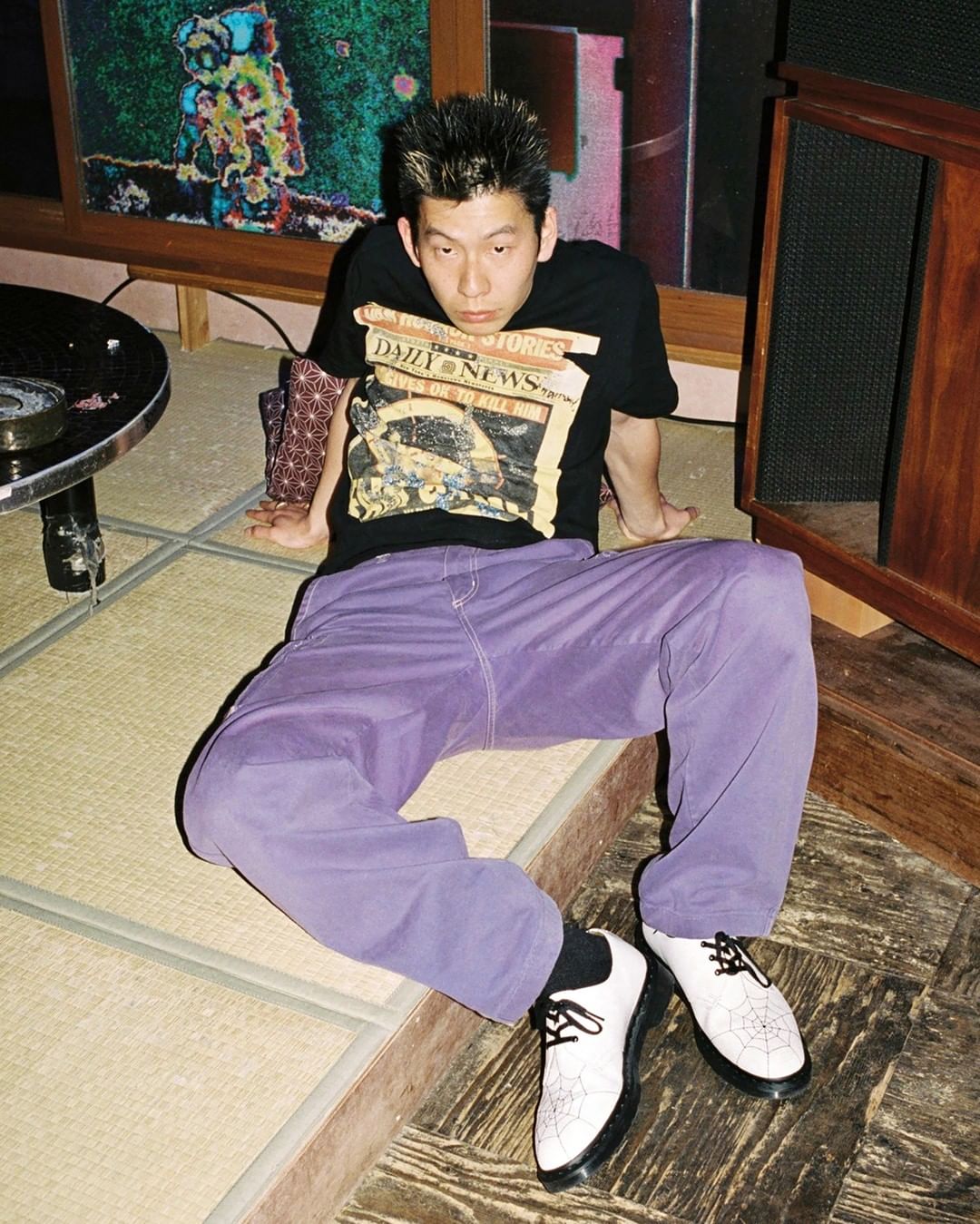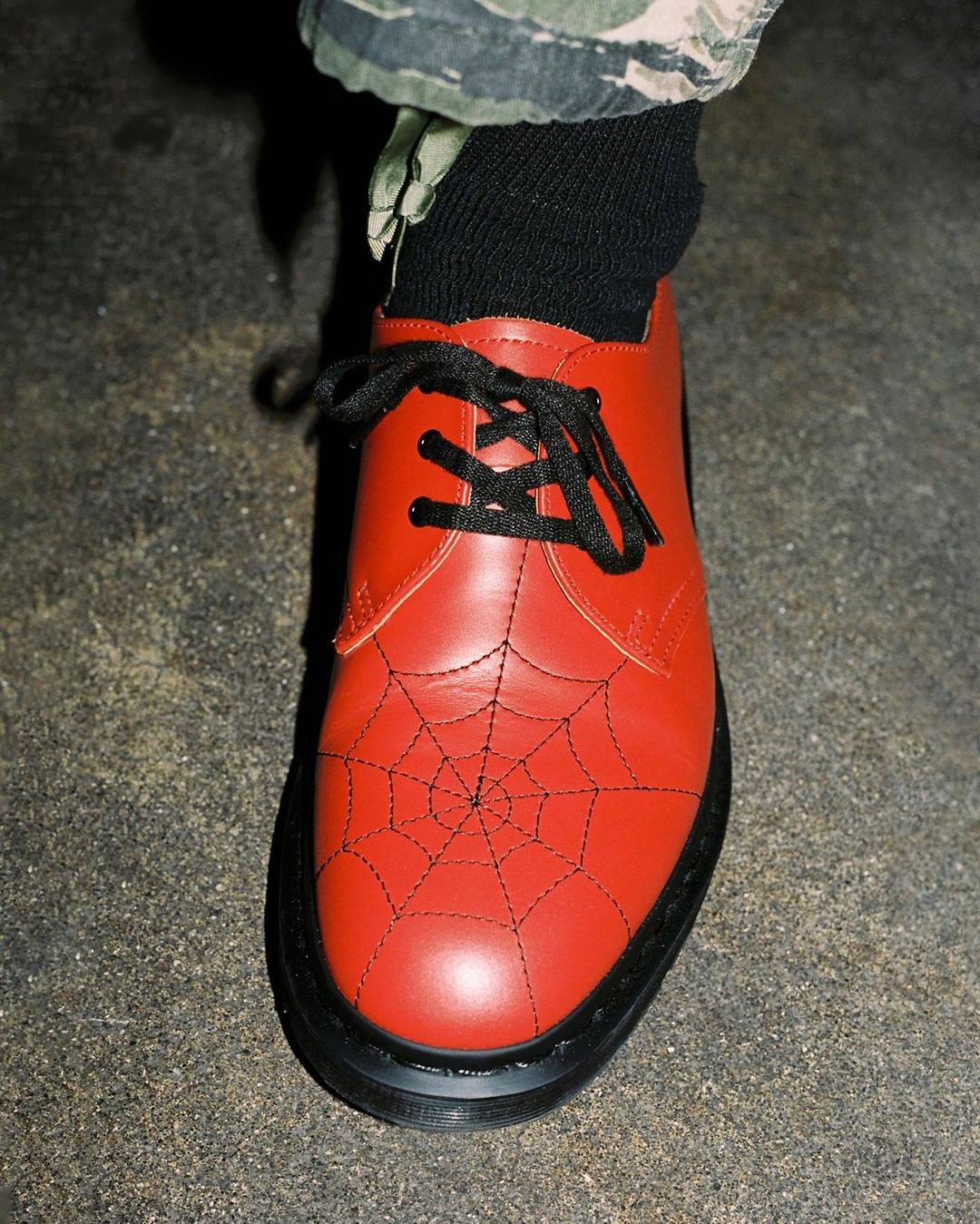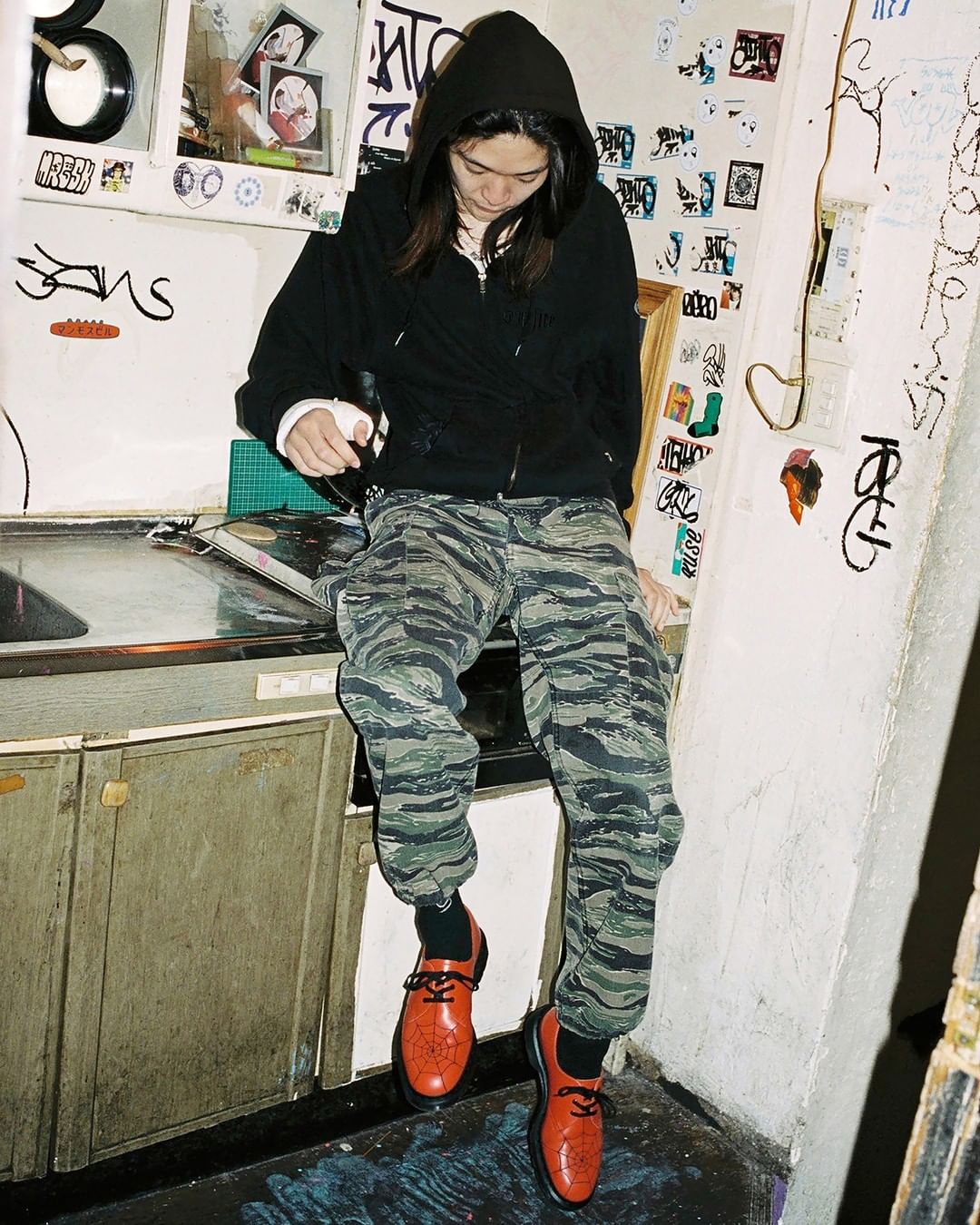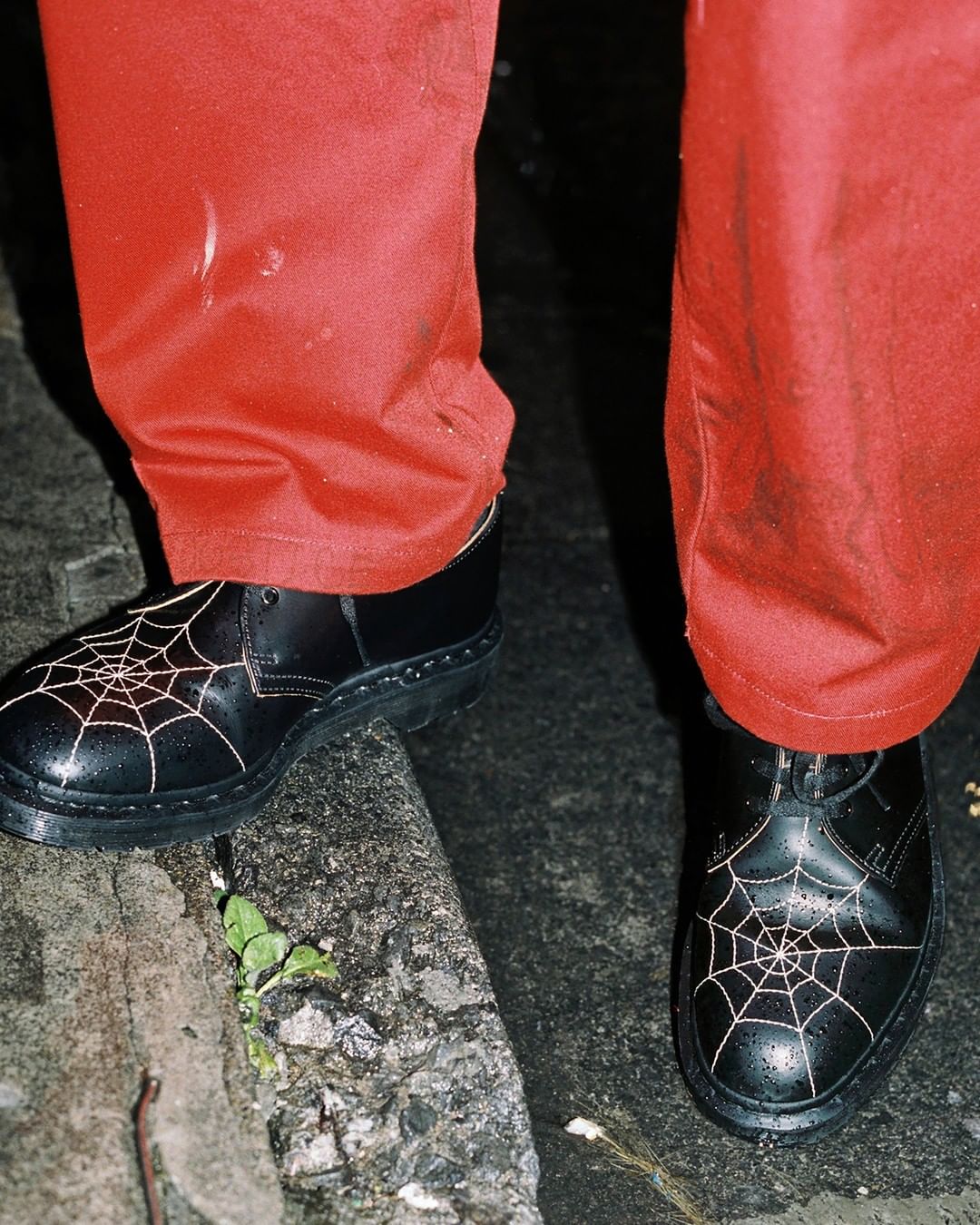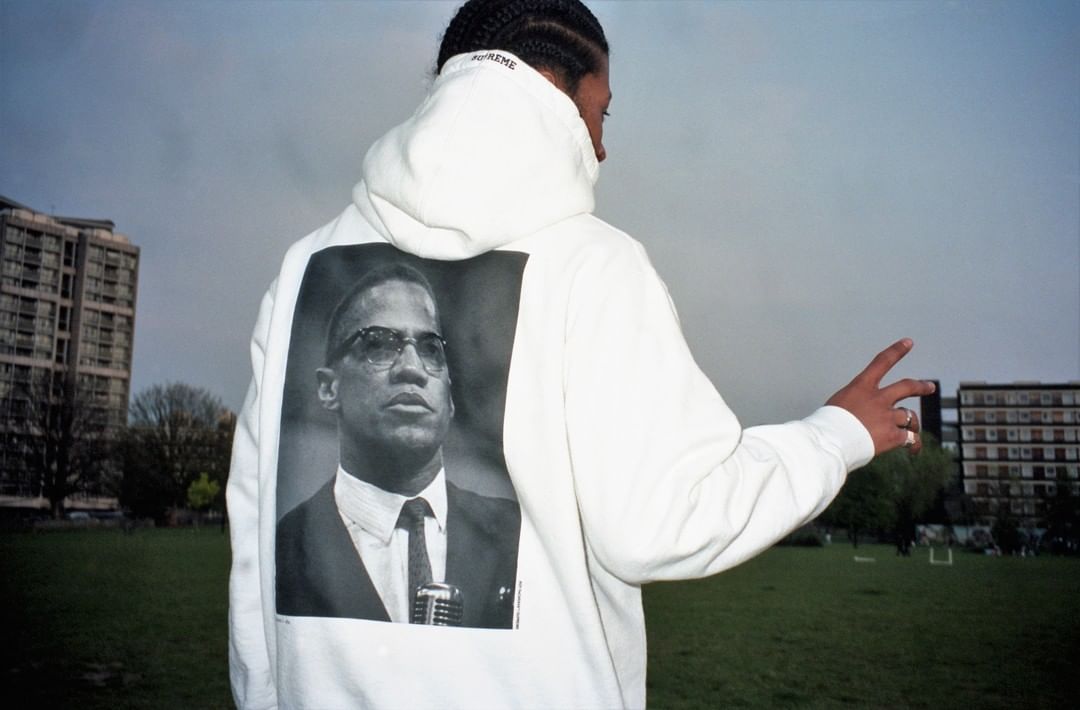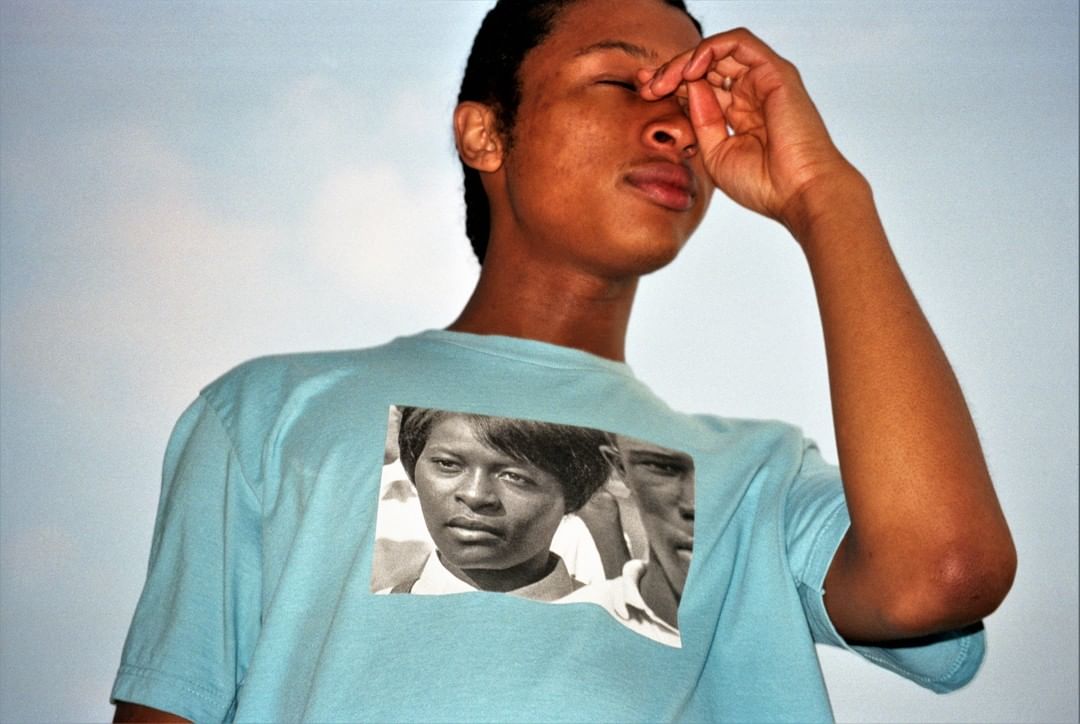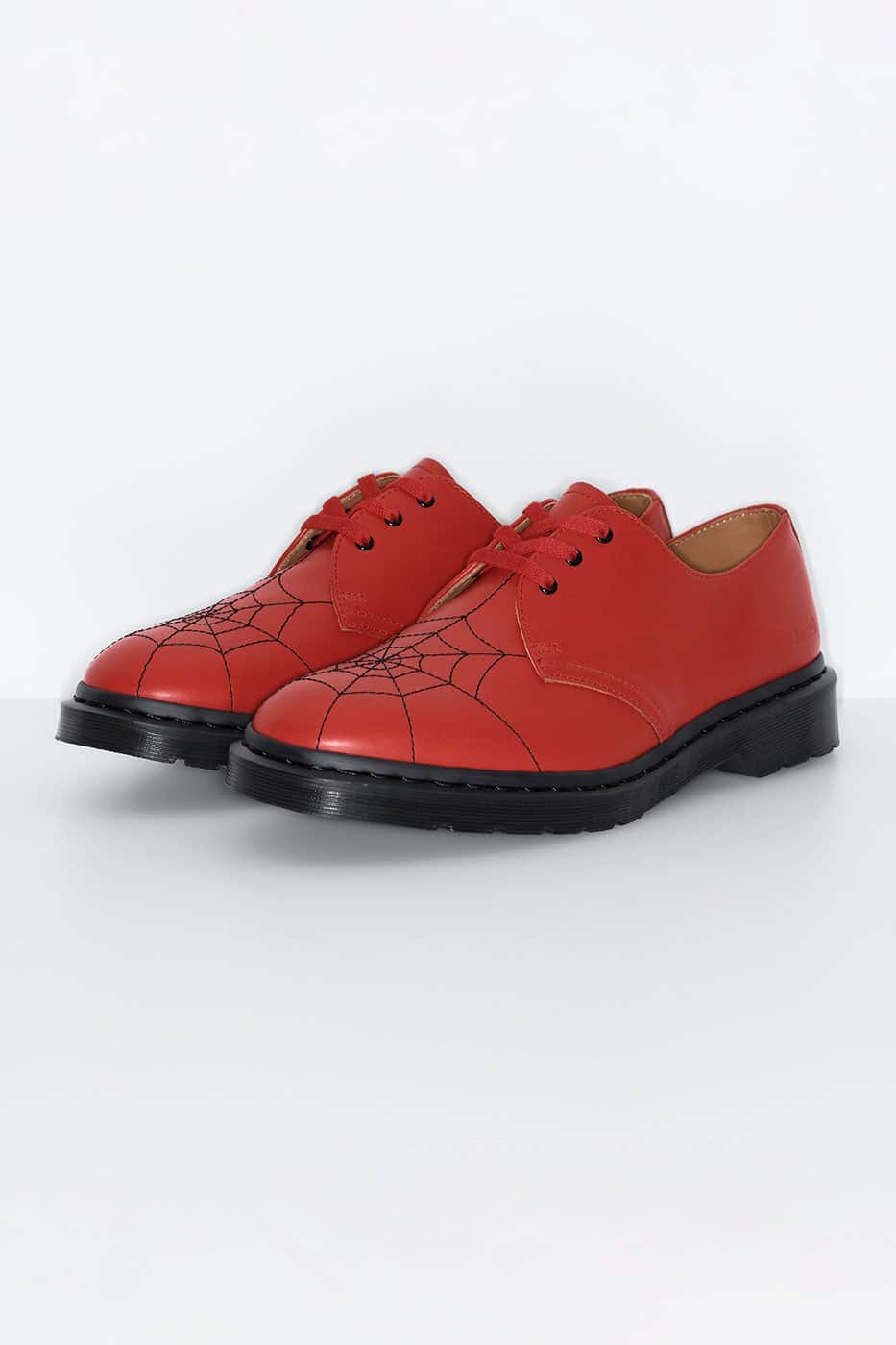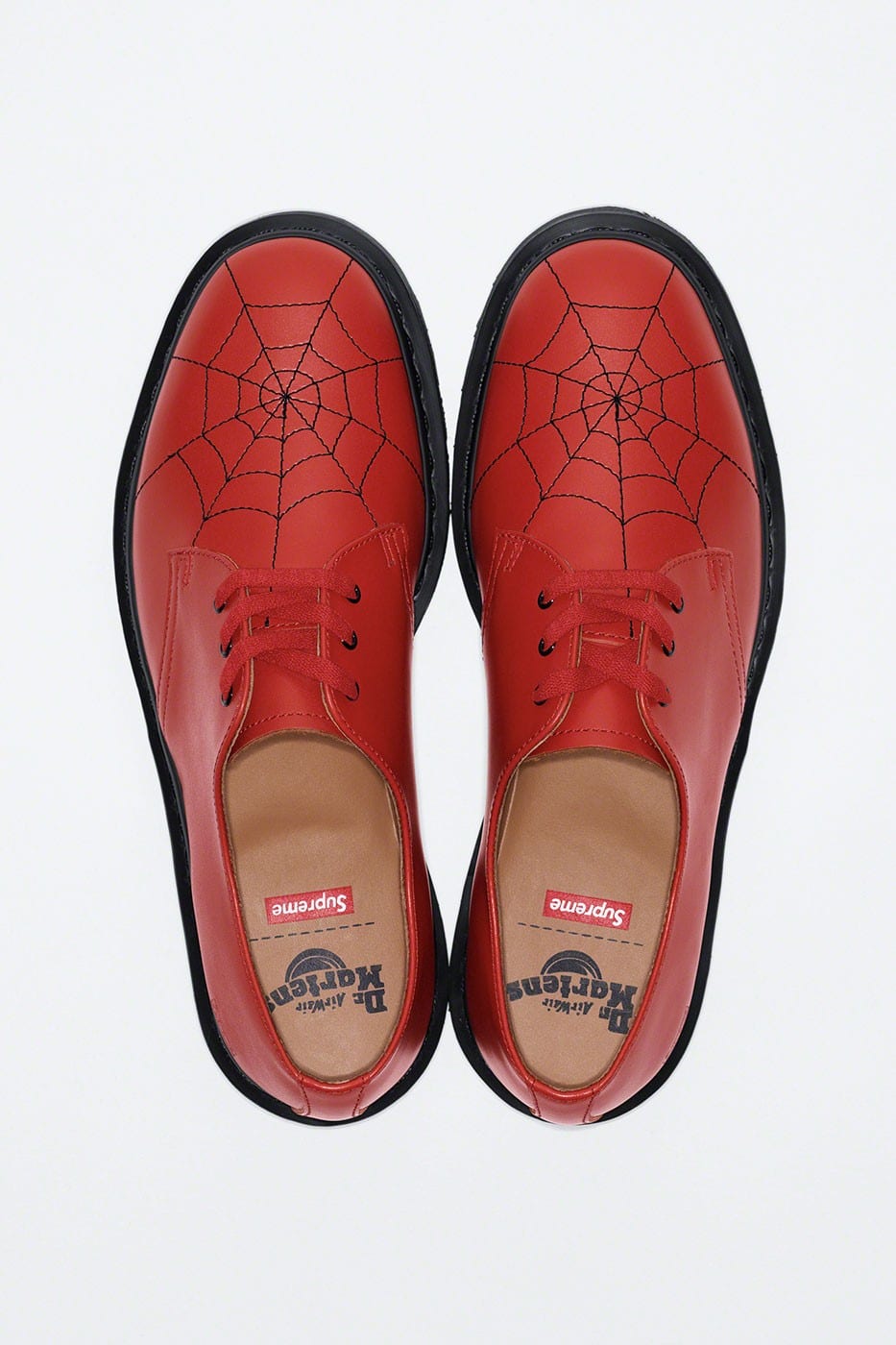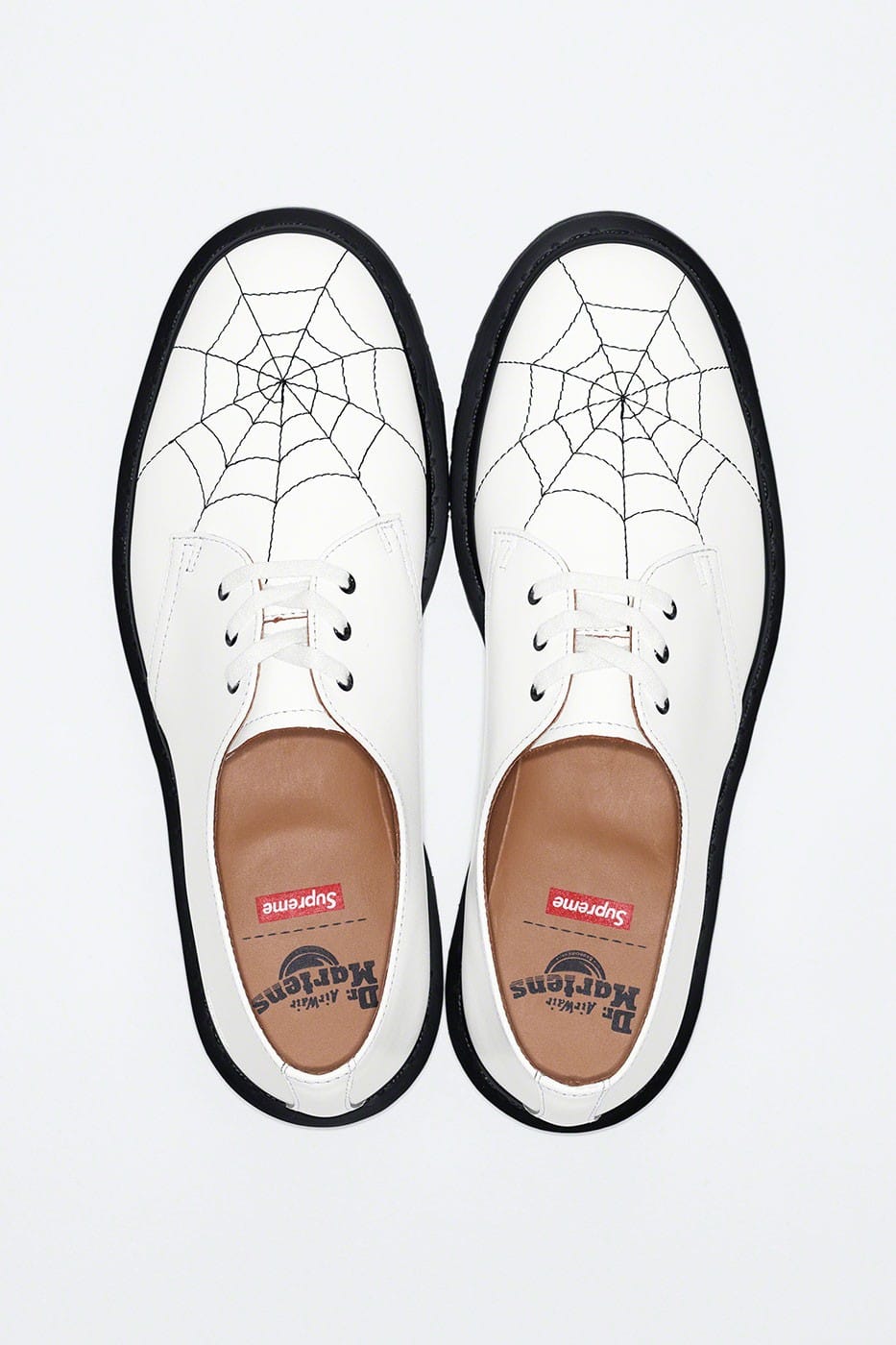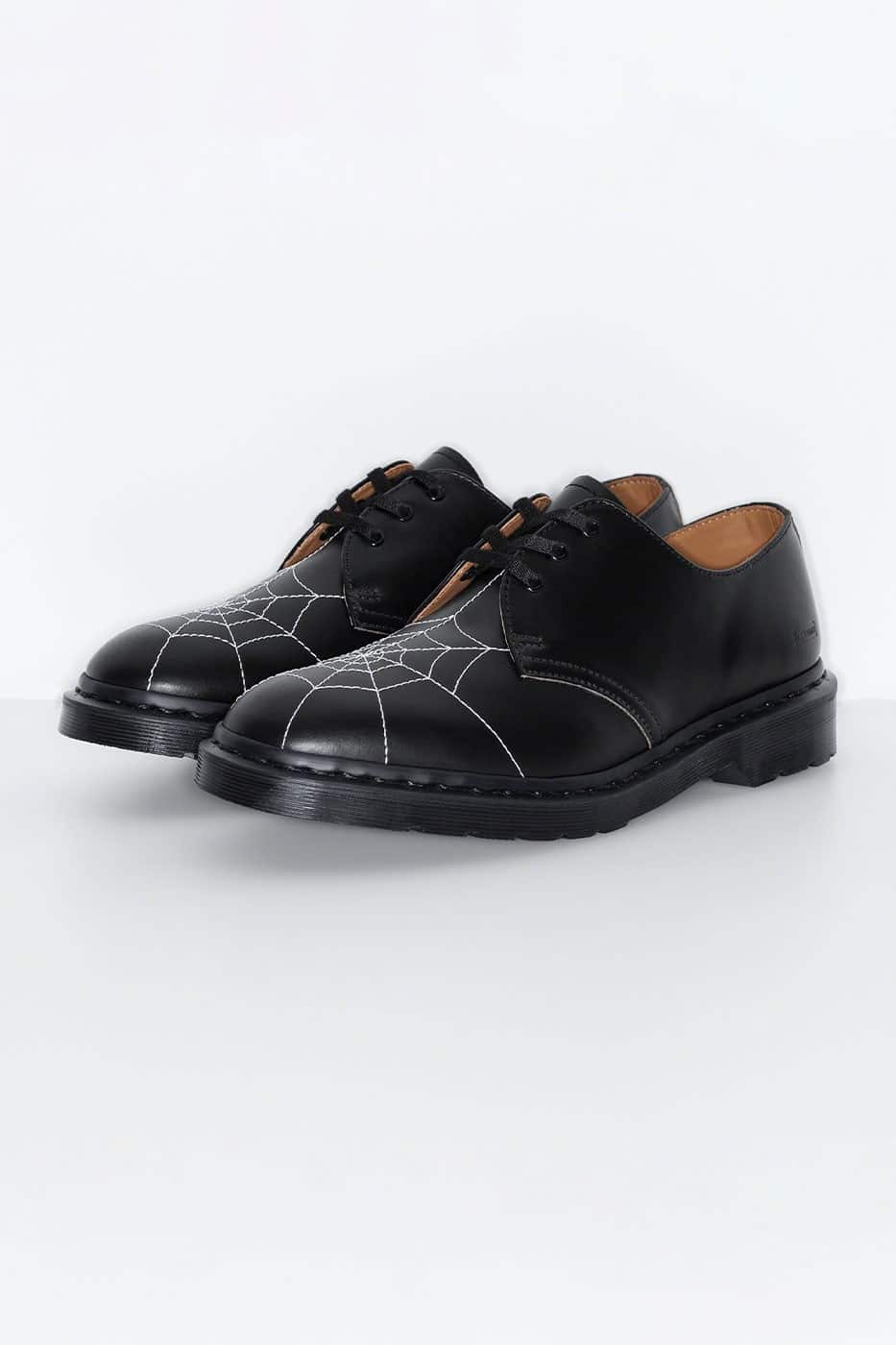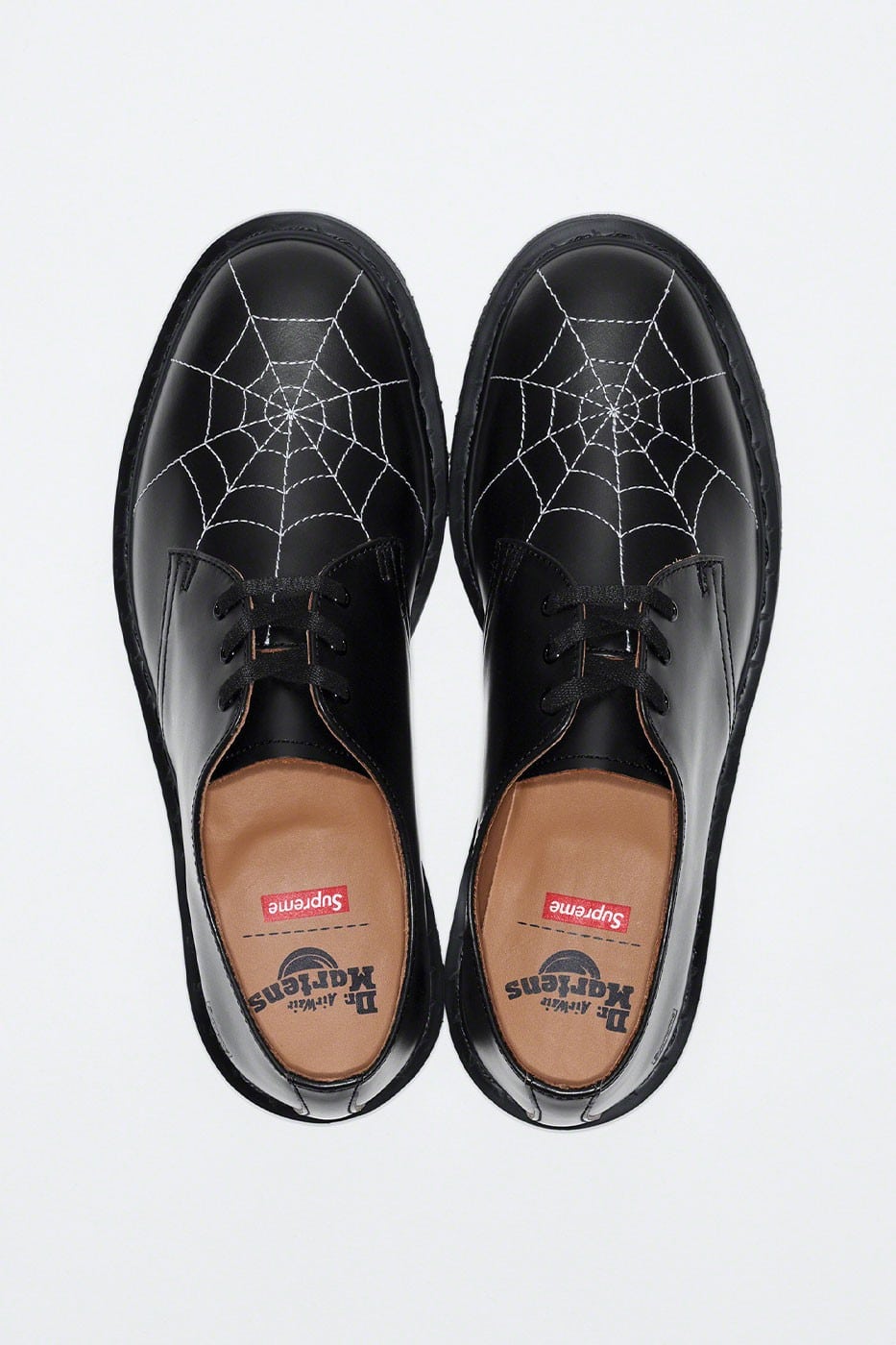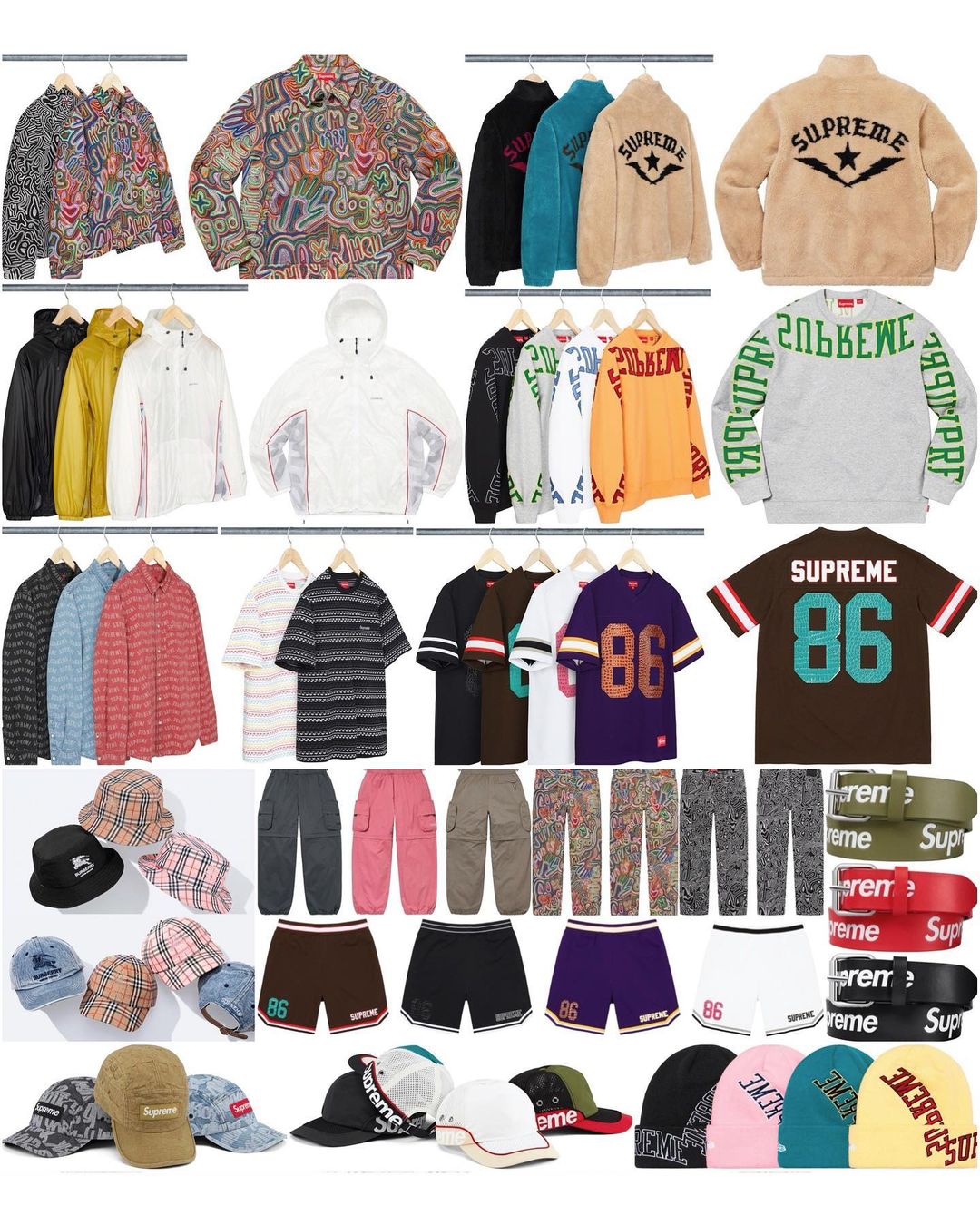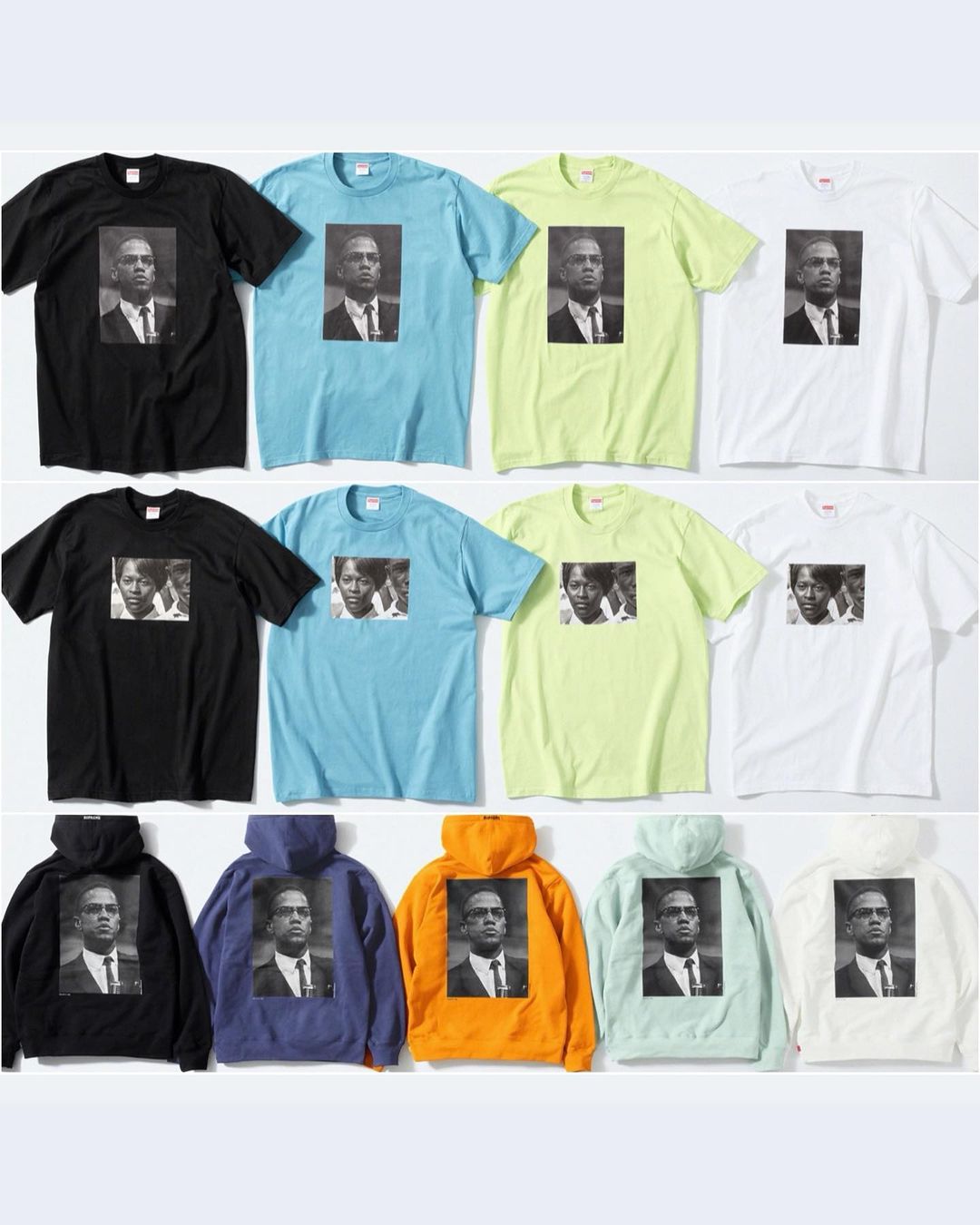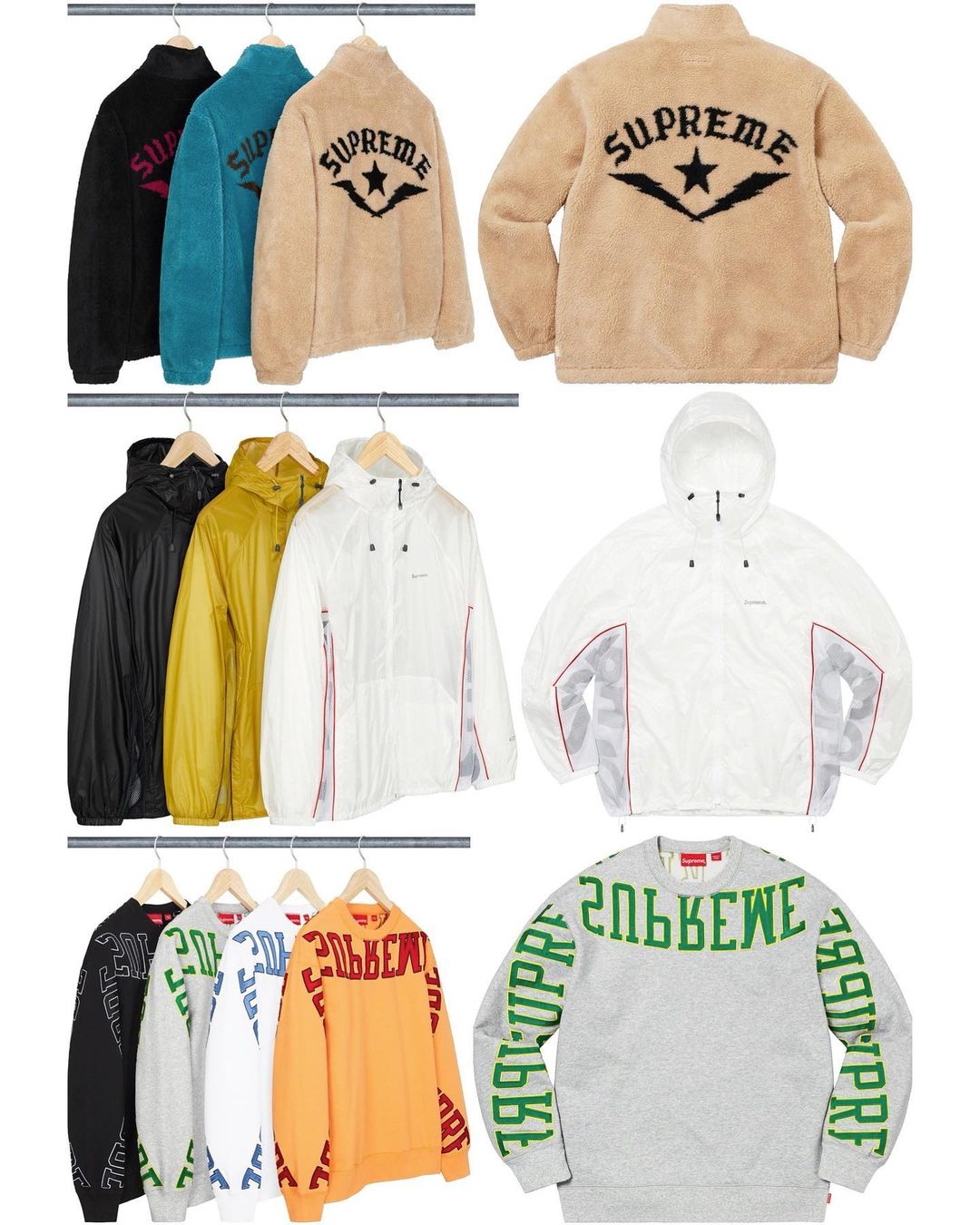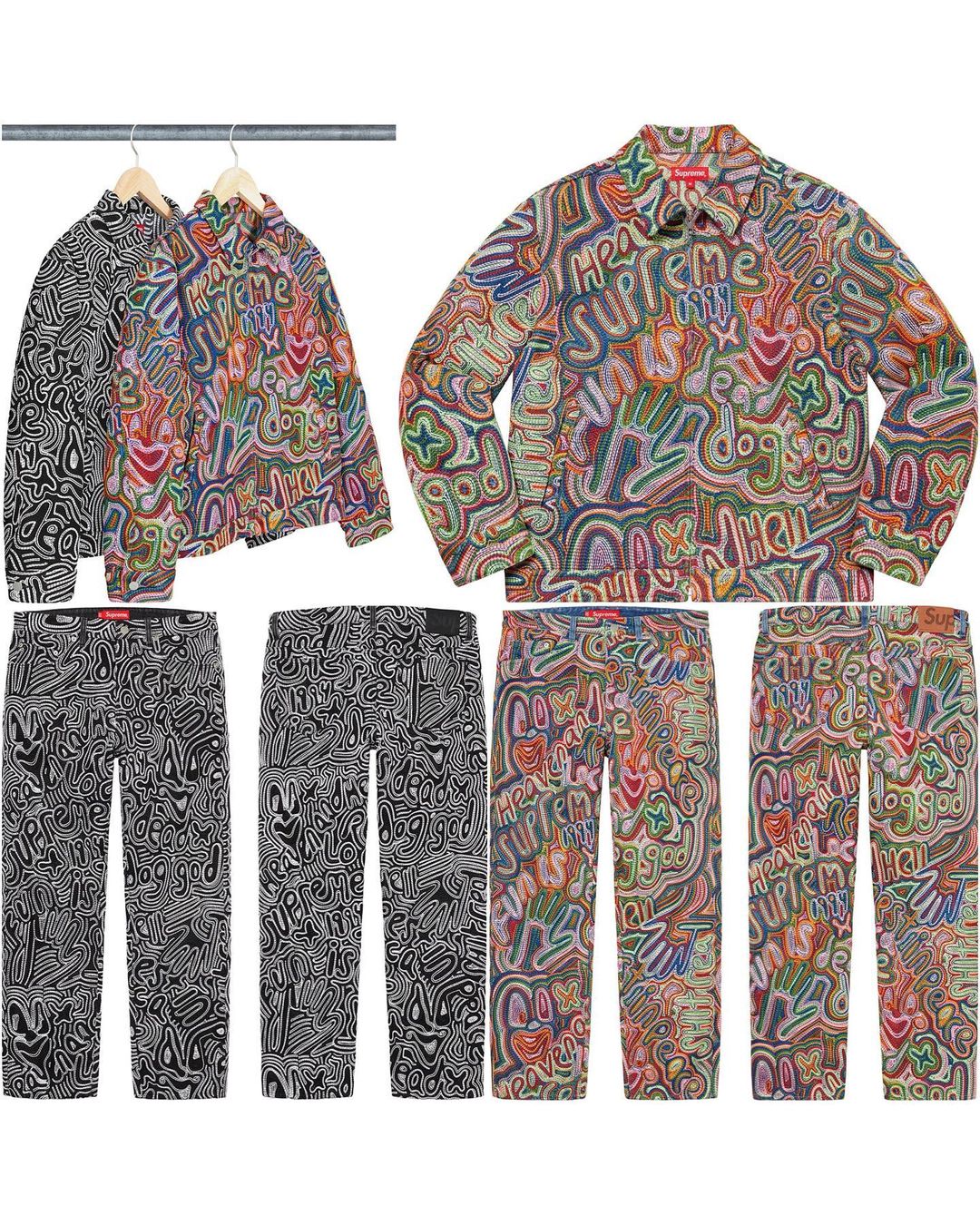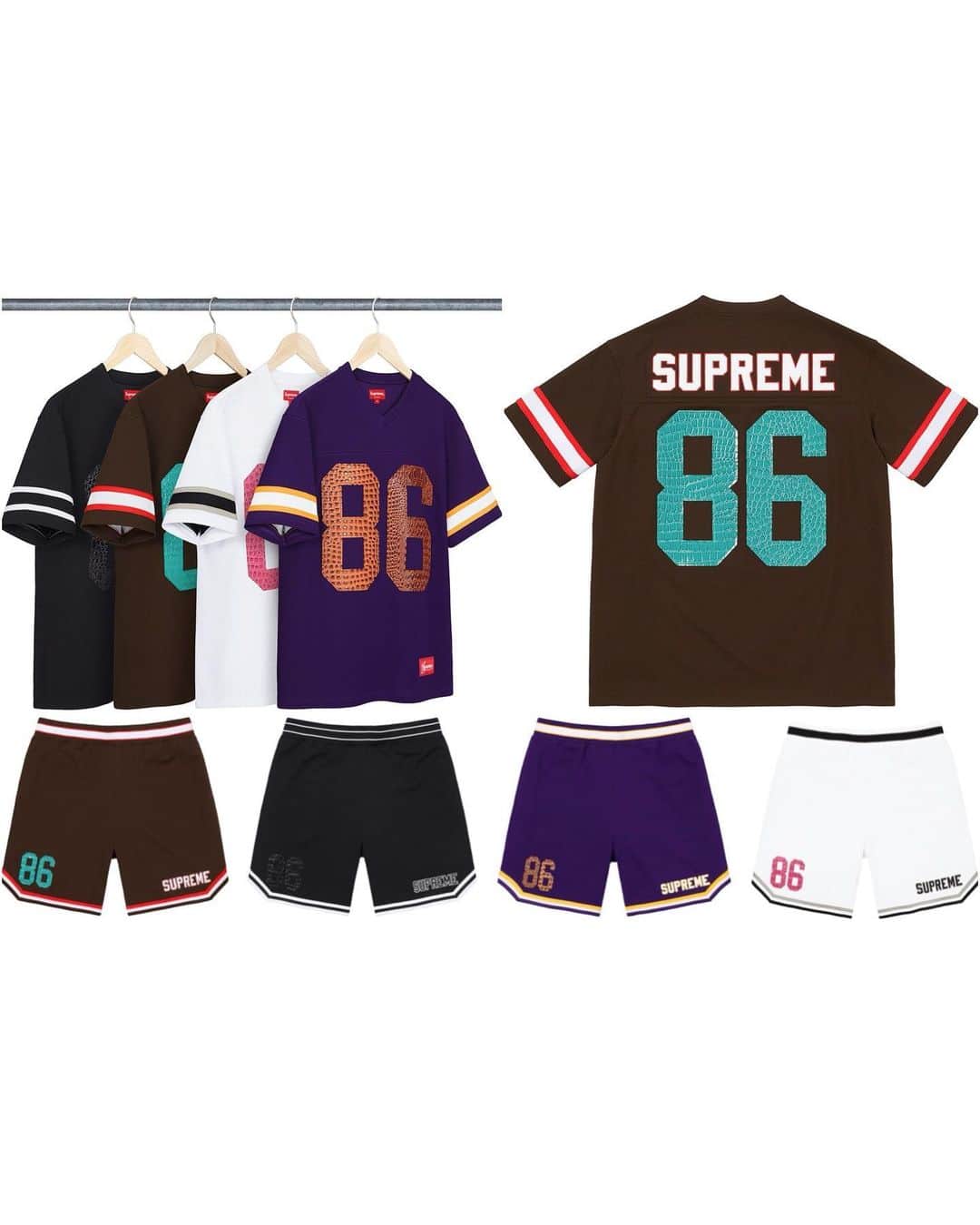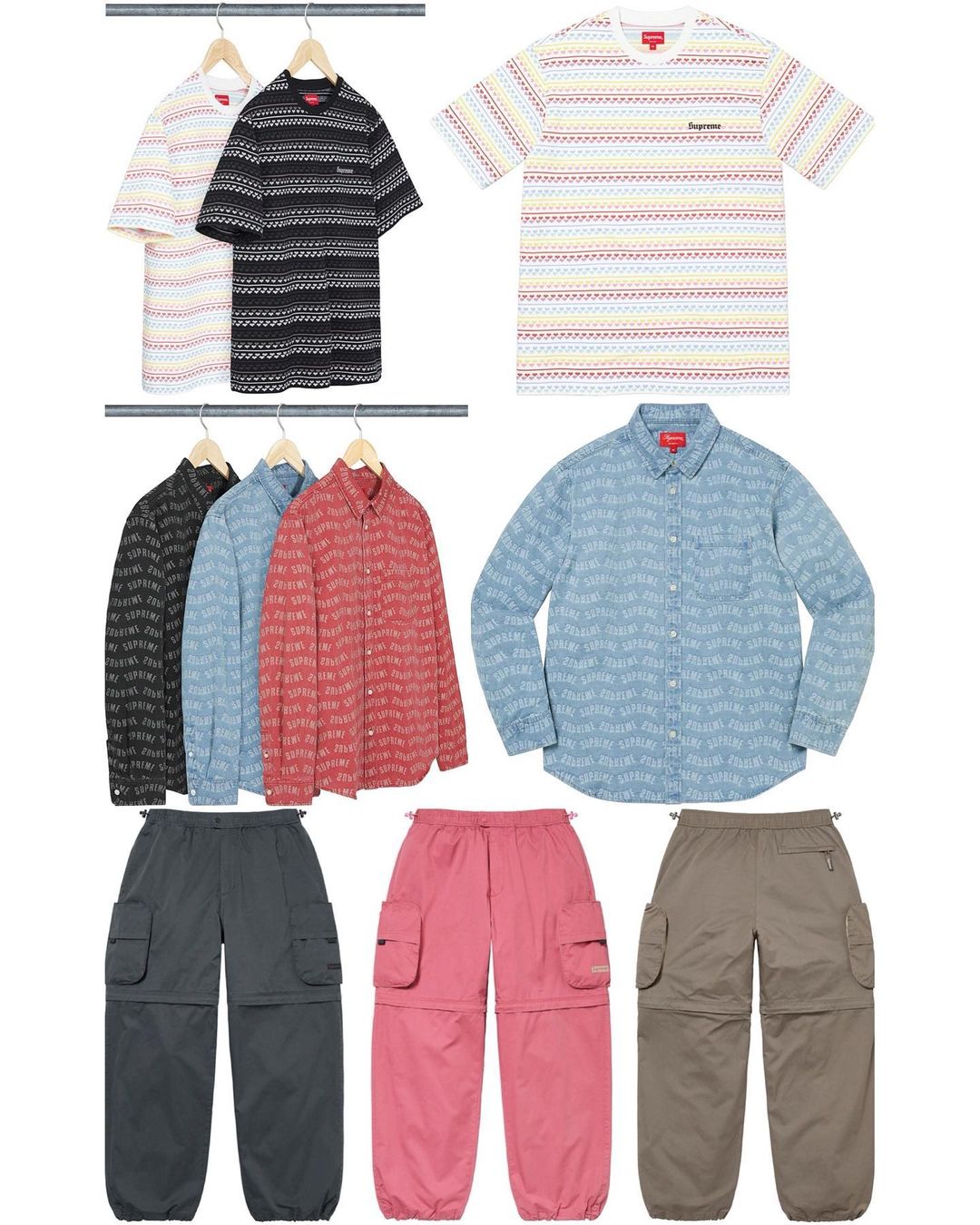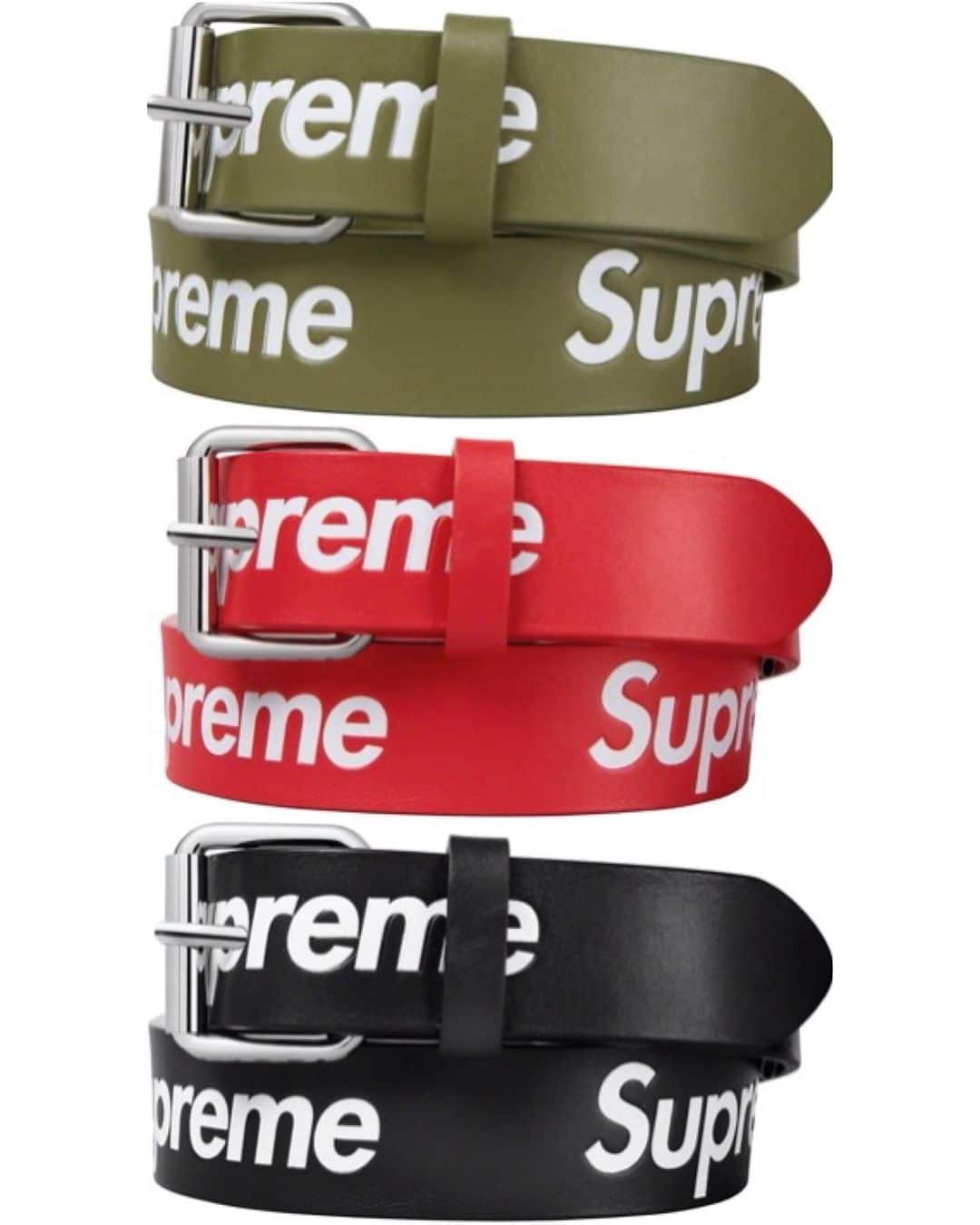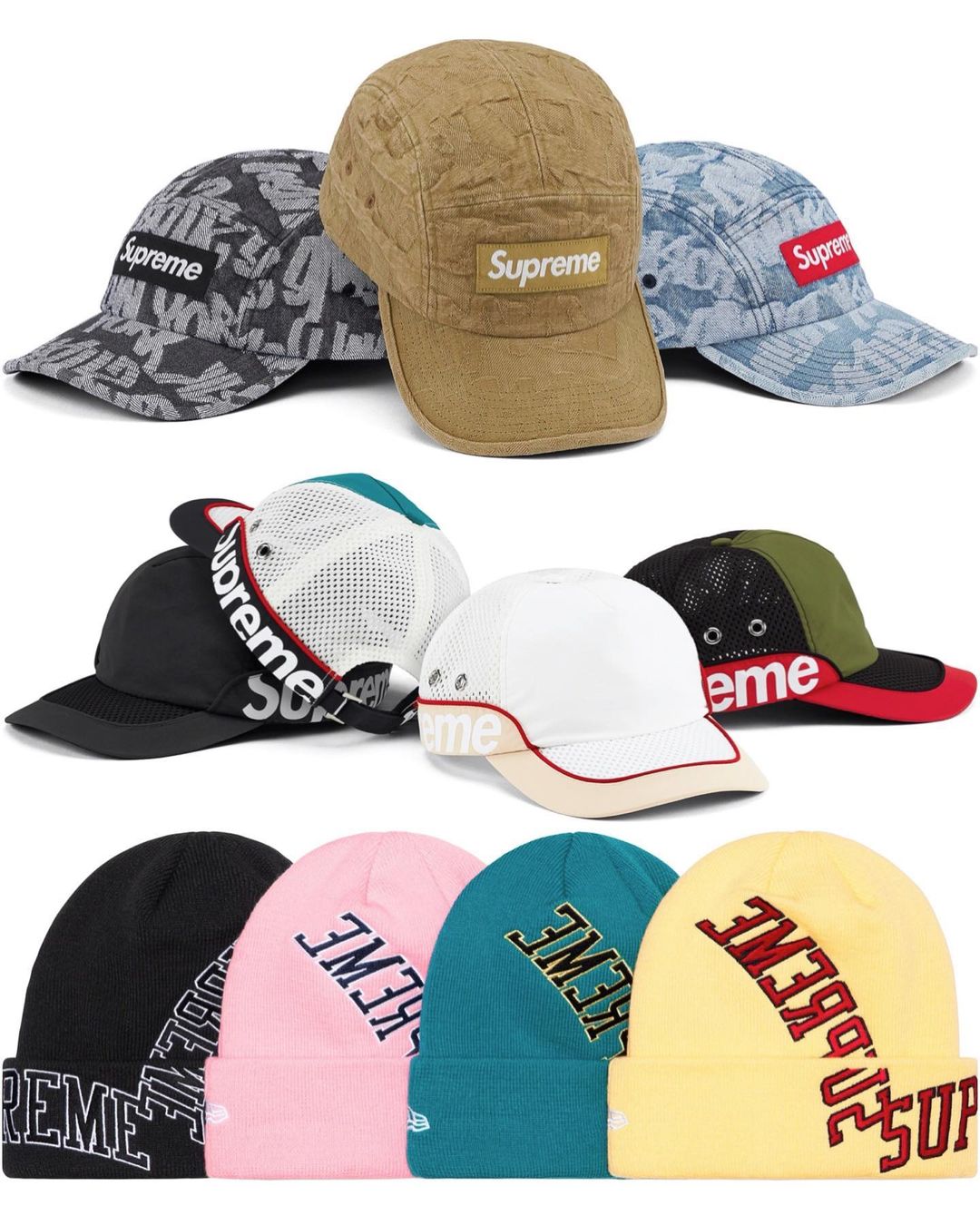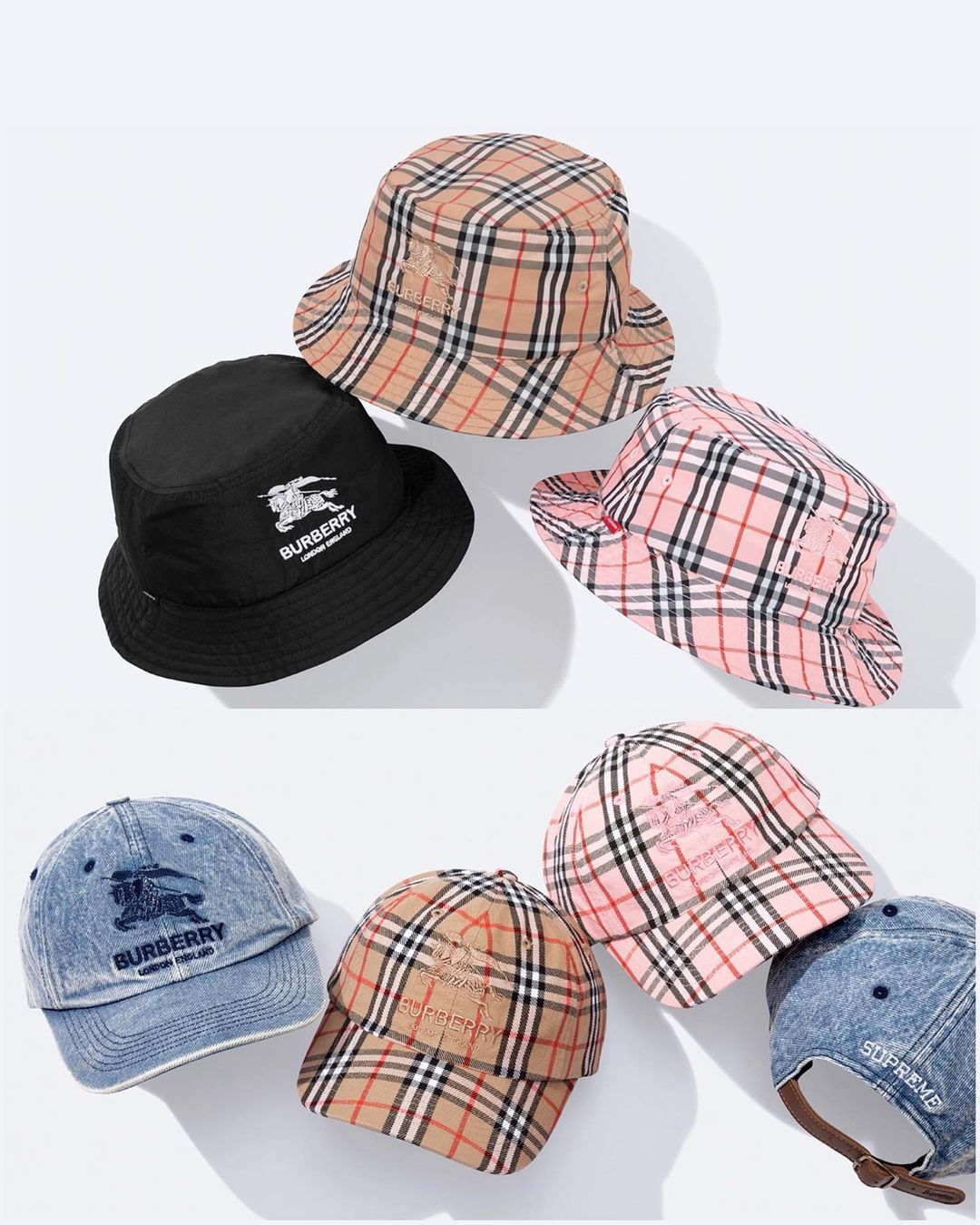 Update 11.05.2022
Italian functional clothing brand Stone Island and Supreme will collaborate once again this season to drop a multi-piece Spring 2022 collection. This time they are focusing on classic garments in different colours and patterns.
The highlight of the Supreme x Stone Island collection is the water-repellent Reversible Faux Fur Parka made from resin-coated nylon and the heat-sensitive, pigment-printed Reactive Ice Camo Ripstop Jacket. The camo pattern on the jacket, trousers and beanie changes depending on the weather. But other hypebeasts are probably looking at the pieces inspired by the iconic "Mona Lisa".
The release of the big Supreme x Stone Island collection takes place on May 12th.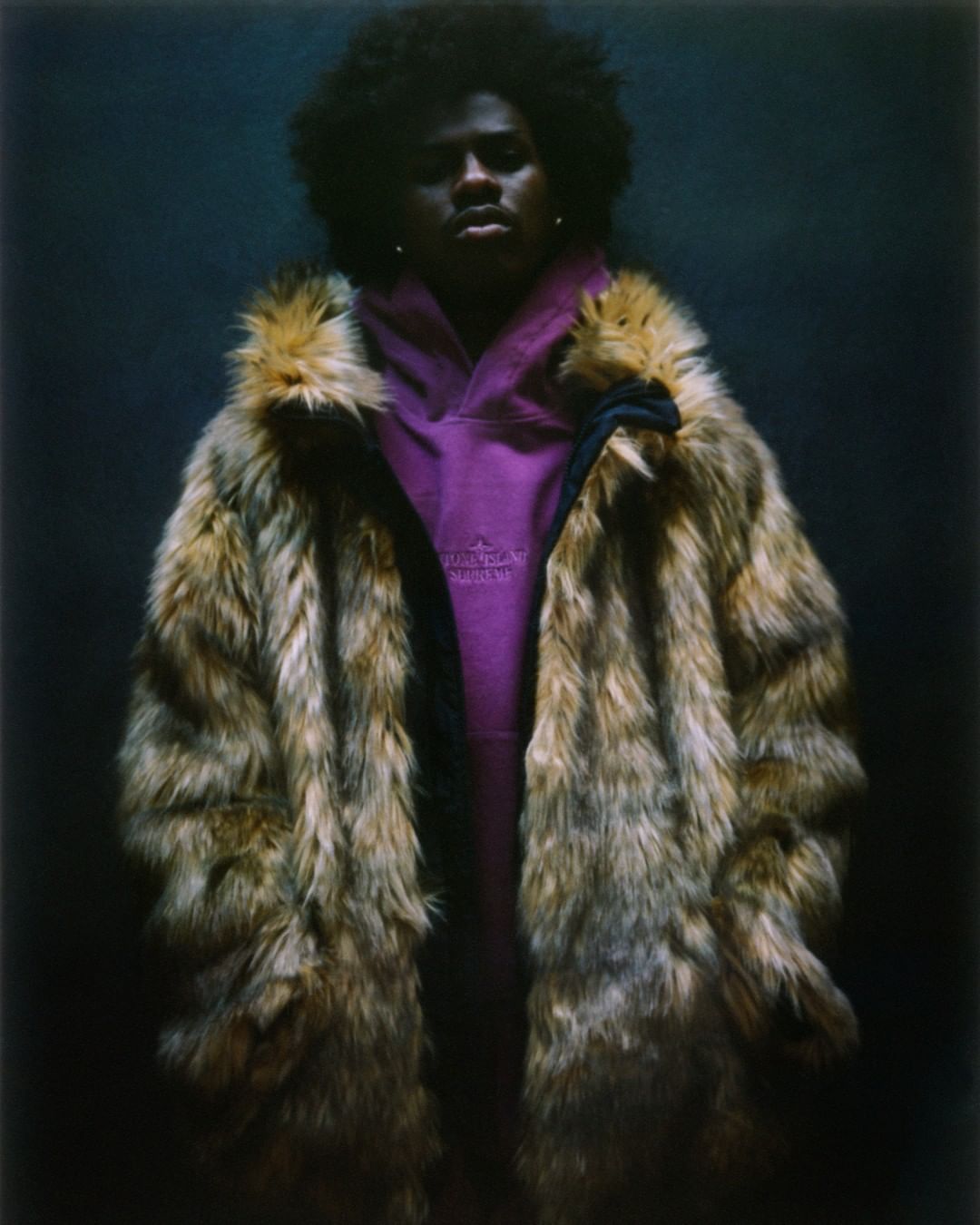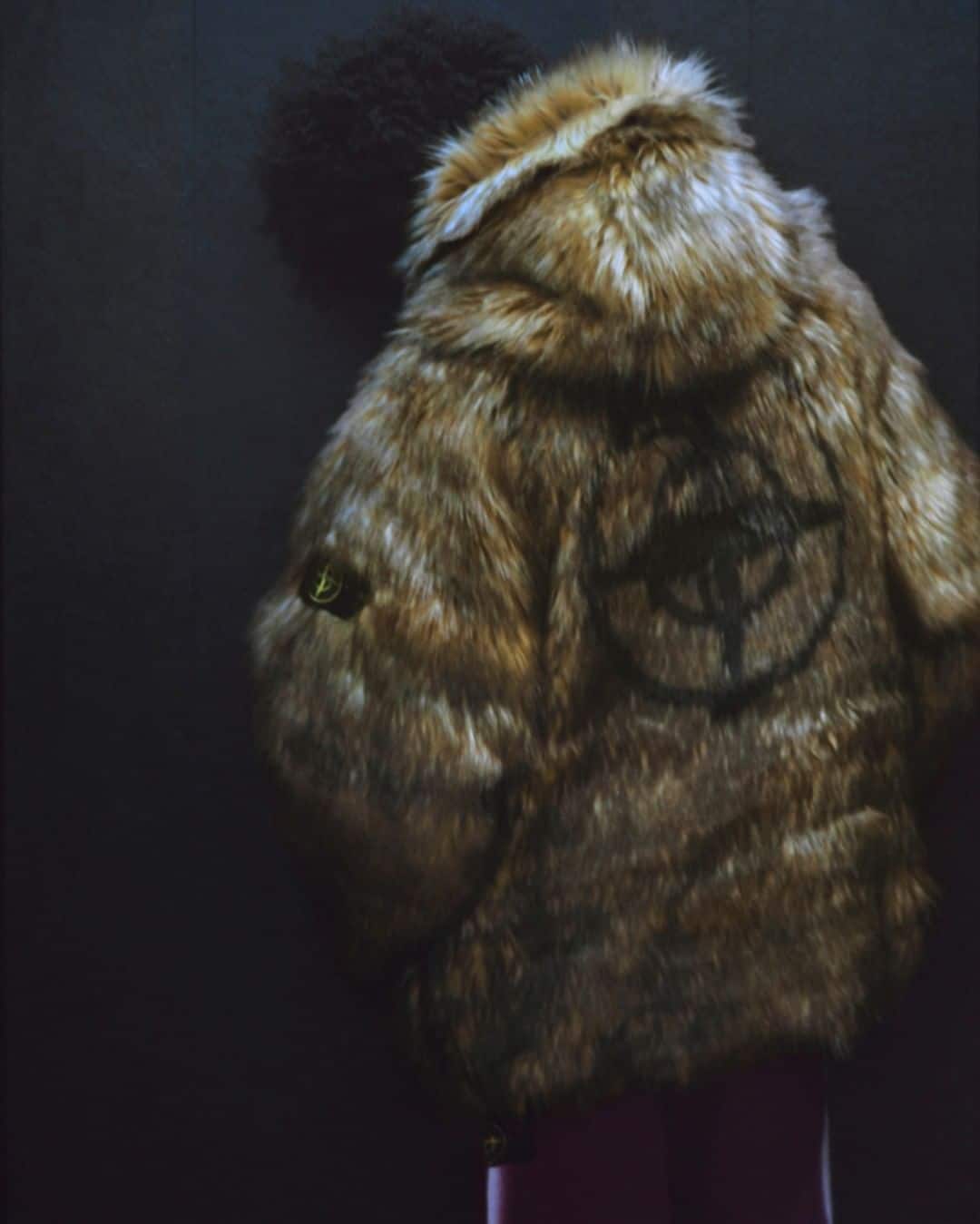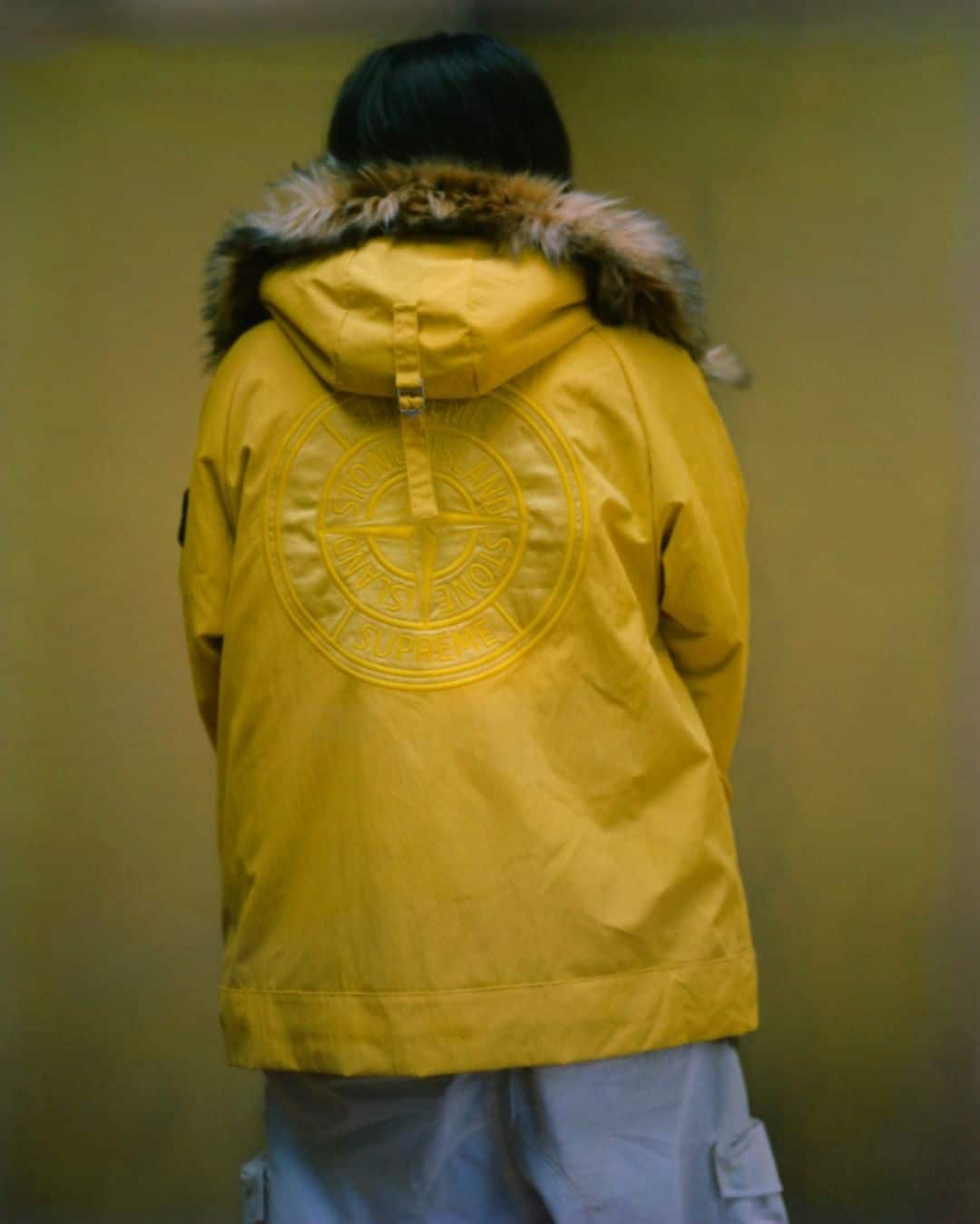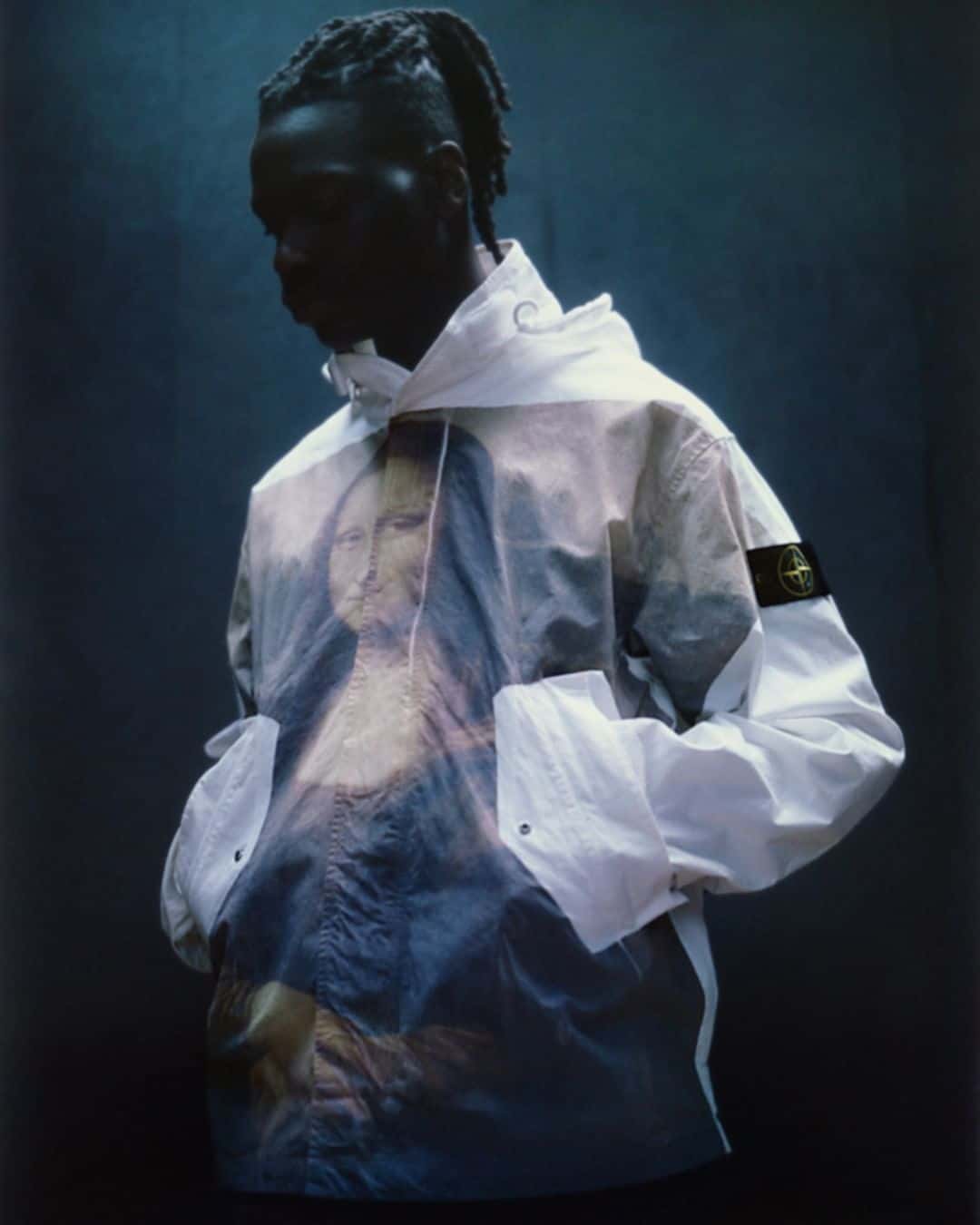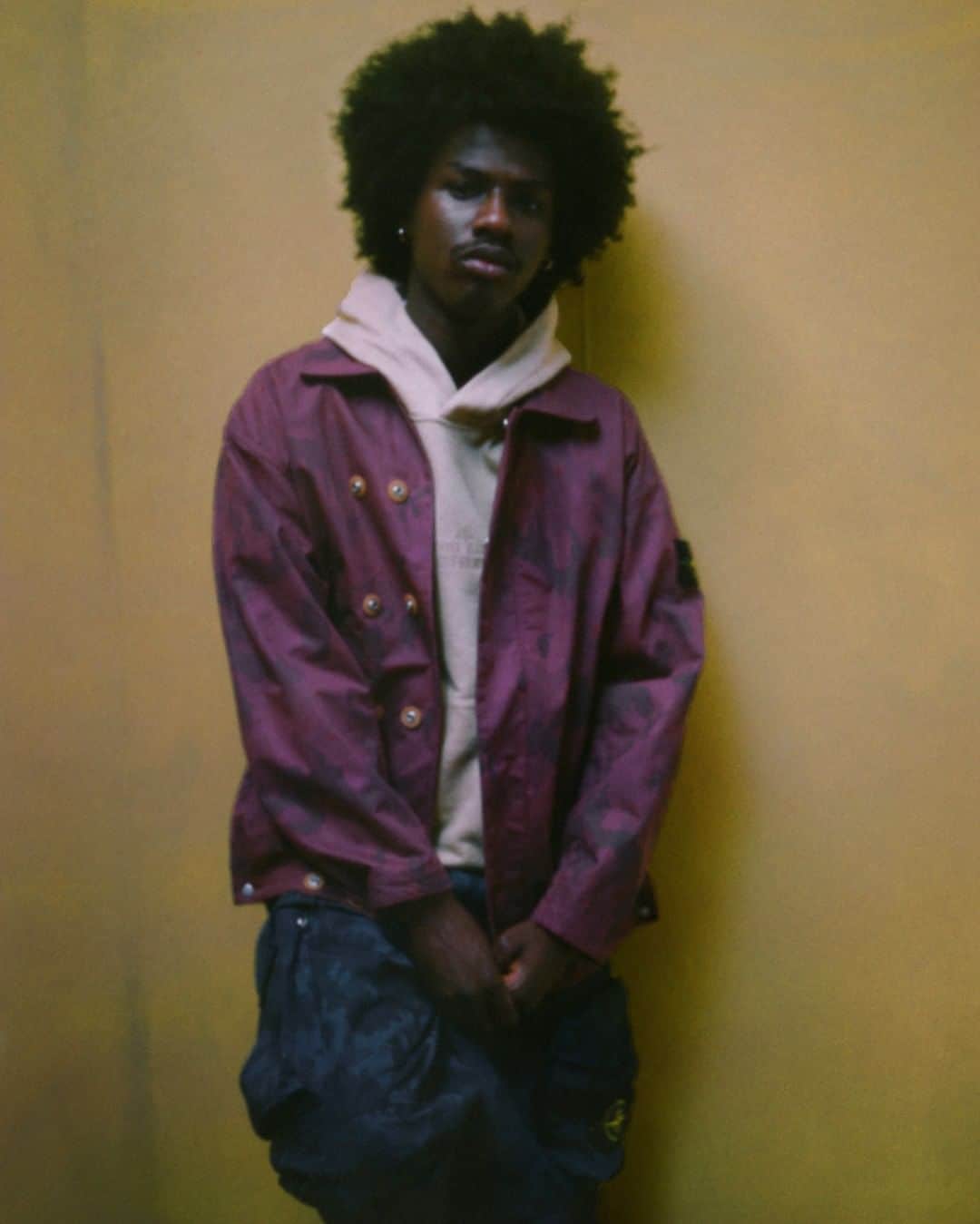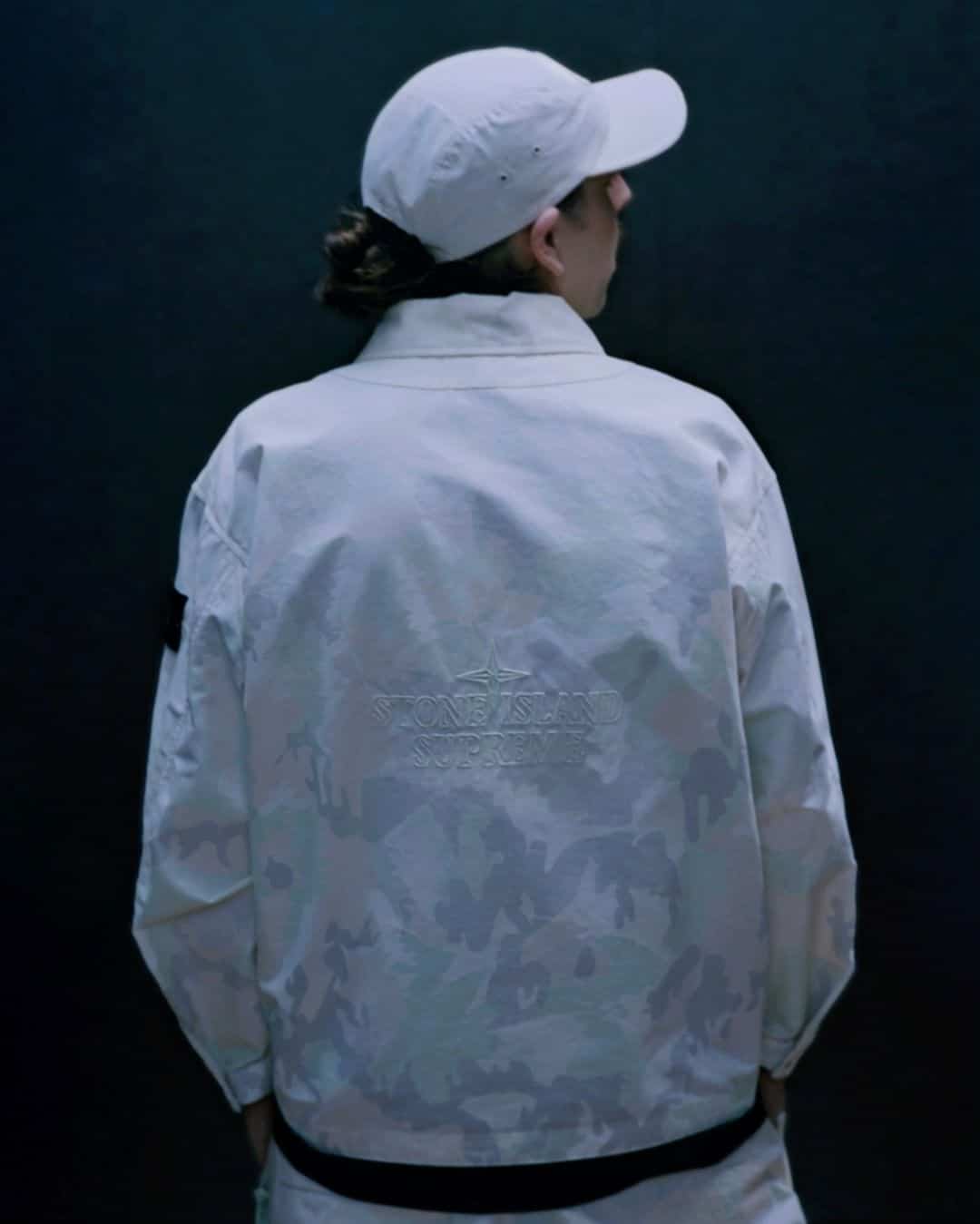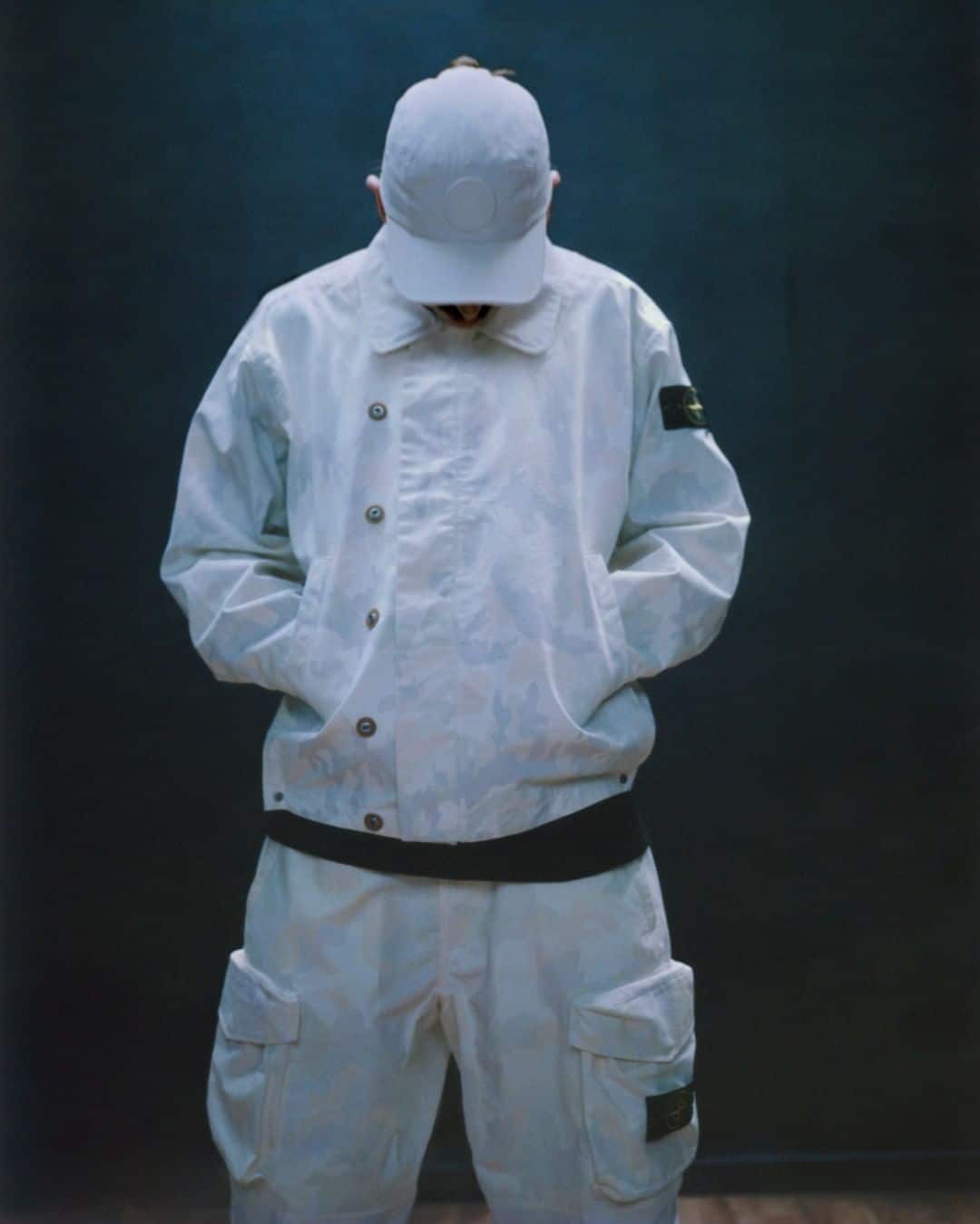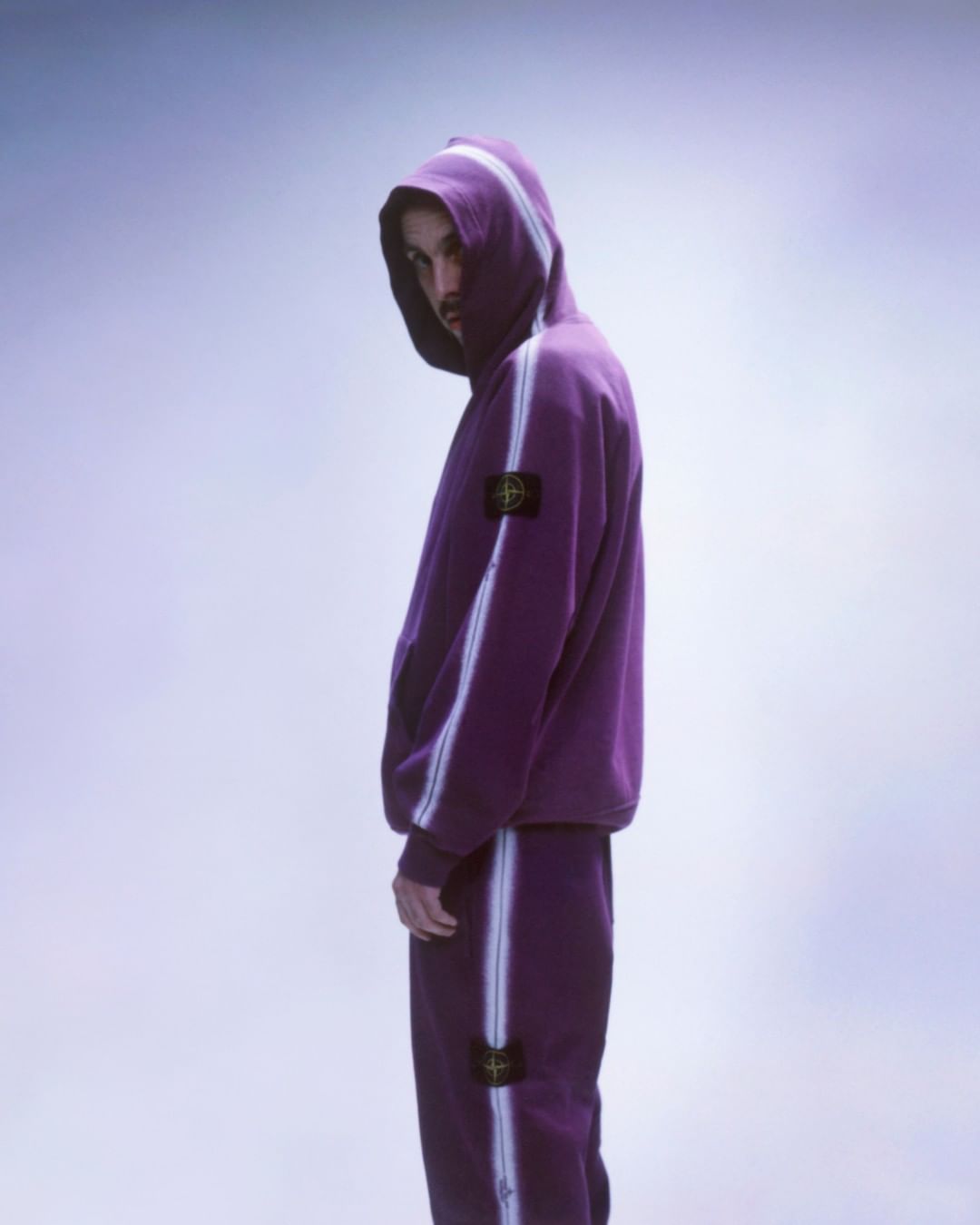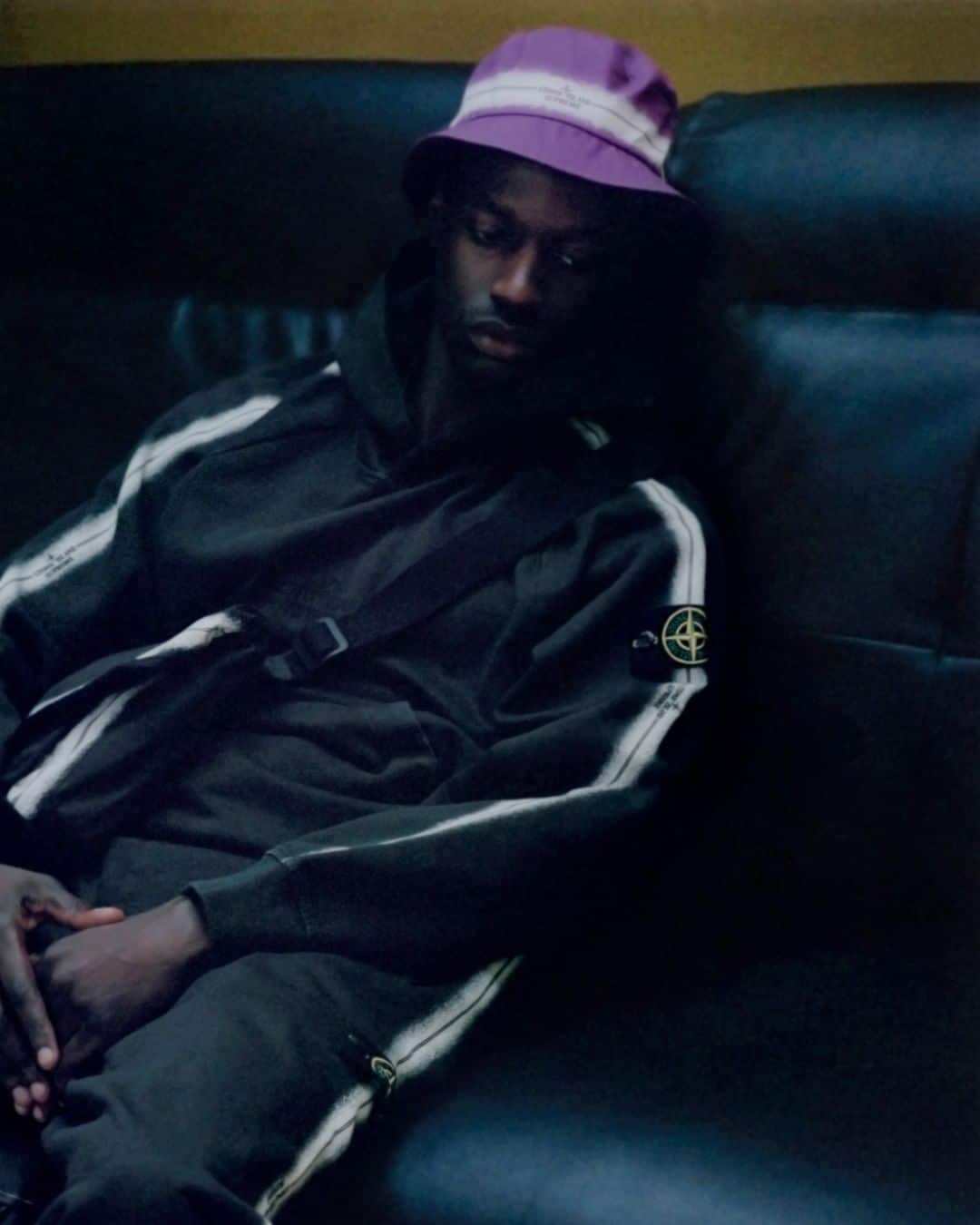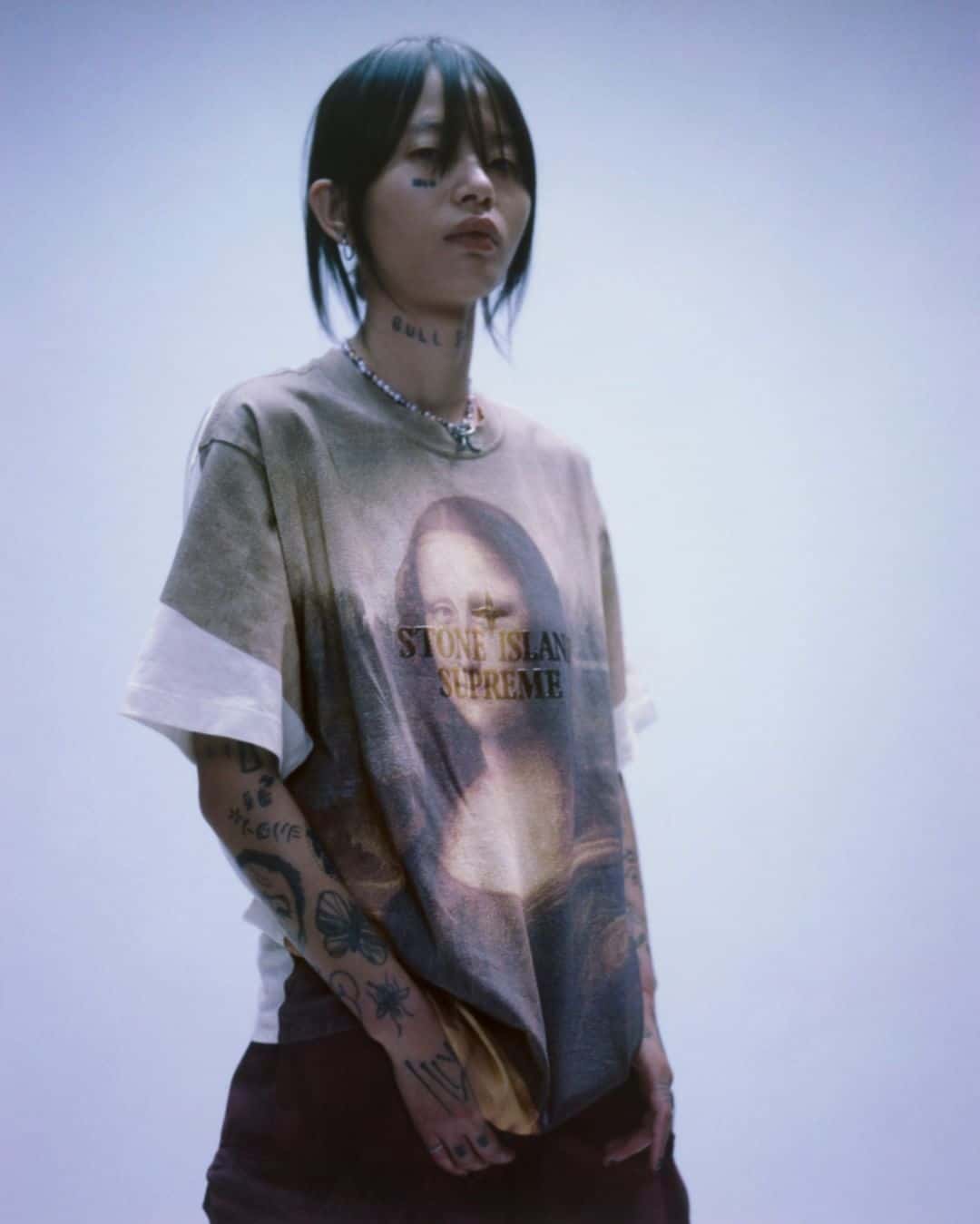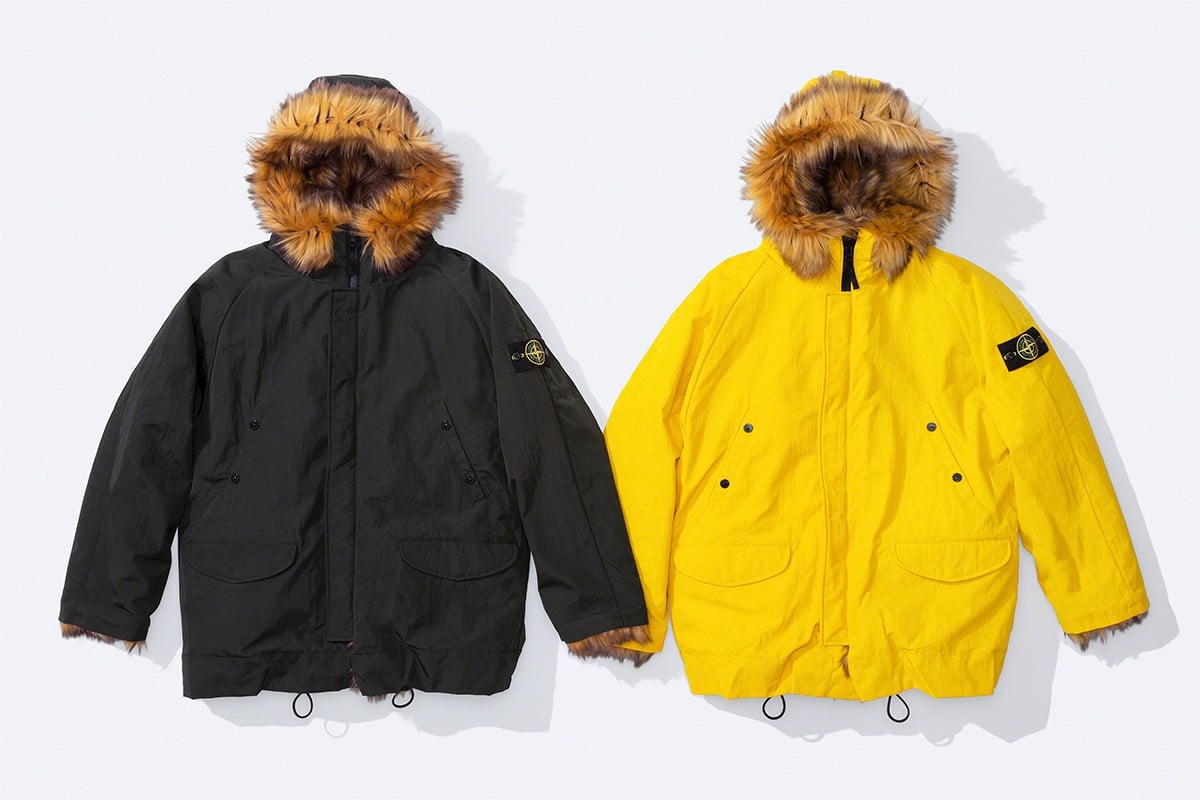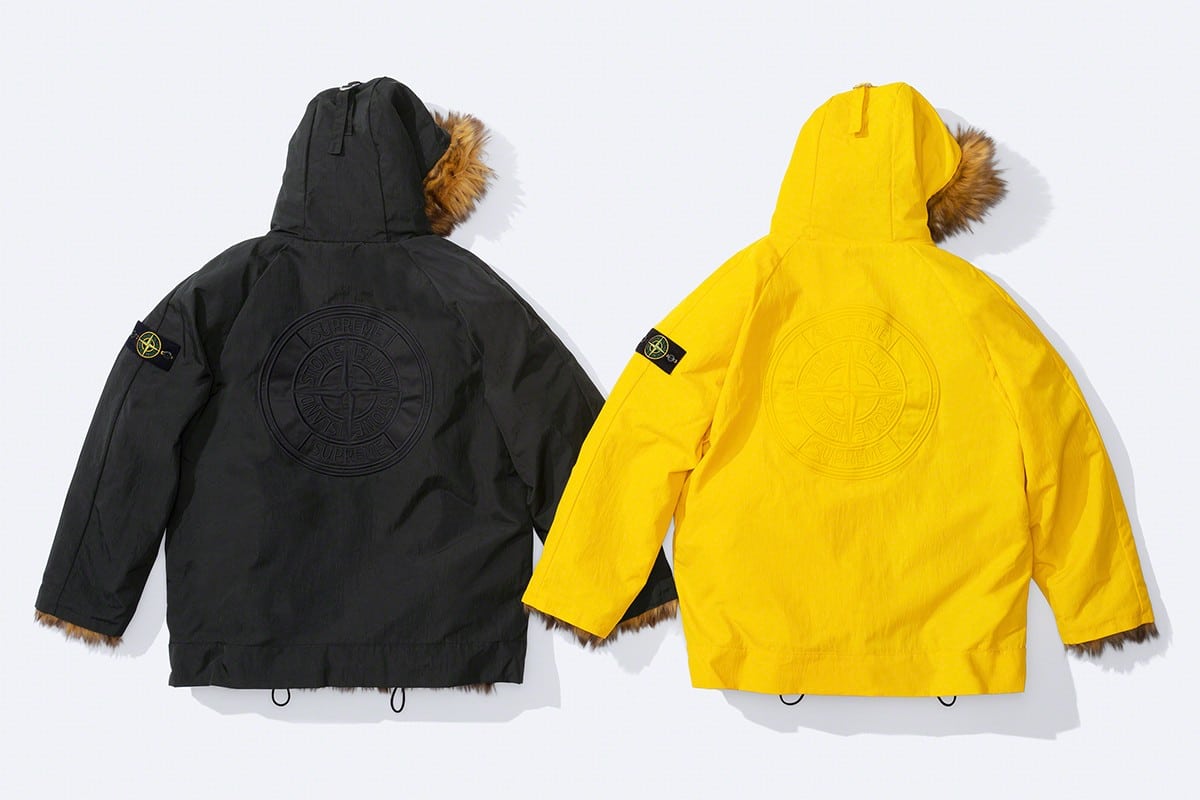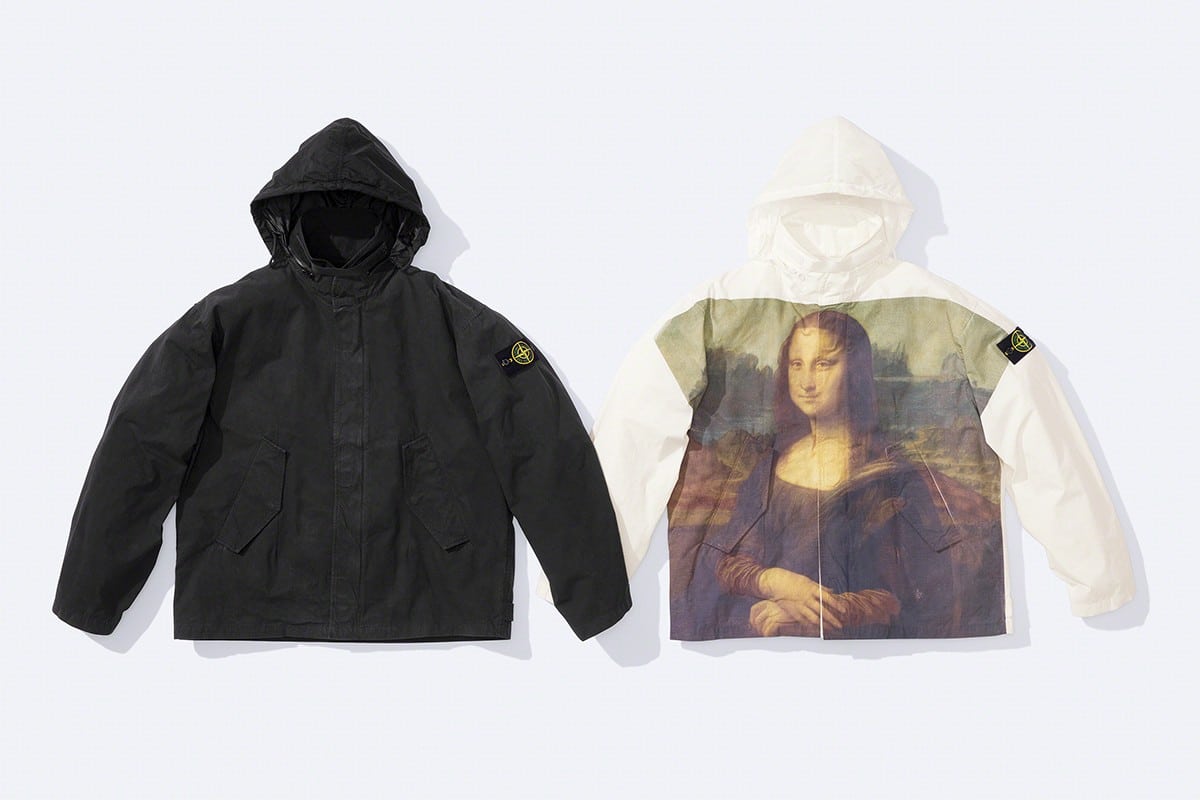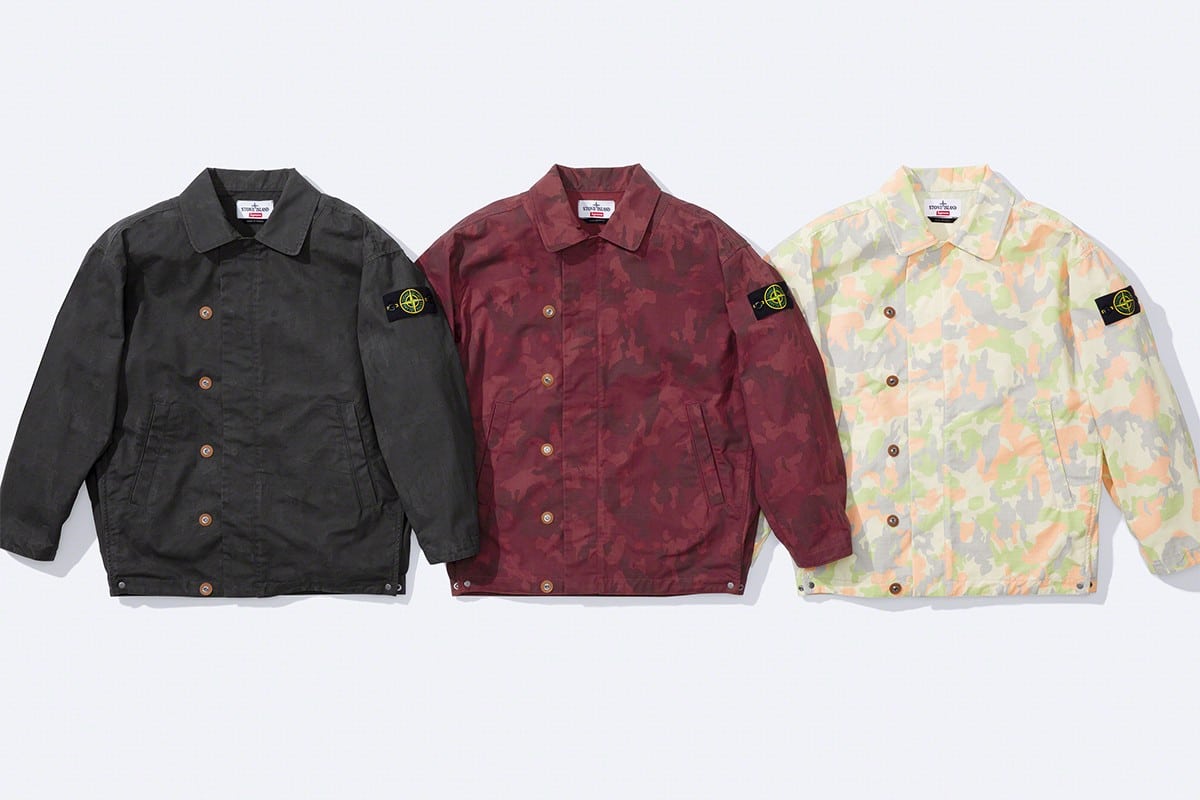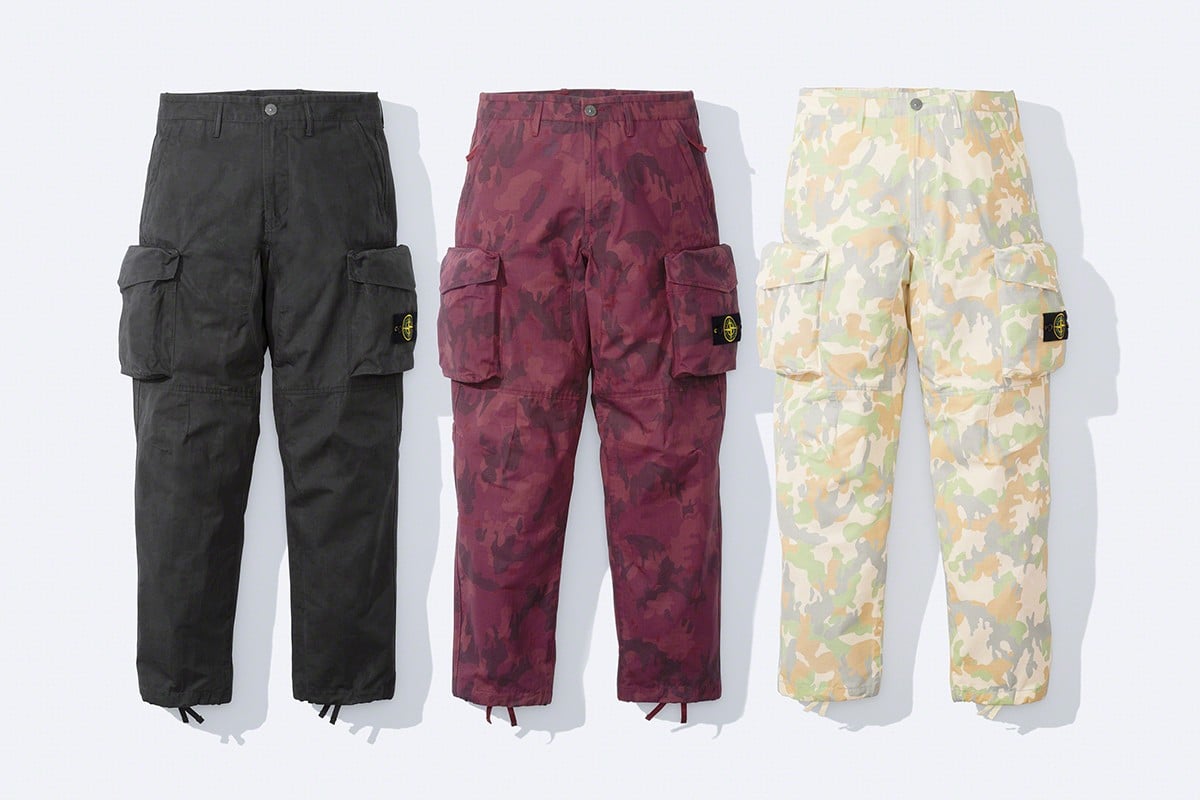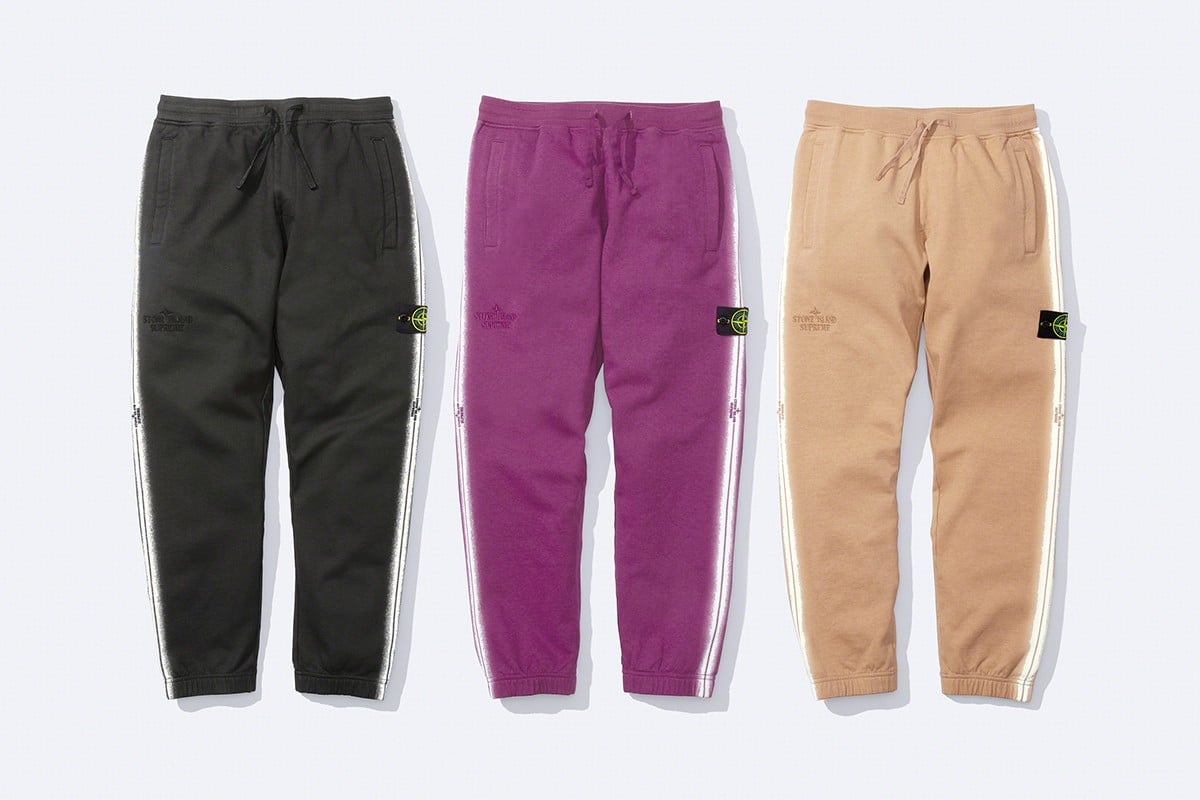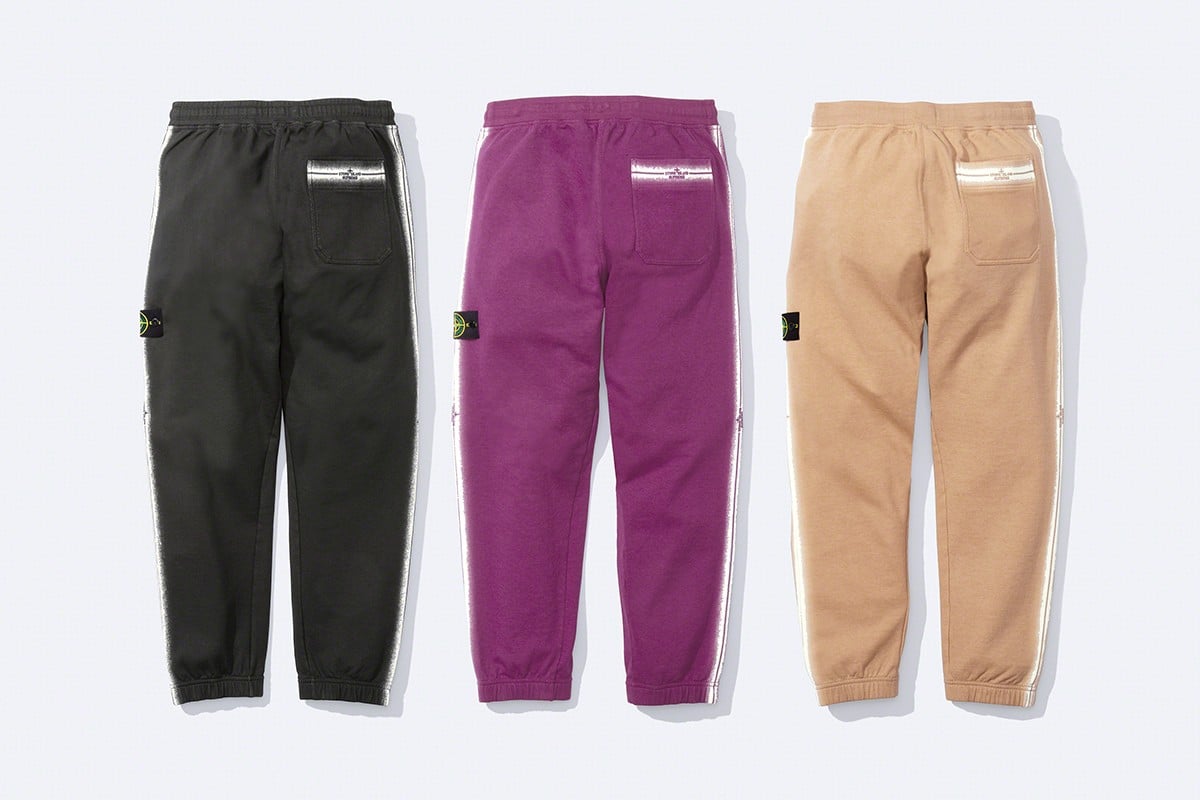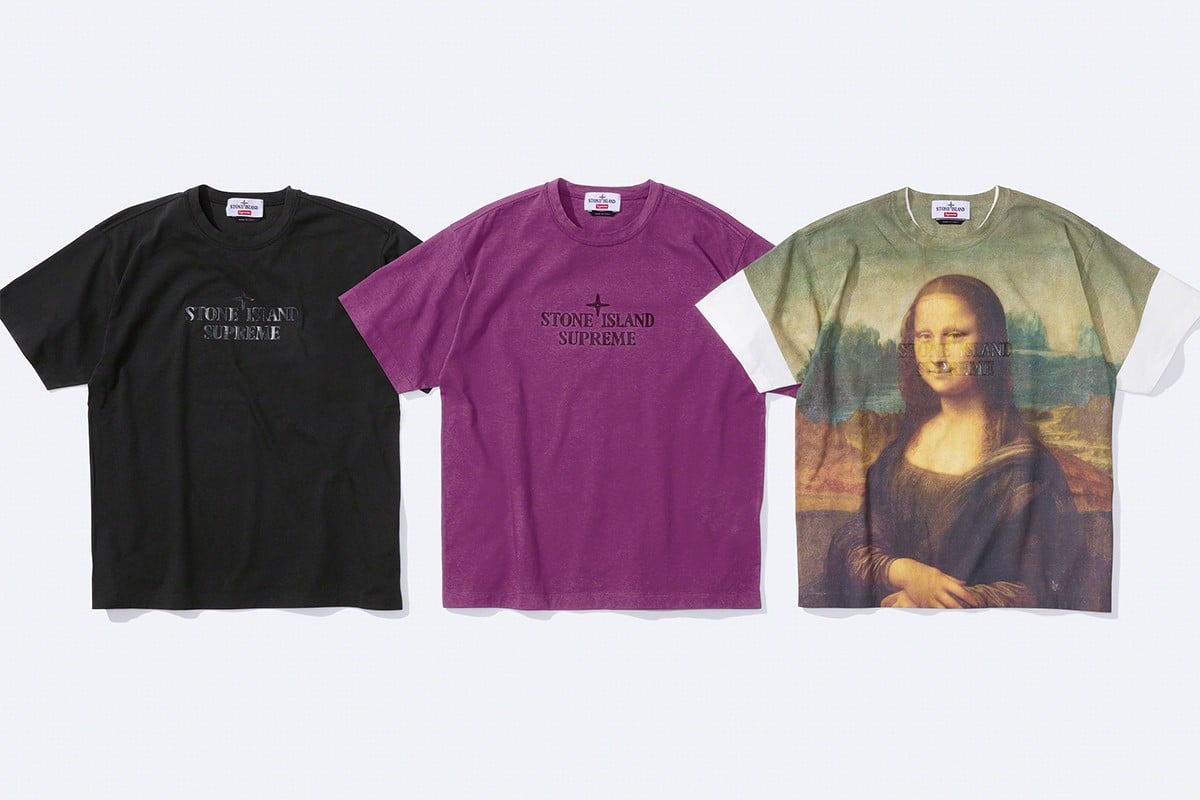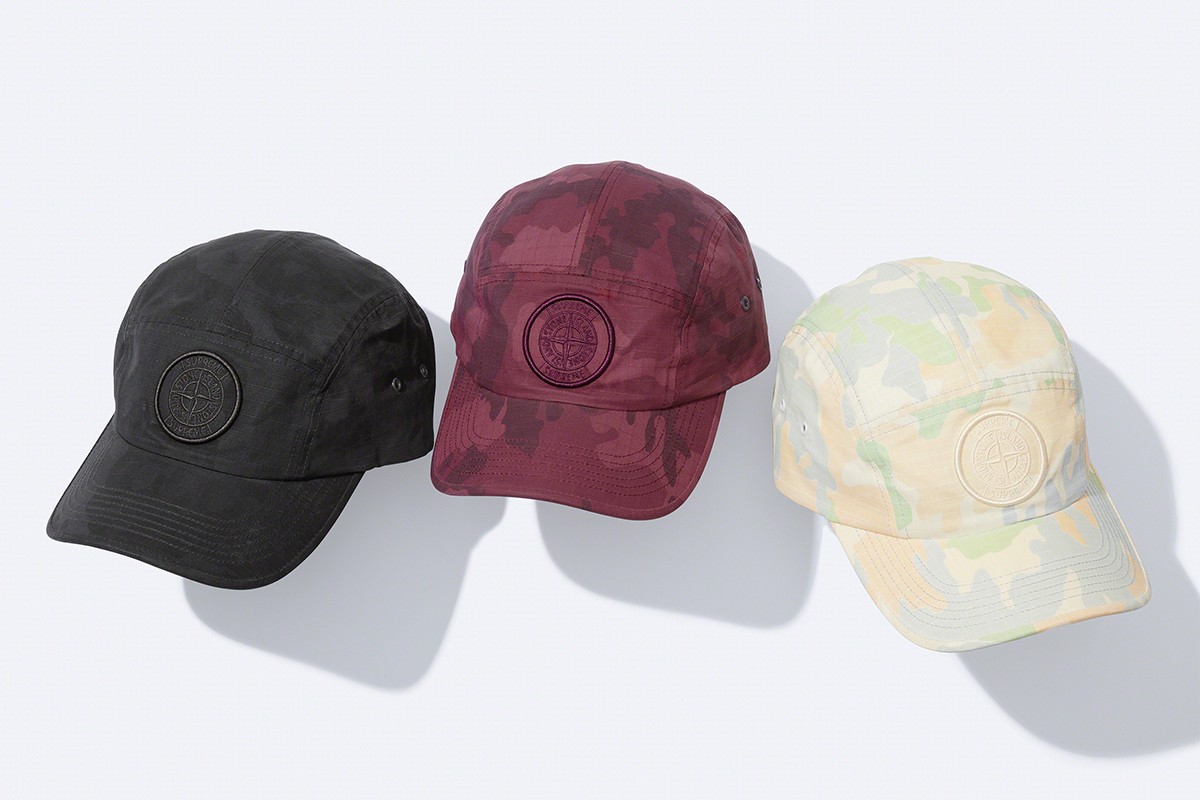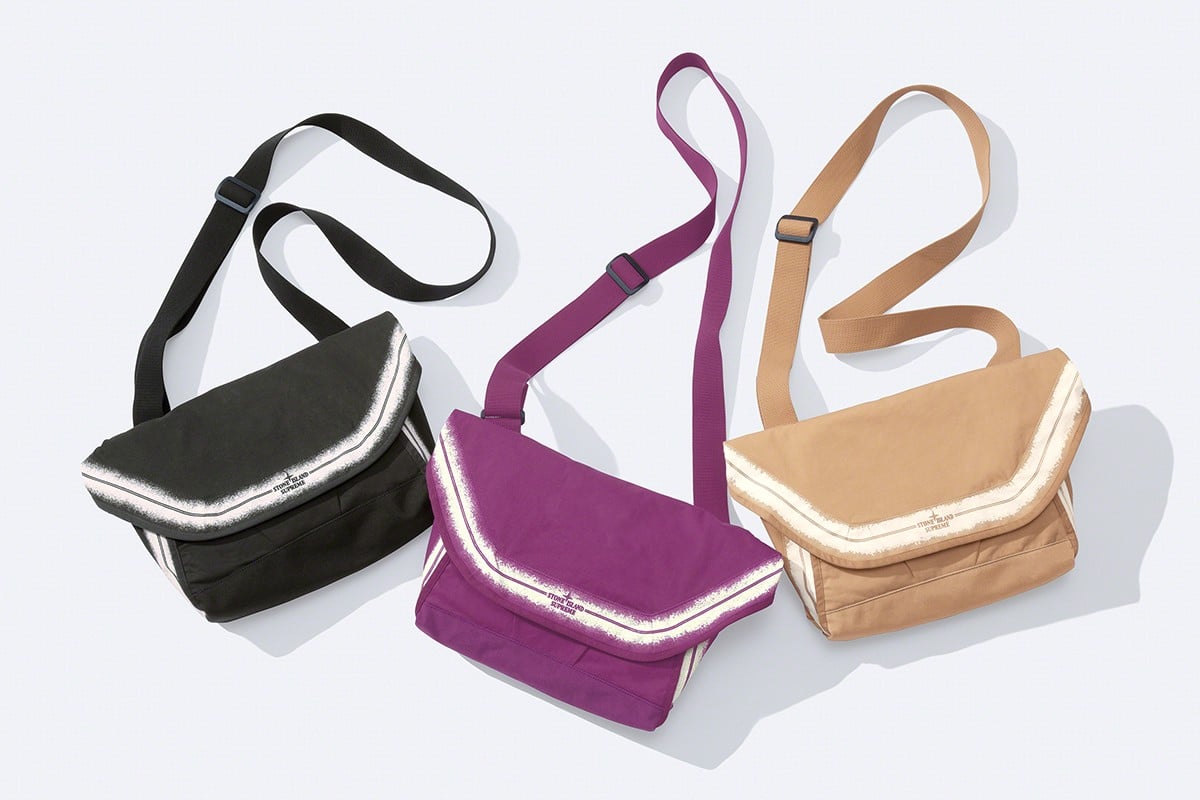 Update 04.05.2022
The new Supreme x Nike Air Zoom Flight 95 collab is coming sooner than expected. The three-piece collection was originally expected to be released sometime in 2023, but the hype label is now announcing the sneakers for Supreme Spring/Summer 2022 Collection Week 11. On May 5th, the blue, brown, and black Supreme x Nike Air Zoom Flight 95s will drop at Supreme's online shop. Check out the apparel that will also be released this week.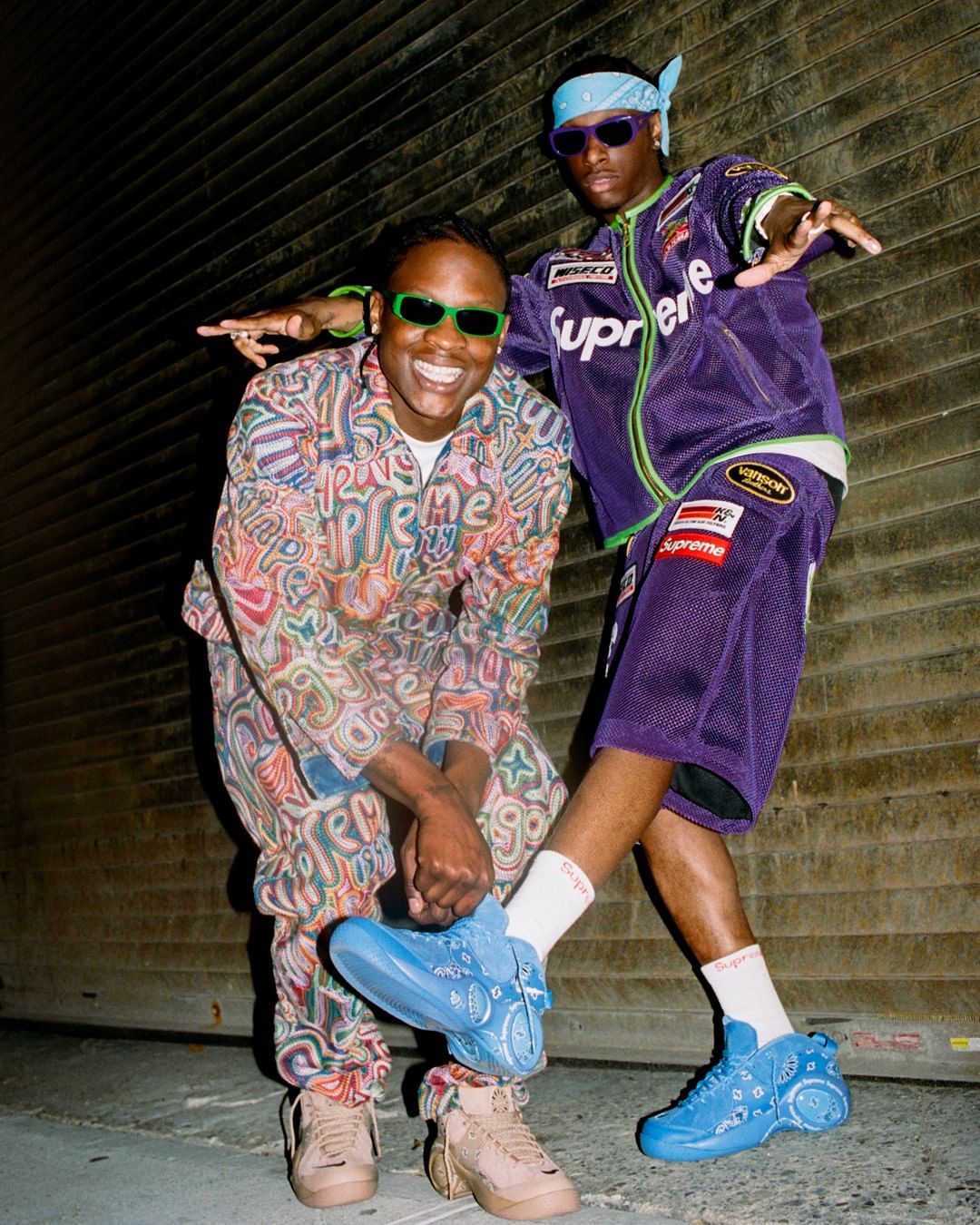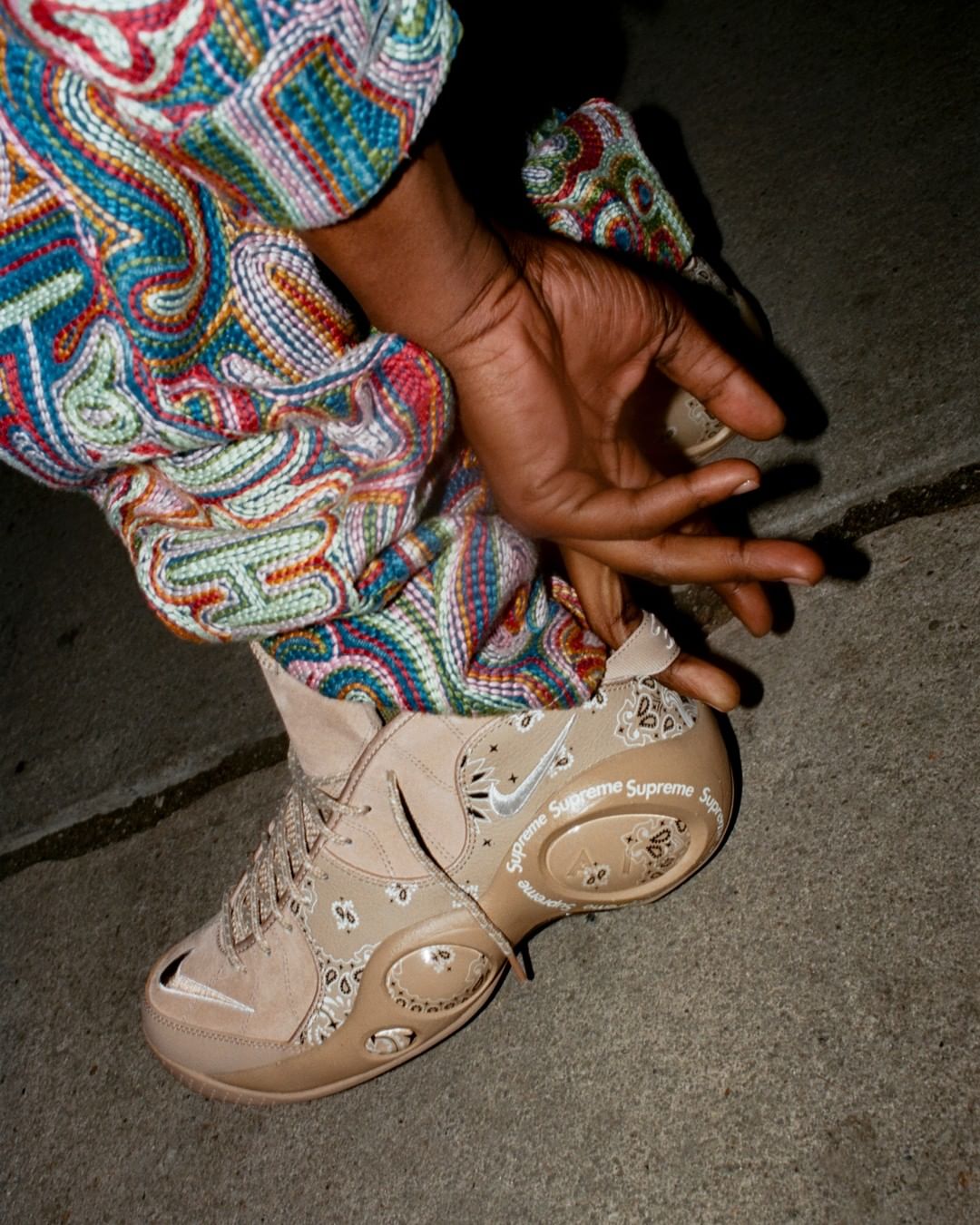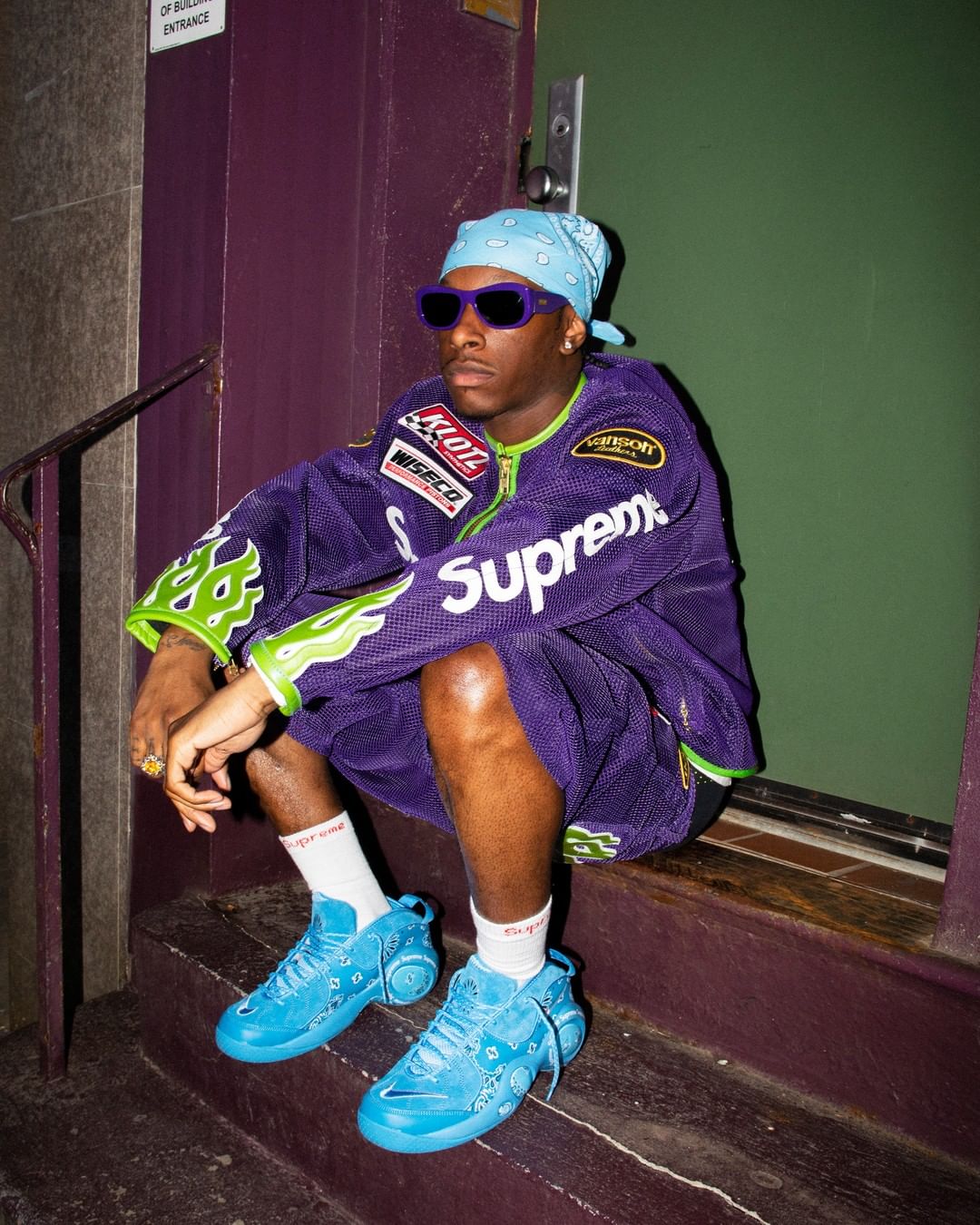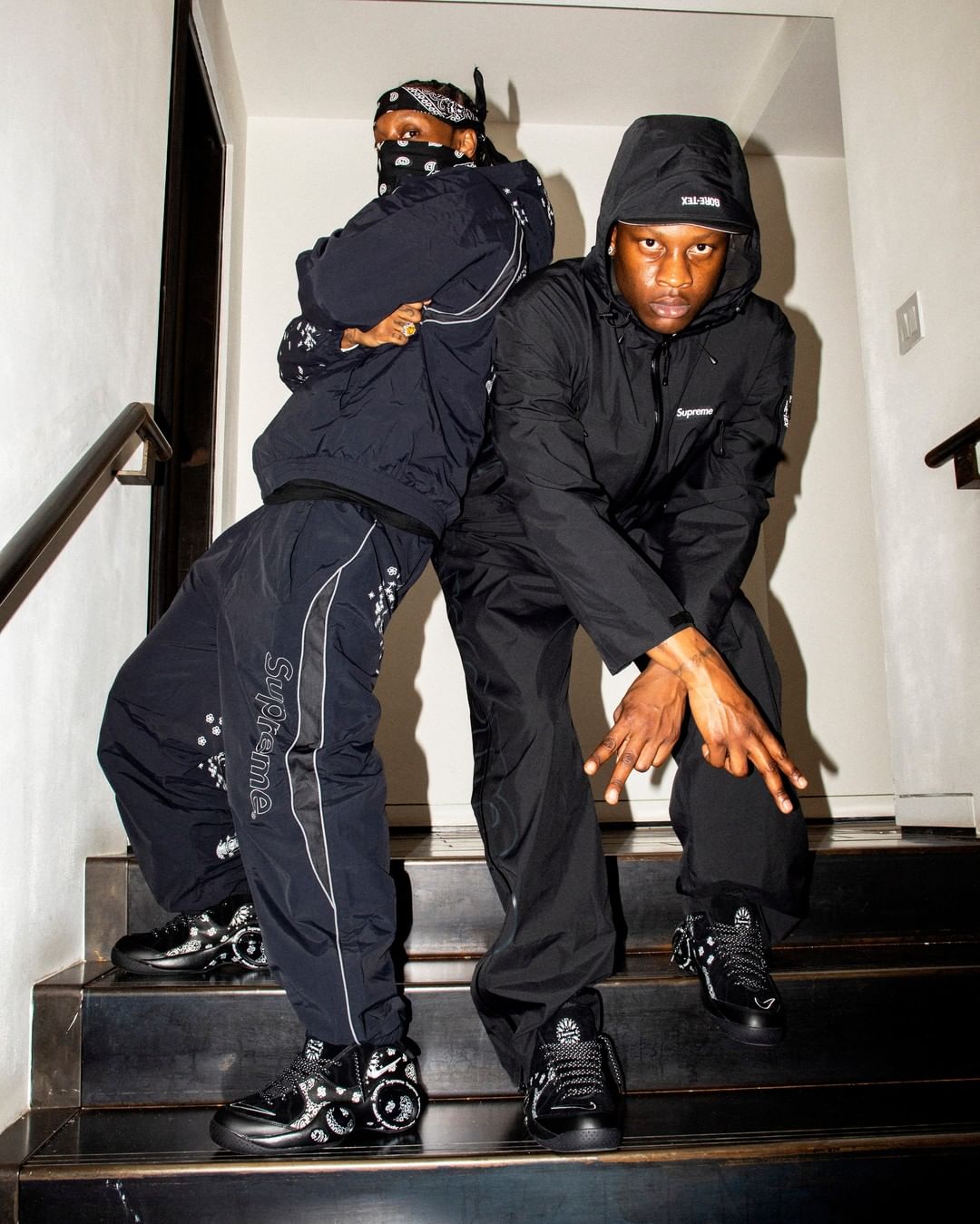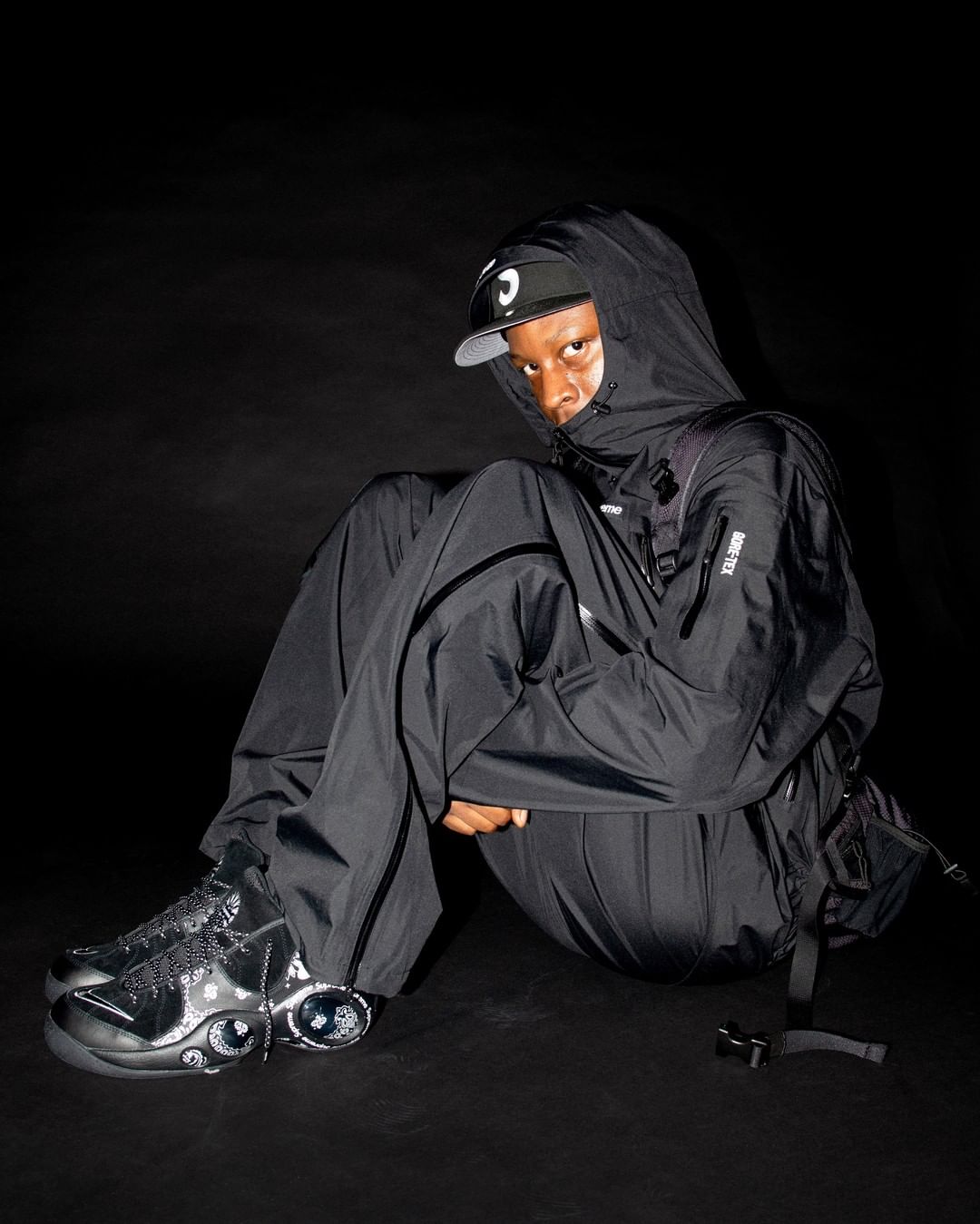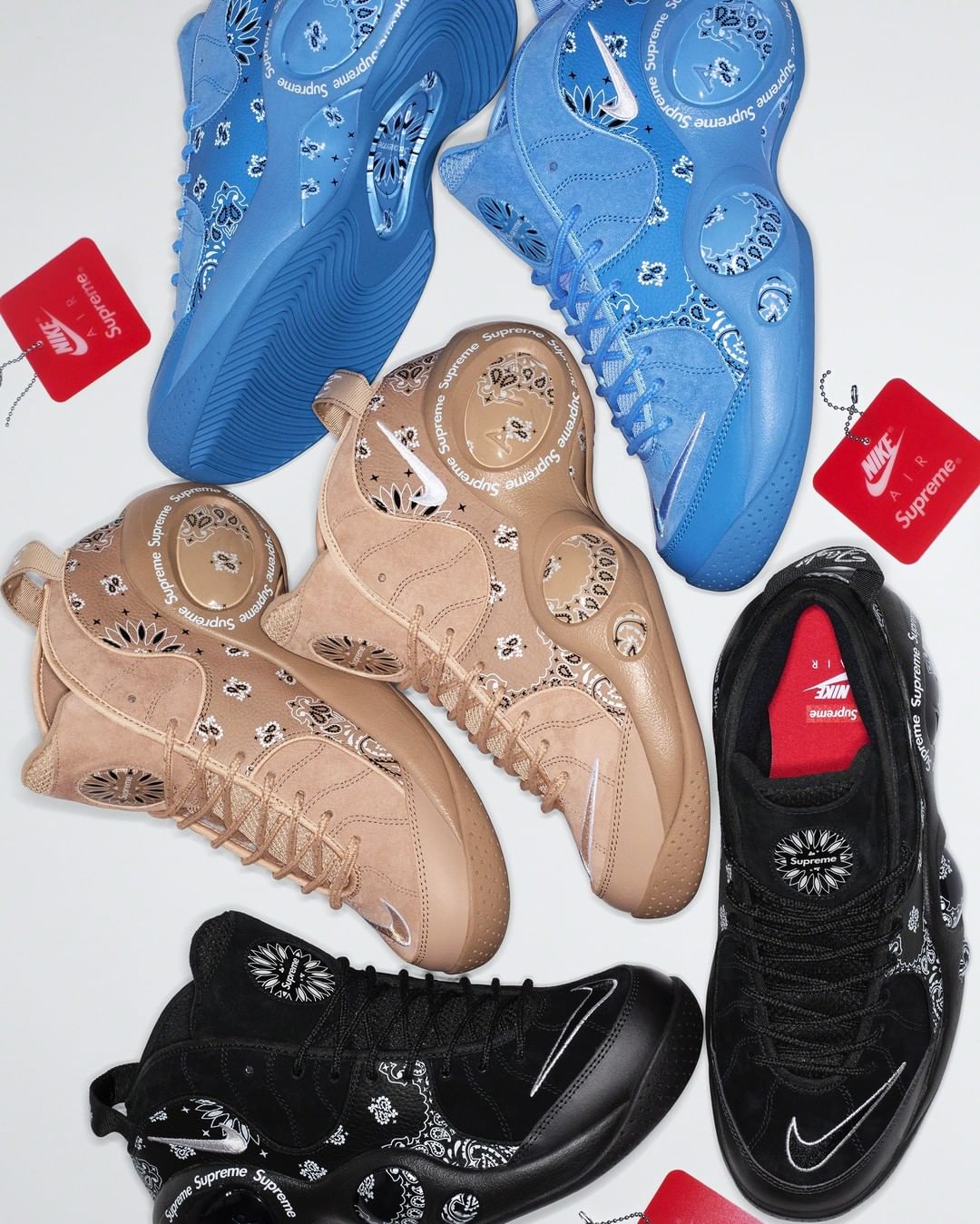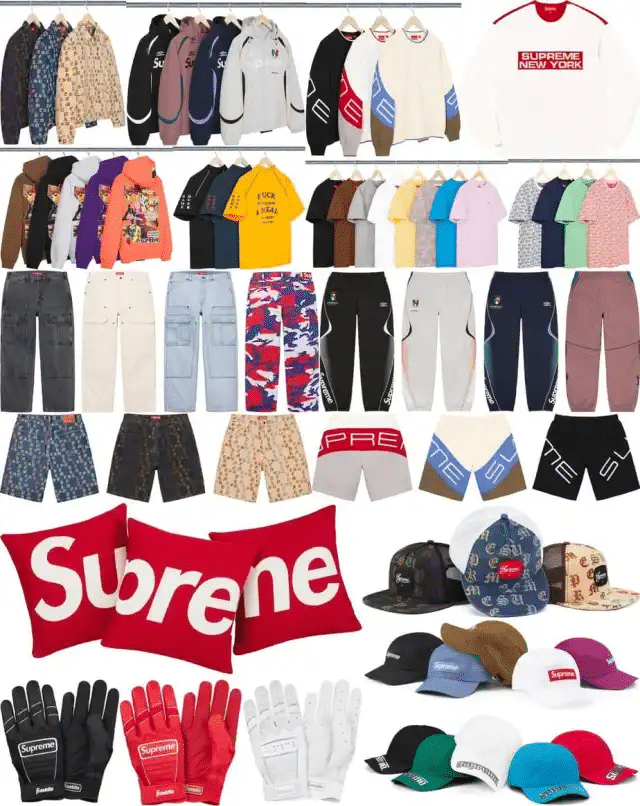 Update 27.04.2022
This week, Supreme is taking a break from all the collaboration series. Instead, the hype label is preparing a special release in the Supreme Spring/Summer 2022 Collection Week 10, which revolves around the American film Gummo (1997). The feature film was directed by Harmony Korine, then 23, and now a Supreme employee.
The Gummo collection includes a coach's jacket, a football top, a hooded sweatshirt, two t-shirts, and two skateboards with original artwork by Harmony Korine. Check out the images here and assume a drop on April 28th.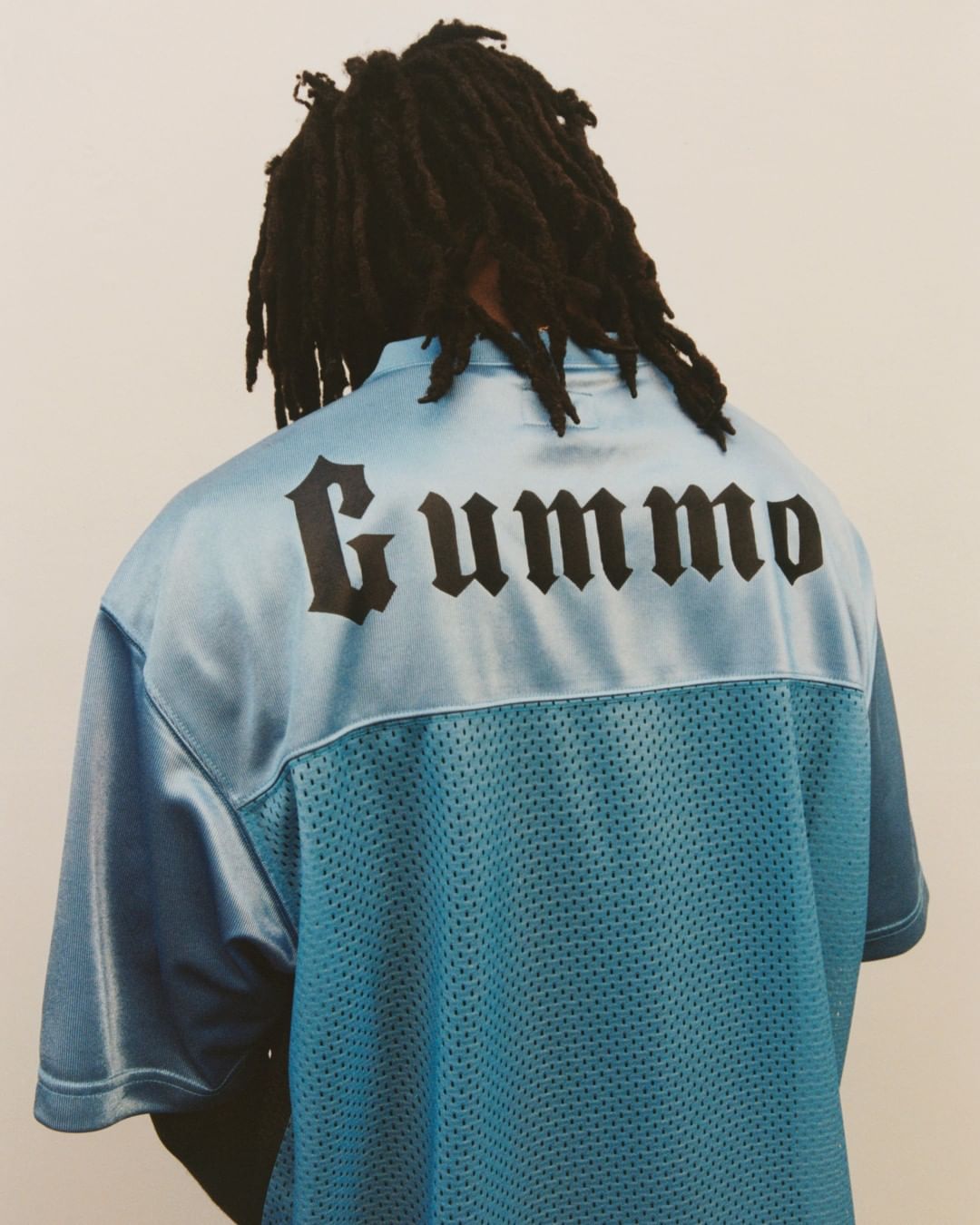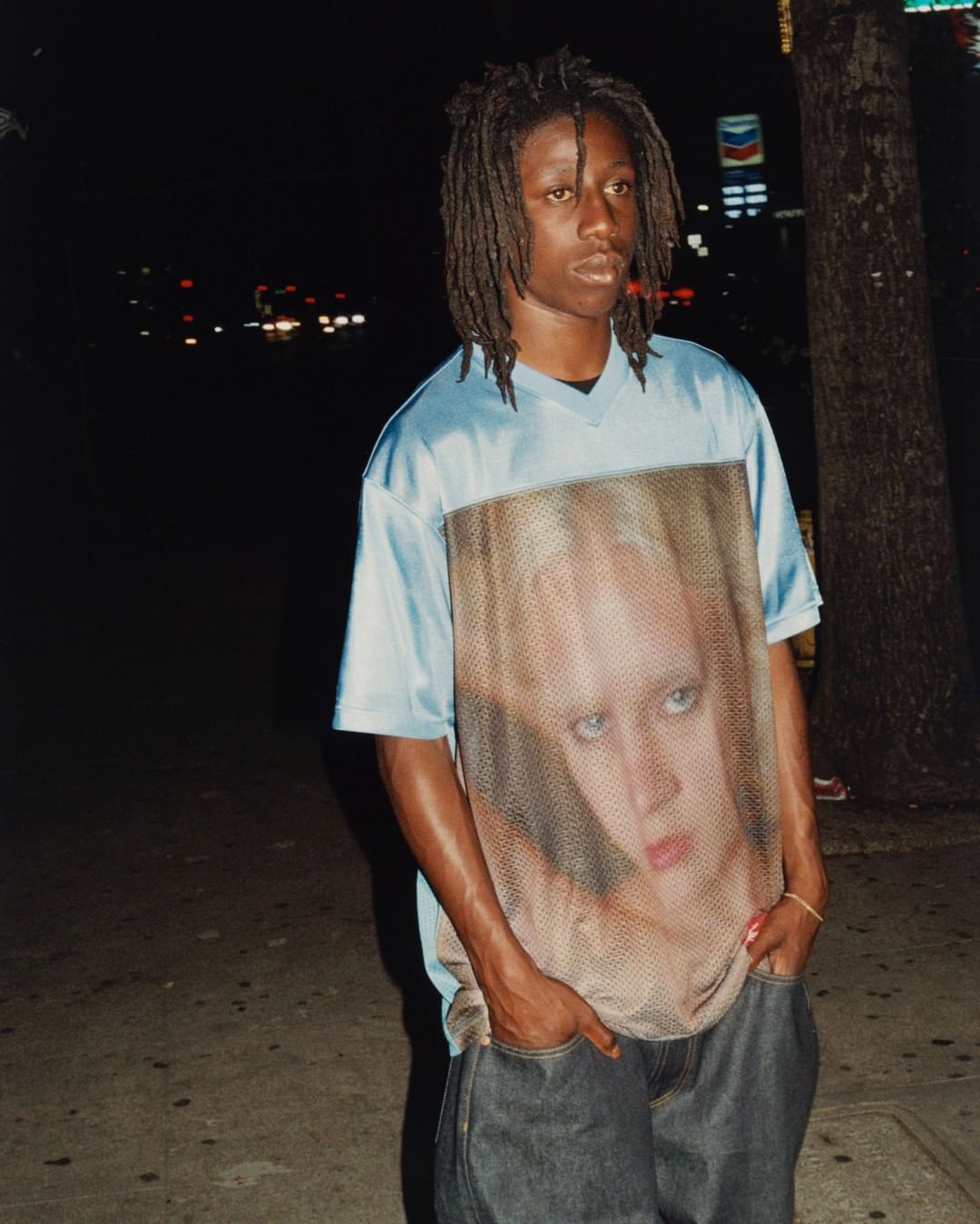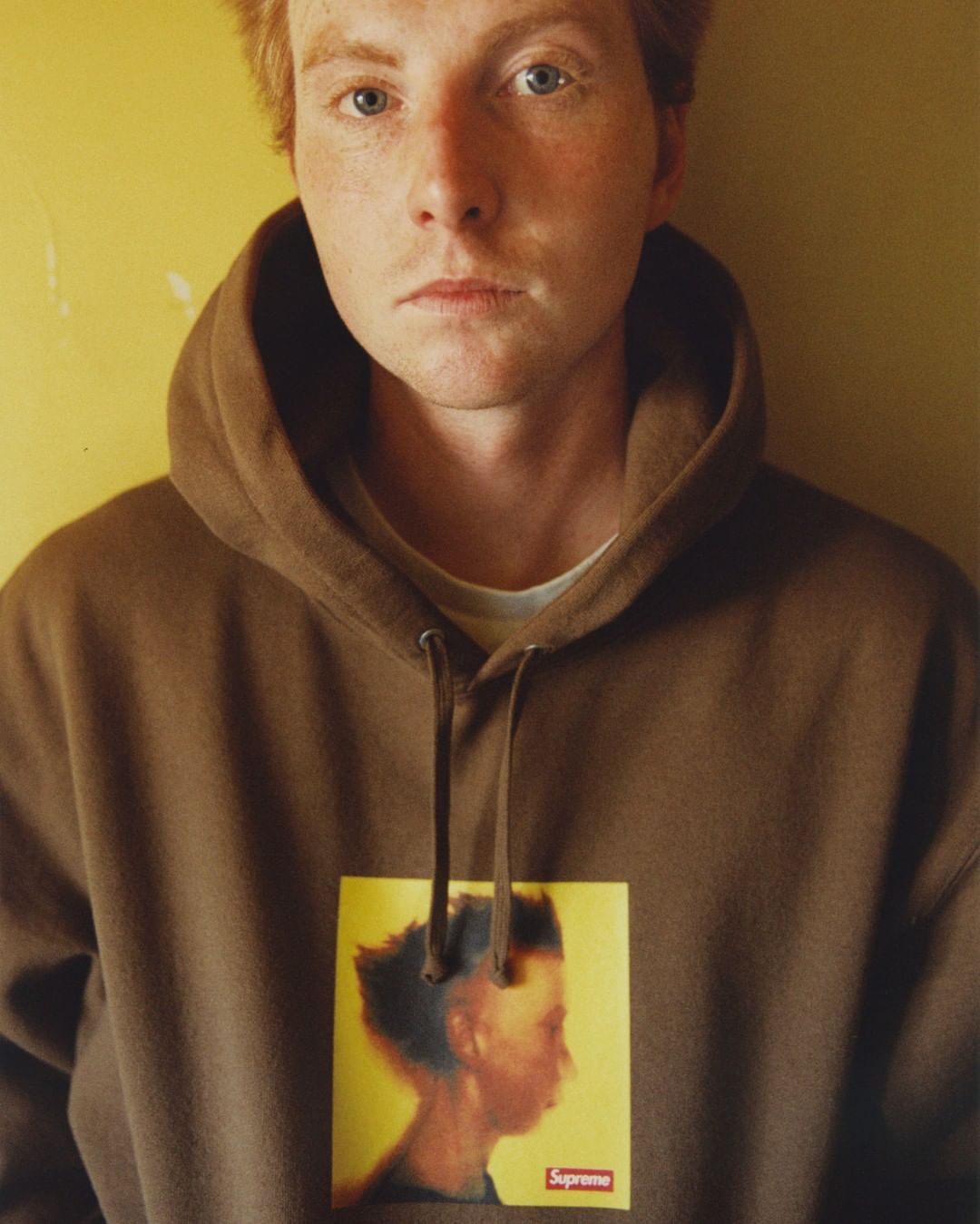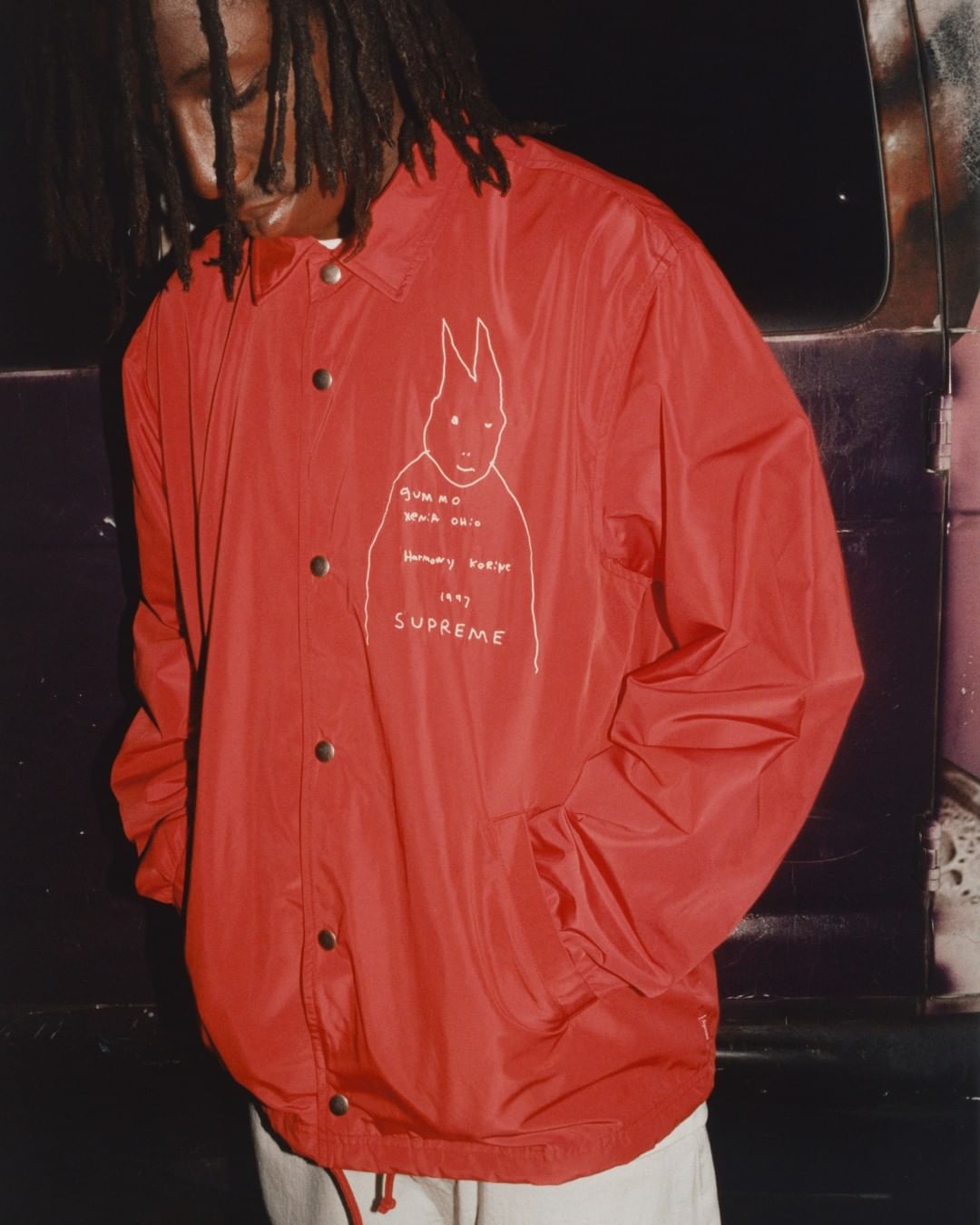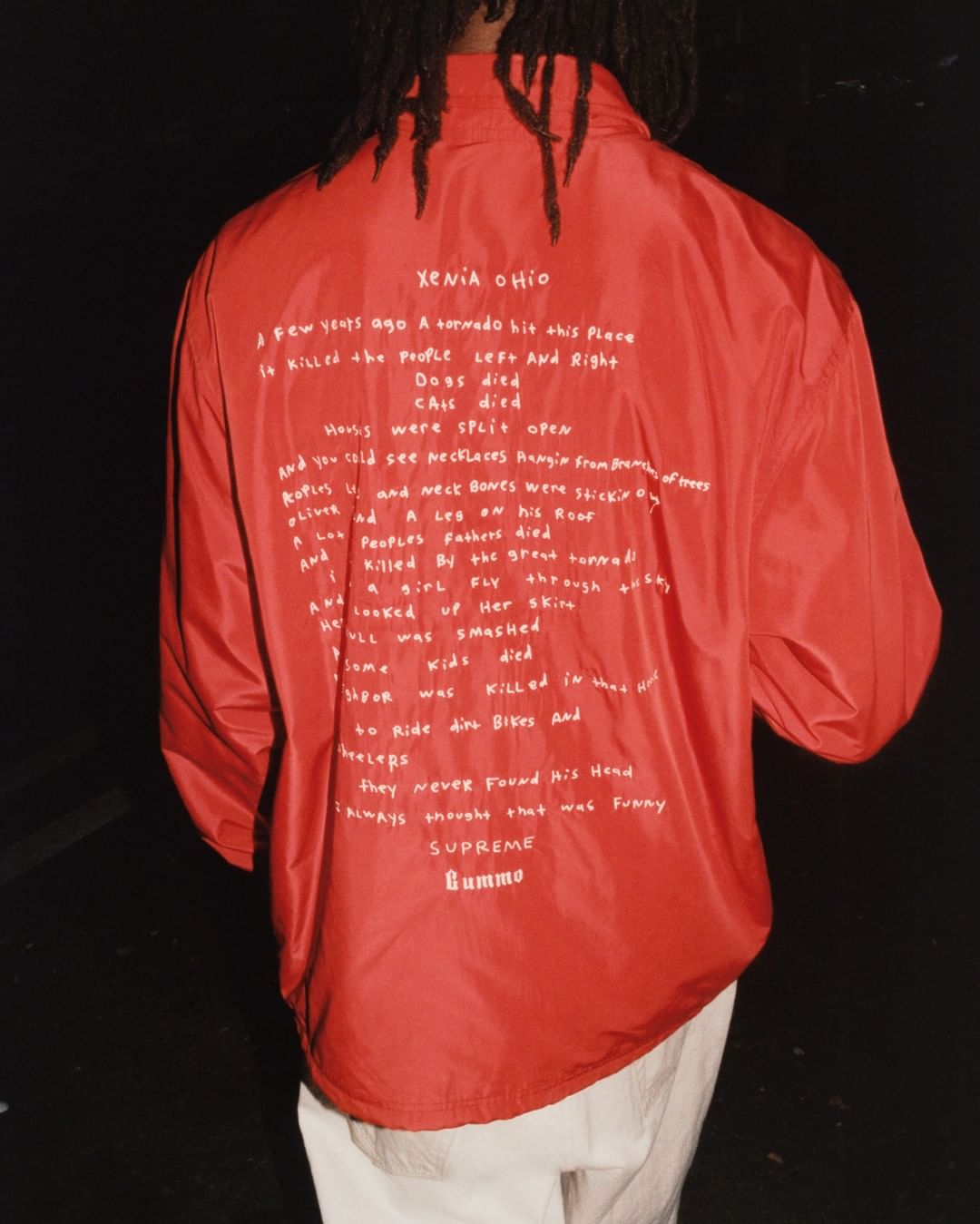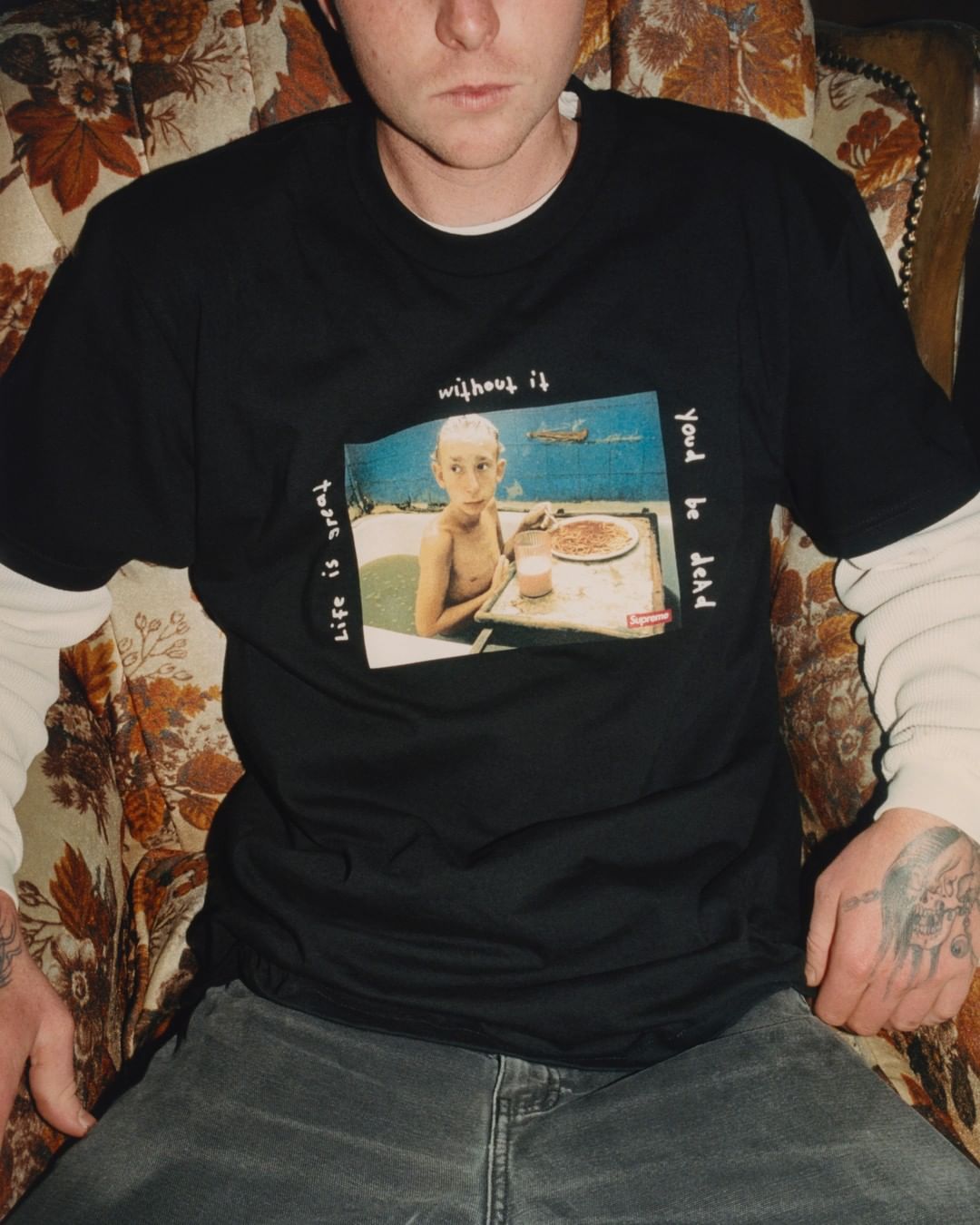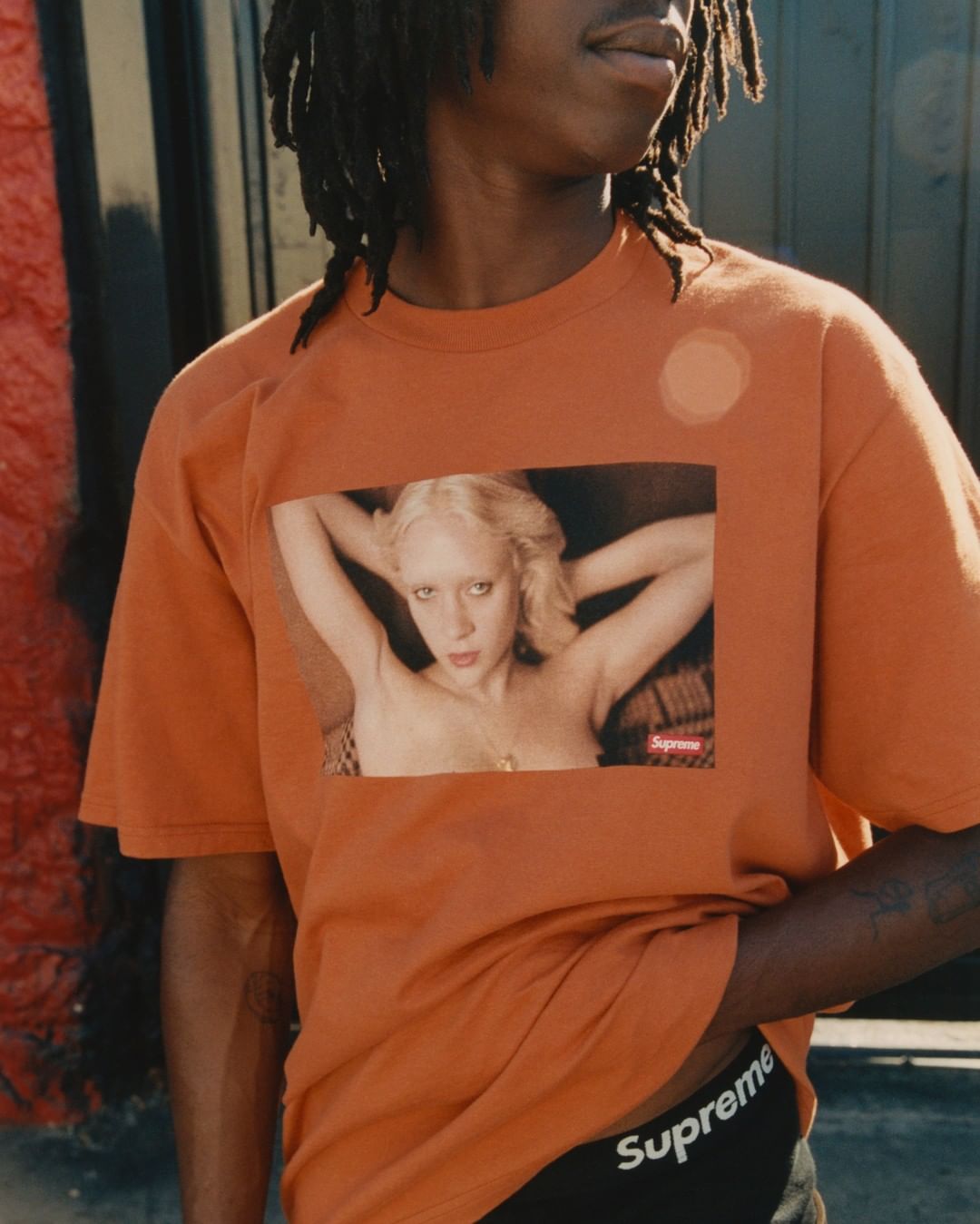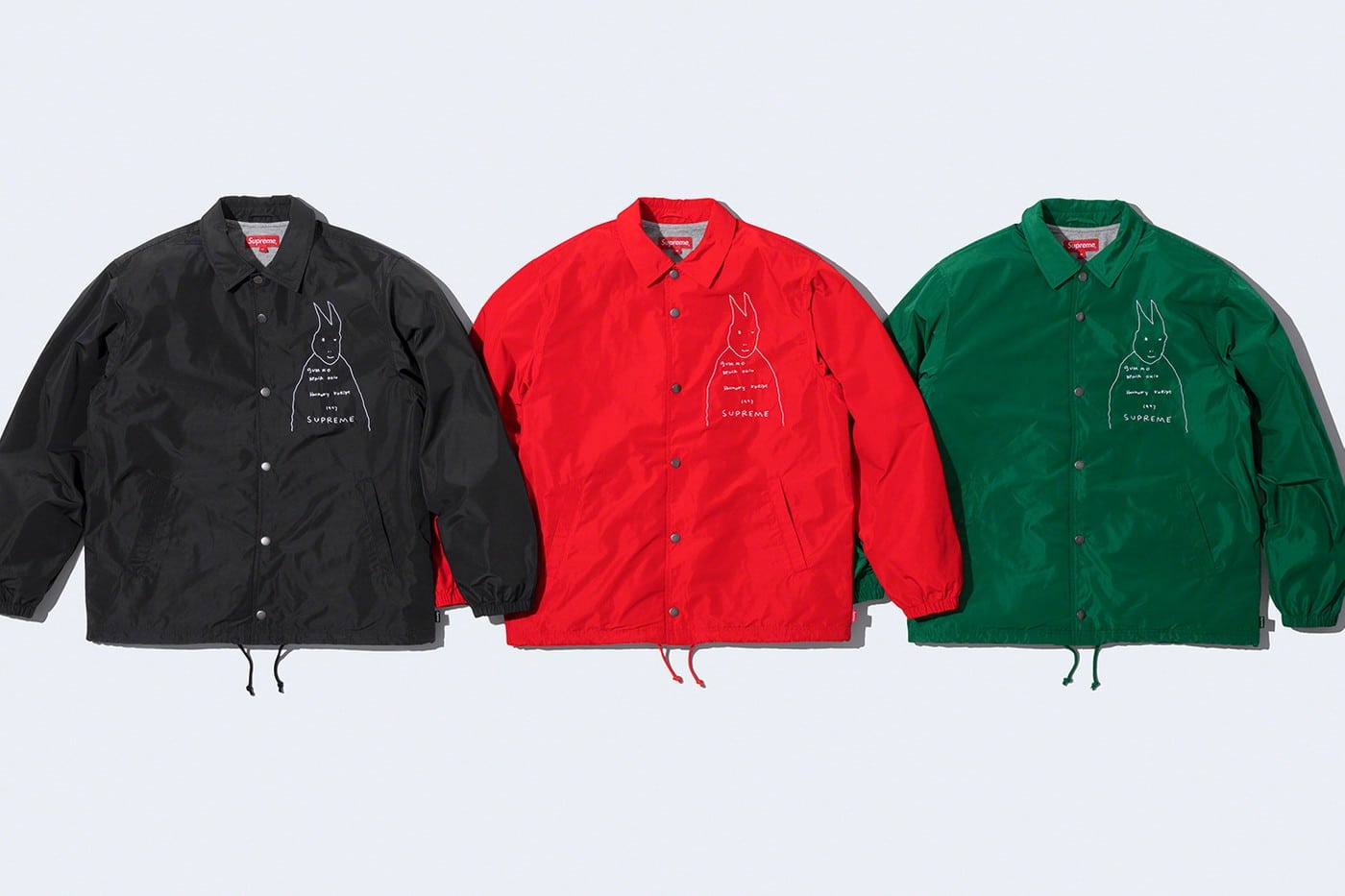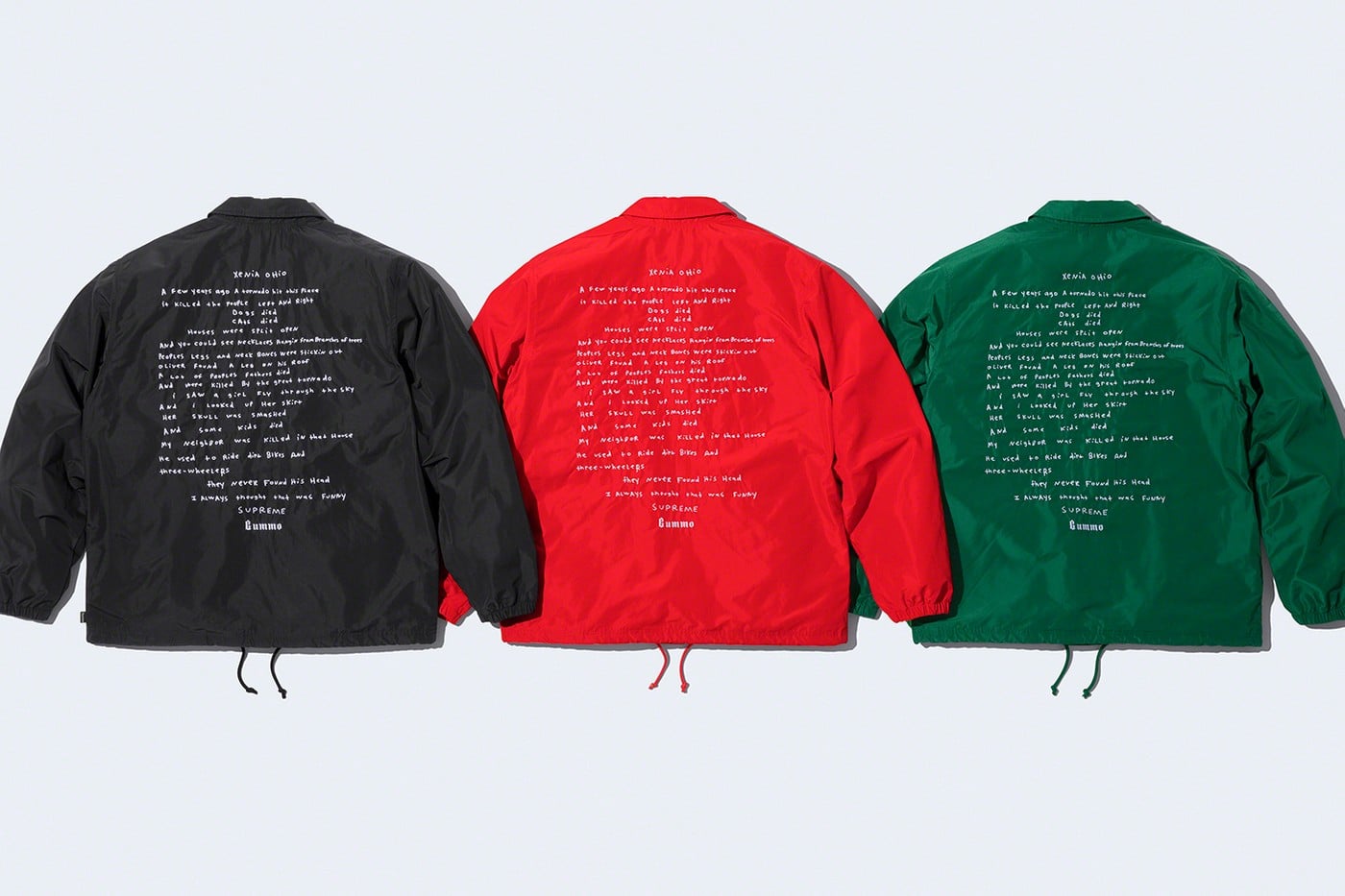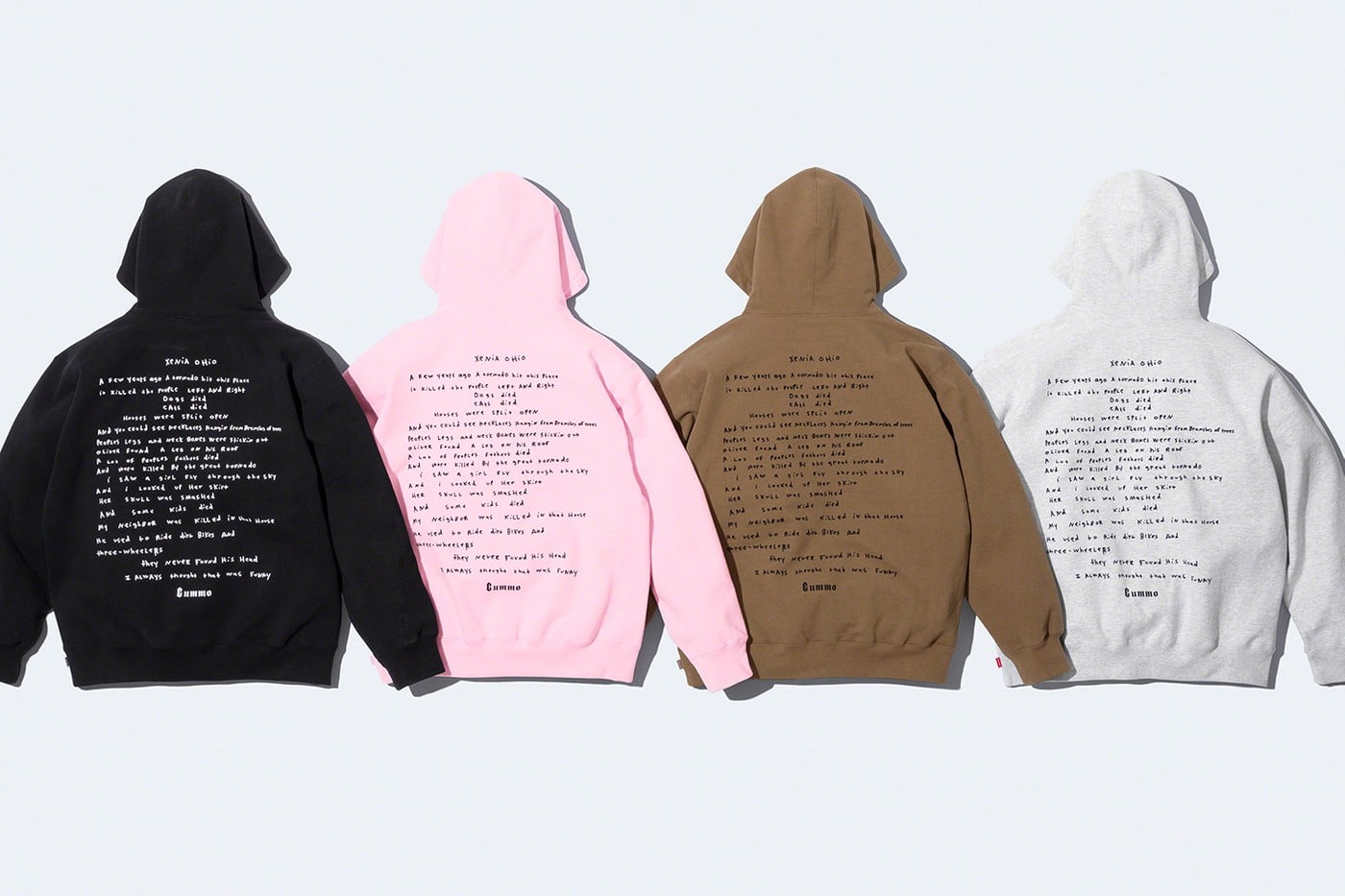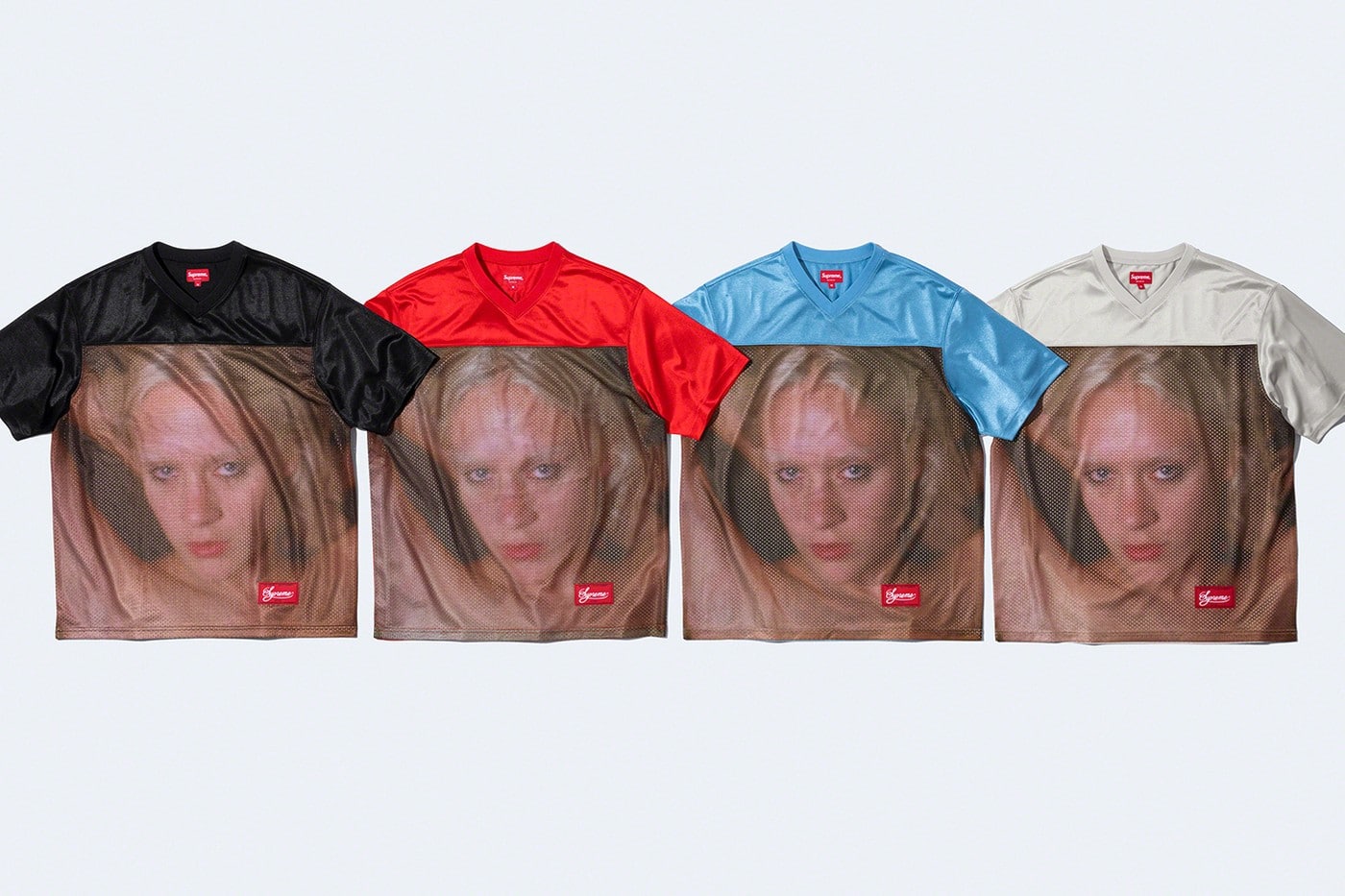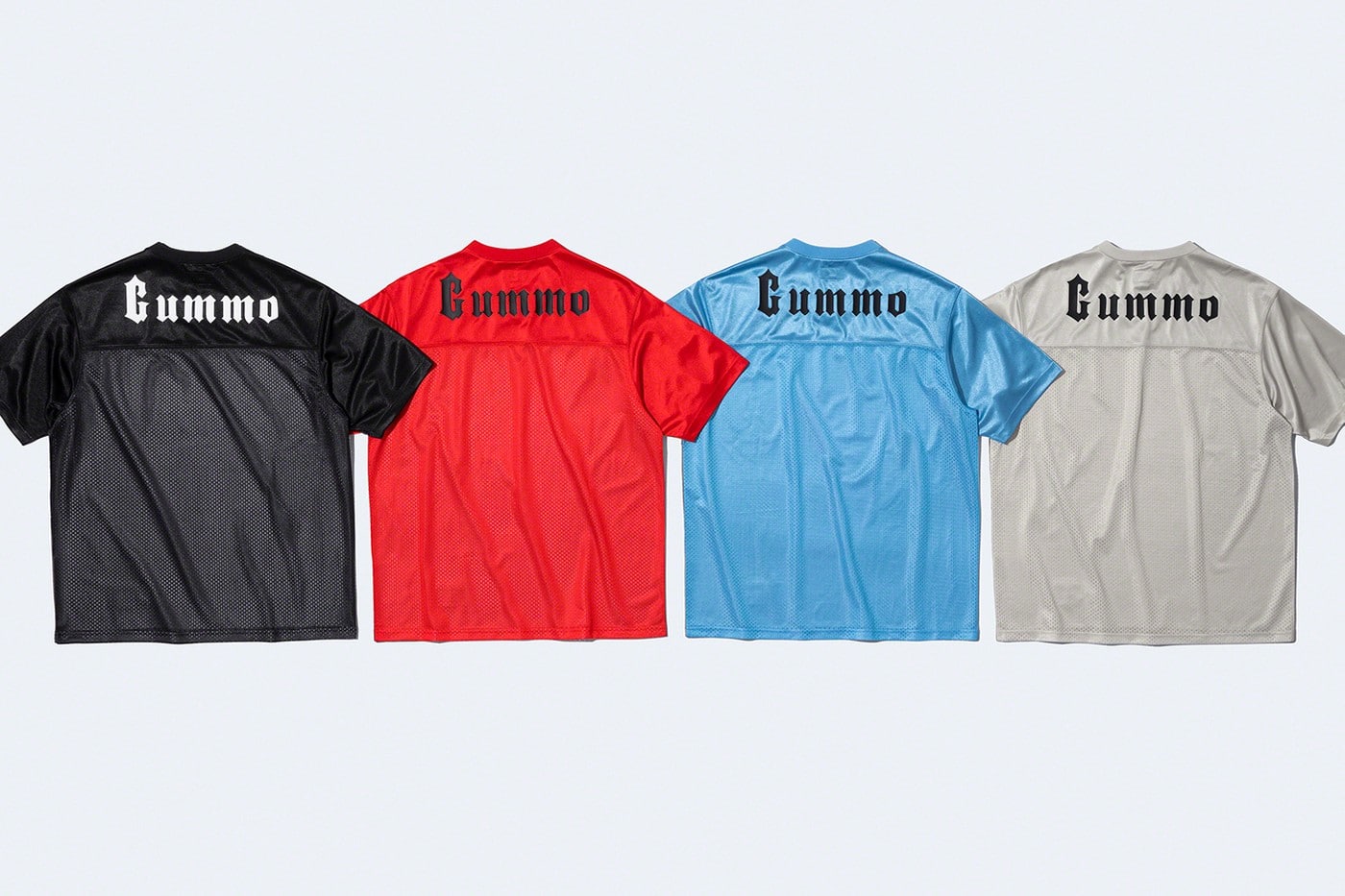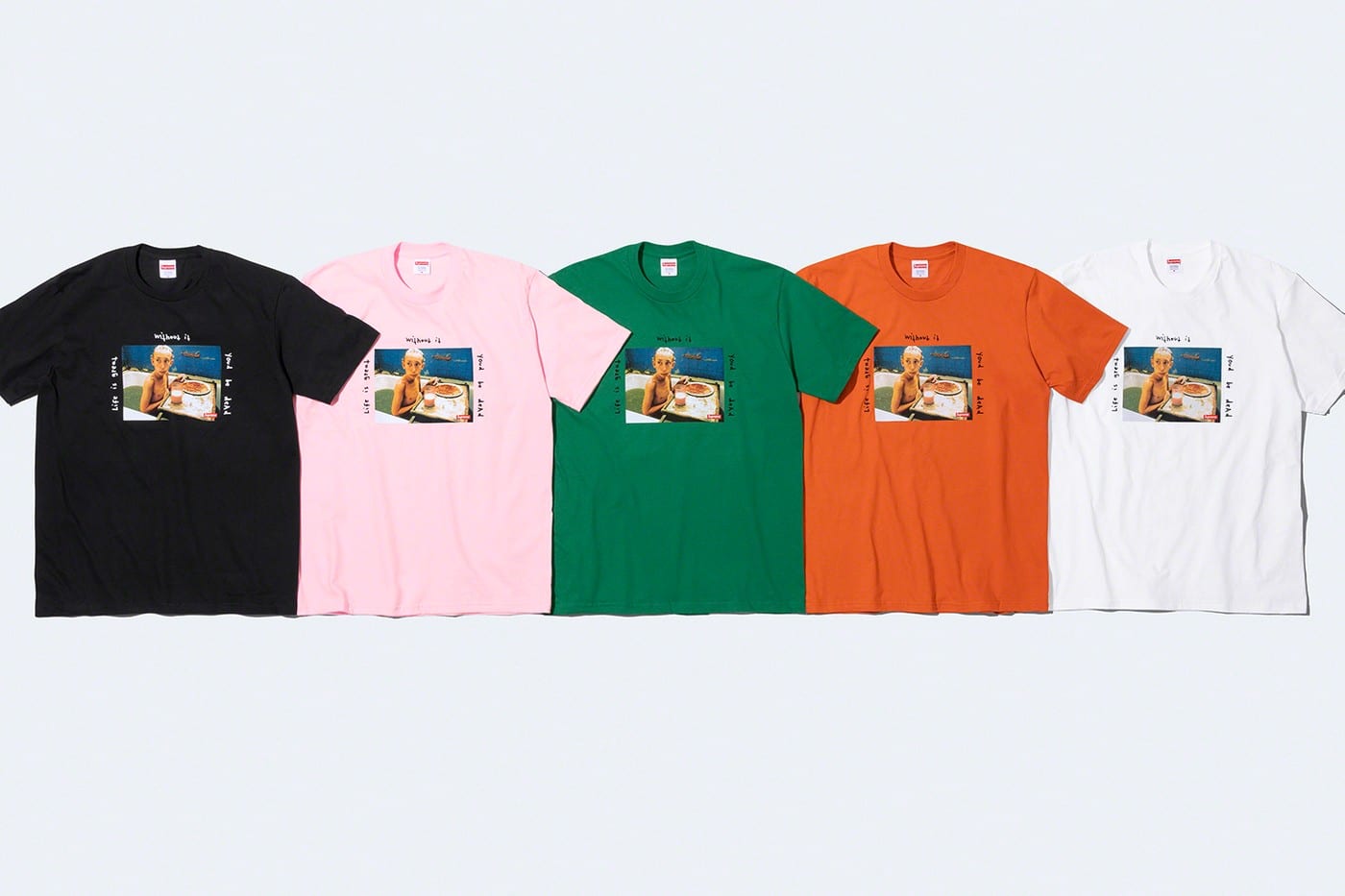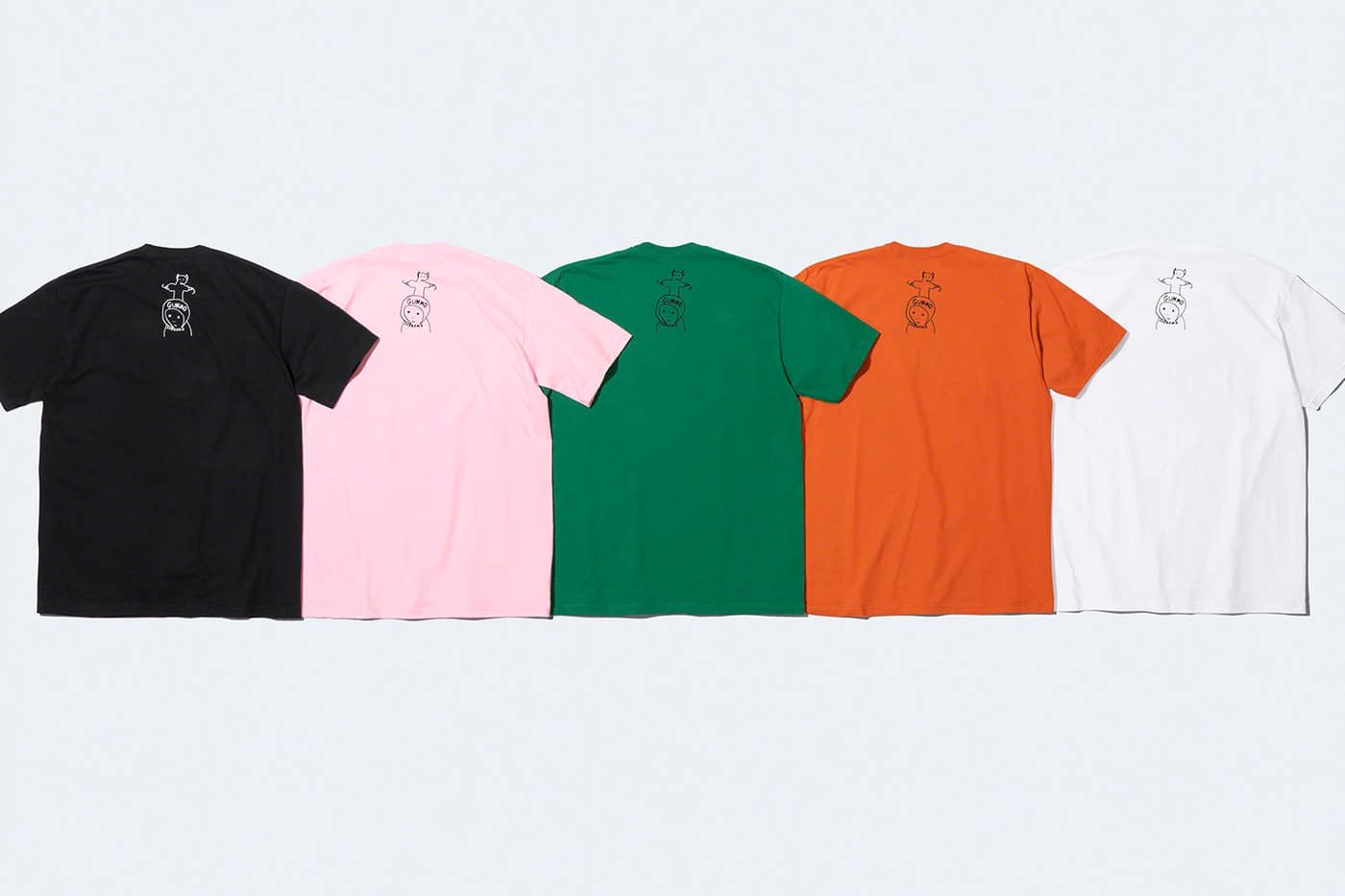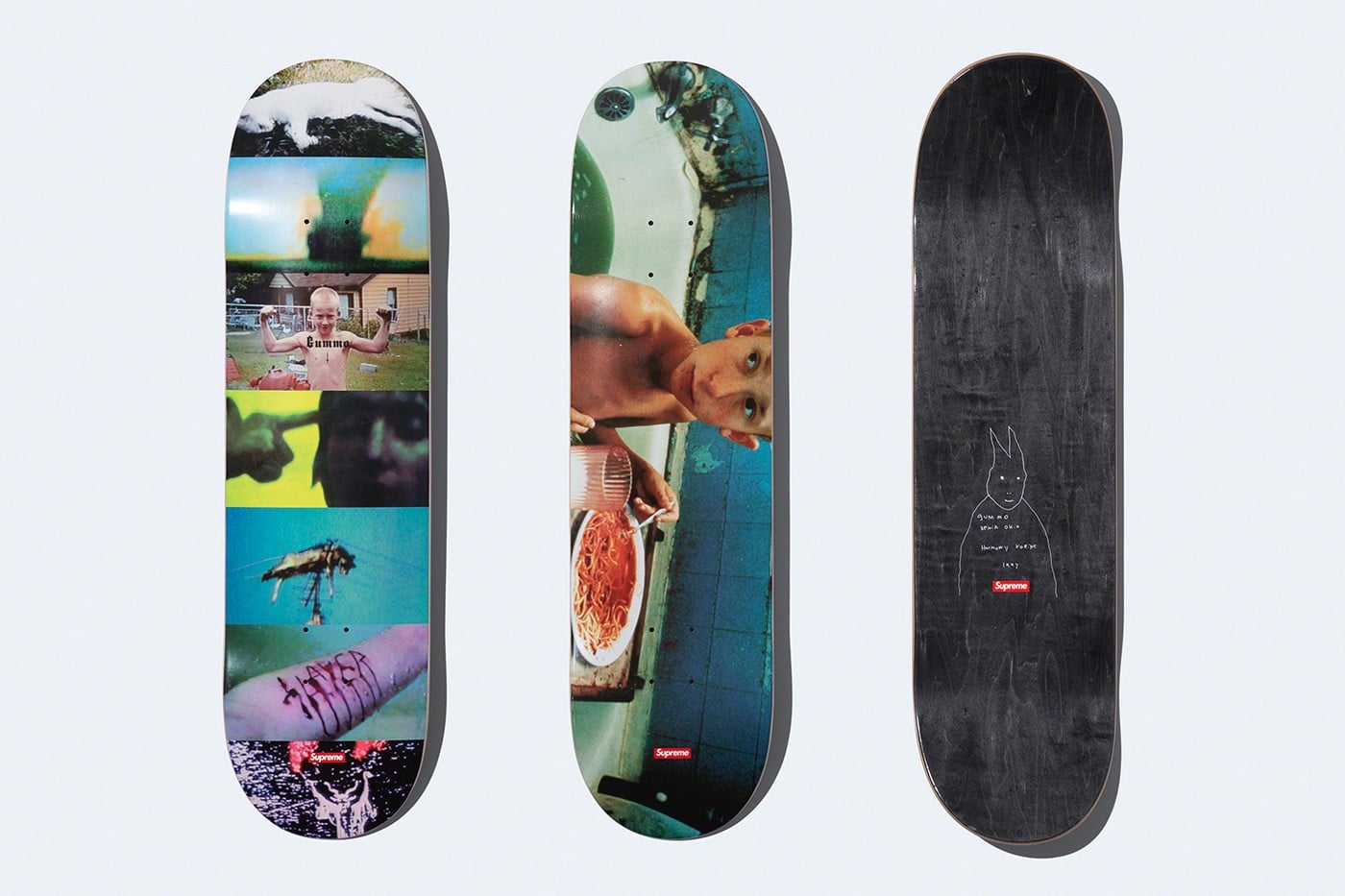 Update 20.04.2022
It's half time at Supreme! The Supreme Spring/Summer 2022 Collection Week 9 is here, and it's getting a bit quieter. This week, we don't get to see any big collaborations. Instead, the hype label presents a multi-piece Mitchell & Ness Quilted Sports Jacket Pack and Supreme-branded apparel. Other highlights include a Magic Ink Marker Set and Kraft Macaroni & Cheese. Check out the Supreme shop on April 21st if you don't want to miss out on the drops.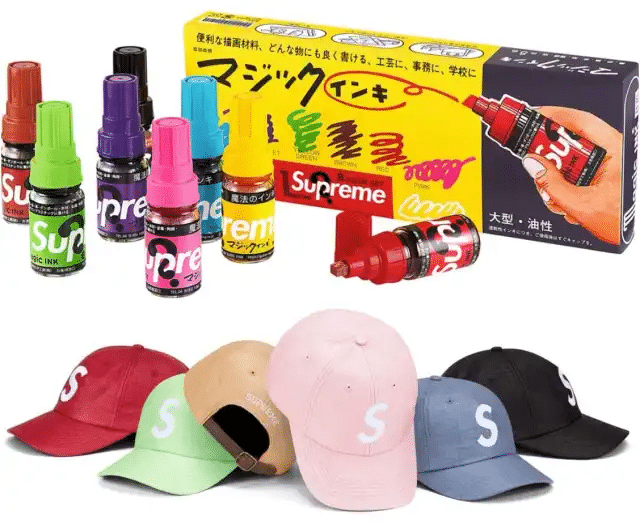 Update 13.04.2022
Supreme Spring/Summer 2022 Collection Week 8 is here, and the new week brings us Supreme's legendary tees. Included are artwork, photo, and text prints in multiple colours, with the tribute to Lil' Kim and the 1996 debut album Hard Core being the highlight. Other tees include a "Still Talking $#@*" Platinum Recordings t-shirt, a blood splatter logo t-shirt, and a tee with Top Shotta graphics. The release is on 14 April at the Supreme online shop and in stores.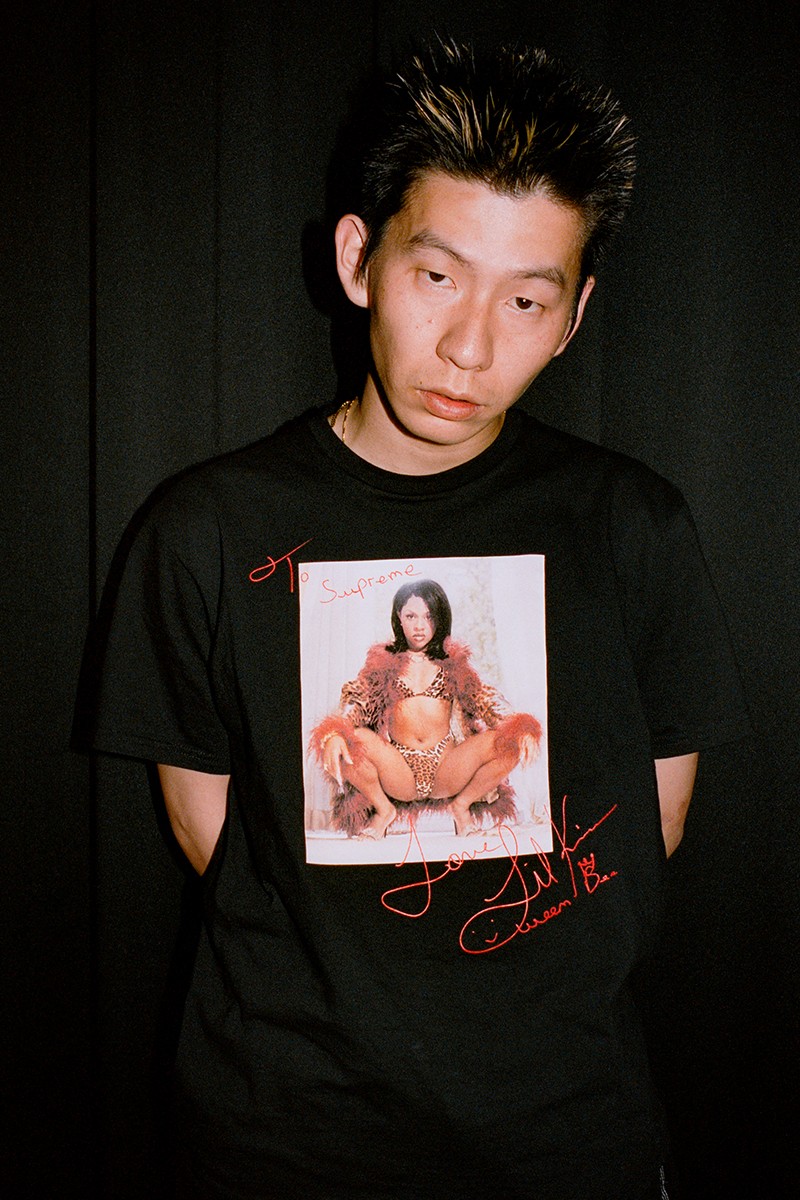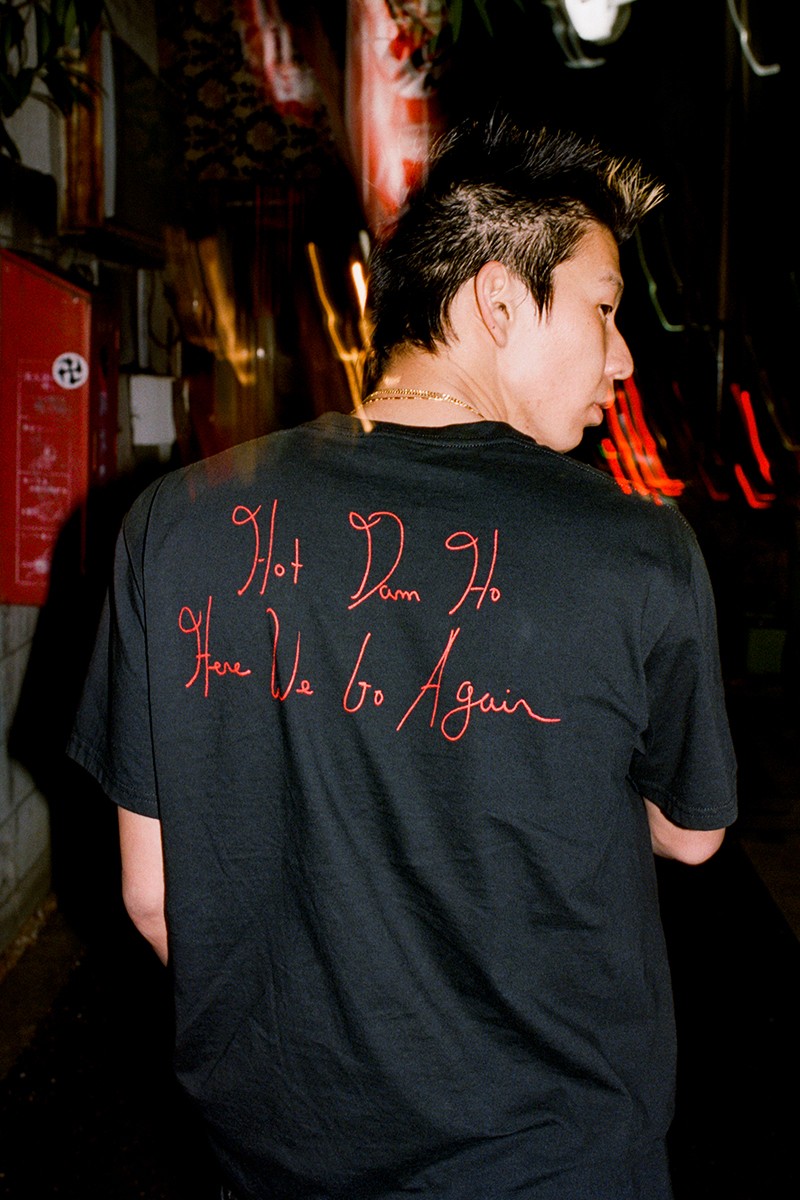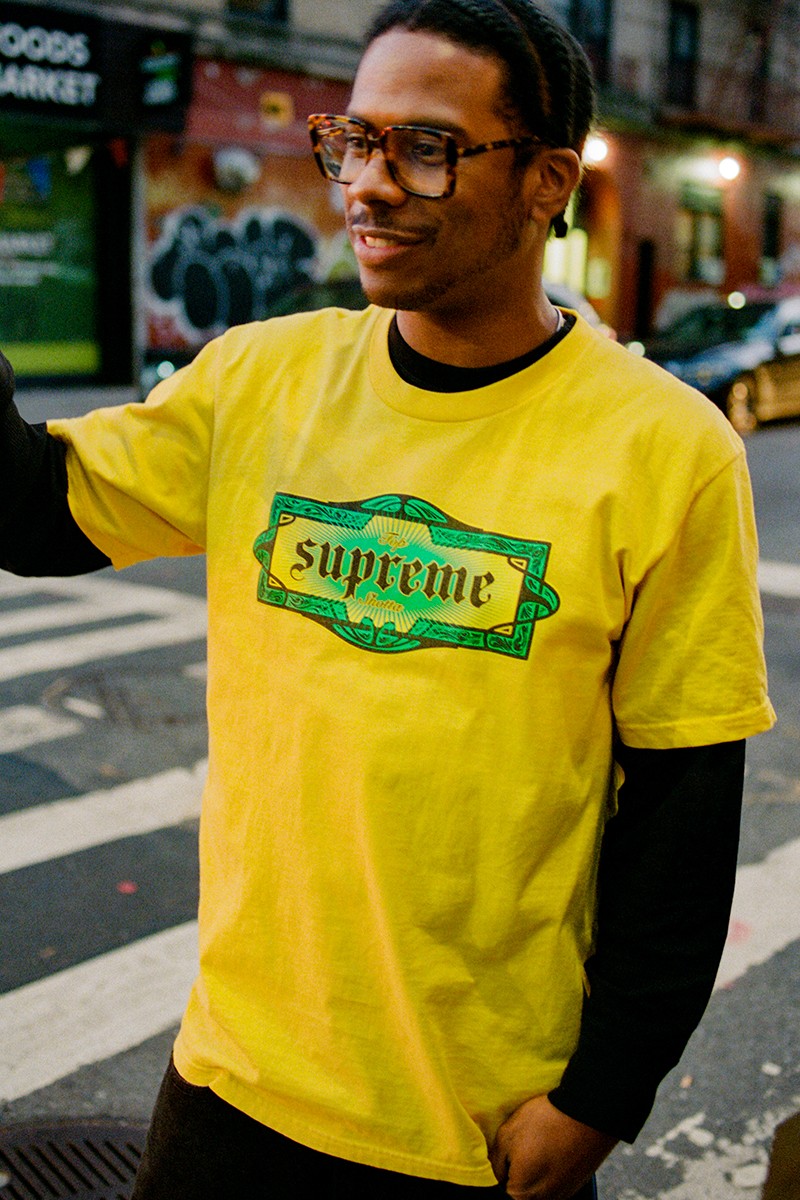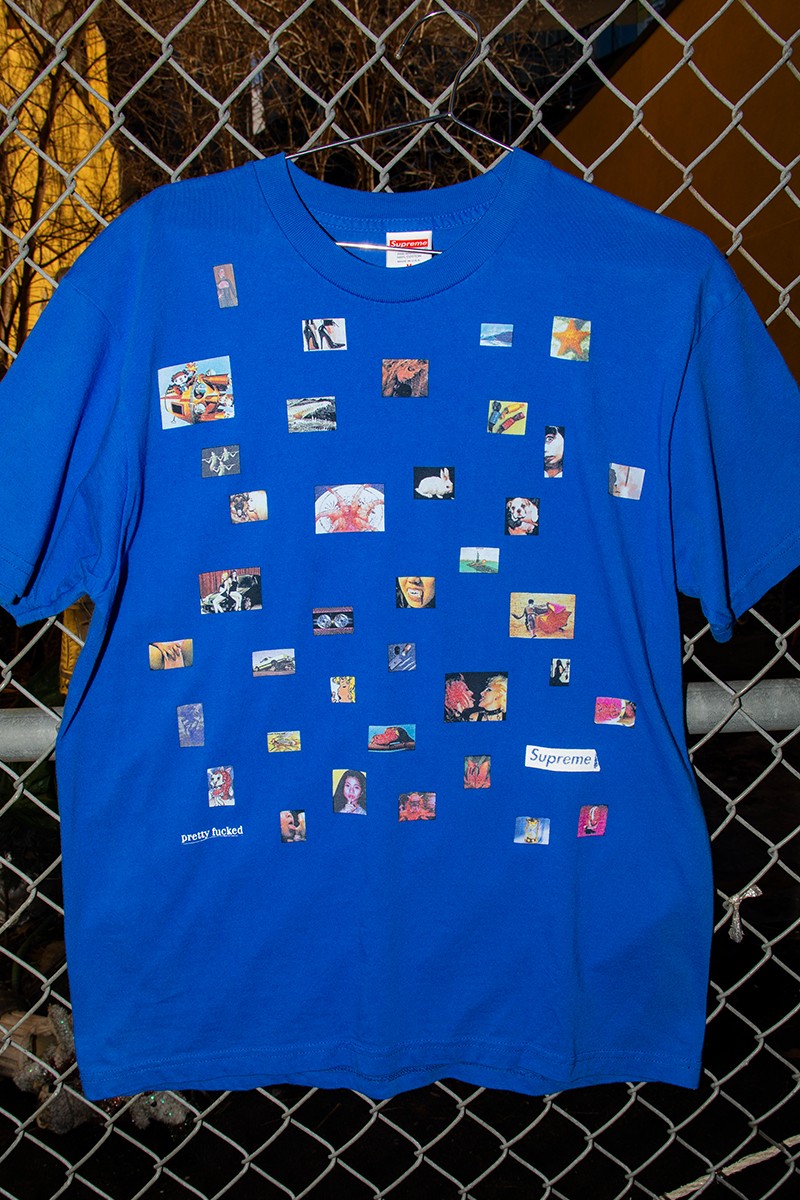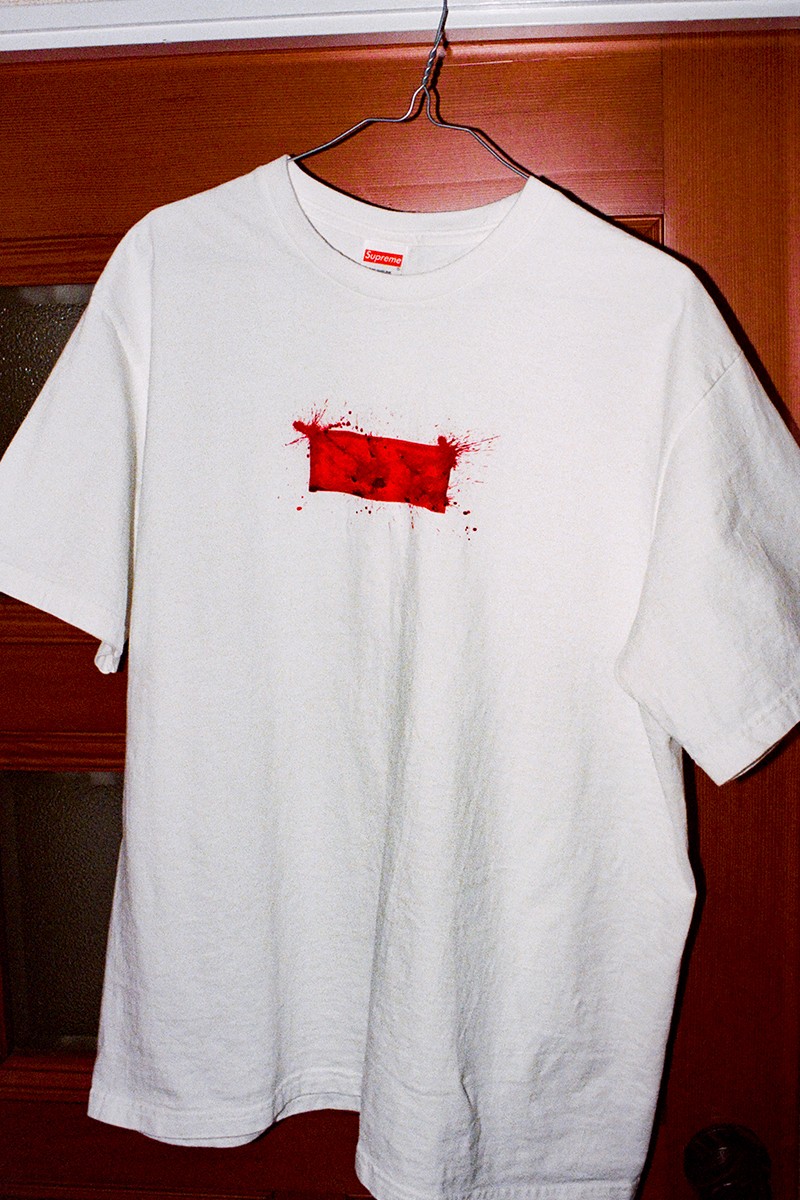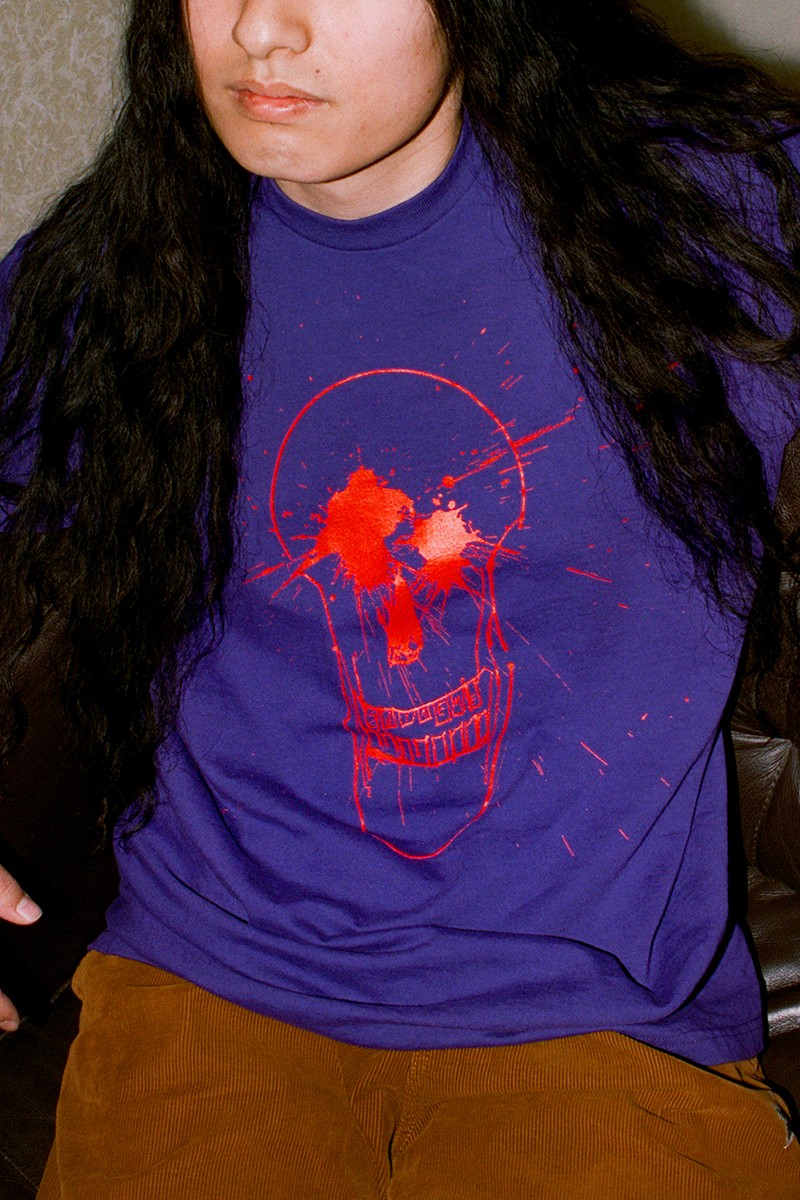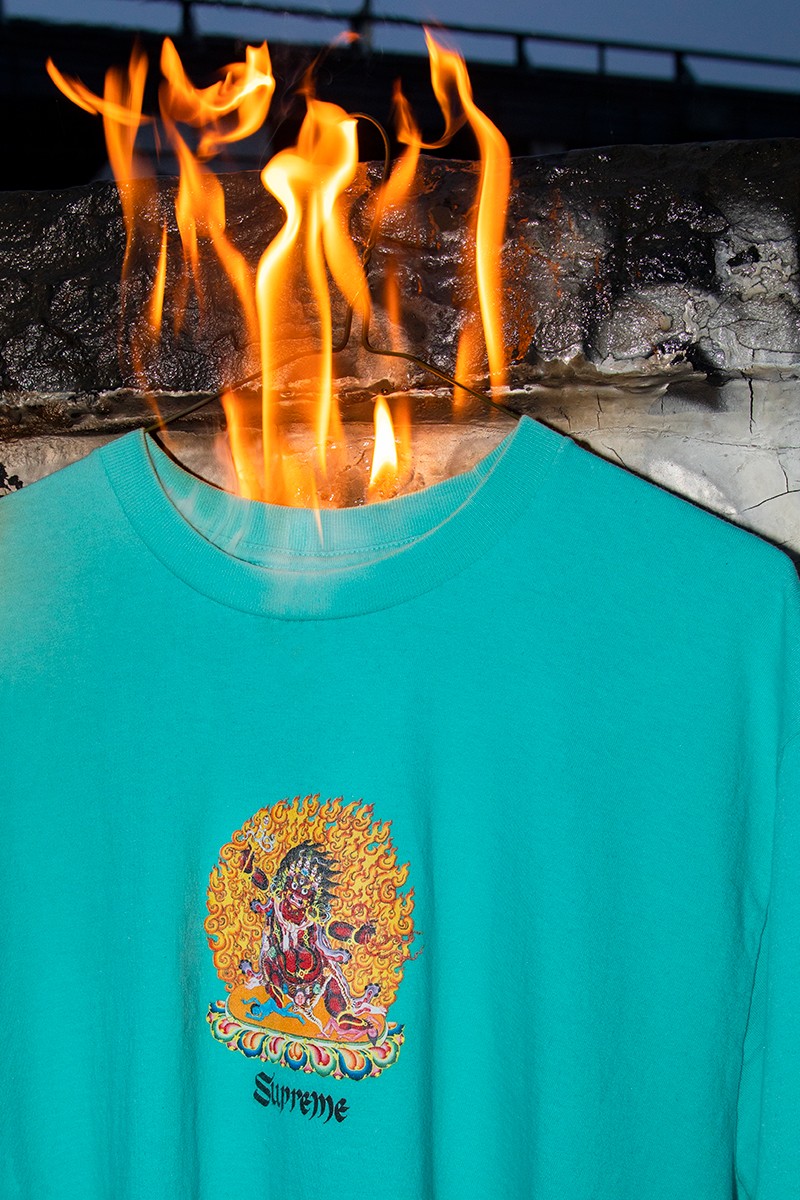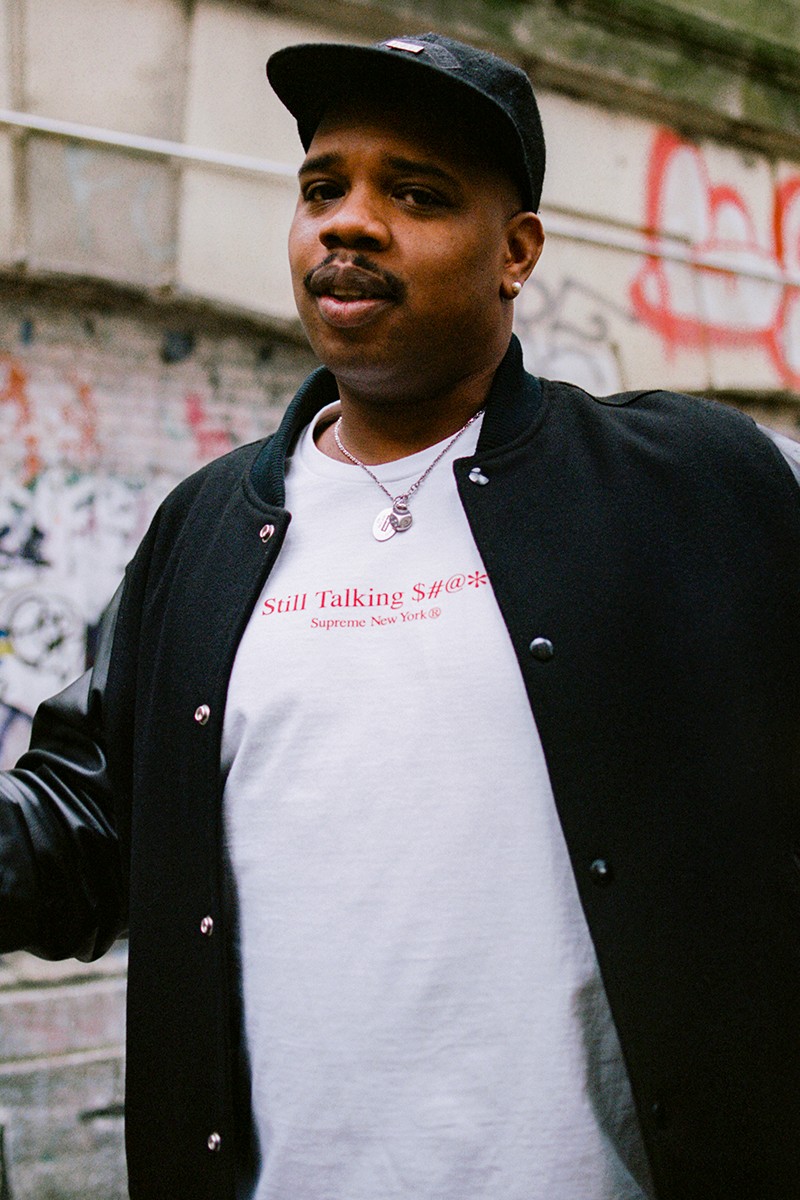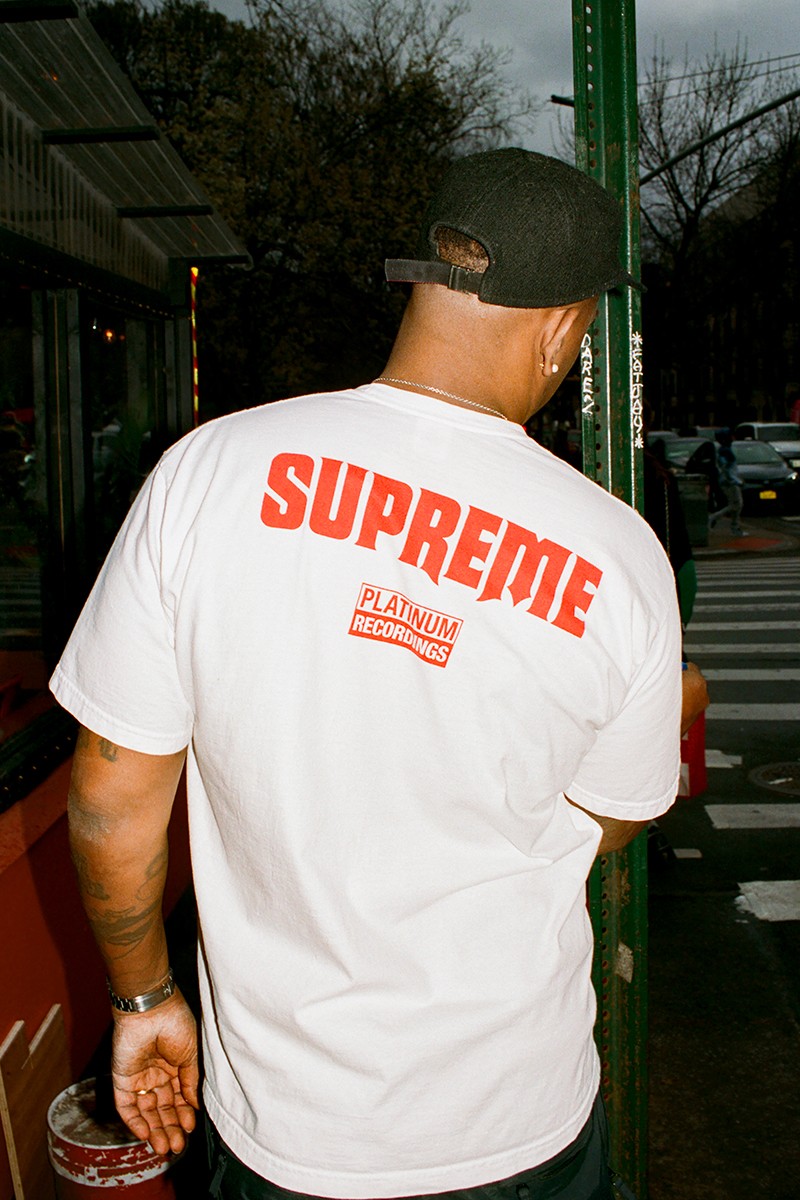 Update 06.04.2022
After releasing a multi-piece Aeon Flux collection last week, Supreme is preparing a massive apparel collection with workwear label Dickies. The Supreme Spring/Summer 2022 Week 7 includes a jacket, short sleeve shirt, work pants, and a belt with signature co-branding from the two partners.
There are also other garments and selected accessories from the streetwear label. In addition to the Supreme x IPA Porcellane Aosta Espresso Set, fans can also expect two chests with Supreme branding. The release of Supreme Spring/Summer 2022 Week 7 will take place on April 7th and April 9th in Japan.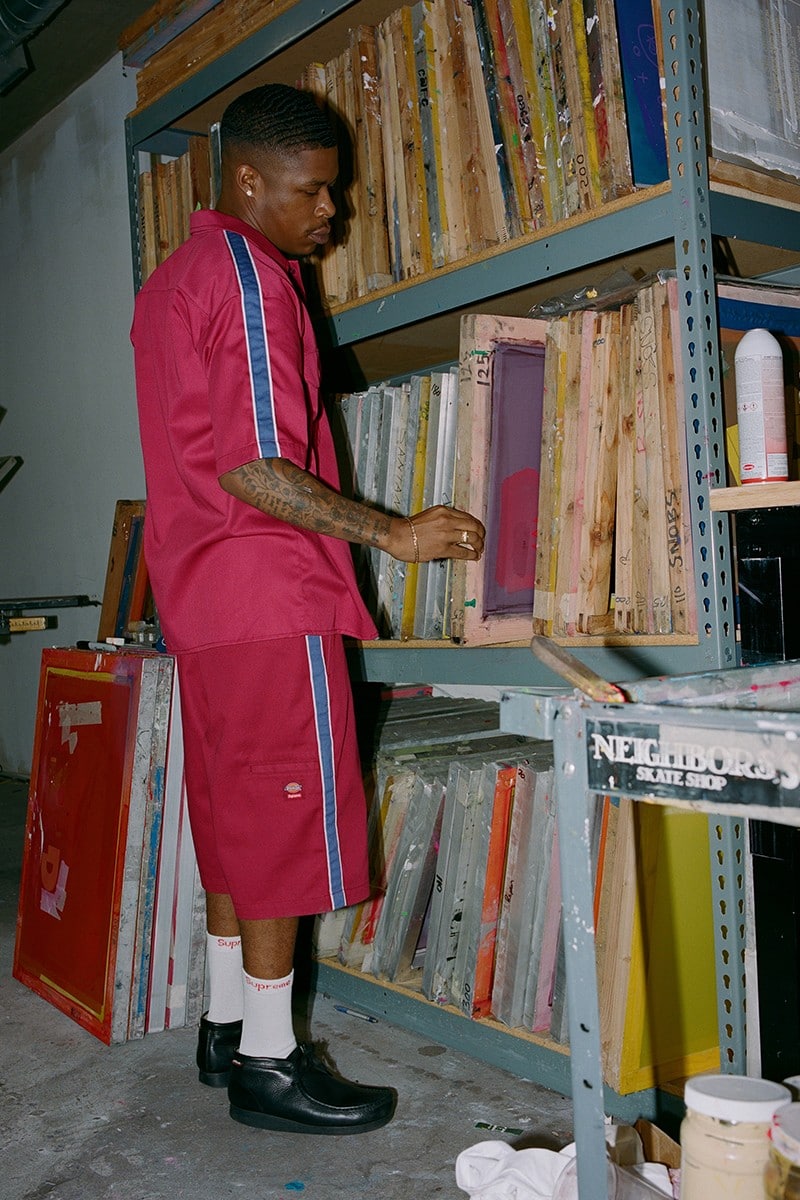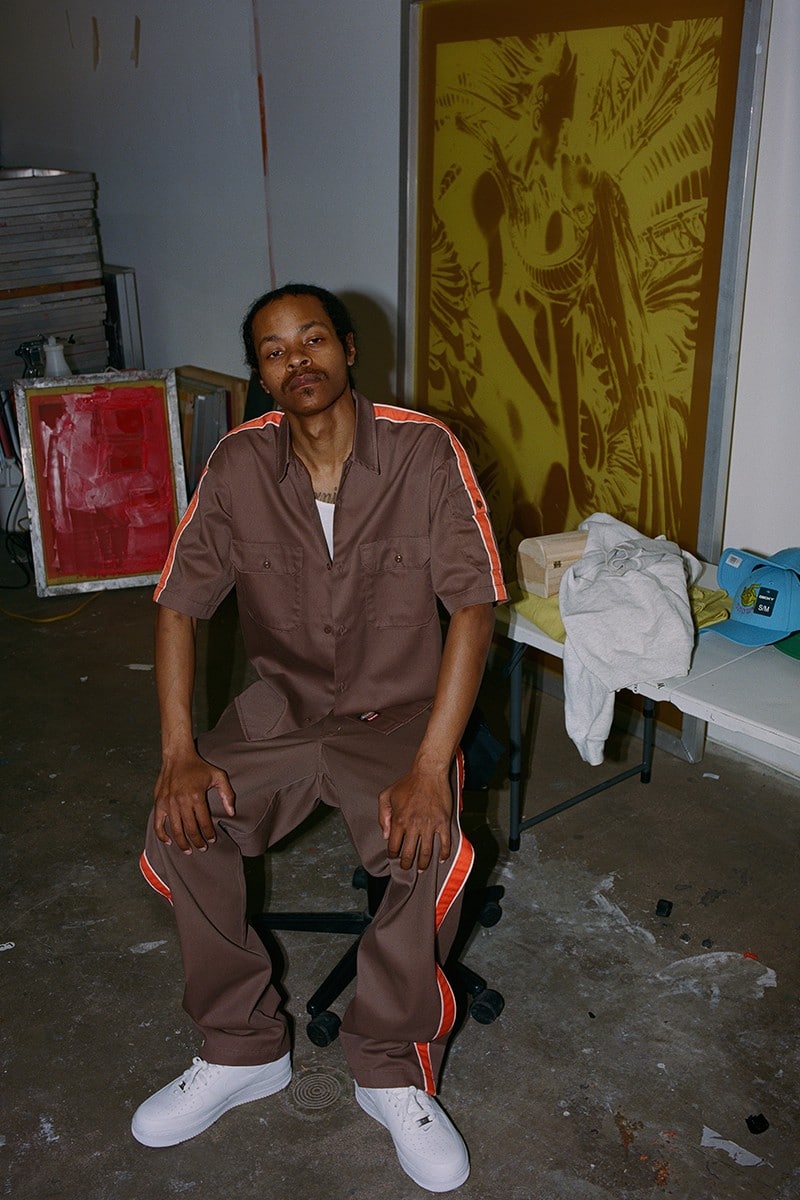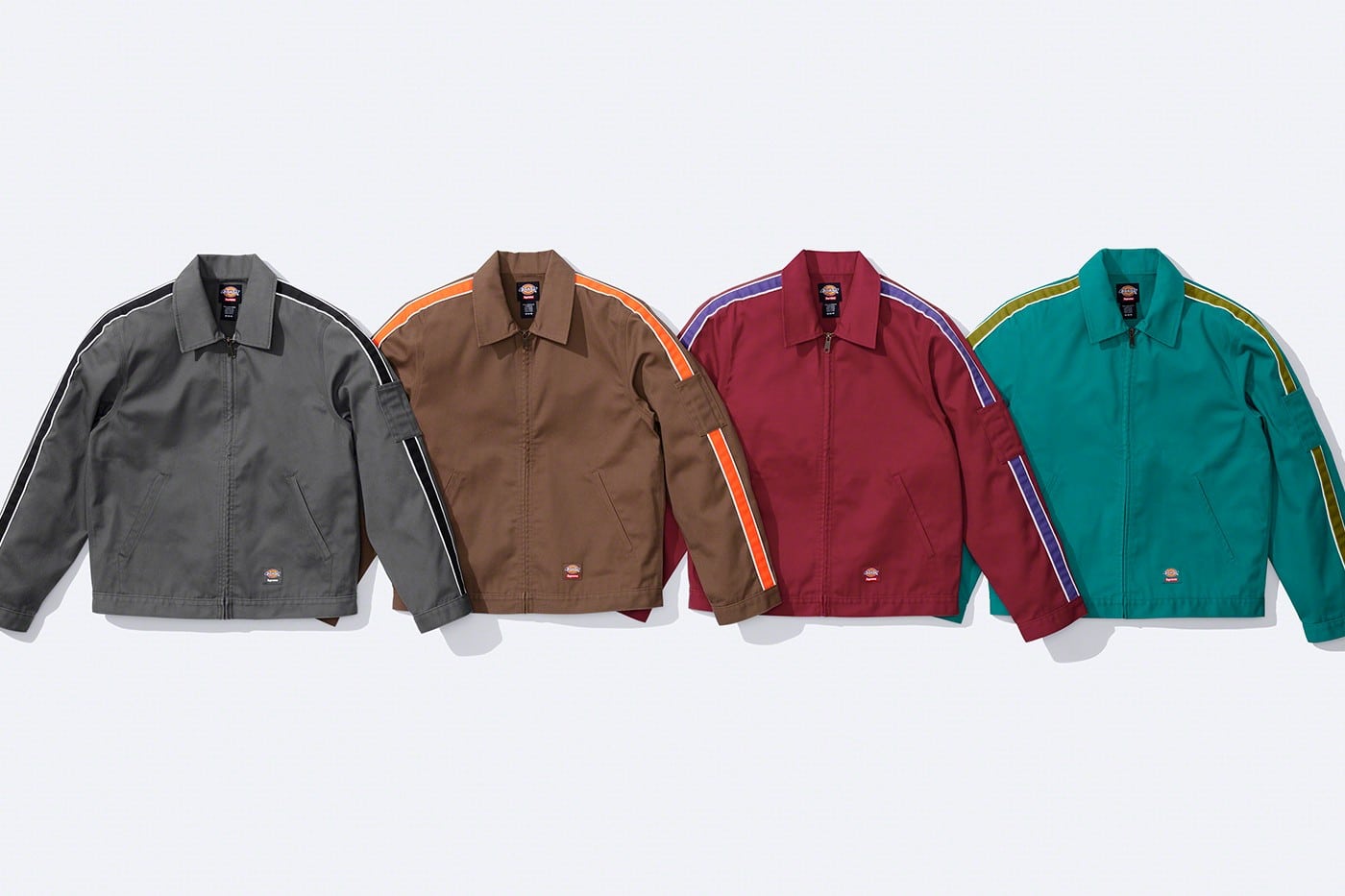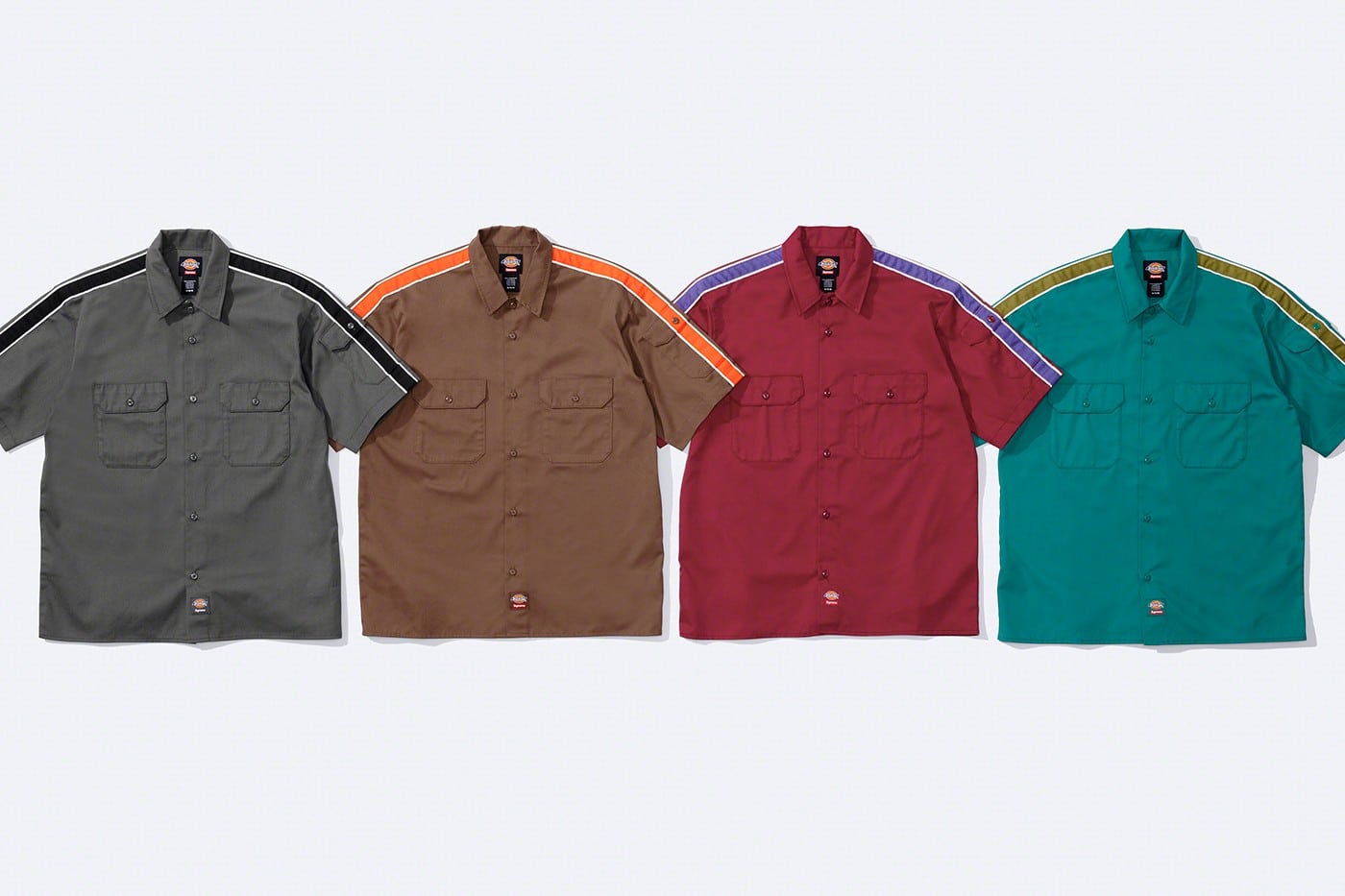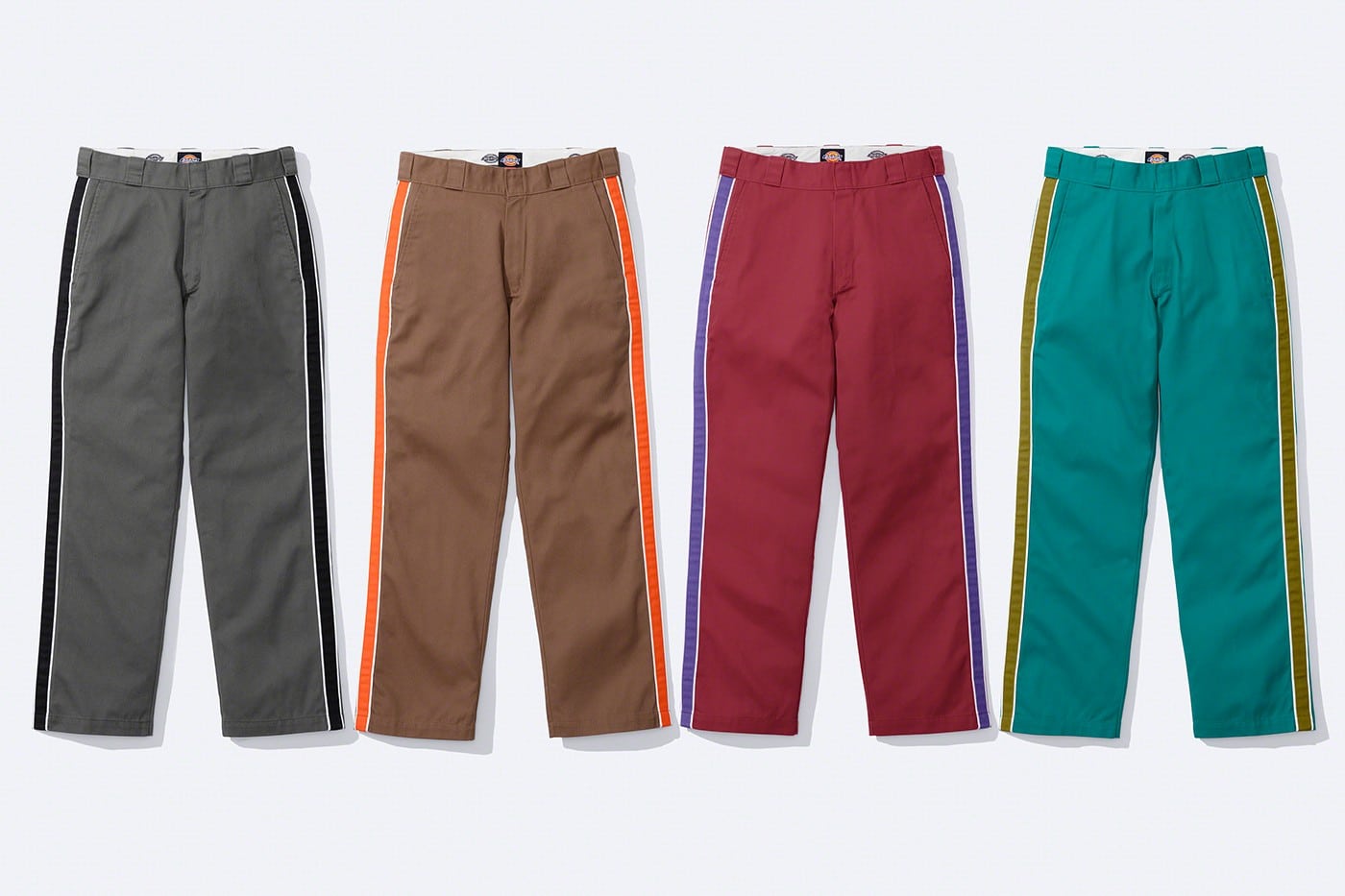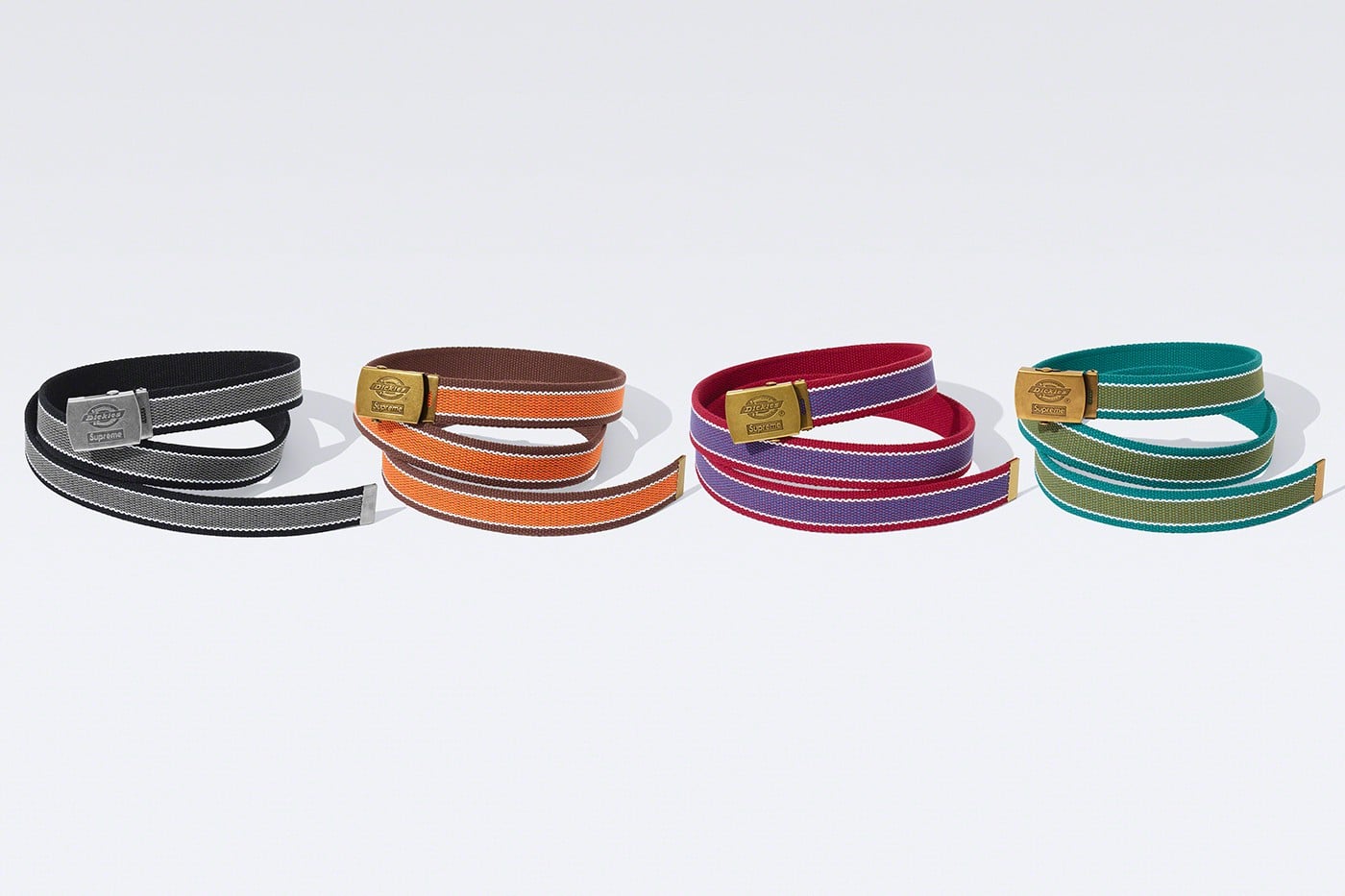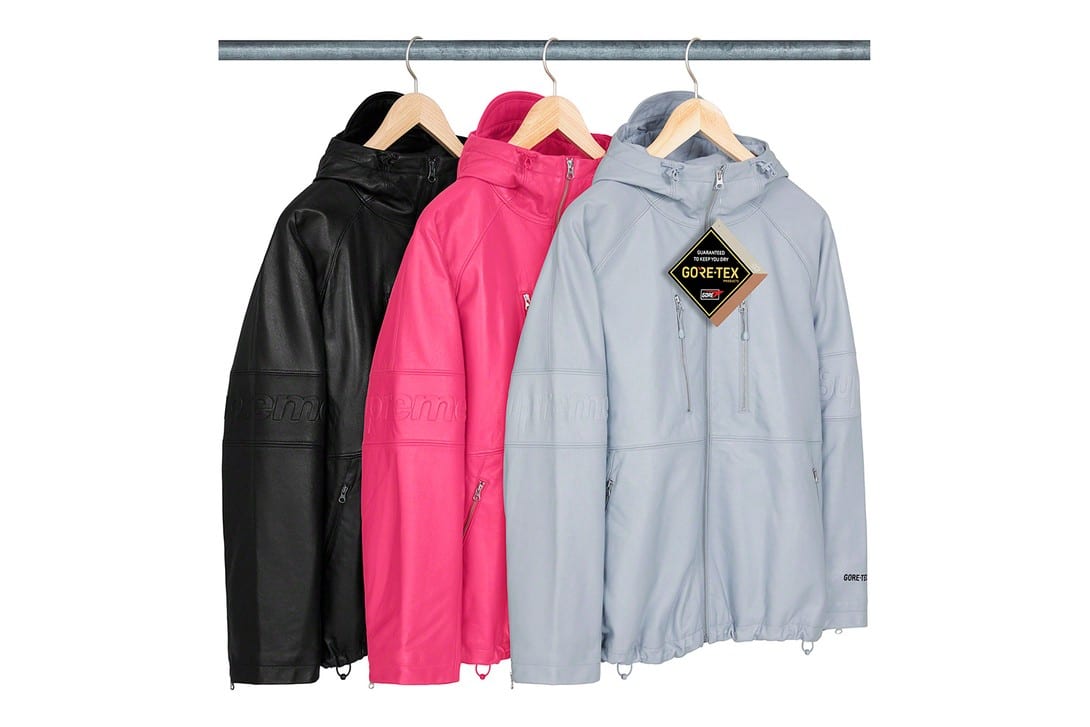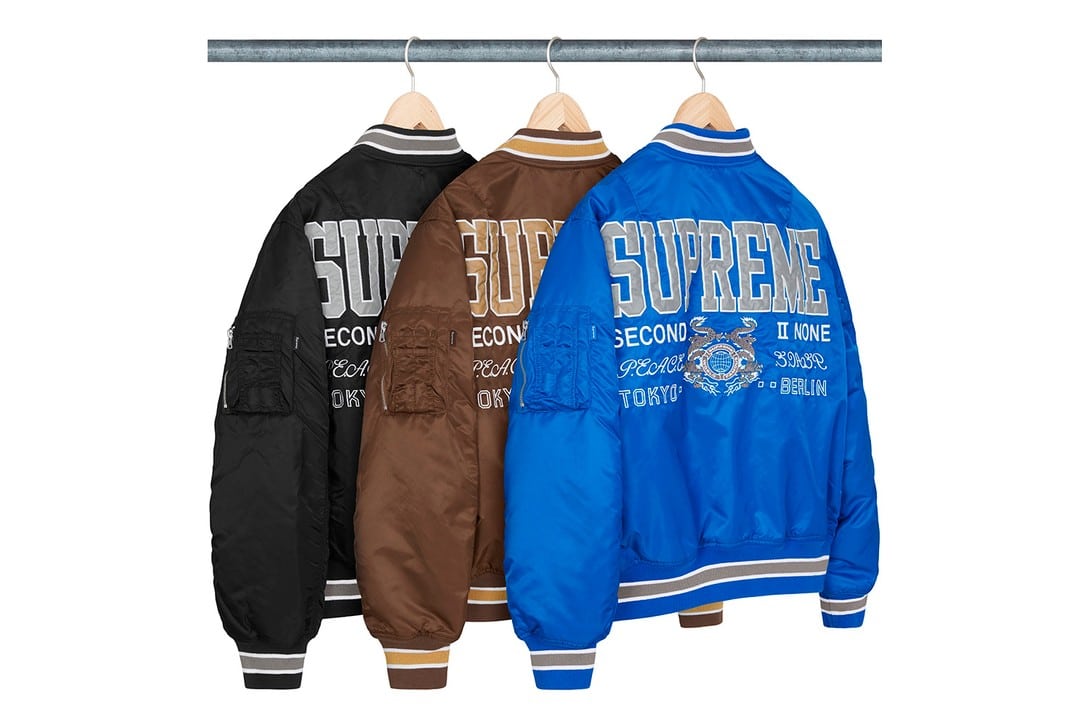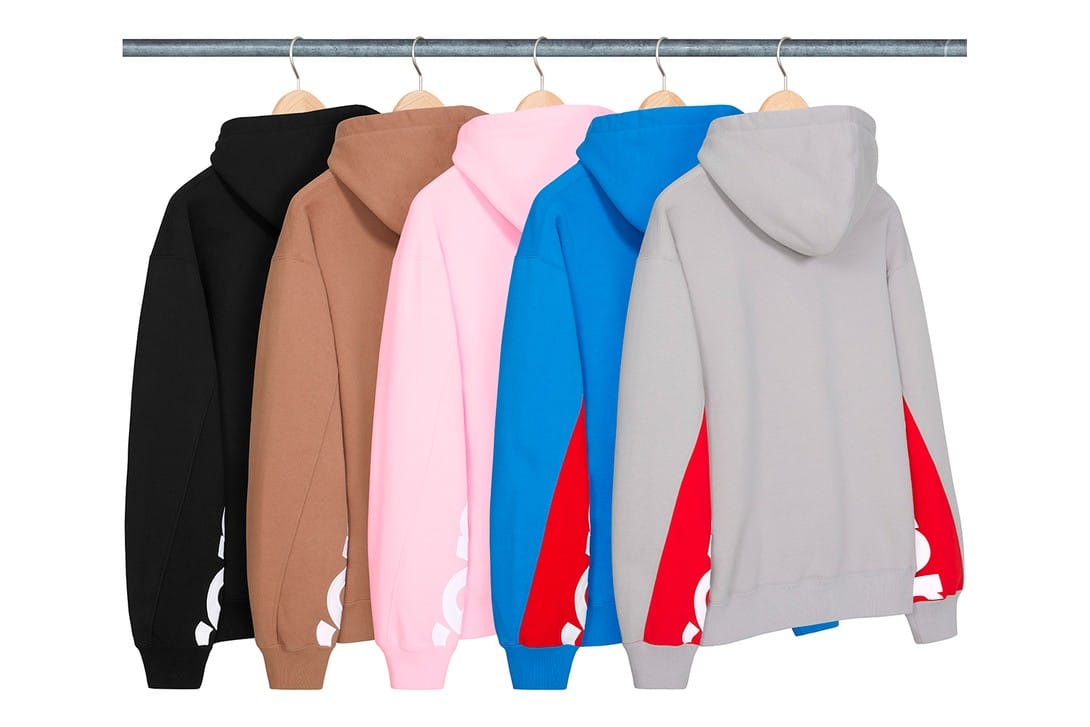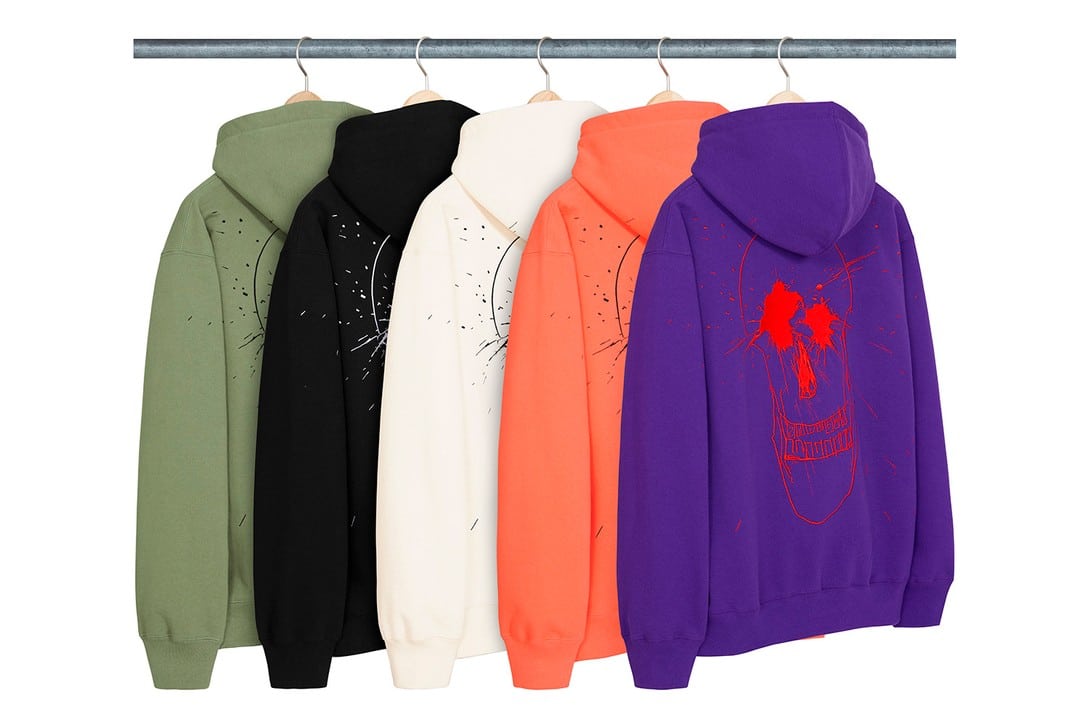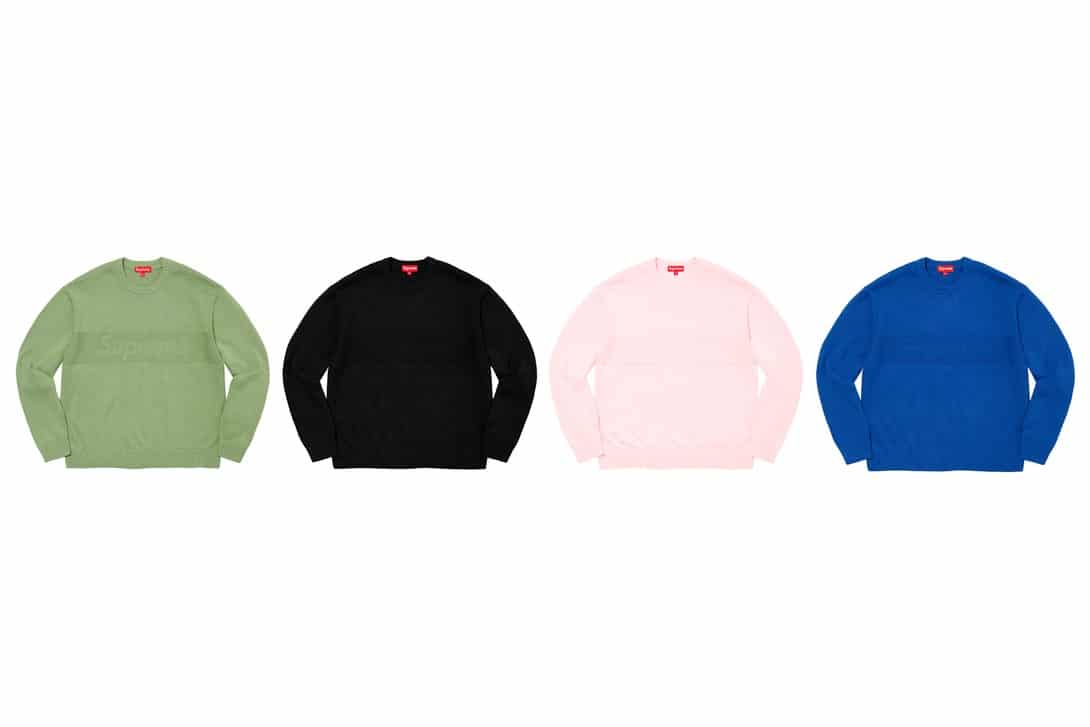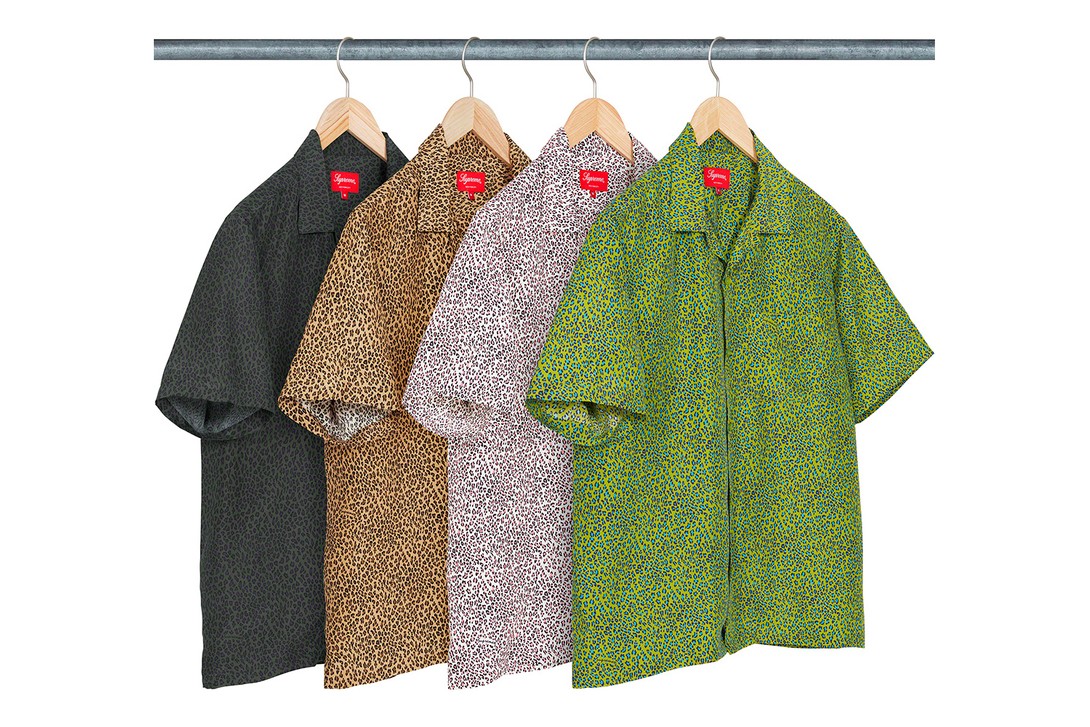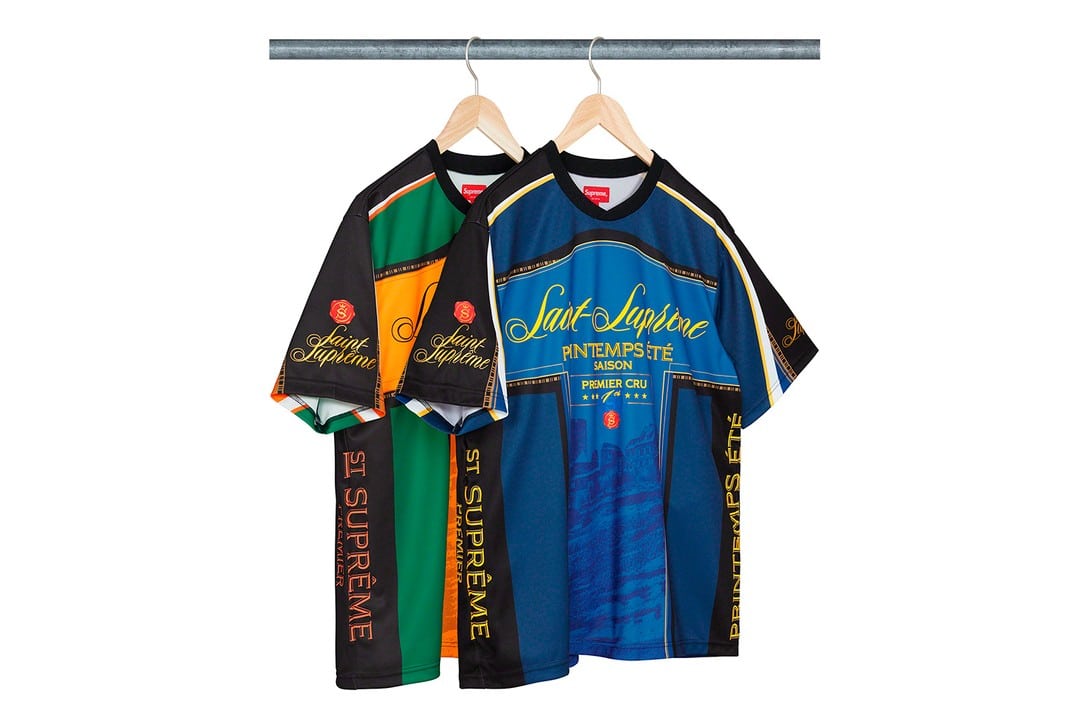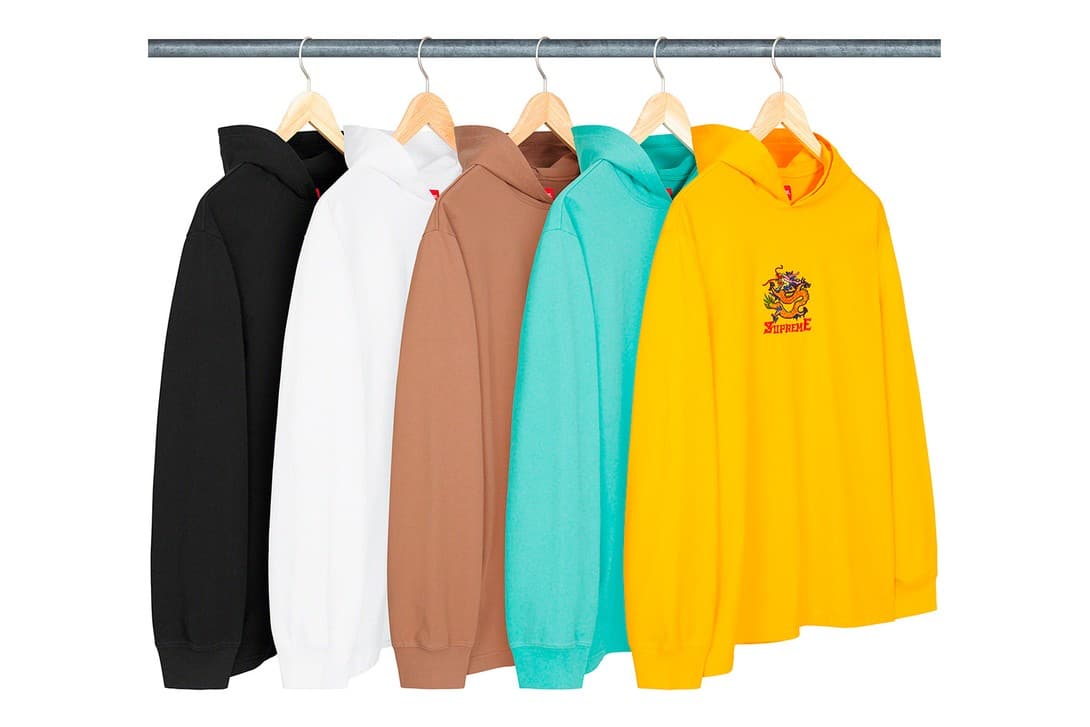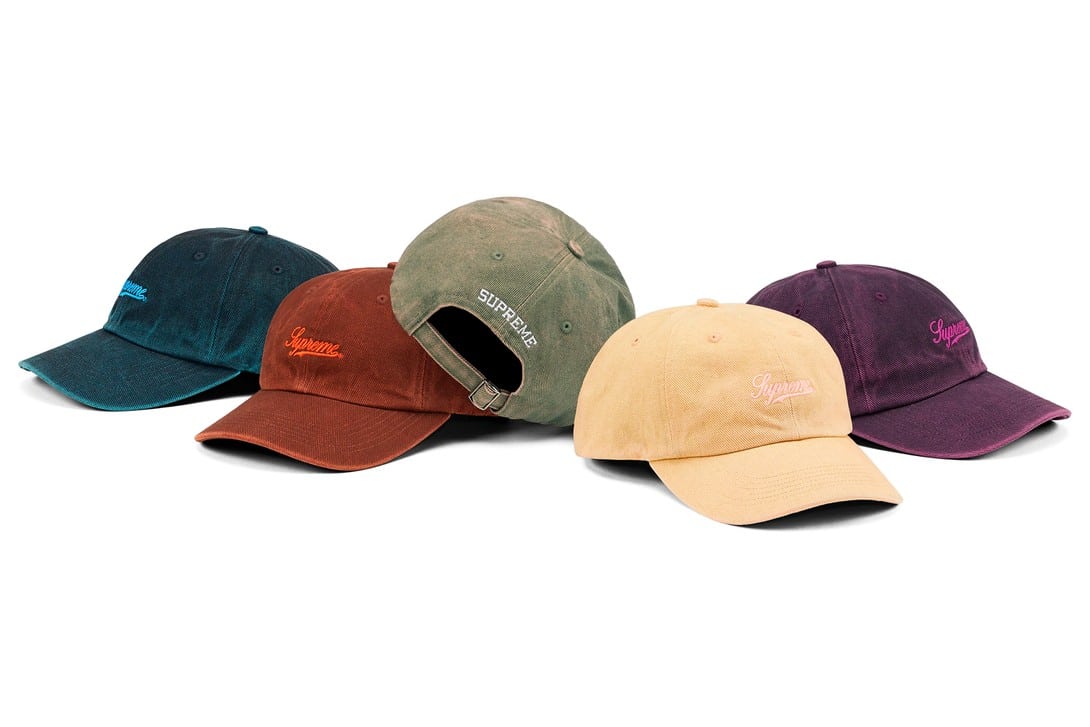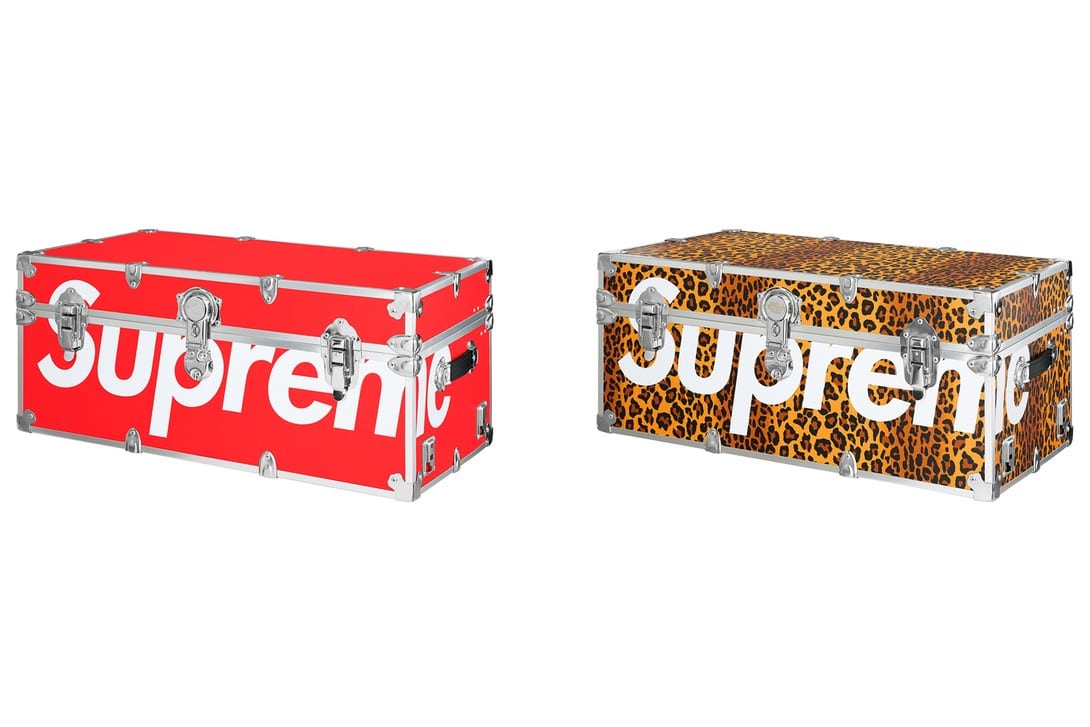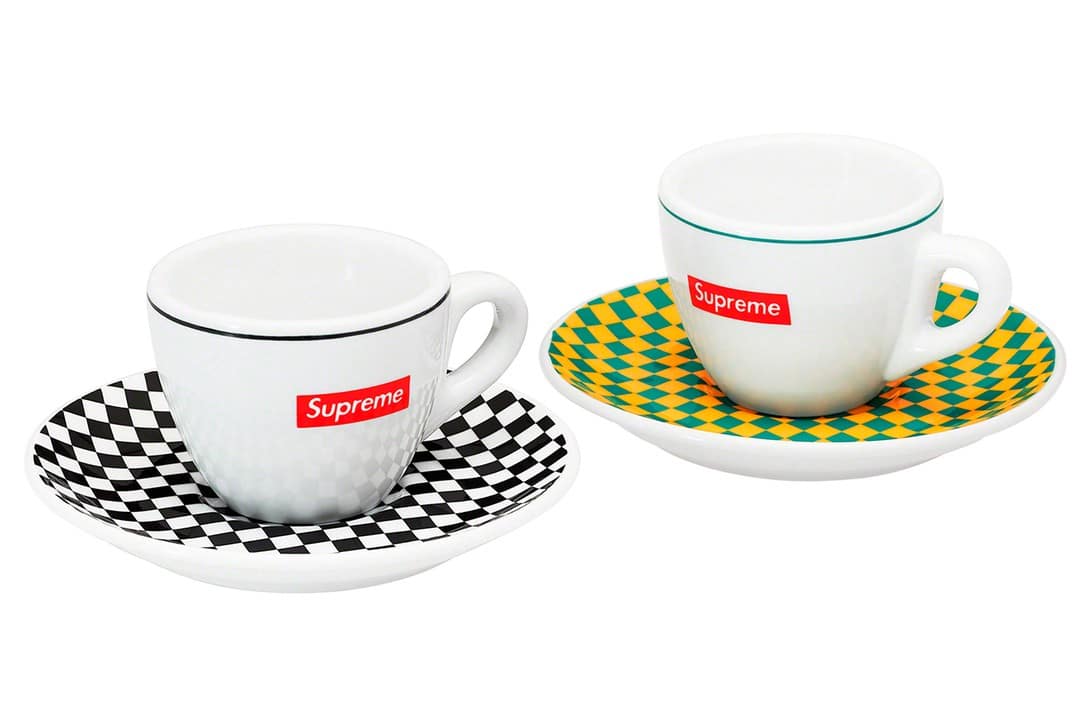 Update 30.03.2022
After Supreme and The North Face released a multi-part collection, the hype label is now preparing a highly anticipated Aeon Flux collaboration. Older fans will probably remember the animated series by Korean-American animator Peter Chung. The first episode of Aeon Flux debuted in 1991. The series is a mix of avant-garde, science fiction, and adventure with a groundbreaking character that has created a cult following.
"When you work in Hollywood, things tend to turn into either pure escapism or something didactic. I'm not interested in doing either," said Peter Chung. "I'm interested in getting the audience to move their minds in a new way. That's what this show is really about."
The Aeon Flux x Supreme from the Spring/Summer 2022 collection drops in Week 6 and includes several jackets, hoodies, shorts, and more. In addition, other Supreme pieces are dropping as well as a Supreme Box logo style skate deck. The release date is March 31st and April 2nd in Japan exclusively via the website.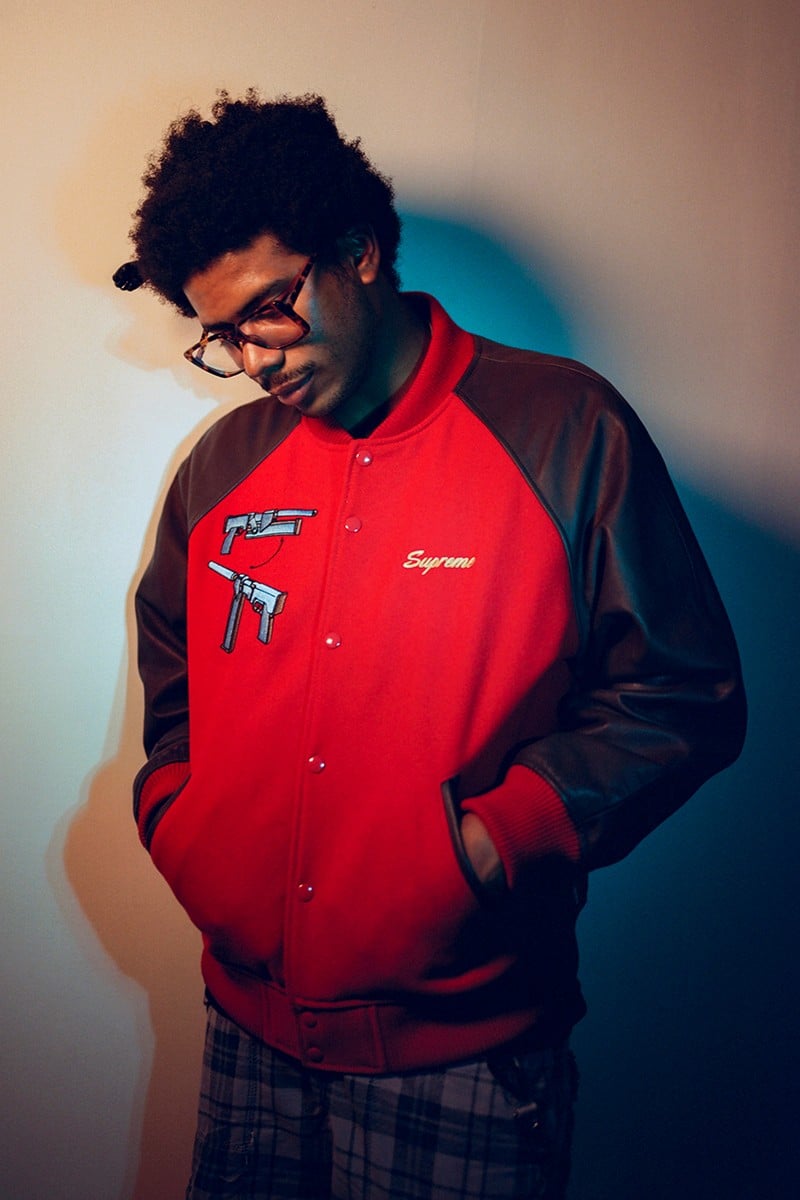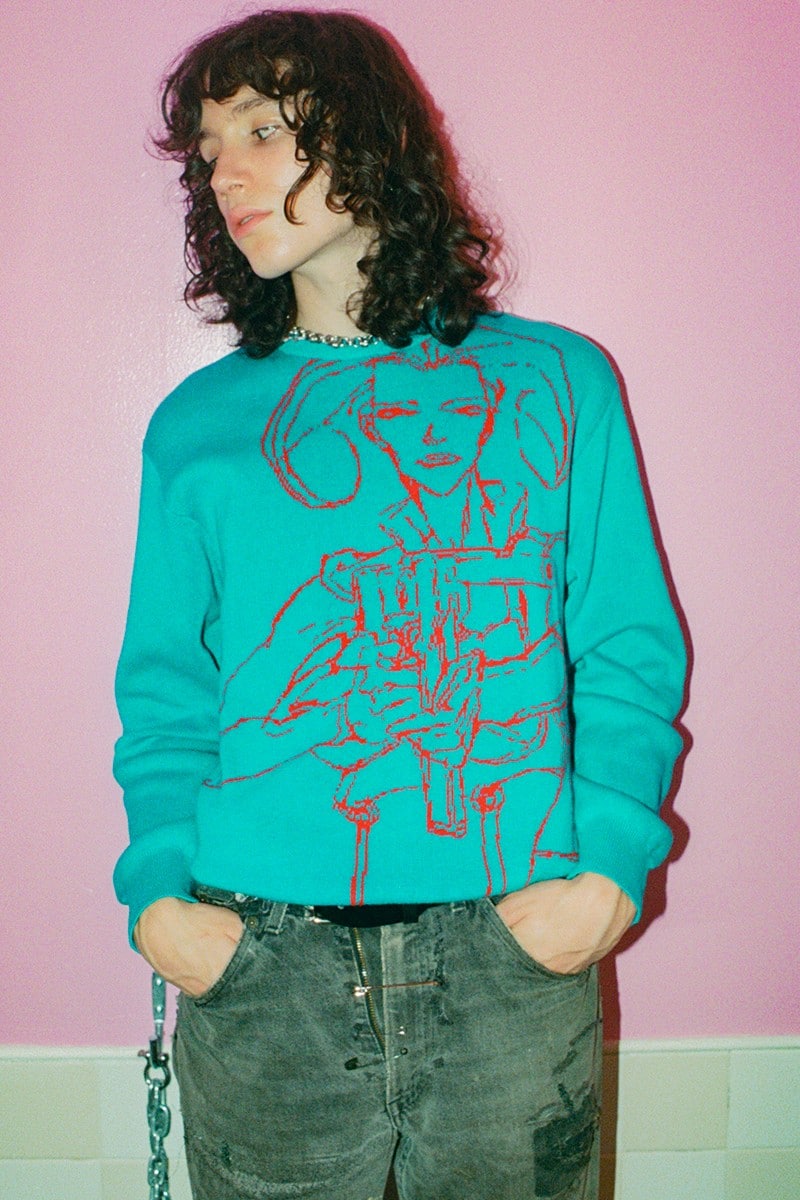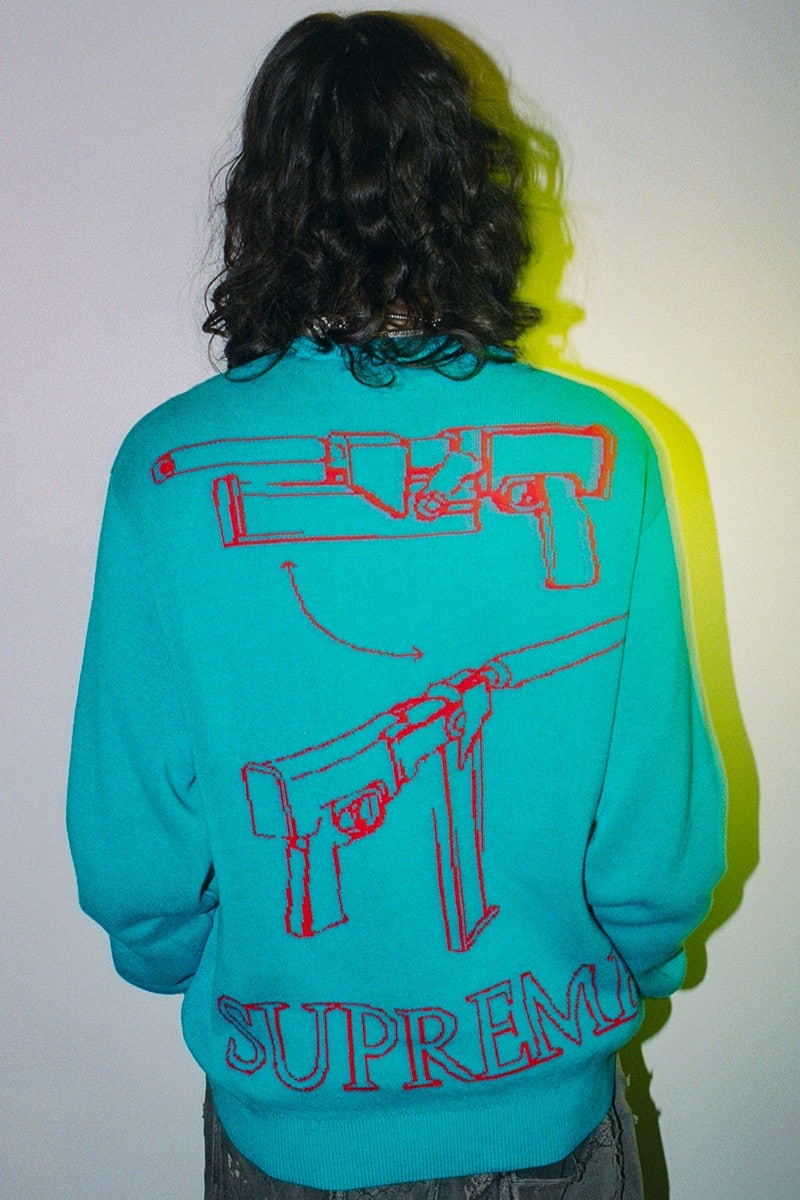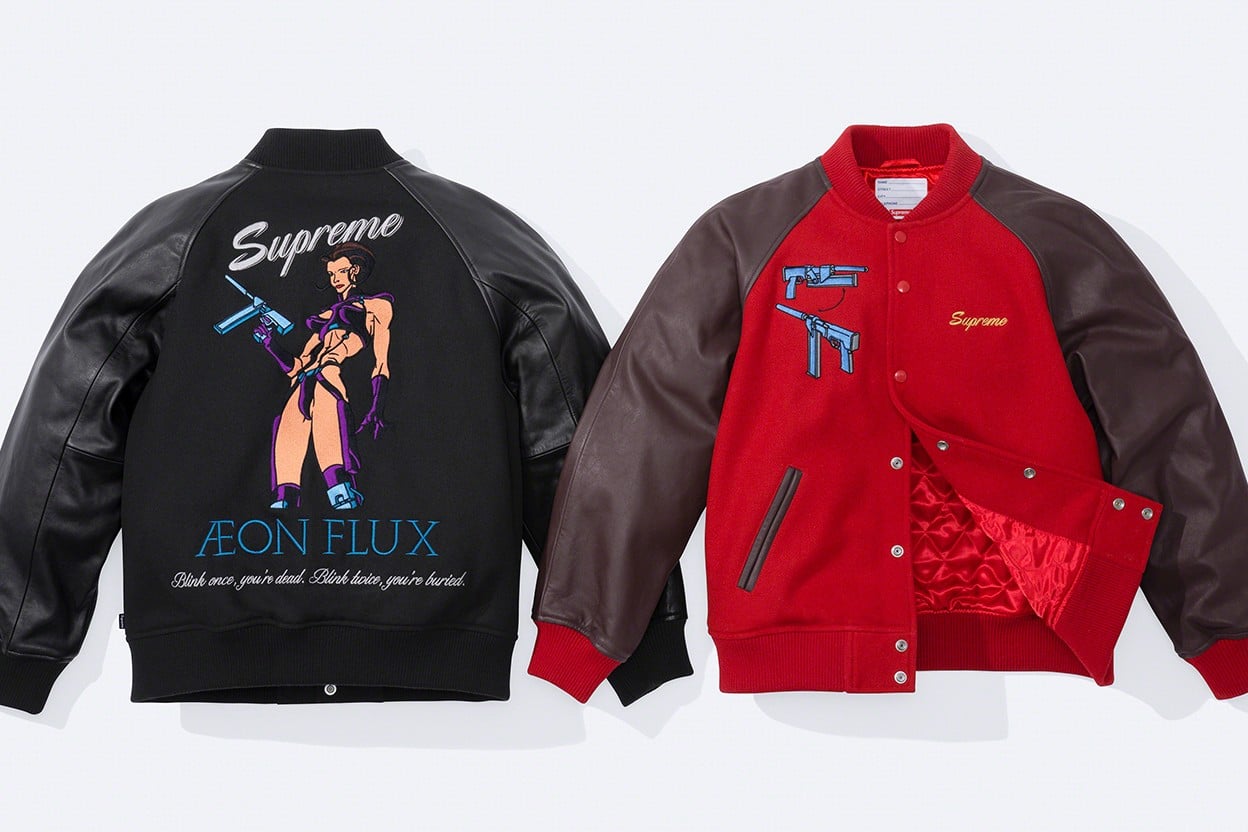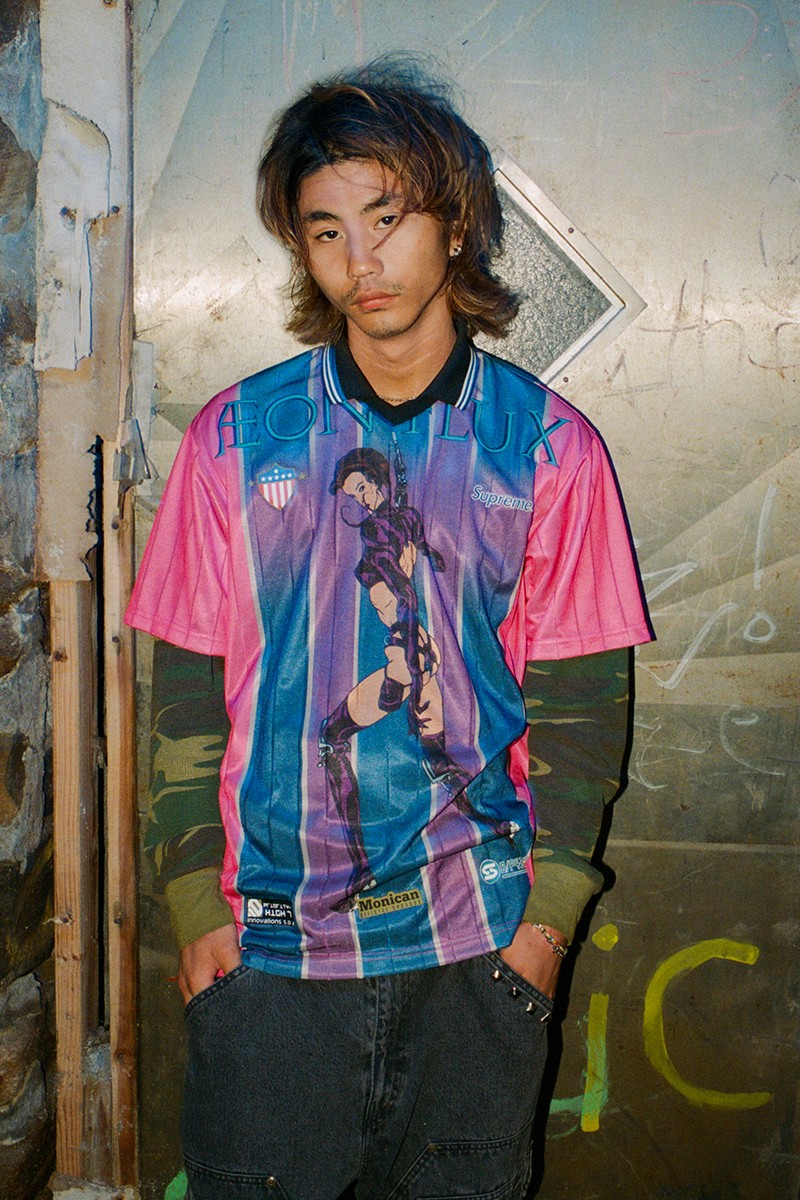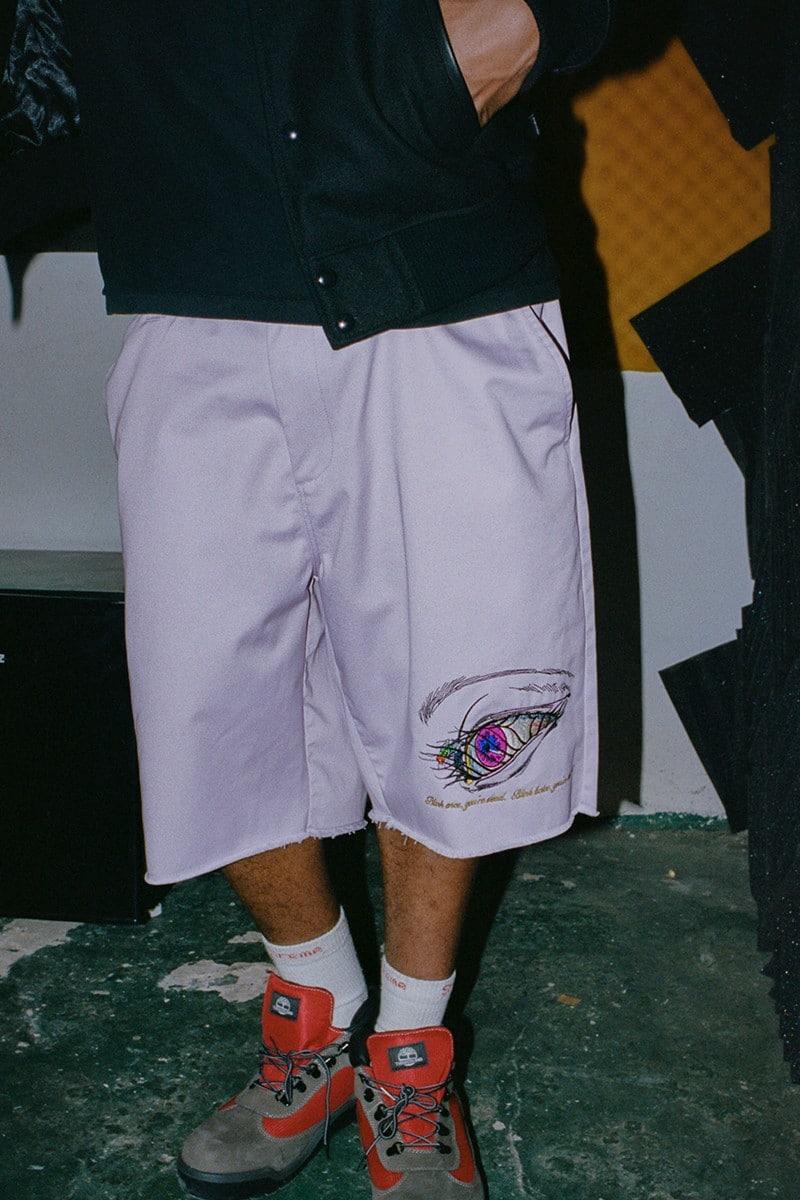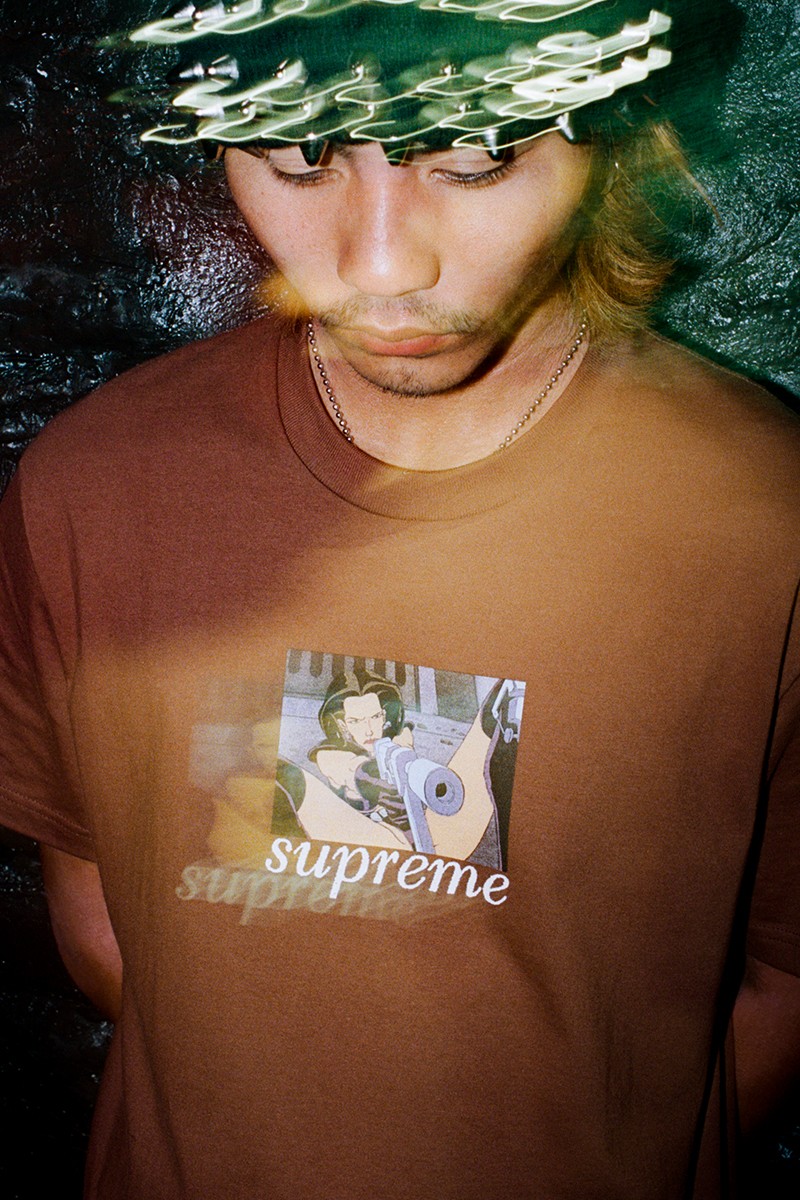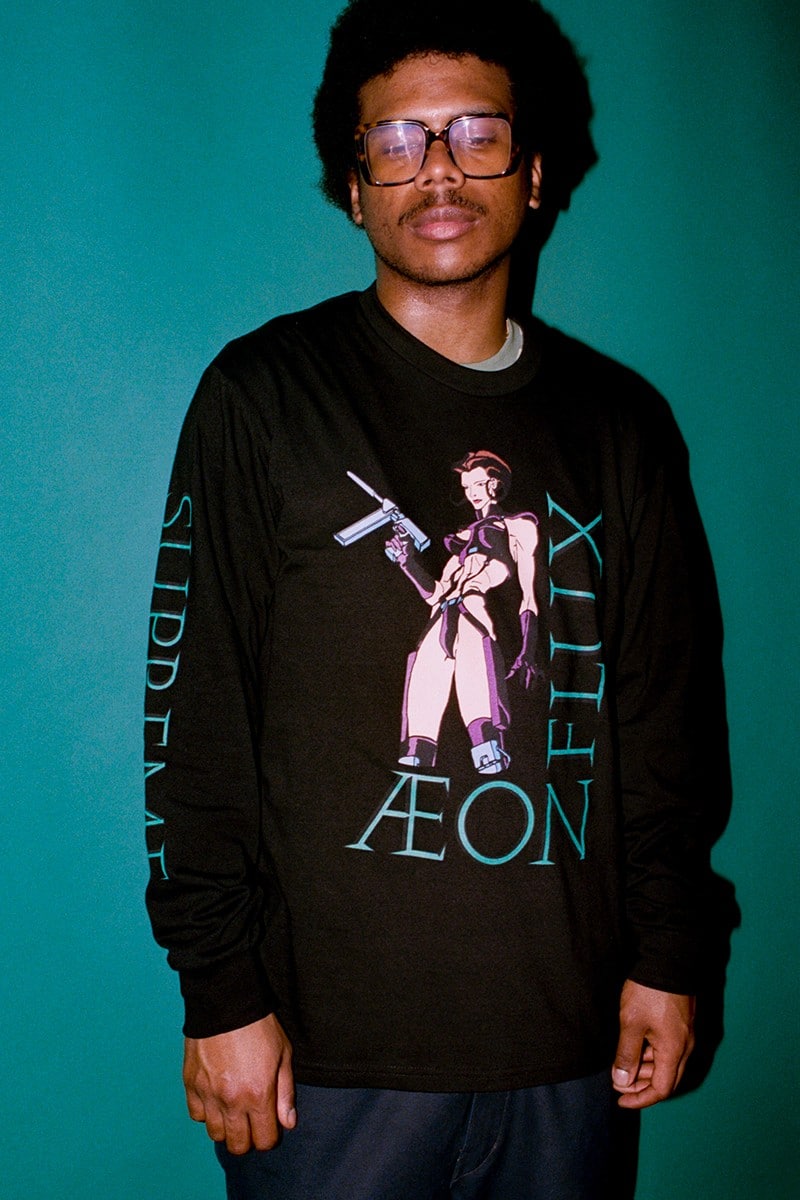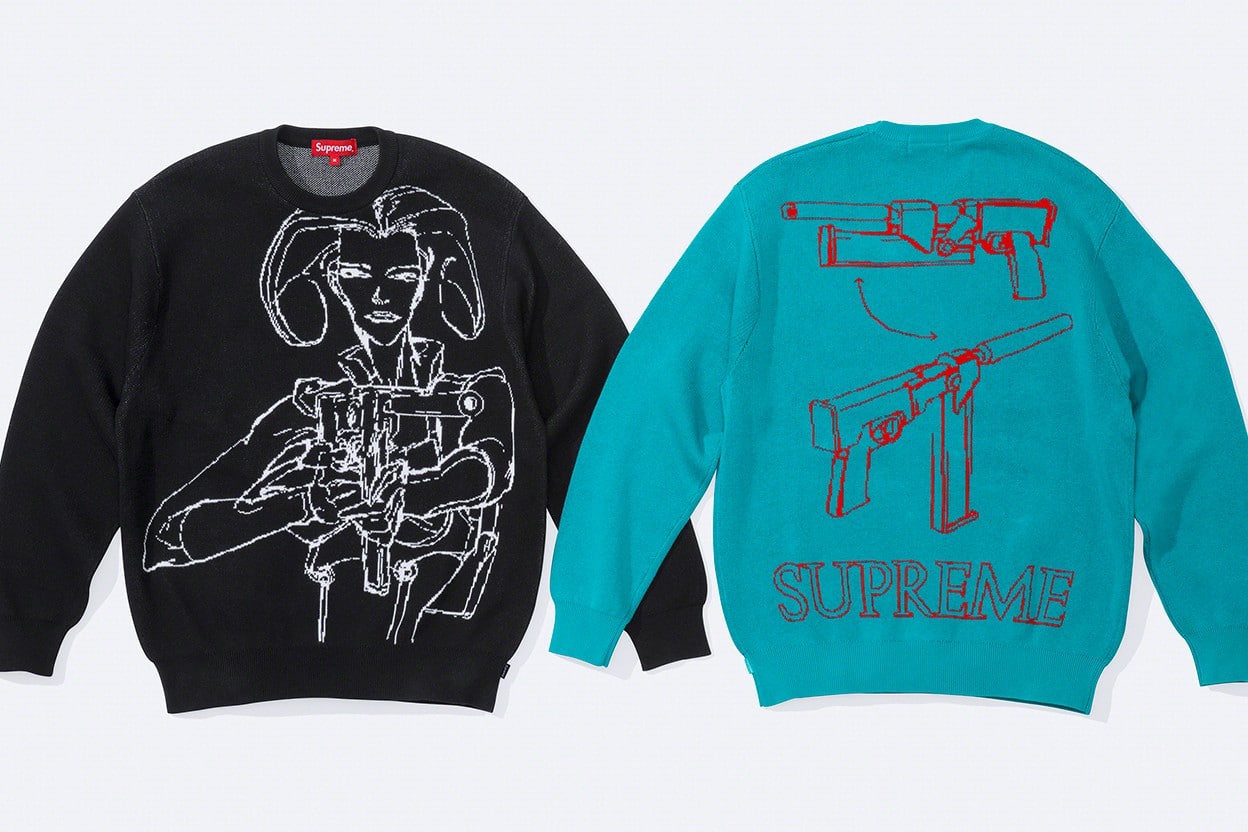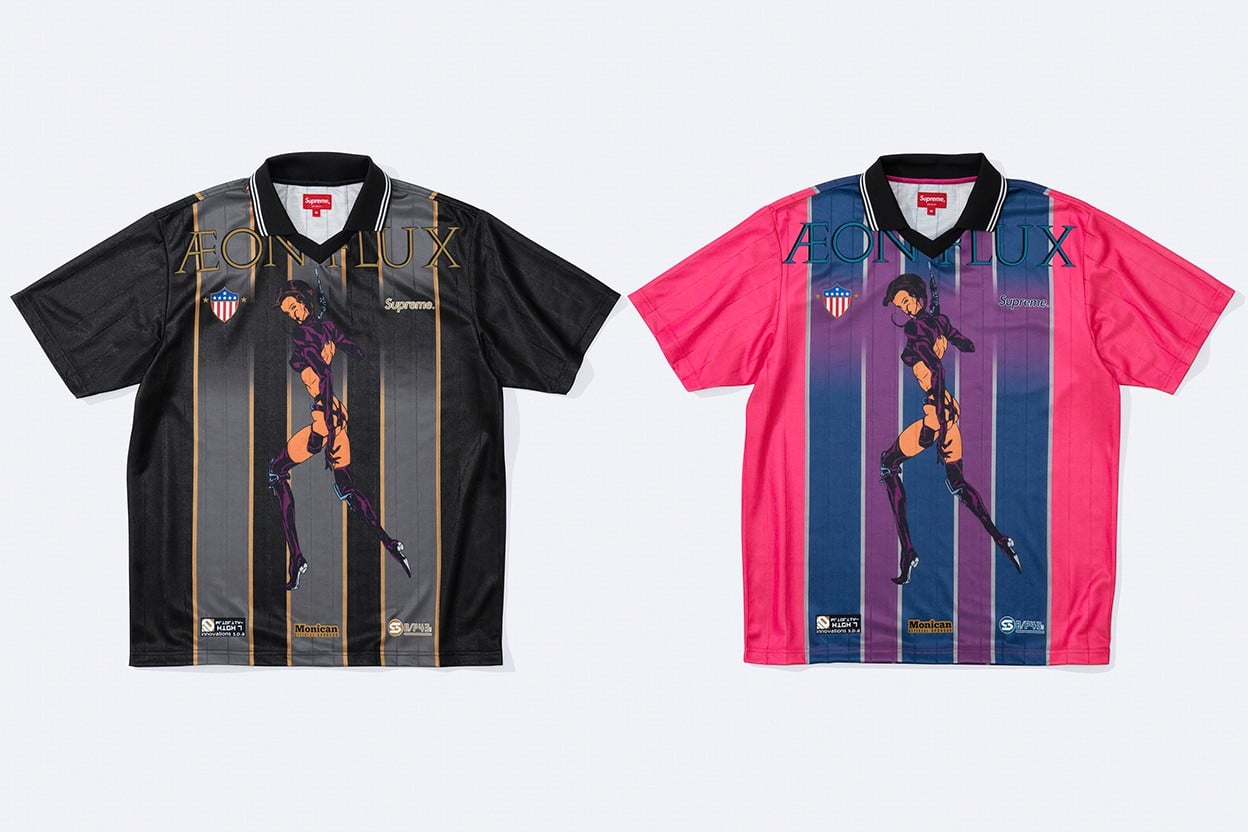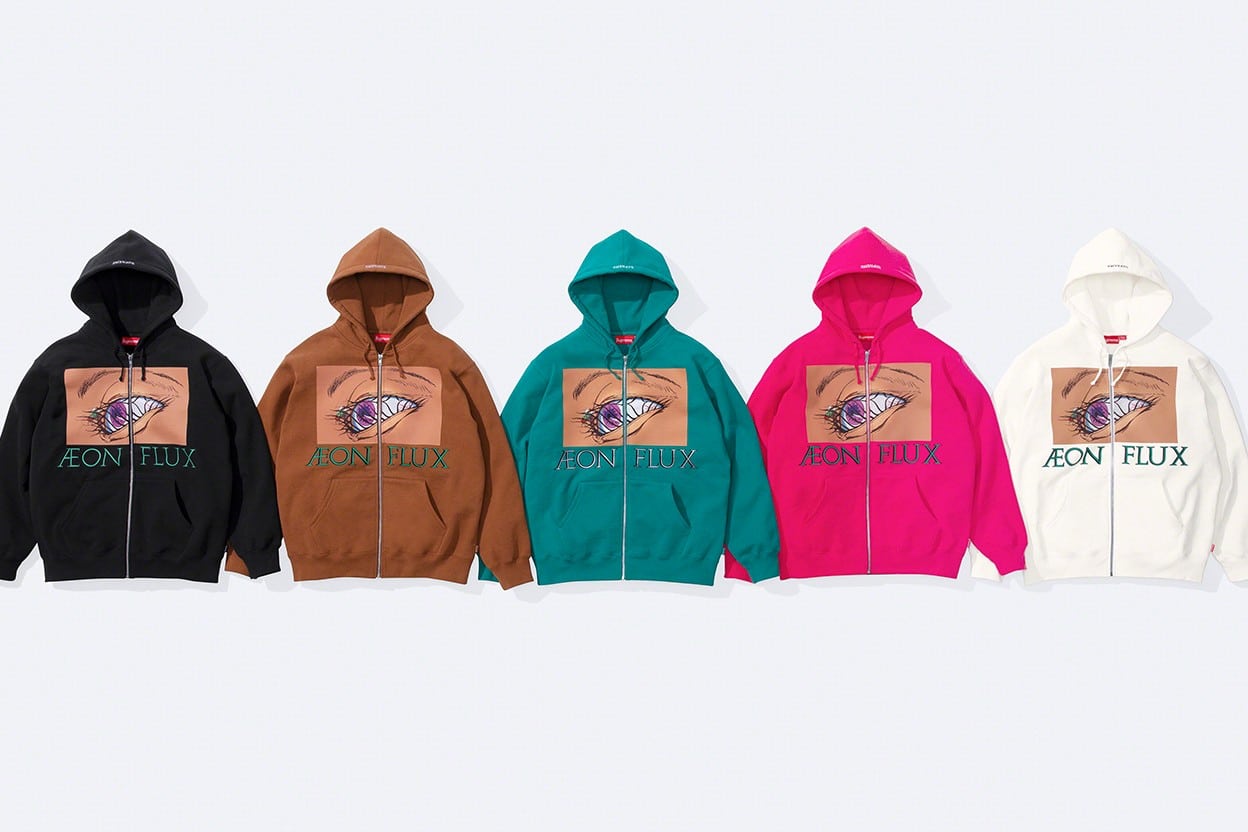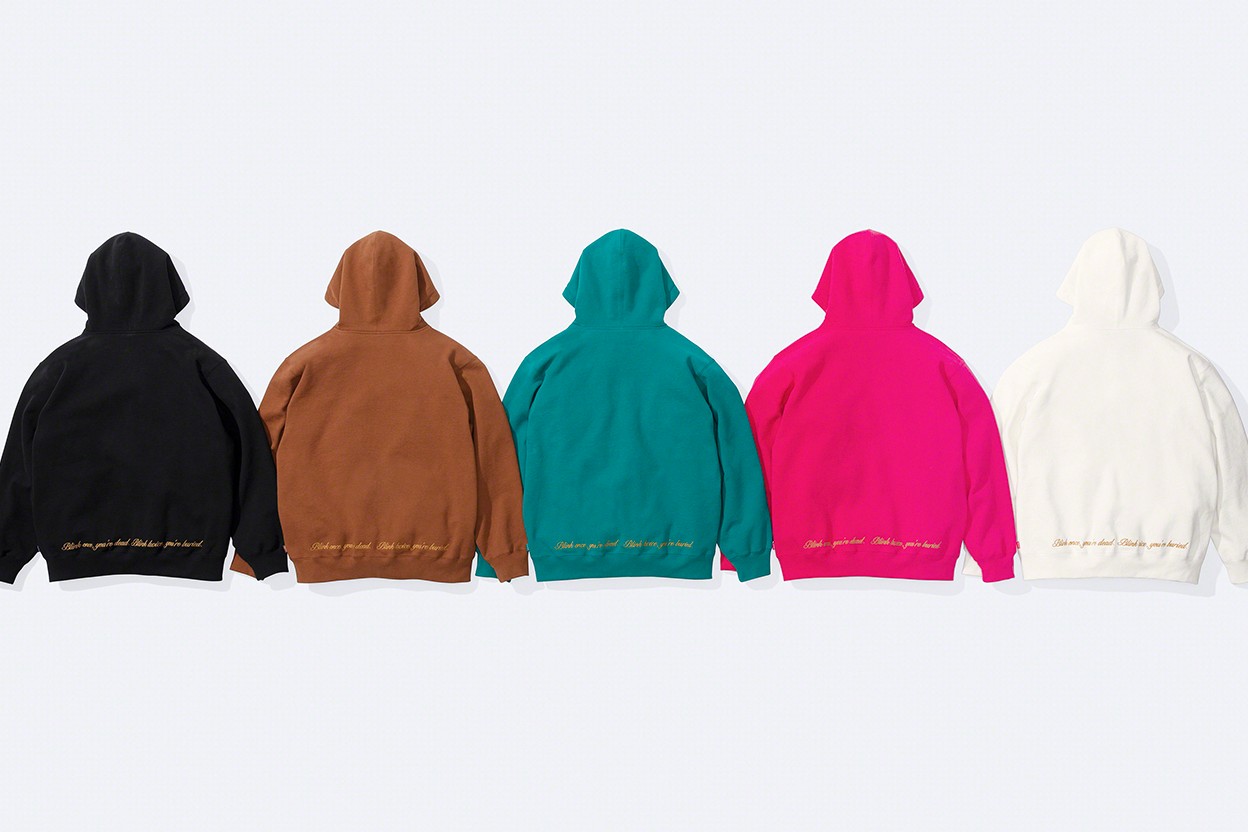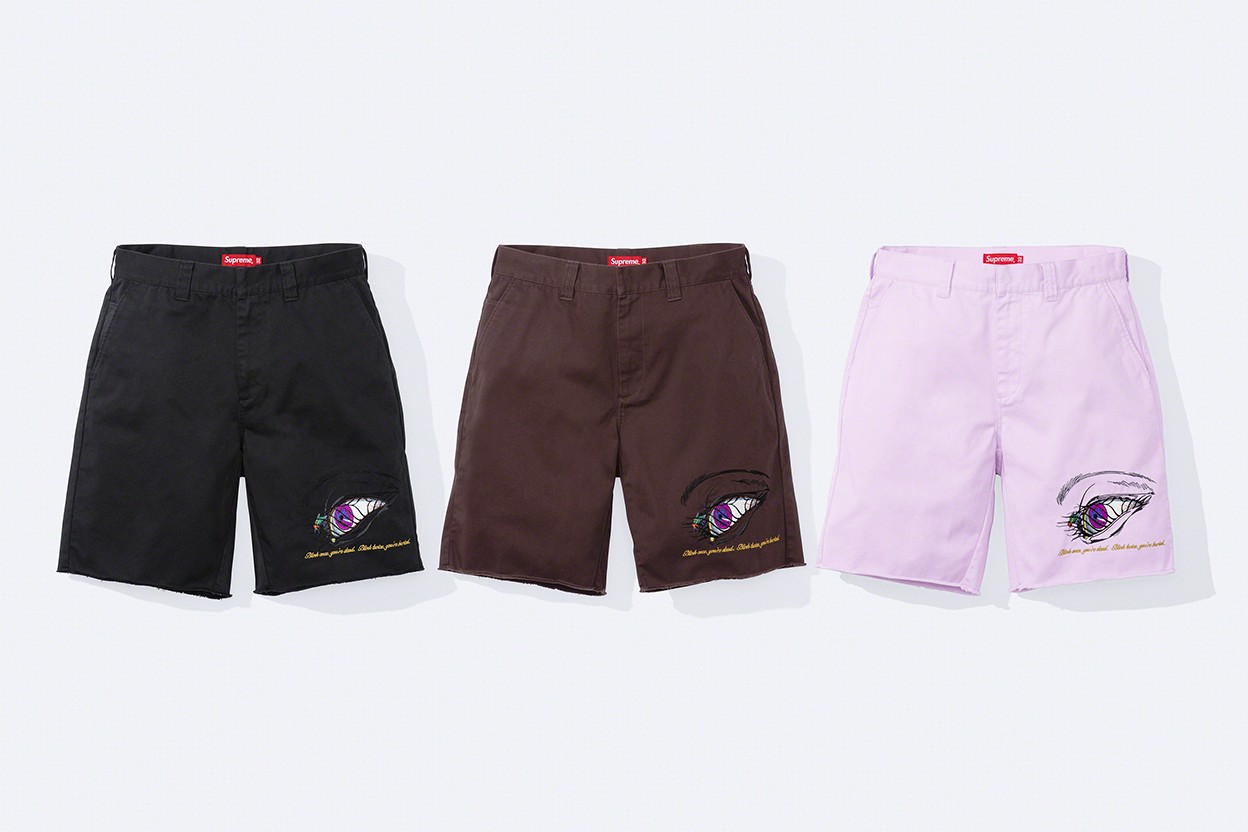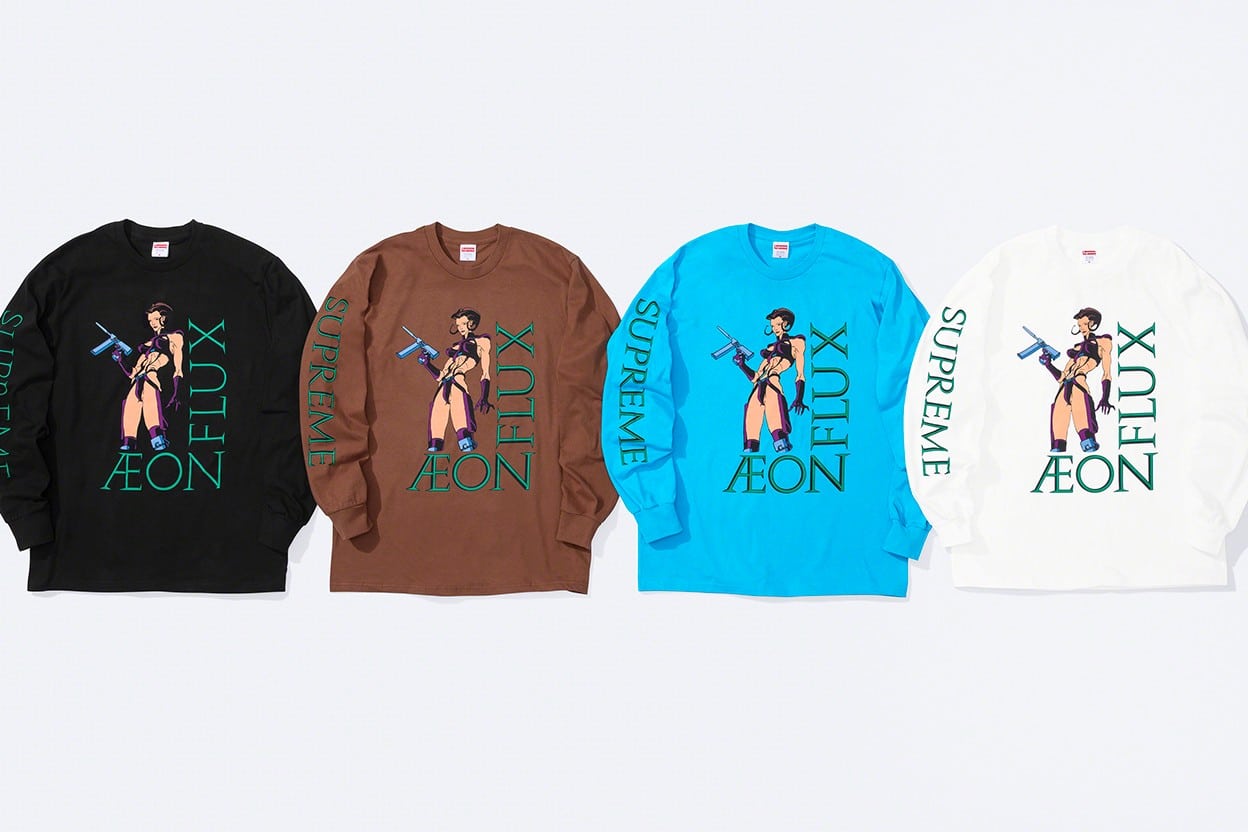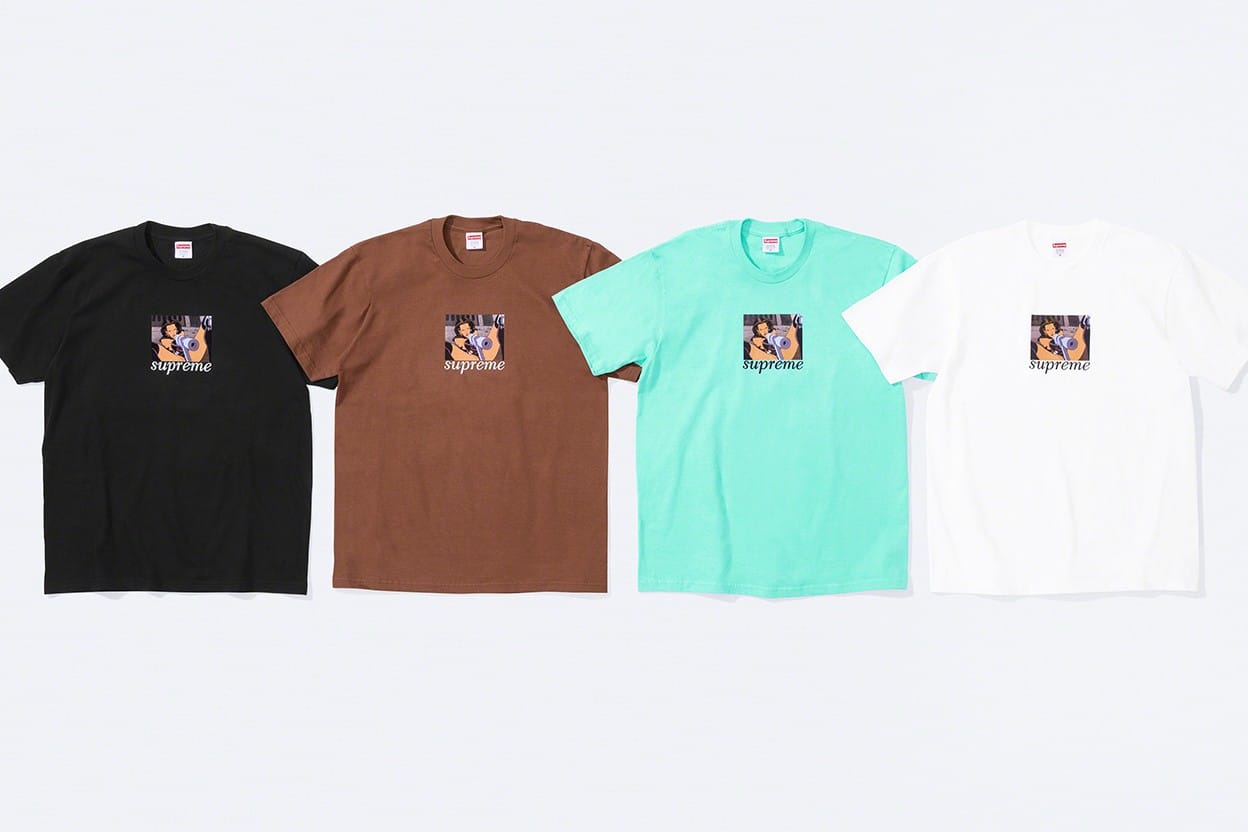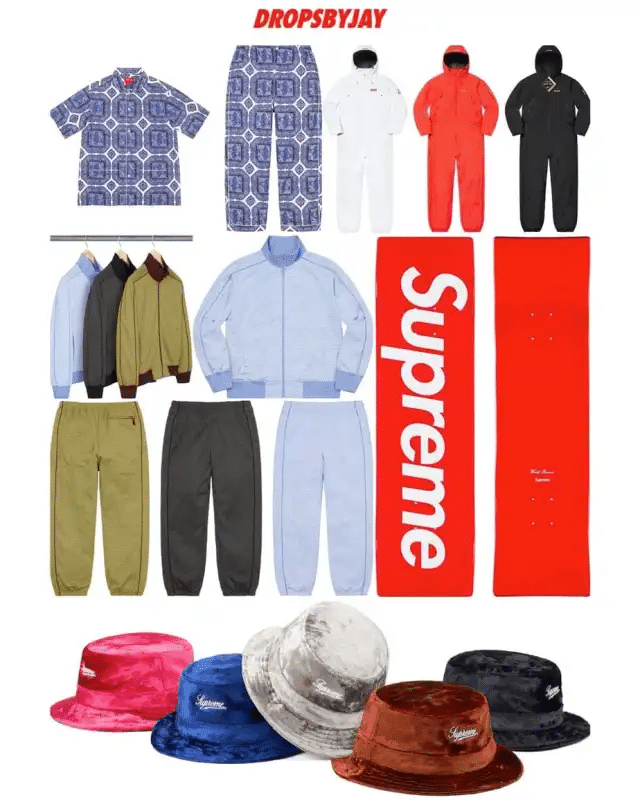 Update 23.03.2022
Supreme announces Week 5 of the Spring/Summer 2022 collection. The latest capsule includes a multi-piece The North Face collection as well as other garments in Supreme's signature style. You can also expect the Chapstick collaboration to arrive this week. Check out the first pics here, and don't miss the release on 24 March at Supreme.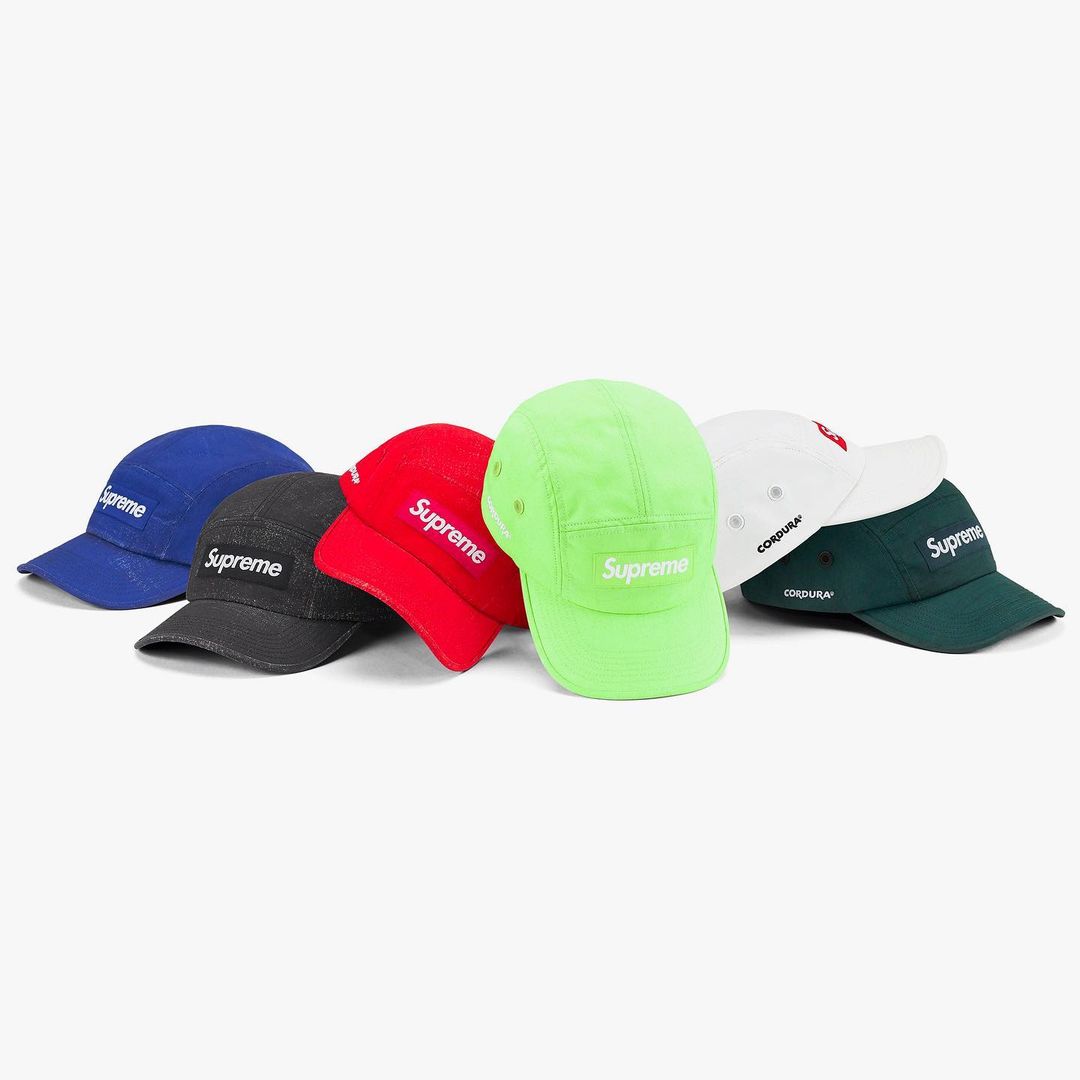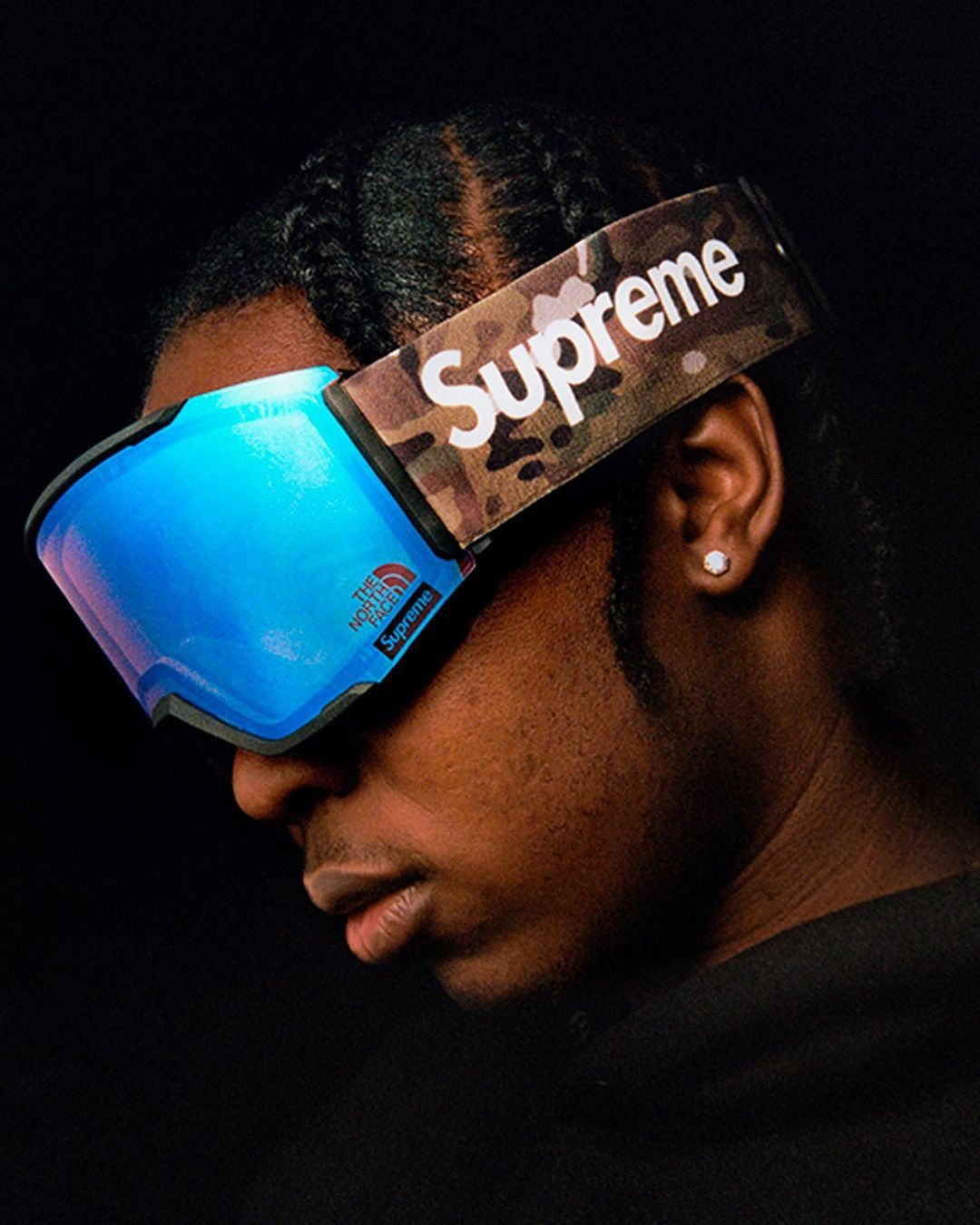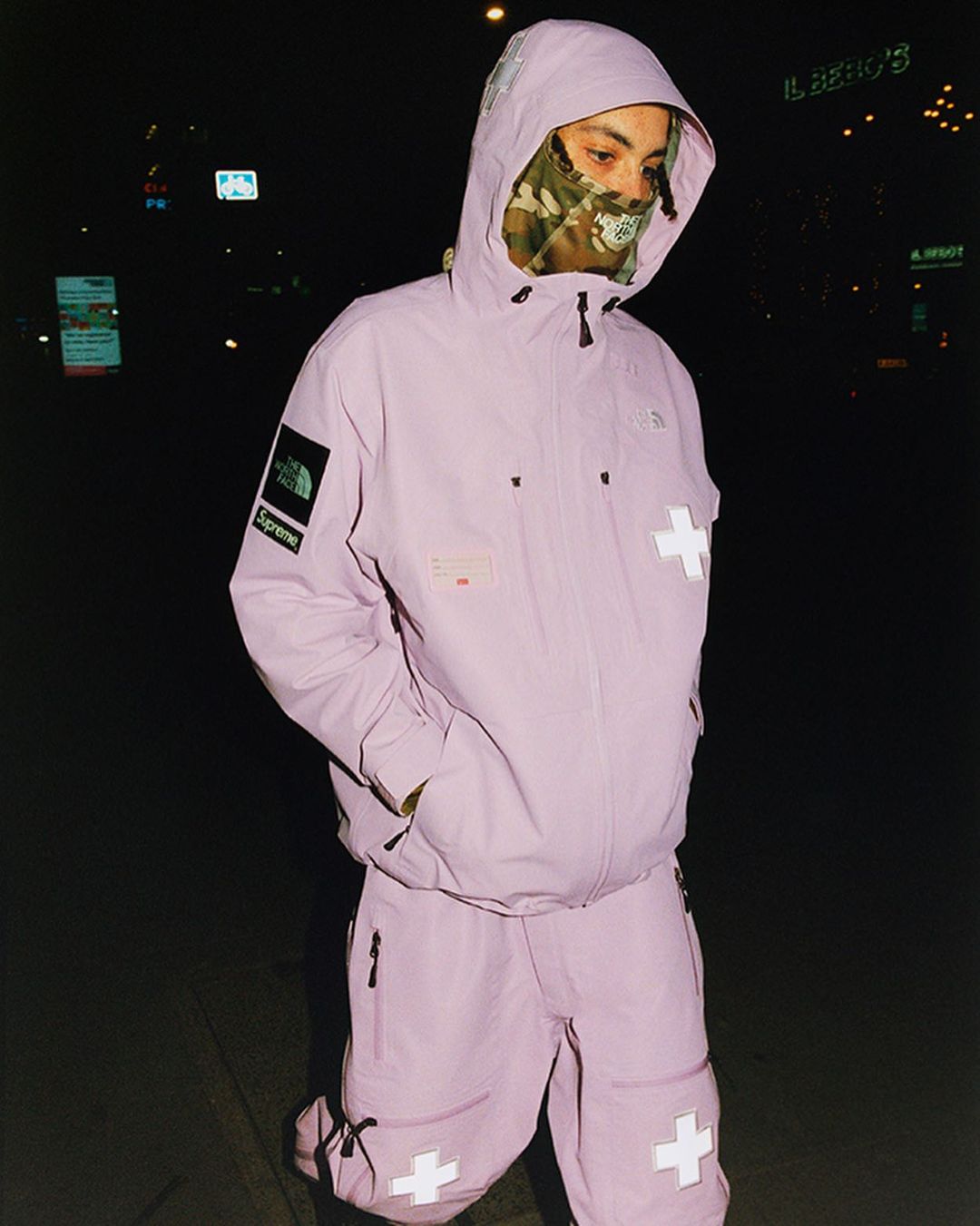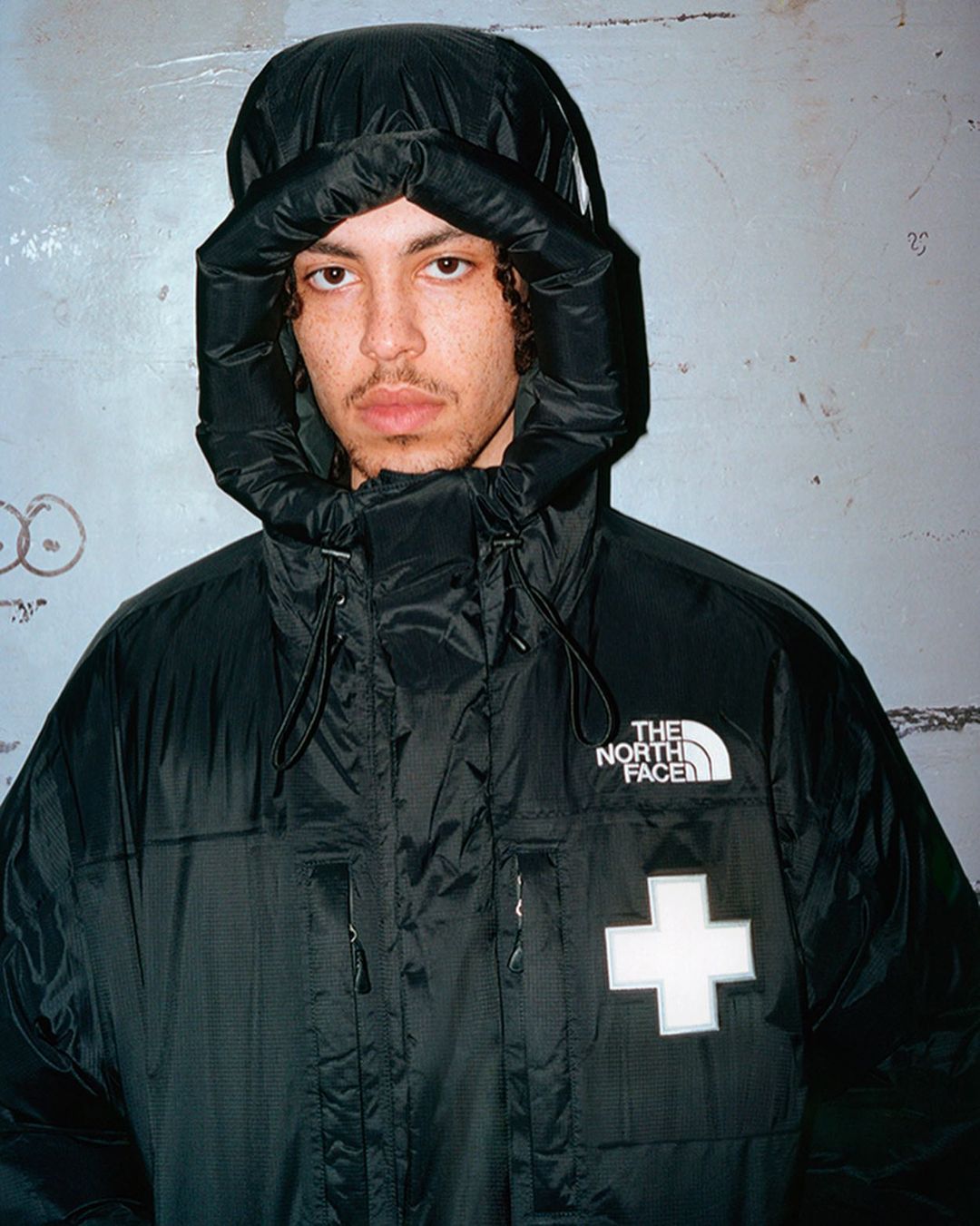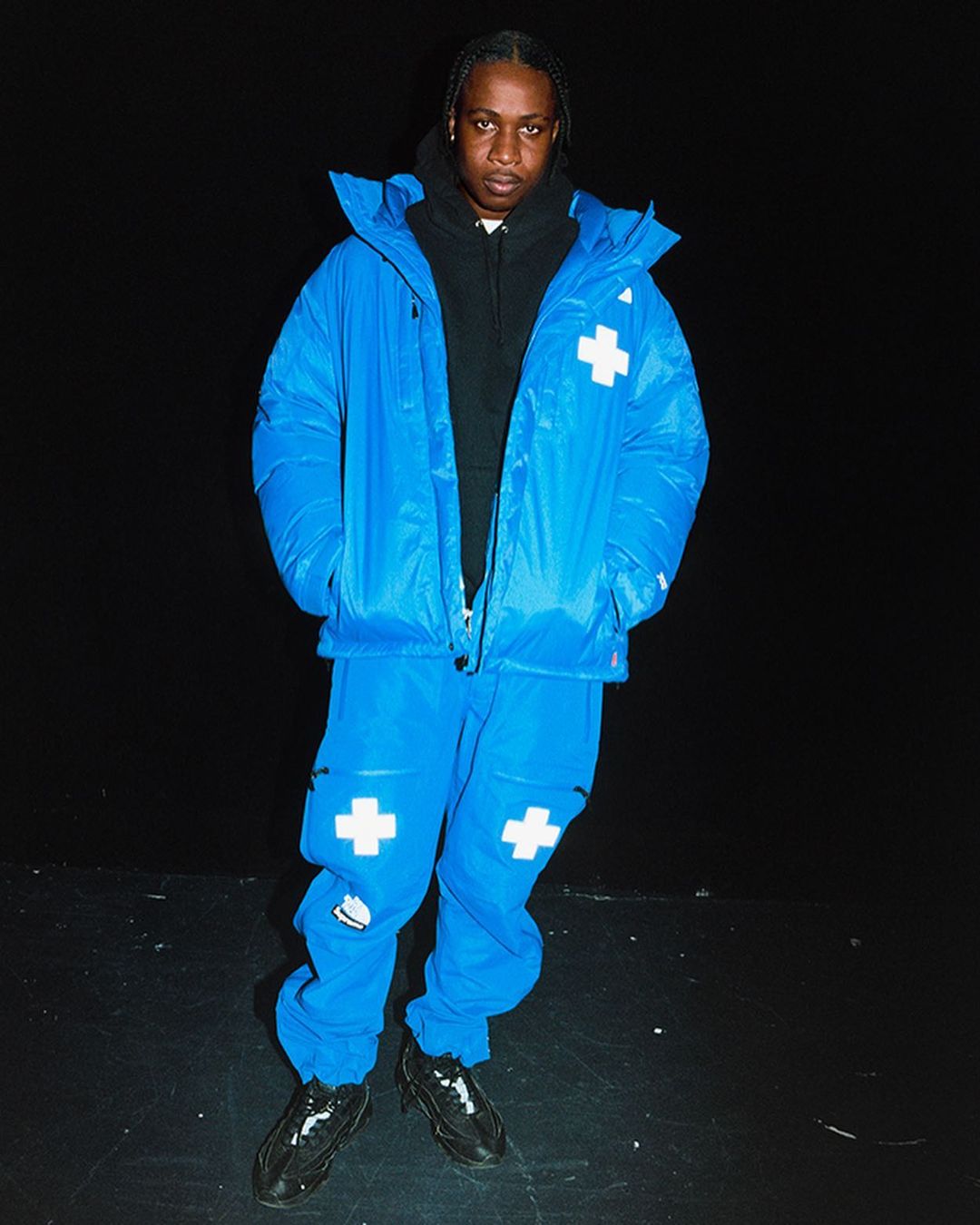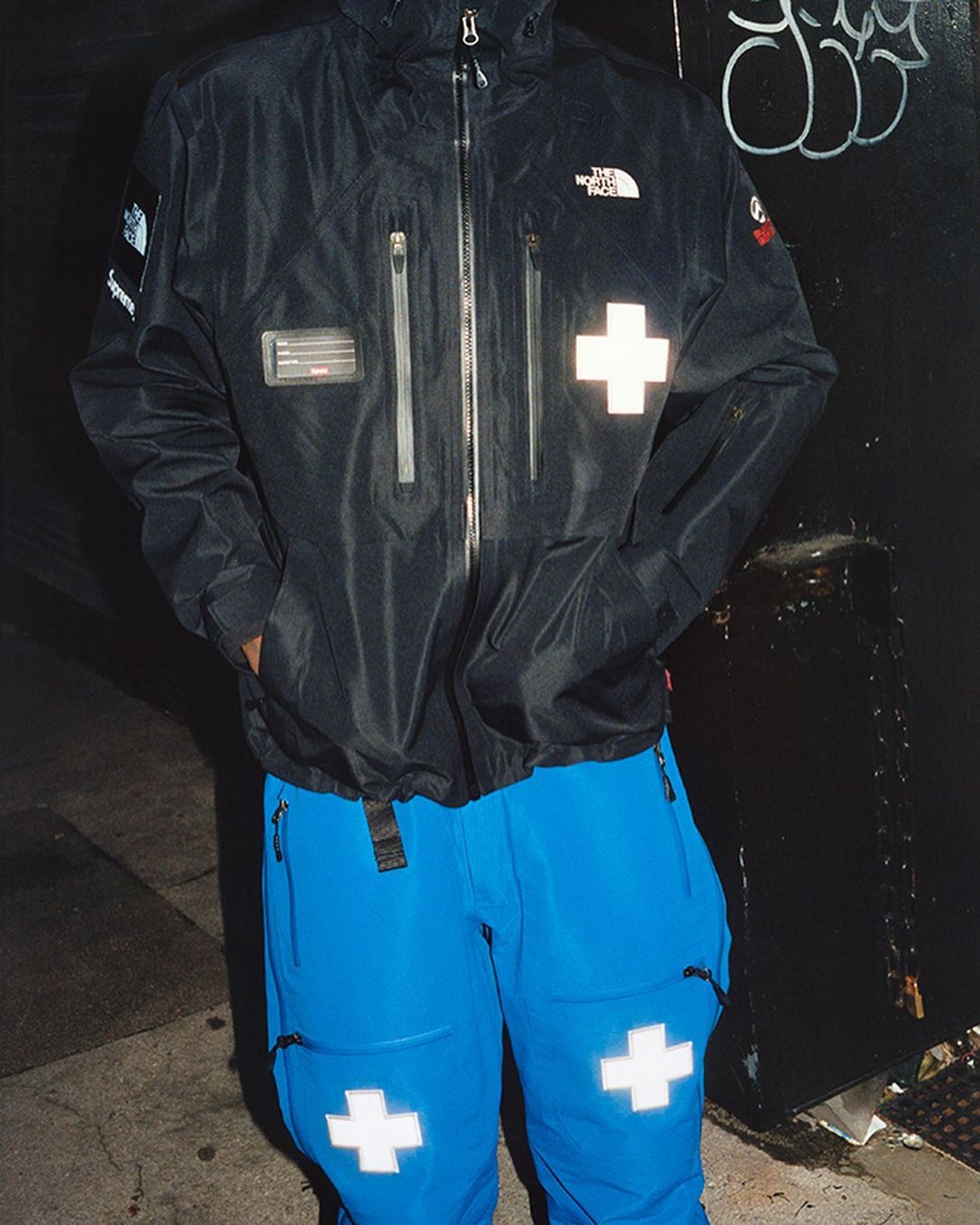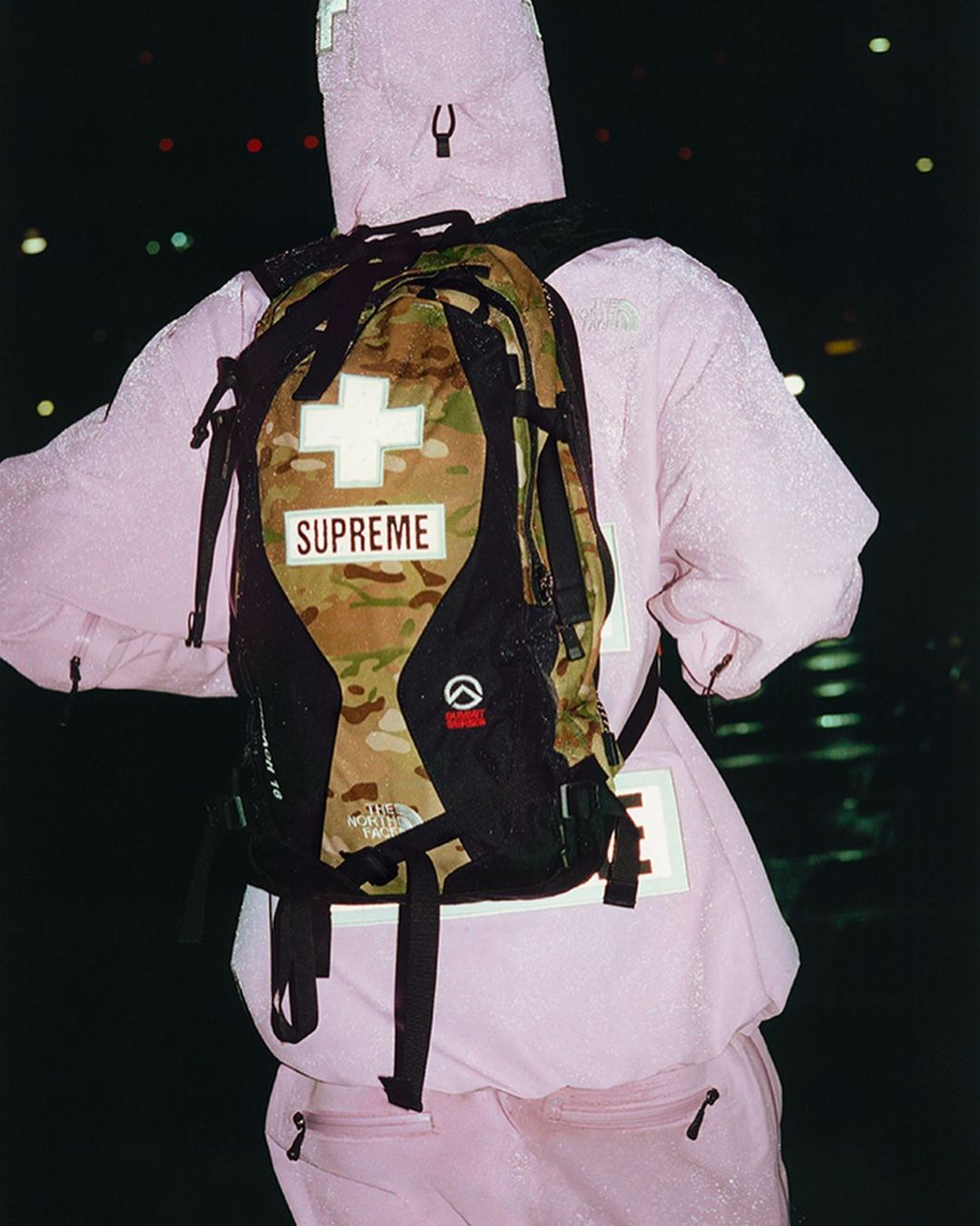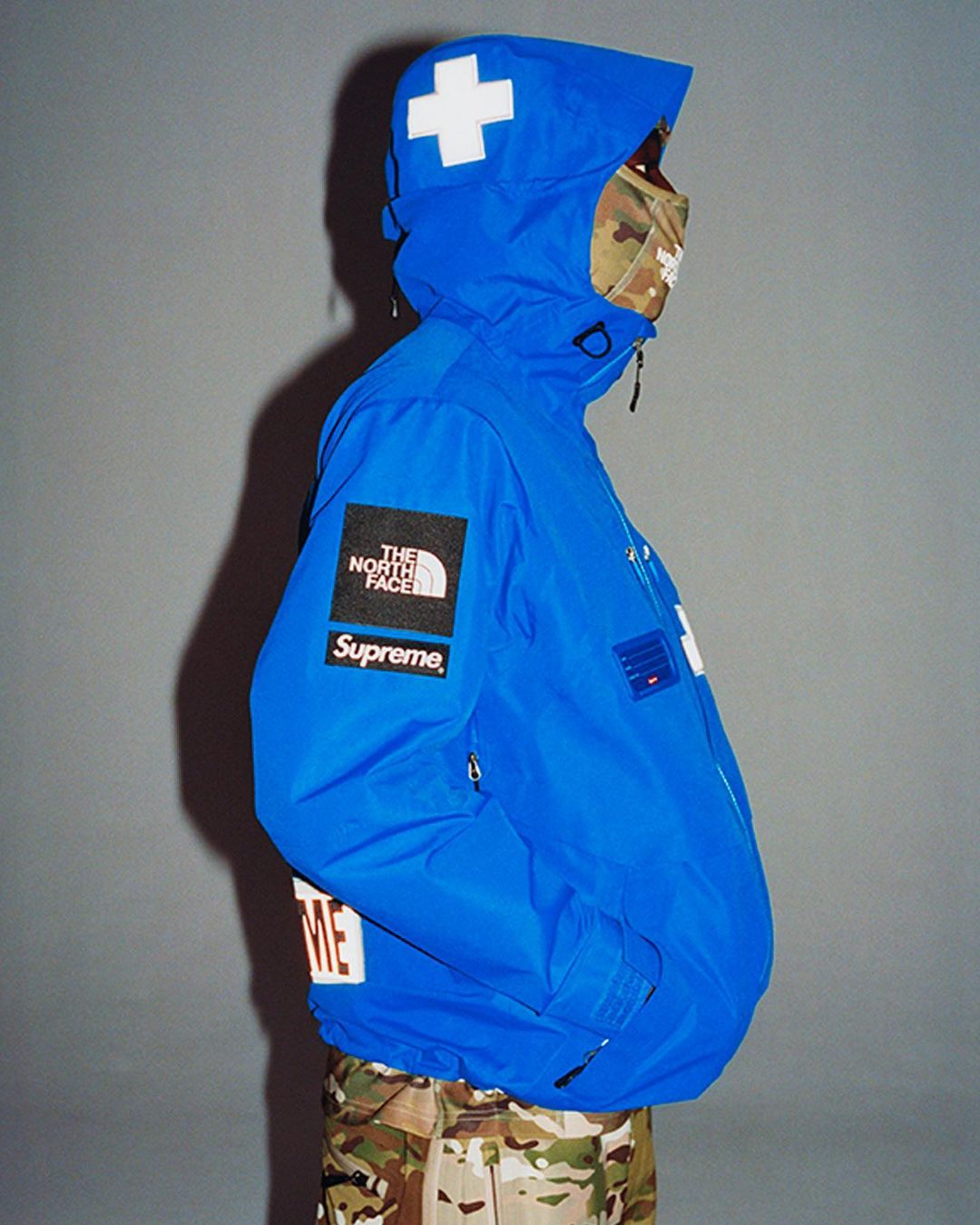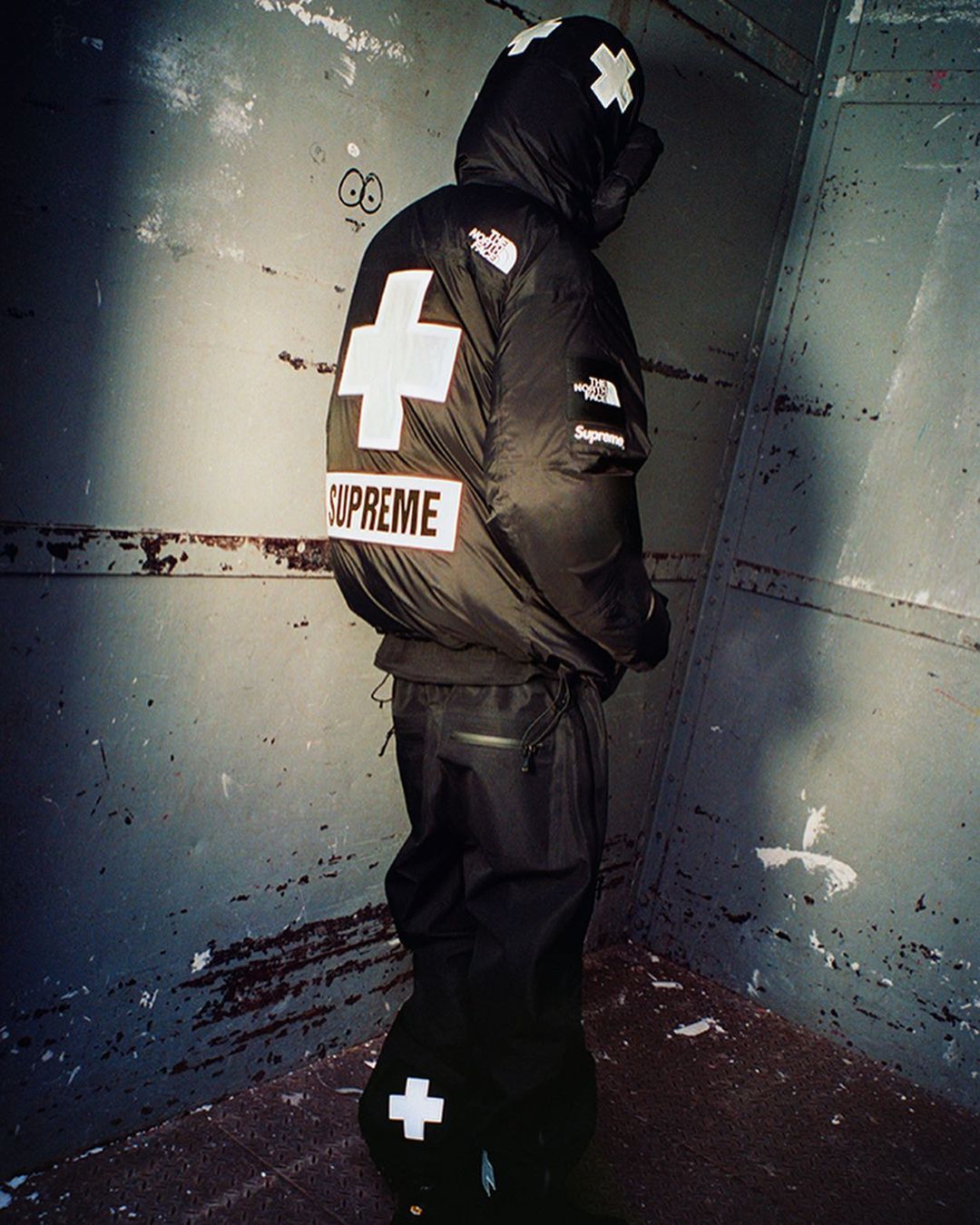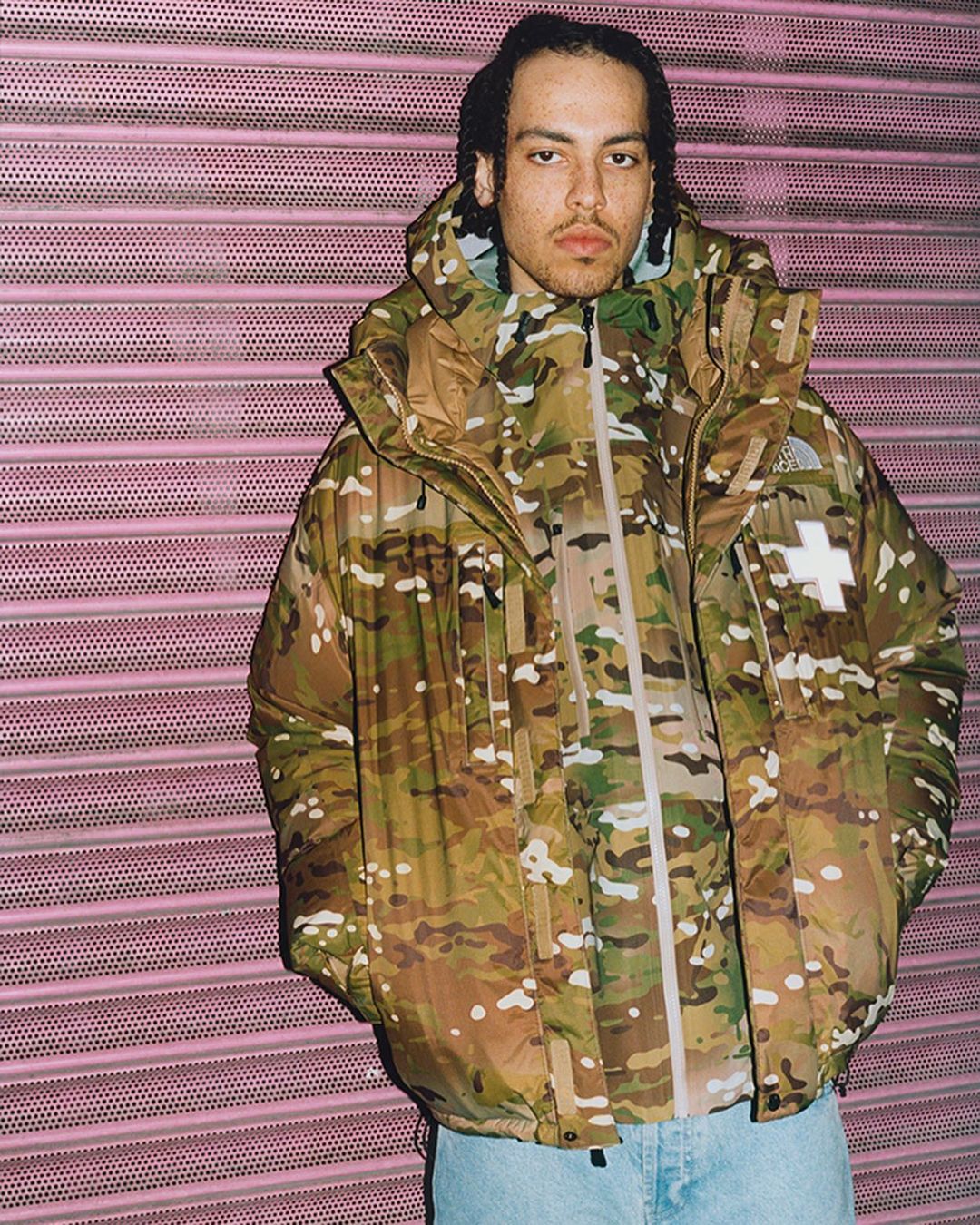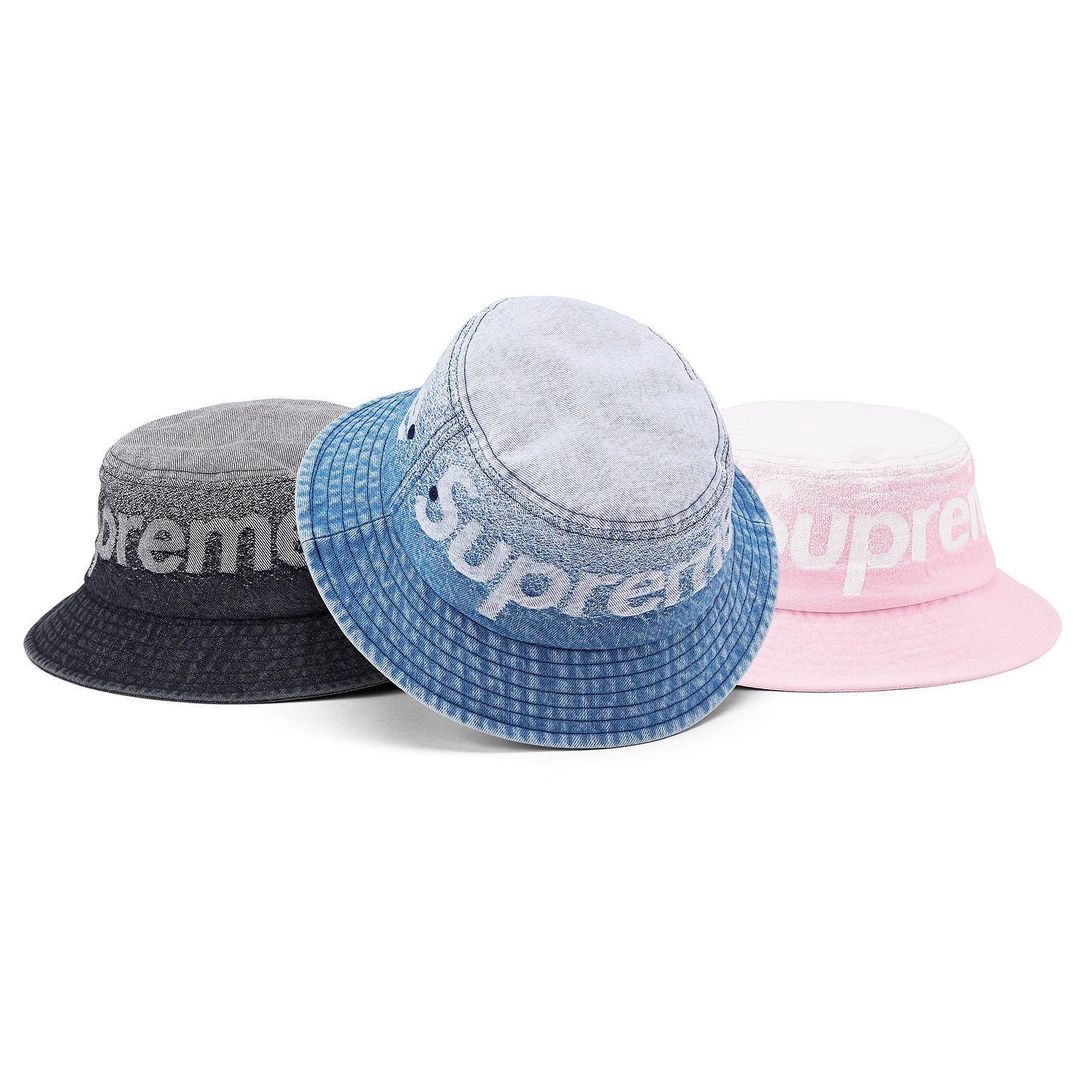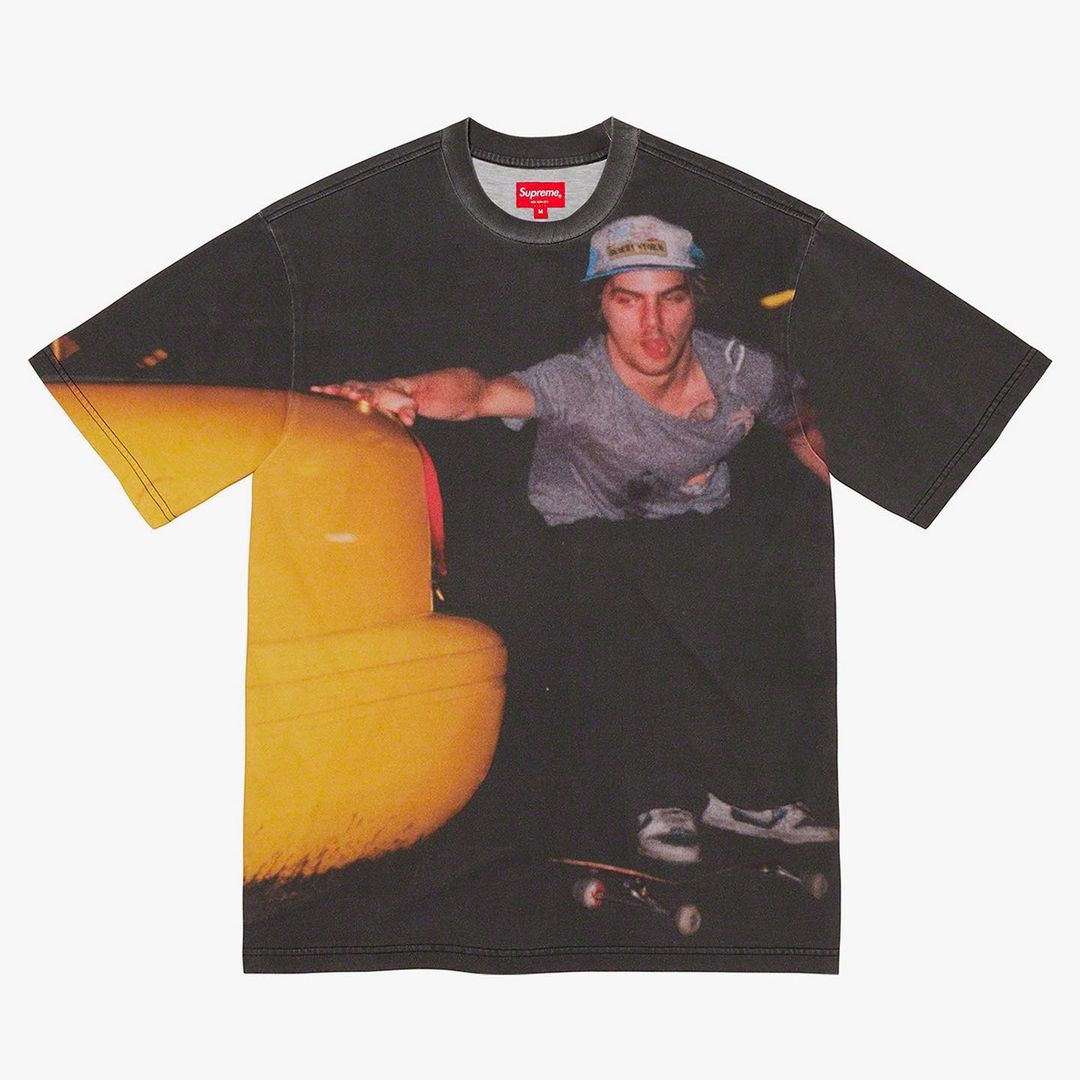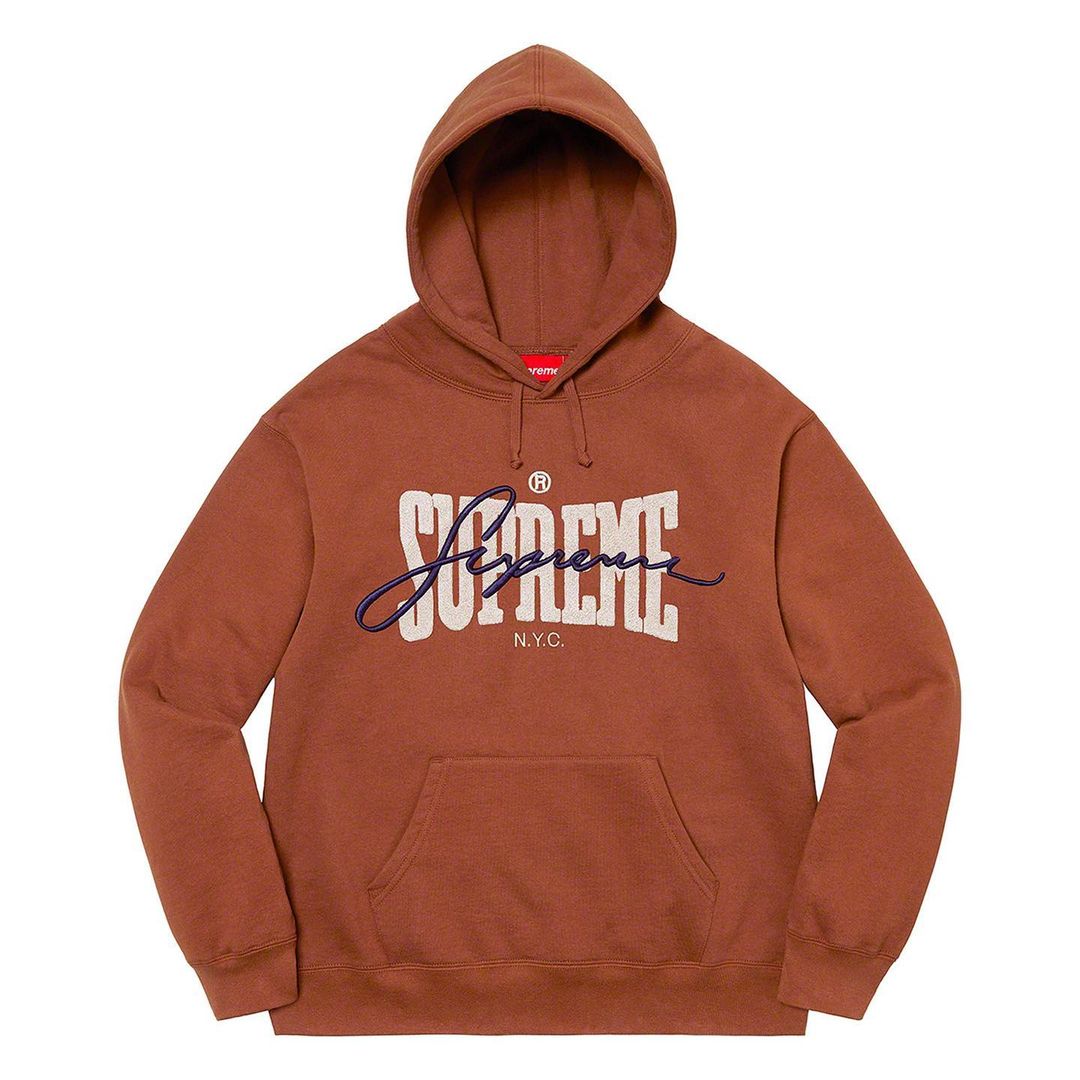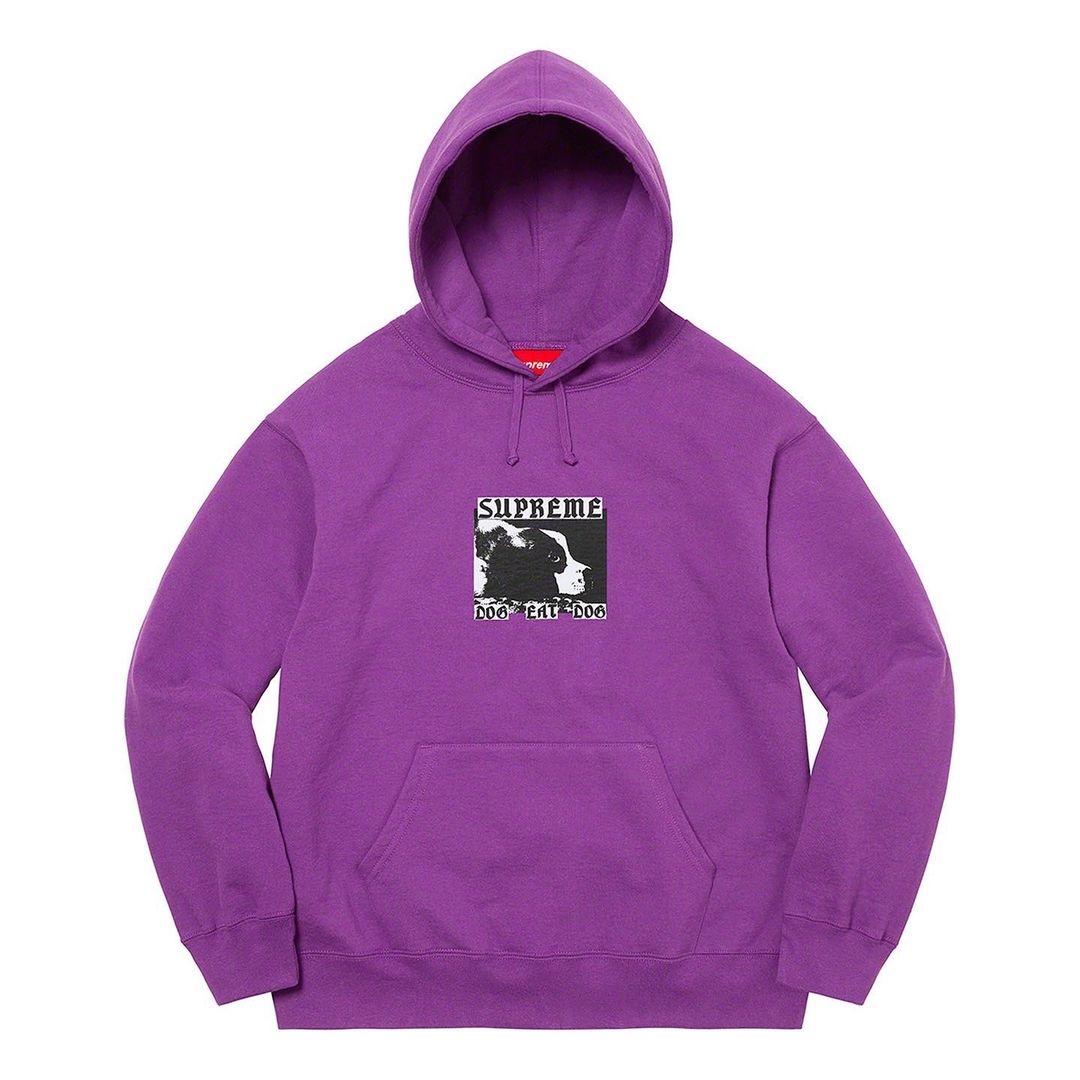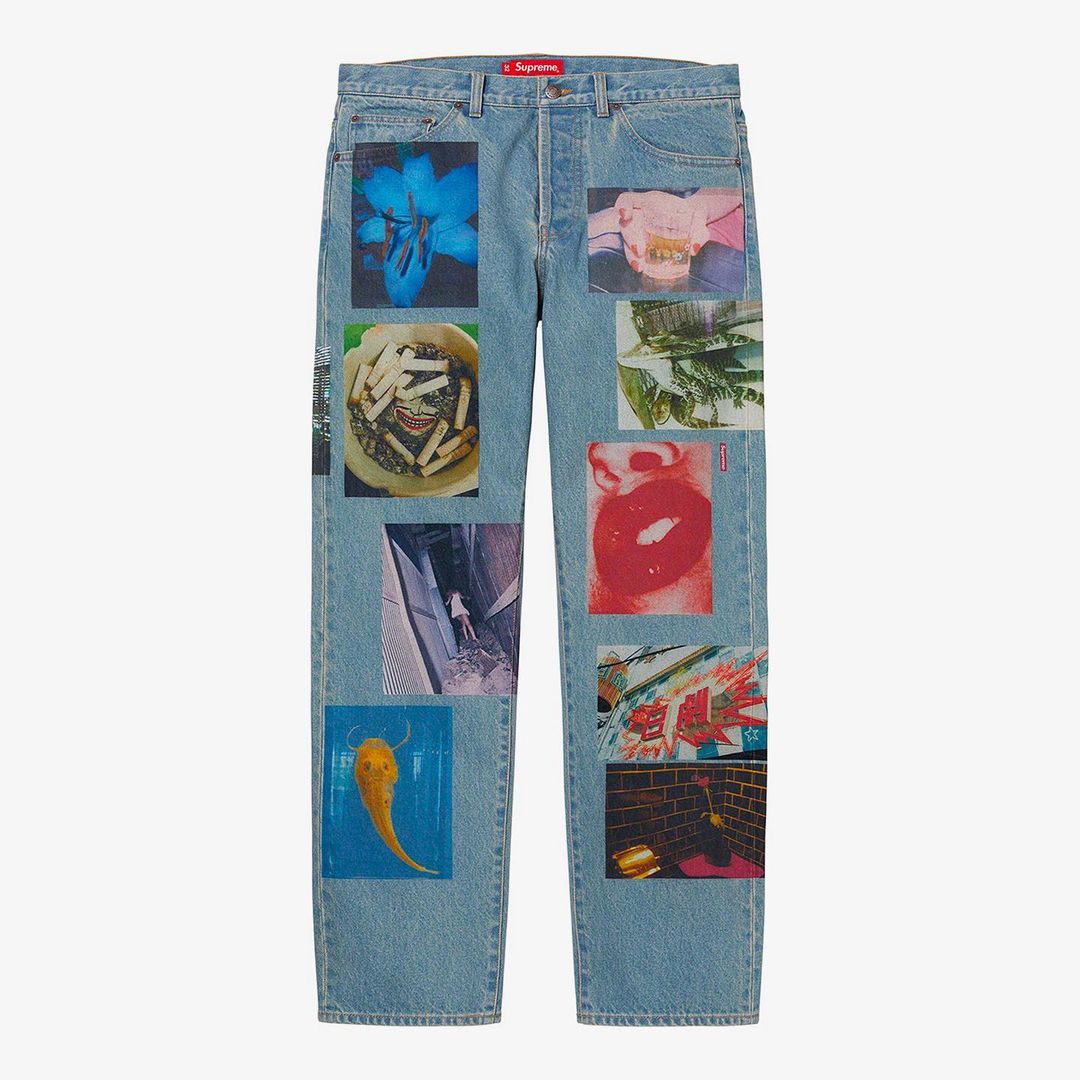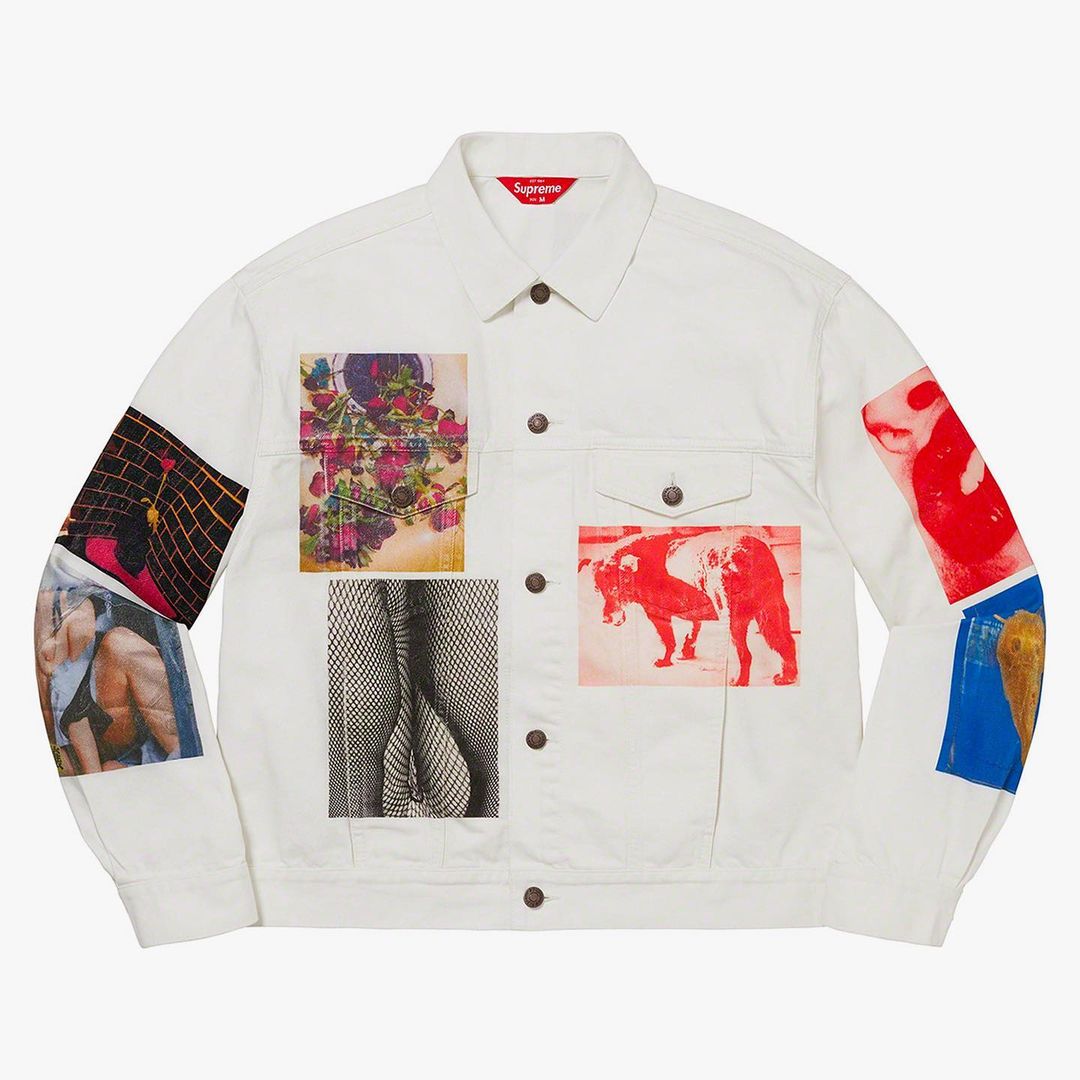 Update 16.03.2022
It's going to be hard to follow up last week's Supreme x Burberry collection, but with Nate Lowman by their side, Supreme can possibly break the wave in Week 4. The long-time partner has helped Supreme on several occasions, and this time they are presenting a bold collection featuring bullet-inspired graphics. Expect the Supreme x Nate Lowman collection to include several hoodies, waistcoats, trousers, and more. Also appearing are several accessories with signature Supreme details.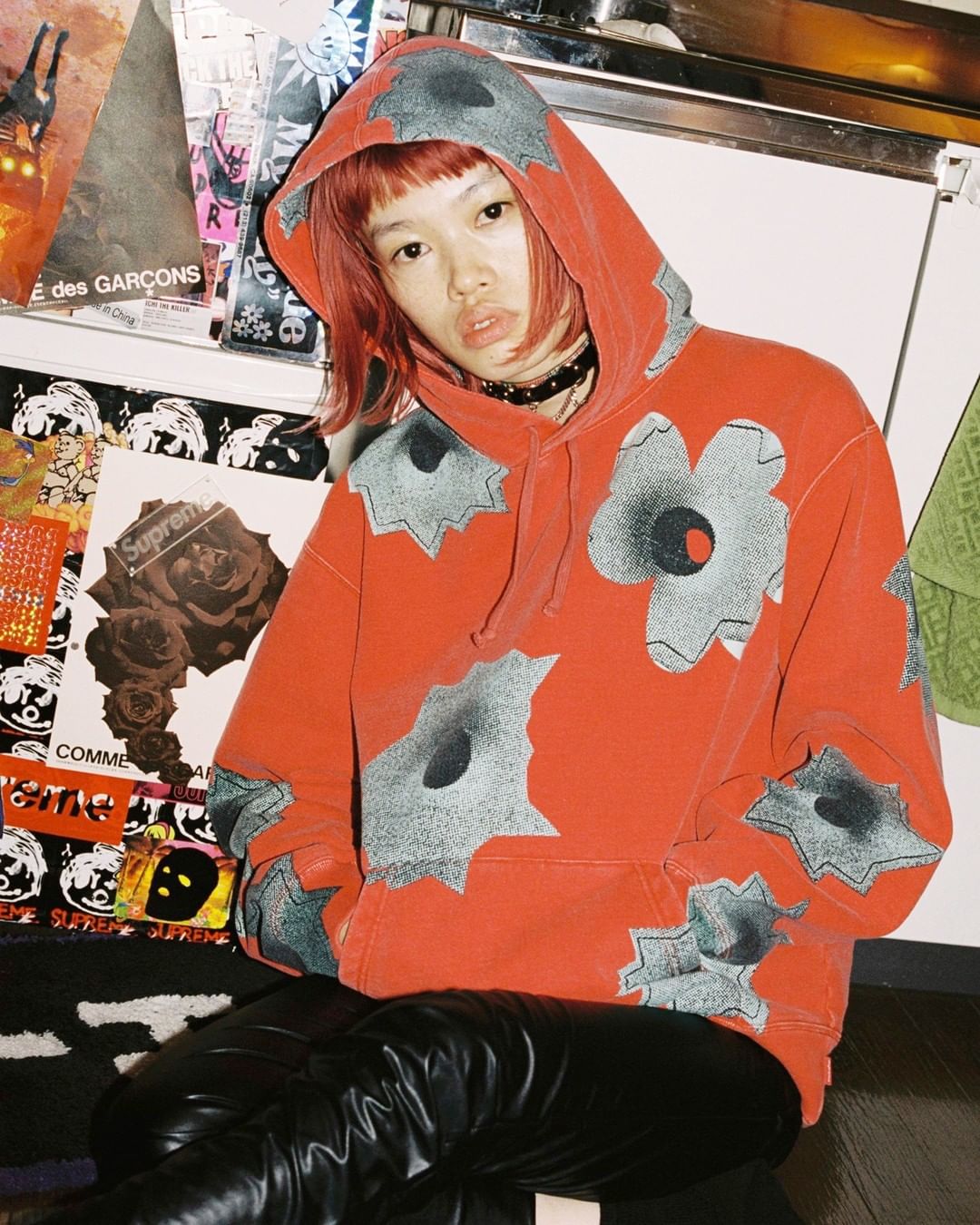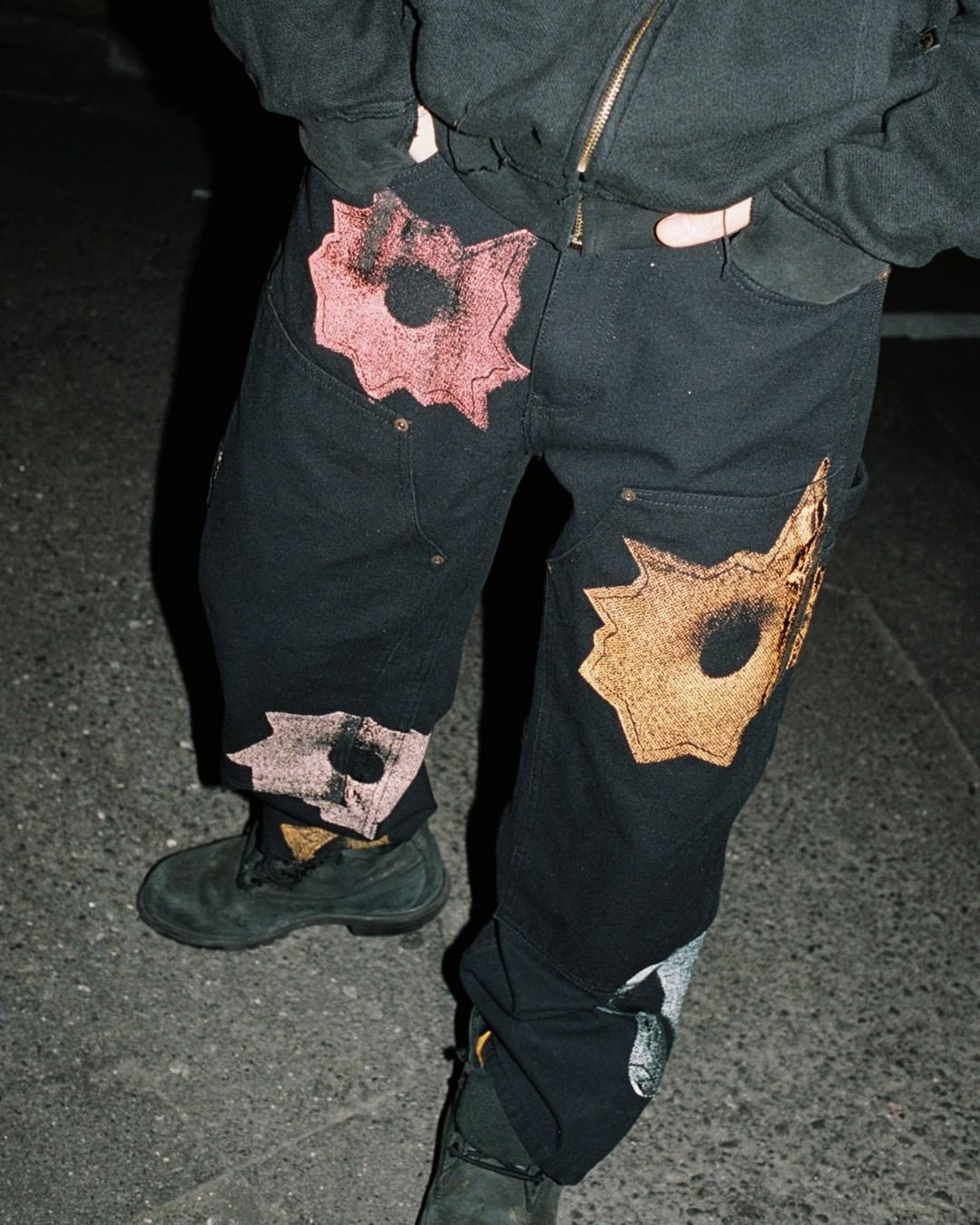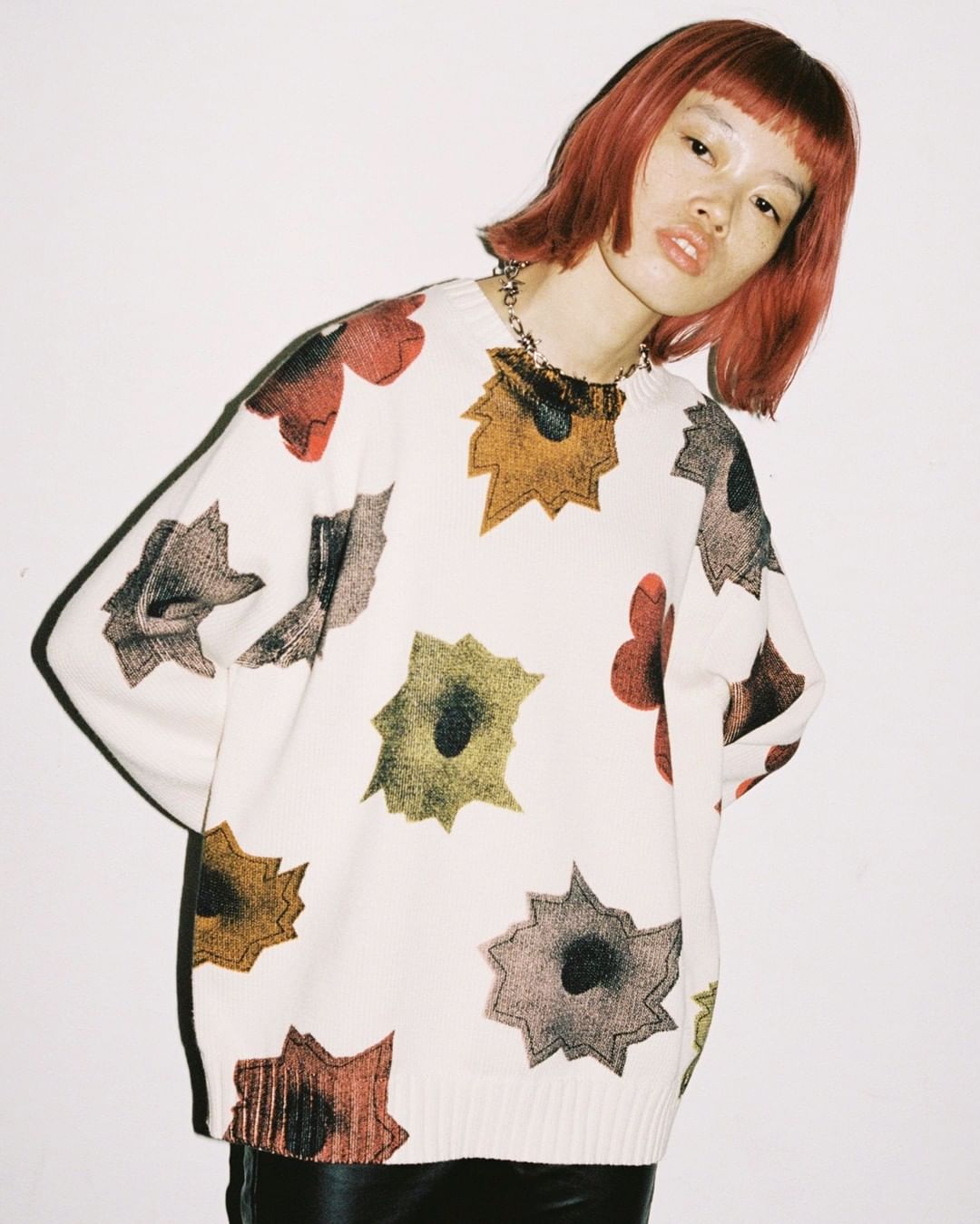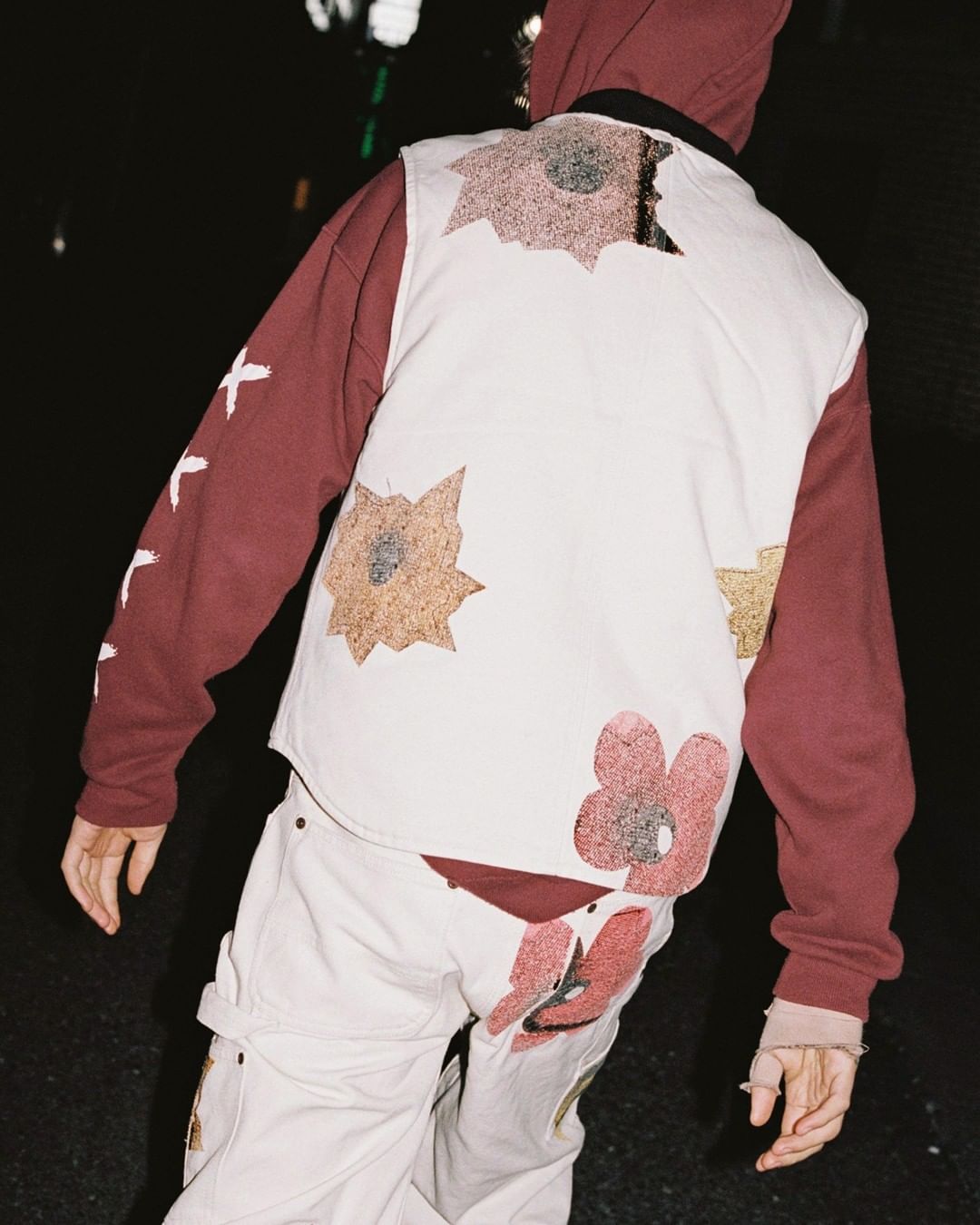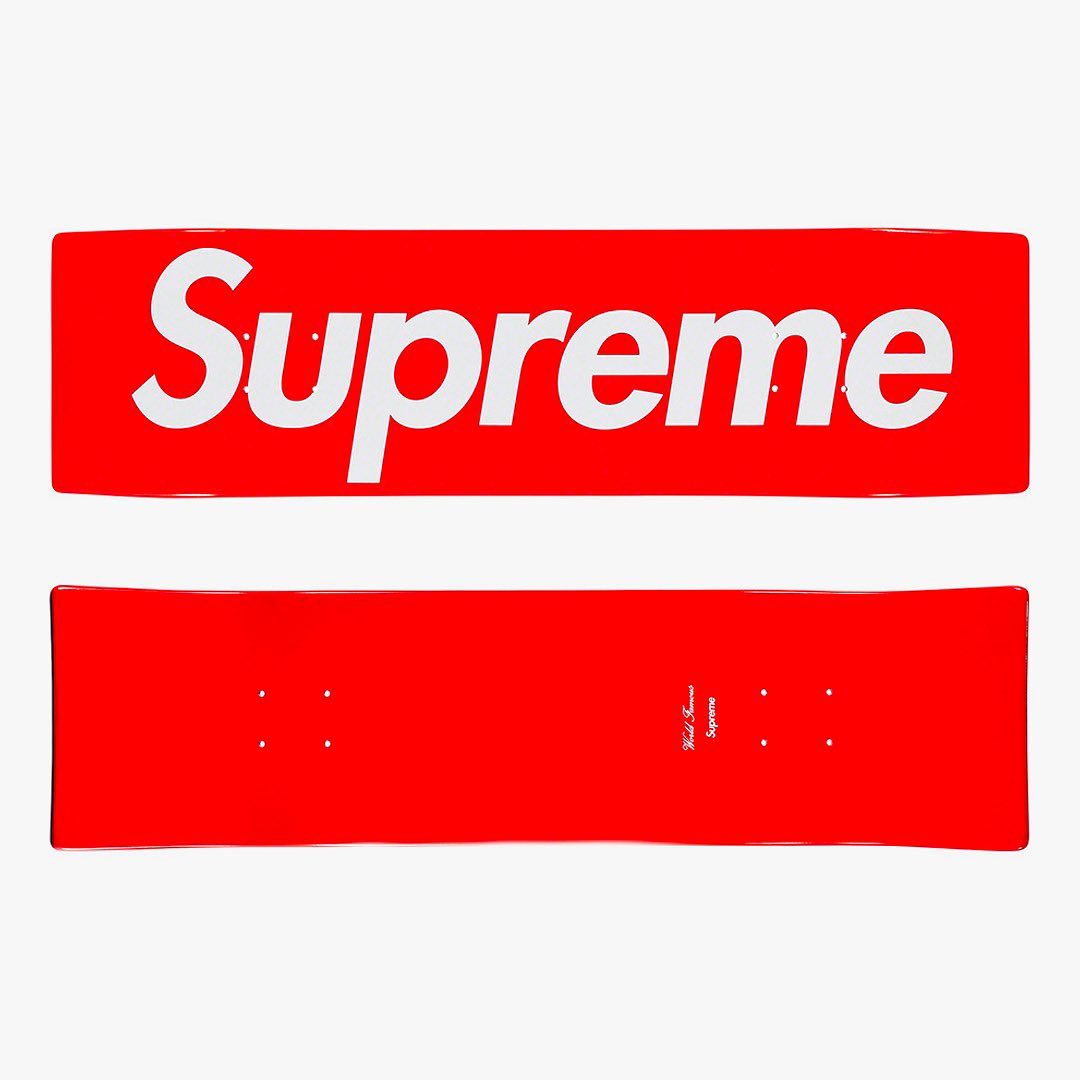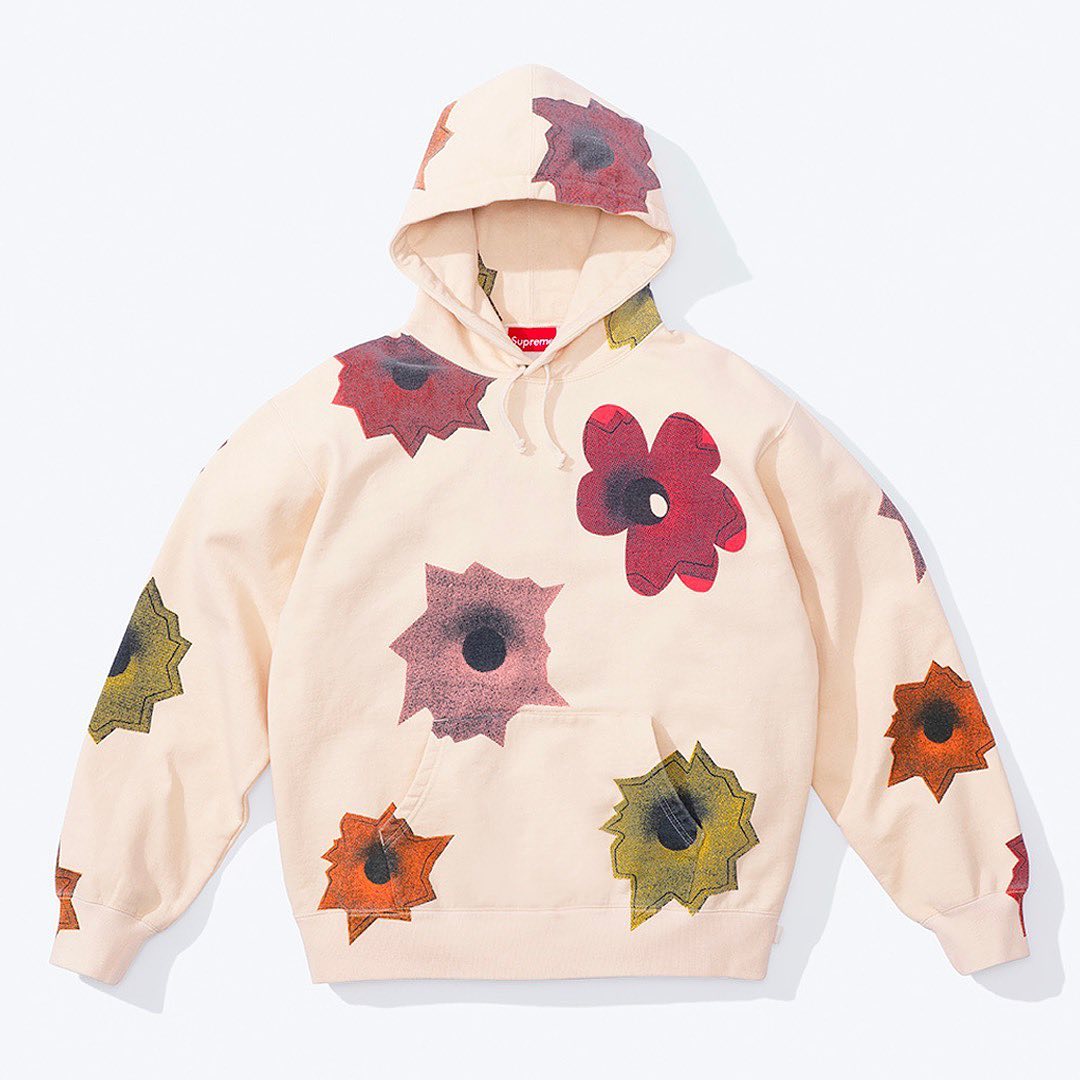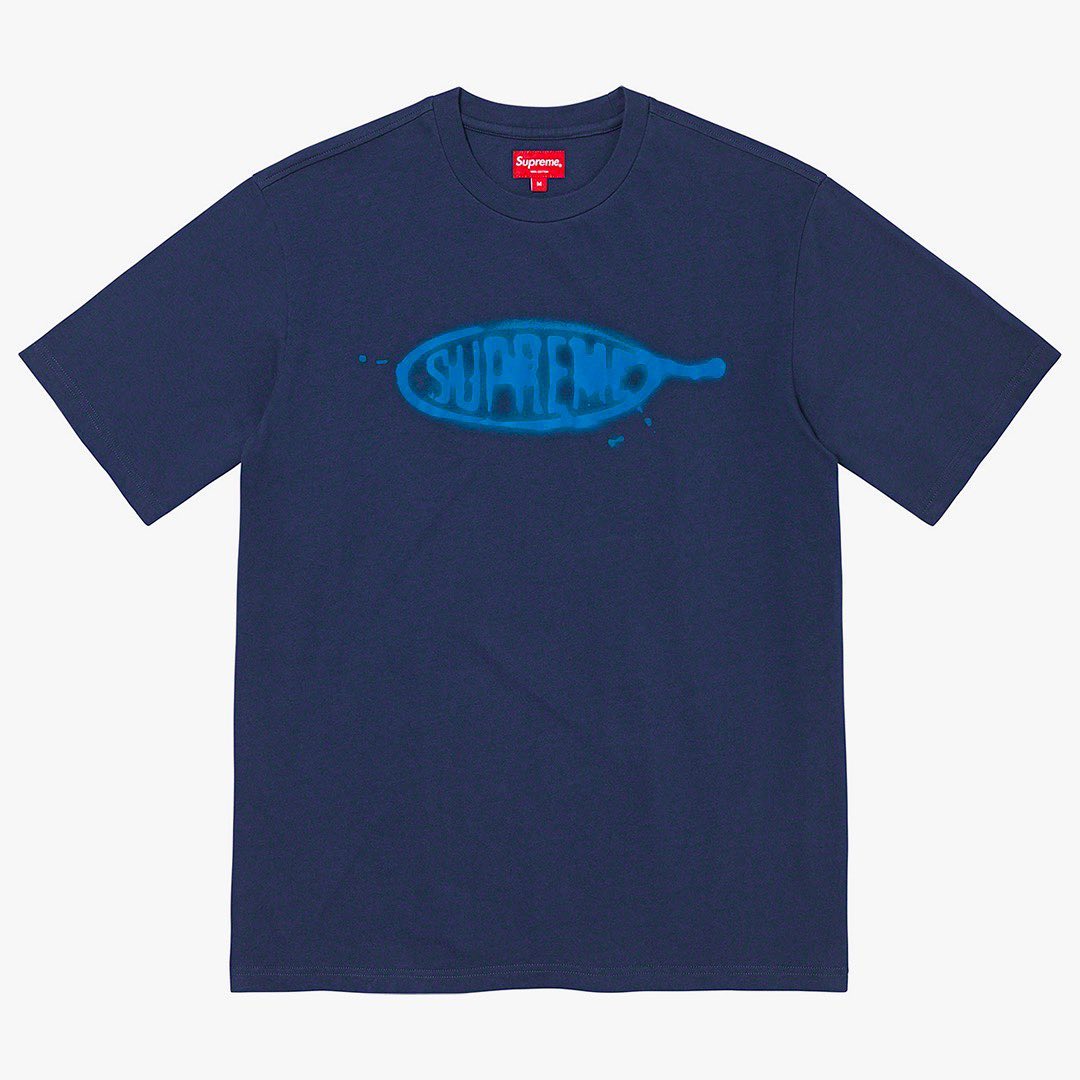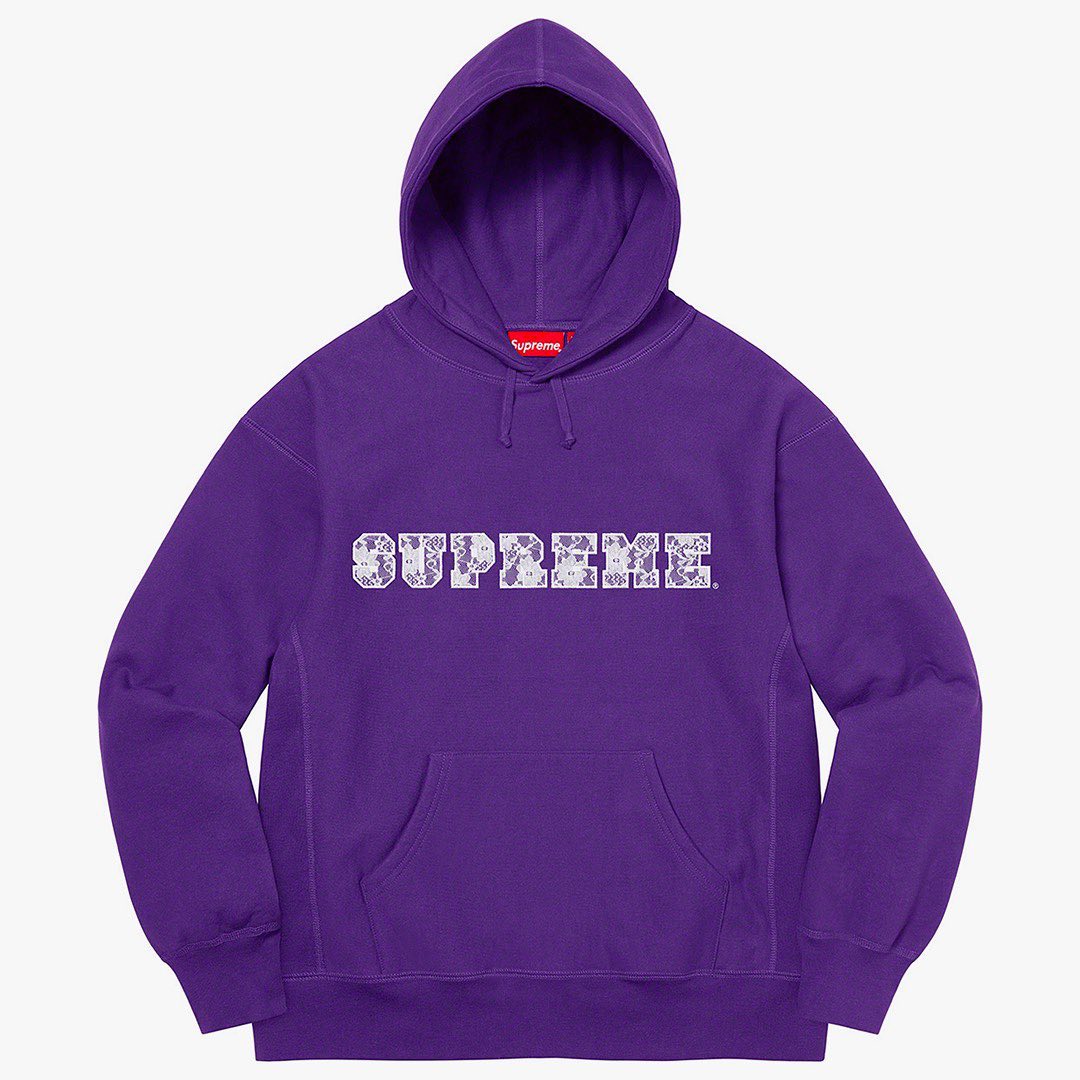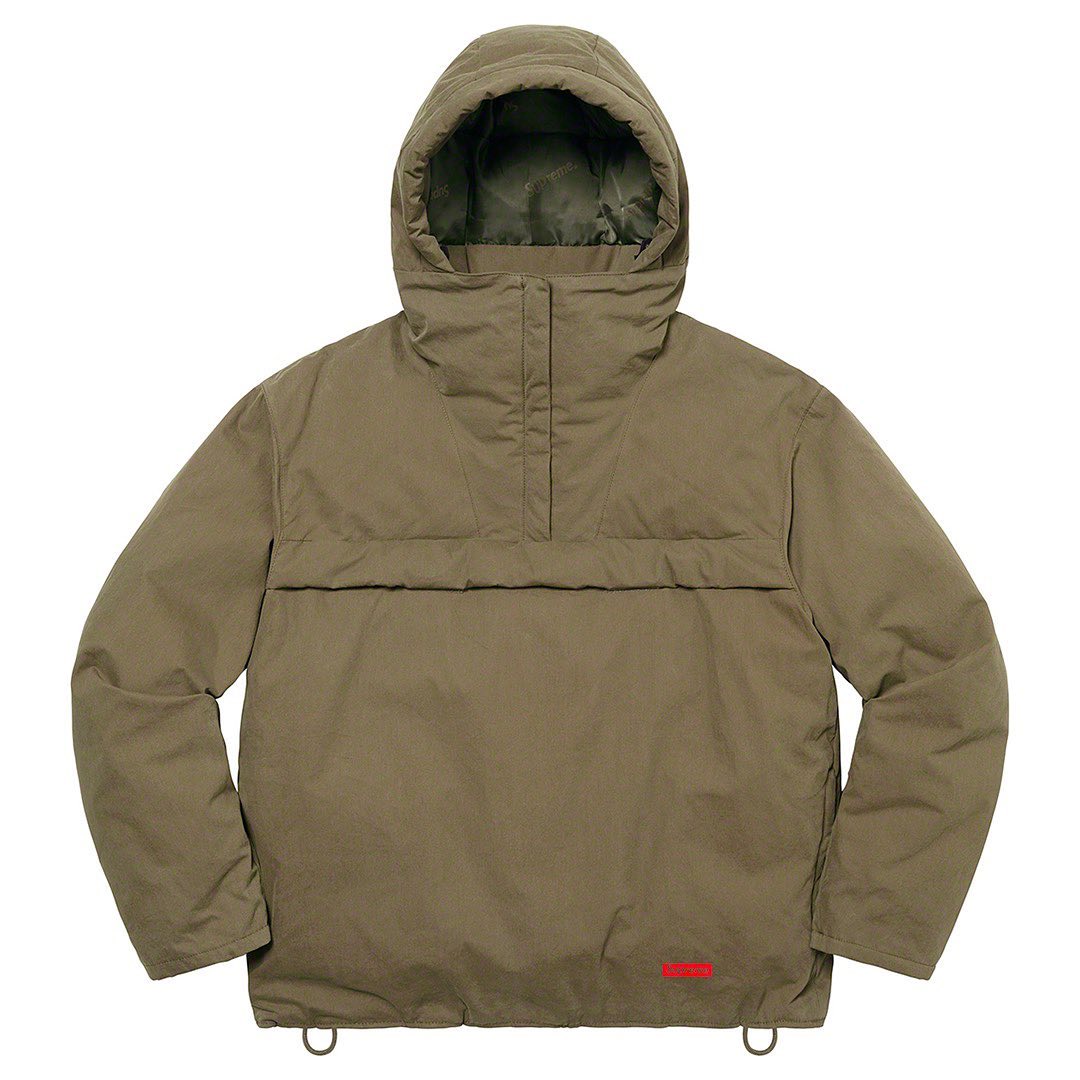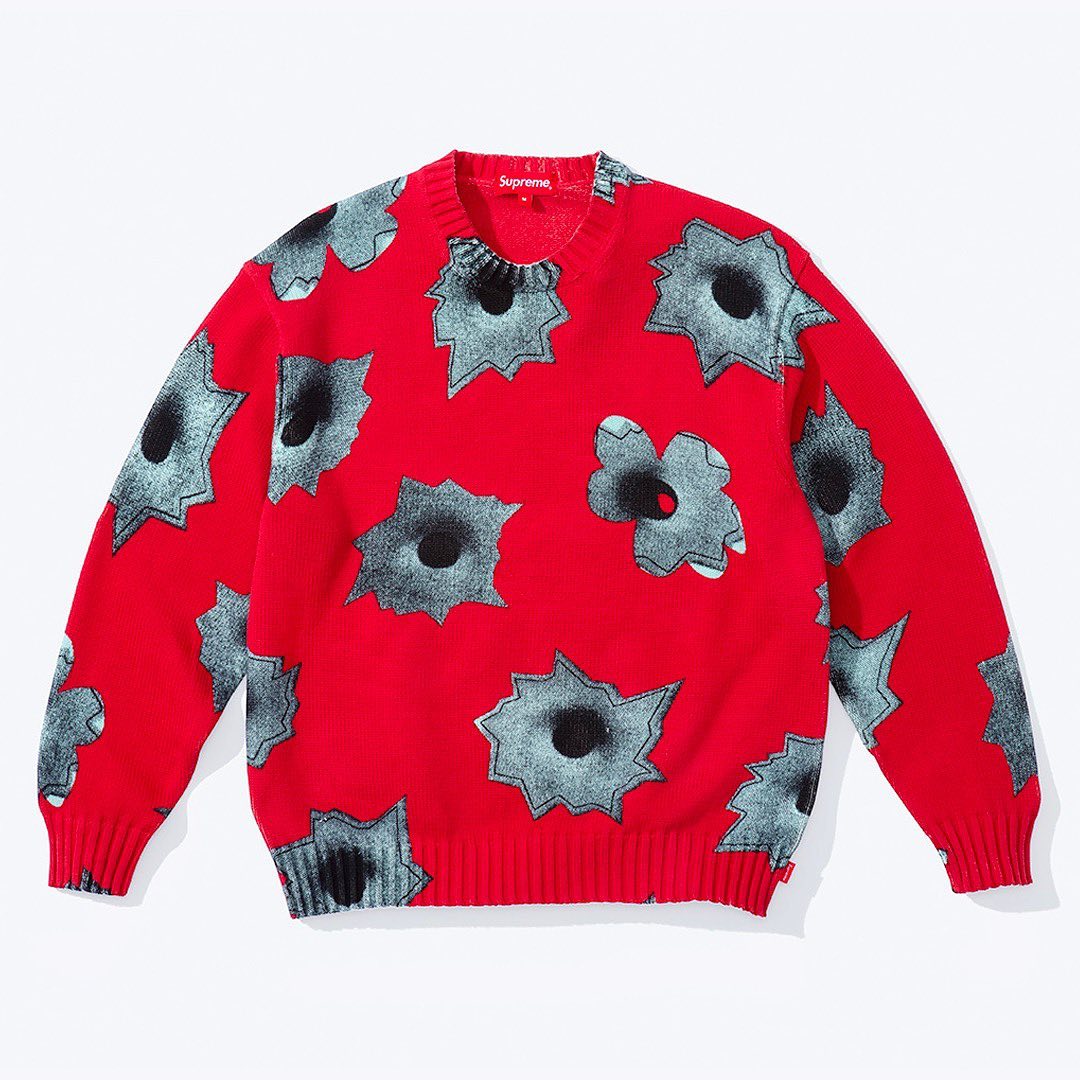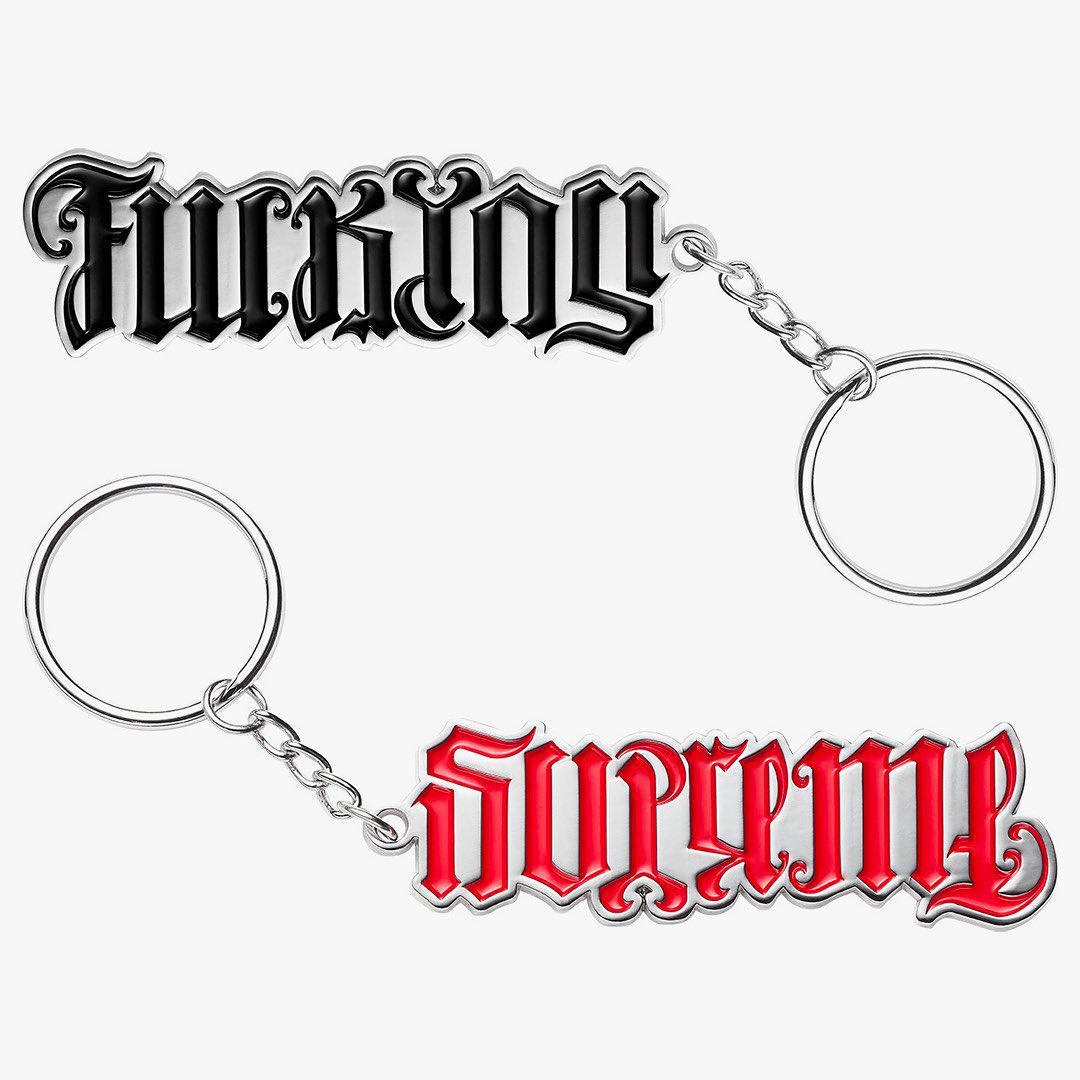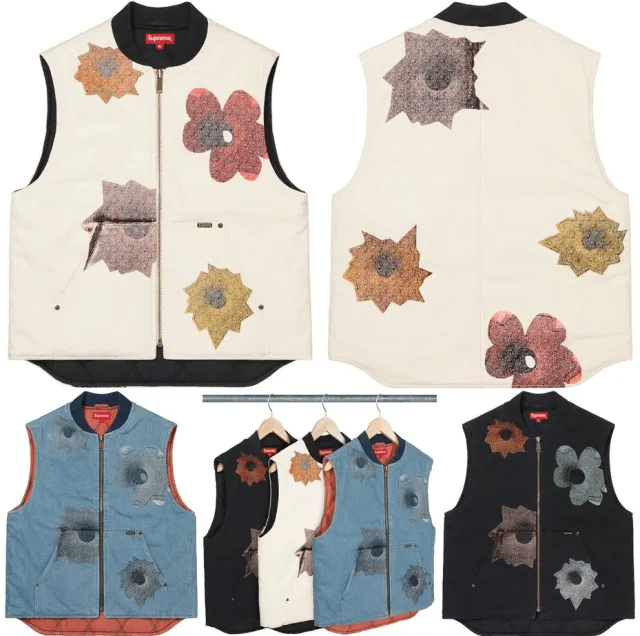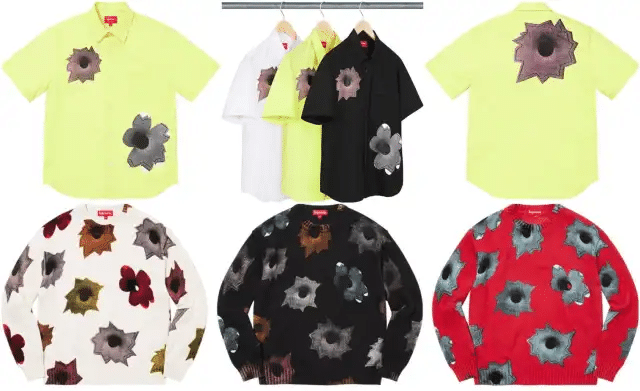 Update 09.03.2022
Supreme continues to go full throttle in Spring/Summer 2022 Week 3. After the first collab with Nike, a multi-part Burberry collection will be released on March 10th. Insiders revealed the initial leaks weeks ago, but no one could have known the pieces would reach us so soon.
Burberry's signature check pattern covers several jackets, hoodies, trousers, shorts, and more. The colours to choose from are brown, pink, black, red, and blue, although the skate decks will only be available in brown and pink. So, stay tuned and don't miss the drop on March 10th at supremenewyork.com.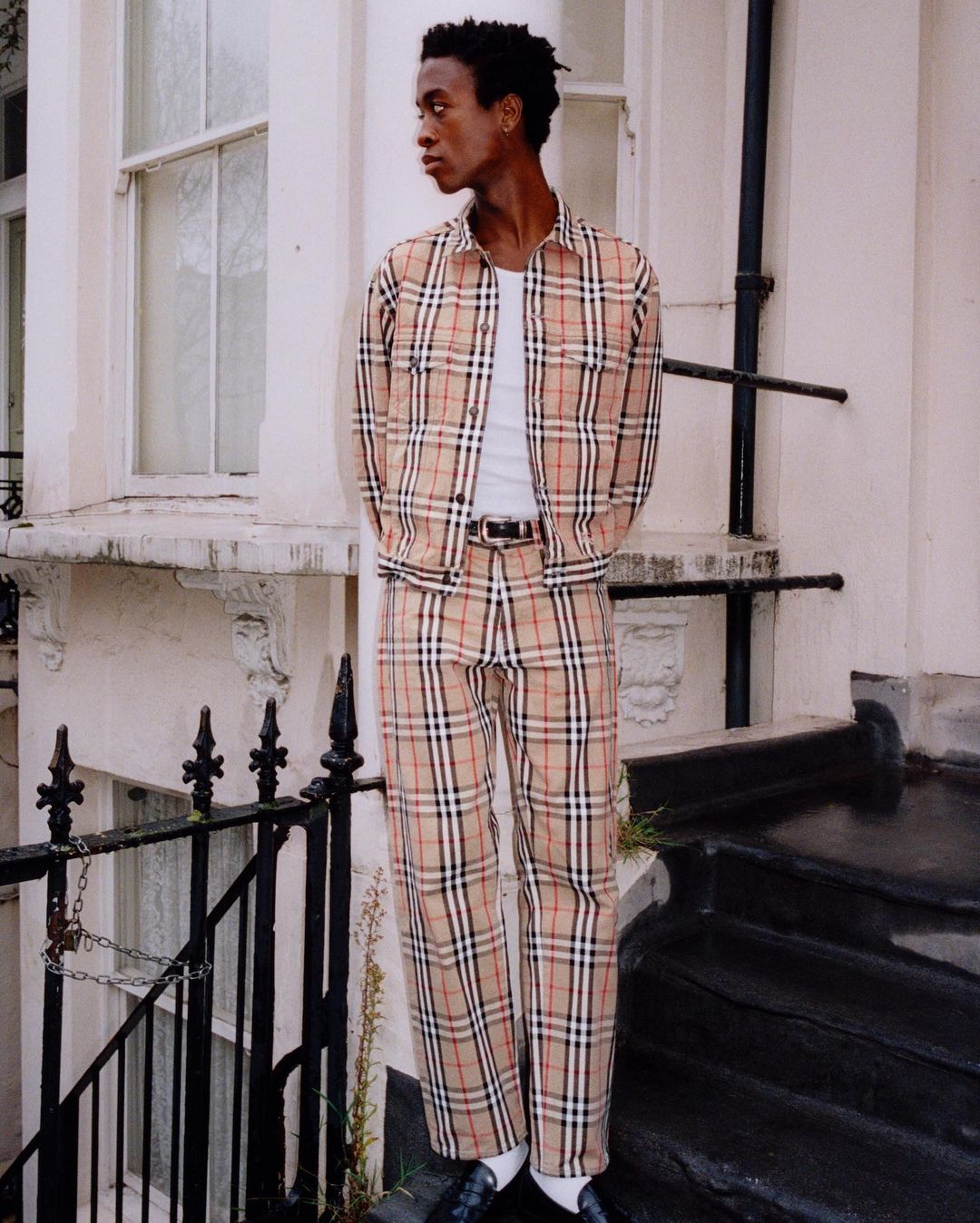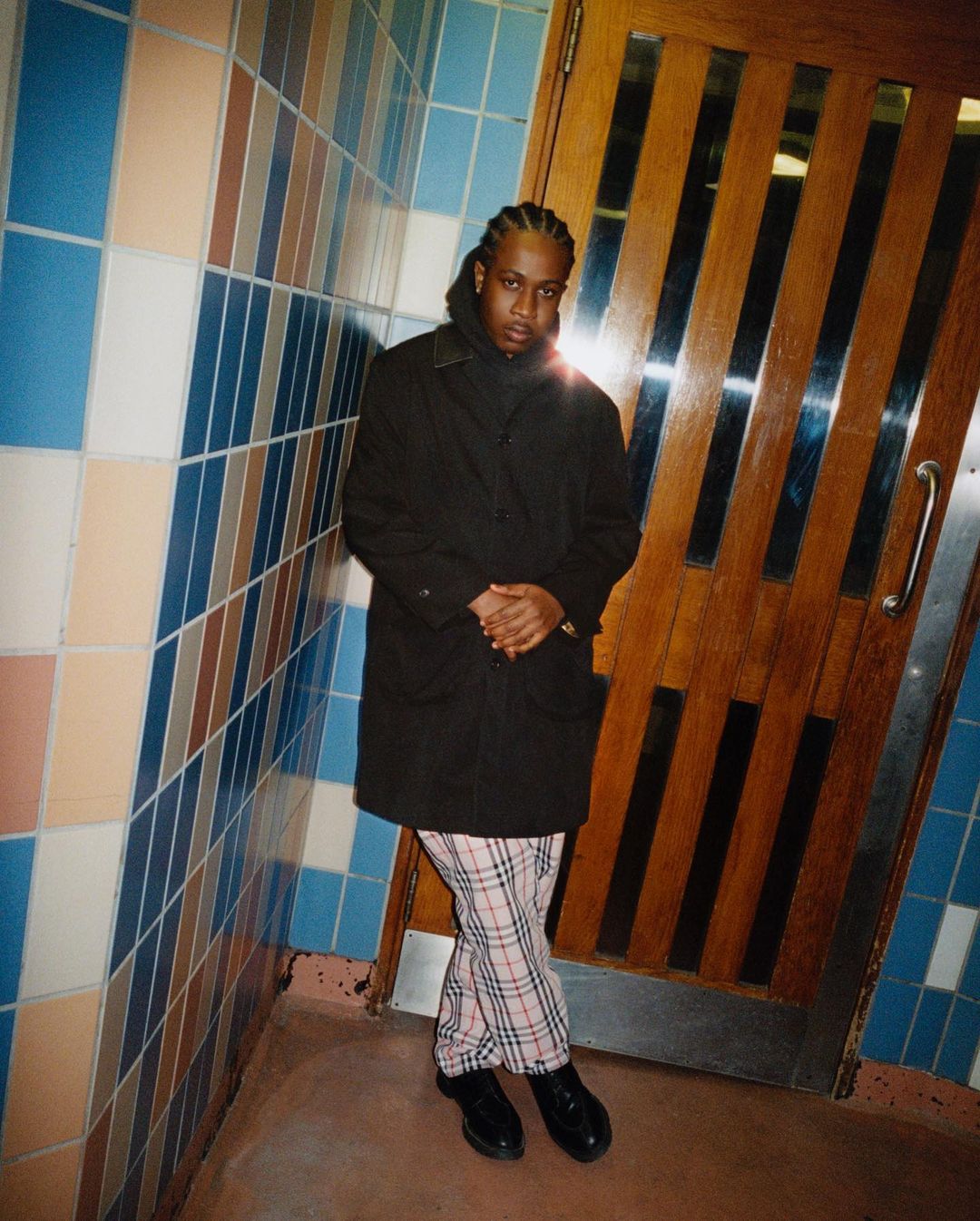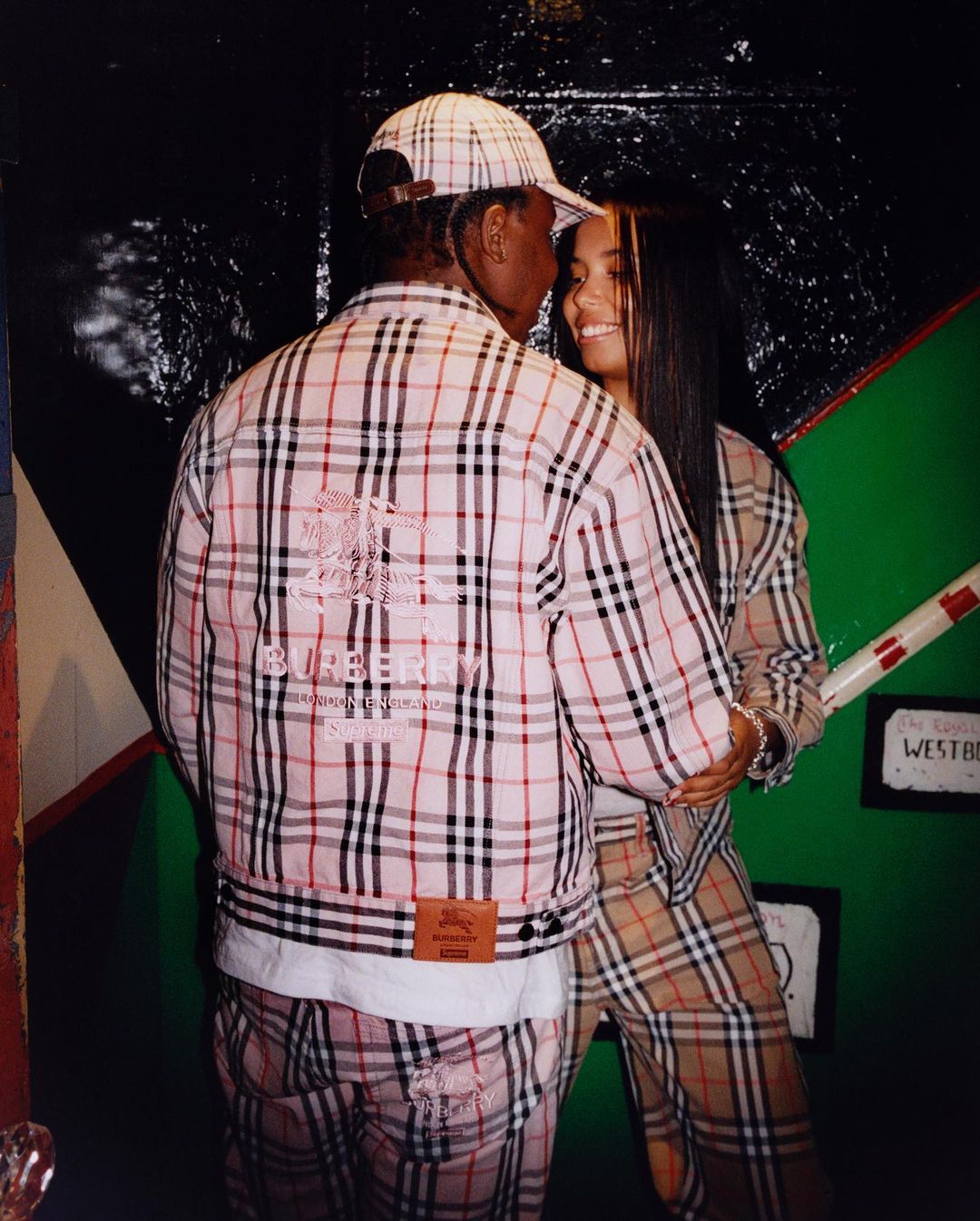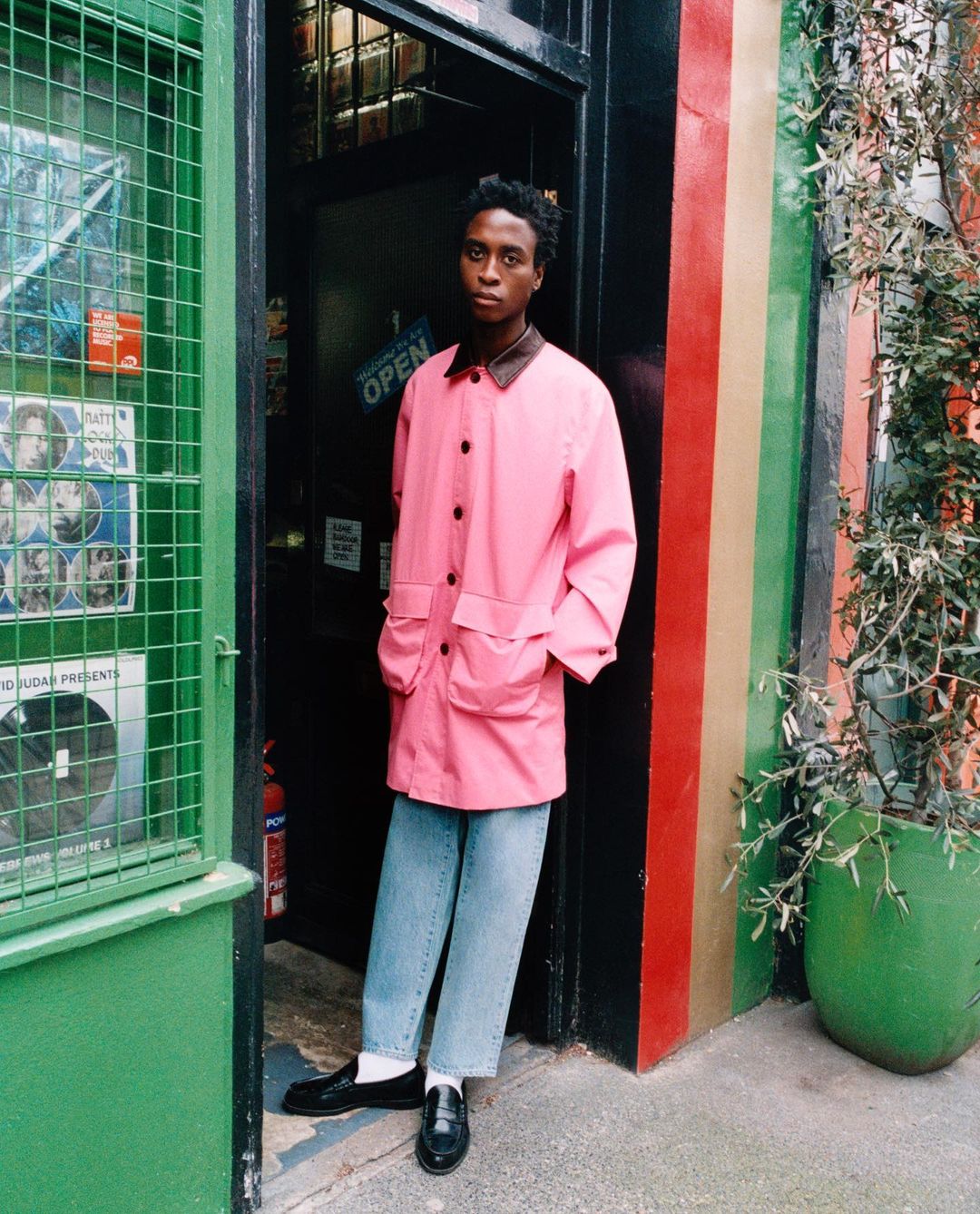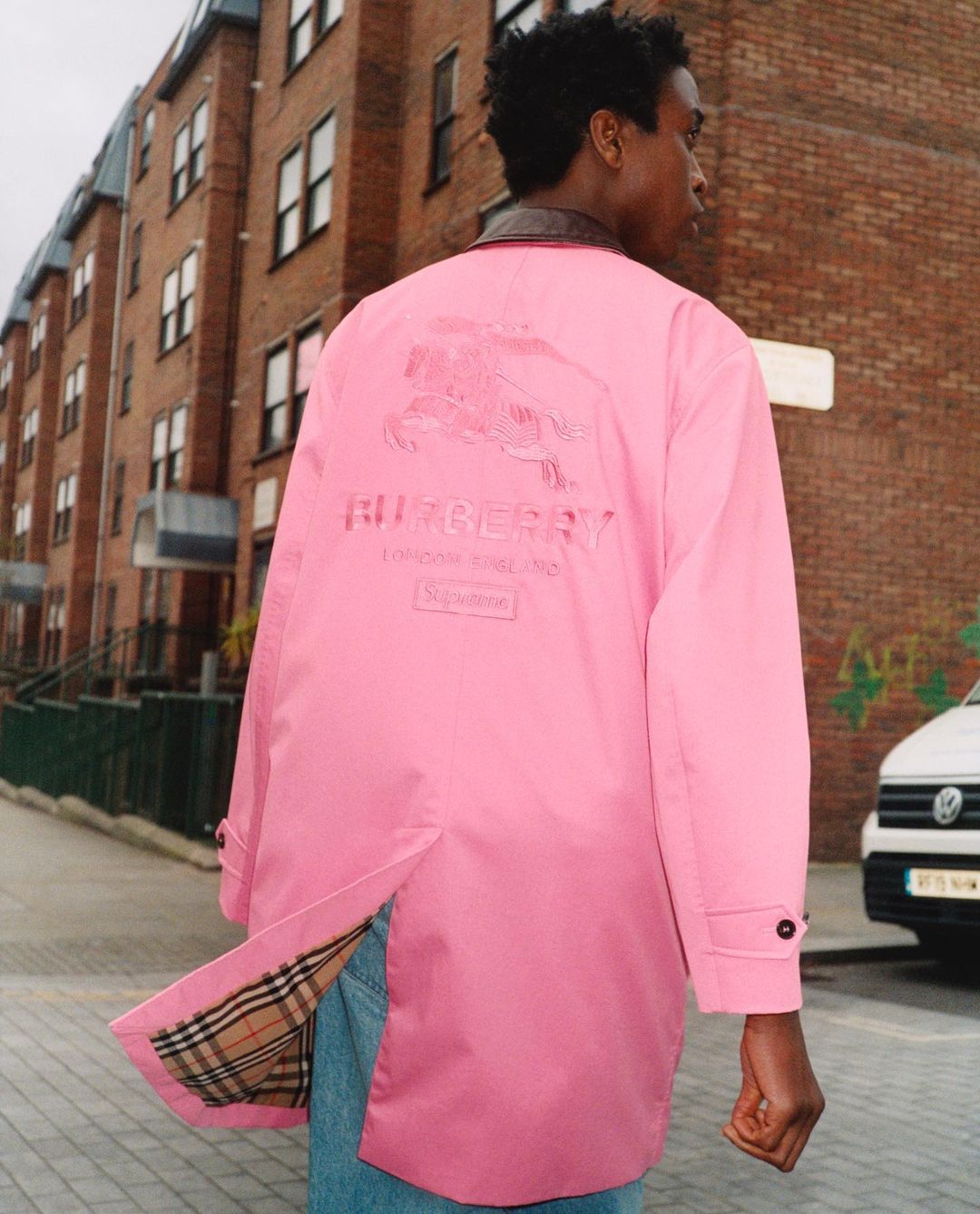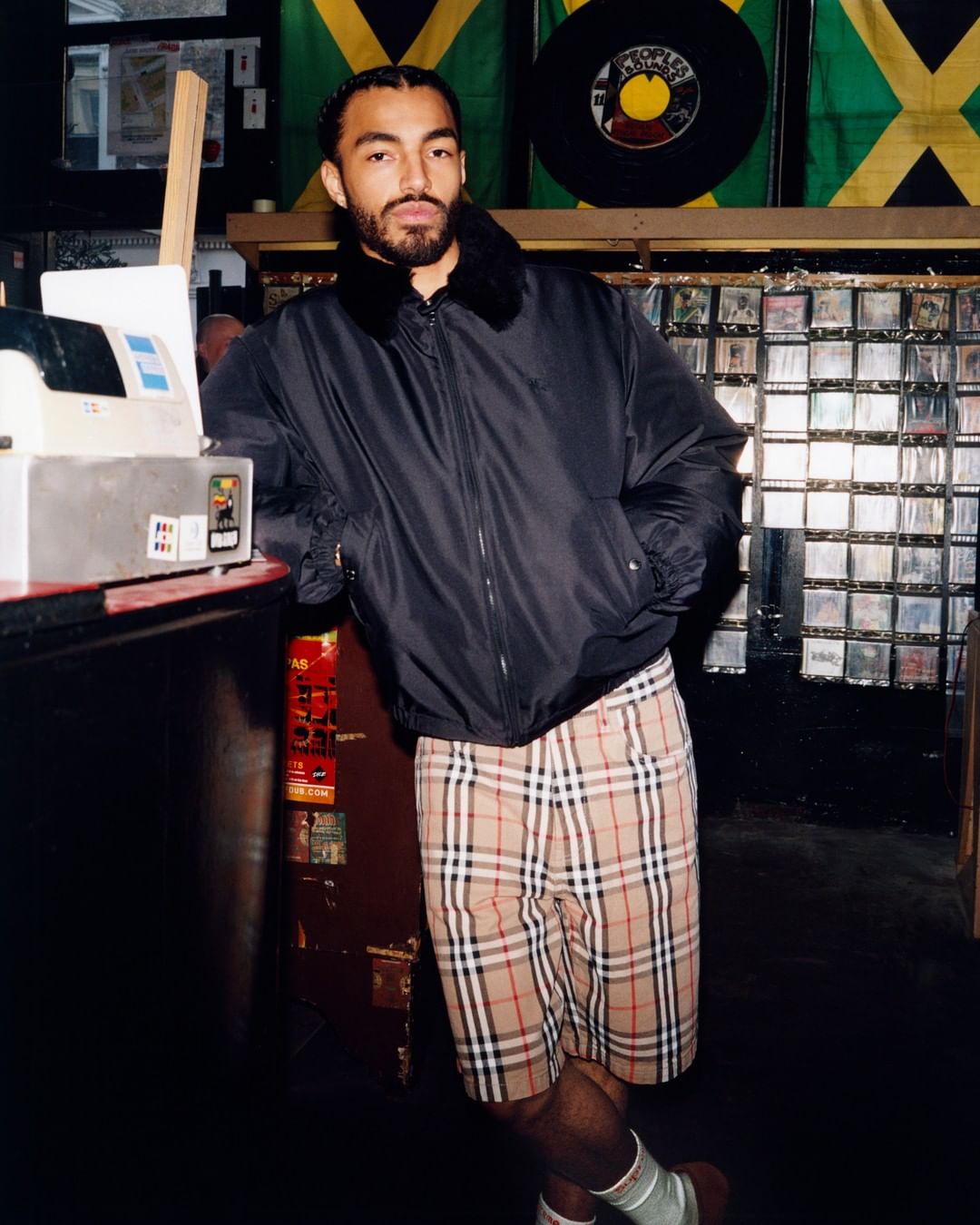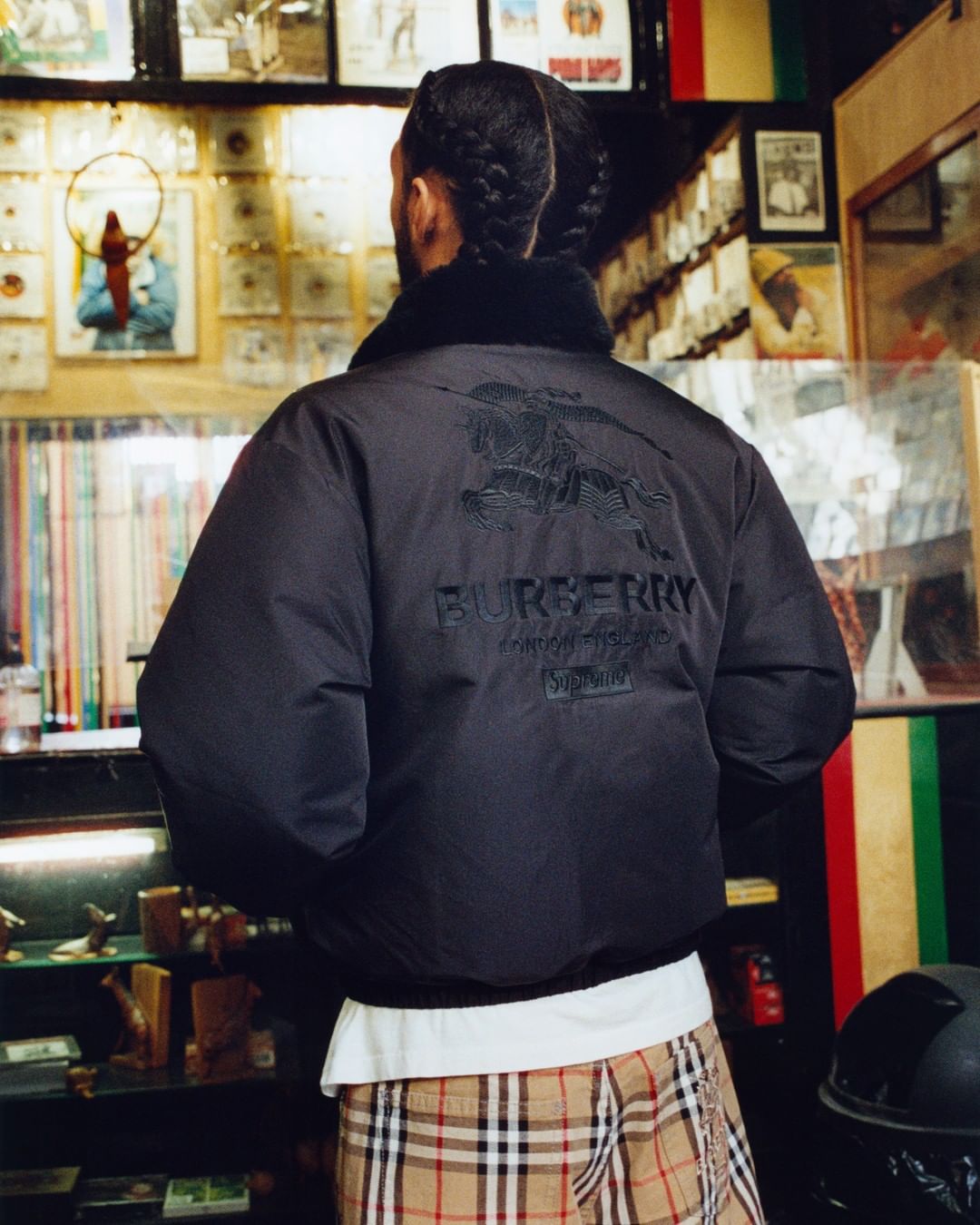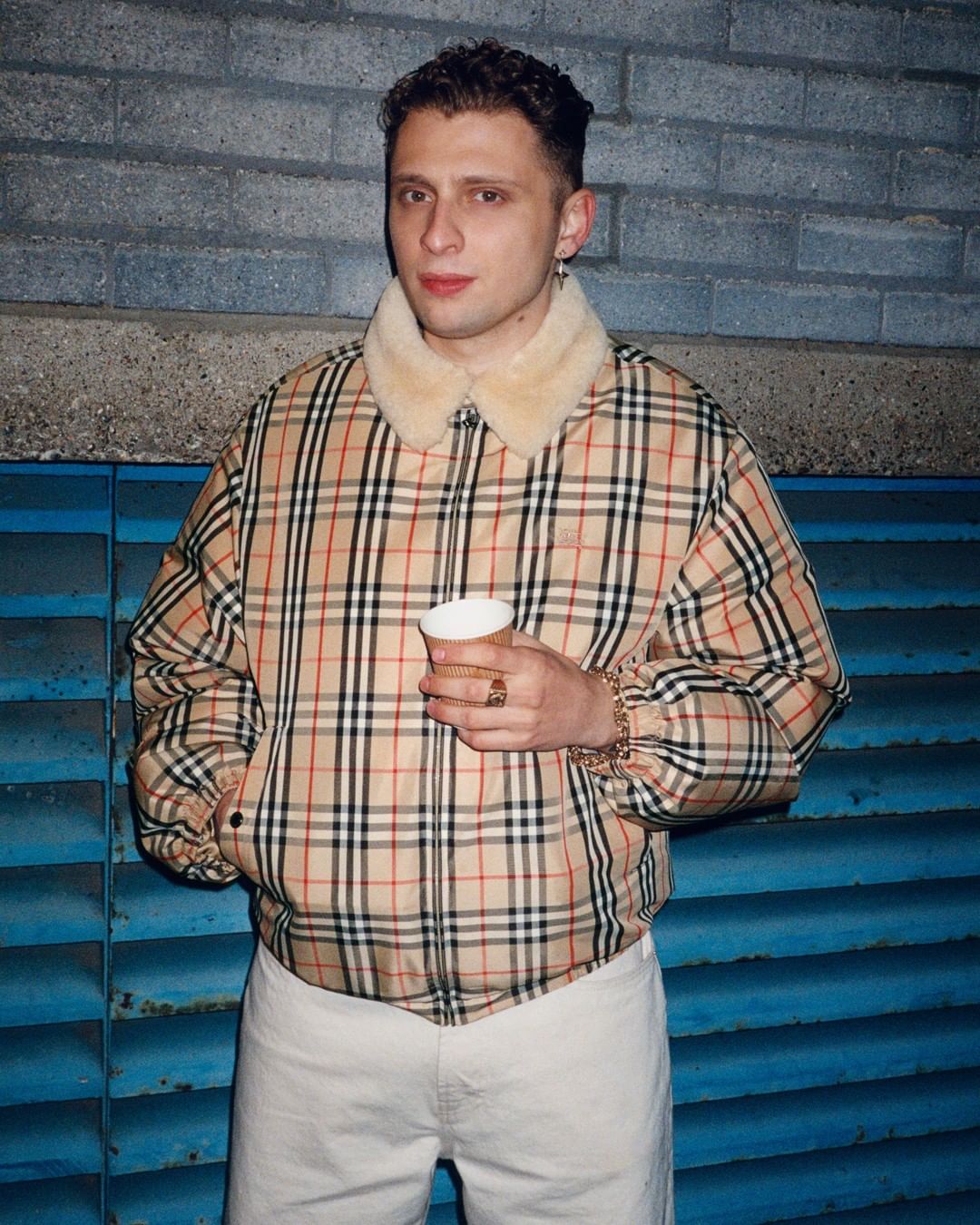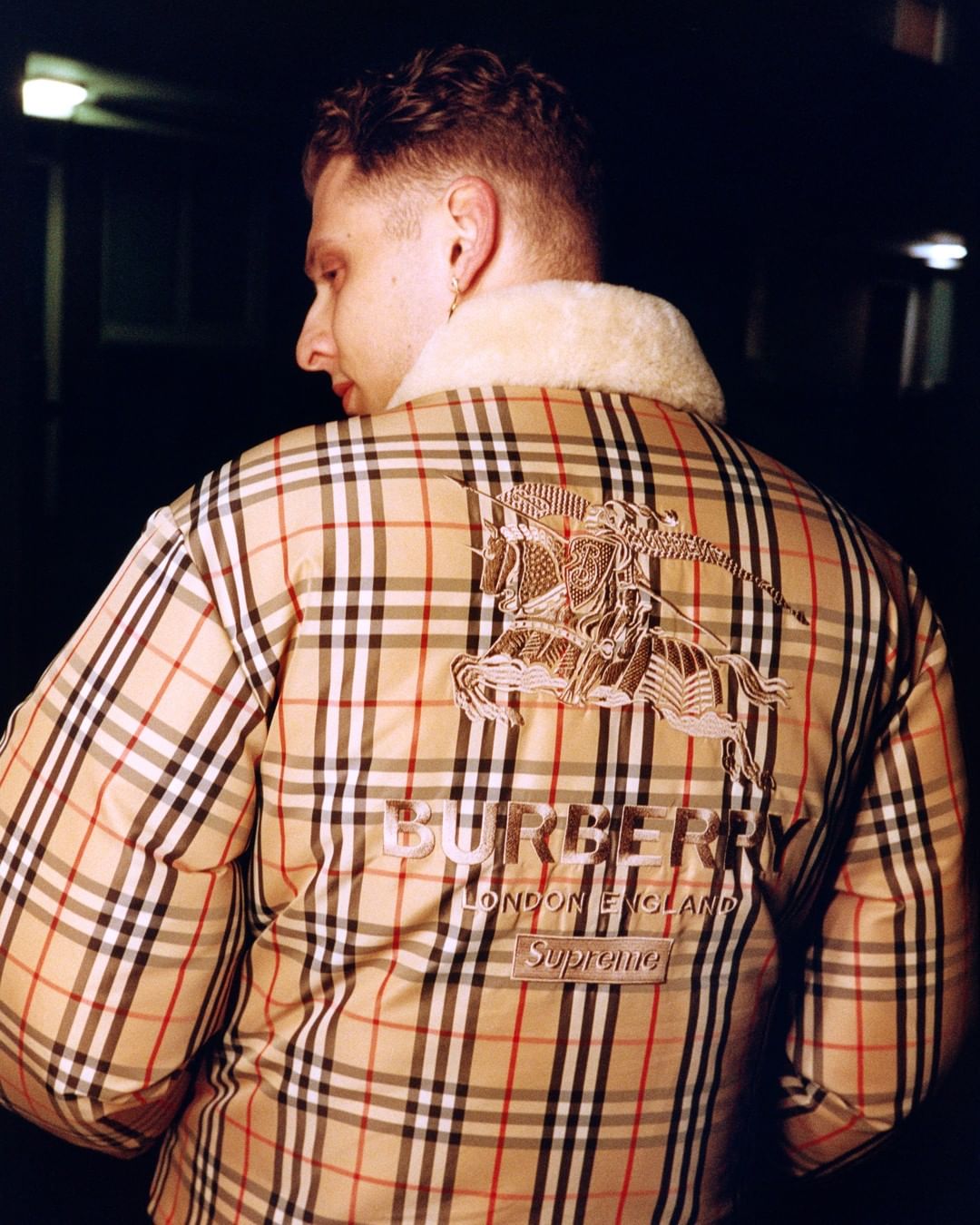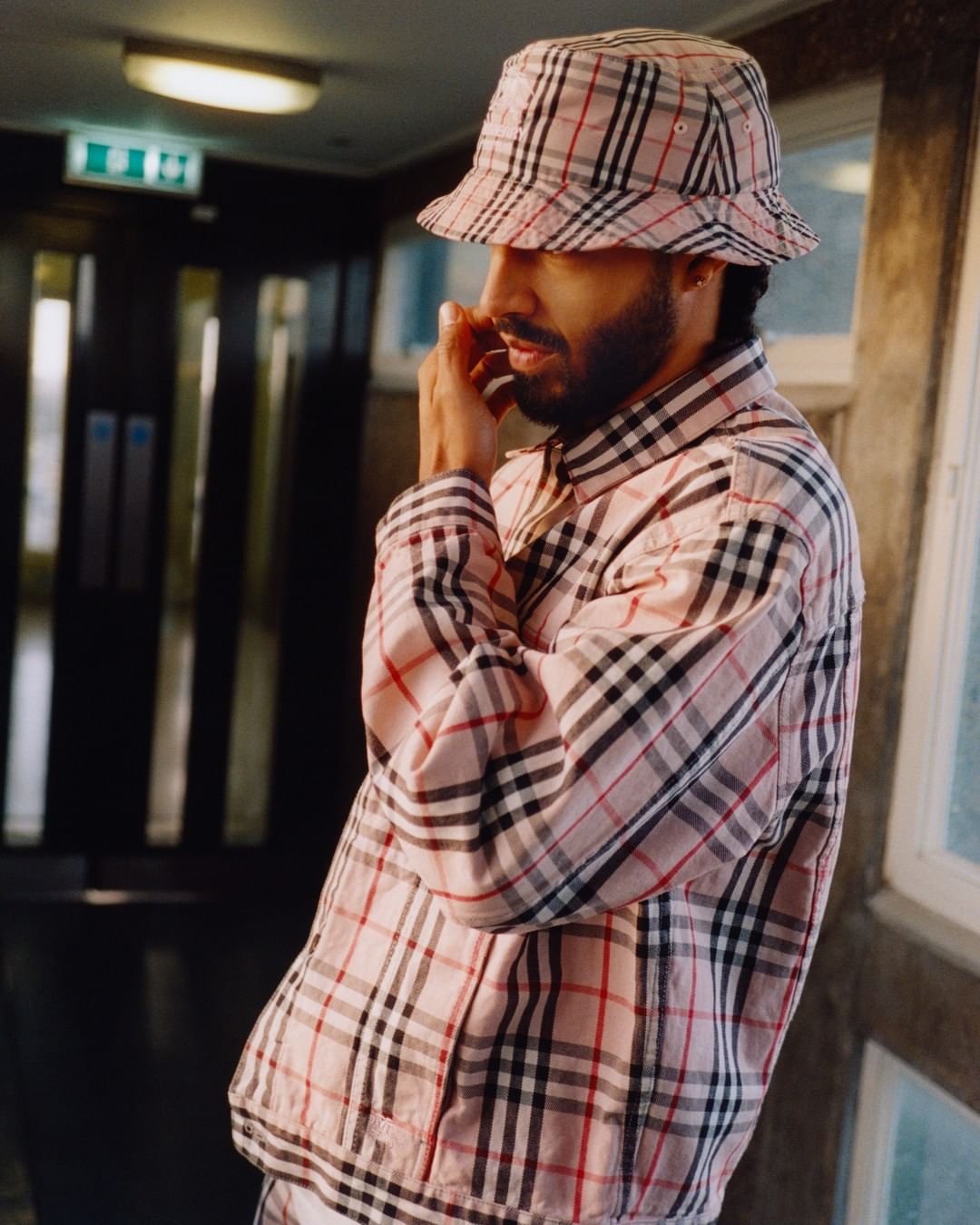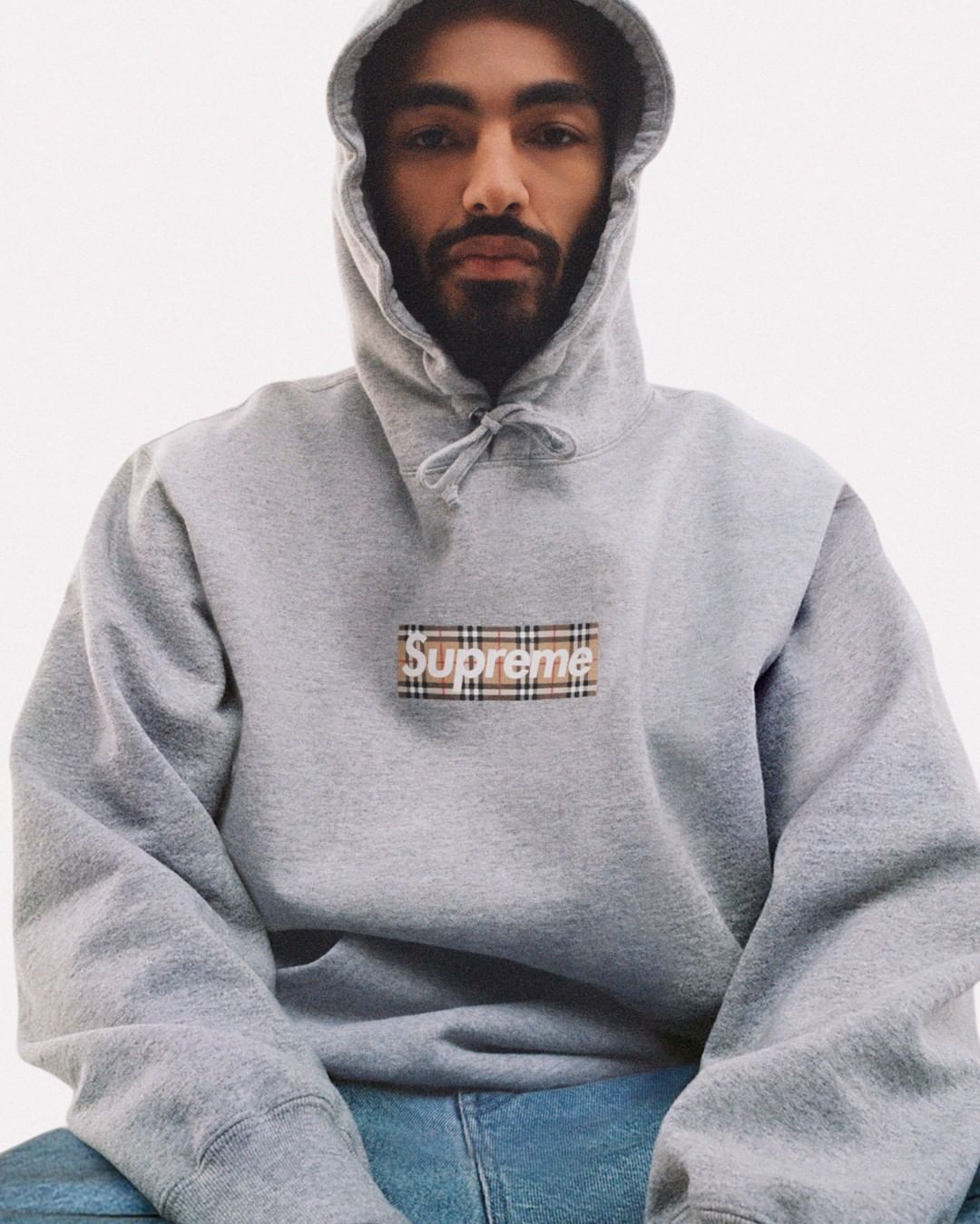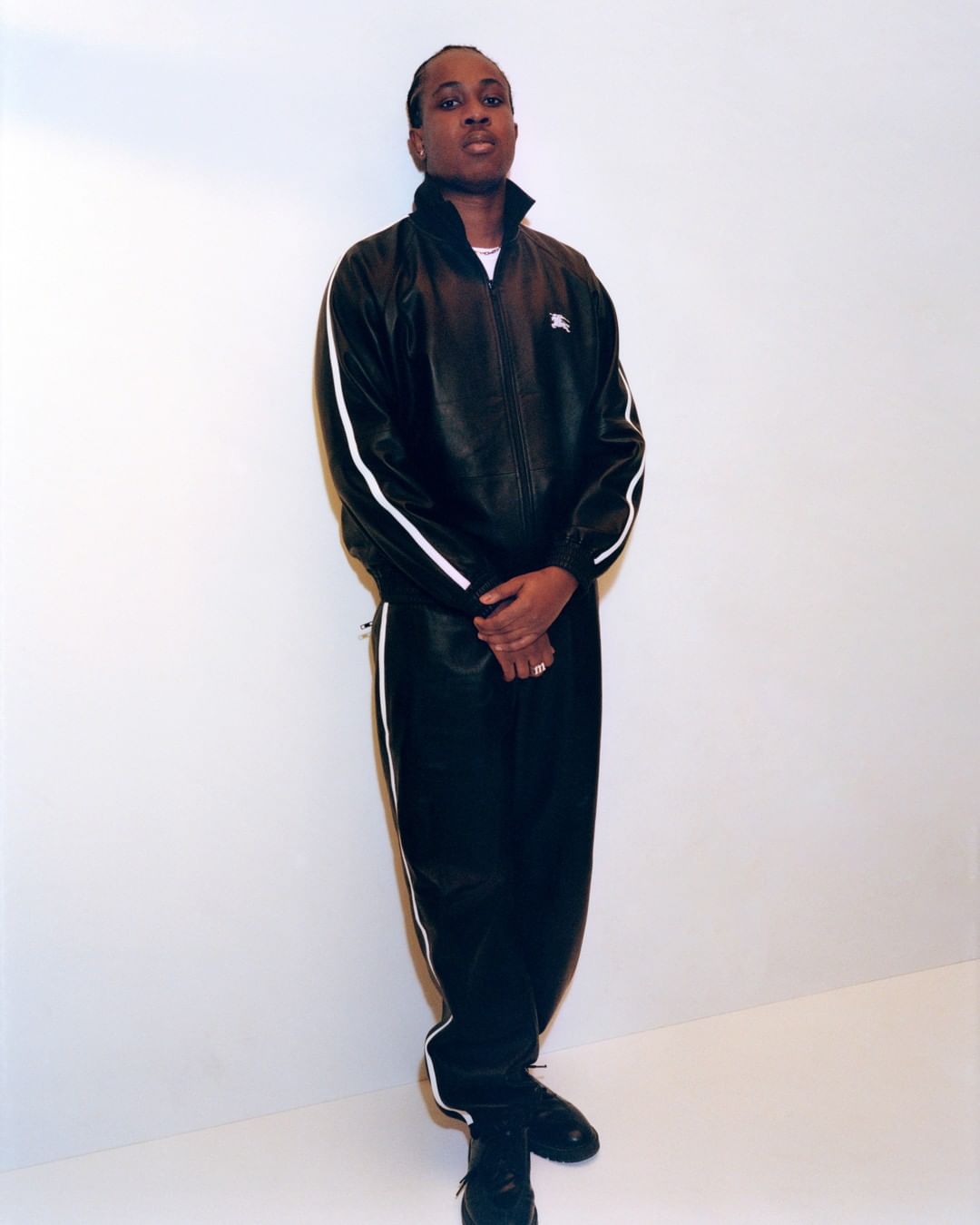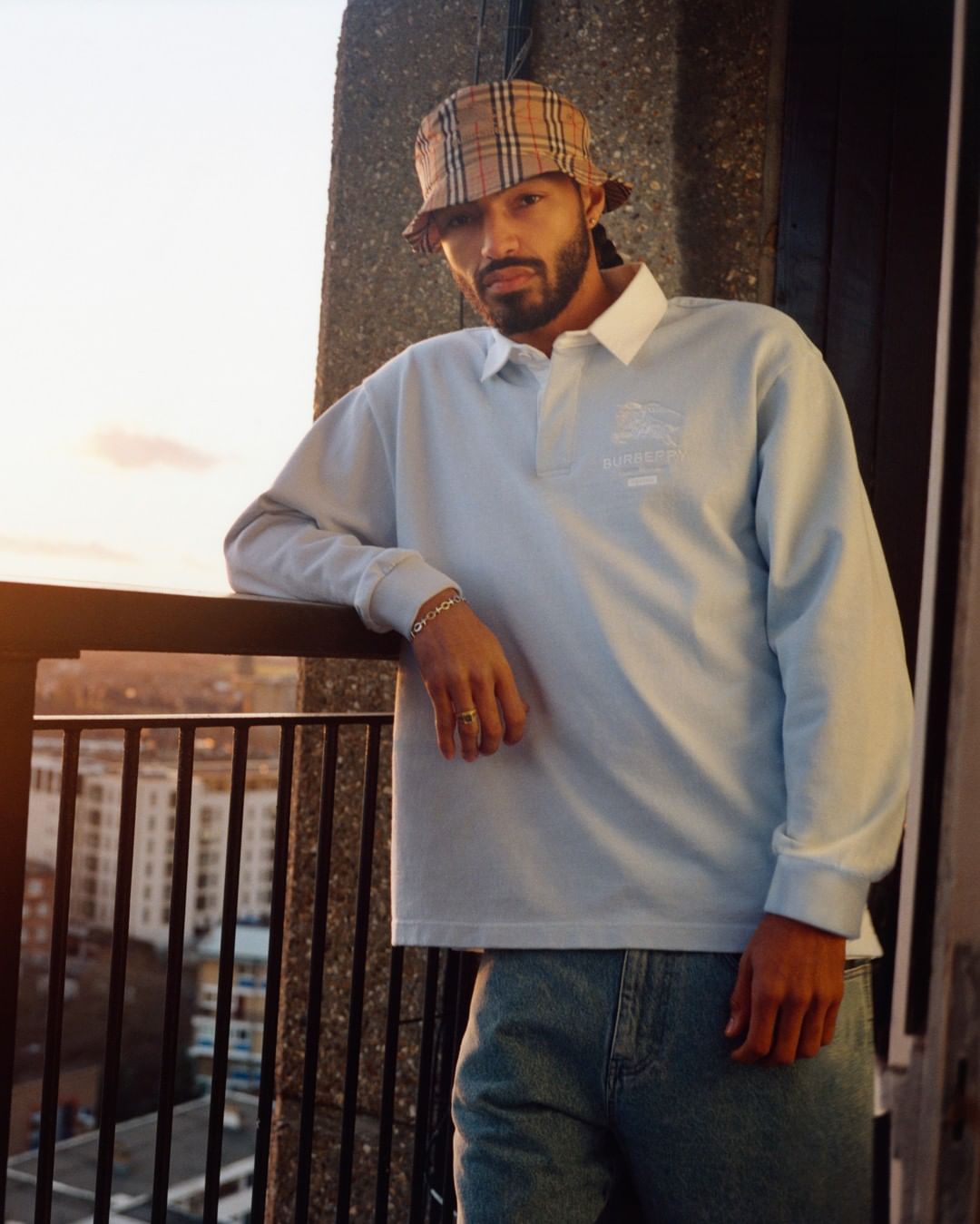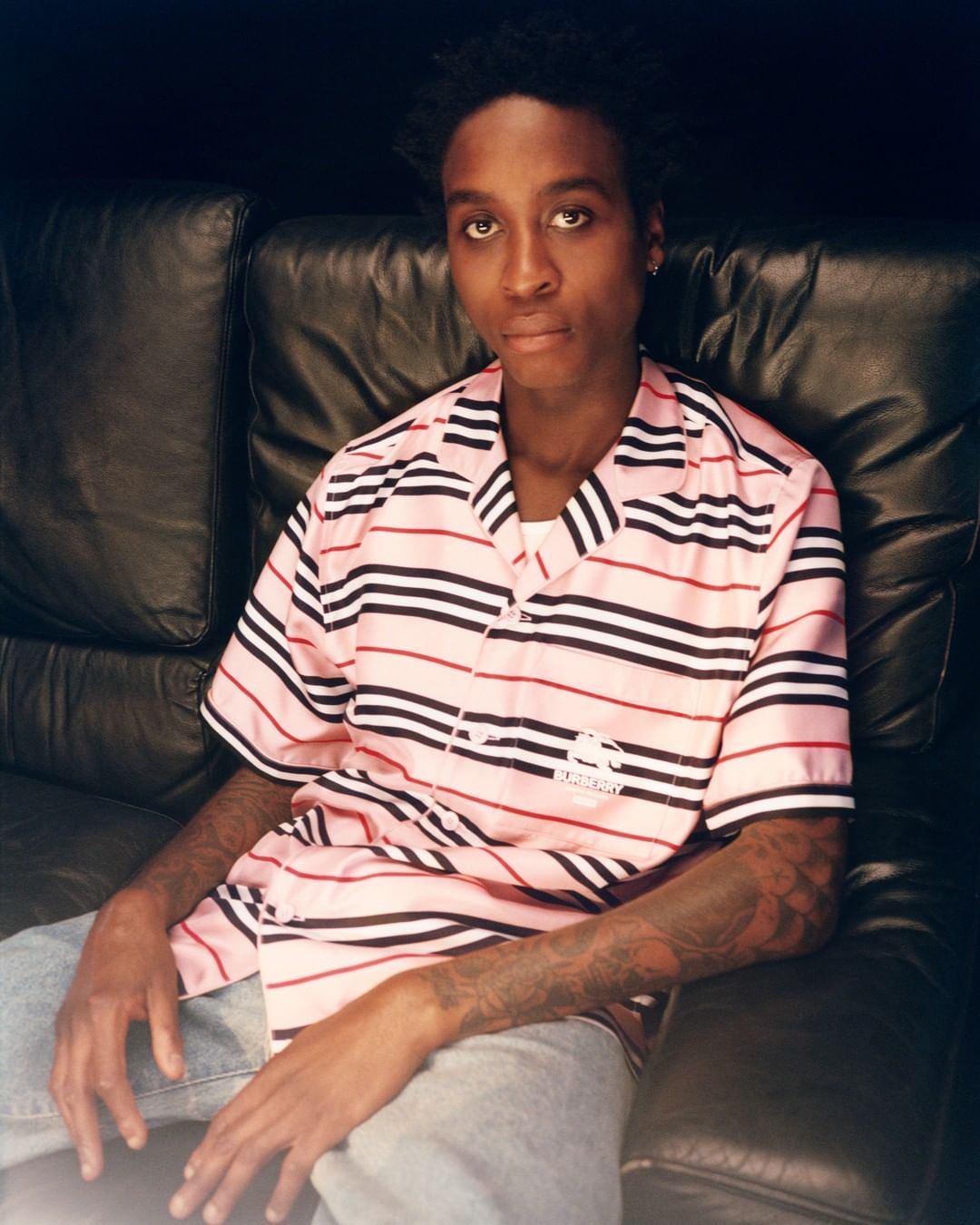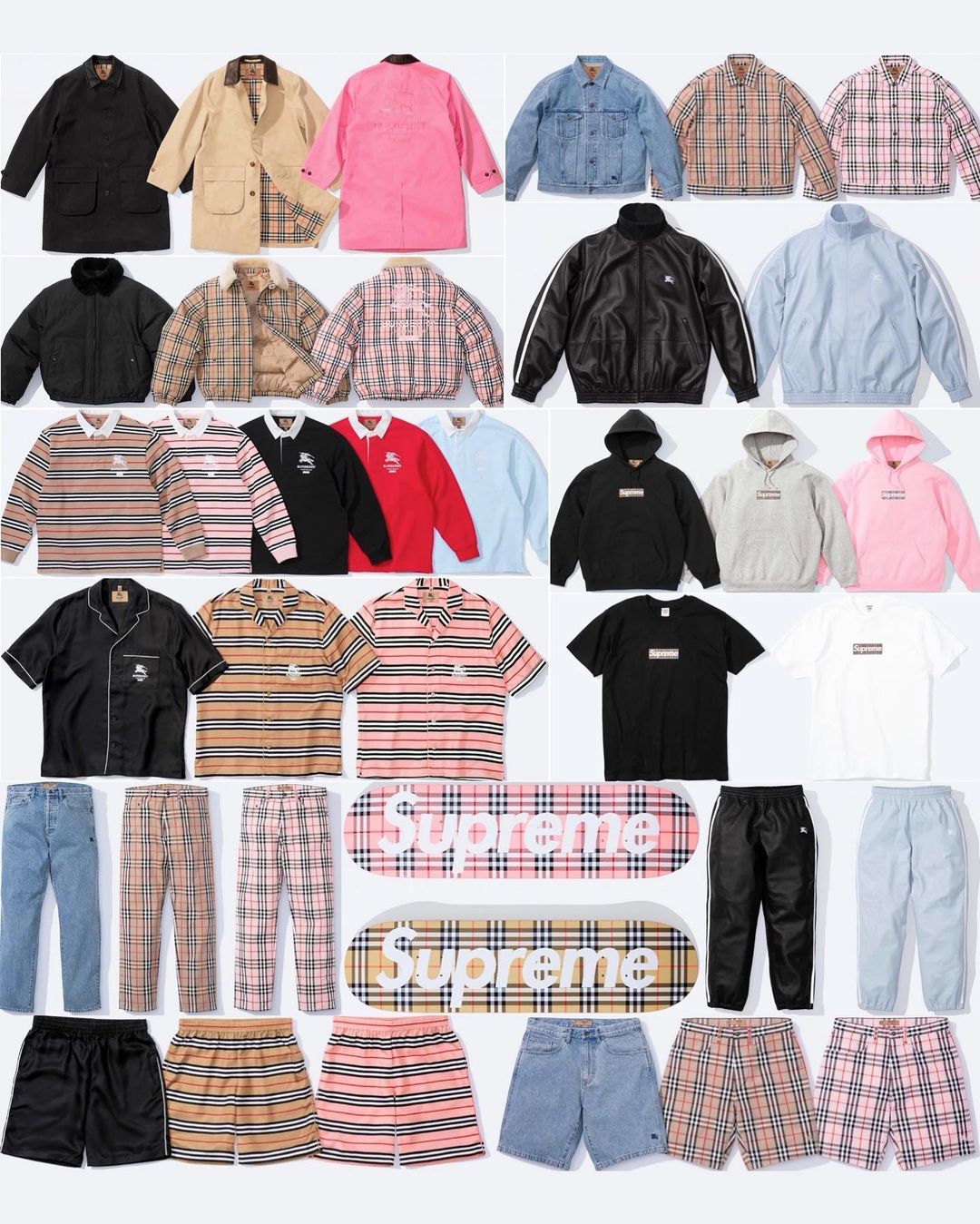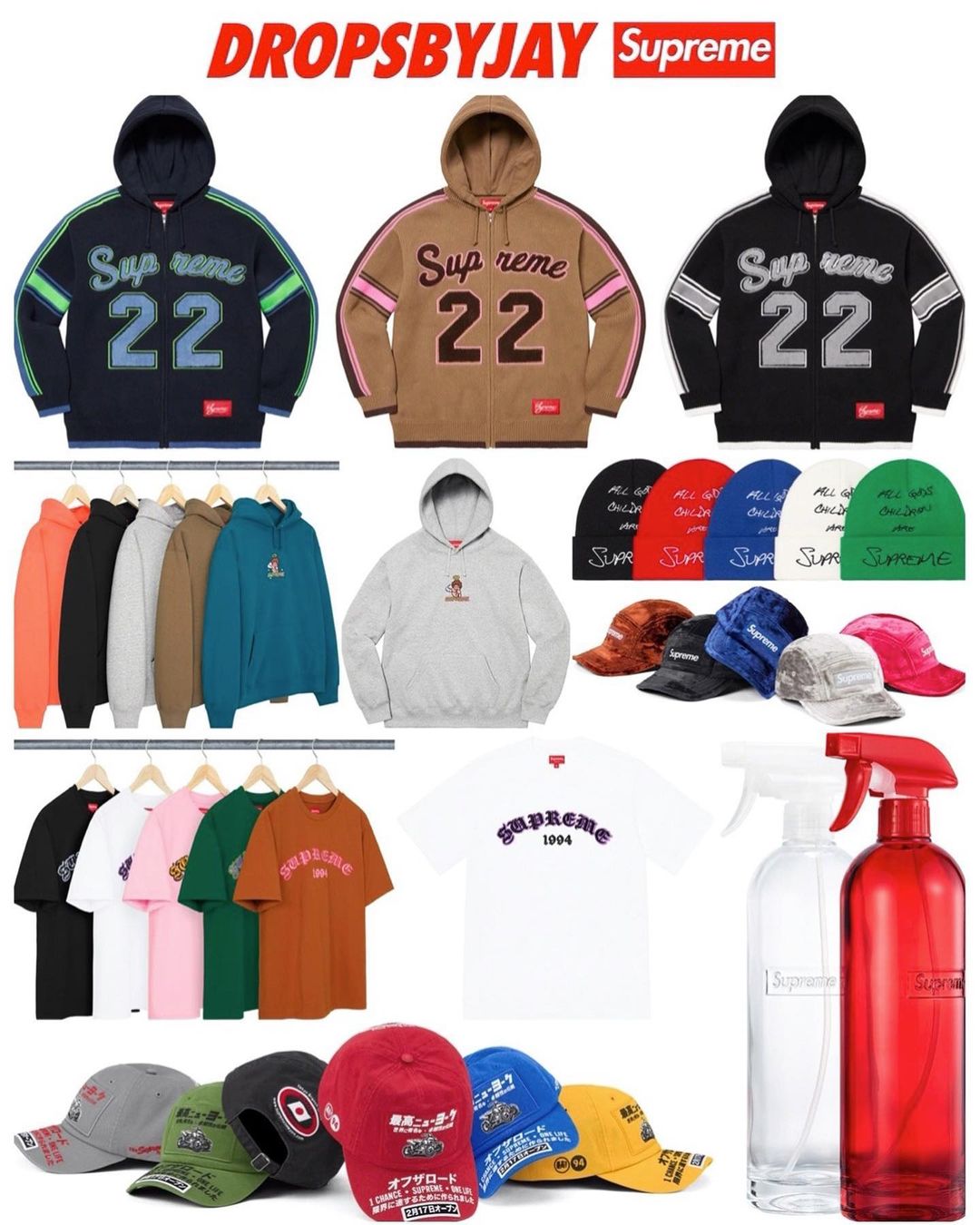 Update 02.03.2022
For the Supreme Spring/Summer 2022 collection, Nike has once again made itself available, designing a multi-part sneaker capsule with the streetwear label. On March 3rd, three Supreme x Nike SB Dunk High "By Any Means" models will be released, which we've already presented to you here. No new clothing items for Week 2 have been mentioned at this time.
It also seems that the three-piece Nike SB collection will only drop in the Supreme shop, as a Nike SNKRS release has not yet been confirmed.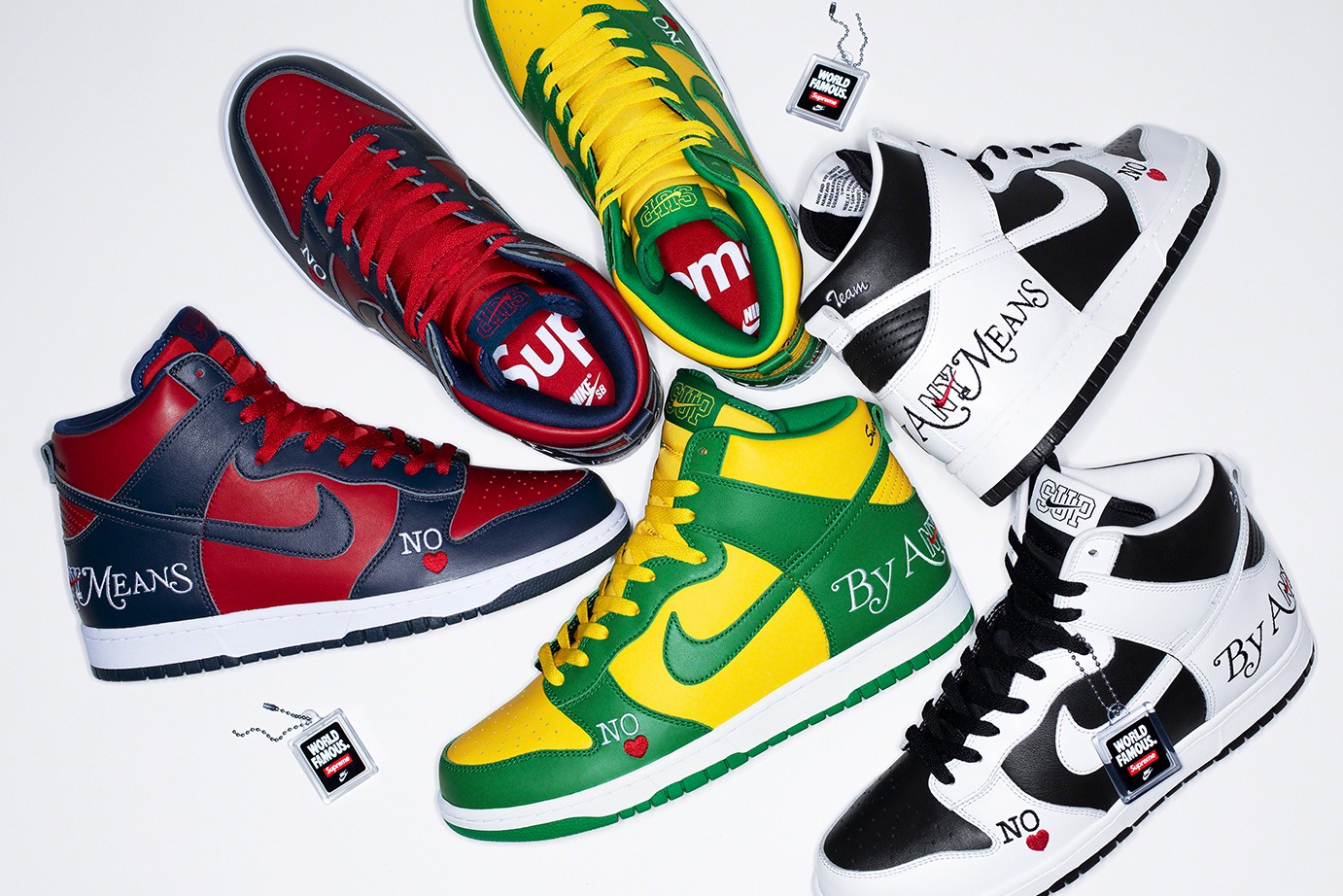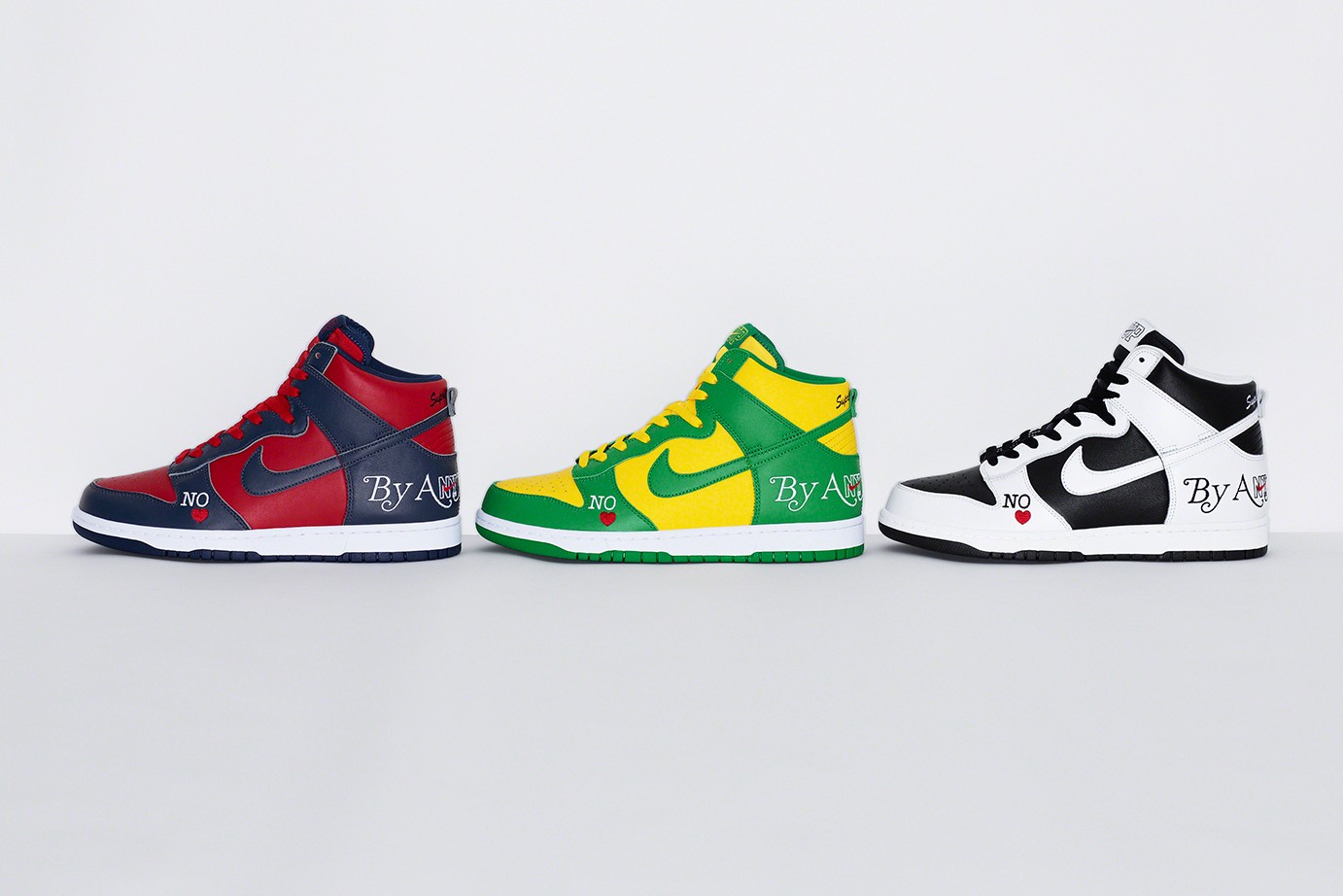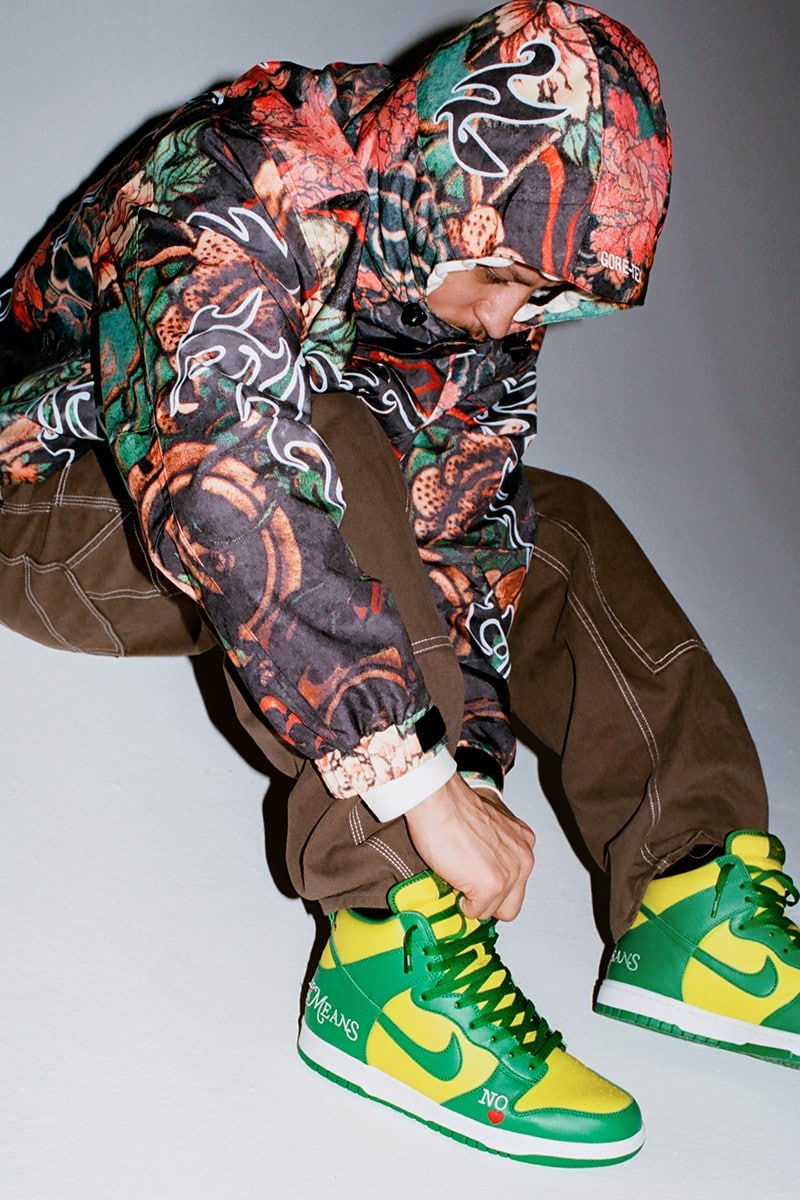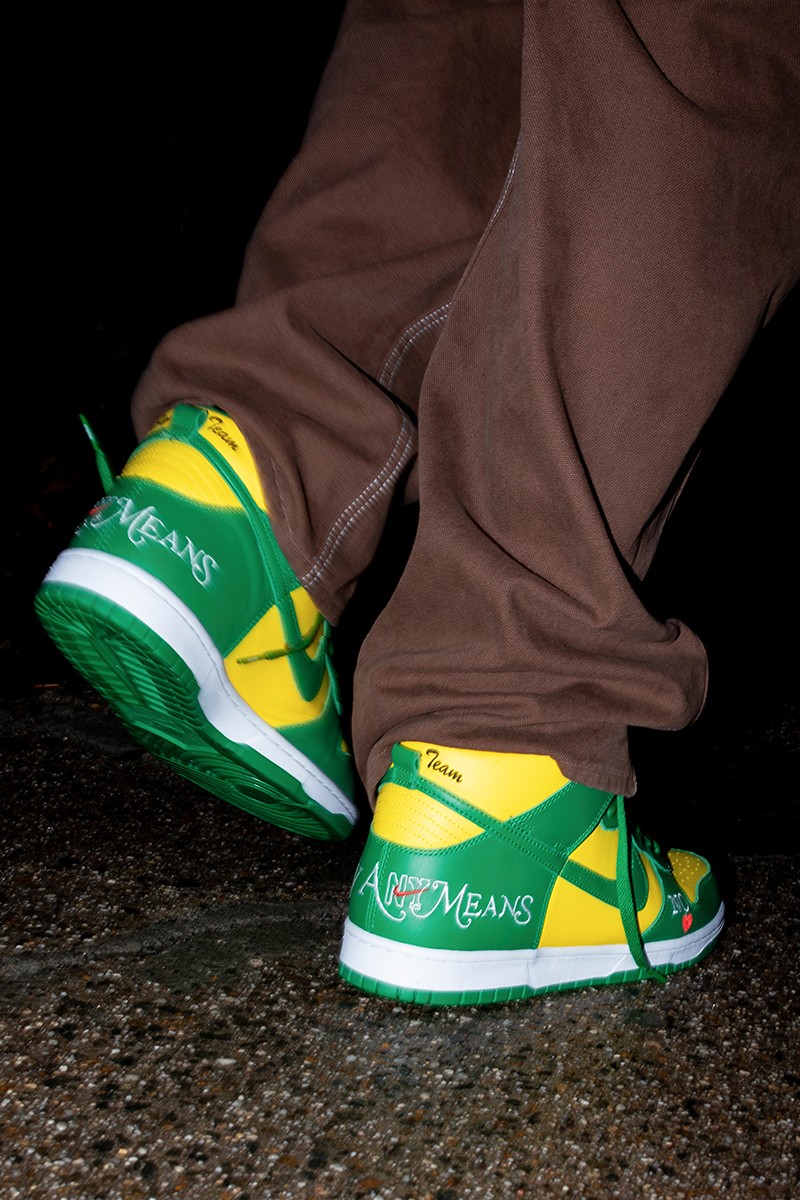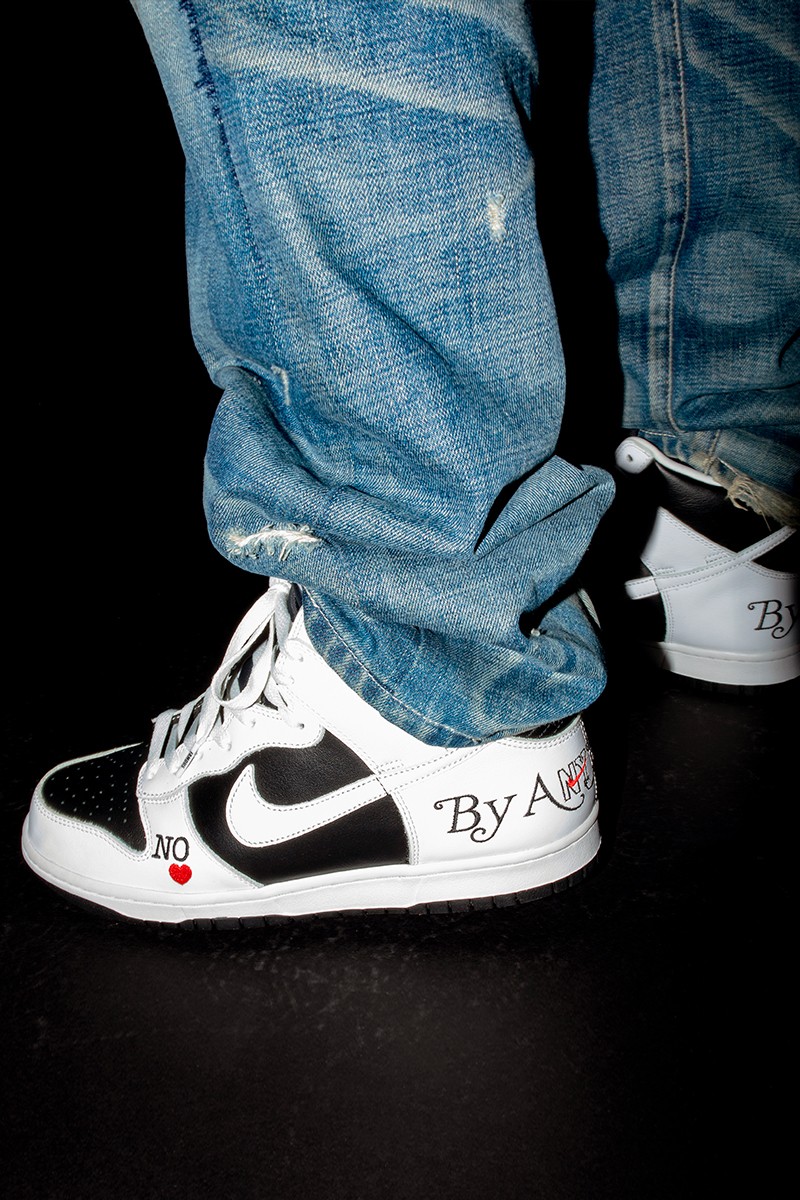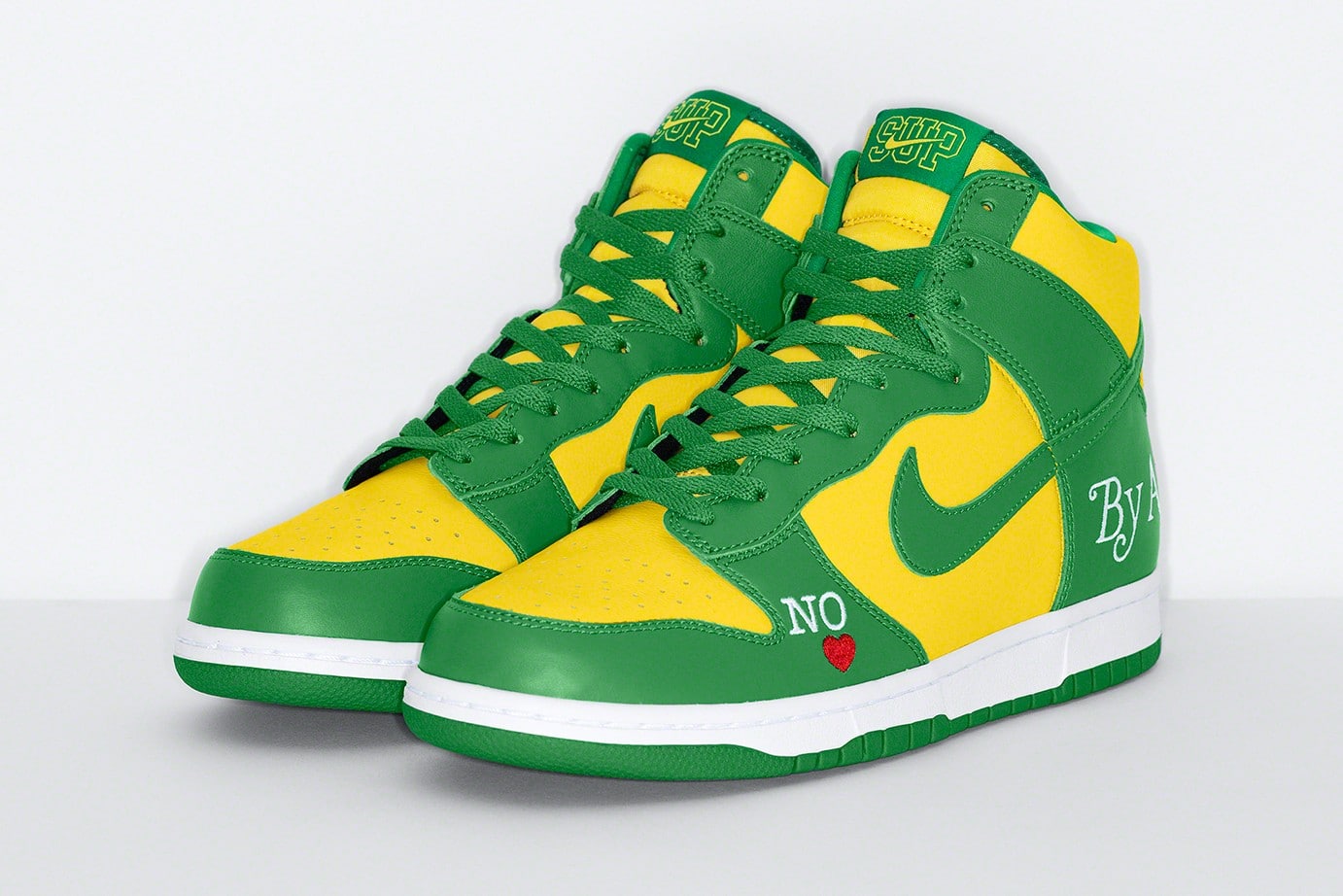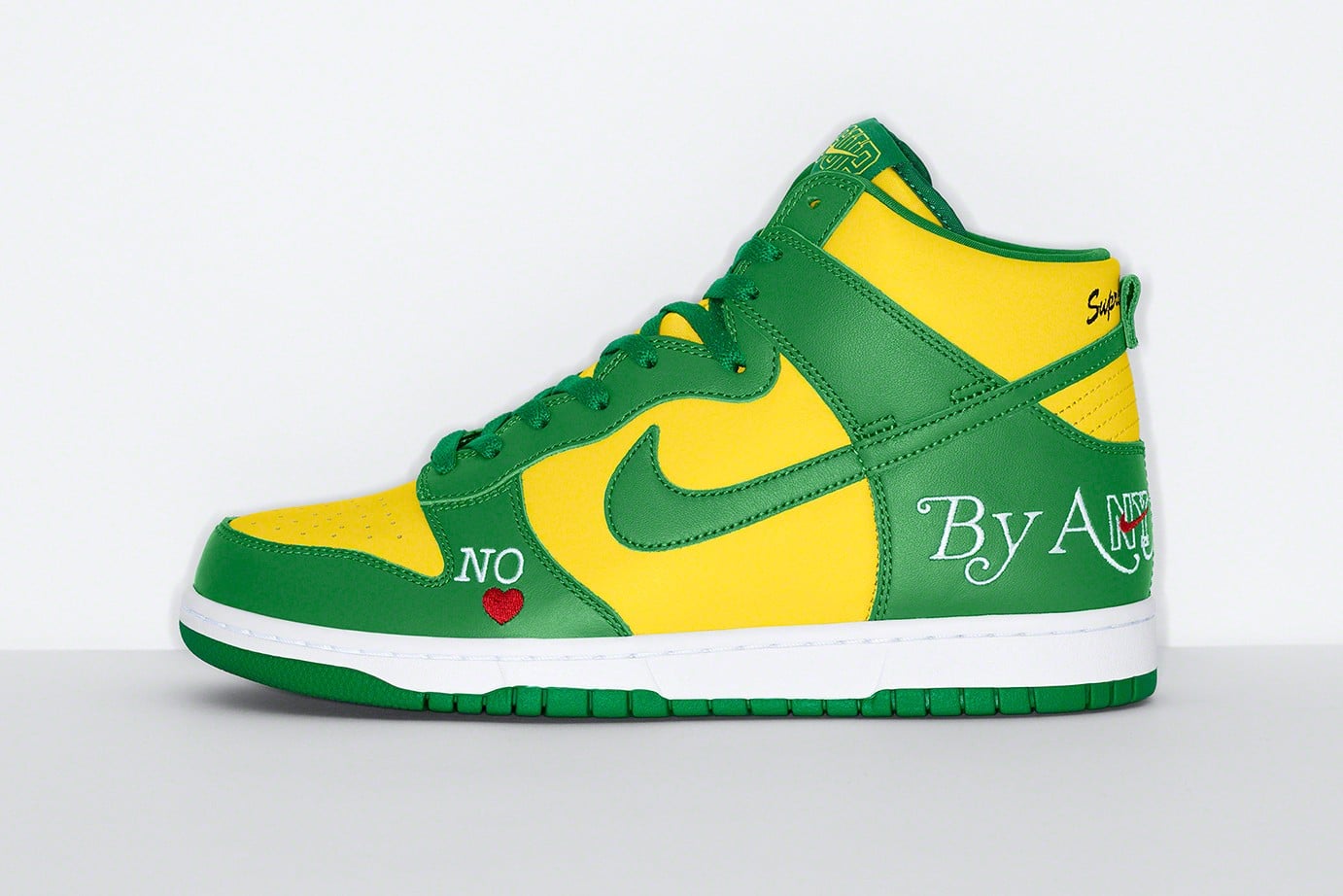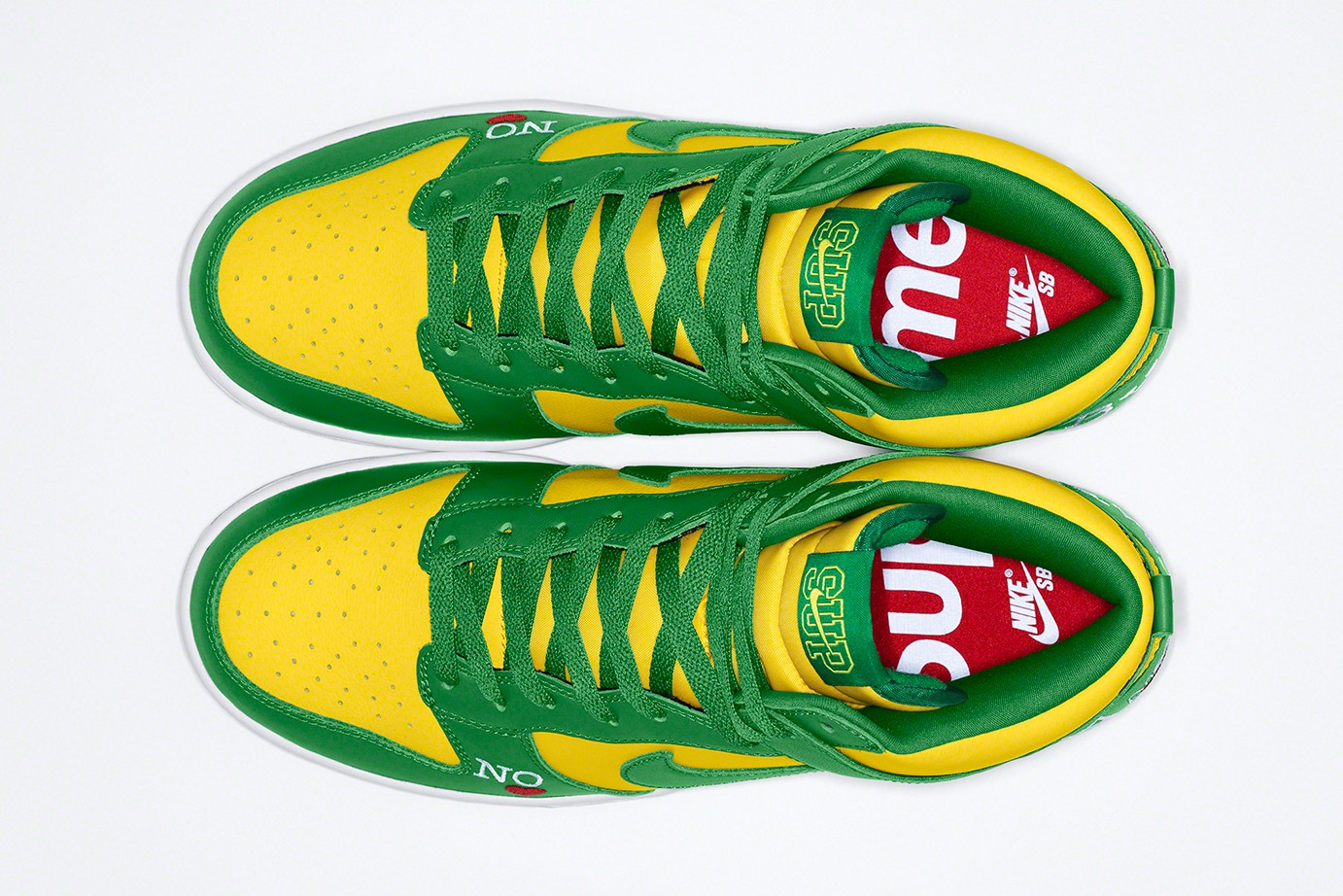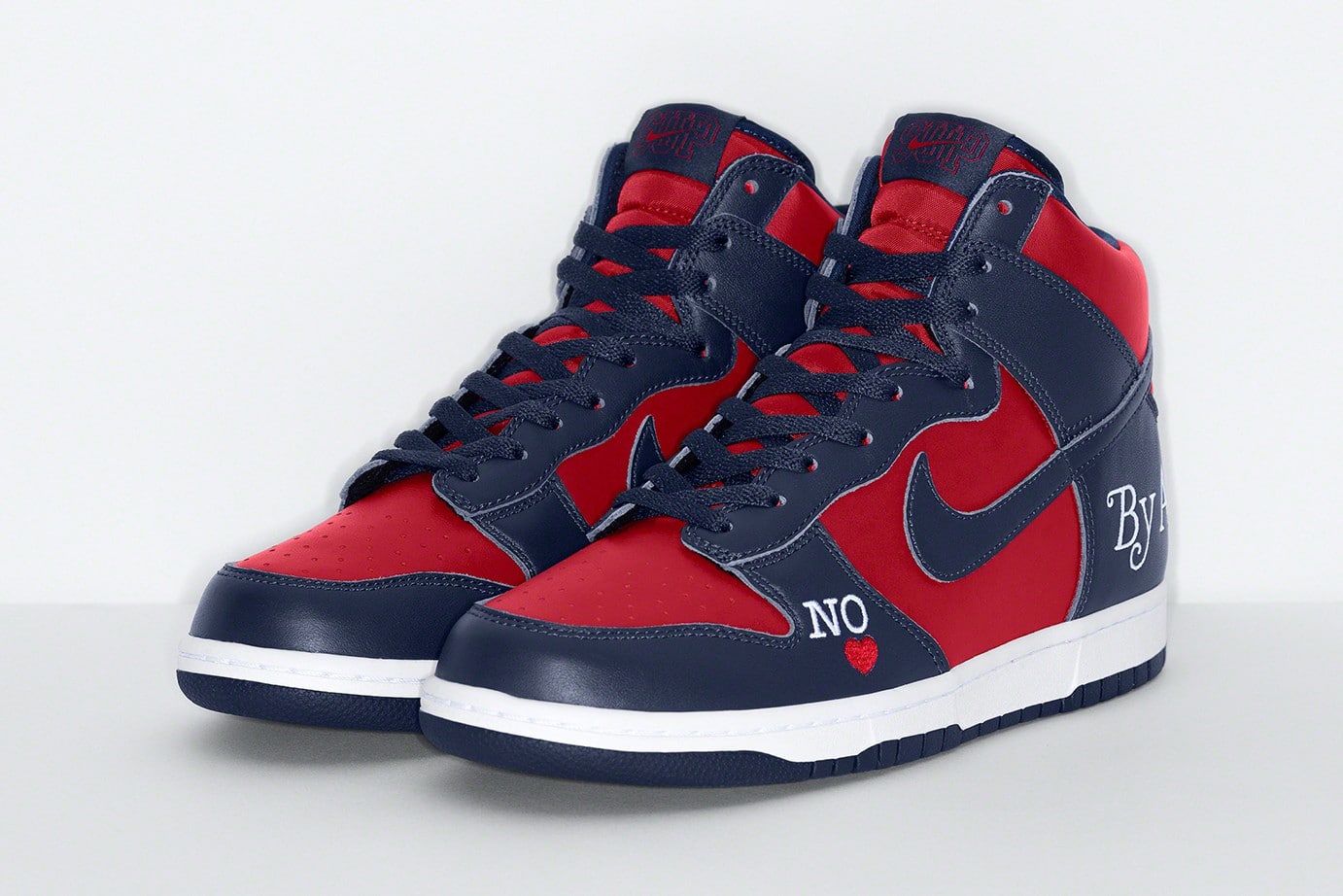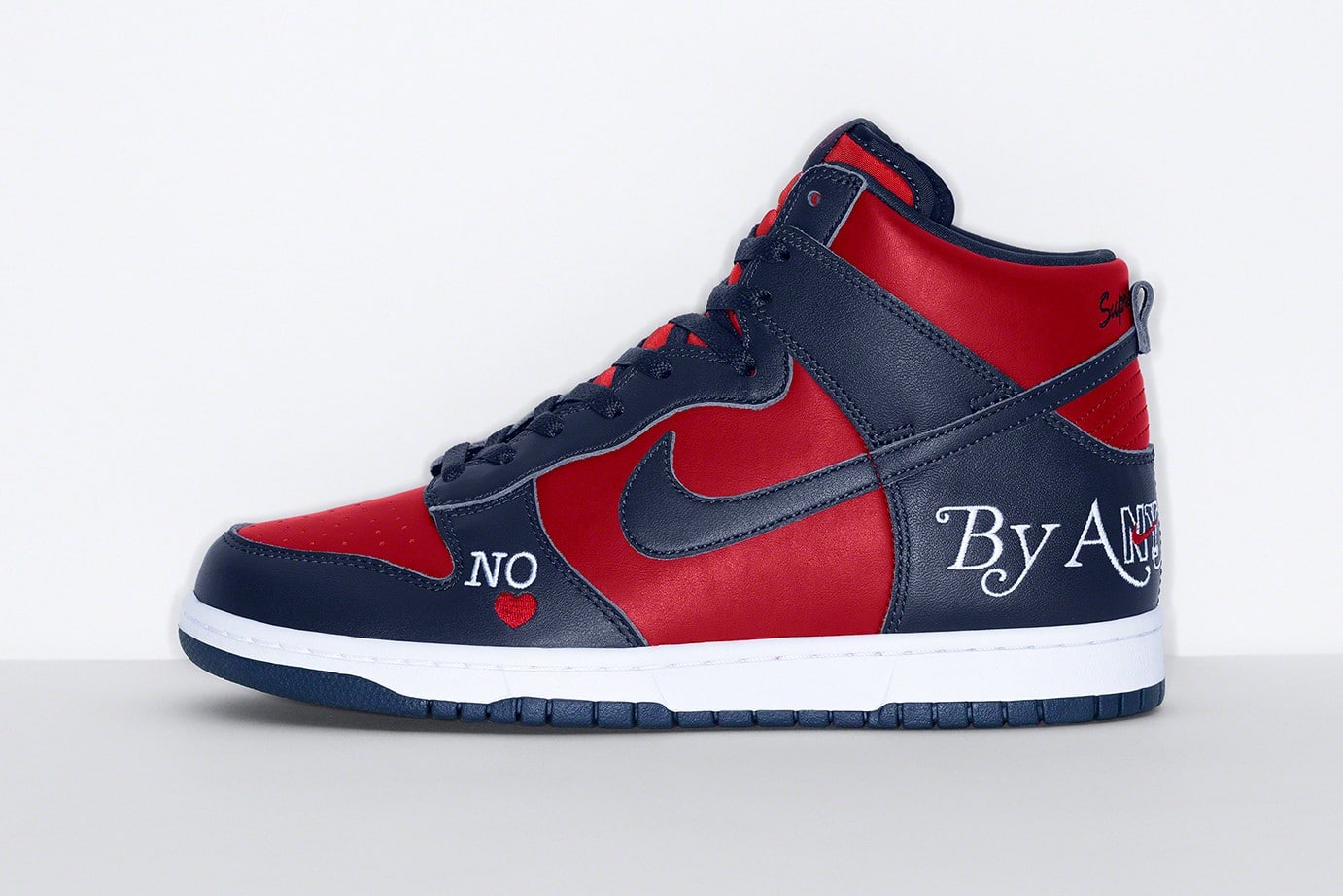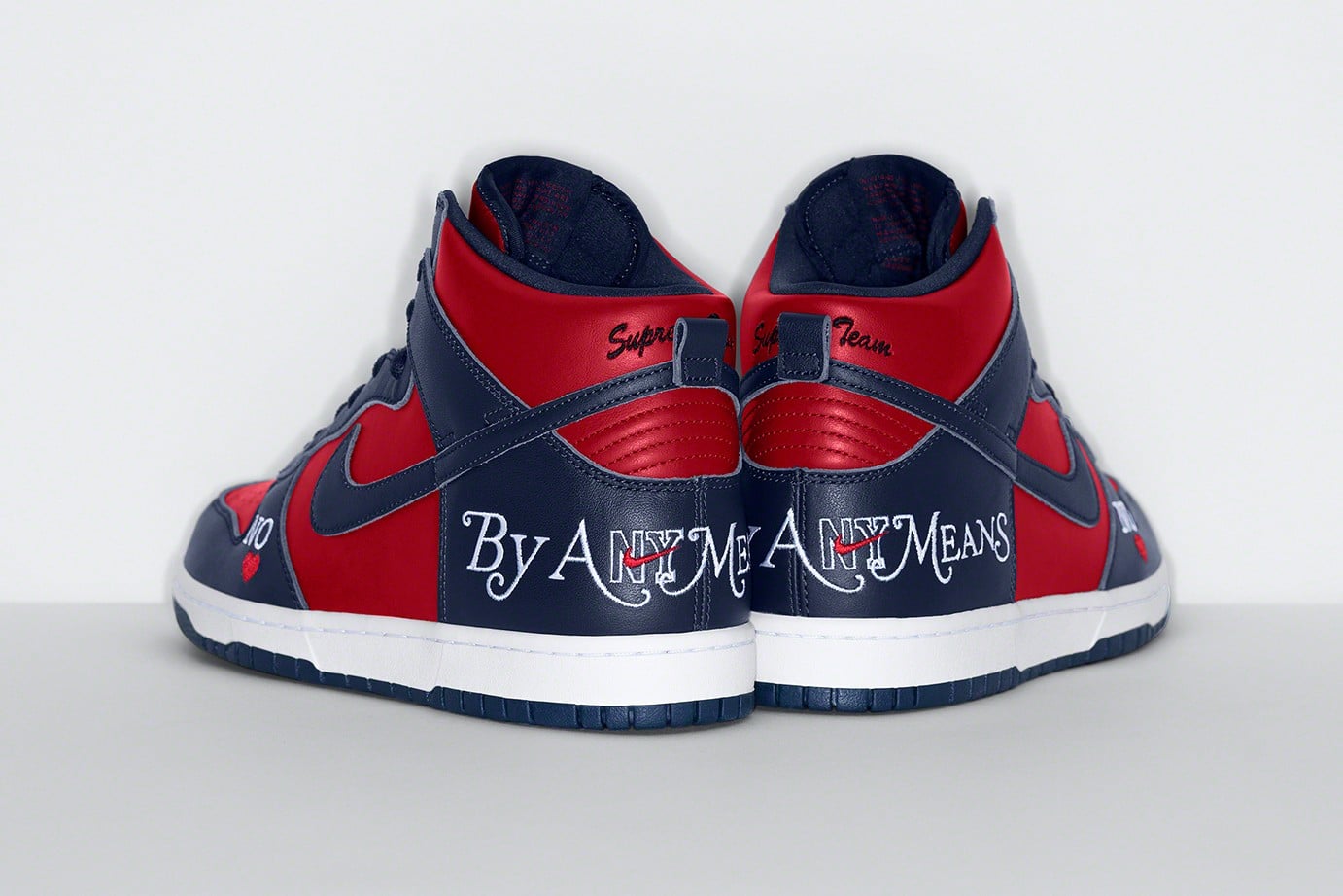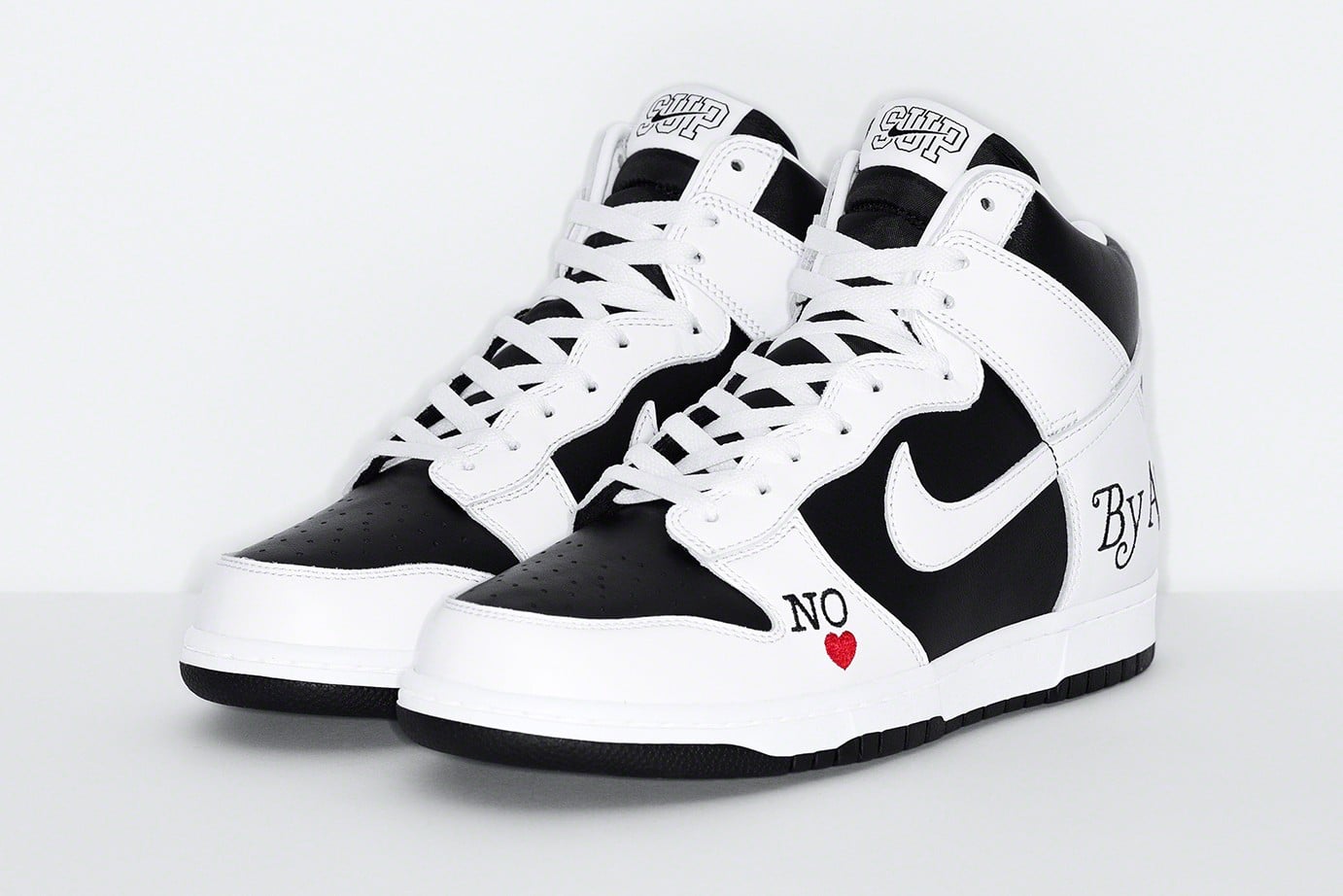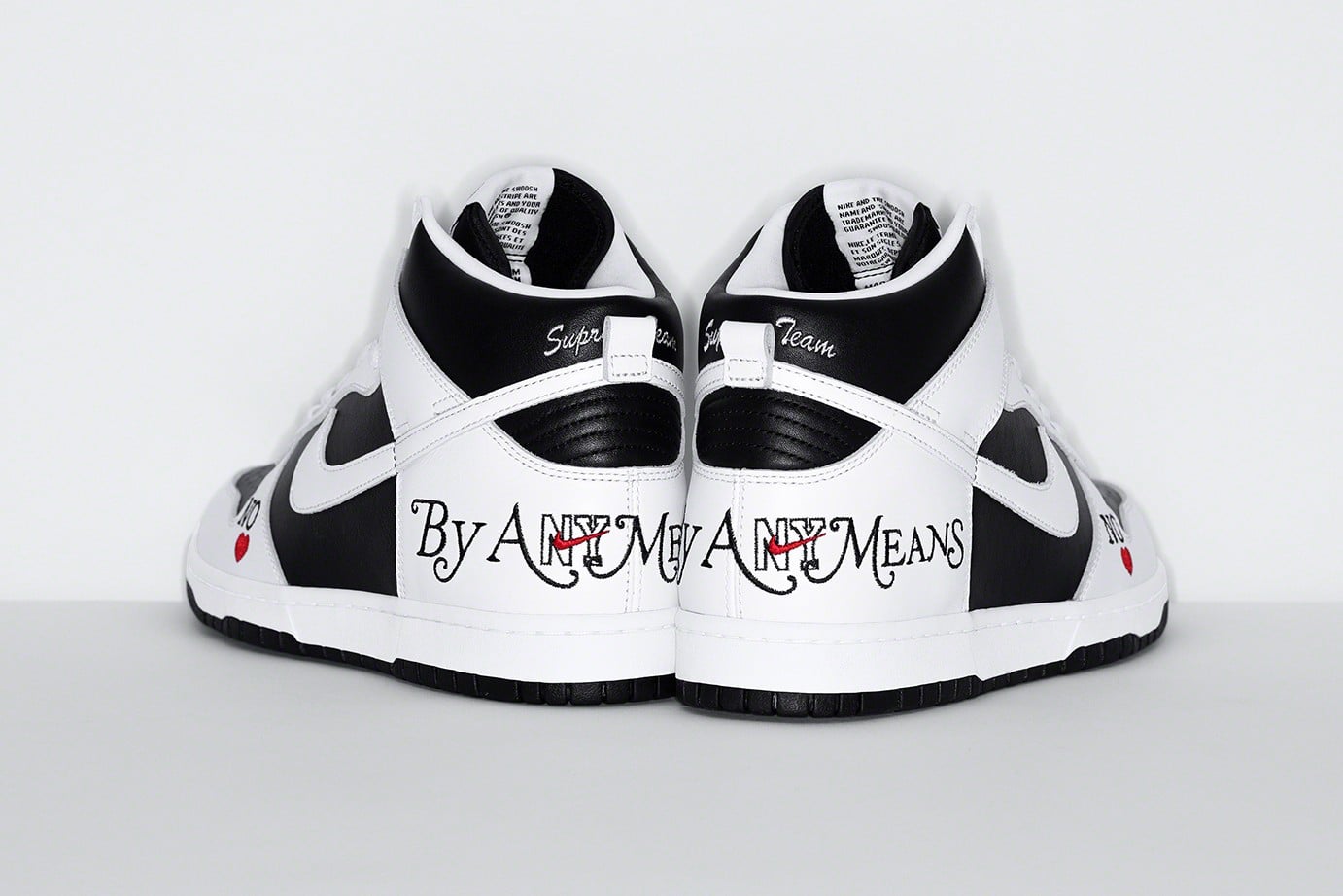 Update 14.02.2022
Supreme has released its Spring/Summer 2022 lookbook today. Sean Pablo, Mathias Sauvageon, and Tyshawn Jones show off the label's great offering that will be coming our way in the next few weeks. Both garments and accessories get Supreme's usual makeover with wild prints, patterns, emblems, embroidery, and other artistic embellishments.
Highlights include leather jackets with GORE-TEX technology, Castelli cycling apparel with the Silver Surfer motif, a B.B. Simon puffer jacket, or luxury dog collars with Supreme branding. Below, you will also find a picture of a glow-in-the-dark suit with the Supreme logo on the back.
Other fans are probably here for the ultimate accessories that Supreme introduces every time. Besides Hanes underwear, towels, skate decks, key chains, and the rest of the seemingly endless list, an Airstream pendant leads the Supreme accessories. If you don't have room for the pendant, scroll down to the Meissen mirror, the kayak with paddle, or the Bang & Olufsen Explore portable speakers.
The individual drops from the Supreme Spring/Summer 2022 collection will once again take place on a regular weekly basis. Week 1 starts on Thursday, February 17th. Alternatively, you can also buy the pieces from the seasonal collection on the aftermarket such as StockX.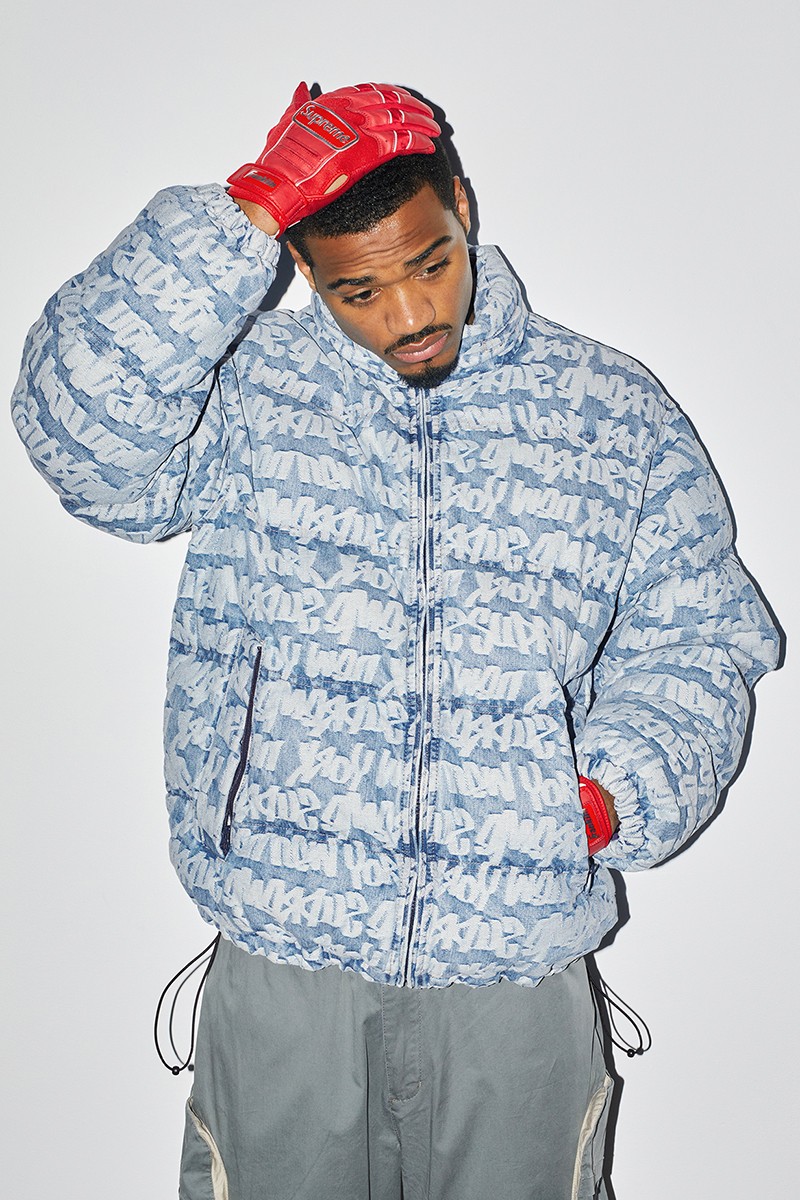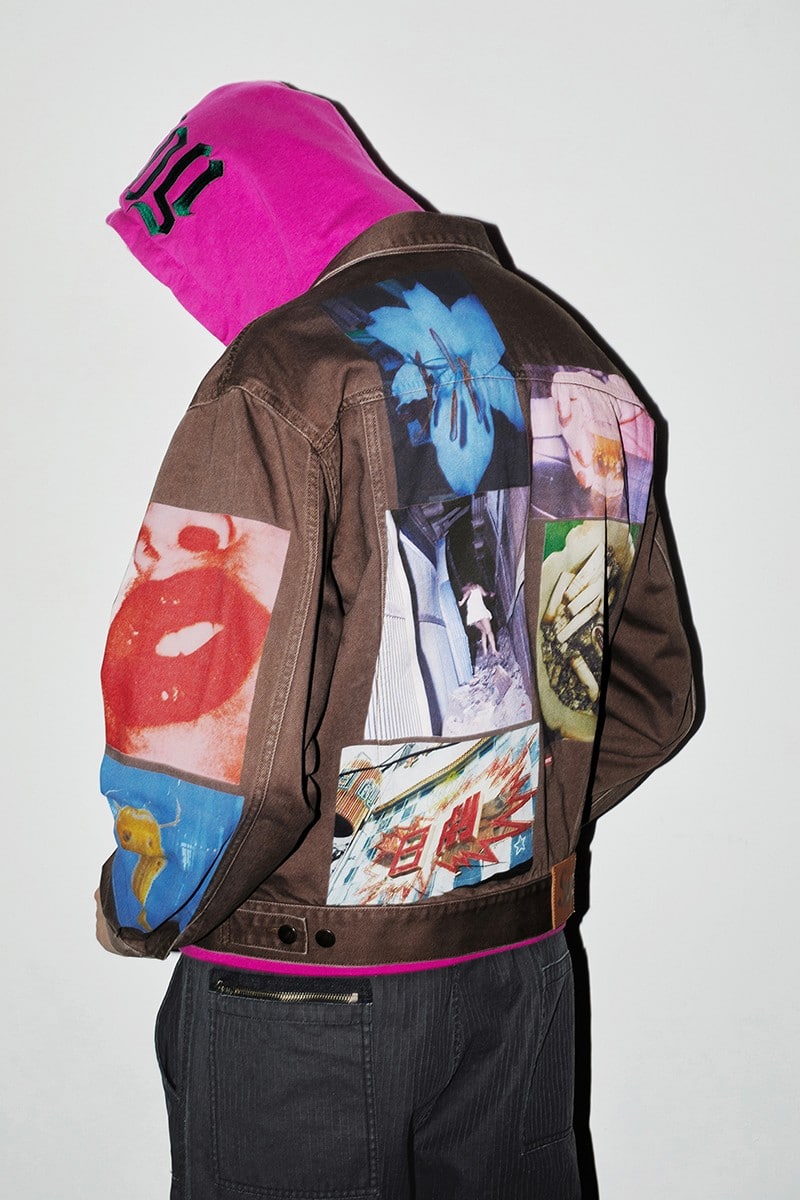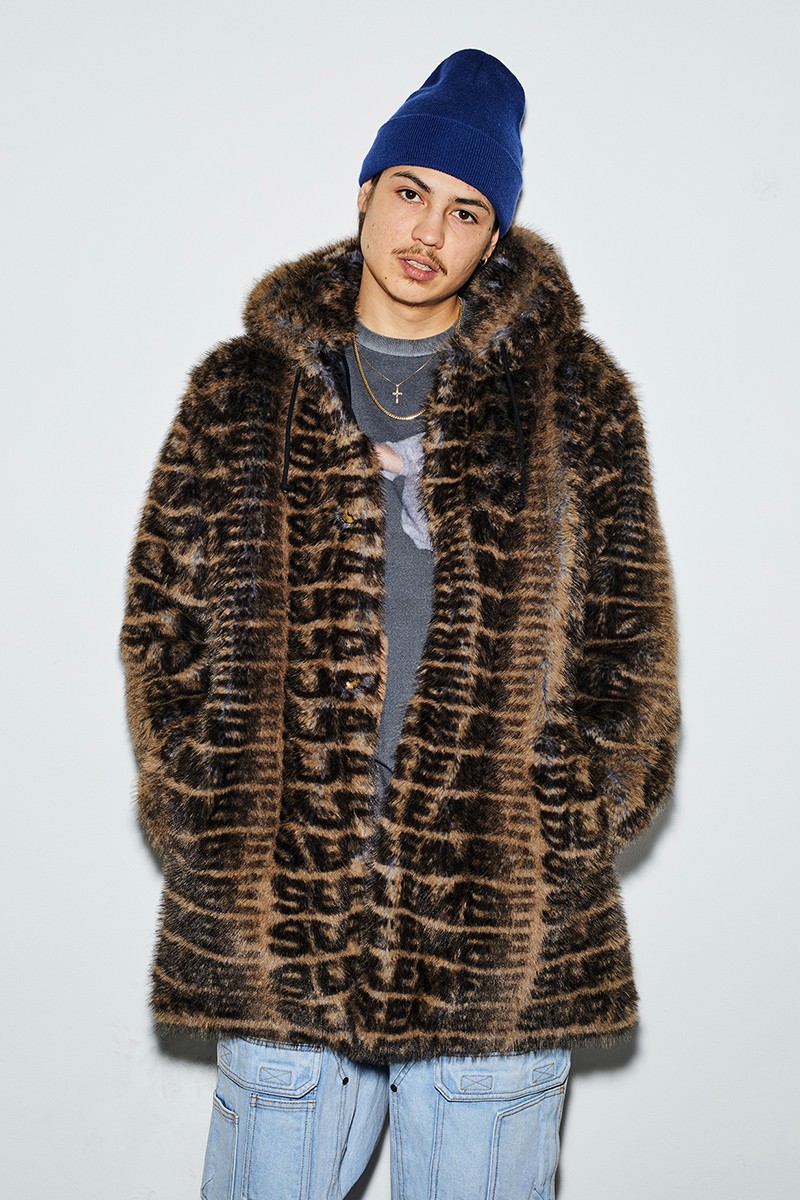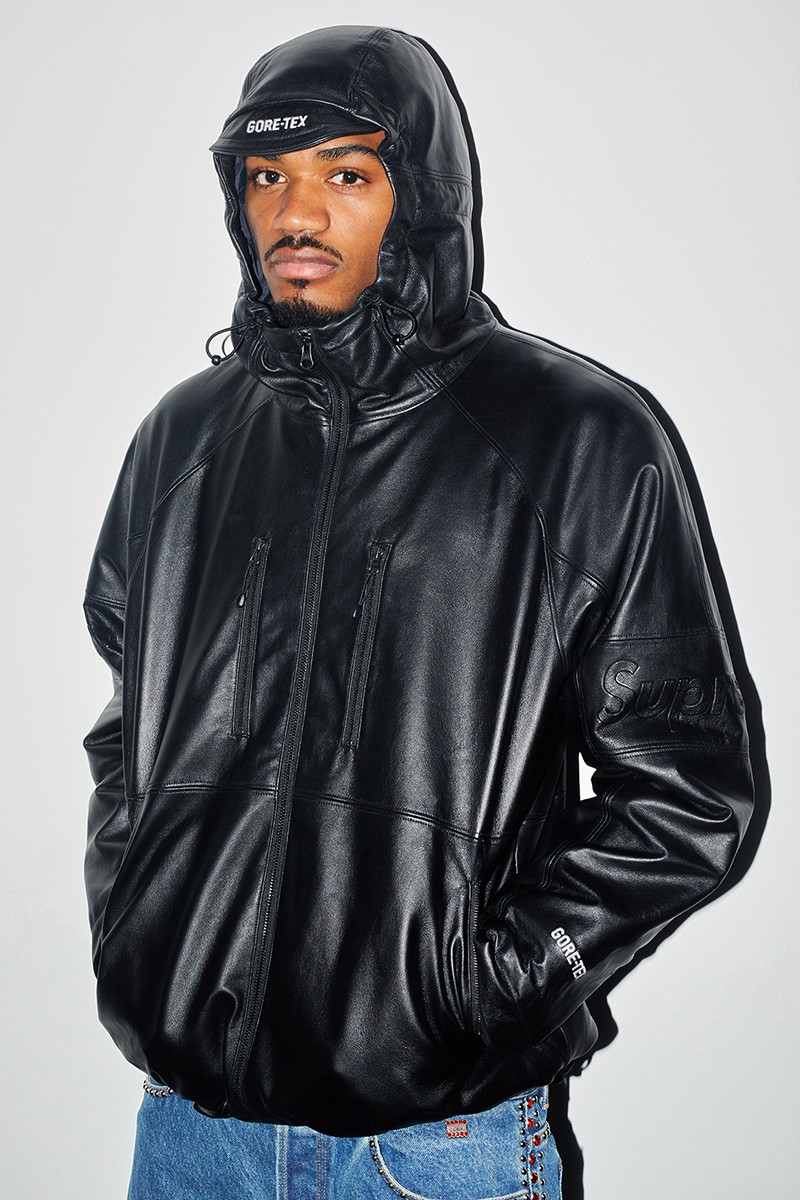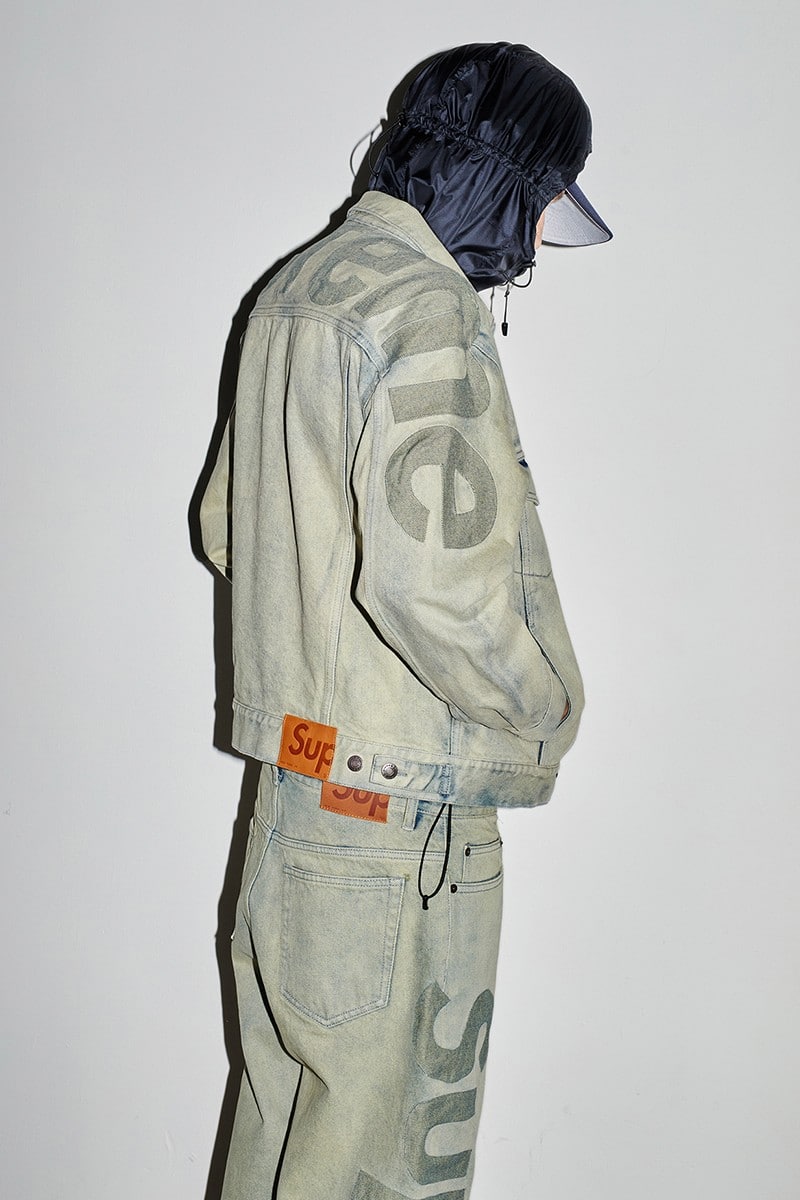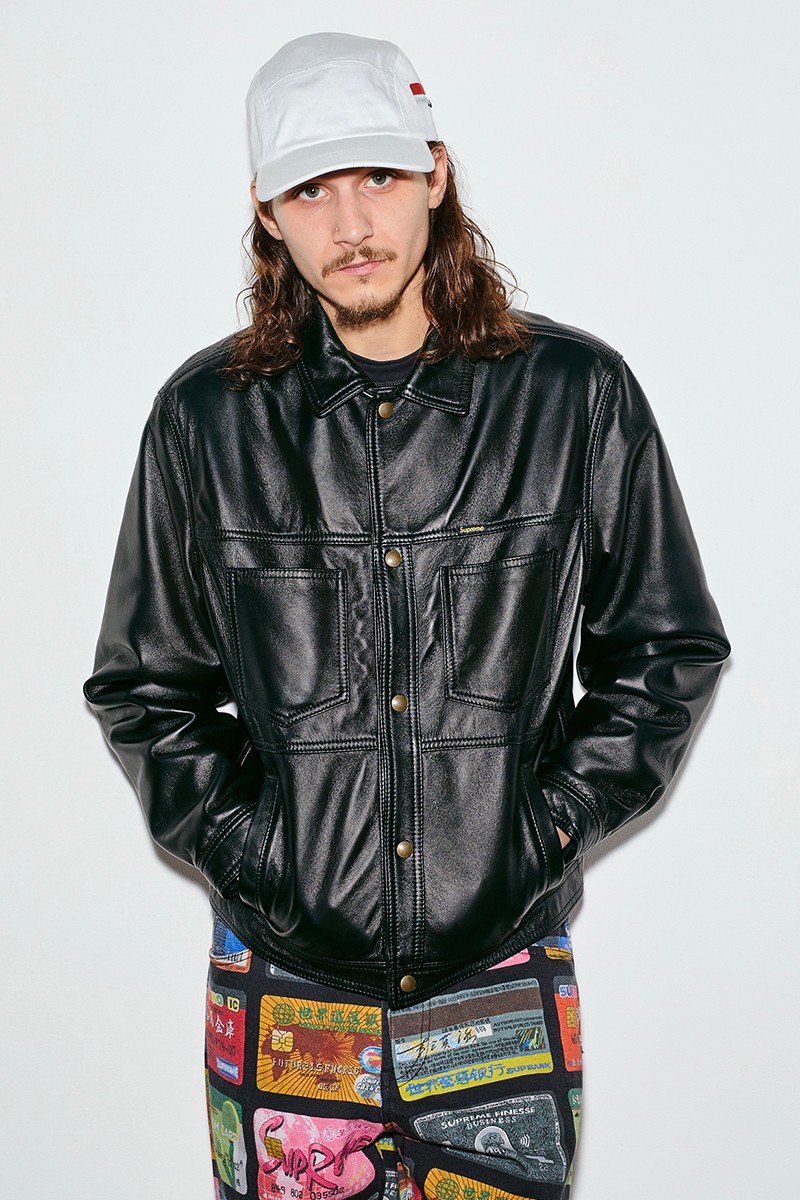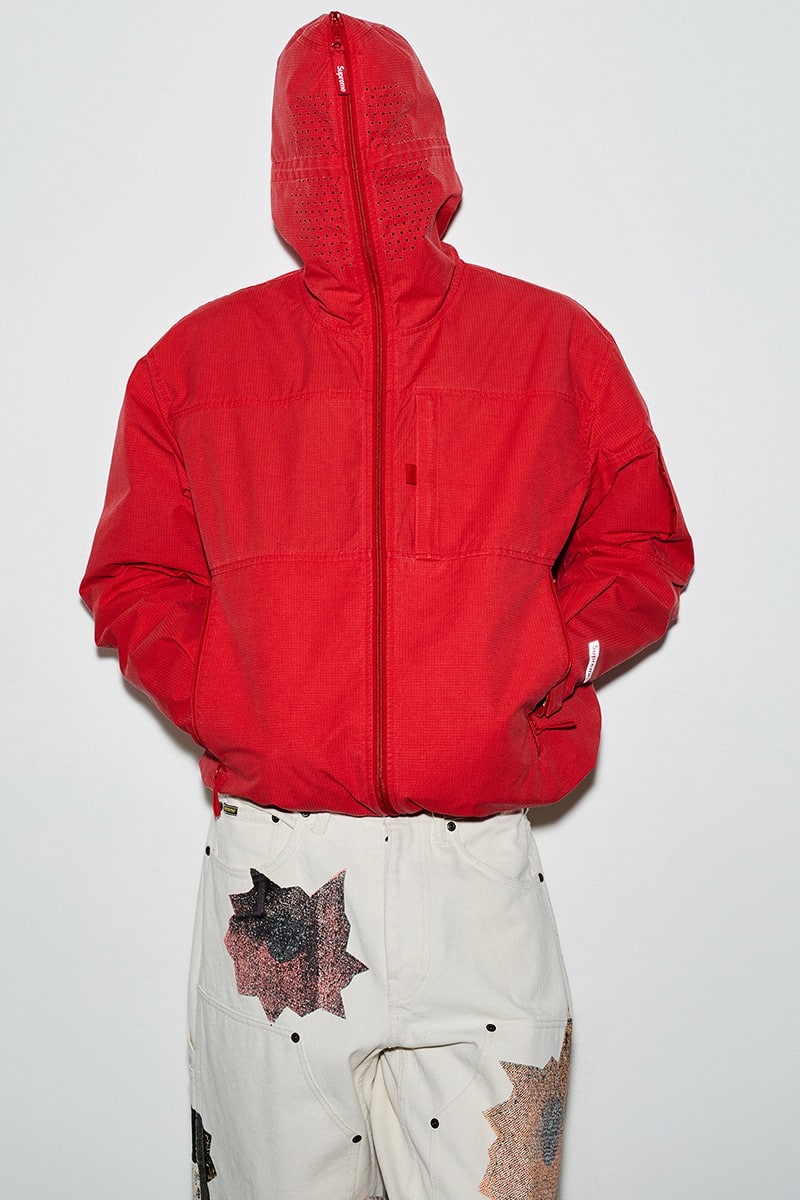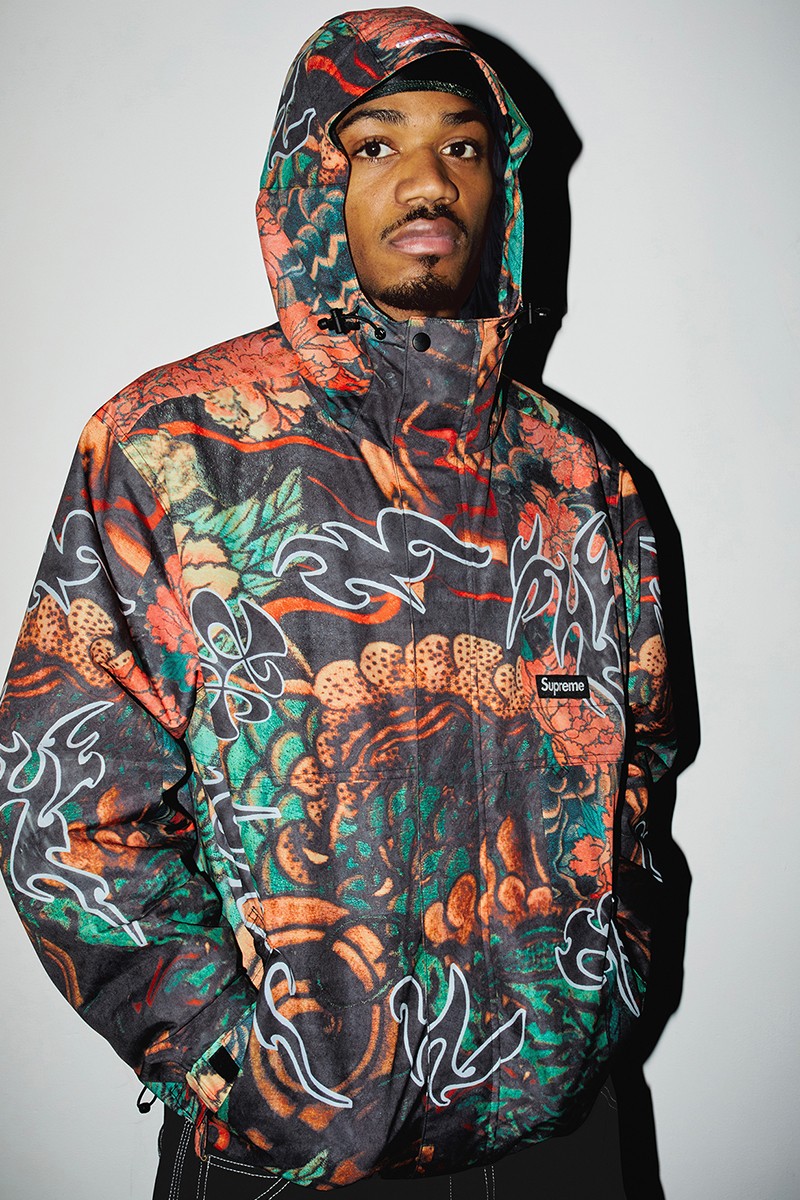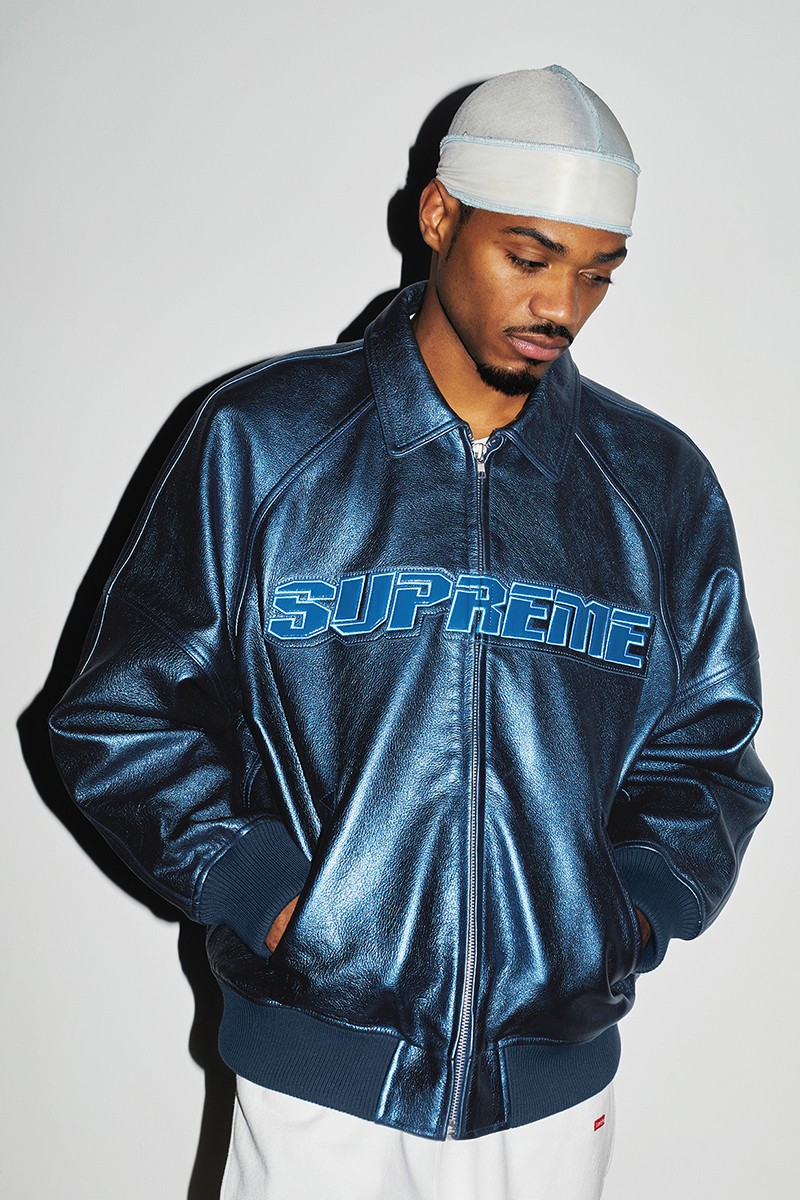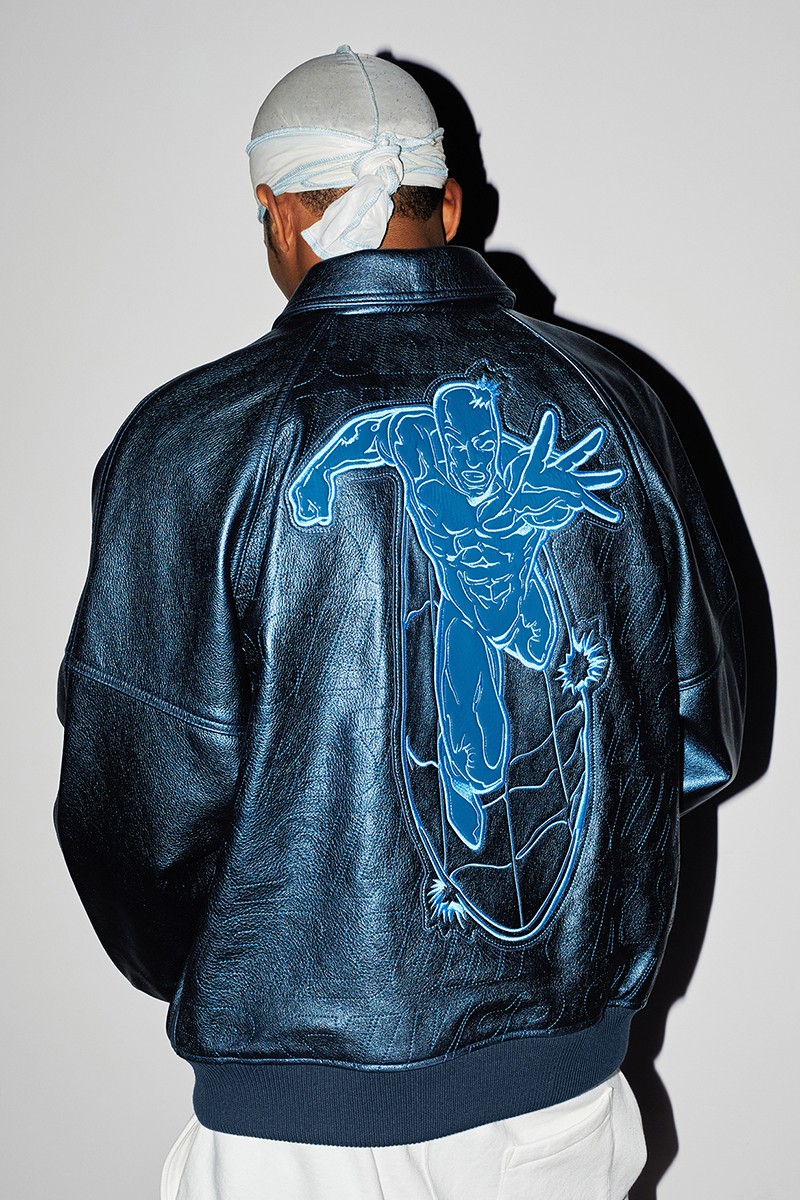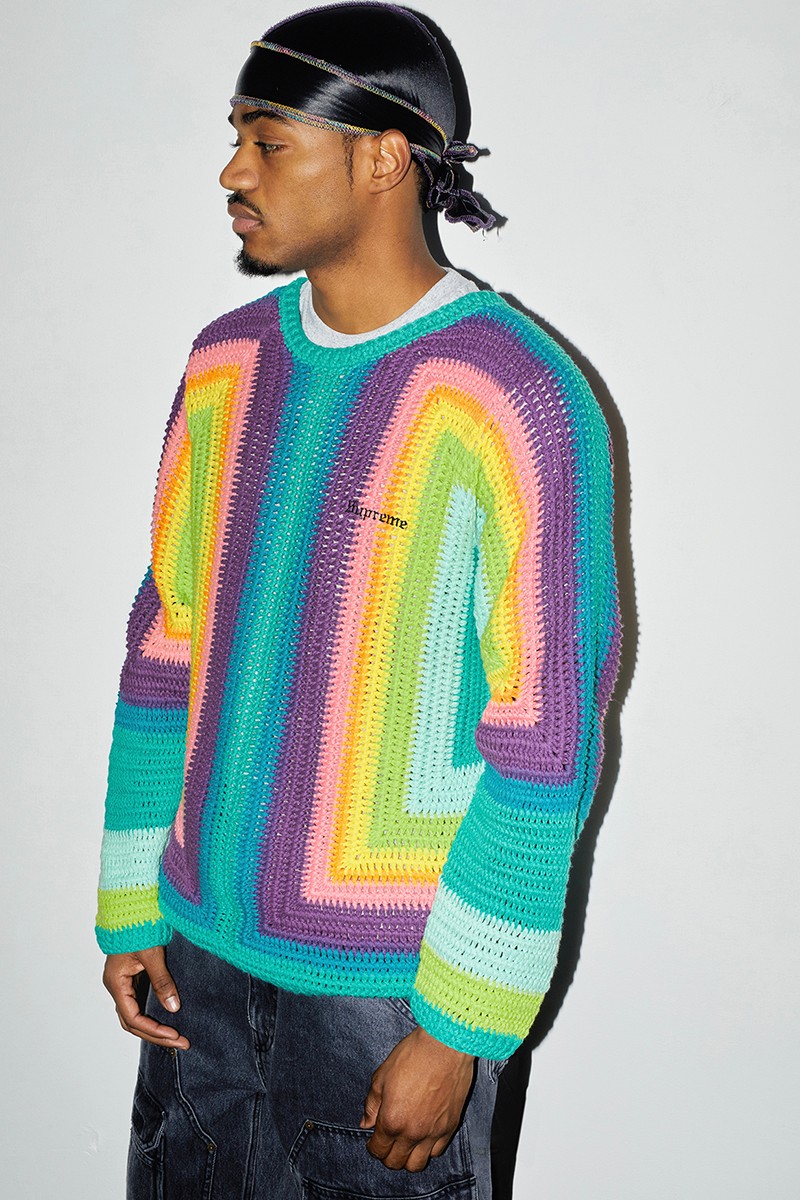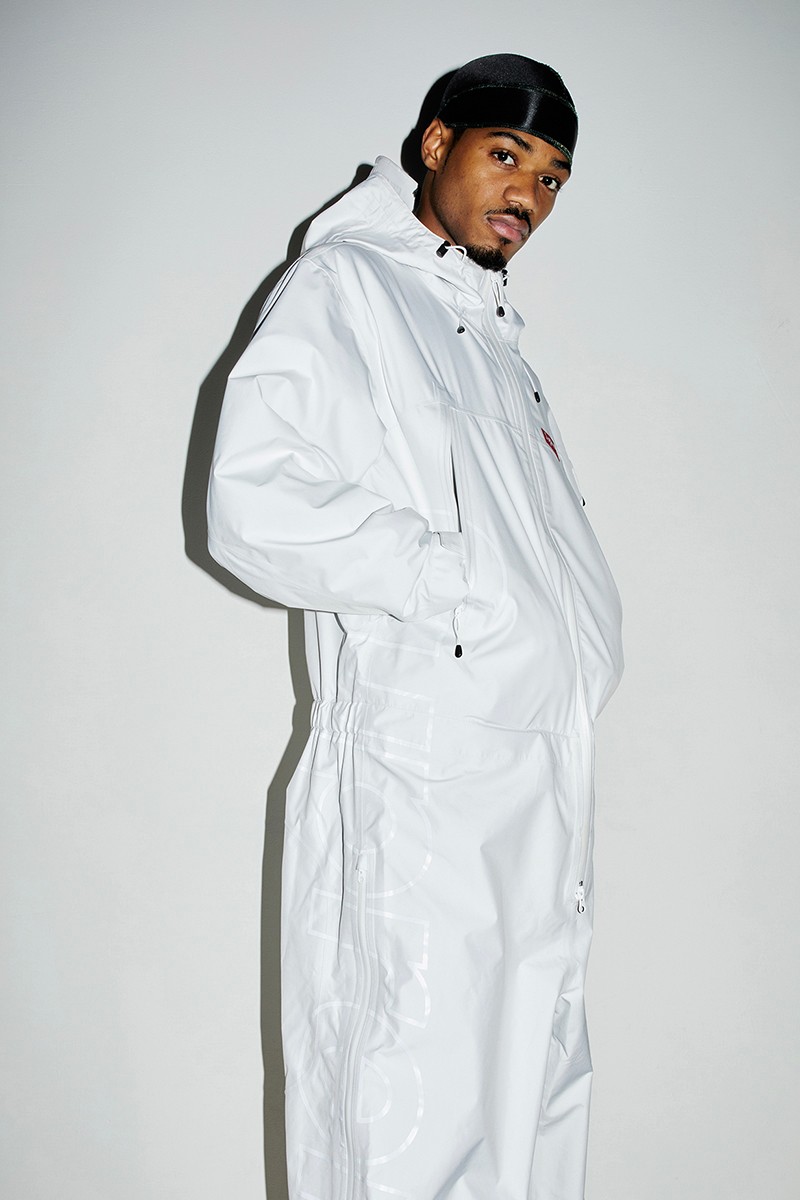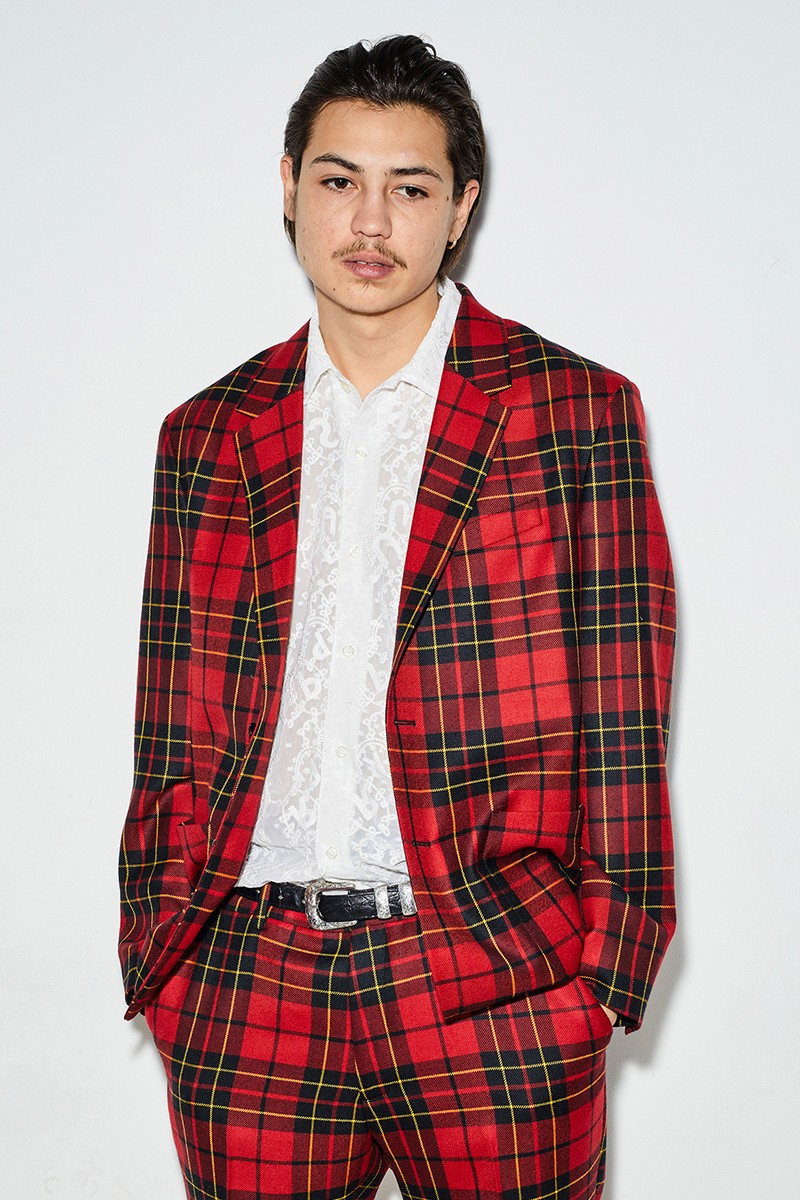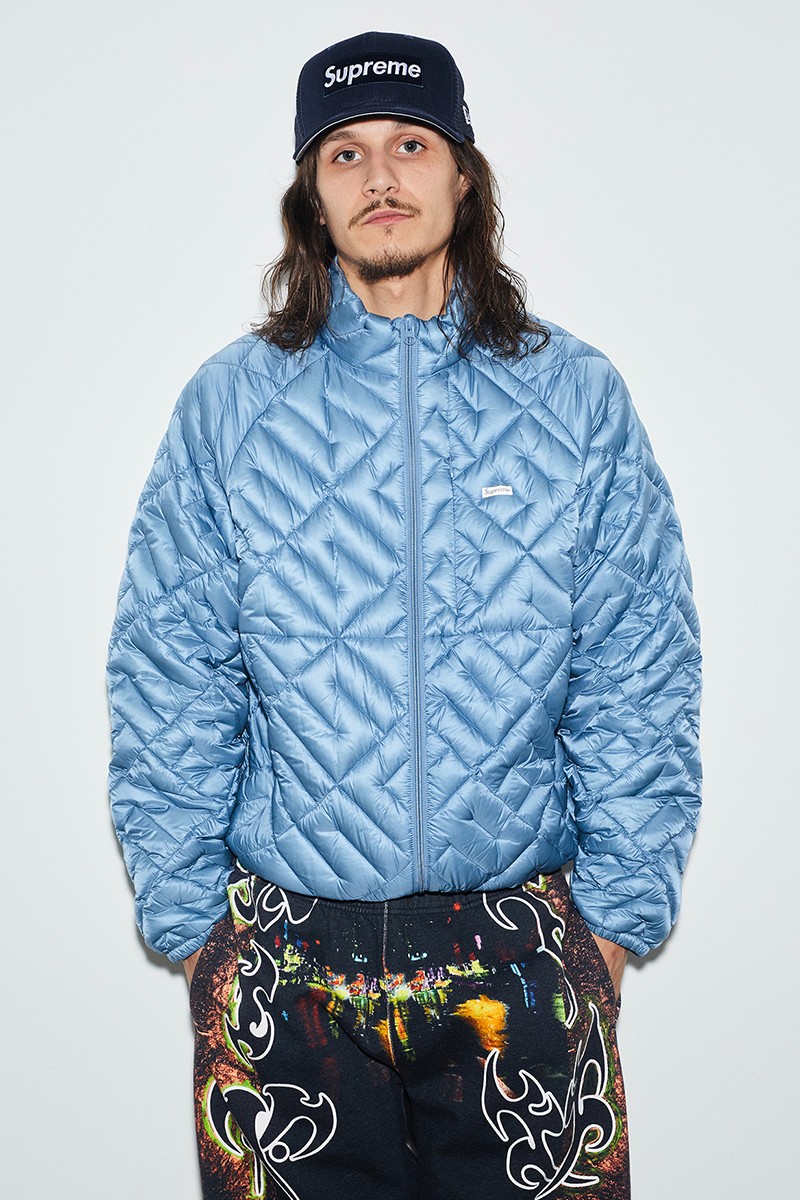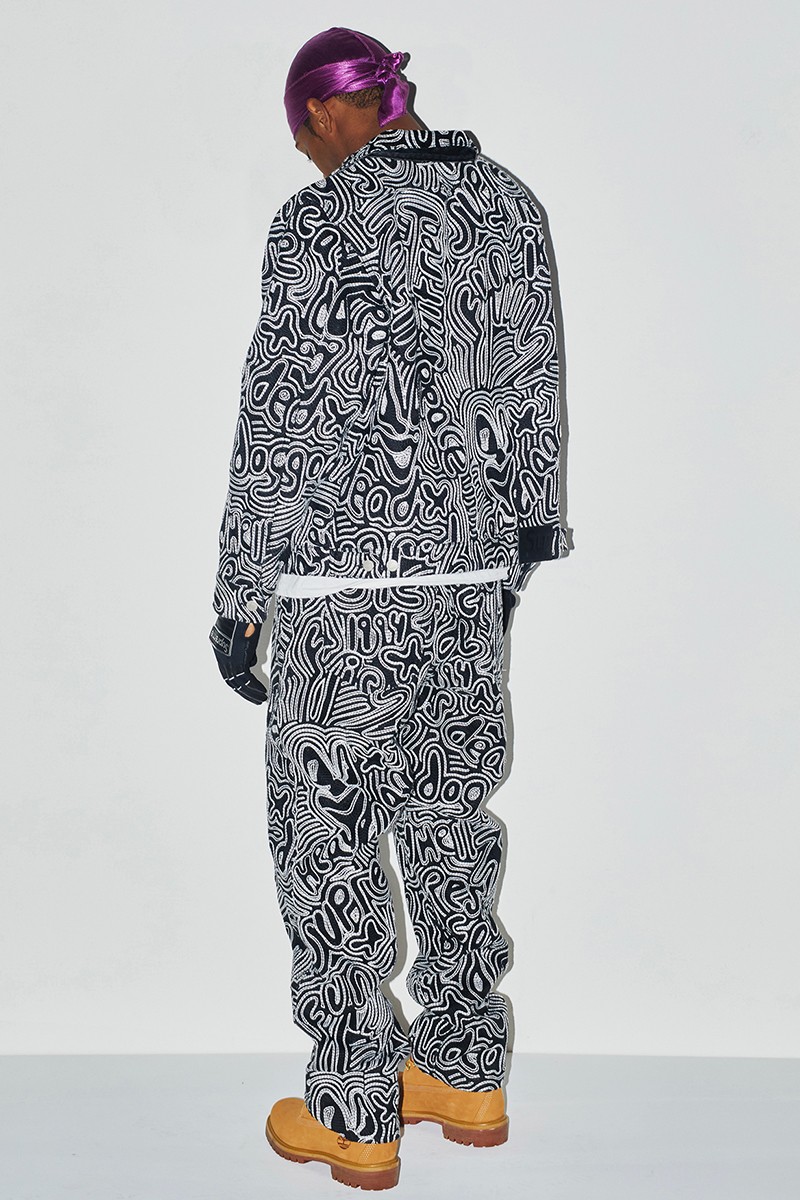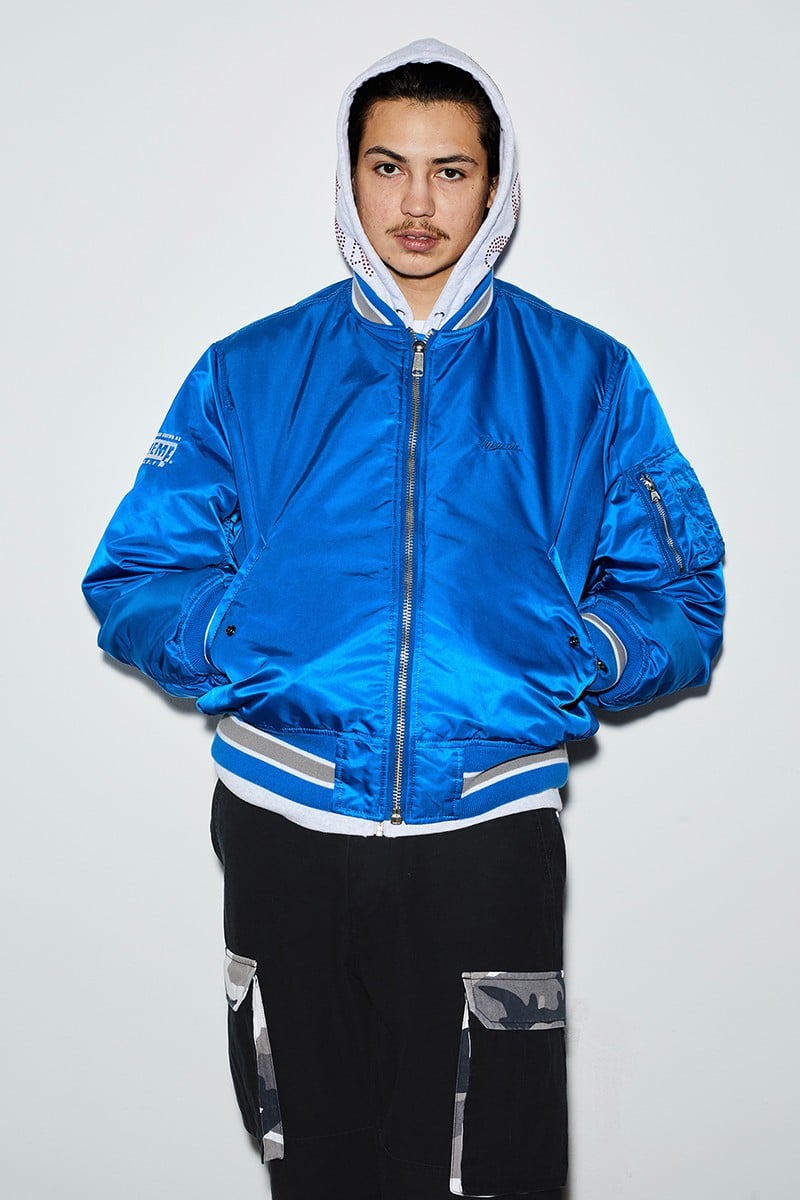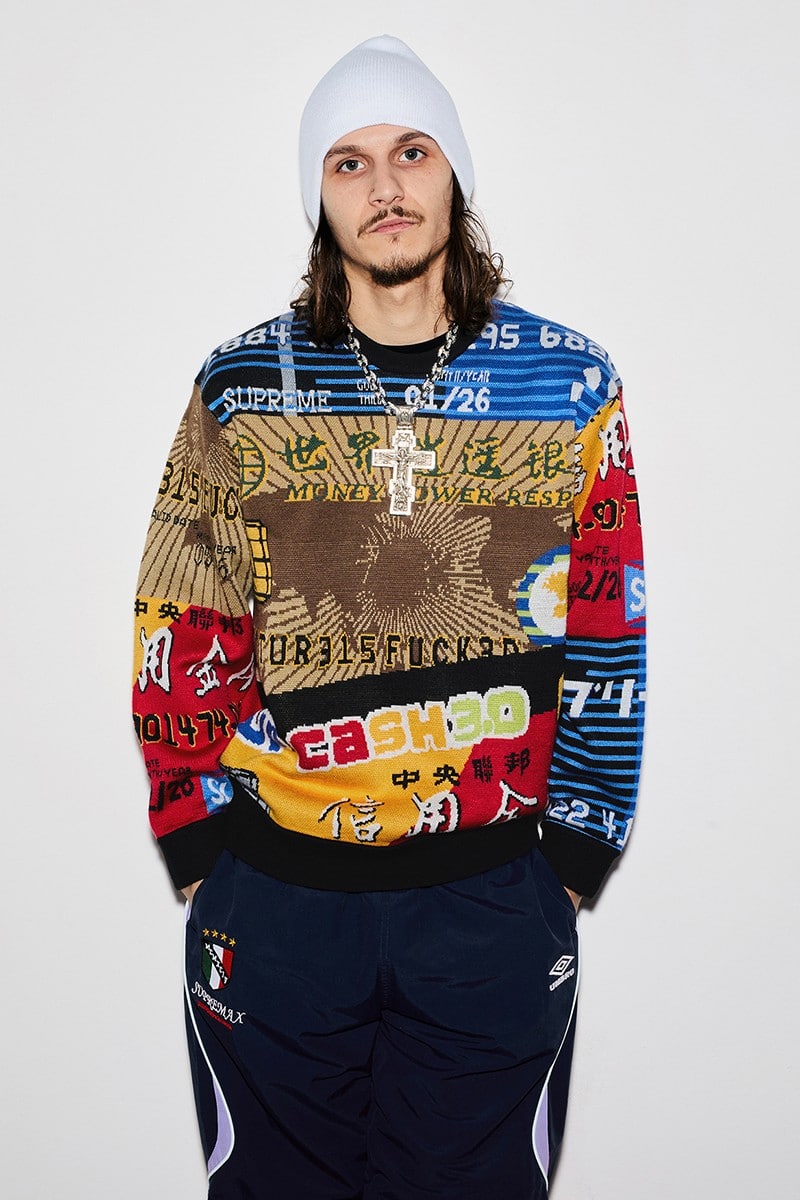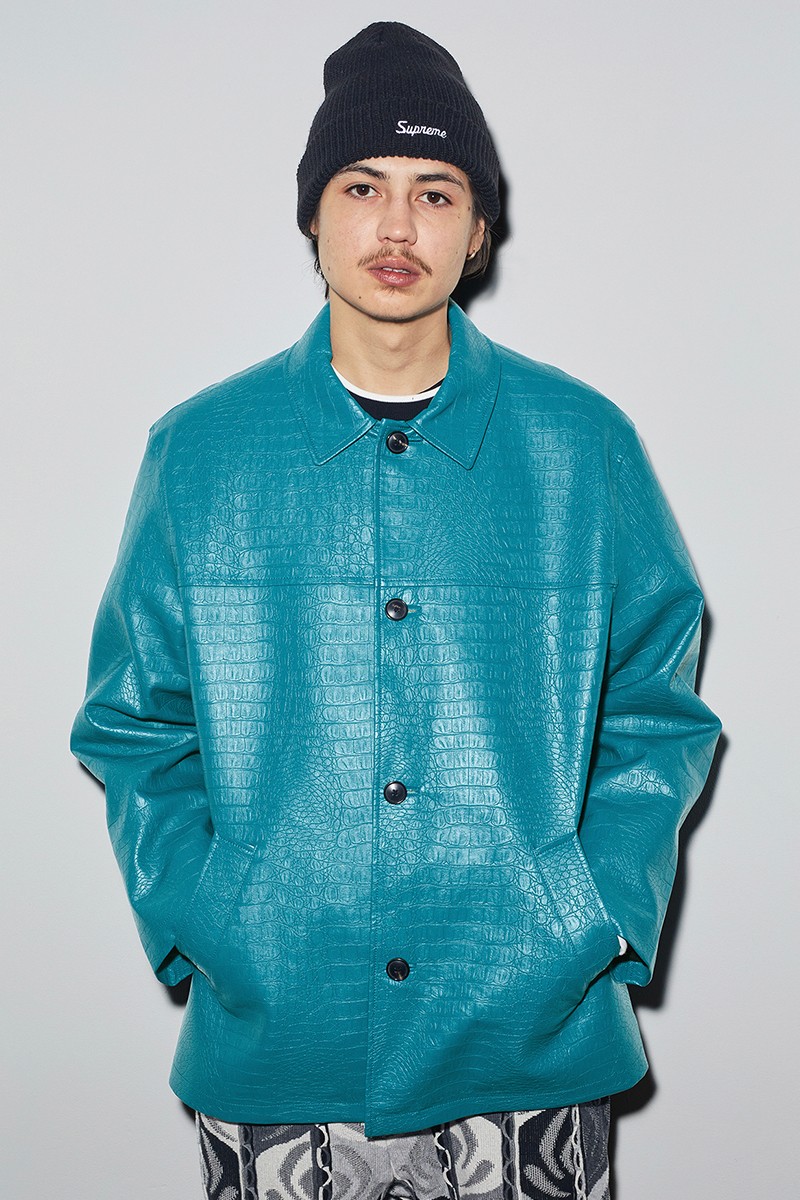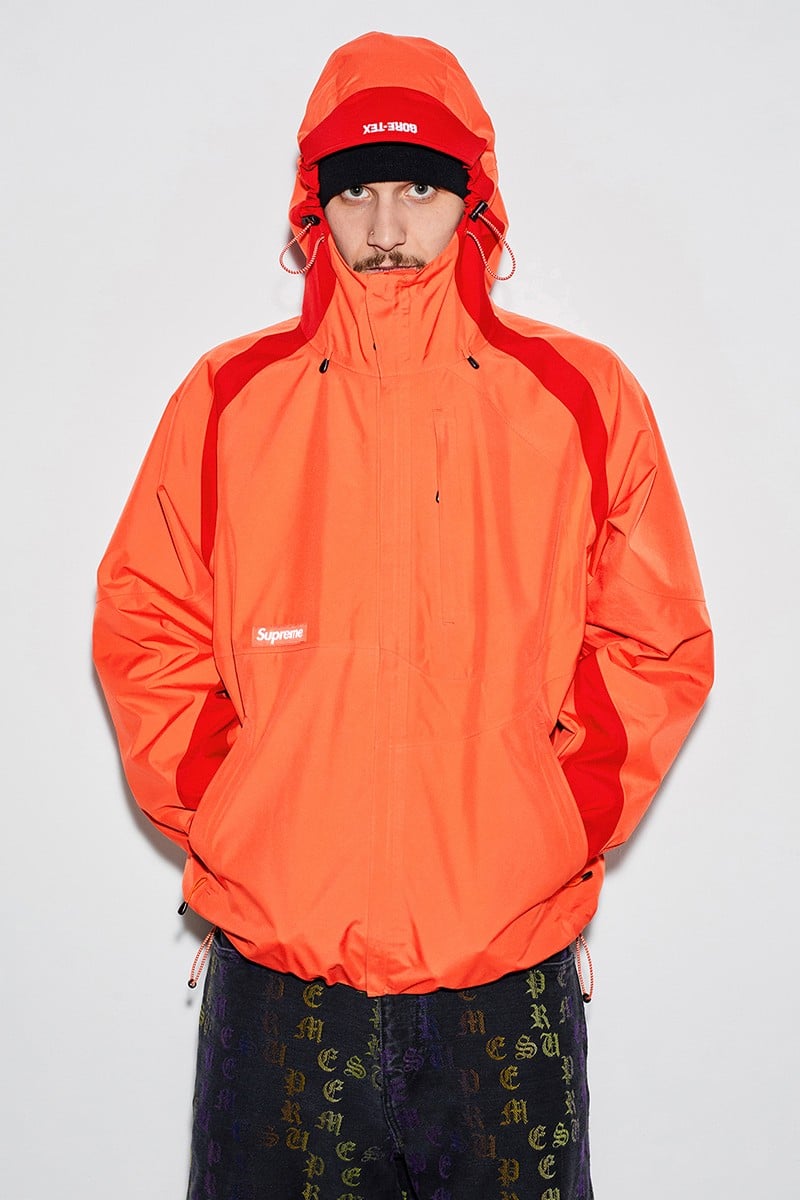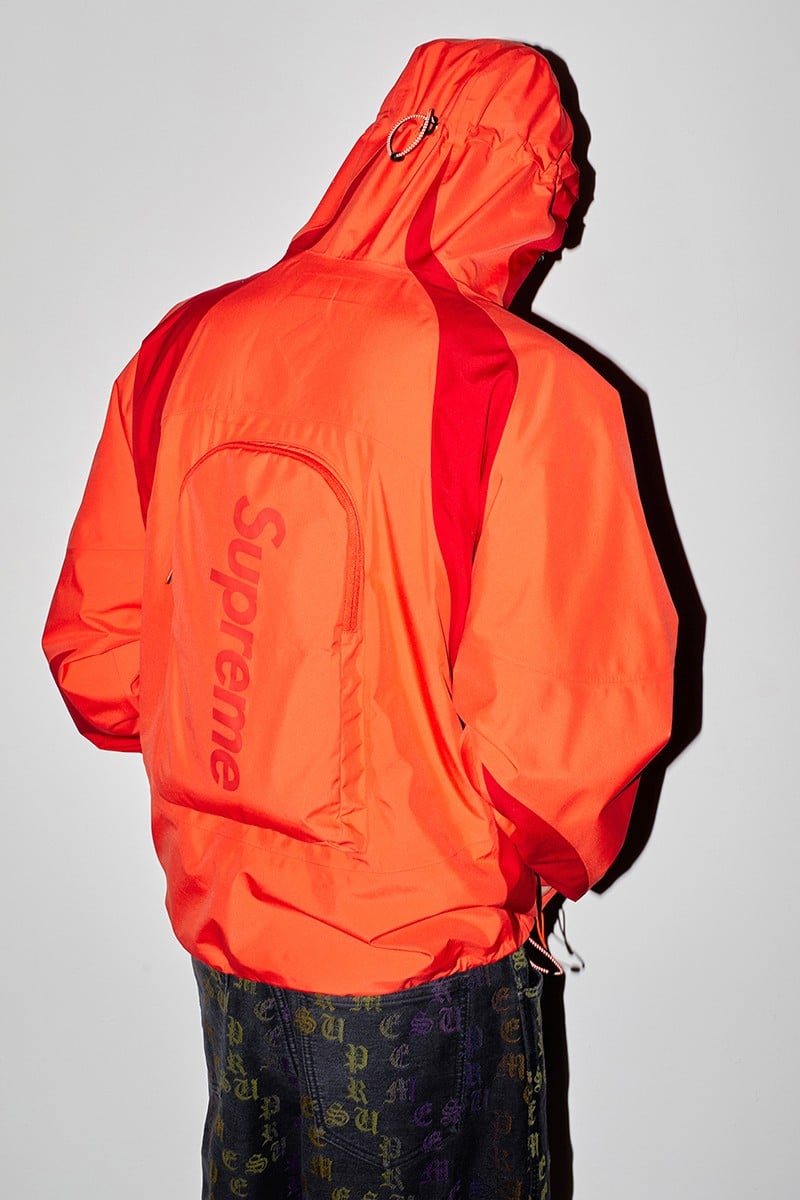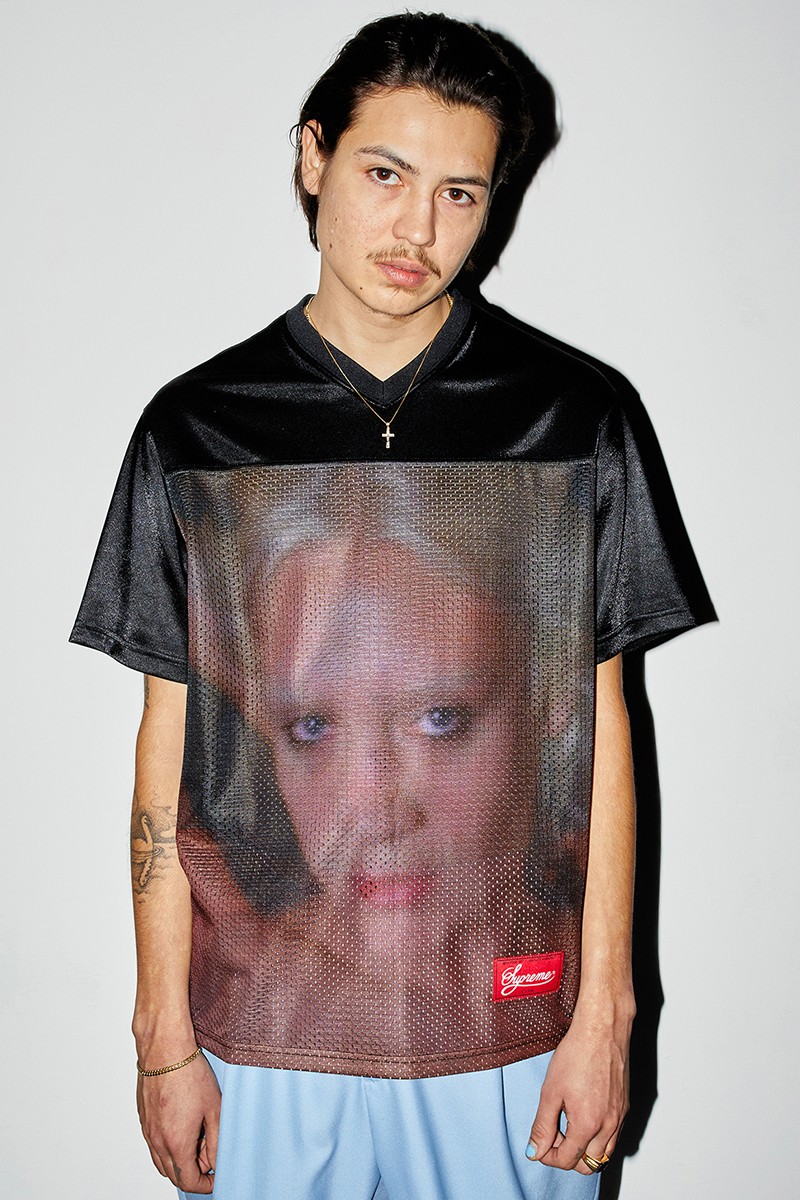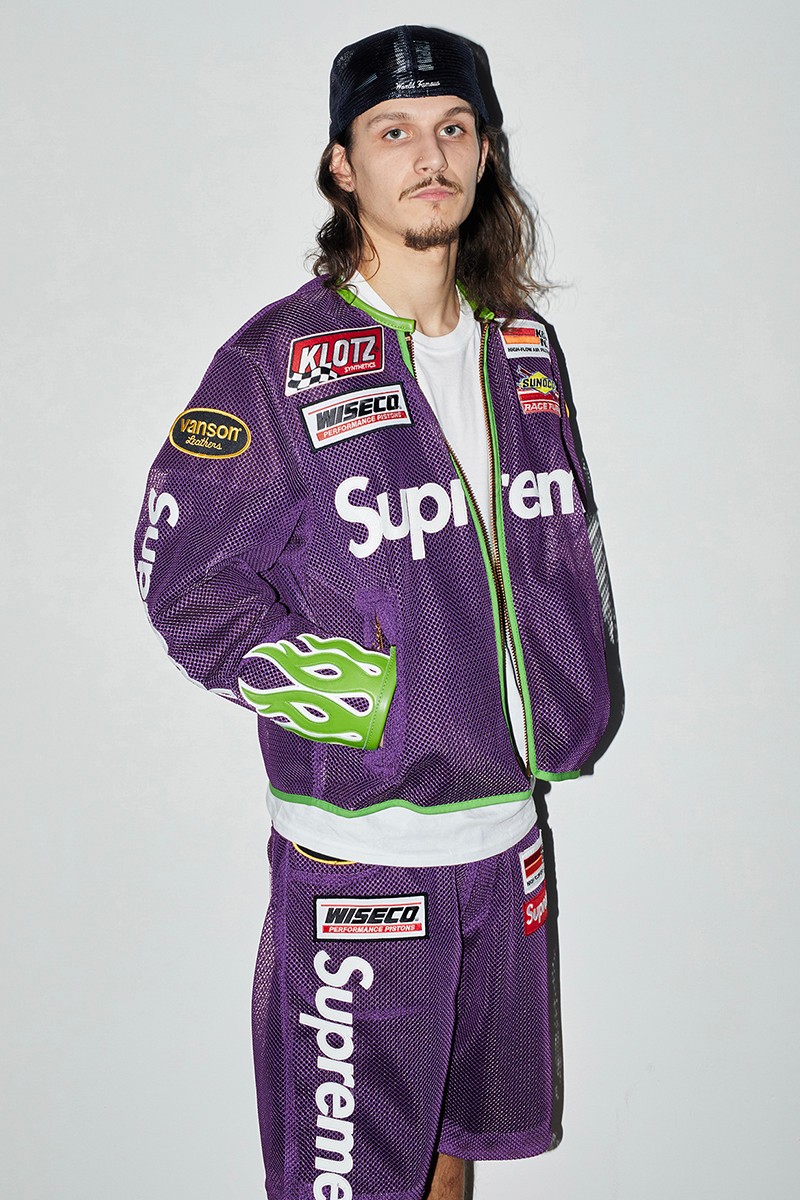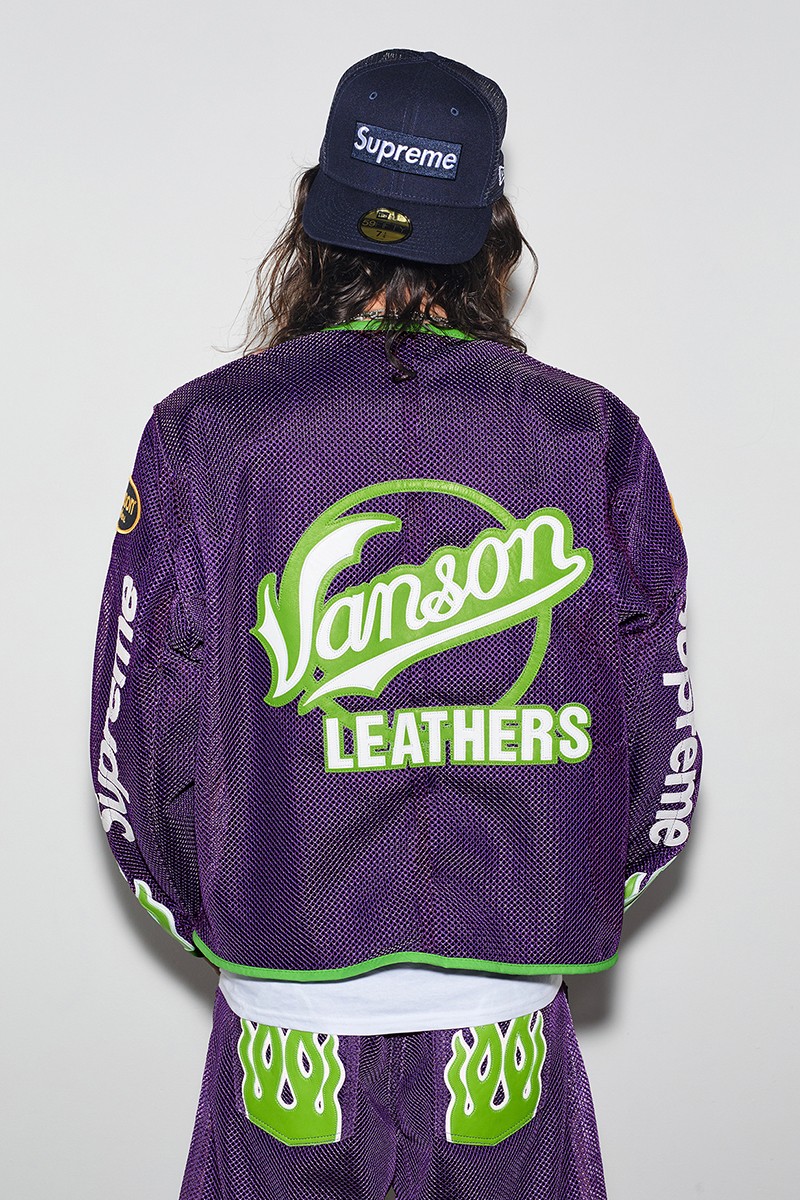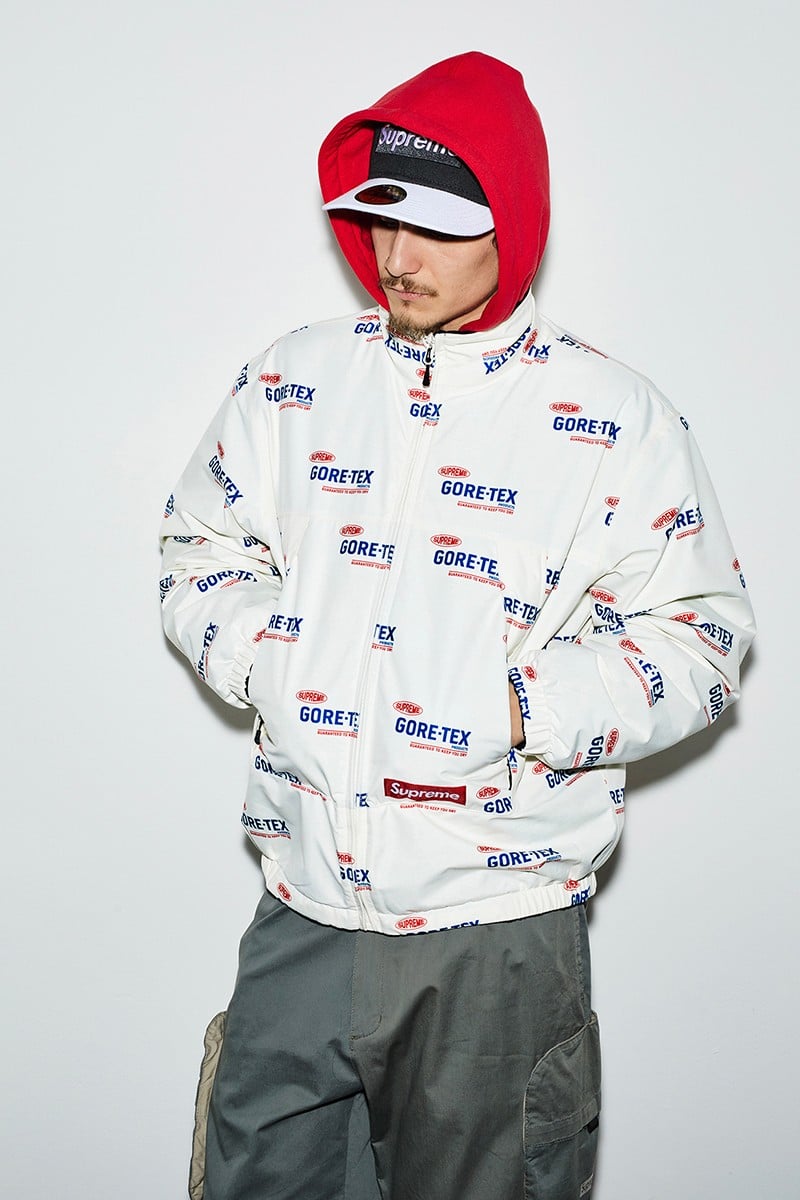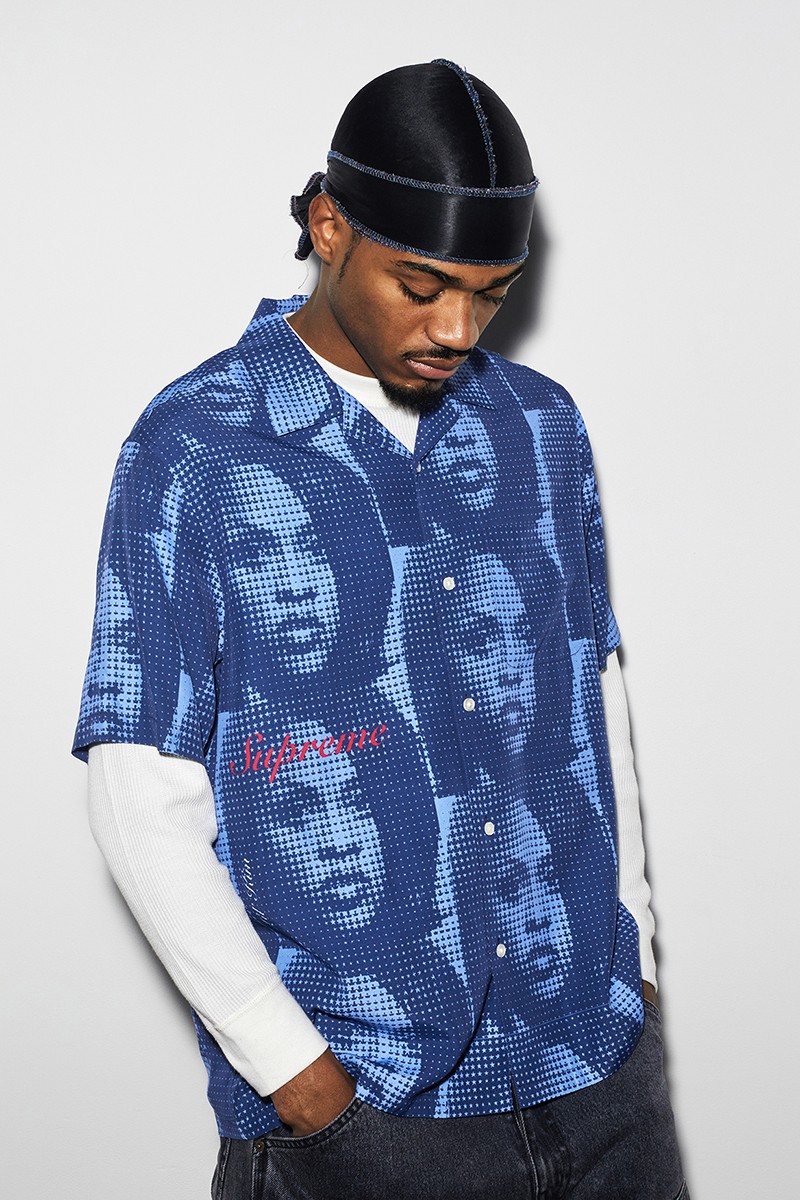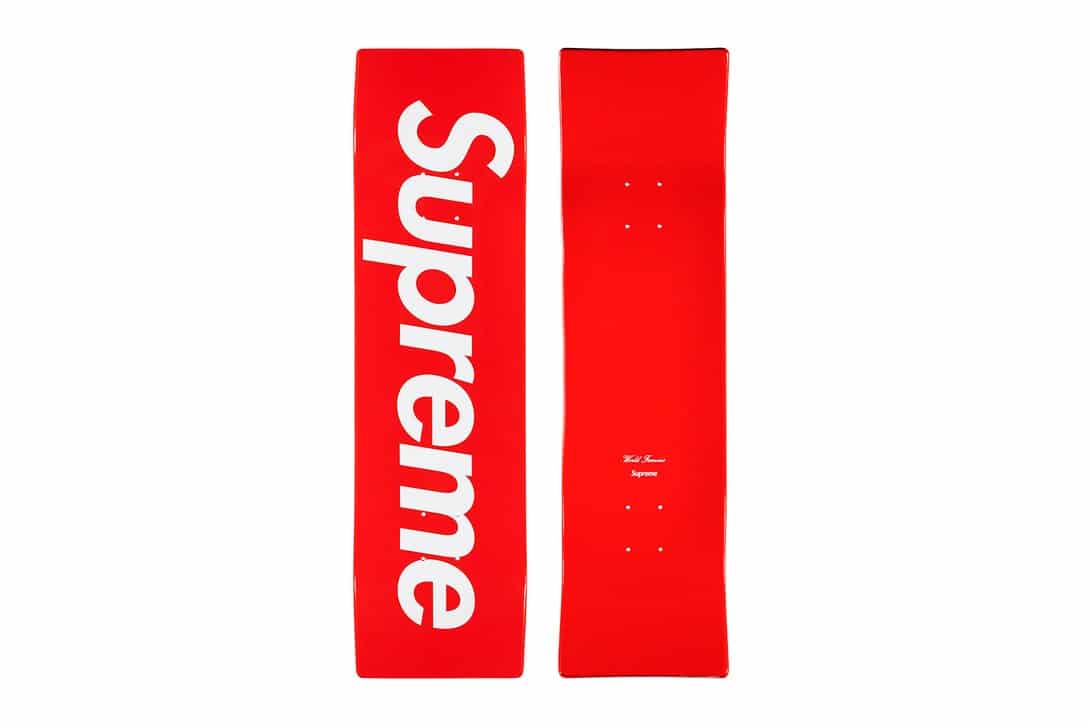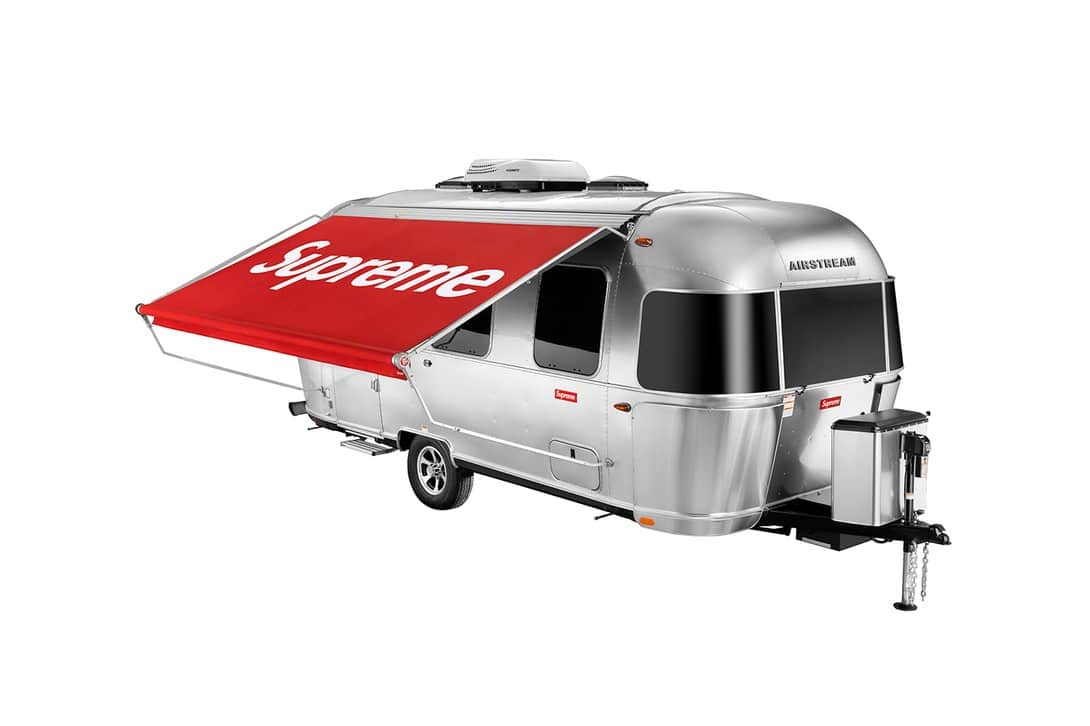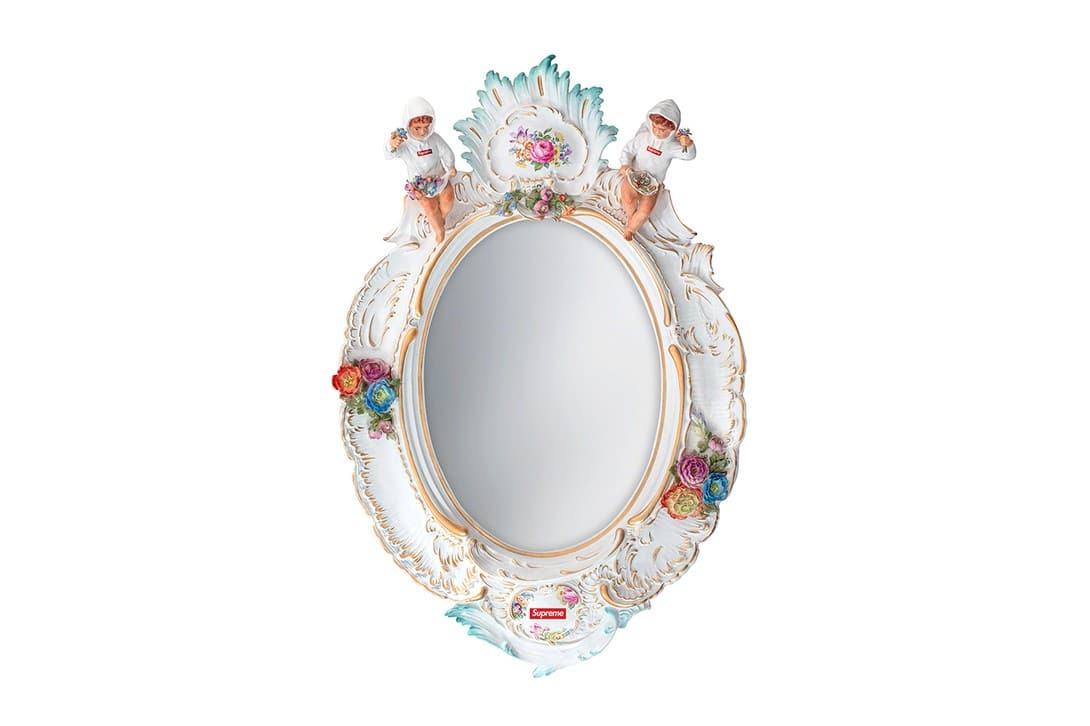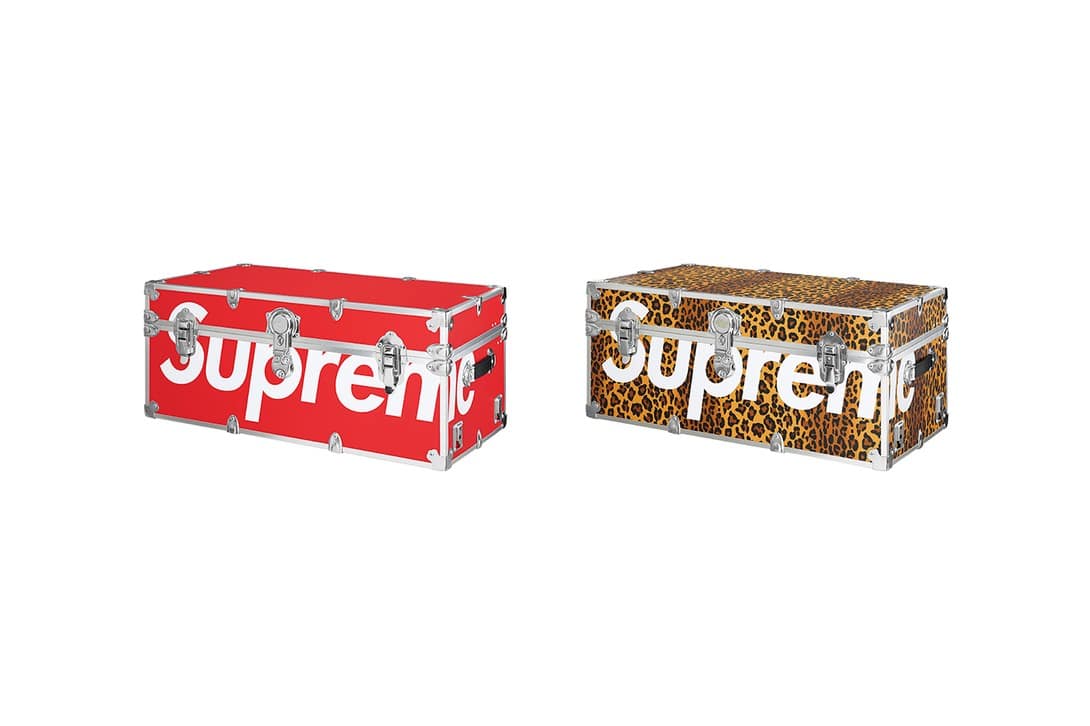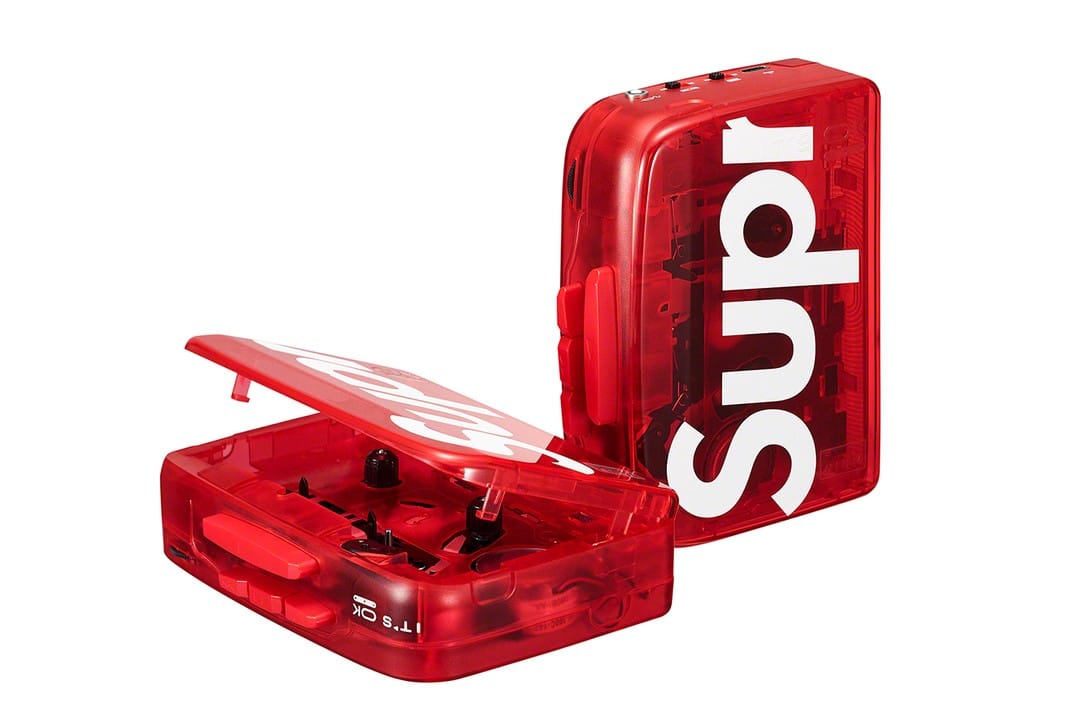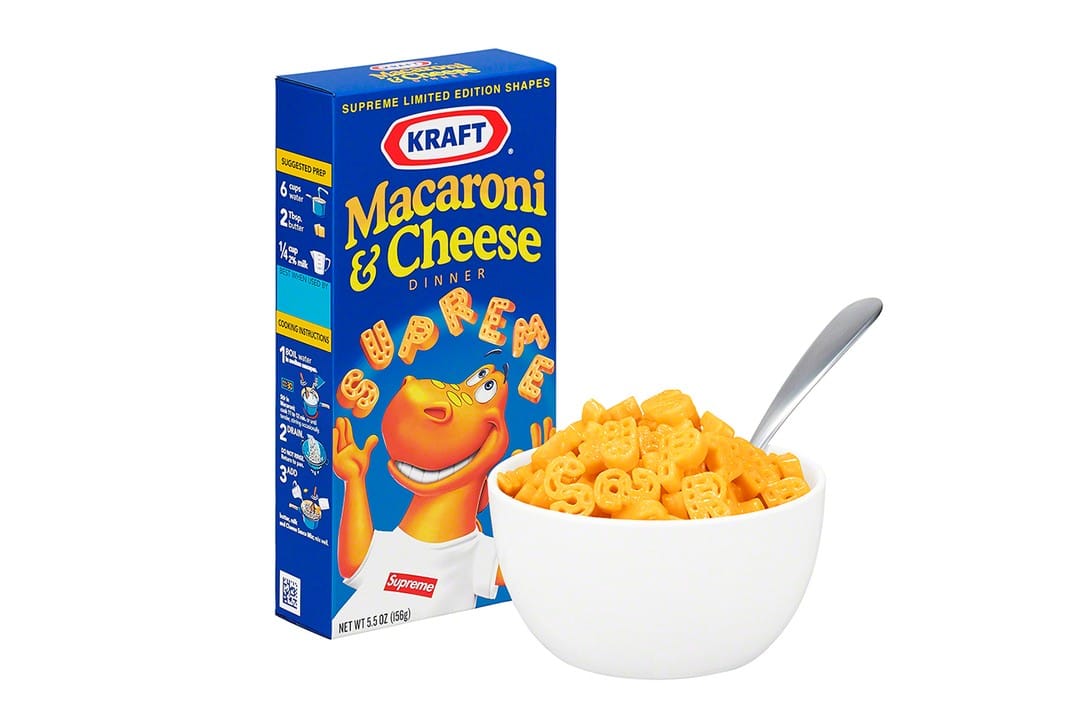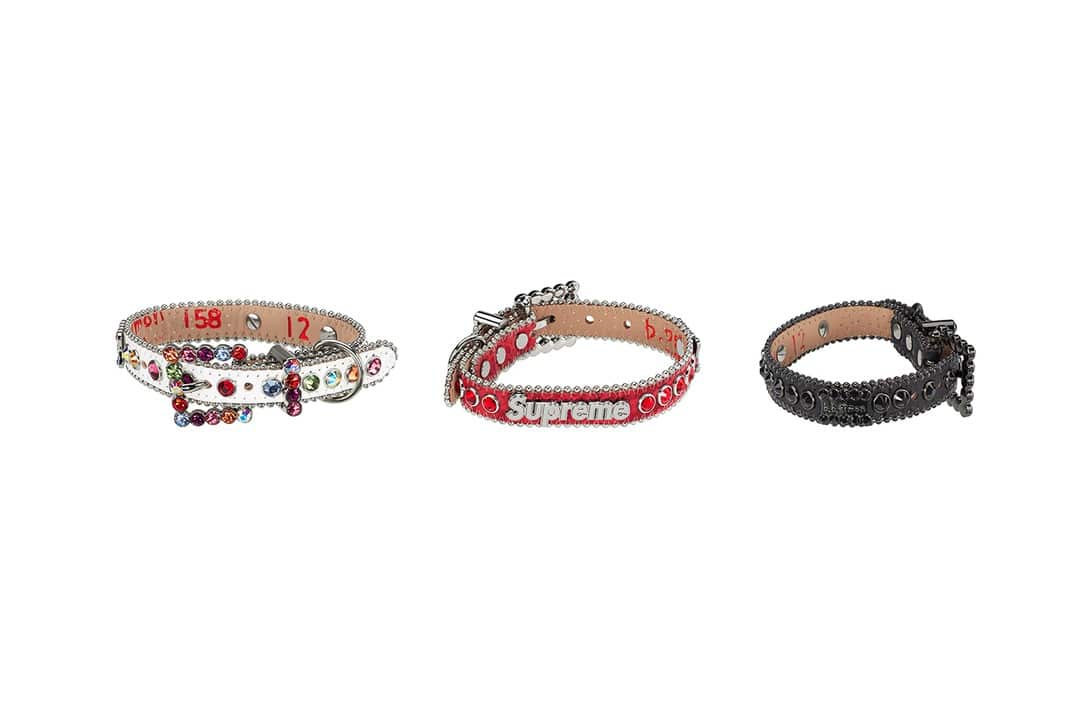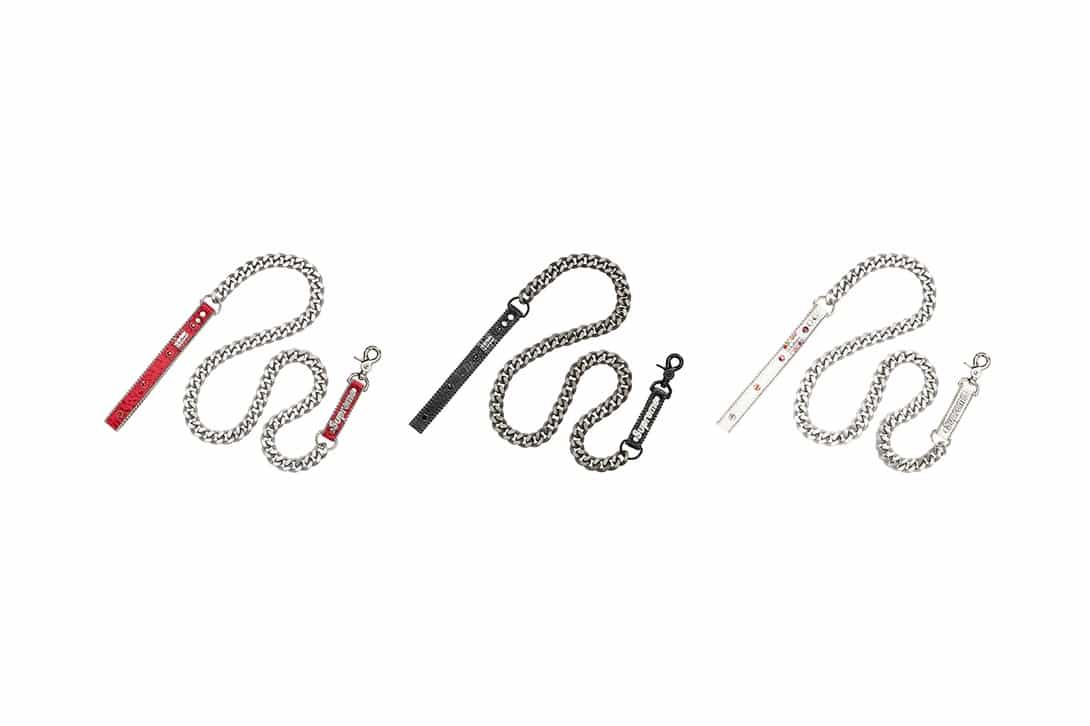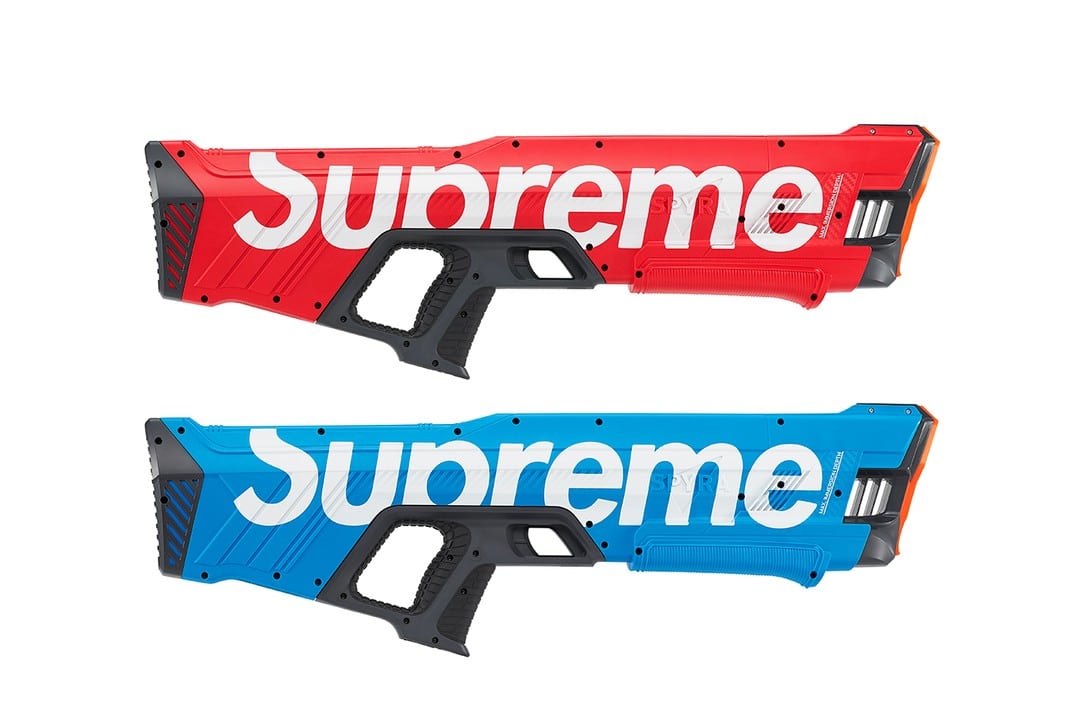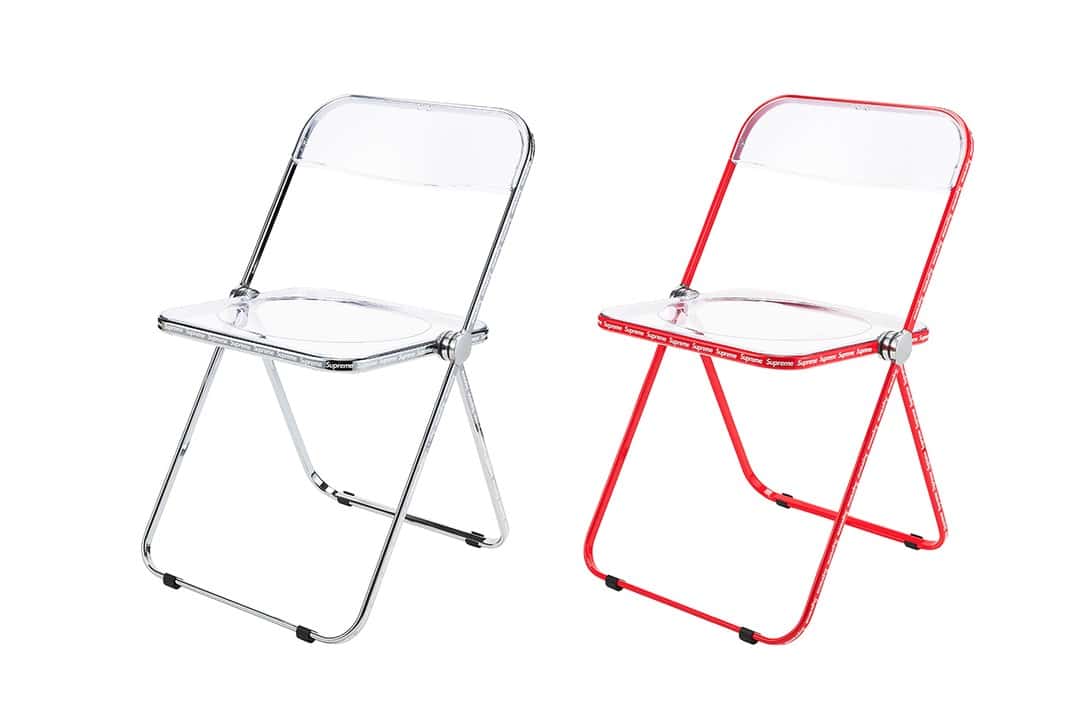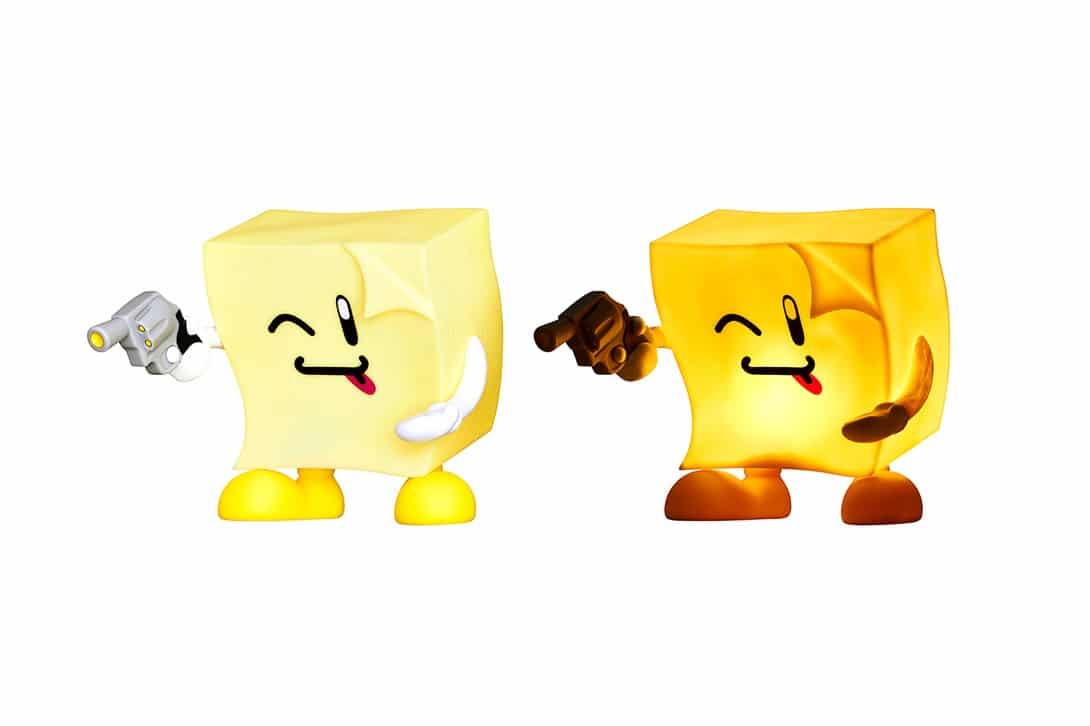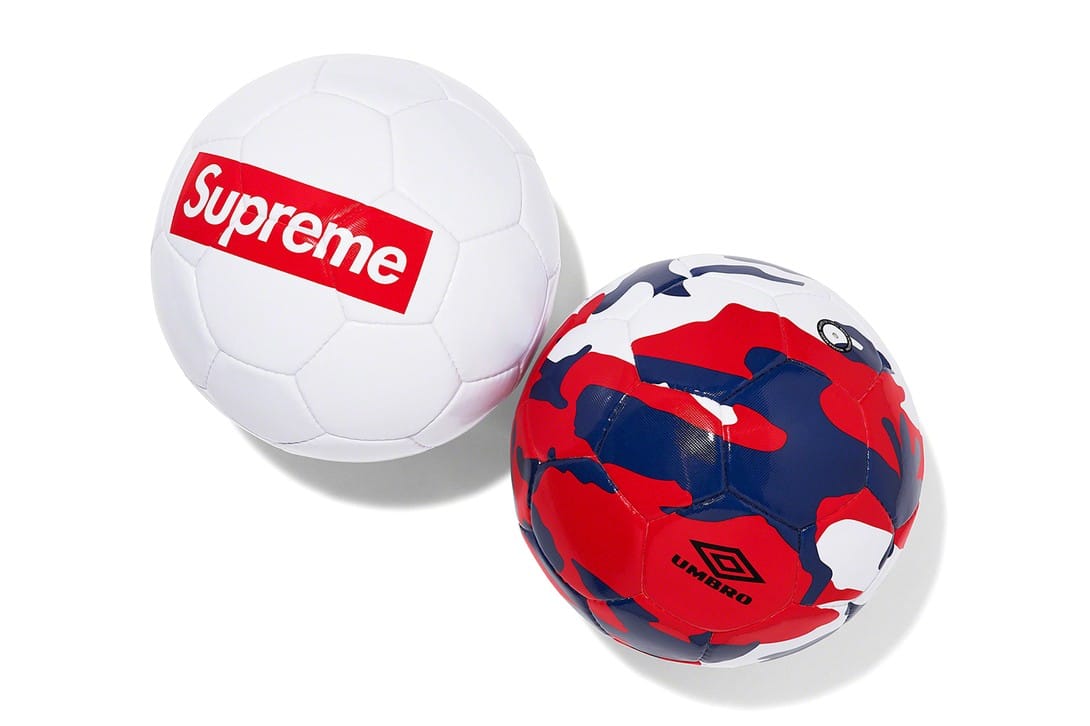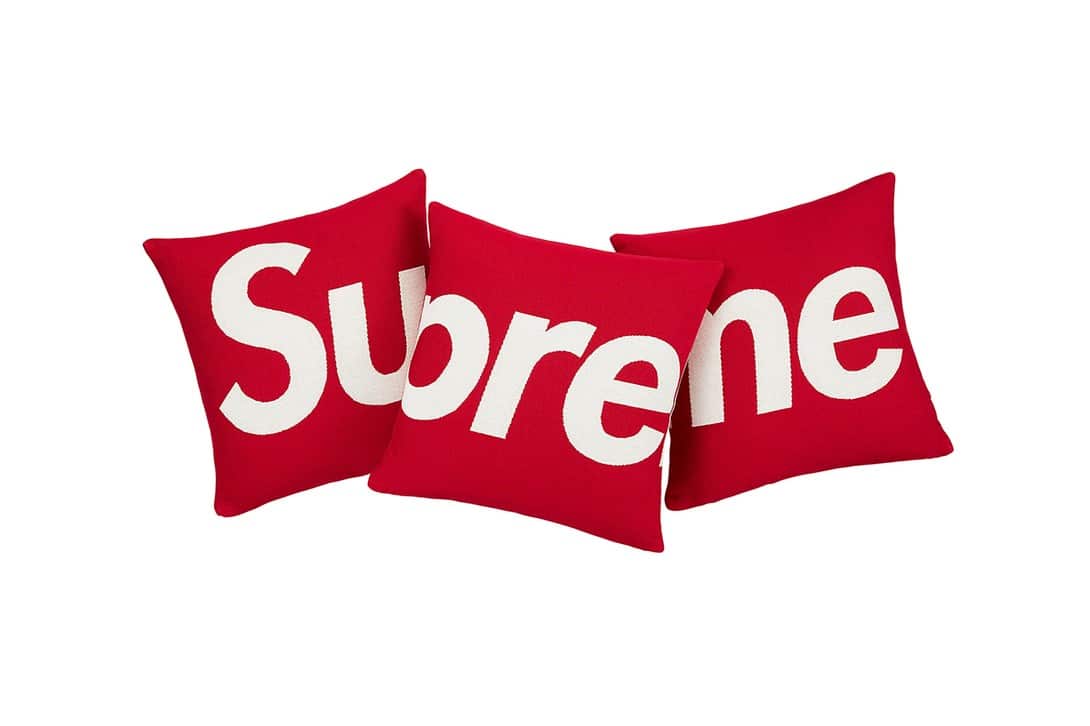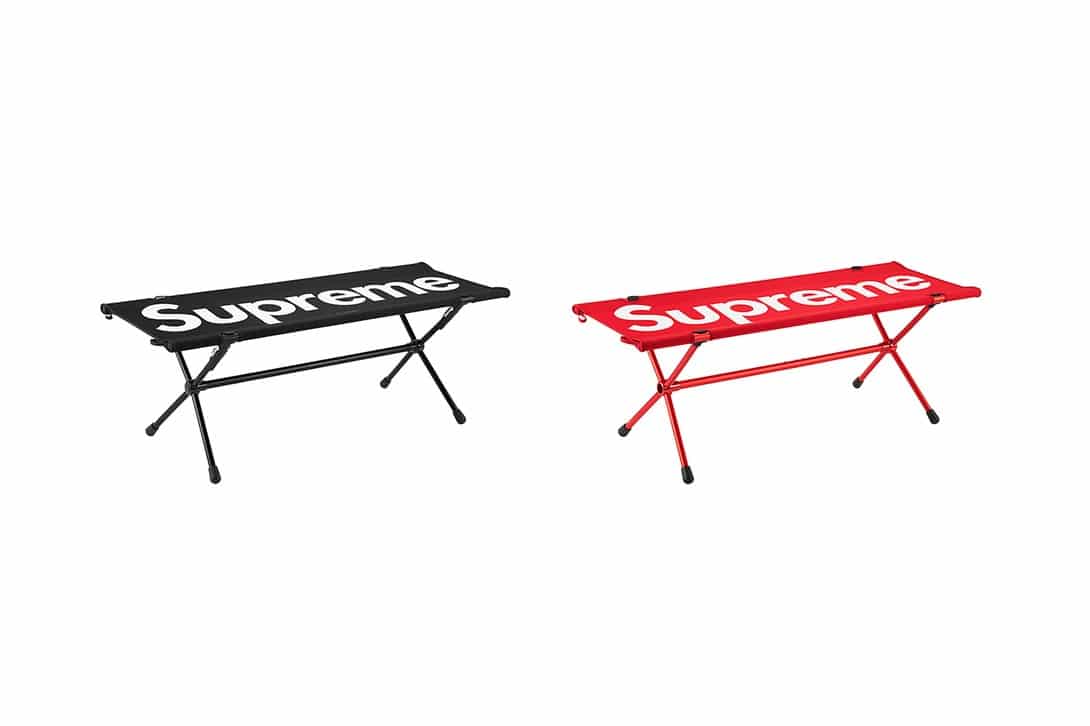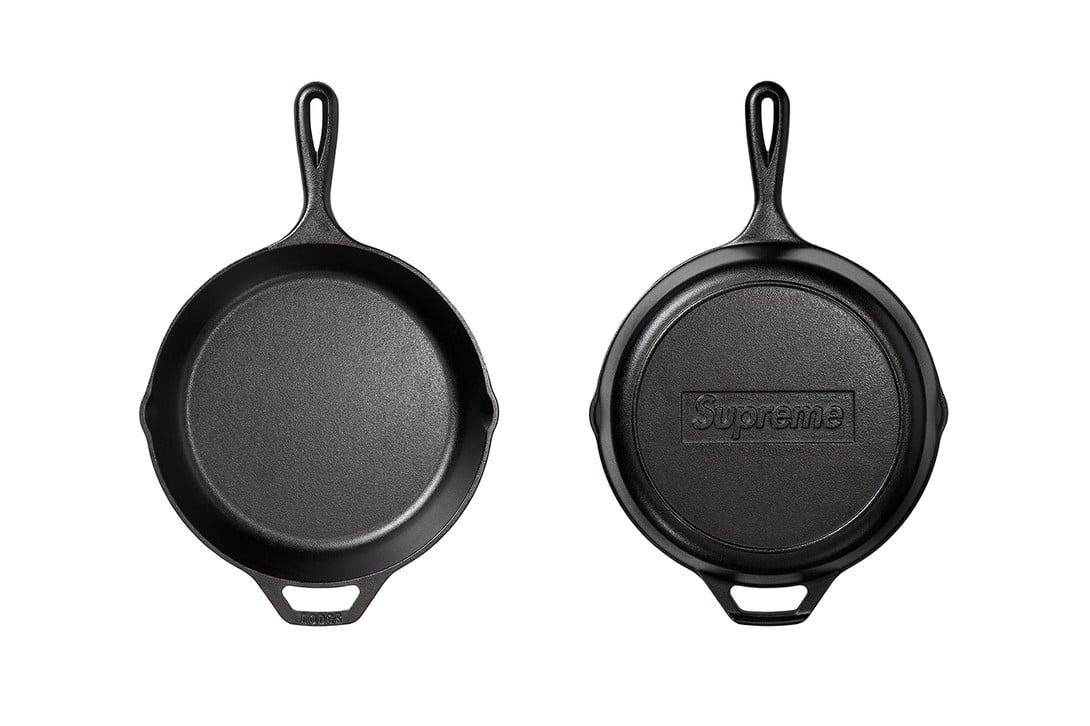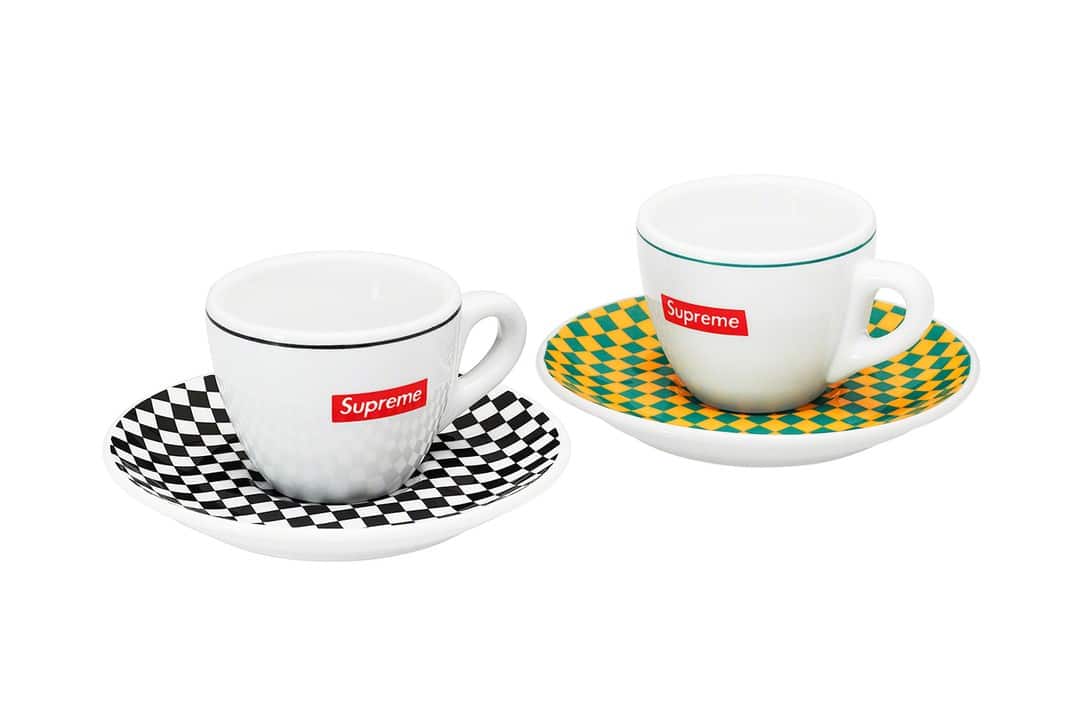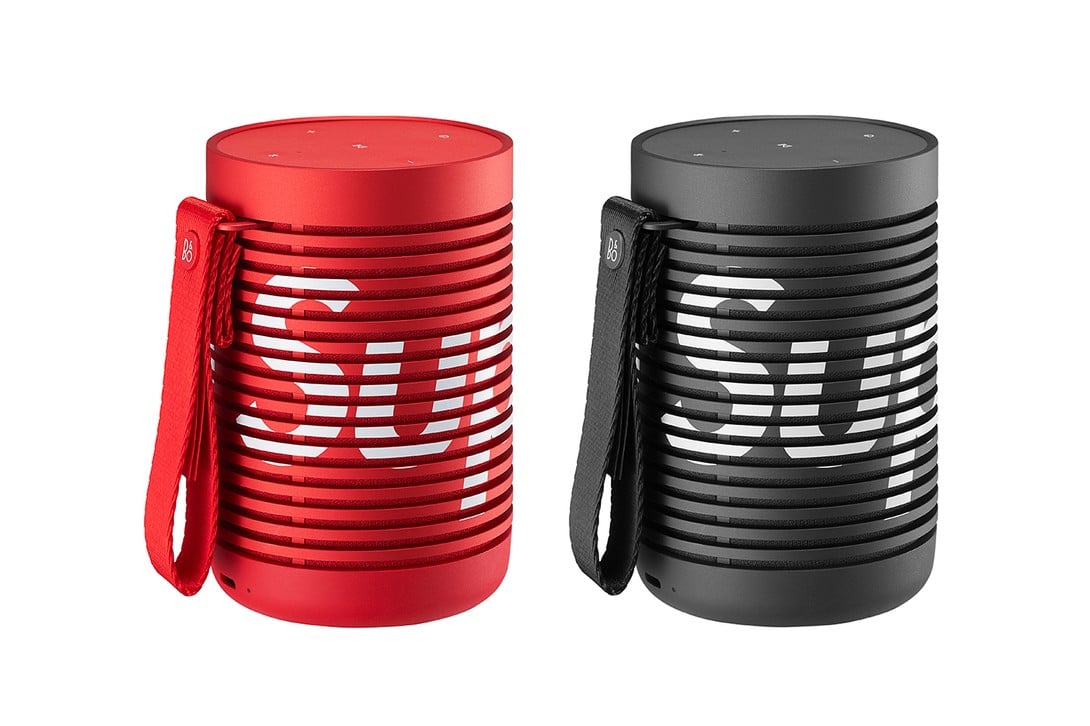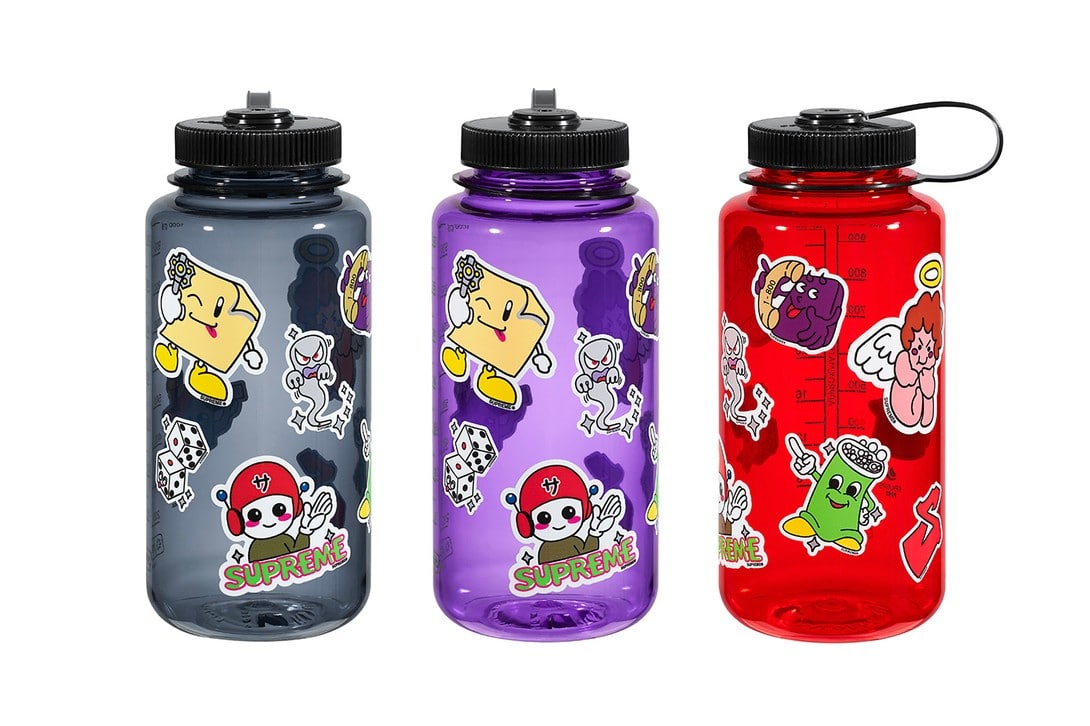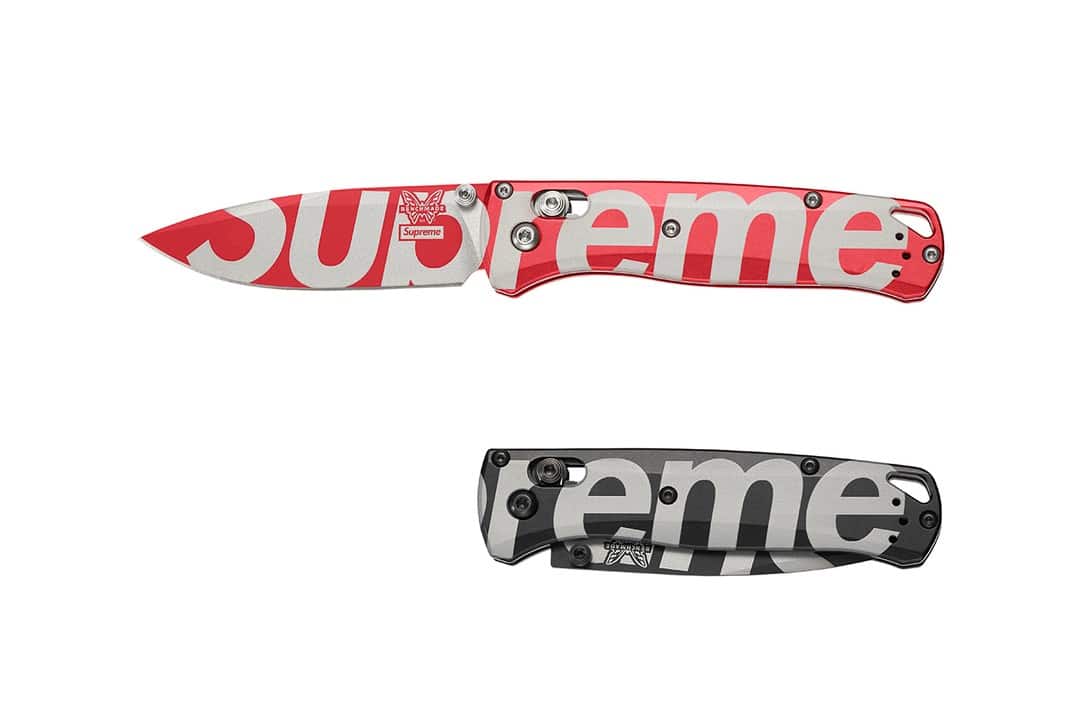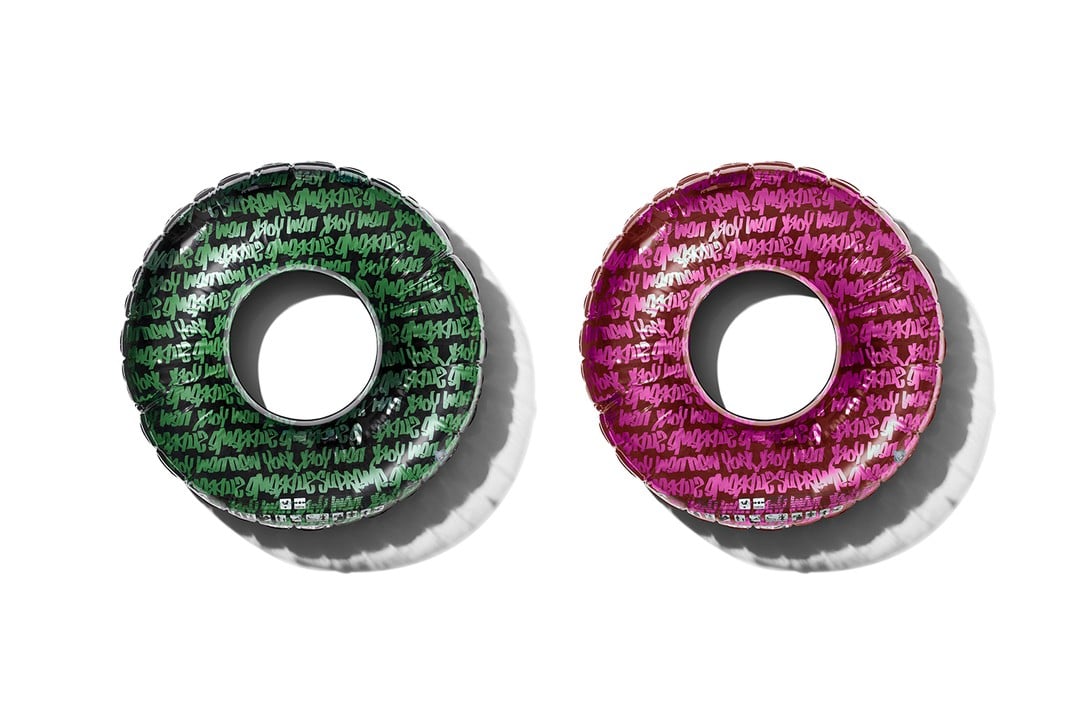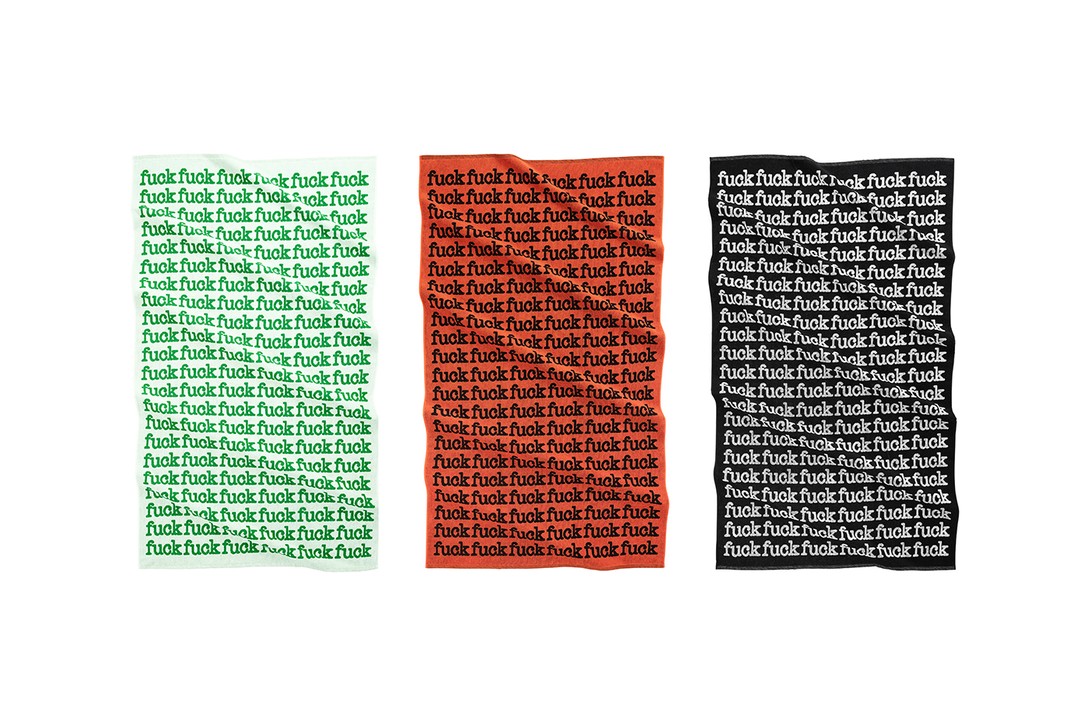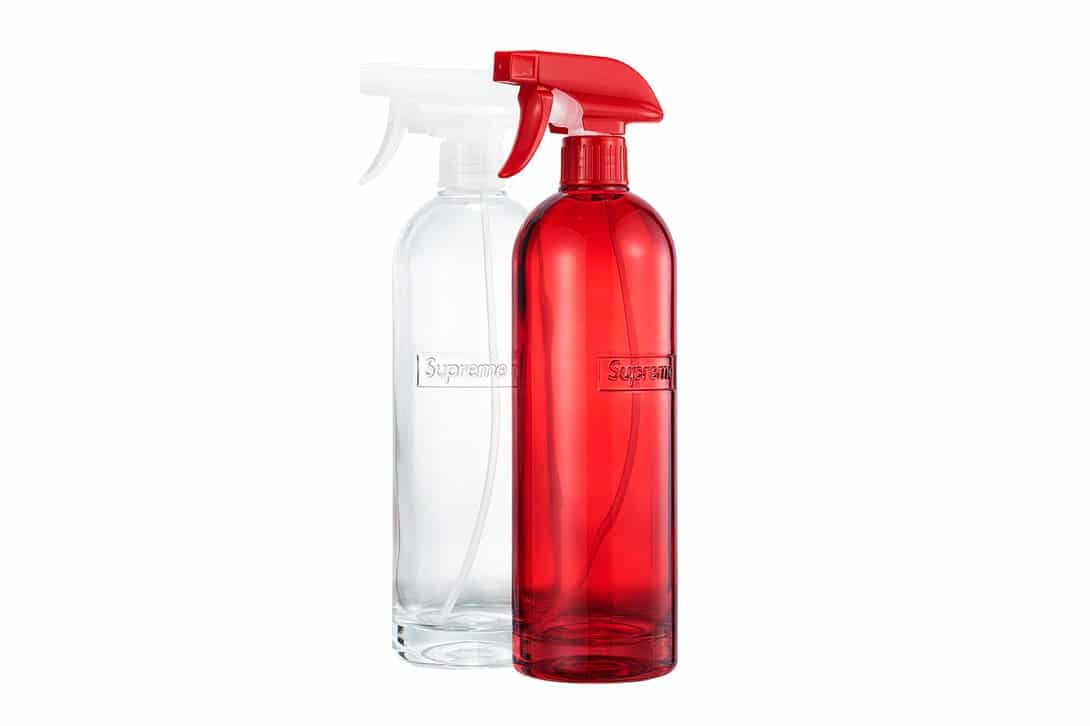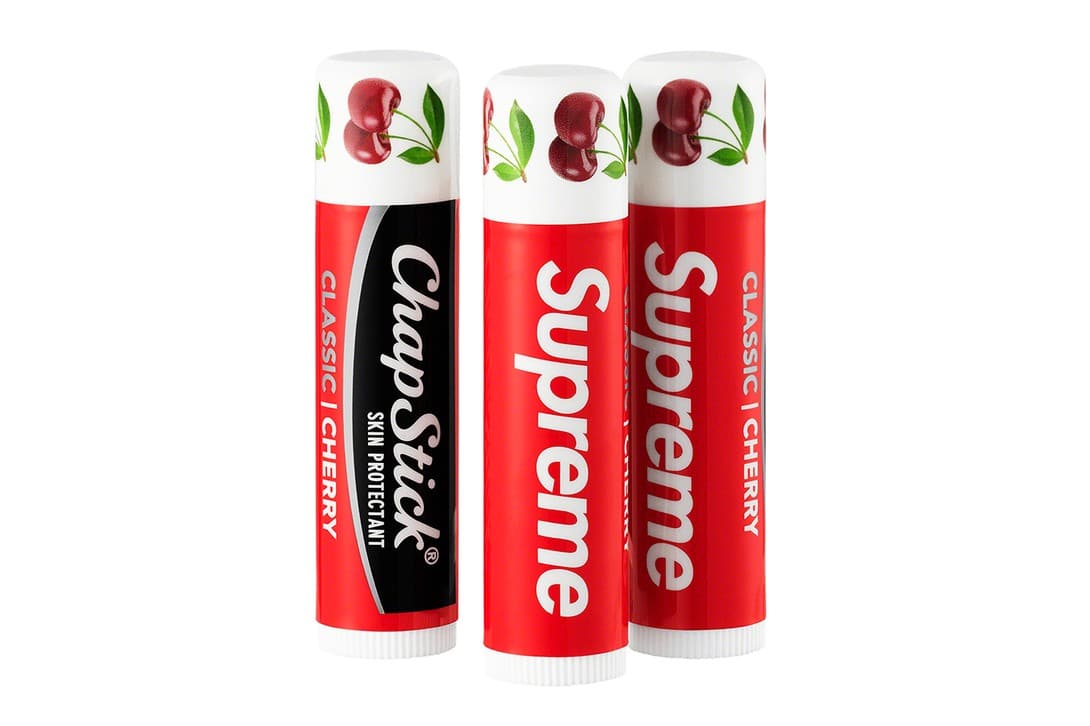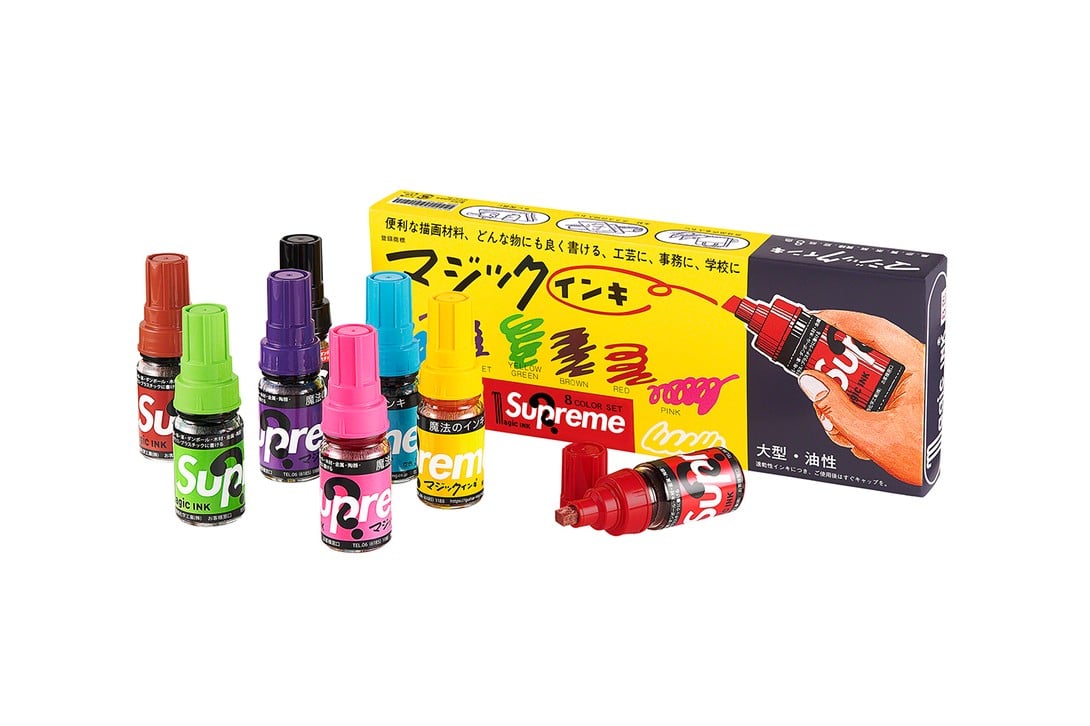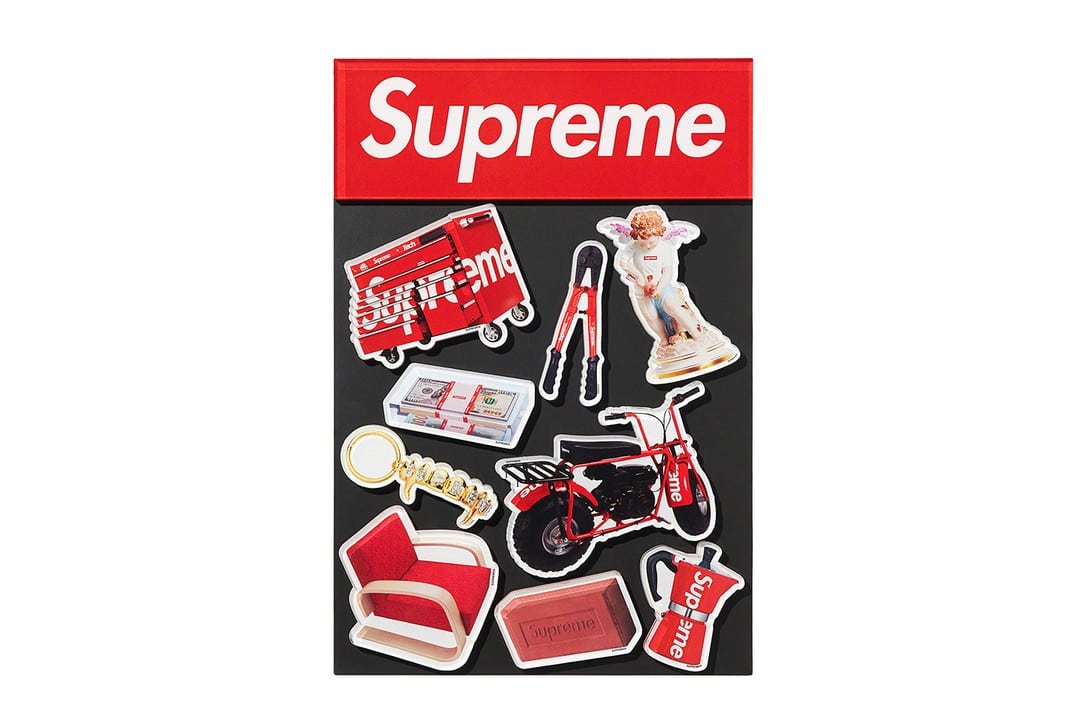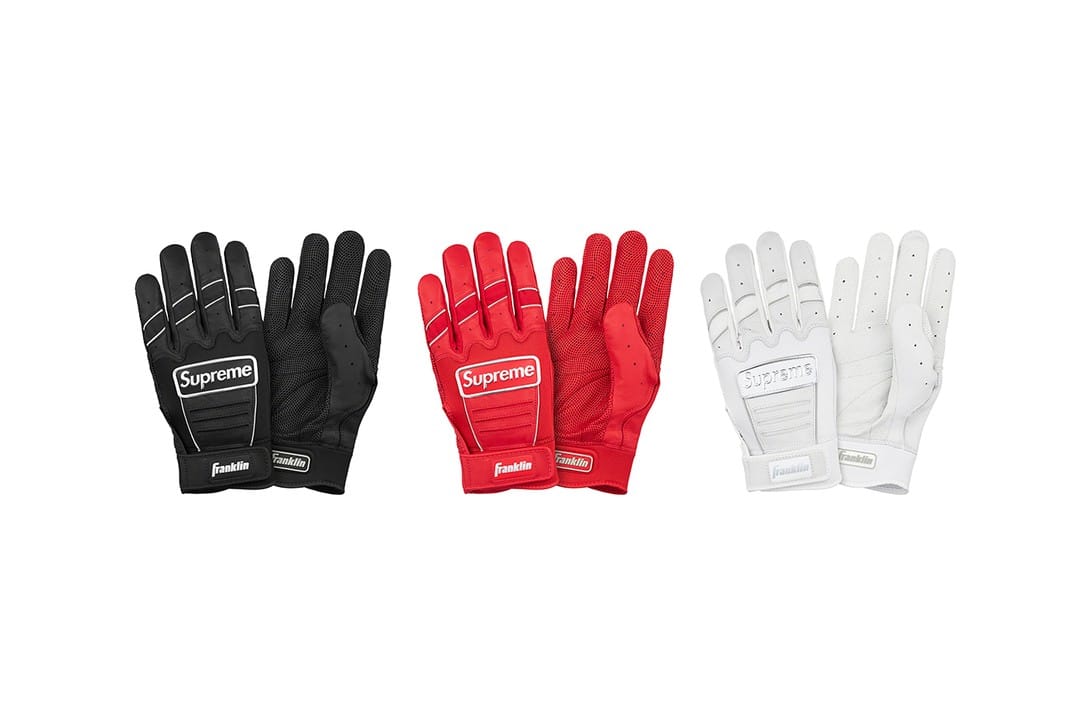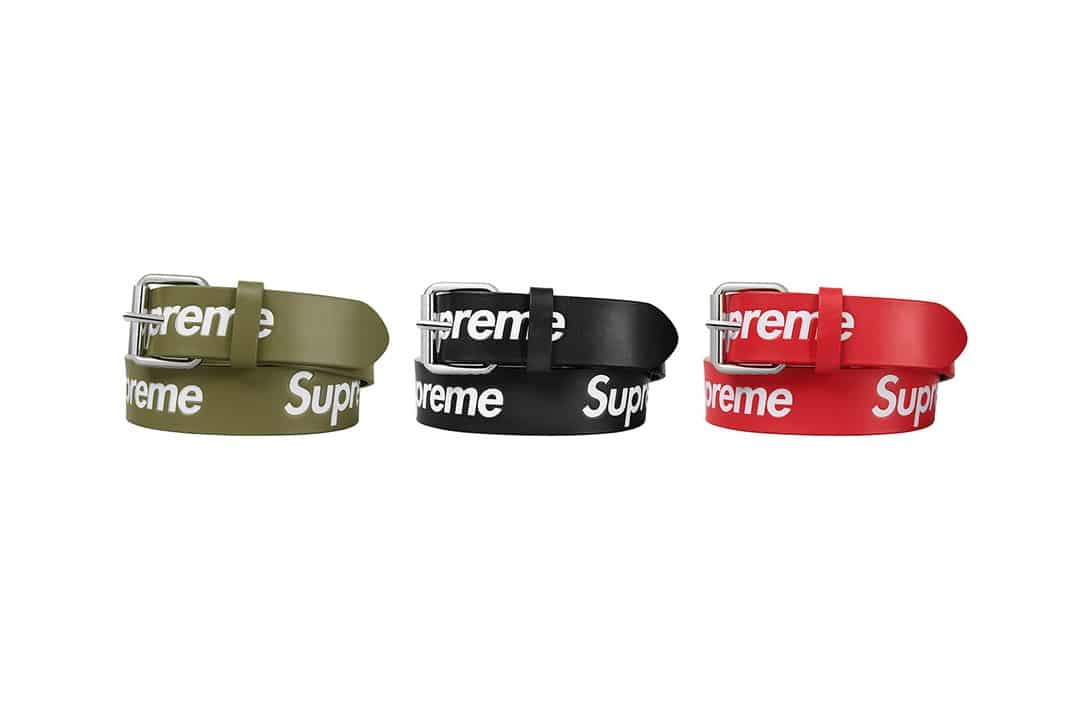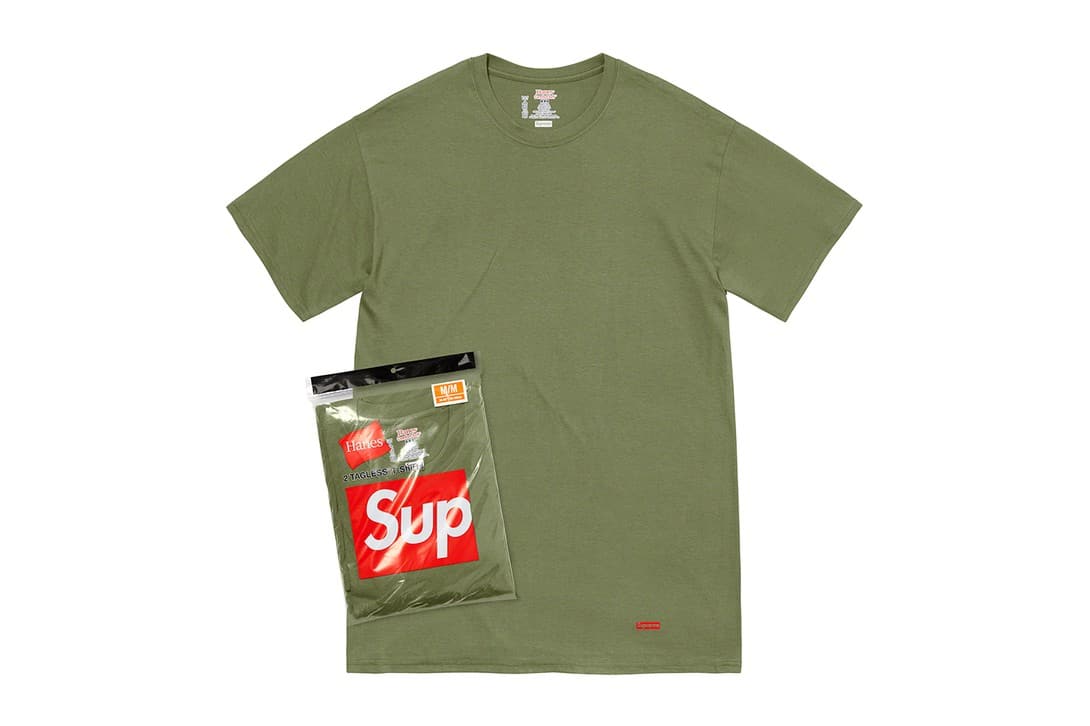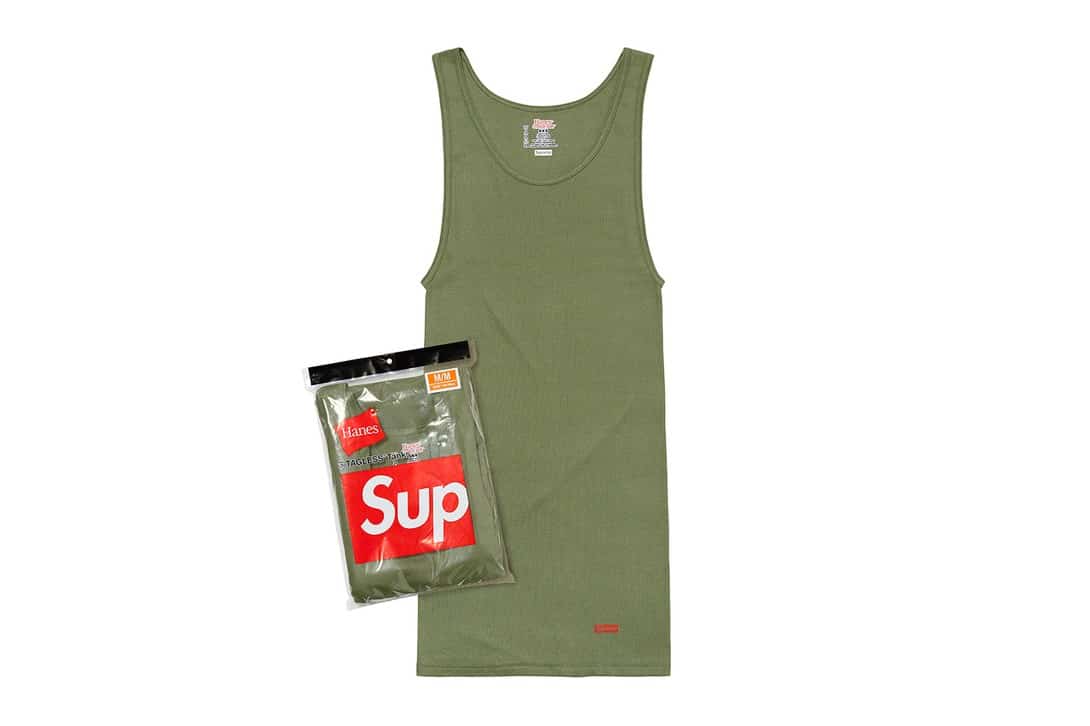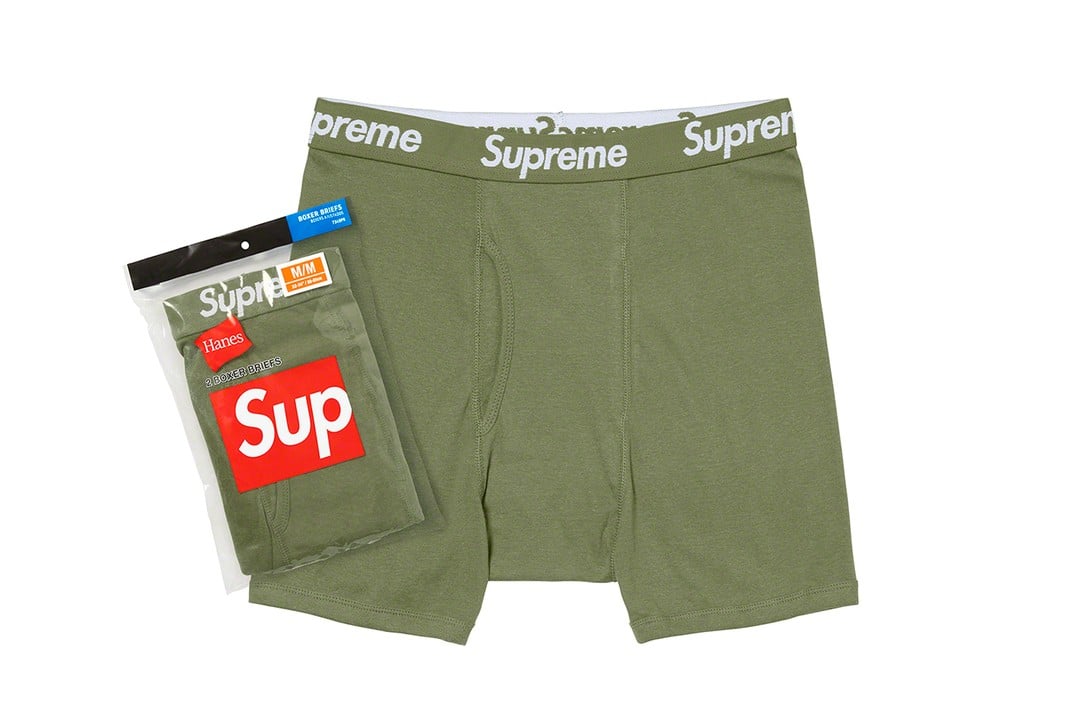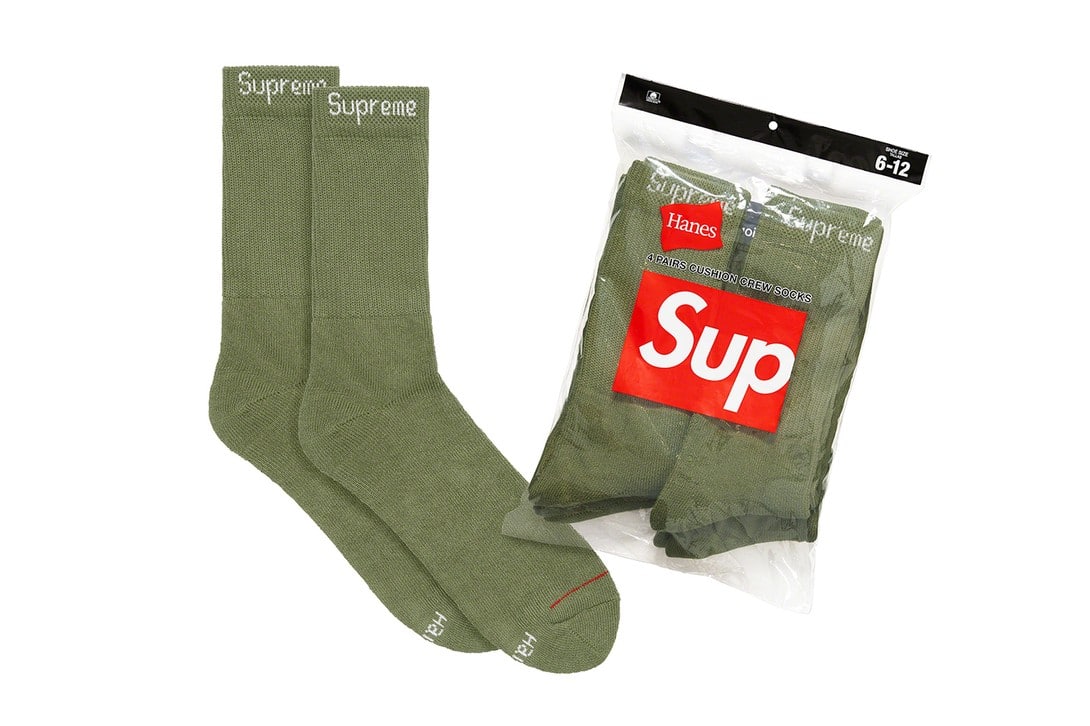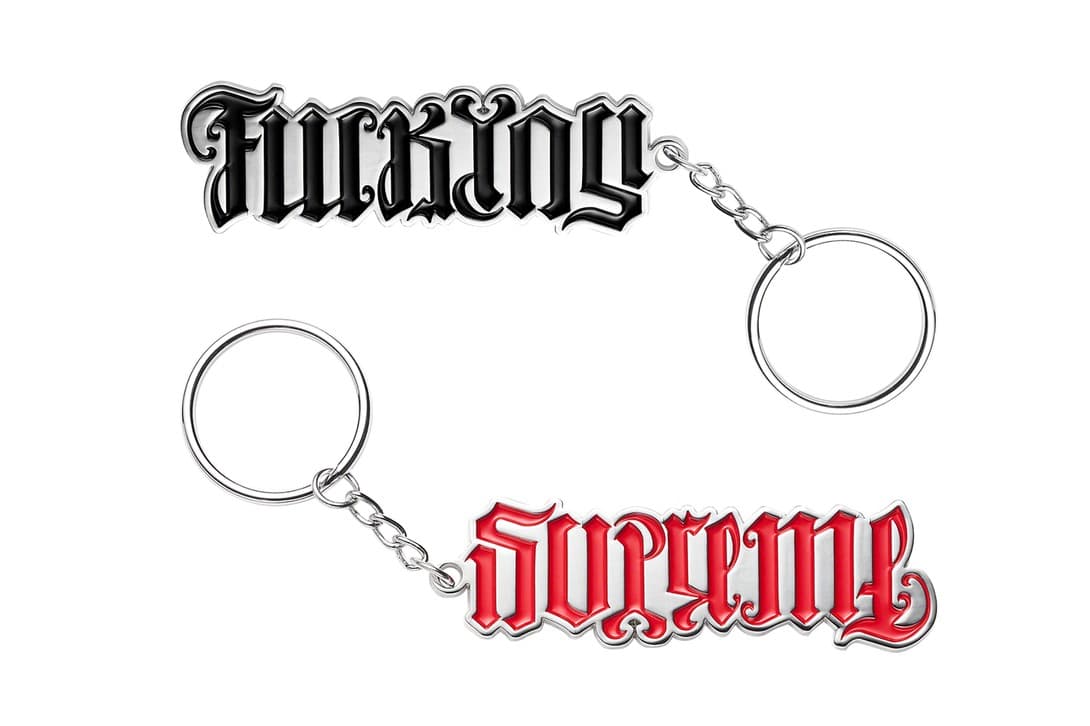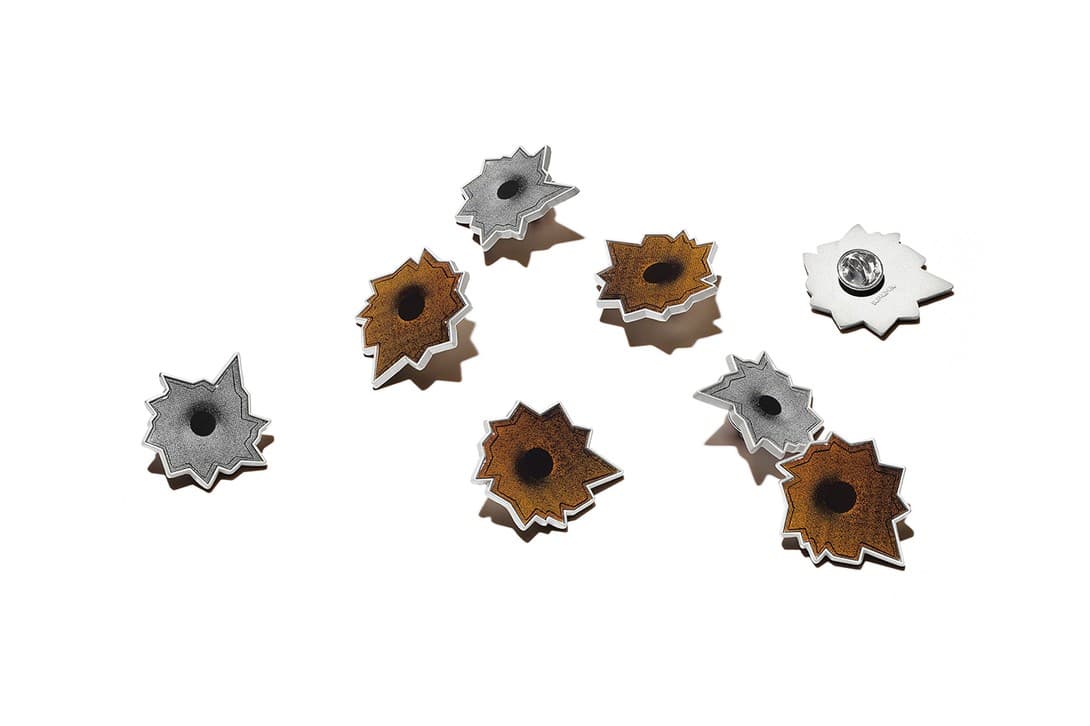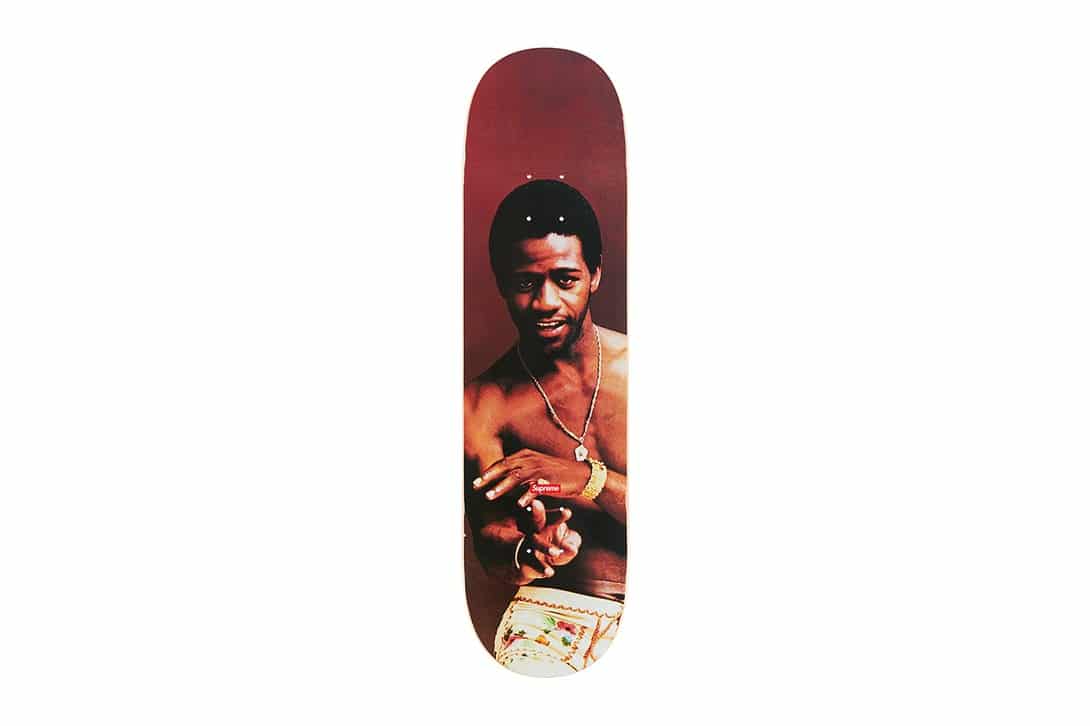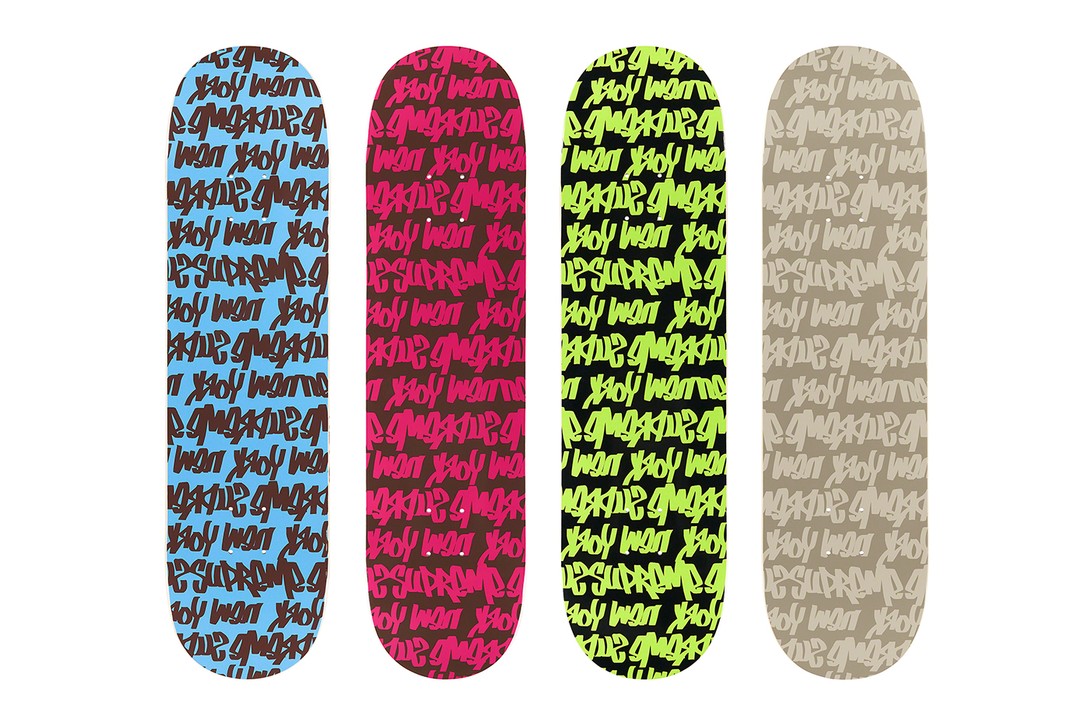 Update 08.02.2022
Are you ready for the Supreme Spring/Summer 2022 collection? In just a few days, the launch of the next collection will take place. Unfortunately, the exciting leaks have remained undisclosed until now, but today, the New York label is revealing the first pieces. A matching denim set with monochromatic Supreme lettering has appeared on Instagram, which Supreme describes as "New Spring/Summer 2022 collection coming soon." Next week, Wednesday will see the full reveal of the Supreme lookbook, while the Supreme SS22 collection Week 1 drop will follow on February 17th.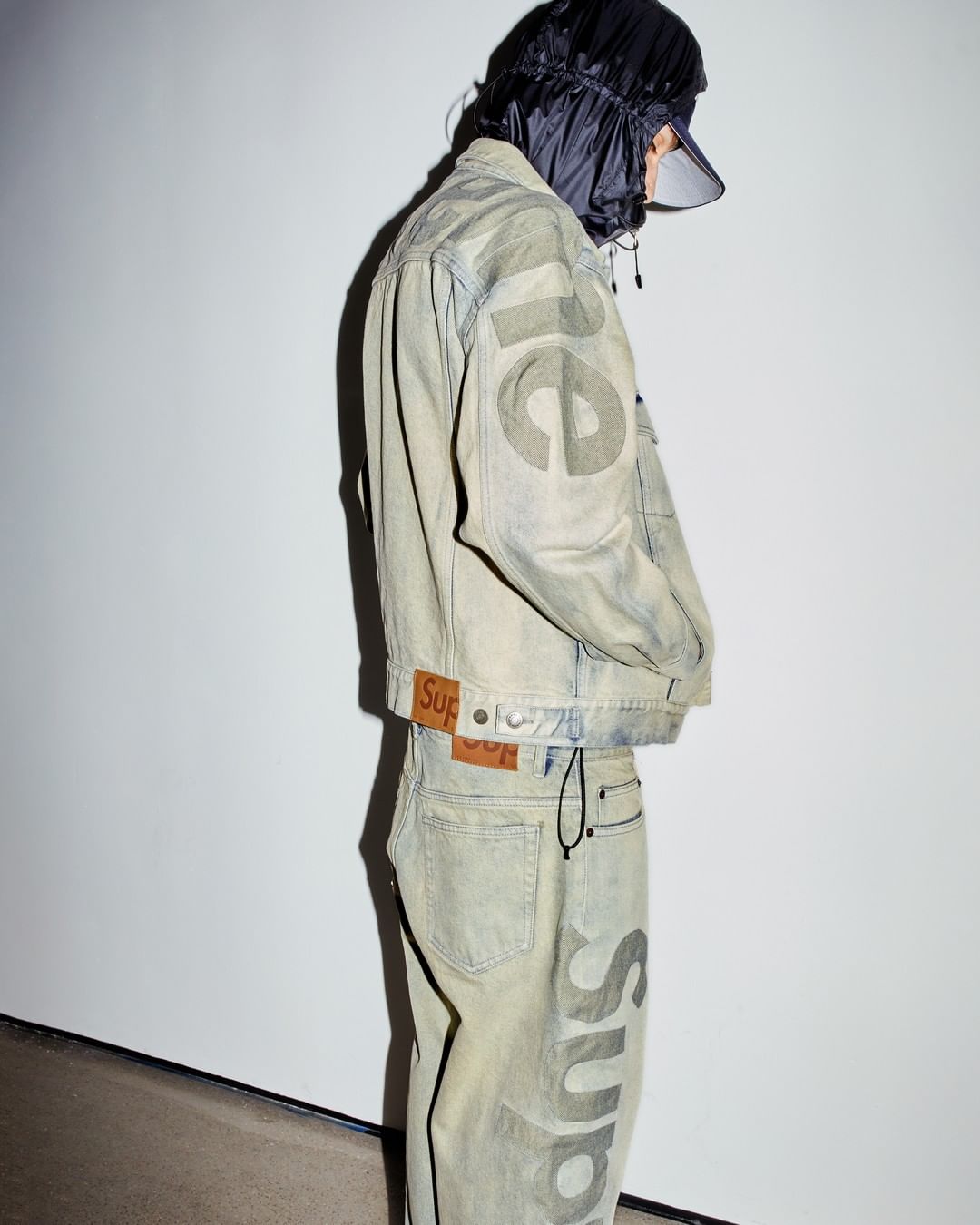 Update 21.01.2022
Supreme is set to add another partnership to its Spring/Summer 2022 collection. More specifically, a collaboration with Burberry has been revealed today. Supreme has announced unofficial garments featuring the world-renowned flannel print several times, but this year, the two mighty brands are finally set to team up.
At the moment, it's hard to say exactly what Supreme and Burberry's collab will look like, but we're sure Burberry's legendary print and Supreme's branding will take centre stage. We can possibly expect a box logo collection. Supreme has already shown that the label is open to an extension of the box logo design.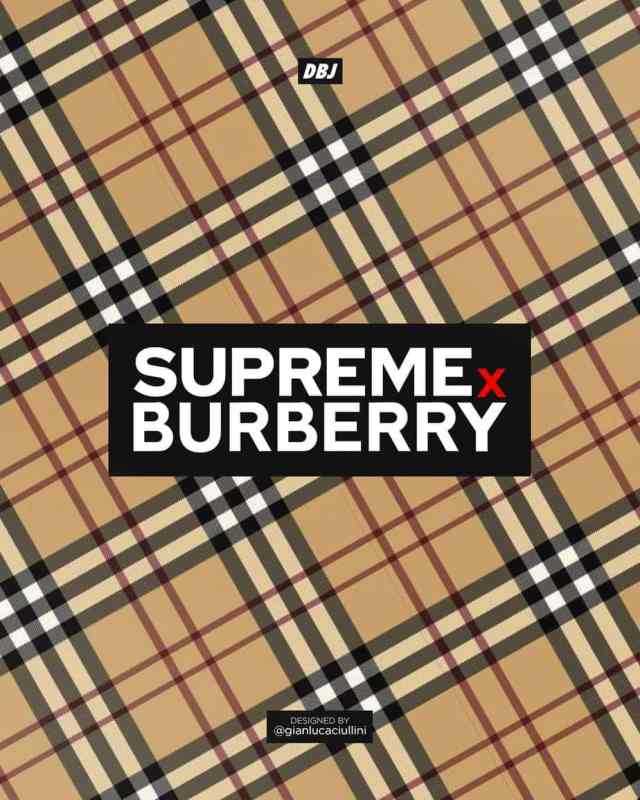 Original article 18.01.2022
Hypebeasts, fashion enthusiasts, and fans are already eagerly awaiting the upcoming Supreme Spring/Summer 2022 collection, and while we wait here, Supreme New York is putting together the pieces for the upcoming season as we speak. This means more and more Supreme leaks will be popping up in the near future.
As we get a first look today, rumour has it that the Supreme x Hanes Olive collection is one of the first collabs. Both labels are long-time friends and maintain a relationship with modern collections. For the seasonal SS22 collection, Hanes and Supreme are adding olive, which will be used on standard t-shirts, crew socks, and boxer shorts.
Soon to Begin: Drops from Supreme Spring/Summer 2022 Collection
While these are very small leaks, we will probably hear something new from this section every week from now. Besides the First Look, the first steps from the roadmap have also already been shared. Supposedly, the whole lookbook will be released on February 14th. You can expect us to keep track of it and always update you in time for the drops. Missed the latest pieces from the Supreme Spring/Summer 2022 collection? No problem! Check out StockX, because that's usually where the pieces resurface for a slightly higher price.