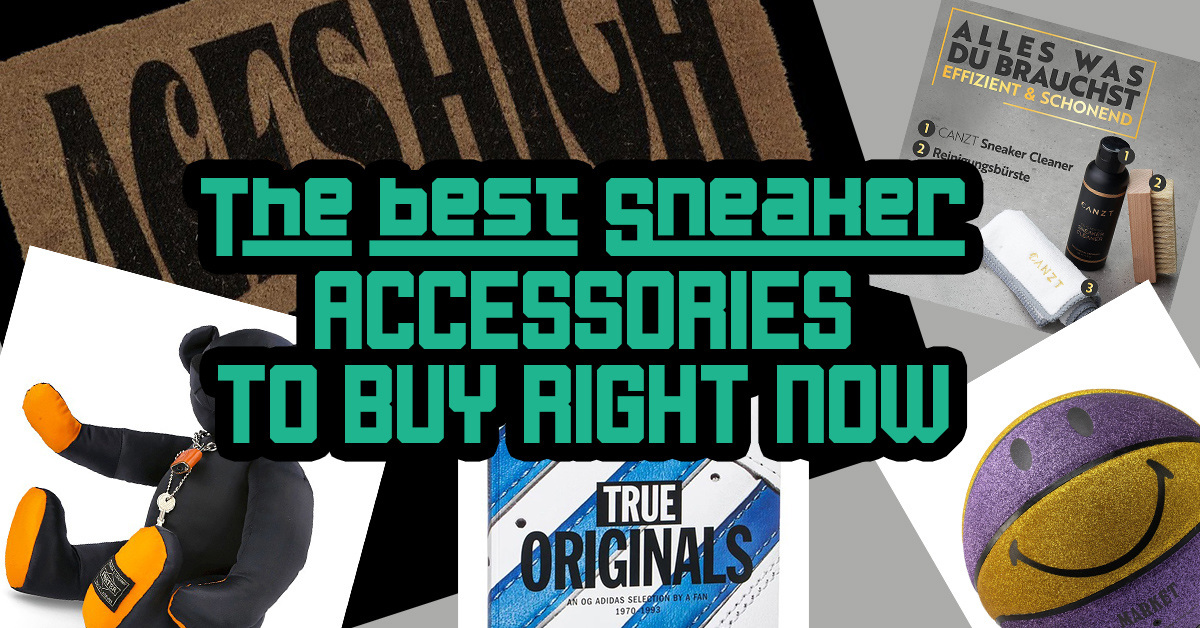 The 10 Best Sneaker Accessories 2023
So far, 2023 has been packed with many great sneaker releases. Keeping track of them is, of course, as time-consuming as it is expensive. So, why not go for accessories next time? Here's a list of the 10 best sneaker accessories on the market.
1. Carhartt WIP Aces Door Mat (Natural/Black)
You might think we're lazy for always including this in our list. But you can't deny that it's a staple for every sneakerhead's home. And who doesn't love hearing a compliment about their kicks while cleaning their soles? The hip Aces Door Mat by Carhartt WIP is available online at
43einhalb
for just 45€.
2. Canzt Professional Sneaker Cleaner
Finally, there's a trainer cleaning solution for lazy people! In this set, you will find the Canzt Sneaker Cleaner, a brush, and a Fibr cloth. The cleaning set is suitable for all types of trainers, no matter what material they are made of. Available at
Amazon
.
3. Parra Shocker Logo Crew Socks
Parra socks are an absolute must-have in any wardrobe. The latest white socks are made from a luxurious blend of 80% cotton, 15% polyester, and 5% spandex for the perfect combination of comfort and style. Shop the trendy socks now at
BSTN
.
4. Porter-Yoshida & Co. Grizzly Bear 2021 Version
Upgrade your sneaker room with this stylish accessory. The 2021 version of the popular Grizzly Bear by Porter-Yoshida & Co. is made of the deep and elegant original colour of the traditional Japanese colour "Iron Navy Blue", here known as IRON BLUE. The bear's German-made eyes provide excellent transparency and great colour that really brings the bear to life. You can also easily move the bear's head, hands, and feet with the articulated parts Porter-Yoshida & Co. have included with this edition! Check out the Grizzly Bear at
Overkill
.
5. True Originals Blue
In this digital world, it can be nice to sit back, have a glass of wine, and read a good book. If you're more into Adolf Dassler than Agatha Christie, you should check out True Originals — a nice selection of adidas sneakers by collectors for collectors. You can find them at
HHV
.
6. Supreme Field Waist Bag
This item doesn't necessarily have anything to do with trainers, but when you look at the big picture, it makes perfect sense. If you're camping out in front of a sneaker shop, you might want to stash your small items safely. Available at
Supreme
.
7. Supreme x Dulton Tray
The Dulton Desk Tray, a collaboration between Supreme and Dulton, is red hot! This exquisite 8-inch Dulton desk tray comes in a bright, eye-catching Supreme red. It's the perfect decorative piece for any desk or shelf. Without a lot of frills, it's sleek and modern, but also timelessly stylish. Whether you're looking to impress at a Zoom appointment or just wanting to spice up your workspace, this Dulton-Supreme collaboration is a real head-turner. Available at
Supreme
for just 24€.
8. The North Face Box Logo Beanie
The North Face Box Logo Beanie is the perfect way to add some style to your cold weather attire. The material comes in fiery orange and adds a splash of colour to any outfit. Buy now at
Tint
for 30€.
9. Market Smiley Glitter Showtime Basketball "Lakers"
If you like sneakers, you're probably into basketball or skateboarding. This ball from Market and Puma is a nice little adornment for your room. But you can also use it to stun your opponents in a match. You can also get it at
Tint
.
10. Fred Perry Necklace Chunky Laurel Wreath Golden
Necklaces add the finishing touch to any outfit! We're celebrating Fred Perry's extra classy piece of jewellery made of 100% brass. Available for 100€ at
True Rebel
.