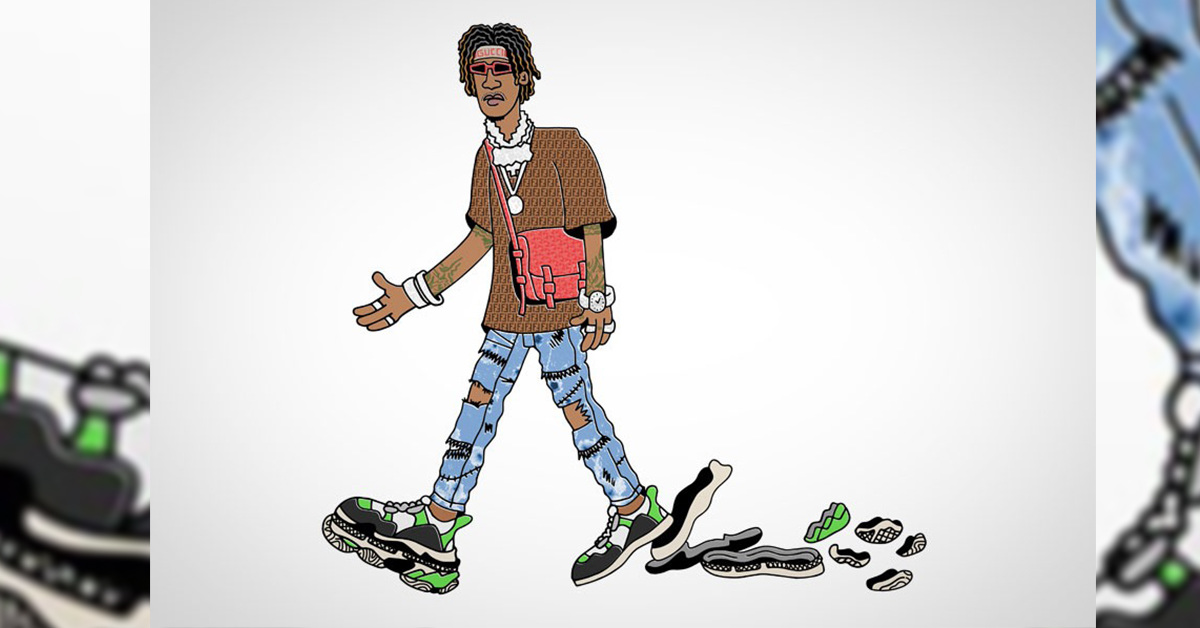 The Chunky Trend - How Long Will It Last?
Chunky sneakers, bulky footwear or dad shoes - the trend has many names and many facets. But one thing is for sure: the soles are getting bigger and the shoe design consists of more layers and materials than ever before. The "chunky" trend is big and contagious, and fashion brands like Balenciaga not only follow the trend, but define it. And as soles grow to extreme proportions, it's only natural that we wonder: how long will this trend last? We decided to ask a few people who work in the industry - designers, shop owners, editors and brand managers. Here's what they have to say.
Erik Fagerlind (Co-Founder, Sneakersnstuff)
Is "chunky" a short-lived trend or something that will stay with us?
It's been around for a while. I think the hype is over and we will see the over-the-top versions less. But "normalised" versions will be around for quite a while for a wider audience.

Do you have a favourite chunky shoe?
You can hate them or love them, but the Balenciagas have taken a different approach. They didn't start it, but they've taken it further. I chuckled a bit about the Nike Monarch.

What do you think will come after the chunky sneakers?
Parallel to Chunky, we have seen Tech. Usually the counter-trends are the opposite of what's on the market now. So you can expect it to be more slim design and more low-tech. But these are exciting times, because consumers determine the trends more than the industry - so it can go in many different directions.
Till Jagla (Head of Energy, adidas Originals)
Till, adidas is at the forefront of the trend towards chunkier silhouettes and many of these shoes come straight from the archives. How do you think this trend will evolve?
I think this is something that is more than just a trend. adidas has always tried to move the market through premium technology, which sometimes led to very unique designs. But it is often these very special products that offer the most substance for modern design interpretations.

Which special shoes best represent this segment?
Every brand has interesting designs in its archive. For me, there are many shoes from adidas that are so sick. The OG version of the Ozweego 2, Supernova or Ozone for example, or many Feet You Wear models are also nice. But for me, nothing can match the early 2000s when adidas invested a lot in real visual technology. The adidas ONE, A3, Megaride, Bounce and Microbounce.

Do you think we've reached the peak?
I would call it more of a plateau, because I think there are more good shoes to come in this category. There are just too many treasures in the archives. I think the luxury brands will move on because the dynamics in the fashion market are even crazier than in the sneaker market.

What do you see coming after chunky sneakers?
Every trend provokes a counter-trend. I would bet money that we will soon see "flatforms" on the catwalks. Personally, I might skip this trend if it really comes.
Daniel Bailey (Designer & Founder, Concept Kicks)
When did you first notice that there was something like a dad shoe or chunky shoe trend?
I remember seeing a lot more volume in the soles coming from some Adidas Y-3 and Nike models, especially the Roshe Run. I think the proportions of that shoe had a big influence on fashion houses adopting that look, and since older "dad" sneakers used to have quite voluminous soles, it was only a matter of time before they turned to that trend.

How long will it stay with us?
I think it will stay for a while. Then we'll see it transition into something else, but based on similar proportions. For this time of year, trends like this are cyclical, and for what we consider dad shoes at the moment, the trend has peaked - it will be interesting to see how it continues.

What do you think will come after chunky sneakers?
I think it will come to a mix of features - a sleeker aesthetic but with more aggressive streetwear proportions, volume and utility. I think it will be a diverse mix.
Matt Welty (Editor, Complex)
When did you first notice the chunky trend?
To be honest, I've always been a fan of chunky sneakers. New Balance, Nike Footscapes, Saucony, Air Max 95s ... But when the whole industry turned into knitted sock shoes, I got tired of the minimalism trend.

Do you think it's a short-lived trend?
Everything comes and goes. There won't be chunky sneakers as a mainstream trend forever. Fortunately, the Fila Disruptor won't be worn by everyone next year. But there will always be a place for regular sneakers.

Which trainers from this segment are particularly popular?
For me, the New Balance 990 series is the only "dad" shoe that matters because it's a real performance shoe that doesn't try to be part of the trend. It is the trend.

Have we reached the peak and if so, why?
I don't think it can get any more absurd than it is now. Nike is putting multiple soles on trainers. It literally doesn't go up anymore. Puma is creating faux-retro dad shoes, and they're all terrible.

What do you think is coming after chunky shoes?
I think we'll go back to the classic sneaker trend: Stan Smith, 70s running shoes, tennis shoes, suede Adidas. That's just coming back into fashion and I think that will be the next step.
Steven Smith (Designer of the NB1500 and Yeezy models)
Steven, you have contributed to the dad shoe trend in your own way. What do you think will happen next?
I don't think it's dead yet. I think it's just become more accessible. I see younger girls wearing the Fila Disruptor, which is a good choice. I think like most other trends, it will morph into other things. They stand for comfort and longevity, so I can see it continuing. They stand for value, and who doesn't like value?

What's your favourite of the chunkier silhouettes?
I think the original New Balance 900 series is king. The Yeezys were a great catalyst to spark the trend.

What do you think comes after chunky sneakers?
That's a good question. I think it will be more of a broad exploration of heights and other influences.
Daniel Benz (Founder, Asphaltgold)
Daniel, how do you think the chunky segment will develop?
I observe two trends that need to be distinguished. Chunky is much louder and short-lived. Dad shoes have been around forever and just made it from the grill to the scene. I see much more consistency in the latter.

Do you have any favourite silhouettes?
The most iconic and probably most consistent chunky sneaker is the Balanciaga Triple S. Personally, I'm much more into dad shoes because they're mostly sneakers with a sporty heritage. The New Balance 990 and 991 are king and queen for me.

Do you see any signs that the trend is coming to an end?
Loud and chunky models have reached their peak of demand. In the last three to four seasons we have seen quite a lot. It's almost impossible to stand out with a chunky model. Still, I think the classics will be back in a big way.

What do you think will come after chunky sneakers?
I wouldn't go for the low-profile trend right now. I think it's going to be more diverse again, but at the same time a return to classic running, court and b-ball styles. I see white sneakers and high-quality fabrics coming back strong.
Kasper Rasmussen (Co-founder, ARKK Coppenhagen)
Kasper, where do you see chunky silhouettes in the trend cycle?
The trend has definitely moved from the catwalk, where it was a few years ago, into the mainstream of 2019. As it continues to be accepted, I think this trend will get more playful and extreme before it disappears.

Arkk is a new brand compared to established sportswear brands like adidas. Where do you position yourself in terms of "chunky" or "sleek"? We've seen both with your brand, haven't we?
With the Raven, we were at the beginning of our journey and we still had a lot to learn. It was necessary that our first trainer design was clean, simple and straightforward. That's why the Raven will always be the foundation of the ARKK journey. But now, five years later, with the Kanetyk, the Lyron and other "chunkier" models we have in development, we are going way beyond the simplicity of the Raven and definitely adding complexity: more materials, more layers, more colours and technology.

What do you see coming after the chunky Sneakers?
After the chunky sneakers, I see two things coming: first, a revolution back to slimmer and lighter silhouettes in the lifestyle segment and second, a further fusion of athleisure styling with mainstream and casual fashion.