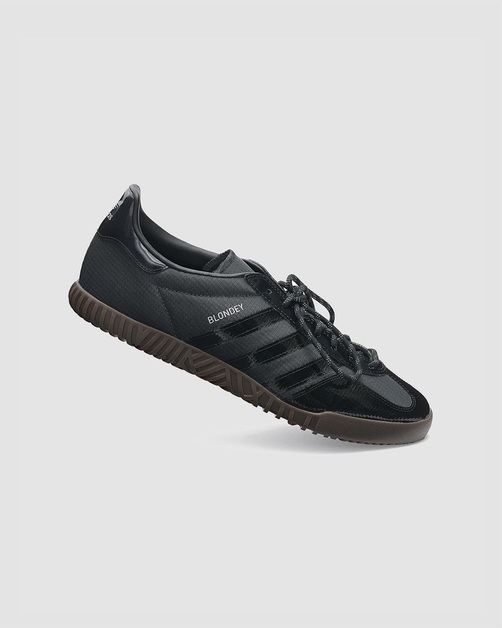 This Week Sees the Release of the New adidas Collection with Blondey McCoy
Blondey McCoy is back again. The young designer has once again created a multi-part collection with adidas Skateboarding, which will be released in just a few days. Both shoes and clothes are inspired by '80s football and McCoy's London roots.
In our opinion, the collaborative adidas A.B.Gazelle Indoor by Blondey takes centre stage in the collection. The reinterpretation of the classic football silhouette appears in a modern makeover, combining styles from several generations. In addition to the black model, a blue version will also appear, but unfortunately the model has not yet been added to the release calendar.
"A lot of people think that we skaters shouldn't care about anything but skating, but I don't see it that way. I feel the opposite, and I hope this continued partnership with adidas shows that. All of my favourite skaters have taken inspiration from other sports and cultures — Mark Gonzales in his fencing shoes, for example," said Blondey McCoy. "I'm more interested in making the adidas Gazelle, an indoor football shoe, skateable."
Release of the adidas A.B.Gazelle Indoor by Blondey Will Take Place on April 2nd
Both the adidas A.B.Gazelle Indoor by Blondey and the gear will be released on April 2nd via adidas CONFIRMED. Check out the link here so you won't miss the release. More gear might also be released on adidas.com/skateboarding.