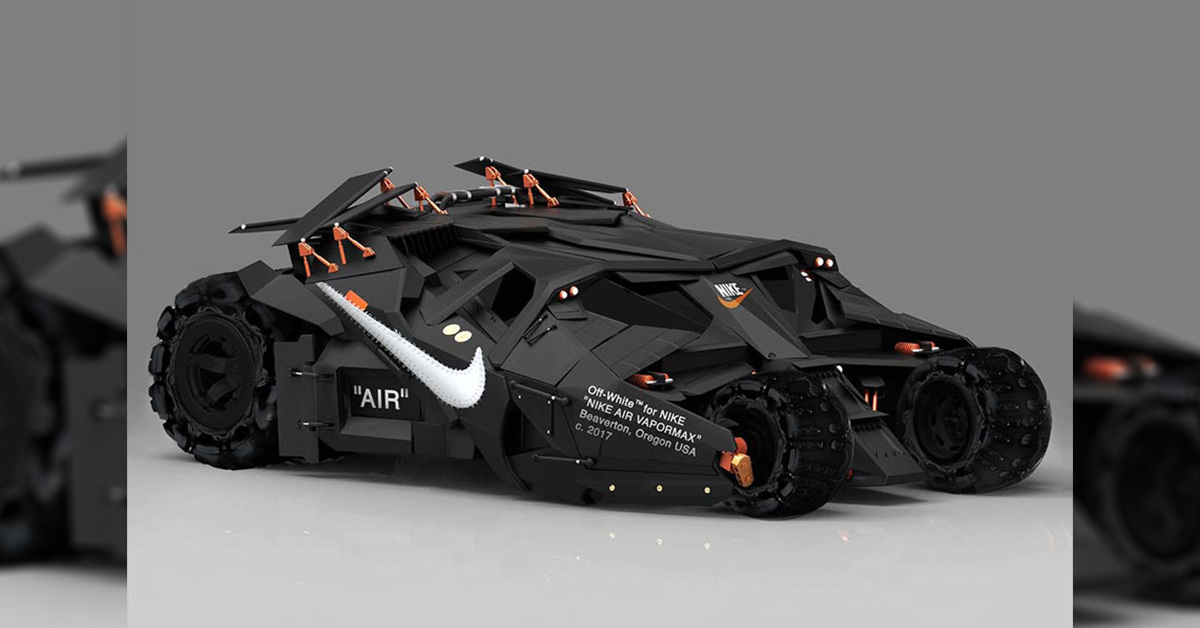 The Unique Work of Visual Artist Jeff Cole
The information age has opened up a whole new range of possibilities for independent creatives to express themselves. Obviously, social media offers convenient ways to cut out the middle man and publish directly to an interested audience. But artists like Jeff Cole also use the sheer limitless possibilities of digital tools to transcend the natural boundaries of the physical world. The Chicago-based artist draws inspiration from music, sports, movies and video games, combining pop culture influences with sneaker designs on his critically acclaimed account
@cole
. We got in touch with Jeff to find out more about his creative process.

Jeff, your sneaker art is something really extraordinary. Do you remember when you first experimented in this direction and what triggered this new approach?
Yes, I had a tradition of experimenting with an art medium at Christmas that I knew little about. So in 2013 I decided to come up with a project using Photoshop because I didn't really know how to use it; I was mainly working with Illustrator. At that time, the Red Octobers came back on the market, and I thought how cool it would be to use the materials from that shoe and turn them into Kanye's face. I didn't do another one like that until 2016.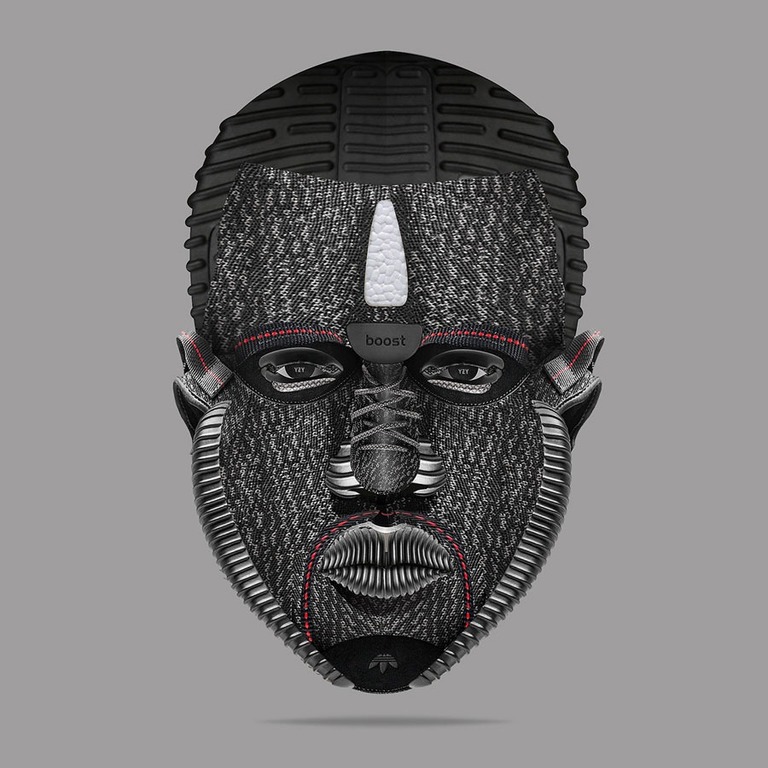 Can you briefly describe the journey from your early art to what we see on @cole in 2018?
I grew up with studio art. I took private art lessons since I was 7 years old. So my whole childhood was illustration, painting, sculpting, etc. It wasn't until college that I taught myself digital art to make some extra money.

What are some of your inspirations for you as an artist? What are the things you are interested in?
I'm a big science fiction/sports fan. I get a lot of ideas from movies, series and games. Anything that has to do with pop-culture. Music has a big influence on my work. It definitely reinforces the sneaker culture.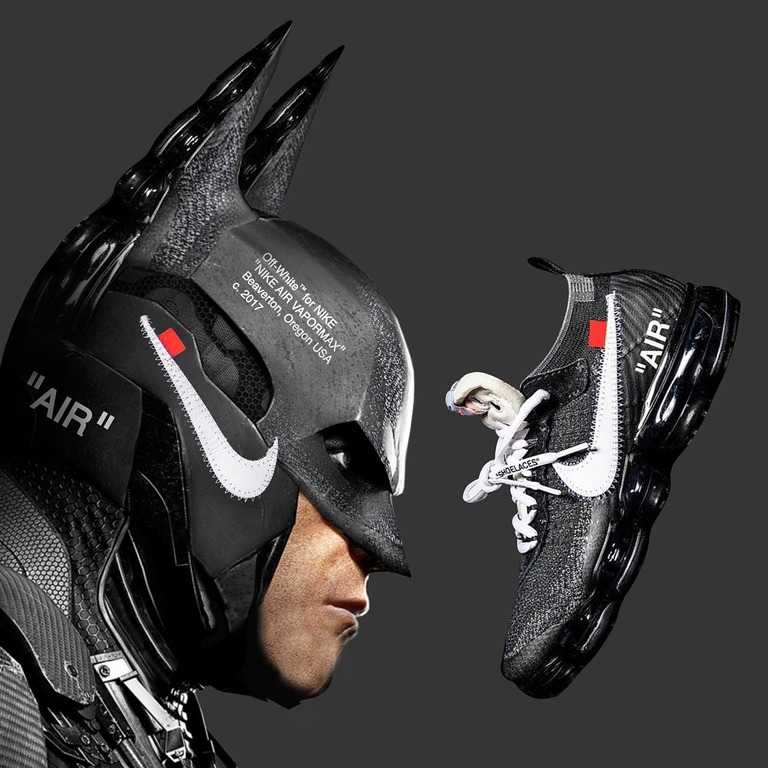 When did your interest in sneakers start?
Many people think that Jordan was the reason for my entry into sneaker culture. I was a bit too young to appreciate the shoes. I was a very young kid when Jordan dominated Chicago, so he himself was more of a superhero to me. I didn't pay attention to what he wore on his feet. I was fascinated by Benny the Bull and the players. It wasn't until I was a bit older, playing ball and immersed in the culture that I started to appreciate the sneakers. So it was Vince Carter, Tracy McGrady and Allen Iverson that got me excited about sneakers. Then, of course, hip-hop had a big influence. My dad was a big shoe fan, so he would often take me shopping and we would buy matching pairs of Air Force 1s and Jordans. If he hadn't been so enthusiastic, I probably wouldn't have had the same love for them.
Do you have a personal top 3? Are there certain models that are particularly close to your heart?
So my first love was the
Vince Carter Shox VC 2
. I wore them every day in junior high. I wanted to be like Vince. My favourite nostalgic pair are the
Jordan 6 "Carmine"
. They remind me of my childhood and growing up in Chicago. My latest favourite pair are the Futurecraft 4Ds. I love the innovation in these shoes. I love anything that is groundbreaking and anticipates the future. Also, the engineering team at adidas sent me these shoes as a gift after designing with Disney and Marvel for Black Panther. So they have a special place in my heart.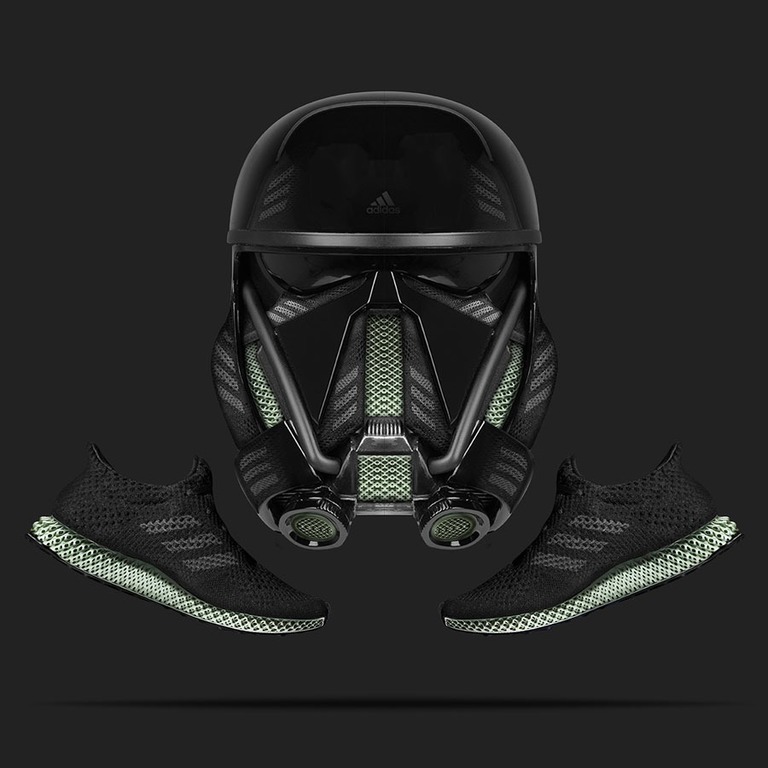 But most of your work is not commissioned by brands, is it? Have more brands come forward for campaigns or collaborations?
Yes. Some that don't look commissioned are sometimes.... shhh. But it all depends. Ideally, I would like all my work to be commissioned. It legitimises my craft more and tells a much richer story.

Where does a new idea start? With the sneaker or with the theme you incorporate into the final images?
New ideas come very randomly. I try to combine a hip sneaker with a hip character that is relevant in the culture, like a new series or a new film. Timing is everything in my work. I love creating a perfect storm in the culture.

Does your art also reflect your own taste in sneakers? And do you have your own criteria for what you wear on your feet or in your art?
No, I don't! When it comes to choosing shoes to make art, it's more about the materials of the shoe, the hype surrounding its release and the unique colour/story it represents that matters to me. I do buy a lot of gaudy sneakers though. I want all the attention to fall on my feet when I go out.
What are your personal favourites among your own artworks?
The Black Panther one is definitely my favourite. We had to overcome a lot of hurdles to get it published with the legal teams of 3 different companies. I love the challenge. I also love working with the VaporMax silhouette. It gives me a lot of different materials and contrasting finishes to work with. Of particular note are the White Walkers from Game of Thrones and the dragons - those made a big impact.

Speaking of impact, what have you learned about your art and its appreciation and reception through your Instagram account?
I've learned to take my emotions out of the work. Which is really hard for artists. That the market will determine success. Many of my favourite works were not well received, and some of my least favourite works went viral. One thing that surprised me was the impact I had on children. Not only were they interested in art, but also in "sneaker art" in particular. When I started these designs, I didn't have a label and was just fooling around.
We know that what's on @cole is only a tiny part of your art. Can you tell us about your other projects?
I own an art company called IKONICK with my business partner Mark Brazil. It takes up most of my time. I started it in 2016 and it has since grown into a huge business that I am very proud of. I do all my sneaker art at night or when I have some free time. It's very therapeutic for me. Each design brings new challenges.
Do you think it's important to stay versatile as an artist?
Yes, it is very important for me. I learned at a young age to try every art medium and to work in many different styles. I am more of a chameleon when it comes to art. I can imitate almost any art medium at a high level.

While you are versatile in your art overall, each of your Instagram accounts is rather specialised. Is that an important factor in your success?
I think you definitely need consistency. But I've found that a lot of my initial success came from being able to wear all sorts of hats and cover a wide range of creative needs. It's more of a business tactic to diversify your skills. My sneaker art is just a small part of my work and style. People might associate me with it, but it's not what defines me.
You recently moved from Chicago to Los Angeles. Can you tell us a few things that make the city attractive for you and your work as an artist?
I live downtown and it reminds me a lot of everyday life in Chicago. I need the chaos to boost my morale. But it's very different. Here in LA I have the opportunity to meet with all the creatives from all over the country. They're all just a short drive away, so I'm constantly meeting with musicians, photographers, entrepreneurs and artists. We just launched a web series called Behind The Hustle, which documents a lot of the business aspects of my work. We interview a lot of big influencers and industry leaders.
 
So you're definitely very busy! What's next on your bucket list?
Bringing my sneaker art into the real world. I won't give much away, but I'm expecting different media soon!

We can't wait to see what else you have in store. Thanks a lot for the interview, Jeff!