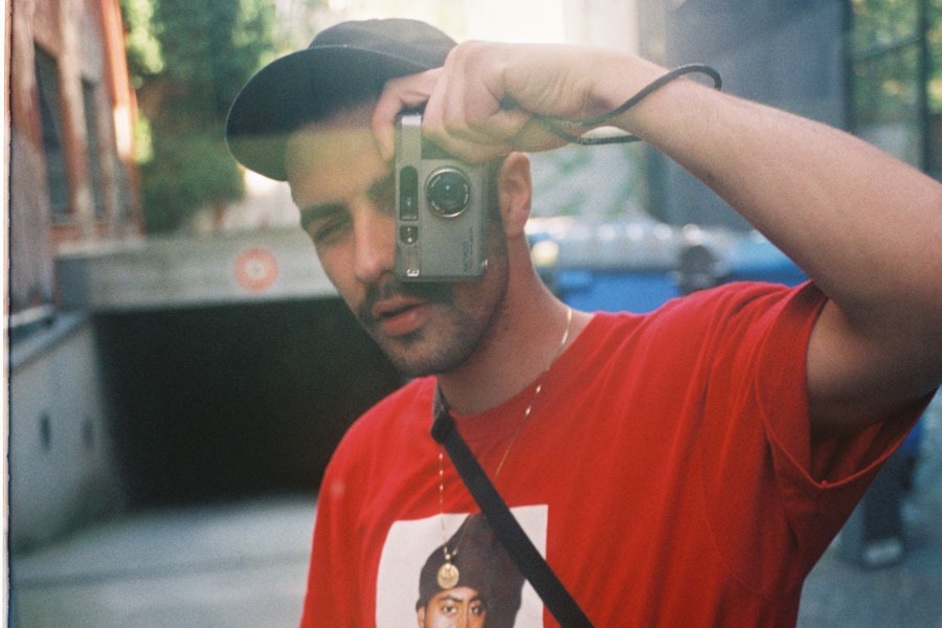 Why @kane Fell in Love with Analogue Photography
The do-it-yourself effect and hustle of Kane's career couldn't be bigger. From being one of the first sneaker photographers to turn his passion into a work contract, to building his own name and business as a freelancer, Kane knows what it means to work for your dreams. He added a new chapter to his story with kanescans, which - unlike his clean and sharp photography - brought more life, insight and grit to his output. After getting his first job at solebox, Kane turned his analogue photography into a way to continue spending time doing the things he loves AND getting paid for it. We spoke to Kane about his latest analogue adventure to learn more about his work, potential obstacles along the way and what it takes to turn a hobby into a job.

Hey Kane, can you please tell us more about yourself and your photography hobby? When did it all start and when did you decide to become a sneaker photographer?
Hi, to be honest, I never planned to become a (sneaker) photographer. I studied Art Direction [AD], and in my free time I took WOMFT photos and posted them on Facebook groups. I graduated in December 2014, and right after that I had a lot of free time because I was trying to get a job in advertising. Luckily, I took so many "On Feets" that were posted all over the internet that I was able to work as a freelance photographer already at the beginning of 2015, which made me reconsider if I should really end up in an advertising agency.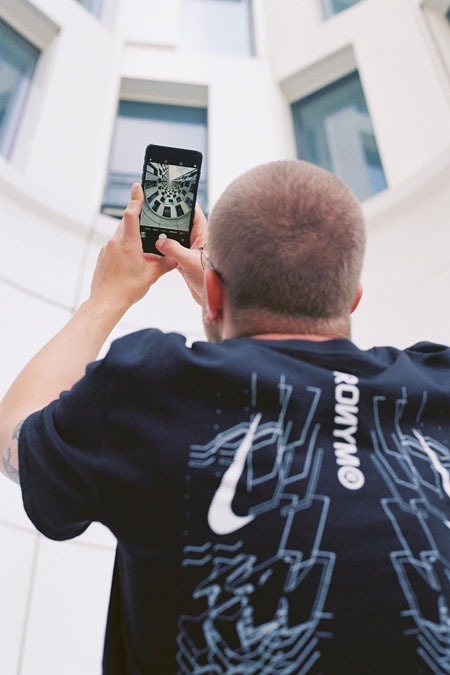 @maiklojewski photographs Berlin's most famous lookup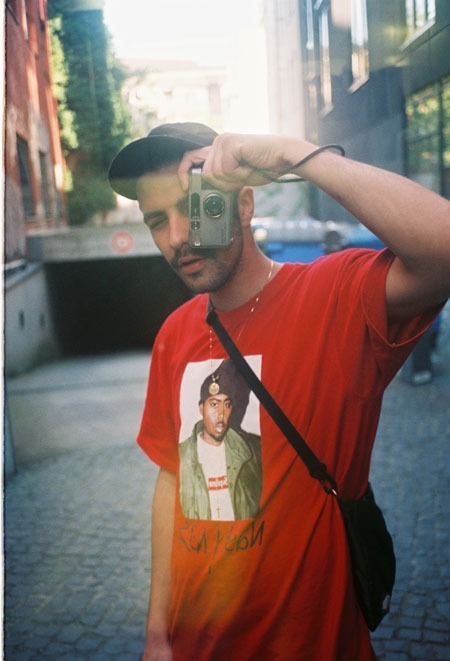 Self-portrait
In the summer of '15, two sneaker shops approached me and asked if I would be interested in working for them on a full-time basis. I decided to move to Cologne and work with Johannes [Höhn] (@pangea) for solebox. Johannes recruited me back then and has been a good friend of mine ever since. Even though we both left solebox at the beginning of 2017 to focus on our freelance careers, which mostly go in two different directions, we keep doing projects together because of our photo collective @allupinitt. I'm very happy that we are still in touch, even though we live in two different cities and often do different things, because I see him as my "godfather of photography" in many ways.
 
Unlike people who study or train for a specific profession, you seem to belong to a generation of photographers who first create their own job title before mastering it. Can you please tell us a bit more about the DIY aspect that has made you one of the most sought-after sneaker photographers in Europe?
It was a hobby and it still is - I love streetwear and sneakers, and I love reading about sneakers, looking at streetwear and taking pictures of people in cool outfits. Sometimes I get paid to take photos, and sometimes I go out and just take photos because I feel like it. I think that's one of the reasons why it's worked out so well for me so far: I still love doing it. My focus has really shifted: I don't just photograph sneakers anymore, but also a lot of lifestyle. Every full-body photo I take is still about the shoes, but I also try to convey to my clients that I am more than your average Instagram sneaker photographer.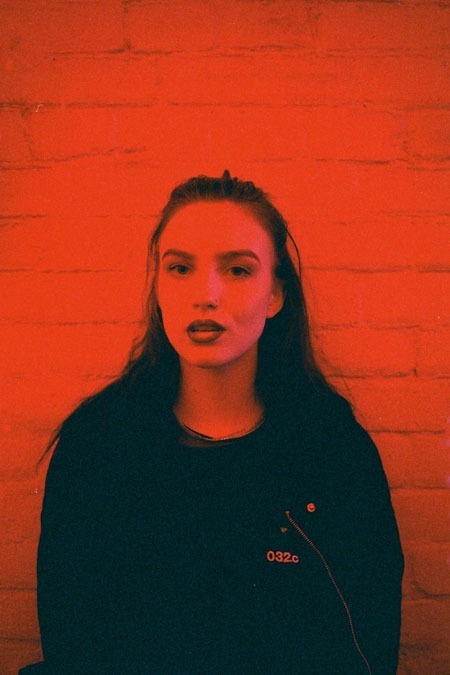 @whosrobin
There is this famous quote: "Choose a job you love and you will never have to work a day in your life". To what extent does this apply to your current work as a photographer?
Hahaha, this quote applies to me 100%. I love everything about my job, apart from things like taxes and insurance. Basically, I never have to do anything I don't want to do. Sure there are things that are more exciting than others, but in general I'm very happy with my life as a photographer. Before, when I was working in advertising, there were so many things I didn't like, but now that I'm working with a few of my favourite brands, it's just sick. I still remember buying my first Gore-Tex The North Face and my very first TNF x Supreme jacket when I was 19-year-old Kane.... If you had told me that four years later I would be doing multiple shoots for them, I would have told you for sure that you weren't that stupid.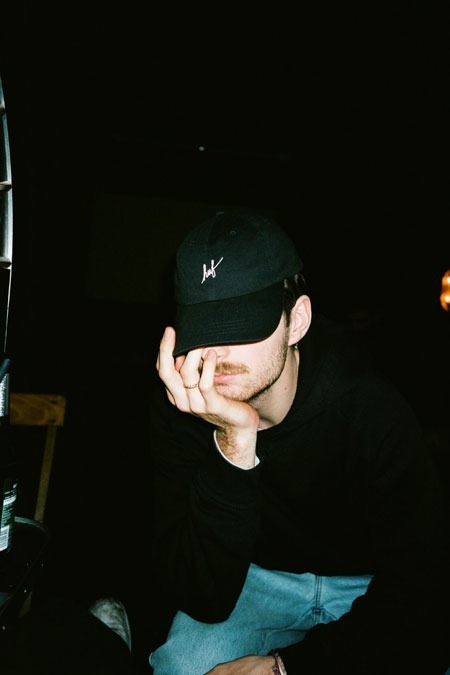 @1wastedtalent tries to sleep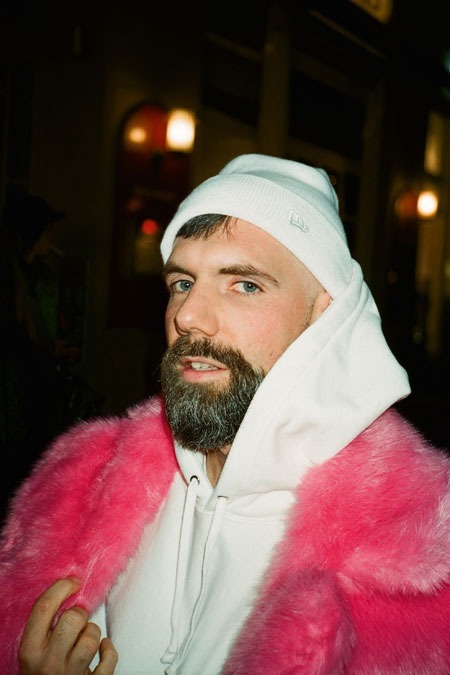 @wickeda dressed up for Fashion Week
Then you "tinkered" with something completely new and founded kanescans. What was the motivation behind it and when did you start to really invest more time in this account?
Often I'm not the first to do something, but one of the first to take it on. When I started talking about 
kanescans
, I realised that my photography wasn't "real" enough. My photos are often staged or show complete strangers walking through a tunnel in a strange city, which gives more depth to the scene of my "city shot". That's why I wanted a camera that didn't cost a fortune and was compact enough to have with me all the time, even when I'm riding my fixed gear bike or going to a club. My digital gear is too expensive, too heavy and also too scary; no one who is uncomfortable in front of the camera really likes being photographed with a Sony Alpha 7R III with a huge fixed focal length lens. When I learned how good analogue point-and-shoot [P&S] cameras looked, I bought one and took lots of photos. After a while, I started doing Kanescans in September 2017 after realising that the shots deserved their own account instead of just being posted on my IG Stories, but I think I've been back to shooting for over a year now.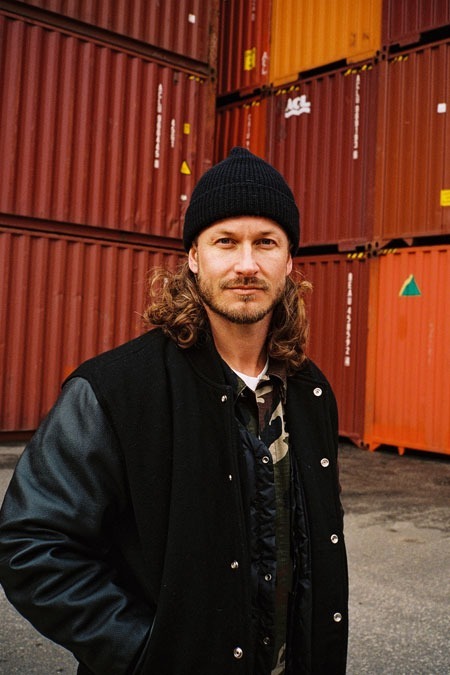 @eartothestreet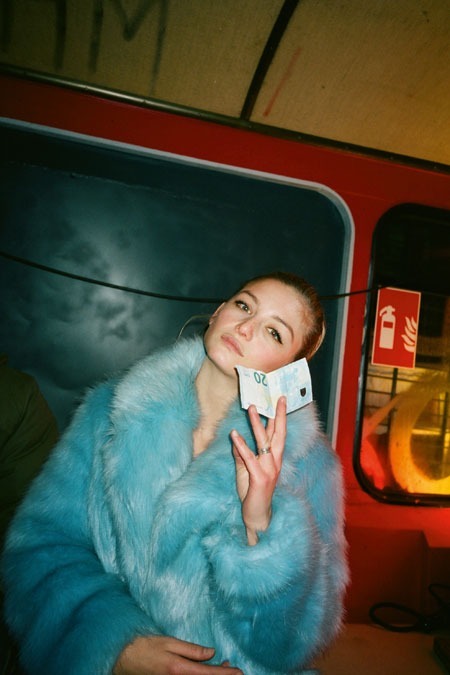 @juleslw has since lost that mantle.
Have you felt a change in the way people connect and interact with you on Instagram since you opened Kanescans and broke through the very crisp and sometimes staged world of Instagram?
I would say @kanescans has made it easier for my friends to ask me to help them with certain projects or just take some portraits of them, because the whole
@kane
vibe and the clients I work with seem to put a lot of friends or smaller brands off. Since doing @kanescans I've been doing a lot more small but fun projects. I would also say that @kanescans in general helps more people get an insight into the people I spend my time with. 
How important do you think it is to bring more authenticity and genuineness to Instagram, and why exactly is analogue photography such a good tool for that?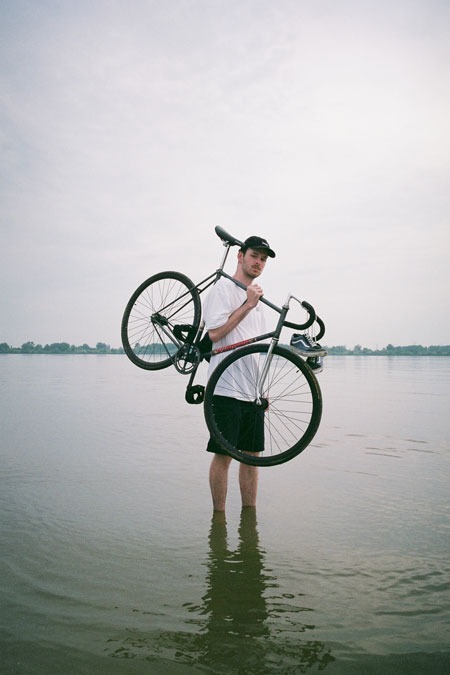 @1wastedtalent after a long bike ride along the Elbe river
Social media and authenticity don't go so well together; people are always trying to make a certain impression on the internet, be it that they are edgy or Mr Nice Guy. In real life, people are not just in a "mood". But the ease with which you can shoot with compact film cameras helps to capture real moments: People laughing, people getting drunk, etc.

Did you have any previous experience with analogue cameras or was it something completely new for you?
Yes, my girlfriend at the time introduced me to Lomography: plastic cameras, mostly without electronic parts. With these Lomo cameras it was all about luck, patience and fun; I was doing cross-development, shooting 35mm film in 120mm cameras and doing double exposures. That was when I was still in high school.

What camera and film do you shoot with today? Do you only use point-and-shoot cameras, or have you considered going more into the details and settings with an SLR?
After I started using film again, I only shot with compact cameras for a while because they are so compact and safe to use, but I recently bought a Contax G2. The G2 is a rangefinder camera with interchangeable lenses and manual settings that give me a bit more freedom to shoot the way I want. In high school I also had a Canon AE-1 SLR, but since SLRs are so bulky and heavy, I don't plan on buying another one anytime soon, especially since my new Contax G2 gives me everything I'm looking for when shooting 35mm film. I am, however, tempted to switch back to medium format film....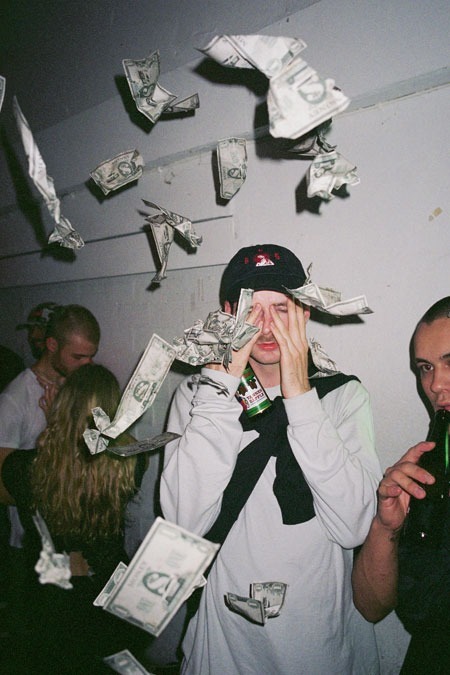 @1wastedtalent and some fake $$$
What is the main difference between your main account and kanescans, and what do you like most about it?
I really like that you can learn a lot about me on @kanescans: You can see my close friends, people I've met, things I've eaten, but also lots of pictures of me, which is cool because I can finally show the stuff some brands provide me with. I'm reluctant to give my digital camera to friends to take pictures of me because in the past they've always turned out pretty crappy, and I also don't like being so staged in front of the lens. Since point-and-shoot cameras are so easy to use, I post more and more photos of myself on my analogue account. Apparently, those are also the photos with the highest engagement rate on IG, which is funny and sad at the same time.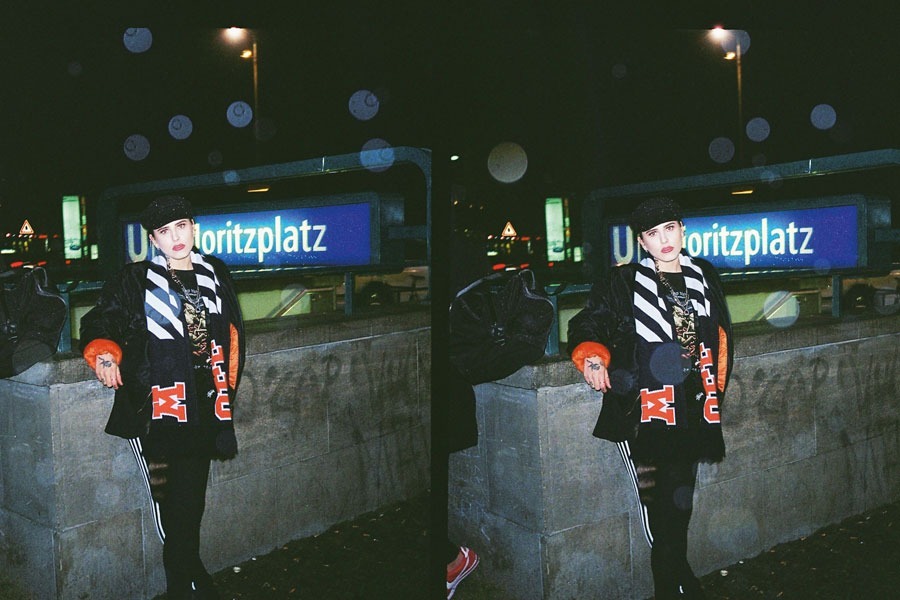 @suziegrime during a book launch in Berlin Kreuzberg
How would you describe a perfect Kanescans photo, and what moments and portraits do you most like to shoot with your camera?
The perfect Kanescans image is not really a perfect photo in the sense of symmetry, alignment or focus. However, a must is emotion, probably through a subject that is very close to the lens and doing something that is "street". A good example of this is a picture I took the other day of my mate in a purple ball pit during an event. The picture shows him laughing (and drunk); but he also has a black eye and a scar on his forehead from getting beaten up the week before for trying to stop some guys from jumping a guy who was already on the ground. So there's quite a lot going on in the picture, even though you can only see his head because the rest is covered by the ball pit. For me, this is a sure Kanescans picture that I won't forget.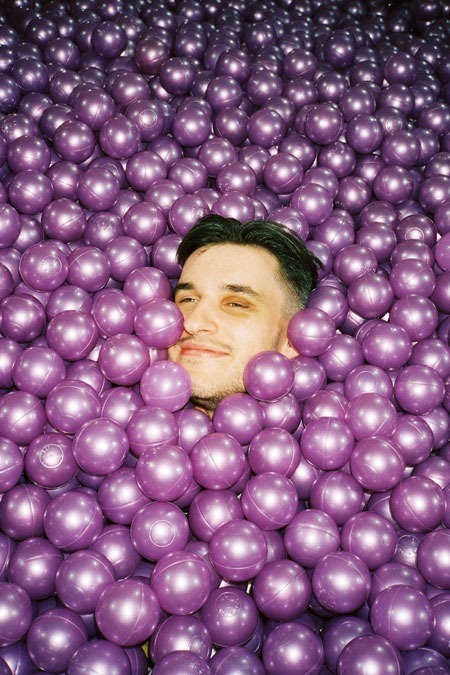 The one without Instagram: Jannes at the release of the adidas Falcon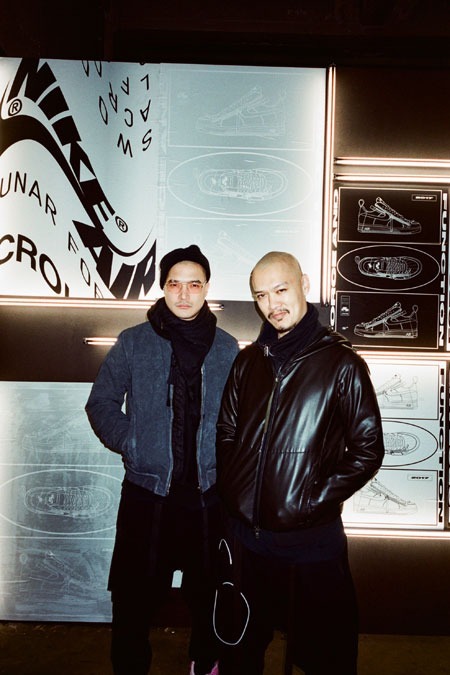 Umit & Errolson (ACRONYM) during the Lunar Force Release
I remember you talking about the goals you wanted to achieve with Kanescans this year, and one of them was to shoot something for a brand with it. It didn't take long for it to actually happen, and again you created your own working reality. It almost seems like a pattern in your mindset that you are able to decide what comes next or what you want to do next as long as you work hard at it and go for it. Would you agree with that, and if so, what can other creatives and budding photographers learn from you?
One of my weaknesses is (or hopefully was) that I get bored after reaching a certain level. I've done so many sports in my life, tried so many media/creative/digital things and spent a lot of time on the road - so I'm pretty good at all sorts of things I do, but a master of very few. These days you have to be specialised. If you shattered your knee skating, you should go to a doctor who specialises in knees and, in the best case, sports injuries. Visiting your family doctor is not enough in most cases these days. If you are a "photographer", you are one of 10,000; but as soon as you do just one thing, the chances are much higher that you will be recognised as one of the few. My field was sneakers, and I use my reputation in that field to get recognised as a lifestyle photographer, but also as an analogue photographer. I try to keep my original "brand" because if you do too many different things, people lose track of what you actually stand for. I really hope that focusing on urban photography - including cityscape, sneaker and lifestyle, either analogue or digital, across two different photography accounts - works, because the thing I care about most is that people recognise me as a photographer and not as an influencer/blogger/etc.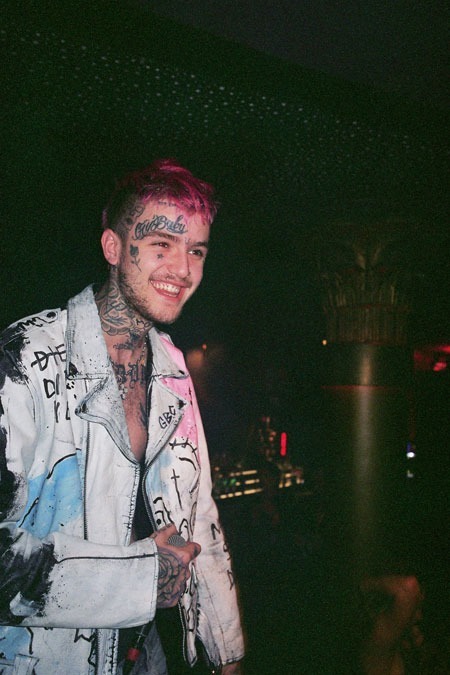 Lil Peep a few months before his death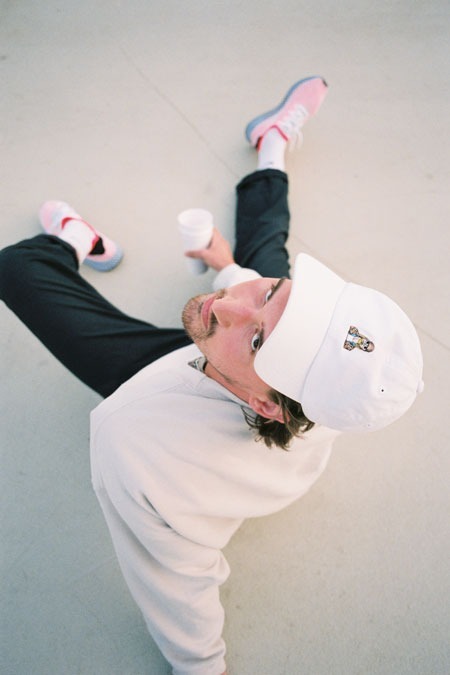 @theaveragewhiteboy
Analogue photography has recently become a trend or, in our language, a hype, and more and more people want to try it out for themselves. What advice would you give to people who want to start?
You don't have to buy the best equipment right away, but if you are sure that you need that one camera/lens/etc. to achieve what you envision, then you should do it. Personally, I do a lot of research before I buy anything. I often buy the best version of a particular lens or camera straight away because I know I'll actually use it, because I've researched it well enough to know what I'm dealing with. But remember, that's me: someone who does photography for a living. You can easily start taking pictures with your grandma's old camera or a 5-euro camera you found at the flea market; 95% of the time they will do the job just as well as an overpriced, limited edition Contax T2 imported from Japan for 2,000 euros ...
@karl.lashnikov during our video portrait for the re-release of AM98
The OG Air Max 98 by @karl.lashnikov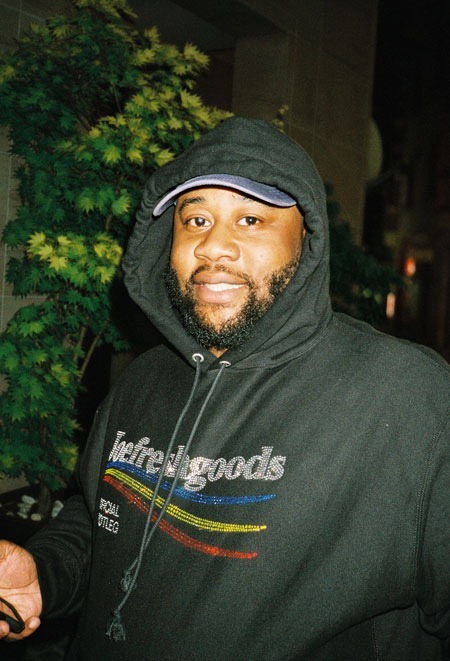 @joefreshgoods...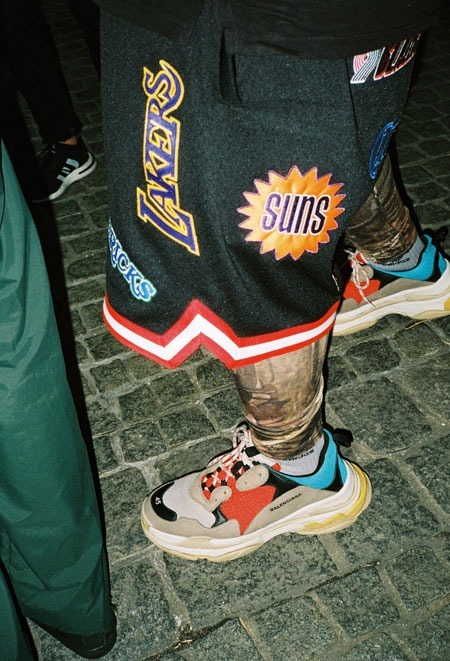 ...with the Triple S on his feet
Is there the right camera and film to start with?
I would recommend a P&S that gives you full control over the flash. Some P&S cameras use the flash when they see fit and there is no way to turn the flash off completely, which can be quite frustrating. For film, I would go for ISO 400 film as they are great all-rounders. In the beginning I mostly used Fujicolor Superia 400 film because it is very vibrant and offers great colours at a good price. I don't like that the Superia occasionally makes skin tones look very reddish when I photograph people in the dark with flash, so I stopped buying it to be honest. These days I mostly shoot with Kodak Portra films or the Fuji Pro 400H. I have to keep in mind that I can submit bills and basically get some money back. If photography was just a hobby, I would probably stick with cheaper films, because it gets very expensive when you buy film for 8 euros and pay 10 to 15 euros for development and scanning per film.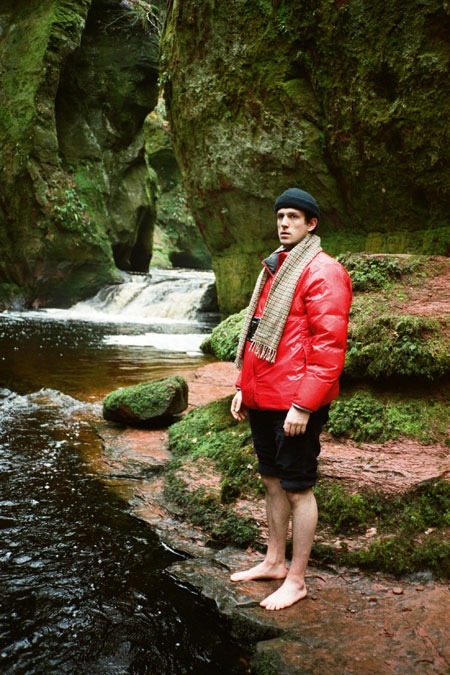 @calumandrews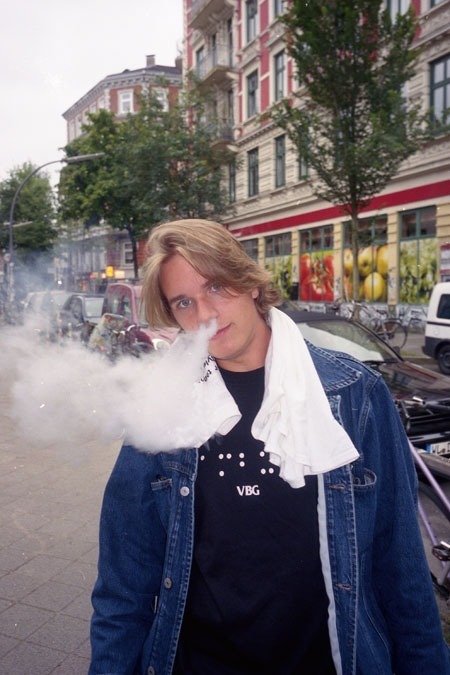 @fywdwww
What's next for kanescans? What are the goals for the next year and is there room for improvement from your point of view?
I would like to do more jobs with analogue cameras. I think now is the right time to work with film for my favourite brands because everyone wants to achieve the kind of atmosphere that Travis Scott, ASAP Rocky and other celebrities have on their IGs. They are shot by photographers like @gunnerstahl.us and @rayscorruptedmind whose images and backgrounds I really like. Lately, the streetwear world is putting more emphasis on vibe than image quality and location - at least that's my impression. At the moment I'm also noticing that more and more people are diving deeper into the whole analogue process; developing their own films and buying scanners to scan their negatives. I thought about getting into that too, but quickly realised that I'm on the road way too much and have way too many things to do to get into it. When I looked at Places+Faces and the analogue photographers I mentioned, I realised that it's not necessary for me to spend that time either at the moment. They don't either because they need their pictures just as quickly as I do. I also like to shoot a film, drop it off at the lab and pay extra for express, and a few hours or a day at most later get the finished images sent to me via WeTransfer. If I had to do it myself, it would probably sometimes take me weeks to process them, just because I have other things to do than spend hours at home scanning.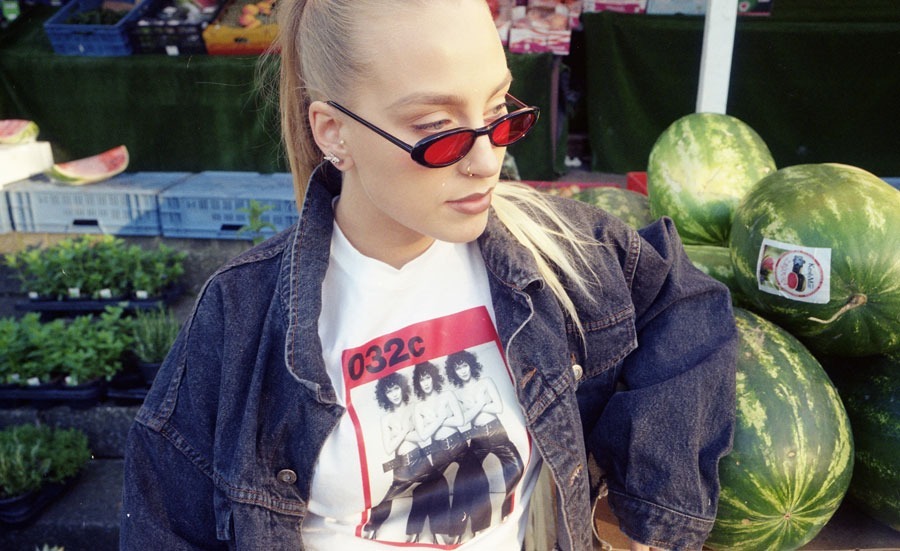 @fennalang
Do you think the analogue photography trend will last longer or will soon be forgotten and replaced by another trend?
I can imagine that the Nimslo 3D will die out soon because far too many people use it; recently I was approached by a fast fashion giant to borrow my Nimslo 3D for a shoot. But analogue in general is not going to die out anytime soon because it never did. Right now it's being hyped, yes, but it's not going to die out anytime soon because it's so much easier to take good pictures with P&S than with digital gear, and people seem to be finally realising that film is so much more forgiving than you think, especially if you're shooting with an ISO 400 roll and a camera with flash - you're ready for any situation. If people are willing to spend money on film and processing, I think it will stay in vogue - but only time will tell.

Thank you so much for your time!
Anytime, thank you for digging so deep.