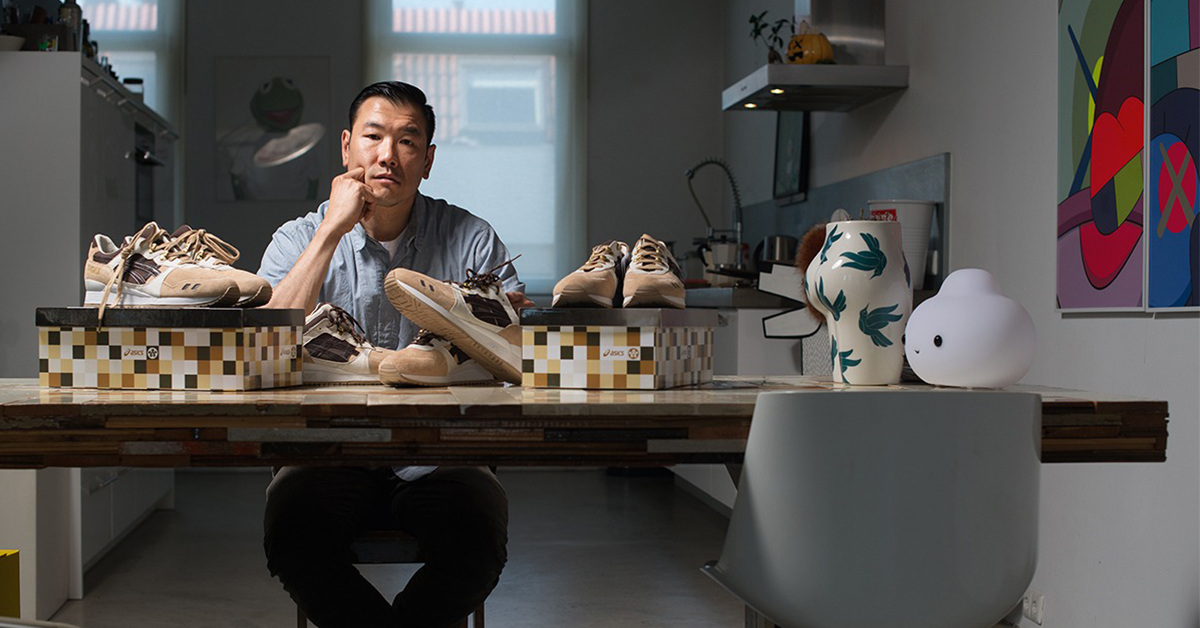 Woei Tijn from Rotterdam
The name Woei Tijn rings many bells. The big man with Chinese roots hails from Rotterdam and has been part of the European skate scene since the late 1980s. After making his money in Airwalks, Puma Clydes, adidas Gazelles and other typical skate shoes of the past era, he started obsessively working with sneakers. Woei started with the eternal Dutch favourite - the Air Max - but quickly expanded his sneaker horizons, also by travelling extensively to New York and Asia, fulfilling the need to bring new shoes to the Netherlands. Thus, his hobby gradually turned into a business. As part of the "Fret Click" skate crew, Woei was later involved in one of the most underrated Nike SB collaborations - the white and gold Zoom FC, released in 2005. Woei's taste and experience in buying and selling sneakers eventually led to the establishment of his own shop in Rotterdam. WOEI - Patta's et prêt-à-porter - opened its doors in 2007 and for the shop's 5th anniversary, he teamed up with ASICS to design the Gel Lyte III "Cervidae". The shoe's release was a resounding success and, along with a memorable colourway, cemented the Rotterdam-based premium sneaker retailer's fame. But this article is not a store check. We trust you to set out on your own and go there yourself. Rather, we'd like to use these pages to take a closer look at the great man behind the four letters. Here's what we learned during our visit to Rotterdam.

What do you notice when you compare the beginnings of sneakers with today?
The difference is that there were no camp-outs [for releases] back then. That's a hype that started later. The first camp-out ever was when the Aix Max Amsterdams came out. That was my first camp-out ever, and it lasted about two hours. Nowadays reselling has become very important, which is a total change.
Did collecting ever really become so excessive that it took up too much of your life/money/space?
For me, collecting never became too excessive. I was addicted and bought every Air Max I wanted. And I was able to do that because I started selling them and making money from them. That enabled me to buy my own collection. At the time, I lived in a little 12-square-foot room in my grandfather's house and I really had no place to store my shoes. So I put them everywhere. There were Nikes under my bed, in the wardrobe, on top of the cupboard and in the living room. Just everywhere! My grandpa wasn't happy about that, he used to say, "You only have one pair of feet!" (laughs).
That's one way of looking at it! You also mentioned that you travel a lot. Please tell us a travel story that has to do with sneakers.
New York used to be the sneaker mecca. I used to go there to find special Nikes. I remember my second trip to NYC where I bought 22 pairs and packed them in a big suitcase. When I ended up getting caught by New York customs, I played dumb and got through. Then I sold them all within 10 days. What a crazy business!
The whole online business is comparatively new. Where and how did you find your stuff in the early days?
In the early days, NYC was an important place for me to get sneakers and make contacts from there. Later, the internet became key and then came Asia, where I got a lot from back then. Later, I also started buying stuff on eBay.

What was the most amazing sneaker find when you were digging?
Back then, almost every pair of Air Max 1s was a great sneaker find: Crepe's Python, Curry USA, the grey ones, the Wings and the Waffles. Later, all atmos pairs were amazing to find.

It sounds like the idea of opening a shop came naturally with all the sales?
I sold quite a lot at the time and was very successful at it, so I was also able to build up my own collection. During that time, I worked in a skateboard shop. My interest in skateboarding waned and I started to focus more on selling sneakers. Since I was doing well with that, I thought, "Why not open my own shop?" So I started researching and wrote a business plan - that's how it all started.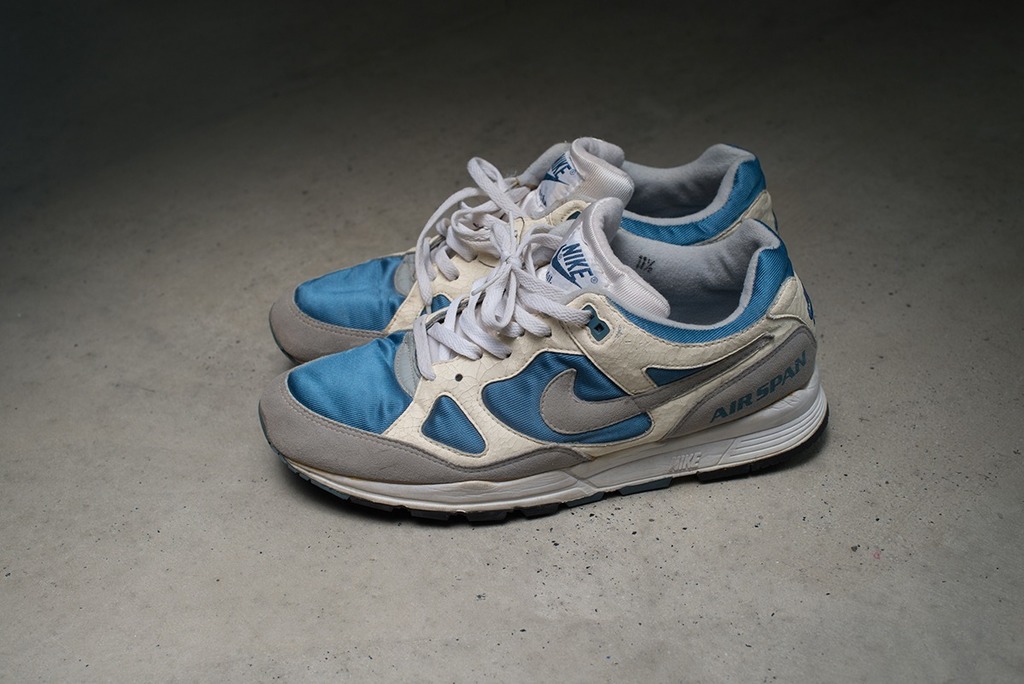 Your business has been around since 2007, so you must have done a lot right! For the fifth anniversary, you had the opportunity to work with ASICS to create a collaboration with the Gel Lyte III silhouette. The "Cervidae" came out in a pretty outdoor and hunting inspired colourway. Why this choice? Is there a backstory?
We had the chance to do a collaboration with Asics. I remember Asics talking to me about a collaboration, but then Asics told me there was a problem with Japan. At first I was disappointed, but then they gave the green light. My team and I wanted to do something special. During that time Visvim inspired me and I wanted nice smooth leather that felt a bit like Timberland. We added some hiking laces and the shoe was ready.

Hundreds of people queued for the shoe, it was a great success. Some even travelled hundreds of kilometres to Rotterdam. Did you expect the great success of the Cervidae or was there a moment when you were sceptical?
The release was crazy! We knew it would be a big success, but not this big. There were about 250 people outside my shop and it took me five minutes to even get into the shop. The biggest reward for us is that everyone loves the shoe.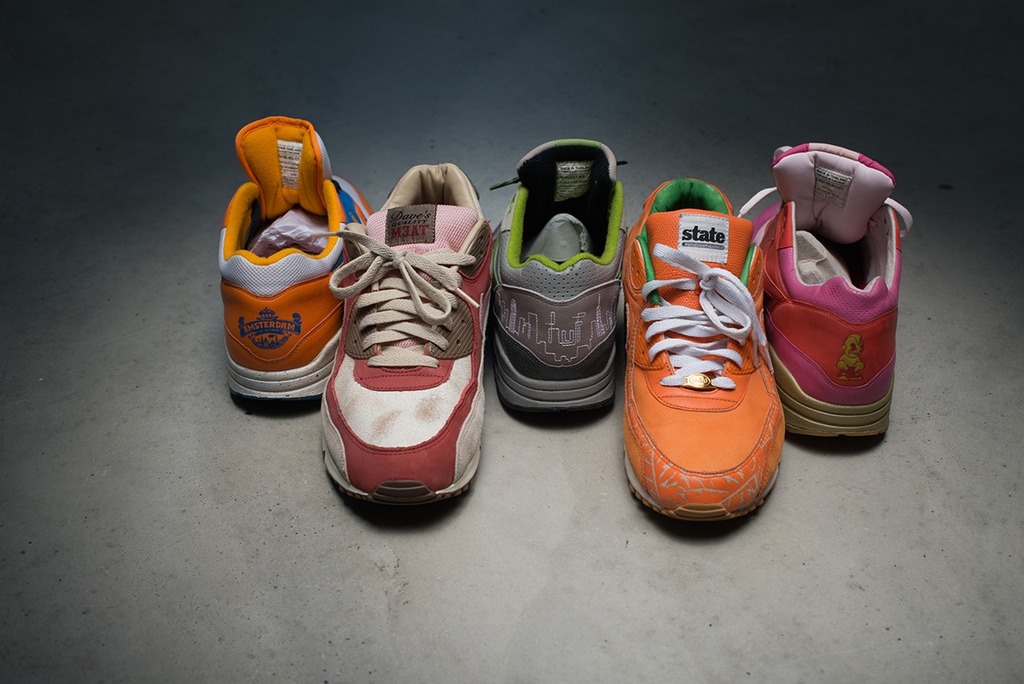 That was great for your shop, wasn't it?
Yes, of course! The release had a positive impact on the shop. I became known worldwide because of the shoe. There was a tent camp outside every shop that got it. I even heard that people camped out at Kith's in Brooklyn for two days.

Your taste is very diverse - what are your favourite shoes? Can you pick out five favourites for us?
It's hard to pick favourites because I've been wearing sneakers most of my life, but I would say Airwalk, Puma, AirMax and Asics Gel initially, and lately I've been into stuff like Footscapes, Magistas and Mercurials.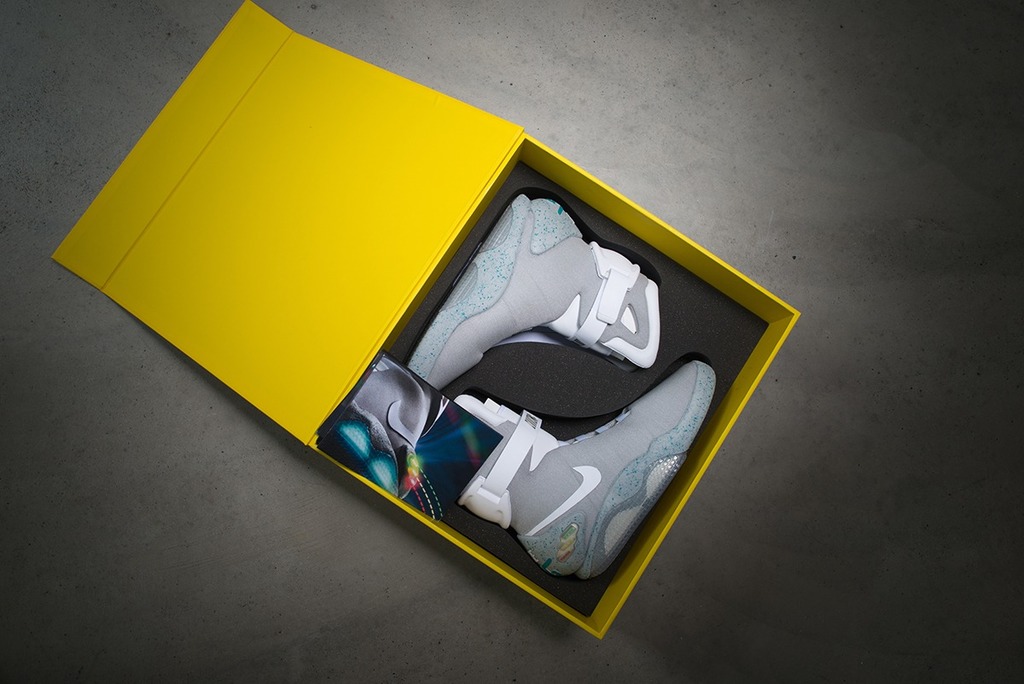 You've been in the business for a long time. Is the current sneaker trend just a bubble or is it just huge and will it stay that way for the next few years?
My business has been around for eight years now, and it has held up well for the whole eight years. We have never had any problems - so it is not a bubble. I am sure it will stay that way.
Are there any developments that you dislike in the current scene?
Resale is big now. It seems like everyone is buying to resell, but I think that's the current situation. I can't change that. It's like a new face of retail.
Online publishing or camping - which does the shopkeeper Woei prefer?
If it's online, the stuff will be available outside Holland, but I'd rather it stayed in Holland. But then again, resale has changed everything.
Your collection is amazing and we often see you selling at Crepe City or Sneakerness. Which things would you never sell?
About three years ago, I had so many shoes. I was like, "Am I going to wear them all? No!". So I started selling my collection. I started by selling all the things I would never wear again, and also all my shoes that I would never wear. But the things I got as gifts, I would never sell. The Albert Heijns, Made for Skate Blazer's, my first collab, Nike free clicks and my Air Max collection. I didn't buy that much in 2014, so it's hard to name my favourite releases of the last two years. This year I like the Huarache NM's black (general release), Magistas, Mercurials and Fujuwara Tennis Classics - the collab.
Which sneakers would you never wear?
I don't wear Air Forces and I don't like Jordans because I have big feet. I don't like the Kanye hype shit and I hate Kangaroos. That's just a bad company!
Your biggest inspiration in life?
I don't think my life would be what it is now if I hadn't started skateboarding back then. Because that's what led me to sneakers....