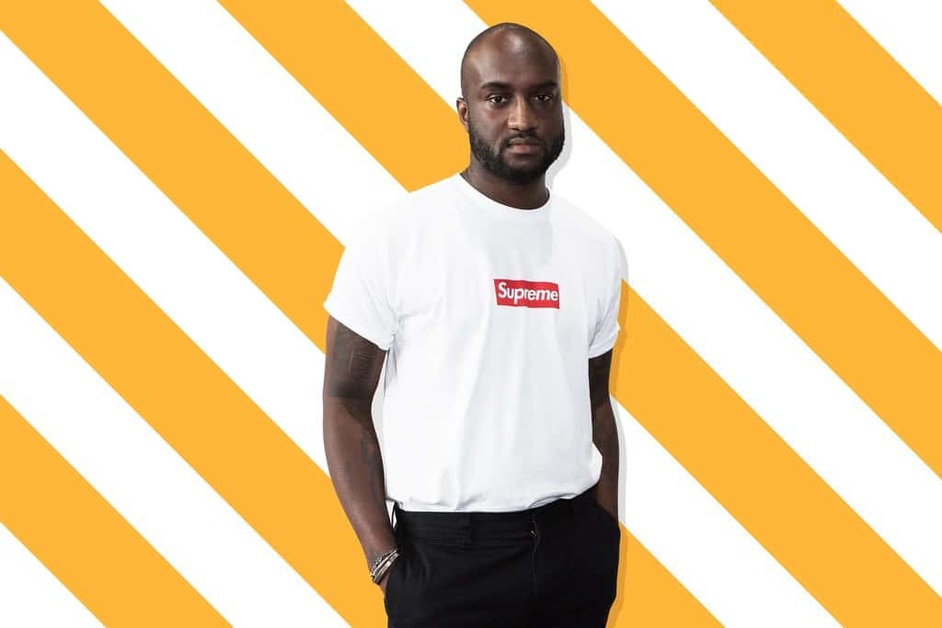 Everything You Need to Know About Virgil Abloh
Update 28.11.2021
On November 28th, 2021, shocking news reached Virgil Abloh fans. The designer passed away from cancer at the young age of 41. LVMH and his personal Instagram account shared the news on Sunday. He leaves behind a wife, Shannon Abloh, and two children, Lowe and Grey Abloh, to whom our condolences go.
https://twitter.com/LVMH/status/1465022773550583823?ref_src=twsrc%5Etfw
https://www.instagram.com/p/CW1FDd4oXan/?utm_source=ig_embed&utm_campaign=loading
Virgil Abloh, One of the Most Influential People of 2018 and Founder of Off-White
Ten years ago, Virgil Abloh was a completely unknown figure in the fashion business. Last year, he was appointed Artistic Director for Menswear at Louis Vuitton and prior to that, he was named one of the 100 most influential people in 2018 by Time Magazine.
So, we have reason enough to assume that Virgil has always had an affinity for design and has grown up with it. And, indeed, his mama was a seamstress and taught him all the tricks of the trade. But, if you look at Abloh's school and student career, it looks very different.
In 1998, he graduated from Boylan Catholic High School and studied civil engineering at the University of Wisconsin-Madison. In 2002, he finished his undergraduate studies and rumour has it that on the day of his graduation in 2003, he missed the last exam to meet Kanye West's then manager John Monopoly.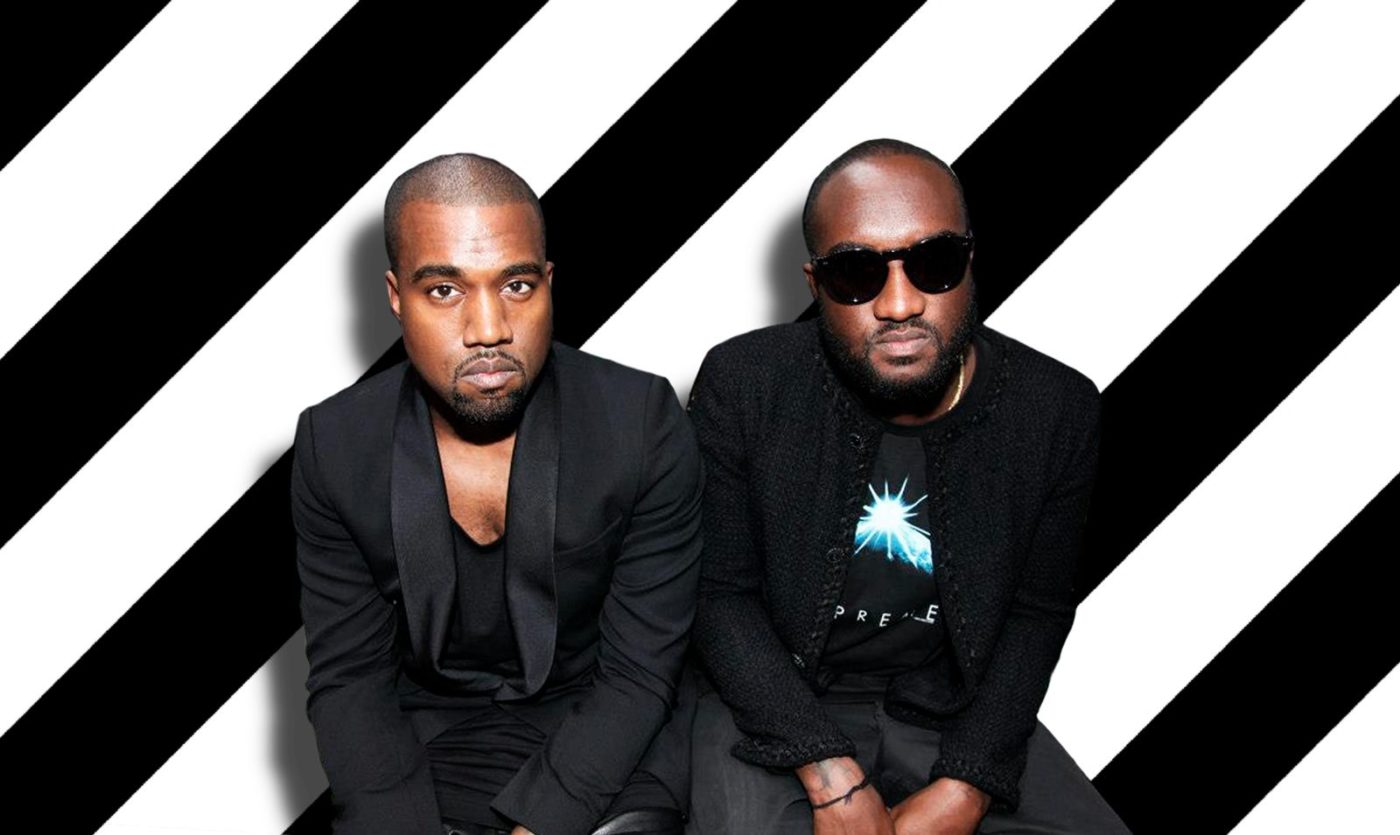 Kanye West & Virgil Abloh
In this meeting, Virgil Abloh expressed his interest in designing merch for YEEZY and the manager admired him for his taste in architectural design. Kanye, who has always been attracted to people who can do what he can't, hired him shortly after that.
Besides that, he already had DJ gigs on weekends during his school time, which was okay for his parents as long as his grades were good. His DJ name is very similar to that of his future fashion label Off-White: He calls himself Flatwhite.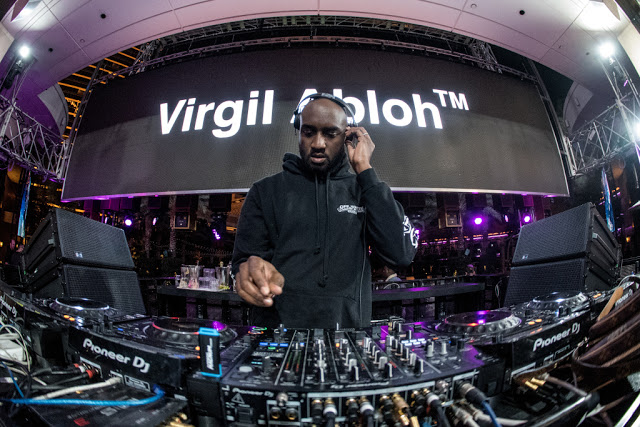 Virgil Abloh as a DJ
In 2006, Virgil completed his Master of Architecture at the Institute of Technology in Illinois. When asked why architecture, he replied: "I wanted to build skyscrapers because I figured if you can build the tallest buildings, you can design a spoon." 
During his time at the Illinois Institute of Technology, a building was completed by an architect named Rem Koolhaas, who then aroused his interest in fashion. So, the artist inside him re-oriented itself towards fashion.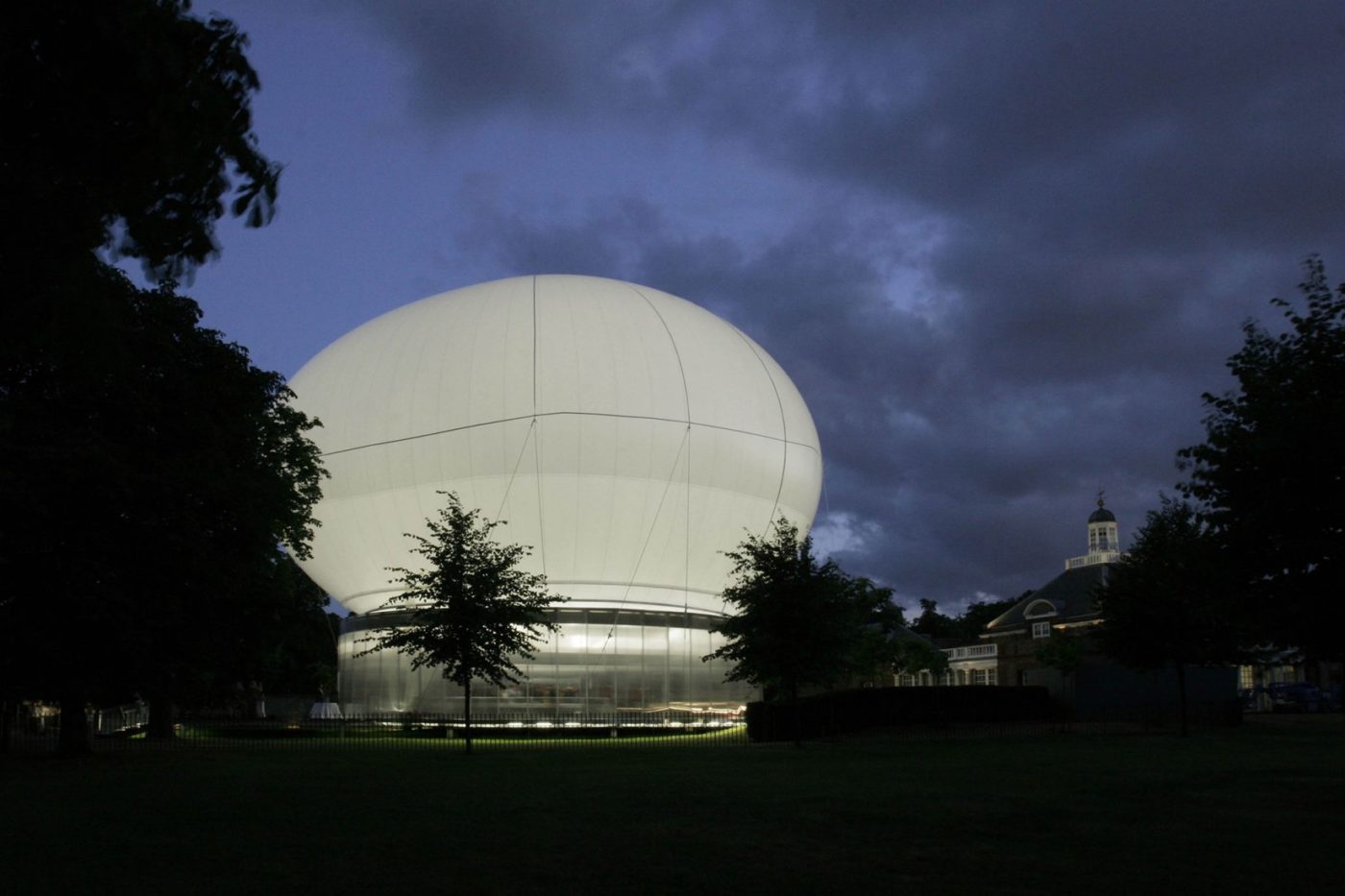 Rem Koolhaas designed the Pavilion at the Serpentine Gallery in collaboration with Cecil Balmond.
Virgil Abloh and His Beginnings in Fashion
Together with Kanye West, Abloh did an internship with the Italian fashion designer Fendi in Rome in 2009. The then head of Fendi and now head of Louis Vuitton, Michael Burke, said the following in an interview at the time: "I was impressed by how Kanye and Abloh were able to bring such a fresh breeze into the studio and were so revolutionary. He goes on to say that from that moment on he has followed Virgil's career."
In the same year, Kanye West and Virgil Abloh, together with a few other friends, made it to Paris Fashion Week. With their designs, they were the definitely eye-catchers of the show and photographer Tommy Ton captured the boys in a famous photo. At that time, they were all not yet famous and Abloh, who was sometimes not even let into Louis Vuitton shows, would one day hold a high position at Louis Vuitton—one that he would never have dreamed of.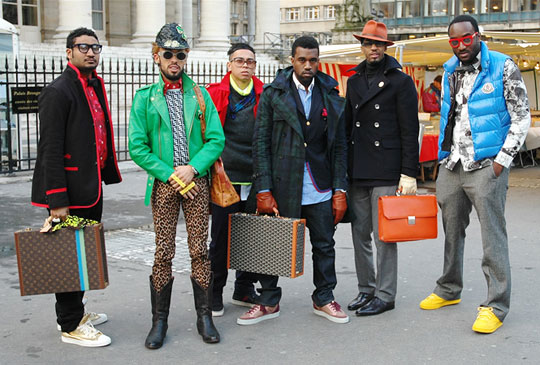 Kanye West & Virgil Abloh at the Fashion Week Paris
"We were a generation that was interested in fashion and had no reason to be there (at Fashion Week). We saw this as our chance to do our part in fashion and influence contemporary culture. In many ways, it felt like we created more excitement than the fashion industry."
Abloh says this is proof of his devotion to a philosophy of life of creative optimism. He believes that art and a good nature can change the world. Success does prove him right.
In 2010, he was hired as creative director at DONDA, the advertising agency of Kanye West. The following year, he became the artistic director for Jay-Z and West's album "Watch the Throne", which earned him a Grammy nomination.
Virgil Abloh – PYREX
Virgil Abloh founded his first fashion brand in 2012, which he called Pyrex Vision—a tribute to his childhood hero Michael Jordan. Under the brand, he bought Ralph Lauren flannel shirts for $40 a piece and silkscreen-printed the word Pyrex and the number 23 on them. The shirts sold for $550 a shirt.
A year later, he closed the company on the grounds that it was just an artistic experiment and he did not intend to use it to build a business. But, after closing one company, an opening of the other followed. He then founded his fashion label Off-White.
Off-White and the Fusion of Catwalk and Streetwear
Both the name Off-White and the vision that Virgil pursues with it are often either misunderstood or the bearers do not bother with them at all. Abloh is thus pursuing a desirable concept: he wants to take away the "cheap" reputation of streetwear by giving his clothes an intellectual level that gives them credibility.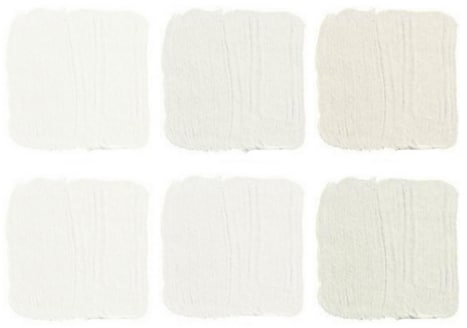 Different "white" tones
He has described his label Off-White to investors and critics as, "the grey zone between black and white—the colour Off-White". In addition, one must know that in English, a colour is considered off-White if it deviates only slightly from pure white. Everybody knows this. When you see a normal headlight, you think it's white, but as soon as the xenon headlight comes on, the light that was previously white looks yellow in comparison. All these different shades of white, which differ slightly from pure white, are called off-white.
And, that is exactly what his fashion is. It is part streetwear and also part catwalk in nature, combining both and yet still standing out. Today, Virgil praises his fashion in the following way: It's for the girl who wears Céline and the man who wears Supreme and they both share a closet. It's their mix of high and low that reflects exactly what Off-white stands for.
Inspired by Martha Stewart and Ralph Lauren, he has always been fascinated not only by owning a brand, but by creating an entire lifestyle line just like them. But, while this is part of Off-White, it's more about being a representative of street culture and allowing it to transform into an art movement.
Ralph Lauren & Virgil Abloh
He started to bring his menswear line to the market at a time when interest in it was greater than ever before, and when the barriers to entry were as low as ever. It's no longer just big fashion houses that have the ability to bring designs to the people. Small labels, as you can see from the example of Off-white, which understand and capture contemporary culture, also have great chances of success. 
Virgil also bases his success on this idea namely that he and his team are not only good at designing, but also at understanding contemporary culture and can therefore design relevant fashion, furniture, etc.
The following year, he launched the womenswear line for Off-white.
He later presented the collections at Paris Fashion Week and was even selected as a finalist for the LVMH Award, but in the end, he did not win it. Nevertheless, this shows that Abloh is not limited to one line of business alone, but that his approach makes him a very versatile designer.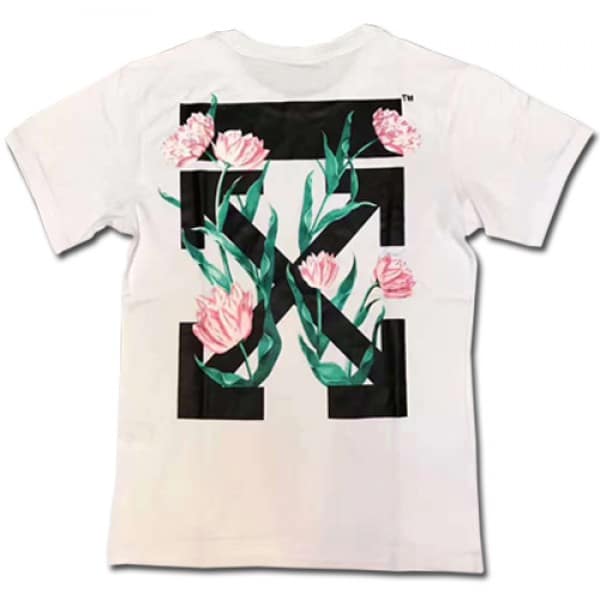 Off-white shirt with a floral print
What is the characteristic of Off-White?
The style with which Abloh designs has, like him, evolved over the years. What started with graphic and logo-like designs has eventually become more subtle. But, it still has that same casual look that sets Off-White apart from other, more upscale brands. 
But, despite its change, there are still a few things that are distinctive for an Off-white design. First of all, there is the logo. It is a motif made of diagonal lines, which Abloh neither invented nor is the sole user of it. In contrast to conventional logos, this logo can be found on American sidewalks and street signs.
Then there are the cross-arrows, which are diagonally crossed. Together, they form a box and come with a bar on top. This symbol is unmistakable for Off-white clothing and Virgil has already applied it to everything from T-shirts to pants.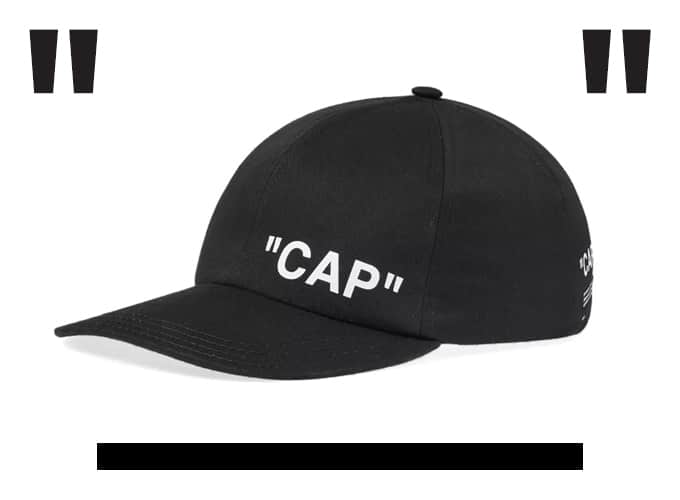 Off-White Cap
A stylistic device he likes to use is quotation marks. Since the beginning of his trademark, he has always liked to put all his statements in quotation marks, as an irony of the fact that nothing is set in stone and he doesn't care who invented something first. He resembles the practical philosophers who are more concerned with improving their situation in the present and using known means than with philosophizing about who was "first".
With all his fashion, it is also very important to him that it meets high quality standards. So, he uses high-quality fabrics and pays his workers healthy wages. After all, his fashion is not McDonalds, but plays in a much higher league.
Virgil always succeeds in capturing contemporary culture well and he has also done this brilliantly with his sneaker designs.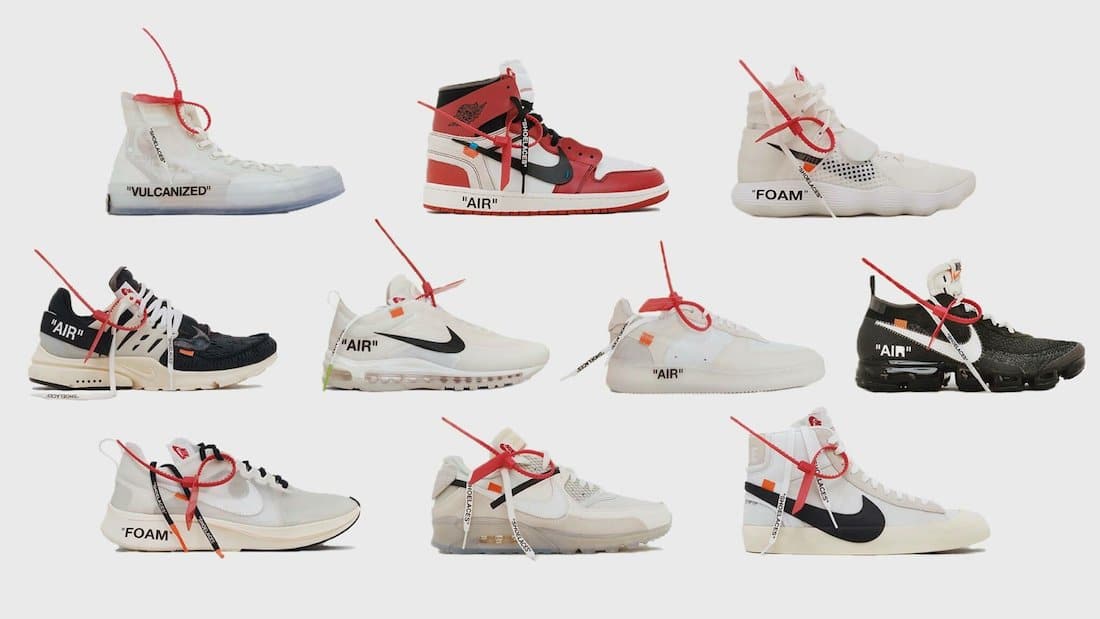 Off-White x Nike "The Ten Icons"
Off-White x Nike "The Ten" Icons
Probably the best known collaboration of Off-White is the collaboration with Nike. In 2017, Virgil redesigned the ten best-selling sneakers from Nike, Jordan, and Converse together with Nike. The shoes are not just beautiful shoes. Abloh once said in an interview that they mean more to him:
"The shoes have broken through barriers of style and performance and are as important to me as a sculpture of David or the Mona. You can discuss them however you want, but they mean something. And that's what's important." 
You can read about the design process on Nike. It is explained in a free book that captures Virgil's thoughts and approach, along with an extra section for each of the ten sneakers.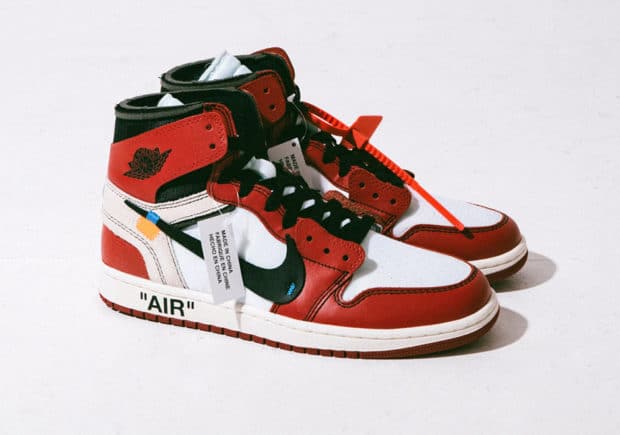 Off-White x Nike Air Jordan 1
The result is not only unique designs that look great, but ten icons that all have a personal meaning for Abloh. The Air Jordan I, for example, is the shoe of his childhood hero Michael Jordan, which he has reissued in a unique way. With the Air Jordan I, he had the following thoughts in the design:
"There is a cultural relevance to this shoe and I was aware of the history of this shoe. So how do you give something a new life without upsetting its foundation? It has such a cult status that if I were to change Colorway, I would be draining the energy. So for me, it was all about preserving Colorway. So how could I let other people see the shoes with new eyes anyway? Through a reductive design instead of an additional design."
As you can see, there is quite a thought process behind such a design, not to mention the trial and error involved in the actual design of the shoe, which Virgil continuously works on.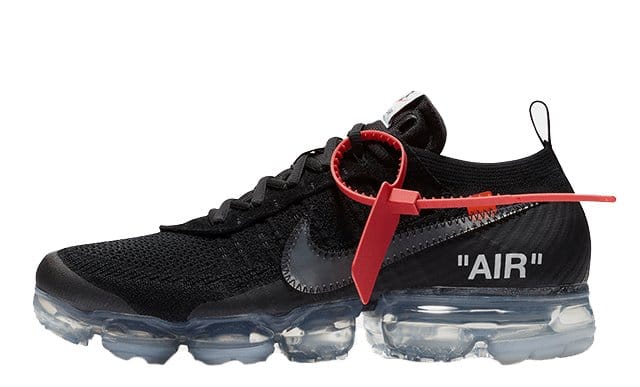 Off-White x Nike Air Vapormax
Another iconic shoe that Virgil has designed in this series is the Nike Air VaporMax. To him, this shoe is like real Nike DNA—a reminder that Nikes were originally assembled shoes designed for racing performance and designed by cutting and pasting. So, these are essentially same tools that Abloh likes to use the most.
For the new design, he took the perforated tongue from an early running shoe and combined it with the latest Air Vapormax. The visual language of the old running shoe, or more precisely the tongue of it, has the same aesthetic in the new running shoe. The difference is that the silhouette was not even designed then. So, it was literally a clash of old and new.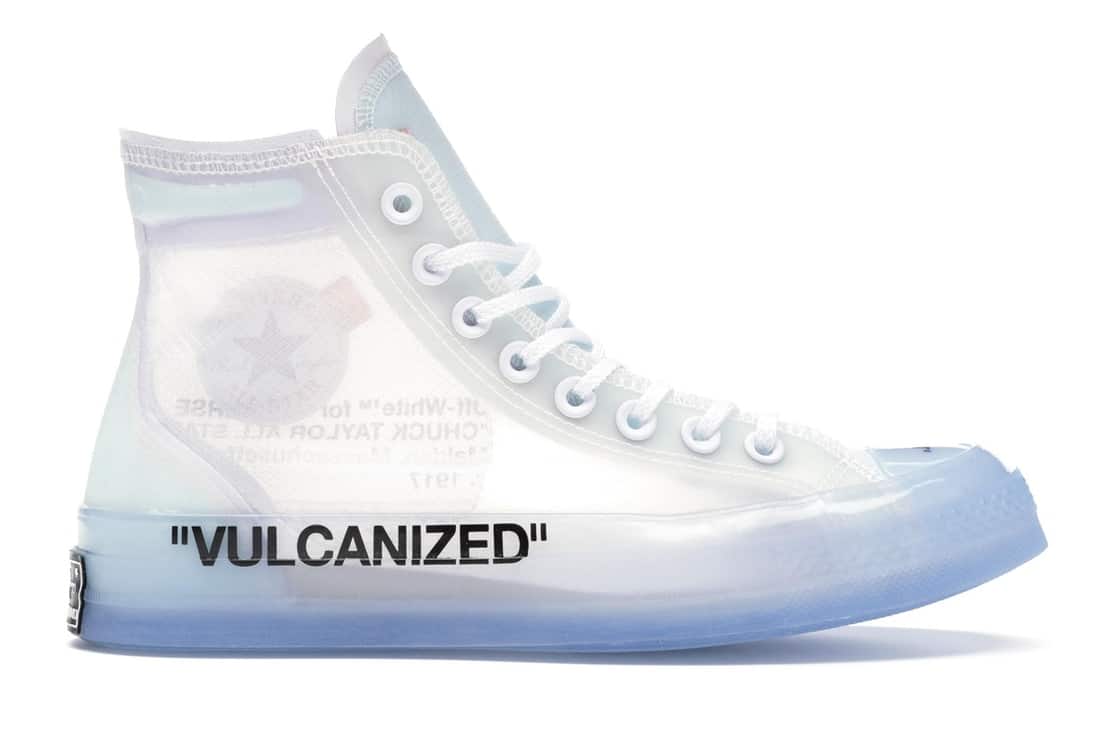 Off-White x Converse Chuck Taylor All Star
But, it wasn't just classic Nikes that he reissued. Virgil Abloh has also given Converse Chuck Taylor (Converse now belongs to Nike), a new look. Or rather, he has taken away those pls looks. This is because the shoe is now made of transparent material with an almost transparent sole. On the tongue of the shoe, there are also remnants of a Nike label.
The reason for this special design is that the Chuck Taylor represents a great piece of culture. It has been worn by so many icons and has been washed by culture as much as a stone is washed at sea. Abloh also wanted to keep the all-white fabric and using a transparent material is the closest to it, which also gives the appearance of an X-ray version of the shoe.
Of course, the ten cult shoes were not the only sneakers Virgil designed in his career. He has created a lot of other shoes with Nike as well as other brands, and of course, he has also worked with brands like Levi's or Moncler.
Off-White x The Rest
Among the sneaker collaborations were brands such as Vans or Umbro and rumour  even has it that a collaboration with BAPE is at the starting blocks.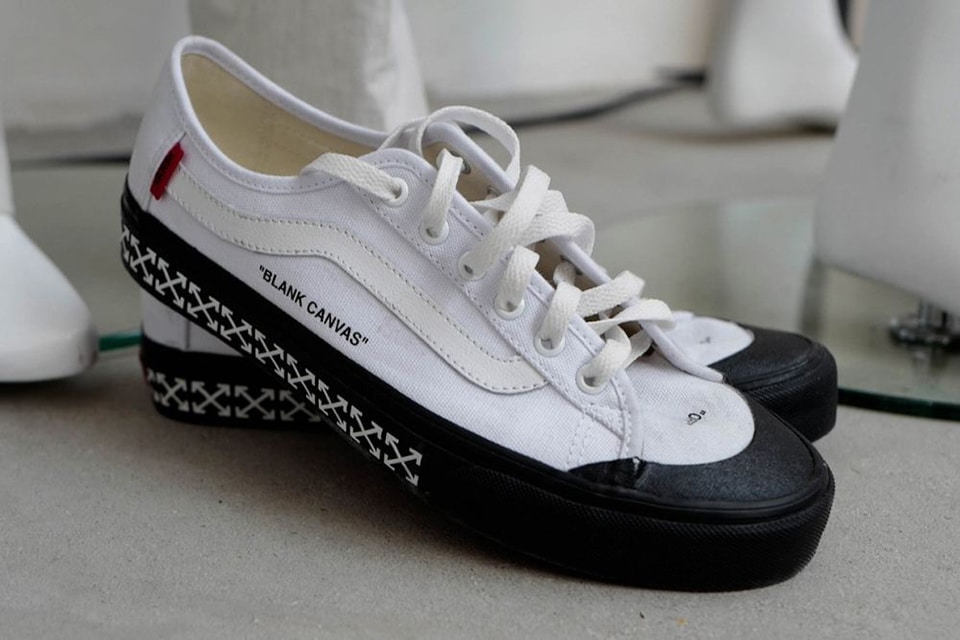 Off-White x Vans
The collaboration with Vans included re-releases of the Old Skool in Hi and Low, each called Black Ball Hi and Black Ball, and designed by Virgil in his own Off-white version.
Among other features they had were a leather stripe on the sides and a white "Blank Canvas" upper. The shoe was completed by a black sole with cross-arrows on it and the typical quotes. The only catch was that the shoes have only been seen at a fashion show so far and will probably not be on the market in the near future.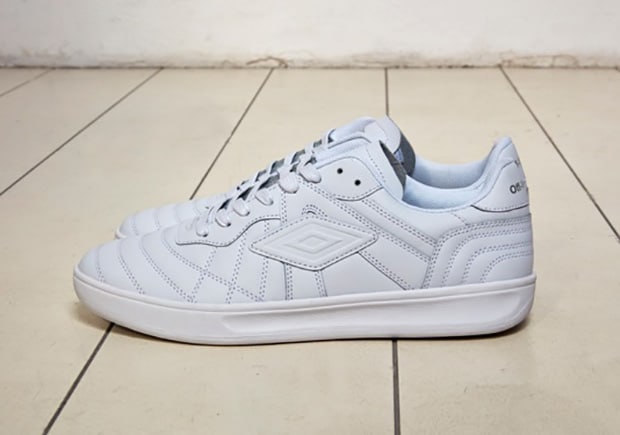 Off-White x Umbro
As mentioned above, Abloh had another collaboration with British fashion house Umbro. Together, they released a whole collection of things that were characterized by thin lines and punk-inspired patches.
But, the real eye-catchers were the sneakers. A classic Umbro silhouette, the "Coach", was completely reworked with high quality leather, additional seams and the Off-white logo on the heel. Of course, it's completely wrapped in white. It was the cherry on the cake of this outstanding collection.
Also with Nike, Virgil has designed more than just ten sneakers. They have already launched 33 sneakers together and some of them have been better received than others.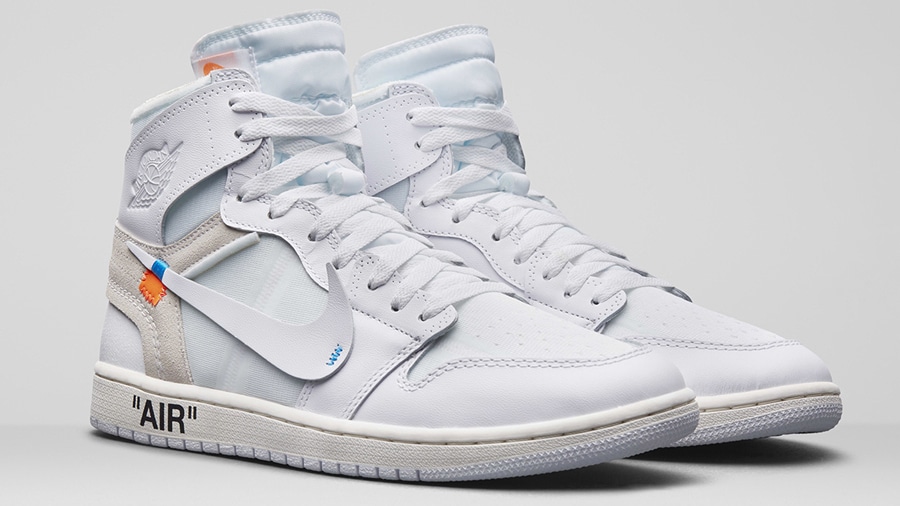 Off-White x Air Jordan 1 White
The Air Jordan 1 in white has caused quite an astonishment. How? Well, the drop for the white Jordans was only available in Europe. That was of course a big blow to all Jordan collectors, because most of them are sitting in America. Jordan took this step anyway and that makes his brand even more desirable.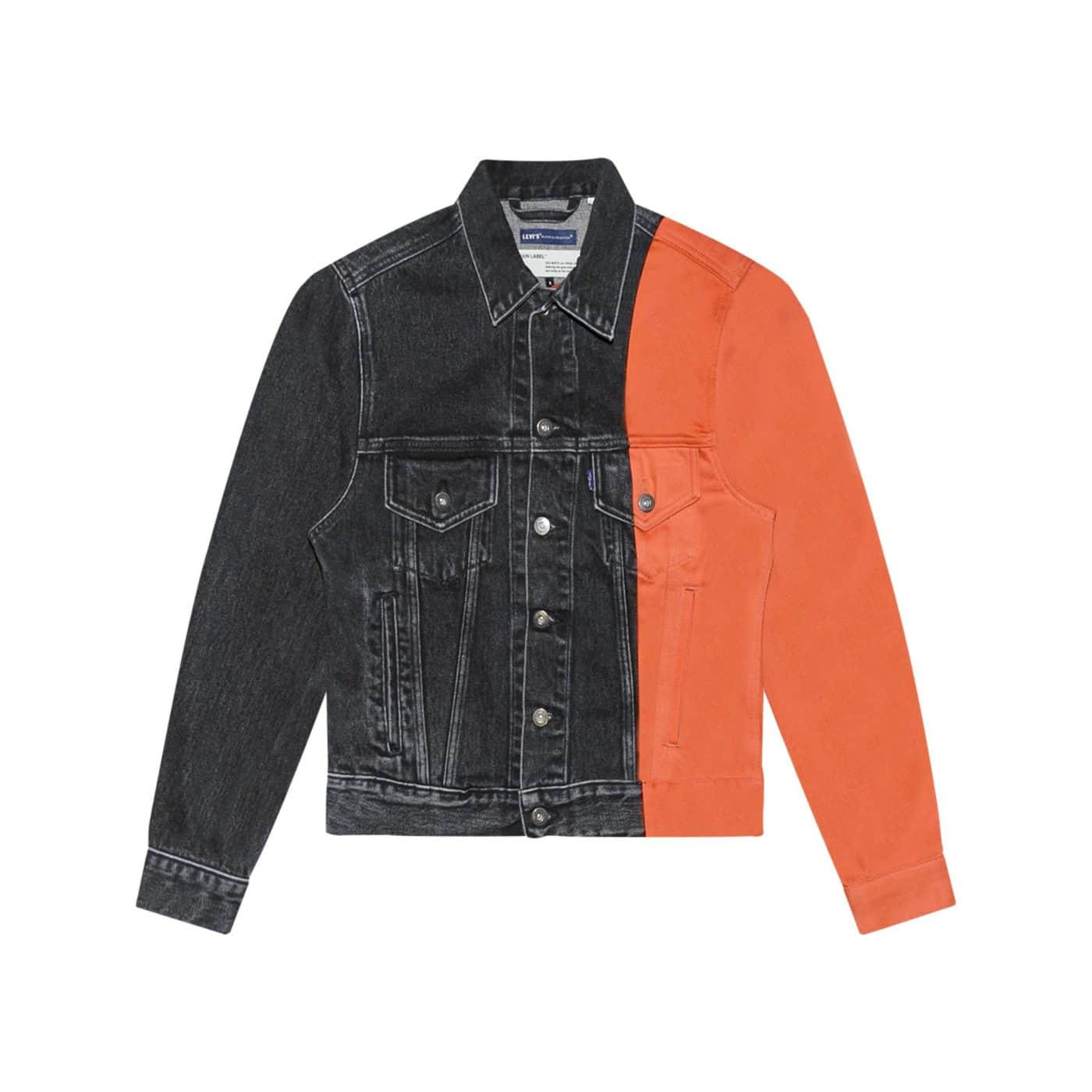 Off-White x Levi's Made & Crafted
Finally, a non-sneaker collaboration will be discussed. It's the collab with Levi's Made & Crafted. Ten parts were reinterpreted and redesigned here by Abloh. 
The most striking is probably the Denim Trucker Jacket. He designed this in striking orange and black, which is not in a colour transition, but cut off vertically.
Virgil Abloh is a master of his art. He understands how few people understand the power of art and how it can bring about change. Who would have thought that someday, he would become the head of creative design for menswear at Louis Vuitton—he certainly did not. One thing we can be sure of is that there are still a lot of good things to come from him.