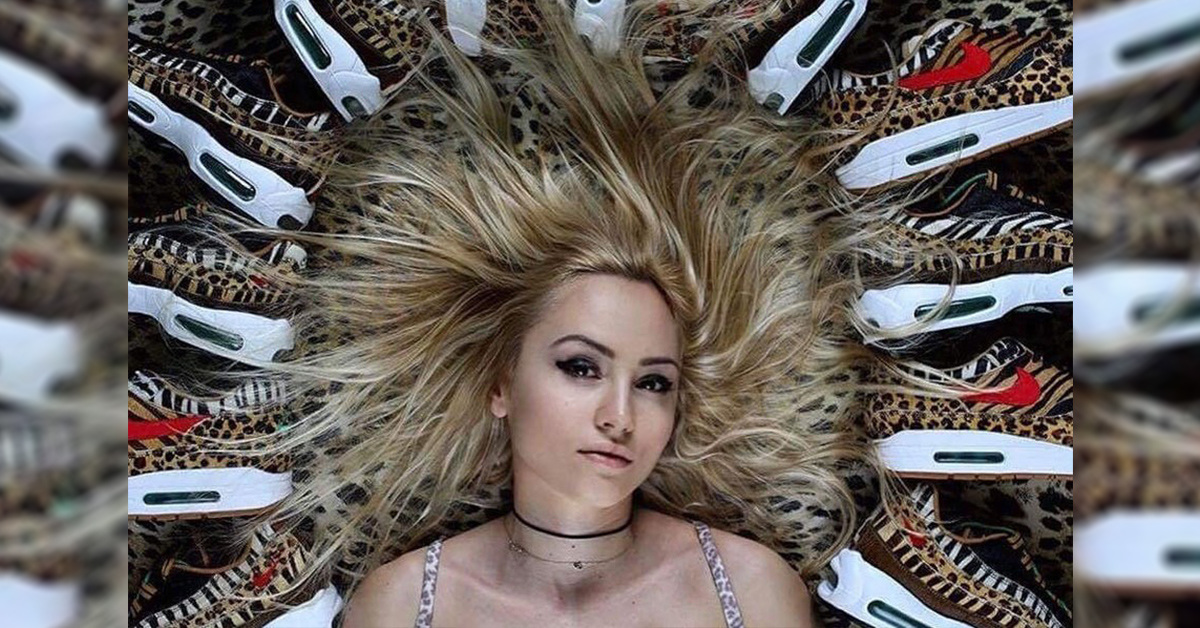 Federica Petri: The Growing Influence of Female Sneakerheads
For far too long, the sneaker and streetwear industry has been a boys-only club. But thanks to more and more women claiming their rightful place, that has changed in recent years. Both behind the scenes of brands or shops and at the top of IG accounts with thousands of followers, more and more women are moving the needle. Federica Petri from Milan, Italy, is one of the digital trailblazers who has earned a loyal following on Instagram in recent years for her tasteful presentation of shoes and clothing. We spoke to her about the sneakers in her collection, the relationship between brands and their female audience, and what it's like to be a social media influencer in 2020.
Who is Federica Petri? Can you start by telling us a few things about yourself and your life?
I was born in Milan in 1992, studied foreign languages and got my very first job at
Nike
in 2013. I worked in the Milan showroom in the Naviglio Grande district, which is now closed, and that's when I started to get interested in streetwear culture. In 2017, I opened my Instagram profile, where I started posting my first outfits, just for fun. Month after month I saw a huge increase in interest on my profile, people were getting in touch more and more with comments and DMs asking me for information about sneakers and clothes. So I decided to turn this hobby into a project and spend more time and energy on it. The results were amazing: In almost 2 years I had about 200,000 followers and many brands wrote to me to collaborate. I've worked with
Reebok
,
Mizuno
,
adidas
,
Fila
,
StockX
, Tommy Hilfiger, Awlab, Footlocker, JD Sports and Virgin Active. In 2019 I got married and of course it was an incredible streetwear style wedding in collaboration with Nicole Spose (Pronovias Group).
How did you become interested in streetwear and sneakers? Was there a specific moment that made you want to get involved with this culture?
Yes, my interest in streetwear started in 2013 when I joined the Nike family, which was my first job ever. I was hired at the Milan showroom in the Naviglio Grande district and was lucky enough to see new sneakers and clothes every day, and that definitely got me hooked.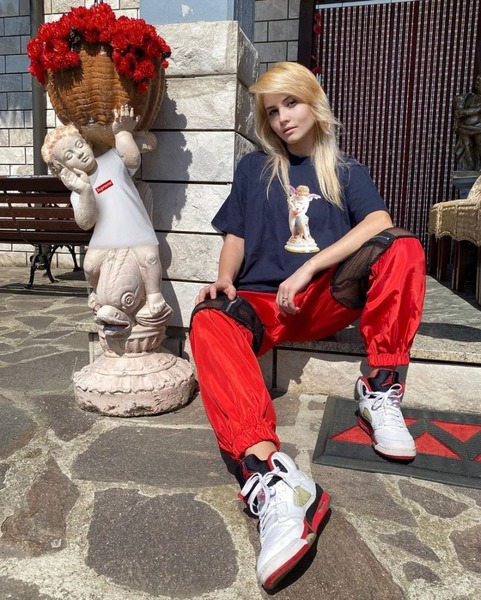 Remember the first sneaker that got you hooked?
The first sneaker I bought was a
Jordan 5 "Fire Red Black Tongue"
from 2013. The red midsole immediately caught my attention. I still smile like the first time I wear them.
Is there a particular sneaker model that you would describe as your favourite? If so, why this one in particular?
How would you describe the sneaker scene in Italy? Is there anything that is typical - and is this also reflected in your personal taste?
A lot of the new generation is obviously more about resale and they are not so interested in style, culture or history. But I think there are a lot of great people in the sneaker scene here in Italy too. For example, I recommend checking out two great collectors on Instagram -
@attiliofuocolento
and
@ancienregime
. They put passion and knowledge above everything, and those are values that inspire me.
For a long time, the general approach of many brands to women's sneakers was a kind of "shrink it and pink it". Do you feel that this is changing and brands are trying to cater more to the female audience?
Yes, I see brands making more and more of an effort to appeal to a female audience, but it's also important that Nike, for example, is making a big effort to have women design trainers. I'm thinking of the Jordan 1 by Aleali May and Melody Ehsani, for example. I also thought it was great that
Virgil Abloh
designed the latest
J4 Off-White Sail
with women in mind and also allowed exclusive access for girls only on the SNKRS app. Good move Virgil, I got it, thanks ;)
Being a social media influencer seems to be a legitimate career goal for many people interested in sneakers and streetwear these days. How does someone with well over 300,000 followers on social media manage to build and maintain such a strong community?
Most people think that being an influencer is easy, but in reality it's not. It's a real job that you have to invest a lot of time and energy in. I try to respond to every comment and DM, and also I'm always thinking about the next pictures I can post and how I can make the IG stories more interesting - so it's kind of a 24-hour job. But even though it's quite a challenge sometimes, the great feedback I get from my followers makes it worth it.
In 2020, many traditional businesses suffered under COVID-19 - while online businesses in particular seemed to thrive. How has the whole situation with suspensions, social distancing and similar measures affected your profession as a social media influencer?
Yes, COVID had an impact in my case too, even though it is an online job. Some collaborations with brands were cancelled or postponed because most companies suffered big losses during the pandemic and had to adjust their budgets. But during the lockdown, I felt compelled to do my best to entertain my followers even more to distract them from this situation we were (and I think, unfortunately, still are) in together.
How would you describe your taste in streetwear? Is there a particular niche or style that you prefer?
I tend to mix streetwear brands with old rock band t-shirts. For example, you often see me with Supreme jackets and Offspring or Blink182 t-shirts underneath. In the last few months I've become very interested in technical clothing, so I mainly wear military jackets and cargo trousers made of special fabrics. They combine utility, comfort and style very well.
In the last ten years, it seems like streetwear brands have been popping up left and right. What do you think makes a really good streetwear label that will last?
I think it's a mixture of different factors. First you have to have a strong identity and values, then you have to communicate those with your designs and finally you have to do really strong and clever marketing campaigns so that people know about you and don't forget about you. Doing all these three things is really difficult and challenging and requires a visionary mindset like Virgil's, Demna Gvasalia's, Jun Takahashi's or
Ronnie Fieg's
.
How do you think streetwear brands consider their female followers? Is the streetwear industry more or less aware of its female fan base compared to the sneaker industry?
Streetwear brands have become aware of this in the last 2/3 years. Their female "fan base" is growing exponentially thanks to regular fashion brands collaborating with streetwear brands like LV/Supreme, Ralph Lauren/Palace, Dior/KAWS, and I think we will see more of that in the future. I think both the sneaker and streetwear industries are very aware of their female fan base. And that's a really good thing.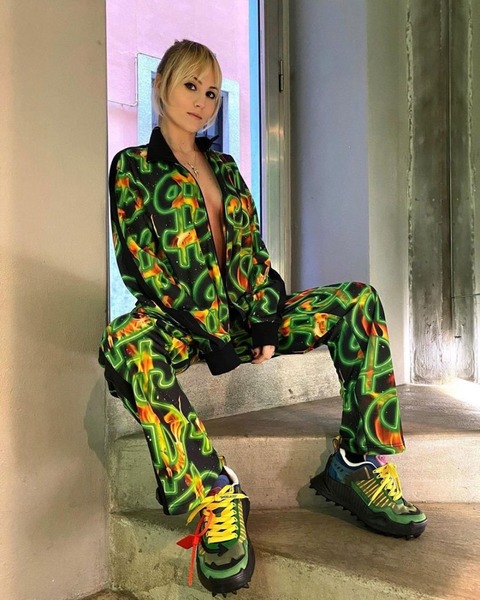 What are your top 3 sneakers at the moment and what do you like most about them?
Do you also have 3 streetwear pieces that you particularly like at the moment?
What does the future hold for Federica Petri? Are there any exciting plans you can already share with us?
I just hope that 2021 will be better for all of us than 2020, it doesn't take much.... As for me, I just want to keep doing what I'm doing, learning, researching and improving day by day. I'm also preparing some raffles and other surprises for my followers, so stay tuned ;)
Thank you for the interview, Federica!
Thank you!