Latest Pickup: Nike Air Huarache LE "Escape 2.0"
The cold months always bring along some disadvantages when it comes to our outfits. Light mesh, for example, is very unsuitable in autumn or winter. Much better, on the other hand, are sneakers made of sturdy leather or warm suede. That's why Nike has also reworked another sneaker from the retro range. Here, we show you which model it is and what the new features are.
We're talking about the popular Nike Air Huarache, which has made a grand comeback in 2021. The Stüssy x Nike Air Huarache was launched in February 2021, with other colourways already in Nike's pipeline. But most of the versions were more for the warm days because they were made of lightweight textiles.
For the cold and wet season, the label with the Swoosh has updated its retro sneaker with weatherproof materials. So, you don't necessarily have to give up your favourite silhouette. Bridge the weeks until the temperatures rise with this Nike Air Huarache LE 'Escape 2.0'.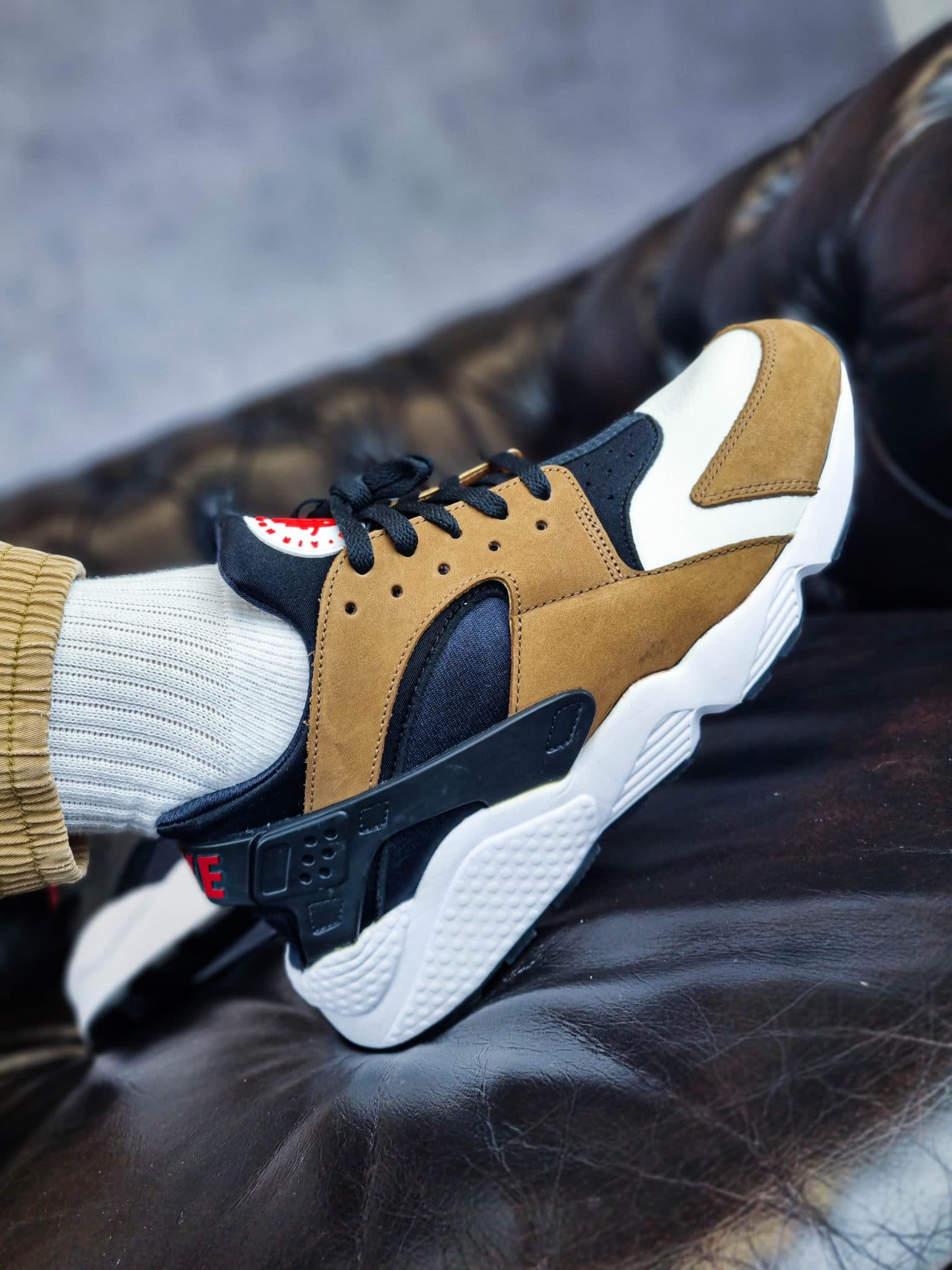 Style - Fall Vibes on the New Nike Air Huarache
Nike's thirtieth anniversary of the coveted Air Huarache is coming to an end soon, and a number of the original versions of the silhouette still sit on several shelves worldwide. But the sneaker isn't set to disappear after that, as new colourways have already been unveiled to freshen up the Beaverton arsenal.
The latest model is this Nike Air Huarache LE "Escape 2.0", which features a white leather toebox and brown suede panels. Neoprene-like material over the midfoot has not been replaced but instead has been kept in black to add a stealthy touch to the look.
The tongues and straps follow the last example, with a touch of "University Red" completing the design. Other previously unknown branding from the Far East then adorns the black insoles of the Nike Air Huarache LE "Escape 2.0".
https://www.youtube.com/watch?v=L4wK2T2m-LA
The Technology in the Latest Nike Air Huarache LE
Originally, Nike developed the comfortable Air cushioning to improve performance in running. In the meantime, however, we feel the technology not only in the sports sector, but also on the streets. The combination with the soft foam midsole makes the package perfect.
In addition, the robust materials on the upper increase the support, as the neoprene-like material in the middle area optimises the entry and the fit. Elsewhere, the durable rubber soles ensure high traction.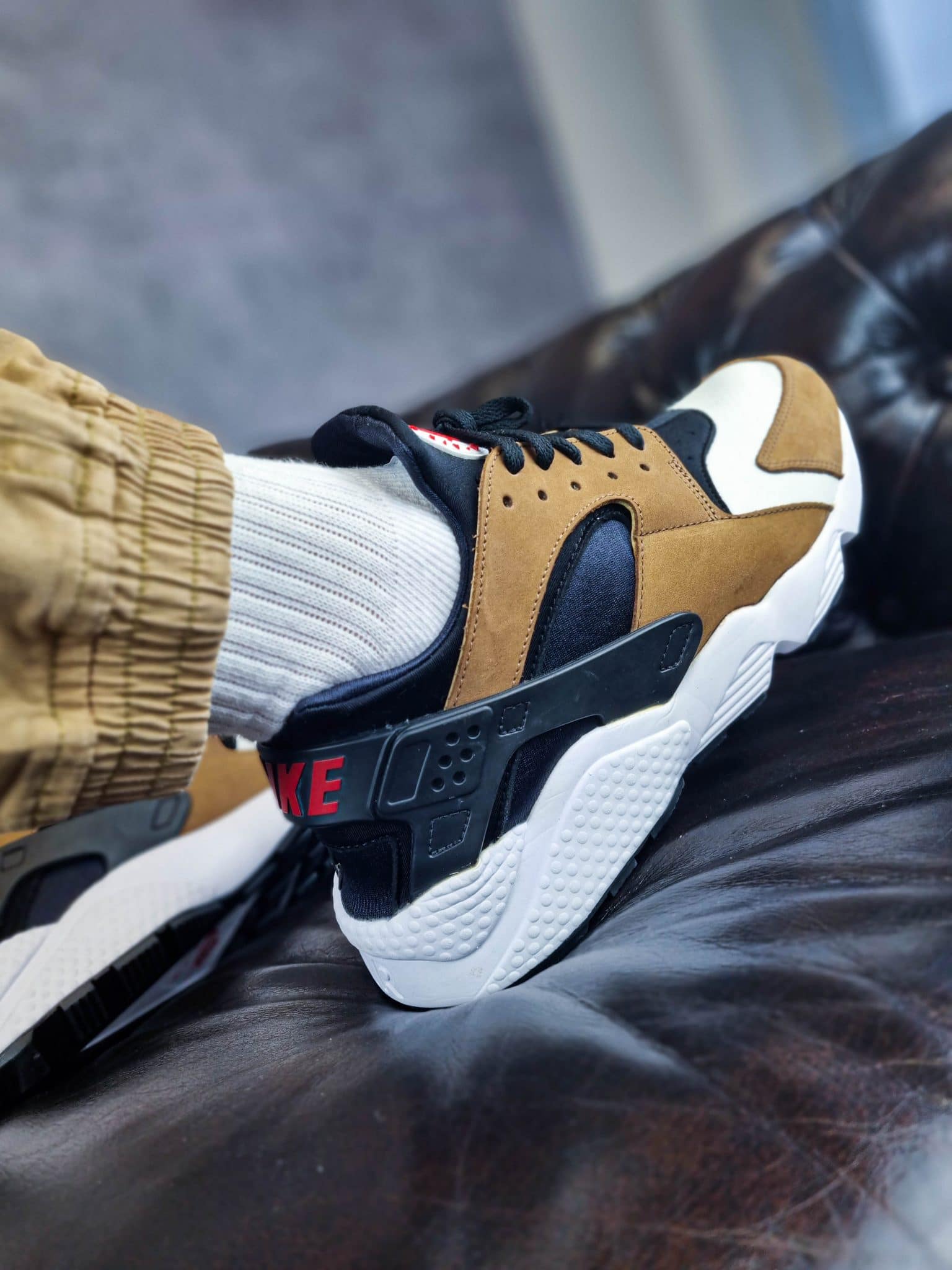 Conclusion on the Nike Air Huarache LE "Escape 2.0"
With the Nike Air Huarache LE "Escape 2.0", the label has released a trendy version for autumn. The red details in the form of brandings give the model a unique touch. If you want to shop the latest colourway now, take a look at Nike. There are several sizes online, but we recommend half a shoe size larger. The sneakers are a little narrow at the front.