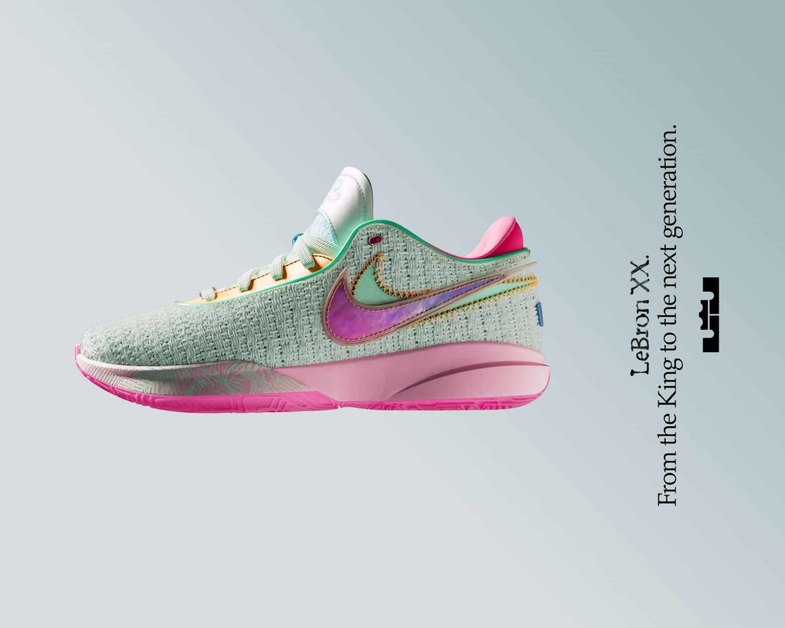 Nike Officially Unveils the LeBron 20
Back in the summer, we got our first, brief glimpse of the brand new LeBron 20. Now Nike has officially unveiled the shoe and provided some interesting facts and pictures.
The LeBron XX is the first performance shoe in LeBron's signature line to debut as a low-top.
Key features of the shoe include a lower profile, Zoom Air in the forefoot and heel, and a carbon fibre midfoot shank. For underfoot cushioning, the forefoot has an overhead Air Zoom Turbo unit and the heel has a larger Zoom Air unit with a thickness of 13mm to help with impact protection.
A Multi-Directional Outsole Pattern Provides Good Grip on the Ground.
"We saw the XX as an opportunity to celebrate the next 20 years of the LeBron," says Jason Petrie, senior footwear designer for men's basketball and lead designer of the LeBron line since the Zoom LeBron VII. "On the inside of the tongue it says, 'Designed and Engineered to the Exact Specifications of the Next Generation.' We took that line very seriously when we designed the shoe. We had players like LeBron's sons Bronny and Bryce in mind. We wanted to get into their heads and learn what young players are looking for."
Petrie says he had memories of the Soldier 10 design when developing the shoe: a lower profile, narrow pitch feel, but built to withstand the power of his game. While much of the signature franchise was built around LeBron's love for Air, he trusted the Nike basketball team to design a lightweight, low-top shoe with Zoom Air - the lightest of his signature sneakers to date - and still create something that could stand up to LeBron's style of play.
Some of the most popular features of LeBron's signature line are incorporated into the shoe's technology. For example, the collar lining incorporates a Nike technology called "Nike Sphere" that originally appeared in the Air Zoom Generation. The technical collar lining is soft and breathable and ties into LeBron's desire to create the most comfortable basketball shoe with the Zoom Generation. A carbon fibre midfoot shank, which provides energy return and torsional rigidity for explosive movements, returns to the signature line for the first time since the Zoom LeBron 5. The Dunkman logo returns on the outsole after last appearing on the LeBron 16.
Don't Miss the Release of the First LeBron 20
The Time Machine colourway of the LeBron XX will release on September 29th in adult and kids sizes. Other colourways will be released later in 2022.