Sneaker Made in Germany
Did you know that KangaROOS, SONRA and VOR make sneakers made in Germany? They even share the same factory. Since the shoes of all three brands are produced at the same time, we decided to meet with the founders directly on the factory floor where the sneakers are made.

This is the story of Hummel & Hummel, a factory in southern Germany that makes classic shoes and high-quality sneakers. It is located in Pirmasens, the former capital of German shoemaking, where even Adi Dassler learned to cobble in 1932. In the golden days, the city breathed this craft like no other. In 1969, 32,000 workers produced 62 million pairs of shoes in a year. But when brand-name manufacturers began looking for low-cost production options outside Germany, the industry experienced an unprecedented decline. Within two decades, nearly all of the factories in Pirmasens were wiped out.
 
But major trends are also usually followed by a countermovement. The increasingly complex world economy is leading to growing uncertainty about global trade and its effects. Consumers want to know where their products are made - and under what conditions. There is a new appreciation for local production, and interestingly, the "Made in Germany" label seems to be leading the pack. After surveying 43,000 people, a global survey found that Germany topped a "Made in" list of 52 countries. The Hummel & Hummel factory is proof of this trend: a passionate project dedicated to this growing niche of sustainable and local production.
Hummel & Hummel was founded by Bernd Hummel in 2011, when he acquired the building and all the equipment as part of a company liquidation. He also continued to employ selected employees from the factory. Bernd Hummel is no stranger to the shoemaking tradition, which he immersed himself in when he took over the shoe factory from his father-in-law at the age of 23. Since the early 1980s, he has managed the KangaROOS brand under a licensing agreement in 27 countries worldwide. The limited edition KangaROOS was first produced on the factory floor of Hummel & Hummel.
 
Building a sustainable business in this niche inevitably led to opening the factory to outside brands. Fortunately, KangaROOS was joined by two of the best up-and-coming sneaker brands in Germany - SONRA and VOR. Since we are convinced of the quality of sneakers made in Germany and this incredible variety of brands, we met with the founders directly at the factory. Come along and see the Hummel & Hummel factory up close.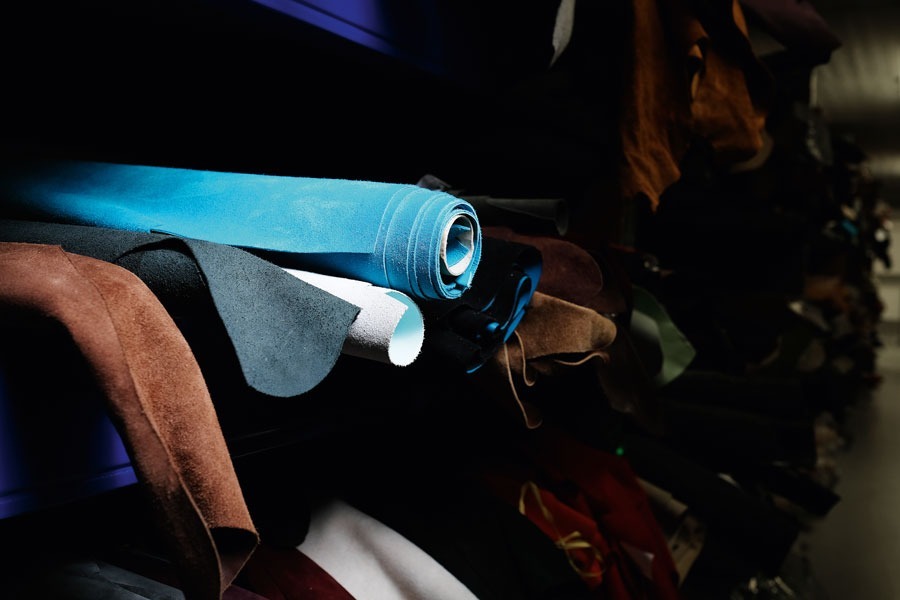 Bernd, your career in the shoe world started very early. You had your first factory at the age of 23. What was the state of the industry in Pirmasens at that time?
The factory I owned had 70 employees. That was in the '70s, and the town was largely dominated by the shoe industry and all the necessary suppliers. I would estimate that there were about 400 factories in the area. But at the same time, there were also the first bankruptcies. Today, "Made in Germany" has become a niche.

Nevertheless, you gave it a try and revived an old factory, the result of which we can see here. Is this a pure passion project, or do you believe in the business?
At the beginning it was a passion project, but when I started looking at the rational aspects, I realized that the niche offered an opportunity. That's how Hummel & Hummel became a reality. I believe that there is a certain clientele that wonders where and how their products are made. They want to know the people behind it and how sustainable the company is. And I think we have great opportunities here, especially as a manufacturer that is run as a family business. Our sneakers are made in Germany - not prefabricated somewhere, but 100% produced here.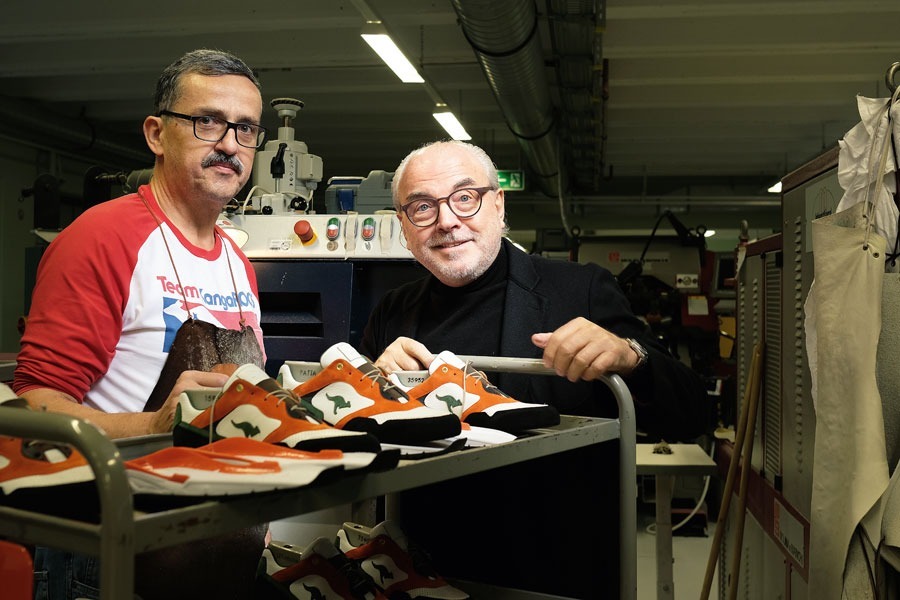 Of course, you know the production side of the shoe business better than anyone else. How do you rate the quality that is produced here in Münchweiler?
I don't need to say much about that: We only produce premium quality in this factory, and we're very proud of that.

Now let's take a look at the finished shoes of the three brands. How does it feel to see these great shoes in your own factory?
I am really happy to see these shoes, and I am proud of the production. Recently, I came across an article from Highsnobiety that featured the five best sneakers from Germany. Three of them were made here in our factory. What more can I say?

What is your vision for the future of the factory?
We want to expand it step by step until we can produce more profitably. But it's not about profits, it's about ensuring the best quality in limited quantities. There is a market for our shoes, and we see opportunities in sustainable production.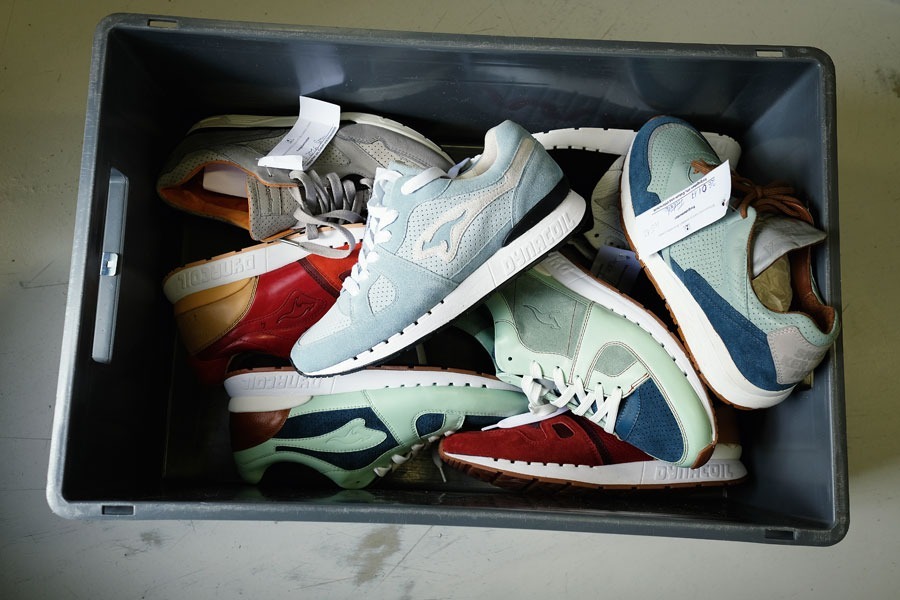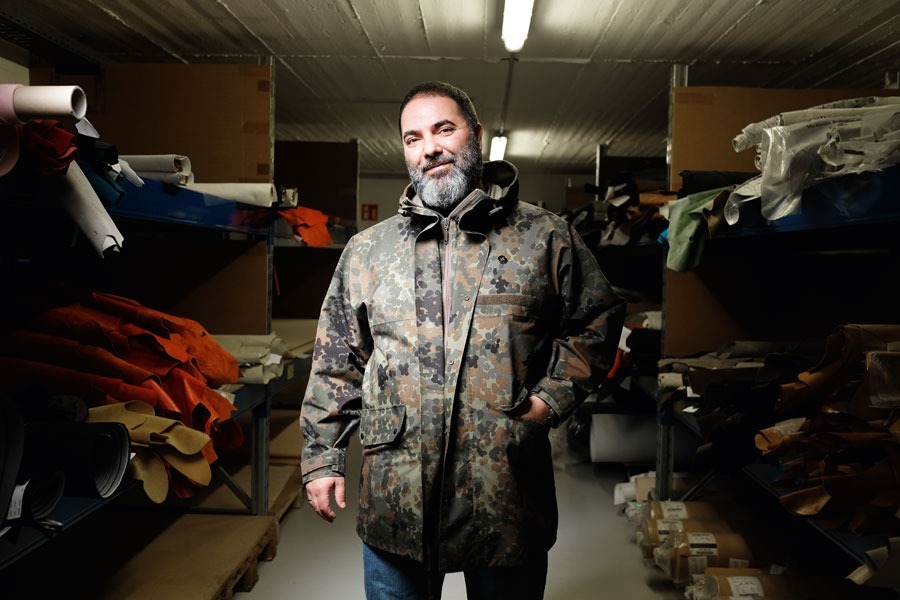 Hikmet, how did you start producing shoes at Hummel & Hummel?
That's a pretty short story. When I was looking for a manufacturer in Germany, I met Bernd Hummel and we exchanged our thoughts. He liked the idea, I went to see the factory because I knew KangaROOS was producing there. So one thing led to another, and the first SONRA shoes were made here.
Why was it important for you to produce in Germany?
Of course, I could have produced anywhere in the world. I could have found a factory in Italy or Portugal, and of course Turkey would have been natural with my roots. But it was important to me to create something that is more than just a shoe brand - something sustainable that I can stand behind 100%. I want to know how things are made and who makes them. SONRA is my brand and is carried by people, some of whom I know well. So I want to make sure there are no problems with the production. Besides the quality, that's the reason why I produced in Germany.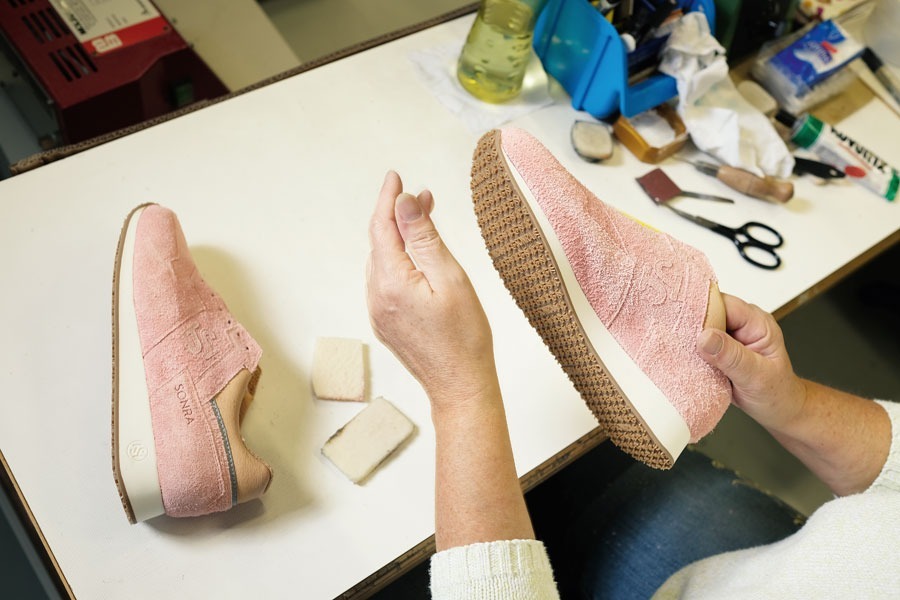 With this article you openly reveal where and how your shoes are made. How does that make you feel?
I have no problem with it. Also because the other brands involved, KangaROOS and VOR, are all doing a great job - and I hope I am too.

How important is sustainable production to you, and how does it affect your life?
To be honest, it's very important to me. I live outside of Berlin and I also like to shop in this area. I support local businesses and think it's important to make conscious consumption choices and buy things that are made under fair conditions. When you buy products that are made here, you create jobs, and it's important to think long-term. When you do that, you can make a difference. You can help the grocery store next door keep its business going and prevent it from being swallowed up by a corporation. You can help the butcher who has been there for his customers for 100 years to continue as a family business - maybe for another 100 years. Don't save at the wrong end.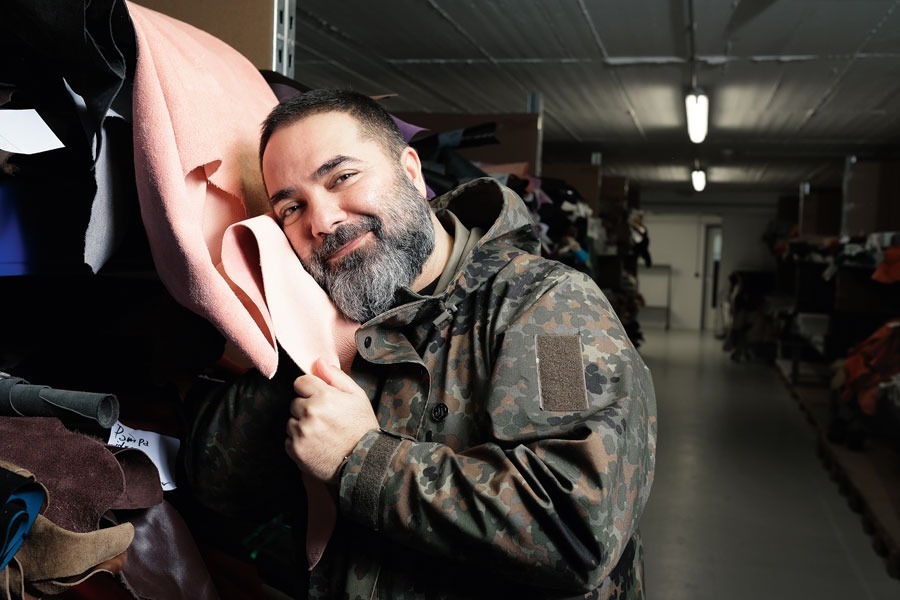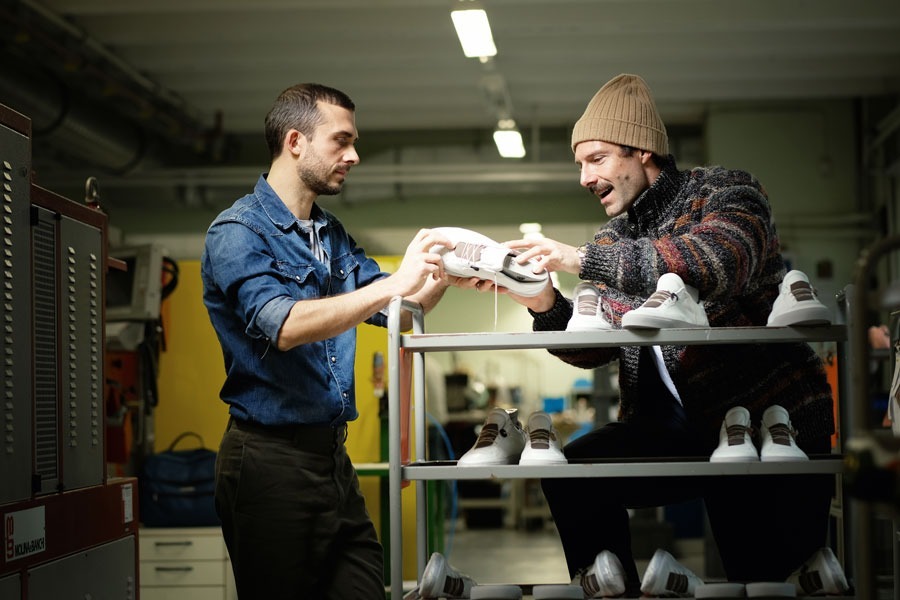 The name VOR is German and you are obviously seen as someone very German, referring to a specific and very minimalist design tradition. Would you agree with that, and was producing in Germany the icing on the cake?
Yes, that's true, we love everything related to Bauhaus and Dieter Rams; simply "The Good Form" in all its simplicity, yet refined and sophisticated. Since we started VOR, we wanted to create a brand that has its roots close to its founders and the location from which it operates, offering customers some clear brand values in an oversaturated and sometimes very confusing market. Of course, from the beginning we wanted to be internationally known and present in international markets and regions, and that is important for almost any brand (at least in the fashion market). We have clearly defined some cornerstones in terms of design, aesthetics, logos, etc. and are now known for our own colorway creations, for example, which are always named in German. The fact that we can produce our shoes here in Germany has of course made the whole package perfect. Not only as a very strong USP and for our brand image itself, but also for the kind of products we want to create and thus for our customers who are looking for such specific products, it has many advantages.
What does the label "Sneakers Made in Germany" mean to you today and what are other important reasons to produce here besides communication? Why Germany, and why Hummel & Hummel?
In addition to the reasons mentioned above, "Made in Germany" stands for our personal aspiration to make sustainable choices as adults in a modern society in all areas of life. Besides the effortless beauty of our products, another important point is quality. After our decision to leave Vietnam, where we started, we looked for European manufacturers, especially in Italy, Portugal and Spain, where the quality level is said to be the highest. After visiting many factories, we were still not 100% satisfied. Fortunately, we then got in touch with Hummel & Hummel and learned that H&H is not a factory in the traditional sense, but a manufactory, which is absolutely rare in the shoe world. The people there focus on quality and not on speed/mass production. In order to achieve this quality and really live "Made in Germany", it was and is our goal that the entire value chain is "German". We have managed to purchase 99% of our components, such as leather, laces, eyelets, etc. in Germany. So the manufactory and many suppliers are just a car ride away, and we can see them whenever we want and whenever we need to. In addition, we speak the same language. Of course, this helps with daily communication, and we can also rely on creative thinking and problem solving. The constant effort to improve the product, to be proactive and to find the right solutions for the best possible result is a matter of course for us. We love what we call "German engineering."
How would you rate the quality of the sneakers made in Germany that are produced here in Münchweiler, and what are their particular strengths?
In our opinion, the quality is top-notch, which is why we are here and not somewhere else. Every single person in the team identifies with the product they make. There is no piecework, as in most shoe factories, but a product-related process chain under German working conditions and legal requirements that we feel comfortable with. The shoes that come off the line there definitely meet our high standards.