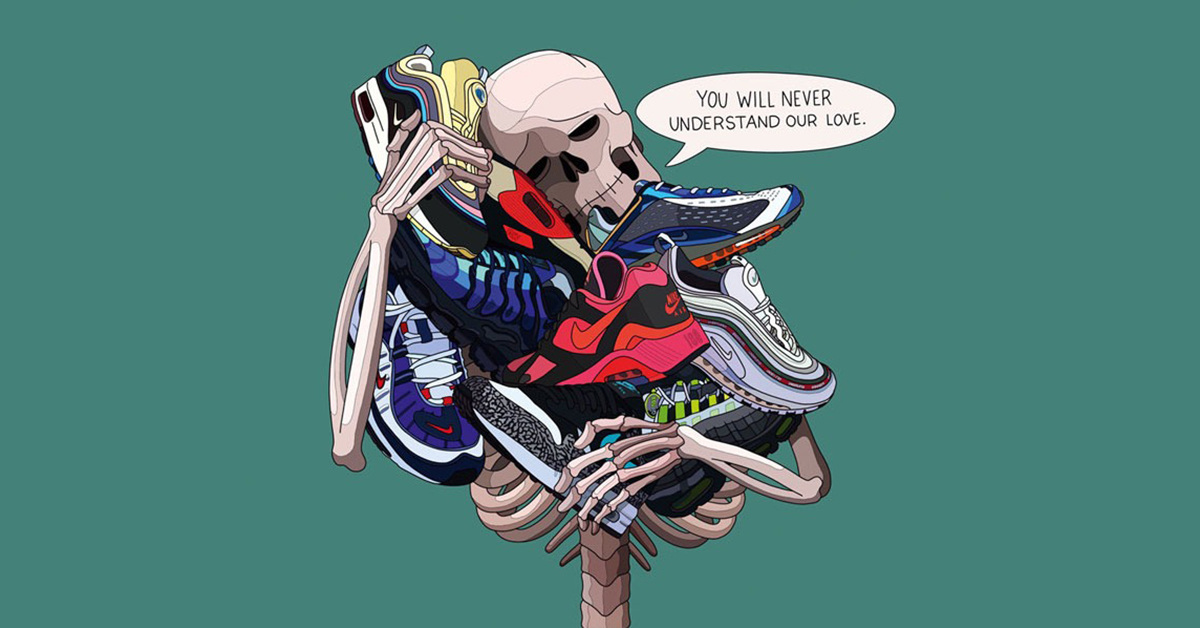 The Art of Laro Lagosta
He has his own style and a unique sense of humour that allows us to look at our sneaker world in a whole new way. Welcome to the strange world of Laro Vilas Boas aka Laro Lagosta from Portugal.

Laro, you were first known for rather violent images with lots of bones and blood. Now you mix some of that stuff with images of sneakers. How does that happen?
These two worlds are slowly colliding, but that was rather natural and certainly not planned. But when I started, I liked the result and kept working on it. It's strange when I look at my older work, I don't feel like drawing like that anymore.
In all your current work you have a critical view of hype and consumption.
Consumption is a part of life; I think the way you deal with it says a lot about how you relate to others and the world.
One of your recent images is about growing older as a sneakerhead. What's your perspective on that?
People often get grumpy and mean because life is a bitch and there are more important things than worrying about sneakers. But sometimes those who still love sneakers are too attached to the past. They don't understand why younger people like or praise something.
Does that happen to you too?
Yes, in a way it does. I will always love the old Nike silhouettes more because they are familiar and part of my life. When a shoe makes a comeback, like the Air Max 98 for example, oldschoolers complain that no one was interested in them a few years ago. But fashion comes in cycles - I don't understand why people get upset about it.
Please tell us something about your own sneaker life.
I love sneakers a lot, but I'm not addicted. Sometimes drawing sneakers that I want and can't get is like wearing them for a while. And if I draw them a lot, sometimes the interest in them fades. I love many brands, but I almost always end up buying Nikes.
Can you please name your five favourite sneakers?
That's a tough question, but I'll tell you the ones I've liked recently:
Nike Air Max 98
,
Nike Air Monarch
,
Nike Vapormax Plus
,
Nike Air Force 1
,
New Balance 620V2
.
When did you first learn to illustrate and how did you develop this skill?
I've been drawing since I was a little kid. My parents both have this skill. My father is more of an illustrator with pencil and pen, but he stopped drawing when he got older, but my mother still draws, with big canvas brushes and acrylics. I learnt a lot watching her do it.
Laro, please keep up the good work, and everyone else should visit
@larolagosta
for all his paintings.