How Illustrator Careaux Became a Successful Sneaker Designer
Caroll drew something to do with Staple and then pointed it out to me. I took one look at it and then looked at all the other artwork. I had no idea who or what a "Careaux" was, but I thought to myself, this is something great. Something artistic. Something street-oriented. Something fresh. And something that is also very easy to digest, whether for a sneakerhead or not. That's when I offered to do a solo show for her at Reed Space in New York City. Aside from what I said above about the artwork itself, there's Caroll herself. She lives authentically as a fan of the culture and contributes to it in her own way. She works hard and makes her work known in a way that others simply don't. In a male-dominated street and sneaker world, Caroll brings a rare combination of femininity and talent. Add to that the fact that she lives in the middle of Europe, is multilingual and has a strong social media following, and you have the perfect storm for any brand that wants to support her.
Introduction by Jeff Staple
Caroll, it's great that we could get you for this interview. Please tell us a bit about what you are doing at the moment. Where are you and what is happening in your life right now?
Hi, thanks for having me on. At the moment I just woke up. Just a normal weekday: just checking my emails, looking at Instagram and getting ready for work. Not much going on. I've decided to take a few steps back and focus on what's important to me personally.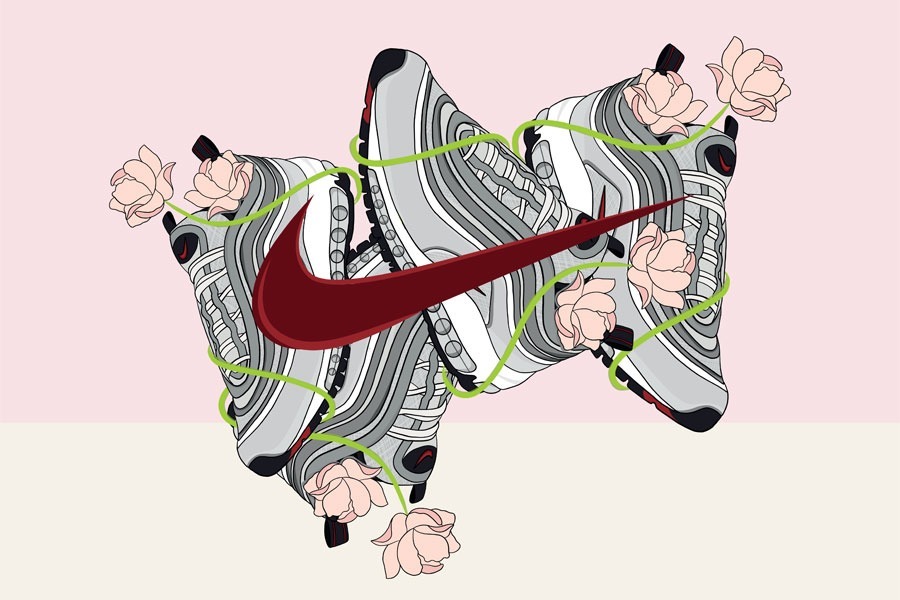 What does a typical day in your life look like? What time do you get up in the morning and what are your best hours of the day?
I get up around 7:30. My boyfriend makes me a tea and goes to work, while I stay in bed and draw until 9. I think those are the times when I am most active for Careaux. After a long day at work of 8 to 10 hours, I just want to come home, have dinner and relax. So after work I don't draw much.

A lot of people know you from your Puma collaborations or via Instagram - but you have a lot of things going on at the same time. Can you tell us about Careaux's projects in 2018?
I've decided to focus a lot more on collaborations. I'm in touch with brands I've always wanted to collaborate with, so this year will be fun and new. We're also launching the new season of Filling Pieces soon.

You are best known for your very colourful and often floral designs. When did you first discover the flower for your work and what does it mean to you?
I think a flower shows your growth - it blossoms. And I was in a big phase of my life where I blossomed very quickly.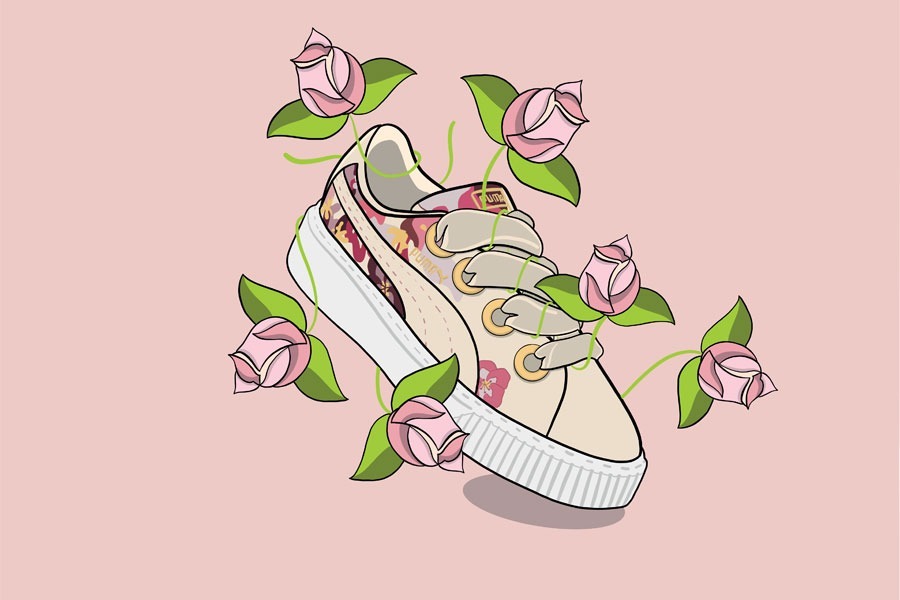 You mentioned that you started illustrating when your father was in a coma after a car accident. Did art have a therapeutic effect on you, and does it still have that today when art has turned into a professional career?
Yes, it does. When I grab my iPad and draw, it helps me distract myself. Even when I'm busy in the office. When I focus on new designs, I always forget the time.

But illustration is not your only talent. You are also the designer for women's shoes at Filling Pieces. How did you get in touch with the guys and was it difficult to learn shoe design?
I've known Guillaume since I was 20. I had my internship in Amsterdam. He liked the illustration of Kanye that I had done, so we decided to meet and exchange art. He gave me a pair of Filling Pieces and I gave him a big canvas with the Kanye image. A short time later he asked me to work for him a few times. I did mostly technical work. In 2015, he asked me again to come by the office. I was 25 at the time and haven't left since. It was definitely difficult to learn about shoes. I came from a graphic design background. I have always worked inside the box. Everything comes with rules. Advertising comes with rules. Magazines. Shoes were a whole other level, and to be honest, we are all still learning every day.
What are the things that inspire you yourself?
The travelling. The advice I would give to other creatives is to leave your comfort zone. You can't stay in one place and think you'll get inspiration from there. You have to experience new things, feel new vibes.

Speaking of changing places, you come from the Netherlands and recently moved to Sydney. How did that happen, and how often do you travel back to Amsterdam?
I moved back to Amsterdam in April 2017, almost a year ago. I felt like I was stuck here and needed new energy. So I left in 2015 and moved back and forth. The reason I came back to Amsterdam was Filling Pieces. I know I wouldn't have come back if it wasn't for FP. I would have found a real job in Sydney. But Filling Pieces was not just work for me. I felt really responsible for all the shoes I made, so I wanted to be more involved and decided to focus 100% on FP and not go back to Sydney.
You are friends with Jeff Staple and have already done exhibitions with him - for example at the Subtype Store in Sydney. How did you get in touch with him and does he have an influence on you as an artist?
Back when Instagram was brand new and I was illustrating 24/7, I drew his dunk and posted it on my Instagram. I tagged him and he saw it. He got in touch with me and asked if I would be interested in doing an exhibition in New York City. A year and a half after that exhibition, we decided to do another one - but in Sydney, because I lived there. That was great. Somehow I miss these events!

Apart from Jeff, who are some of the people in the industry you look up to? Who are your favourite artists?
Always KAWS and Murakami. But recently I've been getting into murals. I did my first wall at POW! WOW! Hawaii. They flew me here. It was super cool. And there were so many talented artists. I also love Drew Merritt, Telmo Miel and Tristan Eaton.
Instagram has obviously also helped shape your career as an illustrator or made you more popular. Has Instagram or the way it is used changed compared to when you started? Do you think it will remain as influential as it is in the future?
Instagram has helped me so much in getting to where I am now in my career and definitely in what I do. I guess that's why I still love using it so much, but it's not as effective for me as it used to be. The algorithm doesn't show my posts anymore. I miss a lot of new releases because I don't know about them. My feed is basically hypebeast/hypebae and a few random food posts.... Not helpful and definitely not inspiring.

In your still very young career, is there a lesson - or more than one - that you've learned that helps you?
If you fly too fast, make sure you don't fall too hard. I've learned a lot...

What does 2018 have in store for you? What are you looking forward to?
I'm just seeing where life takes me. My main focus is on Filling Pieces and trying to take "feminine" to another level within our brand.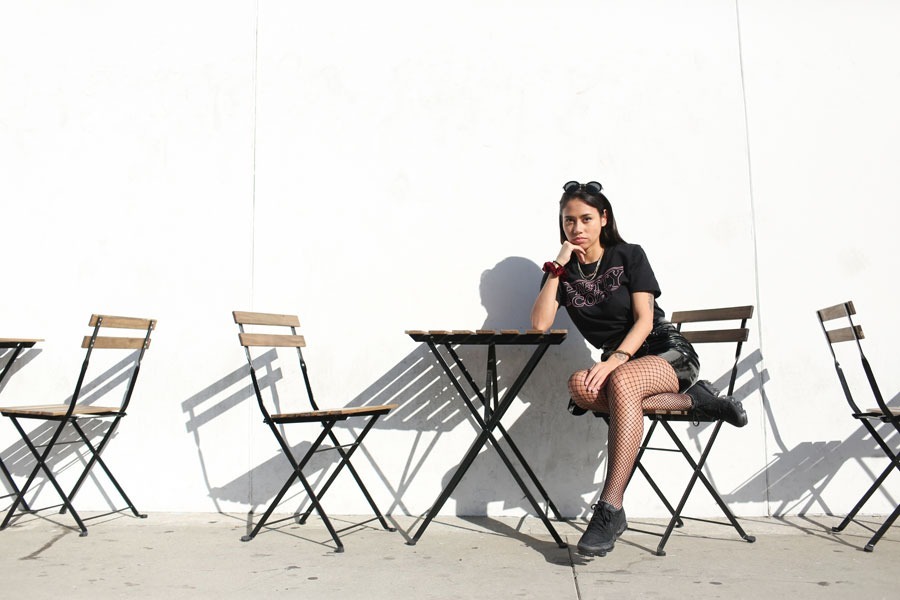 If you had to choose one sneaker to wear for the rest of your life, which would it be?
Nike VaporMax
.
Any last words?
Live life as if it would end tomorrow.