Ace Tee and Aaron Night on their African Roots, the 90s and Generation Hustle
Ace Tee (
@acetee
) and Aaron Night (
@aaronnight
) are two very different people with a few things in common. Both have Ghanaian roots but grew up in Hamburg, Germany. They are artists who have worked their way up in their respective careers and collaborate with Puma in a very organic way. Ace Tee has risen to international fame with her song "Are you down?" which went viral and which some call our generation's answer to R&B artists like TLC. Aaron Night is an outstanding choreographer and creative director. In addition to numerous international and national titles, he has also starred in several music videos, demonstrating his unique style. For the Cell Collection, we meet the two in an African shop in Hamburg to talk to them about their roots and more.

Aaron and Ace, this was a special shoot that took place in an African shop in Hamburg. That was no coincidence, of course, because you both come from Ghana. Was that a direct connection between the two of you?
Aaron: Ghana is definitely the country where my roots lie. My mother once said, "To know where you are going, you have to know where you are coming from." And the fact that we come from Ghana, our heritage, is what makes us so exotic in Germany. The filming location, the African shop, is real. Many Africans meet there every day, and you feel right at home.
Ace: Aaron and I, we are very different people, but we have a deep connection to each other. I think that was the reason why we managed to pull off this shoot so well with all the ideas and the look. It was just a perfect fit. I think you can call it a Ghanaian vibe. Ghana is my home country, even though I was born in Germany. I always say I'm from Hamburg, Ghana and Germany, in that order. People think that's funny. It is, but for me it is also real.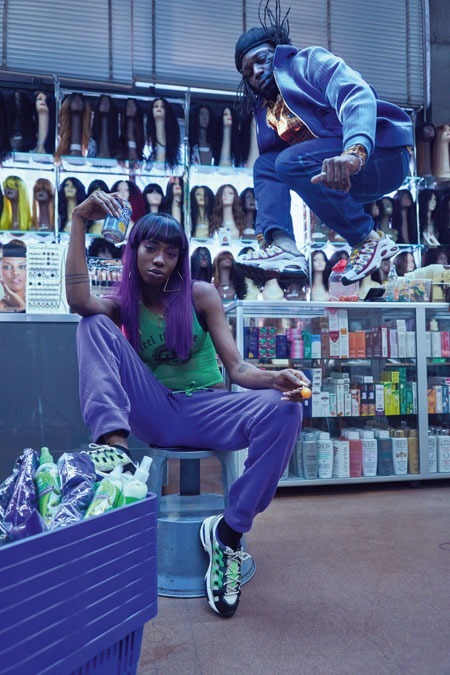 Outfit Ace: PUMA x Sankuanz & PUMA CELL Endura x Sankuanz
Outfit Aaron: PUMA x Kjøbenhavn & PUMA CELL Endura Patent 98
Like many creatives, you have worked your way up - Ace as a singer, Aaron as a dancer. Would you describe yourselves as part of the "Generation Hustle"?
Ace: I'm definitely a hustler. I'm the blueprint of "Generation Hustle" - you don't know the half of it! I come from a low-income family - I had to work hard for everything I got.
 
What is your definition of a hustler, Aaron?
Aaron: Someone who never stops believing in themselves and trusting in their inner strength and abilities, no matter what. For a hustler there are no problems, only challenges. Failure is part of life and the most important thing is to get back up. I have learnt so much from doing street shows. It showed me that with the right amount of energy and motivation, you can achieve anything.

Music is a part of your life. Can you describe some of the main influences?
Ace: When it comes to music, my role models are more in the US. There were a lot of producers and artists that we all loved growing up, from Michael Jackson to Queen Latifah or even Pharrell, who made me produce my first beats....
Aaron: I think the 90s have always influenced me. My brother showed me the videos of Dru Hill, LL Cool J and 2Pac. Before we went to school, we would always turn on Viva or MTV to see the latest music videos. Since my father was a DJ, we always had music playing at home. He was into 70s and 80s music like James Brown, Stevie Wonder or Michael Jackson.
Ace: The 90s definitely influenced me, although I was definitely too young to remember everything from that time. But the style has stuck with me. But what I will say: I think it's funny, but people think I only listen to 90s music - that's just not true. On the one hand, I like to stand by it, but on the other hand, you can never pigeonhole me.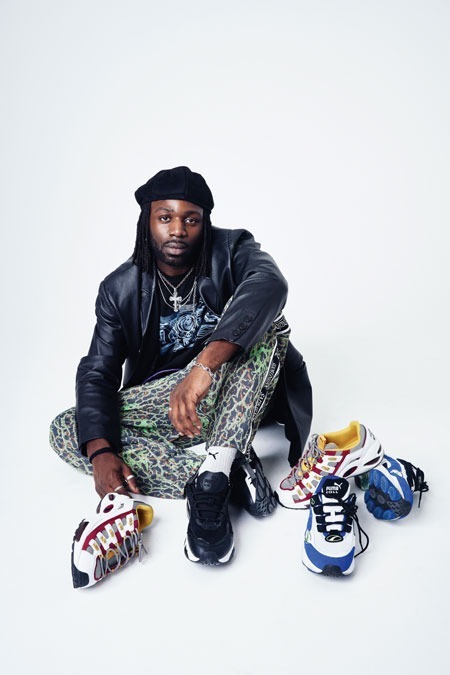 PUMA x Sankuanz & (on feet) PUMA CELL Venom Reflective & PUMA CELL Endura Patent 98 (left) & PUMA CELL Venom (right)
What is more important: talent or hard work?
Aaron: I think you need both. But there are enough examples of people who have achieved their goals through hard work and without talent. In my case, I don't think I would be where I am today just because of talent. No matter how talented you are, you have to earn your success and respect.

You have both been working with Puma for some time. Can you tell us what the brand means to you?
Ace: Puma has always had a connection with Africa. At least not with the typical black American athletes. I remember watching the movie Cool Runnings and finding out that Puma was the sponsor. There's also Usain Bolt.... Puma always had great black athletes and not just the biggest stars. That made it special for me.
Aaron: I'm really into Puma, especially because of the collaborations with Diamond Supply, Han Kjøbenhavn, Fubu and so on. I even wore Pumas before we collaborated. This is something that maybe not everyone knows, but in the world of dancers, Puma is THE brand. That's why I took my first steps in Suedes - and never regretted it. Trust me, some brands can't take the beating of my street shows.

This shoot was for the new Puma Cell collection. What do you think of the stuff, especially the shoes?
Ace: I'll be honest. I saw the Cell a few months ago and fell in love with it. I said to Puma, "I have to have this one," and when it came out I saw bloggers from the US wearing it and I didn't have it. I was furious! I had never experienced that with any other sneaker. I begged Puma to send me my Cells and when they finally came, I was a happy girl.
Aaron: I think it's great that it's "back to basics". I think Puma also heard what my mother said, "To know where you're going, you have to know where you're coming from." I really like the style because I'm a child of the 90s.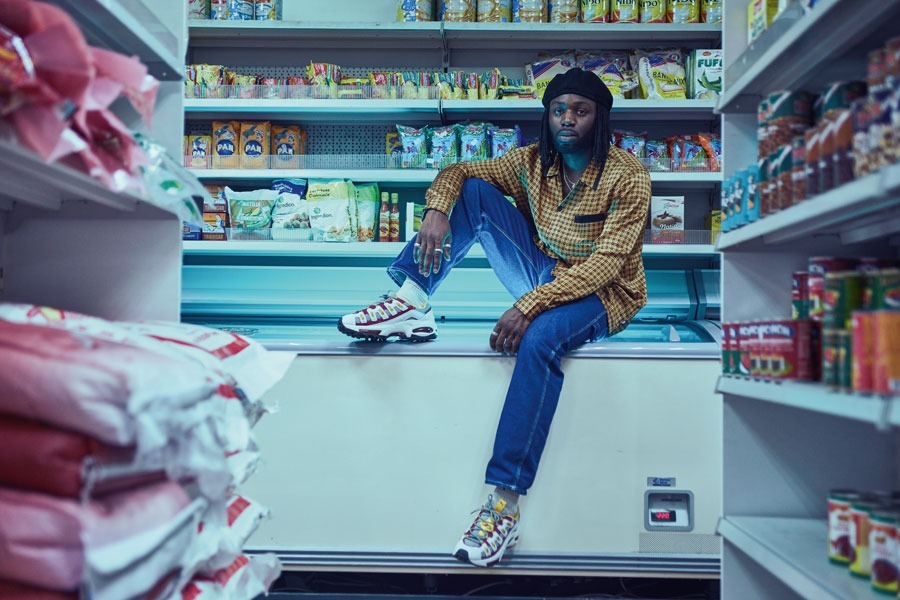 Artist's own & PUMA CELL Endura Patent 98
Ace, your music is full of optimism and good humour. But you mentioned that you didn't always feel that way and also had periods of negativity. Is it important to fall down in order to learn to get up again?
Ace:
Well, that's life, isn't it? It's a cycle, and out of defeats can come ups. For me, it's important to do positive things. I would say I grew up with street kids and gangsters, but for me it's so sad that everyone in German rap talks about the same things. Just because we've experienced a lot doesn't mean we only have to talk about it.
What importance does social media have for you?
Ace:
I only use Instagram, and - as my management says - I'm not really good at it. I know which pictures will have a lot of likes and when to post them. But in the end, it's a mood for me. I know it's important, but I'm not the biggest fan of it.
Aaron:
I love the opportunity to share my thoughts, opinions and experiences. But I don't think you should get lost in this social media world, which is definitely happening with some people. All these things, including Netflix, take away a lot of life time that should perhaps be spent elsewhere.
Ace and Aaron, thank you very much for this interview. Any last words?
Ace:
Don't believe the hype and don't spend all your money on it if you don't have it. Spending $500 on shoes should be a once a year thing, not a twice a month thing. And to all the artists who get free stuff: Take care of your people.
Aaron:
Spread more peace and love!