The Amazing Sneaker Illustrations by John Kaiser Knight
To find out more about the unique sneaker illustrations we've seen on the Instagram account
@johnkaiserknight
, we reached out to the man behind it. Here's a chat with adidas designer, illustrator and cartoonist Jean Khalifé, aka John Kaiser Knight.

John, nice to meet you. As we can see here, almost all your sneaker illustrations revolve around the Three Stripes. It's your employer, but the brand obviously means much more to you. Please tell us how this passion developed?
Well, I was born and raised in the east of France, very close to the German border, so adidas has always had a special place in my heart. I grew up in the 90s and early 2000s with Gazelles, Countrys and Superstars on my feet. The whole cultural affiliation that the brand had through music with bands like the Beastie Boys, Run DMC and Britpop in general and movies like Carlito's Way or Starsky & Hutch also influenced me a lot. At the same time, I was also very interested in comics, storytelling and illustrations, which is how I found my way to industrial design.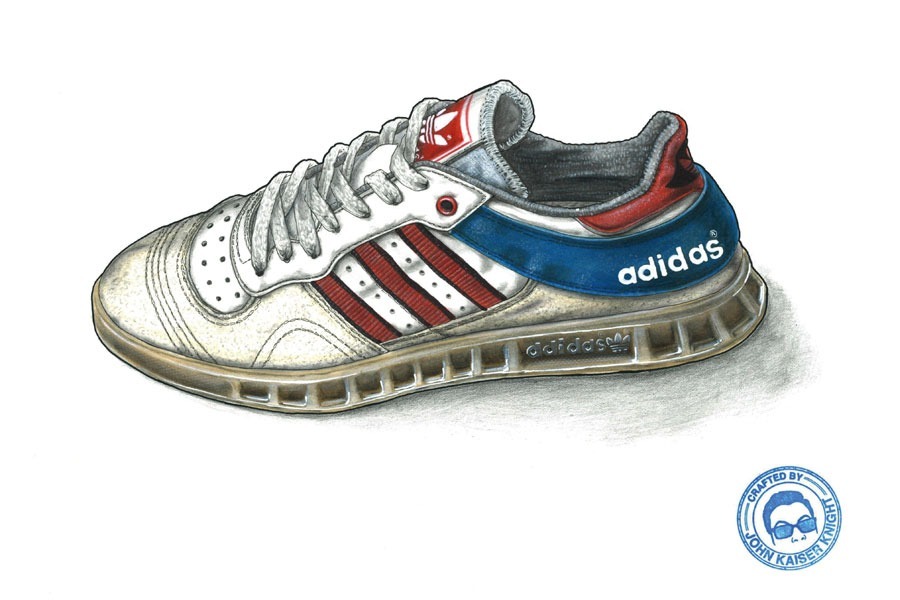 Rendering of a Handball-Top
What then led you to adidas?
I think I saw product design as a good way to combine all my passions. Imagine designing a product but also mastering communication and storytelling around it. That sounds epic to me. During my studies, I had the opportunity to work on architecture, transport and then footwear. I felt that the sports and streetwear industry was a good place to develop, especially when you are young and have just graduated. I really wanted to travel and meet great people who had the same passions and credentials. My first job was with a skateboard brand where I was able to develop my design and artistic skills, and then adidas offered me a job at Originals three years ago. It was like a dream come true for me. I feel very lucky to have joined the brand at this time. The team I worked with was great and Nic Galway was just taking the brand to new horizons.

What are the most important and enjoyable projects you've been involved in so far?
Looking back, I've been involved in some great projects. My first season was about going through our archives to bring back a 90s version of the Gazelle - an absolute dream for me. Then I worked on the NMD range and Atric. The most fun project I worked on was the Handball Top that was released a few months ago. I drew a little doodle of that shoe on Instagram and the response was insane. The team felt like we had to recreate that shoe because it spoke to exactly what the street scene wanted. I've already mentioned a few projects where we draw inspiration from our archives, which is an interesting design challenge in itself. When you design for Originals, you have to create a dynamic balance between legitimate cultural references and new products that are relevant to a modern audience. That's where the fun lies. I would like to thank my Originals family for giving me an unforgettable design experience.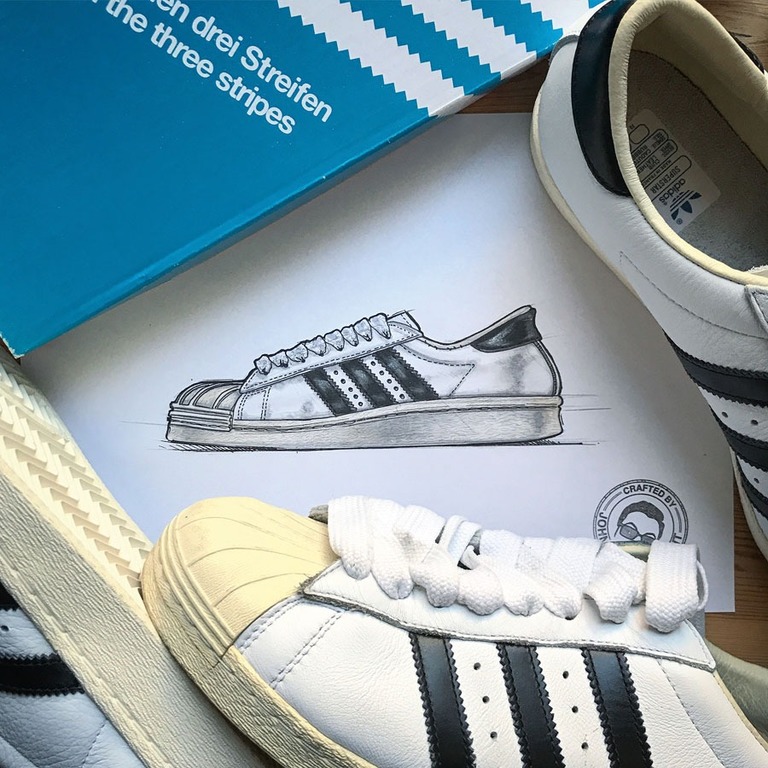 Superstar Made in France Hommage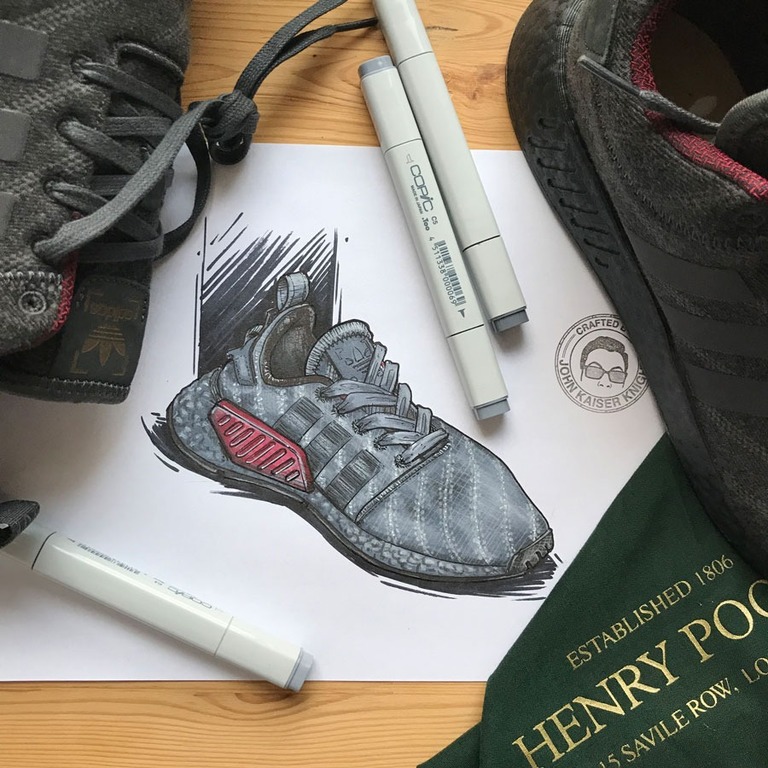 NMD R2 X Henry Poole
This post is about your art, so we should get to that quickly. To cut a long story short: Your style is unique because you use a really cartoony, weird style for shoes and create something new. What were your first artistic influences?
Thank you very much. I started drawing comics as a kid; that's maybe a style that's part of my DNA now. Artists like Brian Bolland, Paul Pope, Moebius and Geof Darrow have been a huge influence on me, not only for their art or aesthetics, but also for their versatility and ability to use different mediums.

Do you remember the first time you drew a pair of shoes and what it was?
It was more than 10 years ago now, when I was still a student. It was a personal running project. When I look back on it now, it seems outdated and terrible (laughs).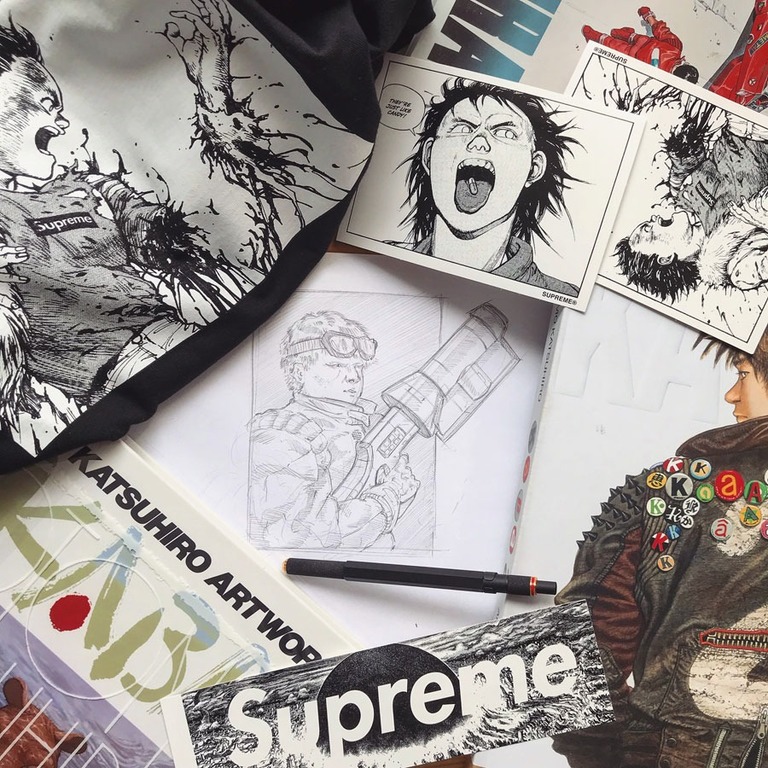 Comics and Mangas - Jean's influences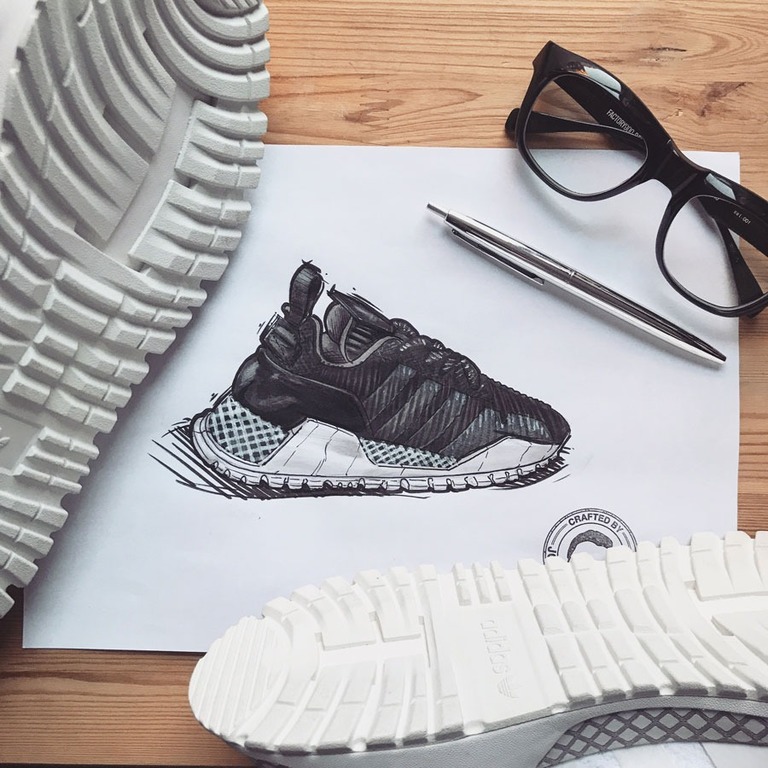 Atric Runner Doodle
One thing that really stands out is how you work with perspective. A lot of sneaker art is static, but you show some really crazy perspectives that bring the viewer in close. Is that an approach you took from comics?
Yes! I'm glad you paid attention to that because that's one of my biggest obsessions when I draw something. It has to have depth and dramatic points of view. If it lacks relief and charisma, it doesn't work for me. It has to be forceful and it has to have an attitude. That's a cue I took from comics, but you also find it in photography, films, visual storytelling and so on.

What is most important to you when you draw shoes?
For me, it really depends on the focus. The approach to a performance project is a bit different than a style project. Generally, you gather as much information as you can before you put ink on paper. Telling a story around the product to create an identity is the best way to end up with something relevant.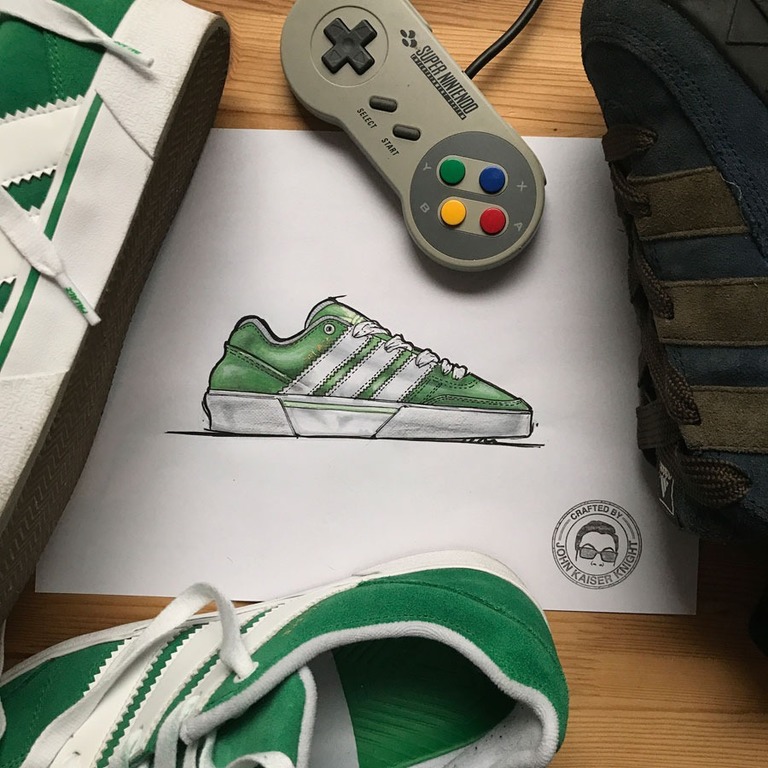 Adidas x Palace O'Reardon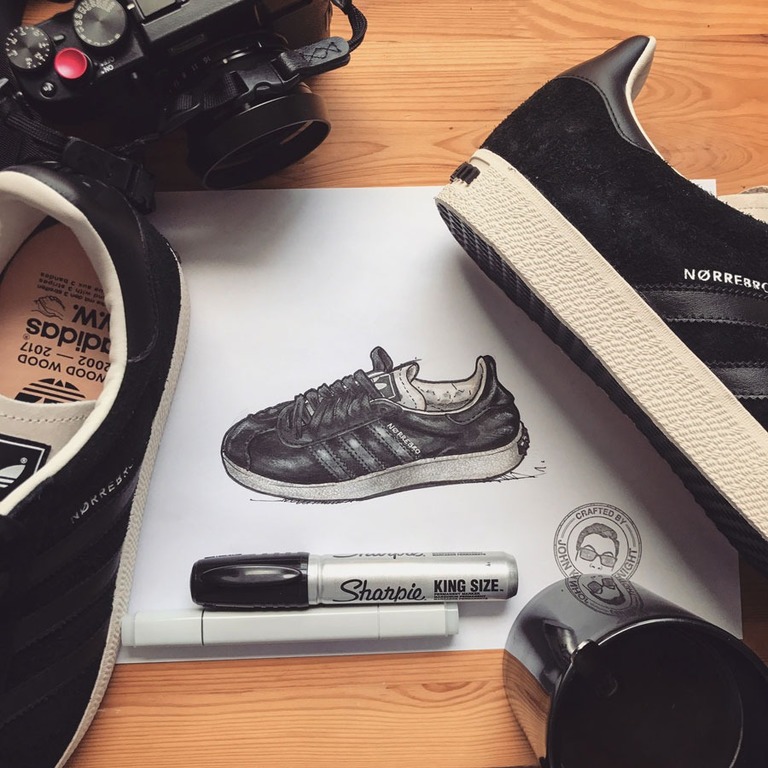 Gazelle für Woodwood Doodle
How did you get your first pair of sneakers and which models do you like the most?
I was always surrounded by older cousins who wore what was cool, but as far as I can remember it was the adidas Gonzales Adimatic from the late 90s. It was only later that my own style evolved and I started wearing the Gazelle and the Campus.

Can you please name your top 5 adidas sneakers and explain why?
SL72: The fact that it was one of the first shoes to wear the cloverleaf when it was introduced for the 1972 Olympics. And, not to forget, because Paul Michael Glaser wore them in Starsky & Hutch.
GAZELLE: For me, it's an open-and-shut case. It's really been part of my uniform for years.
SUPERSTAR NEIGHBORHOOD 35TH OF 2005: This is one of my top-rated superstars in terms of shape and material. It was my grail that I finally got 2 years ago with the help of a friend.
THE FIRST YEEZY 350 "TURTLE DOVE": Simply because it was one of the styles, along with the Qasa and NMD, that showed the industry that adidas was back in the game.
ADIDAS GT MANCHESTER SPZL: The Special Capsule Collection has been absolutely great from the beginning. Gary [Aspden] and the guys at Statement are doing a fantastic job reviving the classics and bringing them to a new generation.

It's no secret that you're very into Terrace shoes. You were also involved in the relaunch of the Gazelle. What kind of experience was the rebirth of such an icon?
Well, at first you wonder if it really happens, because when you grew up with that shoe and then you're told to bring it back and reissue it, it almost seems too good to be true! We rummaged through the archives, looked at a few variations and decided on the one that made the most sense to us - a version from the early 90s. I was lucky to have a great team of developers and product managers who made sure we created a replica that could be properly launched.
Gazelle 90s Rendering
We should not forget one of the most important issues here: The Emperor! Your Instagram name is a reference to Franz Beckenbauer. Why him of all people? What do you think makes the Kaiser the Kaiser?
Well, in 2006 the [football] World Cup was held in Germany and it was a great event - until France lost in the final. As you may remember, Beckenbauer was one of the key figures. I was fascinated by this man who was a world champion not only as a player but also as a coach. He also played an interesting and versatile role as a libero. My fascination continued when I did a school exchange in Germany (Pforzheim). Because I kept talking about him, the other students there started calling me by the ironic nickname Kaiser, and that's how it stayed.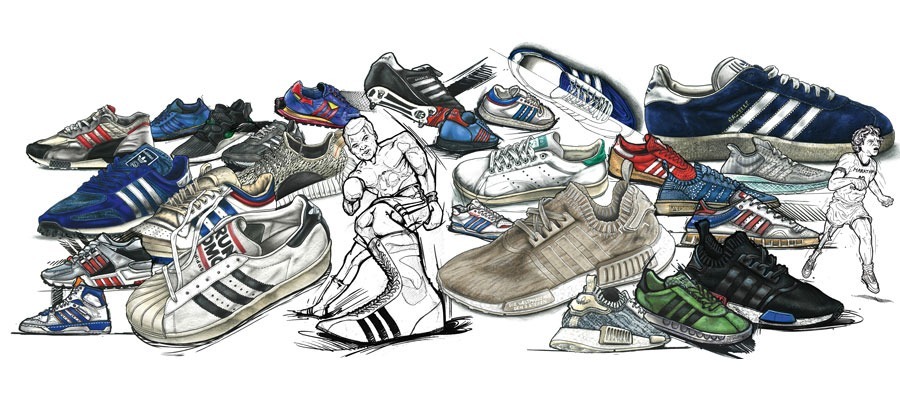 adidas Master Tribute