Insight into the World of Alex Hackett aka miniswoosh
Australian-born designer Alex Hackett uses product packaging such as NASA space foil or bubble wrap to create unique pieces for her own label ALCH. She is also passionate about Nike and recycles garments and accessories - seen on her 105k strong Instagram channel "miniswoosh". We caught up with the 2017 Vote Forward participant in her studio in London to talk about reconstruction, deconstruction and, of course, the (mini) Swoosh.
Hi Alex, please start by telling our readers a few things about yourself. You are originally from Australia, but now live in London. How did the move come about?
Hello, yes, of course. I moved to London just over three years ago, shortly after graduating from university in Melbourne. I wanted to gain experience on a global level and was keen to make a change of scenery.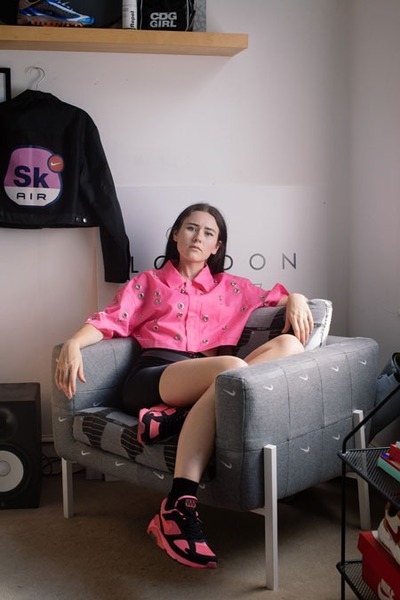 What do you think is the biggest difference between Australia and the UK when it comes to sneakers and street fashion?
I think the biggest difference between the two regions is accessibility. In London, you can literally walk into any streetwear shop in the city centre (even if you have to queue for some), whereas in Australia you are limited to online shopping for a variety of brands. For this reason, I think streetwear and sneakers may have a different status in Australia, simply because there are far fewer options to buy products. I feel like Australia is often neglected by brands, but that's starting to change recently, which is really exciting.

Also, is there anything that made you feel right at home when you moved to London?
I mean, there are a lot of Australians who live in London. It's like a home away from home.

Your Instagram handle "miniswoosh" already reveals a certain preference for a certain brand. What is your connection to Nike - both on a personal and professional level?
Personally, I'm just a big brand advocate - I love the product, the storytelling, the logo and the branding. Professionally, because of my job, I'm lucky enough to work on a number of projects with Nike around the world and get directly involved with the brand's product and stories in a really organic way.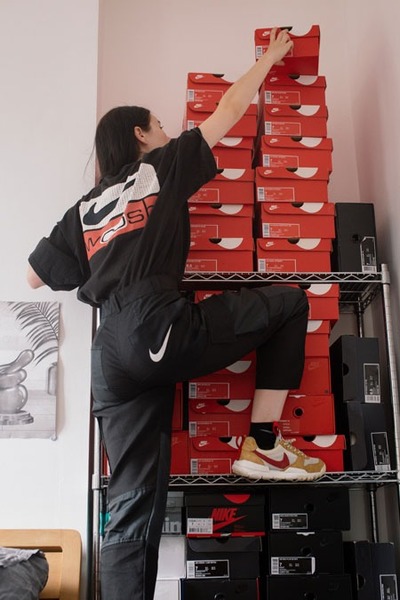 The mini Swoosh is one of those little design details that many people might not pay much attention to, but for others it's like the cherry on top of a great design. Can you explain the fascination with the mini Swoosh from your perspective?
I'm obsessed with the psychology behind brands and logos, and the idea that the entire ethos of a brand can be embodied in a single graphic and span across all languages. I'm also fascinated by subtle design details, and for me the mini Swoosh encompasses both.

Is there a particular sneaker that started your love affair with Nike? If so, what makes this sneaker so special?
It probably wasn't the sneaker that started my love for Nike, but it definitely solidified it - the Nike Air Max Plus or TN. In Australia, they were almost a taboo shoe in the social scene for a long time. I remember this one pair hanging on the back wall of the Nike Factory Outlet I worked at when I was a student - all white with pink detailing - and I always regretted not buying it.

What have been some of your favourite releases so far this year - whether from a design perspective or simply because they feature frequently in your regular rotation?
This year I really liked the CDG Air Max 180s and the return of the Air Max Deluxe. I probably wear my React Elements the most though - those and my Tom Sachs are my regular studio shoes.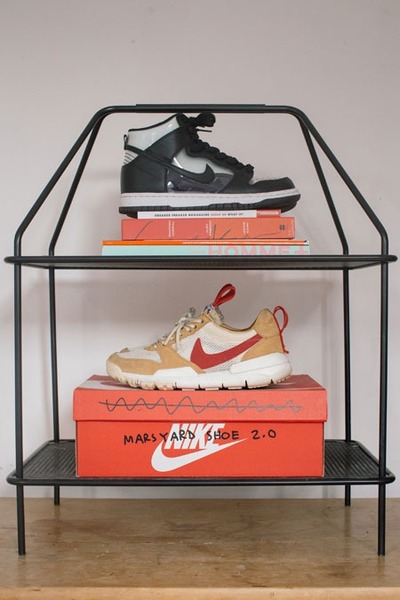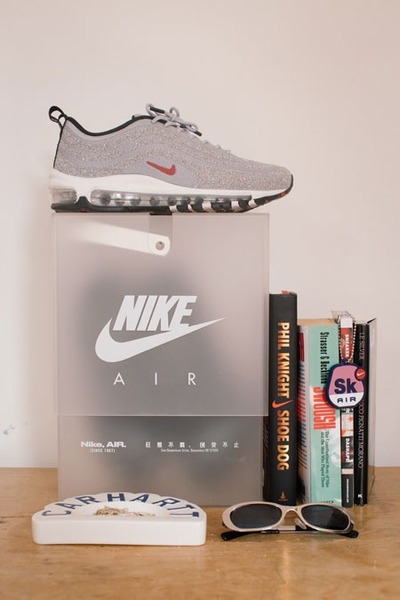 Please tell us a little more about your own brand ALCH. How did the whole project start?
ALCH is an experimental menswear label that focuses on the process of reconstruction and deconstruction. In the beginning it was just a digital platform where I posted pictures of different material research projects I did myself based on found materials.

Can you elaborate on the philosophy behind ALCH?
We are really interested in extending the life of existing products and creating new garments through hyper-functional design.

Deconstruction has always been a prevalent theme in your work. What is your inspiration for this?
I have always been fascinated by non-traditional factories, packaging and discarded materials. I have been collecting "textiles" found on the street for almost ten years. Existing products and materials have always been my main source of inspiration.
People like Virgil Abloh also have a deconstructive approach to design - and he was recently appointed head of design at Louis Vuitton. Is that something you could imagine for yourself someday, taking a permanent job as a designer at a renowned label?
I mean, that's a dream, isn't it? I love what Helmut Lang is doing at the moment - a design residency programme - where creatives are invited to work as editors in residence or reinterpret iconic looks from the past. I think that's a really fresh way to put a brand in a new light and get more and more creatives involved in the industry.

From bubble wrap and insulated packaging to windscreens and IKEA bags, you've used some really interesting fabrics, to say the least. Where do you get the ideas from and is there a thread behind them?
Mostly my ideas come from the environment I live and work in. I get inspired by everyday life and many ideas just come up on the way to/from the studio.

You once described your style as "sportswear that is not meant for sports". Can you elaborate on that?
I mean, as bizarre as this concept sounds, it's pretty much the norm these days. I'd love to know what percentage of people who wear Nike running clothes actually play sports in them. I love activewear for its functional elements, but I think it translates so easily into so many different areas of lifestyle that I like to take that and push it to the extreme.

ALCH's pieces have been worn by a lot of people, from Kendrick Lamar to Stormzy to Brooke Candy. Do you get in touch with these people beforehand and curate what they get?
Usually it's the other way around: a stylist or their representative gets in touch with us. It's much less glamorous than it looks, and usually very short notice. But it's still exciting - I love deadlines.

Who were you most looking forward to seeing ALCH?
I think it's already very satisfying to see someone actually wearing it. What a lot of people don't realise is that while you can borrow and/or design bespoke pieces for a huge number of celebrities or artists, they are very rarely actually worn.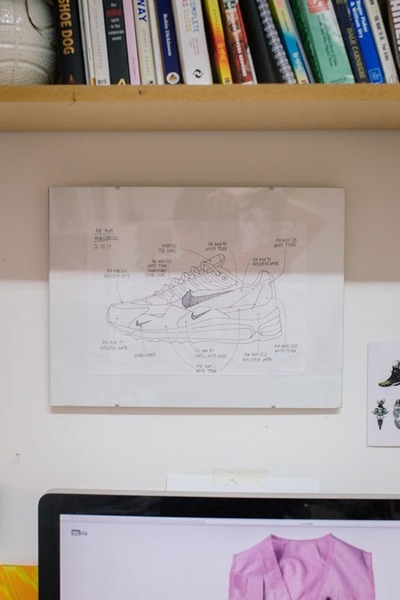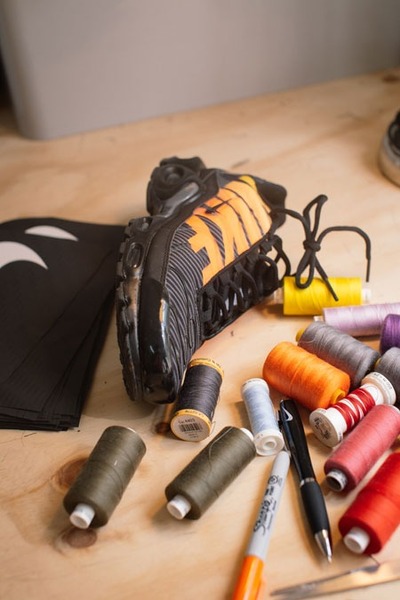 Many may also know you from Nike's VOTE FORWARD campaign 2017, where you were one of the 12 designers representing London. How did you get this gig?
The Nike London team approached me directly for this project. It was completely unexpected and I'm honestly still very happy that I was able to take part. I would still love to see the design come to fruition.

Earlier this year you were one of the mentors for Nike's LONDON: ON AIR campaign. What knowledge and tips did you share with the budding designers there?
For LONDON: ON AIR, my area of expertise was embellishment, so I advised on the small details that can add to a design. A lot of people underestimate the value of the small details in a design - like the eyelets, the design of the insole, the lacing system, the woven webbing on the heel, etc. - but I believe that these details can really make or break a design. They are a crucial element in the storytelling process.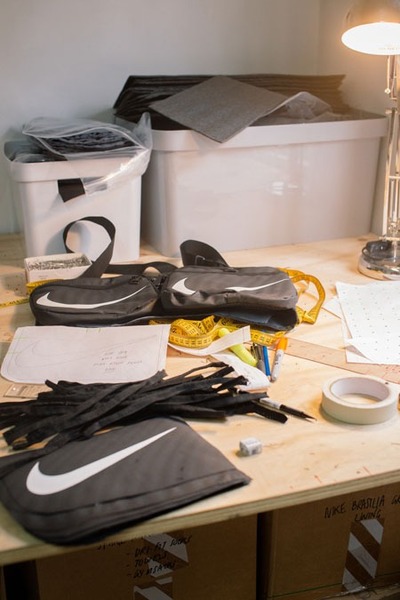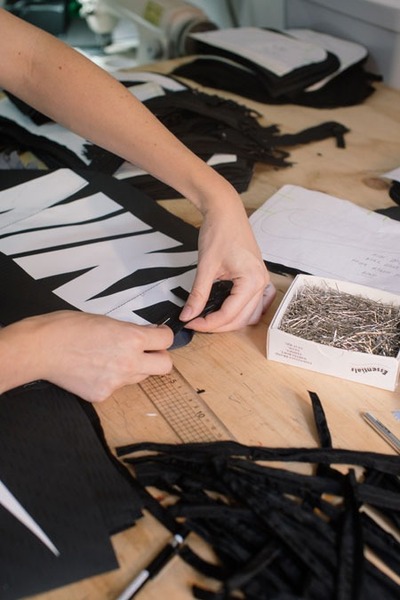 When we first contacted you to do this interview, you were on your way to Portland to visit Nike headquarters. Can you tell us what you did there?
Yes! I was recently at WHQ to mentor this year's winner of LONDON: ON AIR. It was an incredible experience to go back and see how much the project has developed since last year. Working with big companies like Nike can be quite overwhelming at first and you learn every time you work together.

Besides Nike, another brand you work closely with is the Dutch sneaker store Patta. How did you get in touch with them and what is your collaboration like?
This partnership developed pretty organically, through friends of friends, and started relatively small - like most projects - with the creation of a custom 1/1 piece for Edson. Since then we've worked on a few small editions, which have always been super limited for the community.

What's next for Alex Hackett and ALCH? What are some of the next projects you'll be working on?
I'm working on a few projects with Nike that will be released in the next few months. I'm also just starting to work on the second season of ALCH, which will be shown at LFWM in January.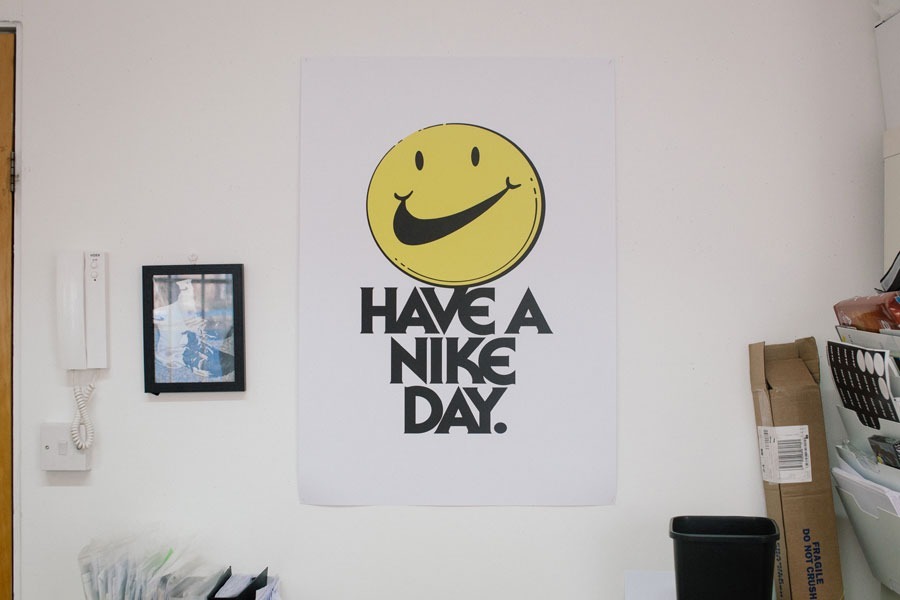 Any last words?
Have a Nike day!