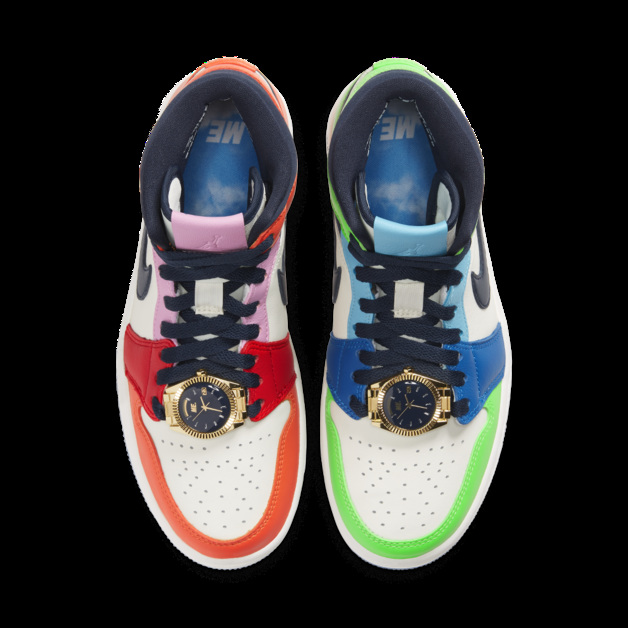 Official Pictures of Melody Ehsani x Air Jordan 1 Mid "Fearless"
The big Fearless collection started on October 22nd with the Air Jordan 1 WMNS "Fearless" and the crowd was huge as usual! The next massive drop will probably come on October 26th. According to insiders, Jordan Brand is supposed to release the Air Jordan 1 "Shattered Backboard 3.0" soon. Even if he doesn't carry the "Fearless" name, this most certainly belongs to the collection.
Fashion designer Melody Ehsani is also releasing an Air Jordan 1. Apart from nailing the badass design on the upcoming Mid model, 39-year-old Ehsani also happened to marry Red Hot Chili Peppers bassist Flea just this weekend. Things are definitely looking up for this talented designer. And, the chosen colour scheme for the Melody Ehsani x Air Jordan 1 Mid "Fearless" as well as the significant details are as surprising as their wedding itself.
The sneakers couldn't be more unique in terms of colour. From right to left, the Jordans take on a different shade and adapt to the contemporary style of our time. Both sides have a white base. The right shoe takes on dark orange and pink hues while the left shoe striking green and blue tones.
But, the details no doubt takes things to a whole new level. The back of the midsole is marked with the words, "IF YOU KNEW WHAT YOU HAD WAS RARE, YOU WOULD NEVER WASTE IT". On top of that, the lace lock comes in the form of a large gold watch! We are still scratching our heads until now thinking what the designers could have meant by that. Nevertheless, the crowning glory of this designer shoe is a transparent blue outsole that rounds off the overall look.
Don't miss the release of the Melody Ehsani x Air Jordan 1 Mid "Fearless"!
The sneakers will probably be released on November 15th on Nike and at selected retailers. Don't miss the release and treat yourself to the Grailify app. There, you can get all the information about releases and restocks directly on your smartphone.