PRINCIPE PRIVÉ shows a Rusty sacai x Nike Blazer
Japanese luxury brand PRINCIPE PRIVÉ is simply insane! Would you paint your sacai x Nike Blazer as though it were already umpteen years old? PRINCIPE PRIVÉ did exactly that! The latest iteration of PRINCIPE PRIVÉ looks like the sneakers are covered with rust. Using a rust-like paint, the high-top sneaker achieves that whole worn-out, rusty look.
The designers opted for a completely stripped-down style for the sneakers and put an entirely new spin on the "ageing metal sneakers" concept. The cream colour with silver underlays show an oxidized metal effect. The essential parts of the sneakers are then covered with a rusty hue to accentuate the style even more.
All colours have been mixed with acrylic paint to prevent the colour from rubbing off on clothing.
Do you dare to wear PRINCIPE PRIVÉ's "Rusted" sacai x Nike Blazer?
The "Rusted" sneaker costs €1,000 (or 121 JPY) on PRINCIPE PRIVÉ's online store. But, the unique look compensates for the steep price. Don't miss the next news and get the Grailify app. We'll definitely keep you up to date there.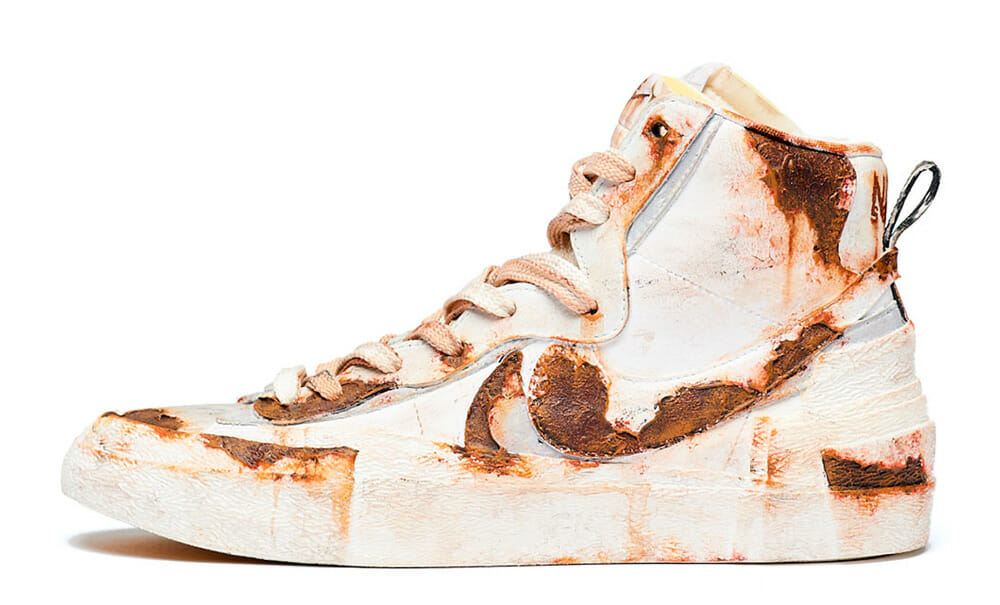 pics by PRINCIPE PRIVÉ