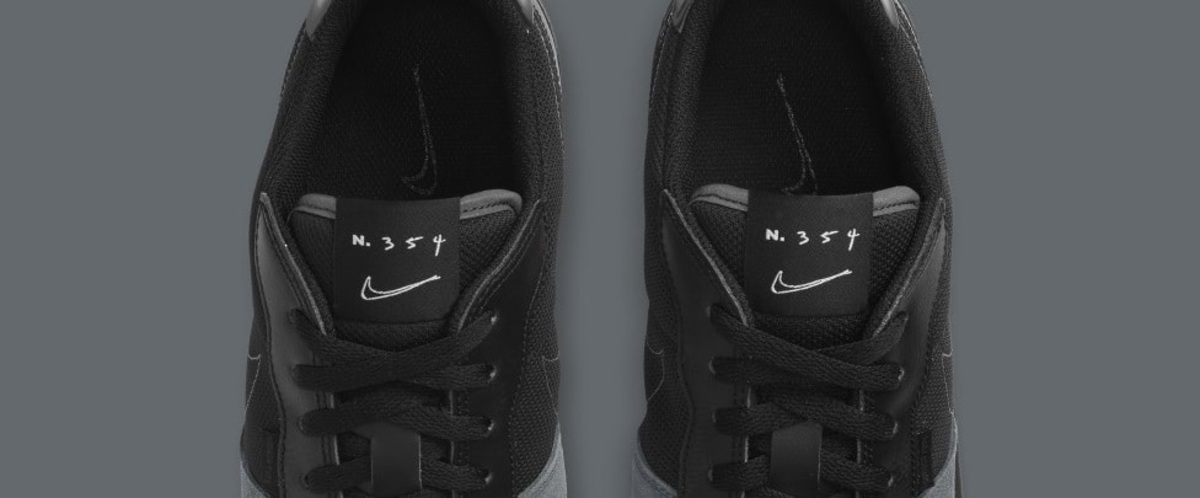 Nike N.354 Releases a New Model
The N.354 line from Nike is just a few months old. But, ever since the first Nike Air Force 1 Type, the line has attracted a lot of attention. Now, the Nike N.354 line is completed with another sneaker and uses an old model from the archive.
With the Nike N.354 Squash Type, we can't help but think of the Nike Mac Attack—a retro sneaker from 1984 that was combined with mesh and leather. Many people already know that Nike likes to revisit historical sneakers and combine them with modern updates.
We see this new form of "style" once again with the Nike N.354 Squash Type. At first sight, we thought of this new silhouette as a fusion of Nike SB sneakers and the Air Jordan 1 Low. The upper combines different materials like mesh, suede, and leather. The first colourway seems to be completely black.
On the side mesh is an embroidered Swoosh that runs slowly into the heel. Behind it is a loose patent leather heel strap with N.354 branding.
Do not miss the release of the Nike N.354 Squash Type.
The pictures are very fresh. However, an exact release date cannot be confirmed at the moment. They will most probably drop in a few weeks.
Get the free Grailify app and never miss sneaker any more releases, restocks, or news ever again. We will send you the most important news every day directly on your mobile phone. That way, you always stay up-to-date in the sneaker game!