The 10 Weirdest Air Max of All Time!
Whoop Whoop! It's almost Air Max Day and we're dying to show you our latest TOP10 - we've picked the Air Max as great technology and great influence, but also with some strange and unconventional results. Really, we love Air Max technology and some of the most influential and iconic sneakers use Air Max technology, but let's be honest: there are also some very unusual things happening around the Air Bubble!
 
Don't forget: We don't want to hurt anyone's feelings, so relax and have a laugh, even if we mentioned one of your favourite silhouettes!
 
So here we go, the 10 strangest Air Max EVER!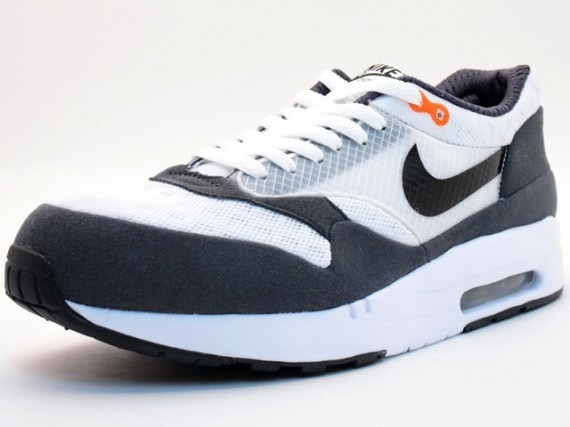 pic by Freshness

10. Nike Air Maxim:
In theory, the Air Maxim was a lighter and improved version of the Air Max 1. Well, at least in theory. In reality, nobody really liked it - even the Patta colourway sat on the shelves for years. The materials were weird, the shape was bad from the start. Not so cool.
9. Nike Air Max 1 Mid Waterproof Sneakerboot:
Seriously: congratulations to the photographer of this picture, because this is probably the most normal shot of the first generation Air Max 1 sneakerboots. Nowadays, there might be some nice colourways and also some nicer silhouettes, but when this shoe was introduced, we couldn't believe our eyes. What a strange monstrosity. It doesn't work, doesn't work, doesn't work.
pic by Sneaker Freaker

8. Sacai x Nike Air Max 90:
What are they? There are a lot of silhouettes out there that have been altered to make them slimmer or cleaner or something like that. Sacai's attempt with the Air Max 90 didn't work out that way. Way too hard colourblocking, no grace notes that look good and hey, where are the laces? If you don't replace the laces with something that fits properly, you shouldn't take them away.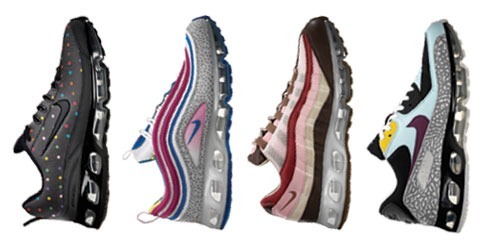 pic by Freshness

7. Nike Air Max "One Time Only Clerk Pack":
Well, the name of this pack is quite ironic because it really fits the shoes. One Time Only, we don't want to see these weird things more than once. Seriously. Don't do that with classic Air Max silhouettes - those colourways are cruel and the 360 sole doesn't really fit most models.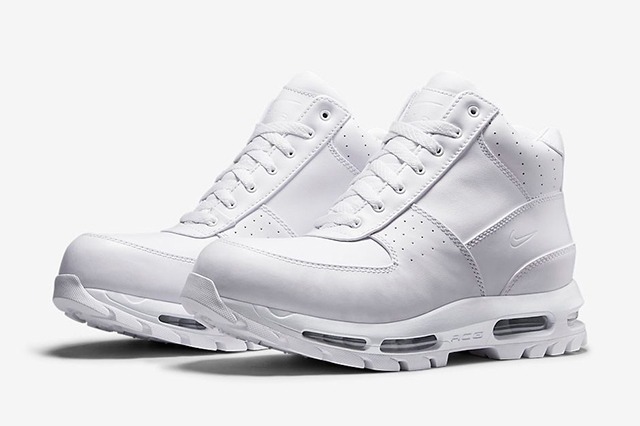 pic by Sneaker Freaker

6. Nike Air Max Goadome:
"Hey, let's mix a hiking boot with an Air Max sole and give it a fashionable look" - that might have been the thinking behind the Air Max Goadome. We don't know how that happened, but it doesn't work. Bulky, quirky, too clean. A clear no!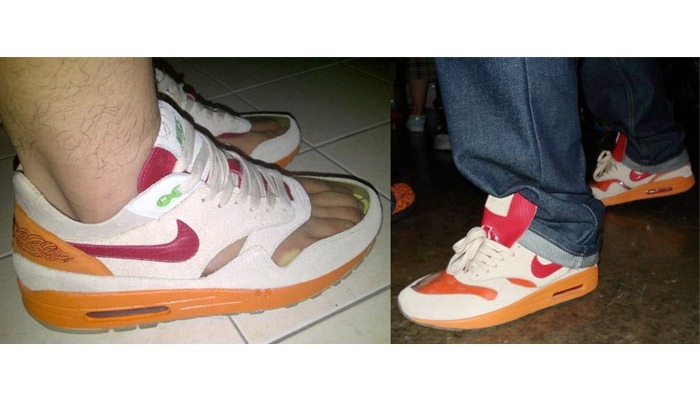 5. CLOT x Nike Air Max 1 "Kiss of Death":
You all knew the Air Max 1 CLOT would be part of this ranking. It has a window. With socks it looks pretty stupid and without socks it's incredibly sweaty. Is there any way to wear him in a non-weird way? Probably not.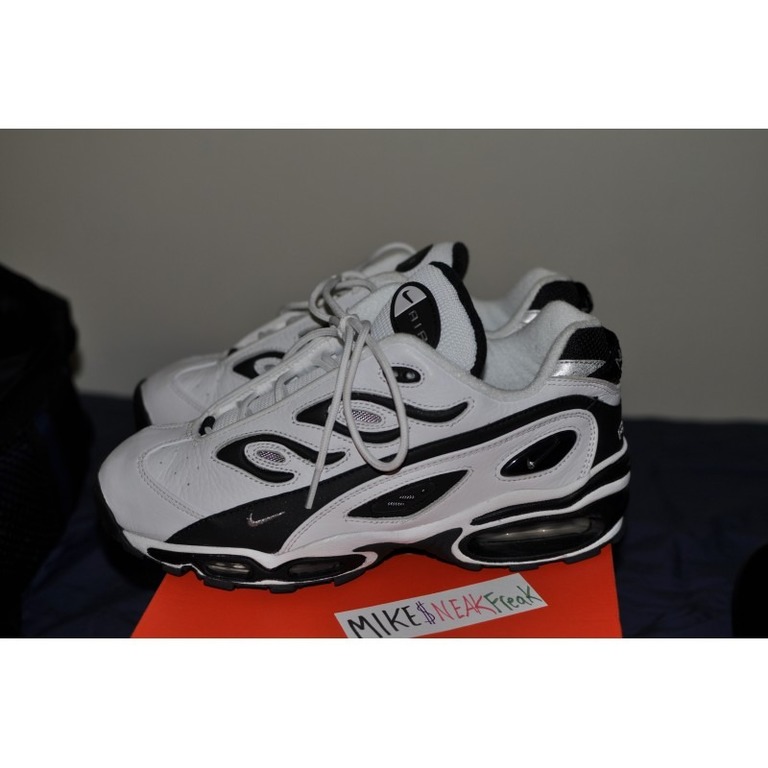 4. Nike Air Max Butane:
Mmh. At least this colourway is pretty clean. But all in all, the Air Max Butane was just way too much of everything.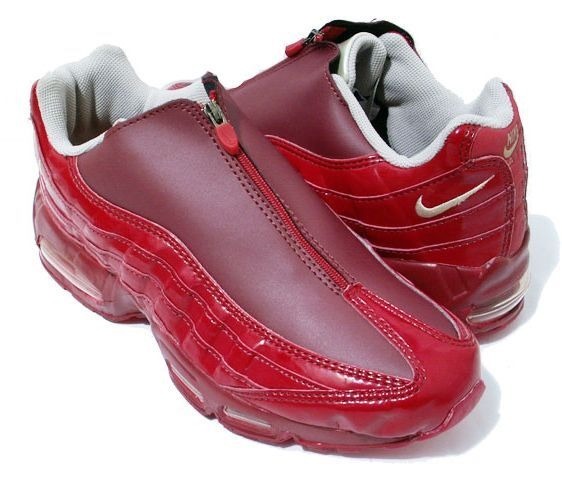 pic by Sneakerpedia
3. Nike Air Max 95 Z:
The Air Max 95 Z - Z seems to stand for Zip - was released in 2002. At least it is somehow unique. But we all know that something that is unique does not always mean something good. That is the case here. You can't add a zip to the classic AM95 silhouette, it just looks wrong. Damn! You wouldn't wear it even if you were the laziest person ever - not in 2002 and not now.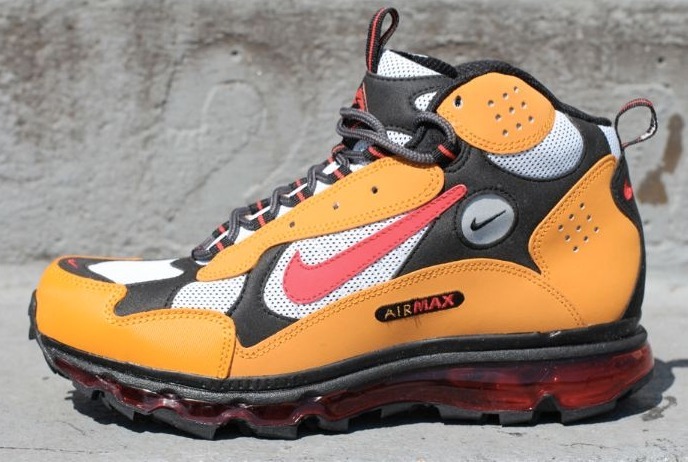 2. Nike Air Max Terra Sertig:
The Air Zoom Terra Sertig is a classic when it comes to cross country running, so the upper alone is not really strange. The Air sole is fine too, but wow, why did that happen? Whose idea was it to put the two elements together? Sometimes you really shouldn't change a running system. Even if it is a Sertig!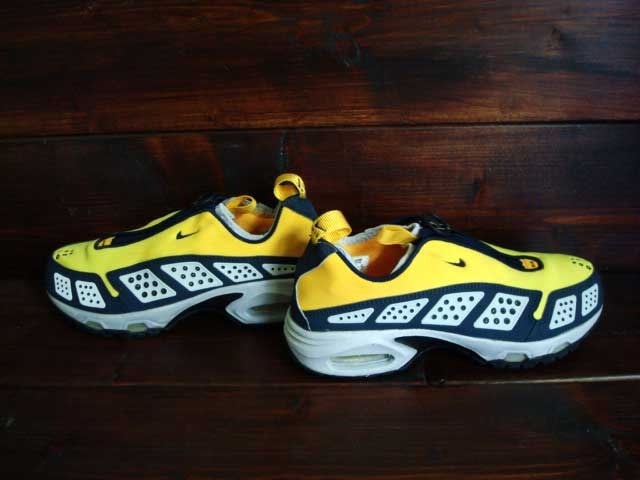 pic by NikeTalk

1. Nike Air Sunder Max:
To quote Niketalk: "I got a pair for my first year in high school. I thought I was the greatest. I was wrong." We know there's a fanbase for the different colourways of the Sunder Max. But WTF, it's so damn bulky at the toe box - what went wrong here? Well, the Air Sunder Max is our favourite - pretty much the weirdest Air Max silhouette we know.