Temper Run
Here you'll find all Temper Run releases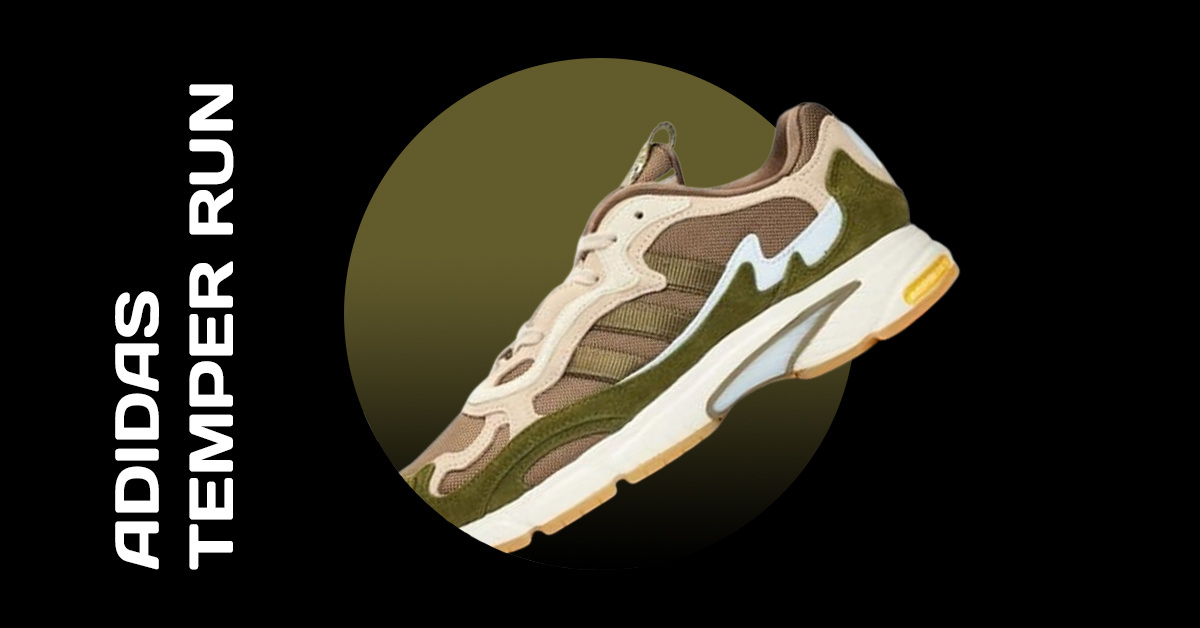 Material and Fit of the adidas Temper Run
The sneakers look carefully constructed and the materials used are of good quality. This of course ensures that the shoes are extremely comfortable.

The adidas Temper Runs are designed for men and come in sizes from 38 to 48. The sneakers run at least half a size smaller than the standard size, although the width is just right.

The lacing system uses a combination of regular eyelets and ghillie for an adjustable fit. The suede and leather overlay pulled over the mesh upper gives the shoes medial and lateral support.

Temper Runs evoke a longing for the sneakers of the 90s, which are mostly characterised by three features: big, bulky and loud. The adidas Temper Run includes various layers on the upper, chunky midsoles and really bold colours.

With the adidas Temper Runs in the colourways Shock Purple or Amber Salmon, you can create energetic and young styles. adidas Temper Runs in Light Brown / Grey or Core Black are far more neutral and are great for occasions when you still want to rock Dad's kicks but want to tone down the look. 


adidas Temper Run and the History
Temper Runs were first seen in 2014, as were reissues of the legendary Stan Smith, Boosts and ZX Flux sneakers. The sneakers were heavily inspired by the 90s runner aesthetic. The base of the shoes was made of mesh, with the upper covered in tonal suede inserts. AdiPRENE midsoles completed the look.

Maybe it was because people weren't ready for this bulky look, or because the trend was aimed at slimmer silhouettes. Whatever the reason, Temper Runs didn't last long on the market.

Fortunately, just four years later, the market was ready for the chunky look. In May 2018, adidas released two OG colourways. And this time, the sneakers were quickly snatched up. In the months that followed, more colourways quickly followed.


adidas Temper Run and the Opinions from the Internet
adidas Temper Run sneakers offer excellent cushioning and good wearing comfort. Many reviewers liked the beautiful retro design of these 90s-inspired sneakers. Quite a few buyers loved the vibrant colourways of the adidas Originals Temper Run sneakers. Every detail of the sneaker looks well planned and executed. In addition, the high quality of these shoes was increasingly praised. Based on the benefits mentioned, many buyers find the price to be reasonable compared to the value of the low-top sneaker. Some individuals praised the fit, in terms of width.


adidas Temper Run Conclusion
The adidas Temper Run contribute to an enviably nostalgic design. It appeals to sneaker lovers who love the nineties. The sneakers do not contain any technology worth mentioning, but they have one of the most remarkable styles that are very popular nowadays.


Read more